Scroll down for English explanations - alternates with German explanations.

Auf dem Weg ins Grüne halten wir um eine Kleinigkeit in einem Ristorante zu essen.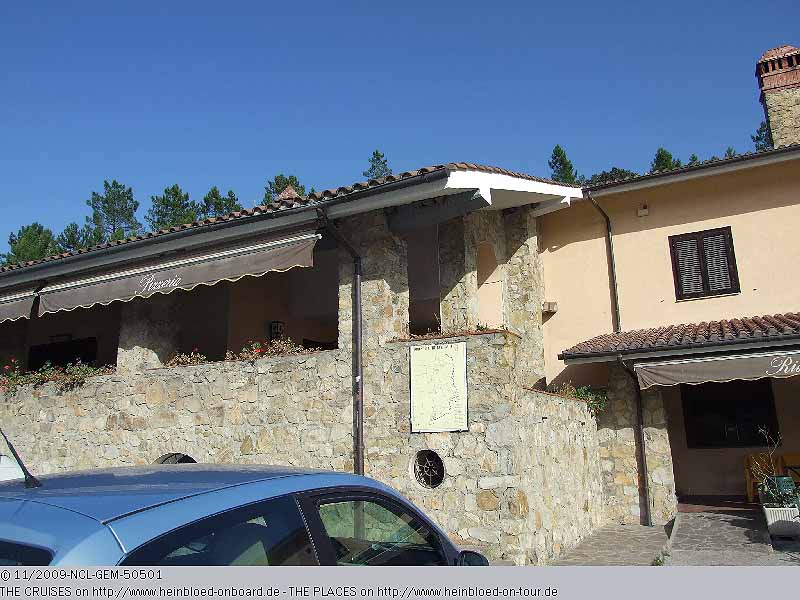 On the way to the nature we had small lunch in an Italian Ristorante.

We had some Spaghetti Aglio e Olio.. and check the number of chilli-pieces... minimum...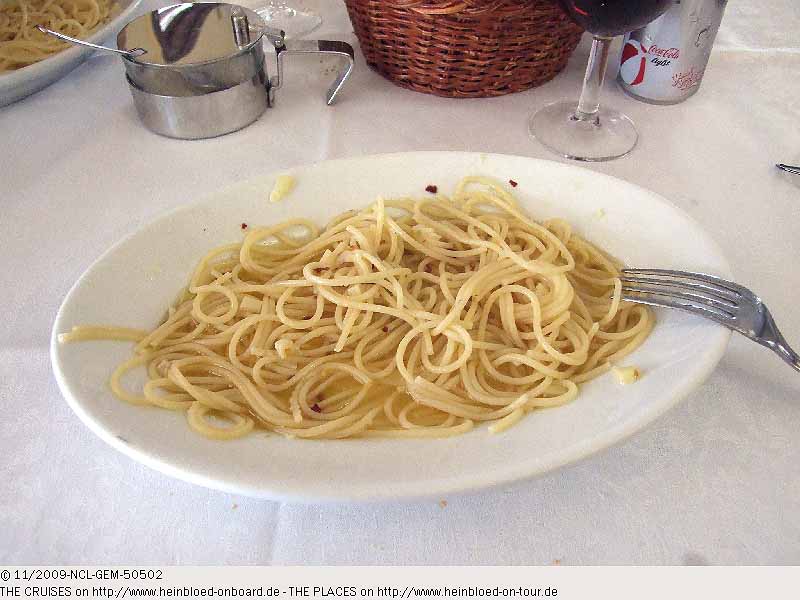 Es gab unter auch Spaghetti Aglio e Olio... und man achte auf die Pepperoni-Stückchen... minimal...
nicht so italo-asiatisch wie auf der NORWEGIAN JADE im Mai. Also seid sparsamer mit dem Chilli! Das ist kein Wettbewerb für scharfes Essen!!!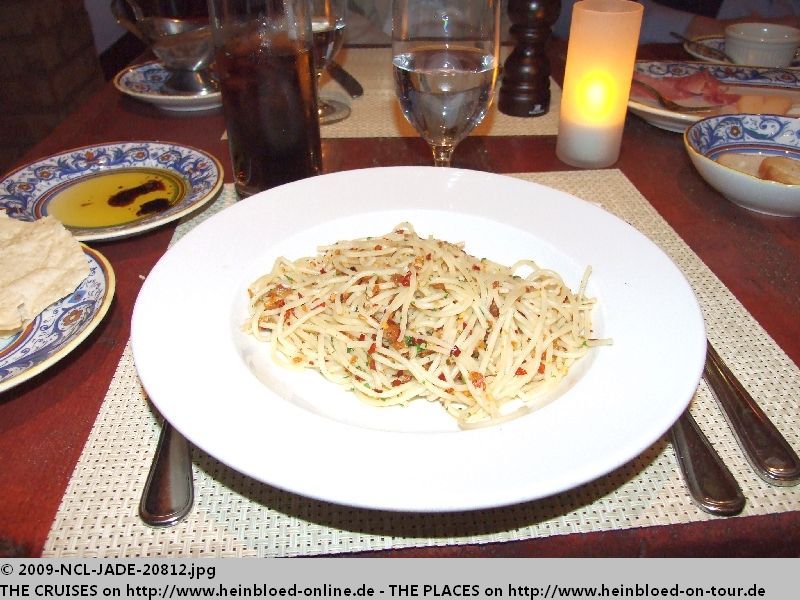 not as Italo-Asian like on NORWEGIAN JADE in May. So be more careful with the chilli!!! It's no contest for spicy food!!!

Such a trip to the nature is something beautiful...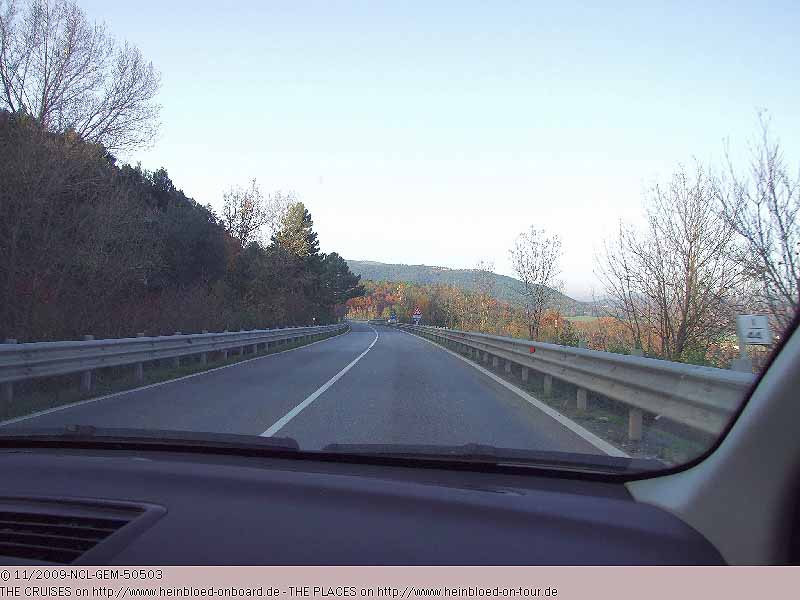 So eine Fahrt ins Grüne ist schon etwas schönes...
Schade, dass man nicht überall anhalten kann, um sich beispielsweise eine Stadt wie Siena anzusehen...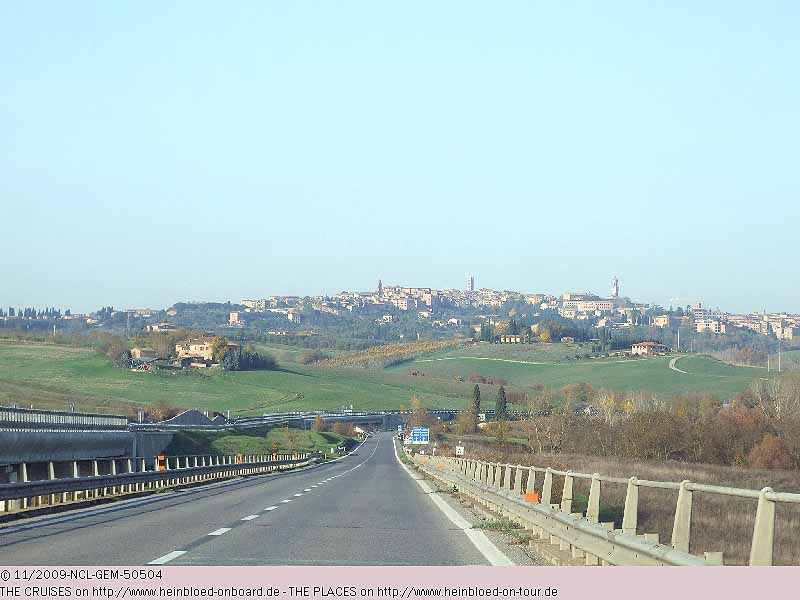 It's a shame that you cannot stop everywhere to see nice cities like Siena...

Let's see if we have a chance when we call Livorno next year by OCEAN PRINCESS.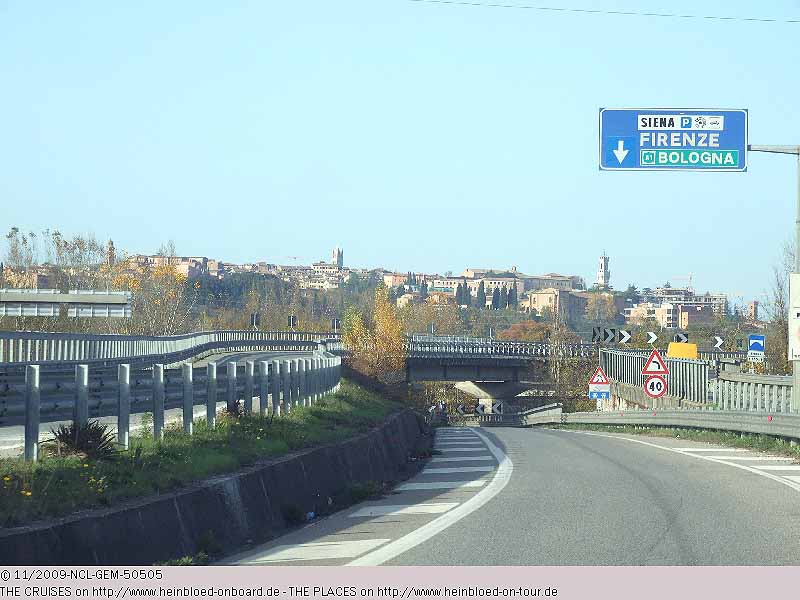 Mal gucken, ob wir vielleicht nächstes Jahr Gelegenheit haben, uns das anzusehen, wenn wir in Livorno mit der OCEAN PRINCESS anlegen.
Anscheinend haben wir uns verfahren... es geht ja gar nicht Richtung Rom... Wieso Firenze???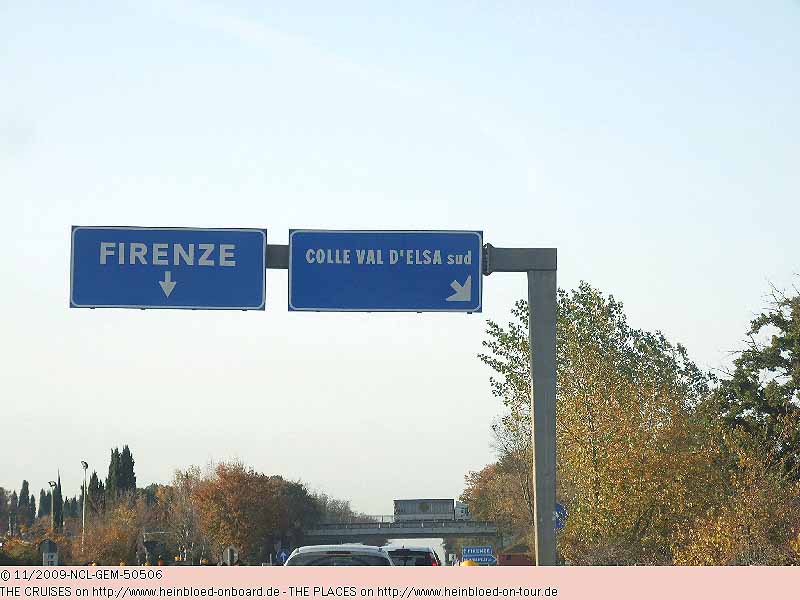 Obviously we drove all the time the wrong way... it's not Rome-bound... It's Florence-bound...

Oops... Looks really like that we totally lost if San Gimignano appeared on the signpost...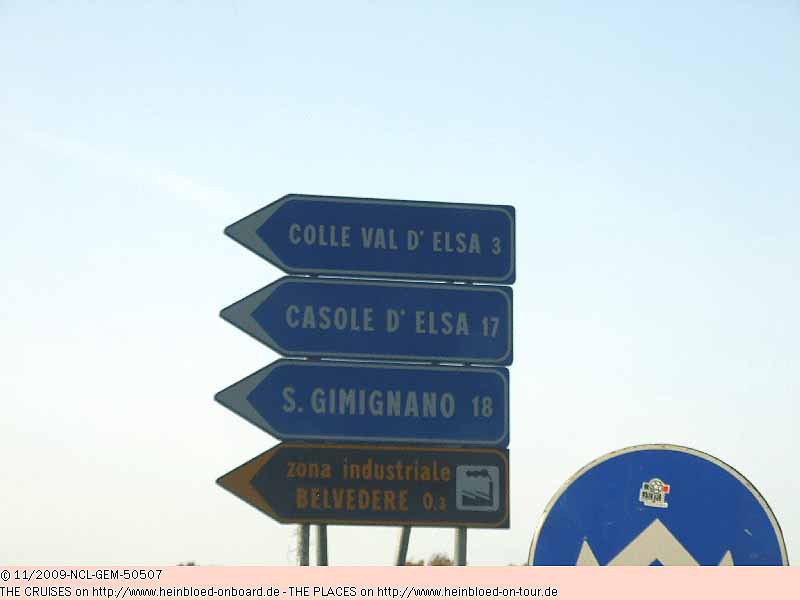 Oops... da haben wir wohl uns etwas verfahren, wenn San Gimignano ausgeschildert ist...
Aber die schöne Landschaft Toskanas lenkt einfach zu sehr vom Fahren ab...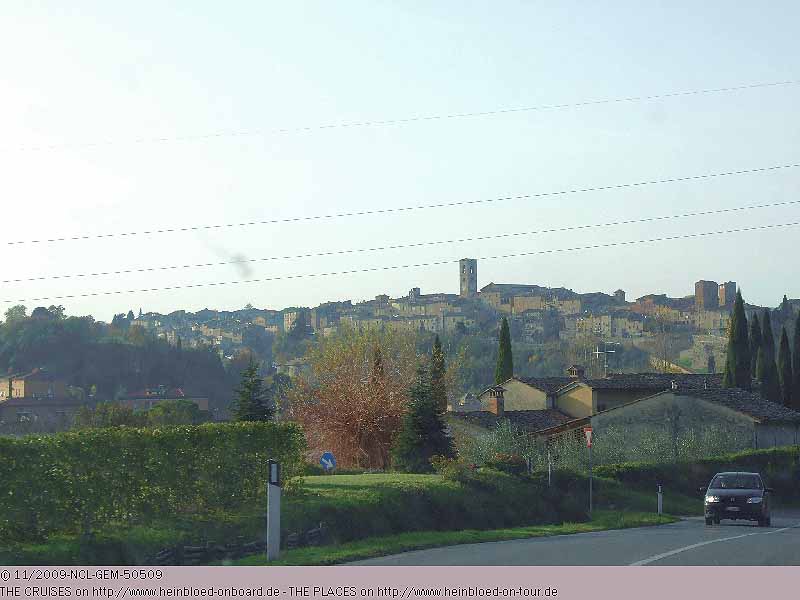 But with such a beautiful landscape you have no time take care of the signposts...

As the ancient Roman said: all ways are going to Rome... Somewhen there must be a sign for Civitavechhia...

Bekanntlich sollen ja alle Wege nach Rom führen... Bald muss doch Civitavecchia kommen...
Aber das sieht doch eher nach San Gimignano aus...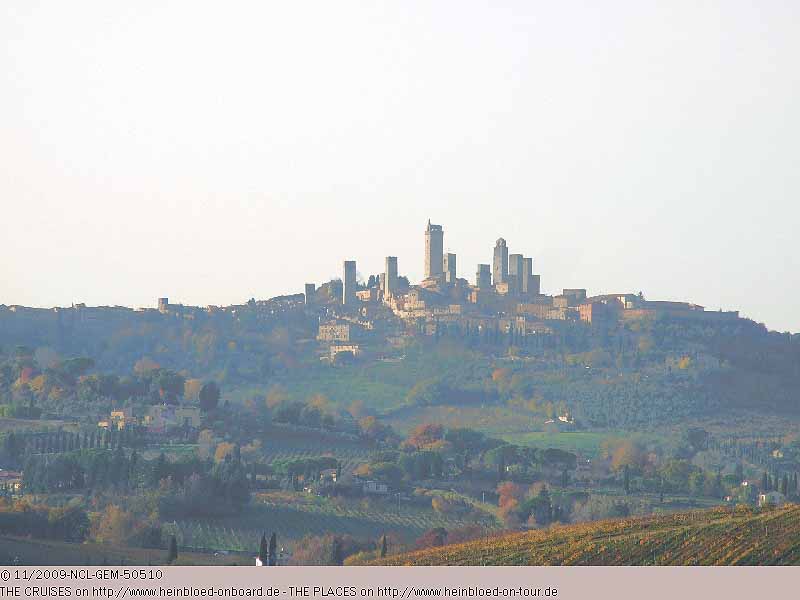 But it looks like San Gimignano...

Looks exactly like the movie adapted by Frances May's "Under the Tuscan Sun".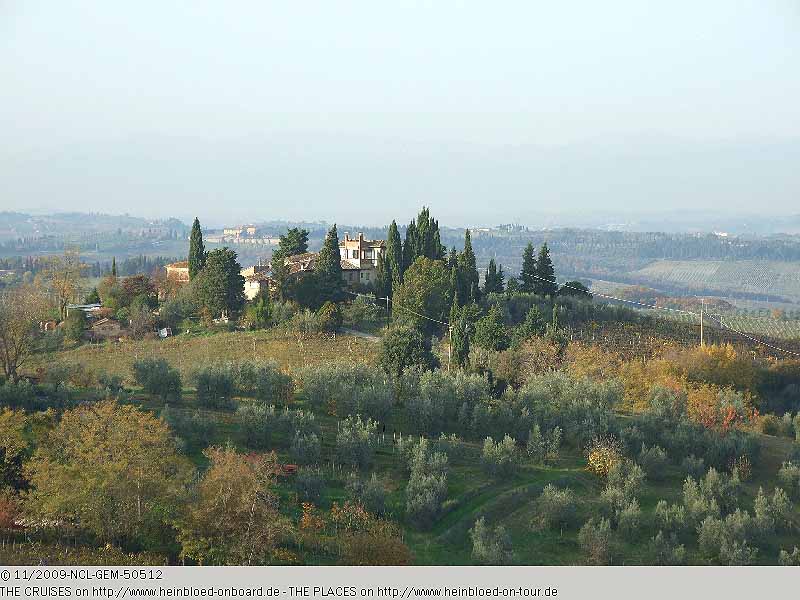 Das sieht aus, wie im Film "Unter der Sonne der Toscana" nach Frances May.
Ach ist das schön hier...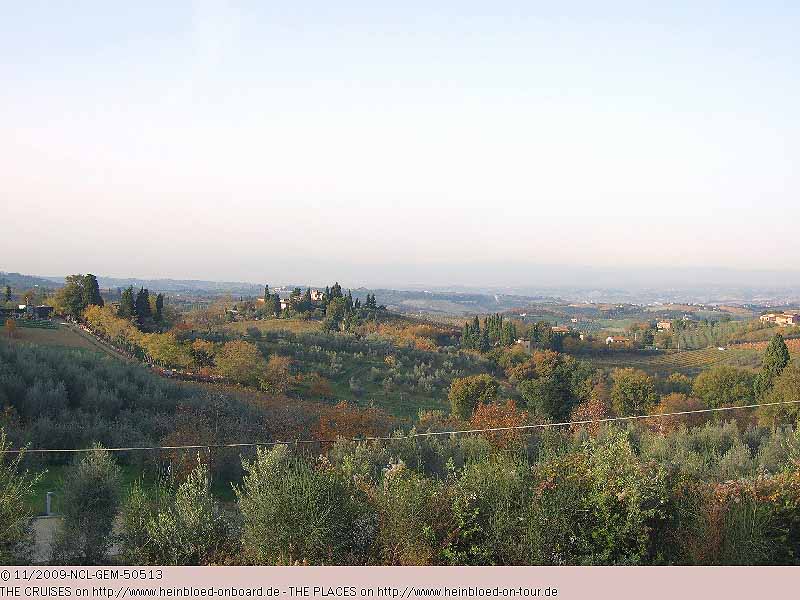 Just beautiful...

As they welcomed us we decided to stay... We would not make it anyway back to the ship... Officially we missed the train (happened to three other cruisers...). Inofficially we had a flat-tire... somehow we mixed up the order of the incidents...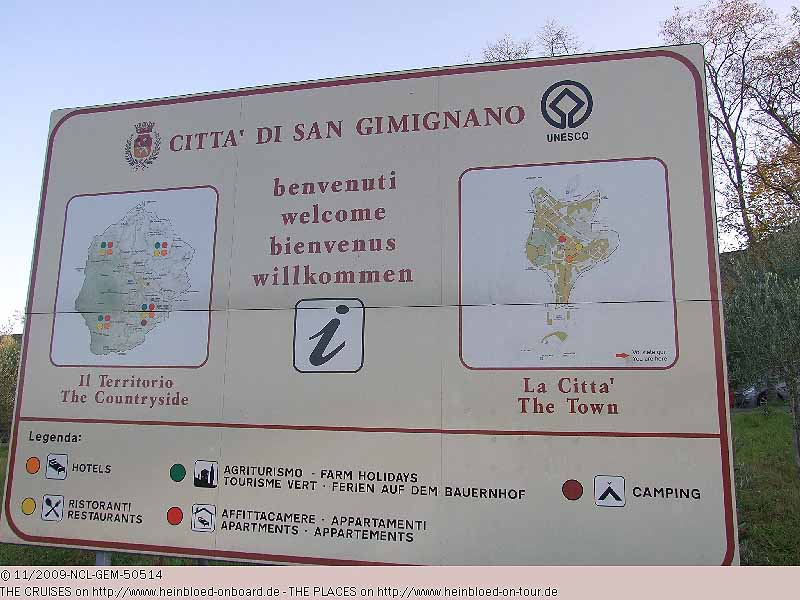 Da wir willkommen geheißen werden, bleiben wir. Zum Schiff würden wir es eh nicht mehr schaffen... Offiziell haben wir den Zug verpasst (wie es übrigens drei Kreuzfahrern tatsächlich passiert ist...). Inoffiziell hatten wir ja einen Platten... nur dass wir irgendwie zeitlich mit dem Ereignis durcheinander gekommen sind...
2,00 EUR pro Stunde... kann man mit leben... wird eh bald dunkel...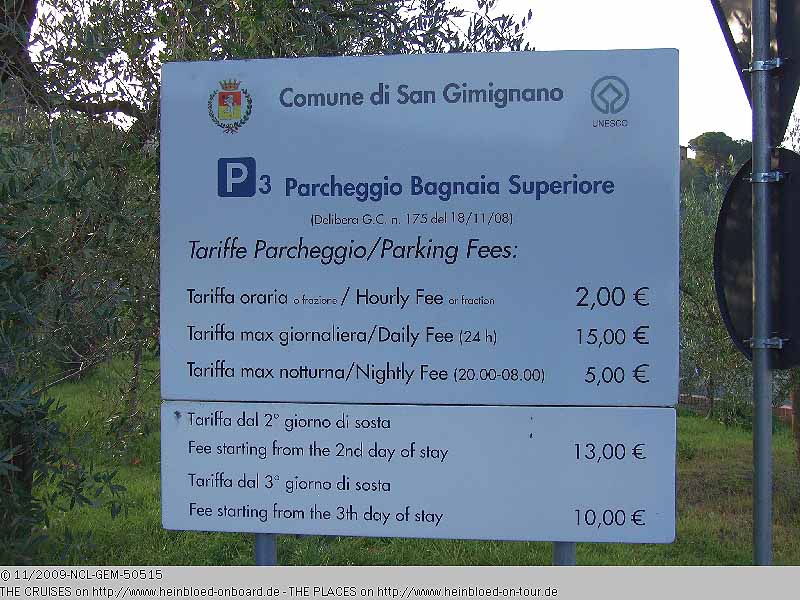 2.00 EUR per hour... you can live with... it will become soon dark anyway...

Just follow the circles...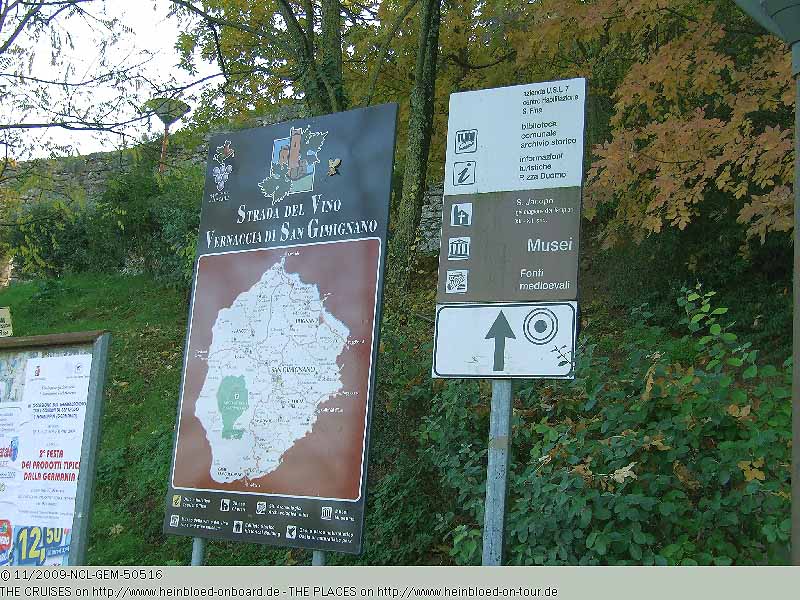 Man muss einfach den Kreisen folgen...
.... um ins Zentrum zu kommen.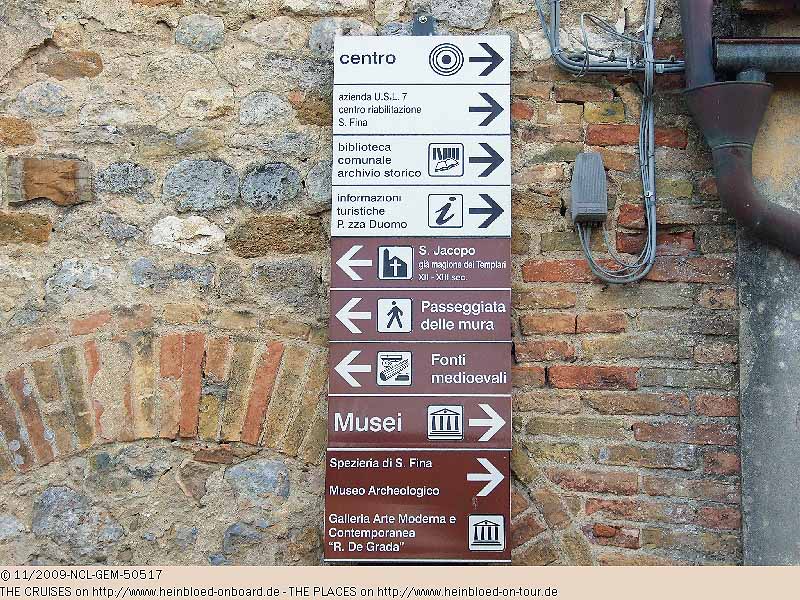 to get to downtown...

We asked officially on board if there is any form we need to fill out before we officially leave the ship and return in another port. They let us know that they will not wait for us. Only if we insist that they should wait we need to book a ship's tour. It's our risk and on our expenses to get to the next port if we miss the ship.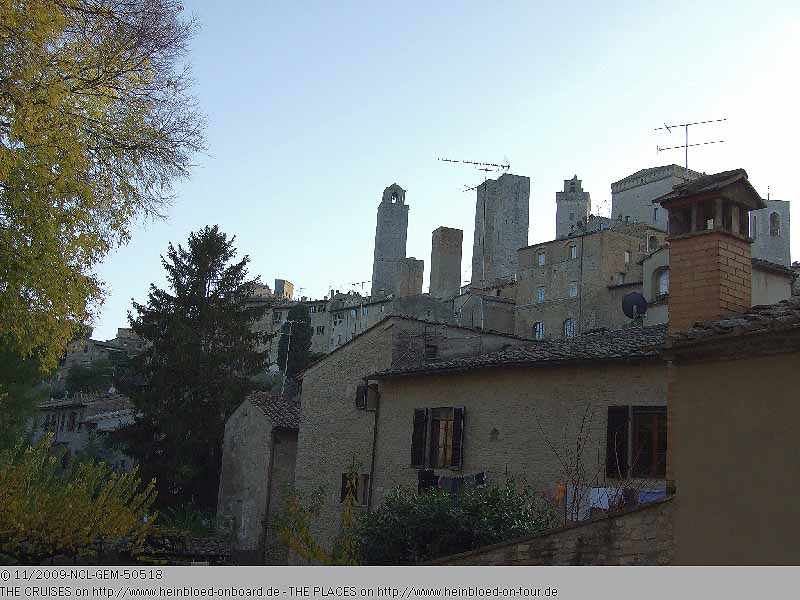 Wir hatten an Bord angefragt, ob wir etwas ausfüllen müssen. wenn wir das Schiff offiziell verlassen und einen Hafen später wieder an Bord kommen wollen. Man teilte uns mit, dass man nicht auf uns warten würde. Wenn wir darauf bestehen würden, dass man auf uns wartet, müssten wir einen Schiffsausflug buchen. Ansonsten müssten wir auf eigenes Risiko und eigene Kosten zum nächsten Hafen kommen.
Es ist nicht ganz risikofrei. Im Falle eines Wetterumschwunges wäre der nächste Hafen vielleicht ja gar nicht planmäßig angelaufen worden. So sollte jeder sich das Risiko selbst ausrechnen, ob so etwas passt oder nicht.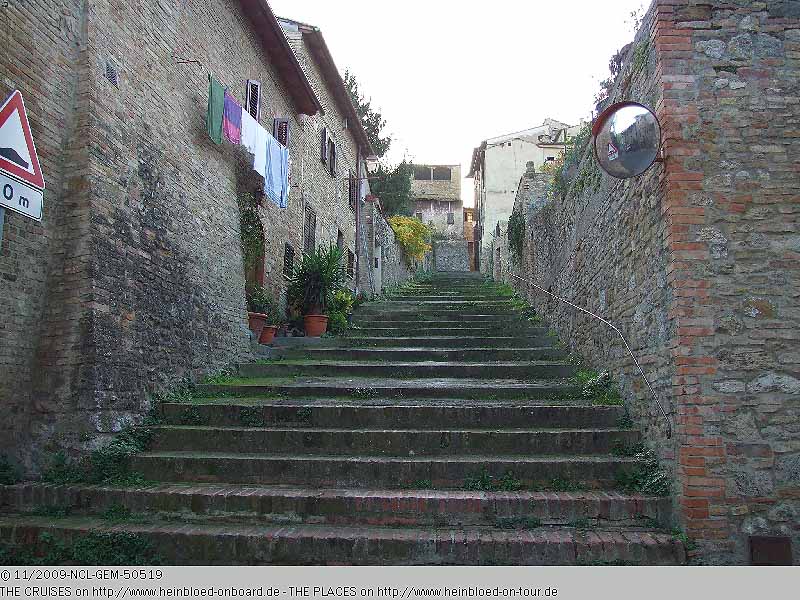 But it's not without risk: Guess the weather has changed and the next port is skipped from the schedule. Each need to calculate its individual risk.

We were just happy to see the landscape and walked around in town.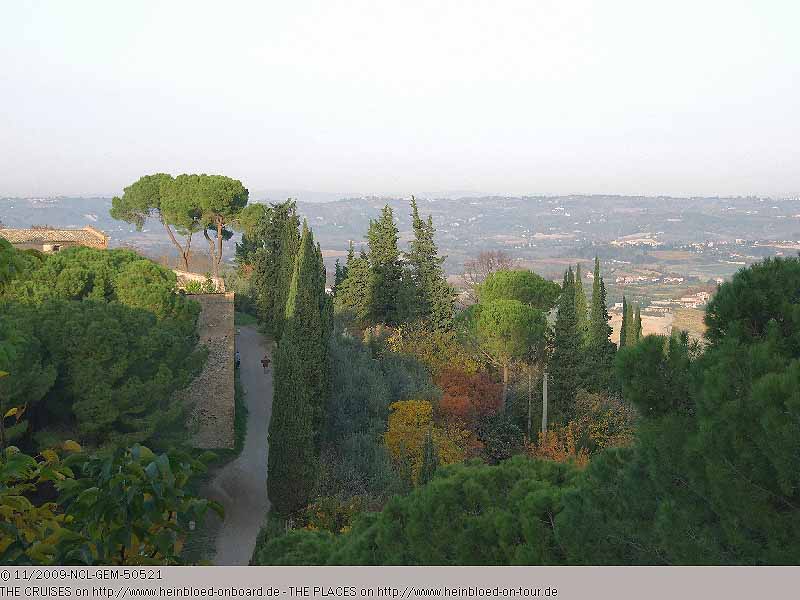 Wir erfreuen uns einfach an dem Anblick der Toskana und laufen im Ort ein wenig herum...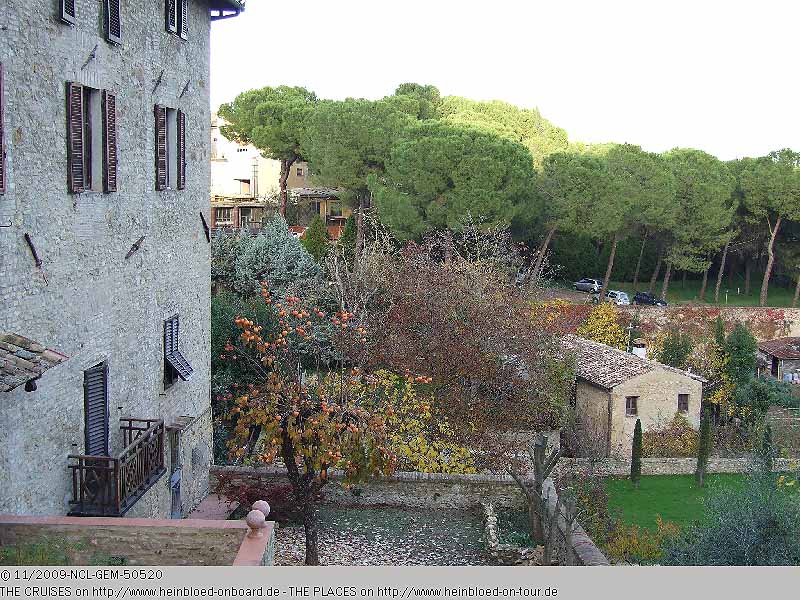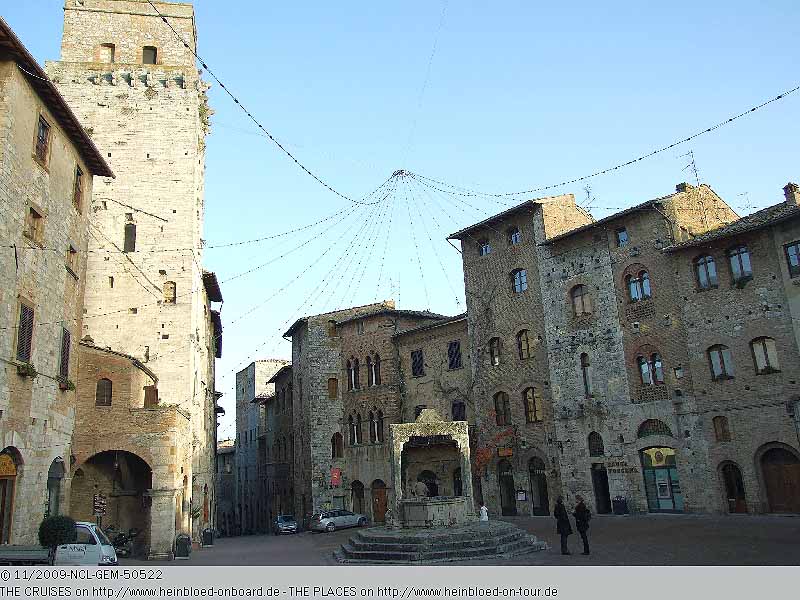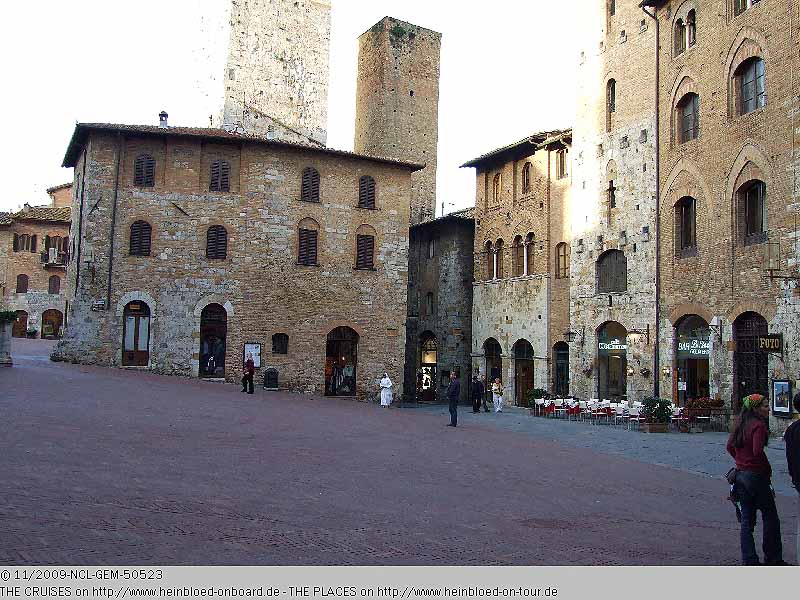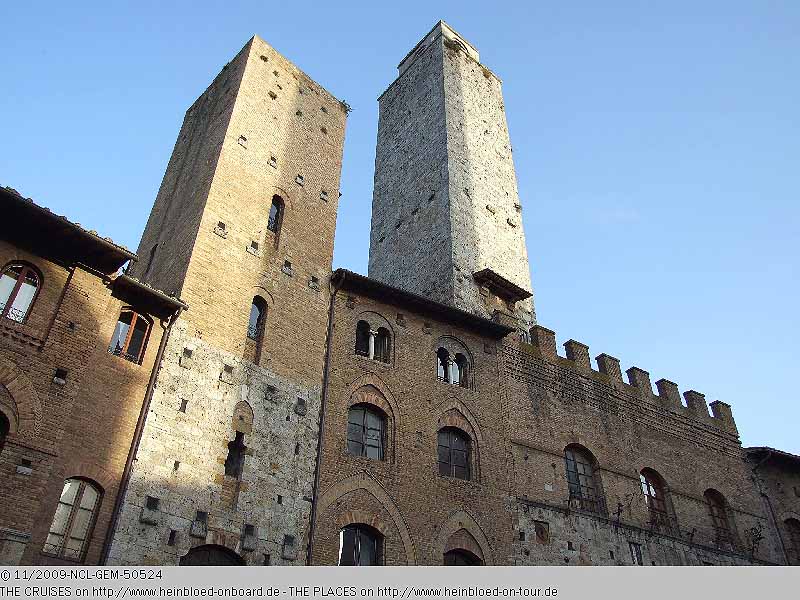 Überall Möglichkeiten toskanische Spezialitäten wie Wein und Käse zu probieren... und zu kaufen...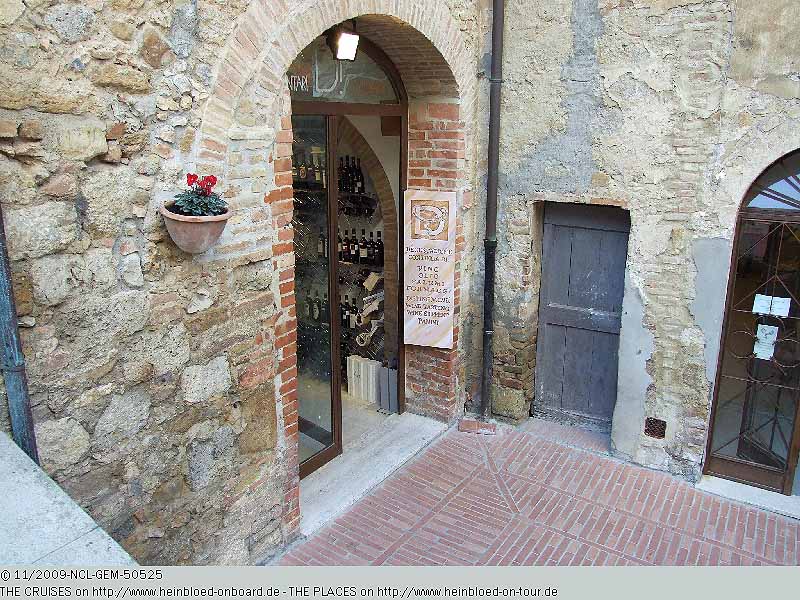 You can taste and buy everywhere Tuscan specialities like Wine and Cheese...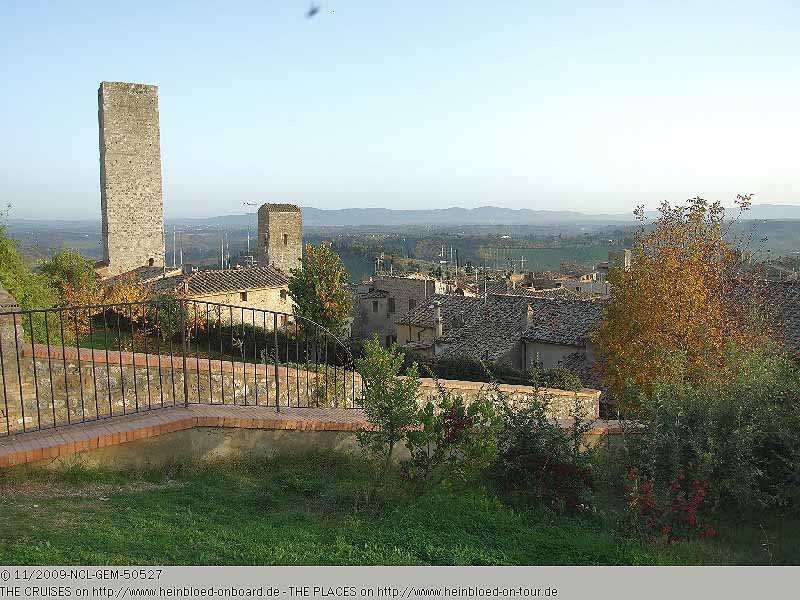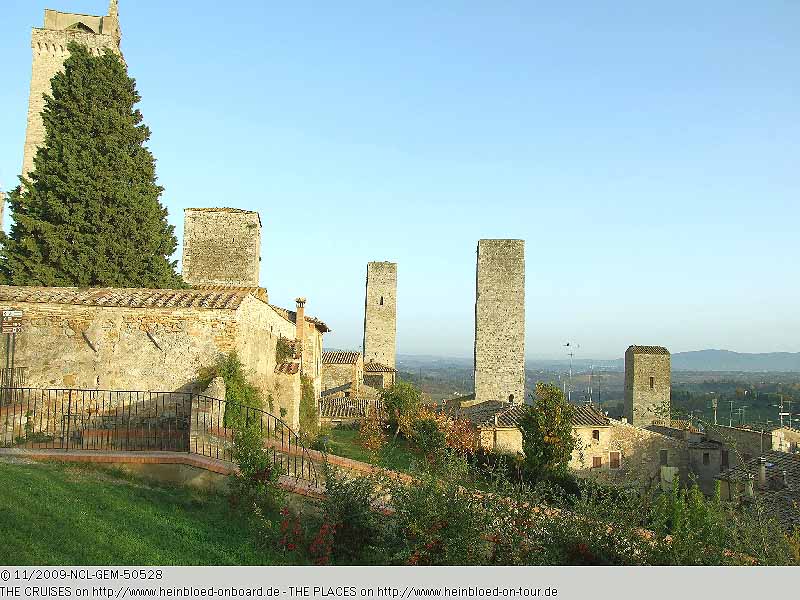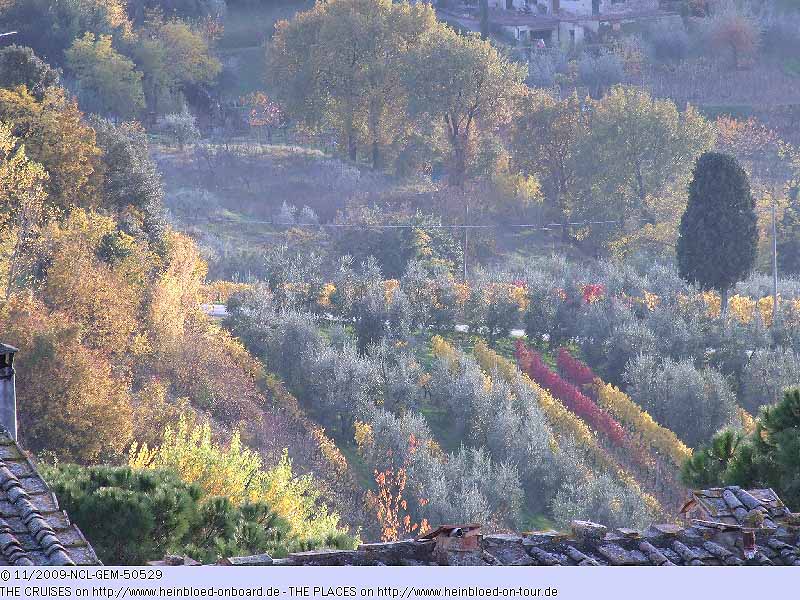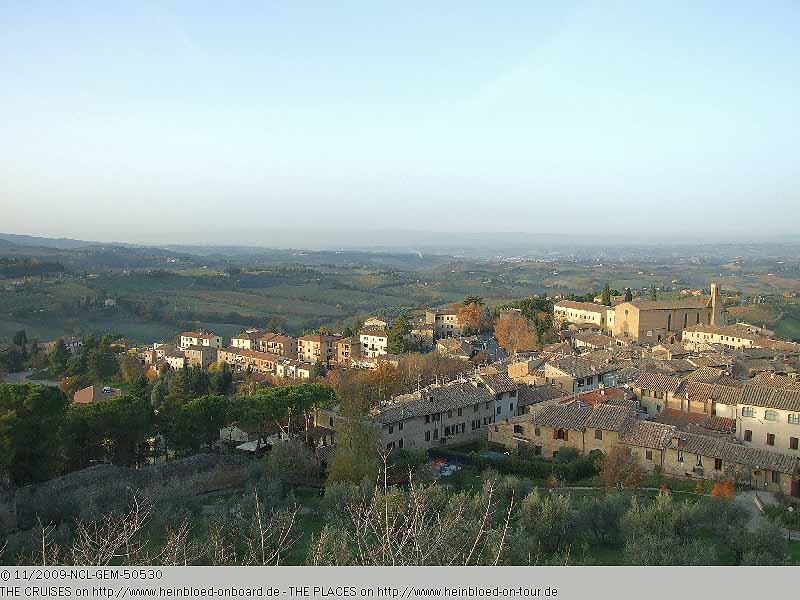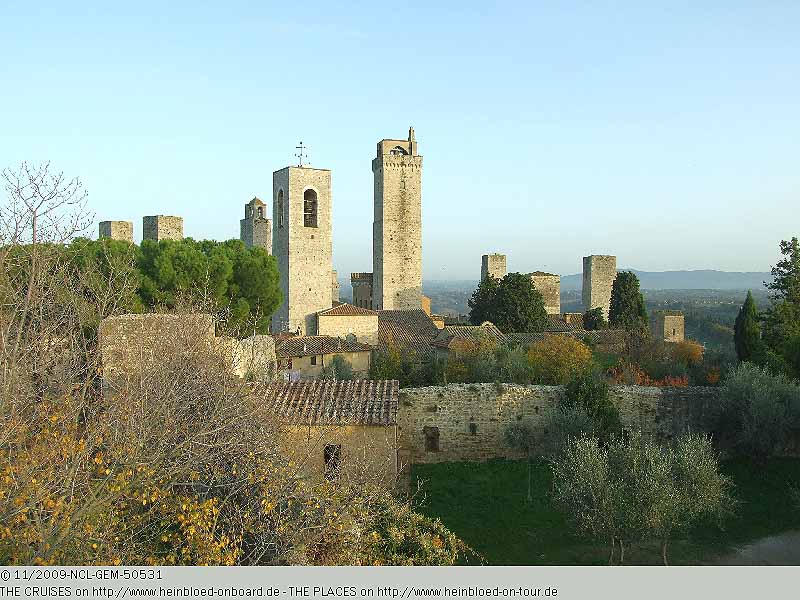 The cat bid farewell to us in San Gimignano.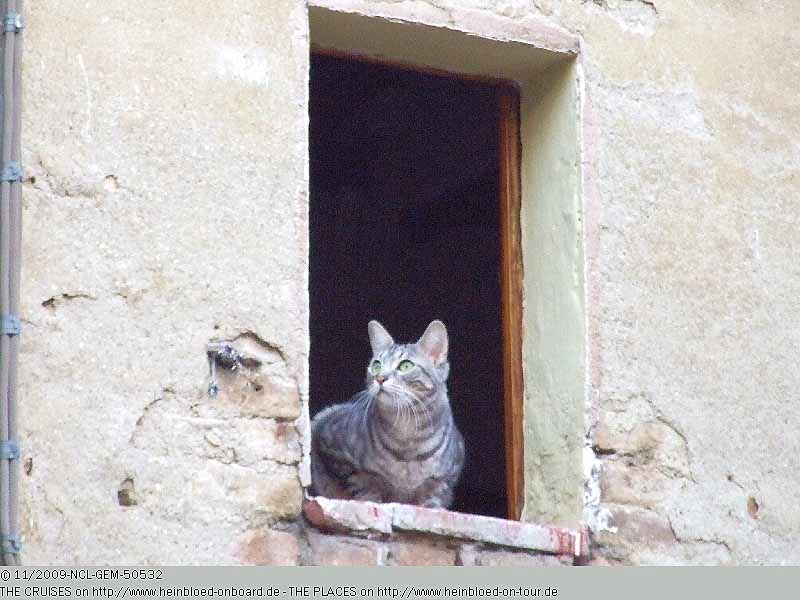 Die Katze verabschiedet uns in San Gimignano.
Wir fahren weiter nach Florenz. Dort löse ich meine Punkte im
Holiday Inn
ein. Die Lage ist äußerst praktisch. Direkt an der Autobahn, so dass wir nicht durch die Stadt fahren müssen.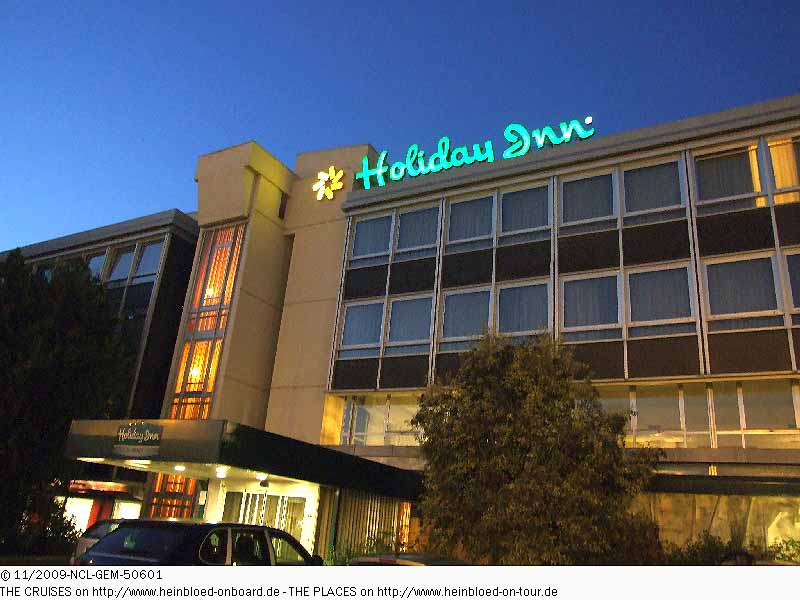 We continue to Florence. There I redeemed some points at Holiday Inn. The location is absolutely fantastic. Directly at the highway so that we did not need to navigate through the city.

All we wanted to see was Florence by night.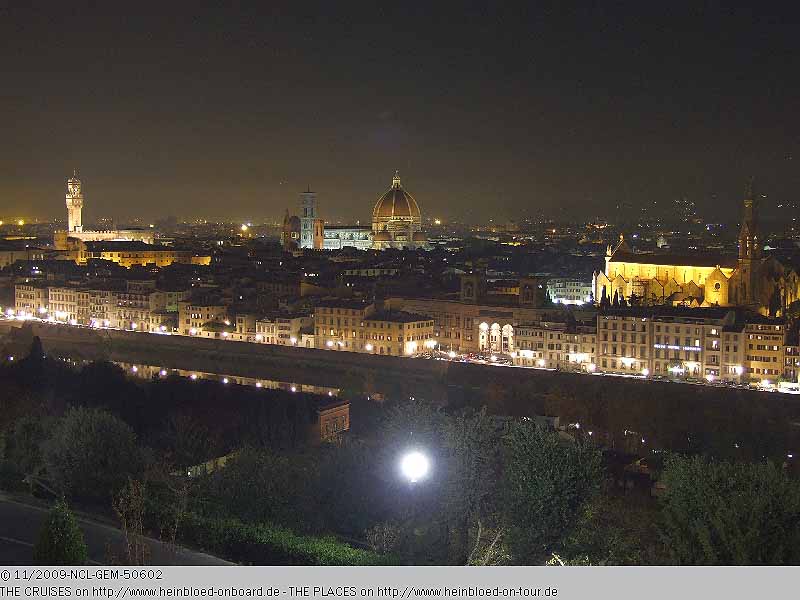 Wir wollen Florenz bei Nacht sehen.
Deswegen fahren wir zur Piazzale Michelangelo.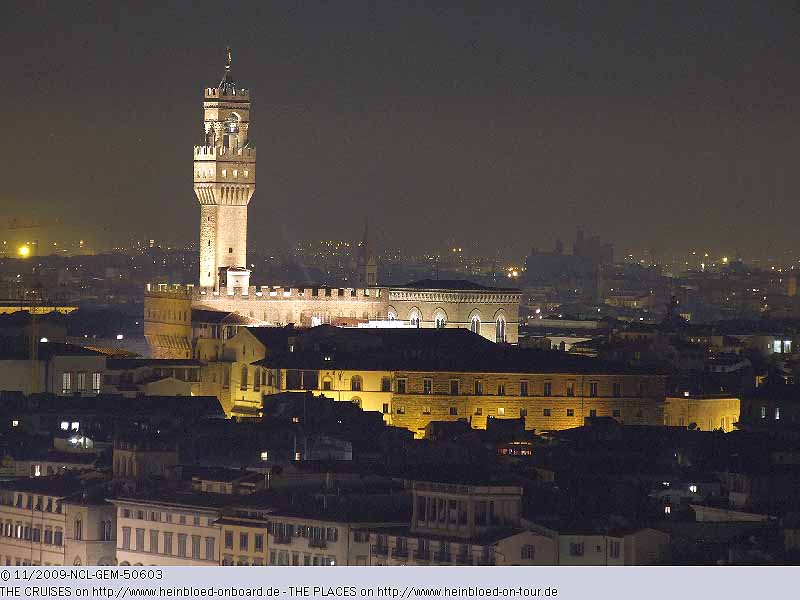 That's why we went to Piazzale Michelangelo.

It's like a dream.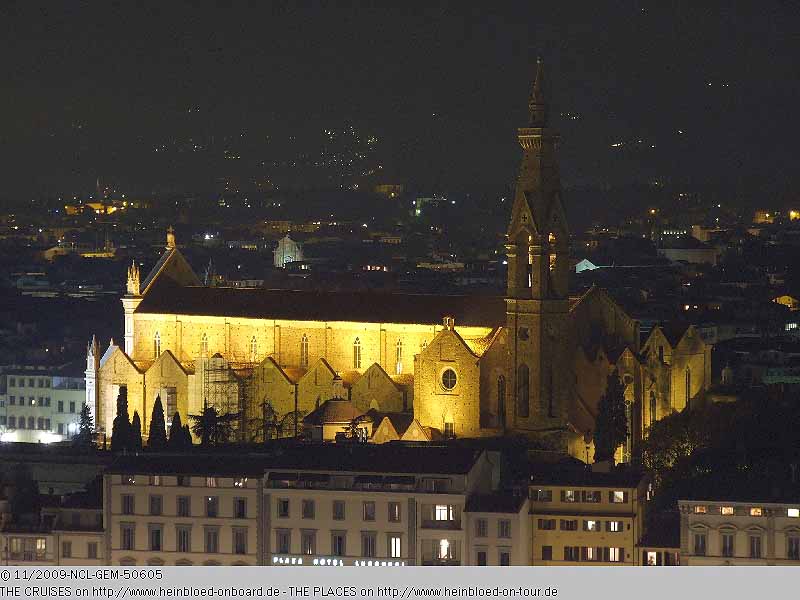 Ein traumhafter Anblick.
Nur wird es immer kühler hier oben.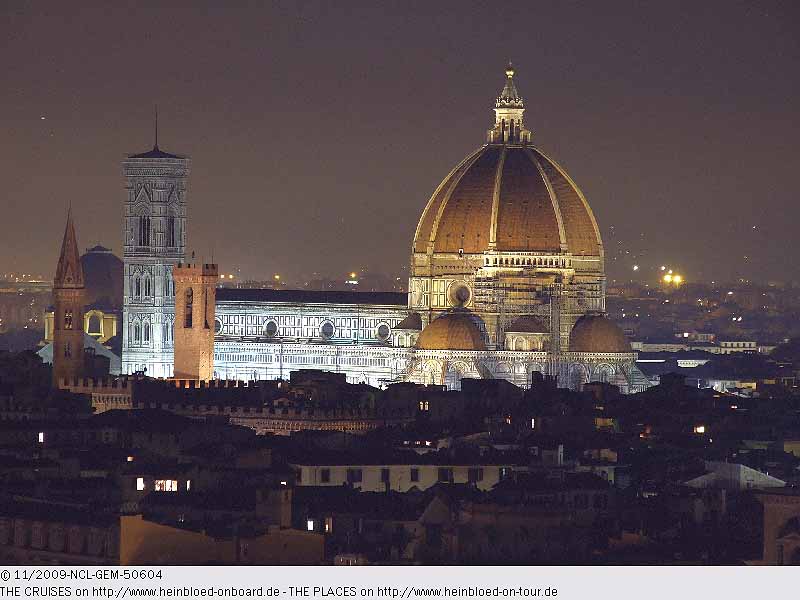 But now it became colder here uphills.

It's a shame that there is no more than a noble restaurant with a view to David's butt.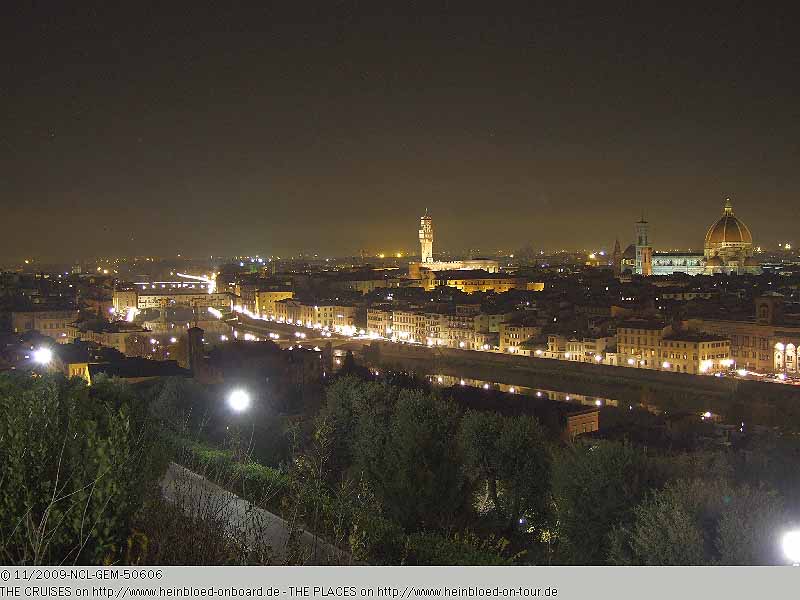 Schade, dass es hier nur ein Edelrestaurant gibt, von dem man nur das Gesäß von David sehen kann.
Einer der Repliken in der Stadt...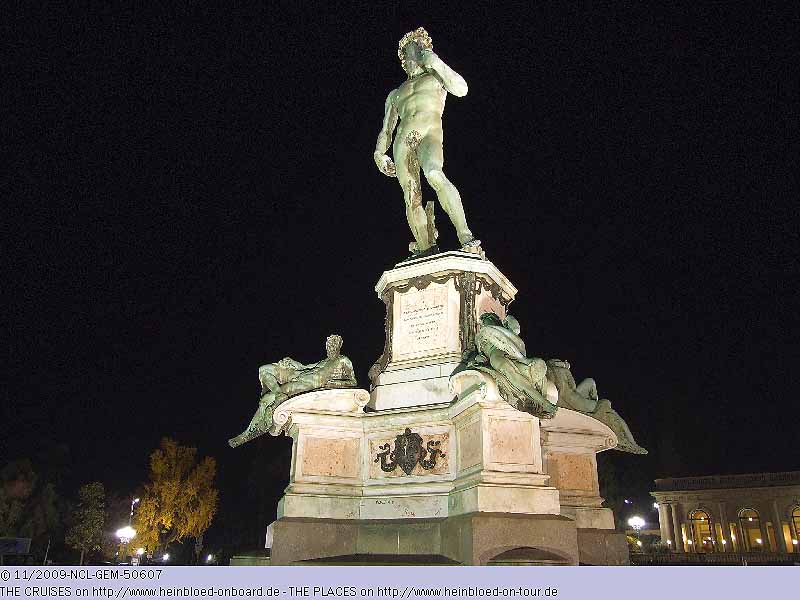 One of the replicas in the city.

Does he need to see a dermatologist??? Why it looks so strange???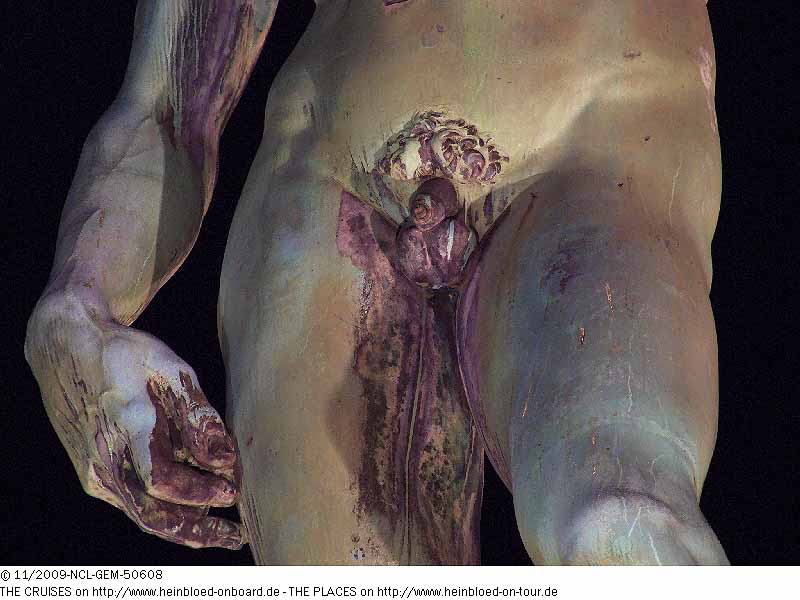 Muss der arme Kerl zum Dermatologen??? Warum sieht es so komisch aus???
Da kein Taxi vorbeikommt und auf der Schlüsselkarte vom Hotel die Telefonnummer des Hotels nicht aufgedruckt ist, können wir auch nicht die Rezeption bitten, uns ein Taxi zu rufen. Mit dem Bus fahren wir schwarz in die Stadt, da kein Kiosk weit und breit auf hat und der Fahrer keine Fahrkarten verkauft. Auf der Arnobrücke gibt es merkwürdigerweise sehr viele Schlösser. Wozu???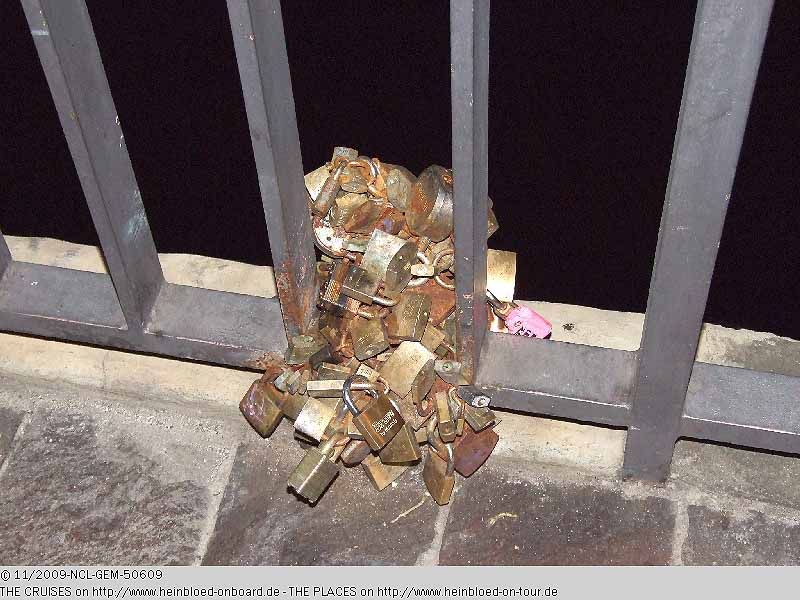 Because there was no taxi around and no phone number of the hotel on the keycard we could not ask the receptionist to send us a taxi. As we could not find a tobacco store we could not buy any tickets for the bus we used to get downhills to the river Arno. On the bridge there were so many locks. What for???

Here are the Ufficy Galleries for which we ordered some tickets for the next day.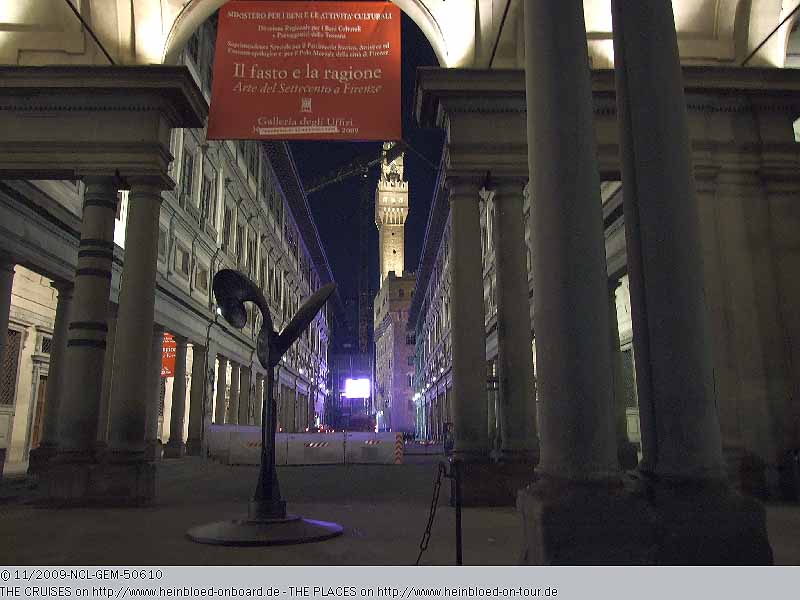 Hier sind also die Uffizien Gallerie, für die wir für morgen Karten vorbestellt haben.
Der Blick auf den Arno ist einfach traumhaft.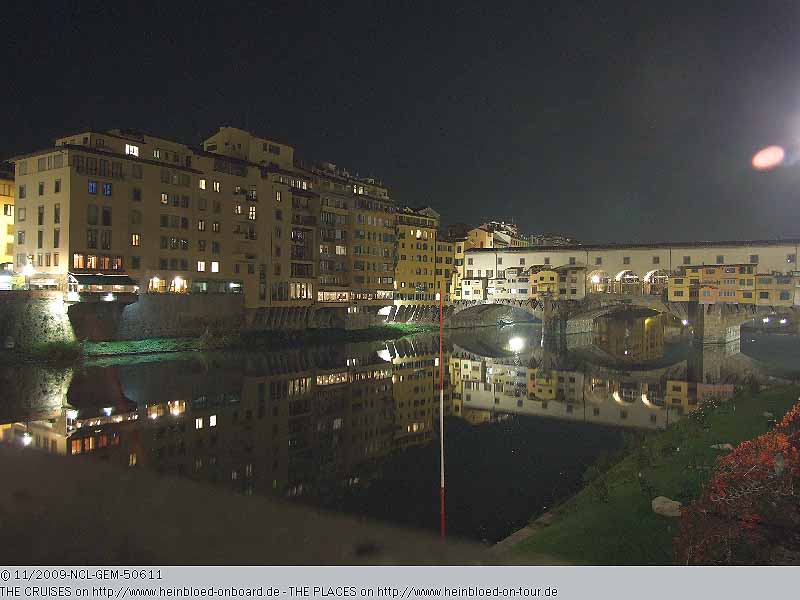 Also the view on the river Arno is like a dream again.

No taxi stopped. So we walked into the downtown area to find a taxi.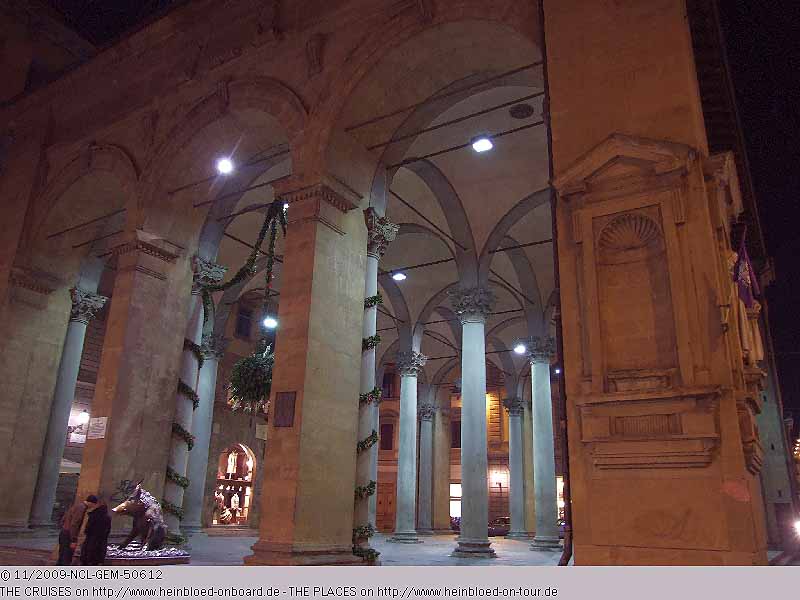 Kein Taxi hält, so dass wir in die Stadt laufen, um dort nach einem Taxi zu suchen.
Weil wir Hunger haben, gehen wir in ein Ristorante:
Casa del Vin Santo
. Es stand in keinem Fremdenführer. Nur eine Pizzeria um die Ecke hatte bloß alles in Pizzaecken aufgeschnitten und es sah so aus, als ob es amerikanisch dick und seit Stunden schon gebacken sei. Ich sehe die Stücke in der Mikrowelle...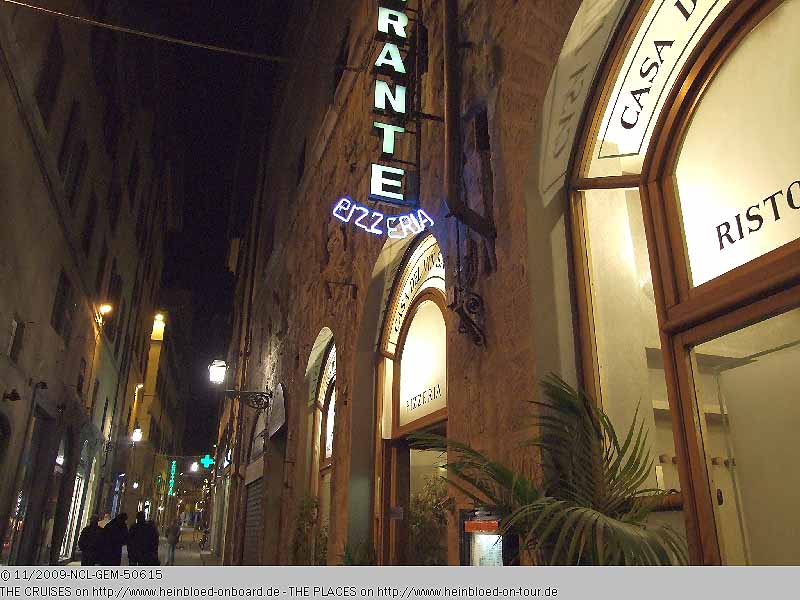 Somehow we were hungry. So we went to Casa del Vin Santo. It was not listed in one of our guide books. But he pizzaria round the corner had only pizza which looked very American style and not freshly made. In my mind I see the pizza pieces in the microwave...

They attracted very discreetly our attention to their menu. Not obtrusive like in Athen's Plaka district.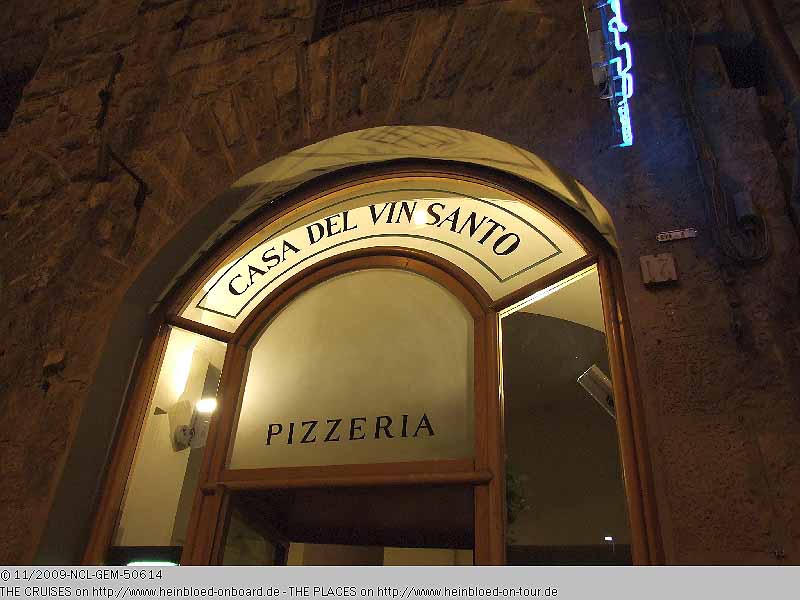 Hier werden wir diskret auf das Angebot aufmerksam gemacht. Nicht so aufdringlich wie auf der Plaka in Athen.
Es sieht so aus, als ob nur Einheimische hier essen. Wir sehen Foccacia mit Schinken und Rucola auf der Karte. Das klingt nach Todd English auf der QUEEN MARY 2...

Looks like that there were only locals in the ristorante. We saw Foccacia with Parma Ham and Argula on the menue. Sounded like Todd English on QUEEN MARY 2...

We walked over to Piazza Republica.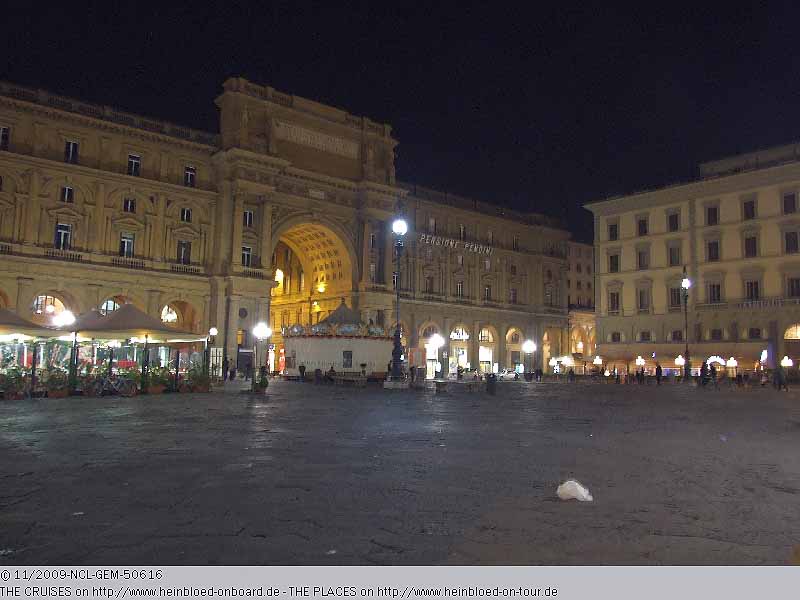 Wir laufen bis zur Piazza Republica.
Dort ergattern wir auch ein Taxi. Später klärt uns der Portier im Hotel auf, dass man in Florenz nur ein Taxi rufen kann oder an einem Taxistand zusteigen darf. Ein Heranwinken ist nicht erlaubt. Das erklärt somit, warum nie ein Taxi gehalten hat. Nun sind wir schlauer.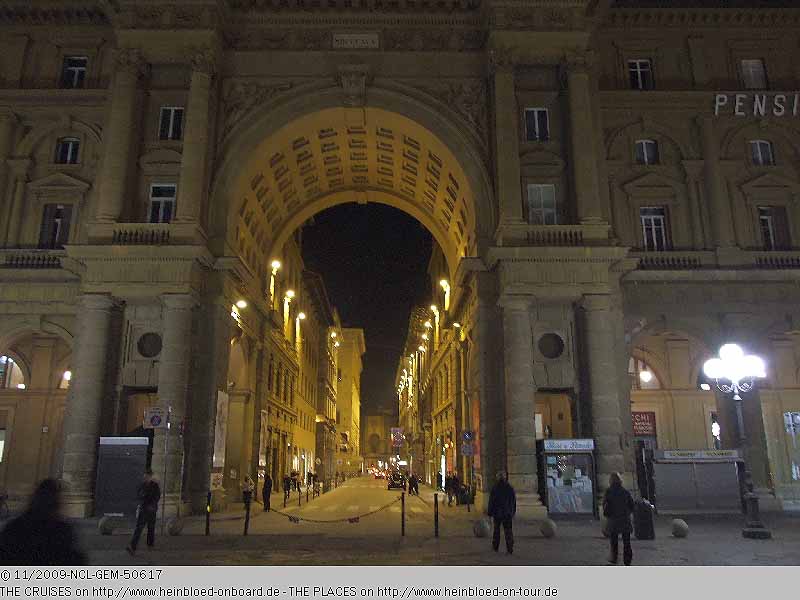 There we finally found a taxi. Later the receptionist from hotel explained that you cannot stop a taxi. You can only call a taxi or go to a stand. That's why never a taxi stopped when we try to get one. Now we know more.