Scroll down for English explanations - alternates with German explanations.

Nun dieses Mal hatte Bruno seine kurze Hose vergessen einzupacken und dafür zwei von meinen kurzen Hosen. Dafür hatte ich vergessen das Navigationsgerät mit auf die Packliste zu setzen. So müssen wir klassisch navigieren: Als ob ich es aber geahnt hätte, habe ich bereits in Deutschland eine Straßenkarte von der Toskana gekauft.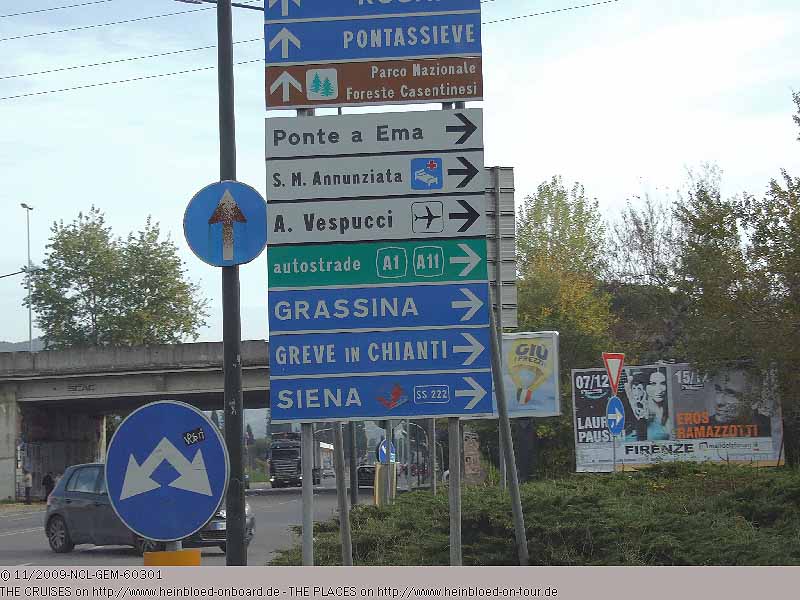 This time Bruno missed to pack his shorts and packed two of mine. But I missed to pack the GPS. So we need to navigate the classical way. No reason why but I bought a classical map of the Tuscany before in Germany.

FI-PI-LI - does it stands for the Philippines or for what??? Or for Firenze - Pisa- Livorno???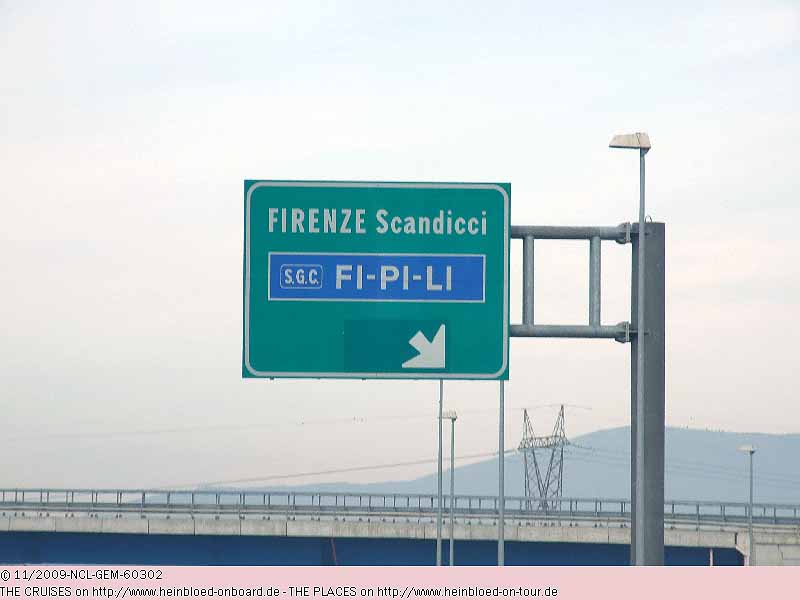 Steht FI-PI-LI für die Philippinen oder wofür steht das. Oder steht es doch für Firenze - Pisa - Livorno???
Links geht es zum Hafen und rechts zum schiefen Turm also...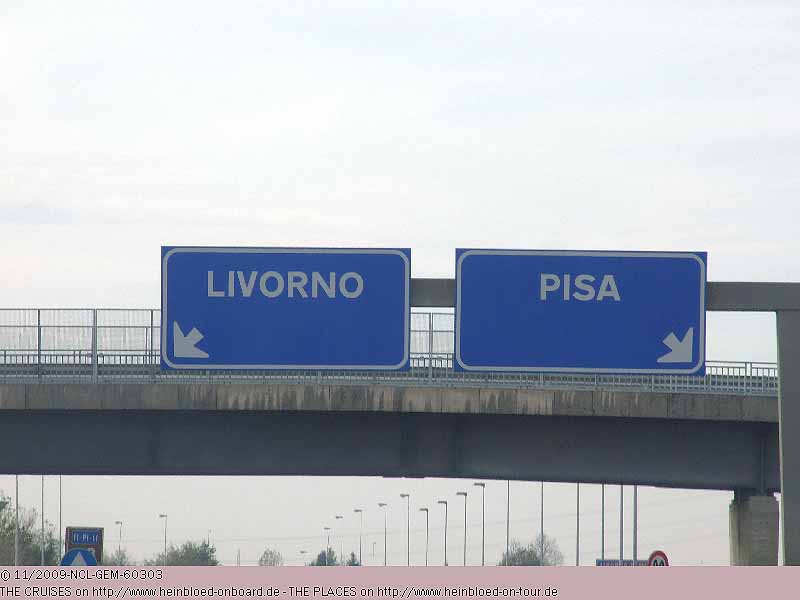 Left back to the port and right to the Leaning Tower.

Torre pendente... the Italian expression for the leaning tower.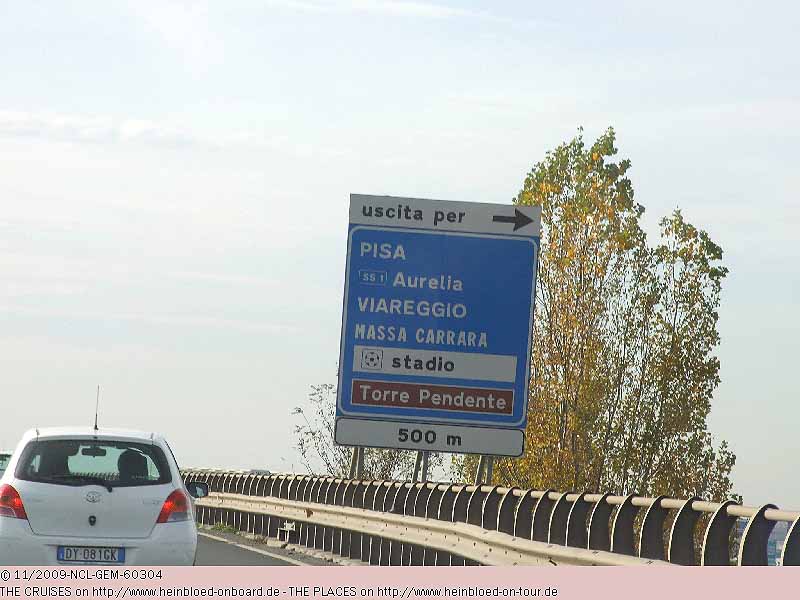 Torre pendente... der italienische Ausdruck für den schiefen Turm...
Pisa, wir kommen...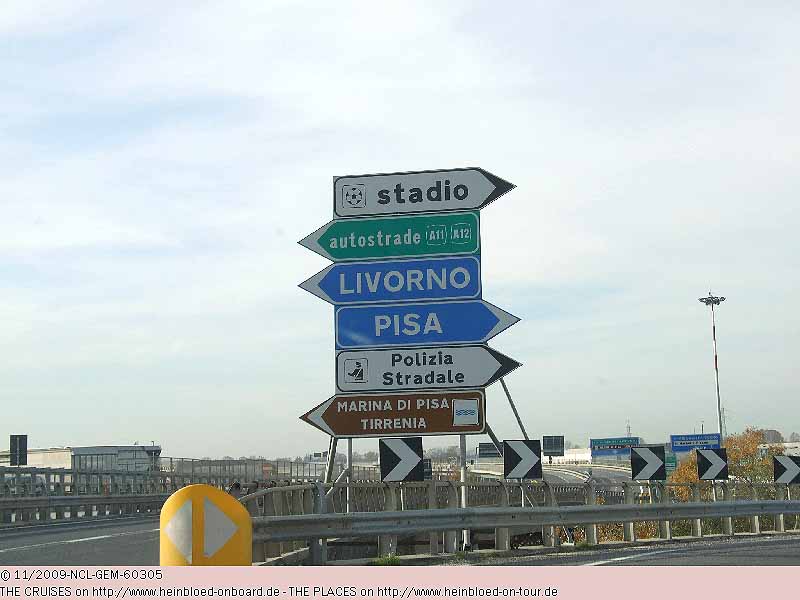 Pisa was waiting for us...

Again we crossing the River Arno.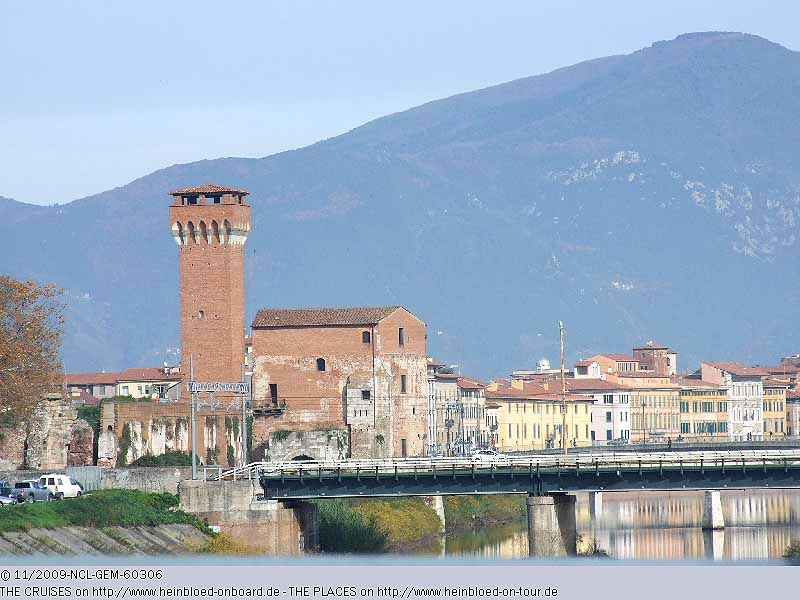 Hier fahren wir wieder über den Arno.
Später müssen wir Piazza del Miracoli folgen.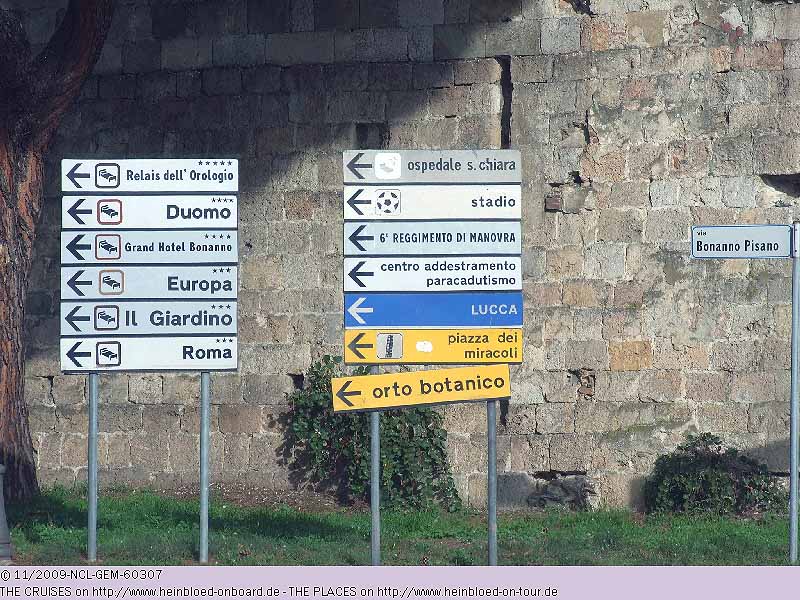 Now we had to follow Pizza del Miracoli.

We were lucky to had a Plan B for worst case that the main parking was fully occupied.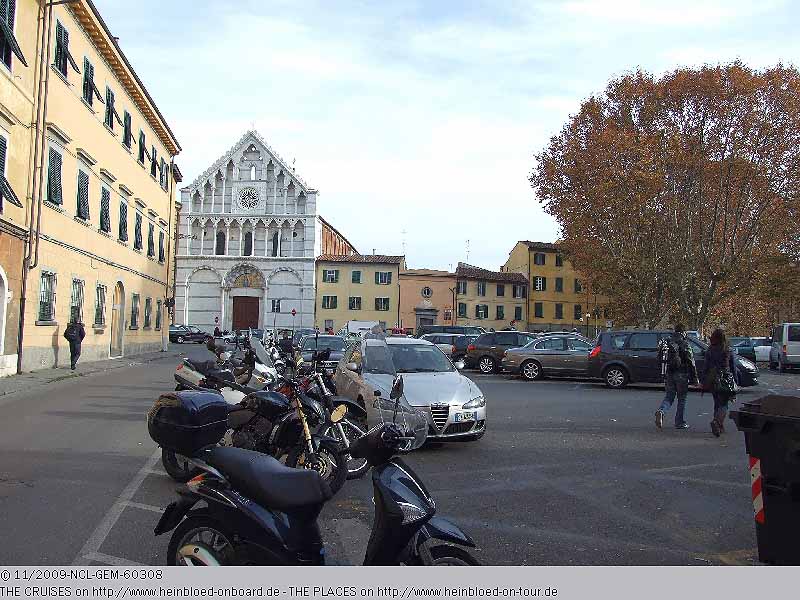 Zum Glück hatte ich mir schon einen Plan B zurecht gelegt, falls der Hauptparkplatz besetzt war.
Das Parken ging ja noch mit 1,75 EUR pro Stunde. Immer noch billiger als in San Gimignano.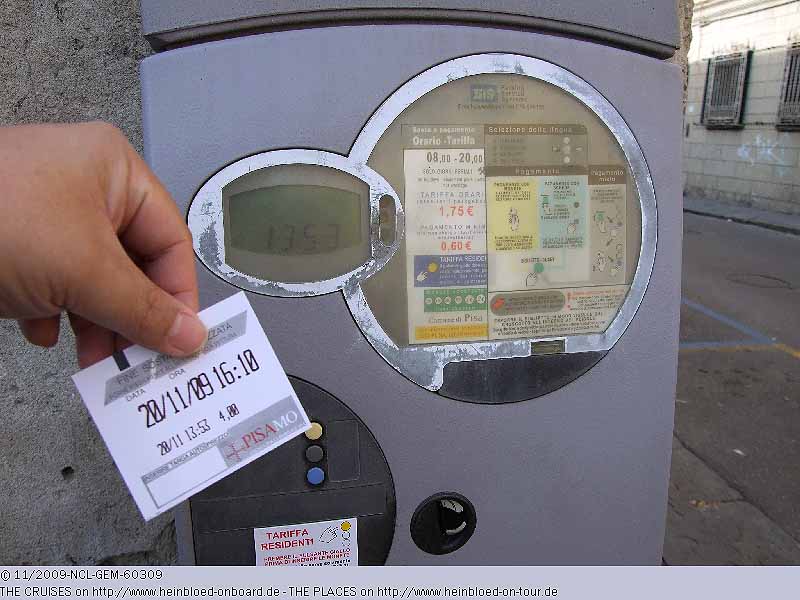 1.75 EUR per hour for parking was fine. Cheaper than San Gimignano.

We hoped to find our car later when we wanted to return.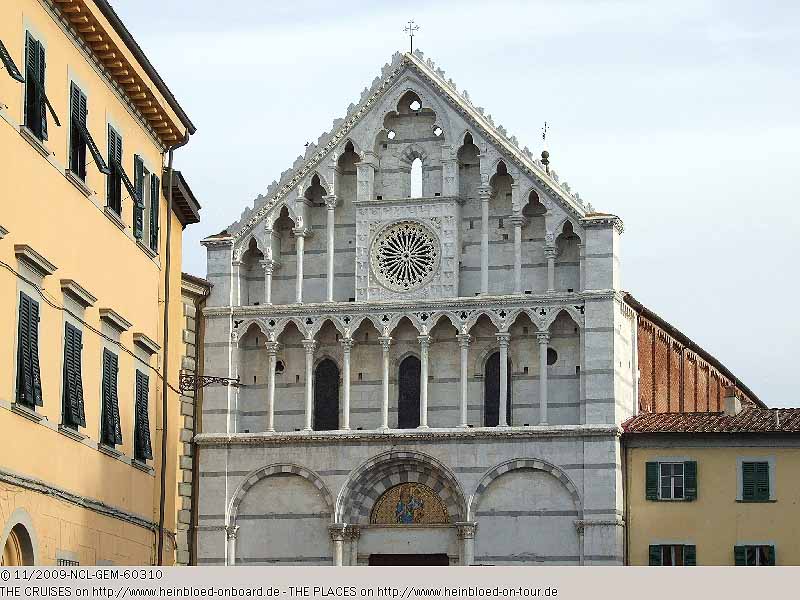 Hoffentlich finden wir den Platz wieder.
Für das nächste Mal...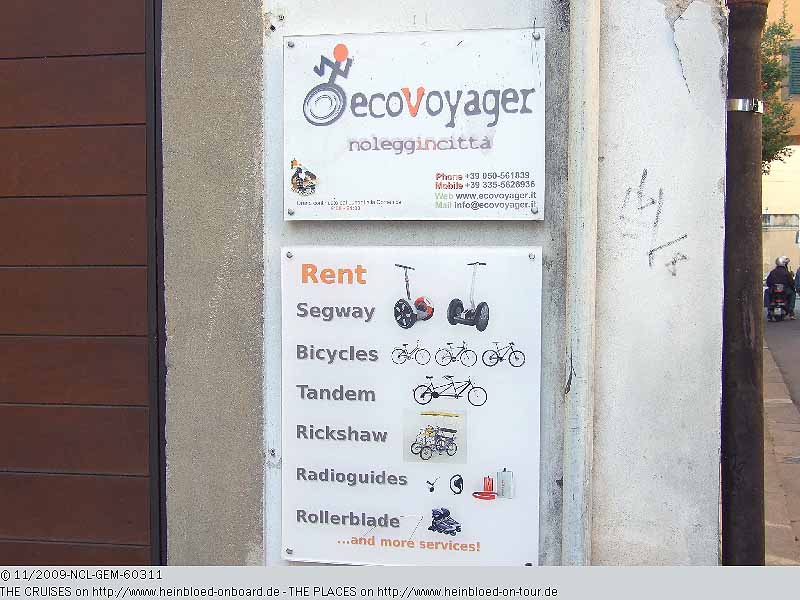 For the next time.

That's how a Italian Parking Fine looks like.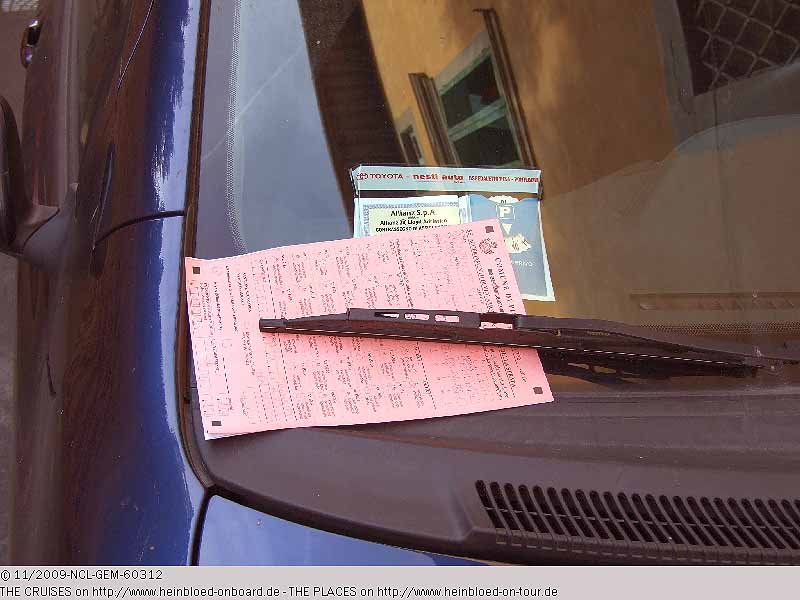 So sieht also ein italienisches Knöllchen aus.
Und dann taucht sie endlich zwischen den Häusern auf...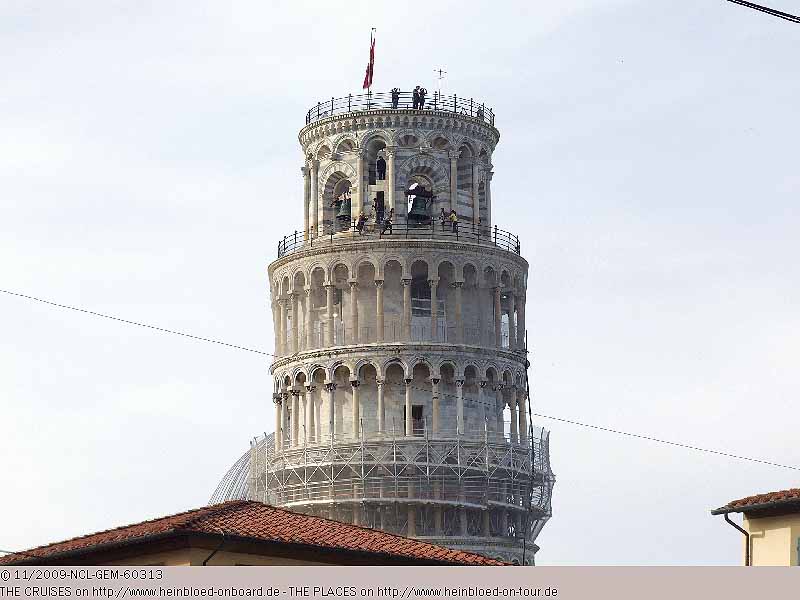 There she is between the building.

Looked like an amusement park.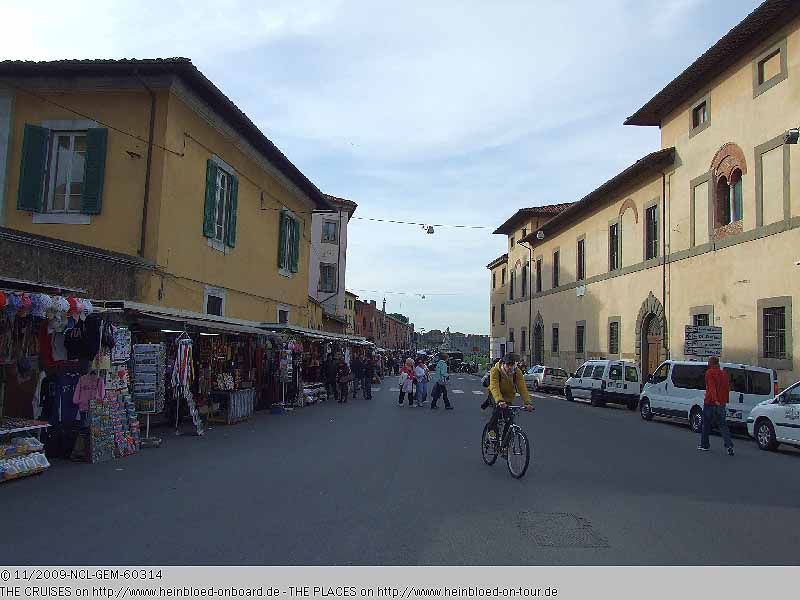 Zustände wie auf dem Jahrmarkt.
Es handelt sich ja um ein ganzes Ensemble von historischen Gebäuden rund um den schiefen Turm.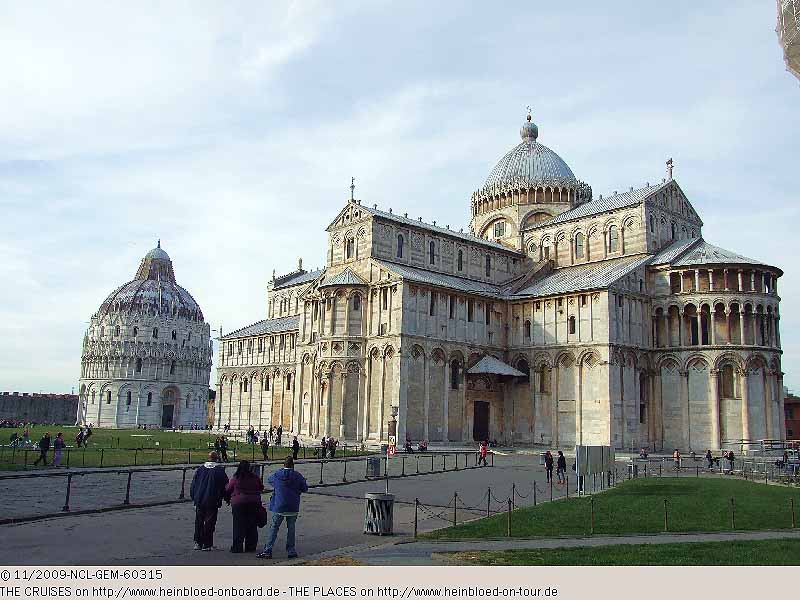 There are number of historical buildings around the Leaning Tower.

As the tower is anyway lean I can use the diagonal to get the whole length on the picture.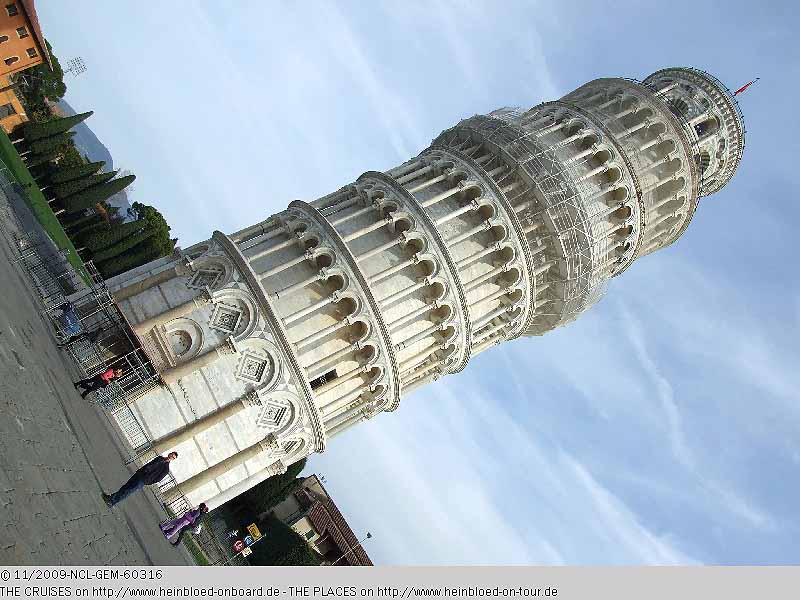 Da der Turm schon so schief ist, kann ich ihn auch diagonal fotografieren, um ihn in der gesamten Länge auf das Bild zu bekommen.
Die Tickets habe ich bei
Opera della Primaziale Pisana
vorbestellt. Man bucht ein bestimmtes Zeitfenster je nach Tageszeit zwischen 20 und 30 Minuten. Leider hatte ich meinen Pop-Up-Blocker nicht offen, so dass ich die Bestätigung nicht bekommen habe. Zwei E-Mails in Englisch blieben unbeantwortet. Dann habe ich dort angerufen. Die Telefonisting sprach kein Englisch. Unsere italiesche Mitarbeiterin hat mir einen italienischen Text geschrieben, damit ich nochmals per E-Mail anfragen konnte. Die Antwort kam dann in Englisch, dass die Vorlage des registrierten Personalausweises reicht. Es gibt hier einen separaten Schalter für Abholer von vorausgebuchten Tickets.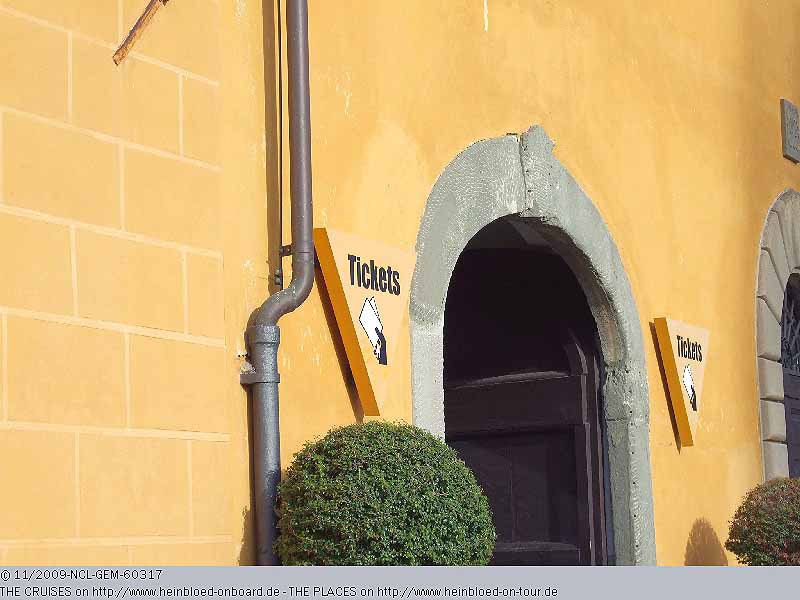 I pre-ordered the tickets at Opera della Primaziale Pisana. You book a certain time frame - depending to the time of the day between 20 and 30 minutes. Unfortunately I did not allow pop-ups so I could not see the confirmation. Two mails in English remained unattended. A call was attendent by a non-English speaking agent. So I asked an Italian co-worker to translate a mail for another request. The answer came in English. Presentation of my national ID-Card will be good to get the tickets at the collection counter for pre-booked tickets.

Left next to the ticket office we should meet 10 minutes ahead of the scheduled time.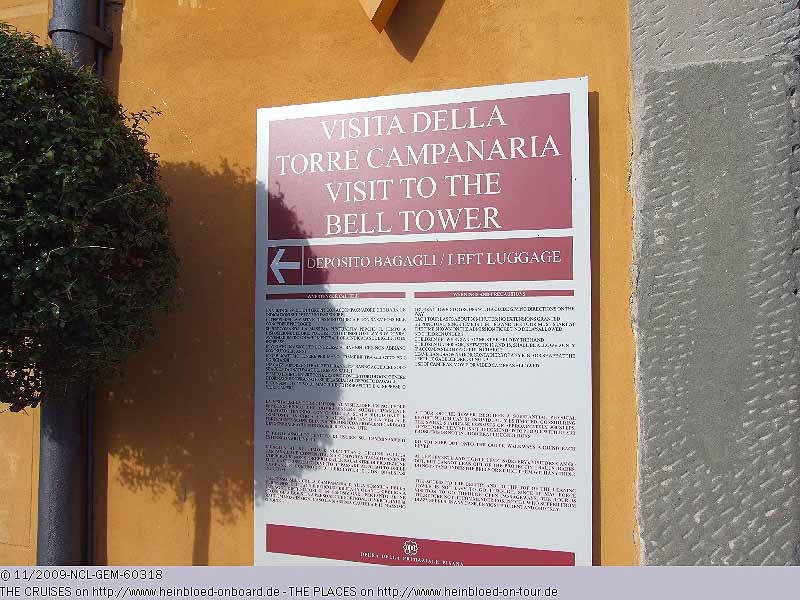 Links neben dem Ticketbüro sollen wir uns zehn Minuten vor Besuchsbeginn treffen.
Je nach dem, was man sonst noch alles besichtigen will, gibt Kombitickets.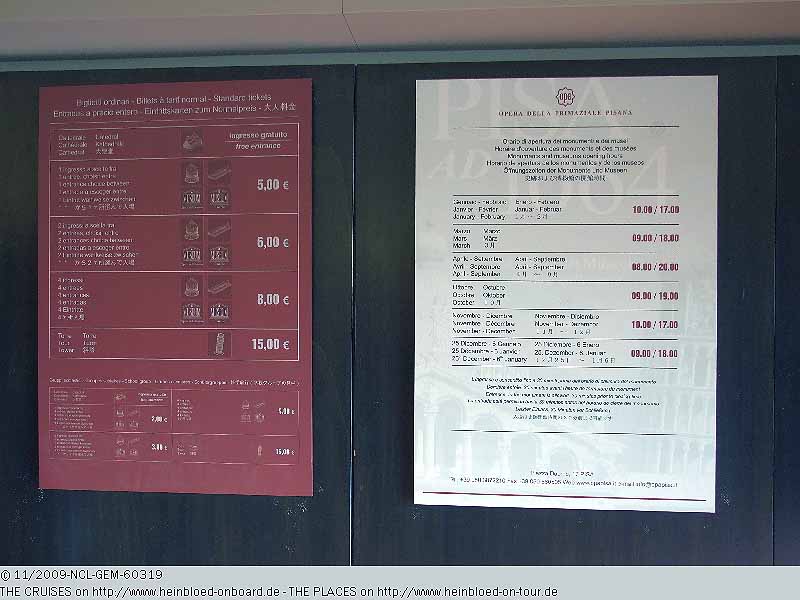 Depending what else you like to see you can get combi-tickets.

But we wanted only to see the tower.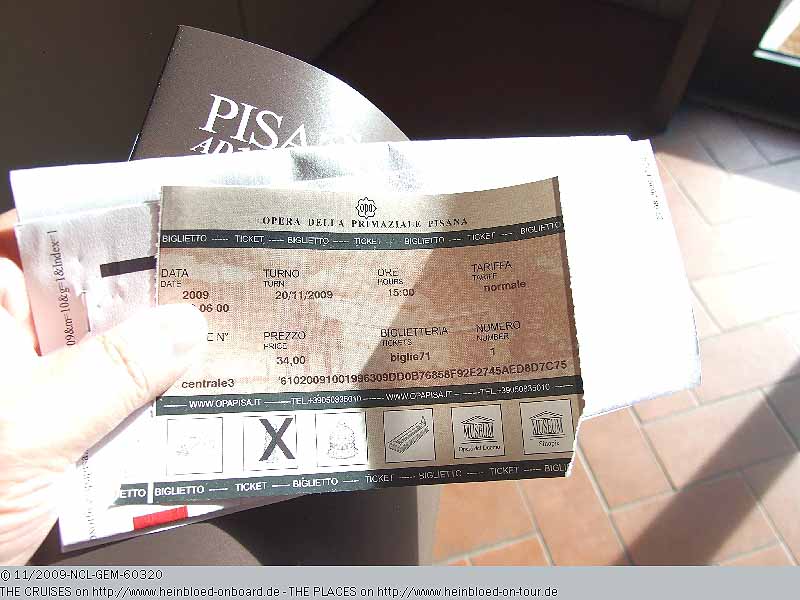 Wir wollten aber nur den Turm.
Als wir uns auf eine Tasse Cappucino (2,00 EUR) draußen noch hinsetzen, um die Wartezeit zu überbrücken, können wir uns das mitansehen, wie man sich z. T. entlang der Wand auf der zweithöchsten Ebene hangeln muss. Neben uns sitzt ein deutschsprachiges Paar. Die Frau will. Er nicht. So geht sie dann mit Bruno hoch, weil das wohl nichts für mich ist.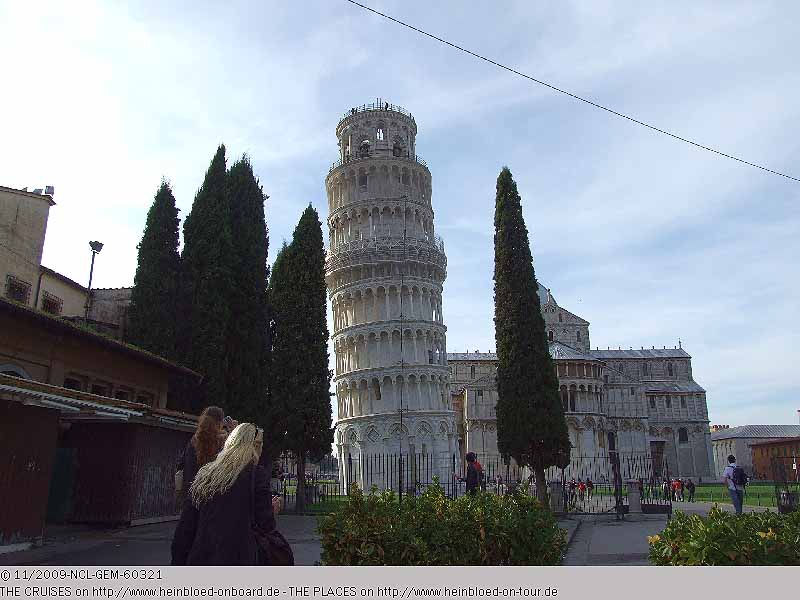 When we had another cappucino (2.00 EUR) in an outdoor-café and waited there for the tour. But we could see how others were laying away the wall at the second highest level. Next to us another German couple were sitting. She liked to go. But he did not. So she went with Bruno upwards as I did not want to go anymore.

That's why I can only enjoy the pictures with you all.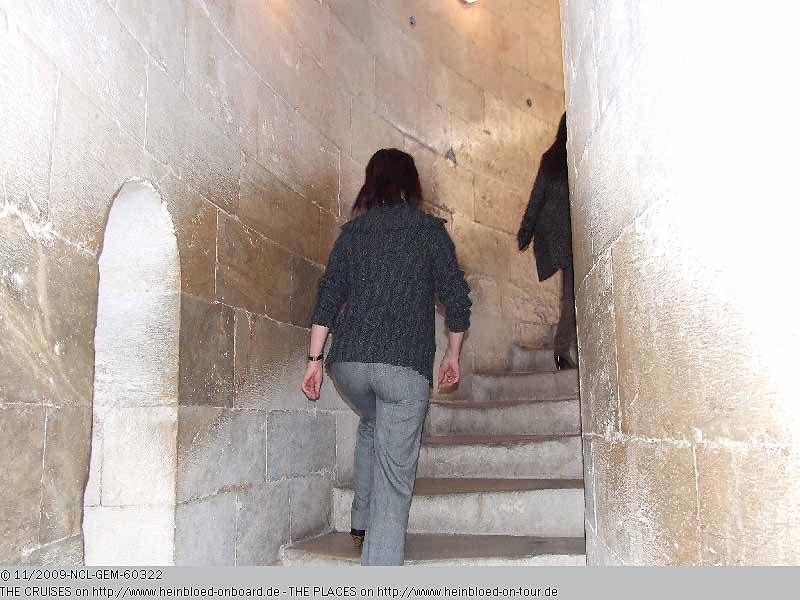 Daher kann ich nur mit euch die nachfolgenden Bilder genießen.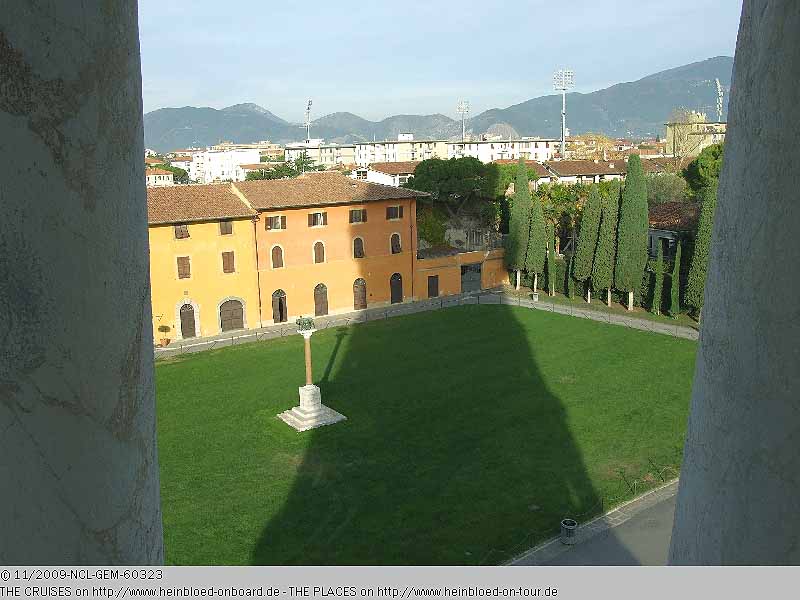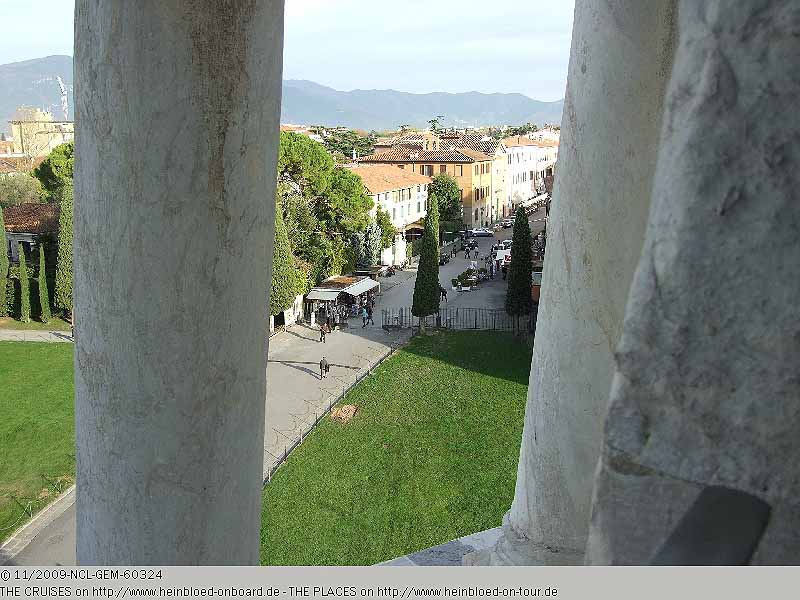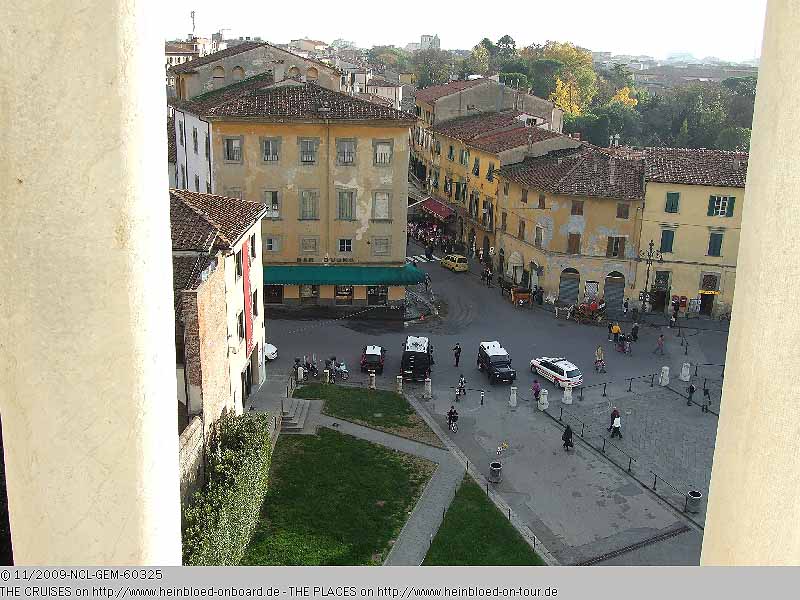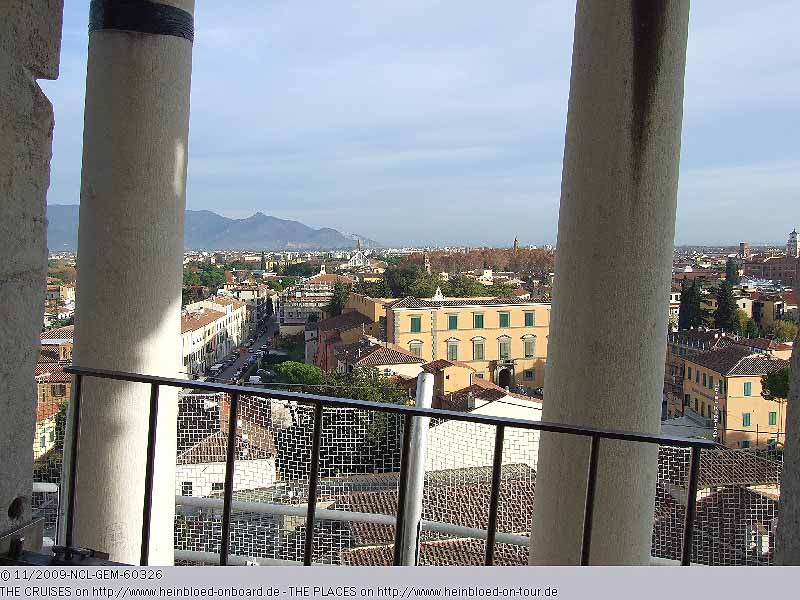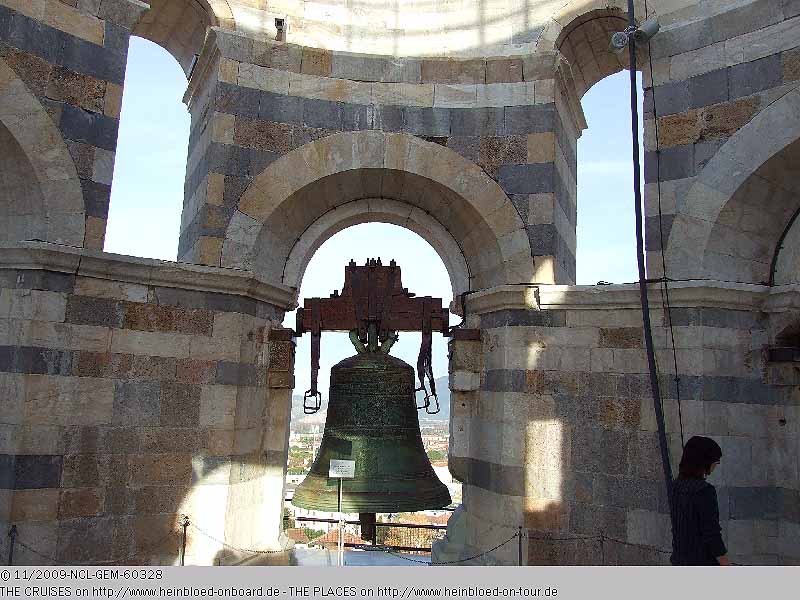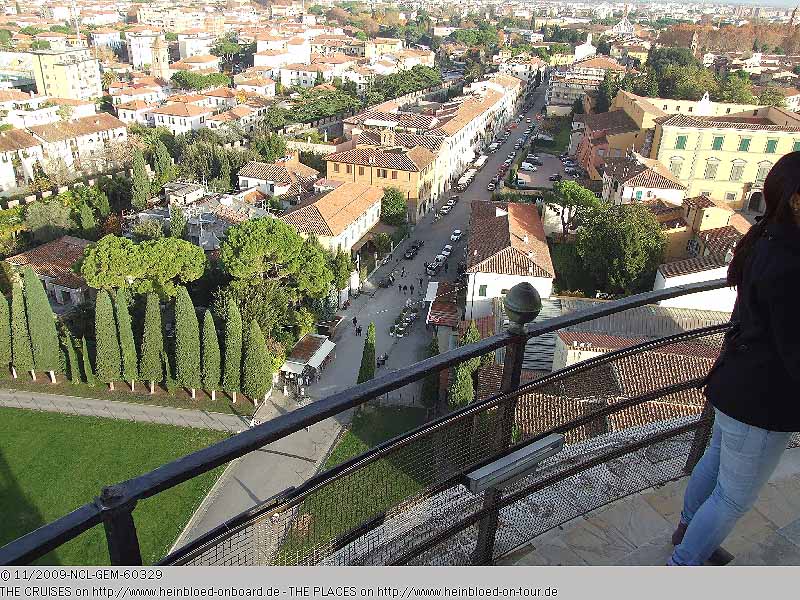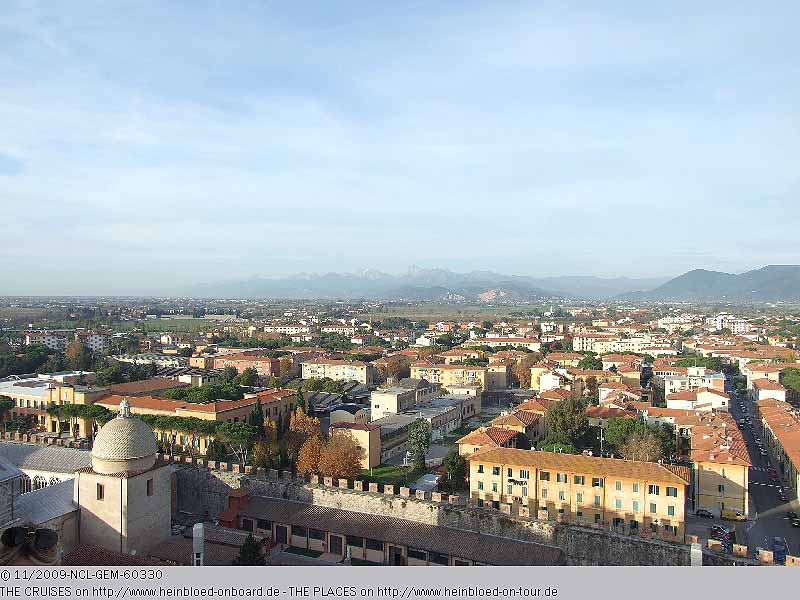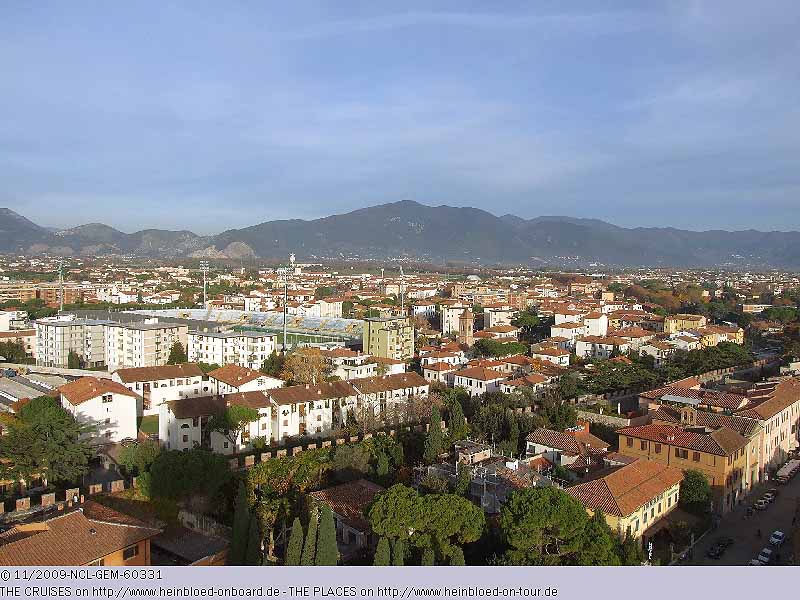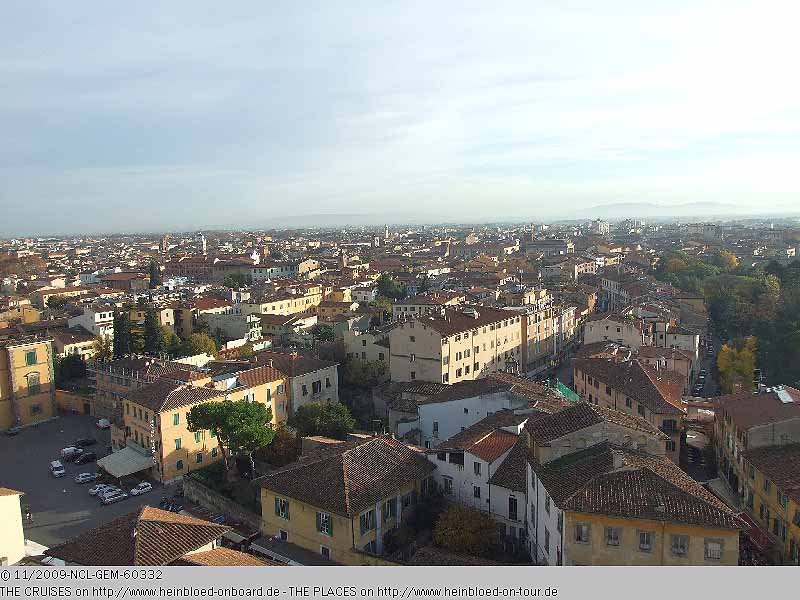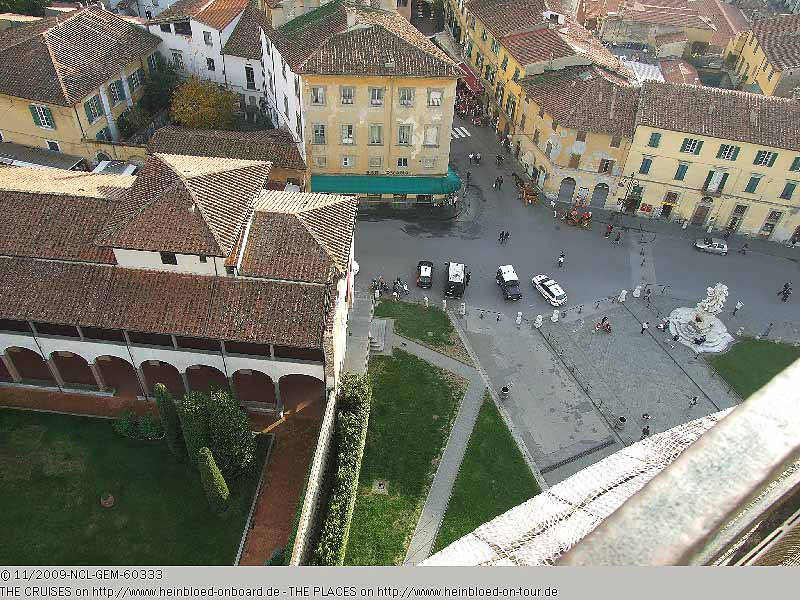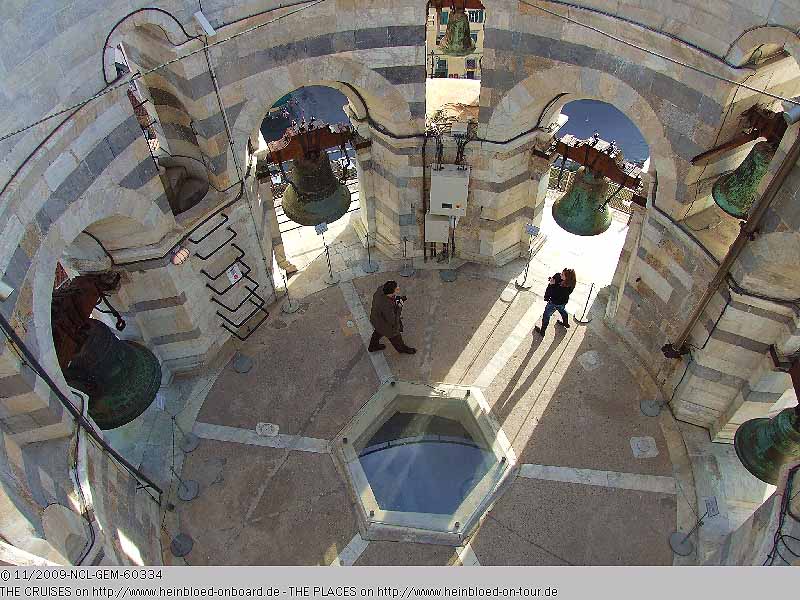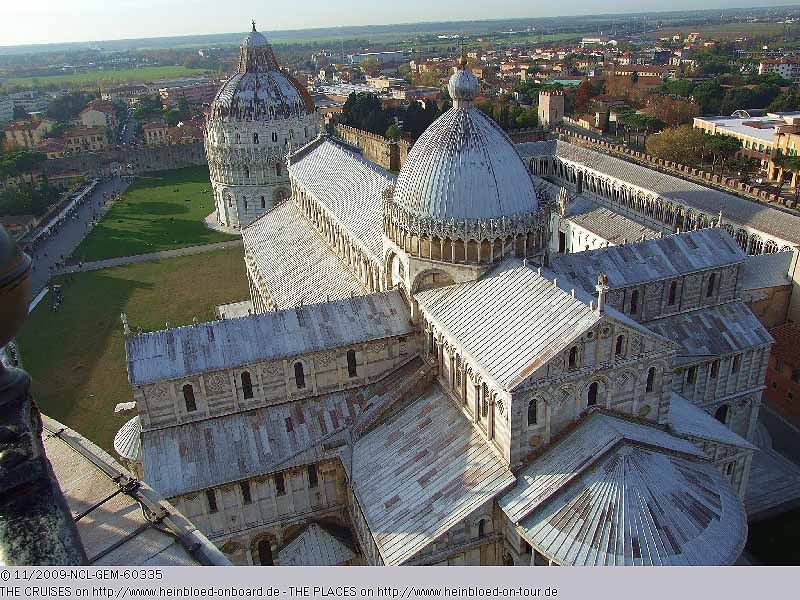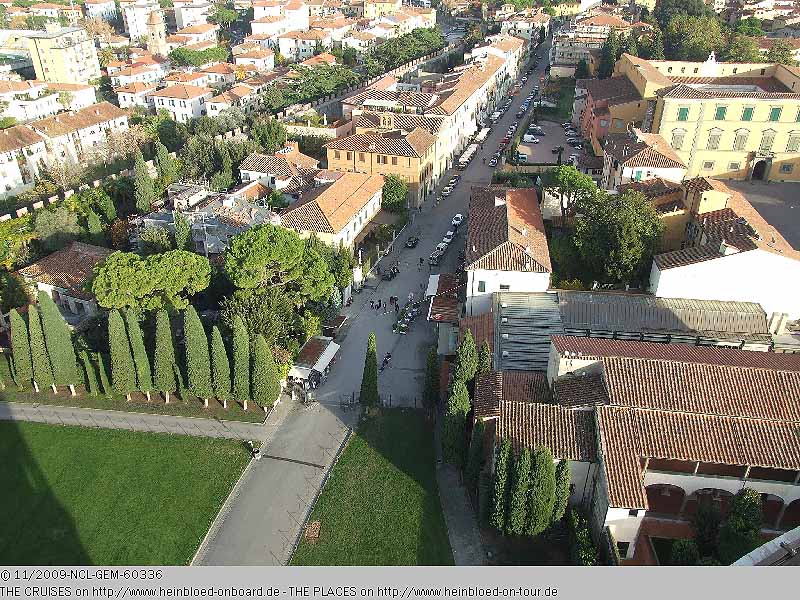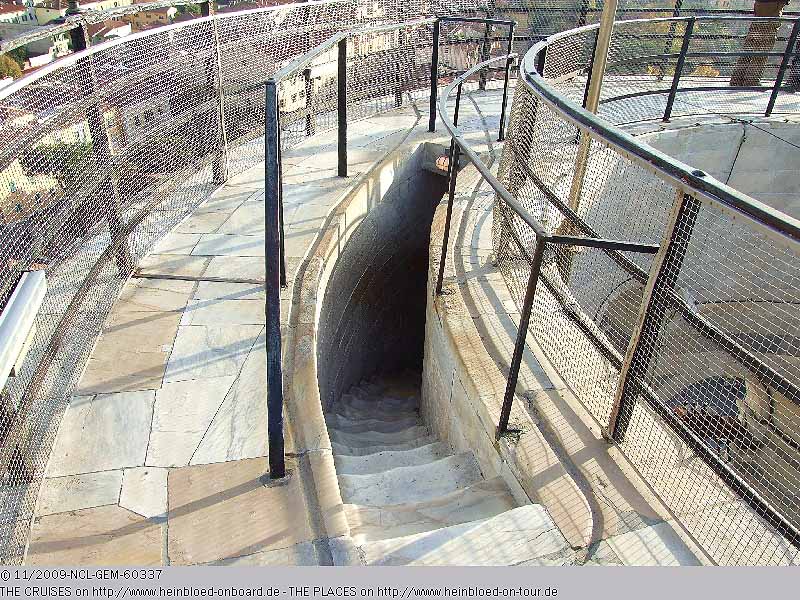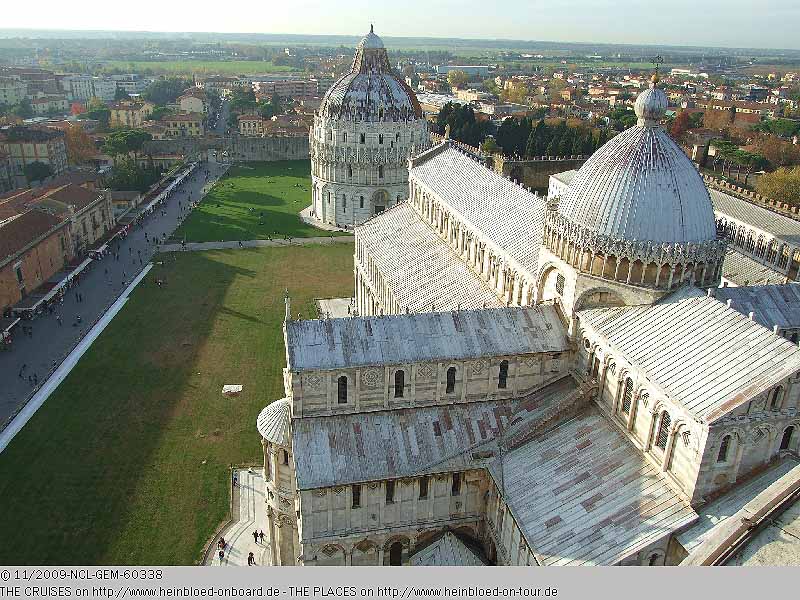 Auf dem Turm hat Bruno dann zwei deutschsprachige Mitreisende von der NORWEGIAN GEM "adoptiert" und mitgebracht. Da wir ja noch Platz im Auto haben und wir denen somit den Zug, den Bus zum Shuttle und den Shuttle ersparen können, nehmen wir sie mit. Von ihnen wissen wir auch, dass wohl doch auf dem Schiff öffentlich nach uns fahndet wurde, und dass wohl drei Mitreisende es tatsächlich nicht auf das Schiff aus Rom geschafft hatten.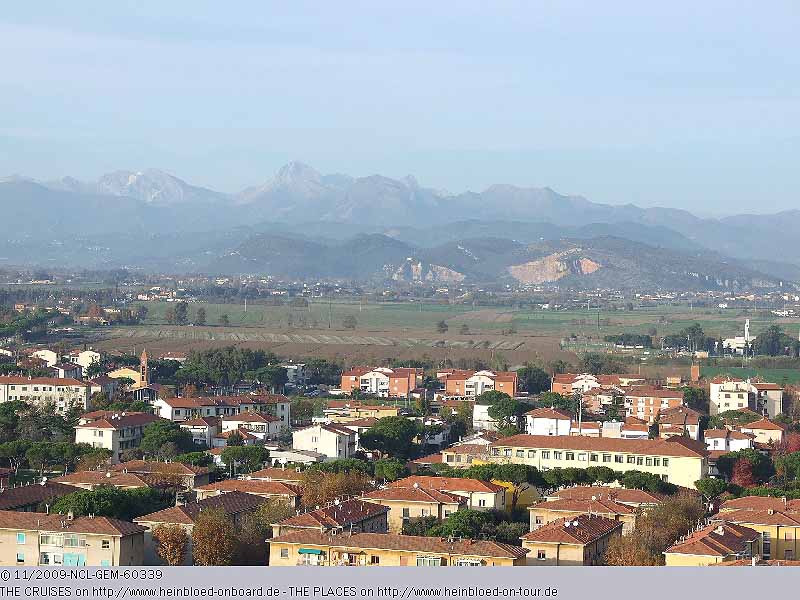 On the tower Bruno met two other German-speaking cruisers from NORWEGIAN GEM and he "adopted" them and took them with us. As we had seats in our car available and they could save the train, bus and port shuttle and go with us. They told that they paged for us last night and that three other cruisers missed the ship because they missed the train back to Civitavecchia.

We used the country roads back to Livorno and made it in 20 minutes. I checked the driving instructions before on the port's website.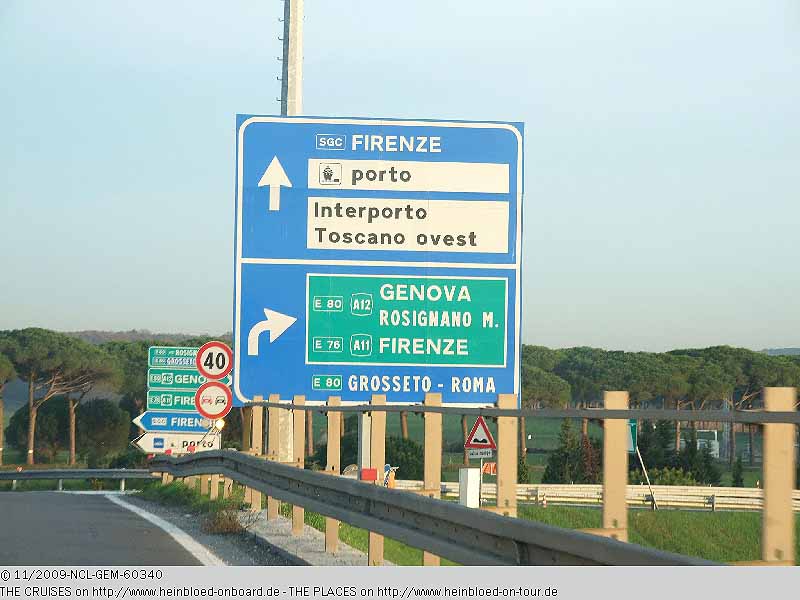 Über die Landstraße sind wir in ca. 20 Minuten in Livorno. Ich hatte mir zuvor auf der Homepage vom Hafen Livorno alles angeguckt.
Eigentlich gab es nur Informationen zur für Fährreisende, so dass wir erst mal hier gelandet sind, als wir der Wegbeschreibung gefolgt sind.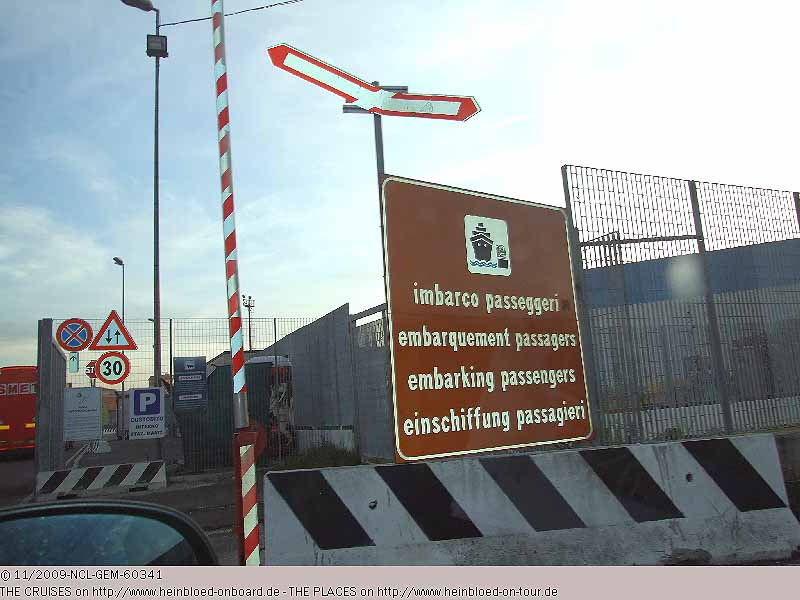 But there were only information for ferry passengers avaialble so we arrived at the ferry entrance.

The entrance for cruisers was just around the corner so you can use the directions for guidance and let them give you last instructions for the last mile.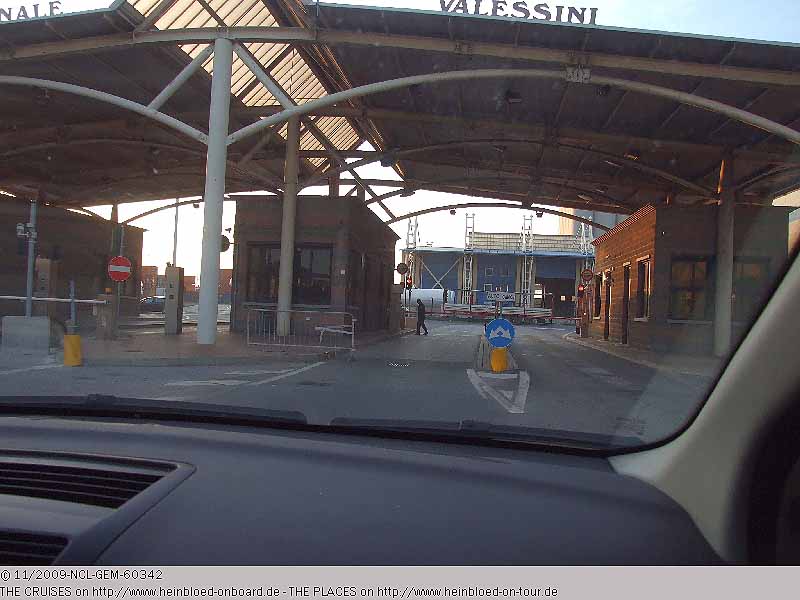 Zum Glück war aber die Zufahrt zu unserem Teil des Hafens nur einmal um die Ecke, so dass man es ruhig als Orientierung nehmen kann, und sich dann weiterlotsen lassen kann.
Unsere NORWEGIAN GEM wartet auf uns.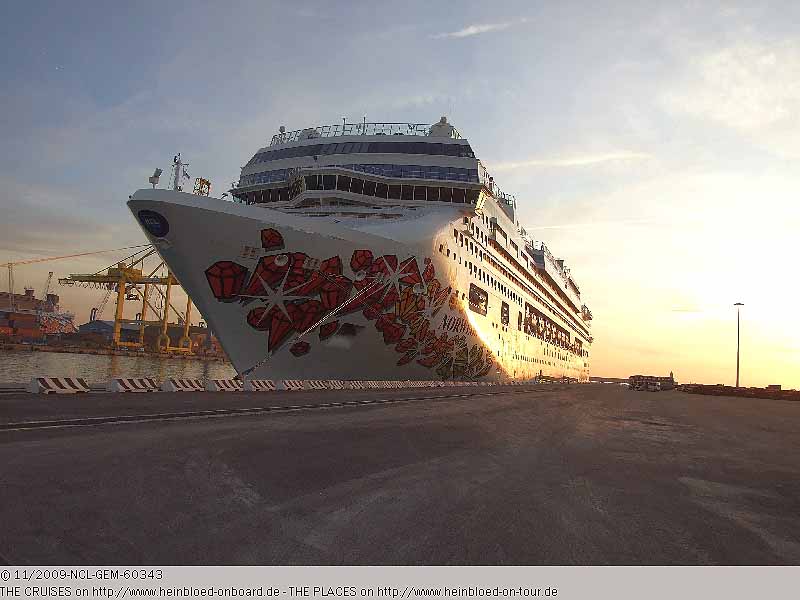 Our NORWEGIAN GEM was waiting for us.

All the taxis and mini-buses with private tours were coming back.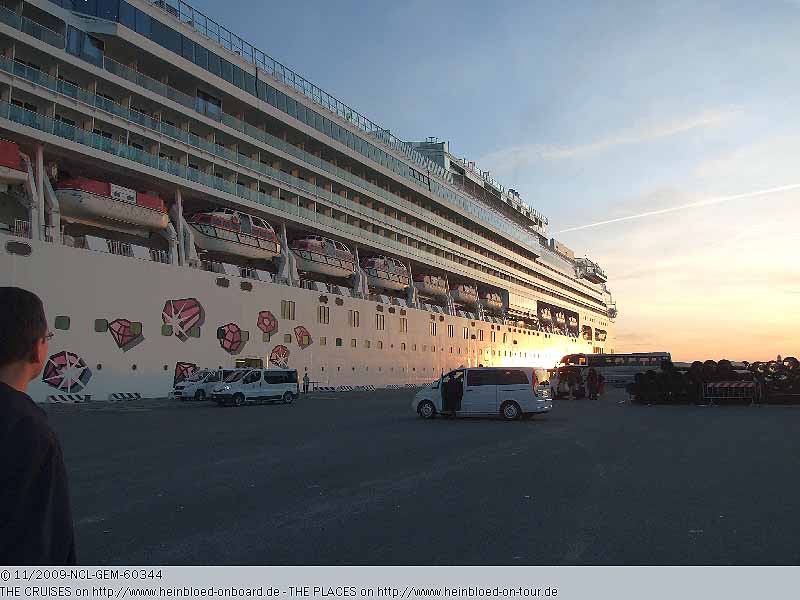 Die ganzen Taxen und Kleinbusse mit den Privatausflüglern kommen zurück.
Auch die Shuttles spülen die Ausflügler zurück an das Schiff. Es sollen 5 EUR gewesen sein...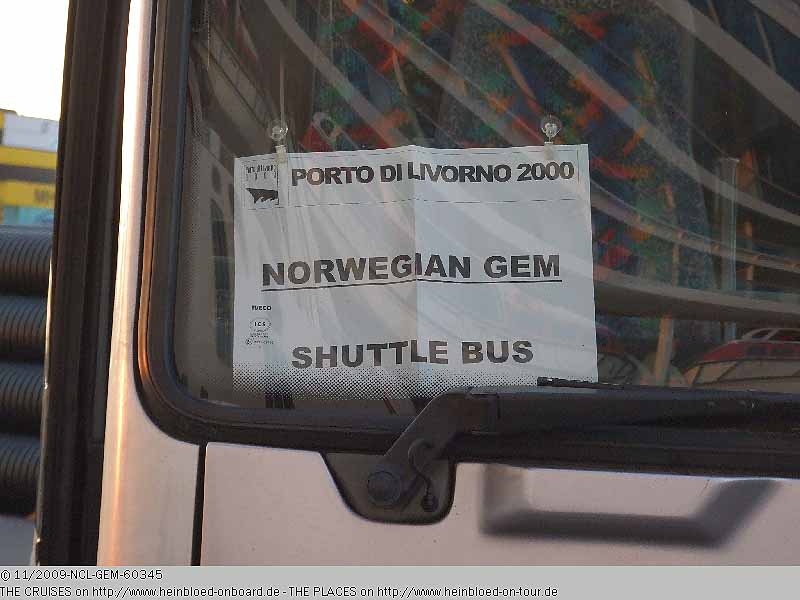 All the shuttles got the tourists back to the ship. It should be 5 EUR for the shuttle.

Hertz-agents were waiting for their customers for car return. There was none from Europcar as they did not know that we wanted to return the car at the pier as we did not rent the car from here this morning. So we called them. But they told us that this is no problem and gave us instructions what to do to get the car collected later the day. We did what they told us and returned to the ship. For this service Europcar charged 20 EUR. A taxi from there rental location would be the same amount. Since we did not return the day before I was expecting a clyster from the security. But was nothing and we could enter the ship. Two wonderful days in the Tuscany terminated.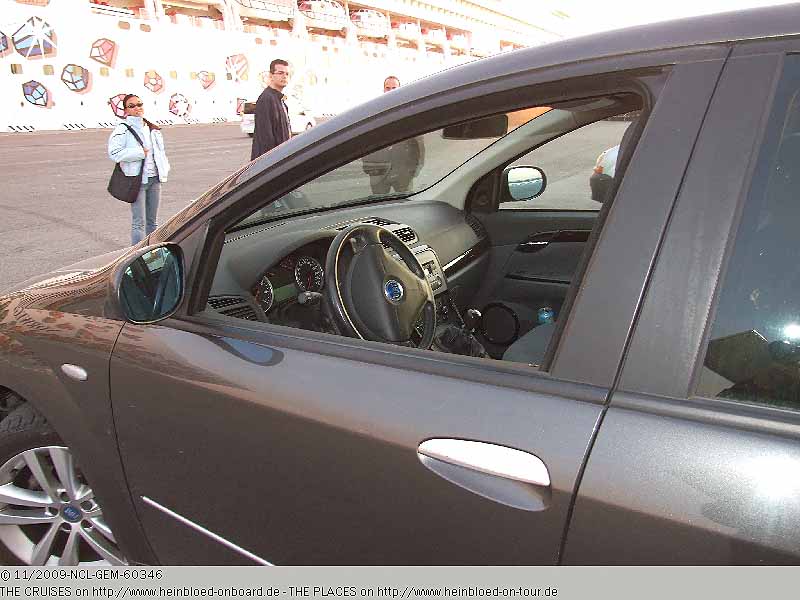 Mitarbeiter von Hertz warten auf diejenigen, die den Wagen am Schiff abgeben. Von Europcar wusste ja keiner, dass wir das Auto direkt am Schiff abgeben wollten, wenn es keinen gab, der morgens hier angemietet hat. So rufen wir kurz dort an. Aber kein Problem, sagt man uns und gibt uns genaue Anweisungen, was wir machen sollen, damit der Wagen später abgeholt wird. Wir machen das und können auf das Schiff. Für diesen Service hat Europcar dann 20 EUR berechnet. Ein Taxi von denen wäre sicherlich genauso teuer gekommen. Eigentlich hatte ich mit einem Einlauf gerechnet, wenn wir das Schiff betreten und unsere Karten eingelesen werden. Aber gar nichts passierte. Zwei wunderschöne Tage in der Toskana finden nun sein Ende.