Der Tag beginnt mit "Walk a Mile". Irgendwie habe ich die richtige Stunde erwischt: der Tag erwacht und wir kommen so langsam in Nassau an.

The day started with "Walk a Mile". Somehow I hit the right hour: the day woke up and slowly arrived in Nassau.

But somehow the weather did not look too promising in Nassau.

Nur sieht irgendwie das Wetter nicht besonders vielversprechend in Nassau aus.
Die ENCHANTMENT OF THE SEAS hat es schon vor uns hierher geschafft.

ENCHANTMENT OF THE SEAS made it already to this place.

So now NORWEGIAN SKY was in her home port.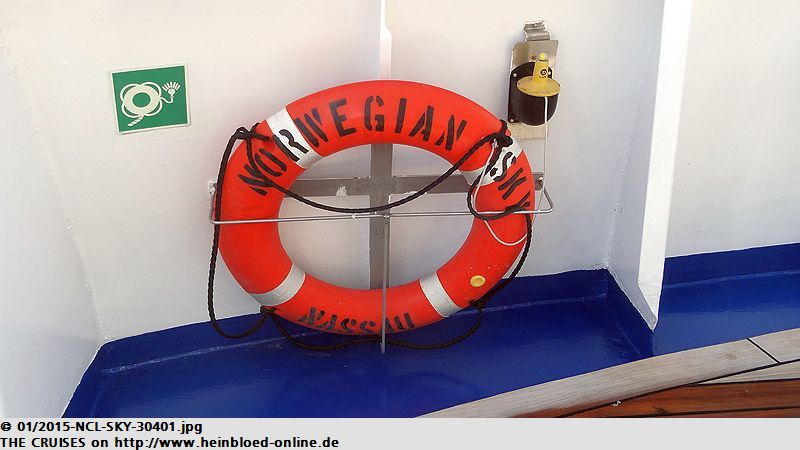 So ist jetzt also die NORWEGIAN SKY in ihrem Heimathafen.
Zuvor noch auf dem Great Outdoors war noch alles dunkel. Aber es ist schön erleuchtet.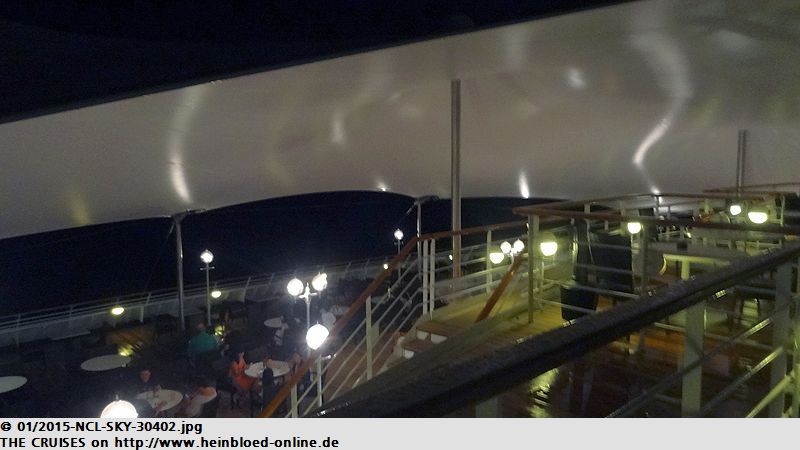 Before everything was dark in the Great Outdoors. But it was illuminated very nicely.

At the coffee bar you could also get some breakfast danish.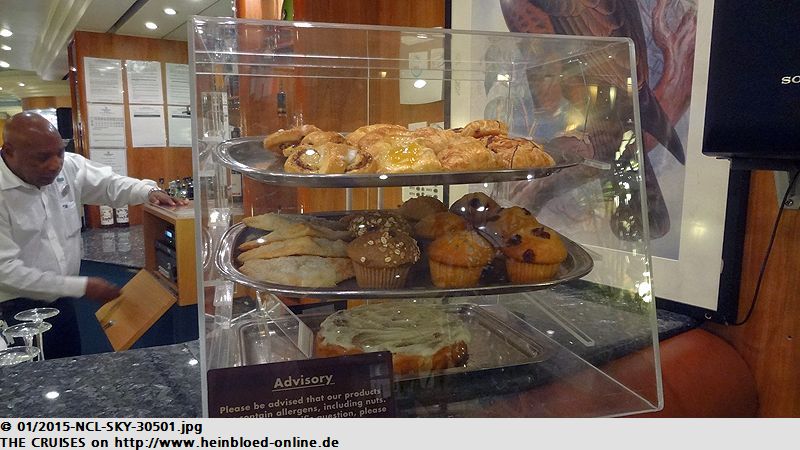 An der Kaffeebar gibt es auch ein wenig Frühstücksgebäck.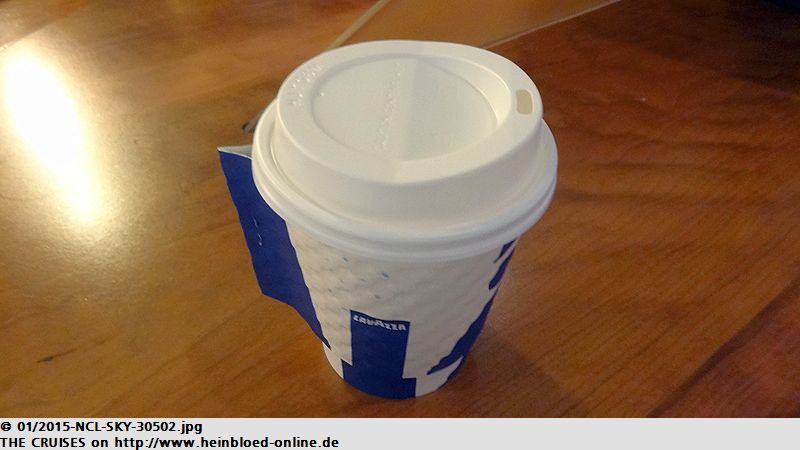 In total it was nicer to have some coffee in a porcelain cup.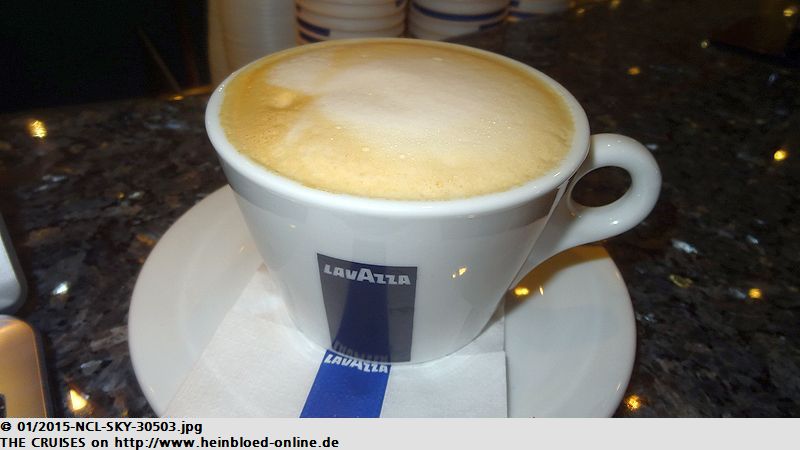 Insgesamt ist es jedoch schöner etwas aus einer Porzellantasse zu trinken.
Unser Frühstück nehmen wir wieder im Cagney's ein.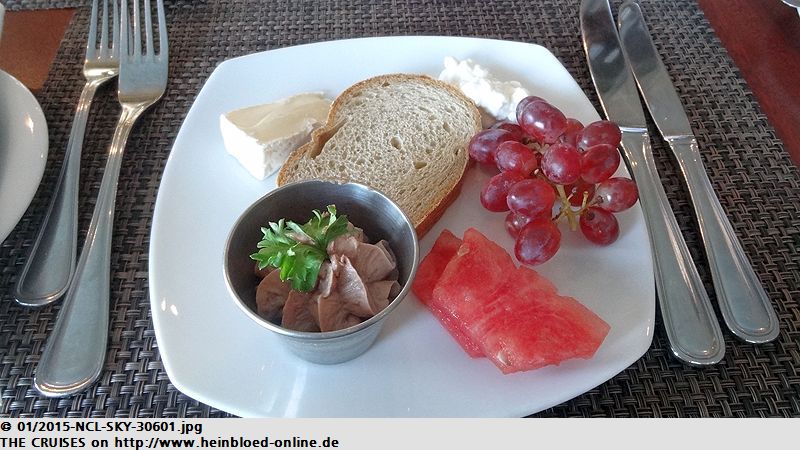 Our breakfast we took again in the Cagney's.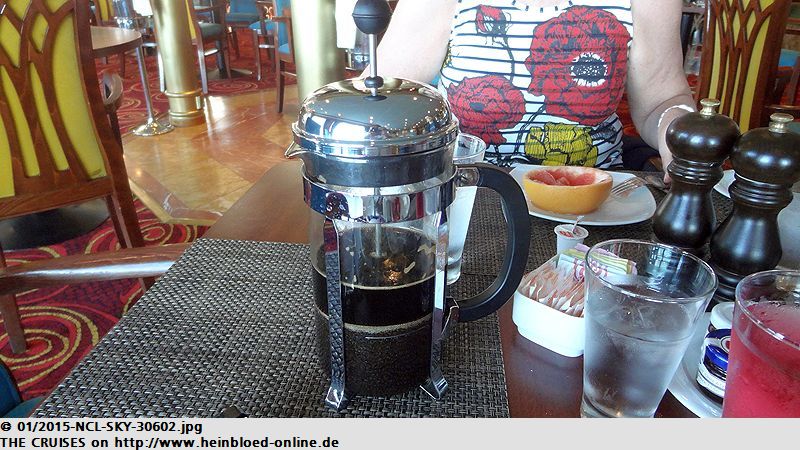 Kapitän Pelle ist so etwas schon gewohnt. Damit tun sich ja die Kapitäne von Holland America und Princess immer etwas schwer (bis auf wenige Ausnahmen).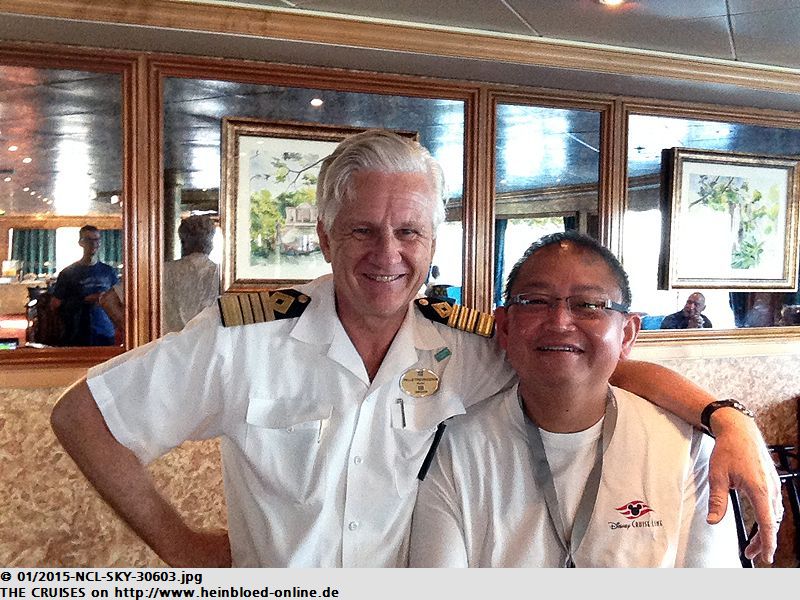 Captain Pelle were used to be this way. Captains with Holland America and Princess were not so used (but few exceptions).

And together with the most important crew-members in the Cagney's: Ma Soledad and Revi who took always care of us that we felt well allover the cruise.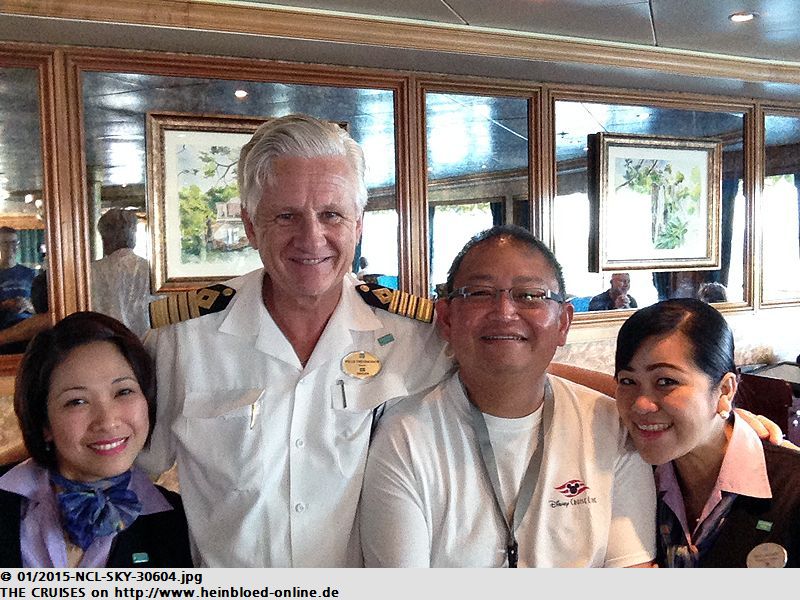 Und mit den wichtigsten Crew-Mitgliedern im Cagney's: Ma Soledad und Revi, die immer dafür gesorgt haben, dass wir uns rundum wohl fühlen.
Und da wären auch nochmals Revi und auch die anderen, die uns immer so toll uns im Cagney's umsorgt haben: I Wayan, I Putu und Nashira.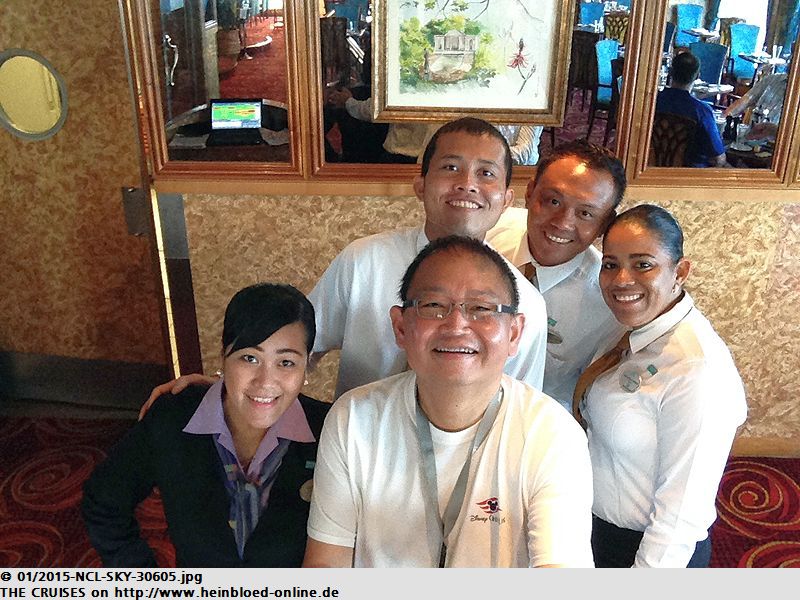 And now again Revi together with the others who toll very well care of us in the Cagney's: I wayan, I Putu and Nashira.

I am shipspotter. I could have 7,324 shots of NORWEGIAN SKY... I still would make another 871 shots if I have the occasion.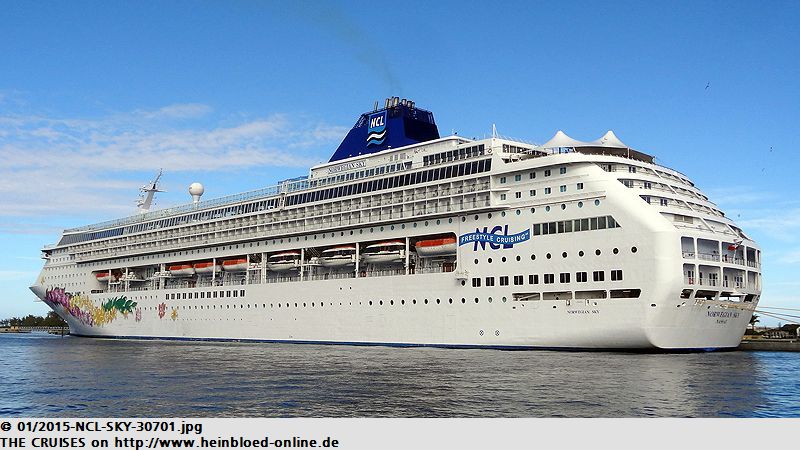 Ich bin nun mal Shipspotter: Ich könnte 7.324 Aufnahmen von der NORWEGIAN SKY haben... Ich würde noch 871 mehr machen, wenn ich Gelegenheit hätte.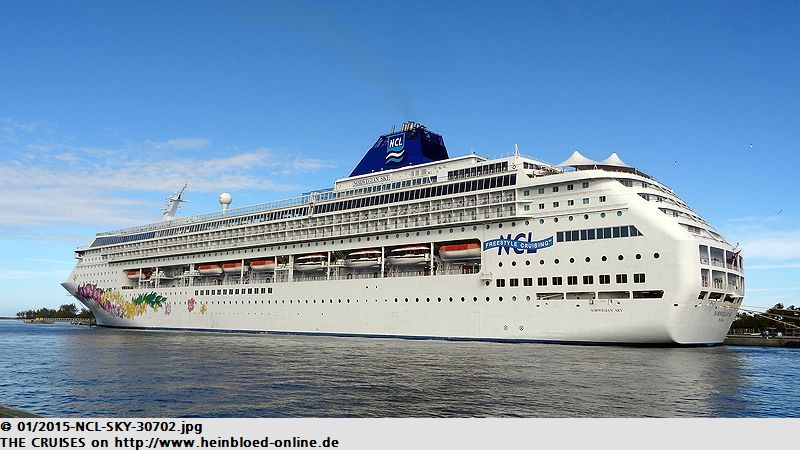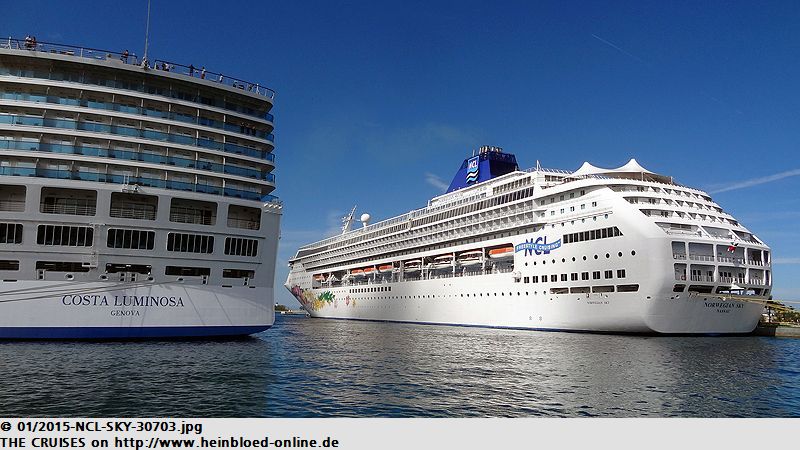 If I would have known that there will be another rotation change the following weekend and I will not see her anymore I would have taken 597 more shots...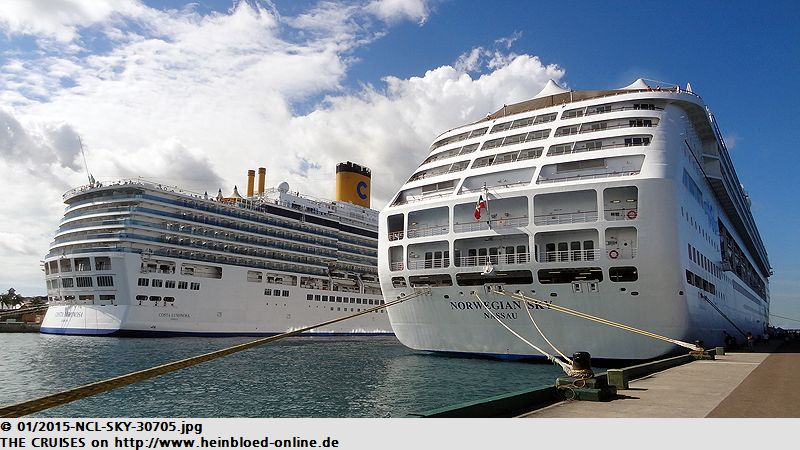 Wenn ich gewusst hätte, dass sie am kommenden Wochenende nochmals eine Rotationsänderung hat und ich sie nicht mehr sehe, dann hätte ich vermutlich 597 mehr gemacht...
Und Selfies mit der NORWEGIAN SKY müssen sein.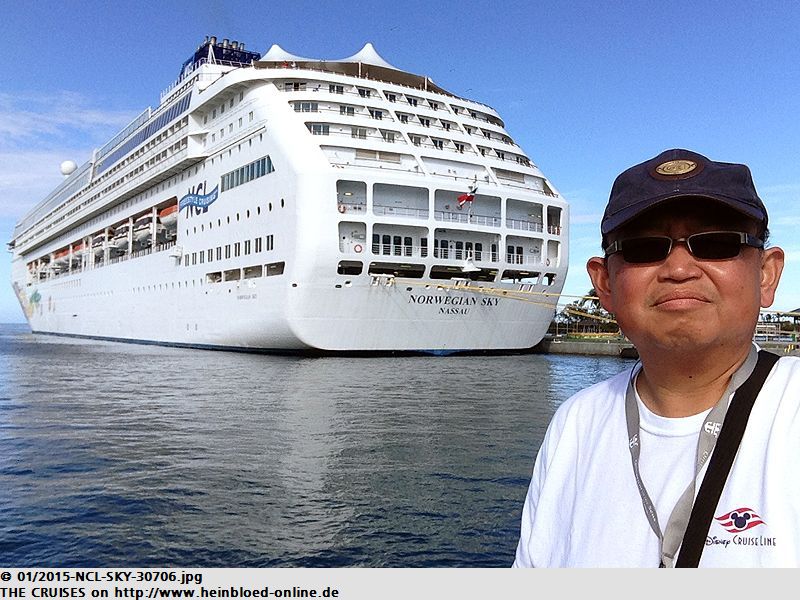 And selfies with NORWEGIAN SKY were a must.

Very Asian.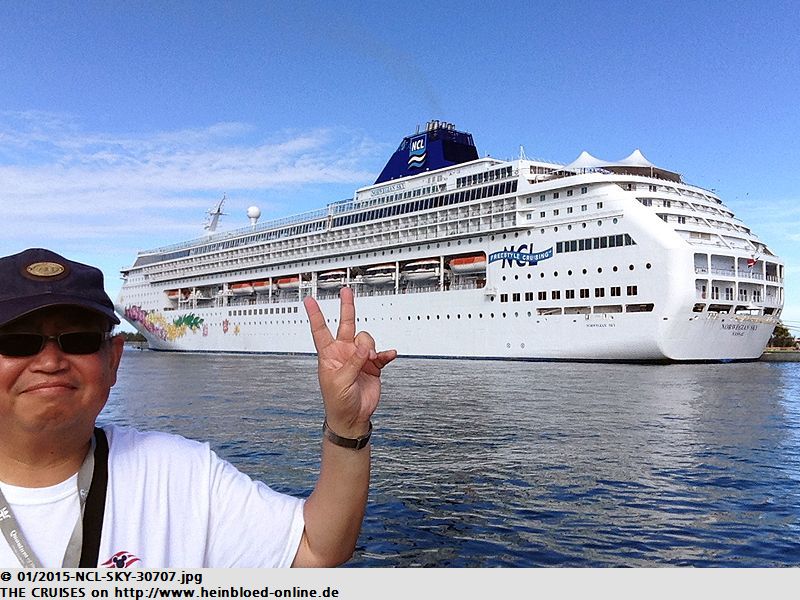 Ganz asiatisch.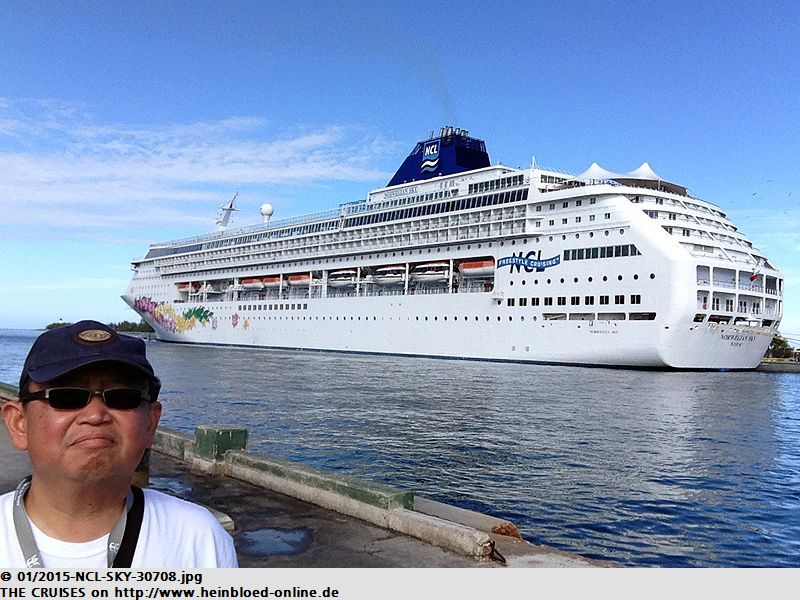 We will be soon back again.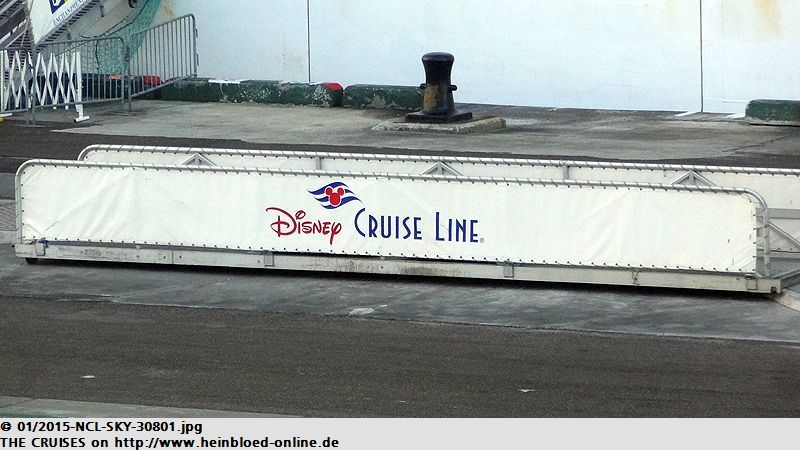 Wir sind ja bald wieder da.
Das Kennzeichen kenne ich doch.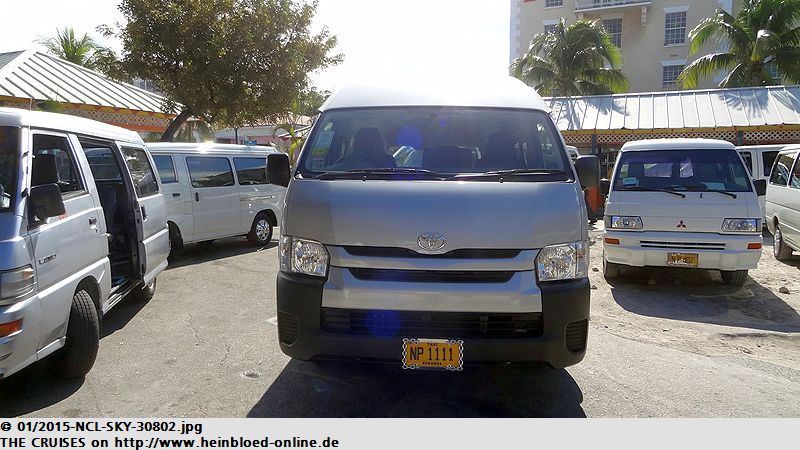 I remember this registration plate.

But with a brand new car: Barbara who drove us around in November.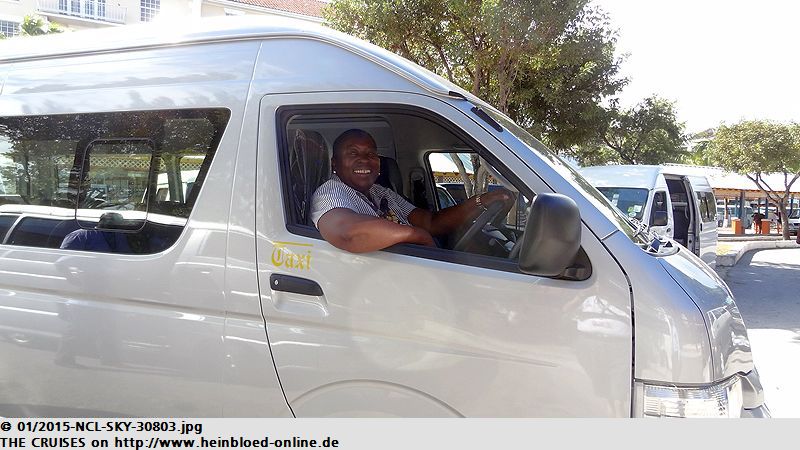 Allerdings mit einem nagelneuen Wagen: Barbara, die uns im November herum gefahren hat.
Die "üblichen" Angebote in der Karibik: Zöpfe... Zum Glück sind meine Haare so kurz: mich spricht niemand an.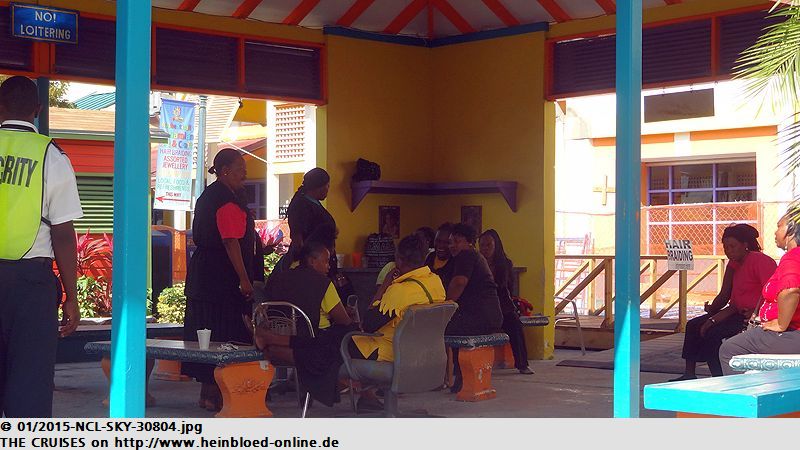 The "usual" offers in the Caribbean: plaits... Luckily my hairs were so short: nobody offered me.

The photo frame.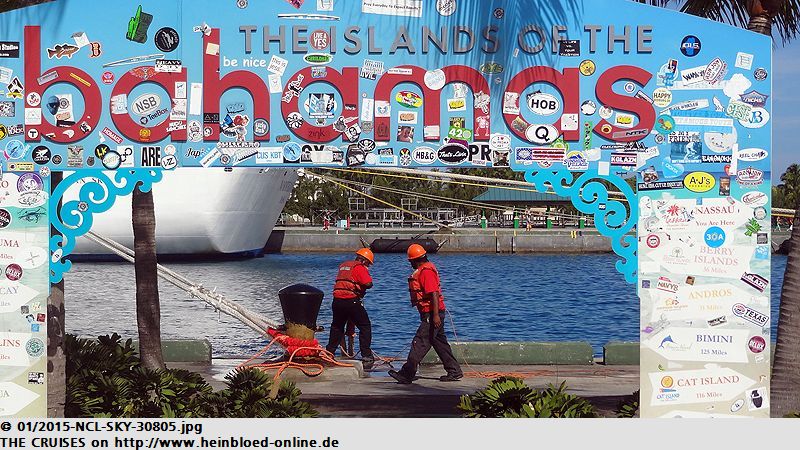 Der Fotorahmen.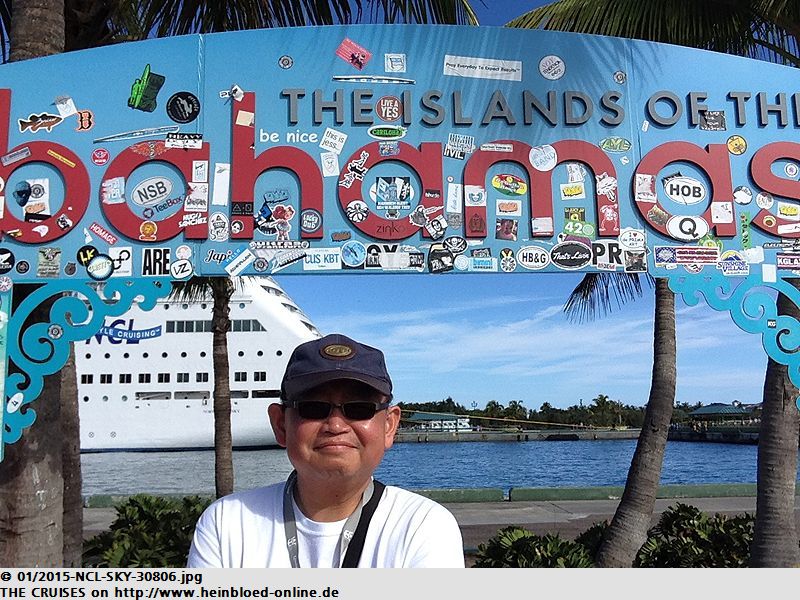 So Nassaufor the first time this week.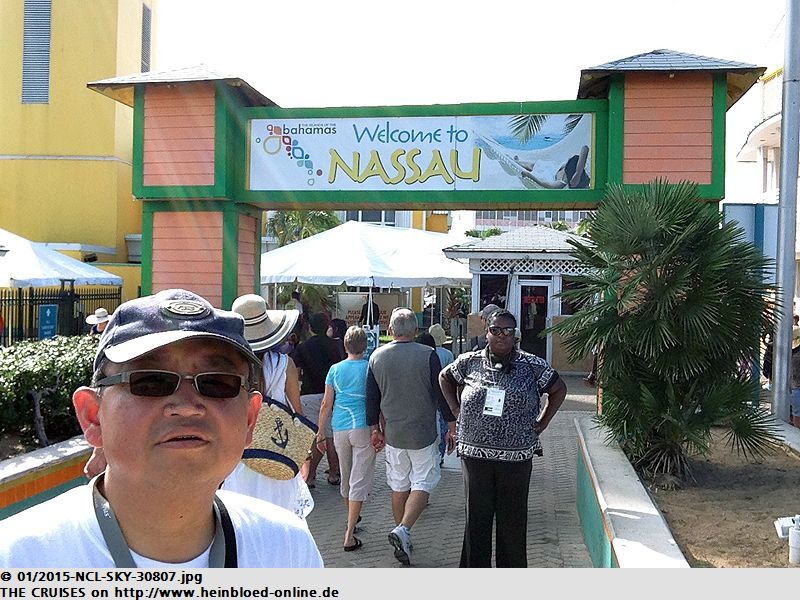 Also Nassau zum 1. in dieser Woche.
Bruno und Sigi sind alleine losgezogen. Ich will eigentlich bloß neue Aufsätze für meine Braun Zahnbürste. Die bekomme ich nirgendst in Nassau, zumindest nicht in der Umgebung des Hafens. So gebe ich auf und erkundige mich nach den Fähren zum
Atlantis
. Anscheinend gibt es hier auch ein Besucherprogramm von MasterCard. Aber ich kann mit dem Angebot nichts anfangen. Ich will ja bloß Ersatzbürsten für meine elektrische Zahnbürste von Braun. Große Märkte gibt es nur auf der grünen Wiese und dafür bräuchte ich ein Taxi. Dazu habe ich auch keine Lust. Also bleibt es bei einer Runde Kokosnusmilch bei Lady Di. Nur hatte ich Lady Di irgendwie anders in Erinnerung...

Bruno and Sigi were moving around by themselves. I only need some new toothbrushes for my Braun electrical toothbrush. I could not it in Nassau around the port area. So I gave up and check the options for the ferries to Atlantis. Obviously there was also a visitor programme of MasterCard. But I had no use of their offer. I only need replacements for my electric tooth brush of Braun. Larger markets were only available outside the town and I would need a taxi to get there. But I disliked the idea. So I stayed only for a round of coconut milk by Lady Di. Only I had Lady Di in different memories...

Beside the electric toothbrush here was the other reason to leave the ship: the arrival of COSTA LIMINOSA.

Neben der elektrischen Zahnbürste ist der andere Grund für das Verlassen des Schiffes die Ankunft der COSTA LUMINOSA.
Wieder zurück an Bord: Vorbereitungen für das Barbecue auf dem offenen Decks.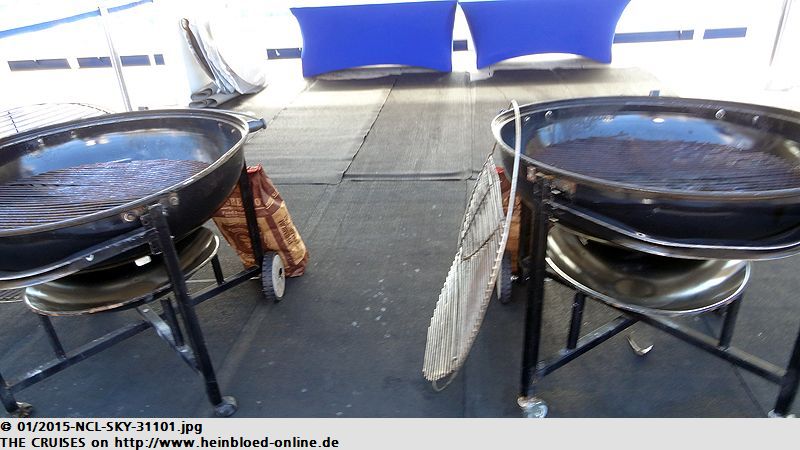 Back on board: preperations for the barbeque on the open decks.

During the daytime Il Adagio was the pizza-station.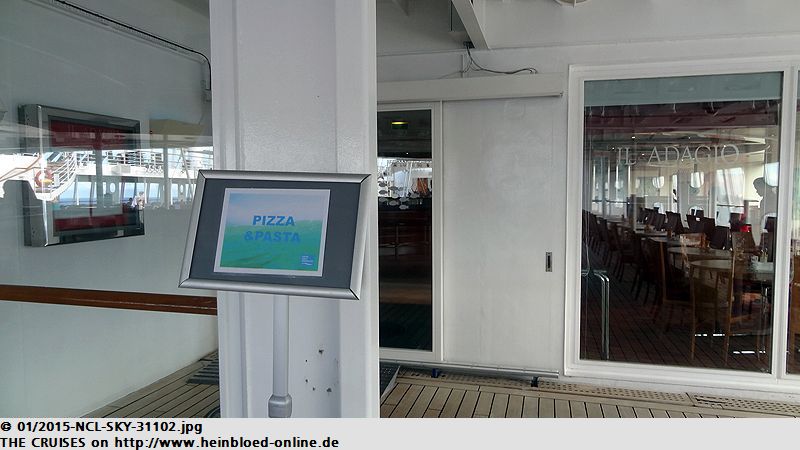 Tagsüber ist das Il Adagio die Pizza-Station.
Und auch die Pasta-Station. Bin ich vielleicht irrtümlich auf der COSTA LUMINOSA gelandet?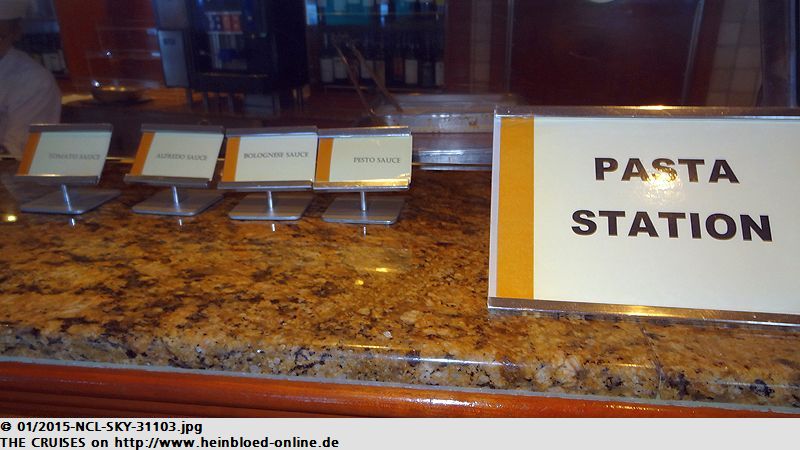 And also a pasta station. But maybe I went by mistake on COSTA LUMINOSA.

I was not. They had only American pizza.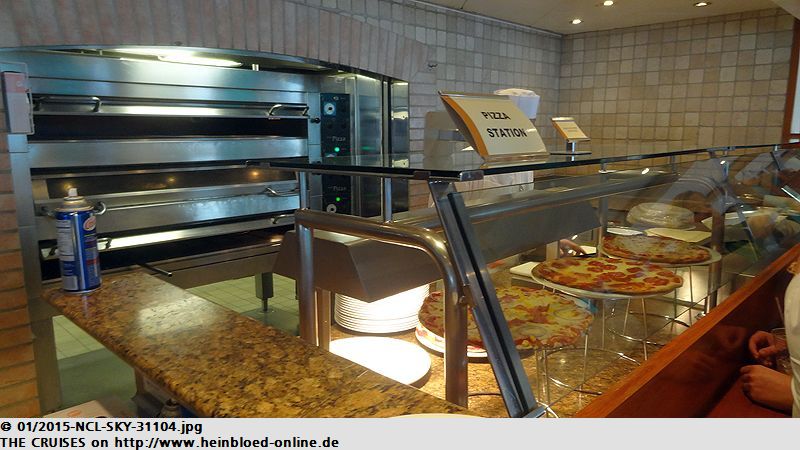 Doch nicht. Es gibt nämlich nur amerikanische Pizza.
Ich esse einfach ein wenig im SB-Restaurant. Alles da, was man so braucht. Publikum nervig. Ist irgendwie schon so, weil eben diese Kurzkreuzfahrten zum Halli-Galli machen gedacht ist, dass es schon irgendwie nicht so ganz normal ist.

I just had a quick bite in the self-service restaurant. Everything available you need. The audience was annoying. But it was made because it was a short cruise to have fun so it might not be normal.

I had luck because I had Jorge who took care of me while I was at the table so I must not walk myself to the buffet and my seat was gone.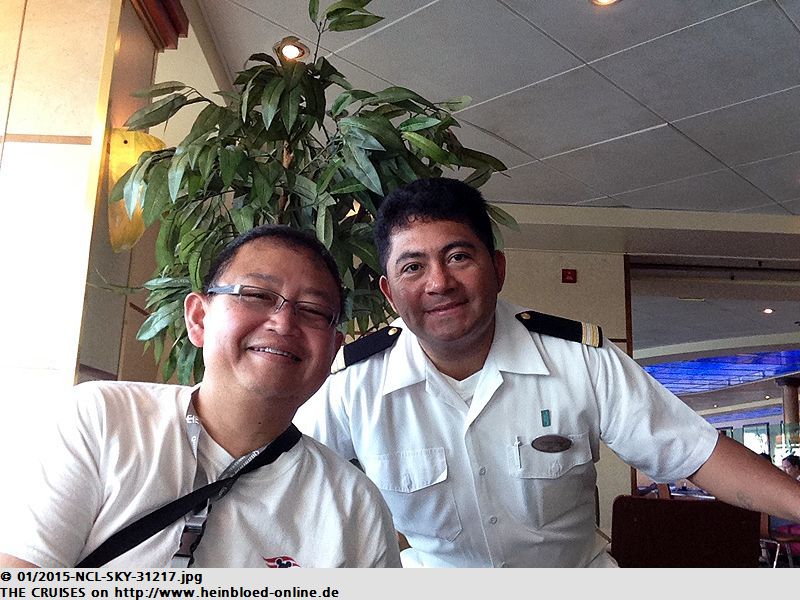 Ich habe Glück, weil ich Jorge habe, der mich an meinem Tisch versorgt, damit ich nicht selbst zum Büffet laufen muss, und der Platz direkt weg ist.
Zu Hause mache ich i.d.R. die Wäsche und nun meint Bruno wohl, weil ich das Laundry Staff T-Shirt trage, dass ich auch hier die Wäsche mache, während er sich ausruht. Wir haben auch einen Besucher vom Land. Endlich gibt es von Omar Tien Canapés und mein Douglas Ward ist unterschrieben zurück.

Normally I did at home our laundry and Bruno thought because I had the Laundry Staff T-Shirt that I will do the laundry while he had a nap. We also had a visitor from the shoreside. Finally we had Tien Canapés and my Douglas Ward was signed and back.

Our pearl in our cabin was by the way Dionne.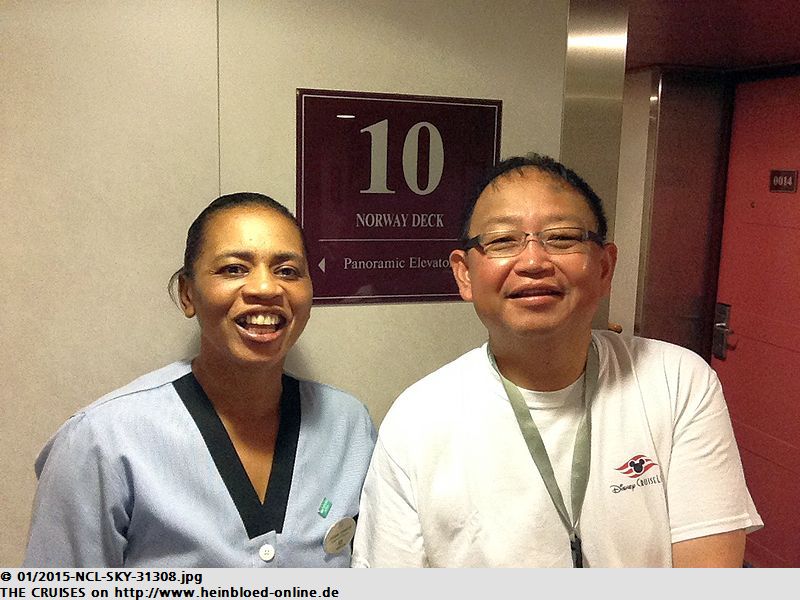 Unsere Perle in der Kabine ist übrigens Dionne.
Ich muss doch mal zum Doktor... Hoffentlich liest jetzt keiner von Holland America mit: Mein Versuch auf eine Theke zu springen, war etwas mißglückt... so brauche ich eine Mittel gegen innere Prellungen... Und suche die Ärztin auf.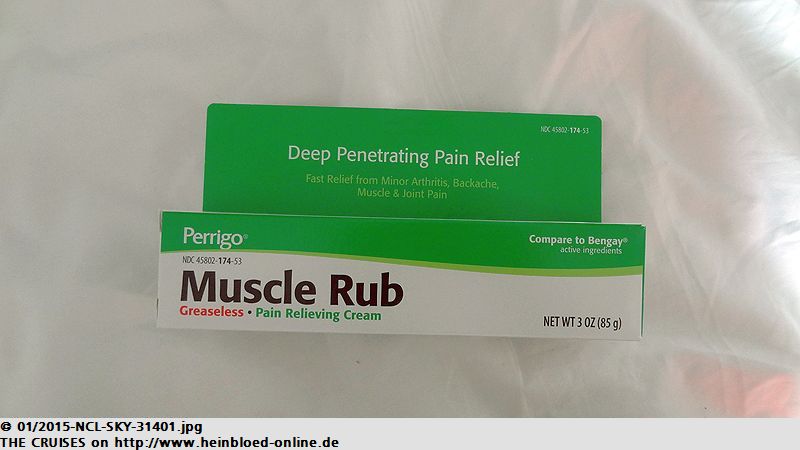 I need to see the doctor... I hope that none of Holland America would read this: My attempt to jump on the front desk was not successful... So I need some medication for interior bruise... And now I need to see the doctor.

But for 105.00 USD I will never try again to jump on a front desk of Holland America... Next time I will try a front desk section for wheelchairs... no matter which line and I will try it again...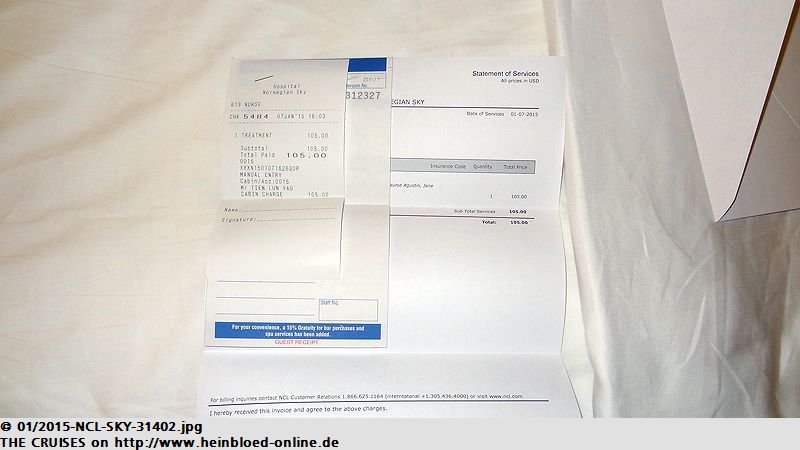 Allerdings für 105,00 USD werde ich nie wieder versuchen auf eine Theke von Holland America zu springen... Ich suche mir demnächst einmal eine Theke für Rollstuhlfahrer... egal welche Linie und probiere es mal da...
Neugierig bin ich auf das heutige Essensangebot in den Zuzahlrestaurants.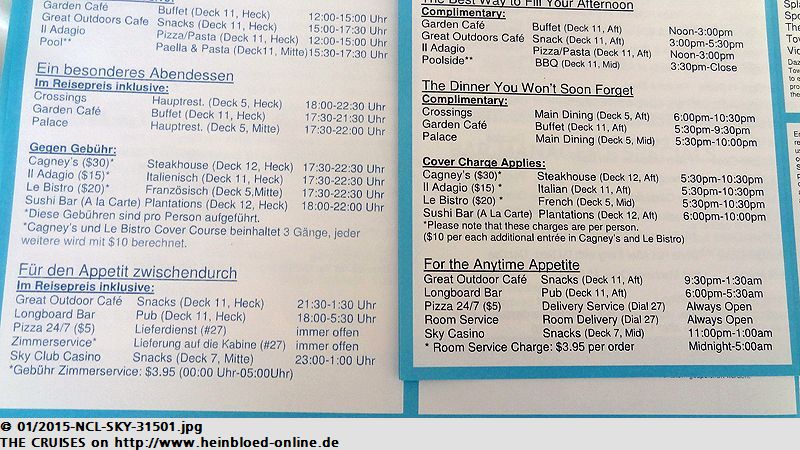 I was curious to see the today's offer in the alternative dining venues.

Now they took 15% on top of the cover charge and in Le Bistro and in Cagney's you were only allowed to have one main course. Norwegian became more and more outrageous. But anyhow we almost like more starters and salads. Mostly I took a soup, starter, salad, main course and dessert.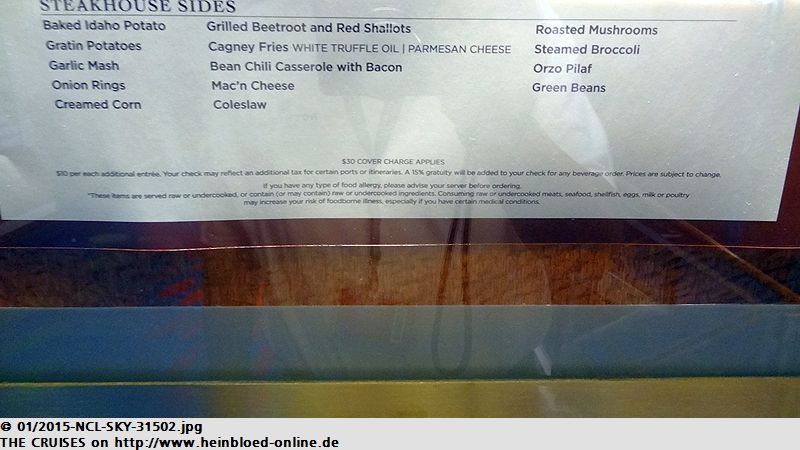 Jetzt werden 15% auf die Zuzahlung genommen und man darf in Le Bistro und Cagney's nur noch einen Hauptgang nehmen. Die werden auch immer unverschämter bei Norwegian. Wir toben uns sowieso eher bei den Vorspeisen und Salaten aus. Meistens nehme ich eben Suppe, Vorspeise, Salat, Hauptgang und Dessert.
Es geht zum Chef's Table. Es ist allerdings enttäuschend, weil das Angebot identisch ist, mit dem das wir zuletzt auf der NORWEGIAN SPIRIT hatten und das ist schon ein paar Jahre zurück! Aber an sich ist der Abend trotzdem sehr schön, weil wir einen ganz tollen Service erleben mit Restaurant Manager Ionela, Helen, Santosh und I Putu.. Außerdem freue ich mich sehr über das Bild gemeinsam mit Jean-Michel und Barrington. Weil ich diesen Blumenkohl-Flan nicht mehr mit der grünen Spargelcremesuppe nicht mehr sehen kann und vor allem das der einzige Gang ist, der mir wirklich nicht schmeckt, bekomme ich eine Alternative, die ich von jetzt an zum Frühstück, Mittagessen, Abendessen und Betthupferl haben will: Die Peking-Suppe. Sie steht eh auf der Speisekarte für den heutigen Abend. Sonderwünsche sollten irgendwie auch zumutbar und erfüllbar sein, dann manchen sie beiden Spaß: demjenigen, der etwas besonders bestellt und demjenigen, der mit Erfüllung des Wunsches jemandem eine große unvergessliche Freude machen kann.

We went to the Chef's Table. It was very disappointed because the offer was the same we had on NORWEGIAN SPIRIT and that was a couple of years ago! But anyhow the evening was very nice because we experienced a great service by Restaurant Manager Ionela, Helen, Santosh and I Putu.... But anyhow I liked very much the pictures together with Jean-Michel and Barrington. Because I could not see anymore the cauliflower-flan in the green asparagus soup and as it was the only course I totally dislike I received an alternative which I could have for breakfast, lunch, dinner and late-night-snack: The Beijing Soup. Was anyway on the menu of the night. Special request you should make a way that they could handle it so it would be a pleasure for both: who was ordering it and who was offering it to make a special memory for you.

Actually we were full and tired. So we actually denied to come when Jean-Michel invited us to join White Hot Party. We wanted to be polite and argued that we had not white clothes with us. Bad idea. So we got some white t-shirts delivered to our cabin at short-notice. I got one in M. I lost a lot of weight but I thought that Omar might be too optimistic. I accepted it as a challenge as sportsman to have it fit the next time I see Jean-Michel or Omar when I will loose so much weight that I can wear M. For few minutes we went there to look around. But it was too loud, too colorful and too wild for me. It was just not my world and my sleep was more important. Even I could follow all events in my cabin: I had not so much problems as I was really tired I just slept in.

Eigentlich sind wir recht voll und müde. So sagen wir eigentlich ab, als uns Jean-Michel uns auffordert White Hot Party zu kommen. Wir wollen höflich sein und begründen es damit, dass wir all unsere weißen Sachen gar nicht mithätten. Dumm gelaufen. Kurzerhand bekommen wir weiße T-Shirts in unsere Kabinen zugestellt. Ich bekomme eines in M. Ich hatte zwar schon abgenommen, aber das war von Omar doch zu optimistisch gedacht. Es ist aber für mich die sportliche Aufforderung beim nächsten Mal, wenn ich Jean-Michel oder Omar wiedersehe, dass ich soweit abgenommen habe, dass ich M tragen kann. Für einige Minuten gehen wir tatsächlich hin. Aber zwischen den White Hot Parties, die wir in Europa erleben und hier in der Karibik auf dem offenen Deck ist doch ein großer Unterschied. Das ist mir einfach zu laut, zu bunt und zu wild. Es ist einfach nicht meine Welt und mein Schlaf ist mir wichtiger. Auch wenn ich eh in unserer Kabine alles mitbekomme. Aber ich damit wenig Probleme: wenn ich müde bin, kenne ich ich nichts und schlafe einfach ein.