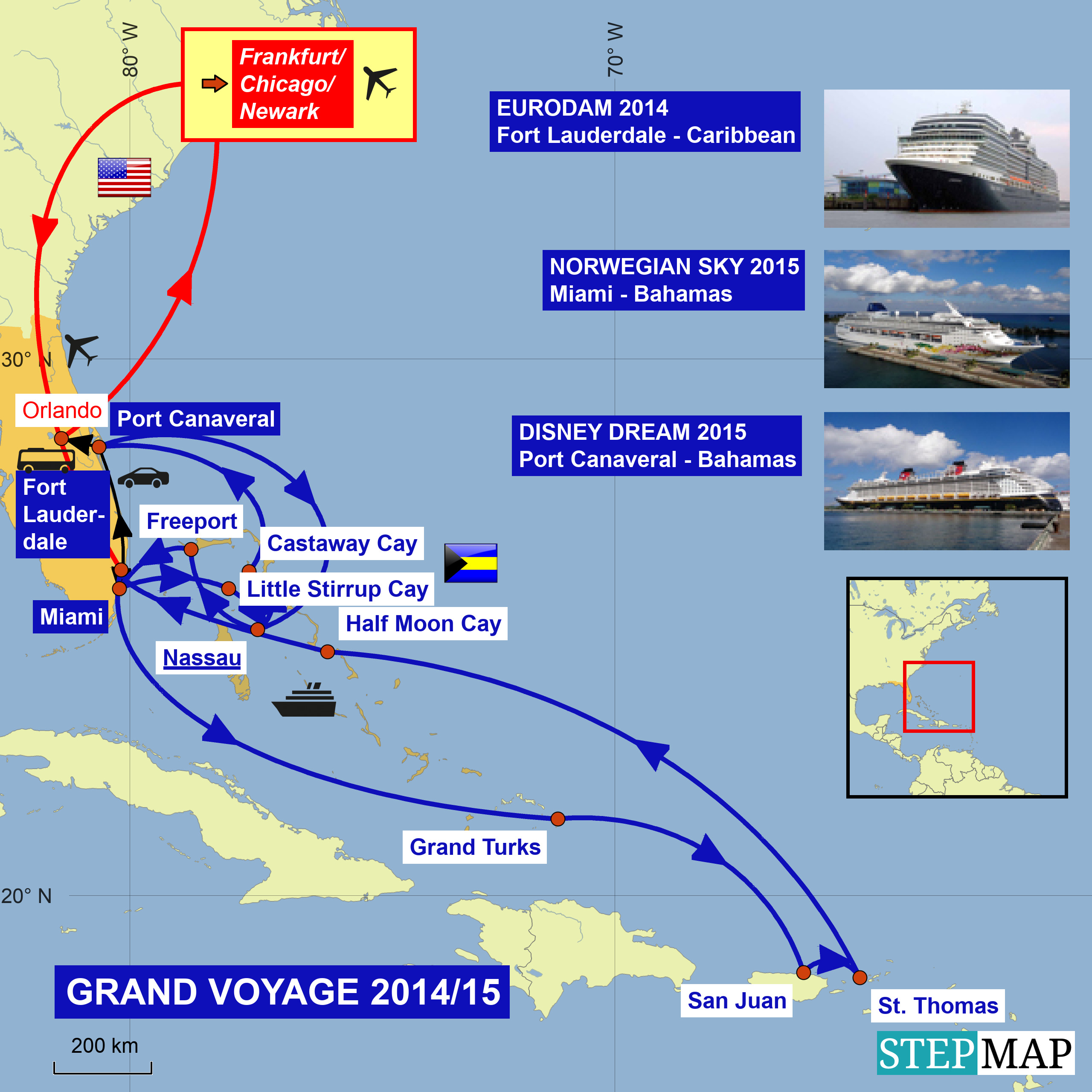 Einfahrt in Freeport... Ein paar Silos... Ist das alles?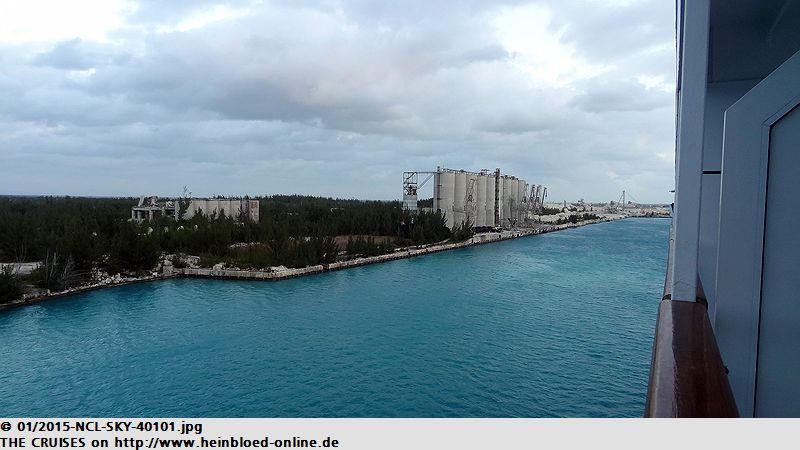 Arrival in Freeport... Few silos... that was all?

MSC container-port. Wondering if they were also handling the MSC cruise ships?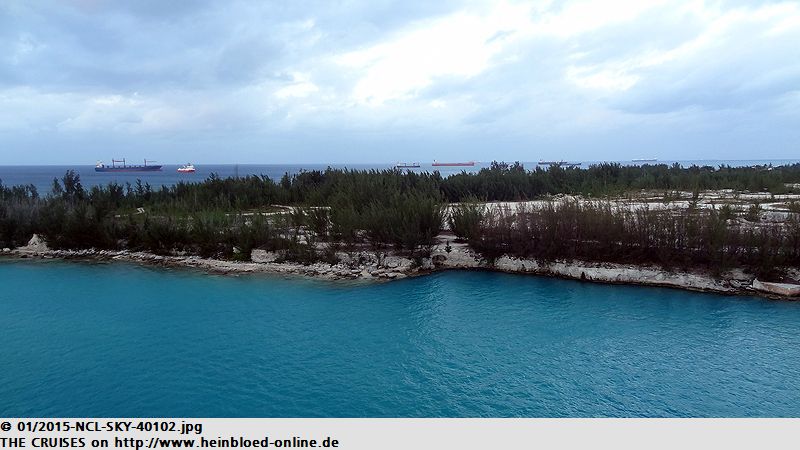 MSC Containerhafen. Obwohl die MSC-Kreuzfahrtschiffe auch hier abgefertigt werden?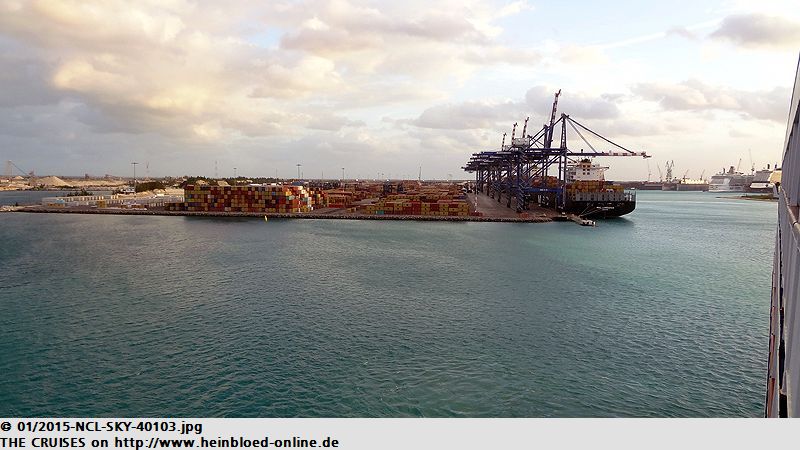 What did my inflammated overtired eyes see... Grand Bahama Shipyard...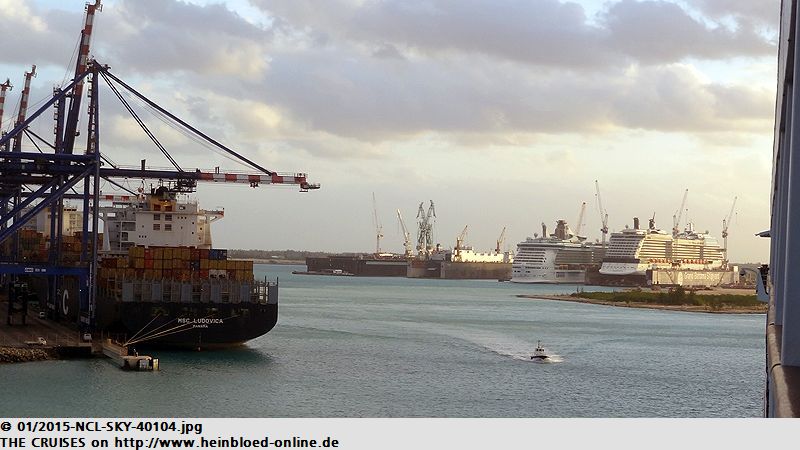 Was sehen meine übermüdeten entzündete Augen...
Grand Bahama Shipyard
...
Im Trockendock sind FREEDOM OF THE SEAS...

In the drydock there were FREEDOM OF THE SEAS...

...and CELEBRITY SILHOUETTE which we saw a few days ago in Fort Lauderdale.

...und CELEBRITY SILHOUETTE, die wir noch vor wenigen Tagen in Fort Lauderdale gesehen haben.
Leider den Betrieb eingestellt: BAHAMAS CELEBRATION. In Deutschland noch besser als PRINSESSE RAGNHILD der Color Line bekannt: im Einsatz zwischen Kiel und Oslo.

Unfortunately ceased the operation: BAHAMAS CELEBRATION. In Germany better known as Color Line's PRINCESS RAGNHILD in service between Kiel and Oslo.

Again we went to Cagney's for breakfast.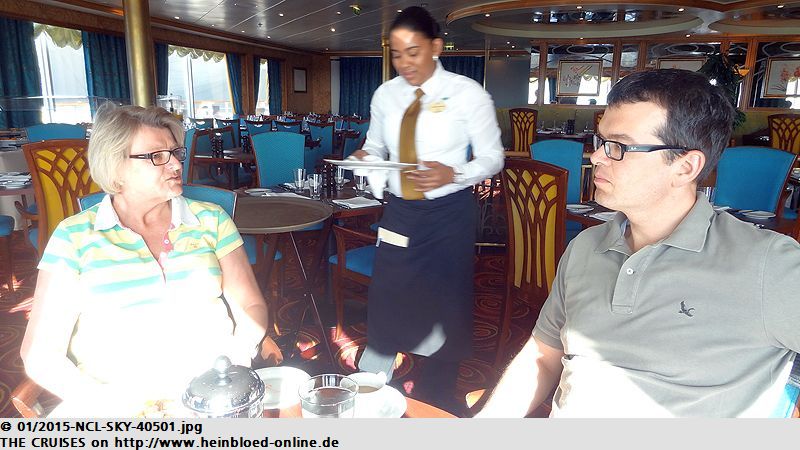 Wir gehen wieder ins Cagney's zum Frühstück.
Ich würde ja so gerne ein Steak zum Frühstück nehmen, aber leider geht es einfach nicht mehr.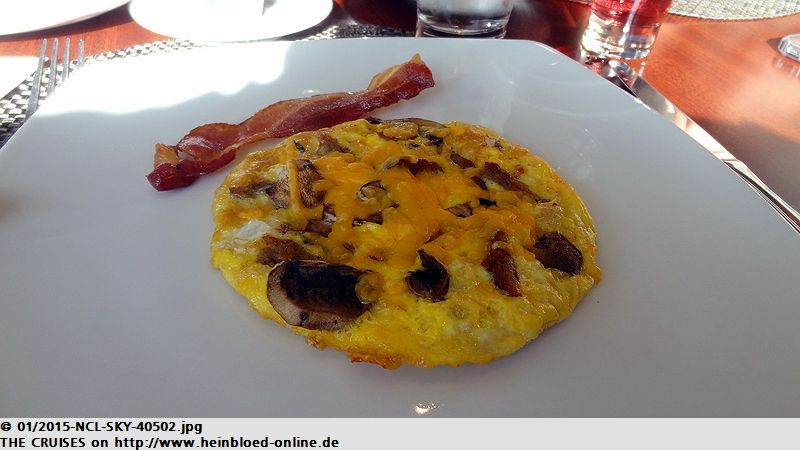 I really would love to have a steak for breakfast but I could not anymore.

The debarkation was already in preparation.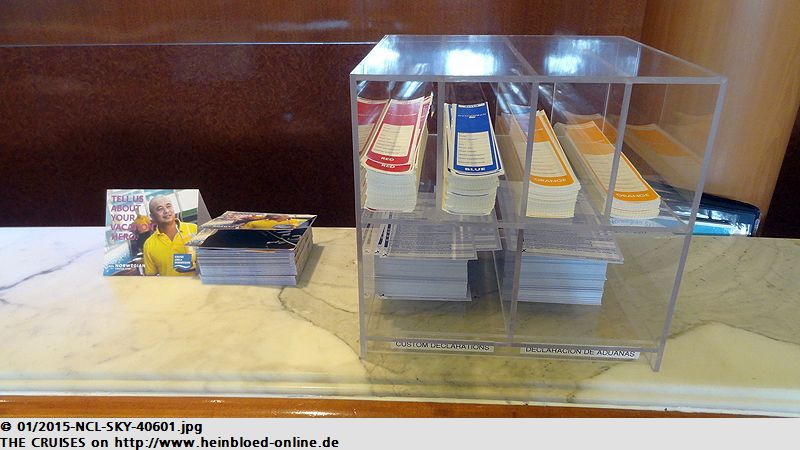 Die Ausschiffung wird schon vorbereitet.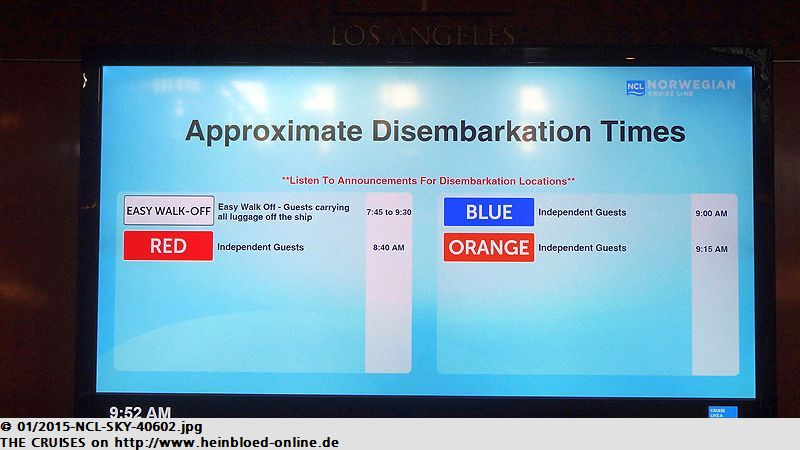 But it did not apply to us.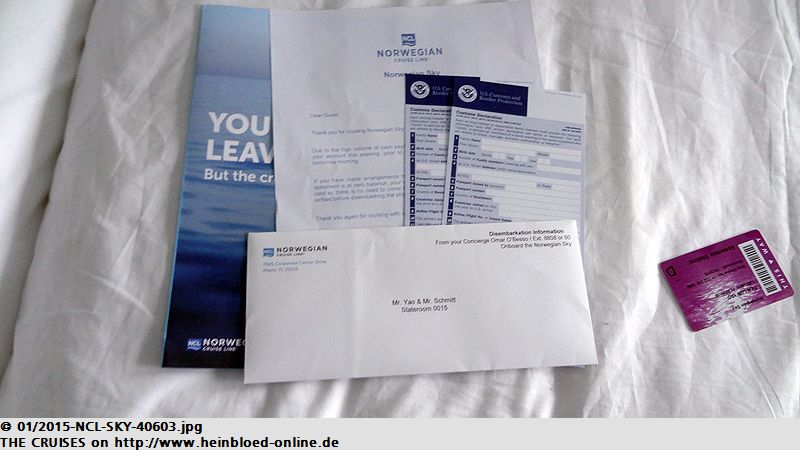 Aber uns betrifft es nicht so.
Für uns wird ja alles vorbereitet.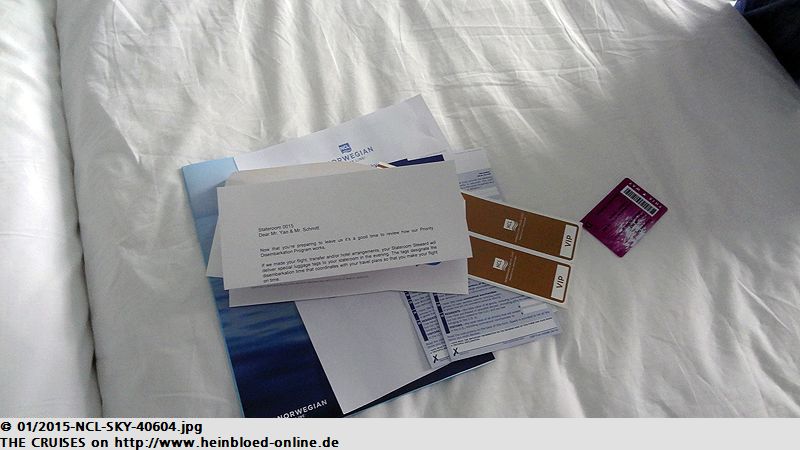 For us everything was well prepared.

We went first to the Galley Tour. So I made the acquaintance of fishes on the photos which I usually know as fillet.

Es geht zunächst auf Galley Tour. Und so lerne ich mal die Fische auf Fotos kennen, die ich sonst nur als Filet kenne.
Es geht an Land. Aber irgendwie sieht alles gleich aus. Die bekannten Lokale. Die gleichen Angebote. Die gleichen Sammeltaxen-Angebote.

We went ashore. But everything looked same. Same restaurants. Same offers. Same collective taxi-offers.

Due to recommendation we went to Zorbas'. But we were from Europe of all. And Greece is much closer but the Bahamas. For North American much more better for sure but not as good as Jimmy's in Katakolon (Olympia), Greece. There was not too much to see. Even no brush head for my electric toothbrush as currently nothing in the stores will be refilled unless everything was relabeled due to the inauguration of the VAT on the Bahamas. Our driver (I could not find her name anymore) told us that you could not book any single rides with a taxi. So stay with us stand-by.

Auf Empfehlung geht es zu
Zorbas'
. Nun sind wir ja ausgerechnet aus Europa. Und Griechenland ist uns ja näher als Bahamas. Für nordamerikanische Verhältnisse sicherlich schon besser, aber nicht so gut wie bei Jimmy's in Katakolon. Viel gibt es nicht. Auch keinen Bürstenkopf für meine elektrische Zahnbürste, da im Moment wegen Einführung der Mehrwertsteuer auf den Bahamas zunächst alles umgekennzeichnet werden muss, bevor wieder die Regale aufgefüllt werden. Unsere Fahrerin (ich finde den Namen leider nicht), hat uns eines gesagt: Man kann nicht so Einzelfahrten buchen. Sie bleibt da und steht auf Abruf bereit.
Wir gehen zurück an Bord und essen eine Kleinigkeit. Allerdings man sitzt die ganze im Durchzug, weil eine Tür stets offen steht.

We went back to the ship and had a small bite. But we were sitting in a draft as there was always one door open.

In the cabin, a pleasant sweet surprise was awaiting.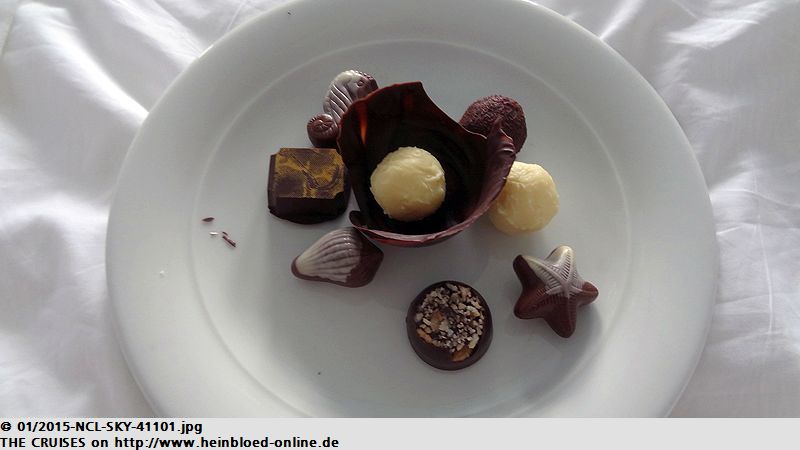 In der Kabine erwartet uns eine süße Überraschung.
An die Temperaturschwankungen gewöhnen wir uns, aber sie sind nicht mehr so stark wie zuvor.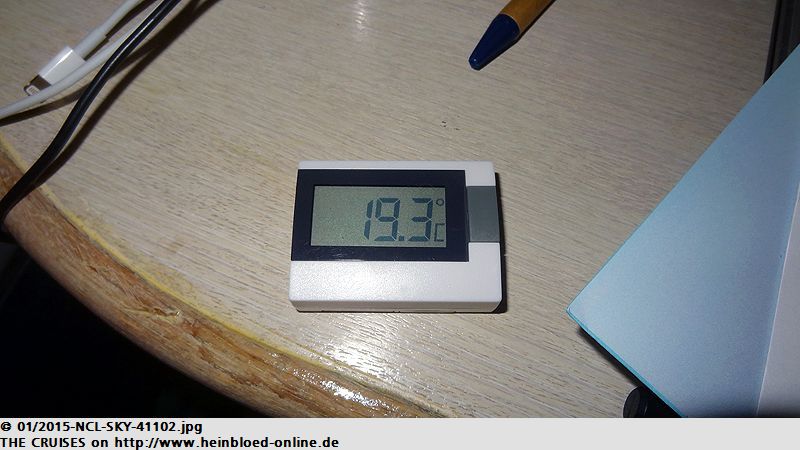 We became familiar with the variability of the temperature but they were not so extreme anymore.

The doctor gave me a heat pillow on loan so I could become free of pain faster.

Die Ärztin gibt mir noch ein Wärmekissen leihweise mit, damit ich schneller schmerzfrei werde.
Es geht auf eine Brückentour. Sie steht unter der Oberaufsicht der Kapitänsfrau, die überprüft, ob ihr Mann alles richtig macht. Wir unterhalten uns darüber, ob so ein Unglück, wie auf der COSTA CONCORDIA auch bei Norwegian möglich wäre. Kapitän Pelle erklärt uns die drei Typen von Führungskräften, die es gibt: Die Tiger, die Schafe (fragen ständig nach, ob sie alles richtig machen) und die Delfine. Er erklärt uns, dass man Norwegian darauf achtet, dass man eben Delfine hat, die weniger sich selbst sehen, als das Team. WHISKY, UNIFORM, TANGO, TANGO, INDIA, GULF ist eine alte Erinnerung an meine Zeit als Aushilfe bei der Reederei. Hört sich doch besser an als WILHELM, ULRICH, THEODOR, THEODOR, IDA, GUSTAV... auch wenn die Gefahr besteht, dass am anderen Ende der Telefonleitung man es nicht versteht. Ich bitte ihn darum, dass er später bei der Ausfahrt einen kleinen Umweg macht und vor der Werft wendet, aber da hätte ich wohl das Herz seiner Frau erweichen müssen... Bis auf diese Kleinigkeit ist aber die Brückentour immer wieder ein aufregendes Erlebnis. Und so schlimm ist es eh nicht. Es sind eh nur Schiffe, die nicht in
MEINE
Flotte gehören.

We went for the bridge tour. It was under the supervision of the Captain's wife who checked if he was doing everything correctly. We also talked if an incident like COSTA CONCORDIA would be possible with Norwegian. Captain Pelle explained us the three types of executives you have: the tigers, the sheep (who always asked if they do it properly) and the dolphins. He explained that Norwegian makes sure that they hire dolphins who see more the team but less himself. WHISKEY, UNIFORM, TANGO, TANGO, INDIA, GULF was an old memory when I was working as a trainee for a shipping line. Sounds better than WILHELM, ULRICH, THEODOR, THEODOR, IDA, GUSTAV... even there was a risk that the person at the other end of the phone did not understand. I requested to make a small detour when setting sail and to turn around at the shipyard, but I should have addressed to his wife's heart... Except for this little claim, it was again an exciting experience to have the bridge tour. And it was not so bad. There were anyway only ships which were no part of MY fleet.

Such kind of lecturer just made hungrily. Our attention pulled off all our energy. So we need a reinforcement.

Solche Fachvorträge machen einfach hungrig. Unsere Aufmerksamkeit enzieht uns unsere gesamte Energie. So müssen wir danach uns stärken.
Und später gucken wir auch nach, was wir im Garden Café zum Abendessen verpasst hätten.

And later we also checked what we missed in the Garden Café for dinner.

With Beverliza we always had some kind words at the coffee bar and had very lovely talks together.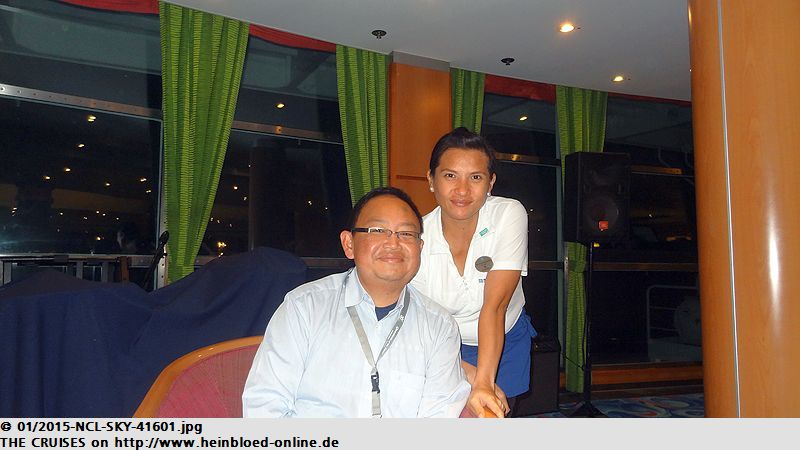 Mit Beverliza tauschen wir uns immer an der Kaffeebar aus und unterhalten uns immer sehr nett mit ihr.
Wir brauchen vor dem Abendessen einen Drink.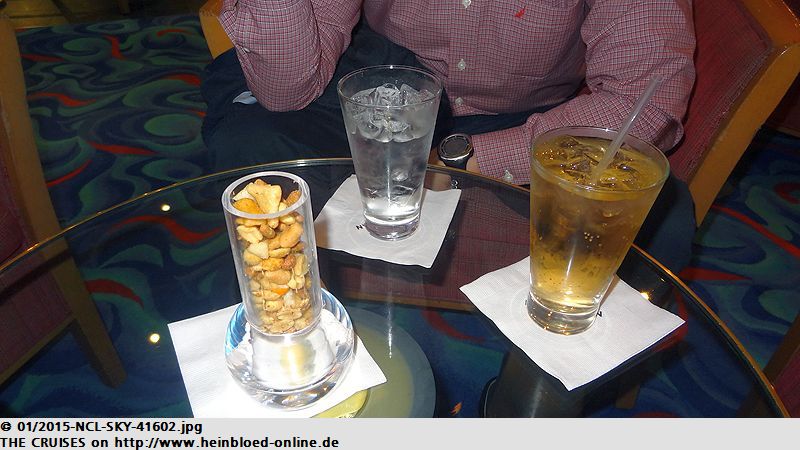 We need a drink before dinner.

I tried the Cranberry Red Bull.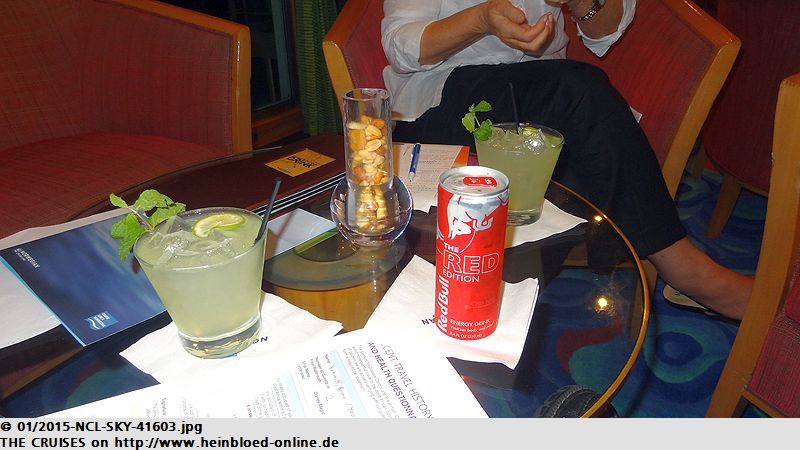 Ich versuche mich an dem Cranberry Red Bull.
Jean-Michel zum dritten Mal und mit dem wir uns sehr gut verstehen und auch sehr Wert schätzen.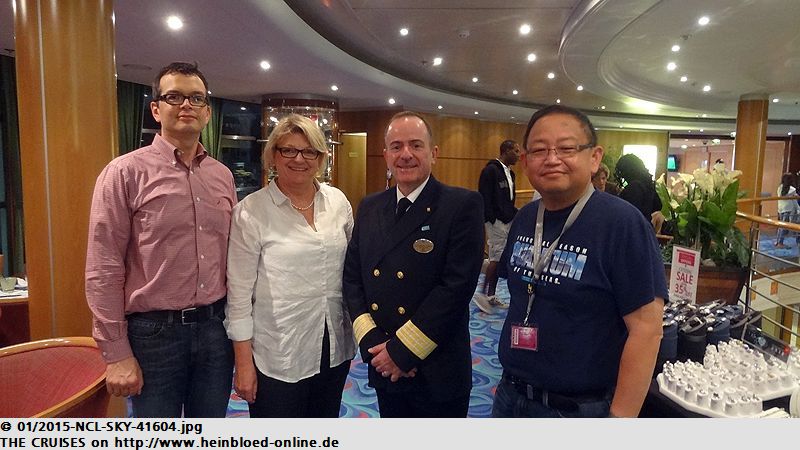 The third time Jean-Michel with whom we had a friendly relation meanwhile and whom we appreciated very much.

To be fair: the dinner was not that level we were used to having on EURODAM. The service was cordial as usual. So I was distraught: I could not find any name tag on my pictures.

Das Dinner muss man fairerweise sagen: es ist nicht das Niveau, an das wir uns auf der EURODAM bereits gewöhnt hatten. Der Service ist wie gewohnt sehr herzlich. Deswegen ärgere ich mich auch besonders: von unserem Kellner finde ich kein Foto des Namensschild.
Wir sehen uns an Bord um. Uns überrascht die deutschsprachige Auswahl an Büchern an Bord. Auch gehen wir uns das Foto vom Kapitänsempfang holen. Sieht ja doch sehr nett aus.

We were looking around on board. Finding a selection of German books on board was surprising. And we went to collect our picture from the Captain's reception. It looked very nice.

We should not have iConcierge onboard. So I was surprised that my iPhone showed the availability of concierge. Later a registration was not possible.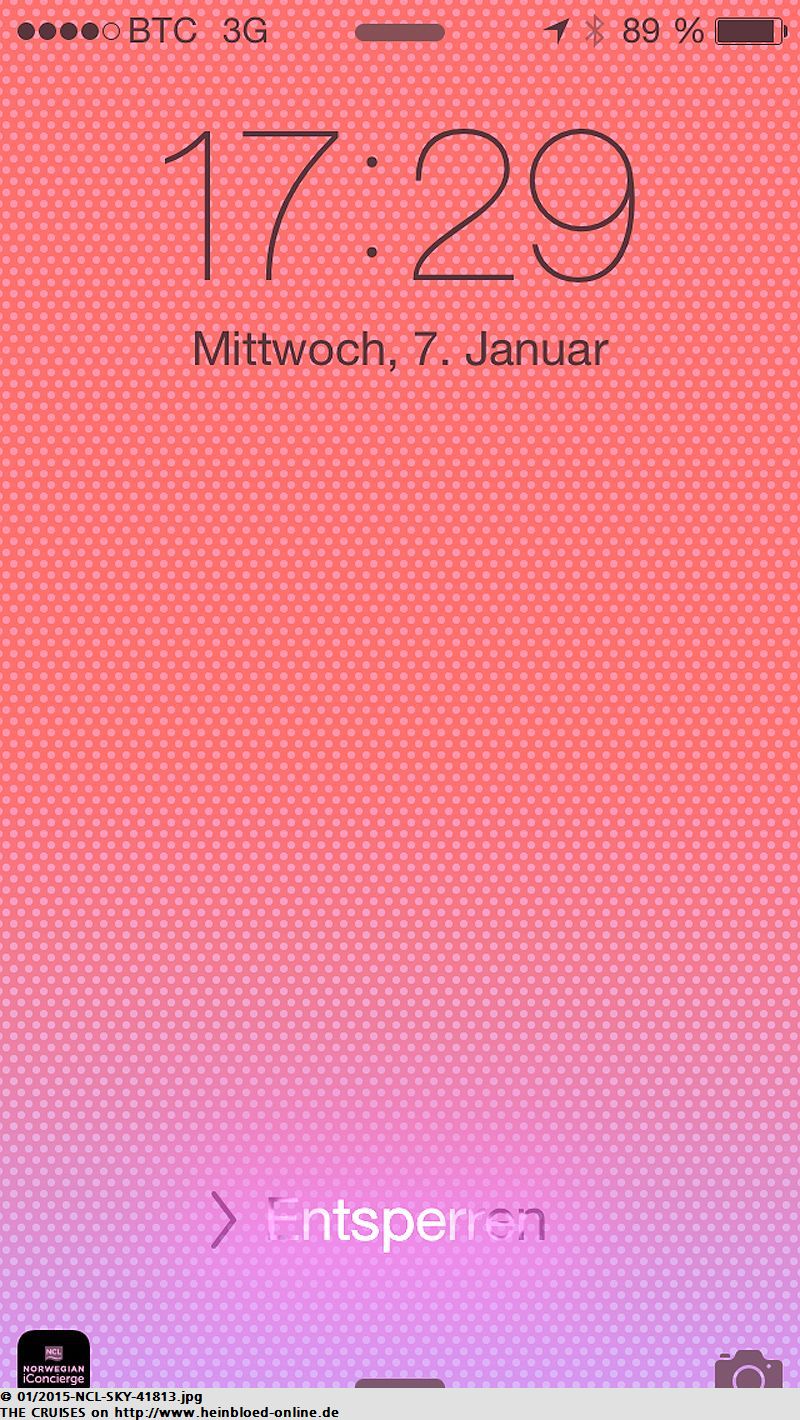 iConcierge soll es ja an Bord nicht geben. So bin ich überrascht, dass mir mein iPhone die Verfügbarkeit von iConcierge meldet. Eine Anmeldung ist aber später nicht möglich.
Die anderen Reisen in diesem Blog/
The other voyages in this blog: