THIS IS PROVISIONALLY TO HELP MY FELLOW-CRUISERS ON NORWEGIAN GETAWAY TO FIND AROUND IN WARNEMÜNDE ON AUGUST 14, 2017.

SO TEXT WILL BE REVISED AFTER MY VOYAGE ON NORWEGIAN GETAWAY.
Um meinen Mitfahrern auf der NORWEGIAN GETAWAY die Orientierung beim Anlauf in Warnemünde zu erleichtern, gibt nur eine provisorische Ausgabe in Englisch.

Die Vervollständigung findet erst nach meiner Reise auf der NORWEGIAN GETAWAY statt.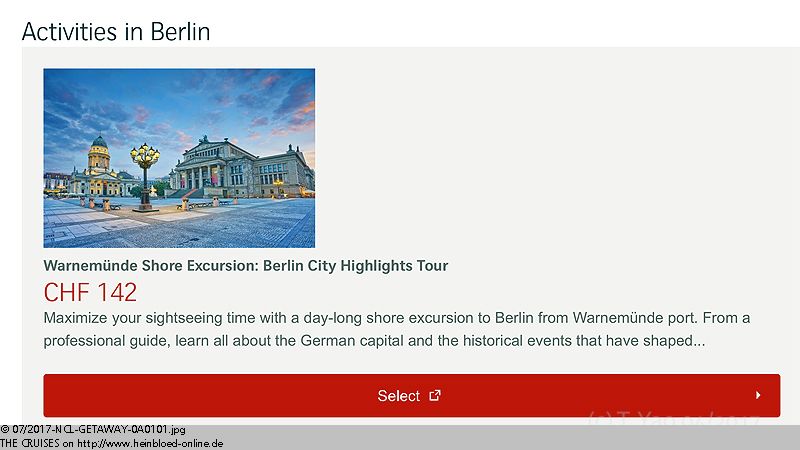 PROVISIONALLY - PLEASE SCROLL DOWN


PROVISIONALLY - PLEASE SCROLL DOWN


PROVISIONALLY - PLEASE SCROLL DOWN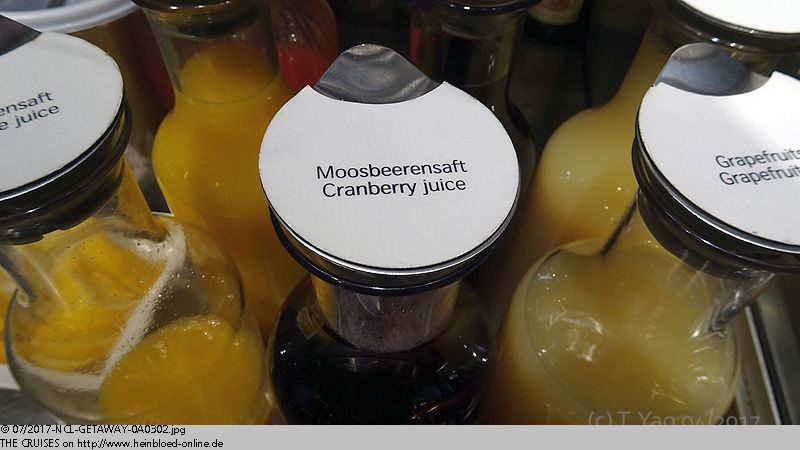 PROVISIONALLY - PLEASE SCROLL DOWN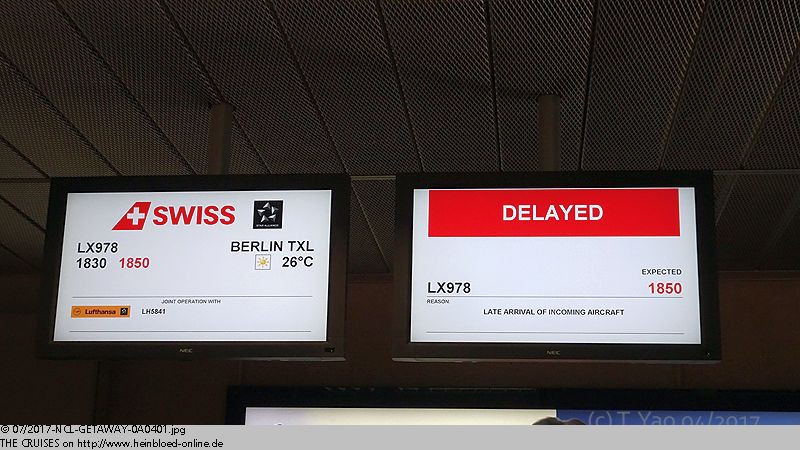 PROVISIONALLY - PLEASE SCROLL DOWN


PROVISIONALLY - PLEASE SCROLL DOWN


PROVISIONALLY - PLEASE SCROLL DOWN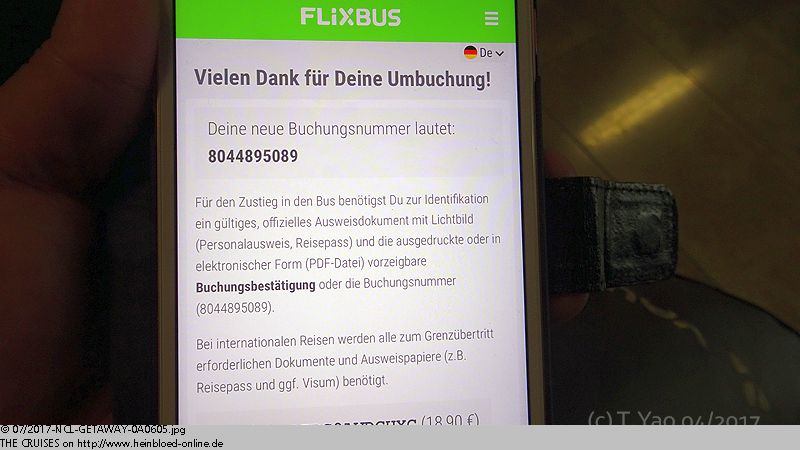 Arrival in Rostock Hbf (= Hauptbahnhof = Central Station). Normal cruisers go Warnemünde - Berlin - Warnemünde. But I am going Berlin - Warnemünde - Berlin. So for your orientation: check for this board to see for your next conncetion for Warnemünde and the platform (= Gleis). My connection was next morning at 04.33 hrs.
And for platform 1 you could see all Warnemünde bound trains goes from here.

A good place to stay if you arrive late like me in Rostock to join a ship in Warnemünde: InterCity Hotel in Rostock. You arrive by train or coach from Berlin and you simply find the hotel next door to the train station. And the next morning you just continue to Warnemünde. The good: you get a pass for public transport. This would allow you the free use of tram and the commuter trains. So first sightseeing in Rostock and then taking the commuter-train to Warnemünde. Incl. use of 1st class in the commuter train.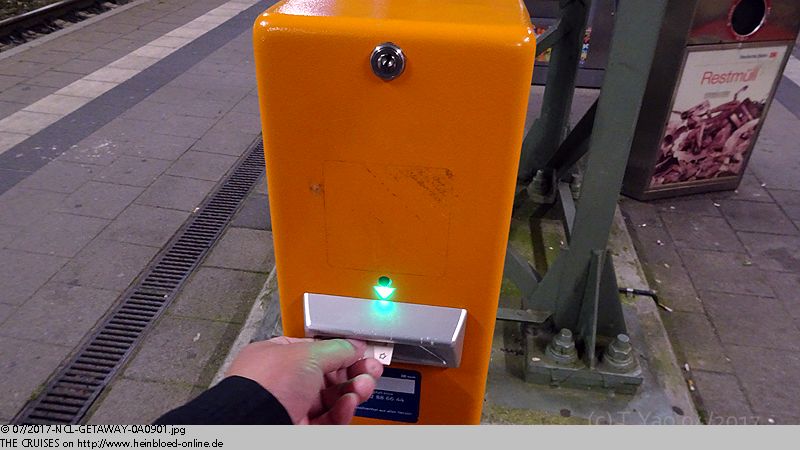 My morning fight at 04.25 hrs with the cancelling device... It did not work. No "ping"-sound. So I need to find another one. I overread that my day pass could be use for 1st class too.

All trains between Warnemünde and Rostock could be either S1, S2 or S3. If the trains going beyond Rostock they are called S2 or S3 (same terminal Güstrow but different routes). The 1st class can be found when you find the yellow stripe over the windows. And you see the difference between 1st class and 2nd class. Many displays to show the next station. When you are heading to Warnemünd you should know to get off at Warnemünde (end of the line / terminal) and not the previous station "Warnemünde Werft". It is still a 15 minutes walk then to Warnemünde for the cruise terminal.
First orientation in Warnemünde train station.

To find the cruise terminal follow the way to platform 6 and "Passagierkai".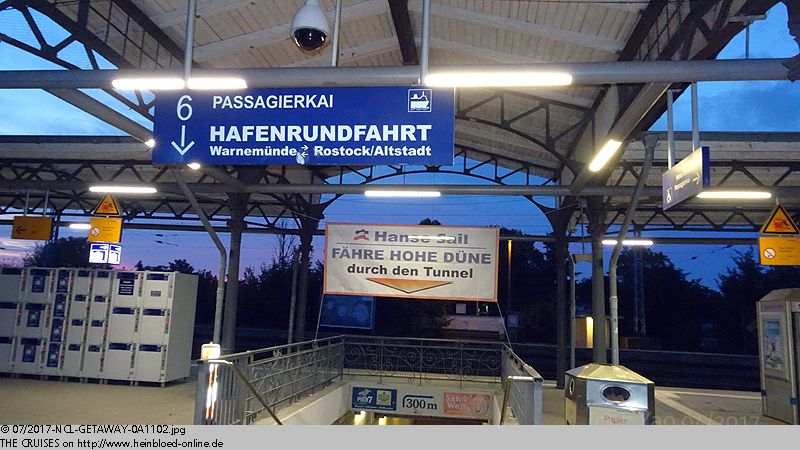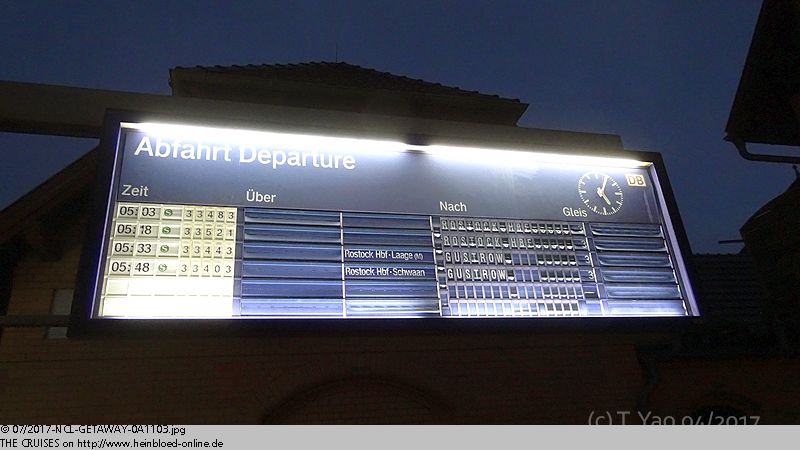 The board to display the next departures only works properly on the one side. So only if you come from the cruise terminal. So in case just check the back side.

I will explain later how you buy tickets with the ticket machines.
On the platforms you find also information for the next train. Either S1, S2 and S3 go for Rostock. If you want to the Güstrow Palace you need to get there on S2 or S3 trains.

The machines can be operated in English. Simply press the British Union Jack. If you are planning to stay around Rostock (incl. Bad Doberan to get on the Molli-Train) you need the tickets of the local traffic organisation which Verkehrsverbund Warnow. So you need to touch in the center. From here you can find the various destinations and variation of tickets. Best is always to buy a day pass which saves you lot of new purchases and fights with tickets machines. If you are a party of max. 5 you can buy collective/group tickets. Important: THOSE TICKETS NEED TO BE CANCELLED at the orange cancelling box before entering the first train. Otherwise you will be fined.
Berlin is about three hours away from Warnemünde. Normally you need to change one time the train. 08.03 hrs (2017) will be last connection to allow a five hours tour in Berlin. So our friends and I were going on a typical tour if you can leave the ship by 07.45 hrs and need to be back onboard until 20.30 hrs. Here you can buy tickets to Berlin. For an easier understanding: it would be like going from Providence, RI to Boston, MA. You can easily buy one direct return ticket to Berlin, but this is the most expensive option. High discounted saver tickets you can only buy for long-distance trains. There are only very few. For cruisers you need to be off the ship by 06.30 hrs to use such an option and your ship should allow you to be back by 21.30 hrs. Otherwise it would not work. Just follow the machine step by step. Payment by credit cards with PIN only. Your own children or grandchildren under 14 travel for free on Berlin-tickets SUBJECT you have them ticketed even they do not pay.

Mecklenburg-Vorpommern-Ticket is a daily pass which can be used after 09.00 hrs on weekdays and from the start of train operation on weekends.
You can go with this pass all Mecklenburg-Western Pommerania line incl. Hamburg (incl. public transport) and Lübeck which are outside. But it is good for REGIONAL trains to Schwerin, Wismar, Stralsund too. But caution for Schwerin: they are not valid on Long-Distance-Trains to Schwerin. So only every two hours. The first person pay a higher price but each additional person is a small amount on top up to max. party of 5. Important you need a pen with you since you need to write the names your party members on the ticket. Otherwise you might pay a penalty. As said to make an easier understanding:
on a ride from Providence to Boston you would cover the part in Rhode Island.
Brandenburg-Berlin is the same offer but for a diffferent part of the country. So from Providence to Boston it would cover the Massessuchetts part of the train. It has only one price and is good for a party of 5. So one pass for "Rhode Island" and one pass for "Masseschusetts" would allow you to go the whole journey from Providence to Boston. So from Warnemünde to Berlin you need one Mecklenburg-Vorpommern-Ticket and one Brandenburg-Berlin-Ticket. In Berlin the ticket allow you the use of public transport (commuter trains, subway, trams, buses, ferries). Same rule: after 09.00 hrs on weekdays and from the start of operations on weekend (you can also check Quer-durchs-Land-Ticket (Cross country but does not include public transport in Berlin) and Schönes Wochenend-Ticket (Happy Weekend incl. public transport in Berlin) - depending of the size of your party.

To cover the section before the 09.00 hrs you would need a ticket to Waren (Müritz) as the first stop after 09.00 hrs is Waren (Müritz). So works same like Berlin. You can just stay in the train but it is only a ticketing reason why you have Waren(Müritz) on your ticket. With this tree tickets it would be much cheaper to get to Berlin and back to Warnemünde if you are not travelling alone.
Few impressions from the waterfront of the river Warnow. It was the perfect day for my visitors on a cruise ship and take them out for Berlin. From the other side of the river you can make brilliant pictures of the ships.

The ferry takes you on the other side of the river Warnow.
You can buy tickets here at the machine. Simply press first again the British Union Jack.

And you simply see the ticket options.


You can also buy here tickets for local destinations like before witht he machine of the German Railways.

My friends arrived on REGAL PRINCESS. As well as one crew member we remember very well from our Alaska trip on ISLAND PRINCESS 2013: Slavia. It was very bad due to the many mosquitoes. REGAL PRINCESS docked at P8 where NORWEGIAN GETAWAY supposed to dock as well.
At that day the Hansa Sail tall ship event started so the first ships arrived that morning. So the second cruise ship which I only saw on horizon was CELEBRITY ECLIPSE who could not dock at the Warnemünde Pier and need to sail to Rostock Industrial Port.

Around the Cruise Terminal you find all major car rental companies Enterprise (National/Alamo), Hertz and Europcar. But no Avis. Only Sixt came remote and had their office and parking outside the parking lot. From here you had also the access to the charter trains of the cruise ships. I do not like them since they used the cars German Railways do not use anymore. No air condition and 2nd class seating. They escorted you quite well to the trains. The trains go to Berlin Ostbahnhof (East Station which is at the Eastern Edge of the city center in Berlin). Around you find an ATM as well. My tour was all about Dorothy - my travel agent from the US of Cruise Brothers. So many benefits incl. one free cruise on DIAMOND PRINCESS from Singapore to Japan need to be honored by a personally escorted trip to Berlin. So I took them by train to Berlin.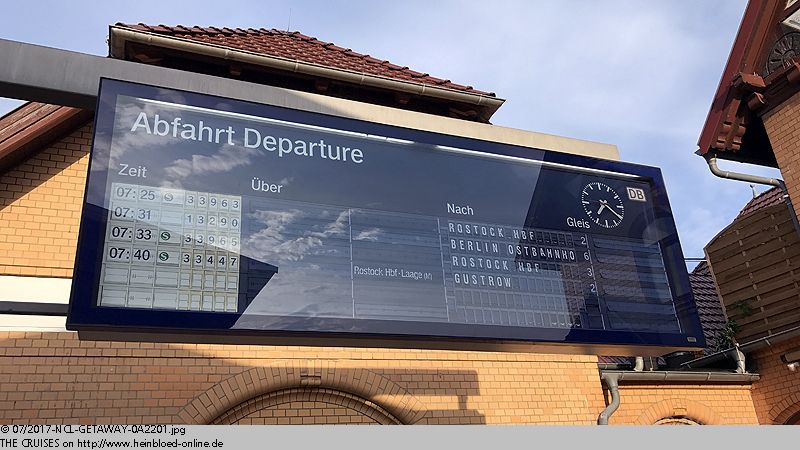 So walked to the train station to find our next train.

We were lucky since we took the 07.33 hrs commuter train to Rostock that the Berlin-bound train just waited on the other side of the platform.
So plenty of time to find some coffee, German breakfast and a taxi driver back for the ship. Since the tunnel that night for the pier was closed and the detour was more distance to walk it might be easier to change here for a taxi. And found a taxi driver with credit card acceptance who accepted our booking.

Berlin Hbf (= Hauptbahnhof = Central Station) would be the best place to leave. You are in the heart of the city. But I wanted to start with the Berlin Wall Memorial. Best to get off for was the stop before Central Station: Berlin Gesundbrunnen. Easy to go by subway and tram but as our time was little limited and to allow more spend time we took from here a cab. Less than 10.00 EUR (2017). Later we I sent my friends back to Rostock I left here the train and saw that the charter trains for the cruisers left from here. In a Northern not really central neigbourhood of Berlin. At least they got lunchboxes... looks like more for the train crew but for the cruisers...
The first stop was the Berlin Wall Memorial at the Bernauer Strasse. Admission is free. Best to see how it was: The wall and all history around the wall.

We headed by tram.
Tram 10 connects this place with the Central Station.

So we get on for one stop from Berlin Wall Memorial...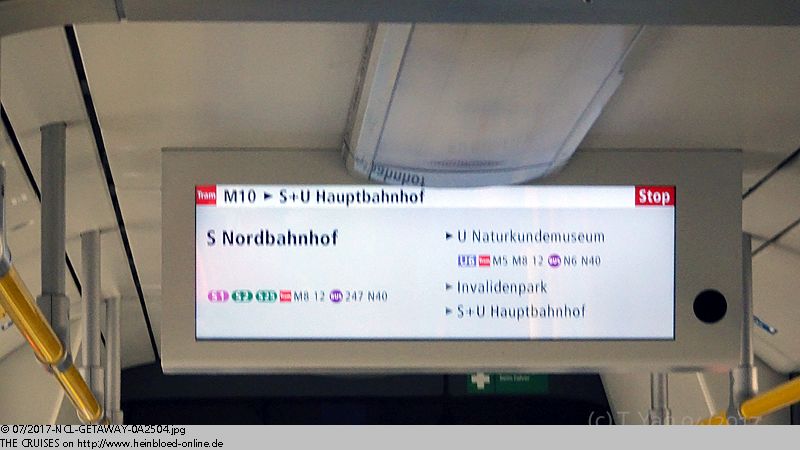 ... to North Station. One of the former train terminal for Northbound trains to Northern Poland which was shut down and destroyed after the wall disconnected the lines between West- and East-Berlin.

We continued on Tram 12 to get to Friedrichstrasse. The center of art and cultural life in the 20s and nowadays again.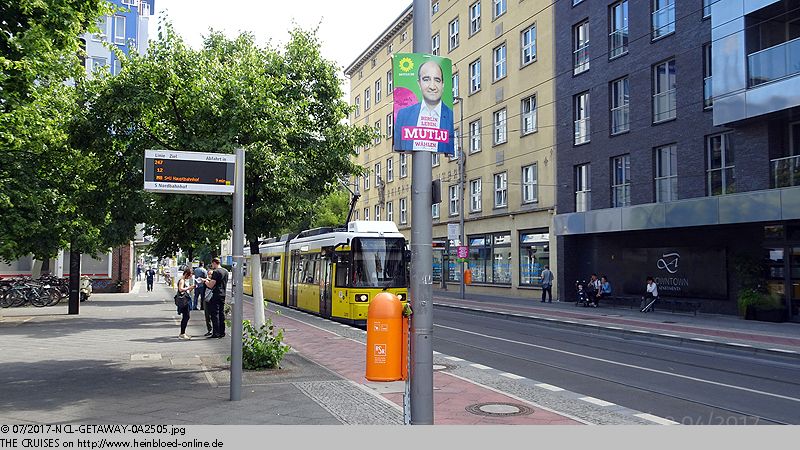 The station at Friedrichstrasse became a very important transit point to get from West to East. The line were disconnected here and you had to pass the immigration and customs before you can head on to East-Berlin.

Written like in the 20s.
And when you returned to West-Berlin you had to pass the Palace of Tears for inspection before you left East-Berlin.

Here around you can find also a "Comedy"-Theater "Die Distel" where we had to take a mutual picture with Angela Merkel.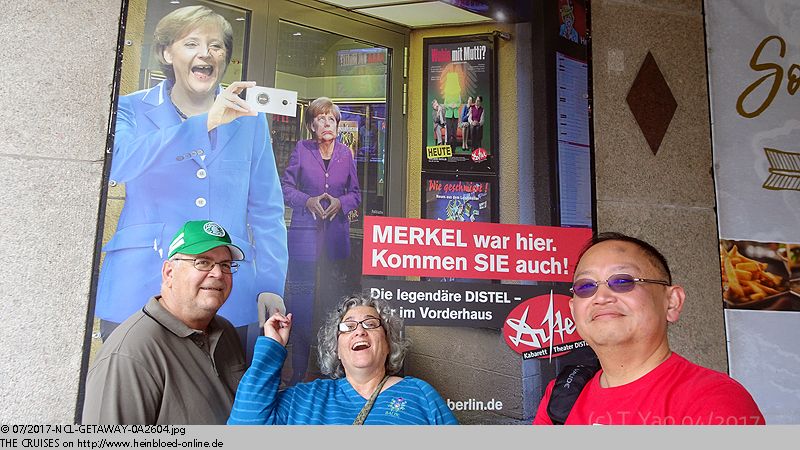 For one hour we went on a River Spree City Cruise. I picked Stern- und Kreisschiffart which was familiar when I lived in Berlin for eight years. They had tables and they served food - no self-service. You got audio guides for non-German speakers. Due to the weather it was a good idea to spend the hour here since you could see so much of the historical city center of Berlin. I was trying to wave a friend but she did not see me.

For our next part I called ahead of arriving for two VeloTaxi (Bike Taxis).
So they came to take us to our next destination which was also quite cheap.

I really enjoyed the short ride.
Brandenburg Gate - what else.

For our next place you need to plan carefully. You can book free of charge tickets for the Dome of the German Parliament Building Reichstag on the website of the German Parliament Bundestag. After security check you get an approval and a time slot. You cannot do it spontaneously - espeically not in the peak-season: At least you need two hours. But if you come in the morning they maybe have vacancy for the night. We enjoyed really to get up to the Dome and walk all the way up in the construction of Sir Norman Foster. Since Berlin changes every day it was for me a pleasure too to see everything again.
To buy some souvenir we went to Central Station by U55 subway. As this station is not very busy the escelators were not in use anymore and will be opened once they had more traffic after the extension of U55 in few years.

So walking down or elevator which worked.
The shortest line actually. Reminds very much to NYC's MTA Subway Service S.

It was a shuttle which ran since Soccer World Cup 2006 with no connection to the other part of the network: but soon. So just for one stop.
Getting off at Central Station.

Here you can see the history of the former Berlin train terminals.
While Dorothy get some souvenirs I went to a pharmacy to get something againts all my mosquito stitches. It would be simple to board here the Rostock-bound train. Since it was rush-hour and many other cruisers join the train too it might difficult some seats. So we had time and went to the last station before Central Station.

On the way we had to go to Subway Station at Brandenburg Gate: Berlin History in five minutes at the wall. The perfect way: Berlin in a Nutshell.
And moving over to the commuter train station you find of the history of the German Parliament Building Rechstag.
By commuter train to Potsdamer Platz (Potsdam Square): it the 20s the most busiest place in Europe. Then felt in beauty sleep for many years during the Berlin Wall. So we used the time to have a relaxed transfer to the train. 1st class is highly recommended to have a less strealnous ride back to Rostock.

I only join to Berlin Gesundbrunnen to text the taxi driver the car my friends were in. I moved to the best Currywurst-Place (Berlin Sausage speciality) Curry 36 in former 1000 Berlin 36 (= District of Kreuzberg - workers' and students' district in former time). On the way I was wondering about the long queue for vegetarian Kebab-Sandwiches. At least I had to have a real Currywurst without skin and a meat skewer.
PROVISIONALLY - PLEASE SCROLL DOWN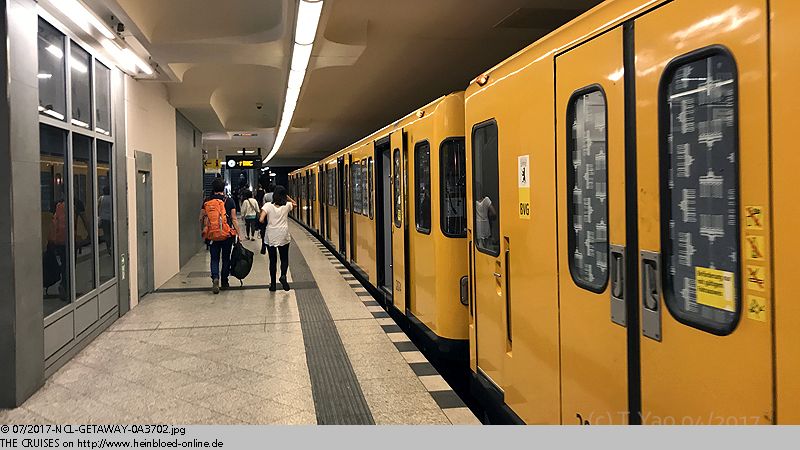 PROVISIONALLY - PLEASE SCROLL DOWN