Scroll down for English explanations - alternates with German explanations.

Eigentlich waren wir in der Concierge Lounge zum Ausschiffungsgespräch mit Concierge Carlos eingeladen. Jill wollte eigentlich schon die Offiziersgesprächsrunde beenden, aber Kapitän Kim hatte entschieden, mehr Fragen zuzulassen. Daher kamen wir zu spät. Unsere Schlüsselkarten waren für die Concierge Lounge nicht freigeschaltet. Innen fand die Veranstaltung bereits statt und wir wollten nicht noch durch Klopfen auf uns aufmerksam machen. Nun schiffen wir ja nicht zum ersten Mal bei NCL aus, so dass es egal war und wir daher nicht weiter versuchen reinzukommen. Als wir Carlos darauf später ansprachen, wurde dann unsere Karte freigeschaltet. Aber da brauchten wir sie gar nicht mehr.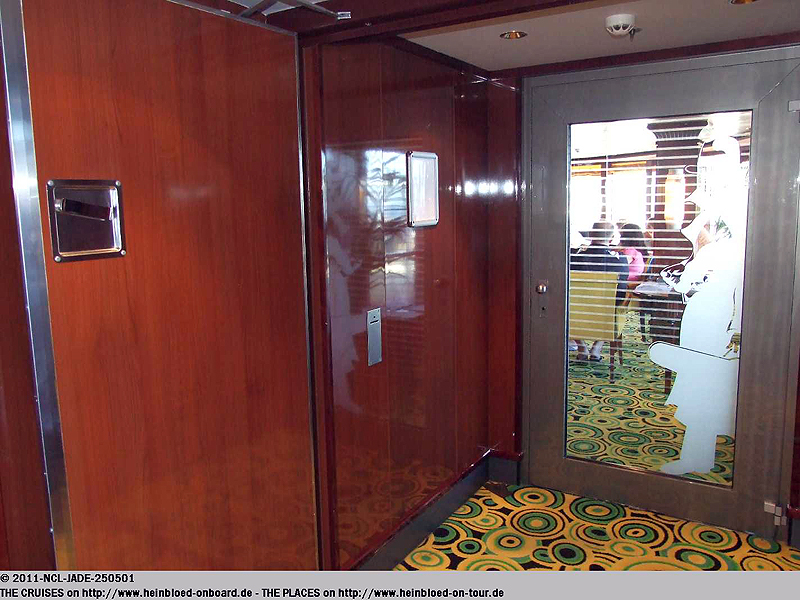 We were invited to participate to the debarkation talk in the Concierge Lounge. Jill wanted to finish the Officer's talk but Captain Kim decided to allow some more questions. So we came too late. Our keycards were not authorized to enter the Concierge Lounge at this time. As the event already started inside we did not want to knock at the door to get access. It was not our first time on NCL that we debark so we did not care too much and did not try further to enter. When we told about later Carlos arranged that our card get access. But anyhow we did not need it anymore.

It was a beautiful day.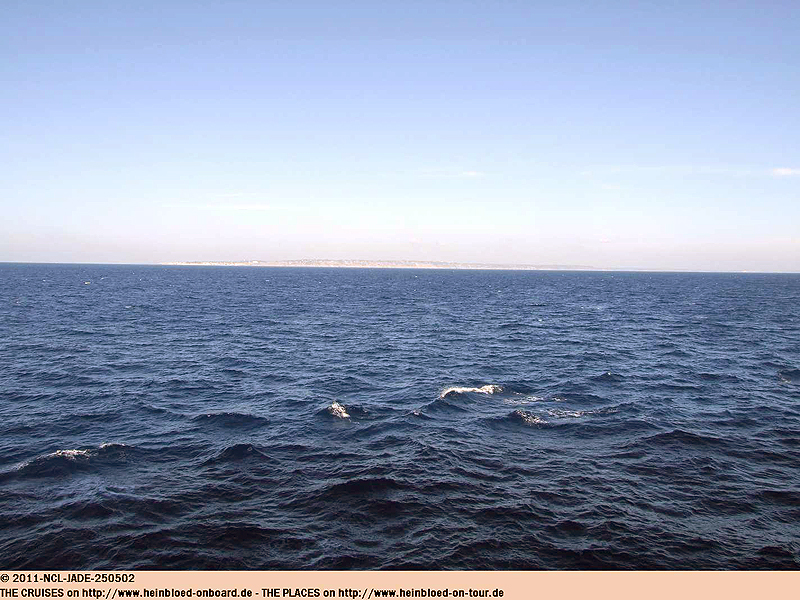 Es war ein schöner Tag.
Irgendwo dahinten ist Griechenland. Wir bekommen erstaunlicherweise für kurze Zeit griechische UMTS-Signale, die wir sofort dafür nutzen, um Bilder zu übertragen.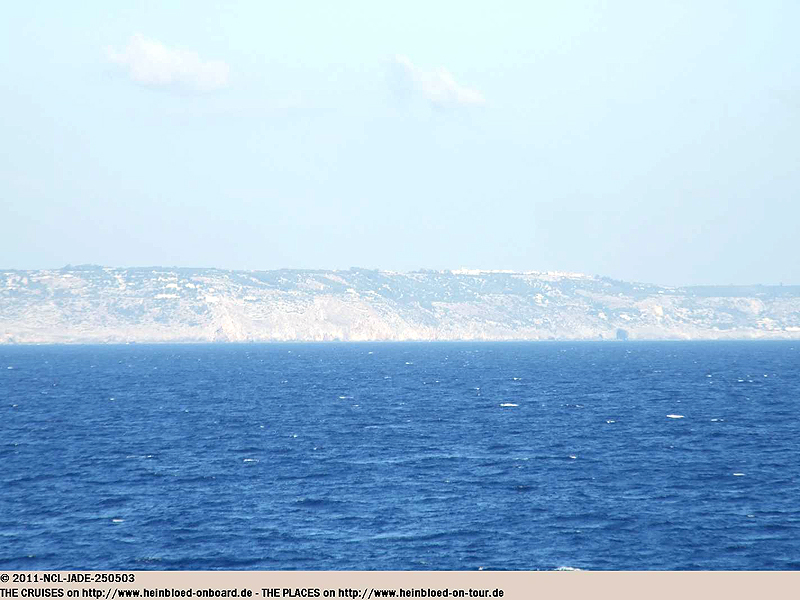 Somewhere there behind was Greece. To our surprise we got for a short time Greek 3G-Signal which used immediately to transfer pictures.

I was surprised to learn that they offered Shuffleboard. Somehow it does not fit to the image I had from NCL: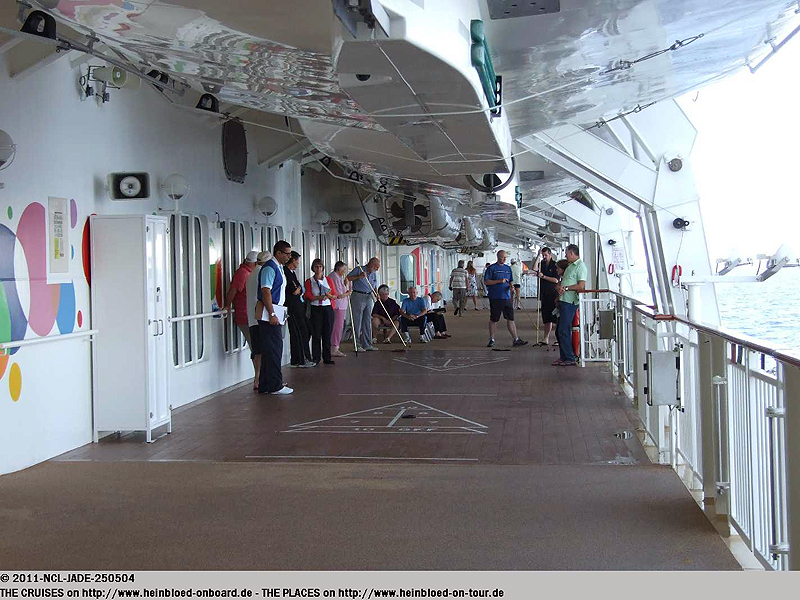 Dass an Bord Shuffleboard gespielt wurde, hat mich etwas erstaunt. Passt irgendwie nicht zu dem Image, das ich von NCL habe...
Hier mal die Preise (2011) für die Wasserpakete.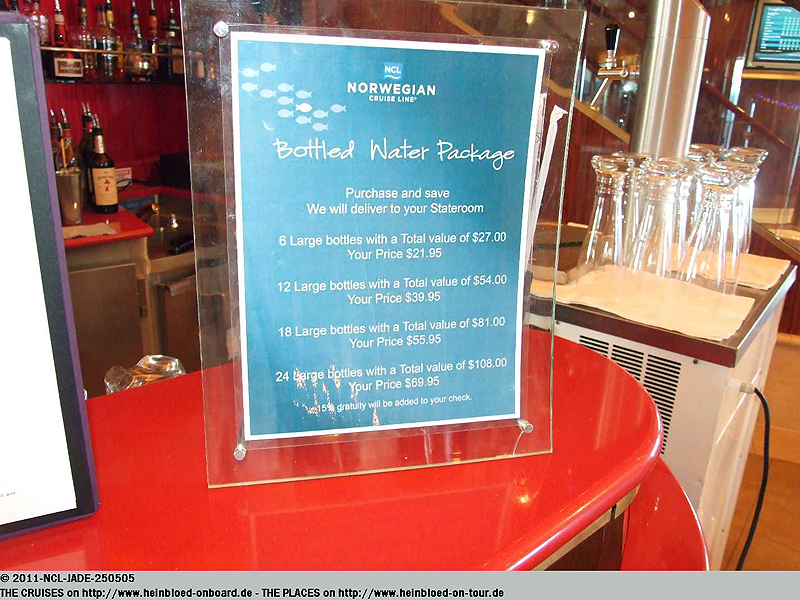 Here the prices (2011) for the water packages.

New was the coffee stand next to the Aloha-Bar for those who does not want to pay for coffee specialities and do not want to walk upstairs to get some coffee.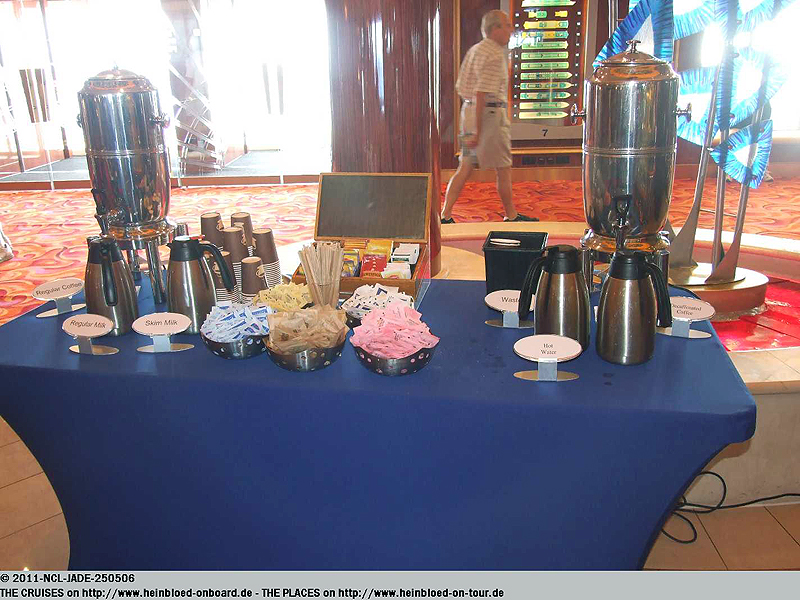 Neu ist der Kaffeestand neben der Aloha-Bar für diejenigen, die die Kaffeespezialitäten nicht bezahlen wollen und nicht extra nach oben laufen wollen.
Diese Karten hatte ich bislang noch nie gesehen. Kinder zahlen bis zu 12 Jahren die Hälfte der Zuzahlung, wenn sie ins Zuzahlrestaurant mitkommen.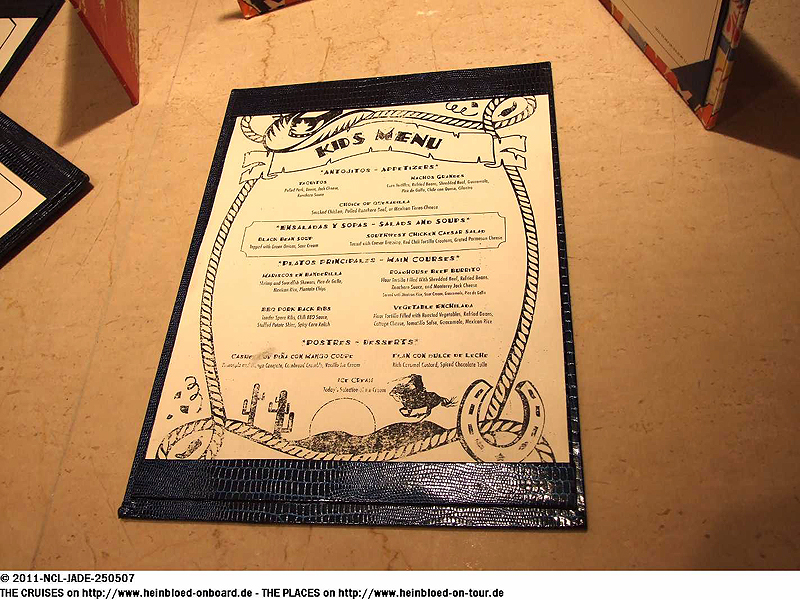 I have never seen this menu cards before. Children upto 12 years pays only half of the coverage charge if they see the alternative restaurants.

Here you get orientation when you can reach the reception desk hostesses in your own languages.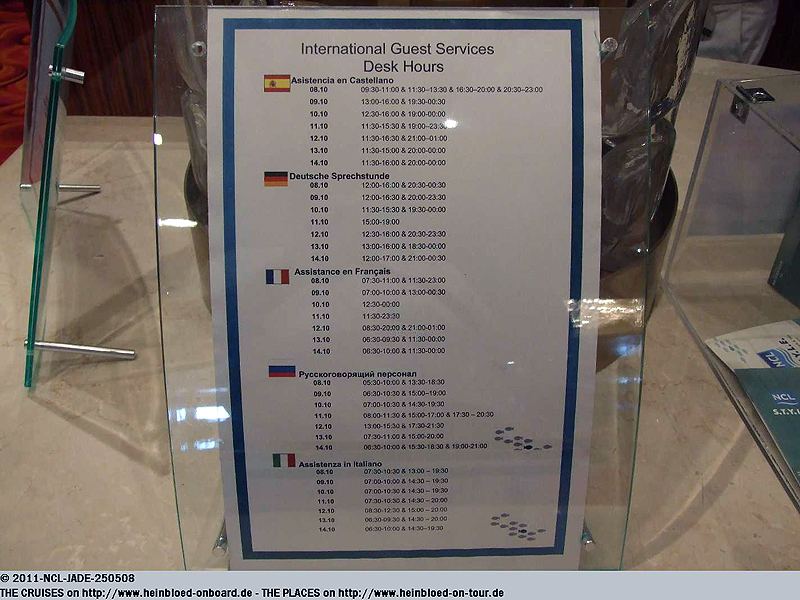 Hier kann man sich gut orientieren, wann Rezeptionsmitarbeiter in der eigenen Sprache verfügbar sind.
Habe ich bislang auch noch nie gesehen: die Höhepunkte des Seetages, wenn man sich draußen orientieren will.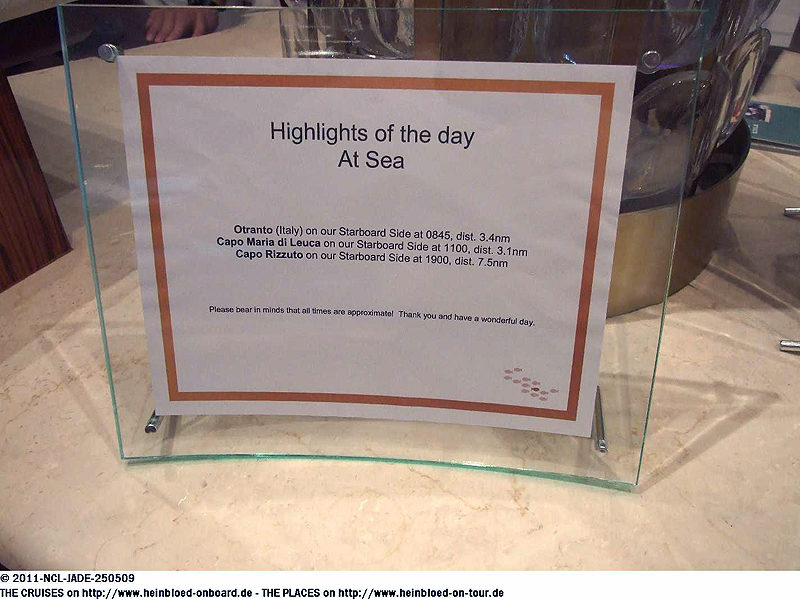 I have not seen this before: all highlights to see on a day at sea if you like to see what we were passing by.

10 USD you need to pay if you exchange currencies on board.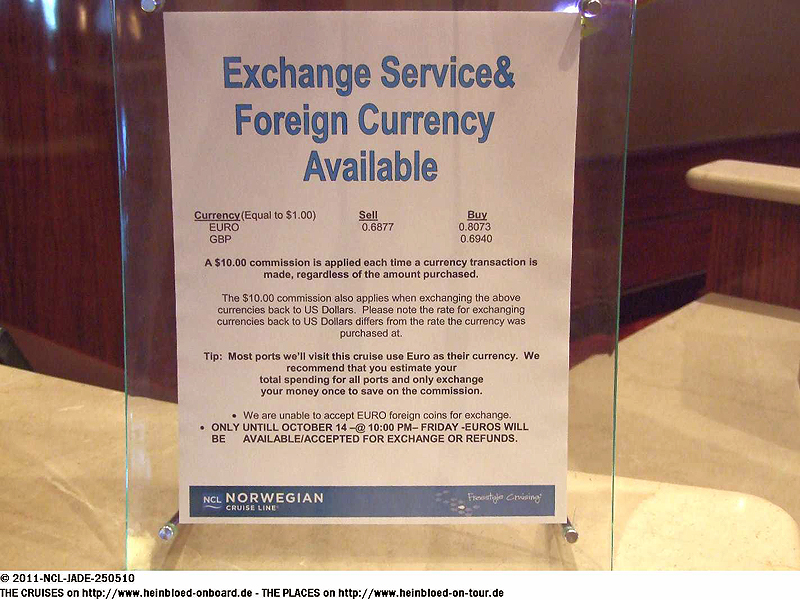 10 USD werden fällig, wenn man Währungen an Bord tauschen will.
Neben Ausflügen in Englisch wurden auch Ausflüge in Deutsch und Spanisch angeboten.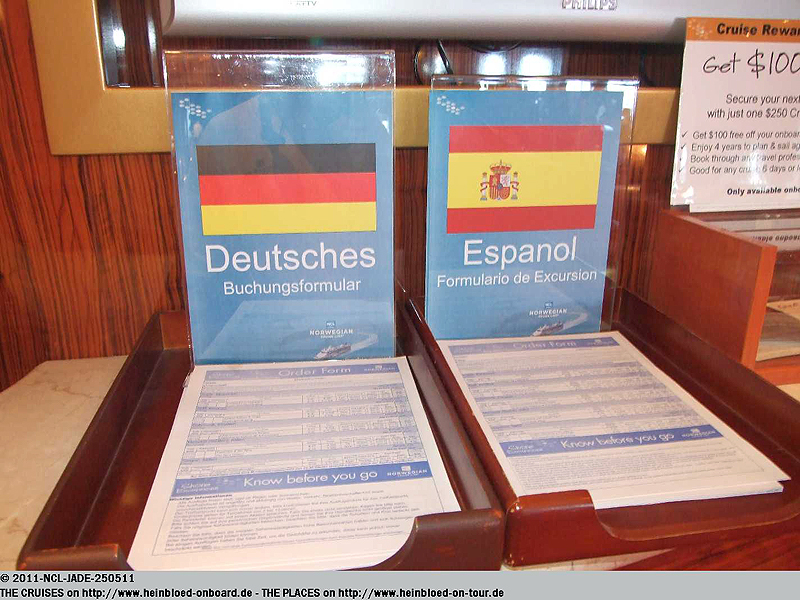 There were not only excursions in English available: German and Spanish too.

It was October 12, 2011 and it was like at a hot summer day. The pooldeck was packed.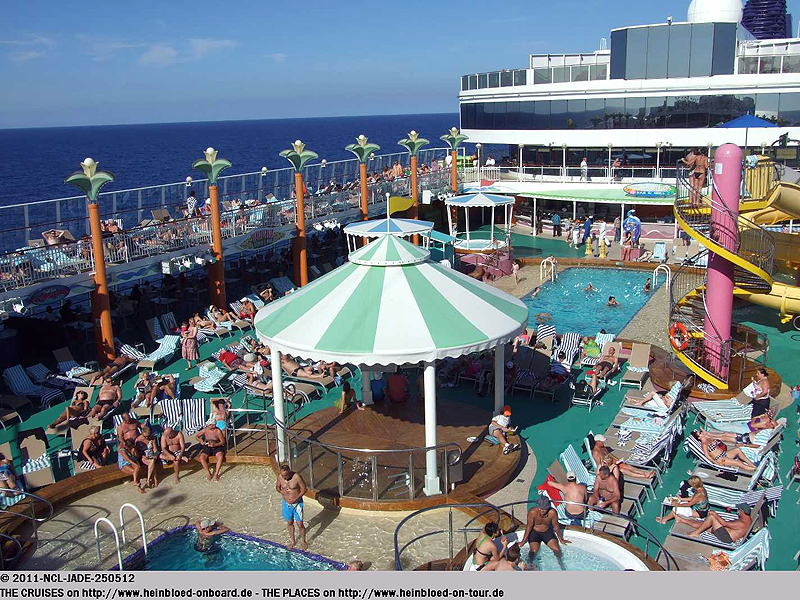 Wir hatten 12.10.2011 und wir kamen uns vor wie an einem heißen Sommertag. Der Pooldeck war voll.
Bruno erläutert hier seinen Eltern, wie The Haven aufgebaut ist.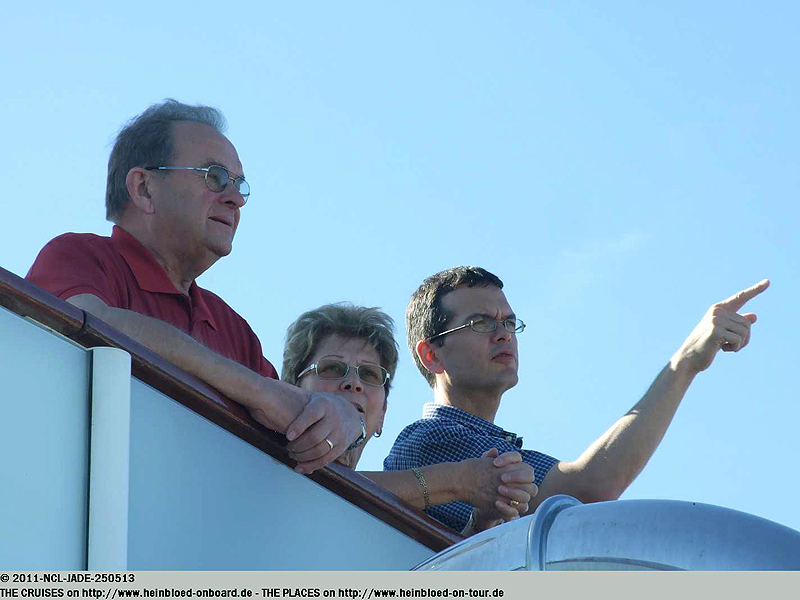 Bruno explained his parents the layout of The Haven.

I bought one more or less neutral NCL-Poloshirt made of 100% cotton for men...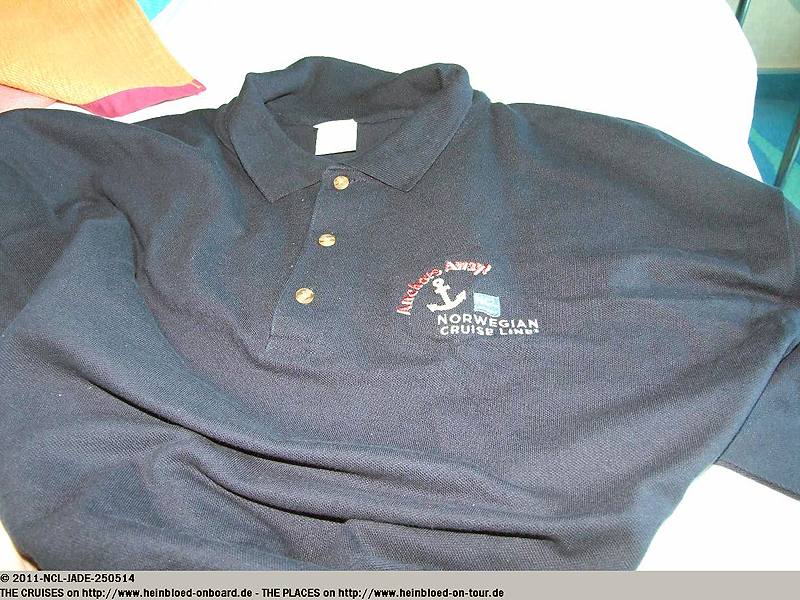 Ich kaufe mir doch noch ein einigermaßen neutrales NCL-Poloshirt aus 100% Baumwolle für Männer...
Ansonsten gibt es mal ganz kurz Krach an der Bar, als man mir erklärt, dass der Diät Eistee von Lipton nicht mit dem Soda Pass gilt und vielleicht erst wieder auf der nächsten Kreuzfahrt verfügbar sei. Ich erkläre bloß, dass es mir bewusst ist, und dass er von mir die Karte bekommen hätte, damit ich dafür bezahle, ich allerdings nicht bereit wäre, extra die nächste Kreuzfahrt zu buchen, um den Tee zu bekommen. Es war eher die Art, wie er es gesagt hat, die mich gestört hat. Ich könnte ja mal bei Alain nachfragen, ob nur diese Bar nichts hatte und jemand keine Lust hatte, im Lager gucken zu gehen... aber ich lasse es.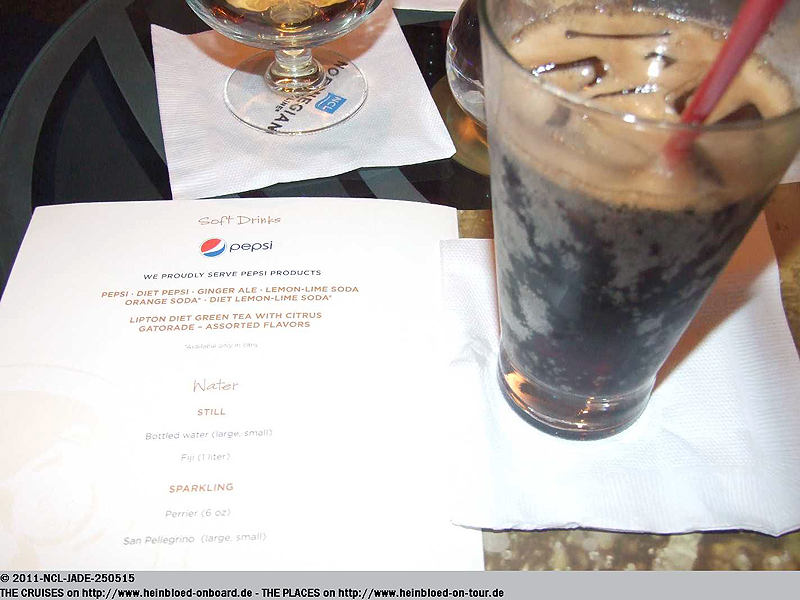 There was only one little trouble at the bar when they explained that I cannot get a Lipton diet ice tea with my soda pass and it might be available on the next cruise. I told them that I knew and that I presented my card to pay for the ice tea and that I was not willing to wait for the next cruise to get a ice. It was more the way he said it which made me angry. I could have asked Alain if the ice tea was not available at this bar and someone was not willing to check the store or generally it was not onboard.... but what for?

He was also brilliant. No idea who he was because everytime he was playing I was under time pressure and went there in transit. That he must be good you could see because they had to add many chairs from the conference rooms when he was playing. It was always jam packed.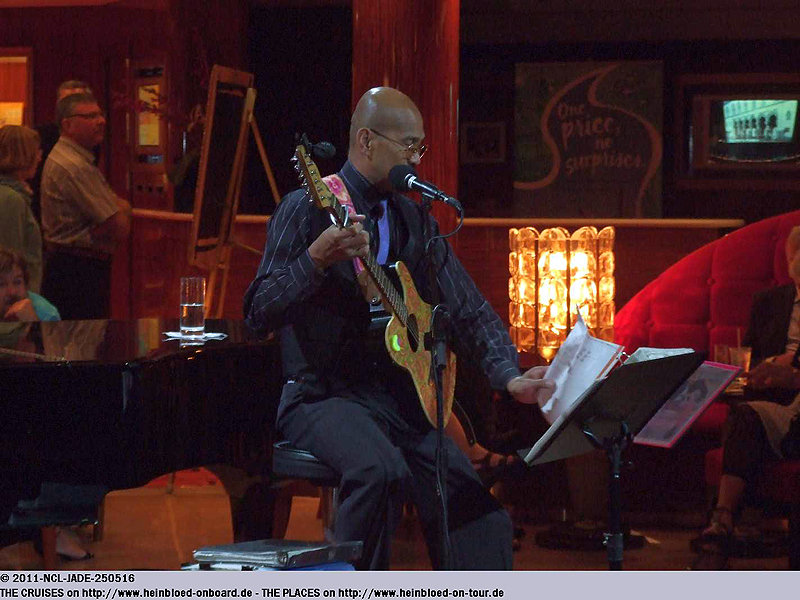 Der war auch immer spitzenmäßig. Leider habe ich gar keine Ahnung wer es ist, weil der trat immer dann auf, wenn ich nie Zeit hatte und daher habe ich mich leider mit ihm viel zu wenig befasst. Dass er gut war, sah man immer daran, dass man immer zusätzliche Sitzgelegenheiten aus den Konferenzräumen holen musste, weil es immer voll war.
Wir wurden von Alain erwartet.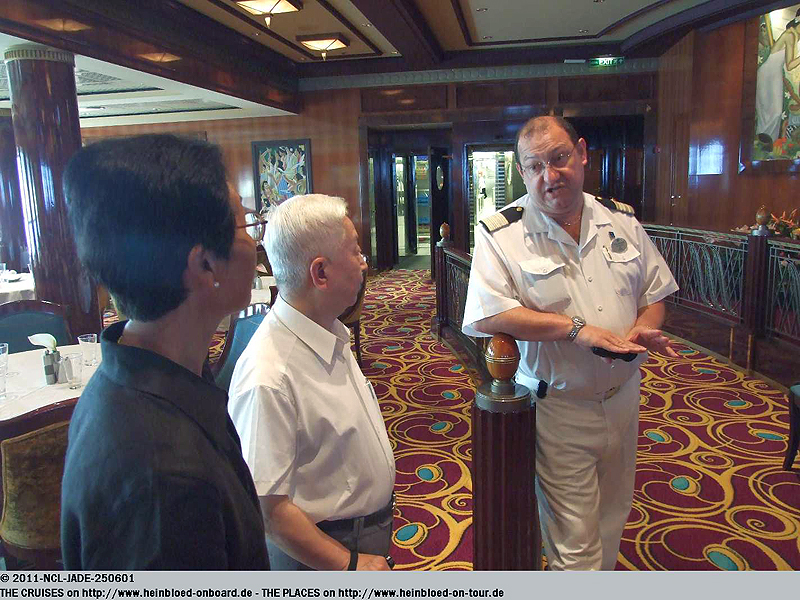 Alain was waiting for us.

He got someone who should explain in German to Bruno's parents what was going on in a galley.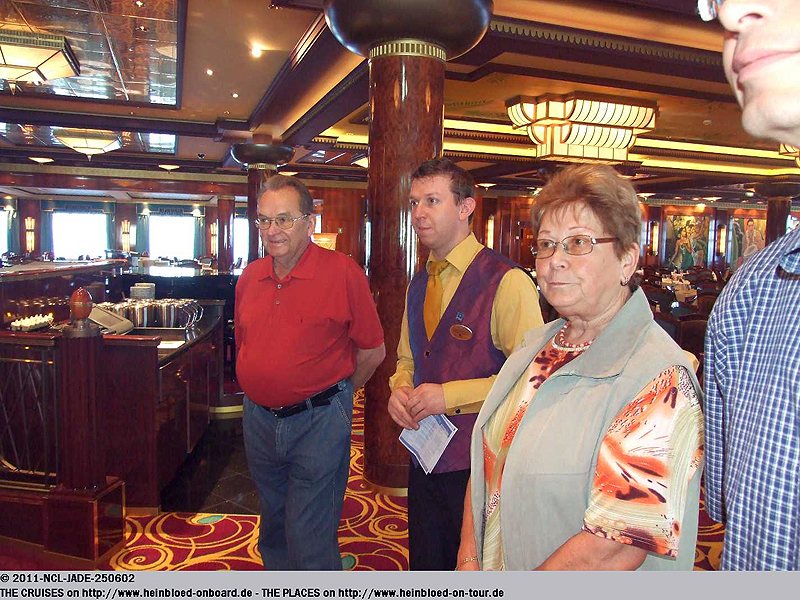 Er hatte jemanden abgestellt, der in Deutsch Brunos Eltern erklärt, was in einer Galley abläuft.
Die Getränkestation.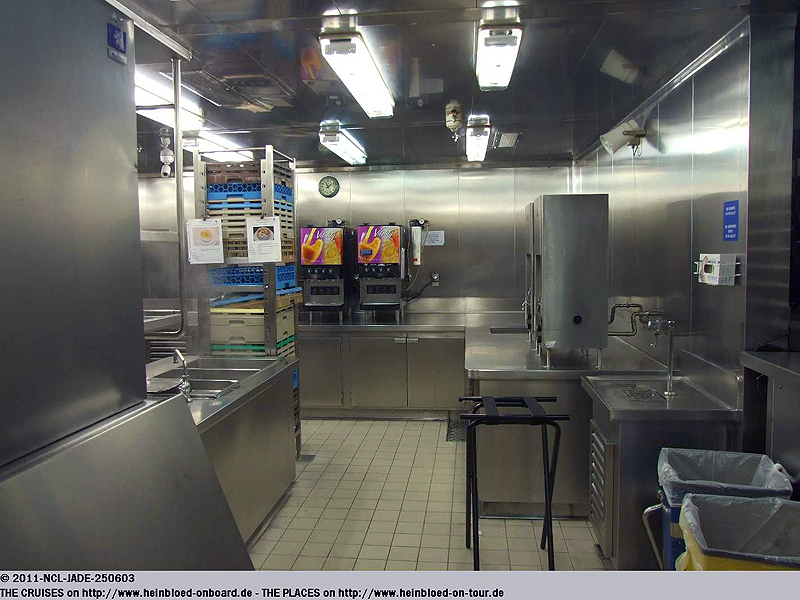 The beverage station.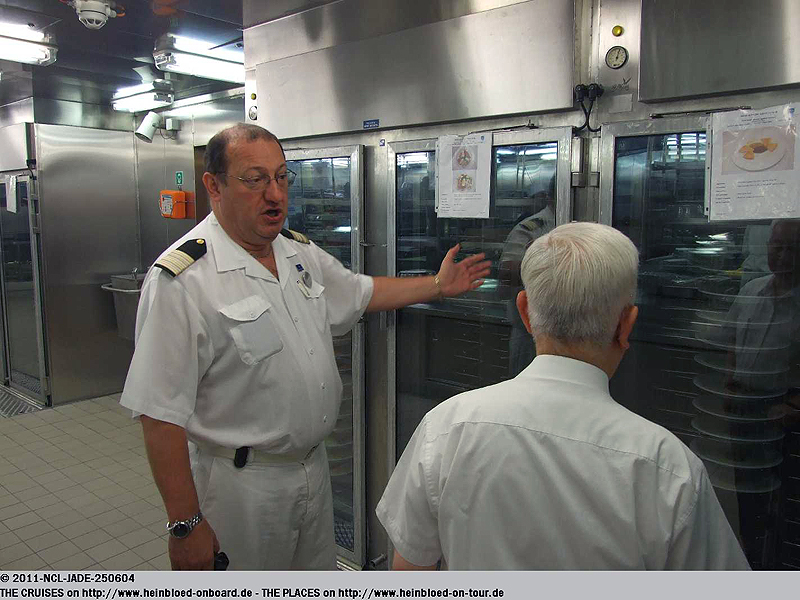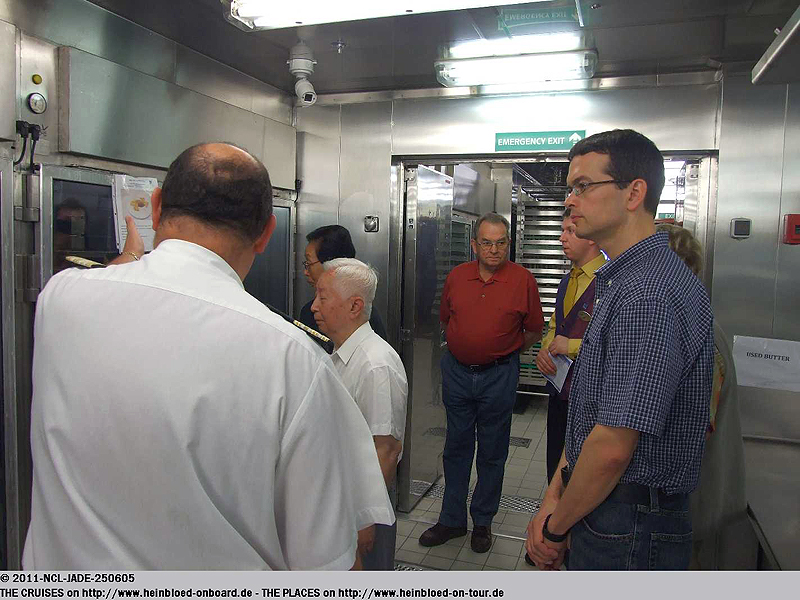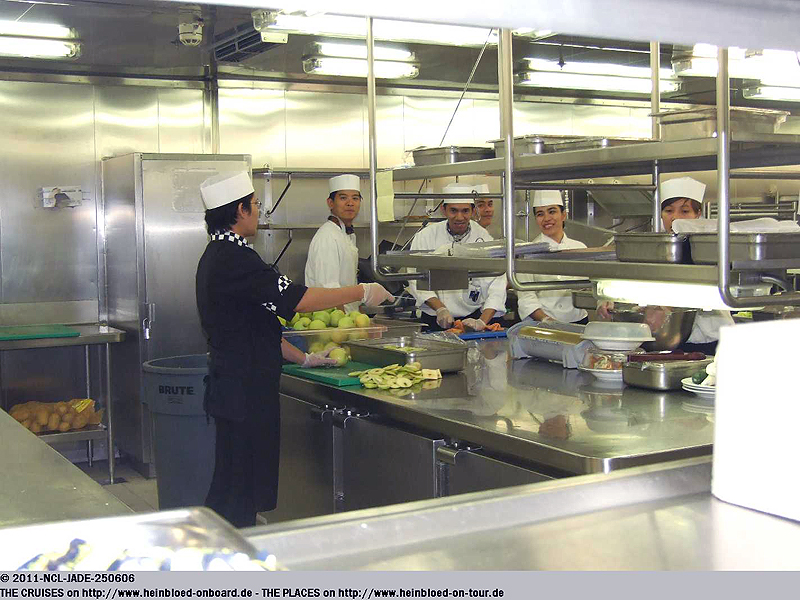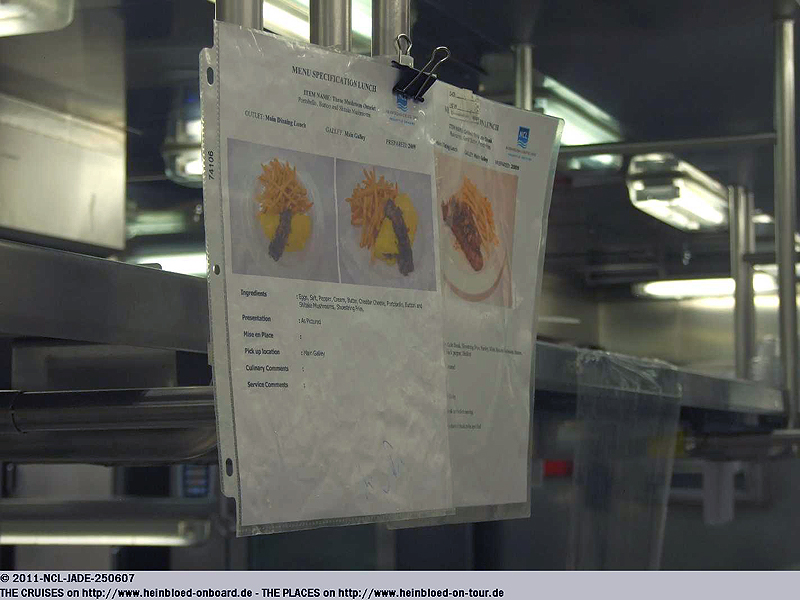 As said before: since June 2011 there were different menus available in Alizar and in Grand Pacific for the every day available dishes.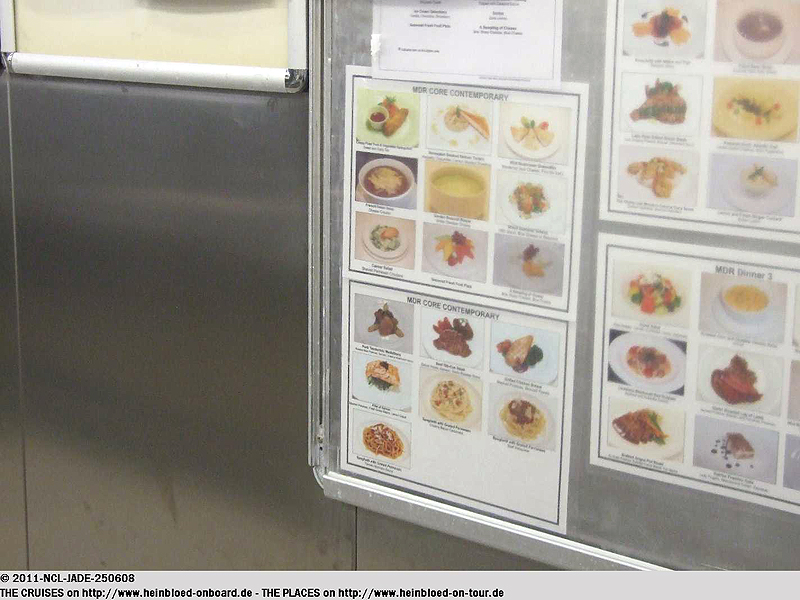 Wie gesagt: seit Juni 2011 gibt es unterschiedliche Menüs bei den täglich verfügbaren Gerichten im Alizar und im Grand Pacific.
Damit will man erreichen, dass man noch mehr Auswahl an Bord hat.

So you had more options on board.

Here they present the daily changing regional dish. Today something from Calabria because we will pass there tonight.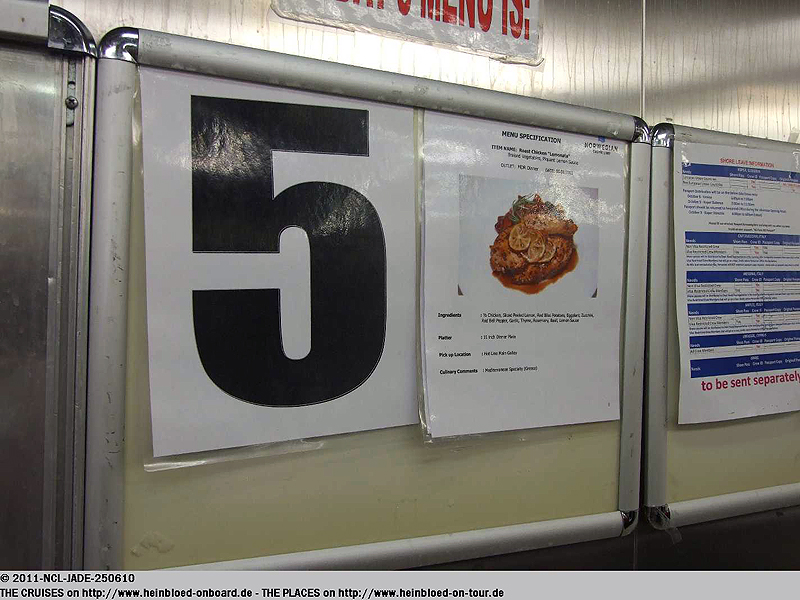 Hier wird auf das regionale Tagesgericht aufmerksam gemacht. Heute gibt es etwas aus Kalabrien, weil wir eben heute Abend daran vorbeifahren.
Suppen und Saucen können entsprechend schon vorbereitet werden.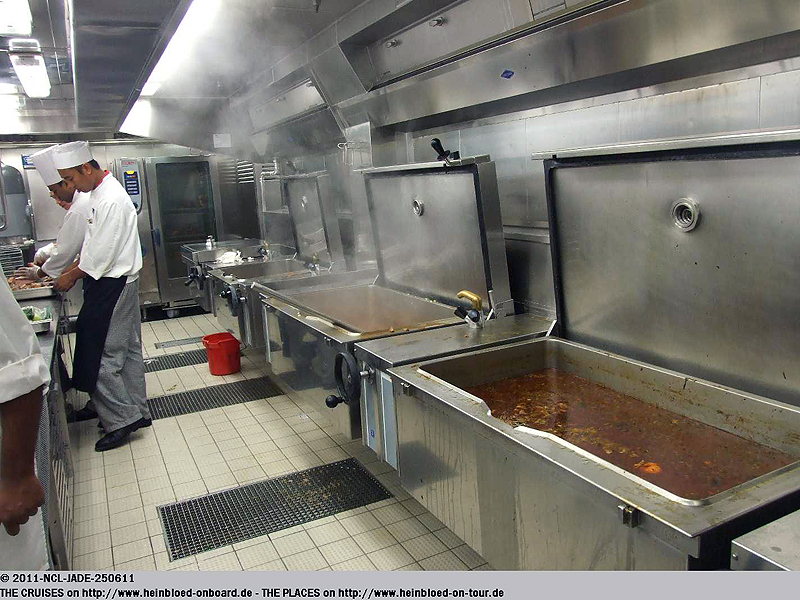 Soups and sauces could be prepared ahead.

It was around 11.00 hrs and the lunch service would start soon. But it was much more calmer than I expected.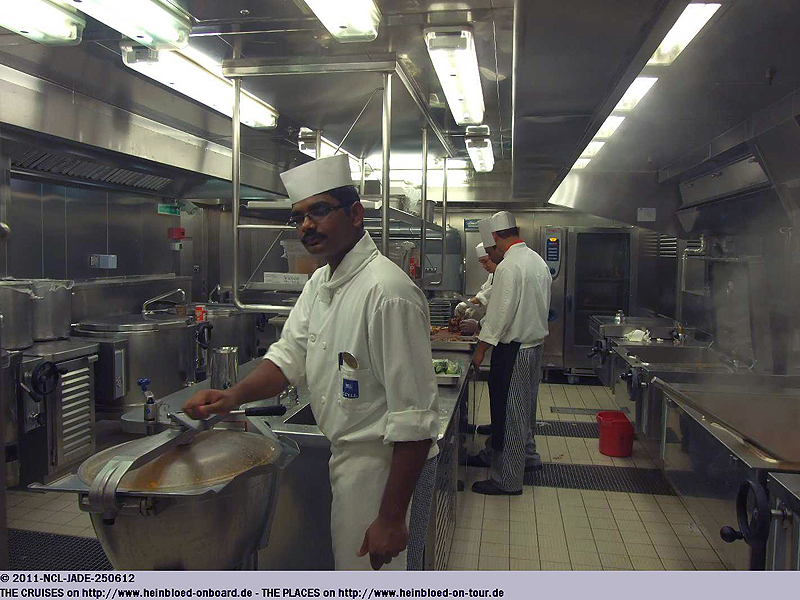 Es ist 11.00 Uhr herum und gleich der Mittagbetrieb los. Aber es ist ruhiger als ich dachte.
Hier werden schon die Canapés für uns vorbereitet für heute Nachmittag. Sieht nach Tien-Canapés aus.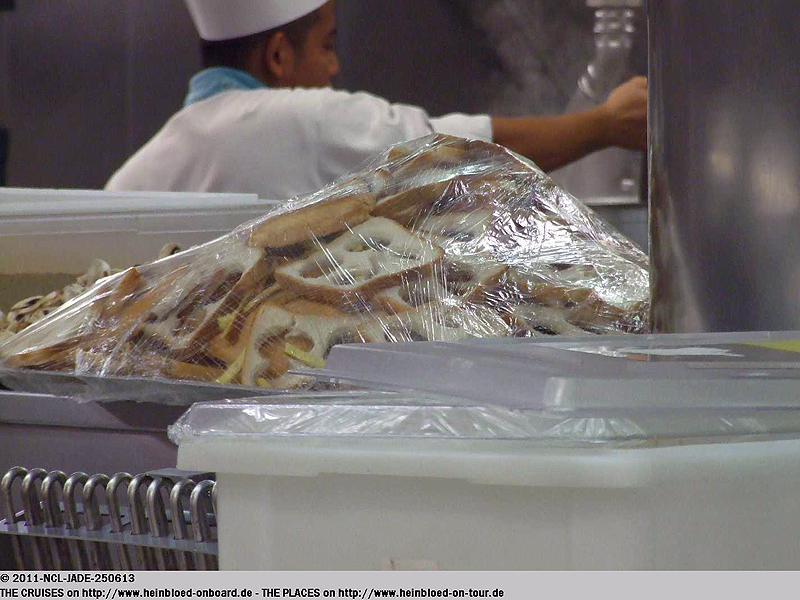 Here we could see that they prepared the canapés for this afternoon. Looked more like Tien-Canapés.

Because it is not clear when the guests will show up for their meal you cannot prepare to the final preparation point and keep it all time warm. Some steps can only be completed when the guests order them.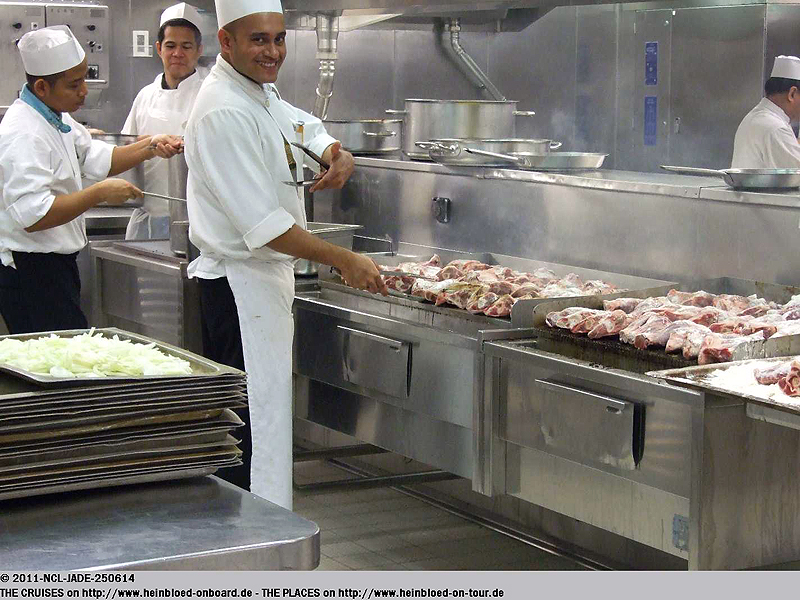 Weil es eben nicht klar, wann die Gäste konkret zum Essen kommen, kann nicht alles bis zum Endgarpunkt vorbereitet werden und die ganze Zeit warmgehalten werden. Bestimmte Zubereitungsschritte werden also erst beendet, wenn das Gericht vom Gast angefordert wird.
Die Anzahl der fertigen Sachen ist daher sehr viel kleiner, als bei einem Betrieb mit festen Tischzeiten. Wir sind schon sooft mit NCL gefahren, aber hier haben wir wieder eine Menge dazugelernt.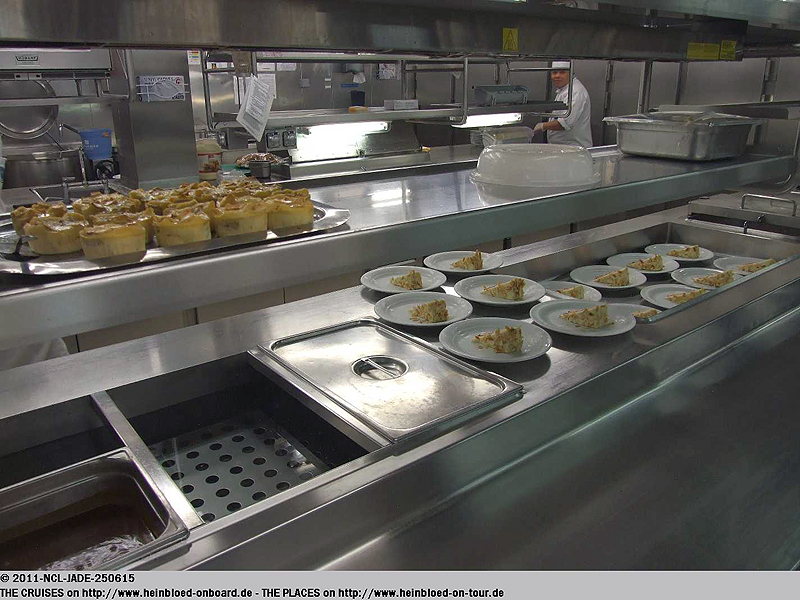 The number of finished meals is much more smaller than a service with fixed seatings. We went many times with NCL before but we always learn something new.