Scroll down for English explanations - alternates with German explanations.

Und auch wir fahren erleben endlich mal die Ausfahrt aus Venedig. Die MSC MUSICA ist bereits um 16.00 Uhr abgehauen. Irgendwie verstehen wir die Philosophie von MSC nicht. Man kann irgendwie niemals lang genug etwas mit denen an einem Ort erleben.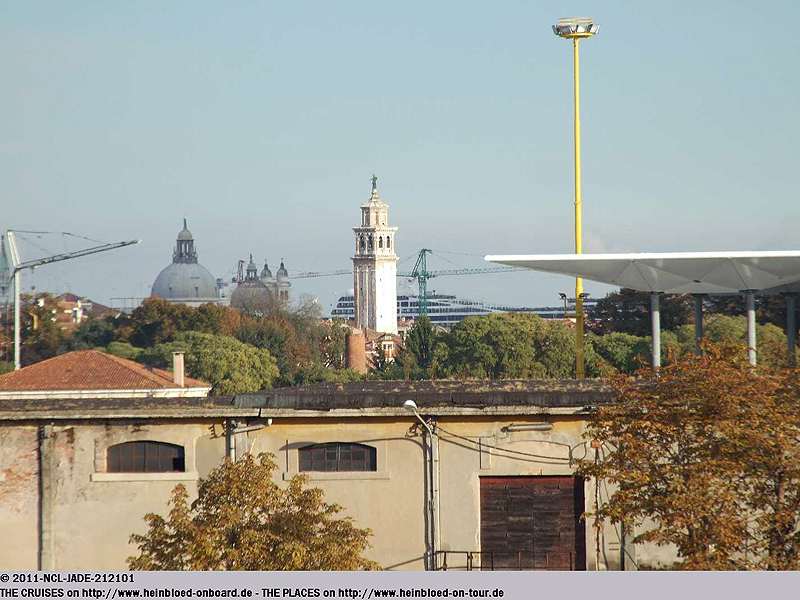 So finally when we started to sail we experienced the sailaway in Venice. MSC MUSICA left already at 16.00 hrs. Somehow we will never understand MSC's philosophy. You never stay long enough at one port to make extended experiences.

As Captain Kim parked this morning forward to Pier 117 it was quite good that the MSC-ships left. So we could be towed inside the bay backwards where there were the MSC ships before and we can leave forward. I was already under panic because I thought that we might leave Venice on the Canal of Guidecca backwards.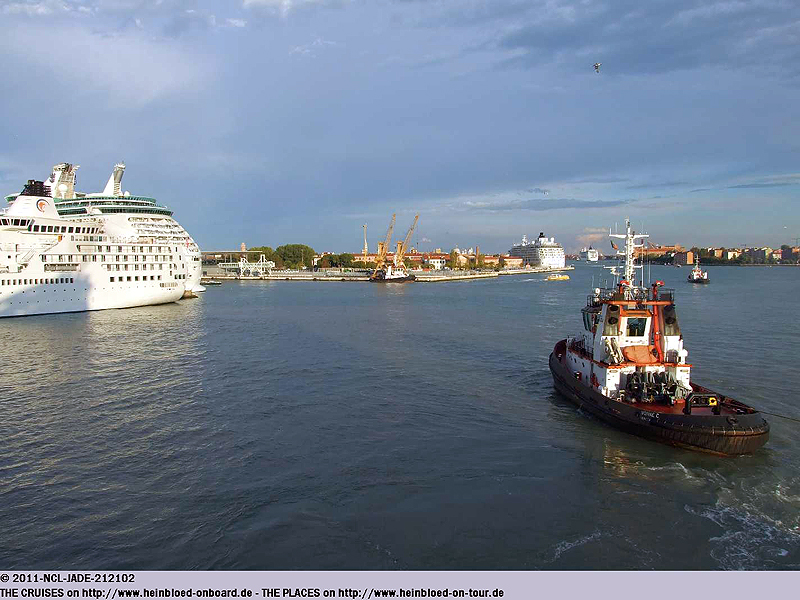 Da Kapitän Kim morgens vorwärts zum Pier 117 eingefahren ist, beweist es sich als sehr praktisch, dass die MSC-Schiffe schon weg sind. So kann er rückwärts dort reingeschleppt werden, wo die MSC-Schiffe lagen und vorwärts rausfahren. Ich hatte zeitweise schon Panik, dass er rückwärts durch den Kanal von Guidecca rausfährt.
So ganz selbstständig darf er gar nicht fahren. Er hat die Schlepper immer noch dran.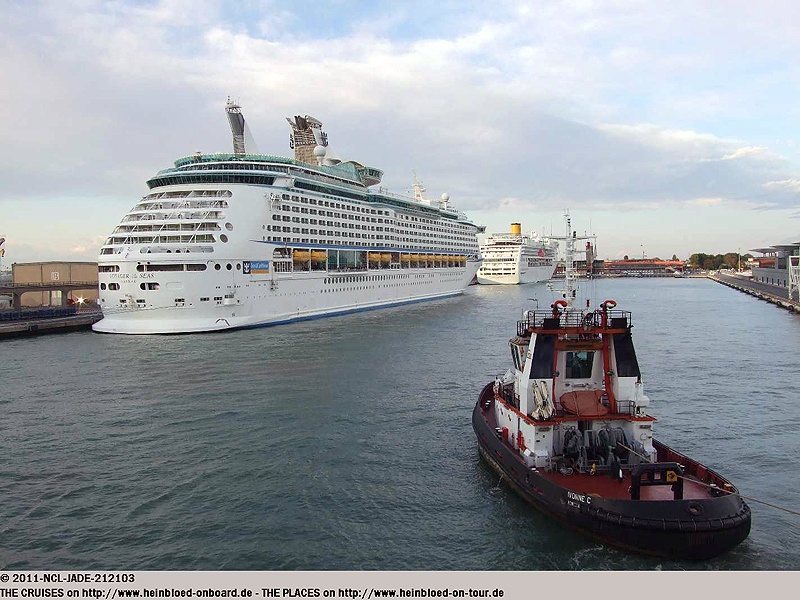 He was not allowed to go by himself. Still our Captain was under the guidance of the TUGs.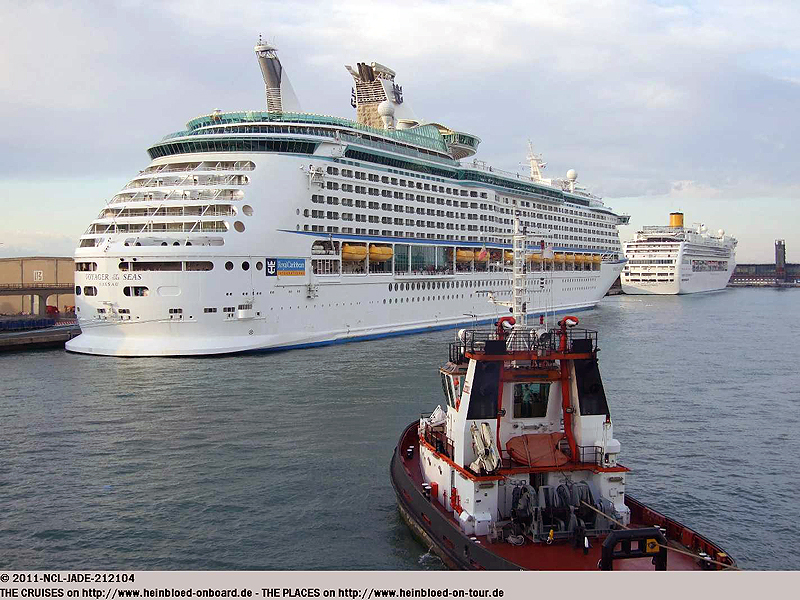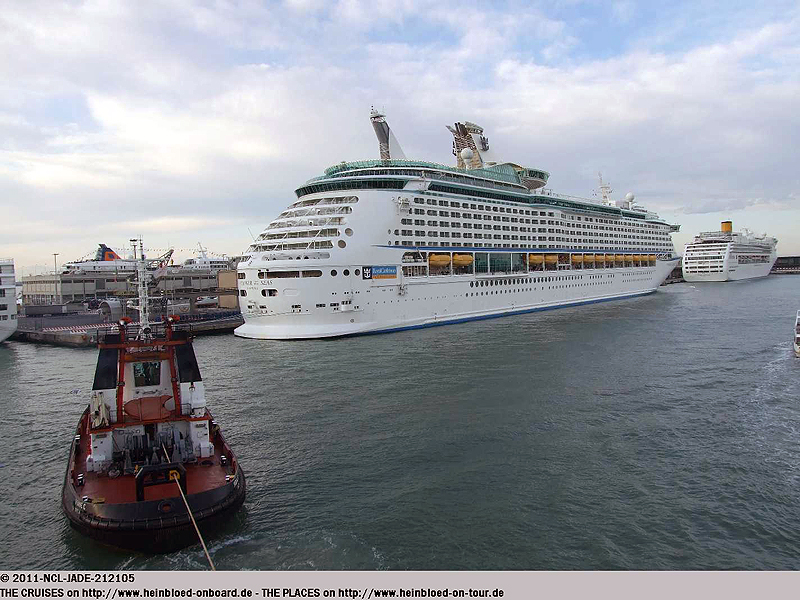 Somehow I saw already my NORWEGIAN JADE in the bodies of VOYAGER OF THE SEAS and HAPPY DOLPHIN.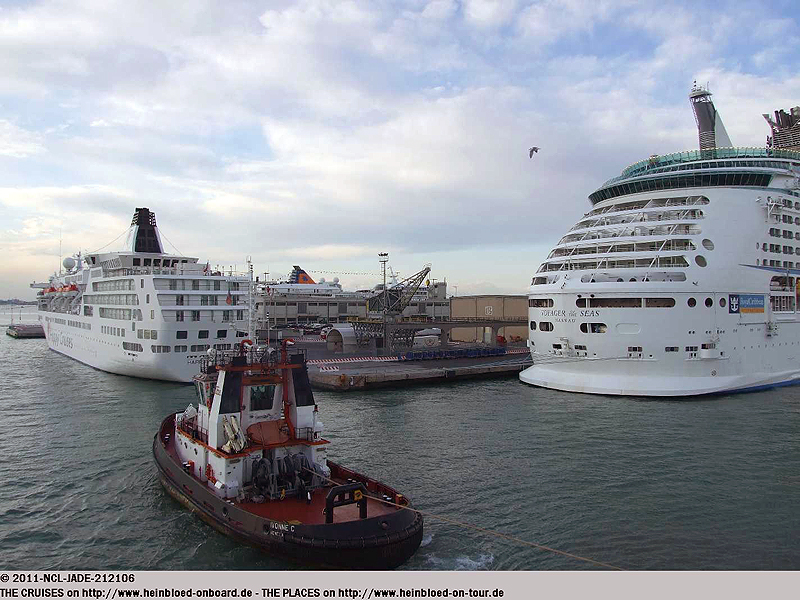 Irgendwo sah ich bereits meine NORWEGIAN JADE in der VOYAGER OF THE SEAS und in der HAPPY DOLPHIN drin.
Aber dann haben wir es geschafft.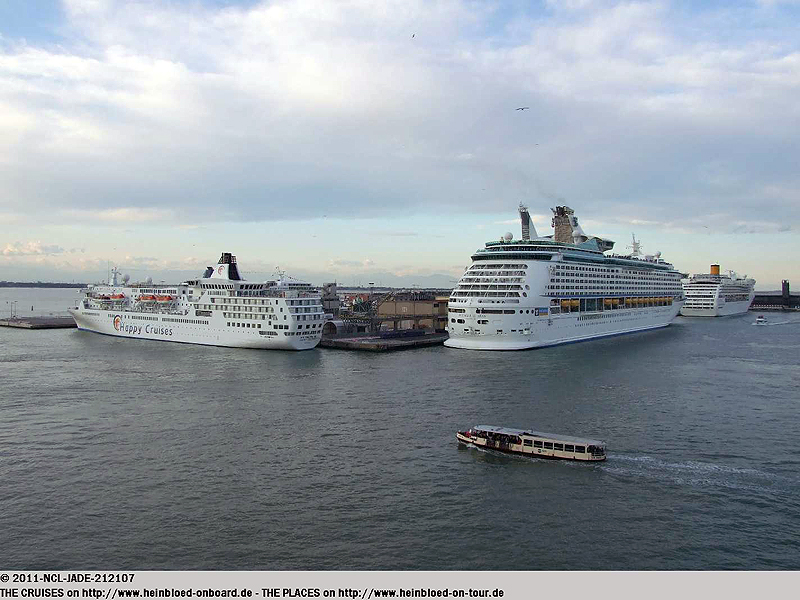 But we made it finally.