Scroll down for English explanations - alternates with German explanations.

Nun war eigentlich geplant, dass wir nachmittags ggfls. mit der Seilbahn hochfahren, aber das können wir uns schenken. Denn es heißt, dass uns der Weg eh dahin führt.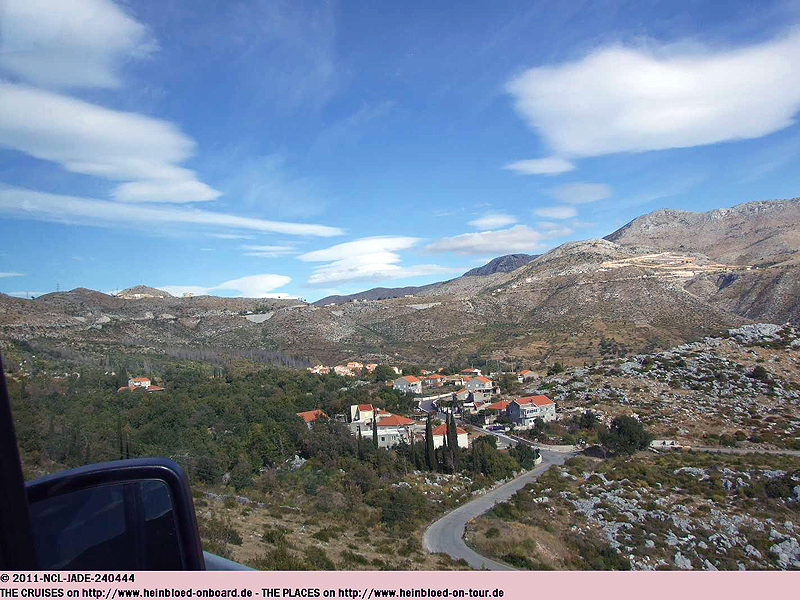 It was originally planned that we should go by aerial tram the afternoon but there was no need anymore. We were told that our way would take us anyway to the summit.

And I tried to find the point where the painting was made which I knew from my local Opatija restaurant in Brunswick, Germany.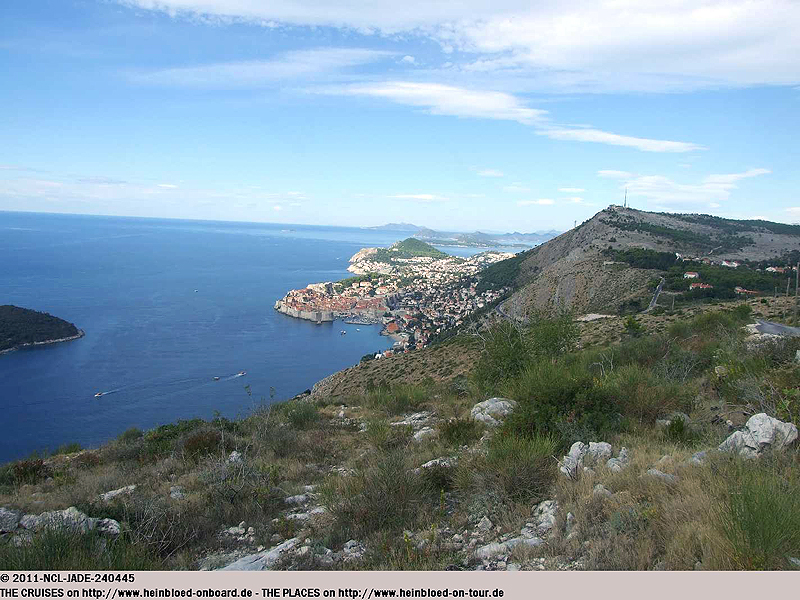 Und ich versuche den Punkt zu finden, an dem das Bild entstanden ist, das im Restaurant Opatija in Braunschweig hängt.
Es kann aber hier überall gewesen sein.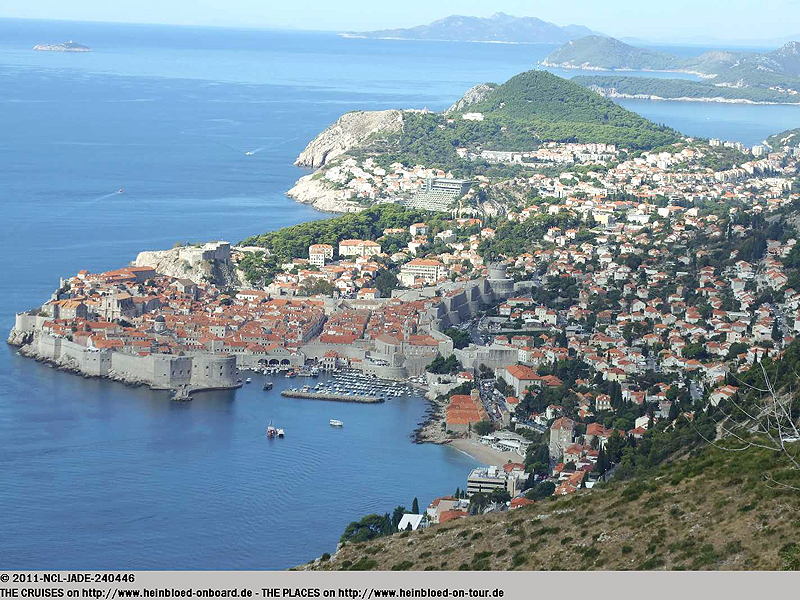 It might be anywhere around.

NORWEGIAN JADE face to face to the old town of Dubrovnik. Dario said that only Costa offered a scheduled tender service. All other preferred to go to the new port as they can sell the shuttle tickets.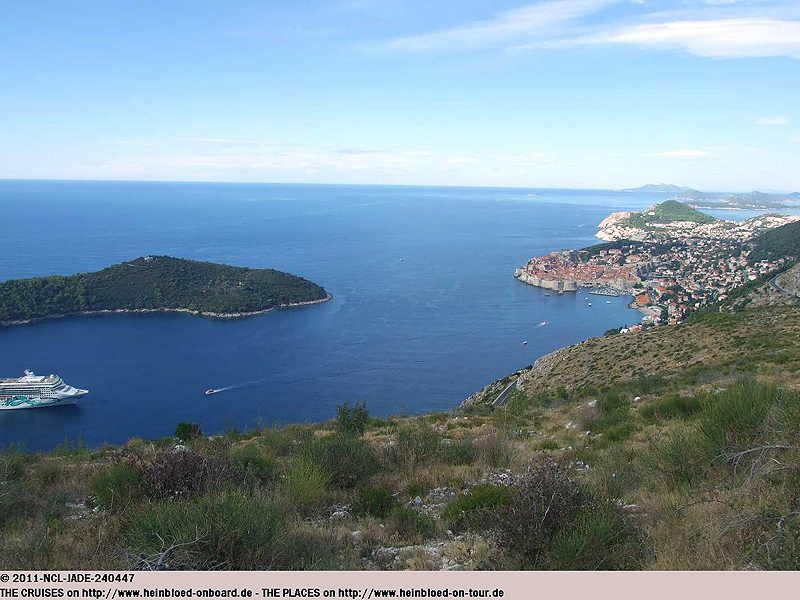 Die NORWEGIAN JADE vis-às zur Altstadt von Dubrovnik. Dario sagt, dass nur Costa noch regelmäßig tendert. Alle anderen würden den neuen Hafen vorziehen, damit sie den Shuttle-Bus verkaufen können.
Dario lacht sich über uns kaputt... so nach dem Motto: wenn ihr wüsstet, wieviel schöner es noch mit jedem Meter wird, den ich nach oben fahre... Und wir haben zu diesem Zeitpunkt bestimmt schon ein paar Hundert Bilder geschossen, die ich ja auch größtenteils wieder löschen muss.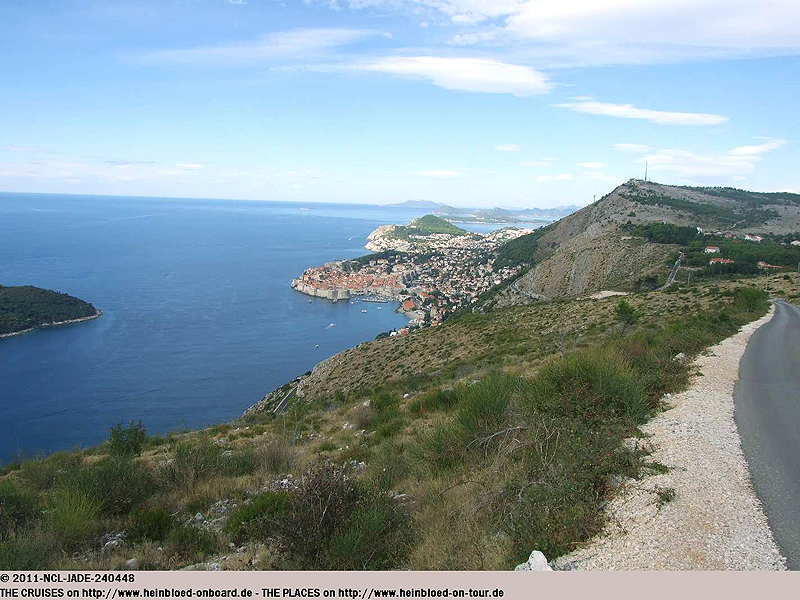 Dario was laughing on us... I think his thought was: if you would know that it will become nicer each feet we get higher and higher... So we took at this time several hundered of pictures which I need to erase later.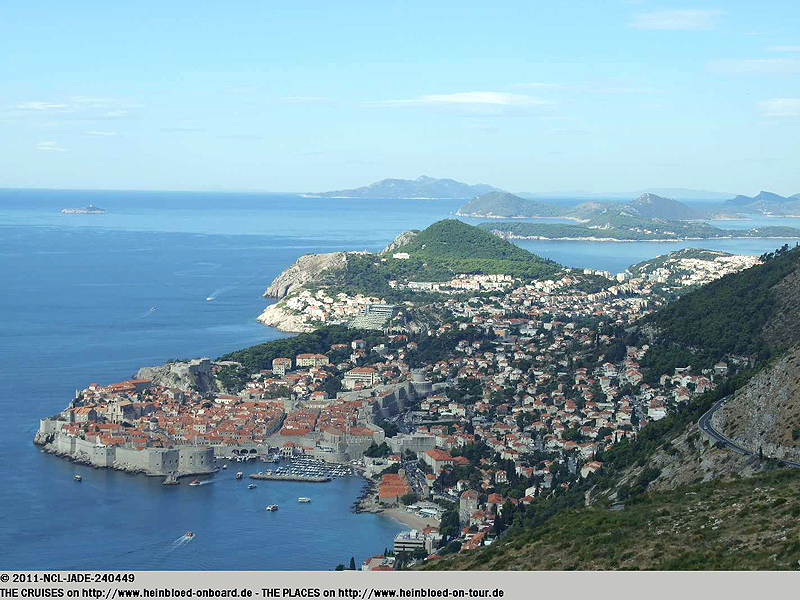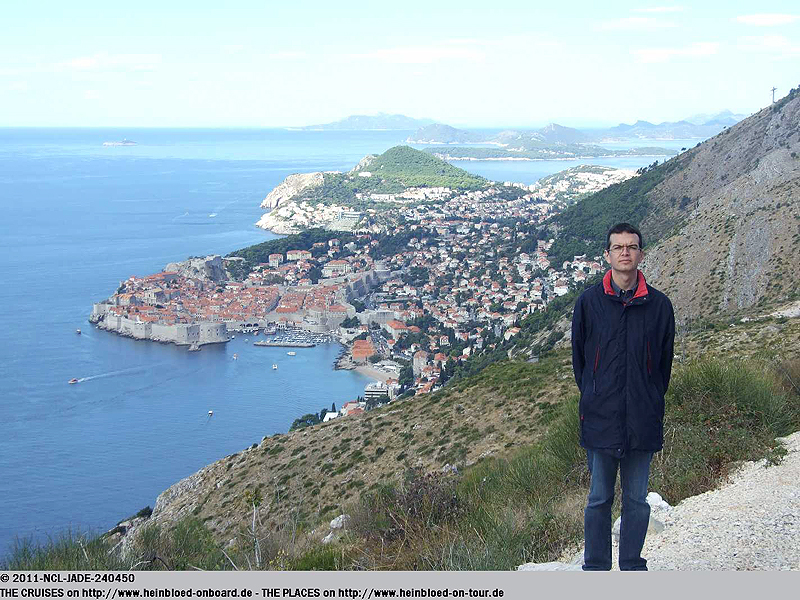 In front of NORWEGIAN JADE...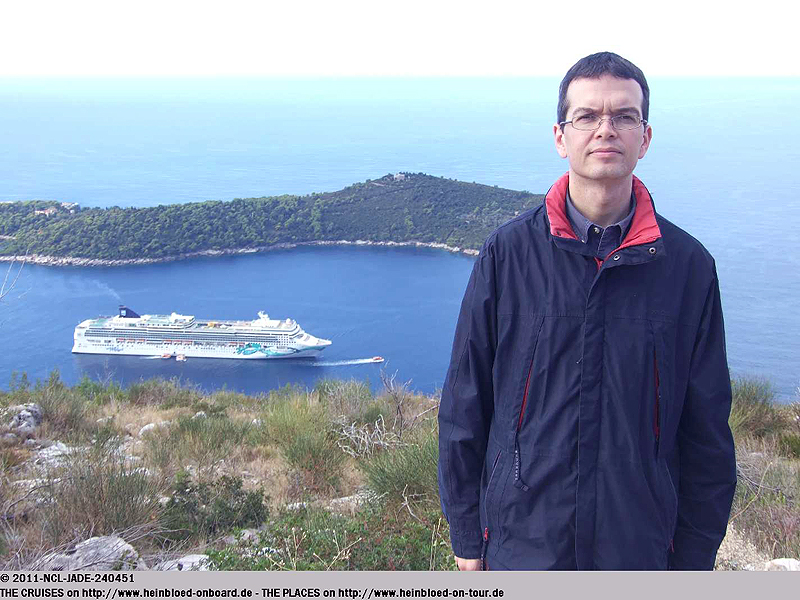 Vor der NORWEGIAN JADE...
meiner NORWEGIAN JADE...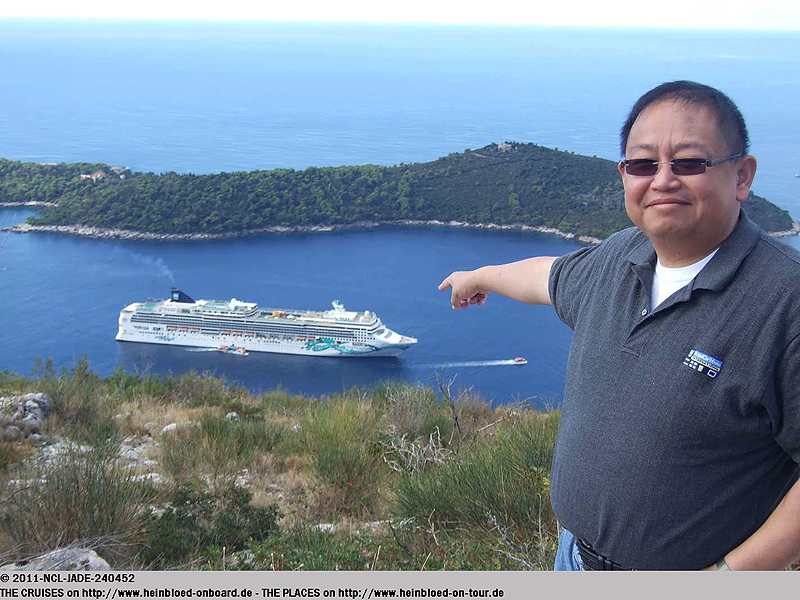 my NORWEGIAN JADE...

and of course my Dubrovnik.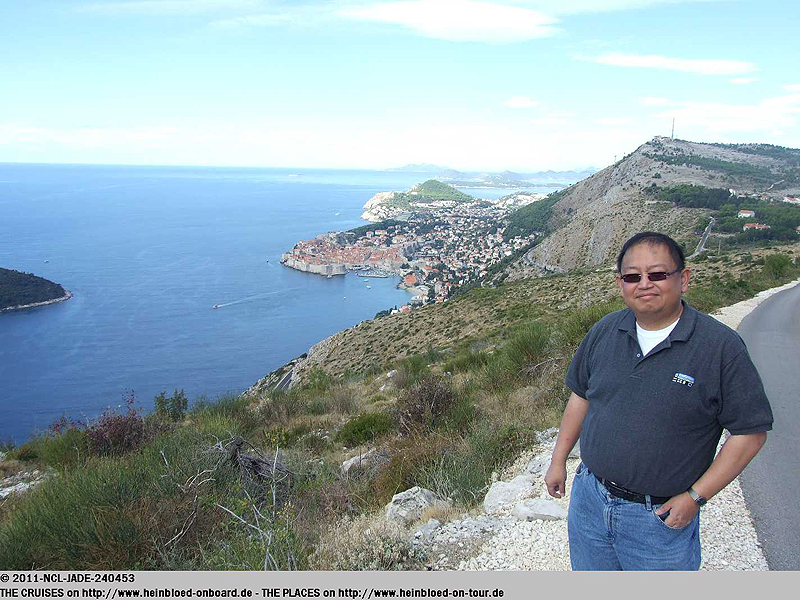 und natürlich mein Dubrovnik.
Dario erklärt uns, dass wir hier keine Bus-Ausflügler vom Schiff treffen würden, weil keiner von den Bussen hier hochfahren darf.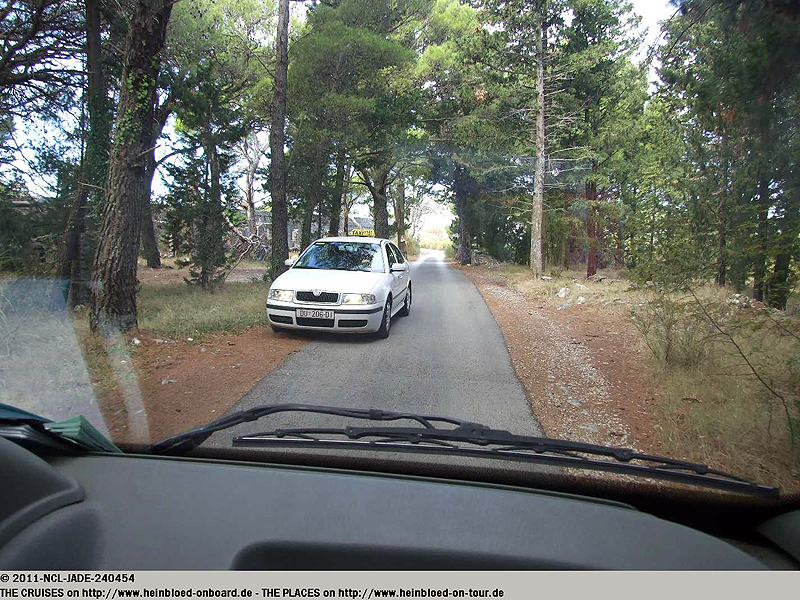 Dario explained that there will not be any bus-tour-participants from the ship as no ship can come to this place.

Looked a little bit like in a Karl-May-Movie.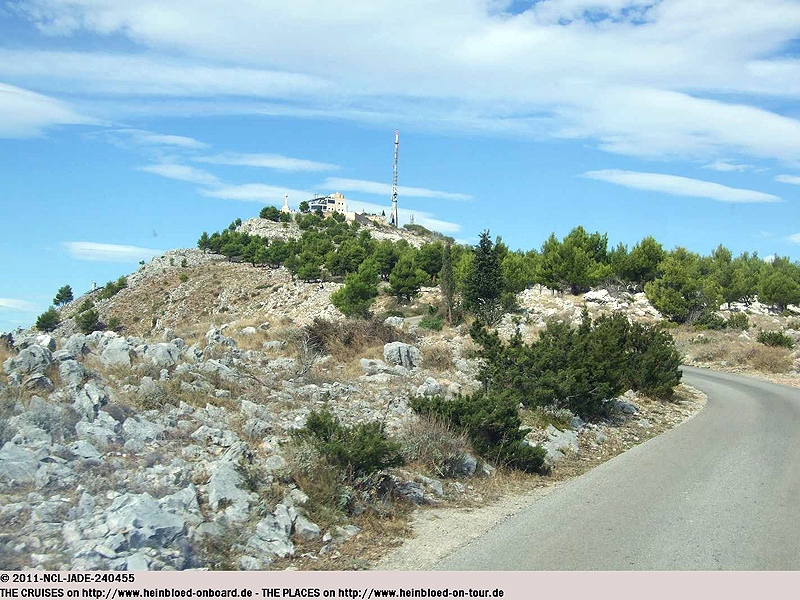 Sieht ein wenig aus wie "Durch das wilde Kurdistan" bei Karl May.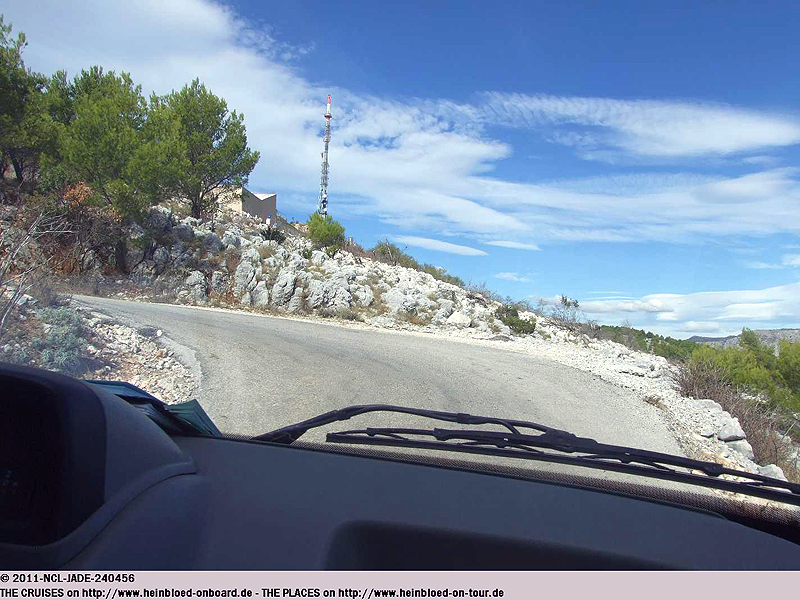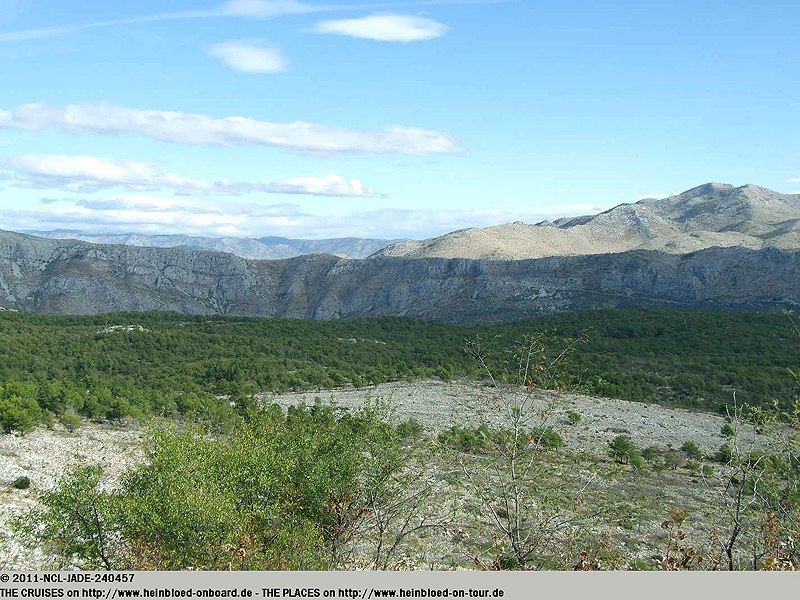 He took us just next to the upper station of the aerial tram to the
Croatian Independence War Museum
.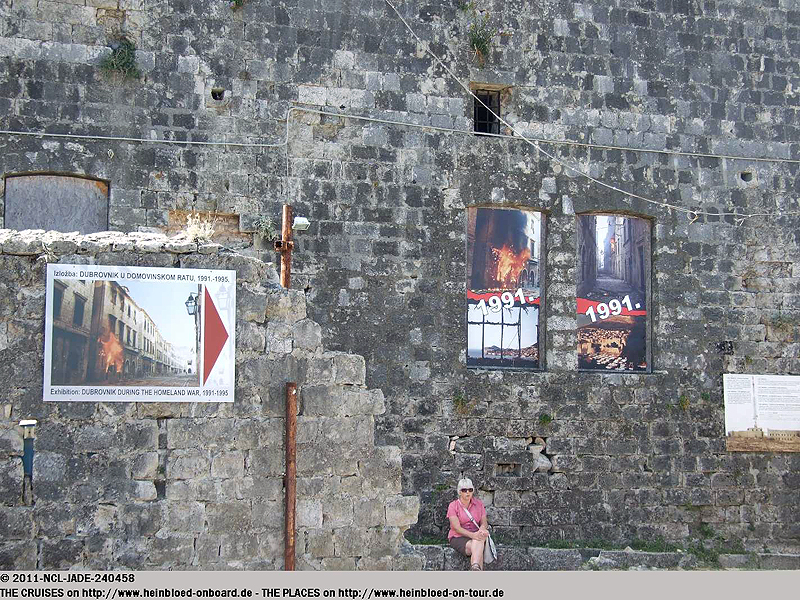 Es geht direkt neben die obere Seilbahnstation in das
Kroatische Unabhängigkeitskriegsmuseum
.
Dario fragt, ob wir da rein wollen. Wir sagen ihm, dass er der Botschafter seines Landes sei und wenn er will, dass wir wiederkommen, soll er uns die Punkte zeigen, damit wir gerne wiederkommen.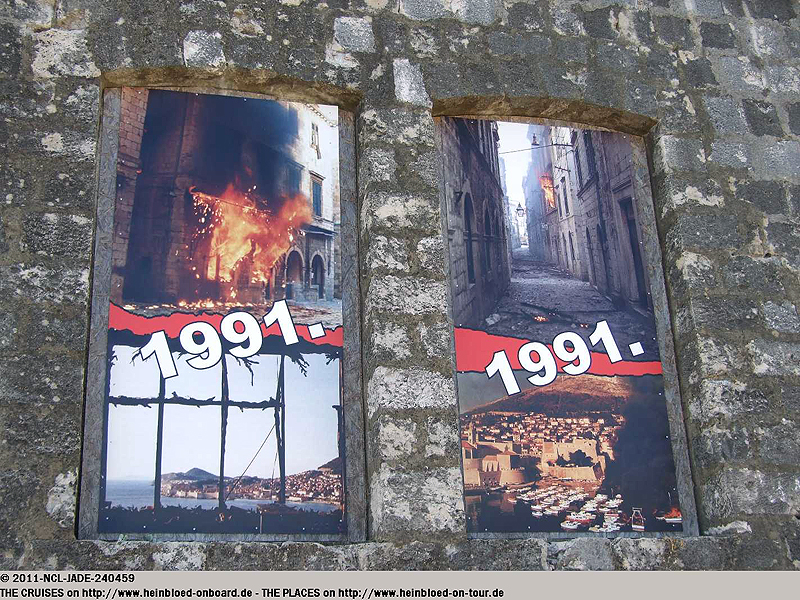 Dario asked if we would like to see it. We told him that he was his country's ambassador and he should want to have us back and so it was his decision if we should go.

Then he said that he really would like to show us but we have pay extra for the visit.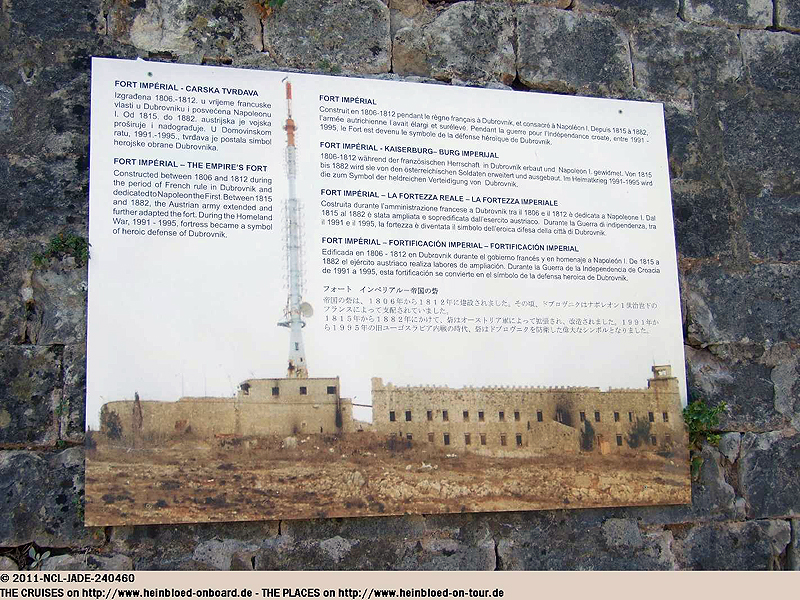 Daraufhin meint er, dass es eben nicht kostenlos sei und wir es extra zahlen müssten.
Dario geht aber bewusst nicht die Ausstellung von vorne nach hinten durch, sondern führt uns zunächst an das Ende der Ausstellung.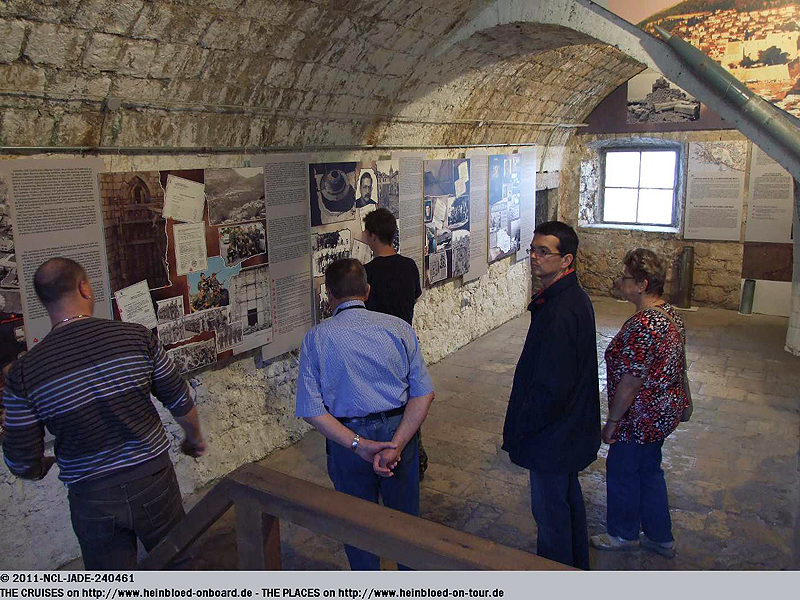 Dario did want to go with us from the beginning to the end and took us first to the end of the exhibition.

20.00 HRK was the admission fee. But here they accepten Euro too: 3.00 EUR (2011).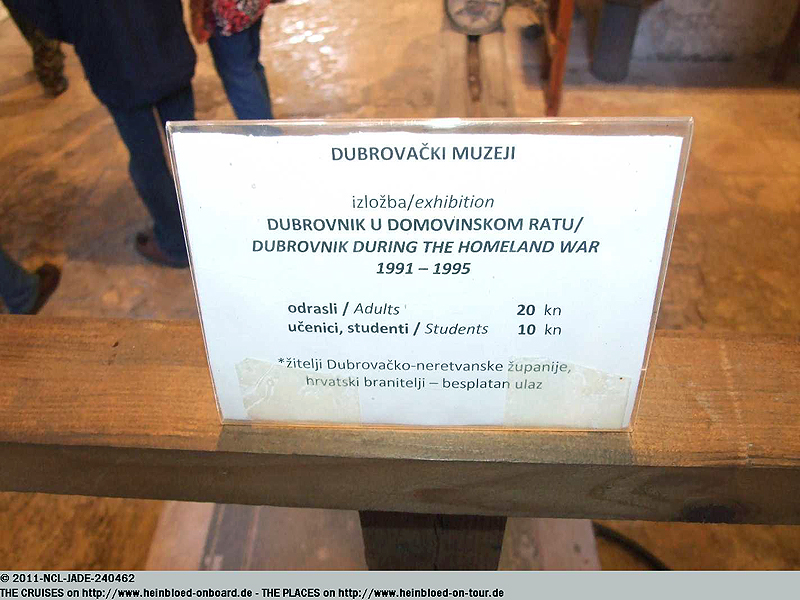 20,00 HRK kostete es. Hier wurde allerdings auch Euro akzeptiert. 3,00 EUR (2011).
Man muss allerdings höllisch aufpassen, damit man sich die Füße nicht umschlägt.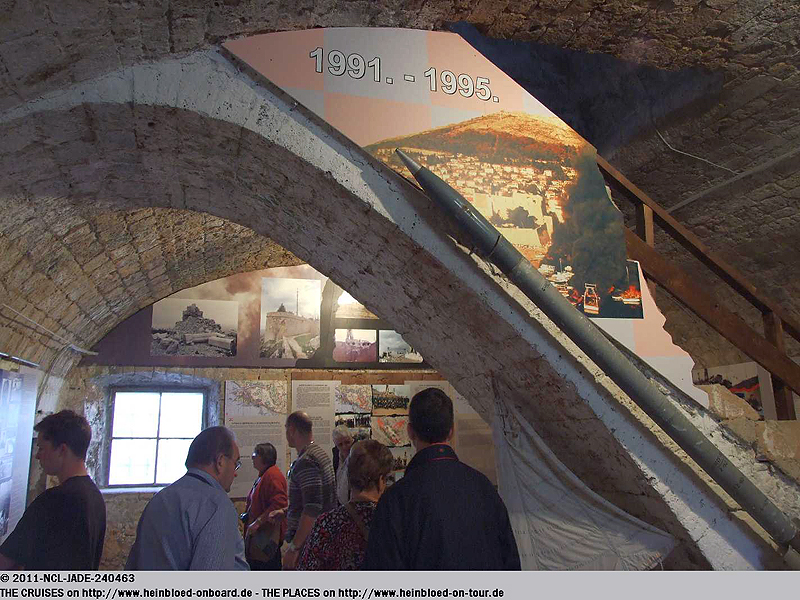 You have to be attentive to make sure that you do not hurt your feet.

As a memory you get this postcard which is your admission ticket.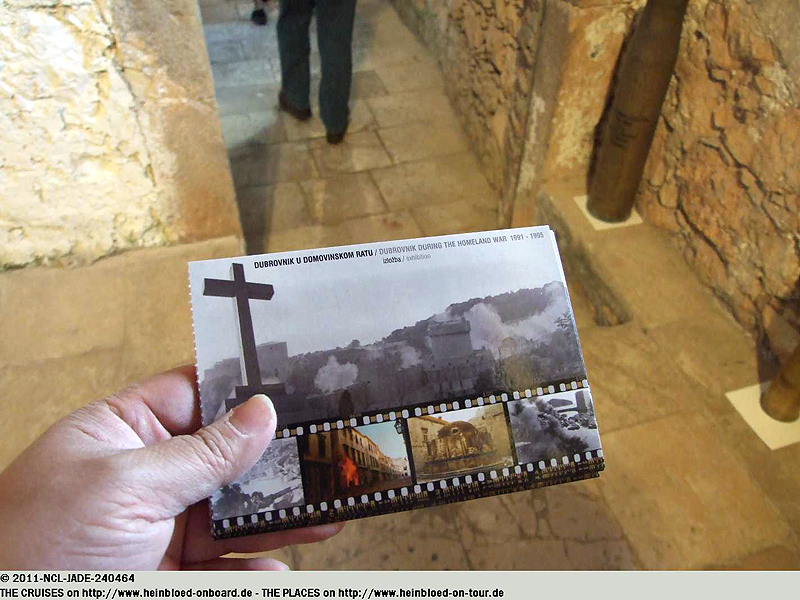 Als Erinnerung gibt es diese Postkarte, die gleichzeitig Eintrittskarte ist.
Am Ende der Ausstellung, die für uns Anfang ist, läuft eine Endlosschleife mit den Ereignissen von damals.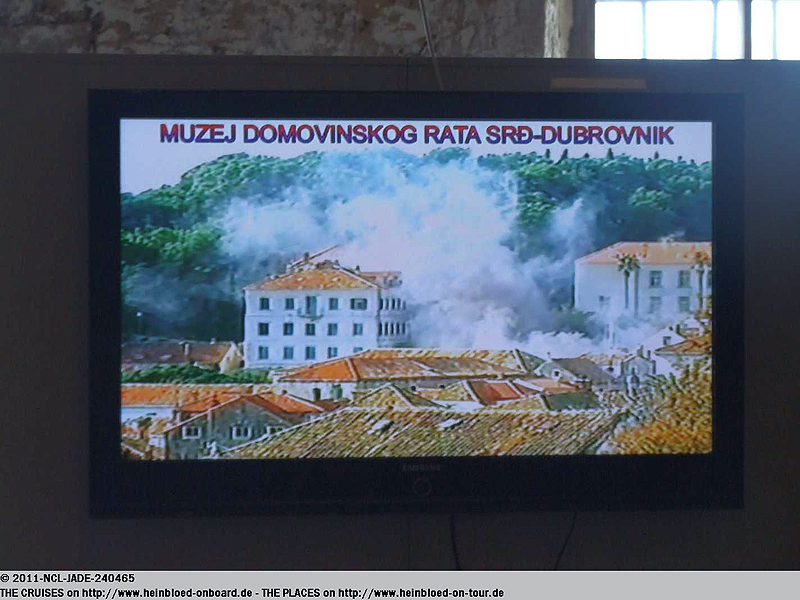 At the end of the exhibition which was our beginning there was an endless-loop presentation of the events then.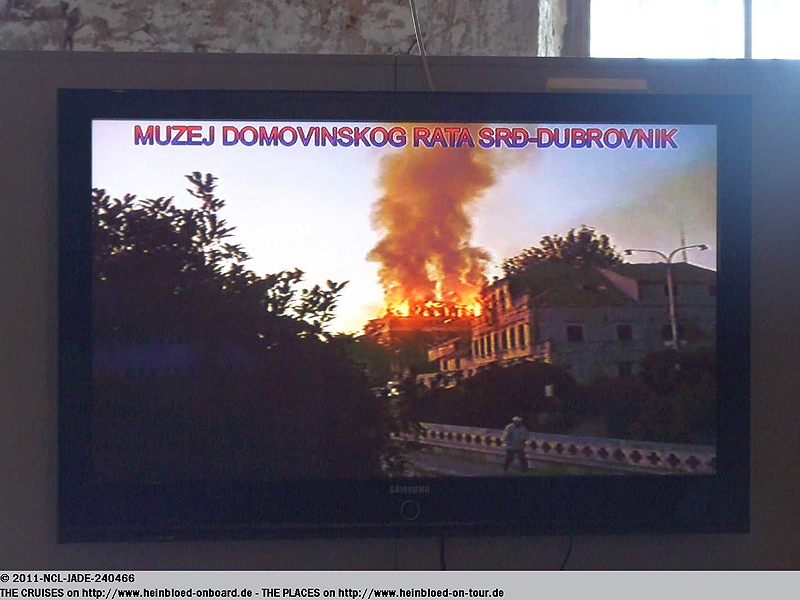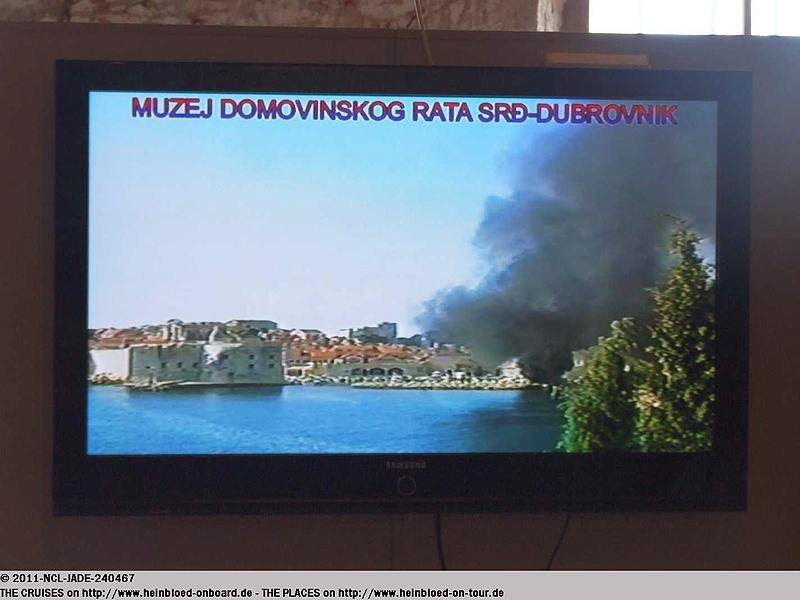 Unbelievable that we were in this city.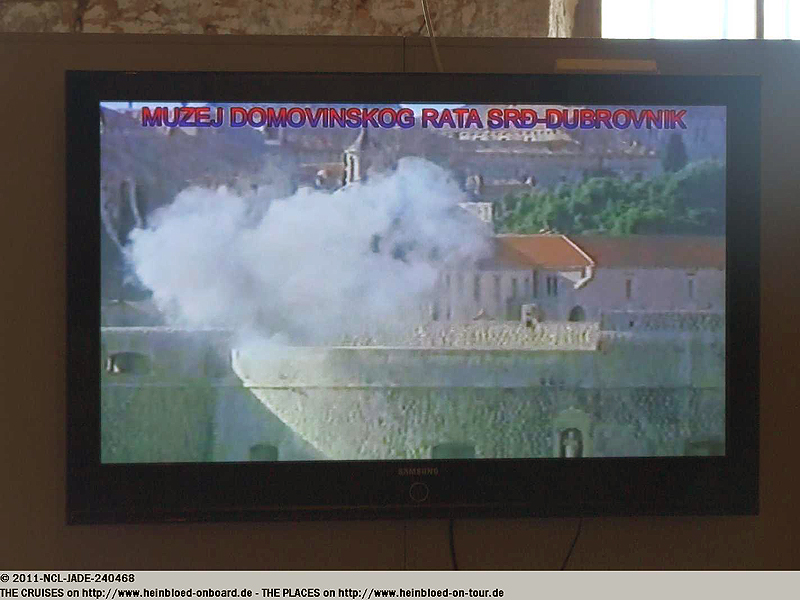 Kaum zu glauben, dass wir in dieser Stadt sind.
Dann erzählt Dario aus der Sicht seiner Familie die Ereignisse von damals. Er erläutert anhand des Bildes, wie damals die Familien ihre Kinder einfach auf Küstenboote evakuiert haben, nur damit sie aus Dubrovnik rauskommen und in ruhigeren Landesteilen im Exil weiterleben können. Für die Familien damals ohne zu wissen, ob sie je einander wiedersehen.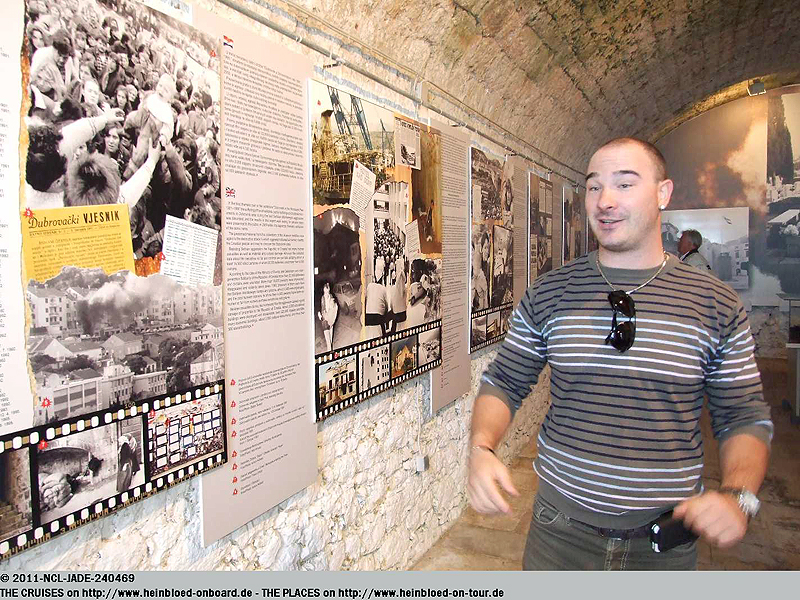 Then Dario told what happened then from the point of view of his family. He explained with this picture how the families evacuated their kids on coastal boats just to get them out of Dubrovik and to get them to safer places in exile. For the families without knowing if they ever would see their kids again.

I cannot reproduce what he all told us. You must hear it yourself. Ask for Dario. When we were totally touched by his personal story he took us upstairs. Before the war there were here night clubs and restaurants. But they were not rebuild again.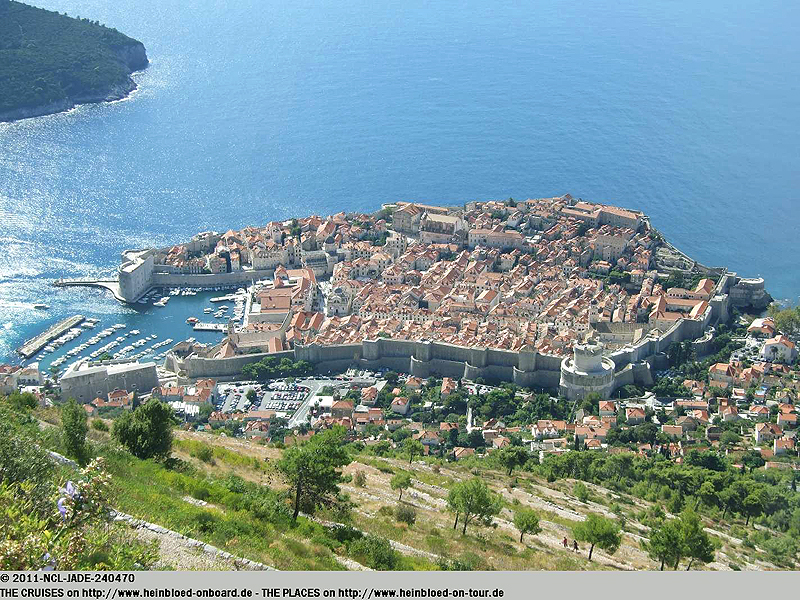 Man kann es nicht alles wiedergeben, was er uns erzählt hat. Man muss es selbst erleben. Jeder, der ein bisschen Englisch kann, sollte unbedingt nach Dario fragen. Als wir komplett aufgewühlt waren, führt er uns nach oben. Vor dem Krieg gab es hier noch Diskos und Restaurants. Die sind allerdings nicht wieder aufgebaut worden.
Und ich versuche verzweifelt von hier die STAR PRINCESS zu entdecken... Wie war das: wenn ich sie nicht sehen kann, kann mich auch keiner von der STAR PRINCESS sehen... Irgendwie bin ich doch sehr froh, dass sich NCL für das Tendern entschieden hat.

And I tried to find STAR PRINCESS from this position... How was it: if I cannot see it than none from STAR PRINCESS cannot see me either... Somehow I was quite happy that NCL decided to tender.

Somehow we were lucky with the weather.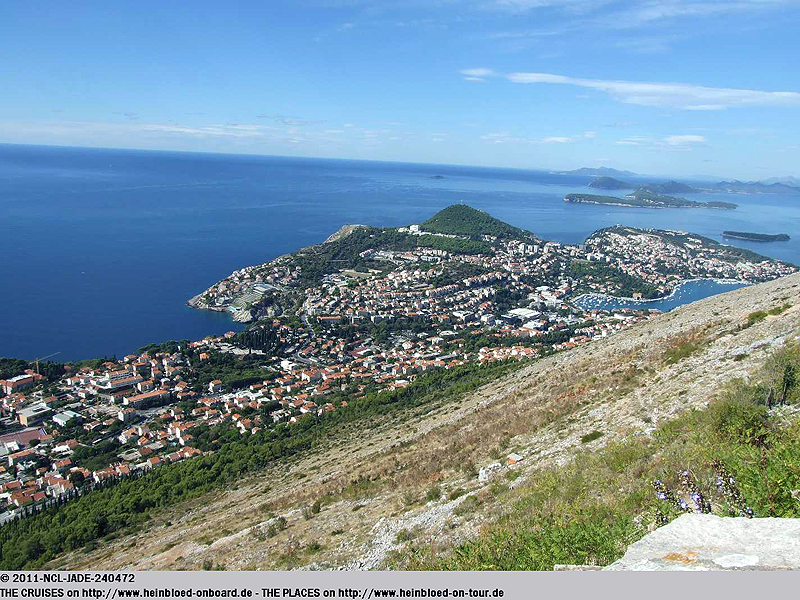 Irgendwie haben wir auch mit dem Wetter richtig Glück.
Das nächste Mal könnte hier im Rahmen eines Tourismusentwickungsprojektes ein Golfplatz entstanden sein. Im Hintergrund ist schon Bosnien-Herzoginiva zu sehen.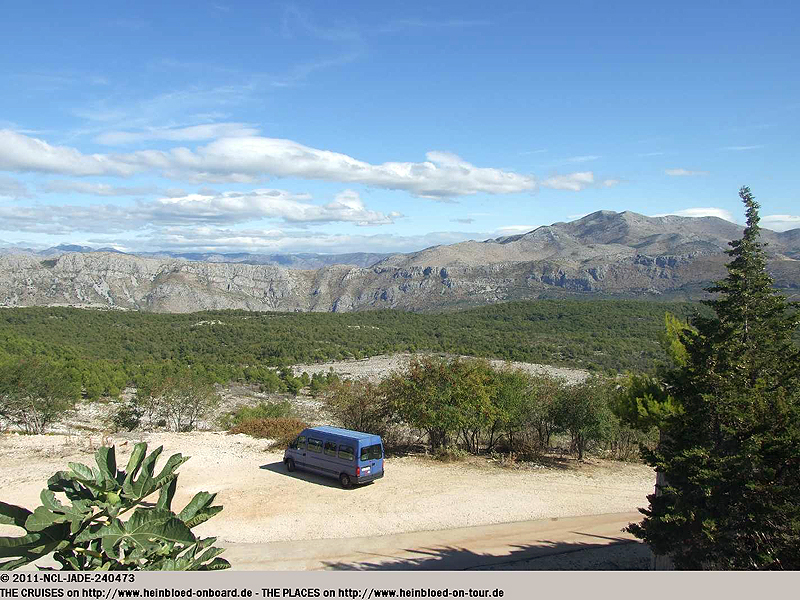 The next time when we will be back again there might be a golf course due to a tourist developement program. In the background you can see Bosnia-Herceginiva.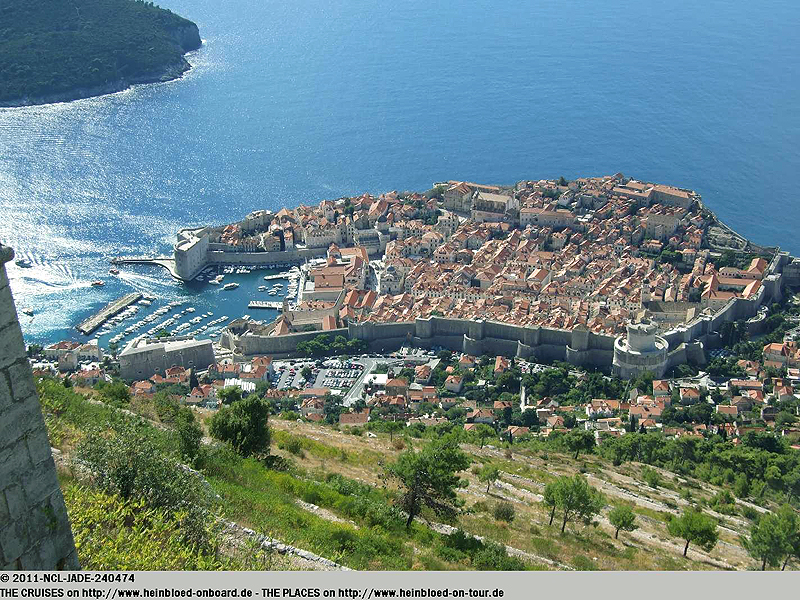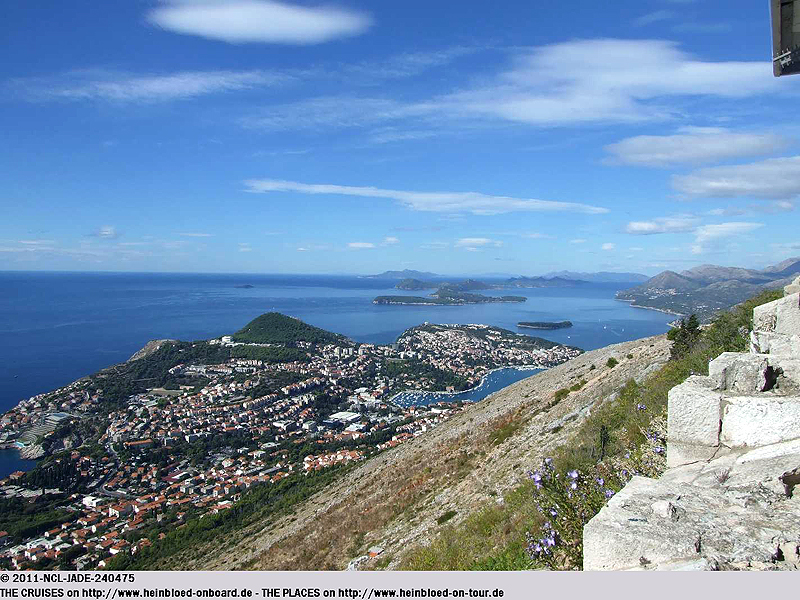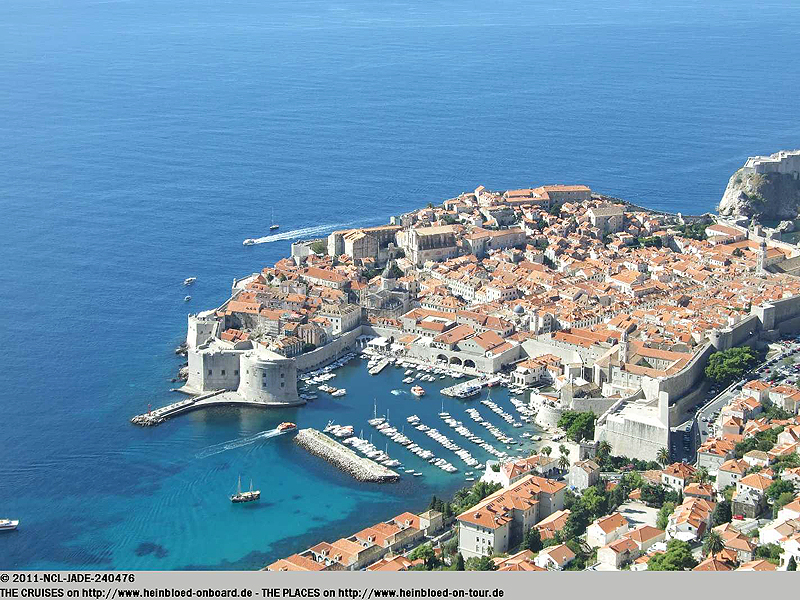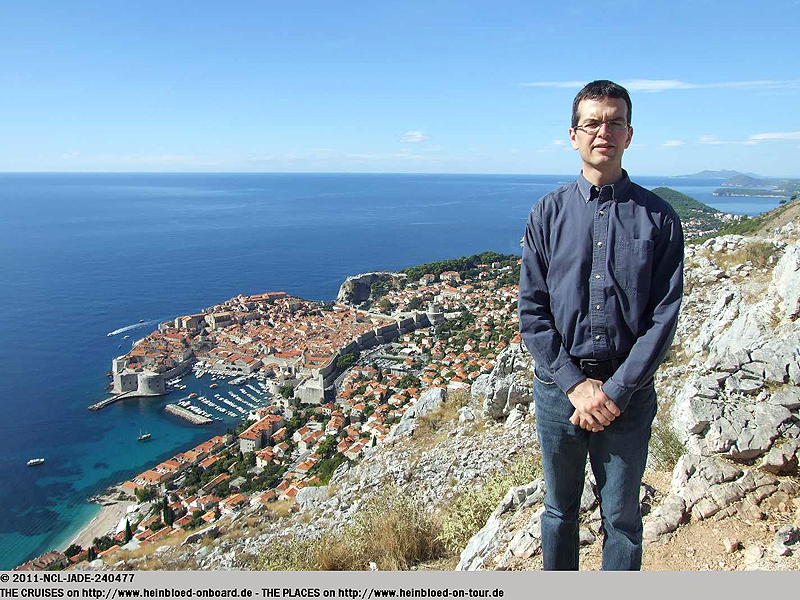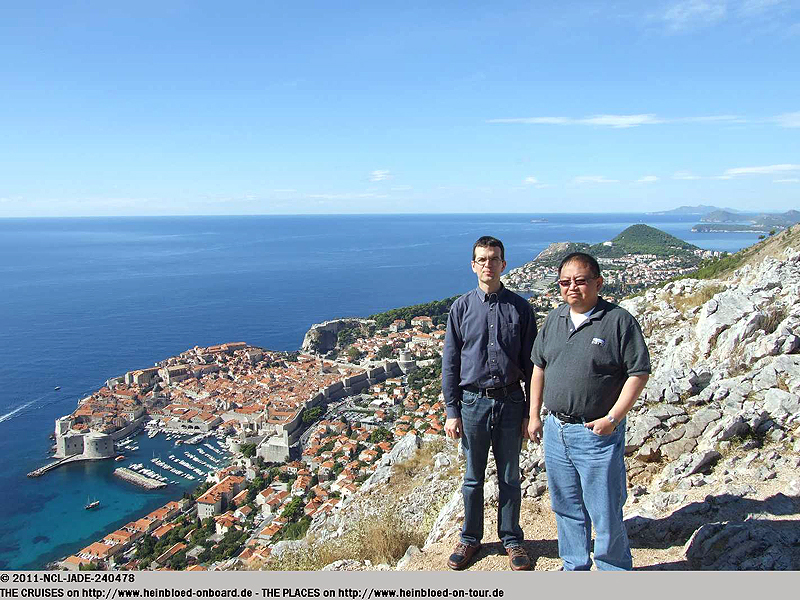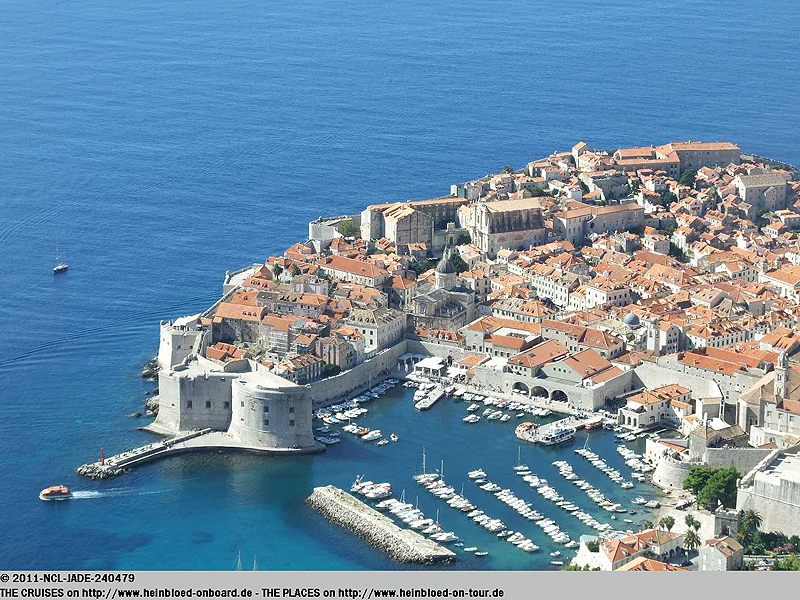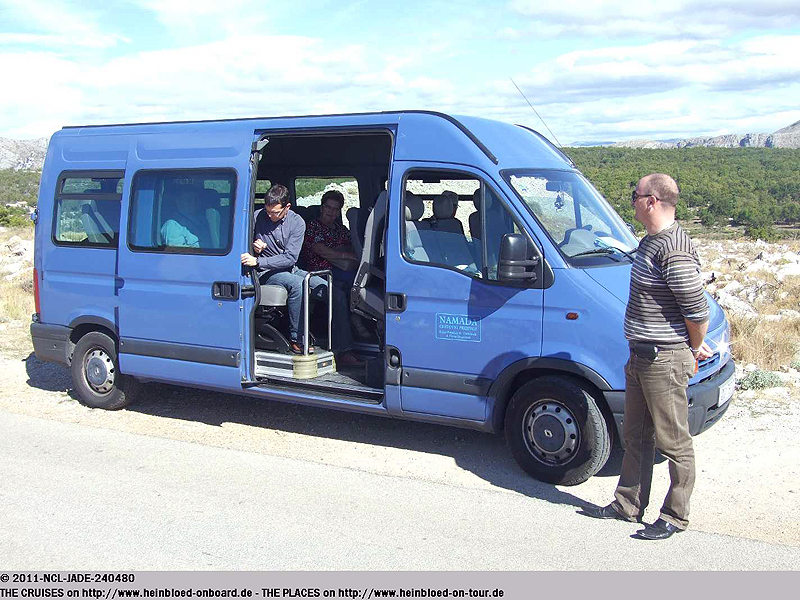 The family, NORWEGIAN JADE and the old town of Dubrovnik. Only me who was missed.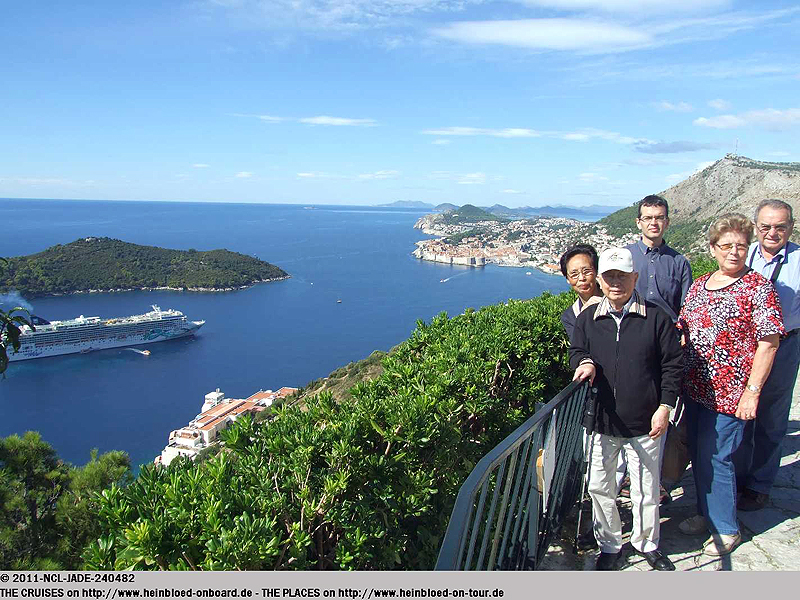 Die Familie, die NORWEGIAN JADE und die Altstadt von Dubrovnik. Nur ich fehle.
Darauf hin meint Dario, dass ich ja auch wieder mit drauf muss und übernimmt das Fotografieren.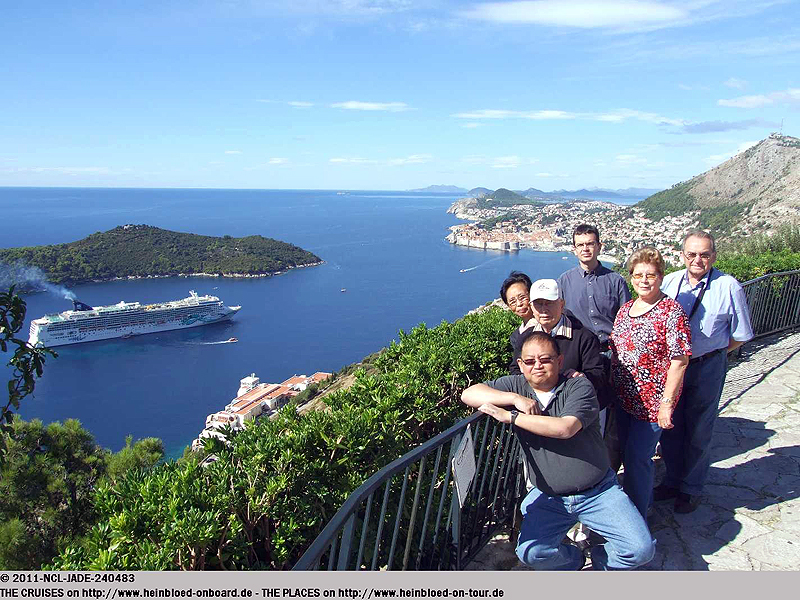 Then Dario that I should be also on the picture and took over taking pictures.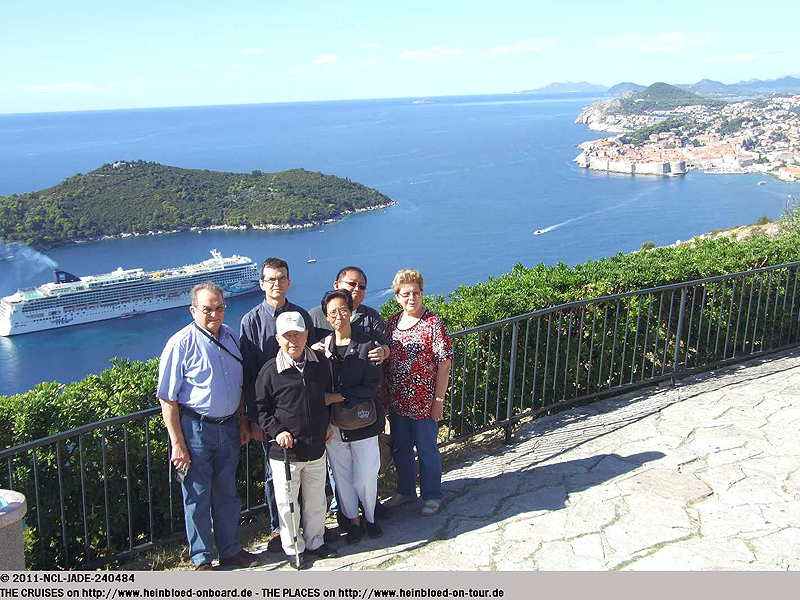 He made it very well. We had a lot of pleasure with his tour. Really for not so much money. Four tickets on the aeriel tram would be more.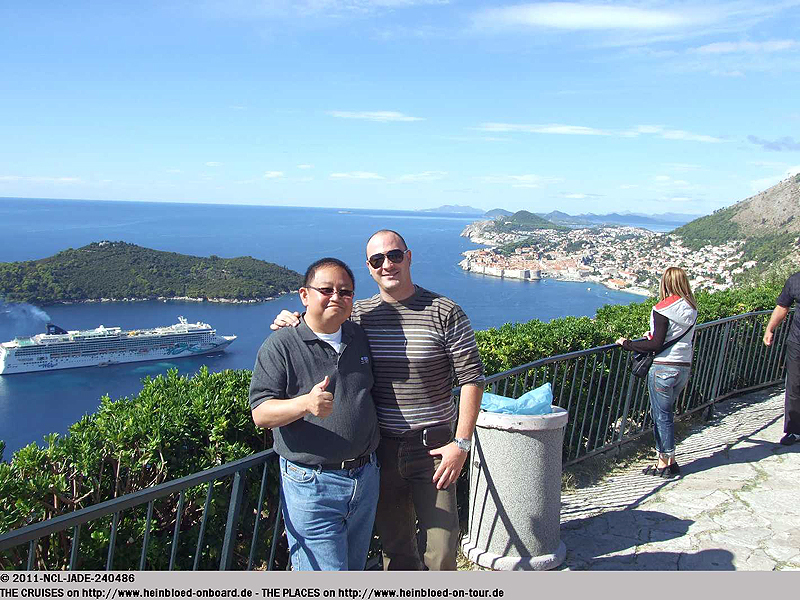 Hat er wirklich gut gemacht. Uns hat der Ausflug sehr viel Spaß gemacht. Und wirklich für ein Appel und ein Ei. Vier Karten mit der Seilbahn sind teurer...
Wir hätten gerne noch irgendwo eine Tasse Kaffee mit ihm getrunken, aber es gibt da nichts, außer in der Altstadt - und da darf man mit dem Taxi nicht hin.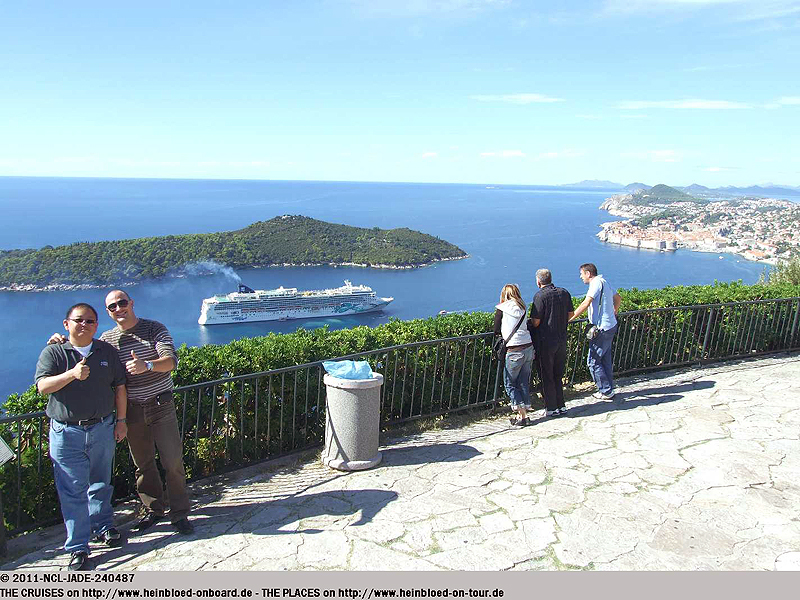 We really would like to have a cup of coffee with him but there was nothing where we could go but the old town and there you do not have the access with the vehicle.