Scroll down for English explanations - alternates with German explanations.

Ich muss zum Frühstück zurück. Da ich keinen Reiseführer mithabe, weiss ich immer noch nicht was ich fotografiere. Ich weiss nur, dass ich eine wunderschöne Stimmung einfange.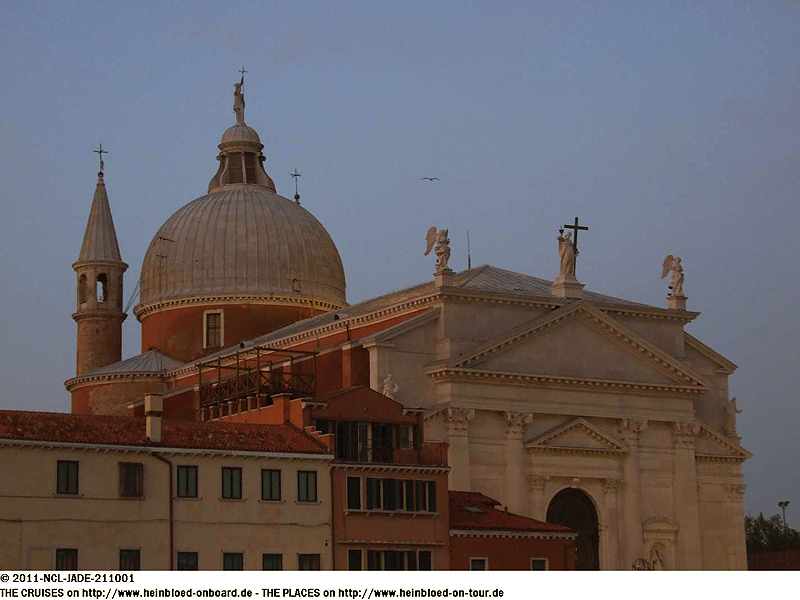 I need to get back for breakfast. As I did not have any guide book with me I had no idea of what I was taking pictures. All I knew was that I was trying to catch a certain mood.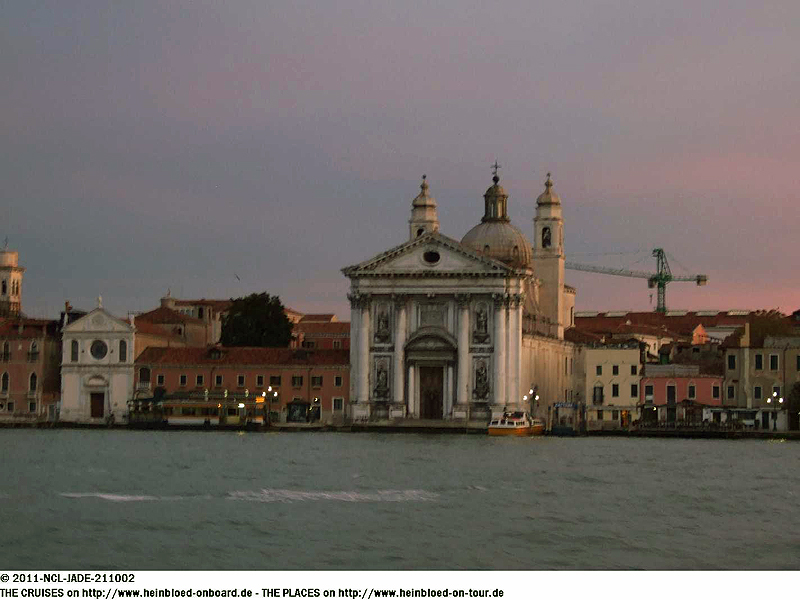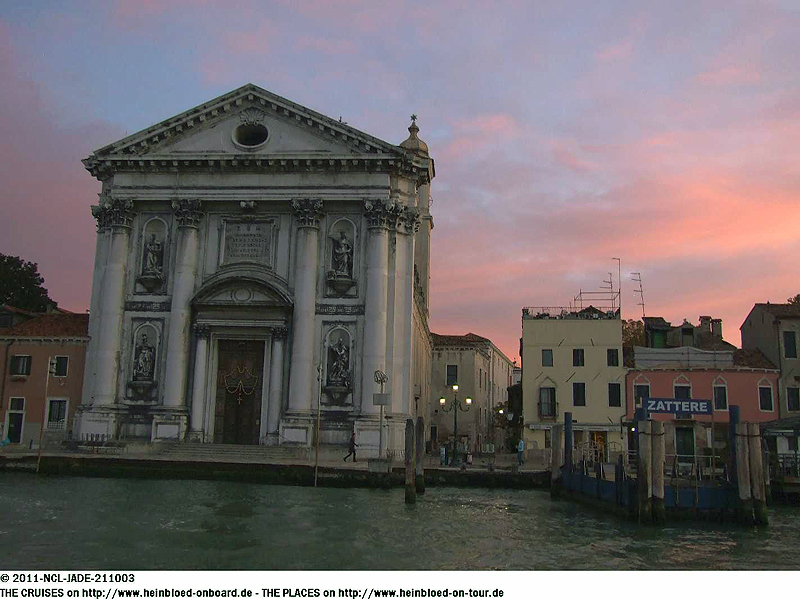 I would love to book Hilton Molino Stucky. When we booked our flights we should land in Treviso late evening. With parents and bags it looked to difficult to reach. At this time the rooms were affordable. When we learned that should land in Venice Marco Polo because Treviso remains closed until December all room became unaffordable.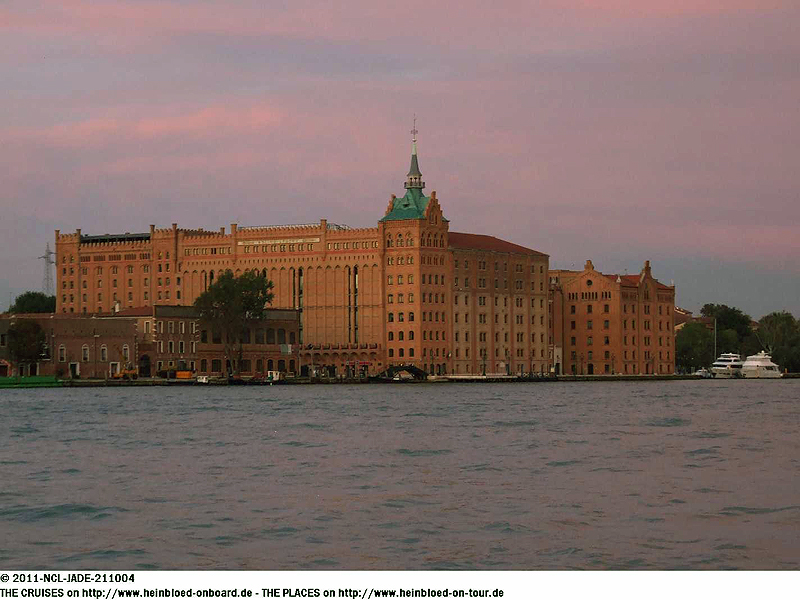 Das Hilton Molino Stucky hätte ich gerne gebucht. Als wir die Flüge gebucht haben, sollten wir in Treviso abends landen. Das war mir mit Eltern und Gepäck zu kompliziert noch dahinzukommen. Damals waren die Zimmer bezahlbar. Als wir im Juli erfahren haben, dass wir doch in Venedig Marco Polo landen, weil Treviso noch bis Dezember geschlossen bleibt, waren mitlerweile die Zimmer unbezahlbar geworden.
Zwar dürfen keine Fahrzeuge nach Venedig rein, aber so als Fähre zumindest bis zum Ufer kann der LKW seine Ware zum Supermarkt bringen. Man lernt also nie aus.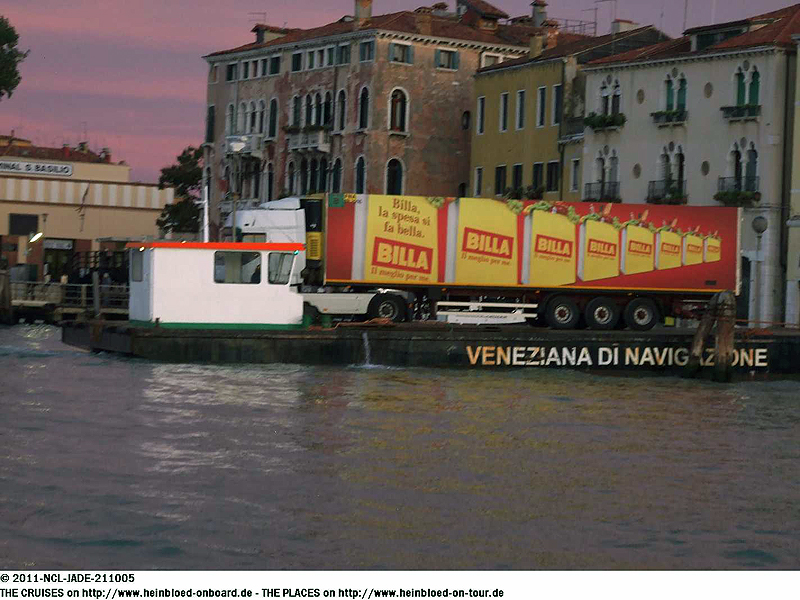 Normally no vehicles can enter Venice but on a ferry you can reach the banks by truck to supply a supermarket. You never stop to learn something new.

And slowly the sun wanted to come out.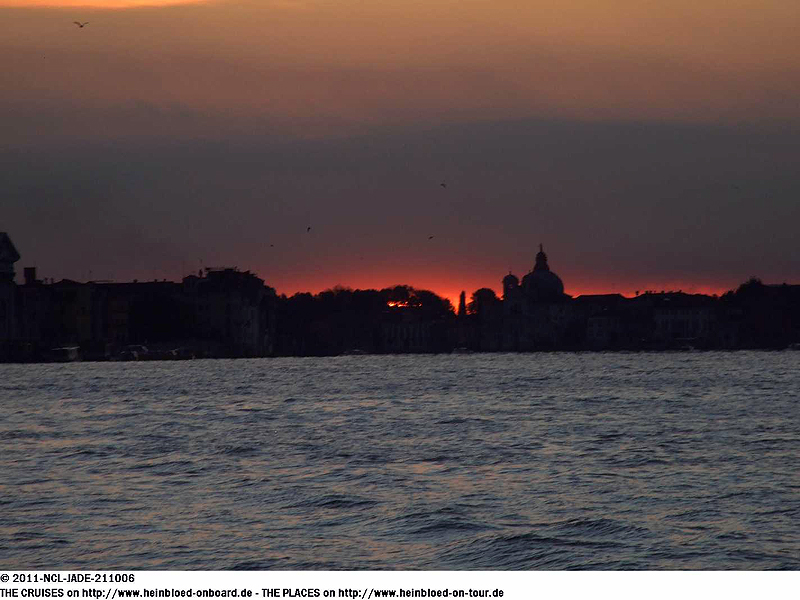 Und langsam will die Sonne heraus.
Das ist übrigens dieser People Mover, der Tronchetto (Parkhäuser) mit dem Cruise Terminal und Piazzale de Roma verbindet.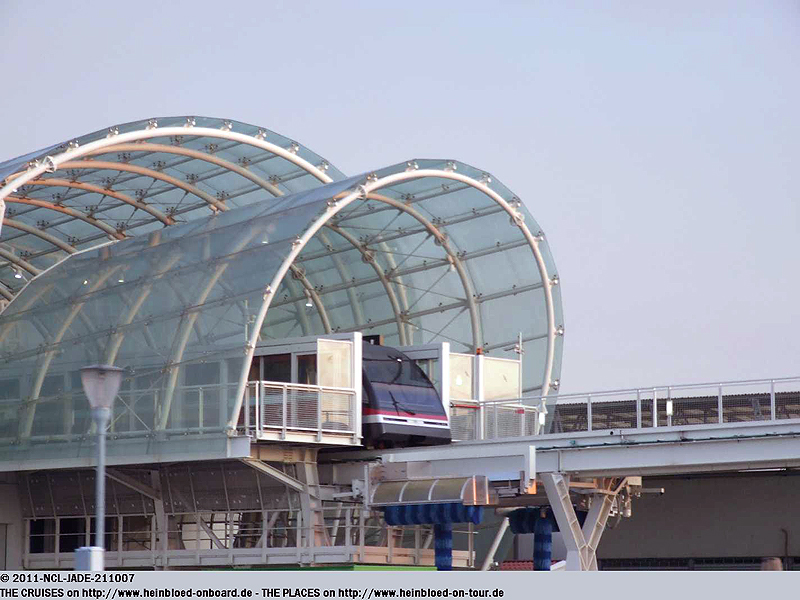 By the way that is the People Mover which connects Tronchetto (Central Parking) with the Cruise Terminal and Piazzale de Roma.

It costs 1.00 EUR but you need to walk a little - especially if you call pier 117 like us.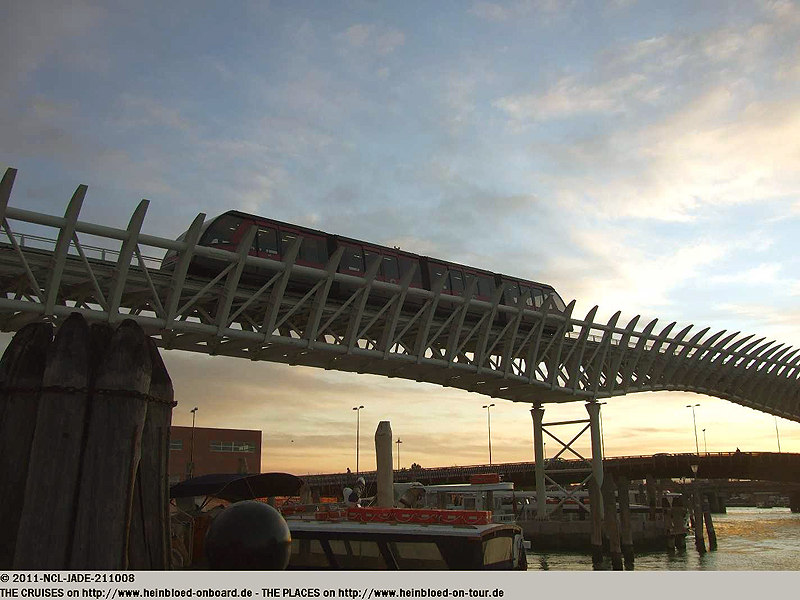 Es kostet 1,00 EUR, aber es ist immer noch mit einer Lauferei verbunden, speziell, wenn man wie wir am Pier 117 anlegt.
Das Leben in Venedig hat angefangen. Obwohl Samstag ist: die Rush-Hour hat eingesetzt.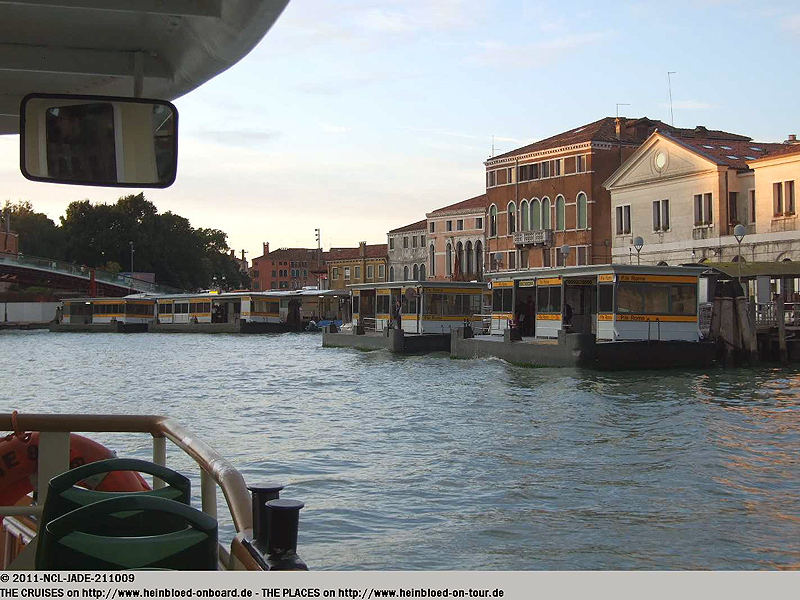 Life started in Venice. Although it was Saturday the rush hour started.

My hotel-bound bus was ready to go.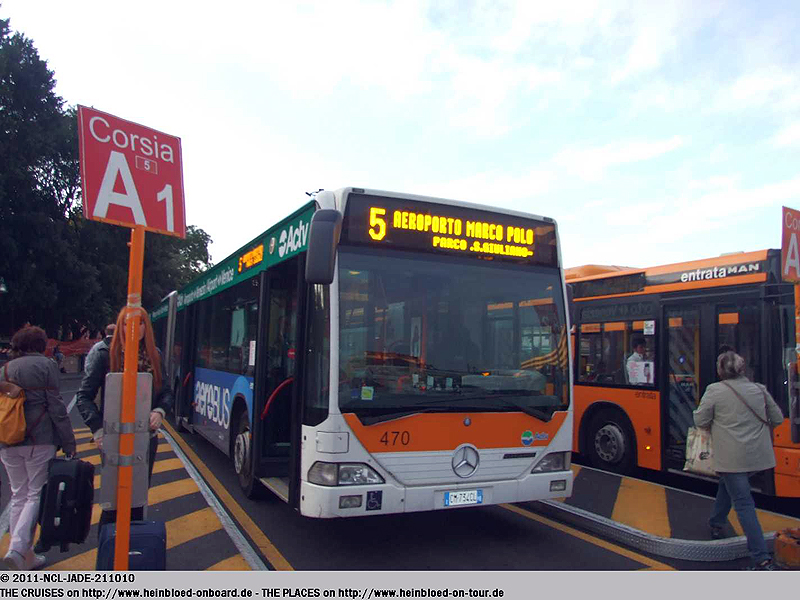 Mein Bus zurück zum Hotel steht abfahrtbereit da.
Ein weiteres Parkhaus steht hier am Piazzale de Roma.

Another parking was here at Piazzale de Roma.

And here you find the return locations of the major car rental companies.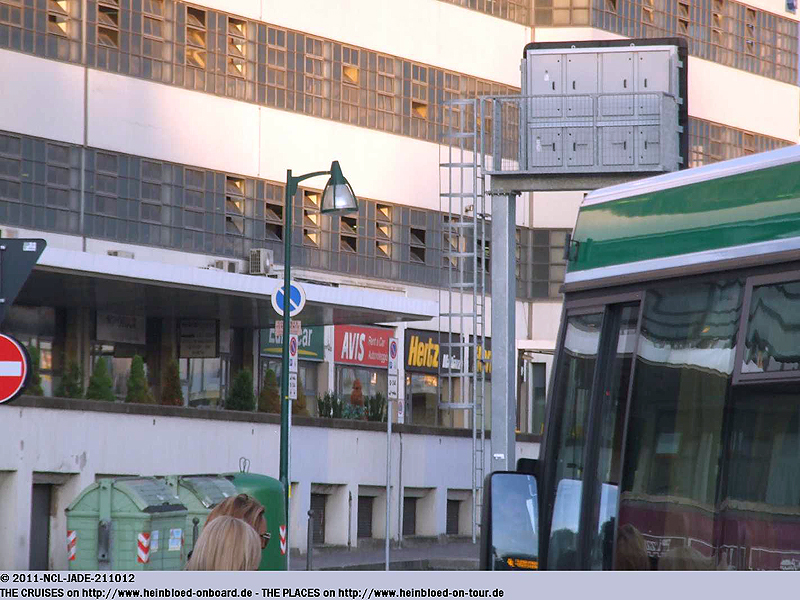 Und hier befinden sich auch die Rückgabestationen der großen Autovermieter.
Pünktlich holt uns Alessandro ab.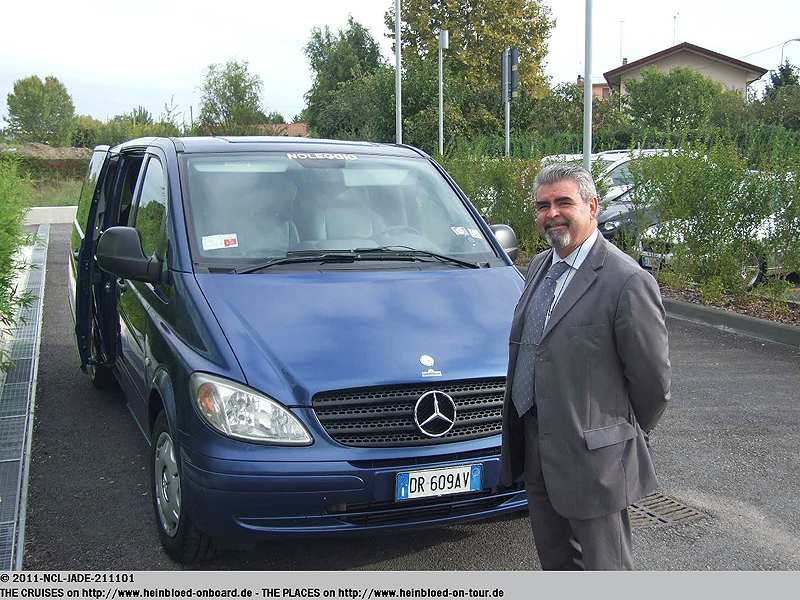 Right on time Alessandro came to collect us.

In few minutes we arrived at pier 117 and our bags were accepted already before 10.00 hrs.

In wenigen Minuten sind wir bereits am Pier 117 und unsere Koffer werden kurz vor 10.00 Uhr bereits angenommen.
Wir kommen auch schon in das Terminal.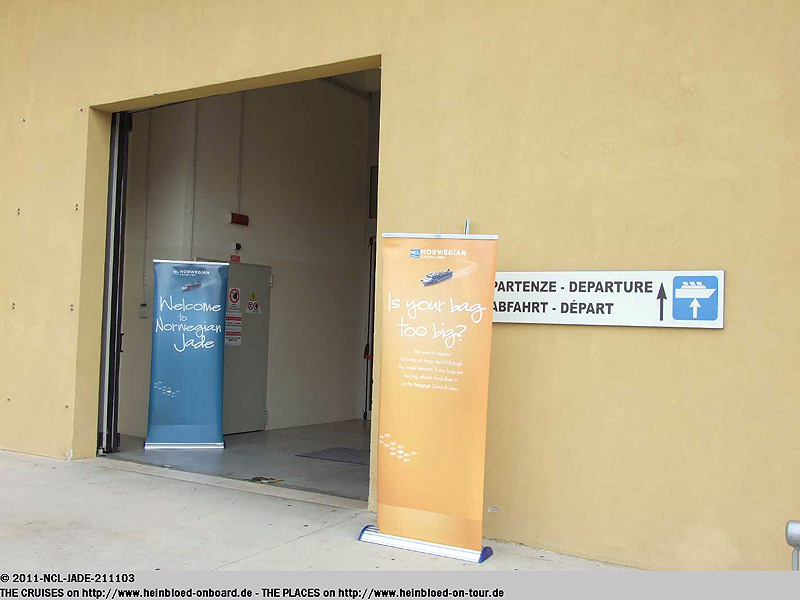 We were already allowed to enter the terminal.

Even it would not be accessible we could have store our bags here and return to the city for sightseeing.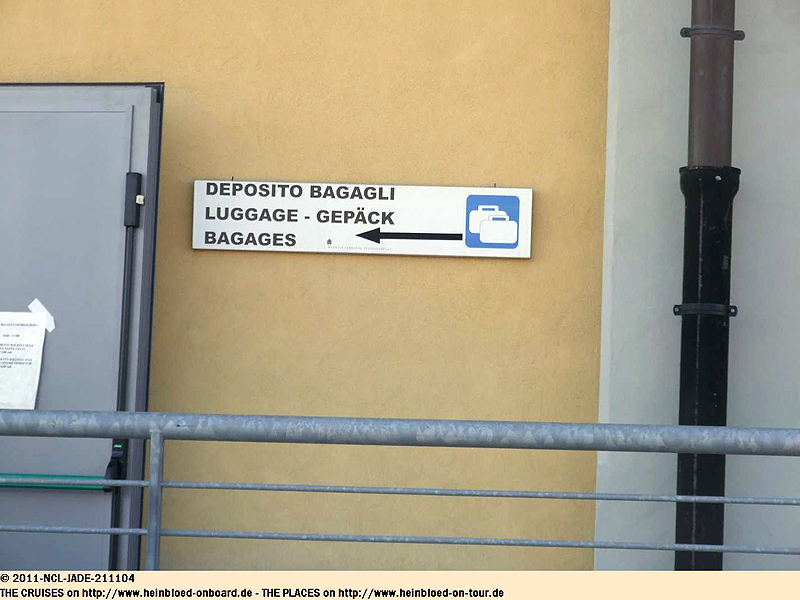 Selbst wenn nicht: wir hätten das Gepäck hier aufbewahren lassen können und hätten dann in die Stadt fahren können.
Alles aufgebaut, aber noch niemand da.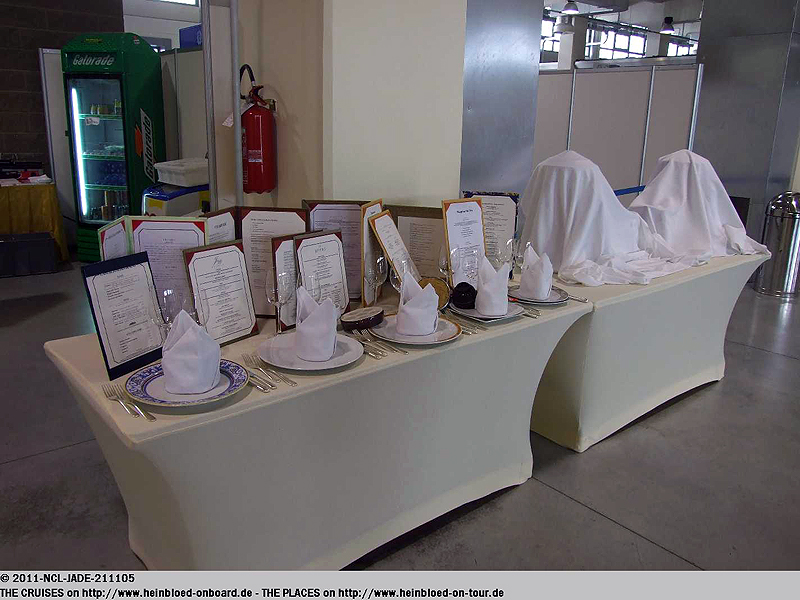 Ready for presentation but none was there.

Jazz Brunch: that was new to us and it is 15.00 USD. We booked it immediately to try it.

Jazz Brunch: das ist neu für uns und es kostet 15,00 USD. Wir buchen es direkt um es zu testen.
Und das neue Sushi Menu. Es ist auf à-la-carte-Preis umgestellt worden.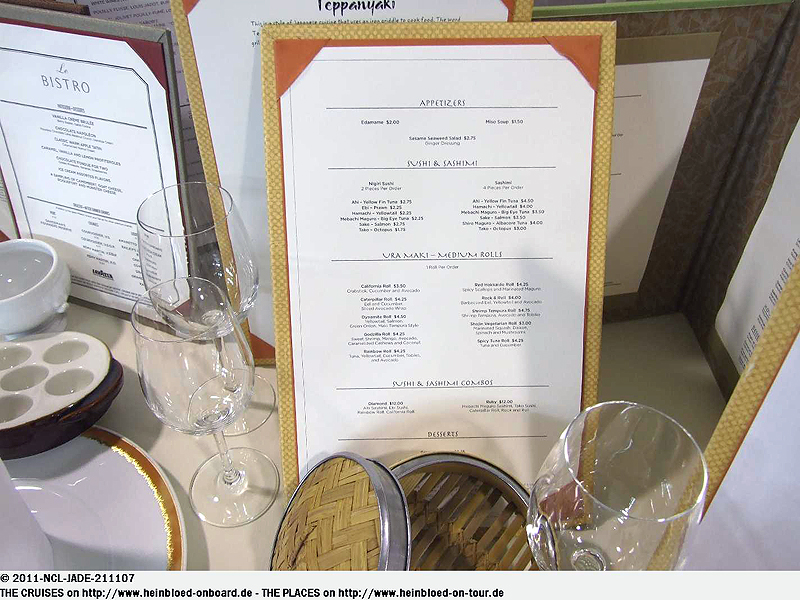 And the new Sushi-Menu. They changed it to à-la-carte-pricing.

The Check-in-area for Latitudes Gold and Platinum guests. The check-in started at 10.30 hrs.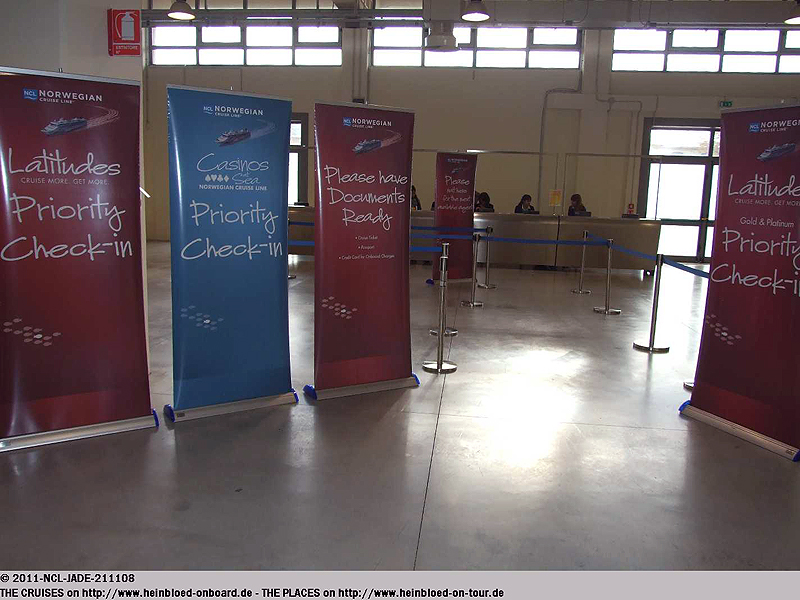 Der Check-In-Bereich für Latitudes Gold und Platin-Gäste. Der Check-In beginnt erst um 10.30 Uhr.
Die Tagesprogramme liegen aus. Leider keine in Chinesisch...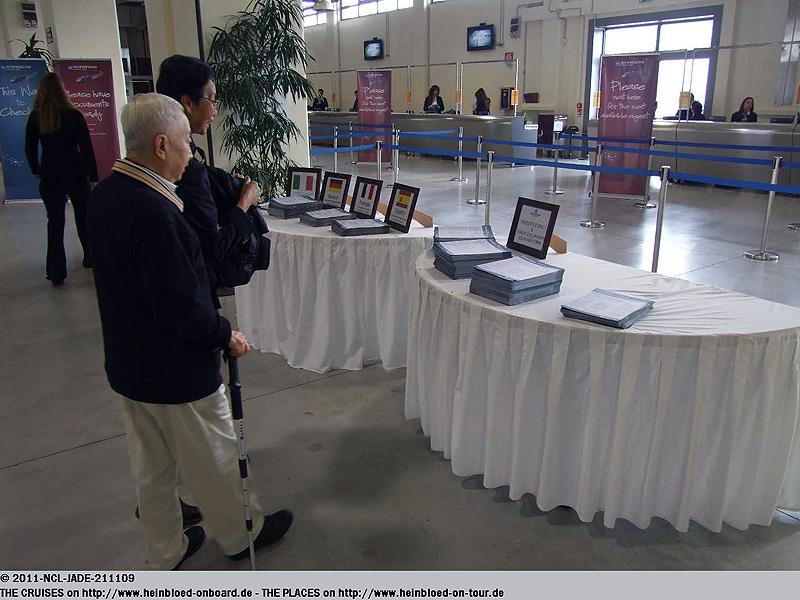 You could get already the program of the day. But not in Chinese.

New is the offer to have dinner with an Officer. You need to register and it's a draw.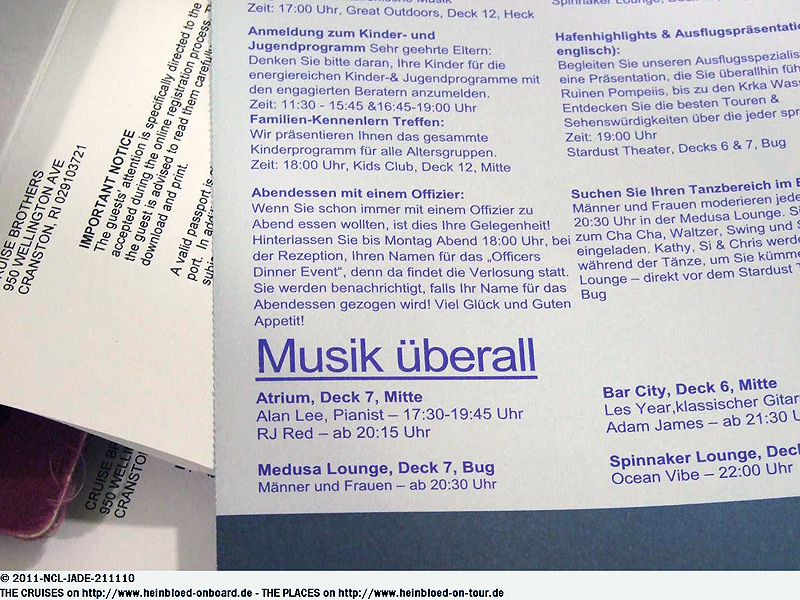 Ein neues Angebot ist das Abendessen mit einem Offizier. Man muss sich dafür direkt anmelden und ggfls. wird man ausgelost.
Die Pässe werden wohl von manchen Nationen eingesammelt. Wir verlassen ja die EU.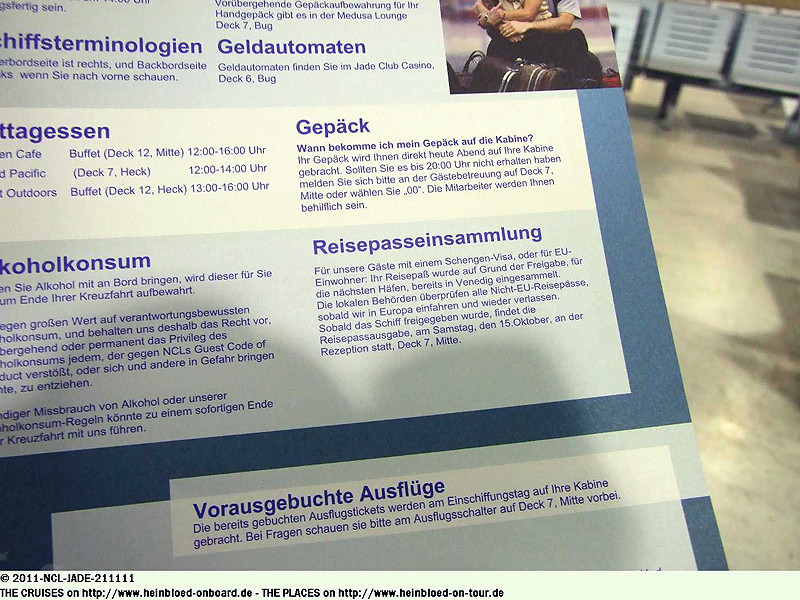 For some nations you need to collect the passports. We leave the EU.

Baggage storage is no more with the Jasmine like in January 2011 but in the Medusa-Lounge. We should collect the bags until 15.00 hrs. But we did not plan to be back by this time. No problem - as they will deliver it to the cabin and place it in front of the door... when I got paniced because there were our valuables inside they offered us immediately to place it in our cabin.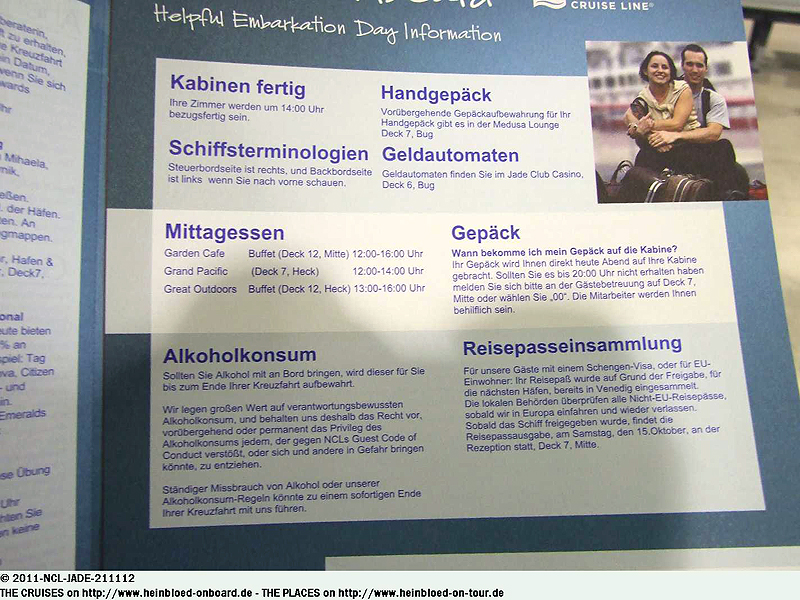 Gepäckaufbewahrung ist also nicht mehr im Jasmine wie im Januar 2011, sondern in der Medusa-Lounge. Wir sollen das Gepäck bis 15.00 Uhr wieder abholen. Jedoch planen wir um die Zeit noch gar nicht wieder an Bord zu sehen. Kein Problem: es wird dann zur Kabine gebracht und vor die Tür gestellt... Als ich in Panik gerate, weil wir ja auch Wertsachen dabei haben, wird uns sofort angeboten, dass sie es in die Kabine stellen.
An einen Gruß vom Kapitän kann ich mich bislang nicht erinnern. Aber es ist eine schöne Geste.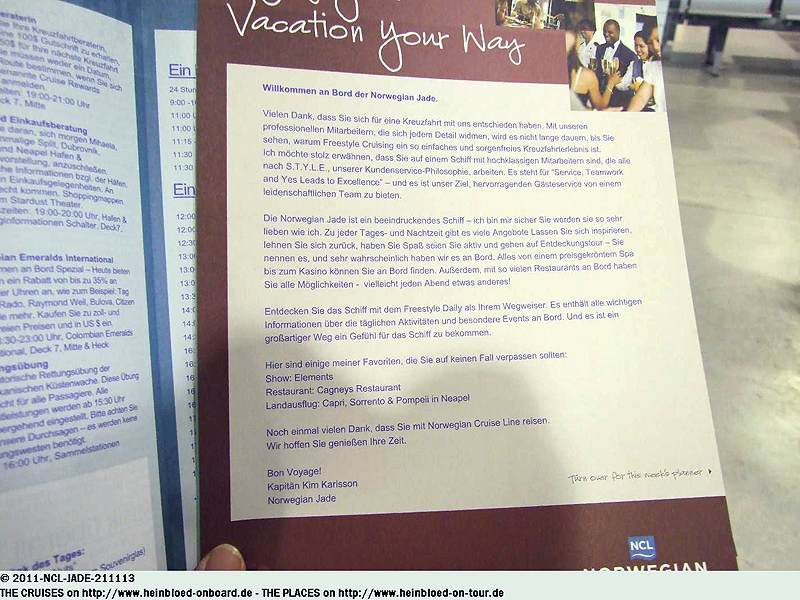 I could remember that we got a greeting from the Captain so far. But it is a nice gesture.

So we waited until 10.30 hrs. There was one bar you could buy some beverages.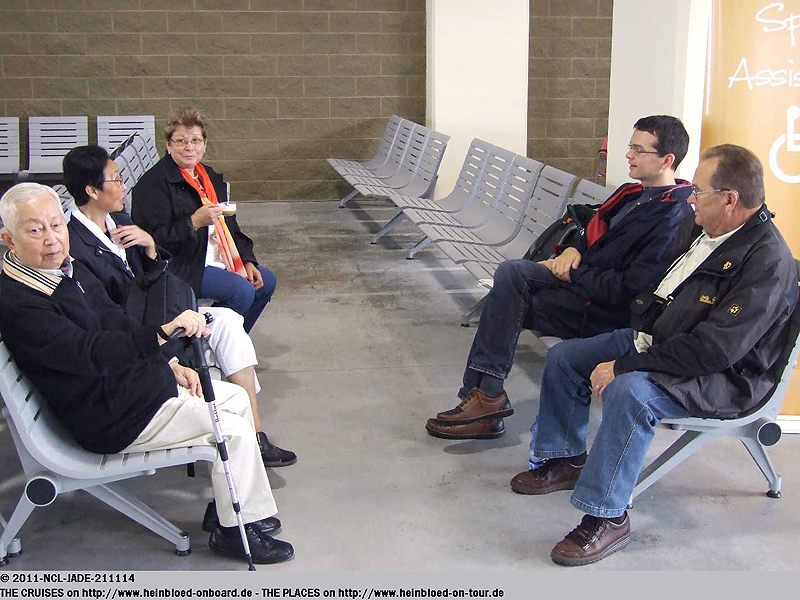 So warten wir bis 10.30 Uhr. An einem Stand kann man sich auch Getränke kaufen.
Obwohl es noch keine 10.30 Uhr sind und alle Plätze leer sind: die ersten bekommen schon Panik, dass sie nicht an Bord kommen und stellen sich schon an.

Although it was not 10.30 hrs and all seats were not taken: the first became panic that they cannot get on board and started to queue.

A good avise for user of Debit Cards (Prepaid-Credit Cards) and Bank Cards: they will block amounts which remain blocked for up to 30 days. You should know this to be prepared if you planned to do more than the cruise.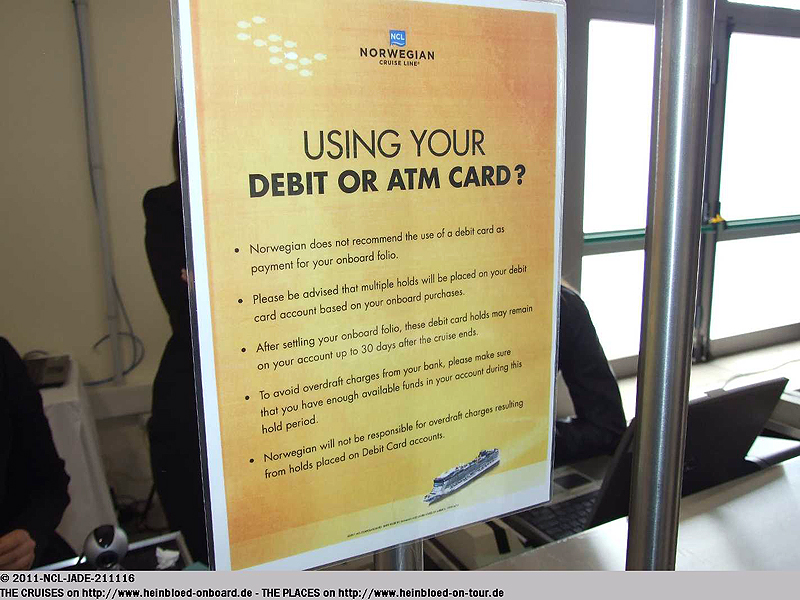 Klasse Hinweis für die Nutzer von Debitkarten (Prepaid-Kreditkarten) und Bankkarten: es werden Beträge geblockt, die bis zu 30 Tagen geblockt bleiben. Das sollte man entsprechend berücksichtigen, wenn man noch mehr macht, als nur die Kreuzfahrt.
Einschiffungsnummern??? Sind wir bei Costa oder MSC??? Die hatte ich bislang bei NCL nach dem Check-in noch nie bekommen, sondern konnten immer direkt an Bord...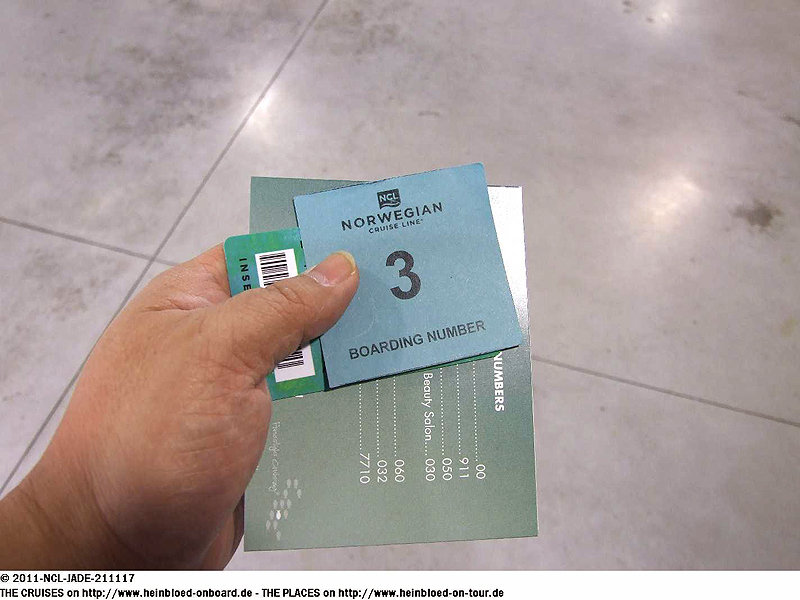 Embarkation number??? Are we going on Costa or MSC??? I never got this before with NCL after check-in since we could walk right straight on board...

Strange part.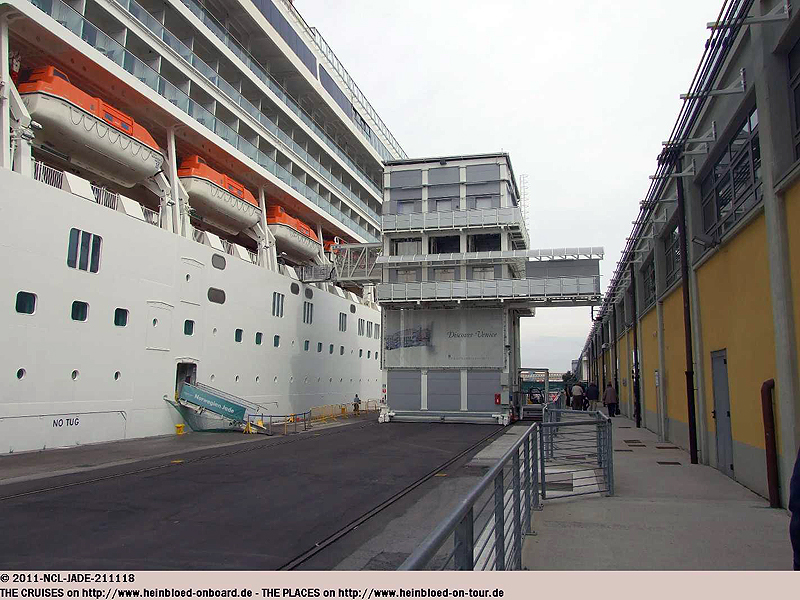 Komisches Teil.
Im Turm gibt es automatische Fahrstühle, die einen nach oben bringen.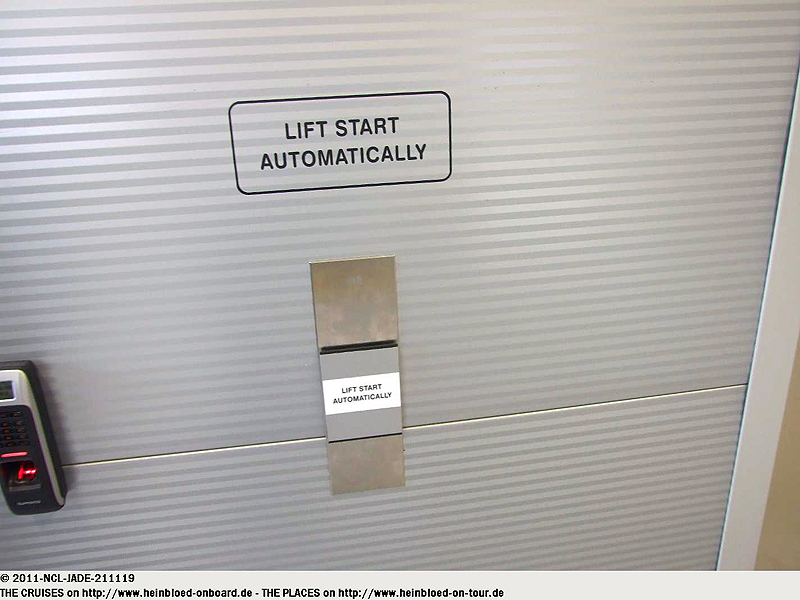 In the tower there are automated elevators which take you upwards.

As usual with NCL: Hand sanitization and quickly you are on board and cordially welcome.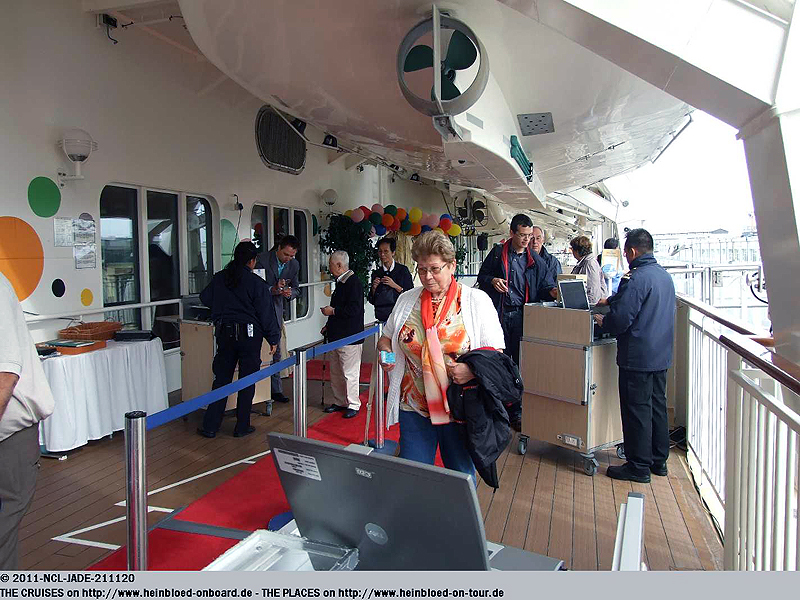 Wie üblich bei NCL: Handdesinfektion und ruck zuck ist an man Bord und wie immer herzlich willkommen.
Uns fällt sofort wieder die Freundlichkeit und Herzlichkeit der Crew auf.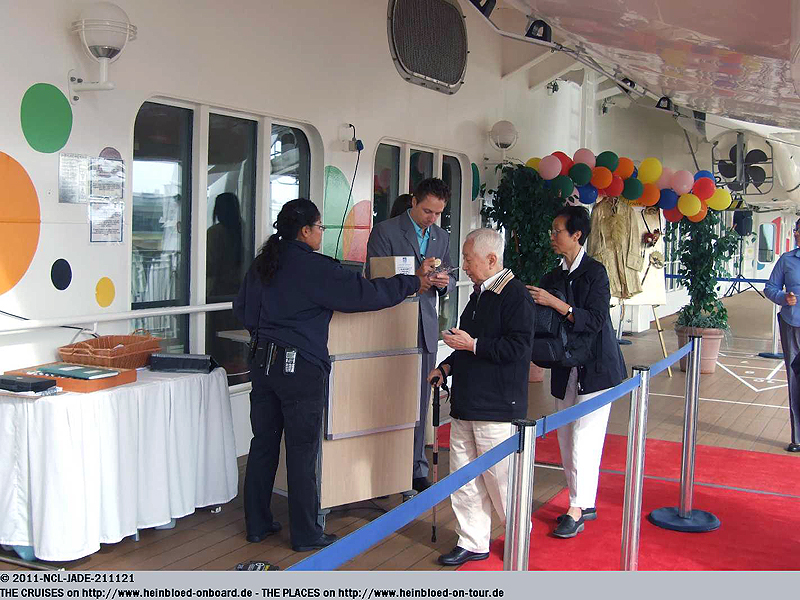 Immediately we were hit by the friendliness and cordiality of the crew.

Did we go on the wrong ship??? Are not these the uniforms we know from Princess or Holland Amercia???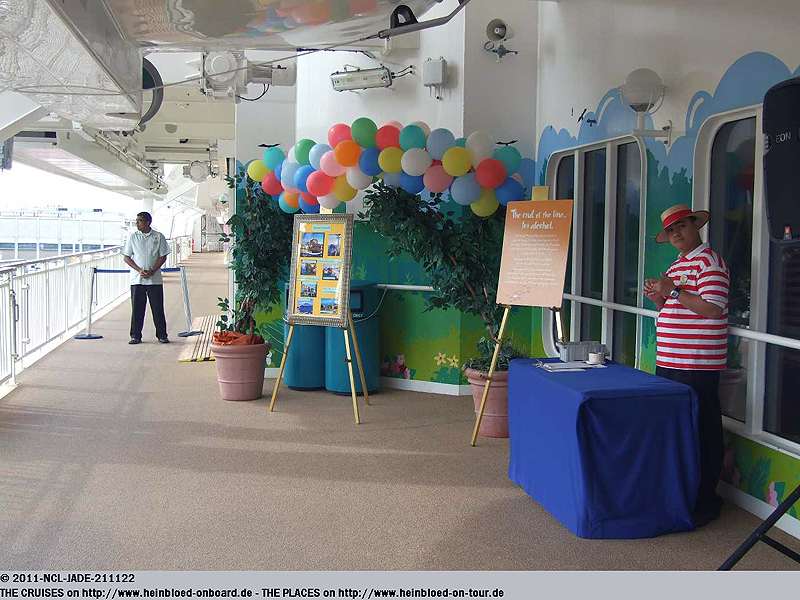 Sind wir doch auf dem falschen Schiff??? Sind das nicht die Uniformen, die wir z. T. bei Princess und Holland America gesehen haben???
Anscheinend ist das Schiff ausgebucht.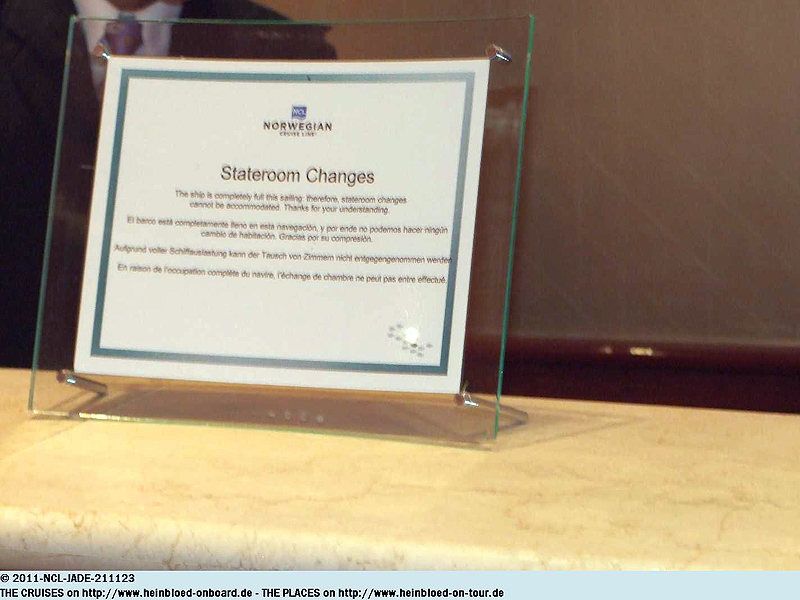 Looked like the ship was sold out.

We asked for registration for a table with an Officer.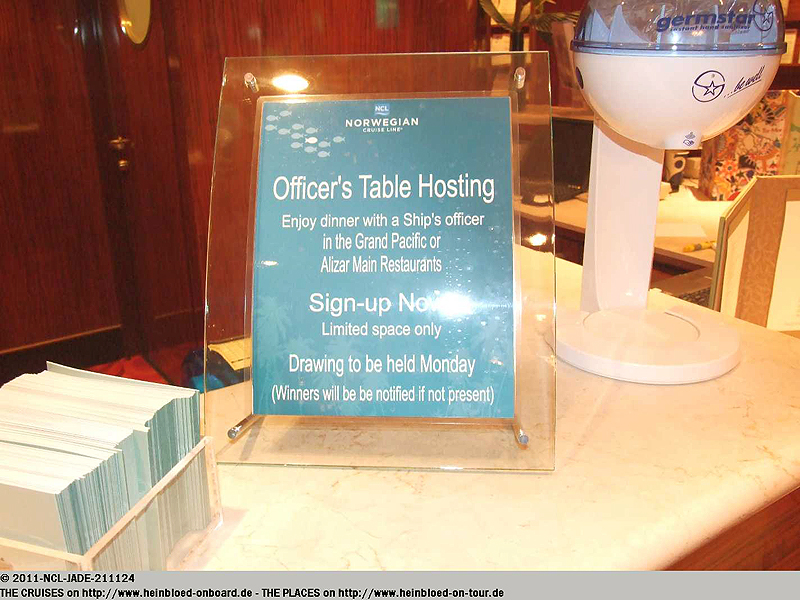 Wir melden uns direkt für den Tisch mit den Offizieren an.
In den Kabinenbereich werden wir noch nicht gelassen. Diese werden erst gegen 14.00 Uhr freigegeben.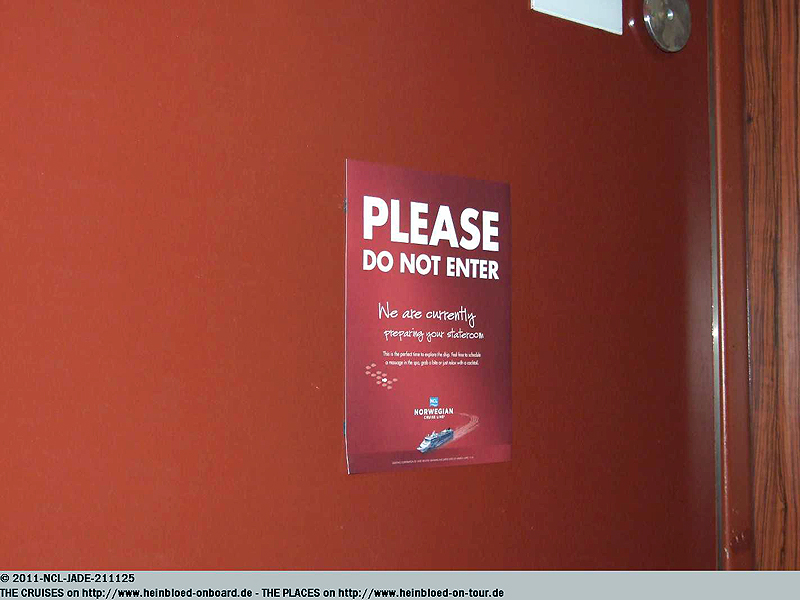 They did not allow us to enter the cabin area. This part will be released after 14.00 hrs.

Around 11.45 hrs we arrived at the Blue Lagoon Café. But there we were told that they open at 12.00 hrs although it was announced as 24-hours-venue. But as ususal with NCL: No major discussion: they placed some tables together so we could sit with 6 persons and have something to drink. For food we need to wait to 12.00 hrs when the kitchen will be opened.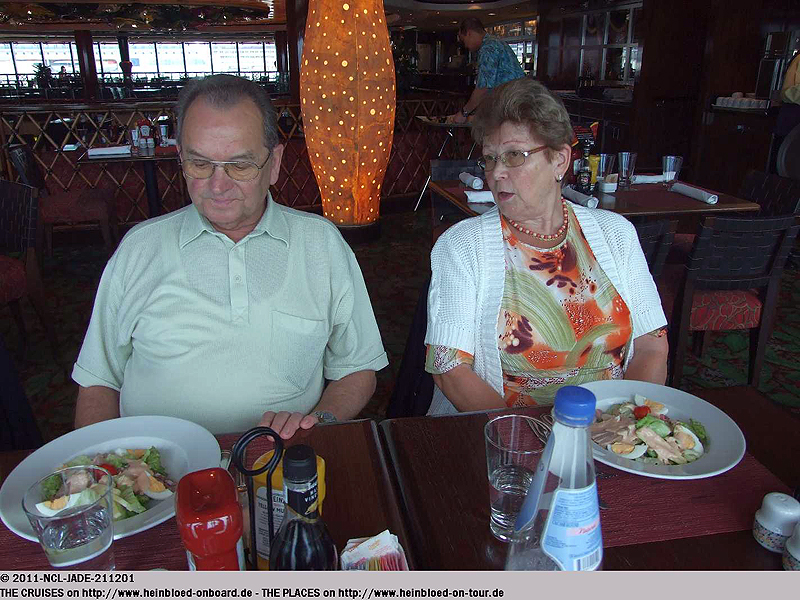 Gegen 11.45 Uhr kommen wir ins Blue Lagoon Café. Aber dort sagt man uns, dass sie erst um 12.00 Uhr aufmachen, obwohl im Programm 24 Stunden steht. Aber wie üblich bei NCL: es gibt keine langen Diskussionen: sie stellen die Tische so zusammen, dass wir mit 6 Personen uns schon mal hinsetzen können und etwas trinken können, aber wir müssen bis 12.00 Uhr warten, bis das die Küche aufmacht.
Die Wan-Tan-Suppe (immer noch mit hohem Verbesserungspotential... Fairerweise muss man aber sagen, dass ich es an den Standard in Hongkong messe...) gibt es noch, aber leider nicht mehr die Kanton-Nudeln. Sie stehen auf der deutschen Karte, aber in der englischen Karte sind sie schon gestrichen.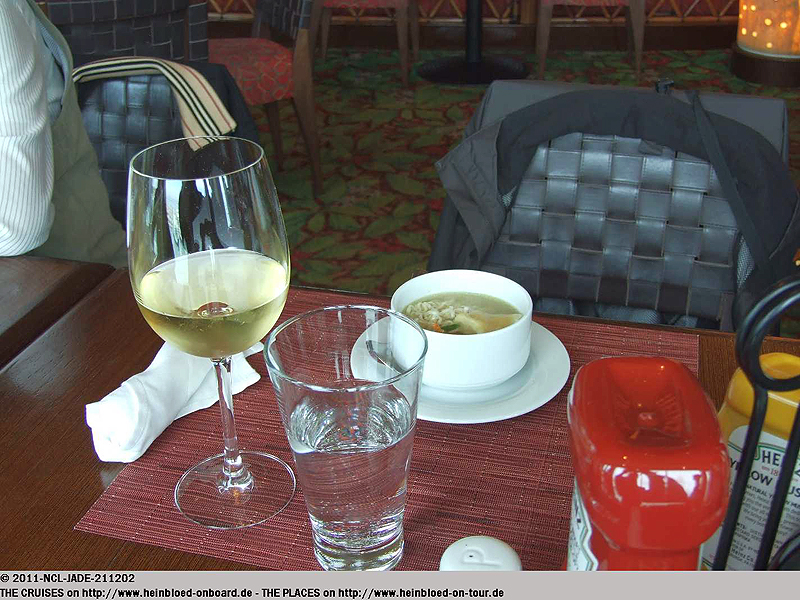 The Won-Ton-Soup (still with potential improvement options... But to be fair I should mention that I always compare with Hong Kong standards...) was still on the menu but the Canton-Noodles were withdrawn. On the German menu you can still find them but not anymore on the English menu.

Fish and Chips.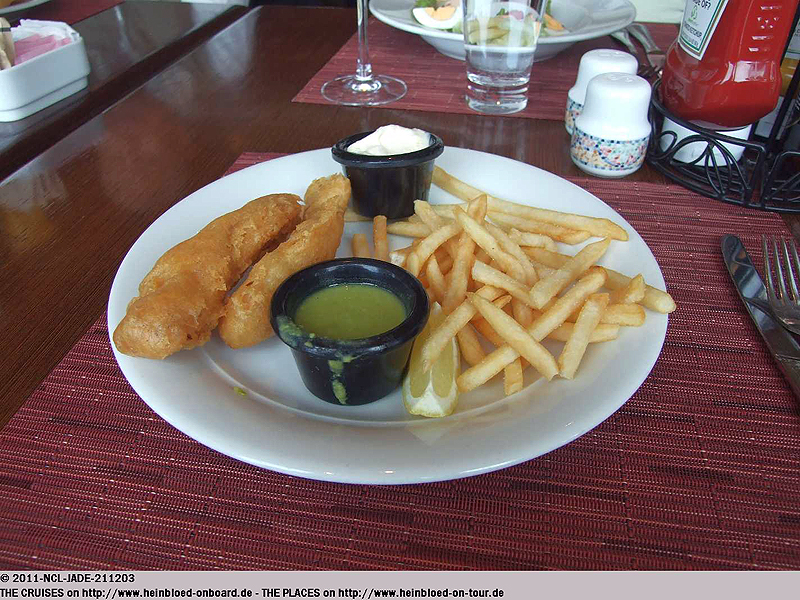 Fish and Chips.
Hackbraten. Die Champignon-Sauce wird extra serviert.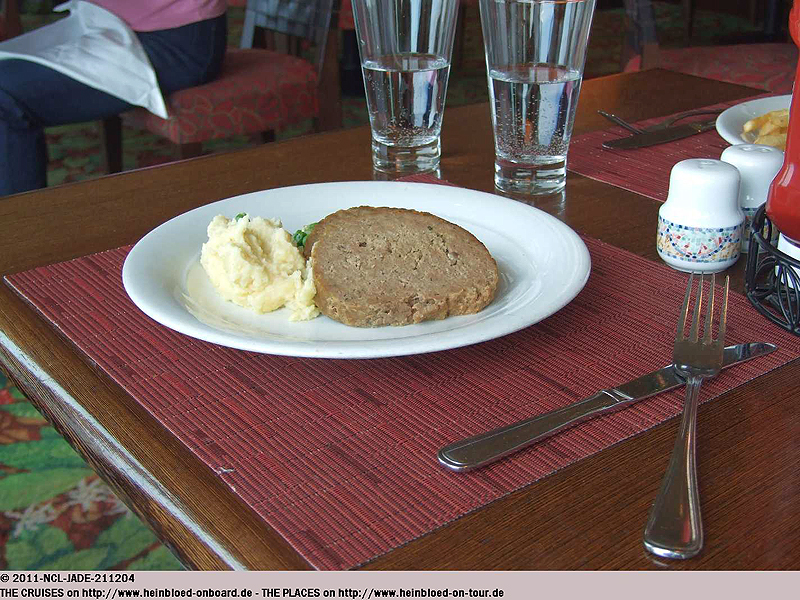 Meat loaf. The mushroom-sauce was served separately.

And Bruno took his chicken sandwich. We were a little under time pressure because we booked for 13.30 hrs a watertaxi out of Santa Lucia train station.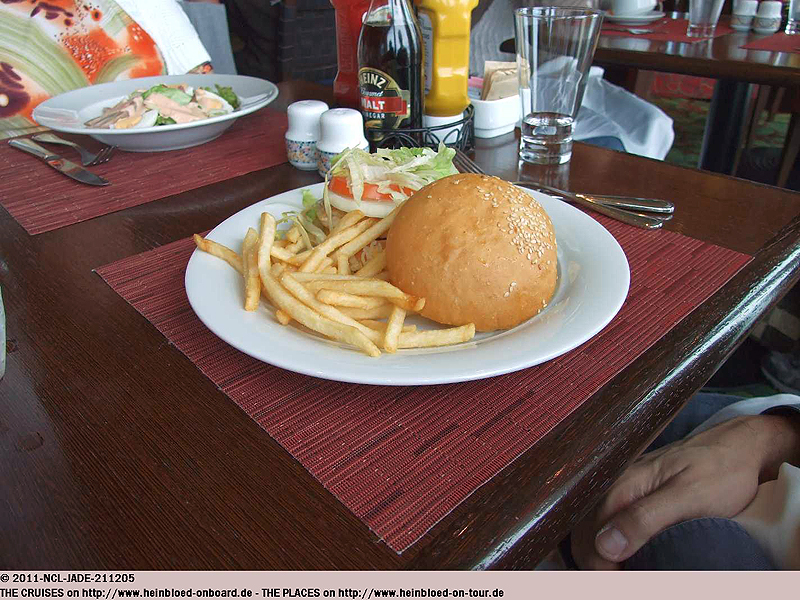 Und Bruno nimmt sein Hühnchen-Sandwich. Wir haben es etwas eilig, weil wir für 13.30 Uhr ab Bahnhof Santa Lucia ein Wassertaxi gebucht haben.