Scroll down for English explanations - alternates with German explanations.

Post - aber eigentlich gar nicht mal für mich, sondern für maurolino aus dem kreuzfahrten-treff-Forum. Er geht am 26.11.2011 auf die NORWEGIAN JADE und hatte jede Mengen Fragen zum Thema Kleinkind an Bord. Da ich kein Reisejournalist bin, der alle Bereiche des Schiffes recherchieren muss, sondern sich doch nur Aspekte kümmert, die meine Reisen betreffen, gab es den Vorschlag die Fragen zusammenzufassen, damit sie an Bord beantwortet werden können.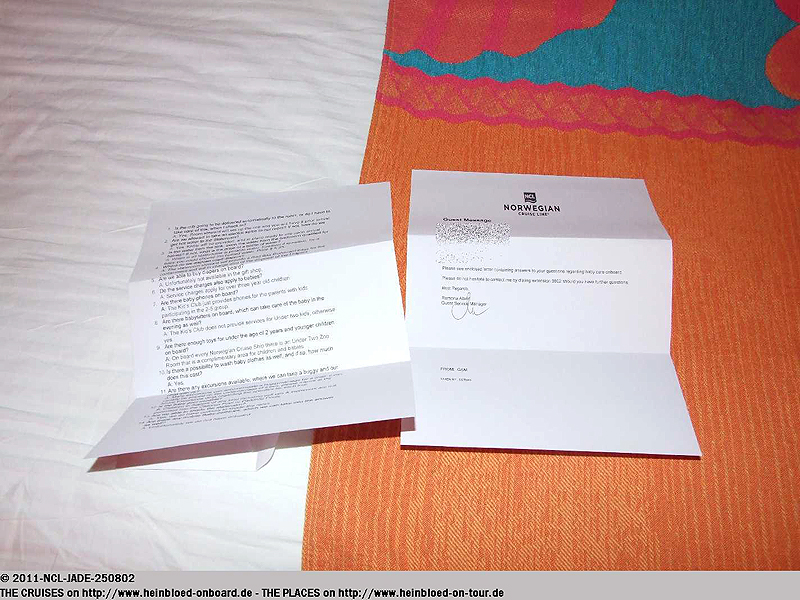 Mail - but it was not for but for a German cruise-mate who will go on NORWEGIAN JADE on November 26, 2011 and had many questions regarding infants on board. As I am not a journalist who need to research all aspects of a cruise but just my I asked him to write down his questions and that the ship might respond to them.

When I asked the last time regarding the Norovirus in January 2011 they wanted to put me in quarantaine. So I asked Armando to take care of the questions who forwarded to Ramona who arranged all answers. So maurolino was well prepared for his voyage and nobody is disppointed finally later because there were wrong expectations.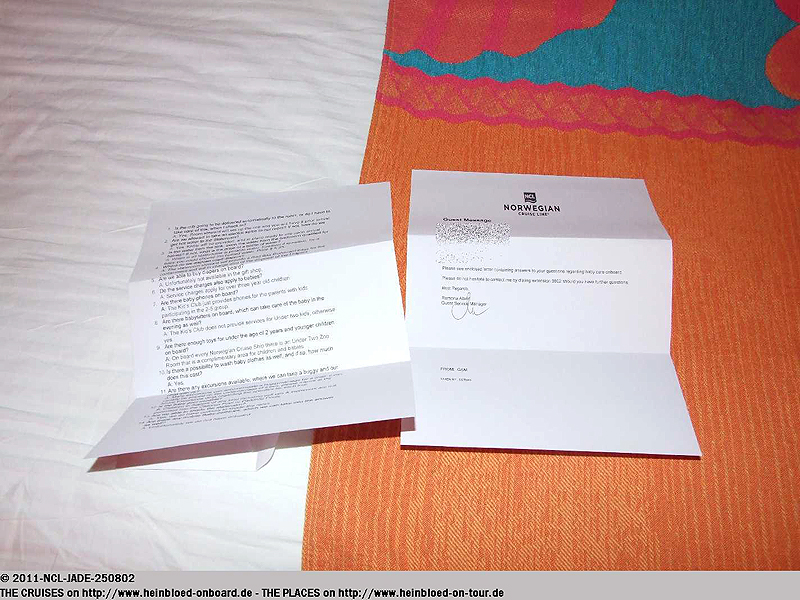 Da ich bei meinen letzten Fragen, die den Norovirus im Januar 2011 betrafen, beinahe in Quarantäne nur für das Fragen gekommen wäre, habe ich Fragen vorab Armando übergeben und Ramona hat für die Beantwortung gesorgt. So kann maurolino sich bestens auf seine Reise vorbereiten und keiner ist enttäuscht am Schluss, weil die Erwartungen falsch waren.
Übrigens liest man ja auch von anderen gelegentlich wie schrecklich der Zustand der Kabinen der NORWEGIAN JADE ist. In unserer Kabine konnten wir lediglich die fehlende Abdeckung bemängeln an der Tür entdecken. Grund für einen Reisemangel... Ob der Richter uns drei Nullen hinter dem Komma zusprechen wird oder gar vier... Wir testen es nicht. Ich bezweifle nicht, dass es anderen "schlechter" ging und wir Glück hatten, aber dafür gibt es ja Armando, den man darauf ansprechen kann. Übrigens die Box mit unseren Schoki-Vorräten für die Crew war schon fast leer.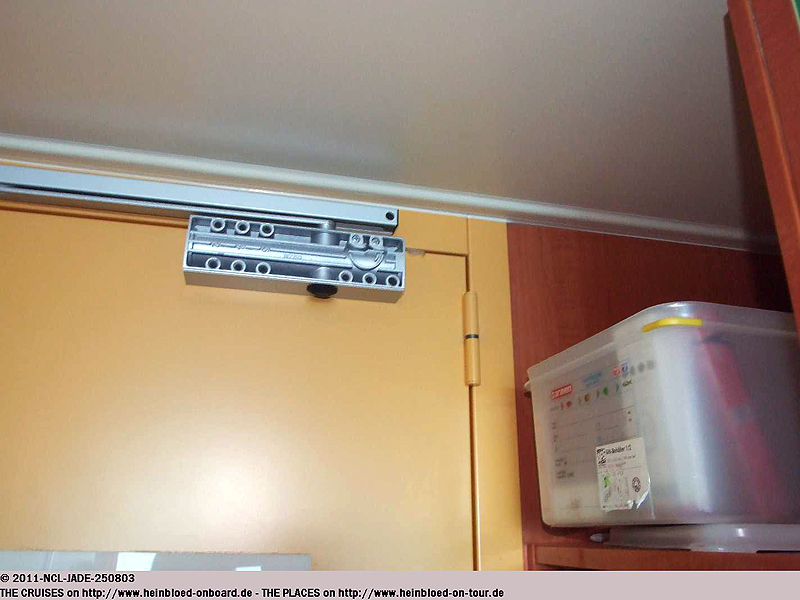 Occasionally you read about the bad condition of the cabins on NORWEGIAN JADE. In our cabin there was only the missing cover for the door. Always a reason to claim... Wondering a lawyer in Germany would set as refund quota: 3 zeros behind the point or 4... We did not try it. I do not doubt that maybe other cabins might be in "worse" condition but therefore you have an Armando whom you can talk to. By the way: you could see the box for the crew-chocolate was nearly empty.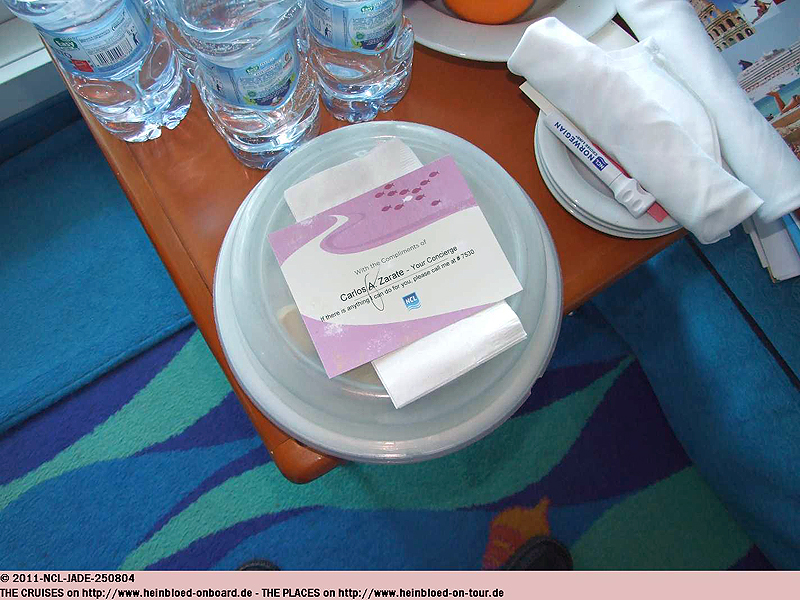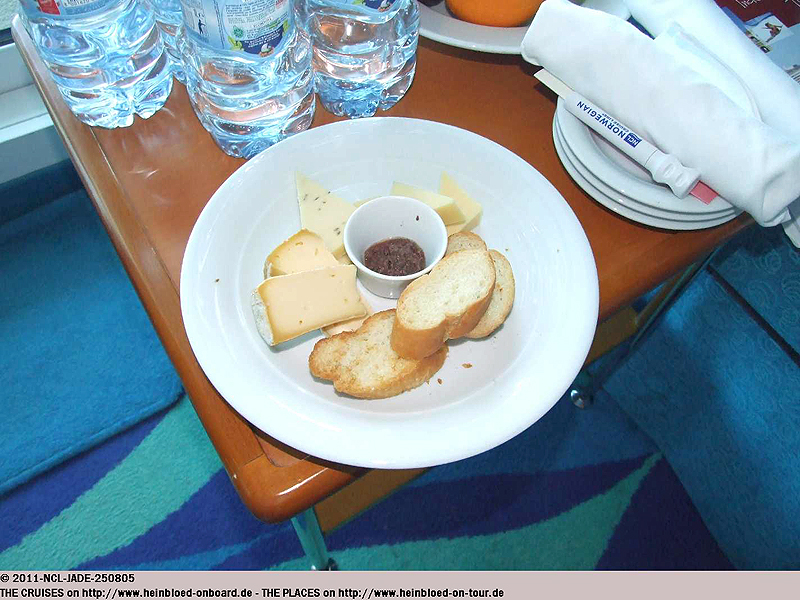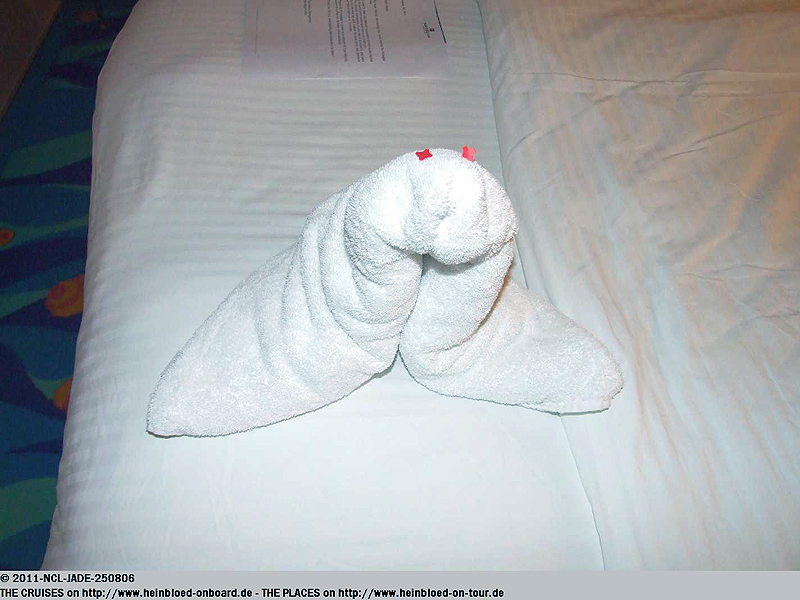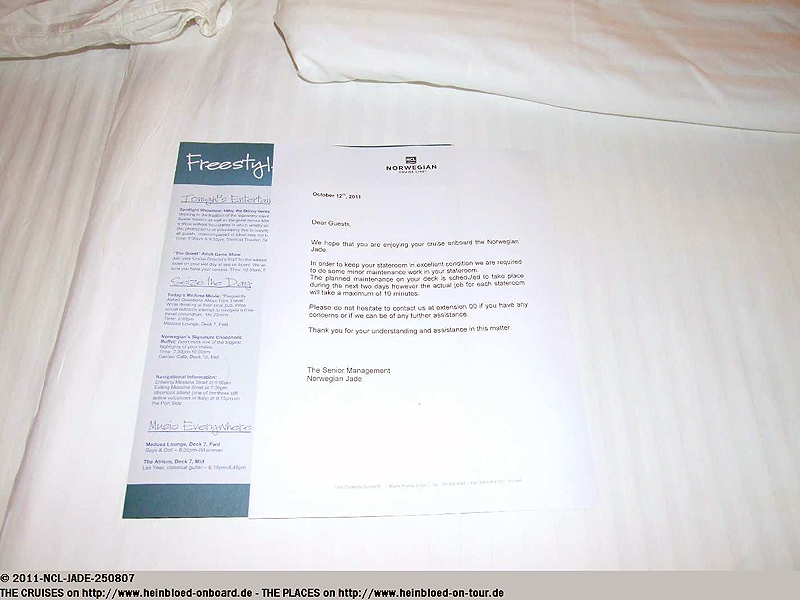 And again a message that we could leave the ship earlier if we like. But we booked all excursions a little later that we must not leave with all bus tour participants and can have a relaxed breakfast.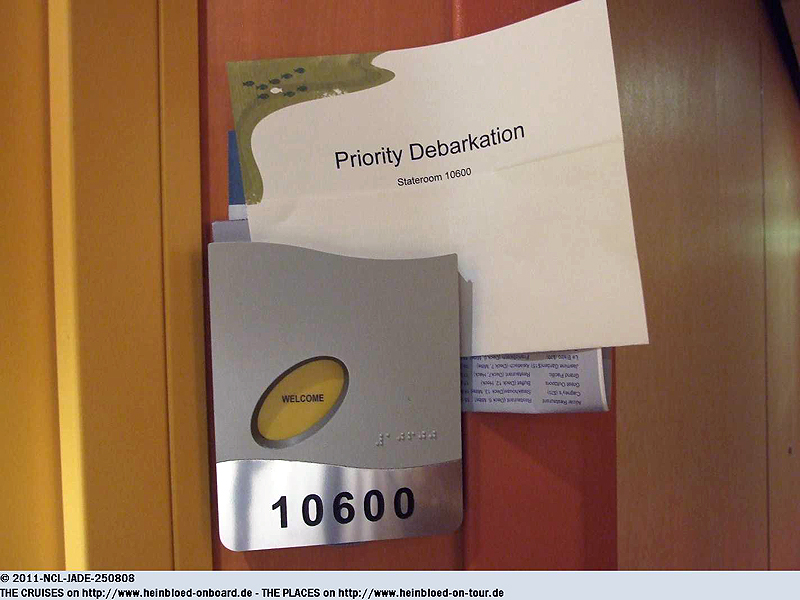 Und wieder die Nachricht, dass wir gerne früh von Bord bevorzugt gehen dürfen. Aber wir buchen ja i. d. R. die Ausflüge bewusst etwas später, damit wir nicht mit den Bussen runtermüssen und in Ruhe frühstücken können.
Auf geht es zur Latitudes Veranstaltung für alle Stufen.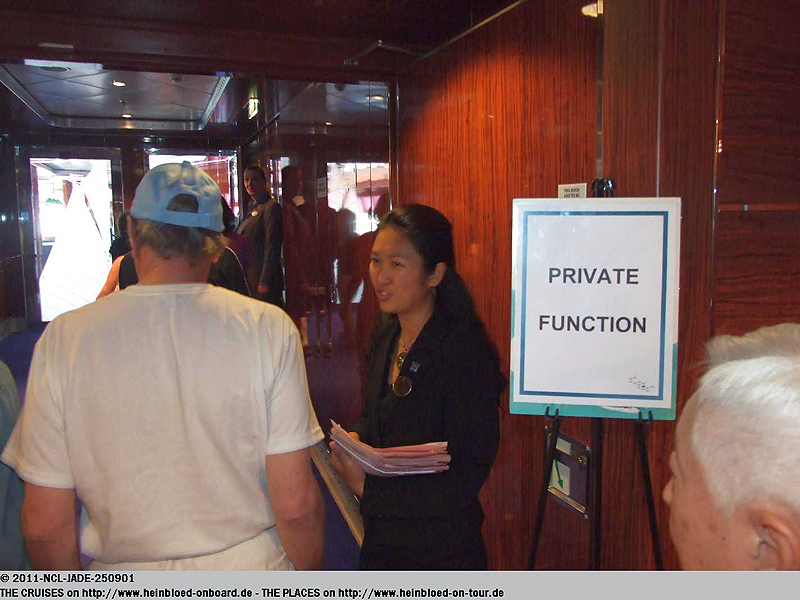 Let's go to a Latitudes event for all tiers.

Carol said that we could take of course our parents with us... My father shocked the senior officers by wearing his Royal Caribbean polo-shirt...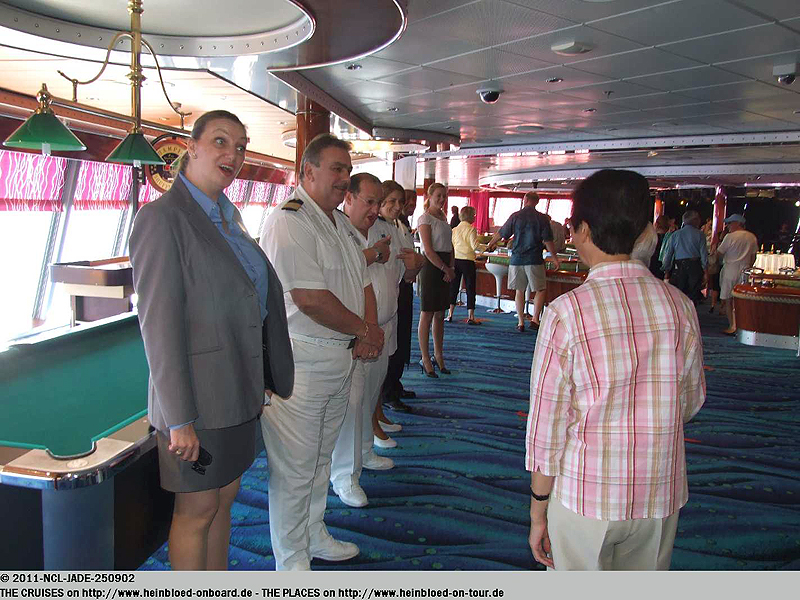 Carol hatte gesagt, dass wir selbstverständlich unsere Eltern mitnehmen dürfen... Mein Vater blamiert mich jedoch, dass er ausgerechnet bei dieser Veranstaltung sein Royal Caribbean Polo-Shirt tragen muss...
Eine Band sorgt für Stimmung.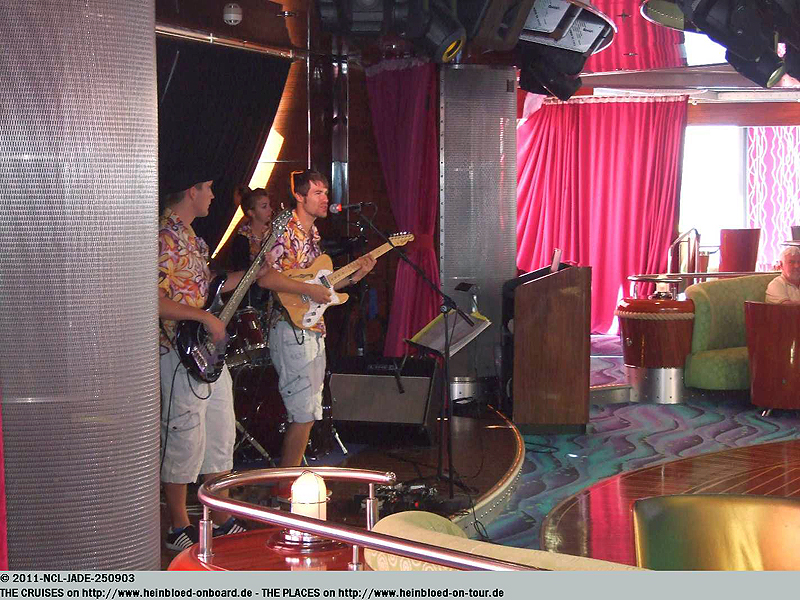 The band played for a great mood.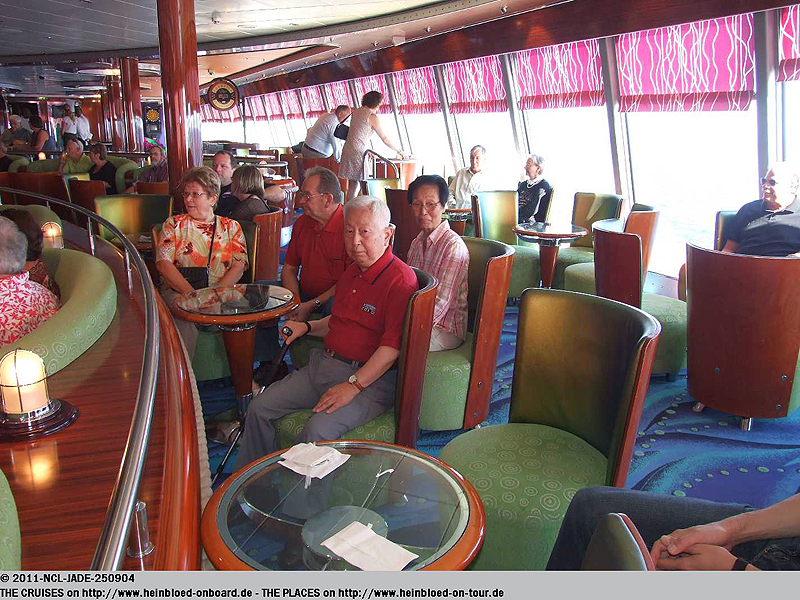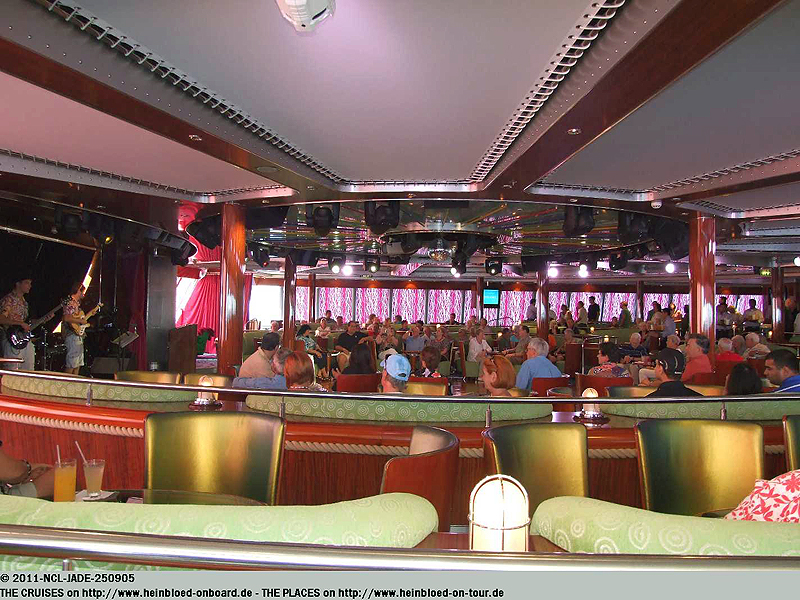 And I wear today extra for this event my NCL-T-Shirt.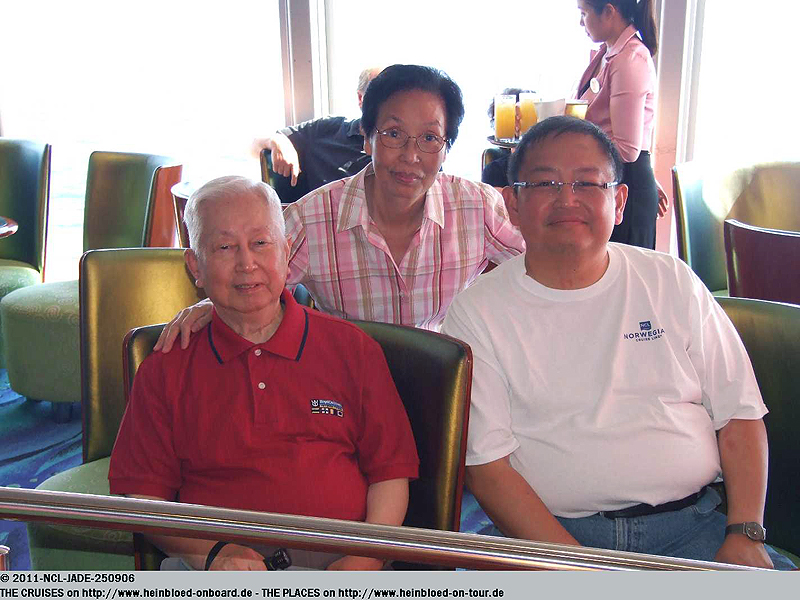 Und ich habe für heute extra mein NCL-T-Shirt angezogen...
Diese Familie ist der Schrecken für jeden Fotografen... Versuch Nr. 1.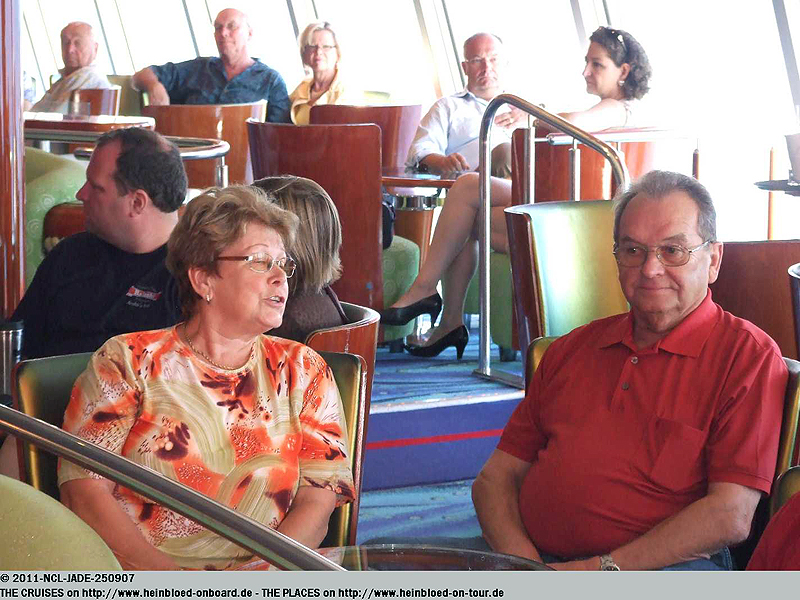 This family is the horror for every photographer... Try no. 1.

No. 2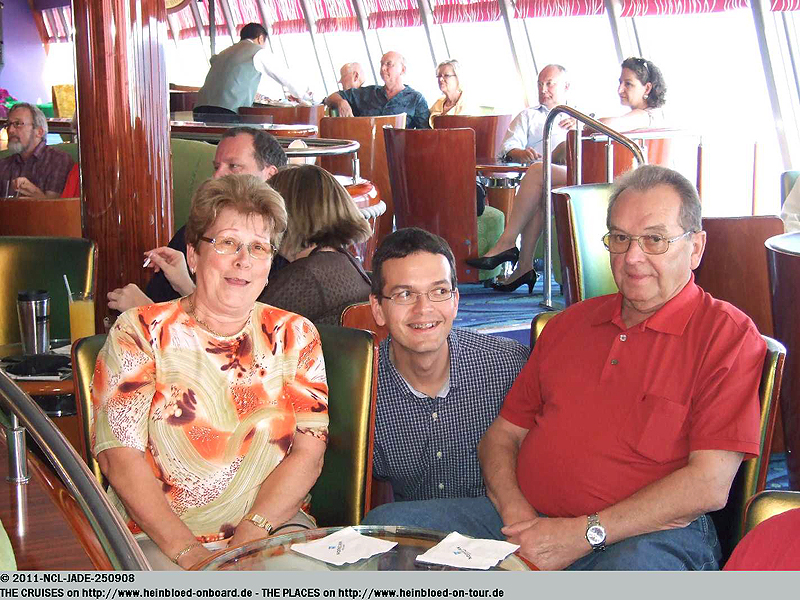 Nr. 2
Nr. 3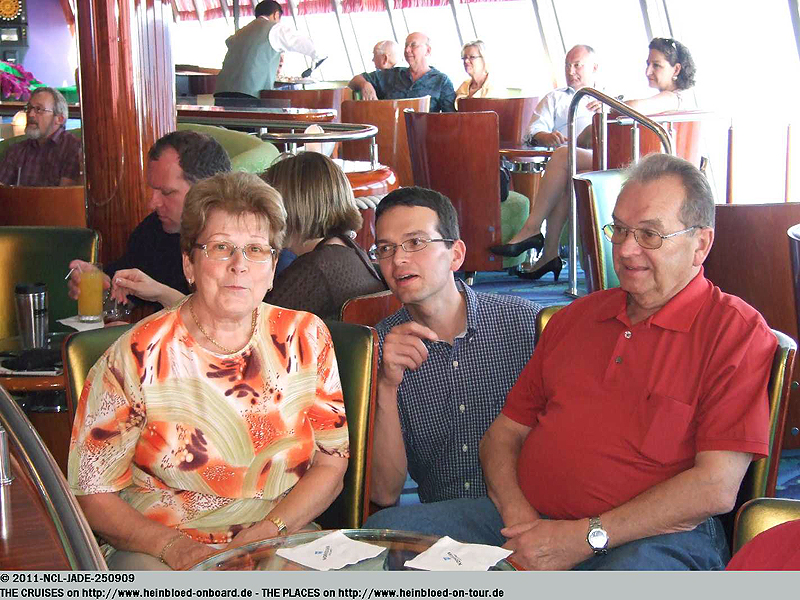 No. 3

No. 4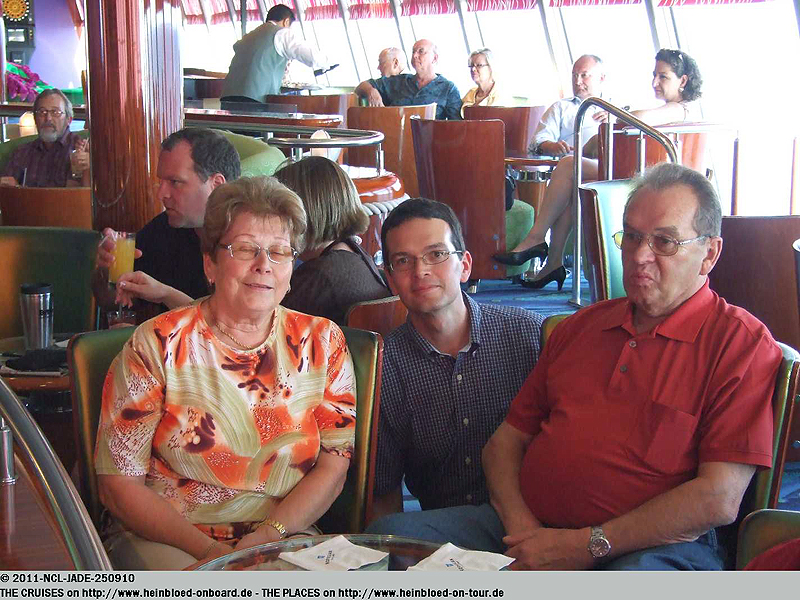 Nr. 4.
Der Einmarsch des Kapitäns ist Grund genug, mein Projekt ein nettes Familienfoto von Brunos Familie zu machen, aufzugeben.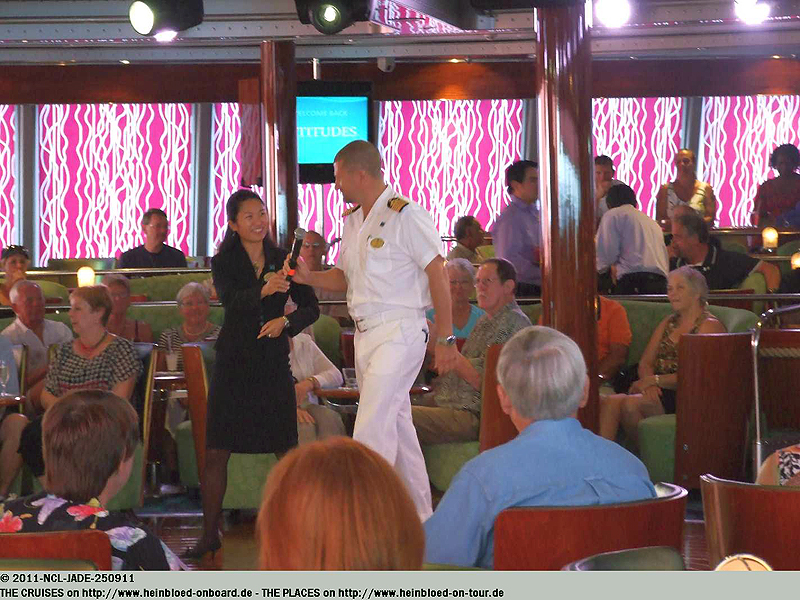 The invasion of the Captain was reason enough to give up my project to have some nice family pictures of Bruno's family.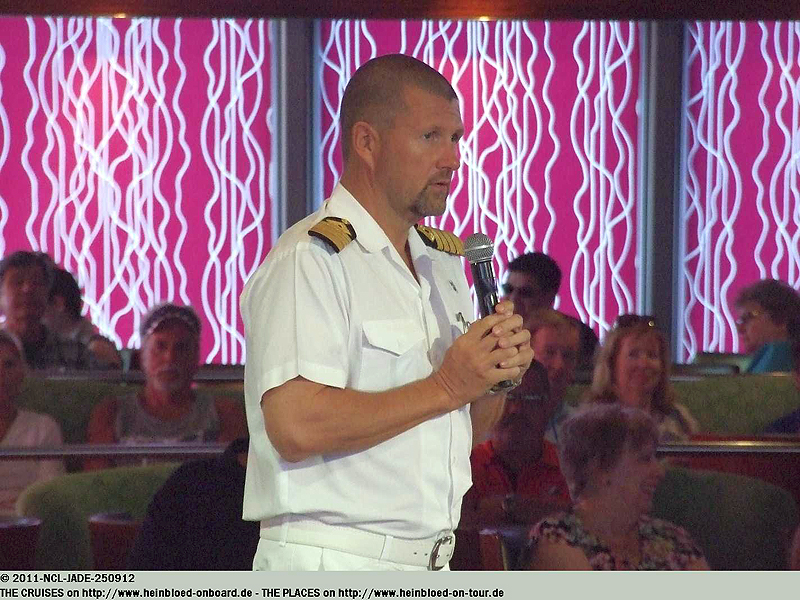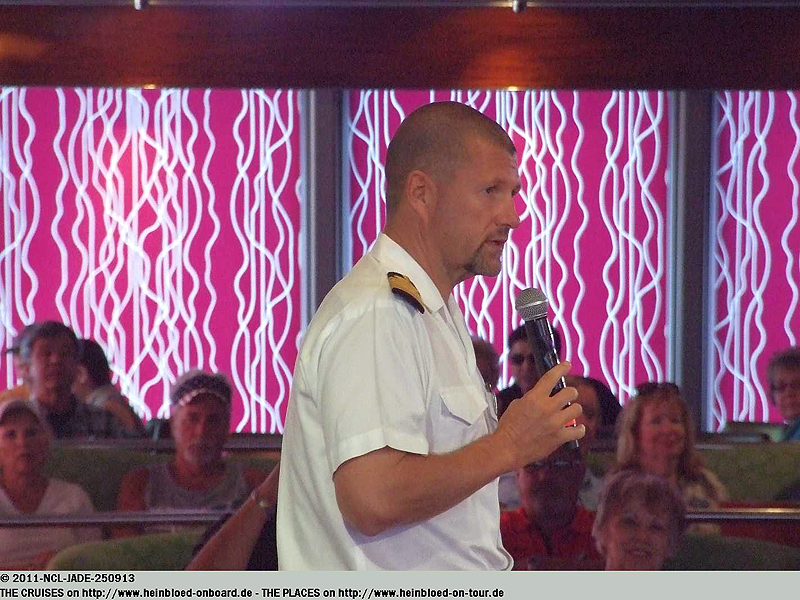 All senior-officers were introduced again.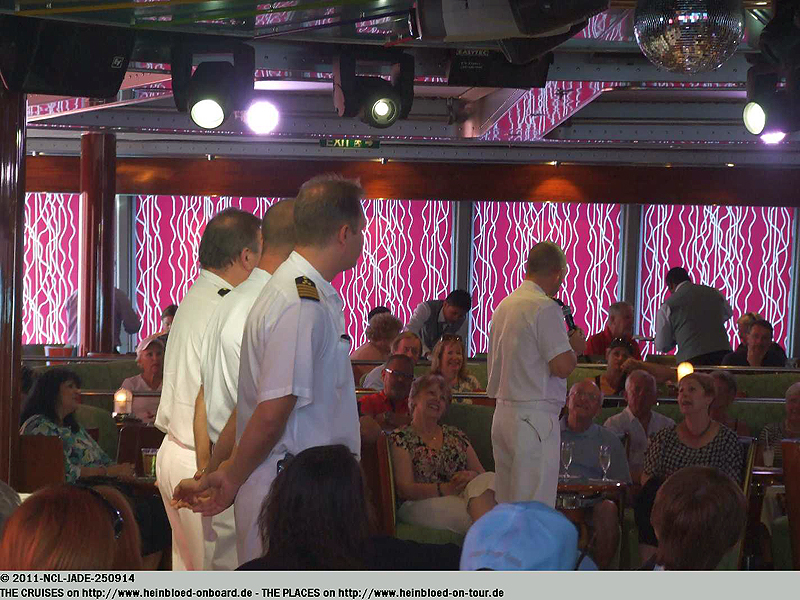 Es werden nochmals die Senior-Offiziere vorgestellt.
Und da sind die Canapés, die heute morgen in der Galley vorbereitet wurden.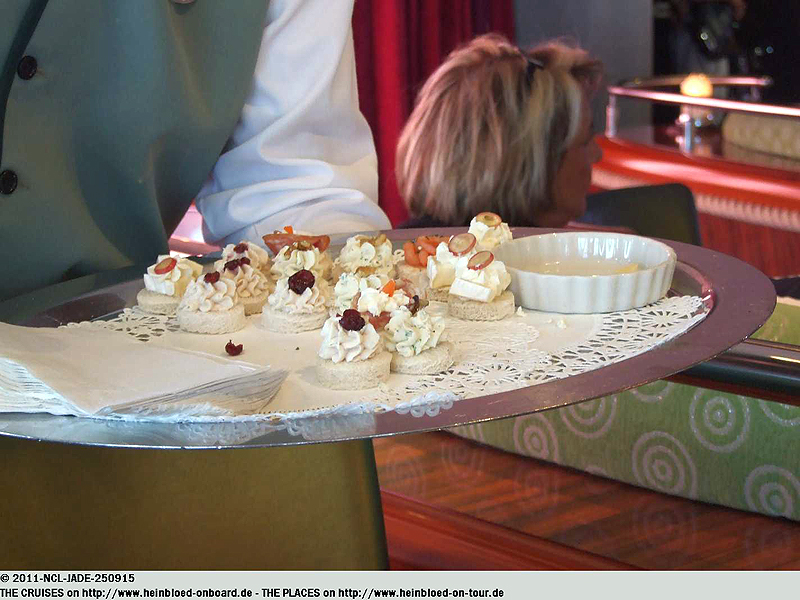 And here were the canapés we saw already during their preparation in the galley.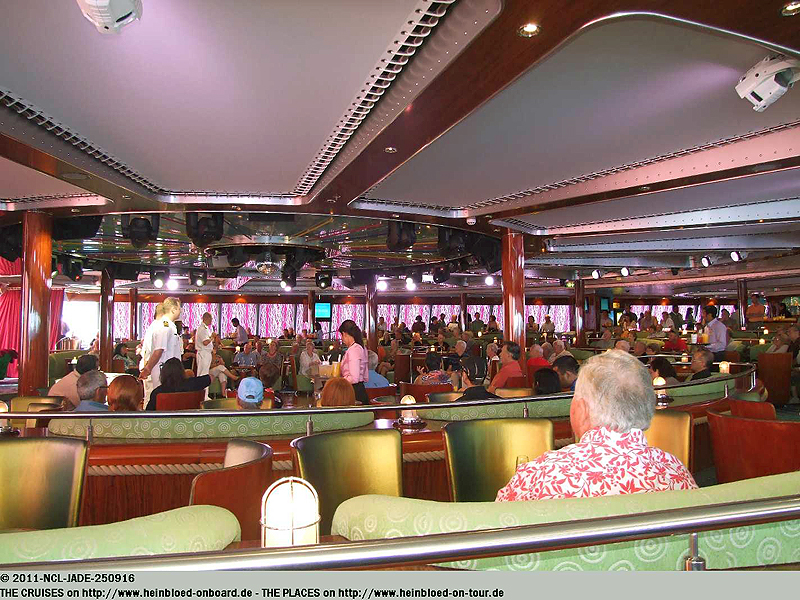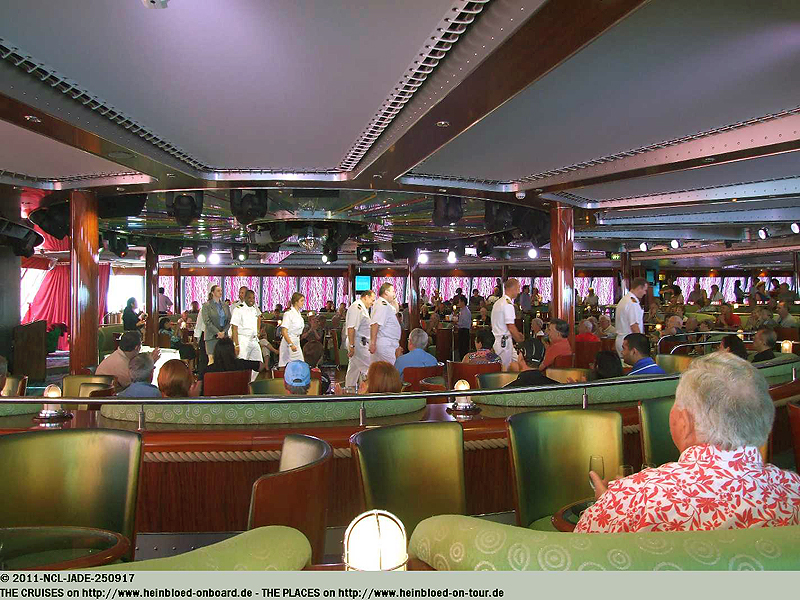 After the senior-officers left Carol could continue with her event.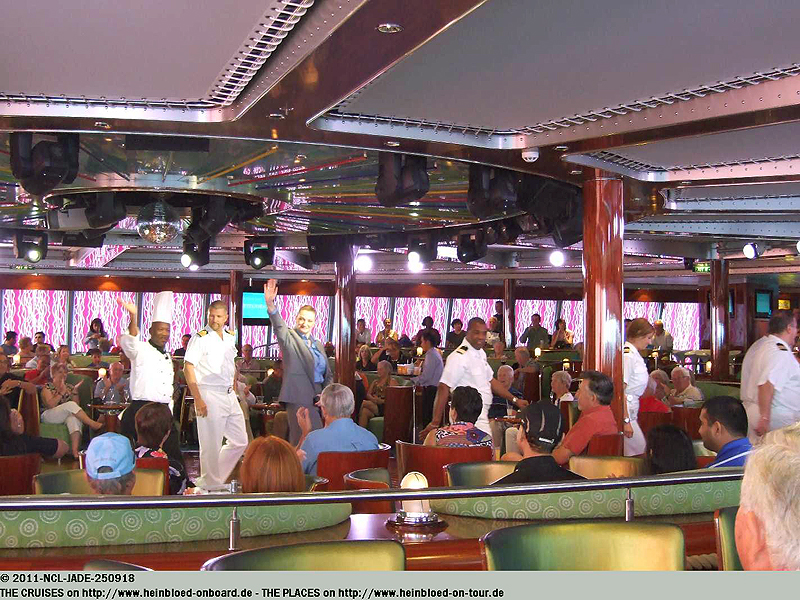 Als sich die Senior-Offiziere verabschieden, kann Carol weitermachen.
Alle Subunternehmer an Bord (Casino, Geschäfte, Spa, Fotografen usw.) mussten wieder Preise rausrücken, die dann unter den Gästen verlost wurden.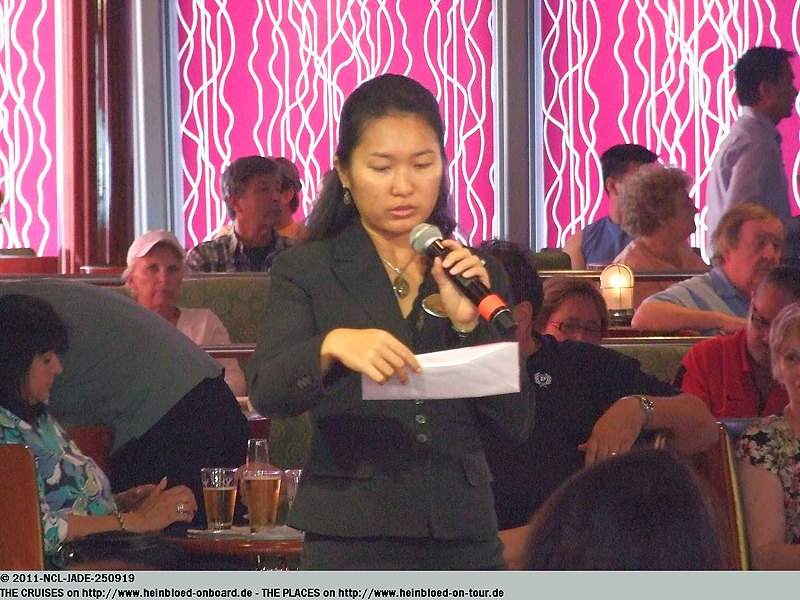 All subcontructor on board (Casino, Shops, Spa, Photographer etc.) need to sponsor with prizes which were used for the guests' draw.

Carol learned right after that her vacation will start sooner and will leave with us the ship. So guests of NORWEGIAN JEWEL can be glad to enjoy her hospitality.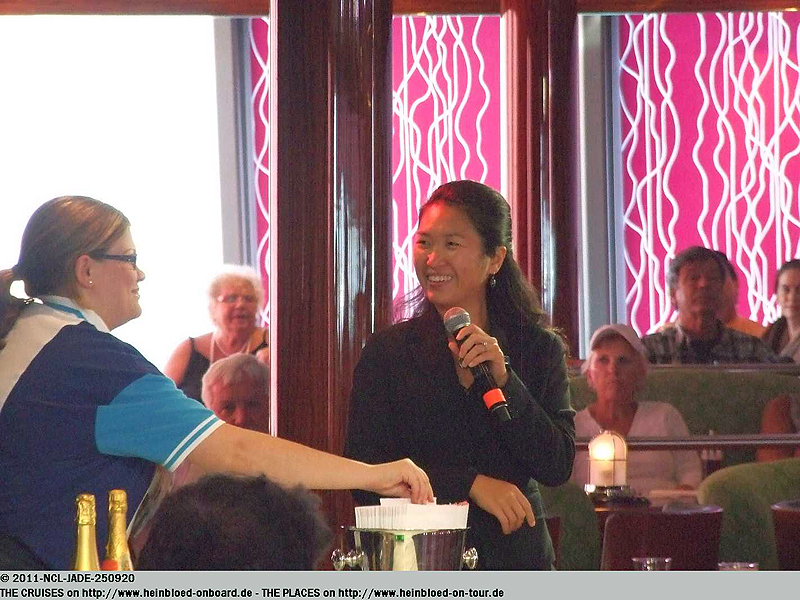 Carol hat danach erfahren, dass sie mit uns von Bord geht und ihr Urlaub eher anfängt. Deswegen strahlt sie so. Als nächste dürfen sich die Gäste der NORWEGIAN JEWEL über ihre Betreuung freuen.