Scroll down for English explanations - alternates with German explanations.

Es ist der erste Anlauf der NORWEGIAN JADE in Koper. Und eigentlich auch recht kurz, obwohl manche nach Ljubjana fahren wollen, das ja auch noch etwas mehr als eine Stunde entfernt liegt. Wir hatten nun gar keine Vorstellung von Koper und Slowenien. Nur eines wusste ich: ich bin nicht der Pferdenarr, der sich Lippizaner angucken muss.

It was NORWEGIAN JADE's first call in Koper. Anyhow a little short for those who wanted to go to Ljubjana as it was more than one hour away. We had abosulutely no imaginations of Koper and Slovenia. The only thing I knew was that I am not horse addict to see the Lippizaner horses.

In front of the gangway there was only a photographer. But none who can show the way out. So many walked to the wrong end of the ship.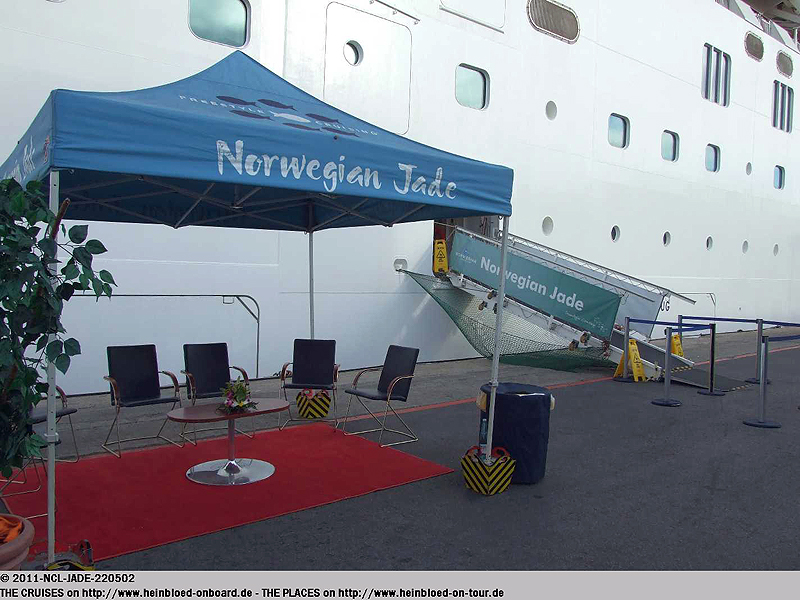 Vor der Gangway steht leider nur eine Fotografin. Leider niemand der einem zeigt, in welche Richtung man überhaupt rausmusste. Viele laufen daher erst mal zum falschen Ende.
Auf dem Hafengelände wird dafür gesorgt, dass sich die Gäste der VOYAGER OF THE SEAS und wir uns nicht vermischen und wir auf das falsche Schiff gelange. Würde mir eh nicht passieren, wenn die NORWEGIAN JADE da steht, dass ich woanders hinmöchte.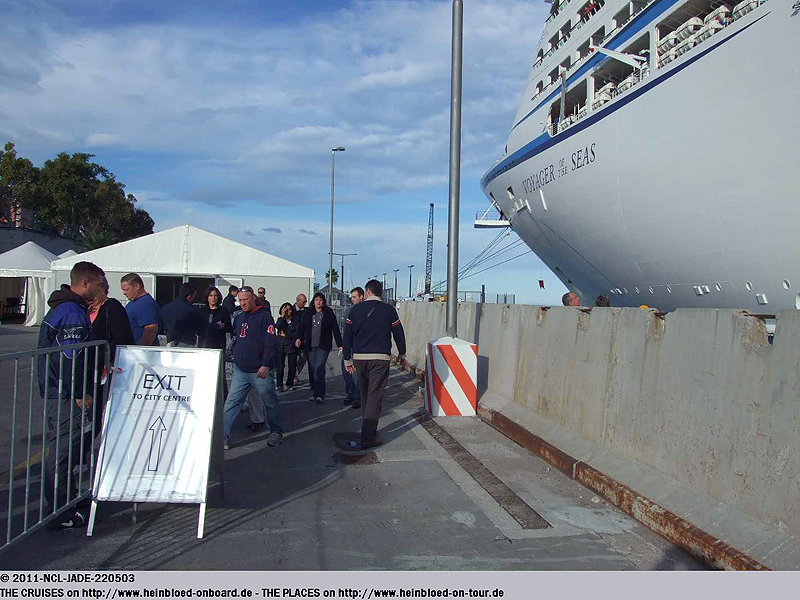 On the port area they took care that guests of VOYAGER OF THE SEAS and us could not mix up and get on the wrong ship. But this would not happen to me as long as NORWEGIAN JADE is there.

There was no real cruise terminal.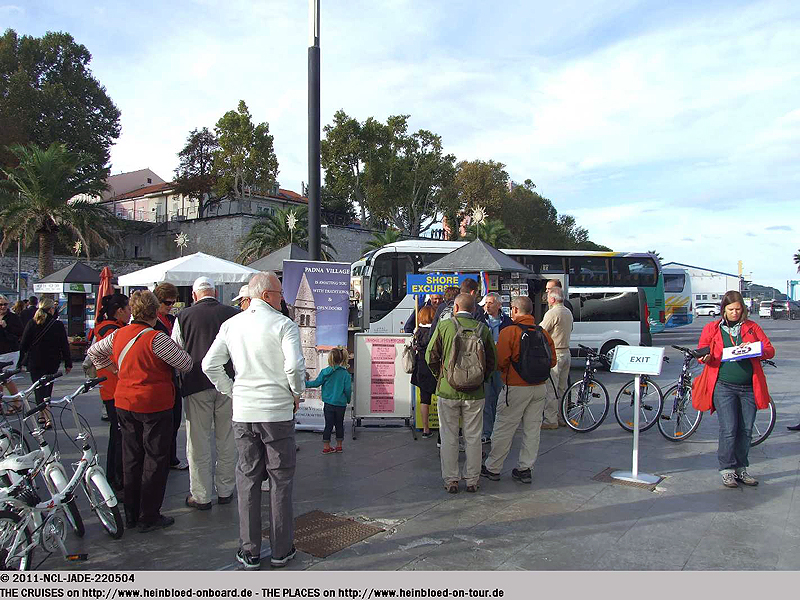 Ein echtes Cruise Terminal gibt es nicht.
So finde ich schnell den Schalter von
Istranka
. Es gab immer ein paar Anforderungen: wenig laufen und wenige Treppen, 6 Personen, möglichst in Deutsch und max. 1/2 Tag. Ivan hat sehr schnell zwei Programme vorgestellt und auch sehr zügig geantwortet. Er bietet aber auch öffentliche Touren in Englisch an, die man spontan am Schalter buchen kann.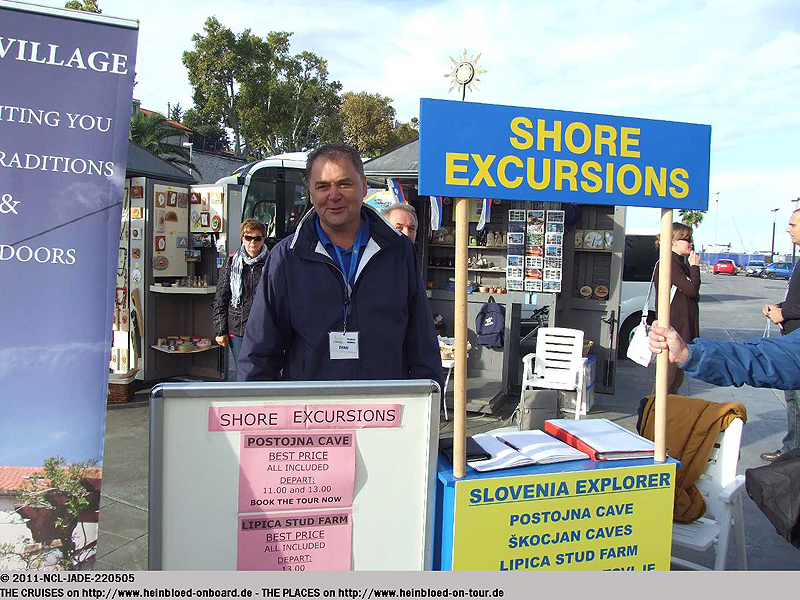 So I found quickly the counter of Istranka. There were few request from my side: not much walking and not so many steps, 6 persons, if possible in German and max. 1/2 day. Ivan presented very quickly two itineraries and answered always very quickly. He also offers public English tours which you can book spontaneously at the counter.

As all banks were closed I asked Ivan to prepare a set of Slowenian Euro coins for my mother. He did not forget it and when I wanted to give him other Euro coins he only said that this is a souvenir from Slovenia and he did not want anything for it. This voyage started really nice. Next time I would ask for set of Euro bills... (Ha ha ha... Euro bills are same in all country...)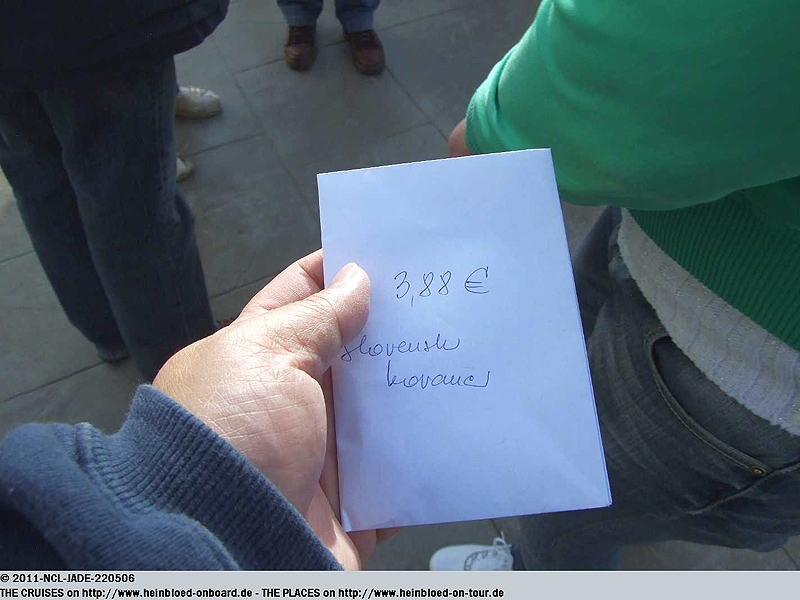 Und da alle Banken geschlossen waren, hatte ich Ivan gebeten, ob er mir einen Satz slowenische Euromünzen für meine Mutter bereithalten kann. Er hat es nicht vergessen und als ich ihm dafür andere Euromünzen geben will, meint er nur, dass es ein Souvenir aus Slowenien sei und er dafür nichts will. Das fängt ja schon mal sehr nett an. Das nächste Mal frage ich ihn nach einem Satz slowenischer Euronoten... (Ha ha ha...)
Vor dem Stand wartet unsere charmante Reiseführerin Mirjana, die Tourismus studiert und an einer Hotelrezeption unter der Woche arbeitet.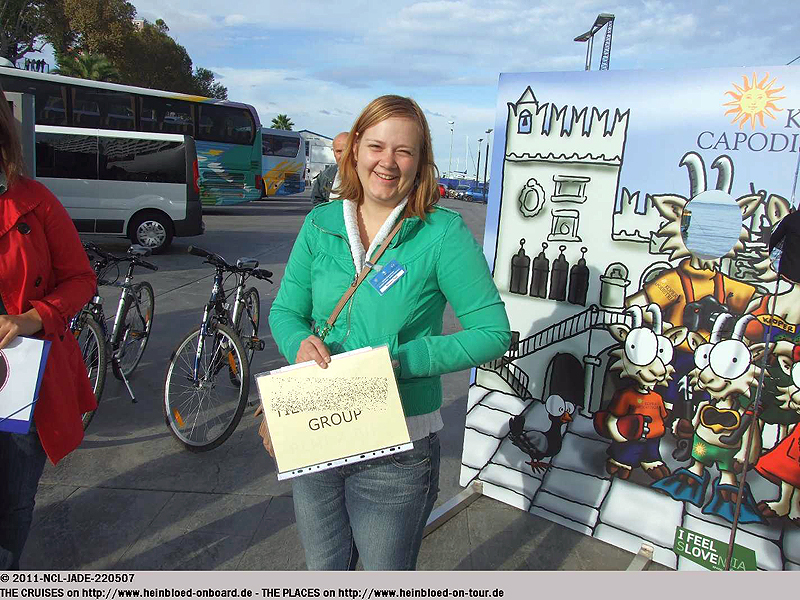 In front of the counter our charming tourguide Mirjana was waiting for us. She is studying tourism and works at a hotel reception during the week.

Our tour took us to Hrastovlje, which is 20 minutes (about 9 miles) away from Koper. We preferred to have a calm start of our voyage.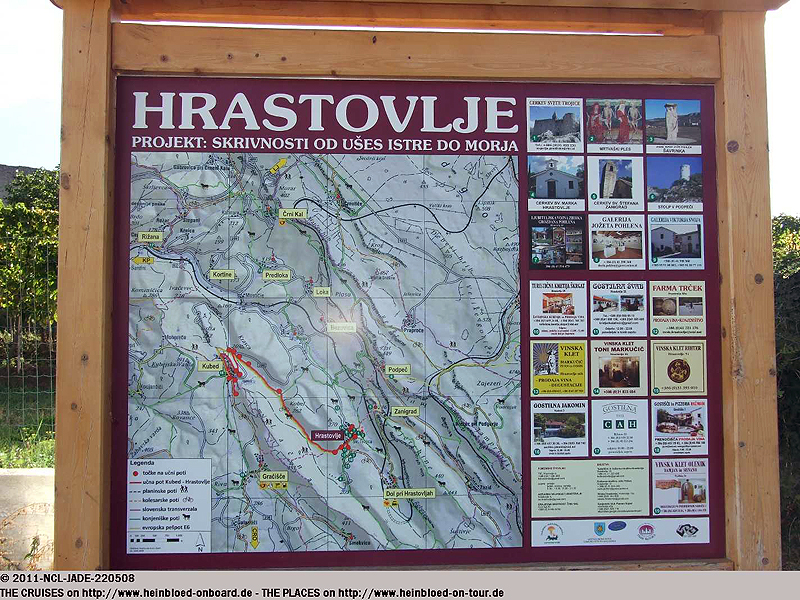 Unsere Tour führt uns nach Hrastovlje, das ca. 20 Minuten (14 km) von Koper entfernt liegt. Wir wollten es ruhig angehen lassen.
Von der Landschaft her, war es schön hügelig und jede Menge Olivenbäume. Slowenien ist wohl der nördlichste Produzent von Oliven im Mittelmeerraum. Der Ort selbst hat gerade mal lt. Wikipedia 143 Einwohner und ist selbst keine besondere Attraktion.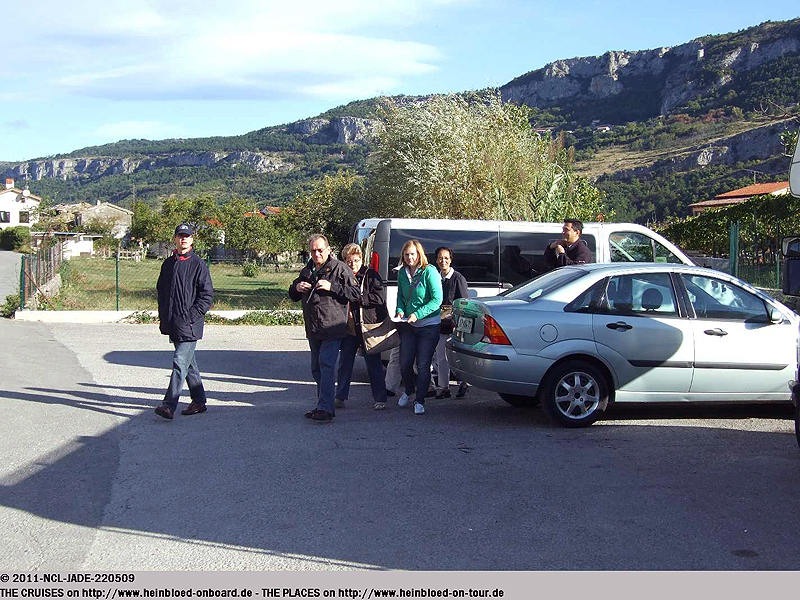 It was a hilly landscape and there were many olive trees. Slovenia should be the most Northern producer of olives at the Med Sea. The place itself was no attraction according to Wikipedia and has 143 inhabitants.
But the Church of the Holy Trinity.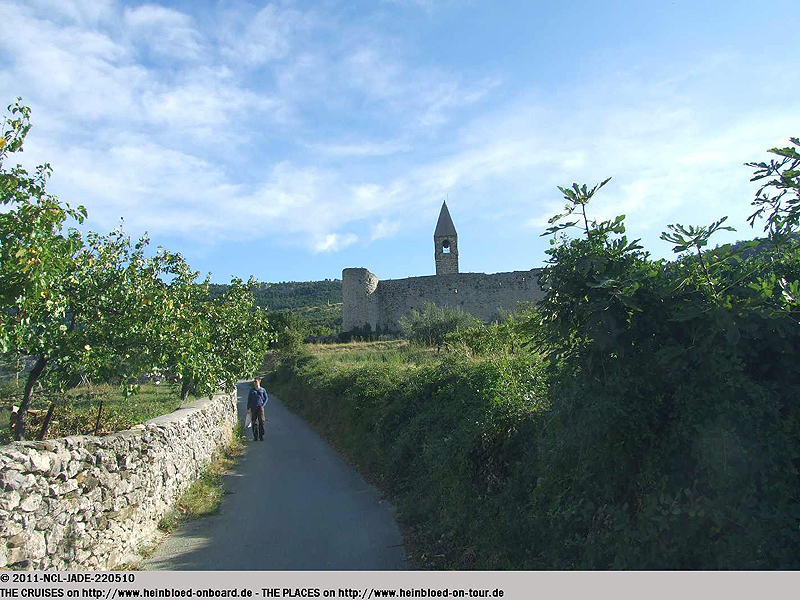 Dafür aber die Dreifaltigkeitskirche.
Es ist aber ein kleiner Anstieg, den mein Vater langsam bewältigen kann. Deswegen buchen wir lieber private Touren, bei denen wir das Tempo steuern können.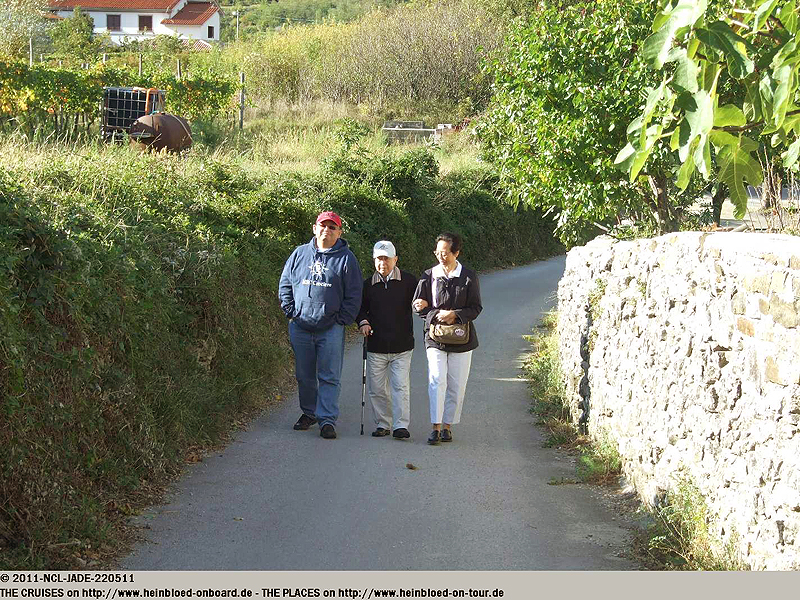 But there was a minor rise which my father can do slowly. That was why we prefer to book private tours as we can control the speed.

From the top we enjoyed the landscapes.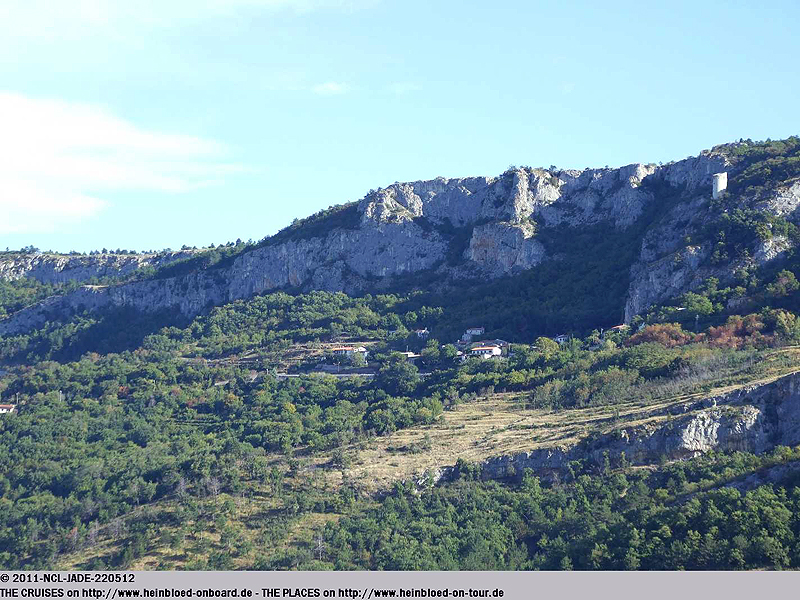 Von oben genießen wir zunächst einmal die Landschaft.
Erinnert an die Karl-May-Filme von damals...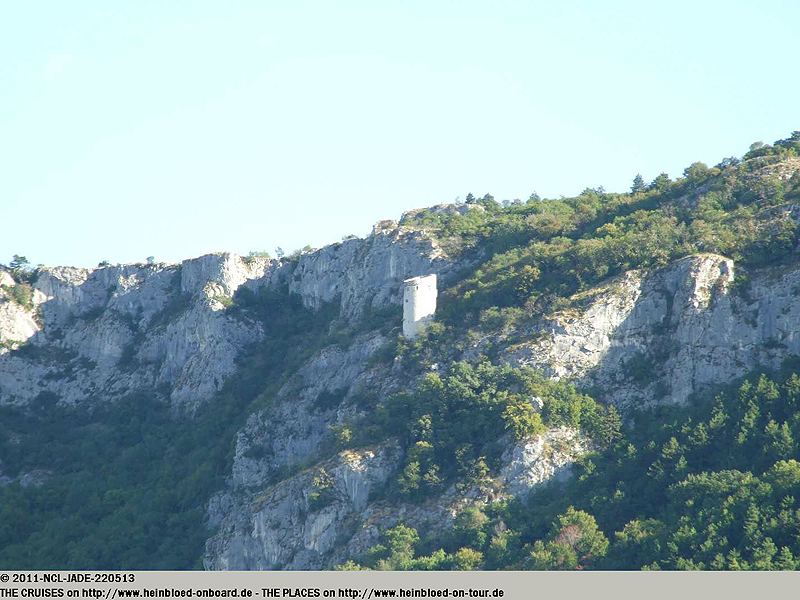 Remembers very much to the old movies from Karl May. (Just for Non-Germans: he was an German author who never travelled but wrote many stories which happened in the Classical Western or in the Orient - Winnetou (Chief of the Apaches) and his white friends Old Shatterhand (played by Lex Barker) and Old Surehand (played by Stewart Granger) are famous in Germany. The movies from the 60s were mostly made in Istria which part we are travelling now - so many memories from the time when I was young).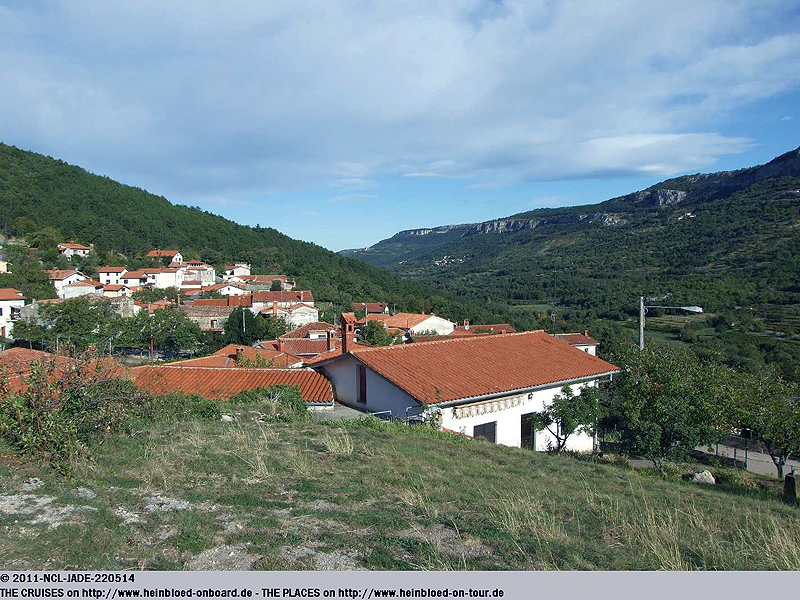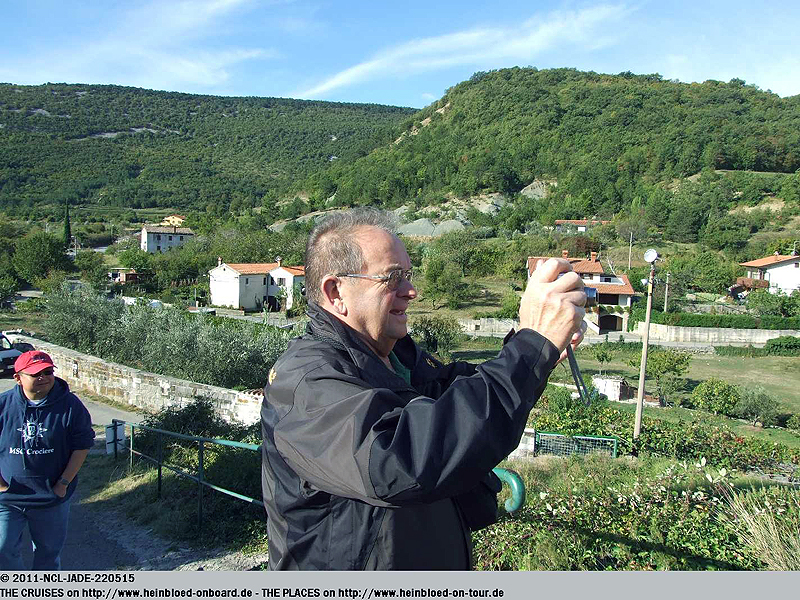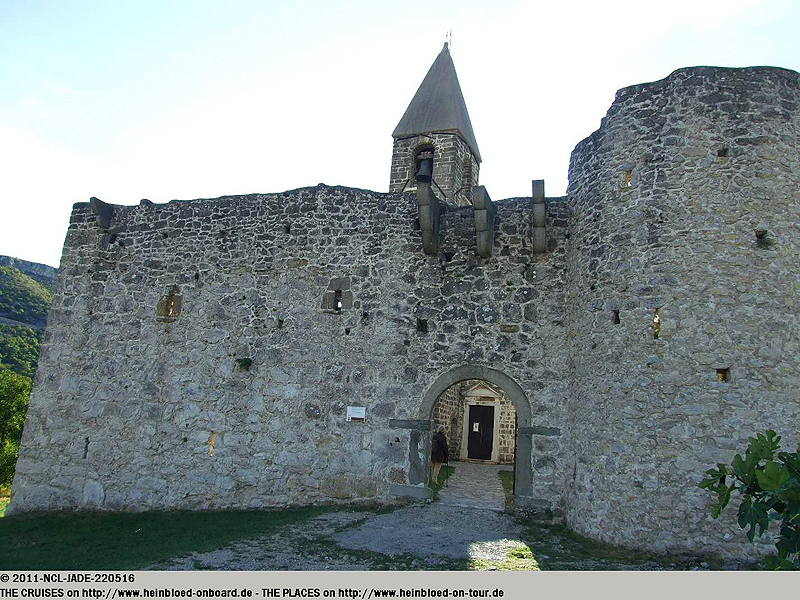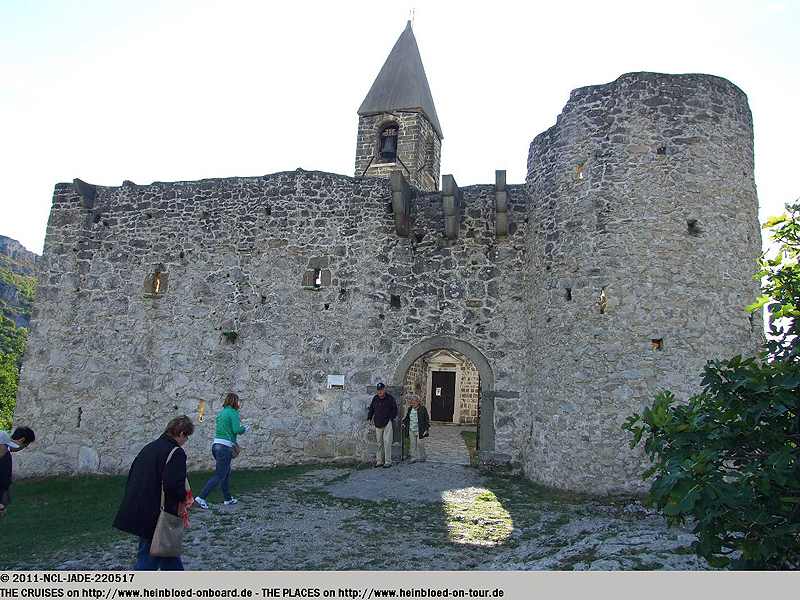 Officially it was not allowed to take pictures but as we had a Museums Mode on our camera and made a donation for the church we were allowed to take few pictures.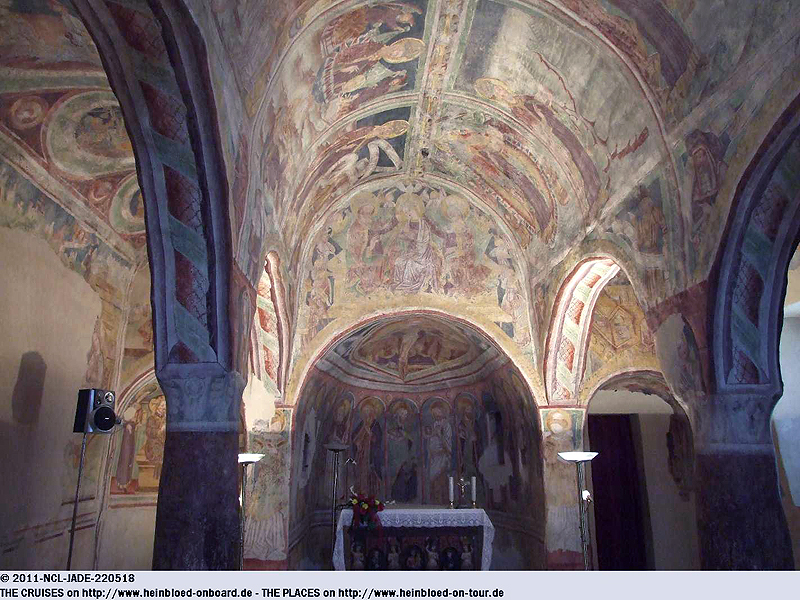 Offiziell war zwar Fotografierverbot, aber da wir einen Museumsmodus haben und eine Spende für die Kirche geleistet haben, durften wir dann doch ein paar Bilder machen.
Die Fresken sind einen Besuch Wert. Man bekommt auch eine Audio-Erläuterung in Deutsch.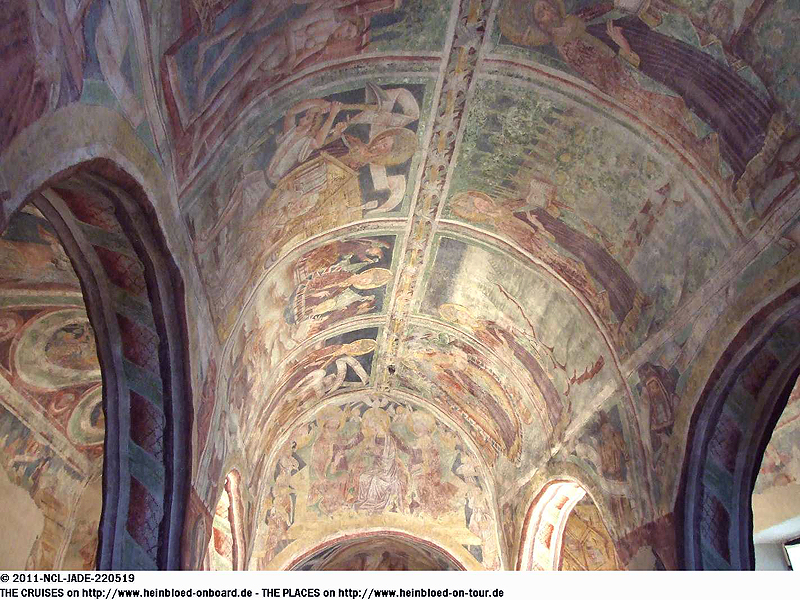 The frescoes were worth the visit. You could also get an audio-guidance. We had it in German but I am sure you get it in English as well.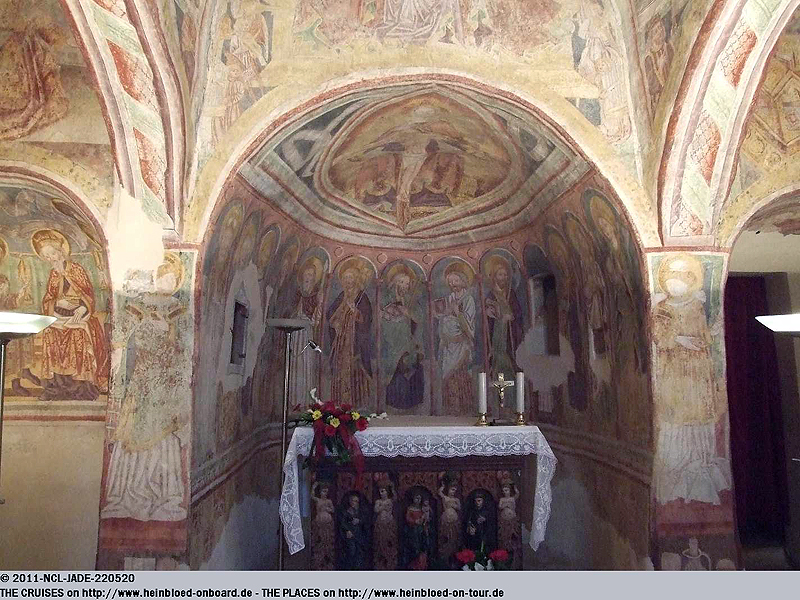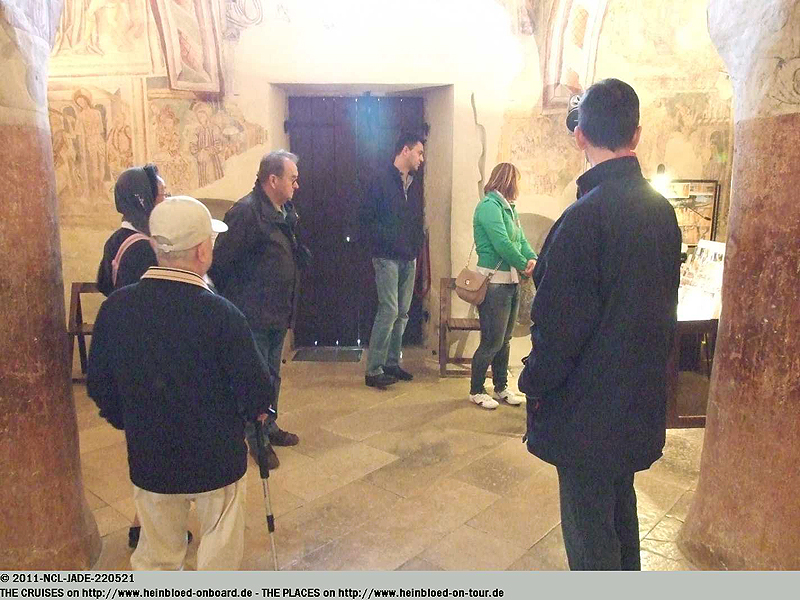 The admission fee was included in our tour price.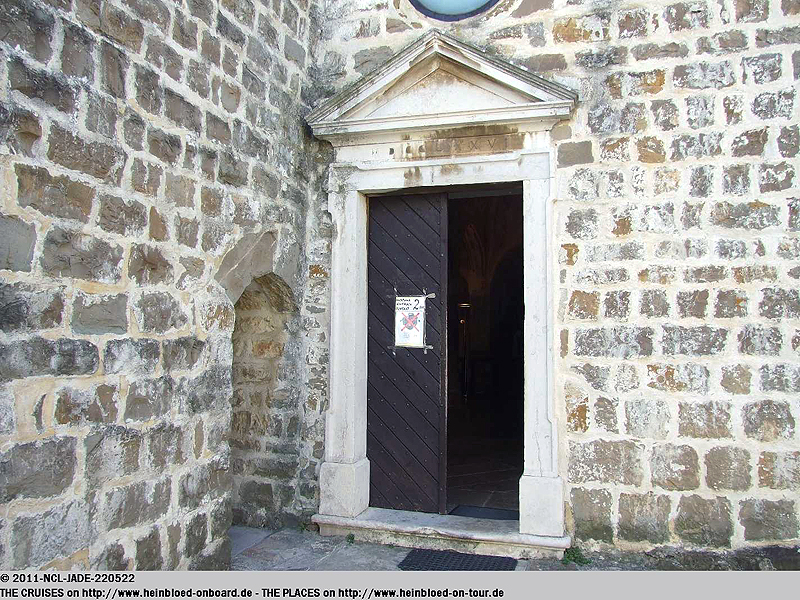 Der Eintritt war im Tourpreis schon inbegriffen.
Übrigens ist das unser Fahrer Ervin (habe ich mir nicht aufgeschrieben, weil es so einfach zu merken war, wenn man sich was merken kann... auf jeden Fall sehr deutsch.... bloß mit v, wie ich später auf Facebook herausbekommen habe...)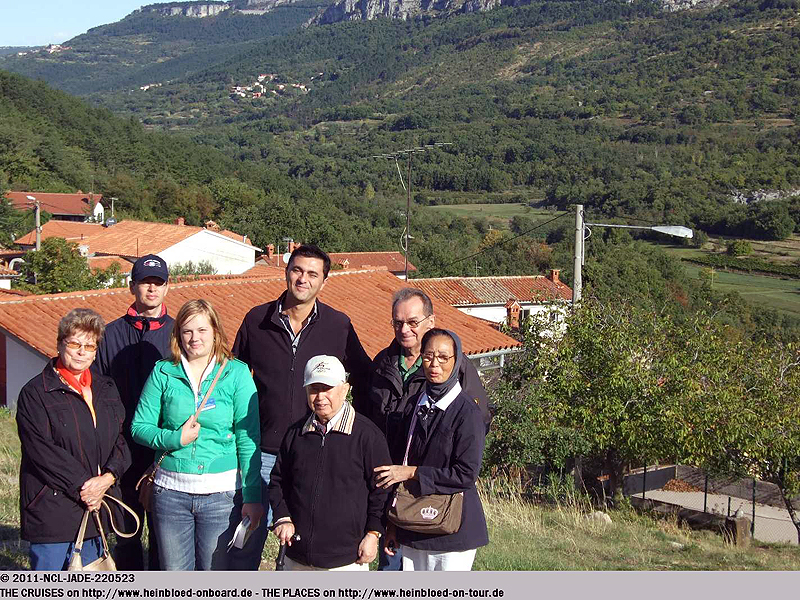 By the way this is our driver Ervin (I did not note it because it was so simple as it was typical German... but later I found out it is with the letter v according to Facebook...)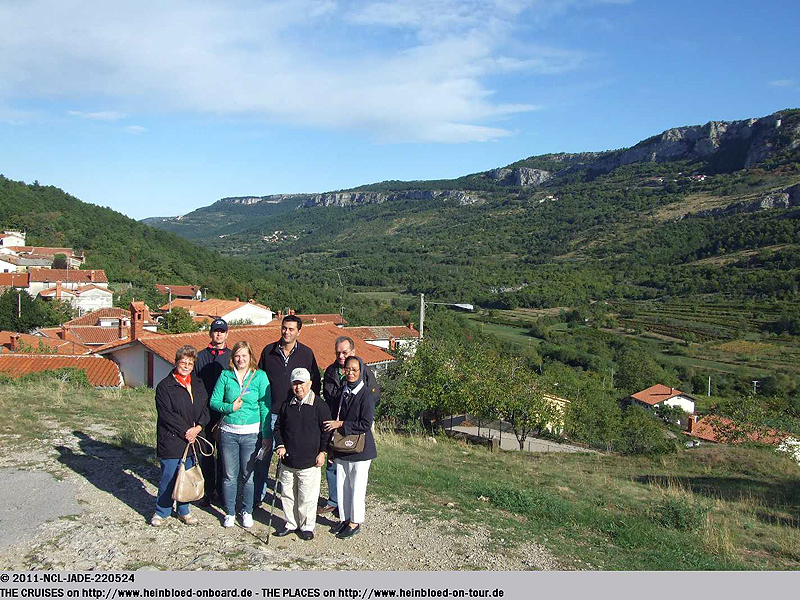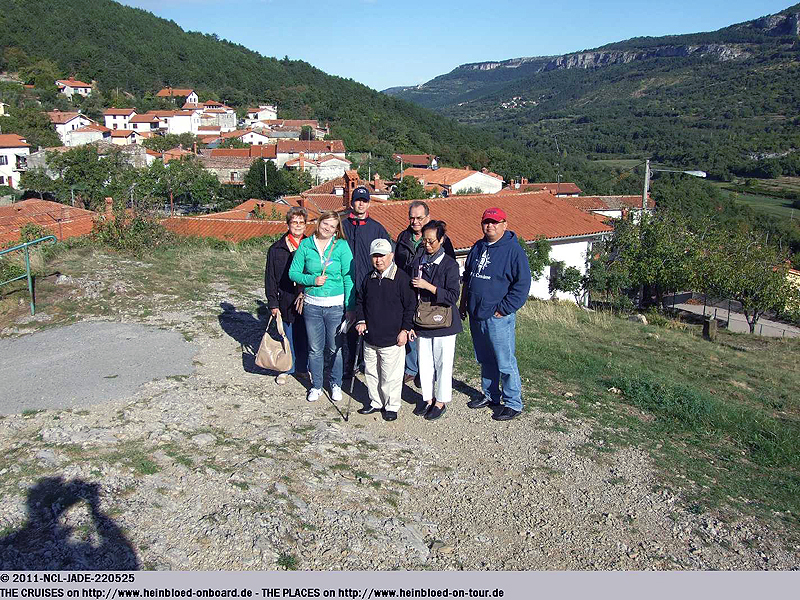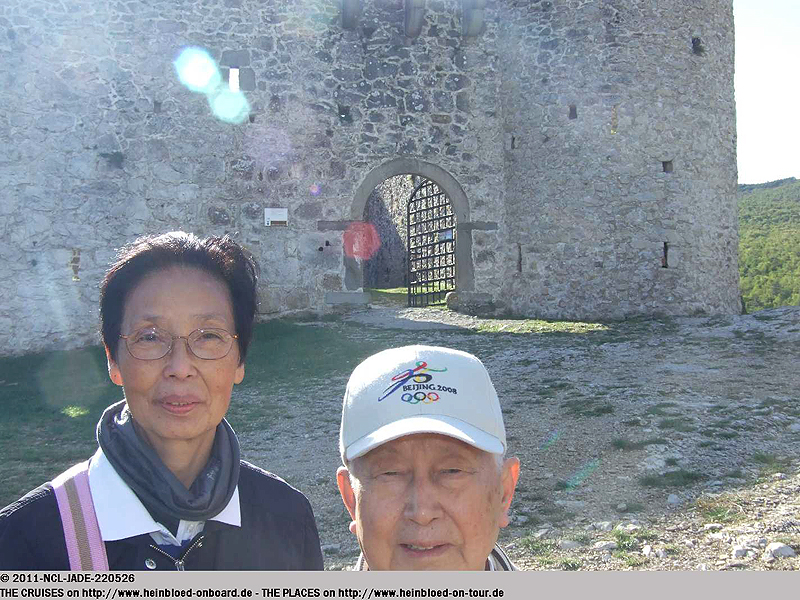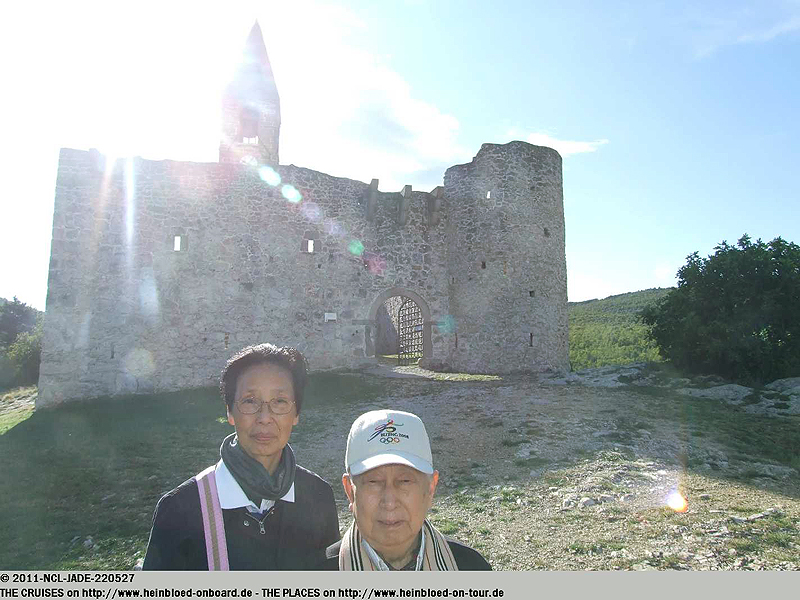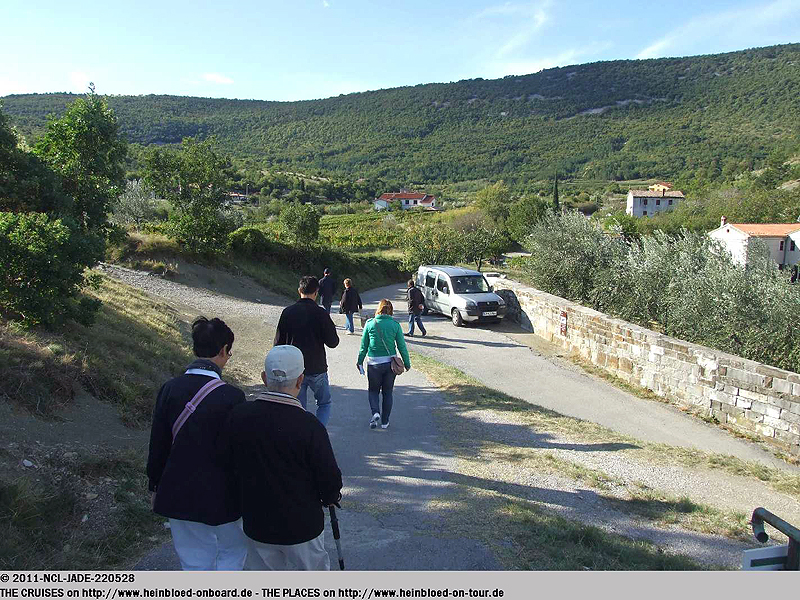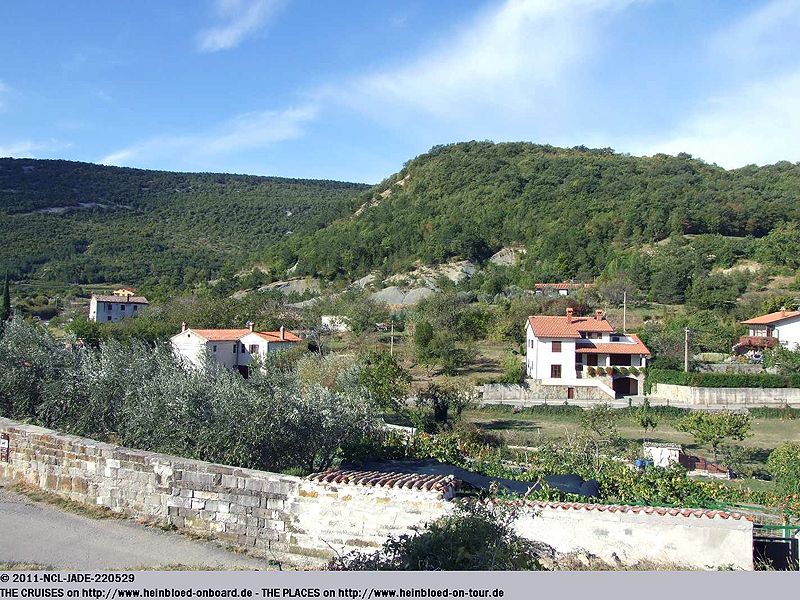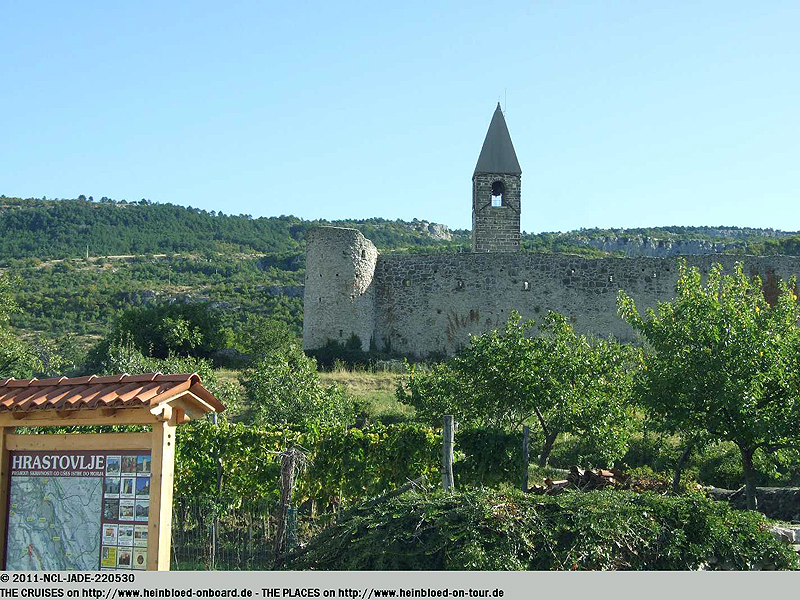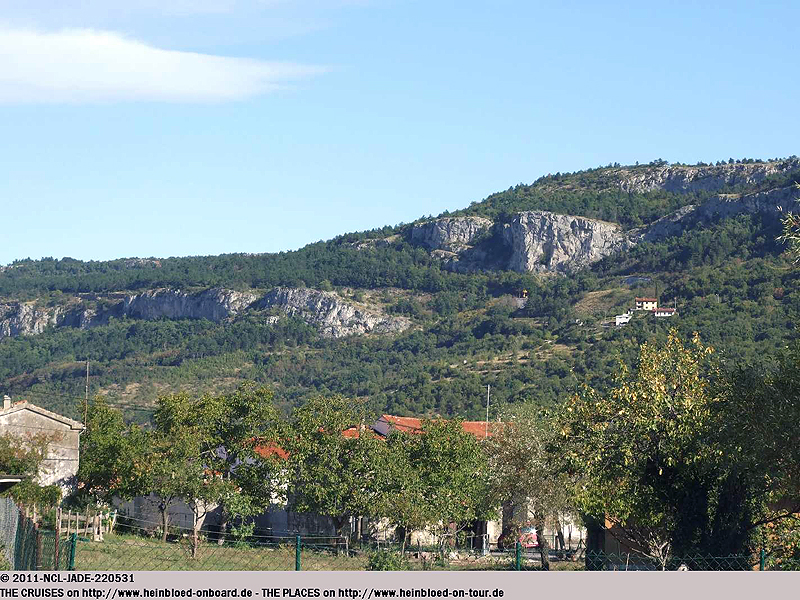 Ervin and Mirjana were very helpful to get my father into the car.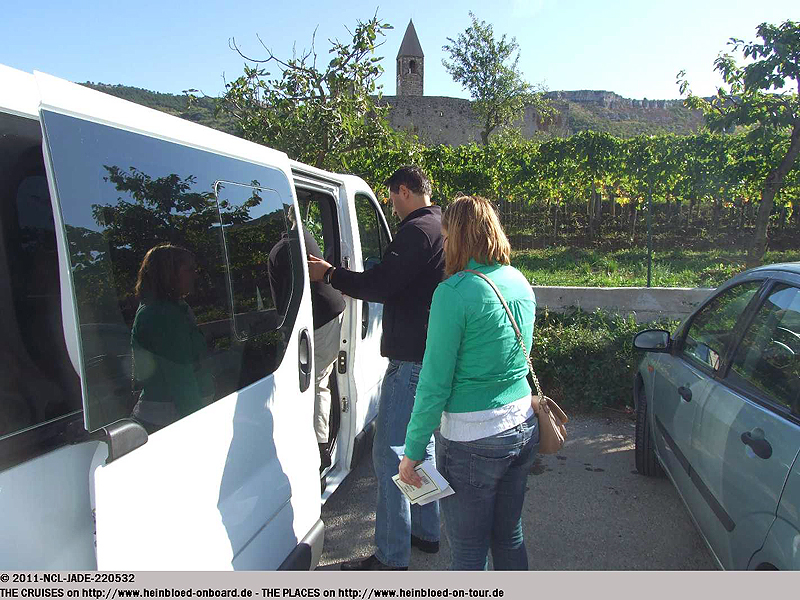 Ervin und Mirjana waren sehr hilfreich, um meinem Vater ins Auto zu helfen.
Mirjana haben wir in die Mitte platziert, was das Zuhören sehr erleichtert.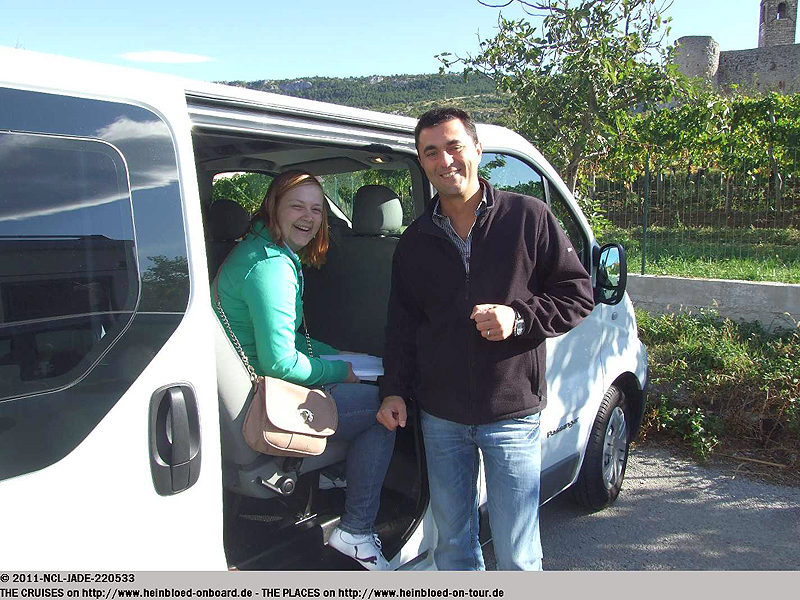 Mirjana was placed in the center of the car which eased following her verbal explanations.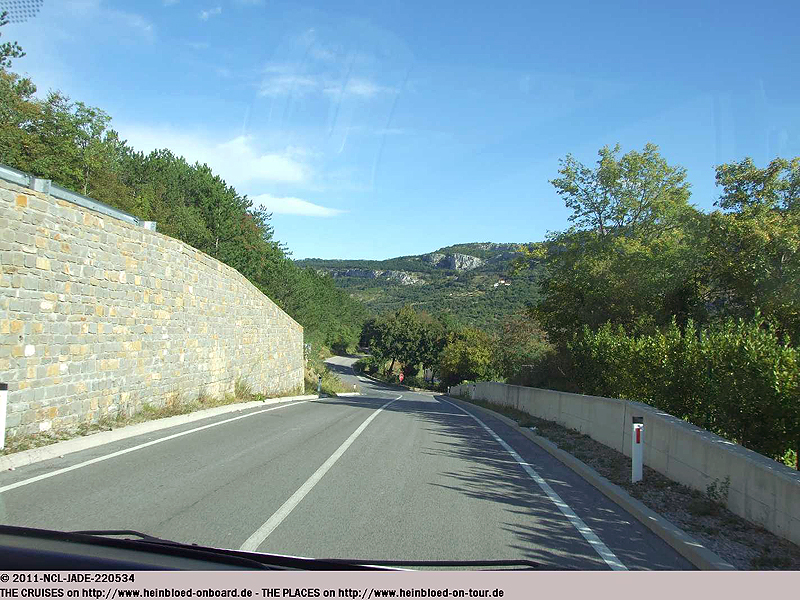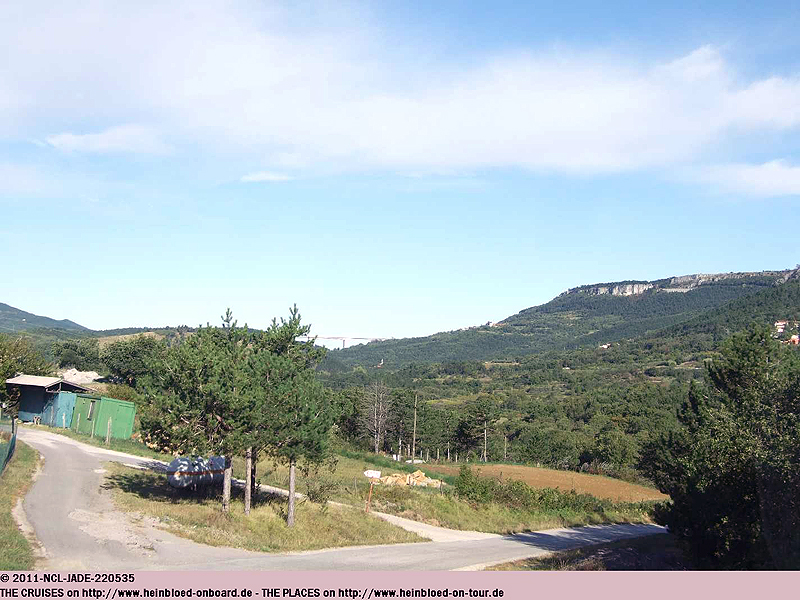 Let us have first a cup of coffee.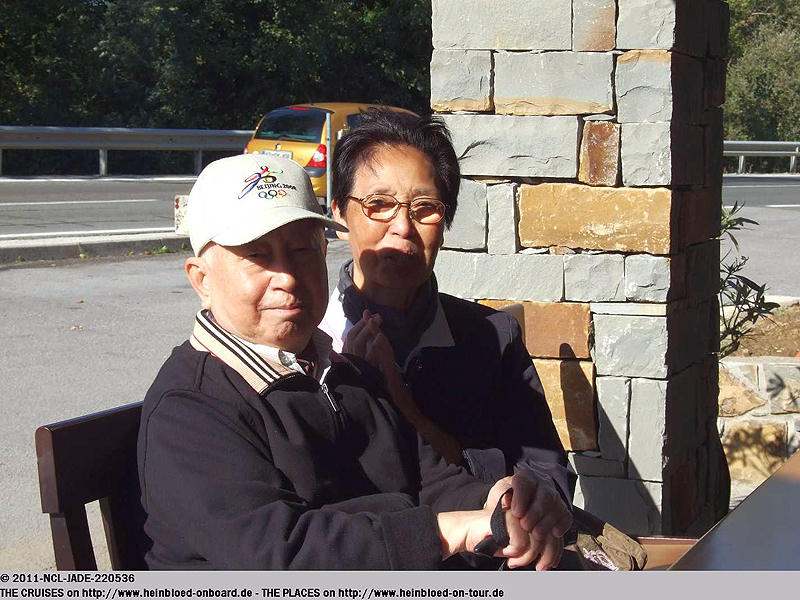 Wir fahren erst mal zum Kaffee trinken.
Und für weniger als 10,00 EUR für acht Personen...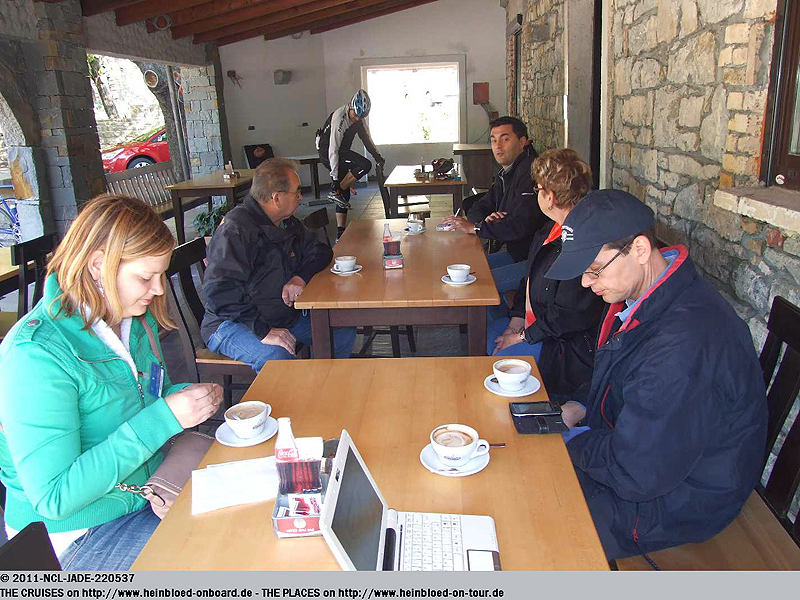 And for less than 10.00 EUR for 8 persons...

I used the 3G-access to transmit some pictures to our facebook-friends.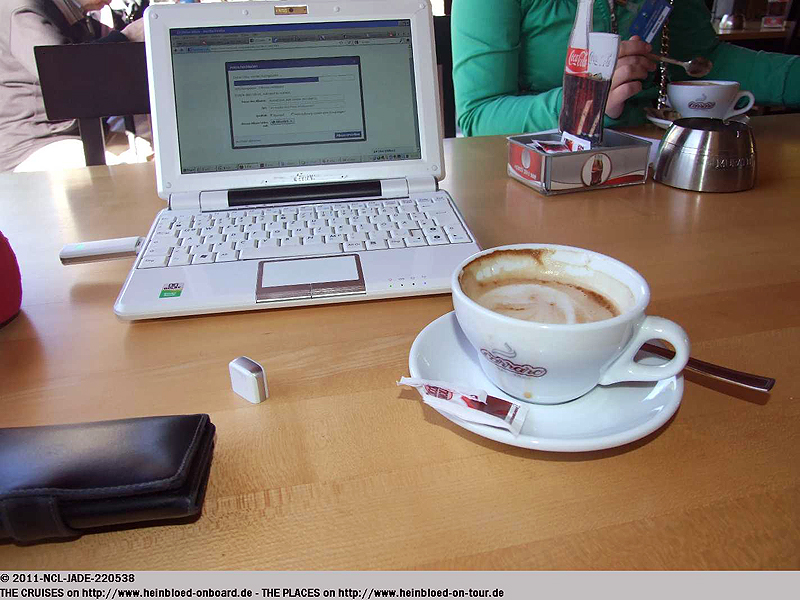 Ich nutze den 3G-Empfang, um ein paar Bilder für unsere Facebook-Freunde zu übertragen.