Scroll down for English explanations - alternates with German explanations.

Wir hatten ja eine Einladung zum Le Bistro, weil ich ja Latitudes Platin bin. Außerdem noch Coupons, dass wir dann beim Italiener 4 für den Preis von 3... Deswegen gab es heute diesen Tisch.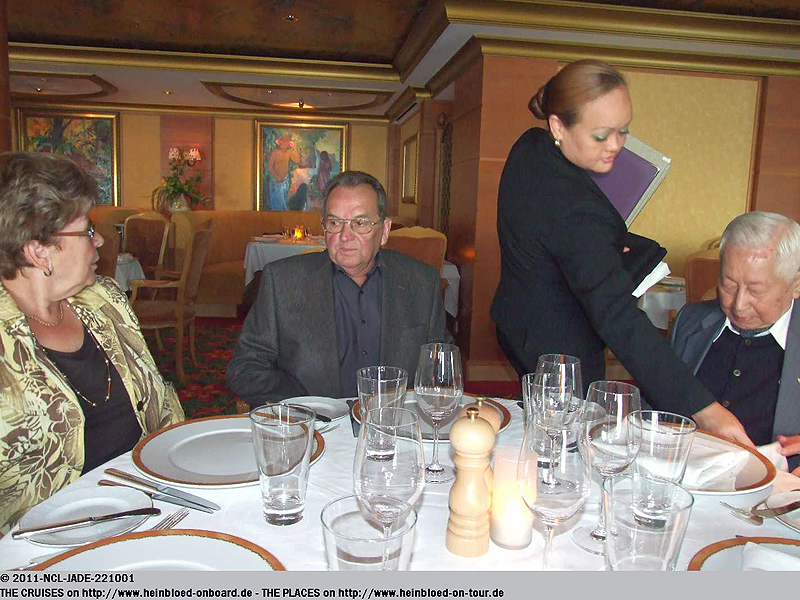 We had an invitation for Le Bistro because I am Latitudes Platinum member. Furthermore we had coupons so we could have 4 for the price of 3... So we booked this table.

On NORWEGIAN EPIC we had the opportunity to talk with Eric Cousin (then he was the fleetwide Executive Chef) about the offer in Le Bistro. But he is no more with NCL. Maybe the used this for some more changes.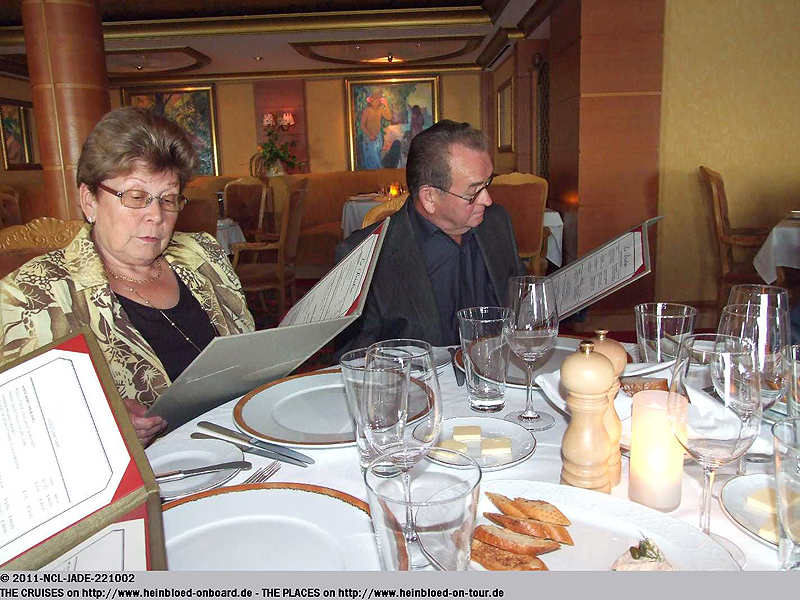 Wir hatten ja noch zuletzt auf der NORWEGIAN EPIC mit Eric Cousin (damals Fleetwide Executive Chef) über das Angebot im Le Bistro gesprochen. Aber er ist ja nicht mehr bei NCL. Das nutzte man wohl wieder mal für leichte Veränderungen.
Das Amuse Bouche als Kolletivplatte... nette Idee... fördert das soziale Miteinander und die Kommikation... nur äußerst unhandlich...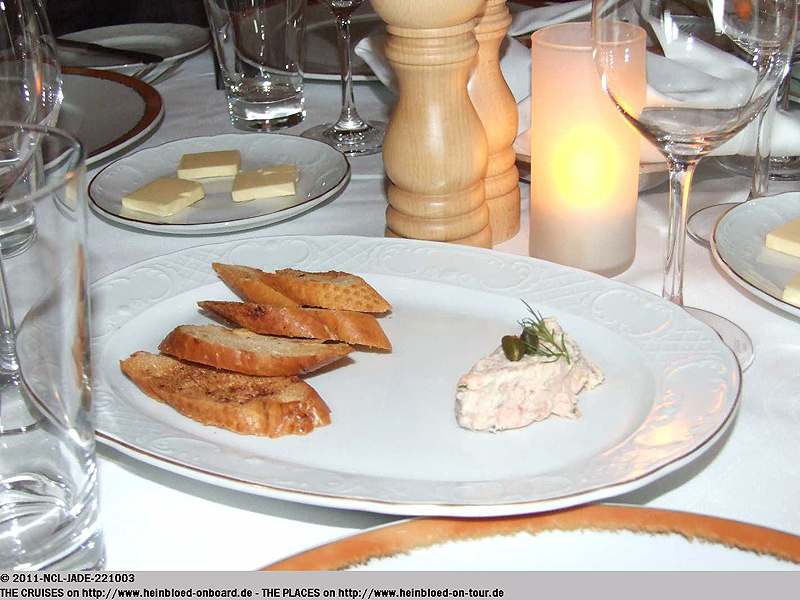 The Amuse Bouche as collective plate... nice idea... will improve your social cooperation and communication... but not very handy...

Oval plates on round underplates...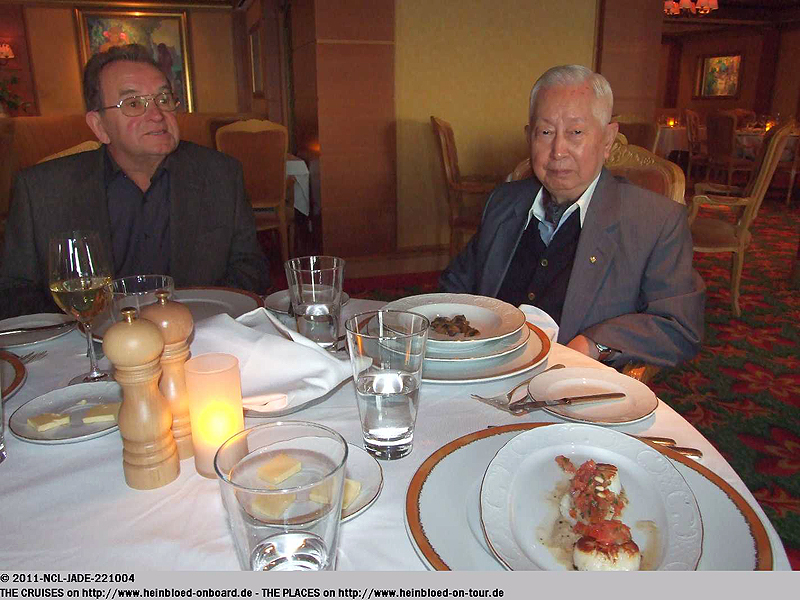 Ovale Teller auf runden Platztellern...
Die Jakobsmuscheln waren spitzenmäßig... Nur das Geklackere auf dem Teller, weil eben oval nicht auf rund passt, nervte...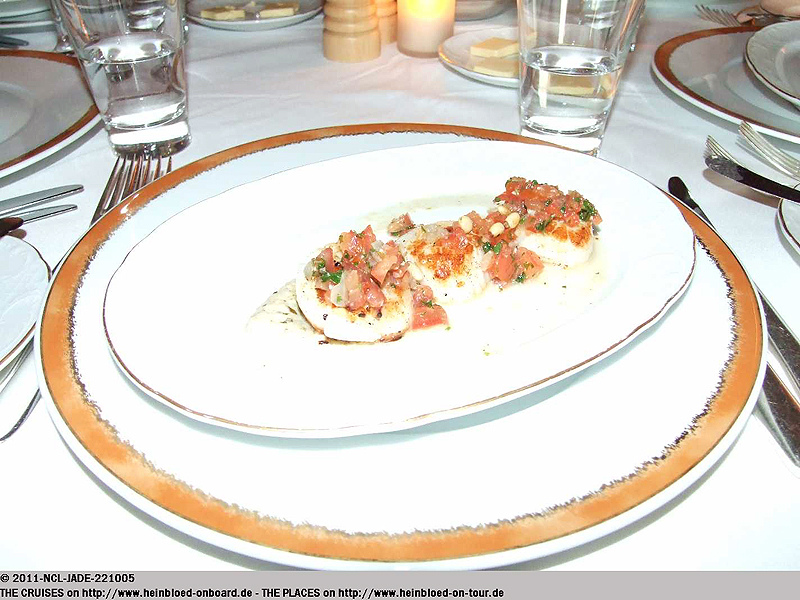 The scallops were fantastic... Only the sound of the plates because oval does not fit on round made me nervous..
.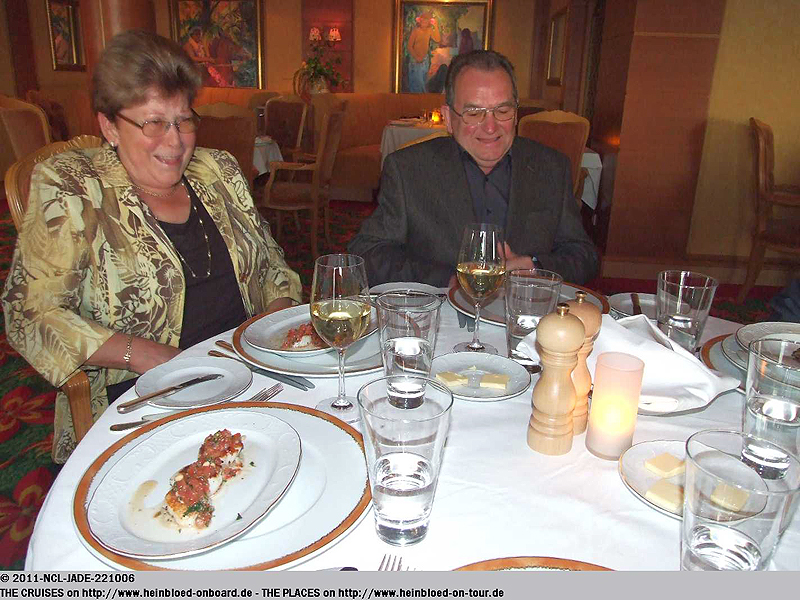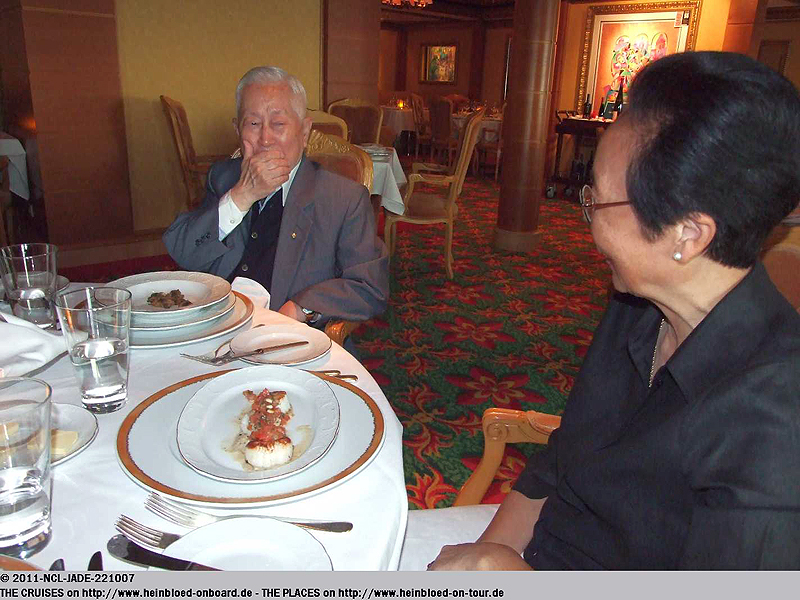 Somehow was sleeping when they purchased the oval plates...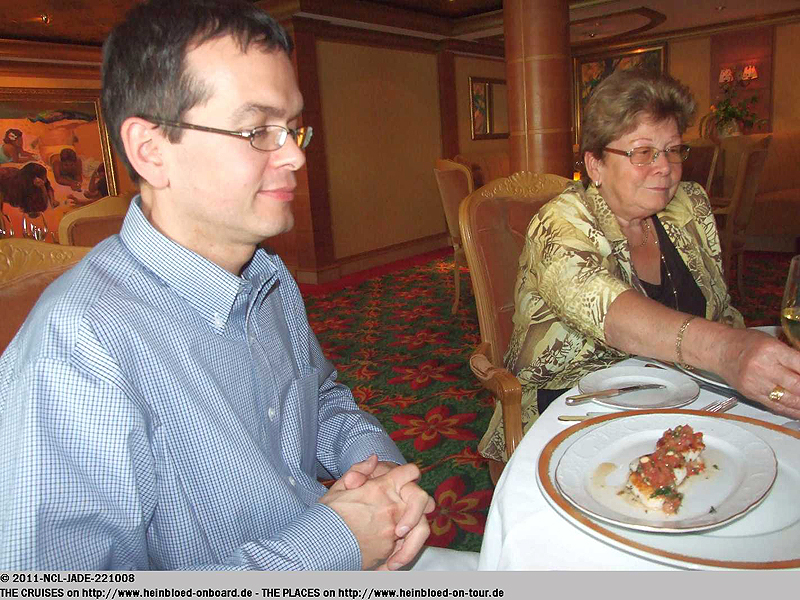 Irgendwie hat da einer beim Kauf der ovalen Teller geschlafen...
Mein Vater hat die Wildpilzsuppe... und immer noch bedauere ich, dass es sie nicht mehr aus der Brotschale gibt...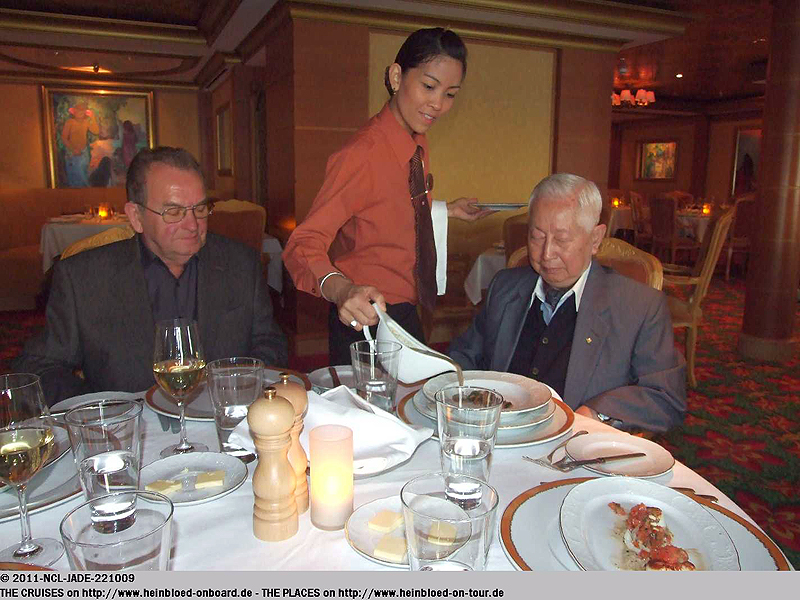 My father had again the wild mushroom soup... and I still regret that they do not serve it in a bread bowl...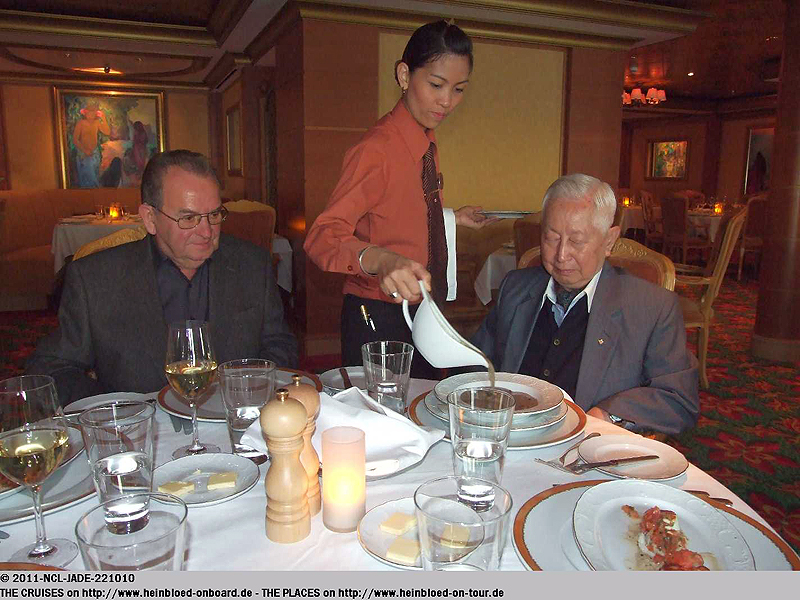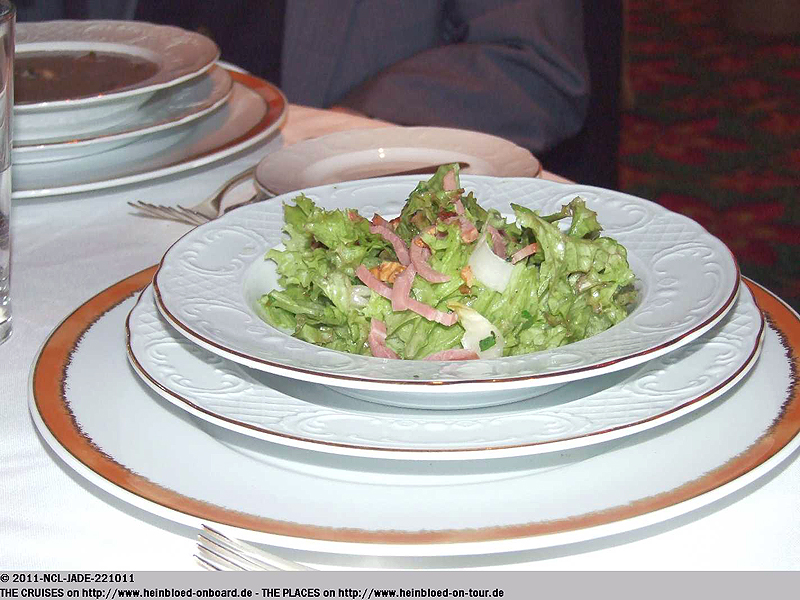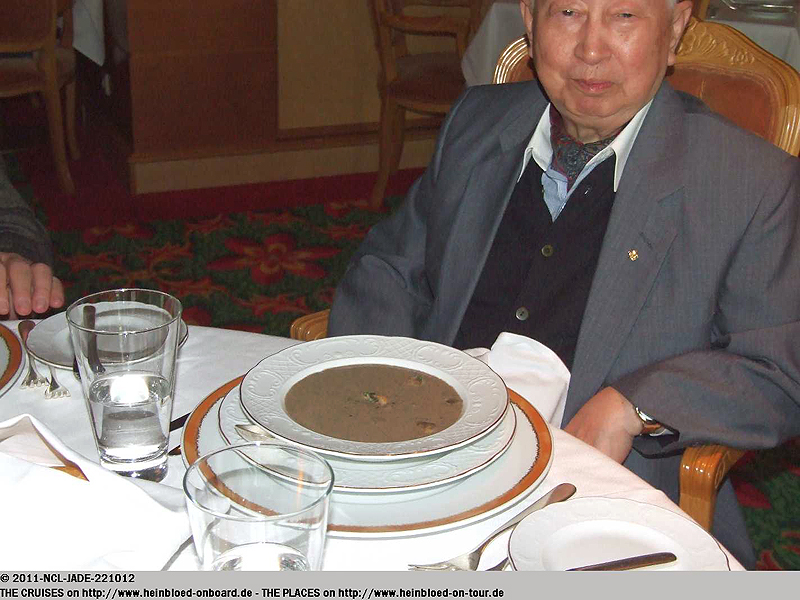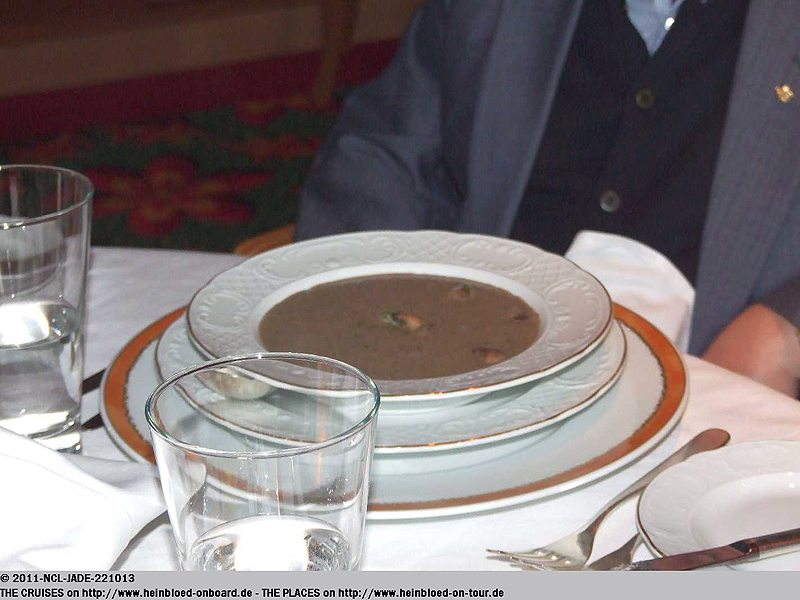 My mixed sampler-plate came again on an oval plate. But this time I was so upset that I handed over my underplate to the stewardess.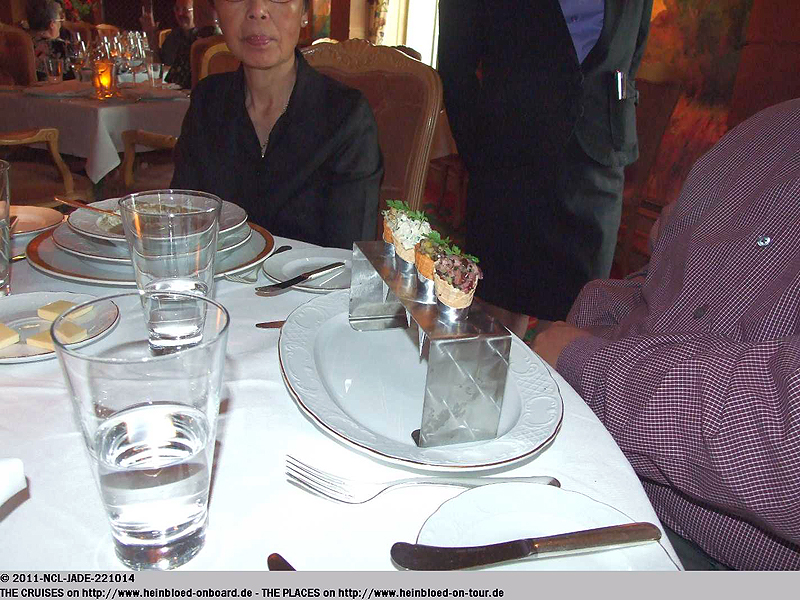 Meine gemischte Vorspeisen-Platte kommt wieder auf einem ovalen Teller. Dieses Mal bin ich allerdings so genervt, dass ich kurzer Hand unserer Stewardess meinen Platzteller in die Hand drücke, um Ruhe zu haben.
Sah ganz nett aus.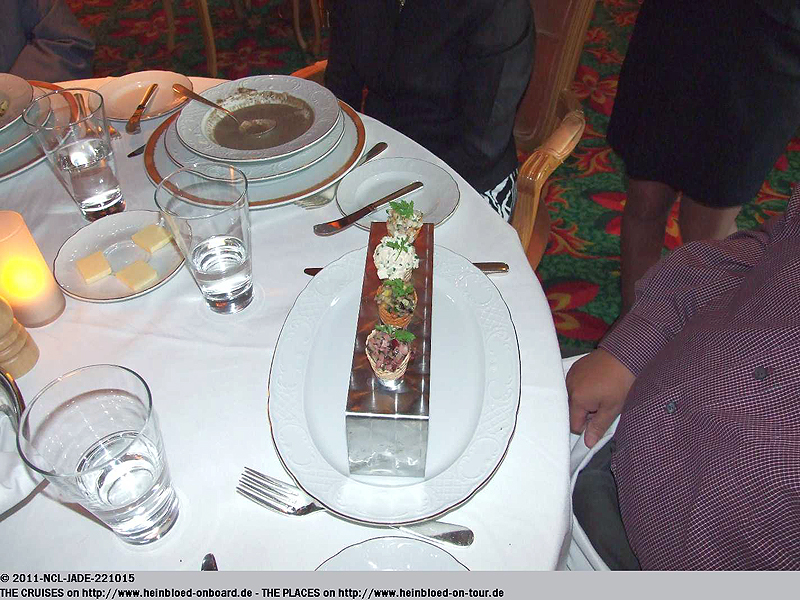 Looked very nice.

2/4 I liked very much. 1/4 I still have no idea what it was and 1/4 was full of dressing that I need to clean my shir later (now you know why you get the voucher for free laundry bag as Latitudes Platinum).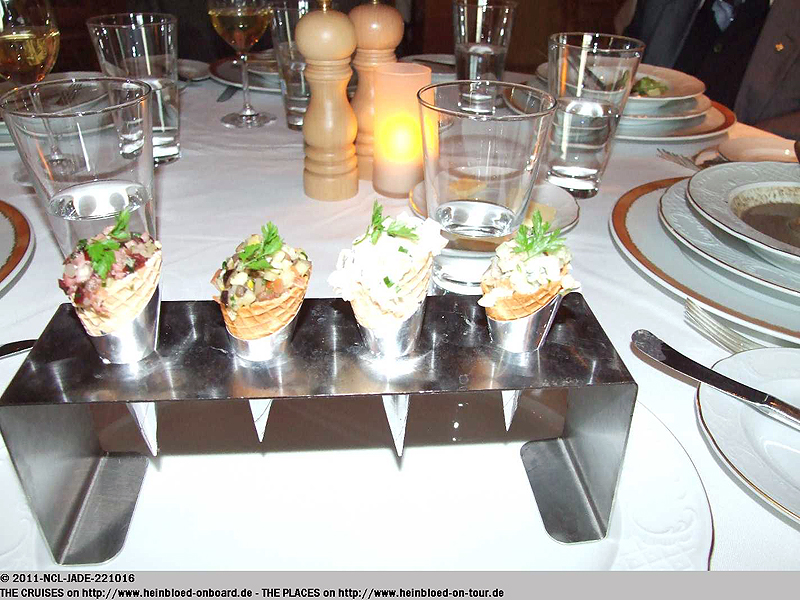 2/4 fand ich gut. 1/4 weiss ich bis heute nicht was es war und 1/4 war leider voller Dressing, dass mein Hemd anschließend gereinigt werden musste (Nun wusste ich warum ich den Gutschein für die Wäscherei als Latitudes Platin Mitglied bekommen habe).
Dann kommen die Hauptgänge...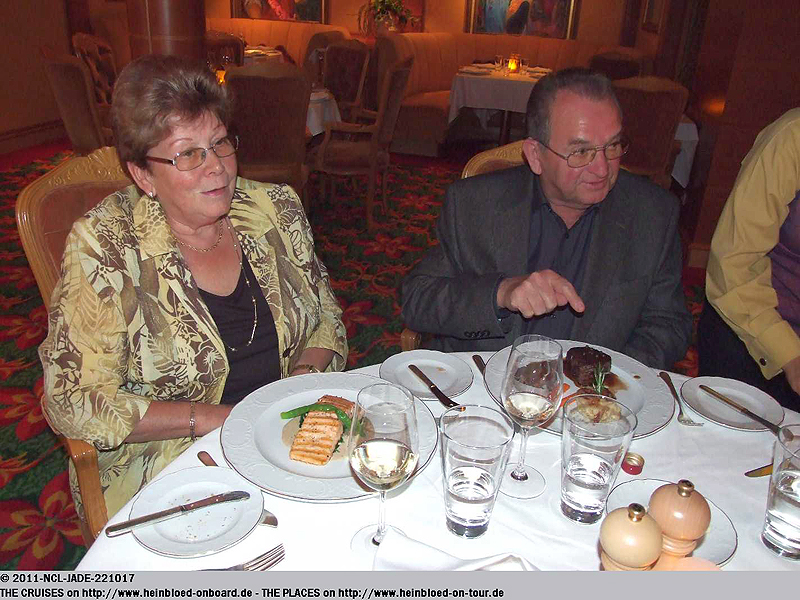 Then the entrees came.

Against all concerns: the grilled swordfish was not dry at all.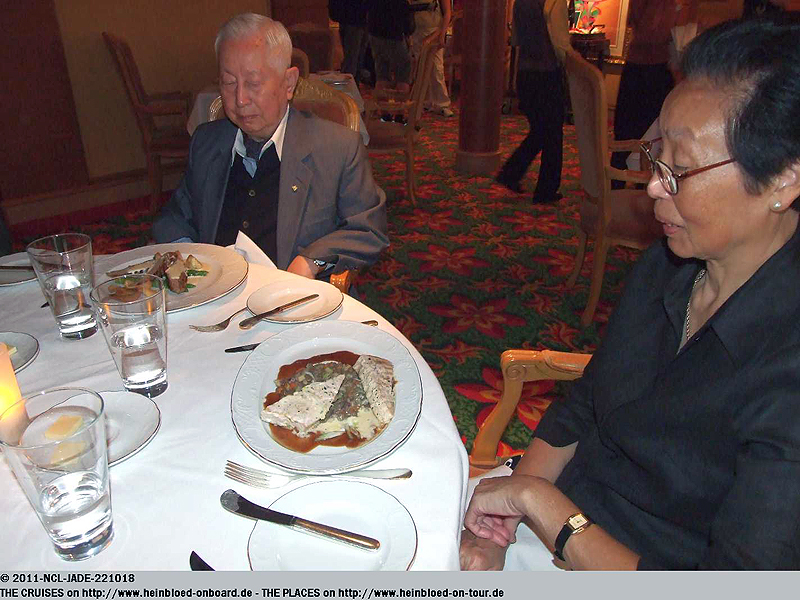 Entgegen aller Befürchtungen: der gegrillte Schwertfisch ist keinesfalls trocken.
Sondern nur einfach fest und saftig.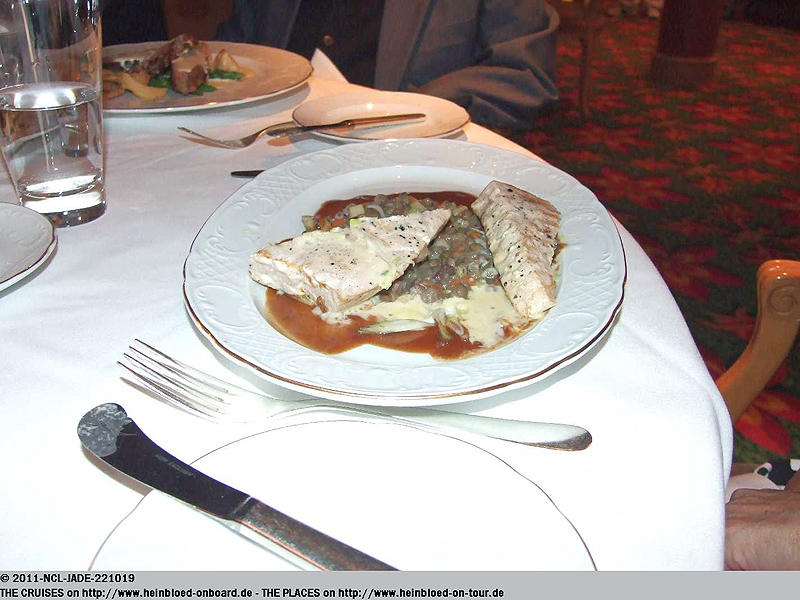 Only solid and juicy.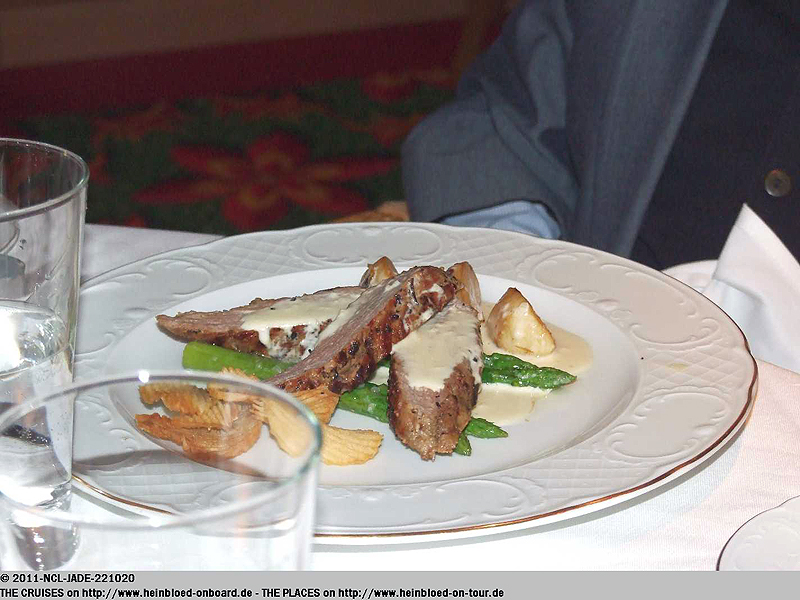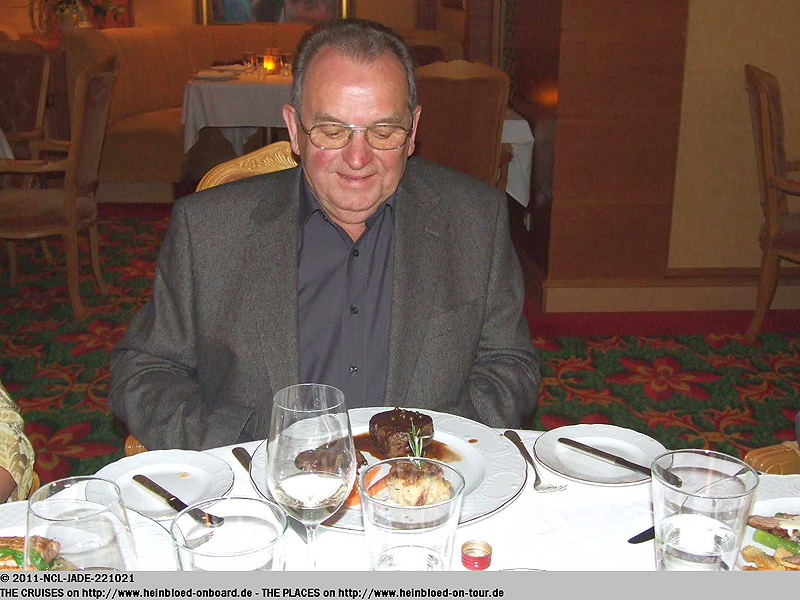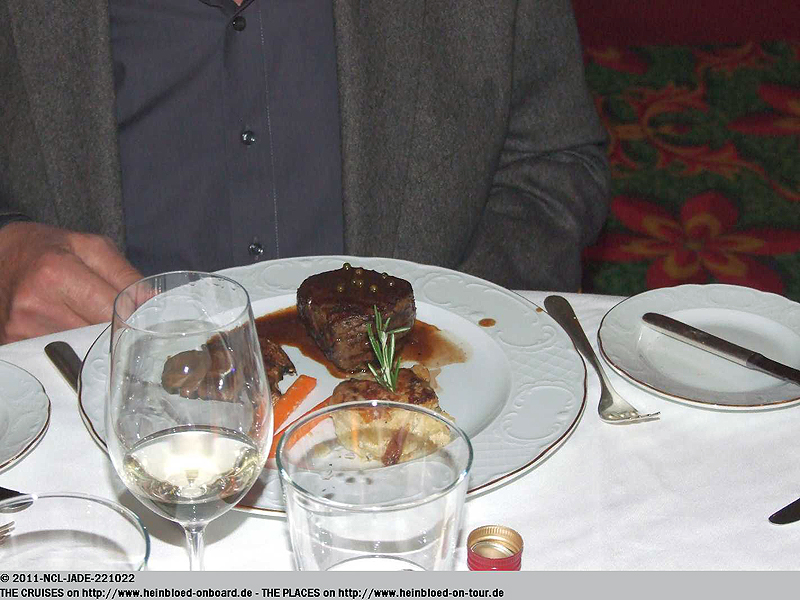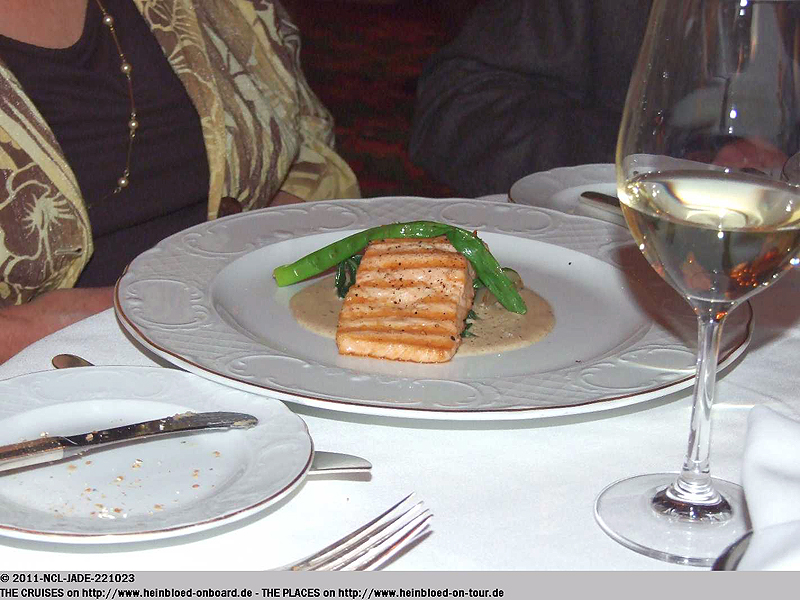 I took again my duck even they do not flamed it anymore...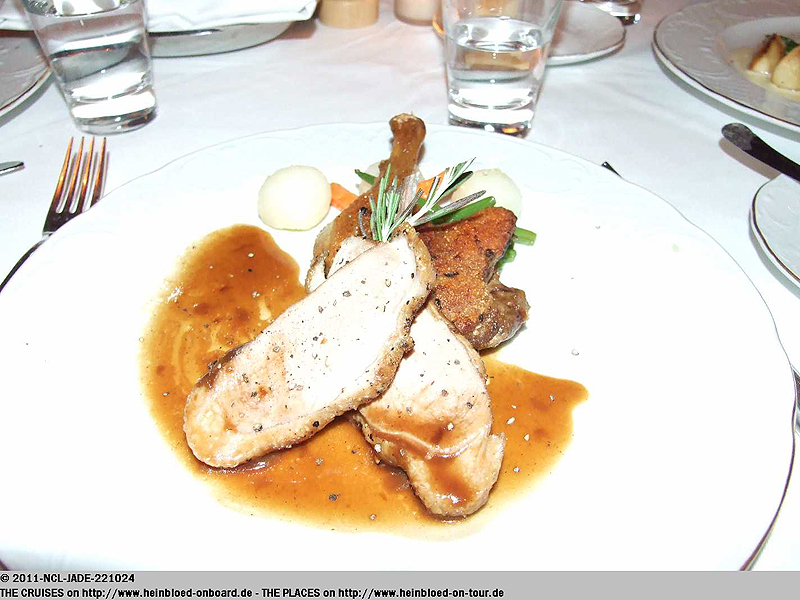 Ich nehme meine Ente, auch wenn sie nicht mehr flambiert wird...
Und Bruno nimmt "Kokowääh" (Coq au vin) und fand es auch sehr gut.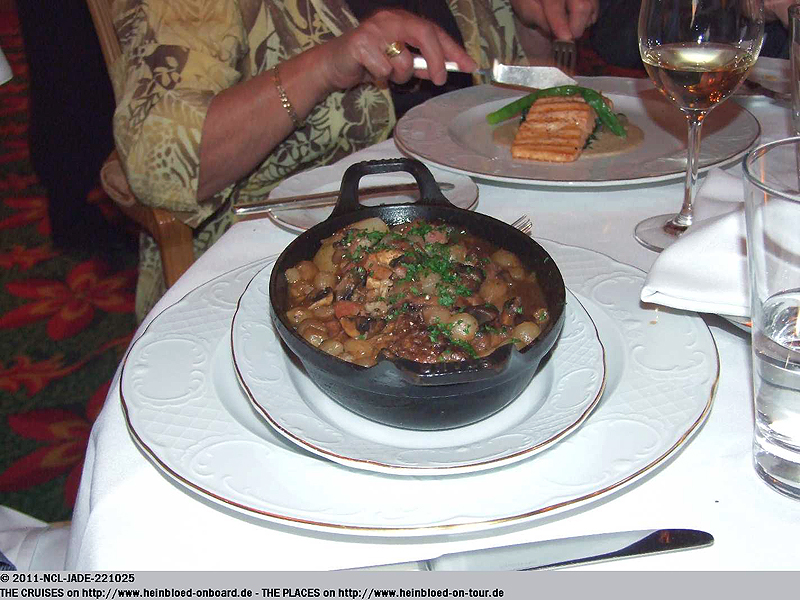 And Bruno had Coq au Vin and he liked it.

That was our very nice team Tuamliangching (PLEASE DO NOT BE UPSET if you welcome me by "Welcome back Sir - Nice to have you back onboard" and I cannot name you by name... but to learn this name...), Alina... (Great memories on NORWEGIAN GEM and JADE) and Swaroop (whom we know from our farewell-sailing on NORWEGIAN DREAM and he was very sad that he had no chance to serve us. But we cannot have so many meals as we have friends onboard.)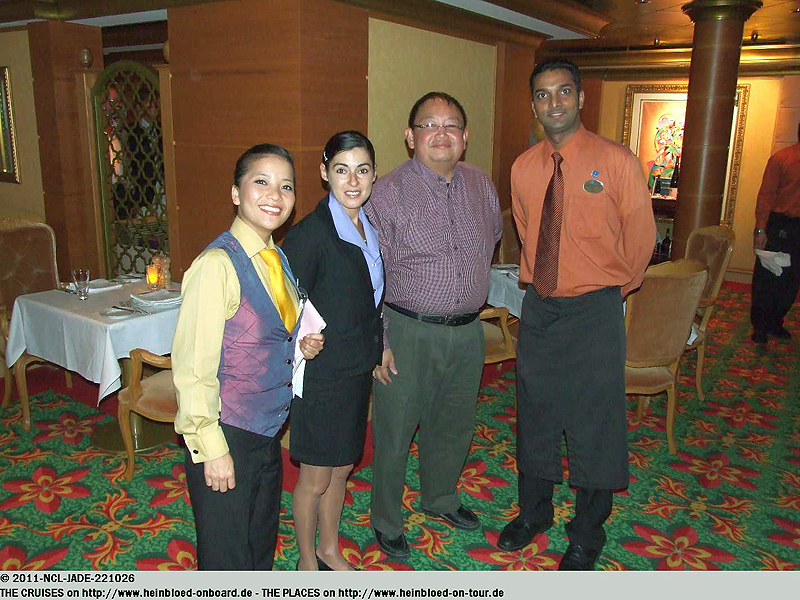 Das war dann unser nettes Team Tuamliangching (NICHT BÖSE SEIN, wenn ich das nächste Mal mit "Welcome back Sir - Nice to have you back onboard" begrüßt werde und sie namentlich nicht benennen kann... aber den Namen sich zu merken...), Alina... (tolle Erinnerungen von NORWEGIAN GEM und JADE) und Swaroop (schon damals auf der Abschiedsfahrt der NORWEGIAN DREAM - der war übrigens ganz traurig, dass wir nicht nochmals gekommen sind, damit er uns mal verwöhnen konnte. Aber soviele Freunde, wie wir an Bord hatten, so viele Mahlzeiten können wir unmöglich zu uns nehmen.)
Und wo bleibt der Nachtisch. Um 19.00 Uhr war Captain's Cocktail Party, zu der wir eingeladen waren. Wir haben daher mit Hilfe von Alina und Tuamliangching ECHTES Freestyle Dining praktiziert: wir sind zur Party gegangen und anschließend wieder zurück zum Dessert. Bisher haben wir das nur einmal auf der QUEEN MARY 2 praktiziert. So können wir behaupten, dass wir einen königlichen Service bekommen haben, wie bei Cunard. Als Kapitän Kim etwas von Royal Service erwähnte, bekam ich schon Panik, dass er einen anderen Royal Service wie bei Royal Caribbean meinte.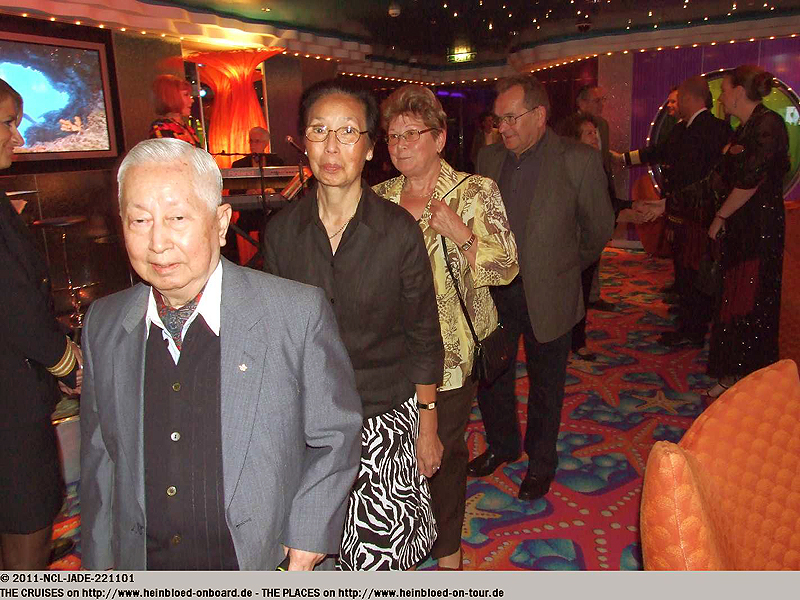 And where was the dessert. At 19.00 hrs there was the Captain's Cocktail Party and we were invited. We practise TRUE Freestyle Dining with the help of Alina and Tuamliangching: we went to the party and returned later to the dessert. We did this once before on QUEEN MARY 2. So we can say that we got a true Royal service like with Cunard. When Captain Kim mentioned something of Royal service I got panic because I thought that I should get a Royal service like on Royal Caribbean.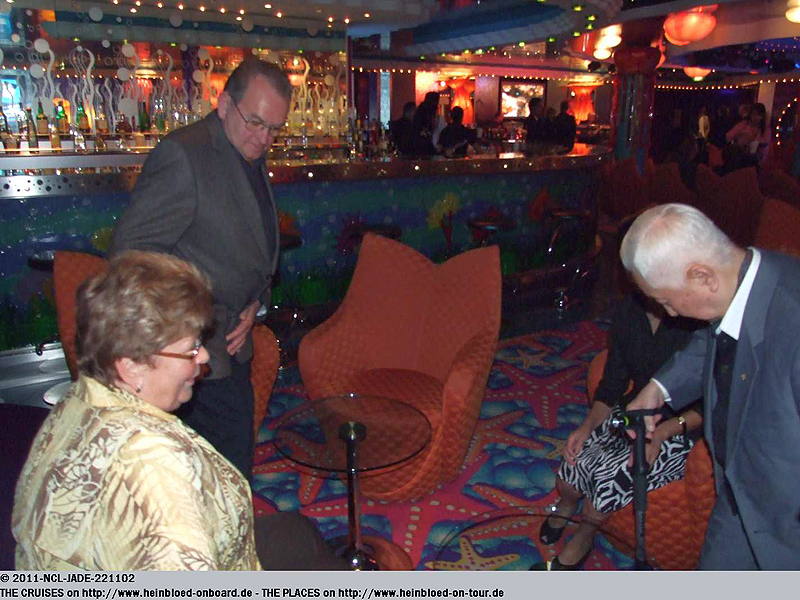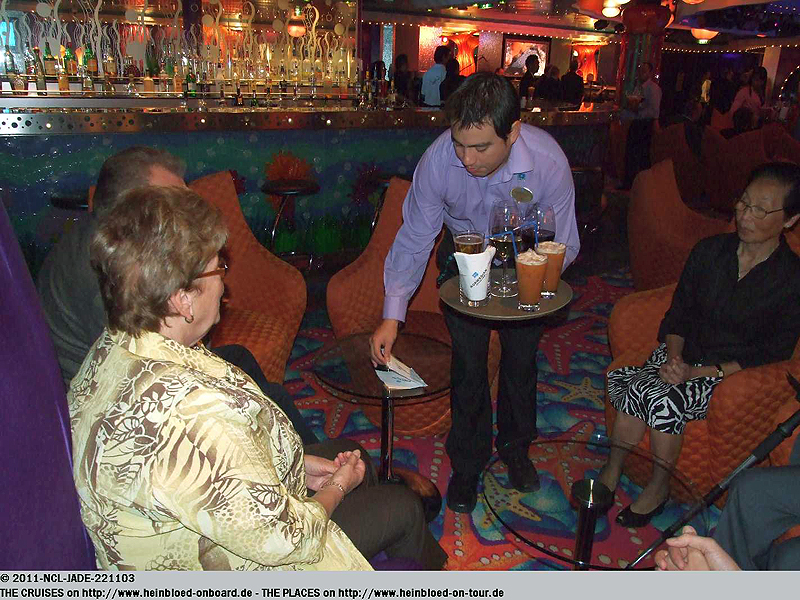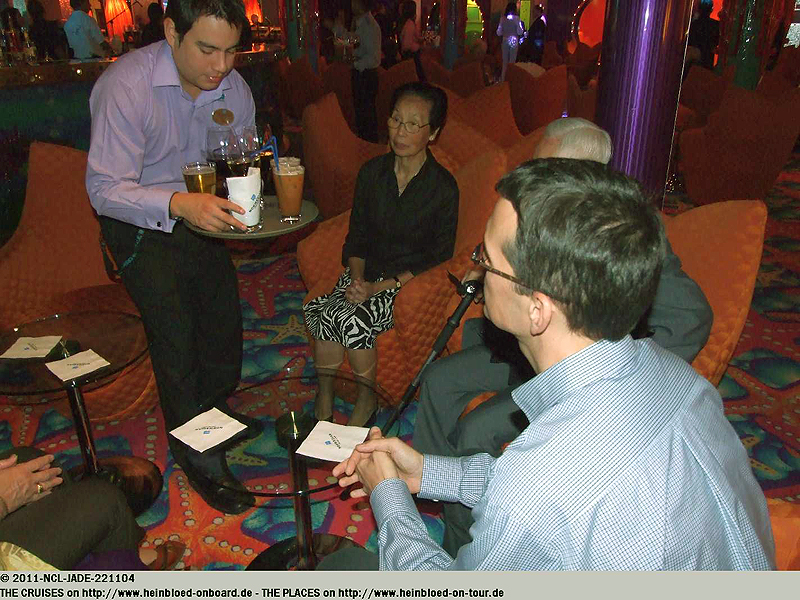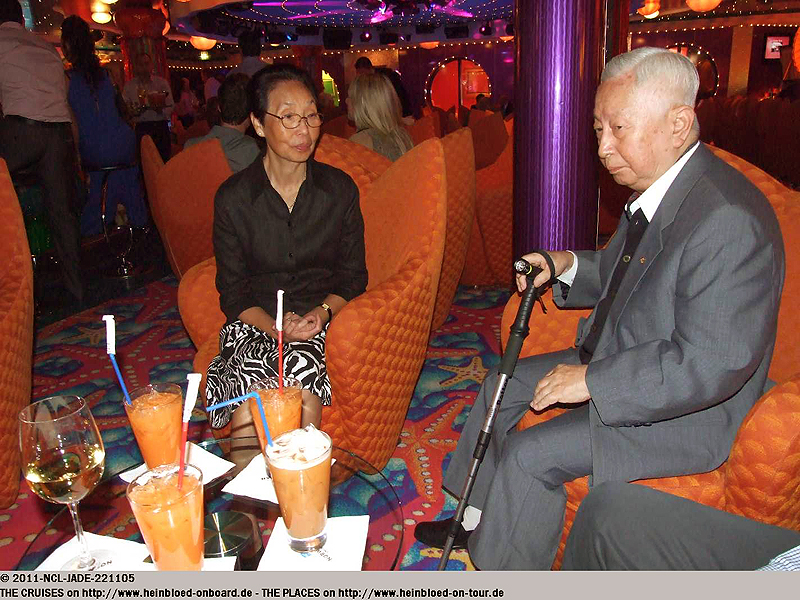 Then Carol came and introduced herself. She spoke a little Chinese which impressed my parents very much.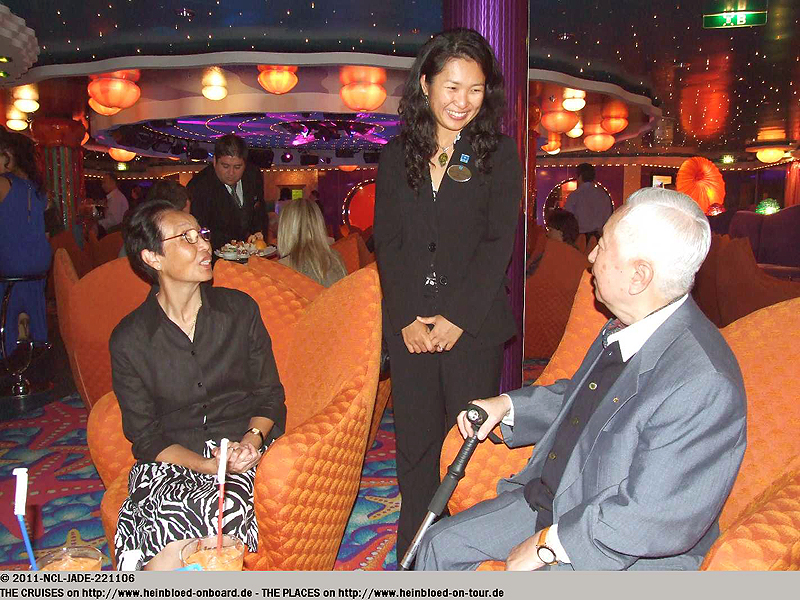 Dann kommt auch Carol vorbei und stellt sich kurz vor. Sie spricht sogar ein bisschen Chinesisch, was meine Eltern natürlich sehr begeisterte.
Insgesamt war es sehr nett. Unsere Eltern waren total begeistert, weil sie so etwas zuvor noch nie erlebt haben... Also liebe Söhne und Töchter: 14 Mal NCL fahren... und ihr seid auch Latitudes Platin und dürft dann auch eure Eltern zu solchen Parties mitschleppen... Und Brunos Eltern meinen, dass es sich schon wegen des tollen Weines lohnen würde, den der Kapitän servieren lässt... also kein Hauswein...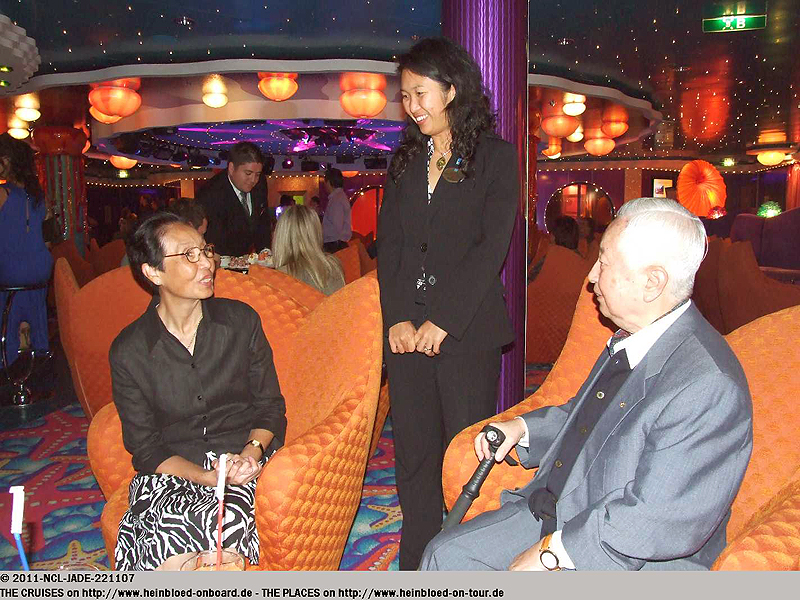 In general it was very nice. Our parents were totally exited as they never experienced something like this before. So all suns and daugthers: go at least 14 times on NCL and become Latitudes Platinum and then you can have your parents with you on such parties... And Bruno's parents said that it was worth the visit as the Captain served great wines... so no house wines...

The dinnerbreak between entree and dessert in Le Bistro we used to eat again.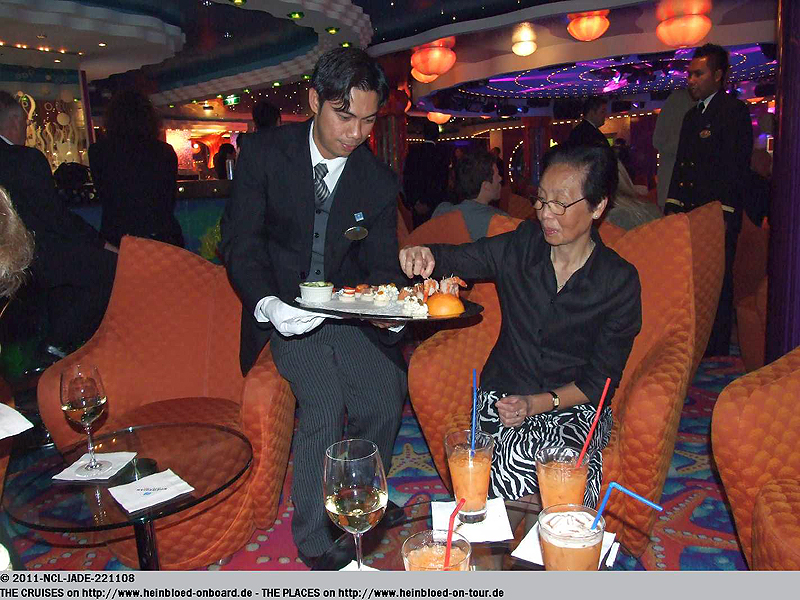 Die Esspause zwischen Hauptgang und Dessert im Le Bistro haben wir dann weiter genutzt, um wieder zu Essen.
Von den Butlern wurden Canapés serviert.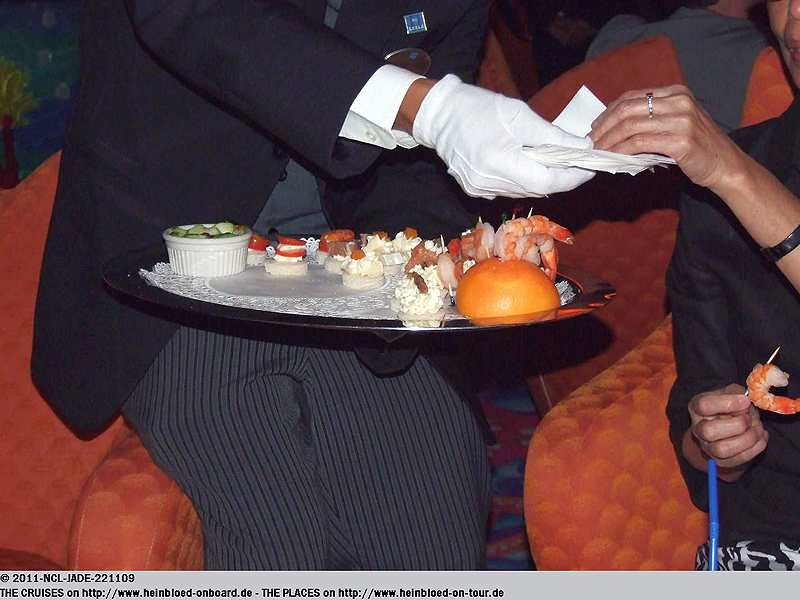 The butlers served canapés.

Later Captain Kim came by to welcome us and to exchange few words.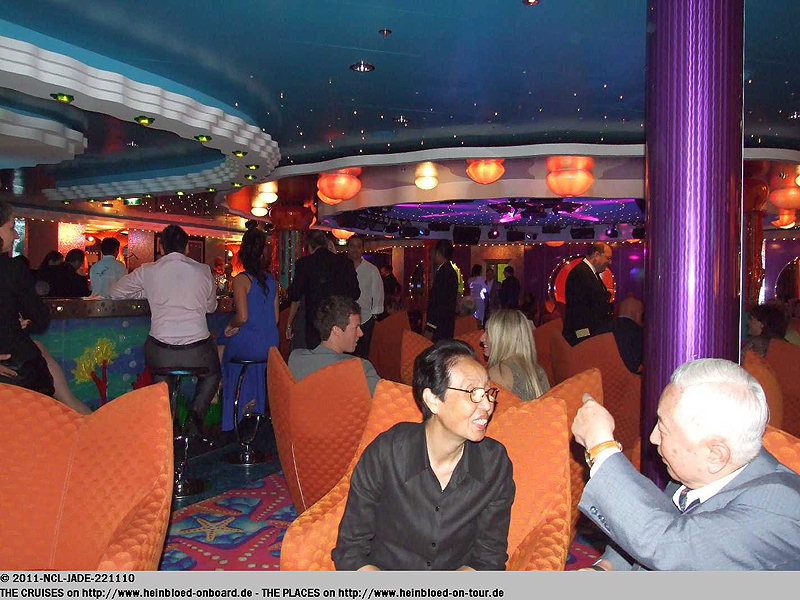 Später kamen noch Kapitän Kim herum, um uns begrüßen und ein paar Worte zu wechseln.
Danach ging es zurück ins Le Bistro, um weiter zu essen. Das war der mehlfreie Schokoladenkuchen.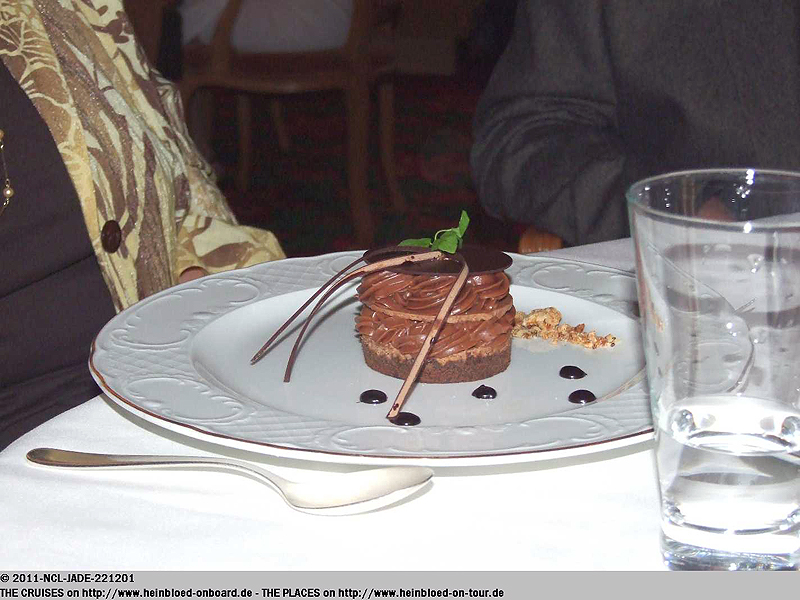 After that we went back to Le Bistro to continue to eat. That was the flour-free chocolate cake.

My father had his ice cream as usually.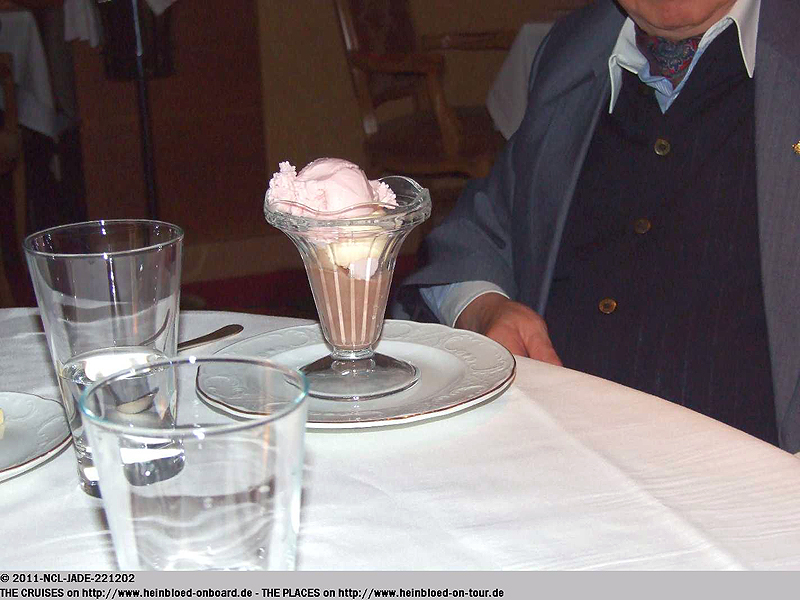 Mein Vater hat wie üblich sein Eis bekommen.
Aber da er auch Creme Brullée wollte, musste meine Mutter sie bestellen, damit er probieren konnte. Wobei es kein Problem gewesen wäre, beides zu bestellen. Nur was wäre dann wieder zuviel geworden.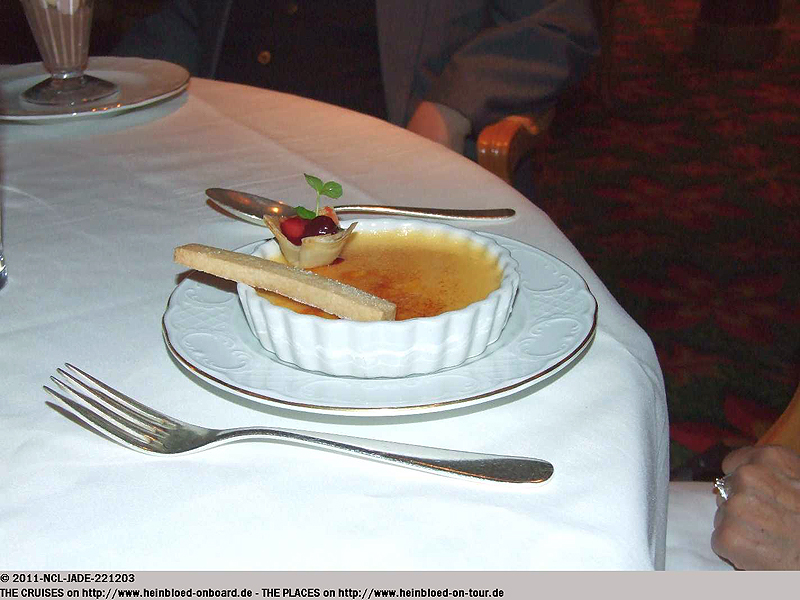 But as my father wanted Creme Brullée as well my mother need to order it that he could try. Although it would not have been a problem to order both. But then it might be too much.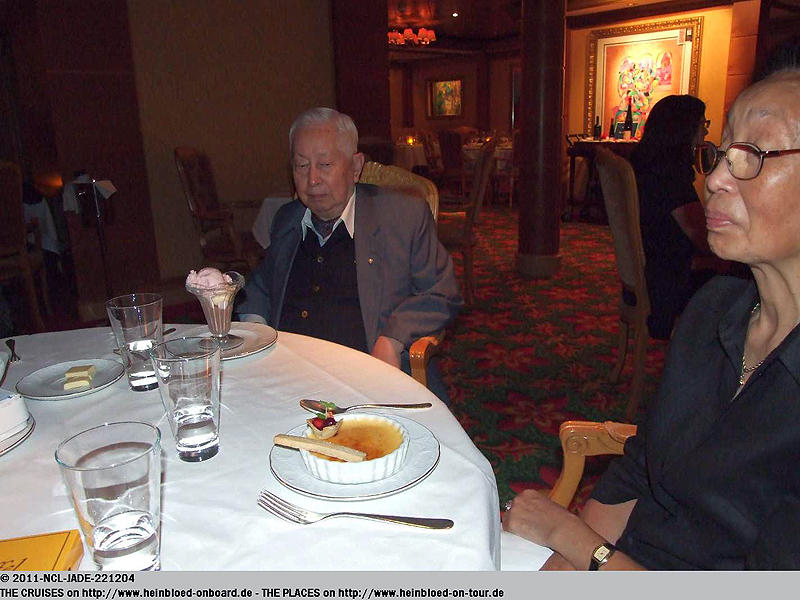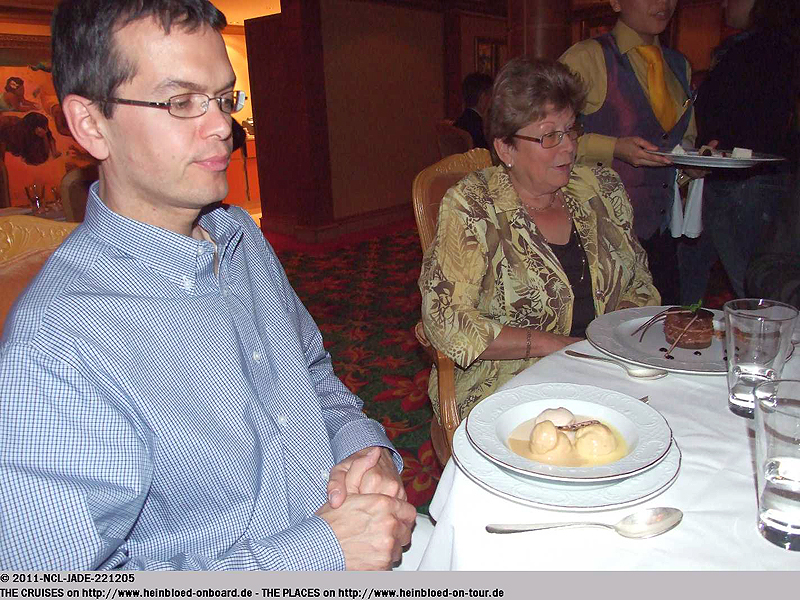 Bruno's Father took the cheese plate.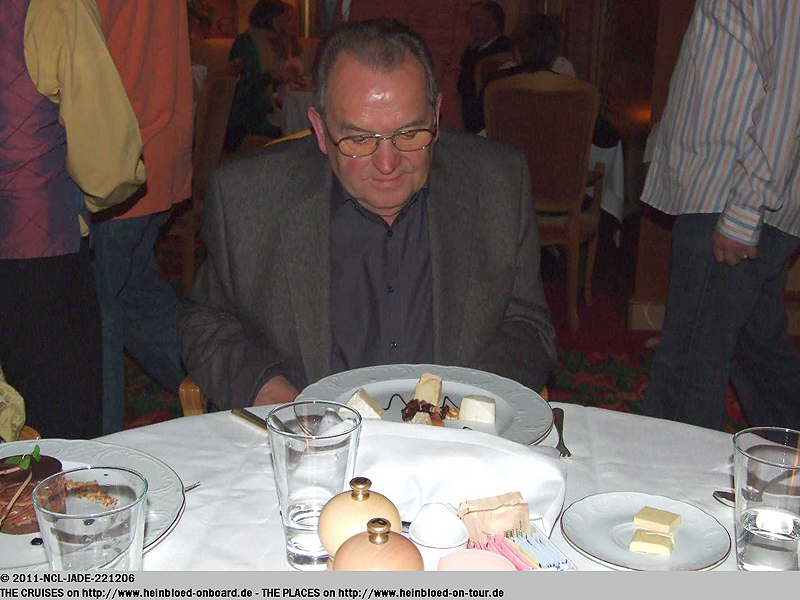 Brunos Vater nimmt die Käseplatte.
Die Spinne auf dem Teller stellt sich allerdings als Garnitur heraus.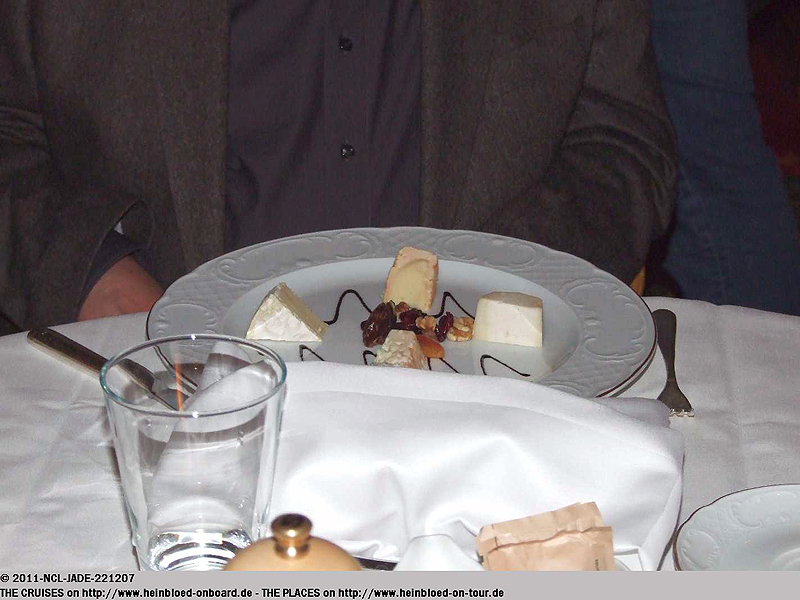 The spider on the plate was only the garnish.

And I took the profiteroles which I never have with McDonald's (we have in Germany McCafé and they offer profiteroles) but just here.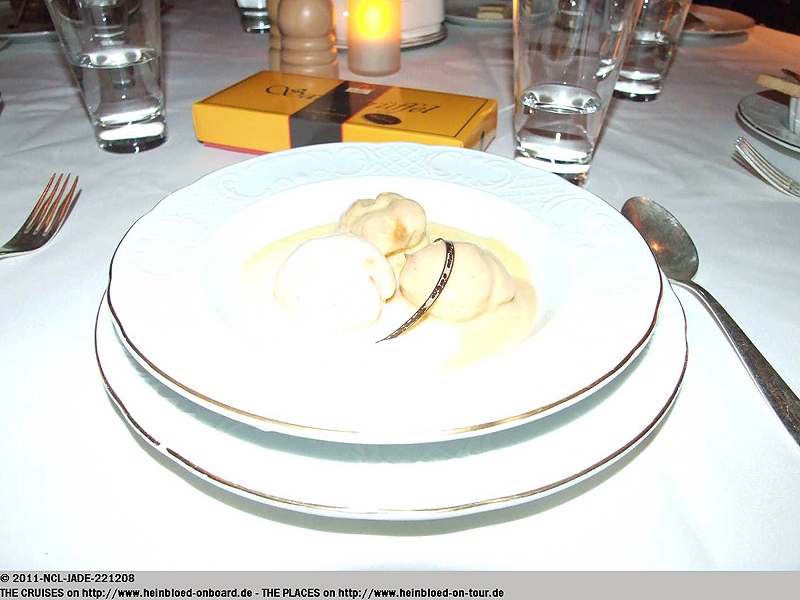 Und ich nehme ich Profiteroles, die ich bei McDonald's nie esse, sondern nur hier.
Zum Schluss nochmals ein Bild von Tuamliangching. Sie zeigt mir nochmals ihr Namensschild, weil ich bis jetzt immer ihren Namen noch nicht gemerkt habe... Kann sie nicht einfach Mary oder Sandy heißen???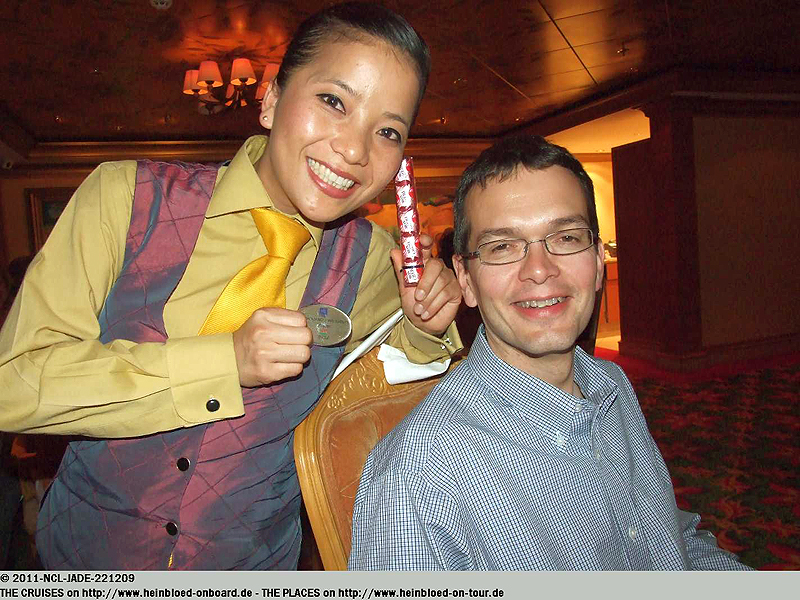 Finally again the picture from Tuamliangching. She showed me again her name tag because I still was unable to remember her name... Could she just be Mary or Sandy???

Alina got some chocolate for her great efforts to let us a great meal with an interrupted seating.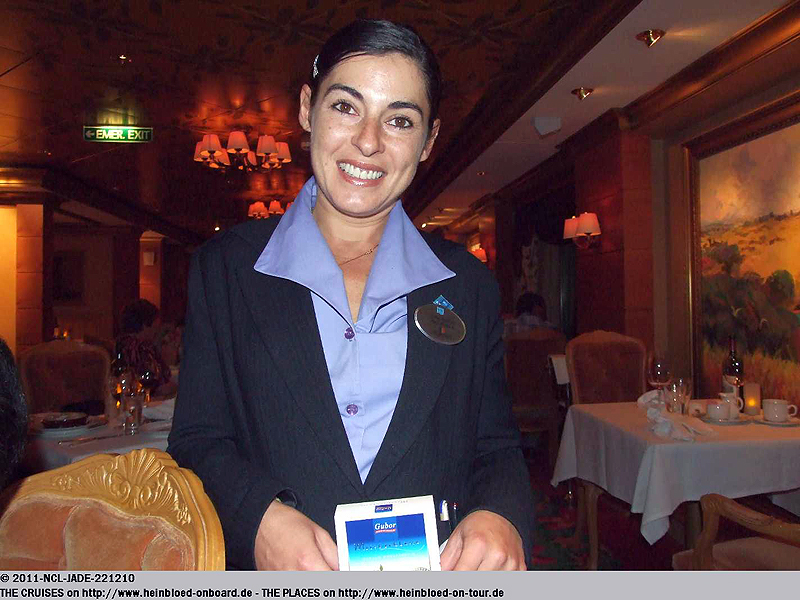 Alina bekommt für ihr Engagement für das tolle Essen und für die unterbrochene Tischzeit ein paar Pralinen.
Über Facebook bekamen wir dann auch Hinweise, dass Adina, die wir von der NORWEGIAN DREAM und GEM her kennen auch an Bord ist. Gerüchteweise hieß es, dass sie von NCL extra für mich eingeflogen wurde... aber das ist nur ein Gerücht, aber egal - ich freue mich riesig, sie einmal wieder zu sehen.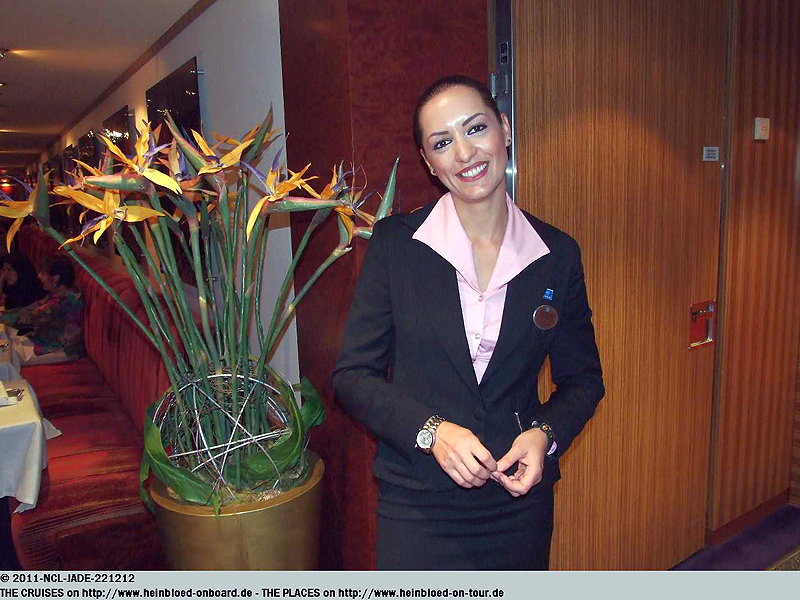 On Facebook we learned that Adina whom we knew from NORWEGIAN DREAM and GEM should be onboard as well. There were rumours that NCL flied her in just for me... but as said just a rumour. Nevertheless I was very happy to see her again.

And back from Australia on DAWN PRINCESS Adam James. Sorry that he caught a cold so he was unable to sing temporary. But one time I had the chance to listen to his "Here, there and everythere" from The Beatles. But he had no CDs anymore for sale. He was surprised that I knew that he was in Australia and read about it in a German travel review.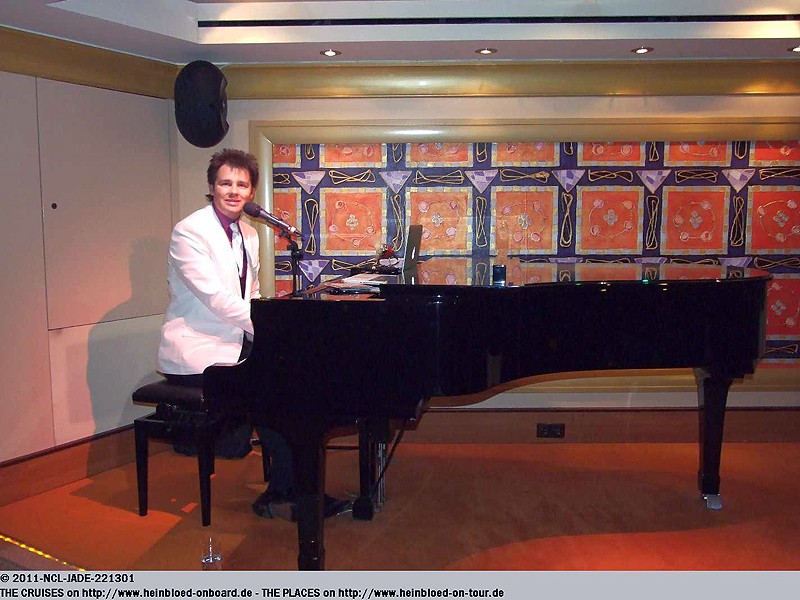 Und zurück aus Australien von der DAWN PRINCESS: Adam James. Schade, dass er sich erkältet hatte, da er dann zeitweise nicht sang. Aber ein Mal habe ich dann doch "Here, there and everywhere" von The Beatles von ihm gehört. Nur eine CD zum Verkauf hatte er nicht mehr dabei. Er war übrigens erstaunt, dass ich wusste, dass er in Australien war und hörte, dass ich es in einem deutschsprachigen Reisebericht darüber gelesen habe.
Wir trinken noch etwas bevor es ins Theater geht.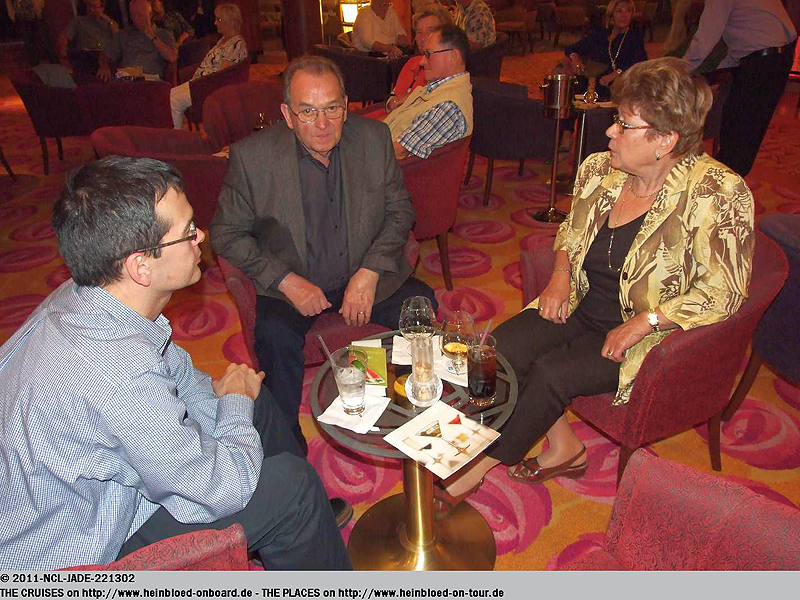 We had had some beverages before we moved to the theater.

For Bruno's parents' neighbours we need to make a picture of the Champagne-Bar... They always say that there is nothing better but MSC and do not want to believe that you can go by water taxi next to your ship. I was negotiating with the local press to print a picture of our water taxi in front of NORWEGIAN JADE in Venice... Then I hope it become more calm thereafter...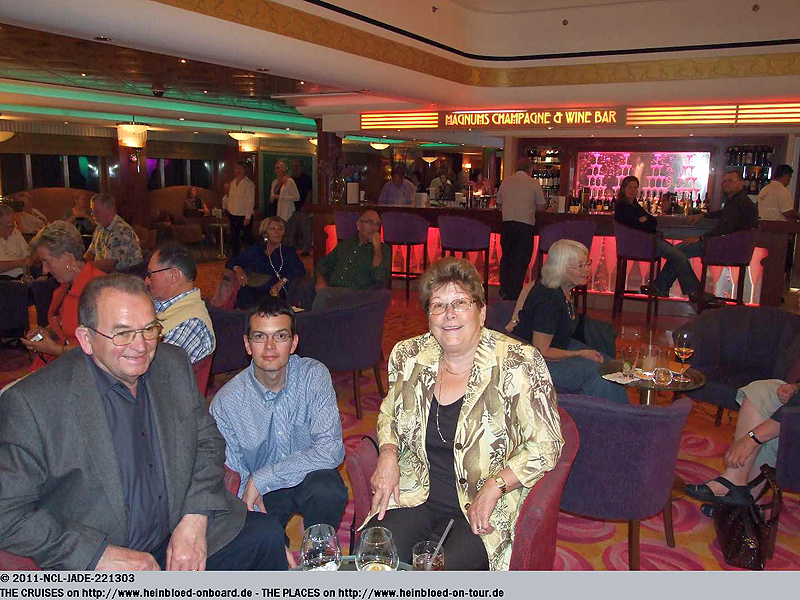 Für die Nachbarschaft von Brunos Eltern müssen wir doch mal ein Bild vor der Champagner-Bar machen... Die behauptet ja immer, dass es nichts besseres als MSC gibt und wollte mir partout kein Glauben schenken, dass man mit dem Wassertaxi in Venedig direkt bis zum Schiff fahren kann... (Nur als Hinweis: ich rede nicht über Trudi... 1. sie wohnt nicht in der Nachbarschaft von Brunos Eltern und 2. Trudi hält nicht ein MSC-Container-Schiff für ein reines Suiten-Schiff...) Ich verhandele gerade mit der Lokalpresse was mich die Anzeige mit dem Bild von unserem Wassertaxi in Venedig vor der NORWEGIAN JADE kostet... Dann ist hoffentlich endlich mal Ruhe...
Als Show gibt es
Gary Lovini
, den wir bereits kennen.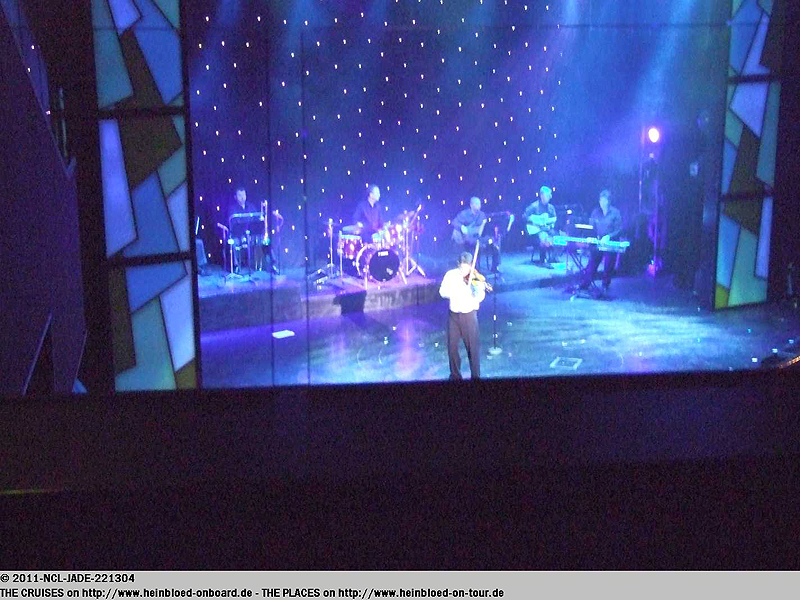 As show we had Gary Lovini whom we knew already.

So: we loved to stay and bought another CD again.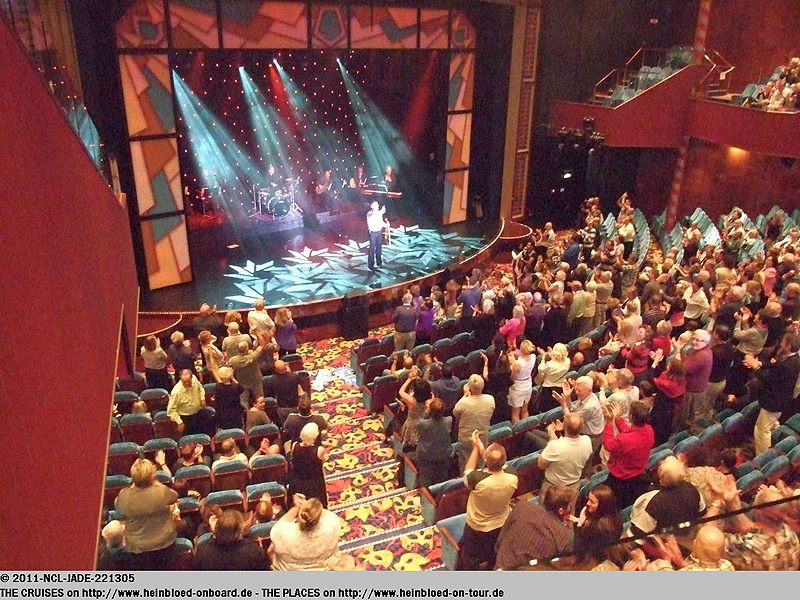 Daher: wir sind gerne wieder geblieben und haben auch wieder eine CD gekauft.
Und die Stimmung, die er im Theater produziert hat, war klasse. Stehender Beifall: von allen Nationen, die im Theater vertreten waren, und die er versucht hat, durch die Auswahl der Musikstücke zu bedienen. Die Russen konnte man bei Katiouscha kaum auf den Sitzen halten... Ich hatte auch damit kein Problem... Ein Bereich, der für einen Werftaufenthalt fällig wäre... und wirklich einer der sehr wenigen, die uns aufgefallen sind: ich rutsche immer weiter ab, weil mein Stuhl sich schon von der Sitzfläche nach vorne neigt. Aber ich hatte aufgrund der tollen Leistung von Gary Lovini keine Gelegenheit, um mich darauf zu konzentrieren, wie schlecht ich eigentlich sitze... Und so ging ein fantastischer Tag schon mal zu Ende.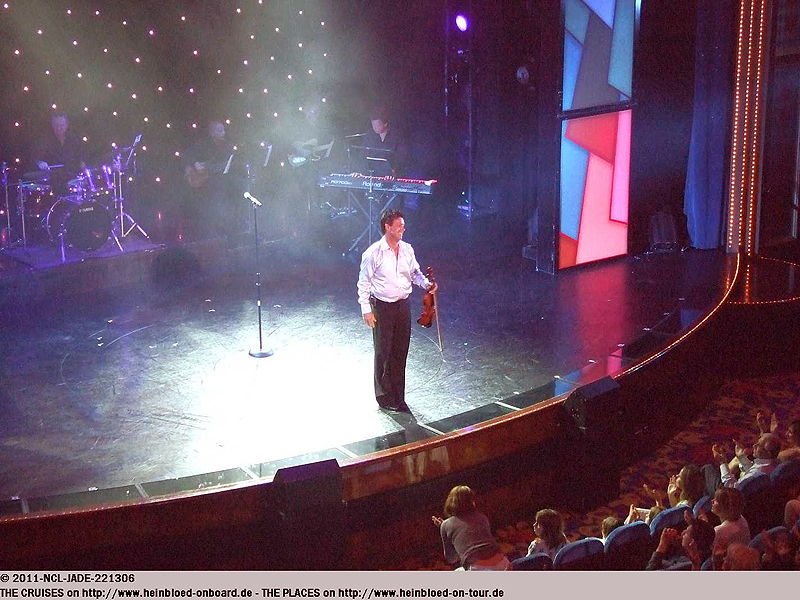 And the mood they produced in the theater was brilliant. Standing ovations: from all nations which were now in the theater he tried to play some music from their country. You could not keep the Russians on their chairs while he was playing Katiousha... I had no problems at all... One thing which might be interesting for the drydock stay - one of the few little which attracted our attention: I was sliding more and more to the front because the seat was already very used and too much fixed to the front. But with the performance of Gary Lovini you have no chance to concentrate on the part you are sitting on... And a fantastic day just terminated.