Scroll down for English explanations - alternates with German explanations.

Ich lief mal langsam runter, um meine Eltern einzusammeln.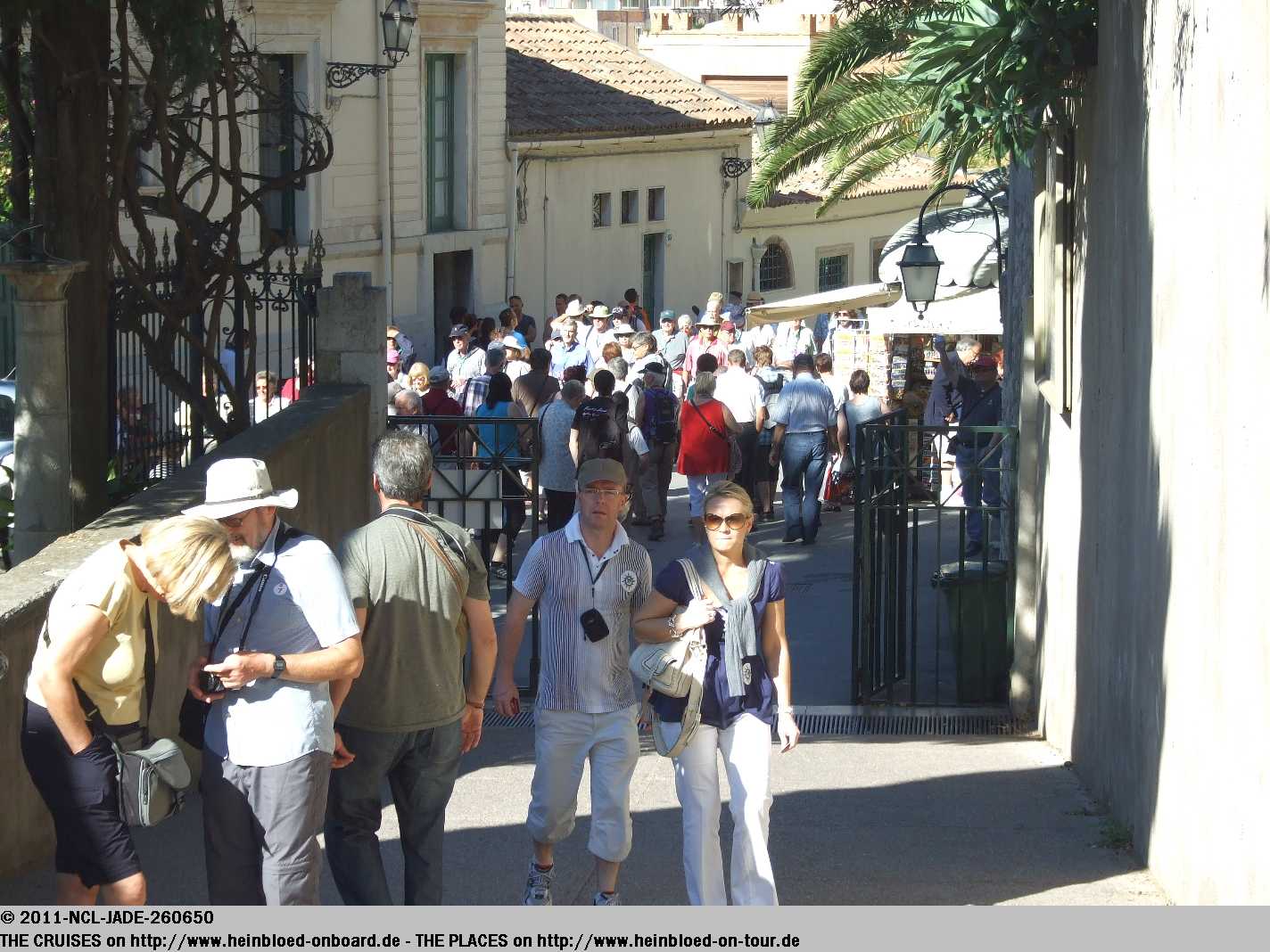 I walked down to collect my parents.

On my iPhone I got two AIS-signals of cruise ships: LE PONANT.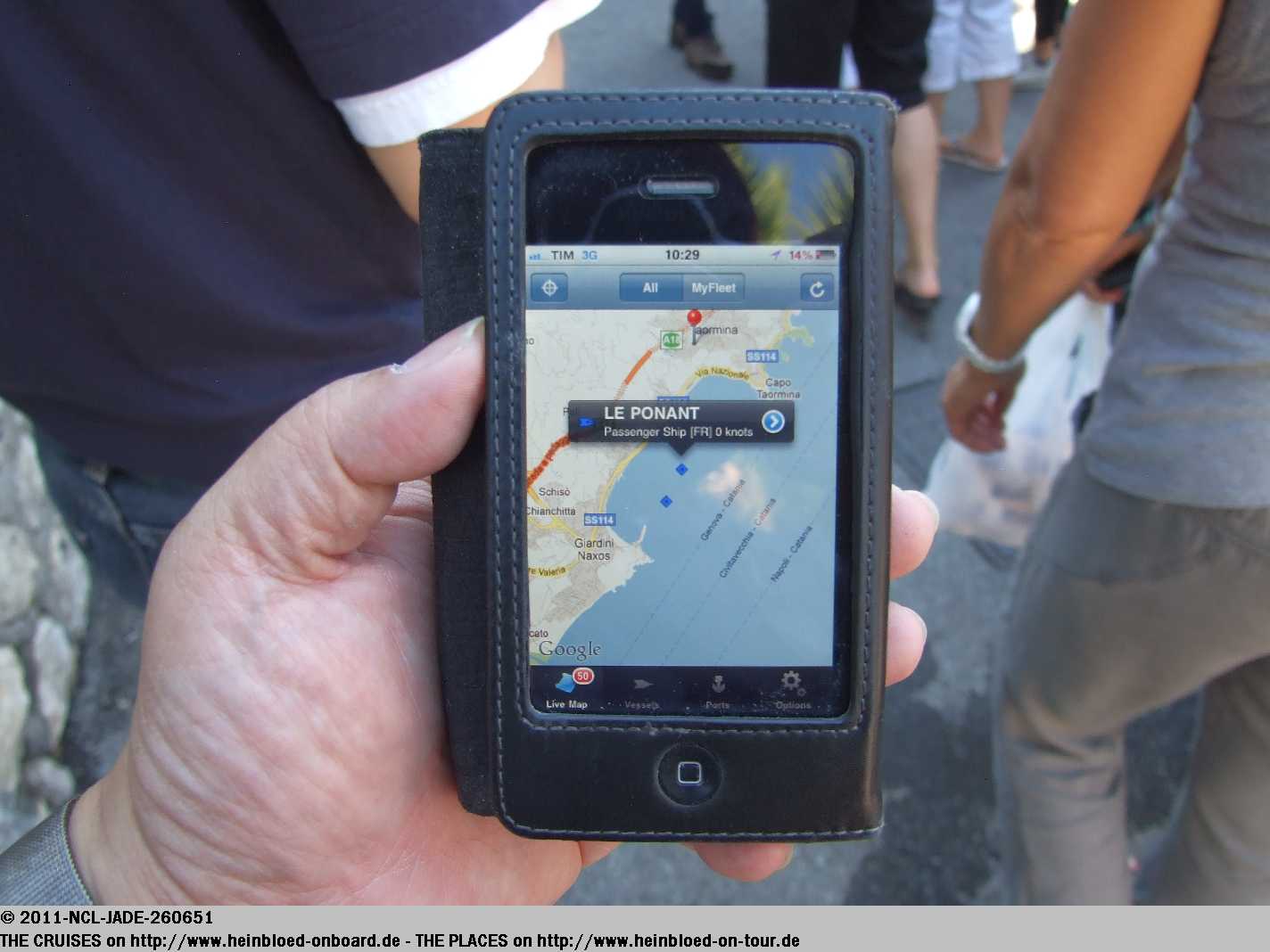 Auf dem iPhone bekomme ich zwei AIS-Signale von Kreuzfahrtschiffen: die LE PONANT.
Und die SILVER WIND. Nun muss ich nur noch eine Erläuterung finden, warum wir runter zur Küstenstraße müssen... Natürlich hatte ich eine gute Begründung: wir müssen den Ätna mit Strand für Bruno fotografieren.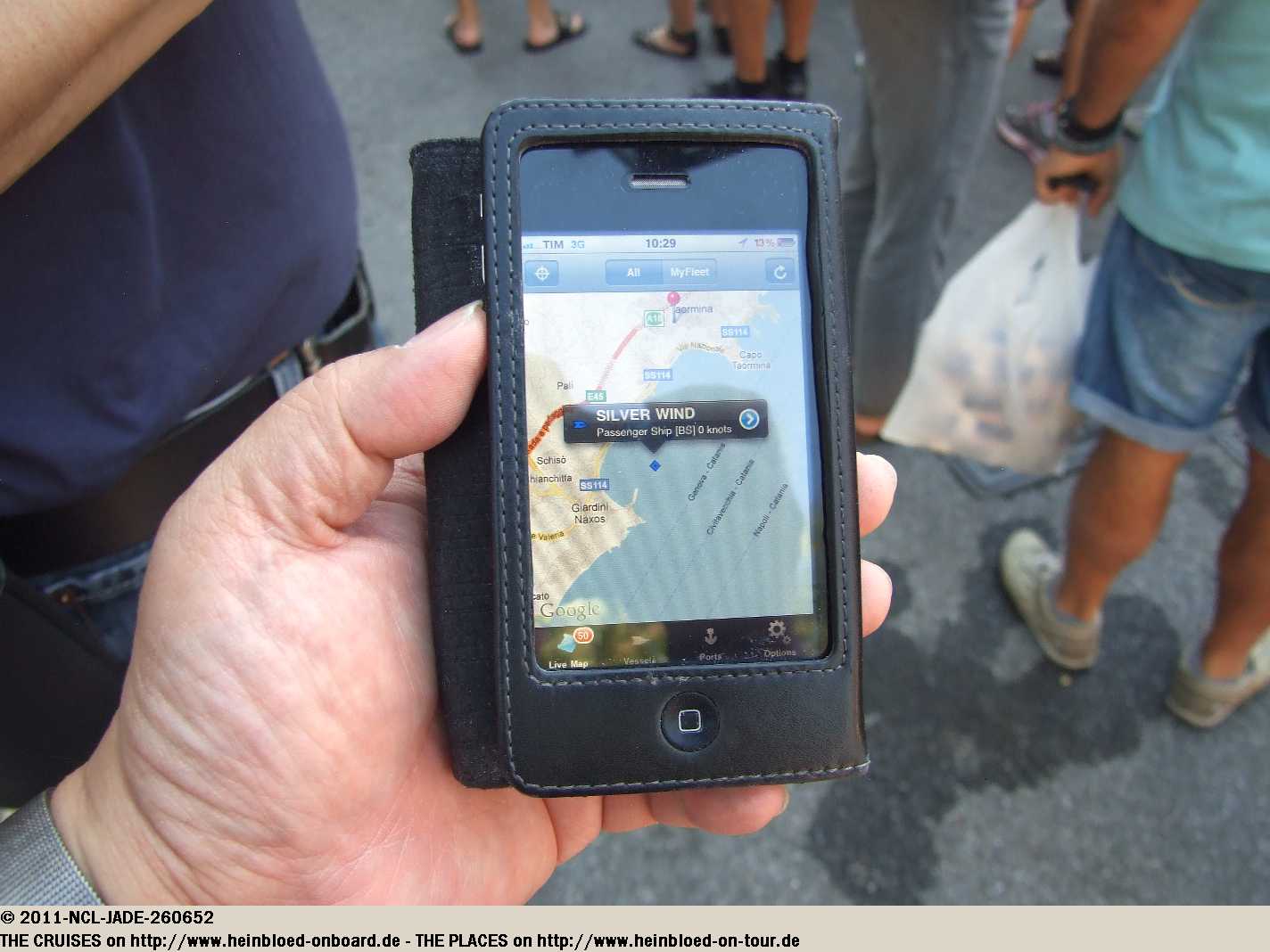 And SILVER WIND. I need to find a good reason why we need to see the coastal road... Of course I had a good excuse: we need to take pictures of Mt. Etna and the beach for Bruno.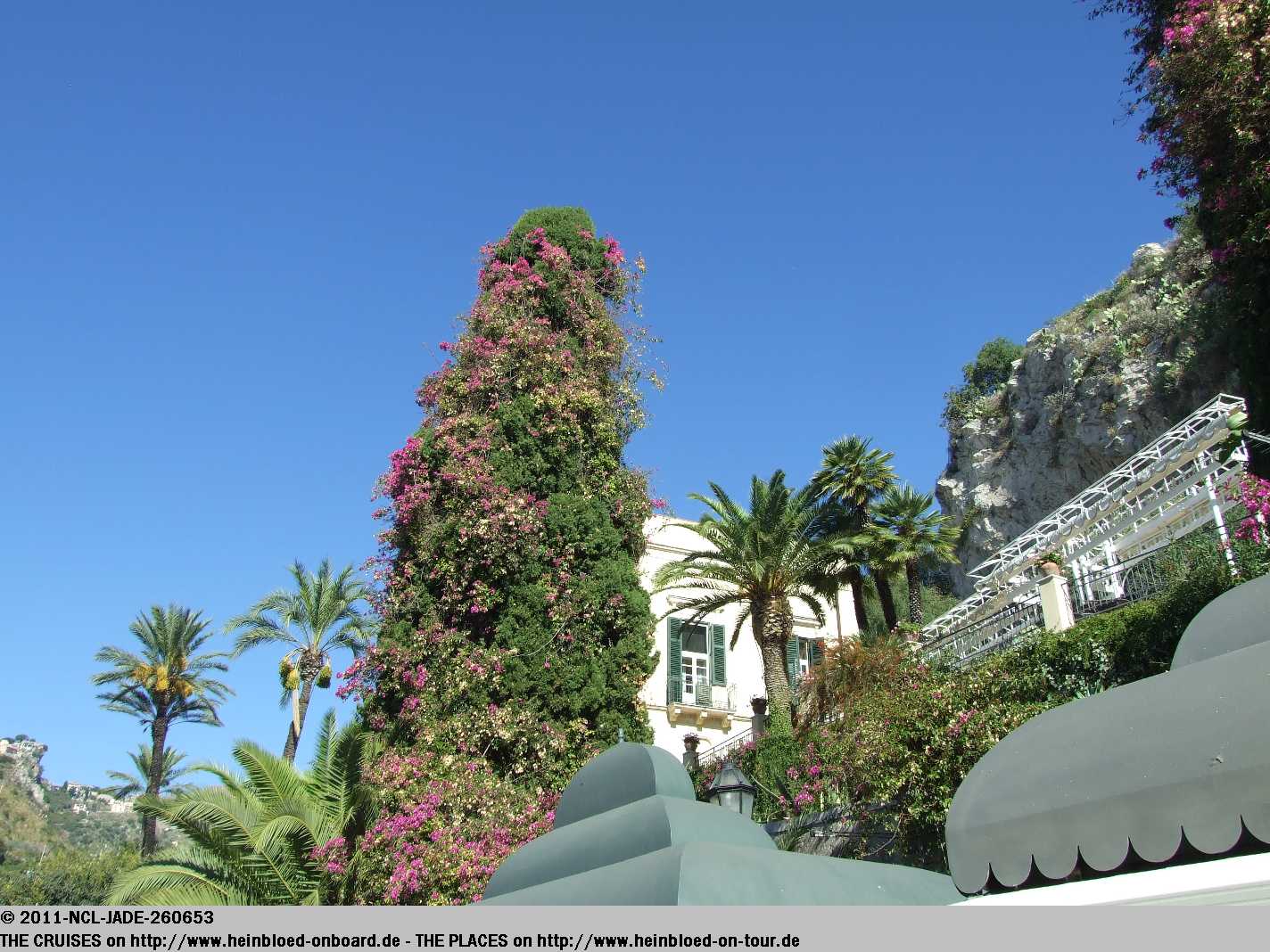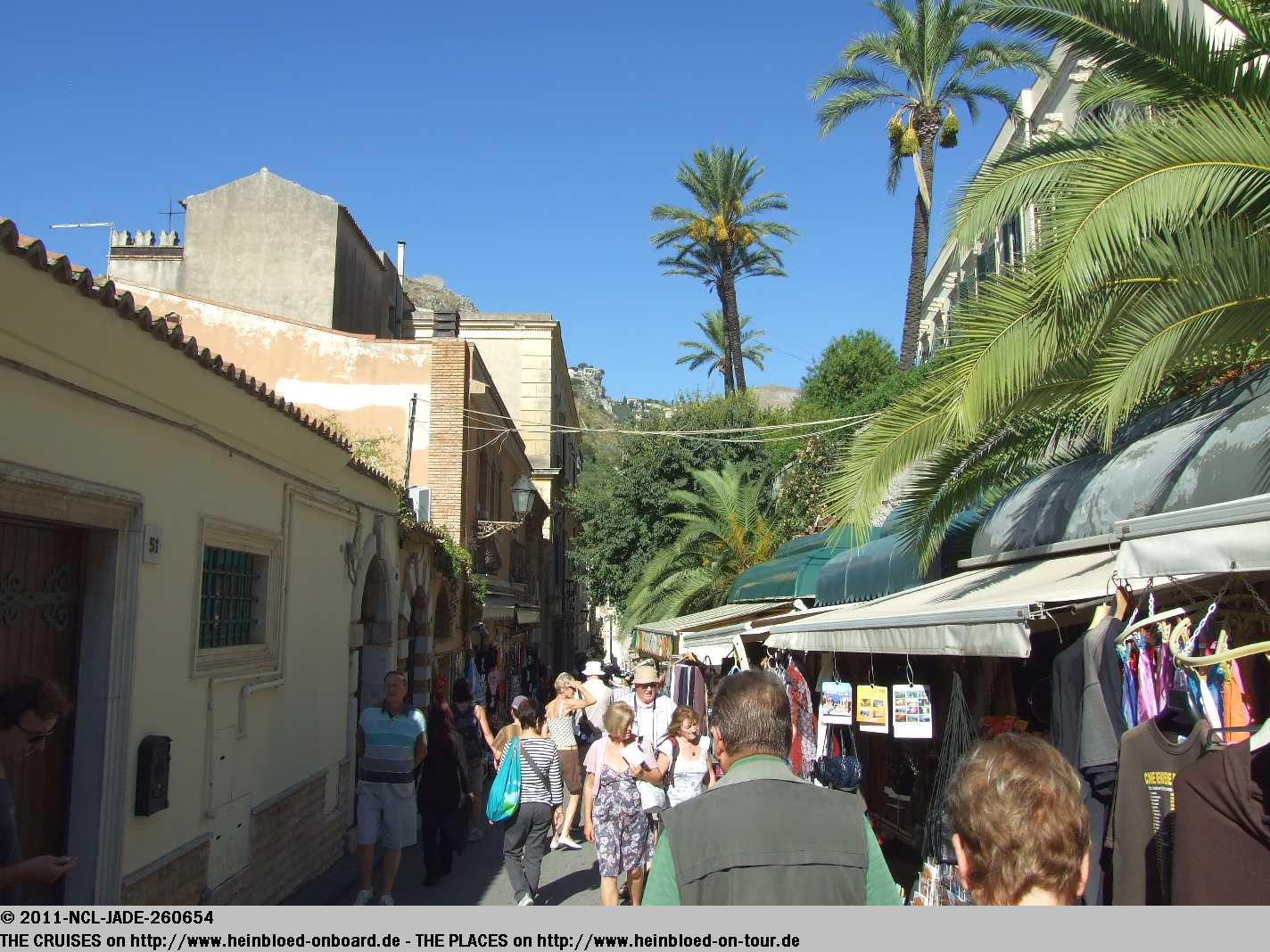 I caught my parents finally.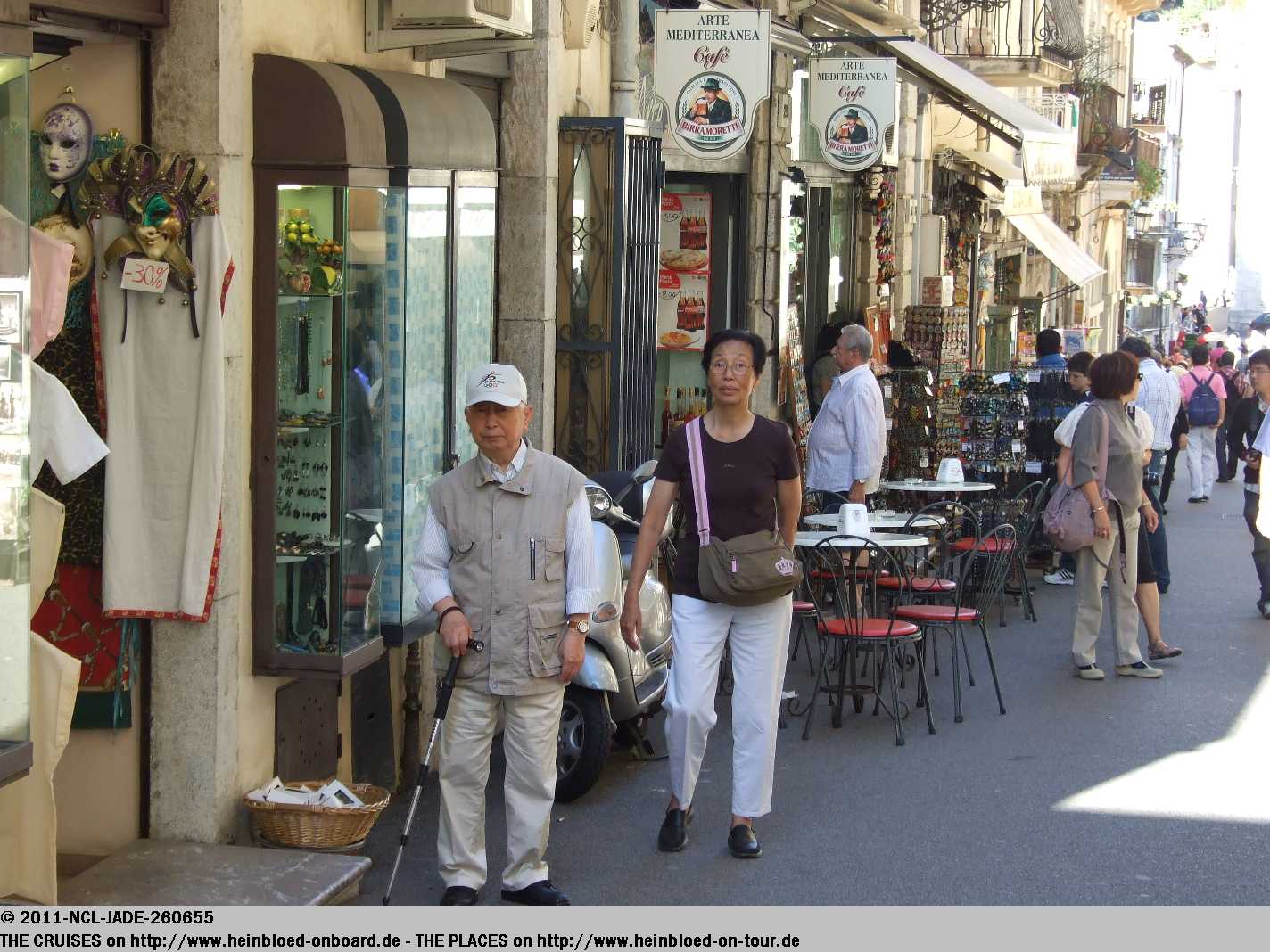 Meine Eltern fange ich dann doch mal ein.
Und wir setzen uns in ein Café, während Brunos Eltern bei den Souvenirs stöbern.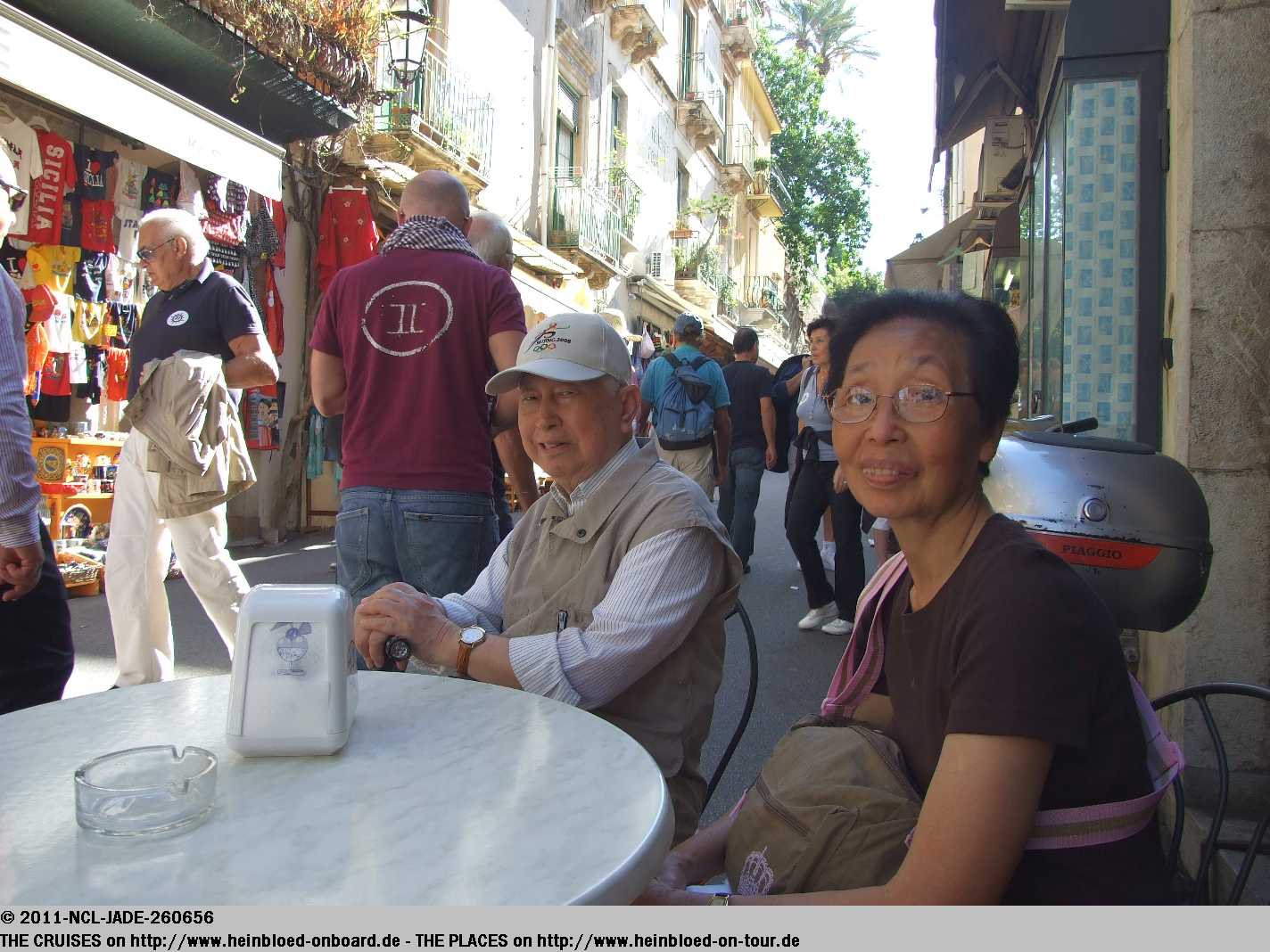 So we sat in a coffee store while Bruno's parents were looking for souvenirs.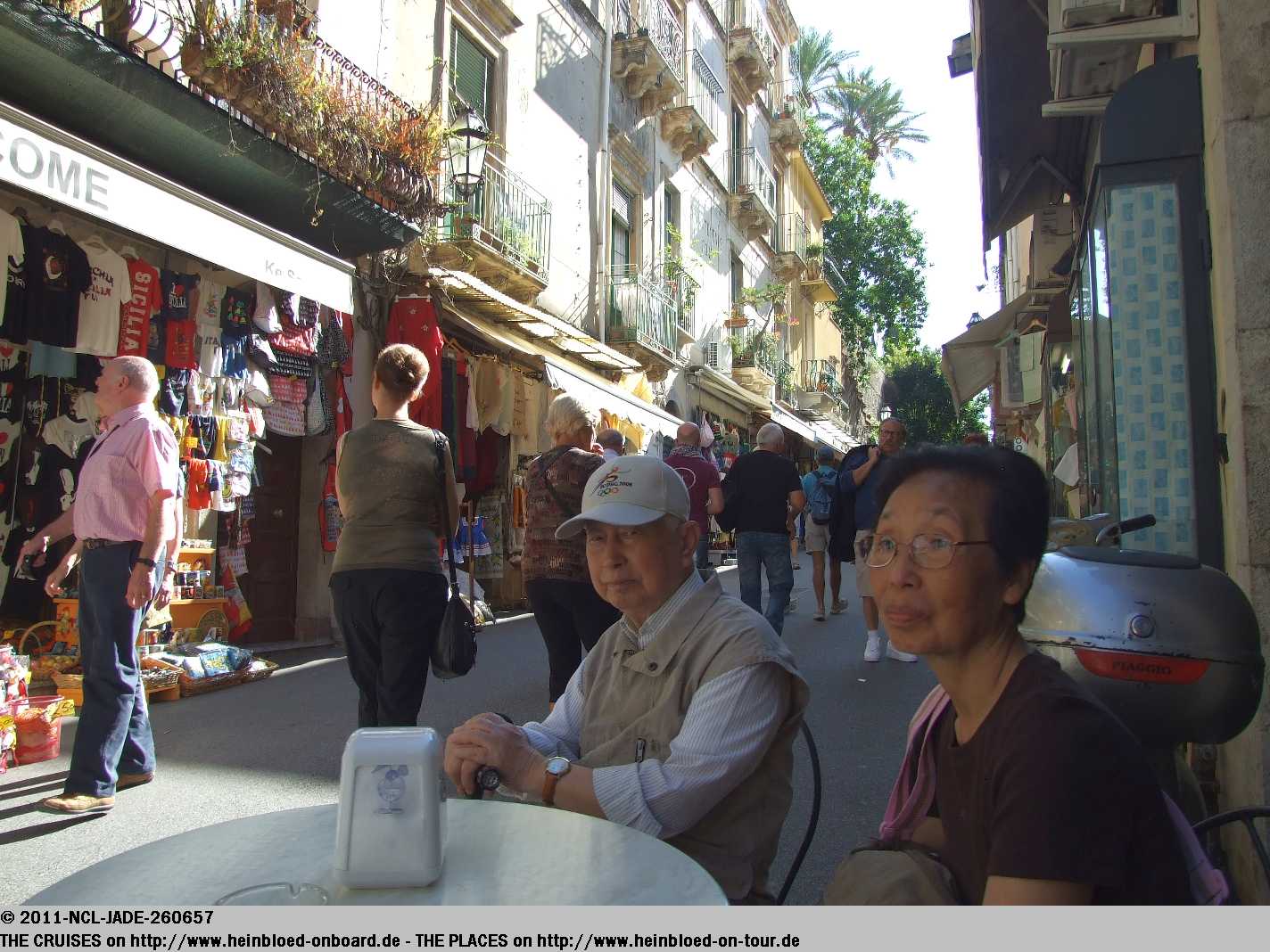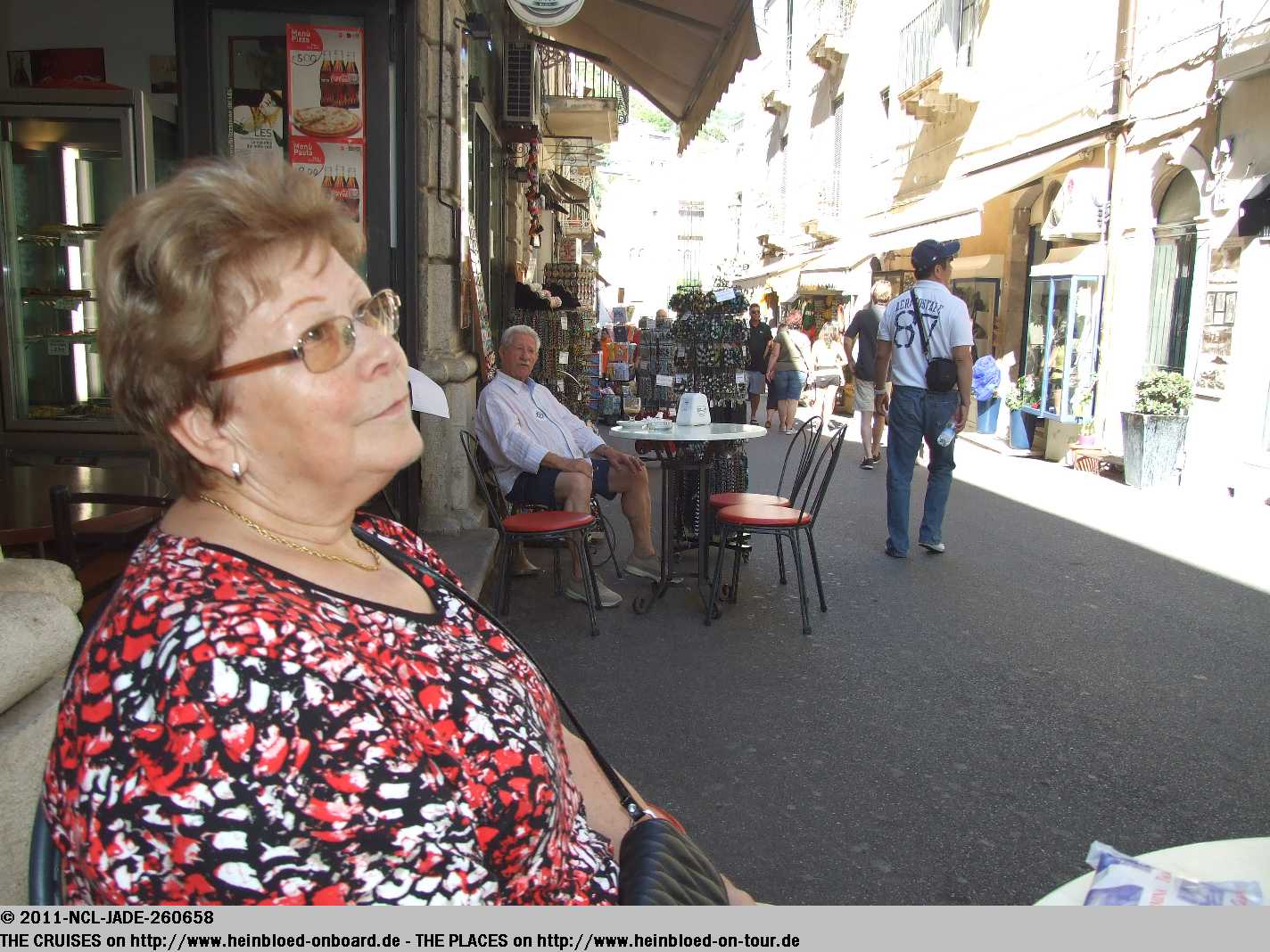 The Sicilian charme met us. But honestly we did not know finally if she understood my Italian restaurant-phrases or herself when she repeated everything what I said in English restaurant-phrases. So she popped the bottles with some plastic cups on our table.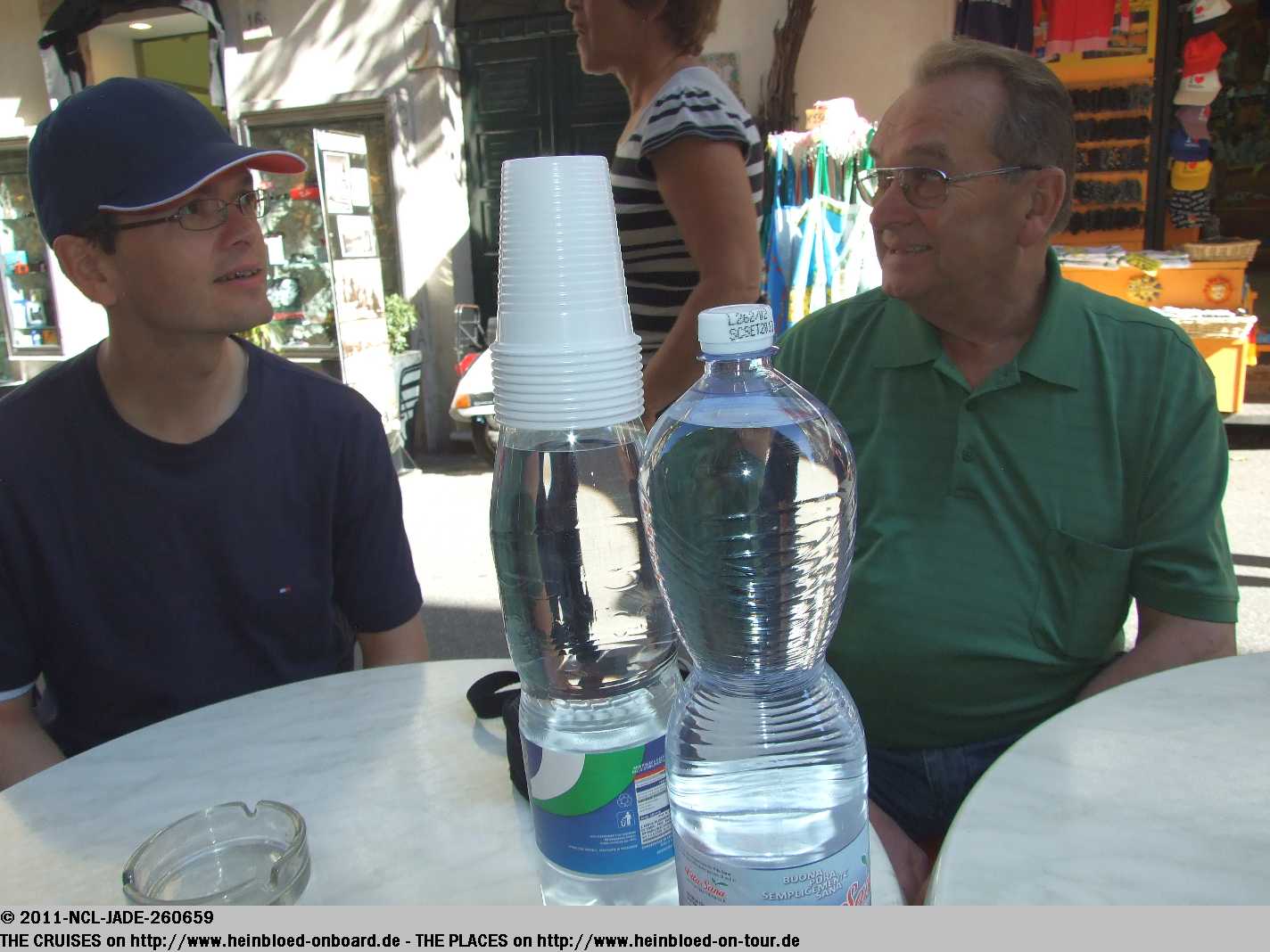 Der sizilianische Charme kam durch. Wobei so richtig wissen wir es nicht: weder verstand sie eigentlich mein Restaurant-Italienisch noch sich selbst, wenn sie es versuchte in ihrem Restaurant-Englisch zu wiederholen. Fakt ist der: es werden zwei Flaschen mit ein paar Plastikbechern auf den Tisch geknallt.
Bruno bekommt noch sein Cappucino.

Bruno got his cappucino.

Next to the entrance to the Greek Theater there was high-class hotel. One limousine after the next came by.

Neben dem Eingang zum Griechischen Theater befindet sich ein Nobelhotel. Eine Limousine nach der anderen kommt durchgefahren.
Nicht ungefährlich für Brunos Vater, der mit dem Rücken zur Straße sitzt.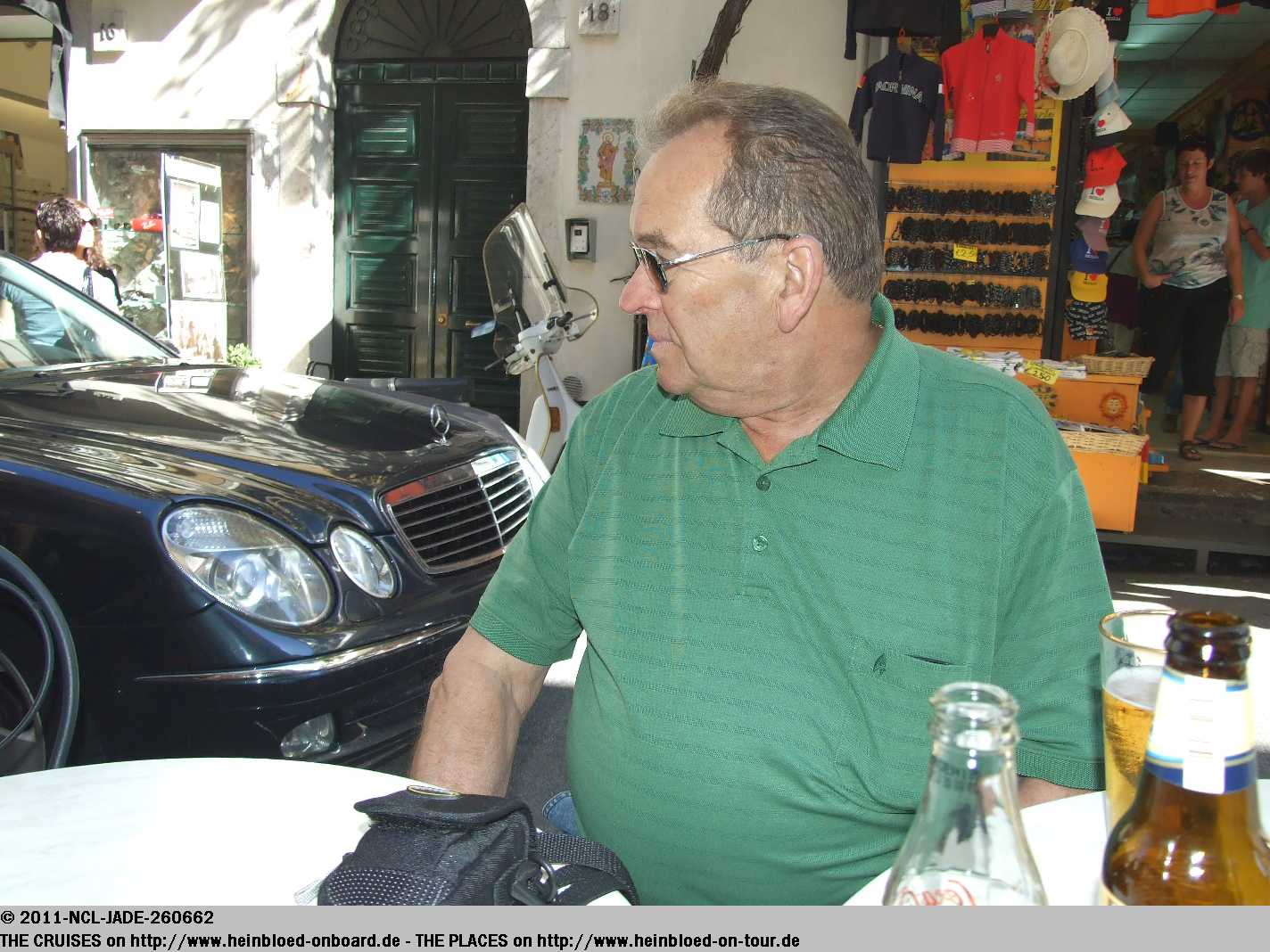 Not harmless for Bruno's father who sat with his back to the street.

A short look into the church.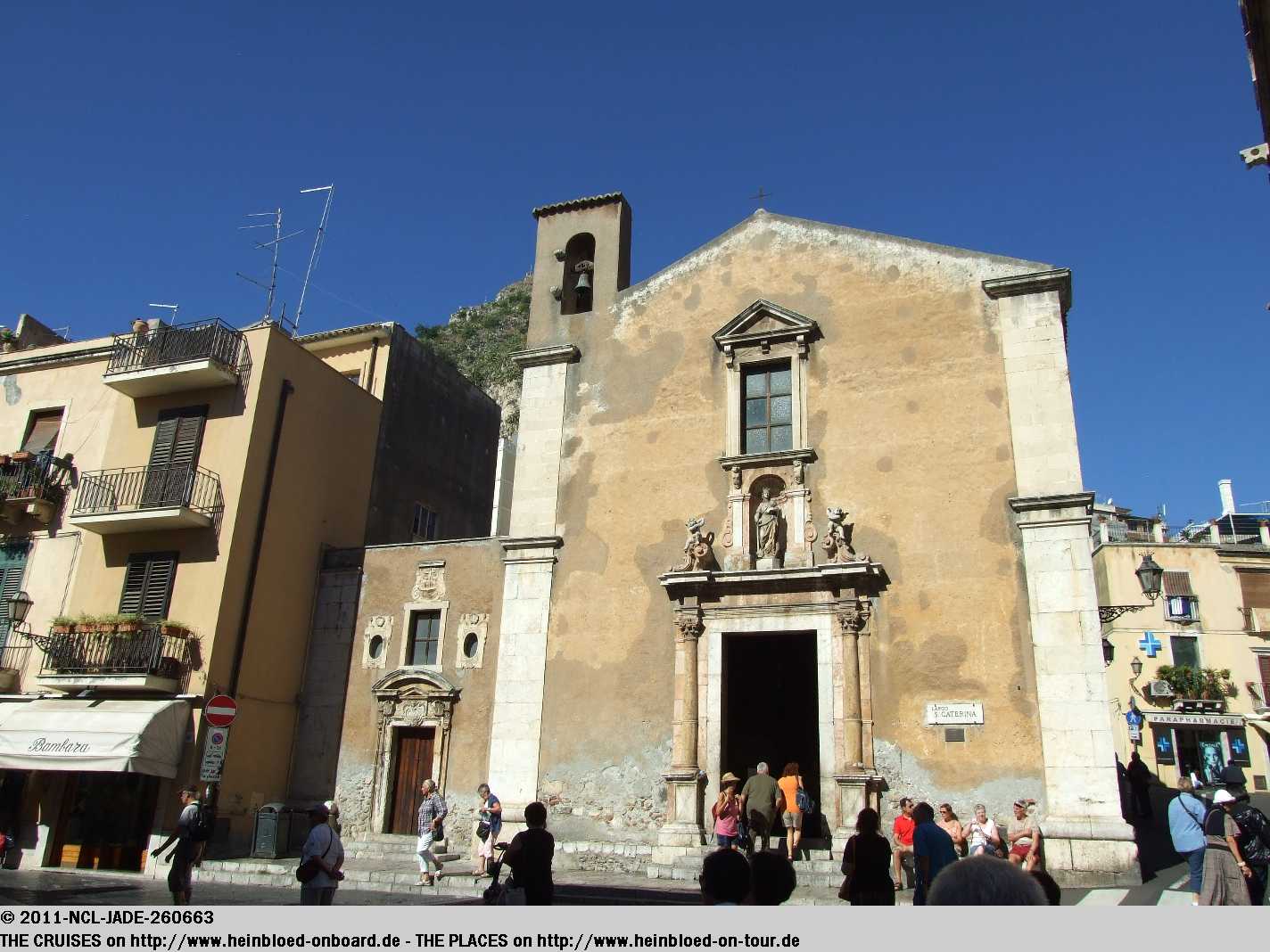 Ein Blick noch kurz in die Kirche.
War aber kein Ort, um sich lange darin aufzuhalten.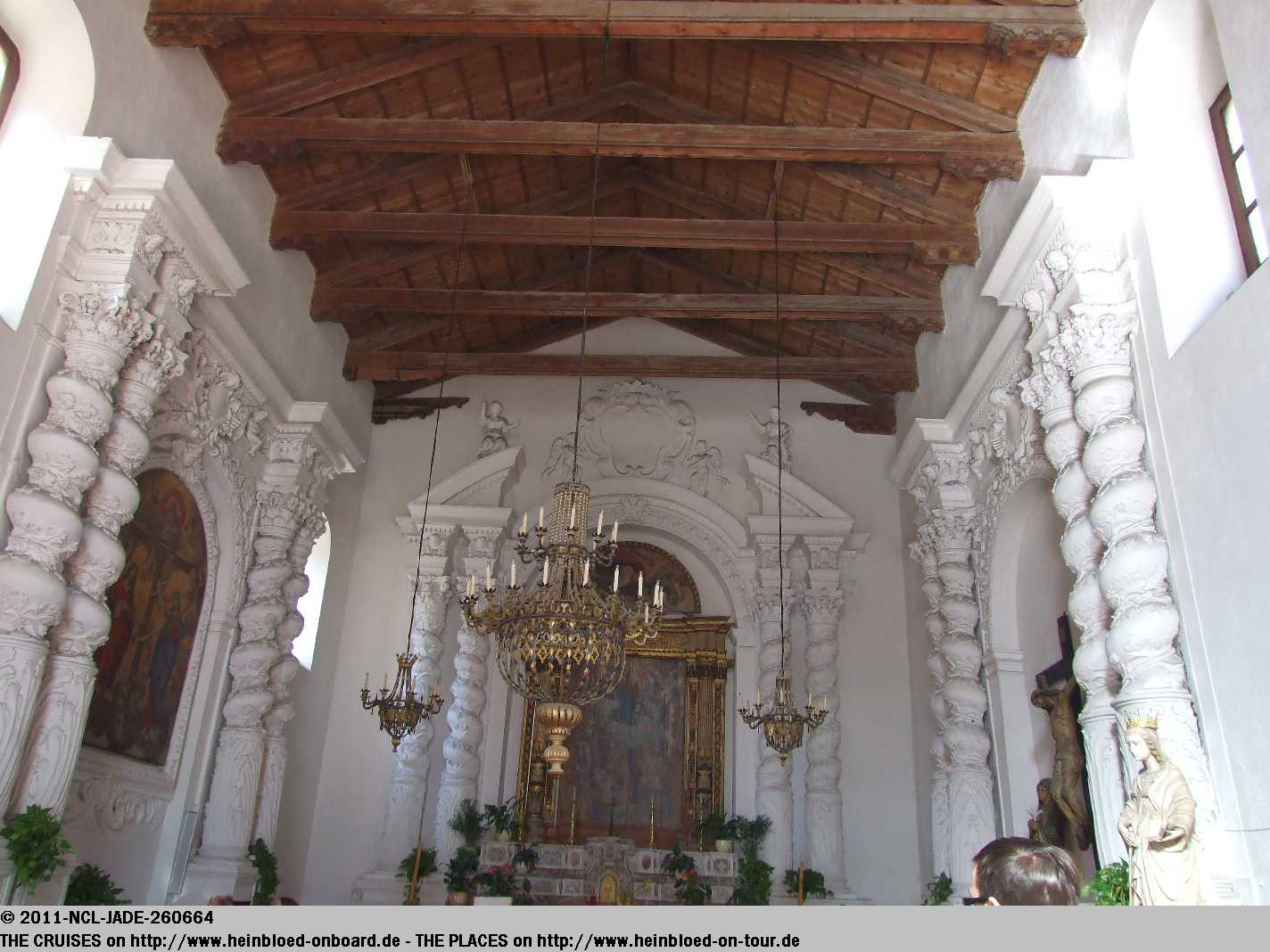 Was no place to stay long time inside.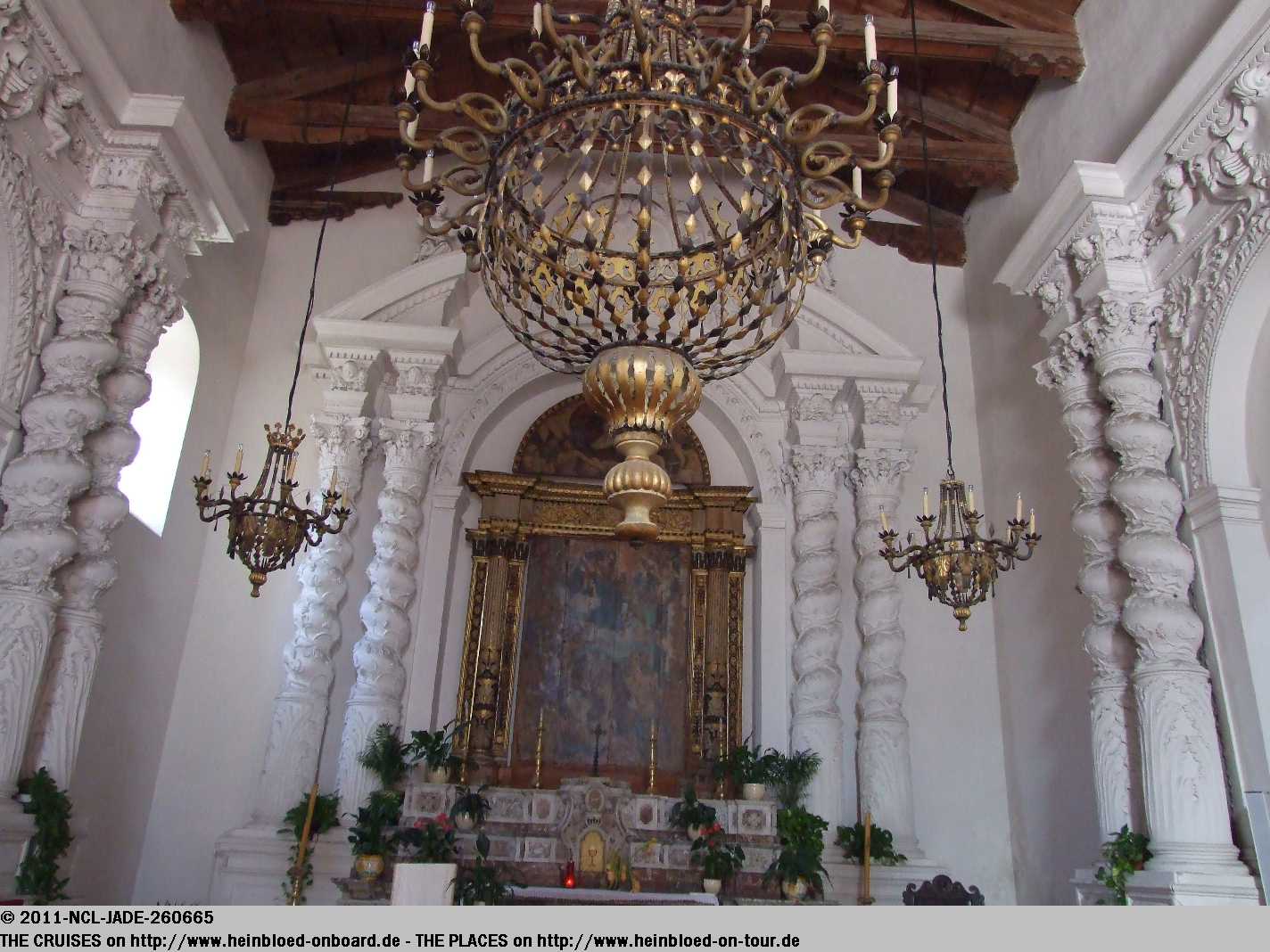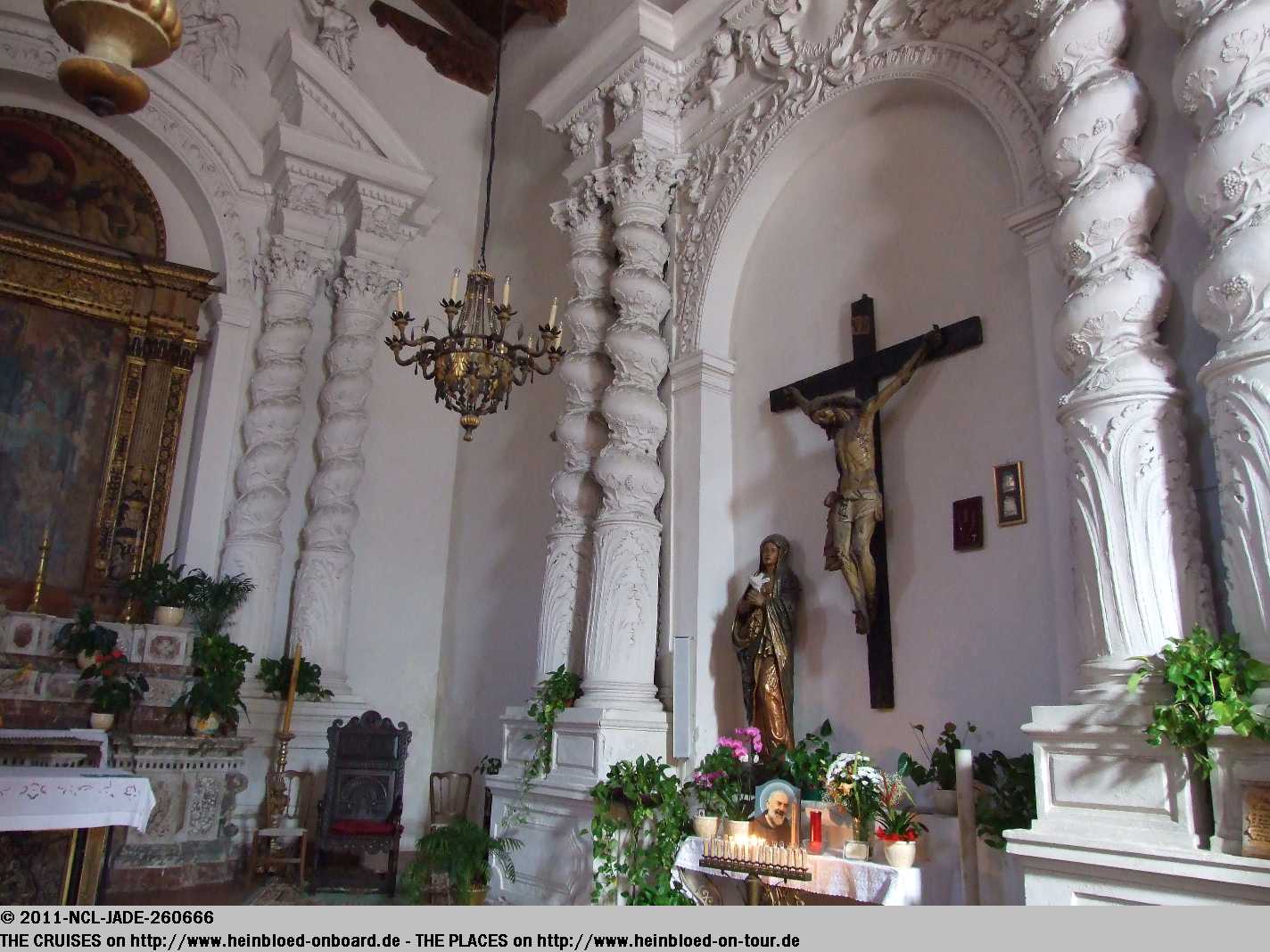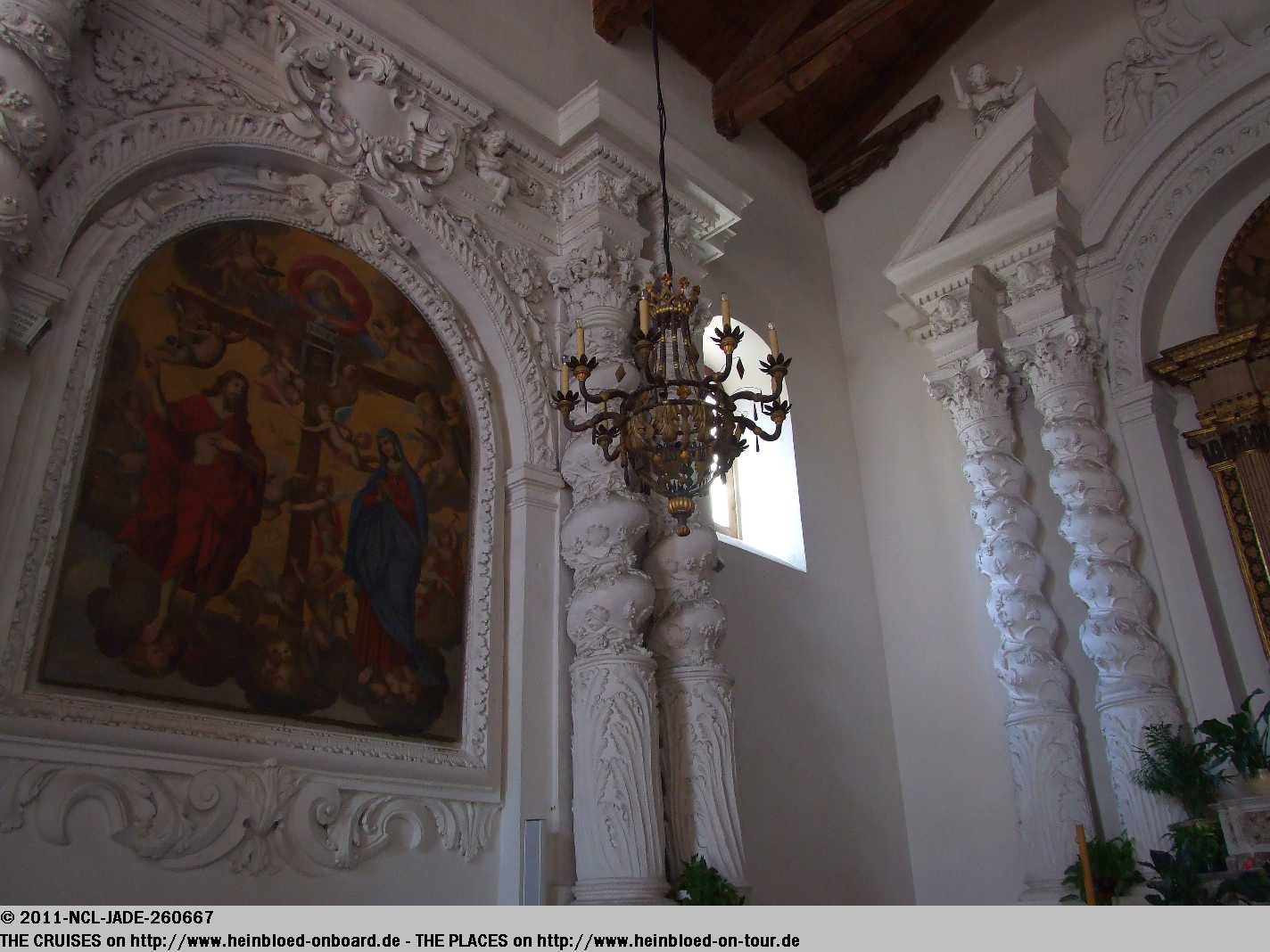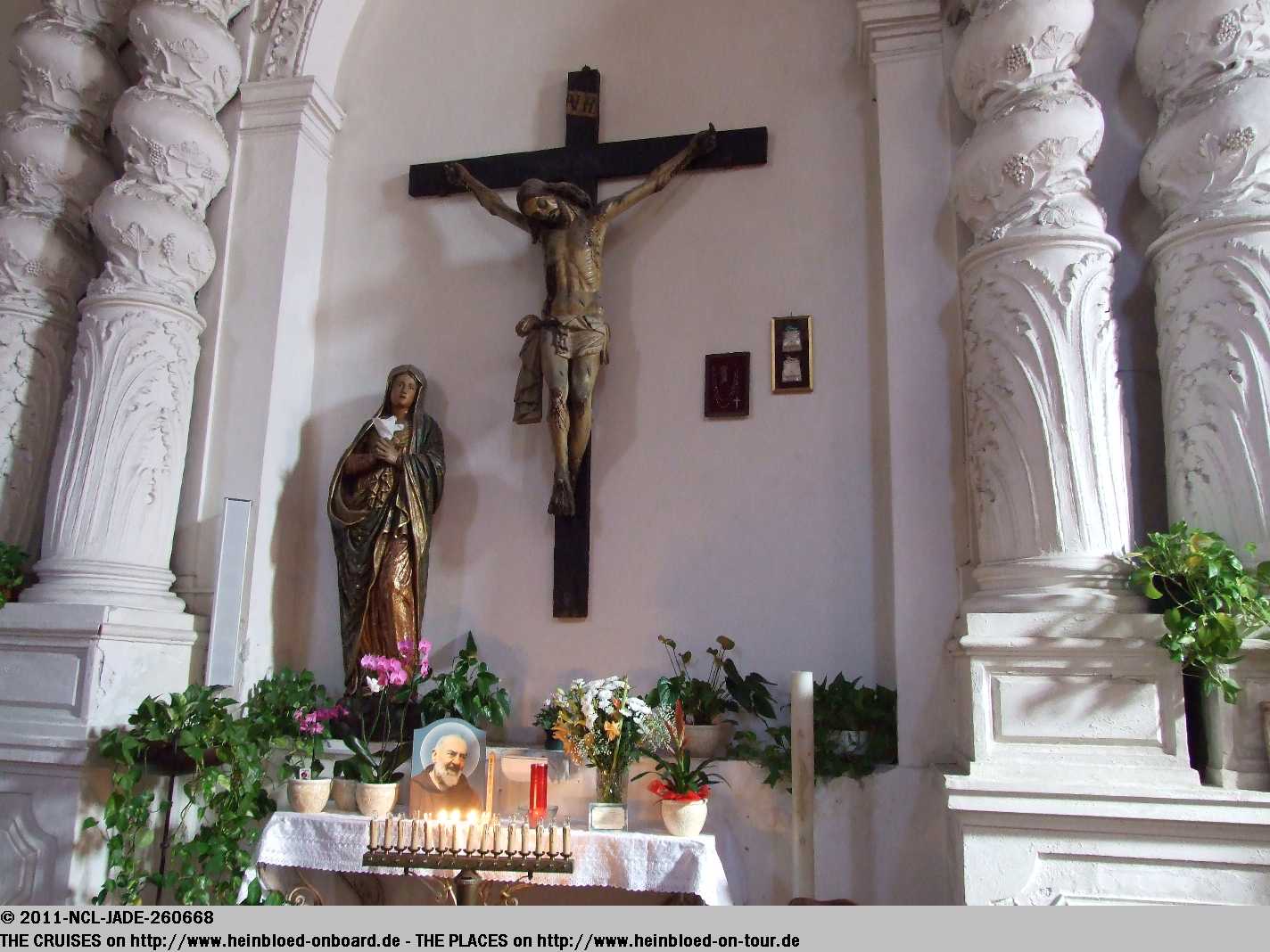 Antonio was waiting for us at the gate.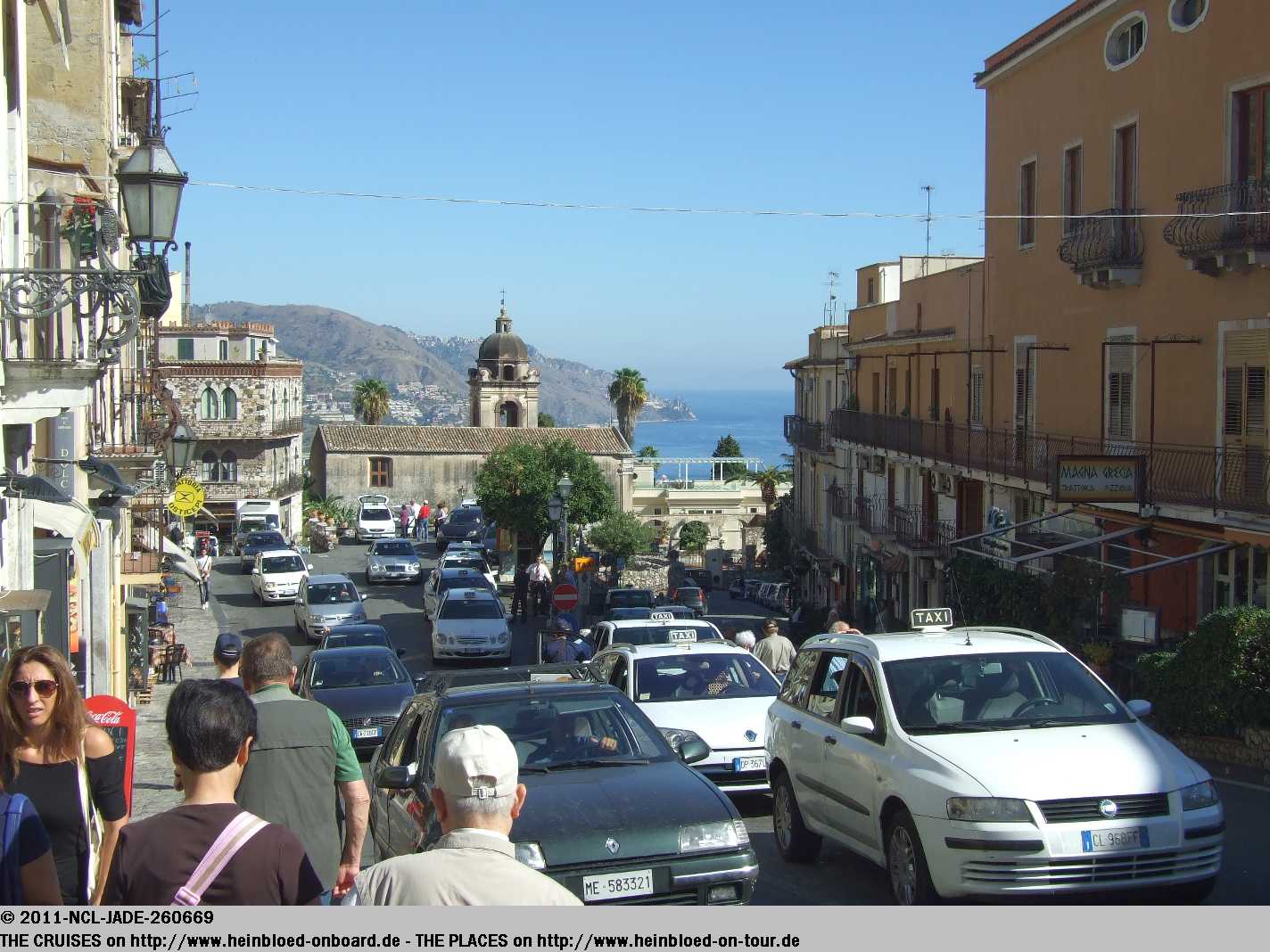 Denn Antonio wartete auf uns am Tor.
Er hatte glücklicherweise nur wenige Meter vom Tor einen Parkplatz gefunden.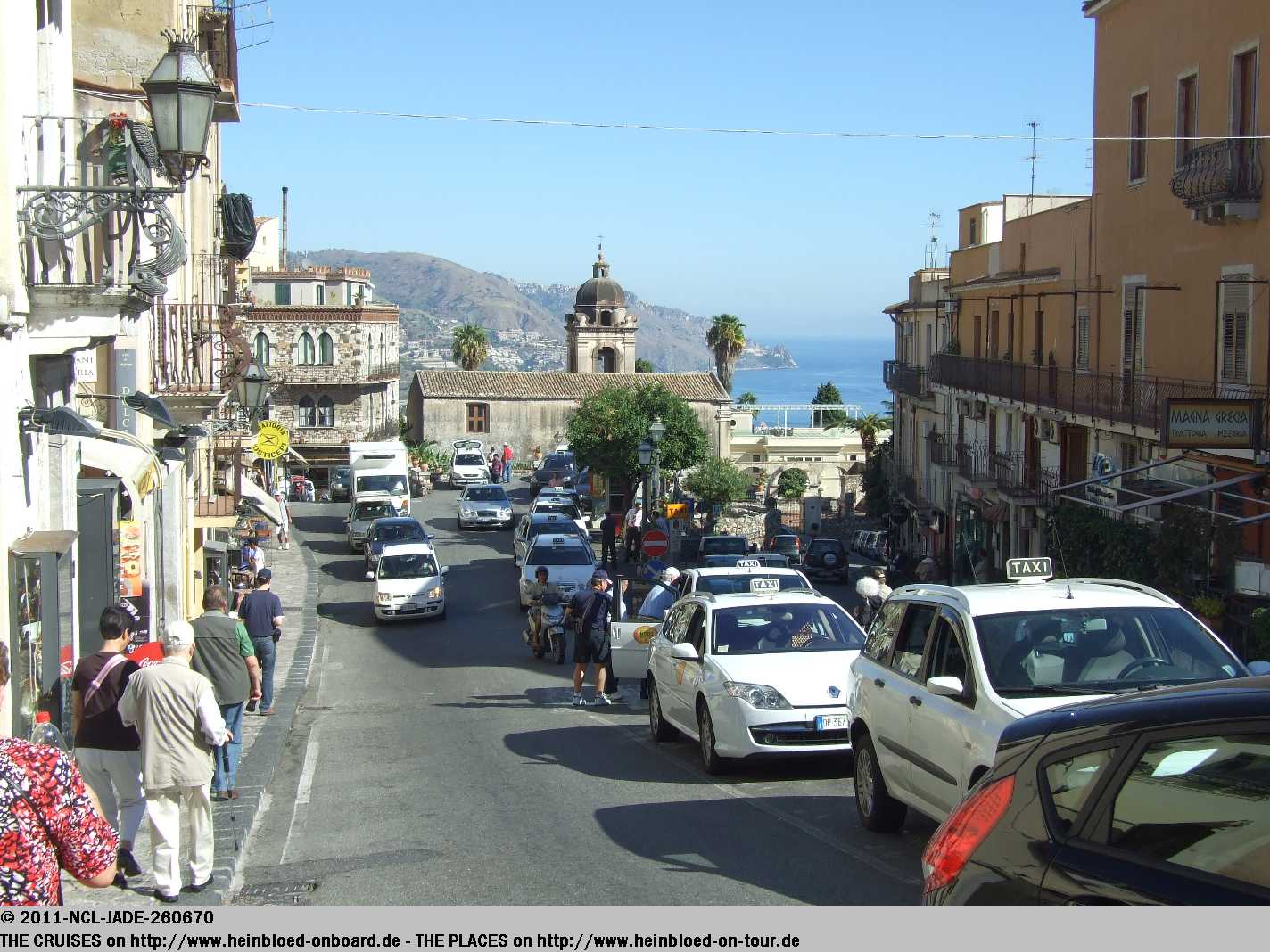 Luckily he found a parking just few yards away from the gate.

And so we headed to the coastal road... My wish became true.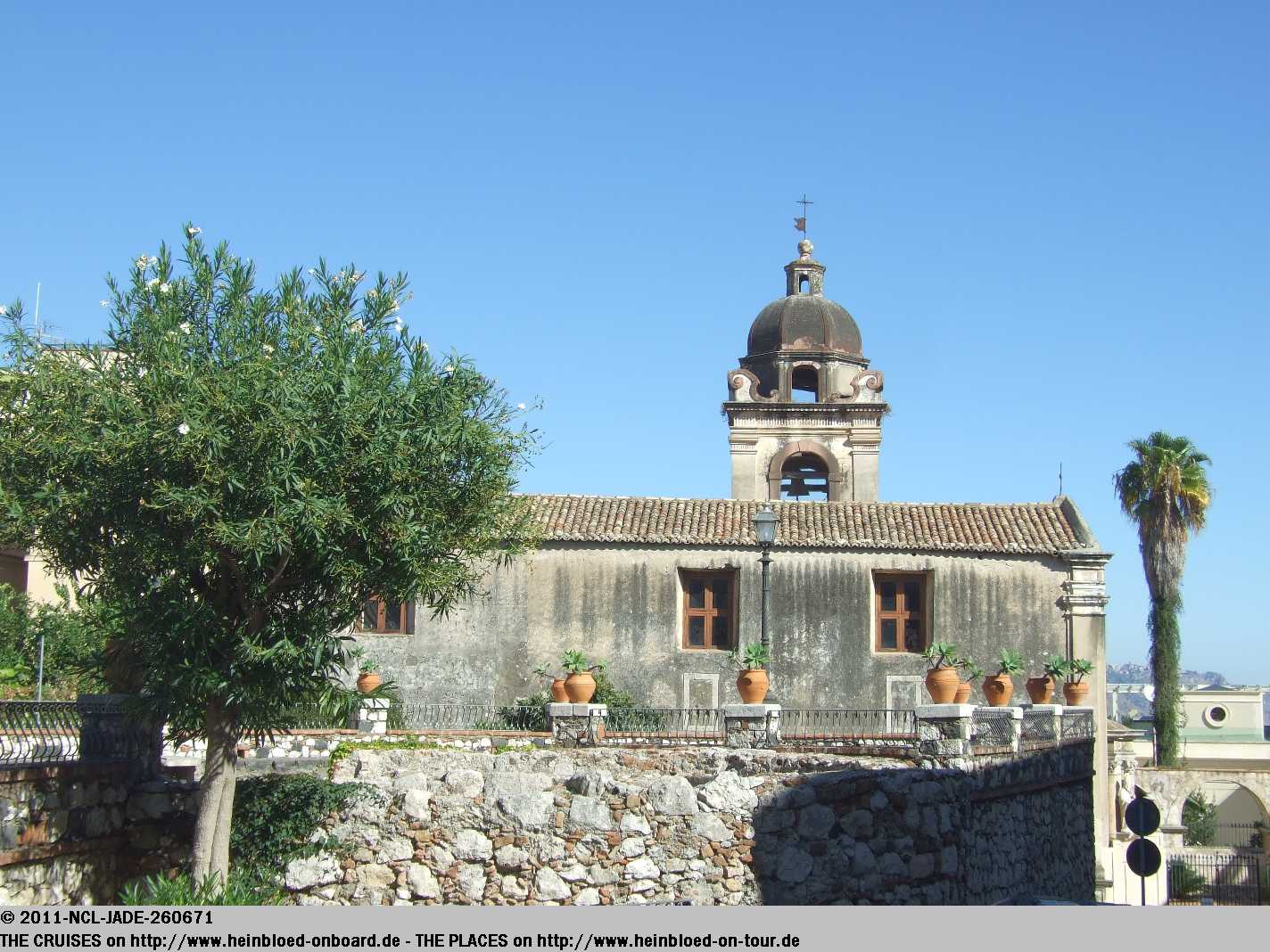 Und weiter geht es zur Küstenstraße runter... mein Wunsch wurde erfüllt.
Wenn man Pech hat, und man macht die Tour mit einem Bus oder findet keinen Parkplatz: Die Großparkplätze befinden sich außerhalb und man wird mit Kleinbussen in die Stadt reingefahren, wenn man nicht 15-30 Minuten (je nach Lage des Parkplatzes) laufen will. Zum Glück hatten wir eben einen Van.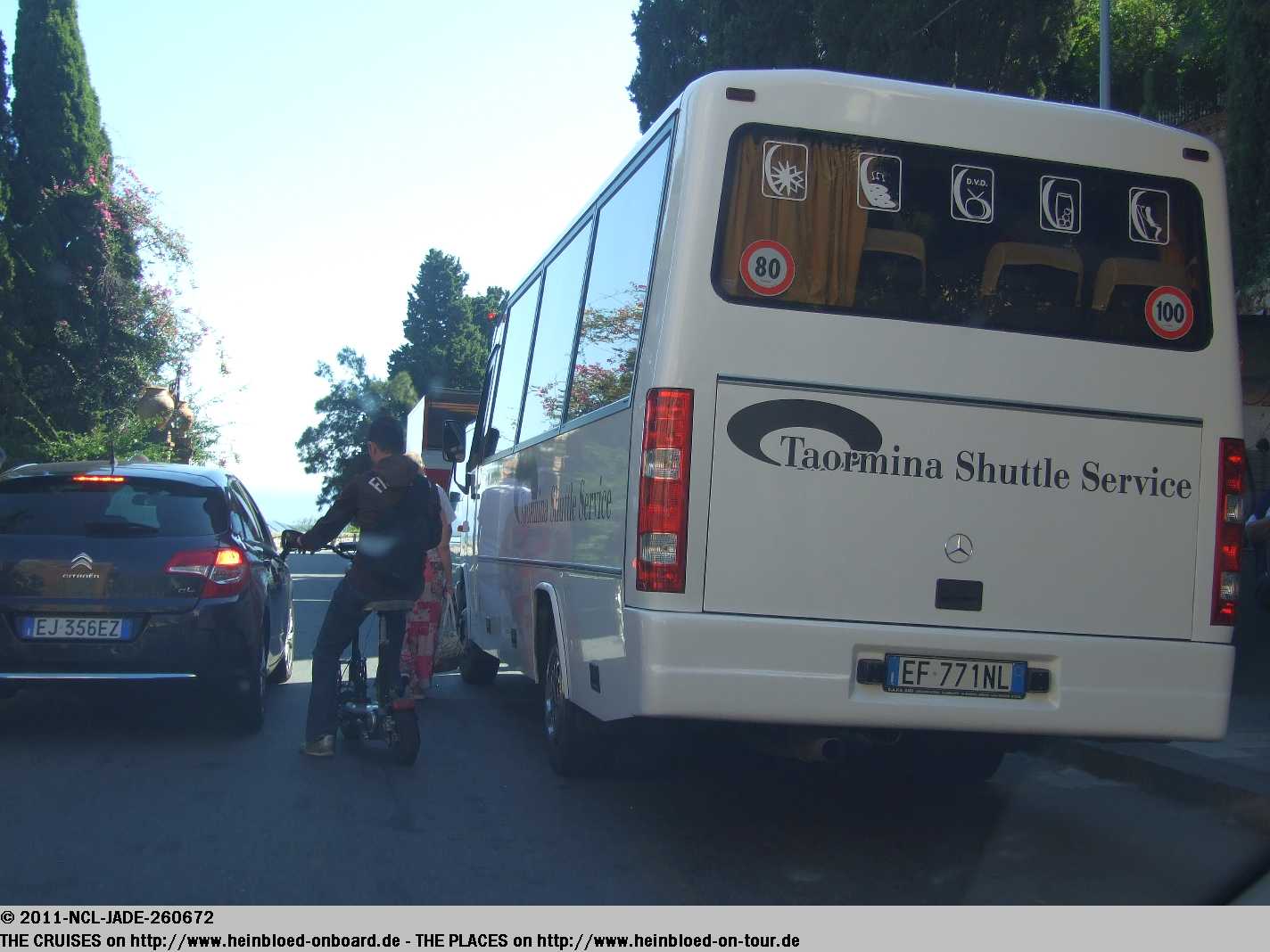 If you are unlucky and you are doing a tour by bus or do not find a parking: the main parkings were out of town and they shuttle you by smaller bus to the town if you do not want to walk 15-30 minutes (depending wehre you find a parking). But we were lucky that we had a van.

To be polite I took some pictures of Mt. Etna when he stopped for me at a narrow turn.

Höflichkeitshalber fotografiere ich den Vulkan, als er für mich extra in einer Straßekurve hält.
Aber dort werde ich beinahe von einem Bus überfahren, der die Kurve komplett für sich in Anspruch nimmt.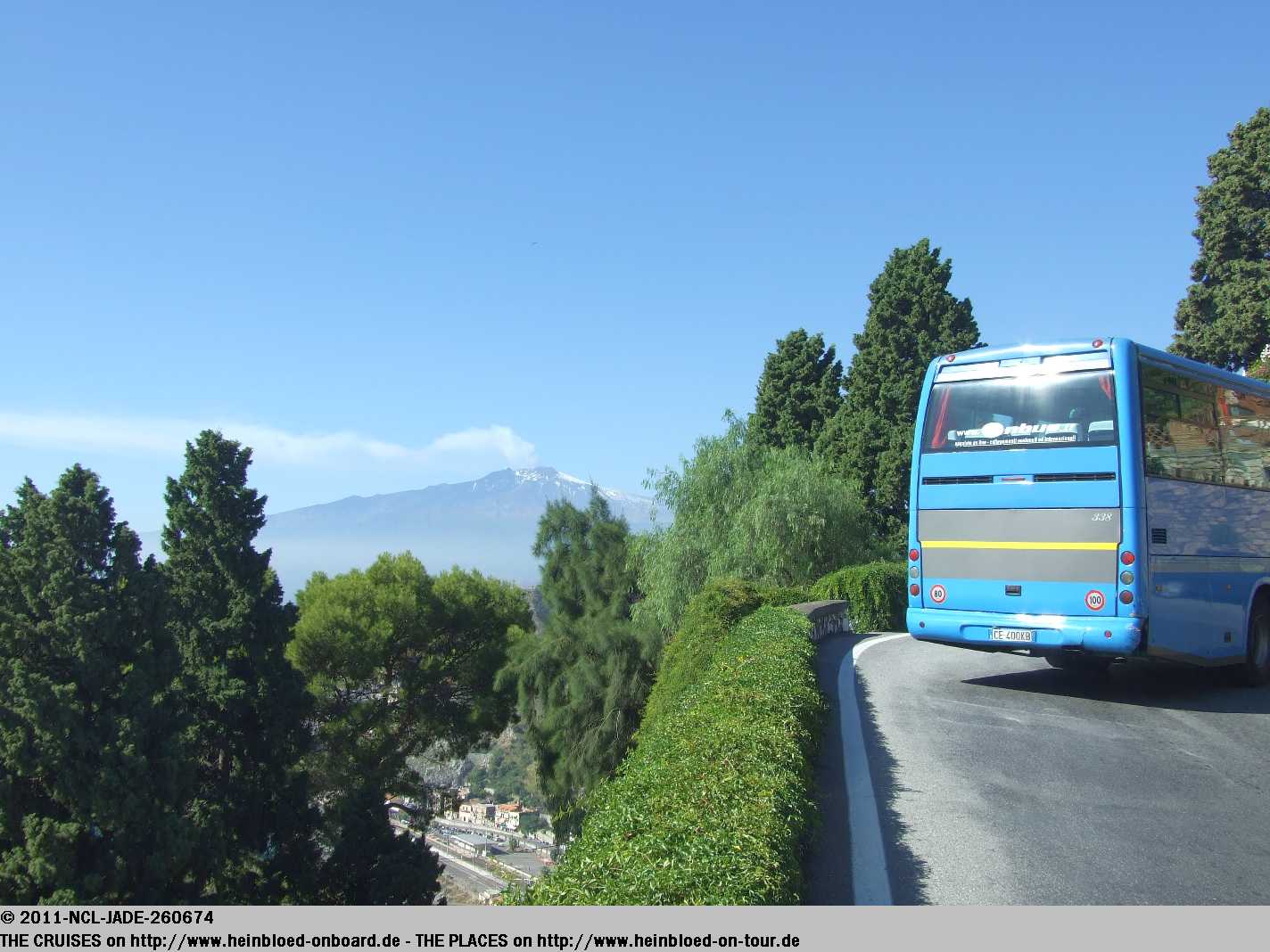 But there a bus nearly ran me down because he need the full place in the turn to get around.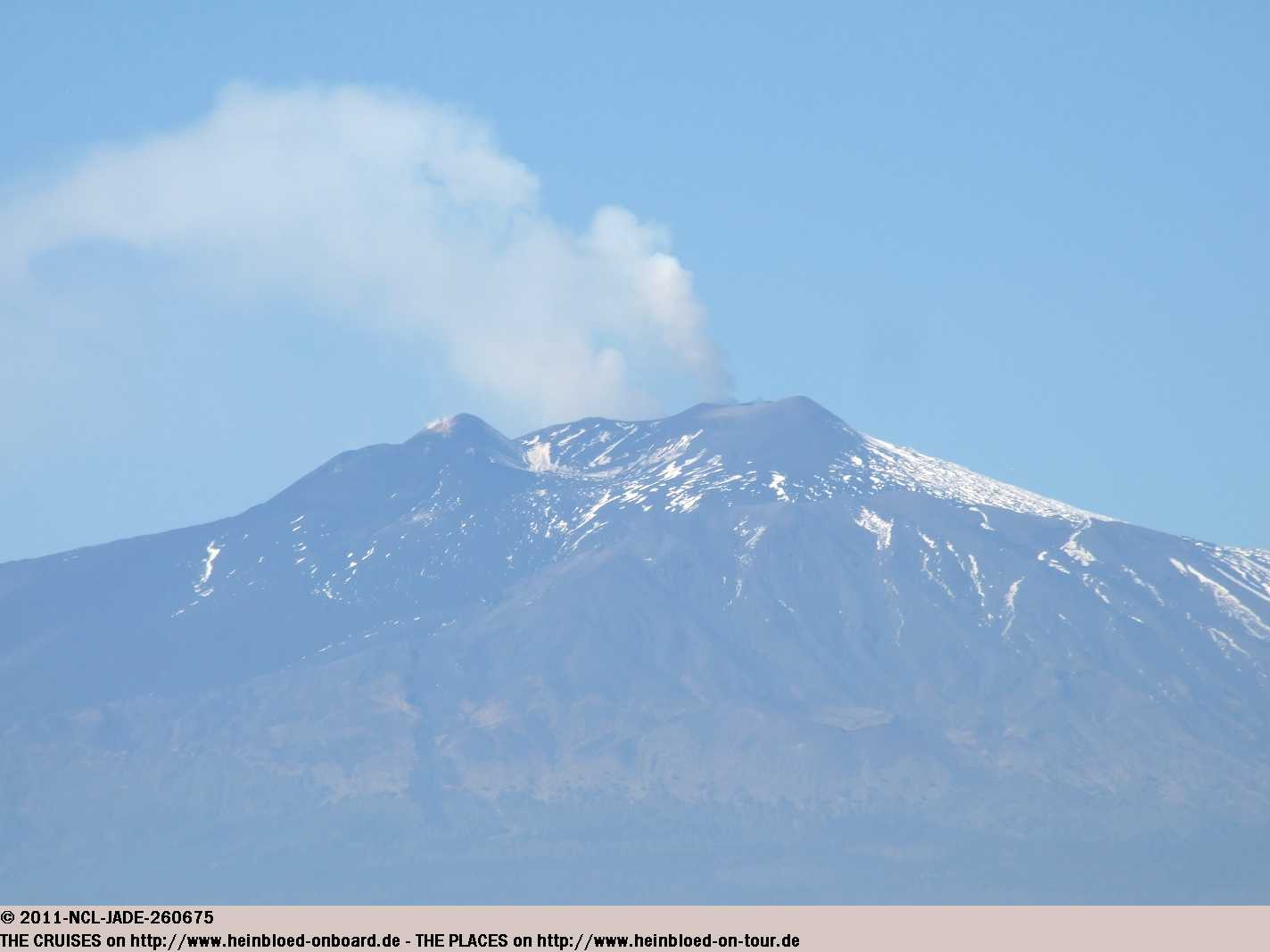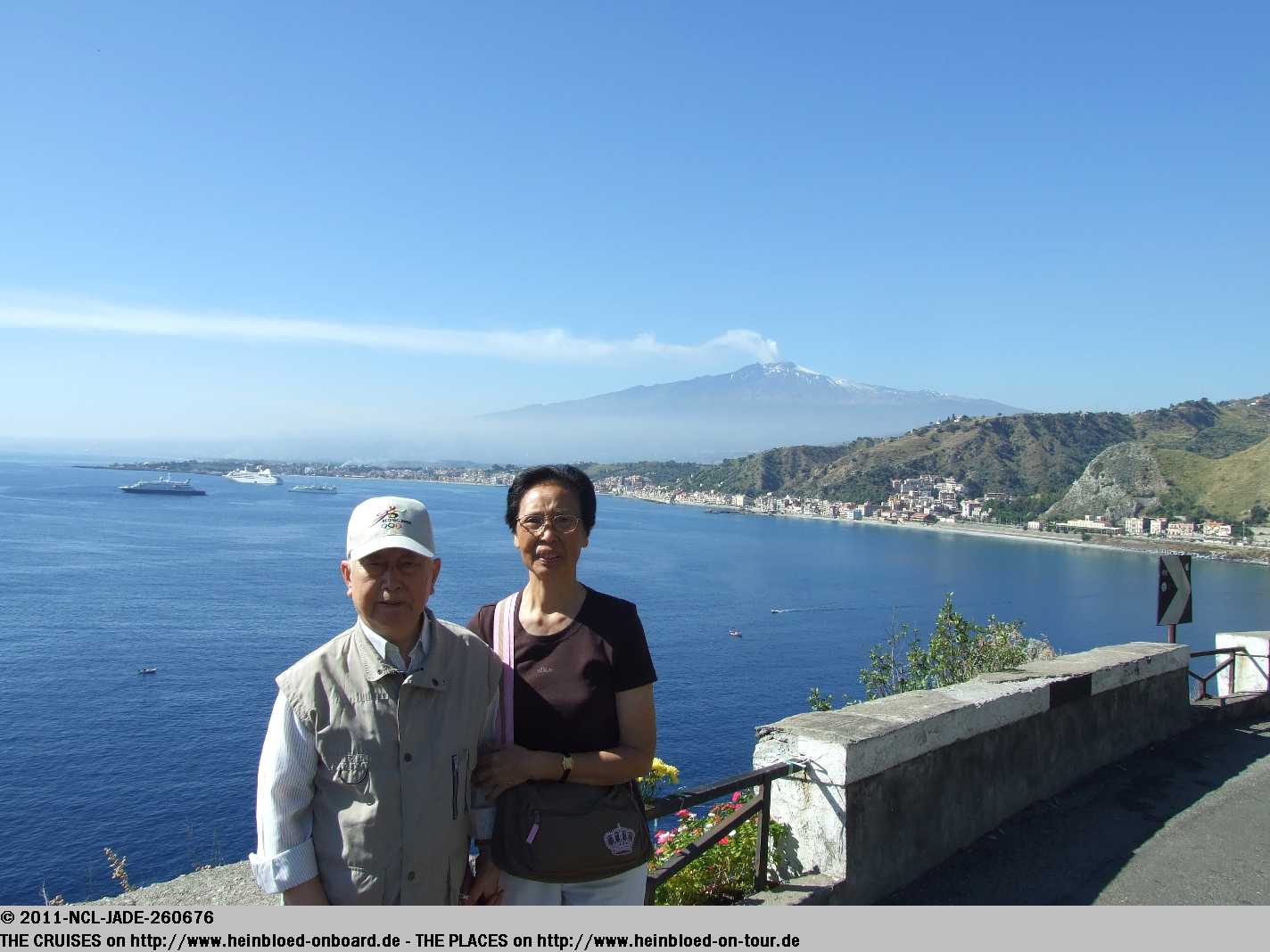 It was the perfect place to take pictures of the family with Mt. Etna in the background.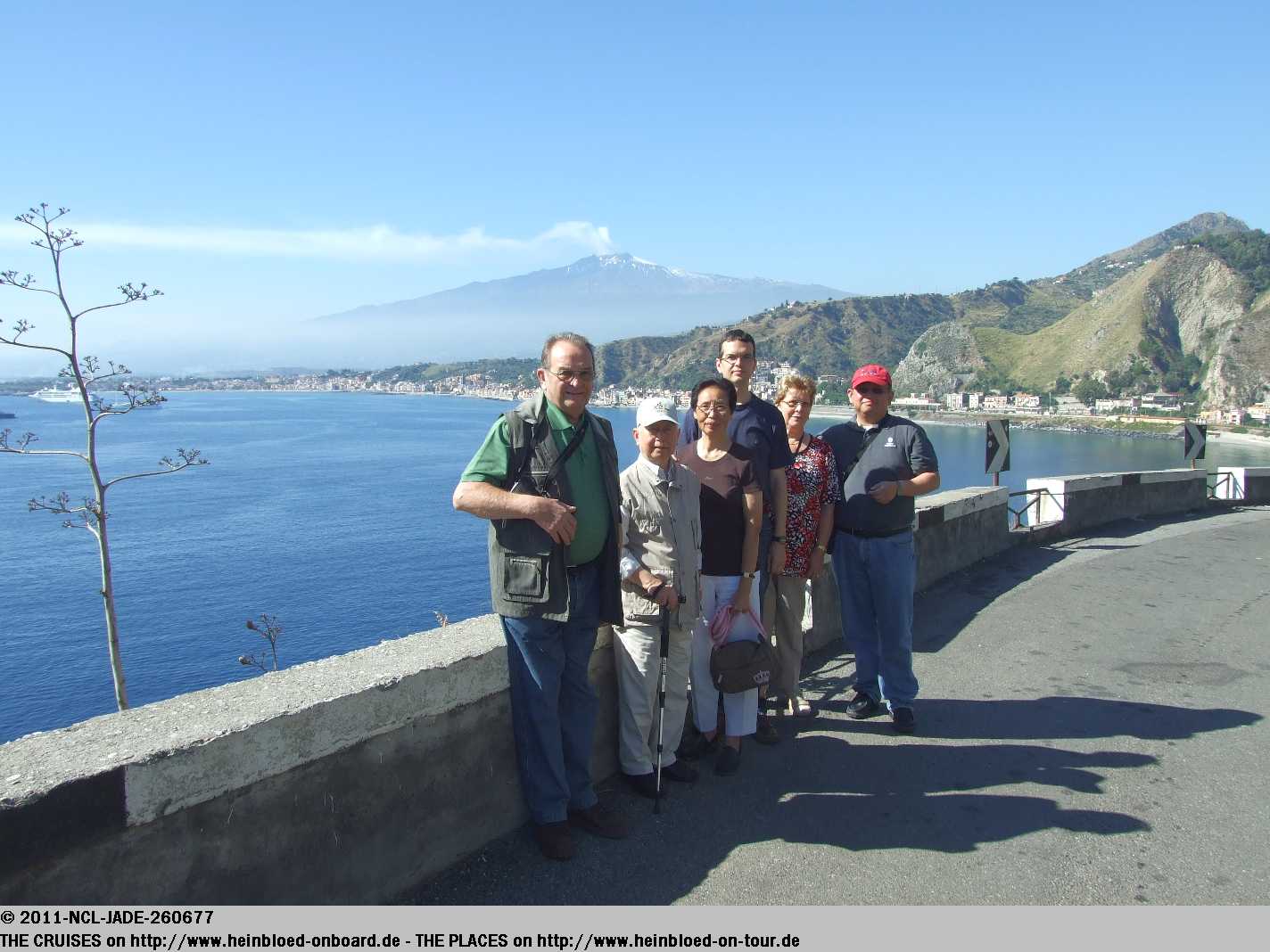 Es war die perfekte Stelle, um die Familie vor dem Ätna fotografieren zu lassen.
Und Antonio: das war Italien pur!!! So wie man sich es vorstellt. Es zählt das Ergebnis. Nicht der Weg. Als Bruno und seine Mutter aus dem Auto rausrutschen, quittiert er es mit einem "Perfetto". Das wäre bei der US-Cruise-Mafia nicht möglich. Die hätten ihn schon längst verklagt - und dafür hätte es auch sehr viel mehr gekostet. Auf jeden Fall würde ich Antonio wieder buchen. Nur bei sechs erwachsenen Personen würde ich ihn doch bitten, ein größeres Fahrzeug zu stellen.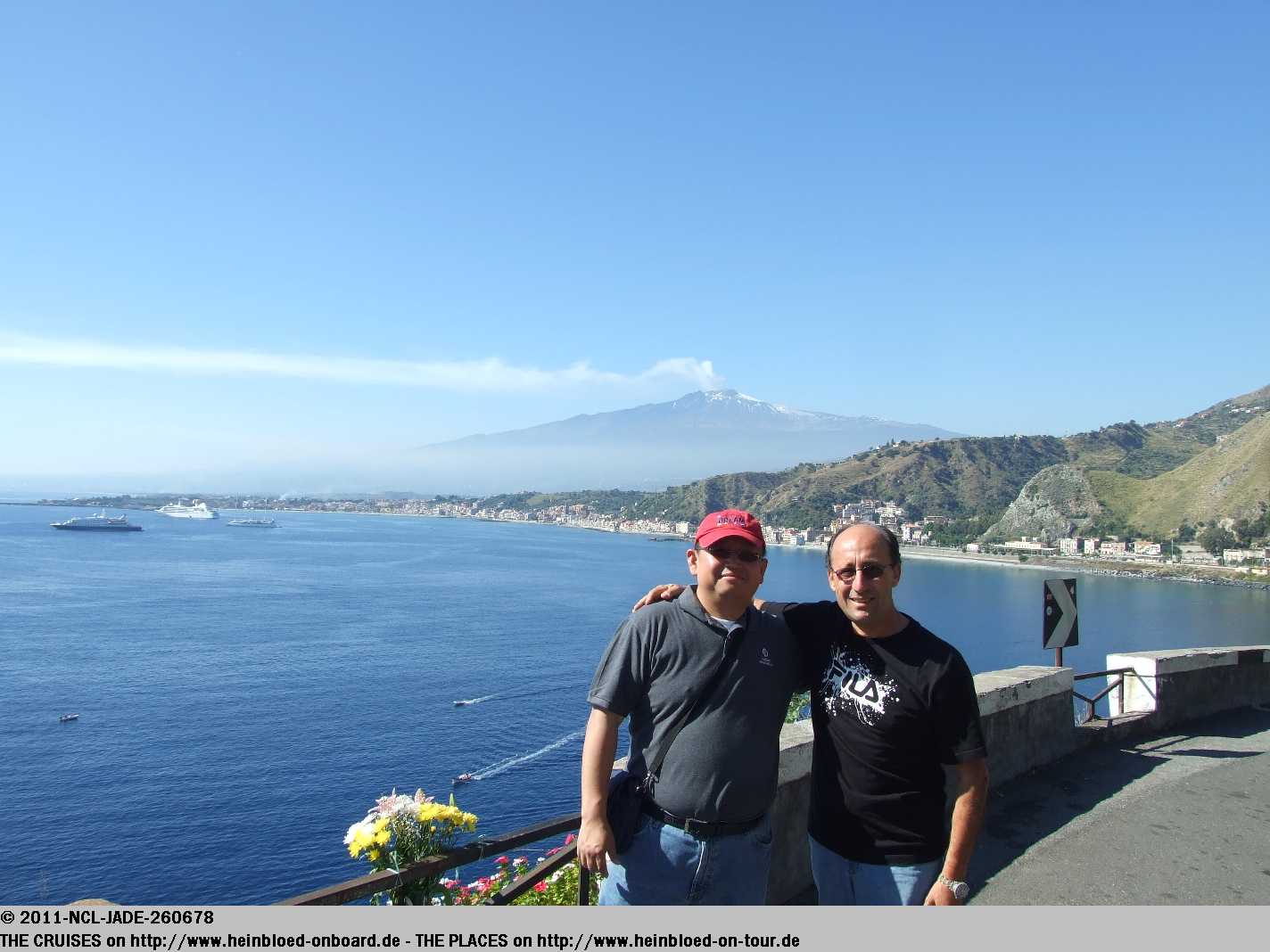 And Antonio: that was pure Italy!!! As you picture it. The result counts. Not the way. When Bruno and his mother had to slide out of the car he just said "Perfetto". This would not be possible with the US-Cruise-Mafia. They would have sued him - and it would have costs much more. I would book Antonio again. Only with six adults I would ask him for a larger car next time.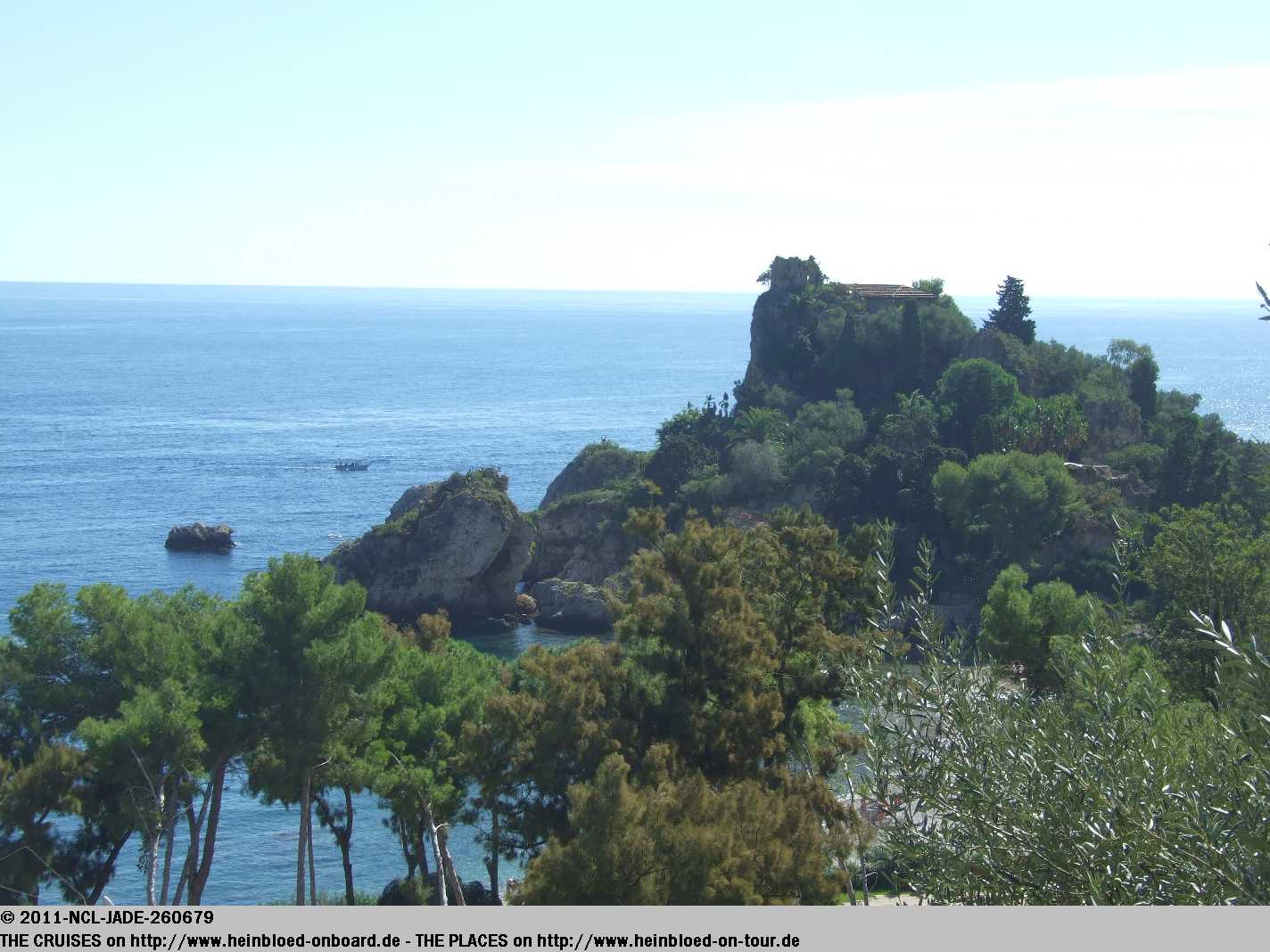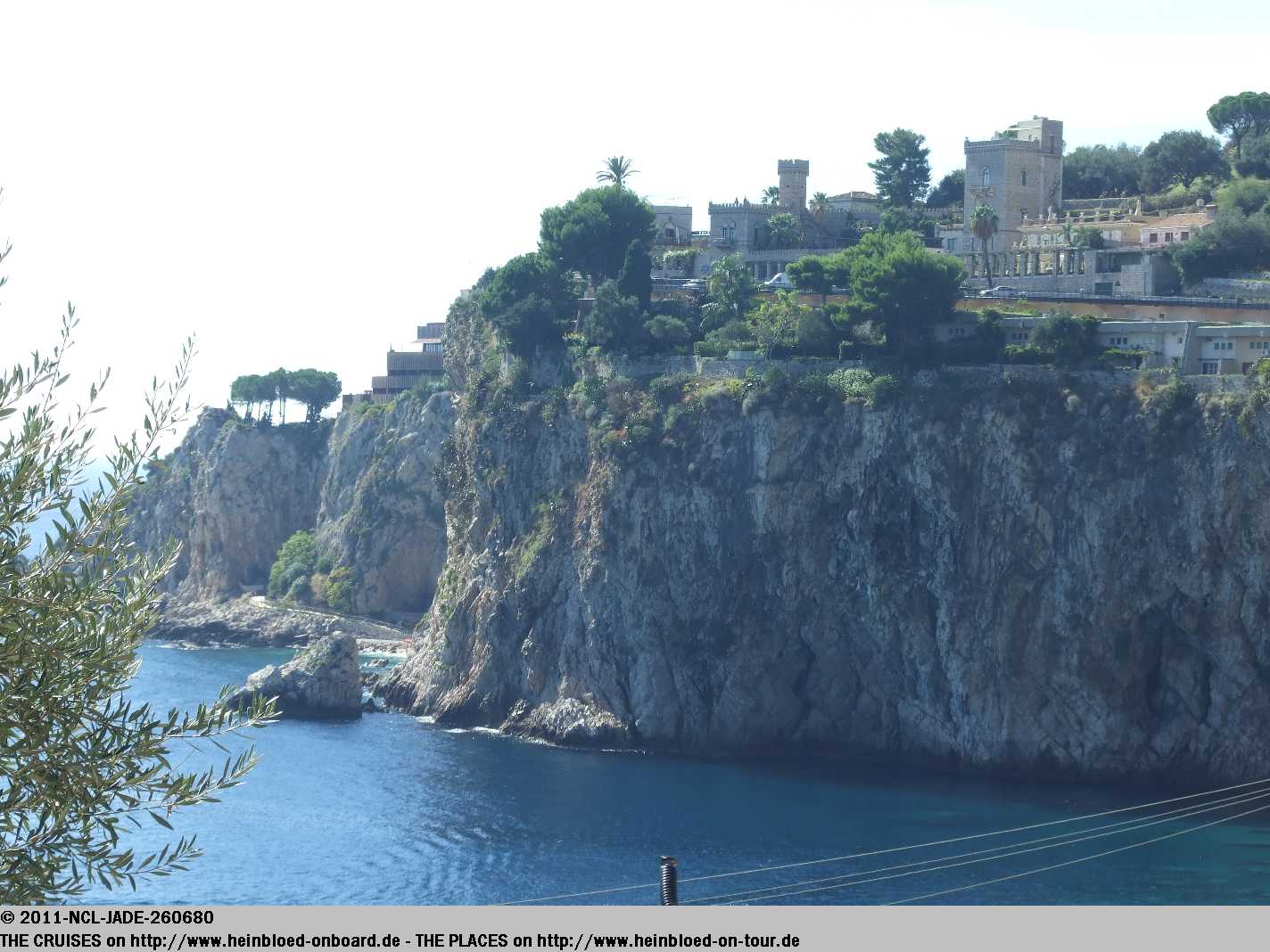 I had only the interest to take pictures of SILVER WIND while she berthed in Taormina.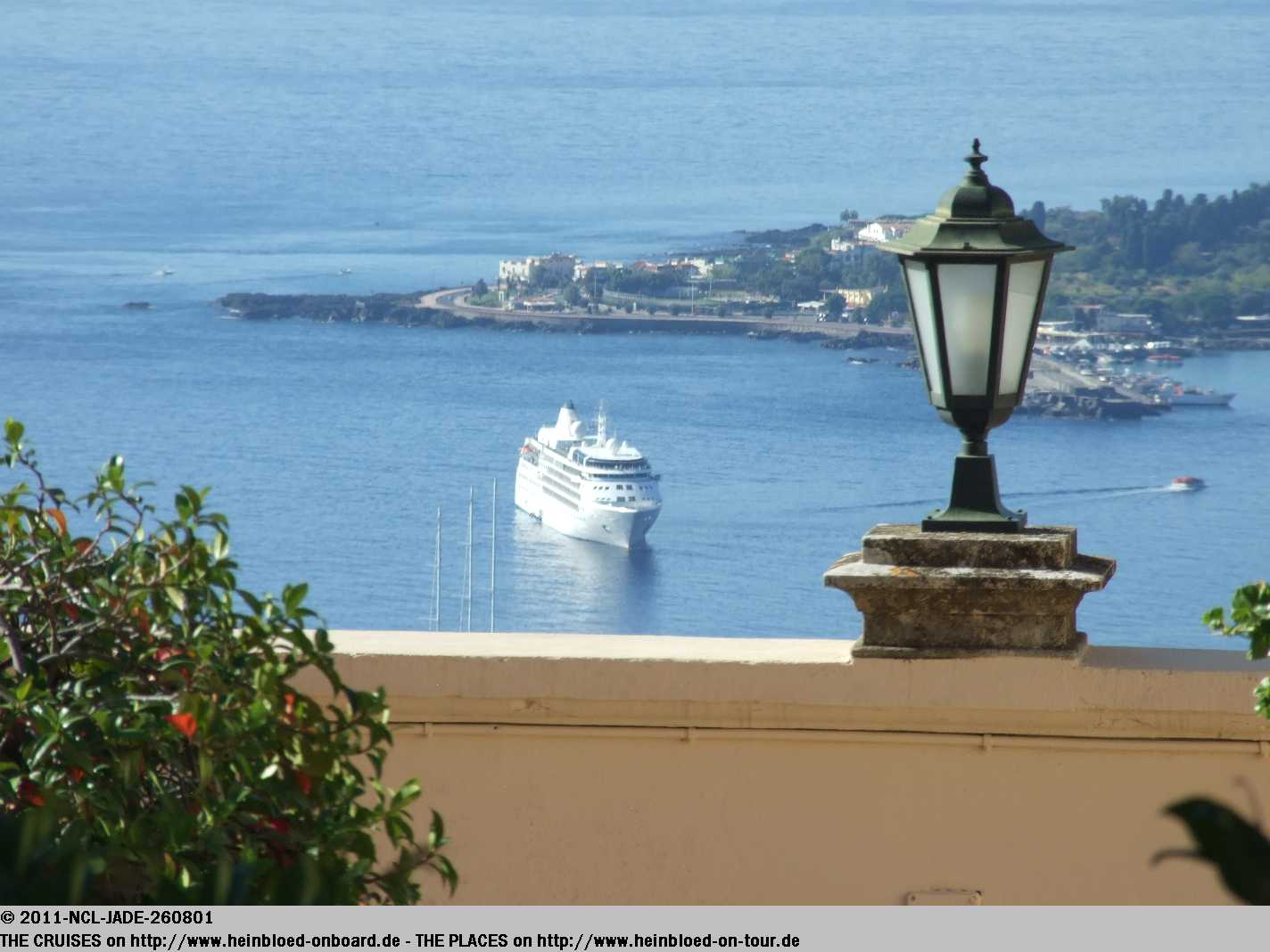 Mir ging es nur darum die SILVER WIND zu fotografieren, die hier in Taormina lag.
Die hatten wir oben schon vom Griechischen Theater entdeckt.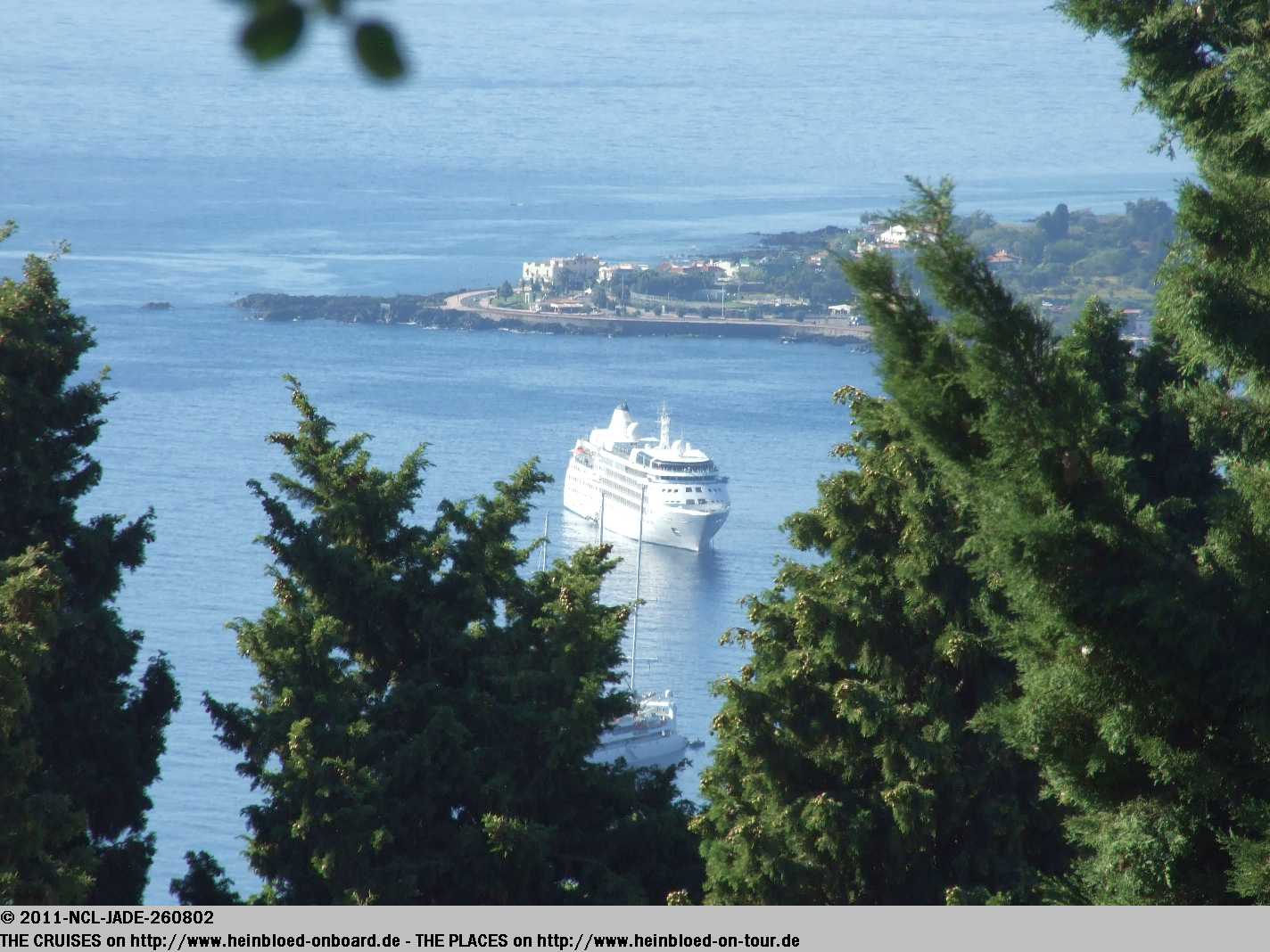 We discovered her already from the Greek Theater.

But there she was hidden between the trees.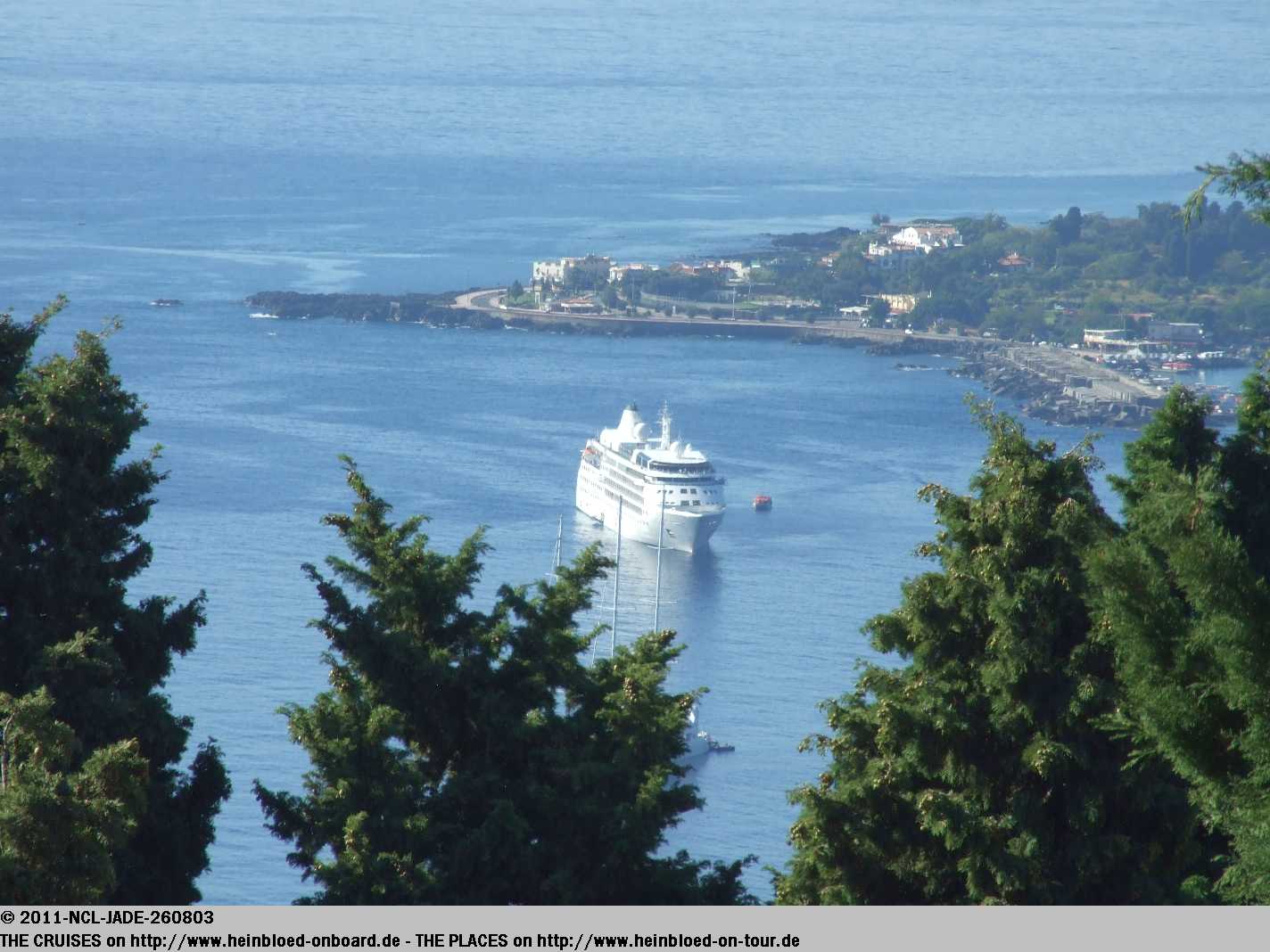 Aber da war sie irgendwie zwischen den Bäumen versteckt.
Erst an der Küstenstraße bekomme ich sie fast komplett hin. Nur dieser 3-Master stört.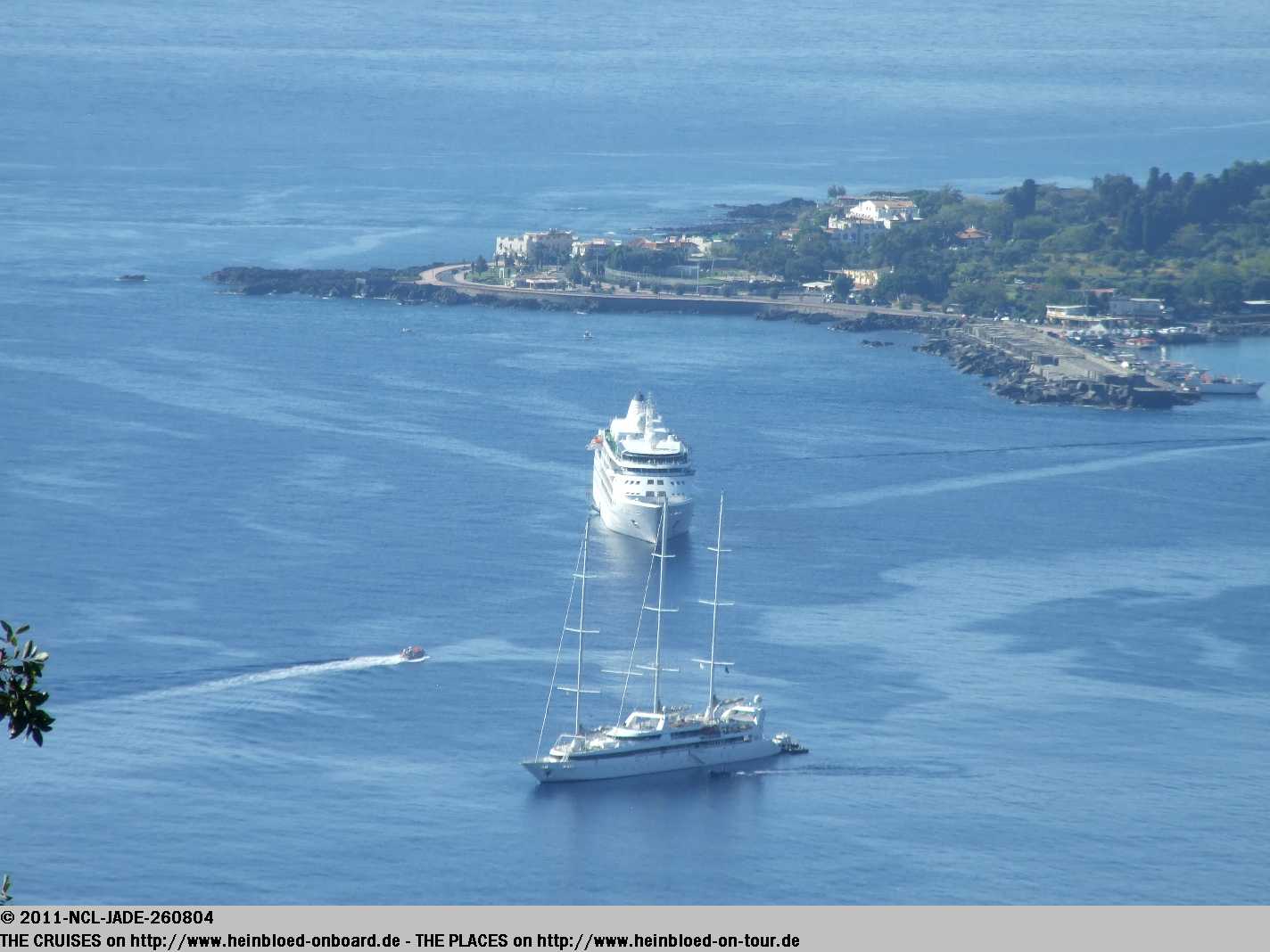 But finally at the costal road I had a chance to get her complete on my photos. Only the 3-master bothered.

Anyhow I did not identified the 3-master as cruise ship. It's LE PONANT. Her AIS-signal I caught already on my iPhone.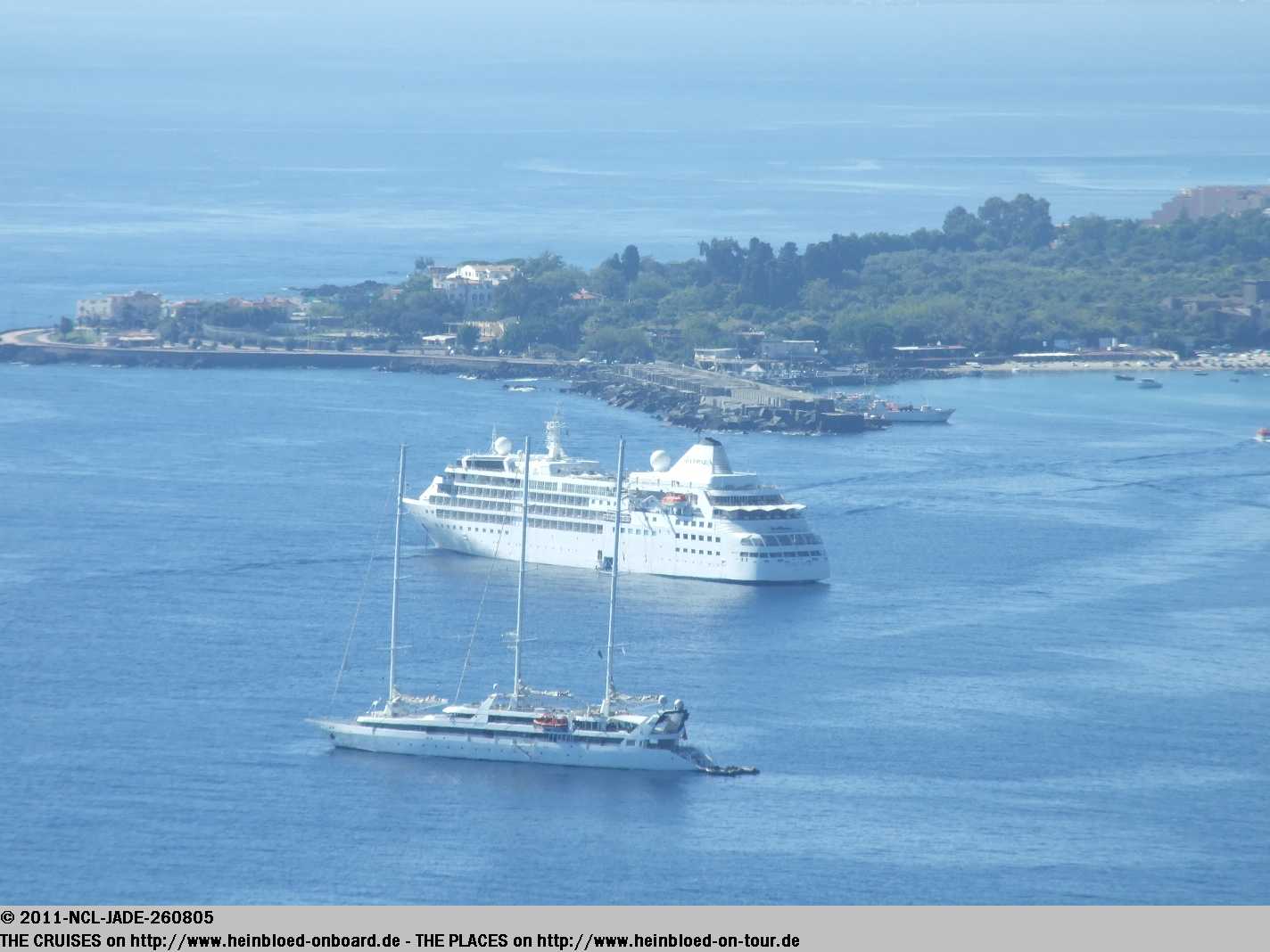 Bloß den 3-Master habe ich gar nicht als Kreuzfahrtschiff identifiziert. Es ist die LE PONANT. Deren AIS-Signal habe ich ja schon auf dem iPhone gesehen.
Deswegen habe ich sie in diesem Fall rechts liegen lassen.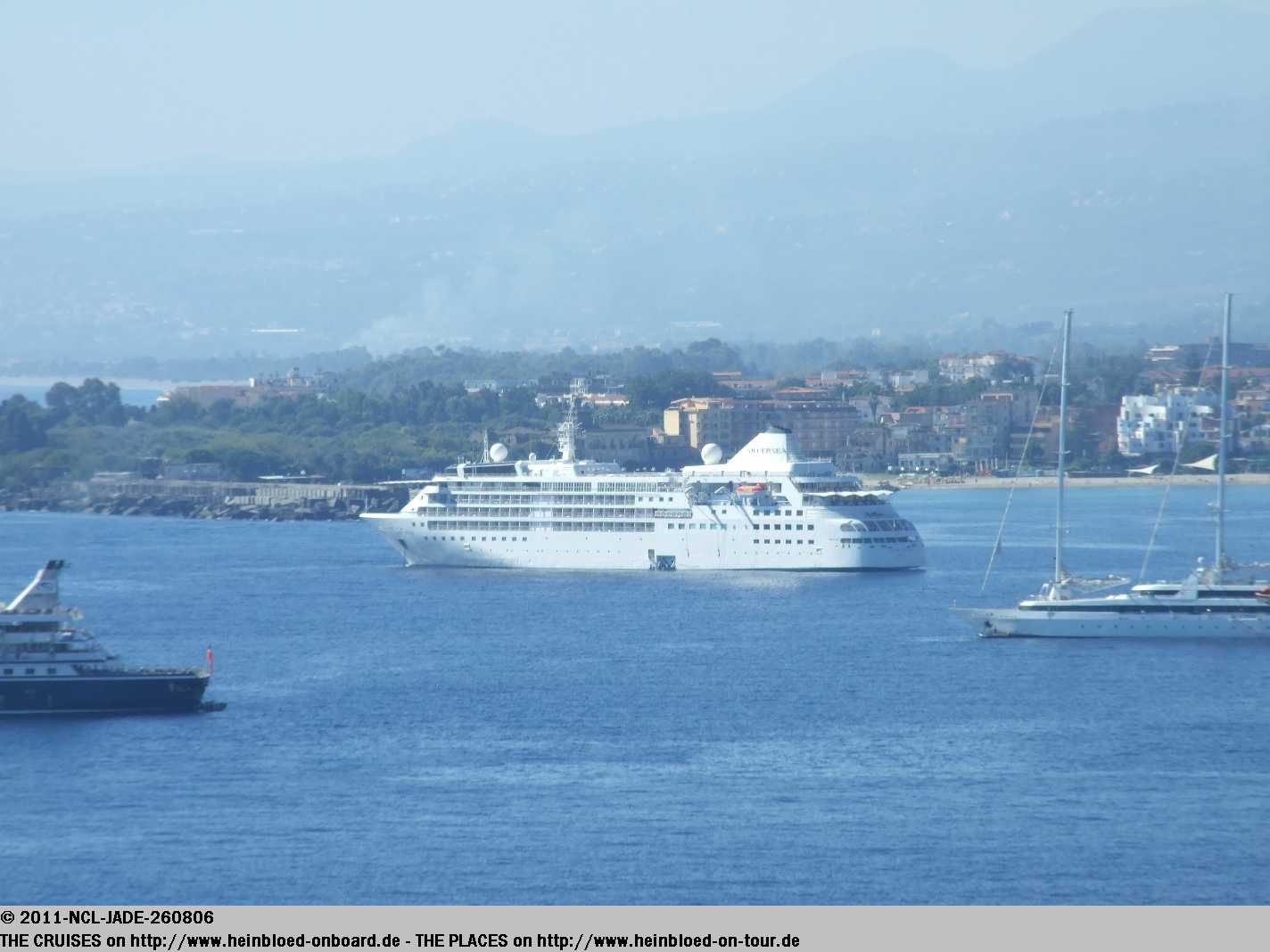 That was why I disregarded her.

That looked more like a cruise ship.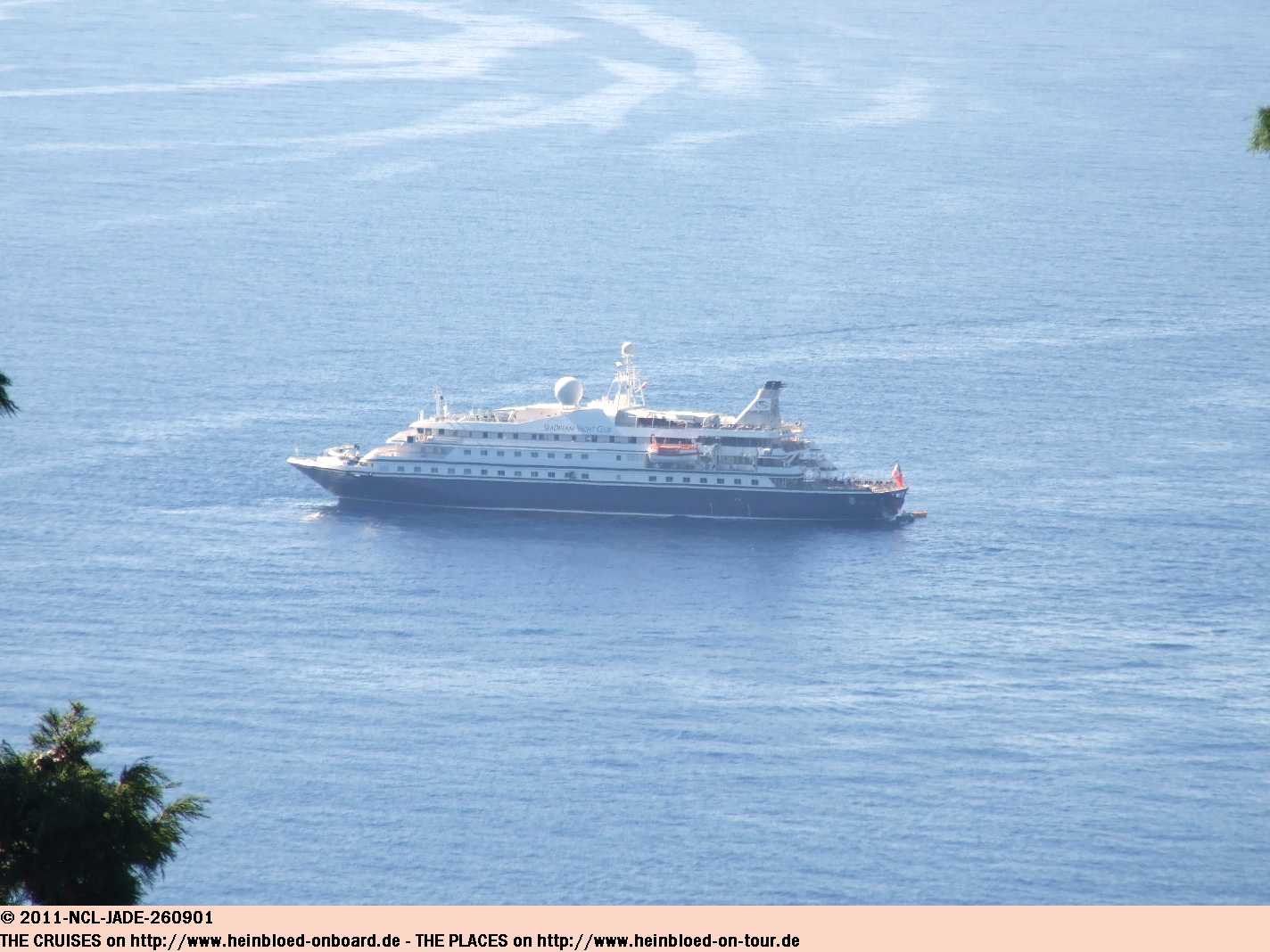 Das sieht ja aus wie ein Kreuzfahrtschiff.
Aber wurde ich zwischenzeitlich aufgeklärt, dass es sich um die SEADREAM II handelt.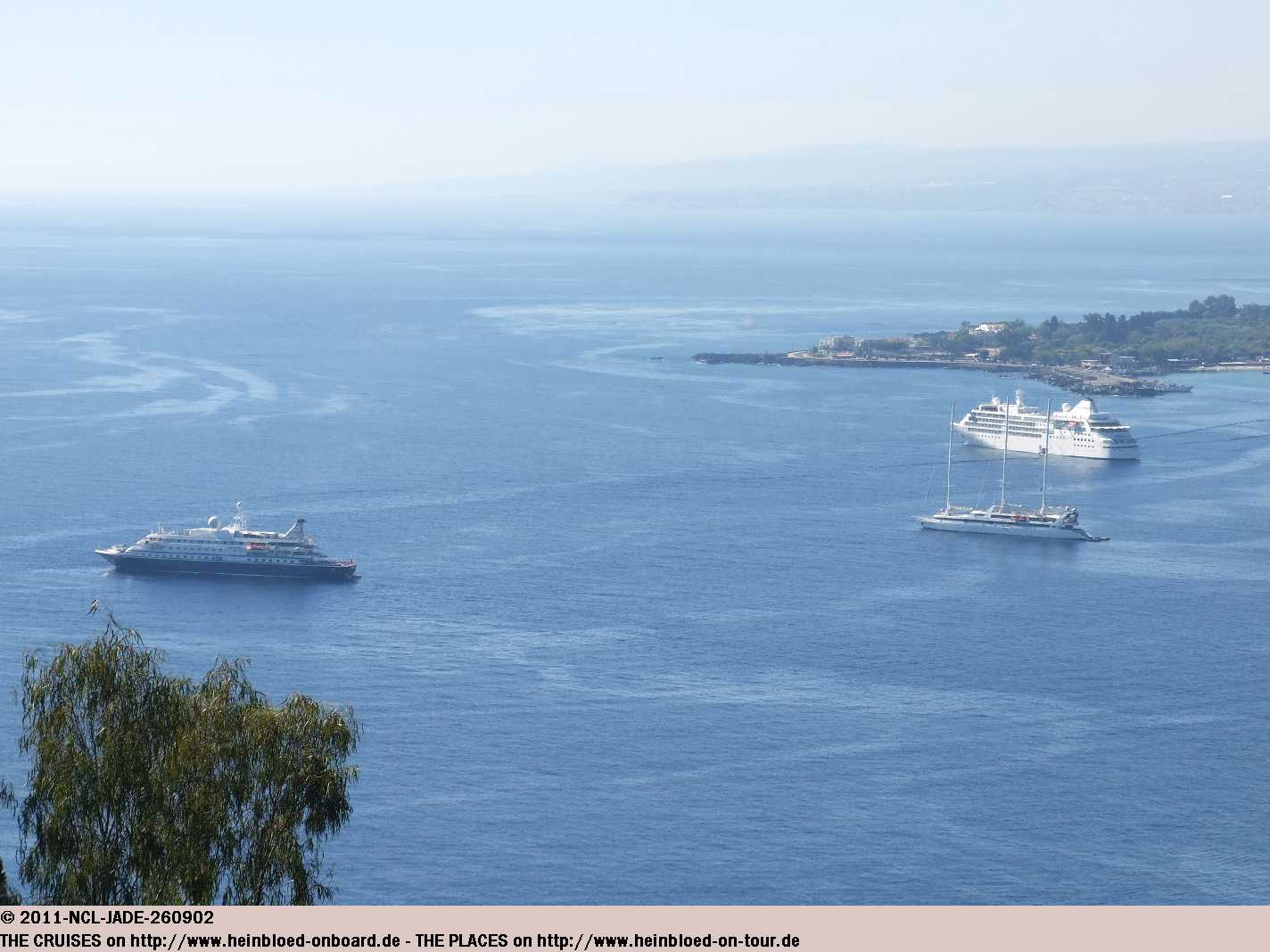 But meanwhile I was told that this was SEADREAM II.

There was only no AIS-signal on my iPhone.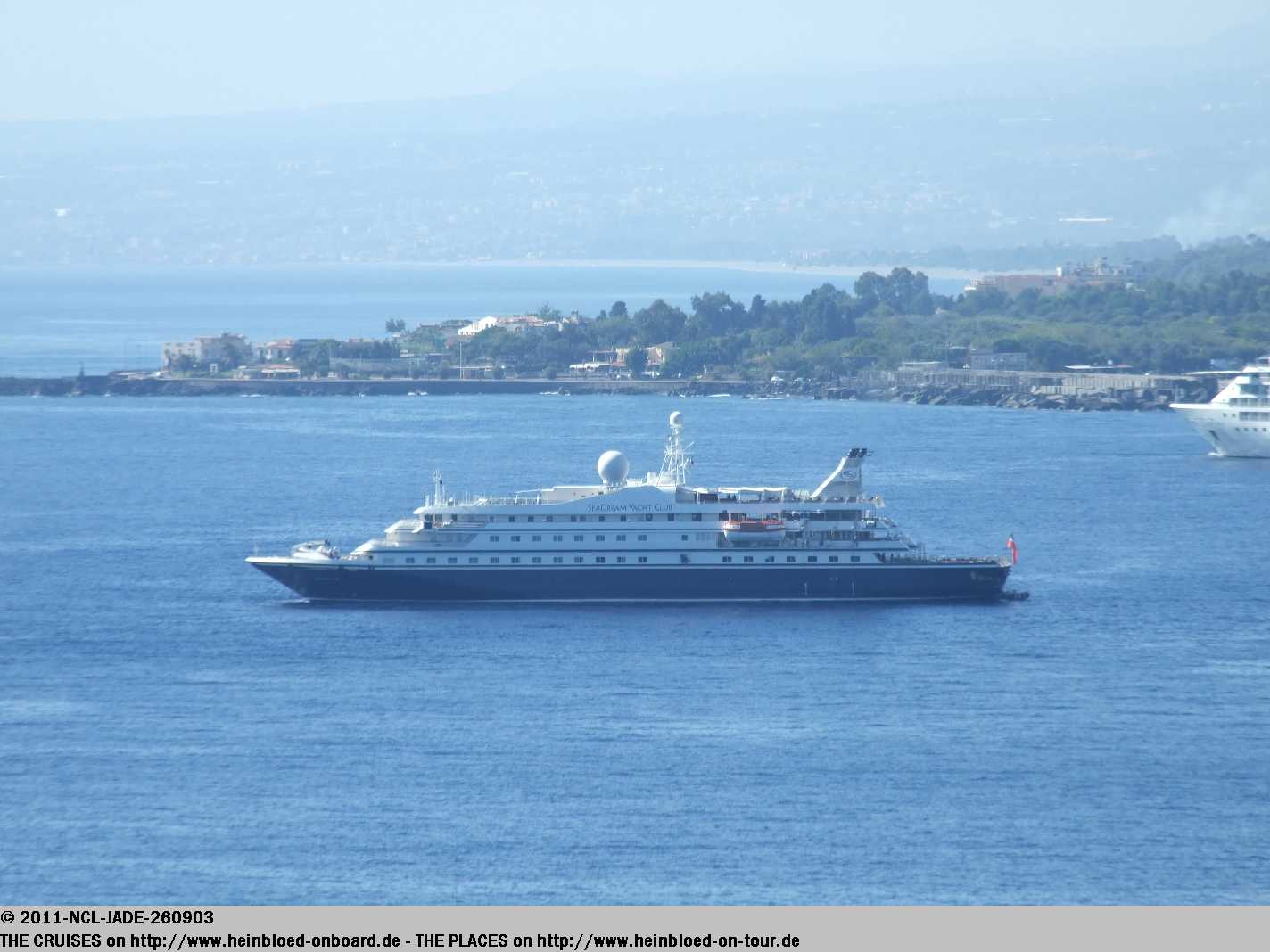 Bloß von ihr hatte ich kein AIS-Signal auf dem iPhone.
Deswegen hielt ich sie irgendwie für die LE PONANT. Erst später im Douglas Ward auf dem iPhone habe ich mir den Steckbrief von LE PONANT angesehen und festgestellt, dass es wohl der 3-Master rechts von der SILVER WIND sein muss.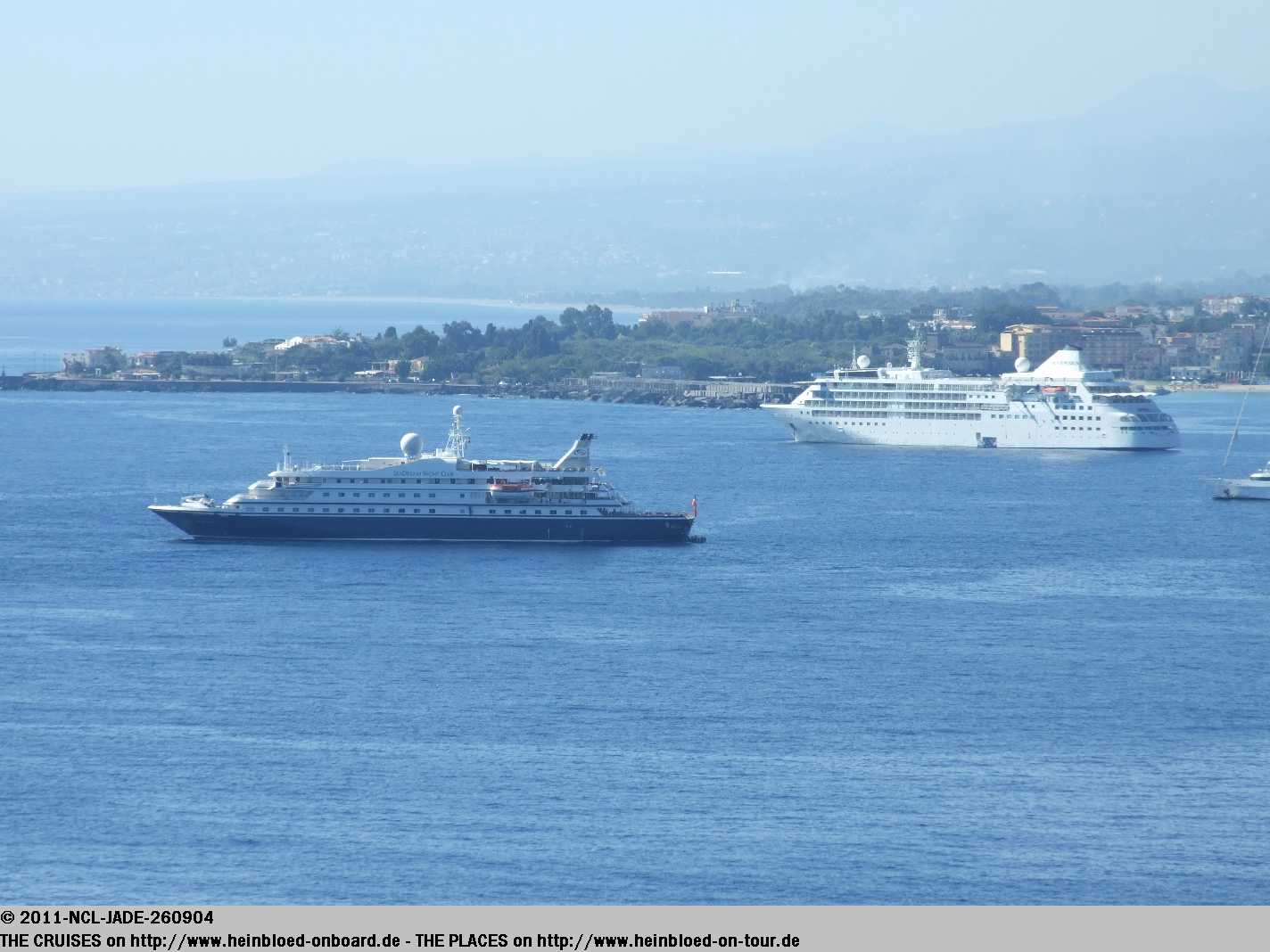 That was why I thought that this ship was LE PONANT. Later on my Douglas Ward-App on my iPhone I could see that LE PONANT is a 3-master and so it must the ship in front of SILVER WIND.