Scroll down for English explanations - alternates with German explanations.

Brunos Eltern hatten den Wunsch geäußert, auch einmal nochmals zum Teppanyaki zu gehen.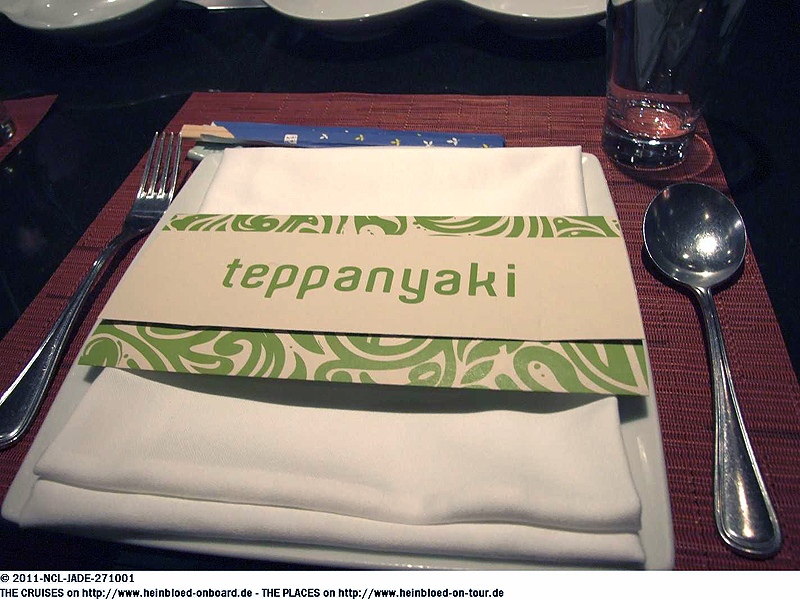 Bruno's parents had the wish to see the Teppanyaki again.

There was a small change since our last visit in January 2011. The seafood was no more "diabolic".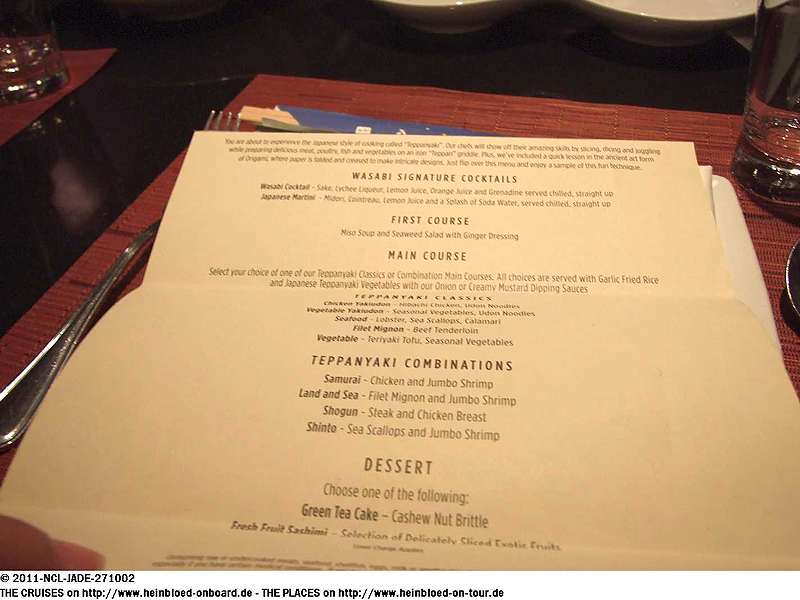 Auch hier gab es kleine Änderungen zu unserem letzten Besuch im Januar 2011. Die Meeresfrüchte sind beispielsweise nicht mehr "teuflisch".
Wir haben Glück, dass wir alleine für uns einen Tisch bekommen.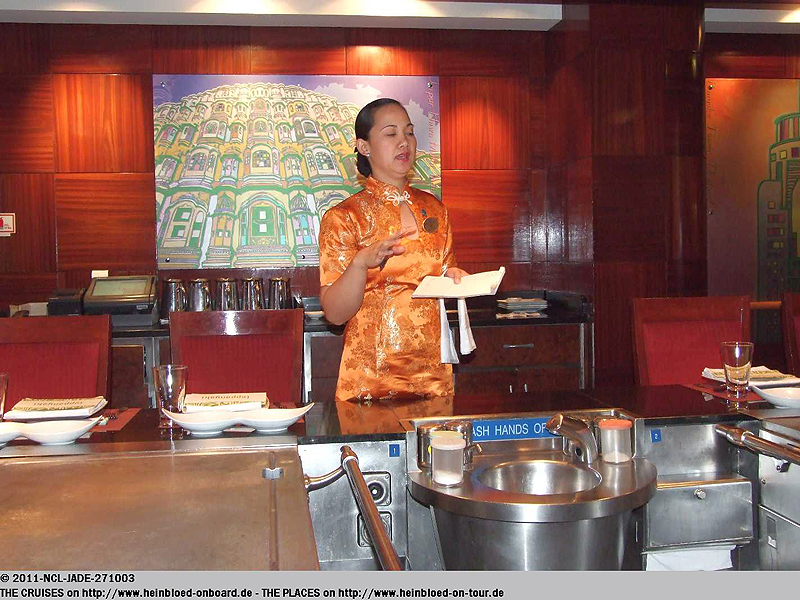 We had the luck to had table by ourselves.

New was that the beans were already peeled.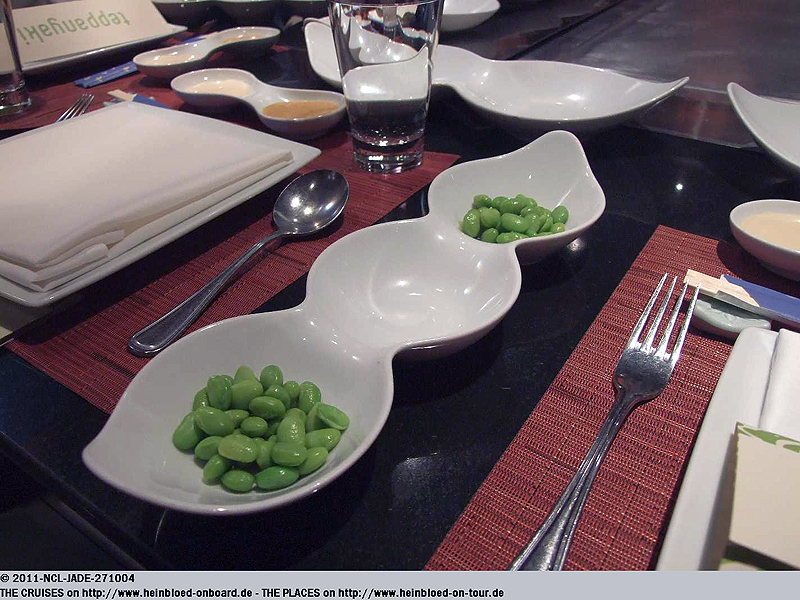 Neu ist, dass die Schalen der Bohnen bereits entfernt wurden.
Die Miso-Suppe war unverändert.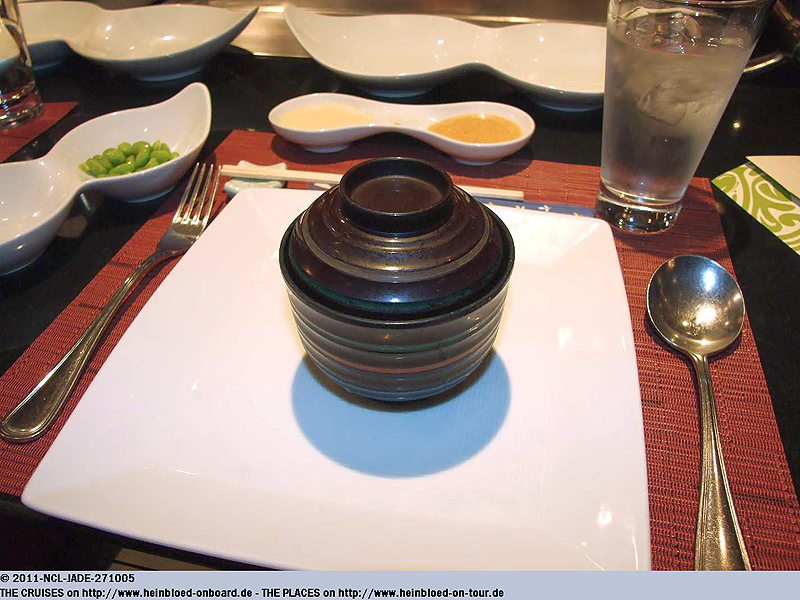 The Miso-Soup was unchanged.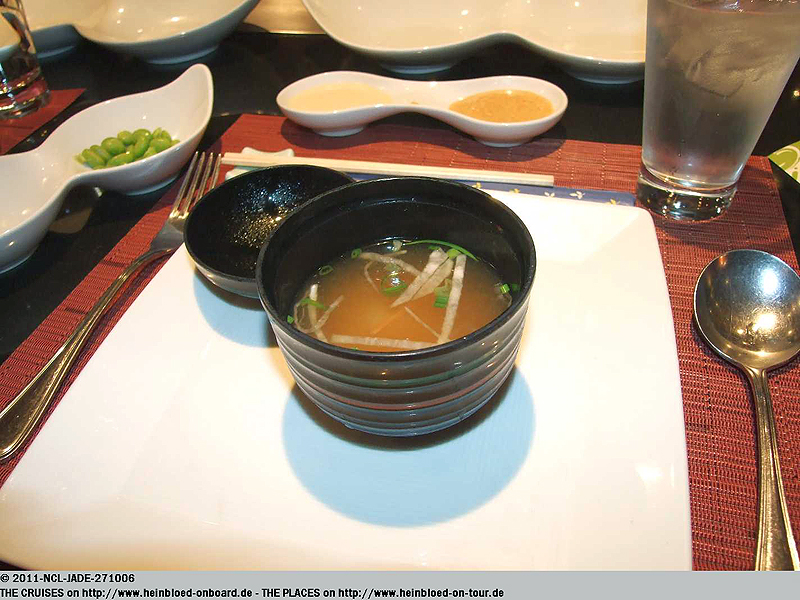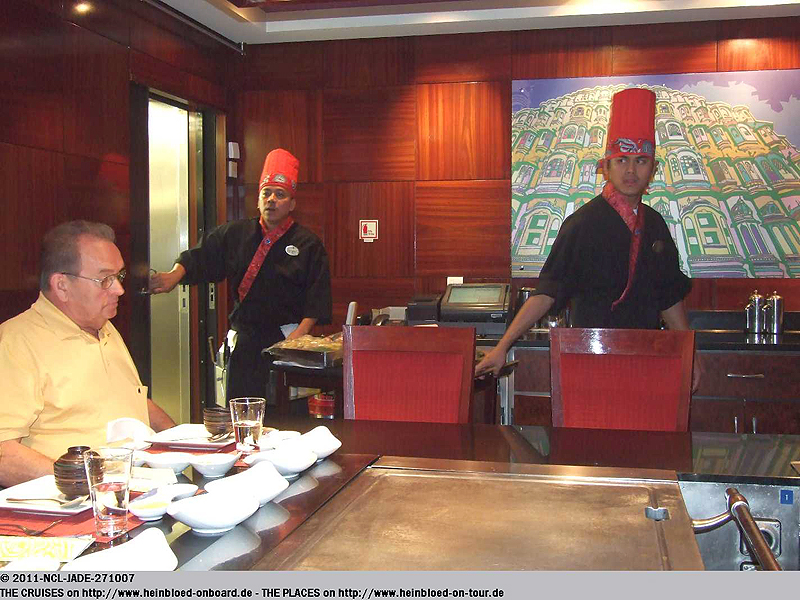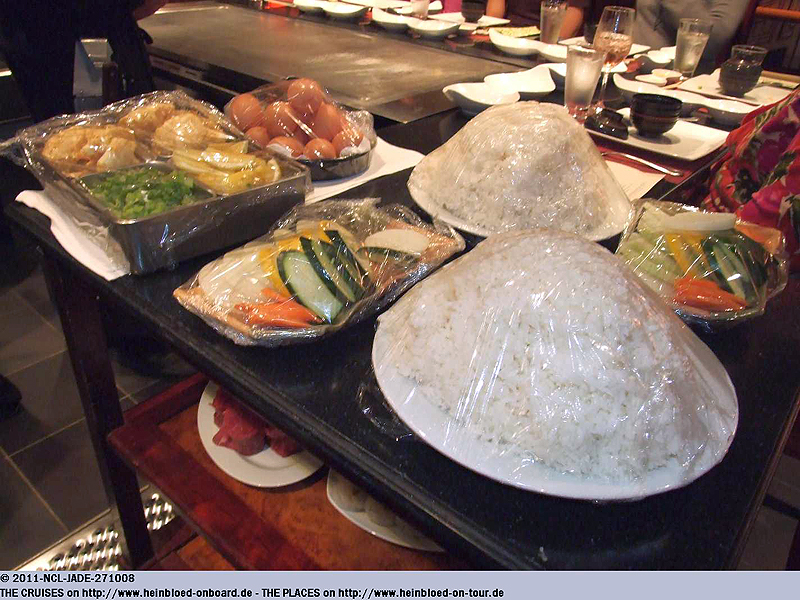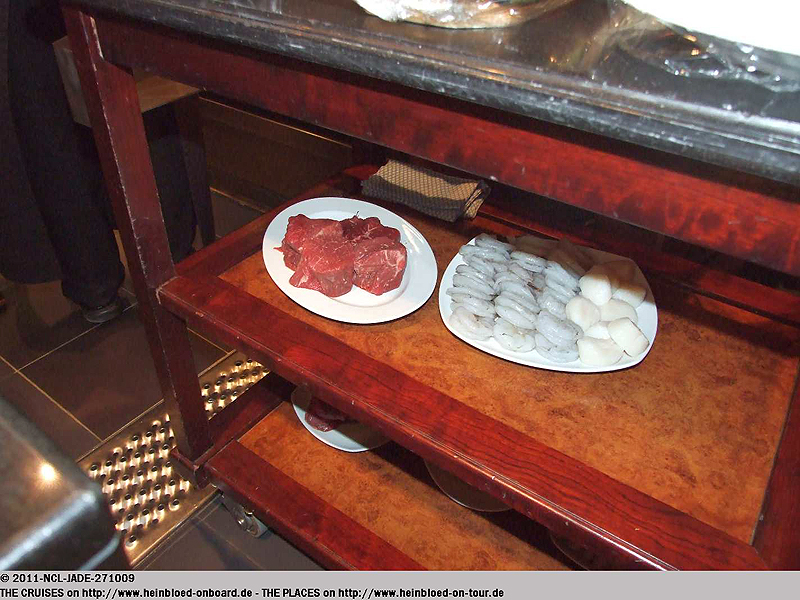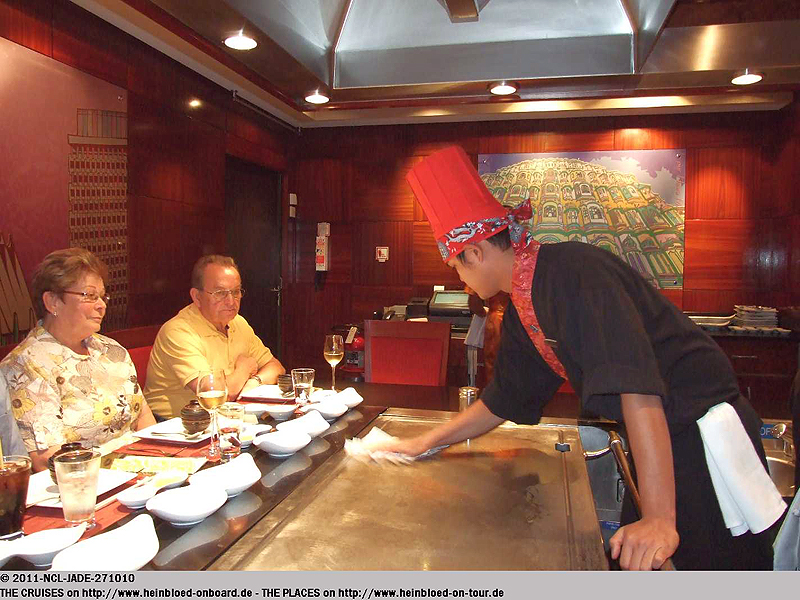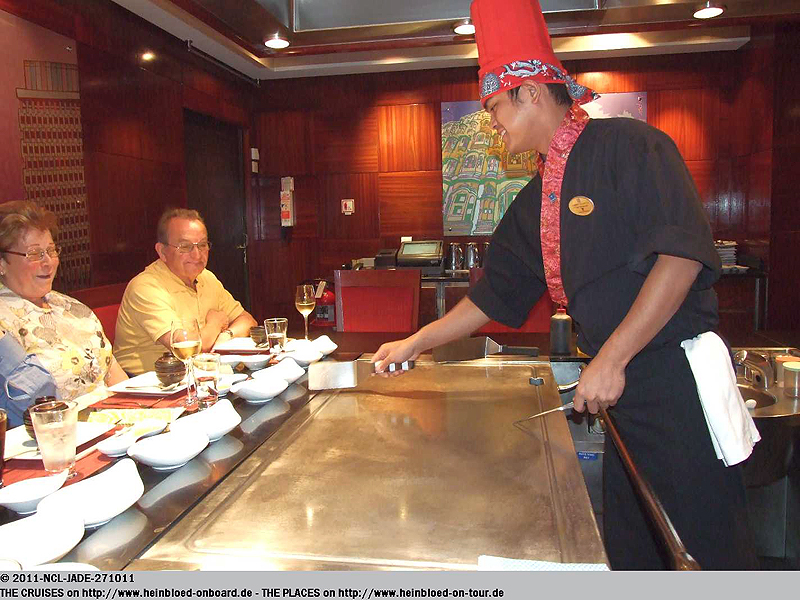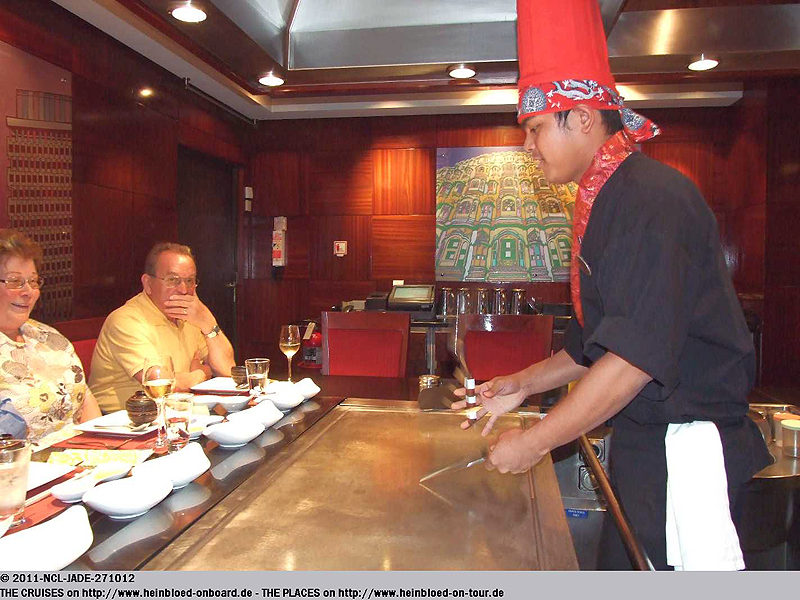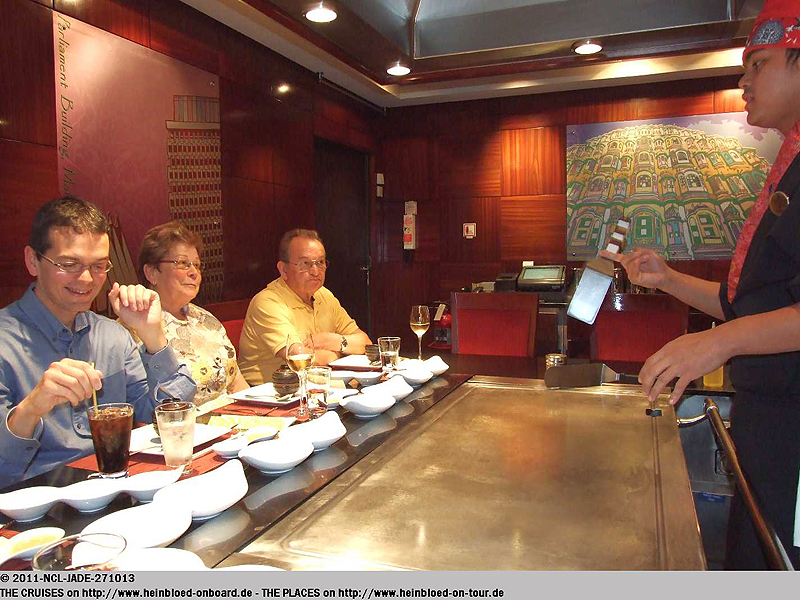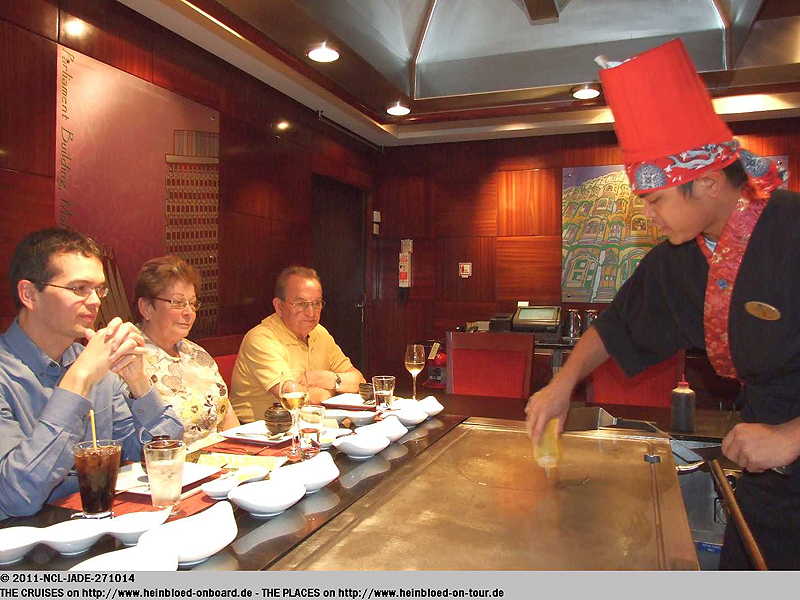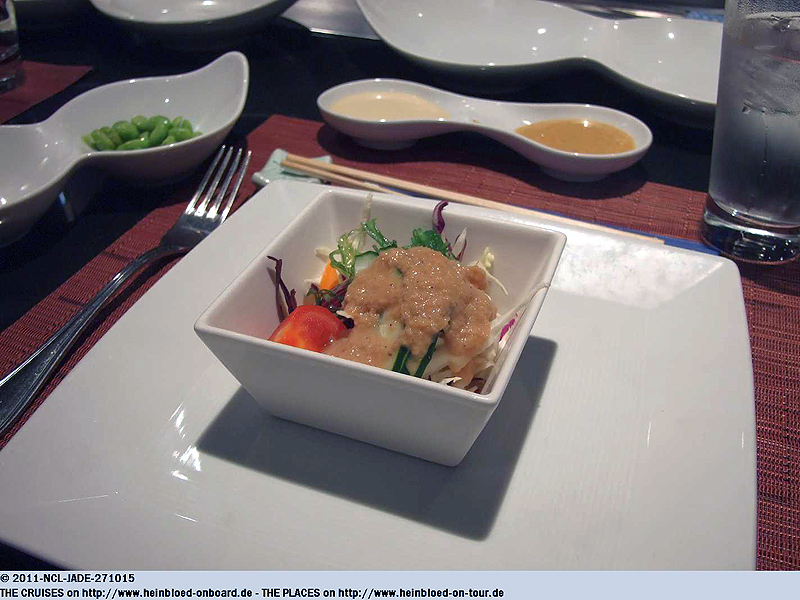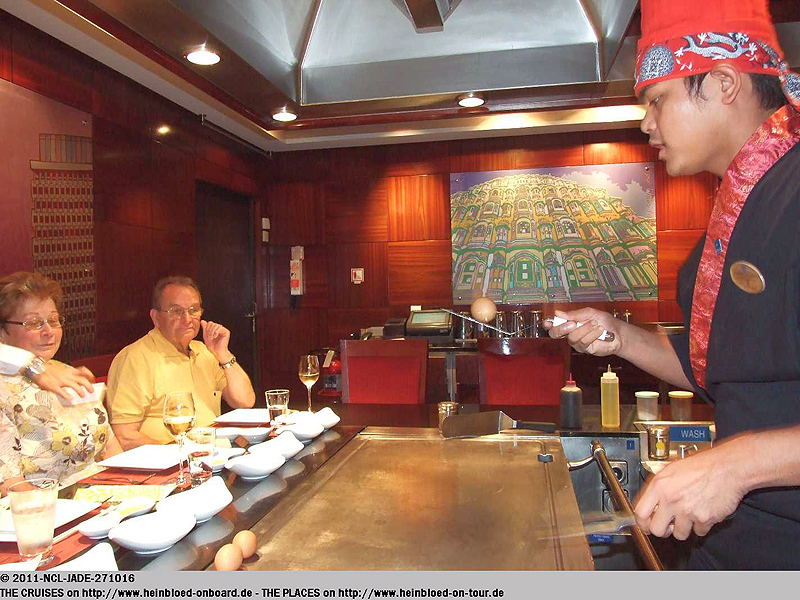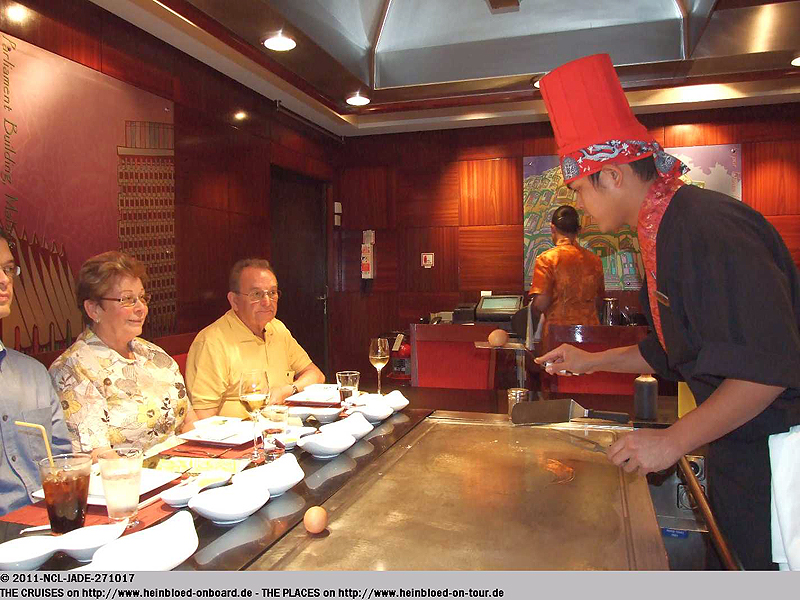 Anyhow Bruno's parents had fun again.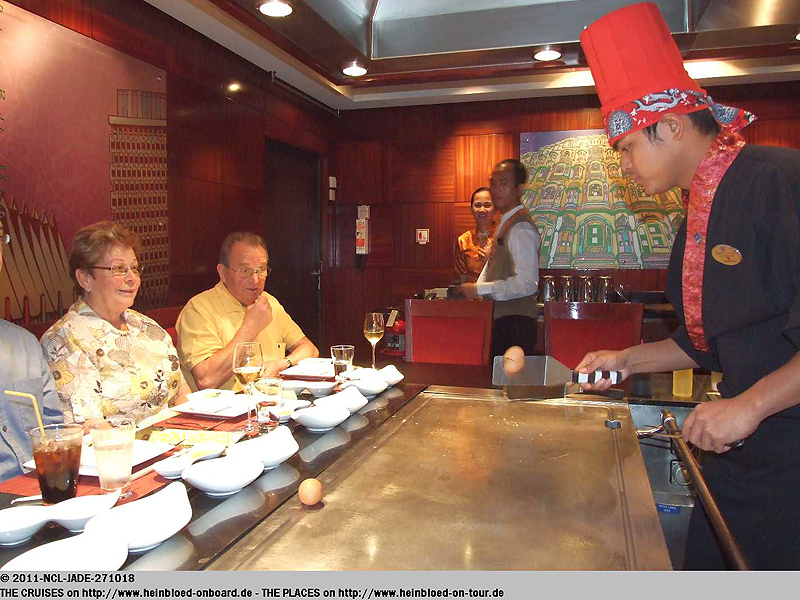 Auf jeden Fall hatten Brunos Eltern wieder ihren Spaß.
Und mangels allzuvieler Alternativen ist Bruno das dankbare Opfer des Kochs für alle möglichen Späße.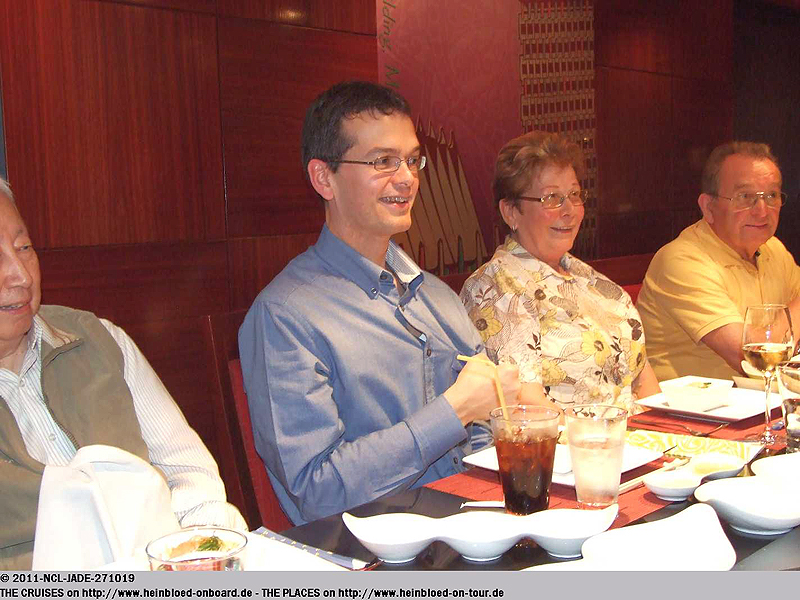 As there were not so many potential alternatives Bruno was the suitable victim for the cook for his jokes.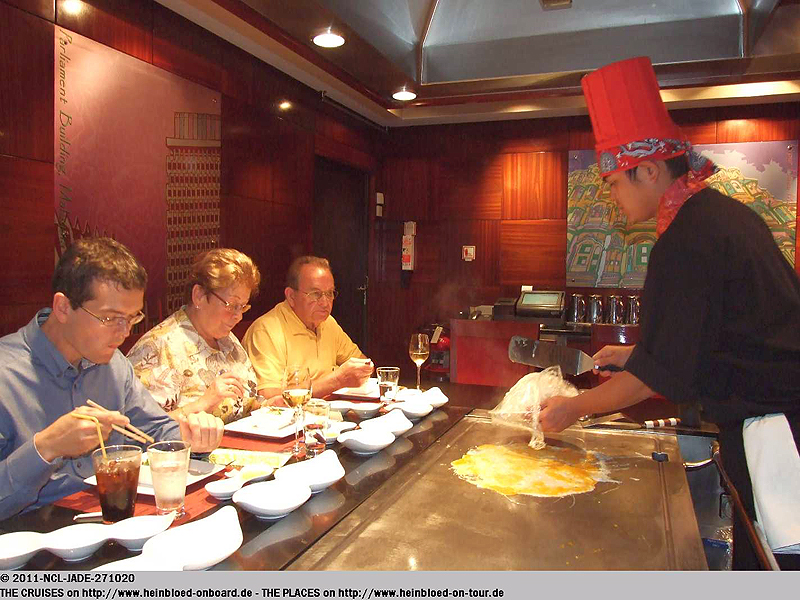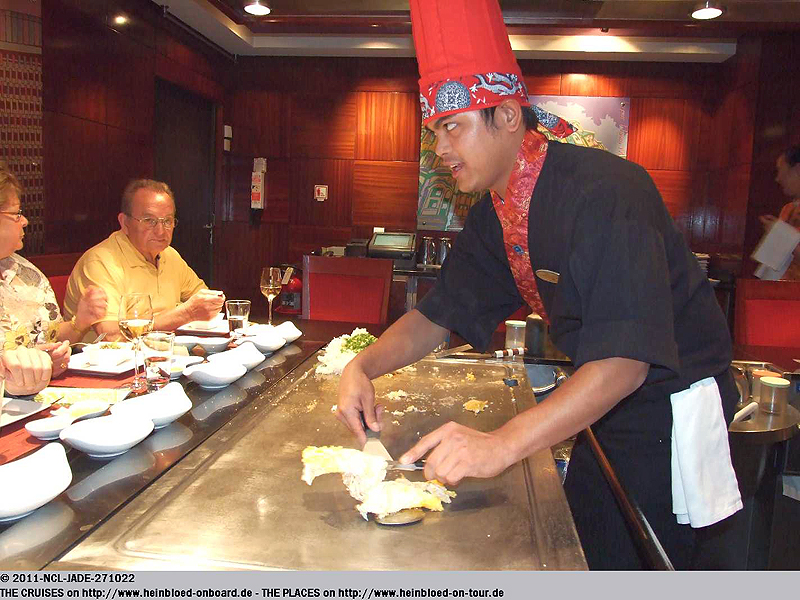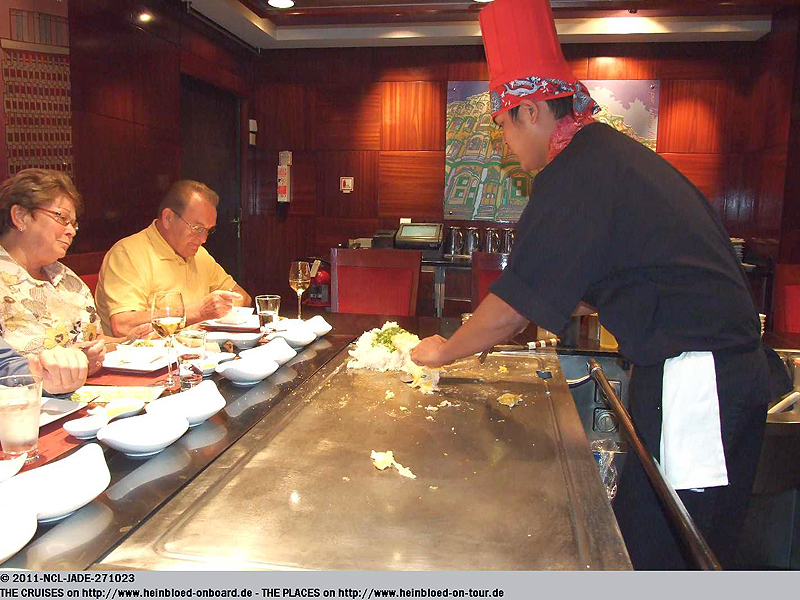 This time I took pictures of Bruno and he could not catch a piece of egg. This time I made it but there was no picture. Last time it was the other way round.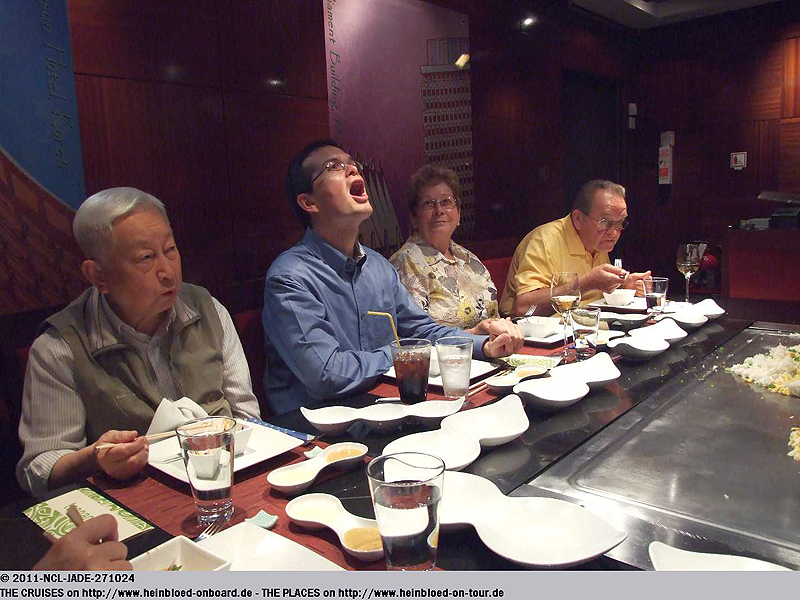 Dieses Mal fotografiere ich Bruno und er schafft es nicht das Stückchen Ei zu fangen. Dieses Mal habe ich es geschafft und dafür gibt es kein Foto. Letztes Mal war es ja umgekehrt.
Für meine Eltern ist Teppanyaki-Essen so ungefähr, wie bei uns zum Italiener um die Ecke zu gehen. In Taipeh gibt es einfach zu viele Teppanyaki-Restaurants. Nur meinte mein Vater, dass er nirgendst so ein lustiges Teppanyaki erlebt hätte.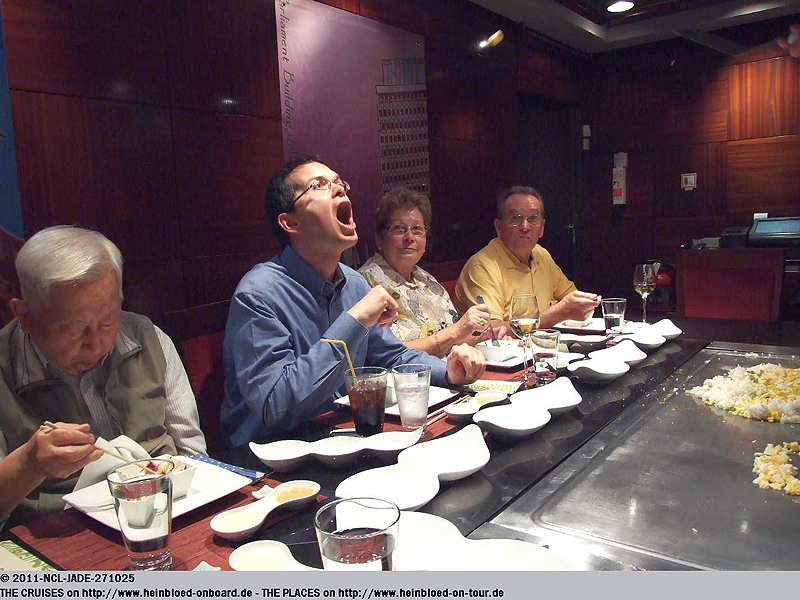 For my parents a Teppanyaki-dinner was the same like going to the Italian around the corner. In Taipei there are too many Teppanyaki-restaurants. But my father said that he has never had more fun but here.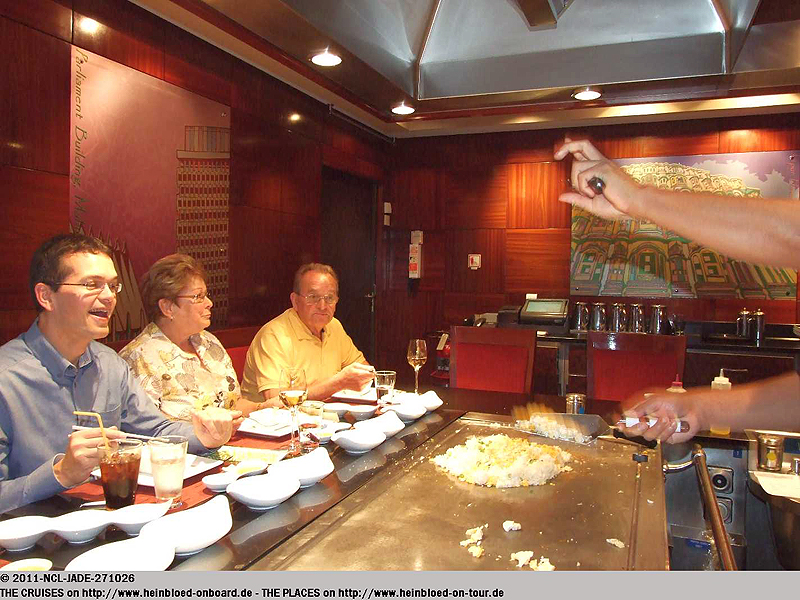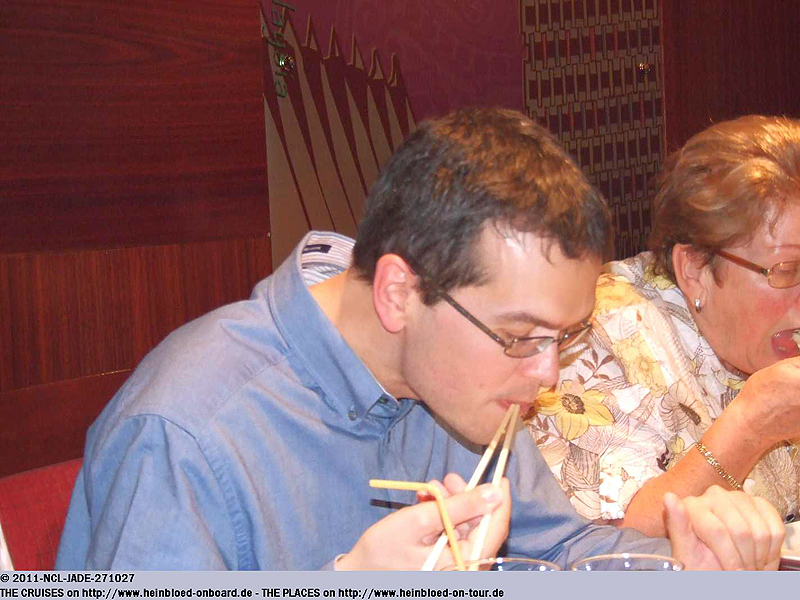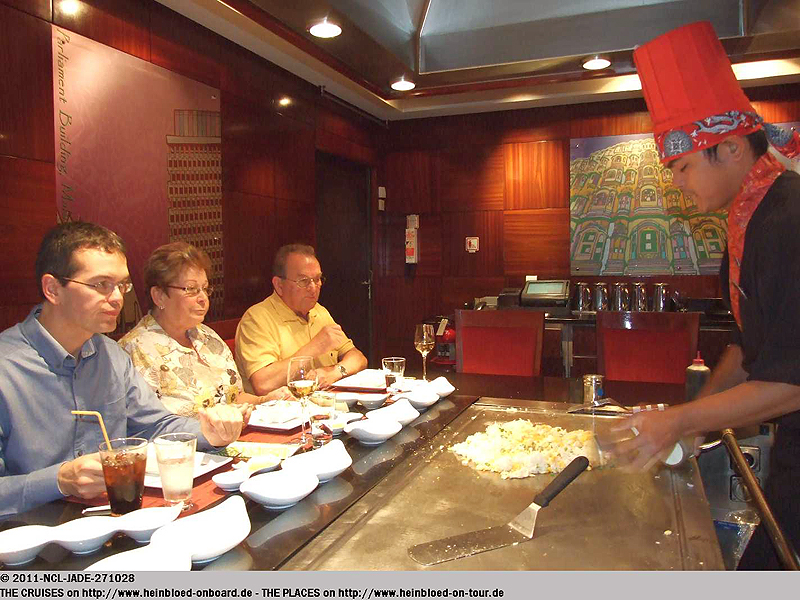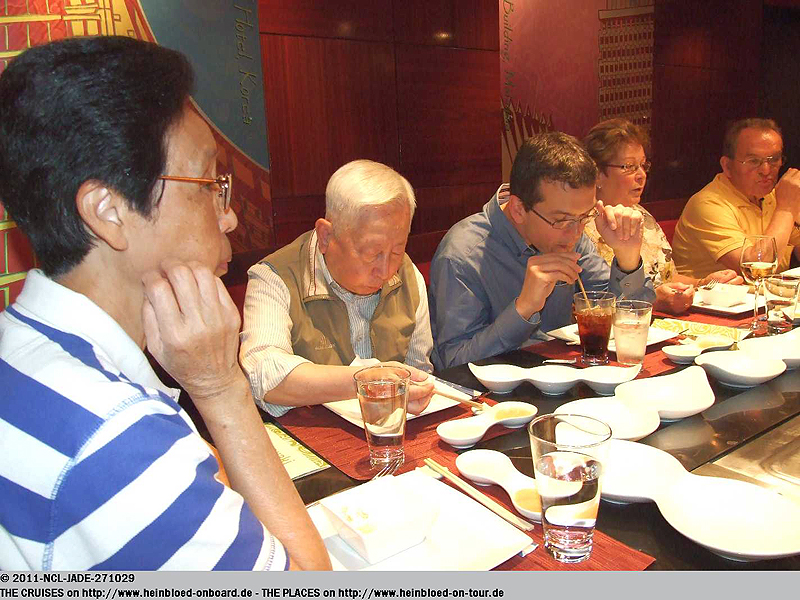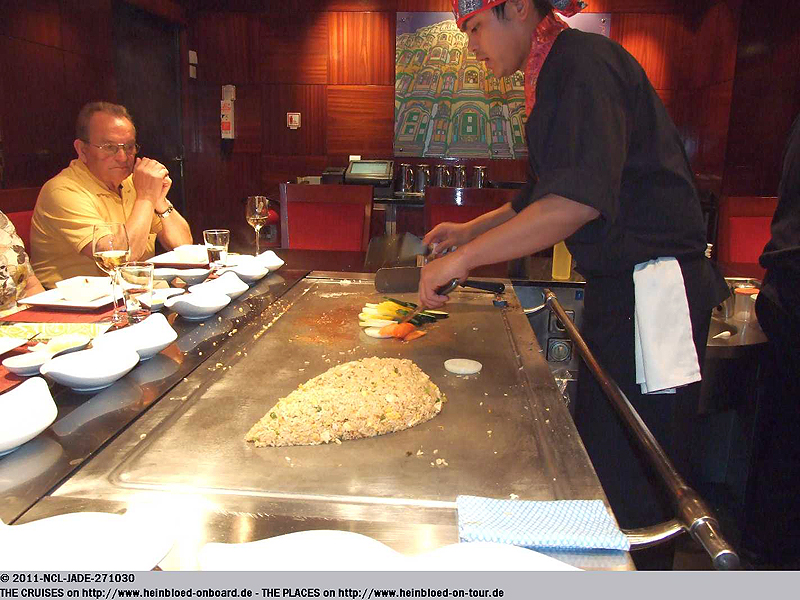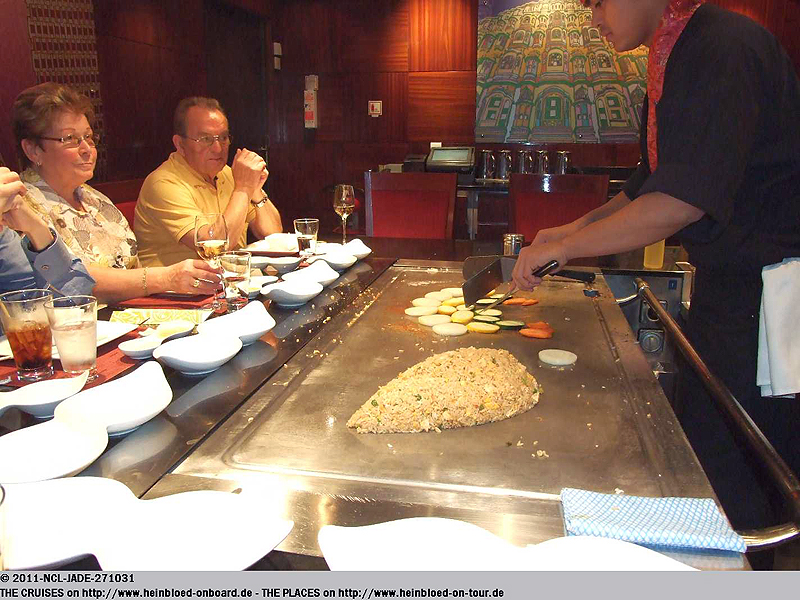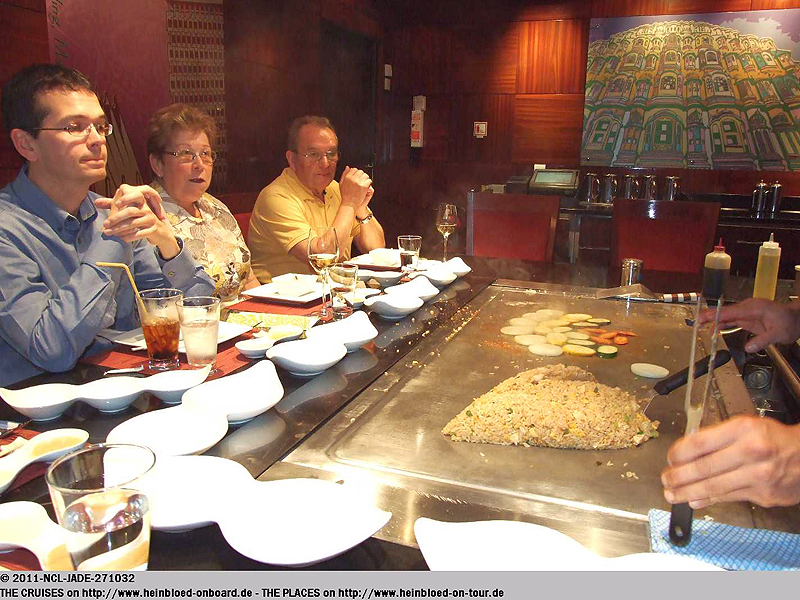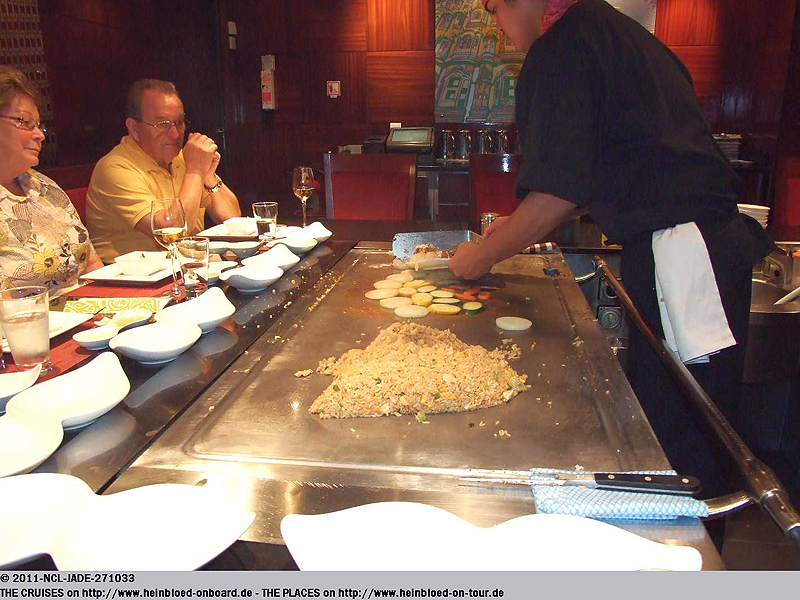 The cook was too well-intentioned.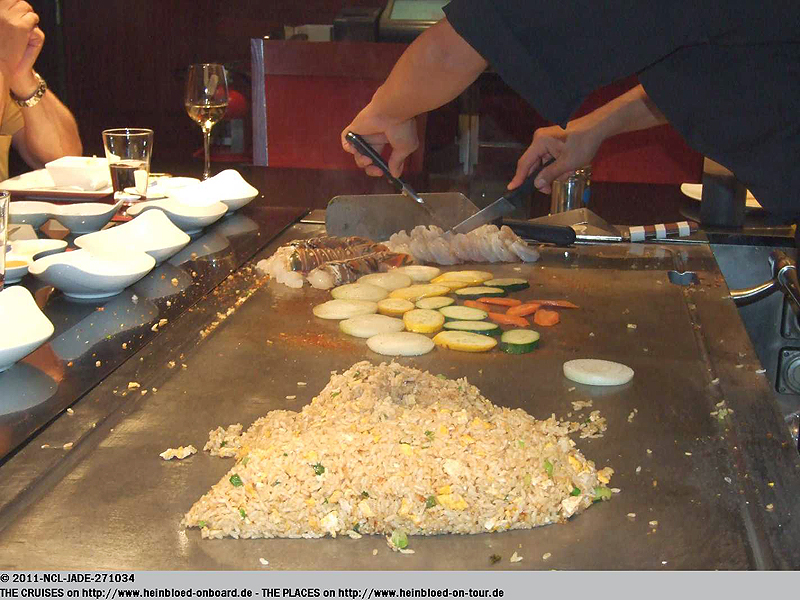 Irgendwie hat der Koch es zu gut gemeint.
Wir hätten wirklich ein Schild mit öffentlicher Laibung aufstellen können.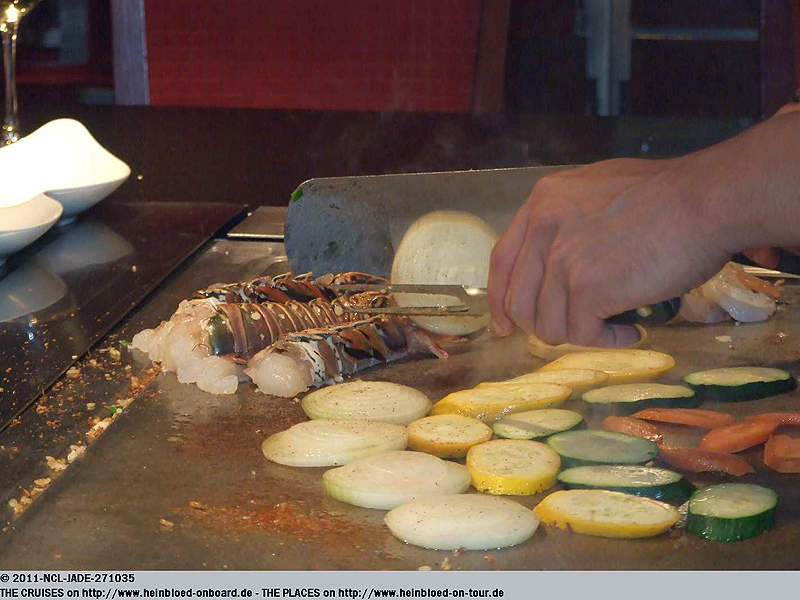 We could really place a sign and offer public feed.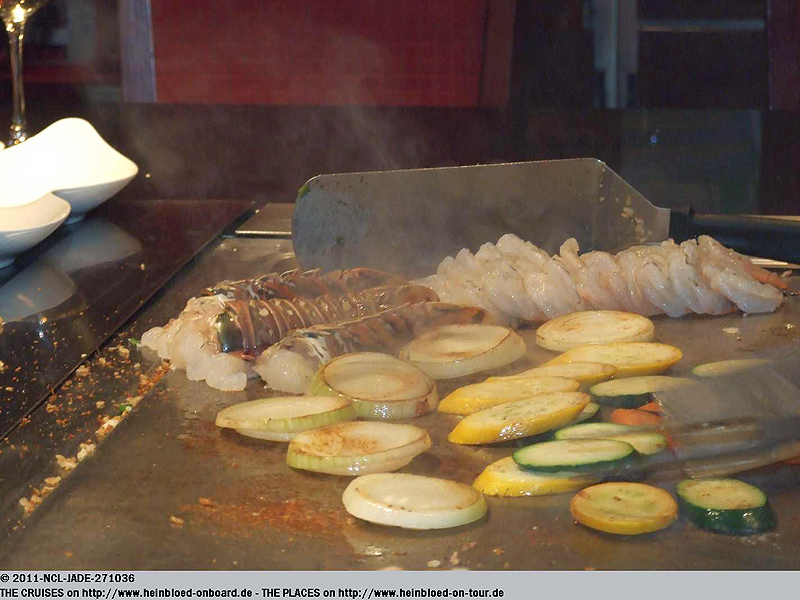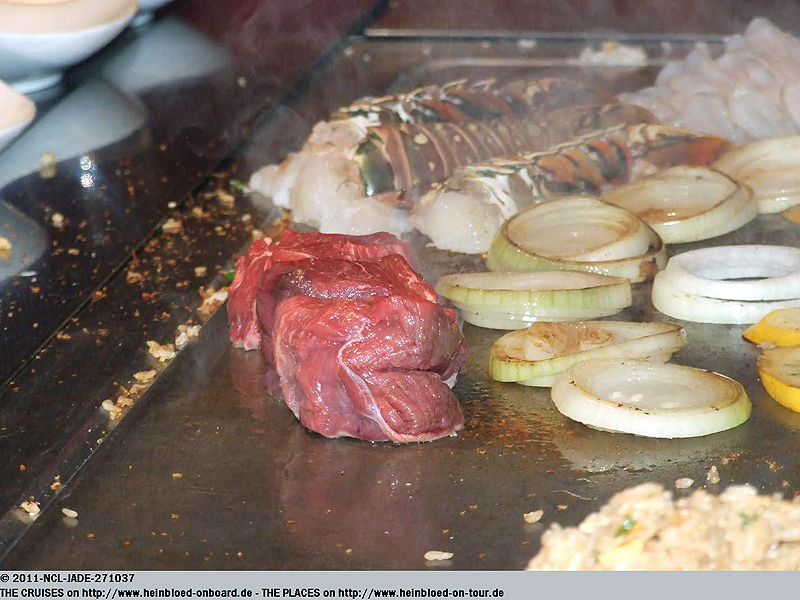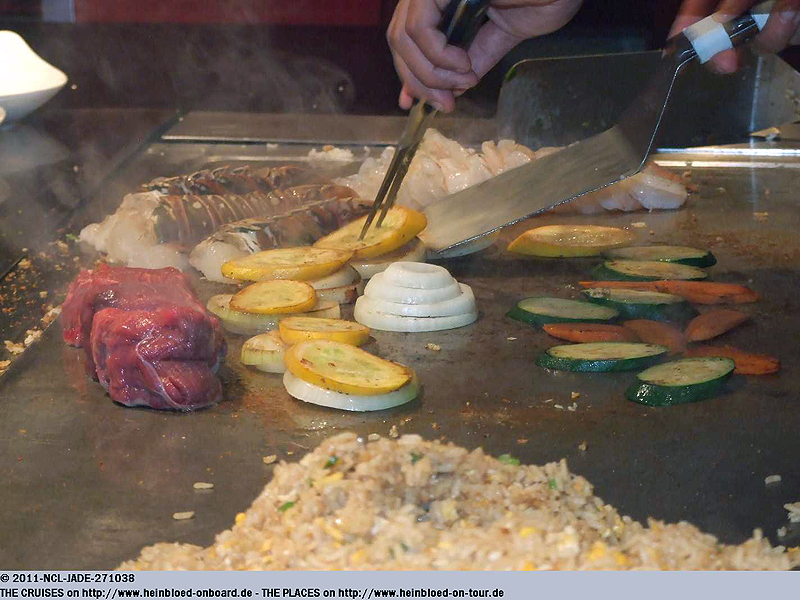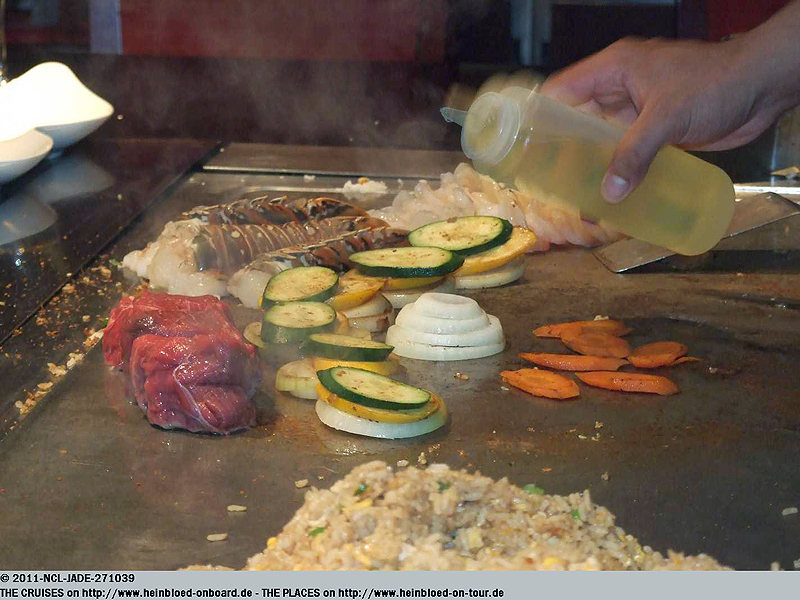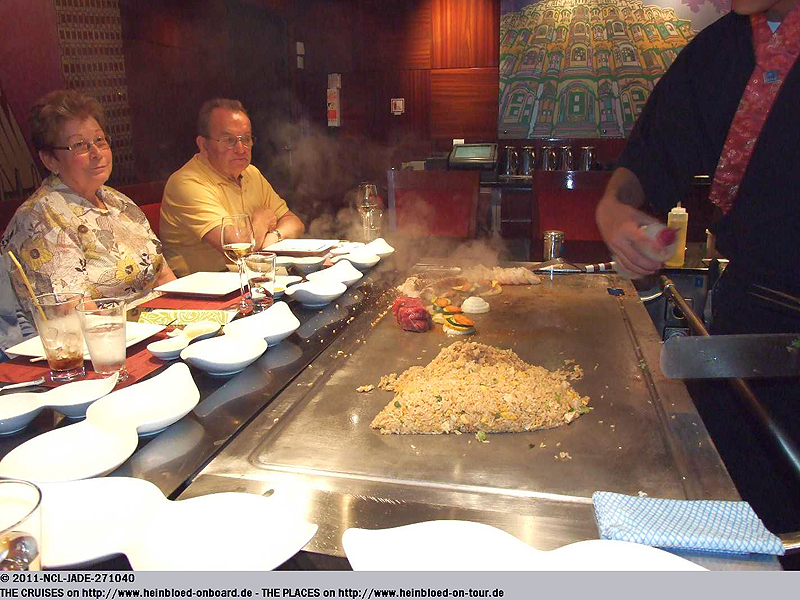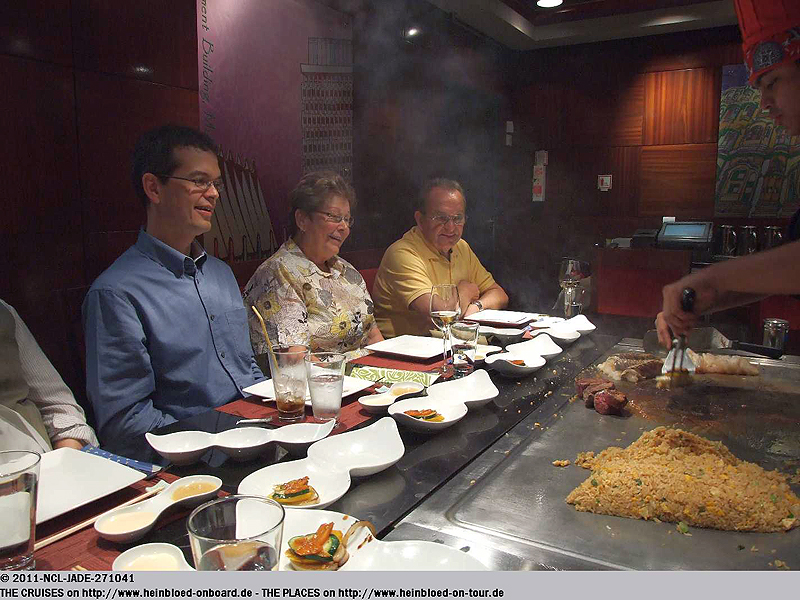 Bruno had the seafood as example.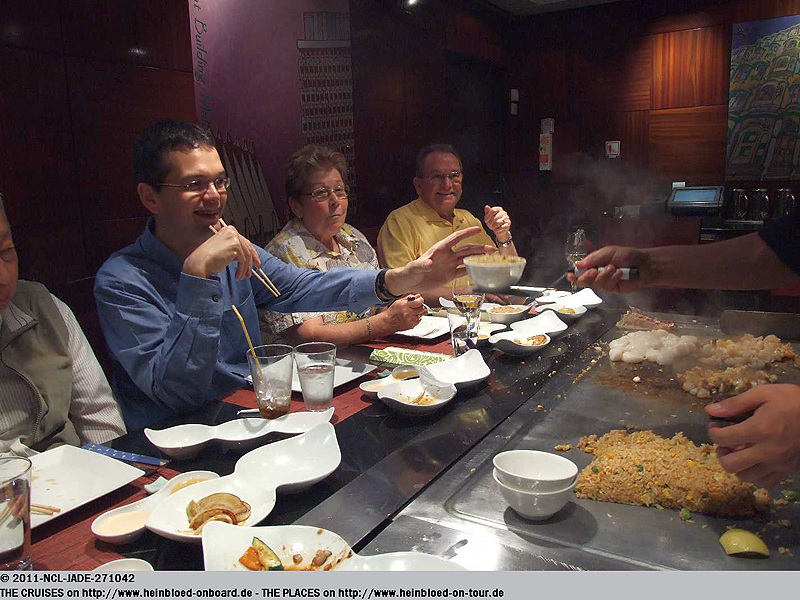 Bruno hatte beispielsweise die Meeresfrüchte.
Schon alleine etwa zehn Jacobsmuscheln für jeden...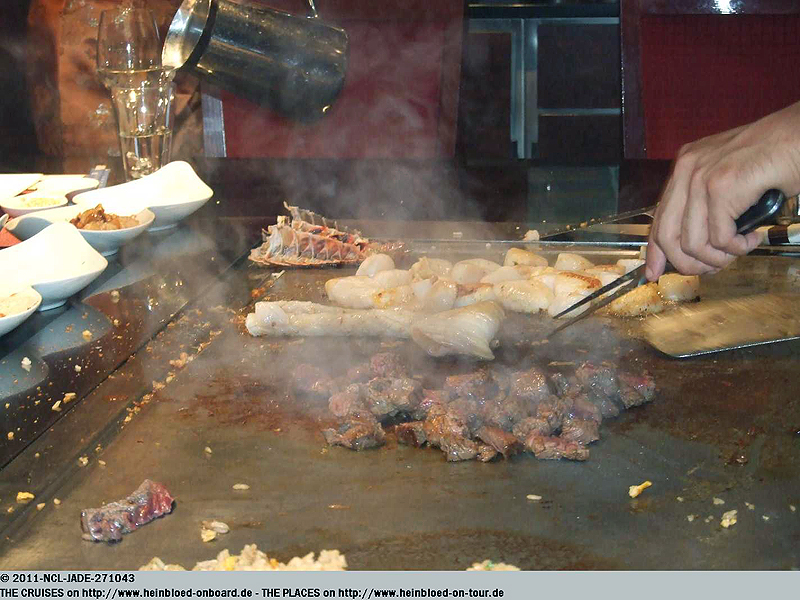 Just here around ten scallops for each one...

Again this time it was a giant steak.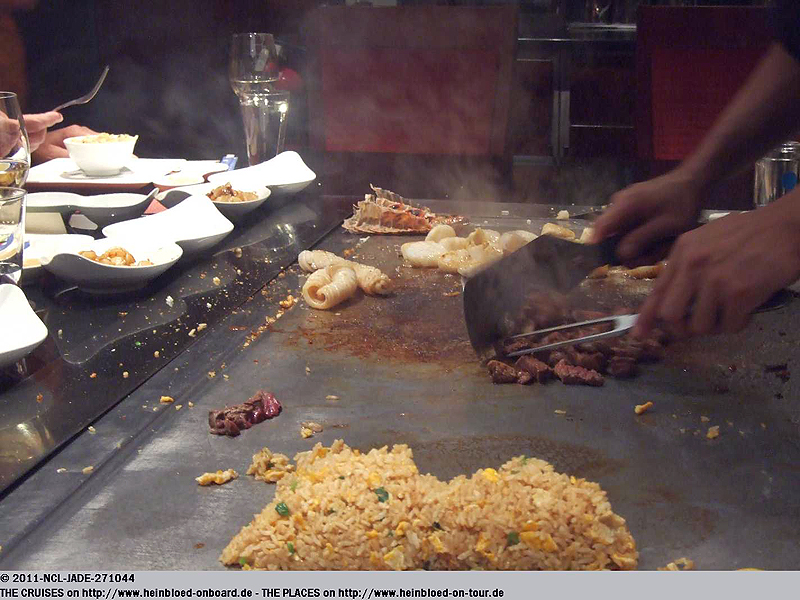 Auch waren es dieses Mal Riesensteaks.
Ich gebe auch auf.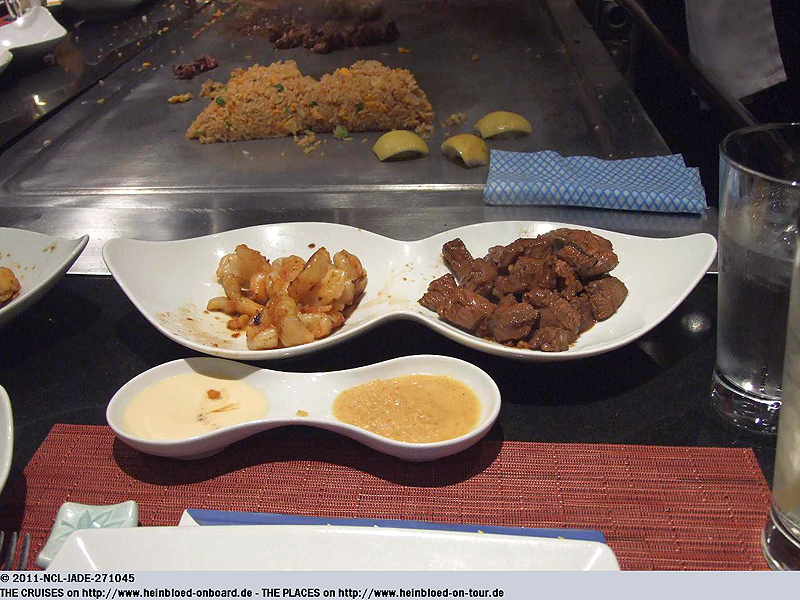 I gave up too.

I felt so sorry - but we could not have it to go.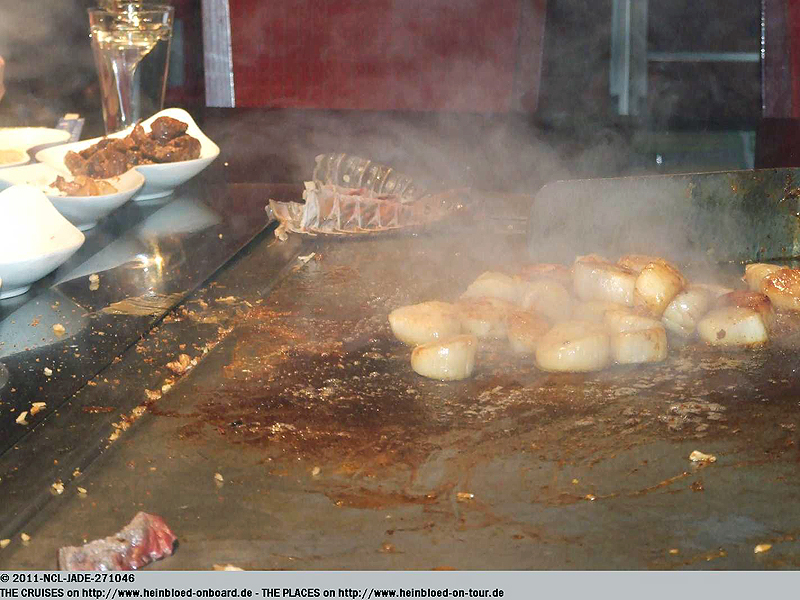 Echt schade - aber Mitnehmen können wir es leider nicht.
Der Koch verabschiedet sich mit einer Faust gegen Faust. Neu ist anscheinend, dass er nicht mehr während die Gäste essen, den Teppanyaki Grill sauber macht.

The cook said good-bye feast at feast. New was that he did not clean the Tappanyaki-plate anymore while the guests were sitting there and dined.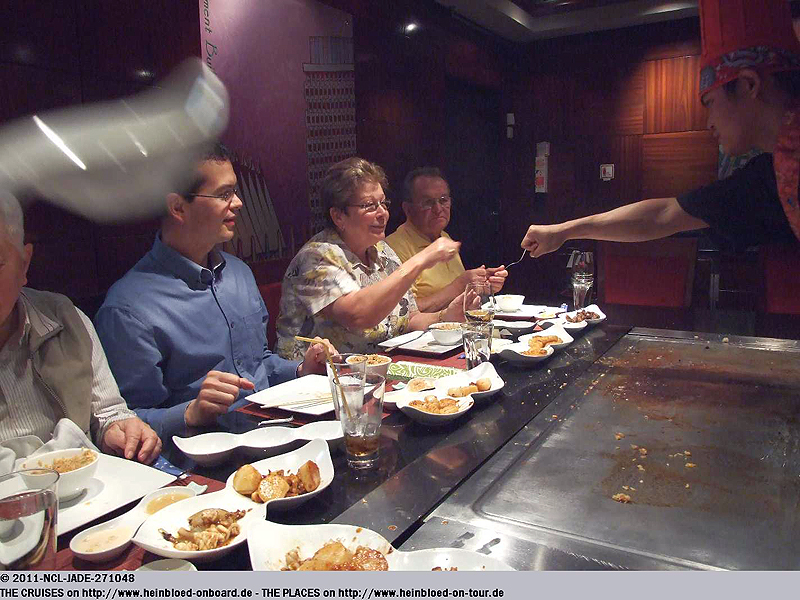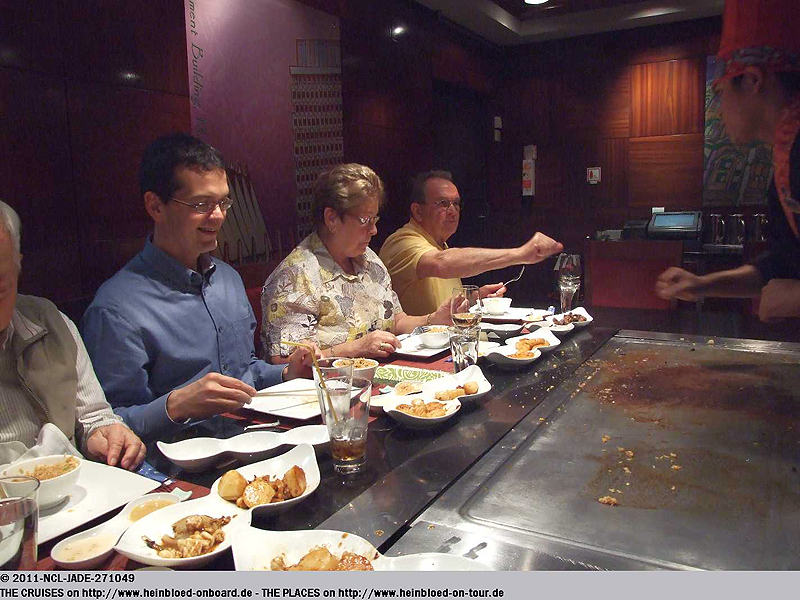 New is the Green Tea-Cake.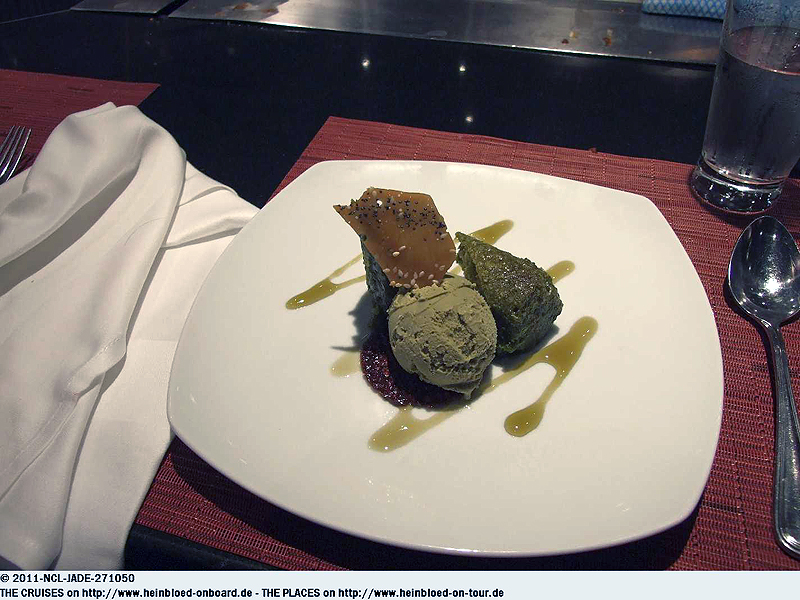 Neu ist der Grüne Tee-Kuchen.
Obwohl mit Eis ist es nicht sein gewohntes Eis... Aber zum Glück hat ja noch das Garden Café auf.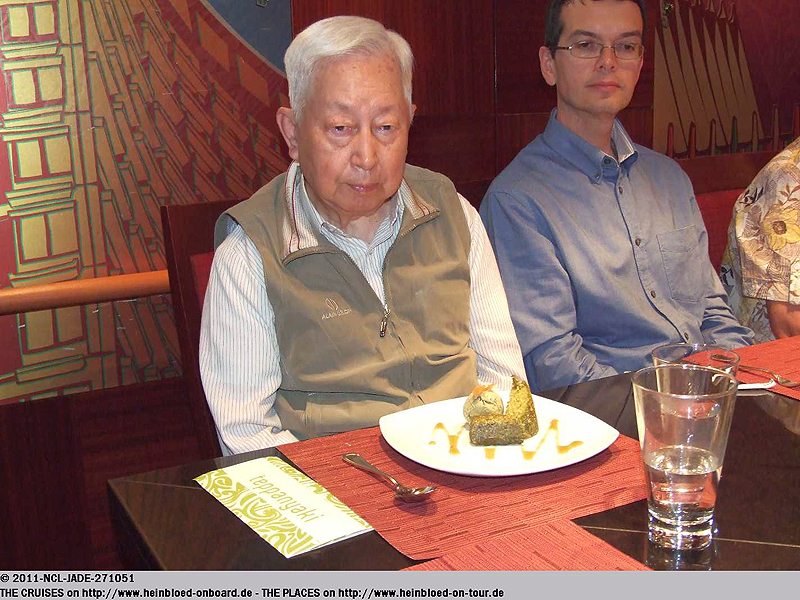 Although with ice-cream it was not his usual ice-cream... But he knew where to find the Garden Café.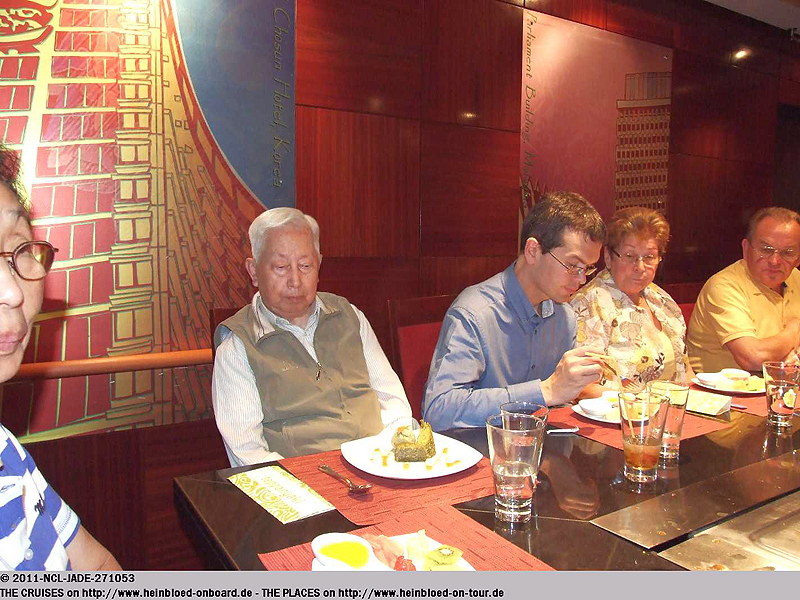 I ordered few pictures. But I hated now the photographers more than before. They did not take attention to the number I ordered - what was very angry because they insisted pre-payment. They wanted to make themselves easy and wanted to give me a credit for the missing pictures. So they heared few suitable words and so someone ran to the laboratory and made the missing pictures.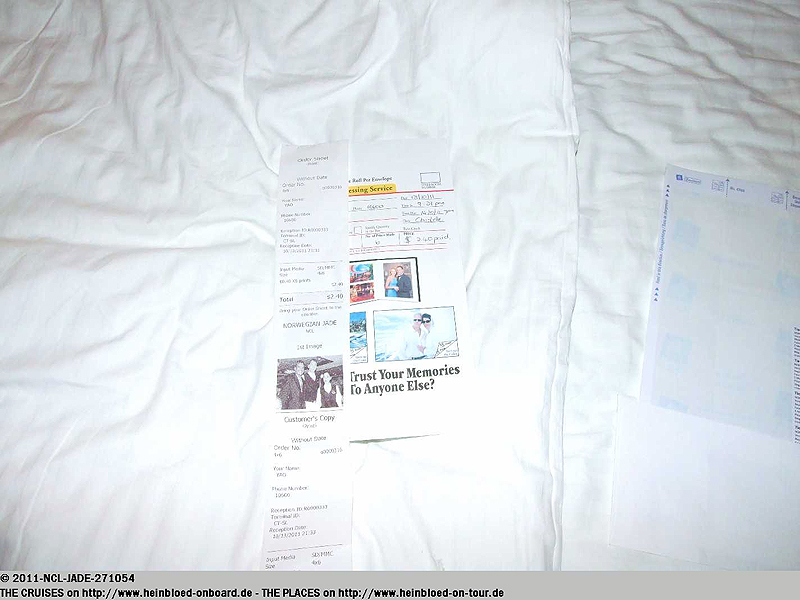 Ich hatte noch Bilder bestellt. Leider hasse ich die Fotografen noch mehr als zuvor. Sie haben leider nicht auf die Anzahl geachtet - was besonders ärgerlich ist, weil sie auf Vorkasse bestehen. Sie wollen sich das einfach machen und mir die fehlenden Bilder gutschreiben. Darauf hin gab es ein paar passende Worte und so lief einer doch noch ins Labor, um mir die fehlenden Bilder nachzumachen.
Diese überreiche ich natürlich oben im Cagney's. Nun lerne ich endlich auch mal Monicas Ehemann kennen: Philmore - er ist für alle Zuzahlrestaurants verantwortlich. Gestern Abend war ich etwas enttäuscht, dass jemand, den wir kannten mich nicht gesehen hat. Aber heute sieht er mich und kommt sofort, um mich zu begrüßen: Sang Made. Natürlich darf er mit auf das "Familienfoto".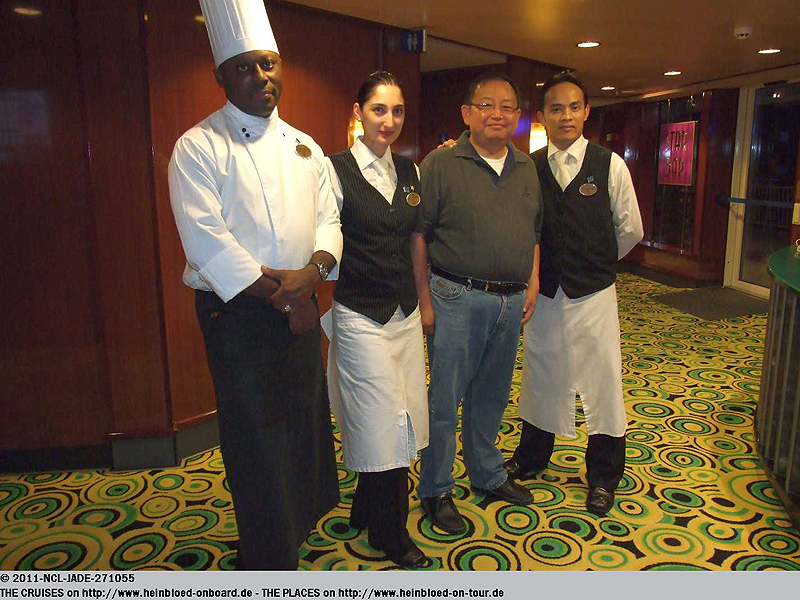 Of course I handed them over at Cagney's. Now finally I made the acquaintance of Monica's husband: Philmore - he is in charge for all alternative dining venues. Last I night I was very disappointed that someone did not saw me whom we knew. But today he saw immediately and wanted to say hello: Sang Made. Of course he could join the "family pictures".

Monica should be already Maître. She reminded me very much to Luiza whom I met first time when she was Assistent Maître and now today is Restaurant Manager. But I hope one day when they two quit NCL to open their own restaurant I truly hope not in Romania or Jamaica but one port of embarkation or where the ship stays overnight like: Istanbul, St. Petersburg, Alexandria or King's Wharf. I am sure that many many NCL-fans would use the occasion to be pampered by them and disclaim the dinner onboard. But this would only work pre- or post-cruise or overnight. I could picture them very well in an elegant restaurant of their own. I would be there patron. But patrons need also leave the ship. Only with one difference: our suitcases must be outside 23.00 hrs instaead 22.00 hrs. So I had to say good-bye and to look forward to our next meeting - I hoped. I am sure we would see them more frequently if NCL would offer again discovery tours and not just rounds... But maybe after inauguration of NORWEGIAN BREAKAWAY and NORWEGIAN GETAWAY they will have one ship will be available for such tours.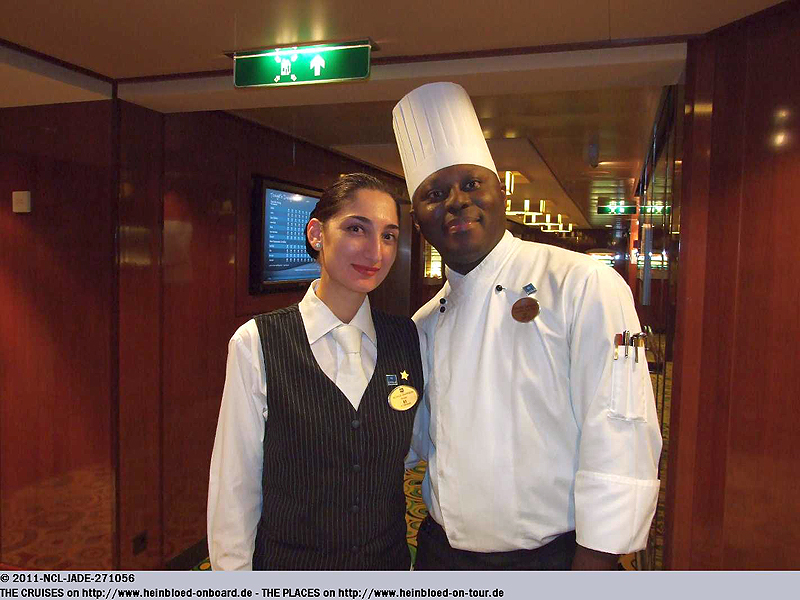 Monica müsste eigentlich schon längst Maître sein. Auf jeden Fall erinnert sie mich stark an Luiza, die ich damals als Assistent Maître kennengelernt habe und heute Restaurant Managerin ist. Aber wenn die beiden mal eines Tages NCL den Rücken kehren, um ein eigenes Restaurant aufmachen, dann will ich nicht hoffen in Rumänien oder Jamaica, sondern einer der Einschffungshäfen von NCL oder in einem Hafen, in denen das Schiff über Nacht bleibt: Istanbul, St. Petersburg, Alexandria oder King's Wharf. Ich bin mir sicher, dass viele viele NCL-Gäste dann die Chance nutzen werden, sich von denen beiden verwöhnen zu lassen und mal auf ein Abendessen an Bord zu verzichten. Aber es funktioniert eben nur bei einer Pre- oder Post-Cruise oder bei einem Übernachtaufenthalt. Die beiden kann ich mir sehr gut in einem tollen eigenen Restaurant vorstellen: Ich wäre dort Stammgast. Aber auch Stammgäste müssen von Bord. Nur mit einem kleinen Unterschied: Unsere Koffer müssen erst um 23.00 Uhr draußen stehen, statt 22.00 Uhr. So verabschiede ich mich von denen allen und freue mich auf das nächste Wiedersehen - hoffentlich. Wir würden uns bestimmt öfters wiedersehen, wenn NCL auch mal wieder Entdeckerrouten anbieten würde statt bloß Runden... aber vielleicht kommt das ja, wenn die NORWEGIAN BREAKAWAY und GETAWAY in Dienst gestellt werden. Vielleicht ist ja dann wieder ein Schiff für solche Aufgaben übrig.