Scroll down for English explanations - alternates with German explanations.

Seit Venedig verfolgen uns irgendwelche Mücken. Bruno meint, dass es nur an Land passiert sein kann und dass Mücken selten über 2-3 m fliegen können. Daher nehme ich, dass im Falle der Fälle, dass in der Kabine passiert ist, die Mücke wohl mit uns im Fahrstuhl mit hoch gefahren ist. Da es in Deutschland 10° kälter war, hatten wir ja nichts mehr mit. Wer hat schon daran gedacht, dass Mitte Oktober hier in Südeuropa noch Mücken sein könnten...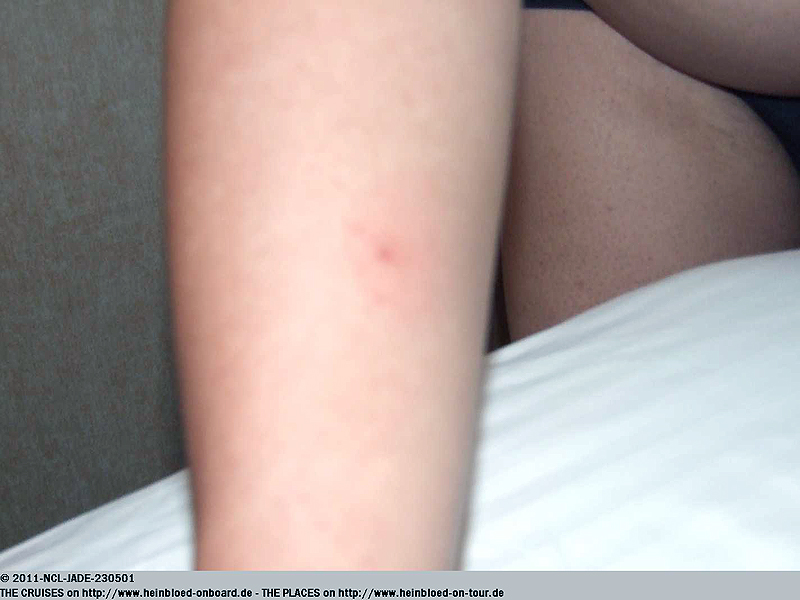 Since Venice mosquitos were following us. Bruno said that this could only happened ashore as mosquitos cannot fly more than 10 ft. high. So I guessed that in our case where it might happen in our cabin the mosquito took the elevator. As it was 10°C colder in Germany than here we had nothing with us. Who thinks that there could be any mosquitos in Mid October in Southern Europe.

We got again canapés.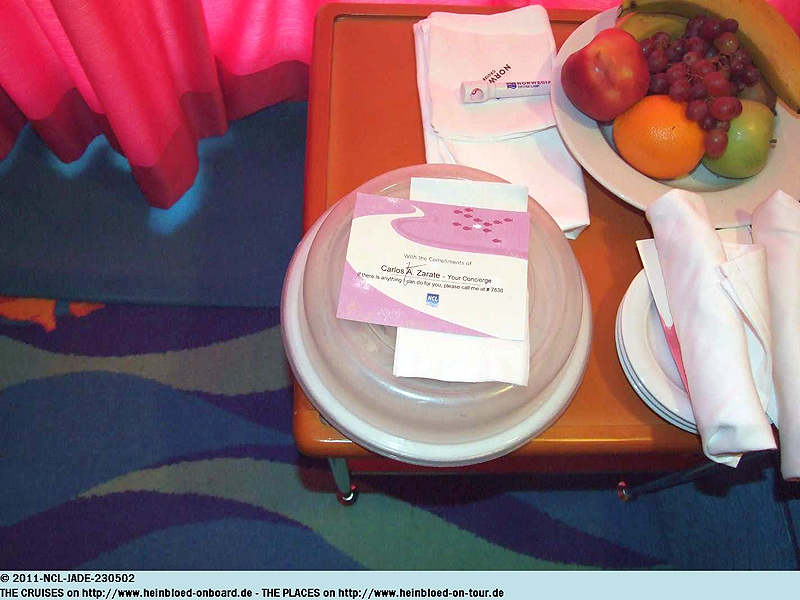 Wir bekommen wieder Canapés.
Die kannten wir allerdings bereits vom Captain's Empfang gestern Abend...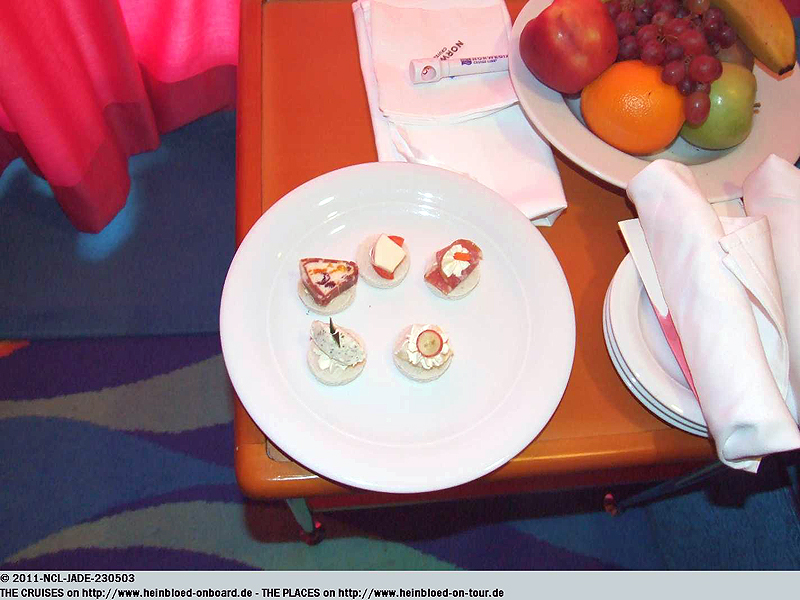 Somehow we knew them already from the Captain's Cocktail party last night...

So tonight we got an elephant.

Für uns gibt es einen Elefanten.
Und auch die übliche Post ist da.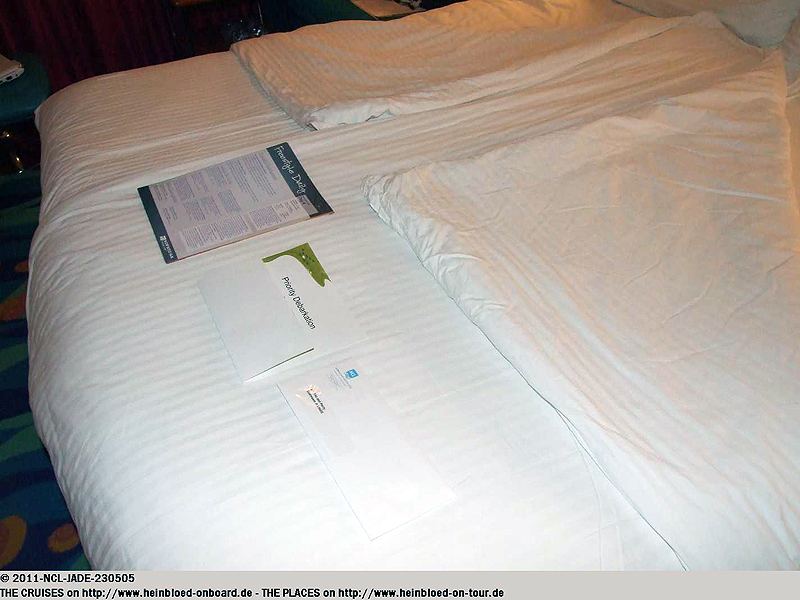 And as usual we got our daily mail

As we do not drink alcohol we got again 3:1 our wine and champagne exchanged. So same conversion rate like Panos set years before on NORWEGIAN DREAM.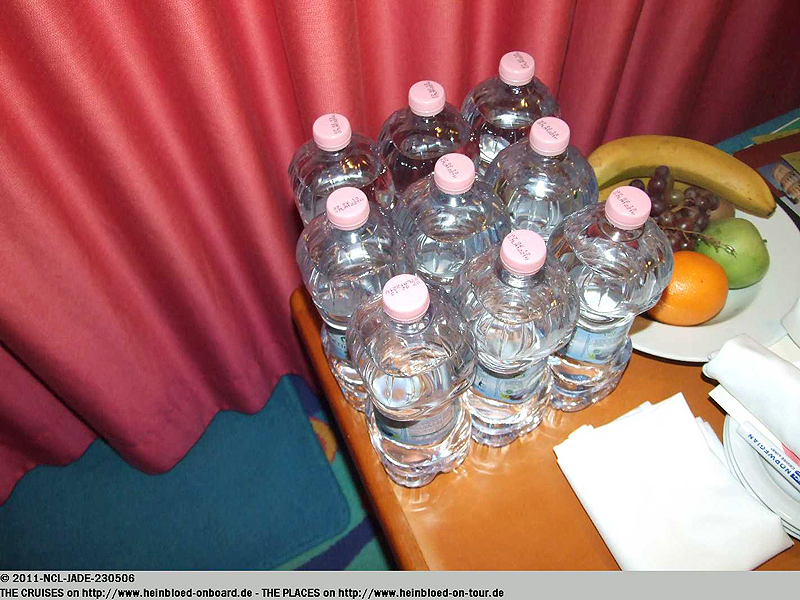 Da wir ja nun keinen Alkohol trinken bekommen wir 3:1 wieder unsere zwei Flaschen Wein und eine Flasche Sekt getauscht. Es galt also immer noch der Umtausch-Kurs, den wir damals mit Panos auf der NORWEGIAN DREAM festgelegt hatten.
Es kam vor einer Stunde der Anruf, dass wir für das Abendessen mit einem Offizier ausgelost wurden. Am Telefon hat man uns mitgeteilt, dass Armando unser Gastgeber sein würde. Nun folgte die schriftliche Bestätigung. Wir hatten somit das Problem gehabt, dass wir nun ein Essen in einem Zuzahlrestaurant absagen müssen. Und somit sagen wir im Papas Italian Kitchen ab, da wir dort eh niemanden kennen.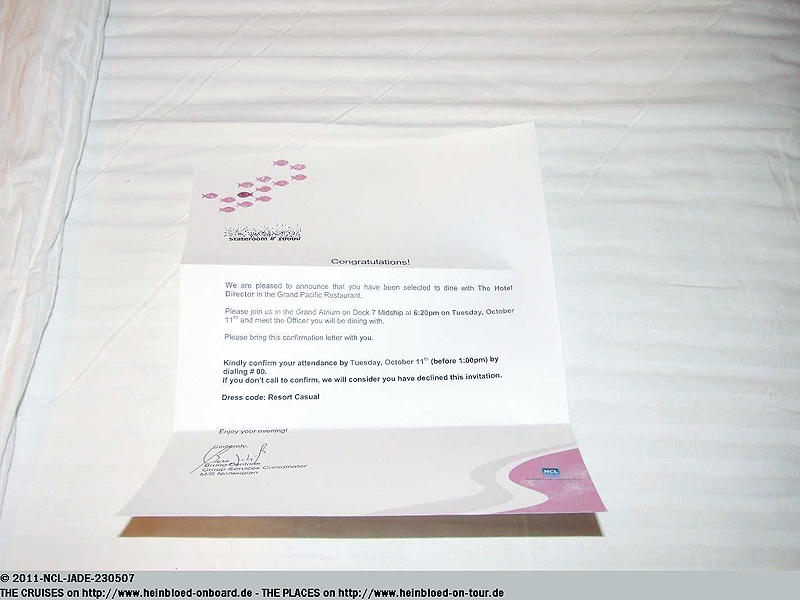 One hour ago we got a call that we were lucky winner of one of the dinner with an Officier. They told us already by phone that Armando will be our host. Now the written confirmation followed. We had now the problem that we need to cancel one dinner in an alternative restaurant. So we decided to cancel Papa's Italian Kitchen as we did not know anybody there.

By the way it was interesting to see that the ship was unable to hold the position all the day.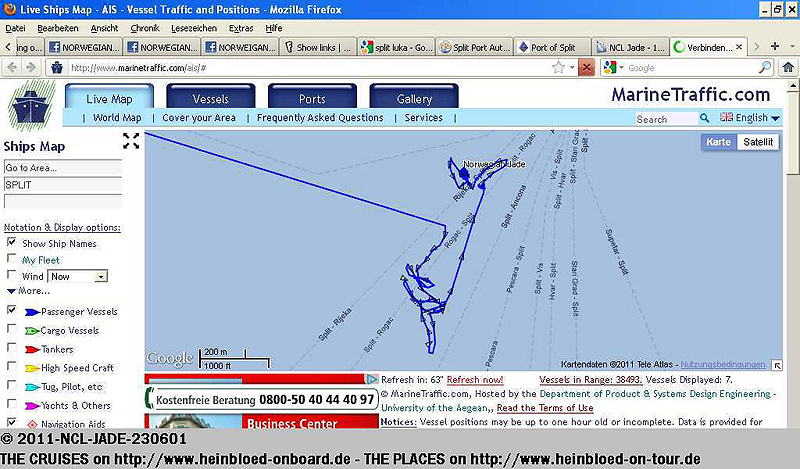 Übrigens war es sehr interessant mal zu sehen, dass das Schiff gar nicht die Position gehalten hat...
Da alle Gäste schon an Bord sind, können wir bereits um 16.45 Uhr ablegen.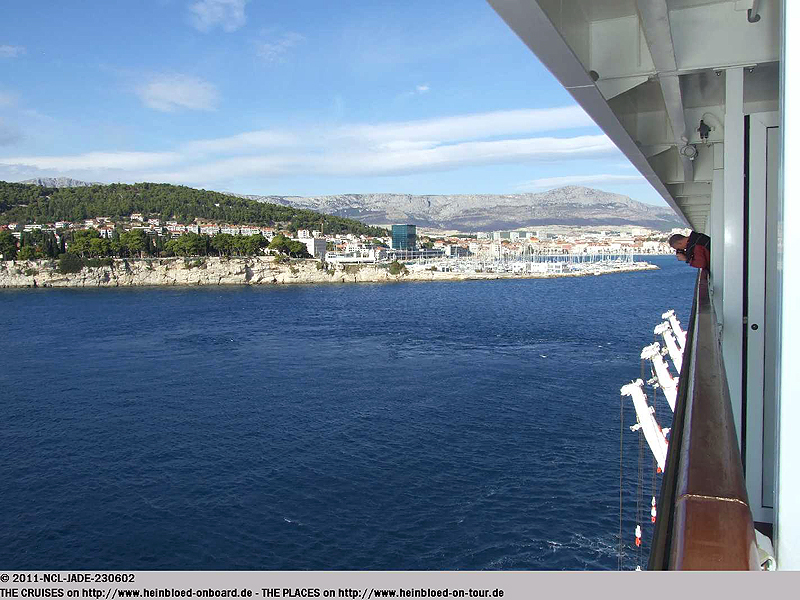 As all guests were already onboard at 16.45 hrs we could already set sail.

We enjoyed one more time the view to Split.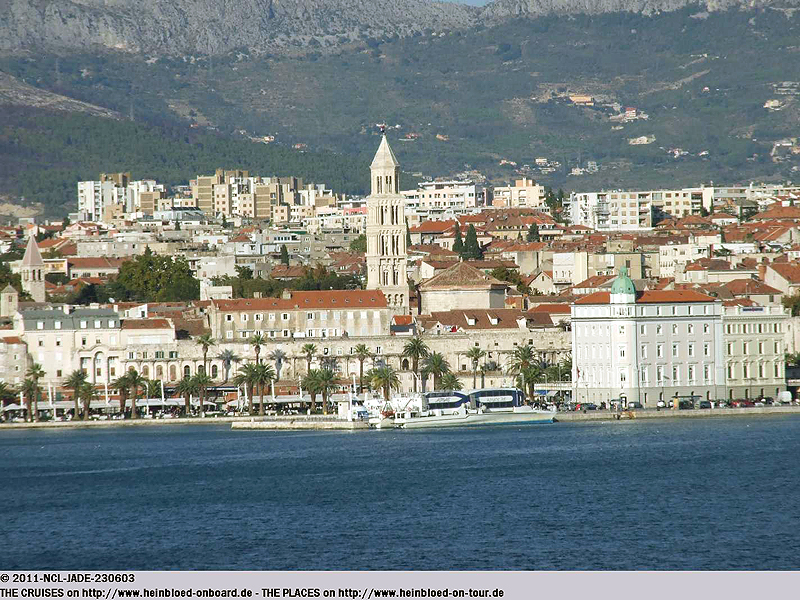 Wir genießen die Aussicht nochmals auf Split.
Genauso wie Brunos Mutter.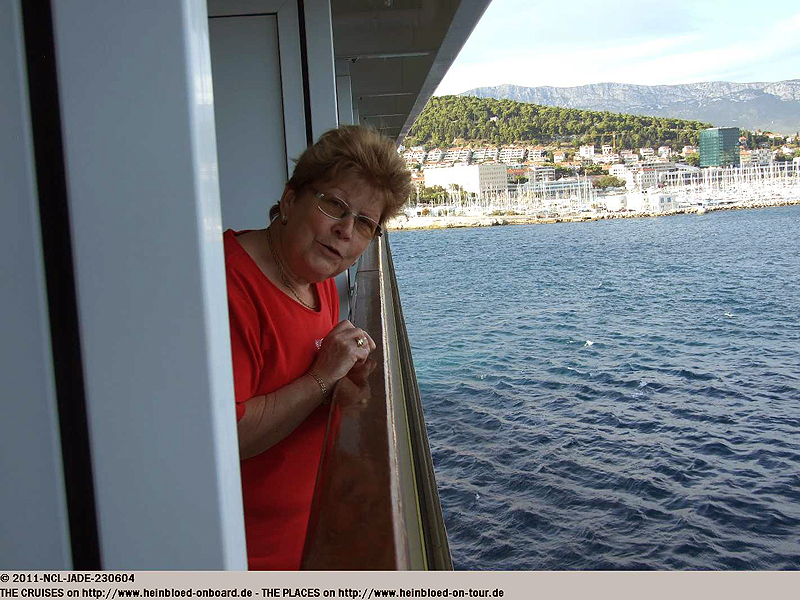 Exactly like Bruno's mother.

According to AIS-signal there should be few more interesting ships in port.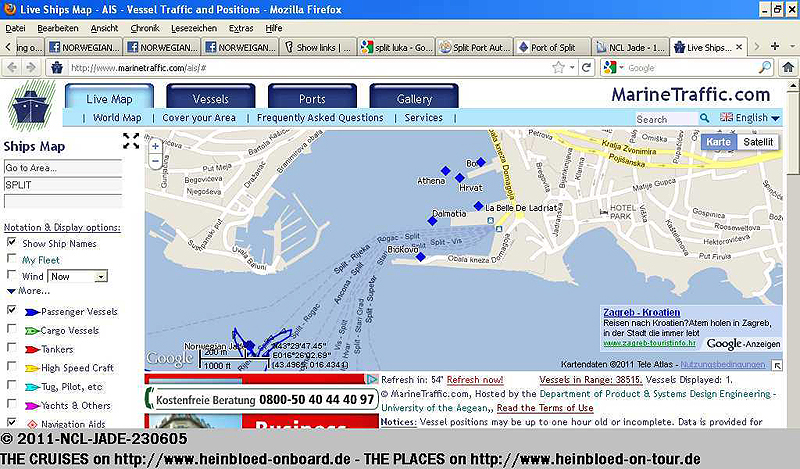 Lt. AIS-Signal könnten noch interessante Schiffe für mich im Hafen liegen.
Diese DALMATIA scheint aber nicht das bisherige Kreuzfahrtschiff zu sein. Es hieß wohl auch DALMACIJA von Jadrolinija zu sein. Schade.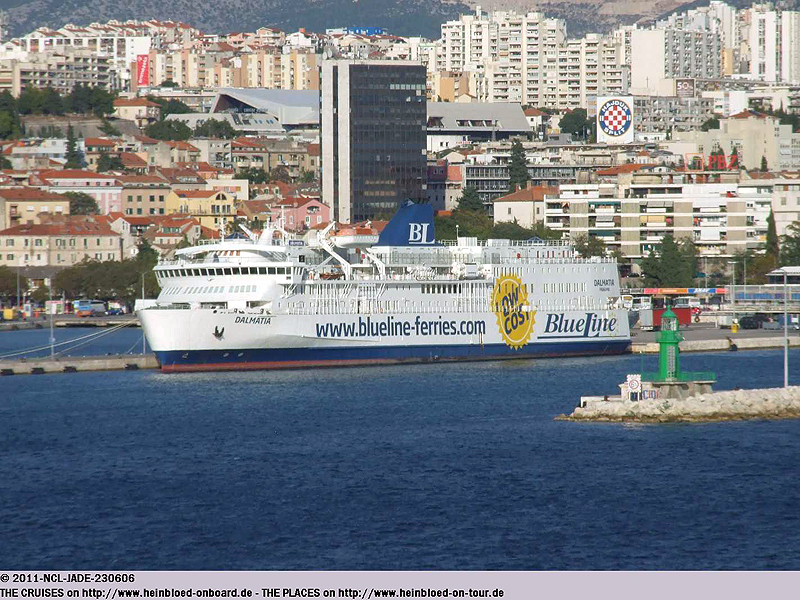 This DALMATIA did not look like the former cruise ship. But correctly it was DALMACIJA of Jadrolinija. What a pitty.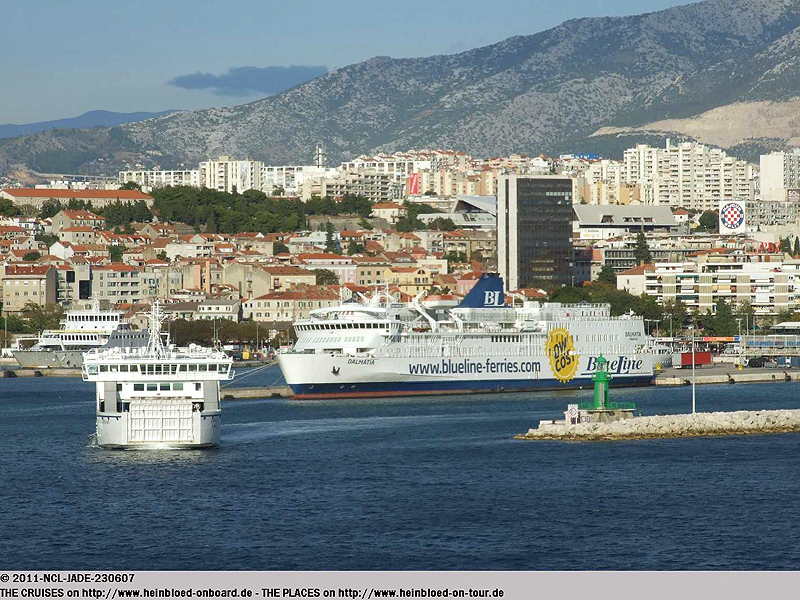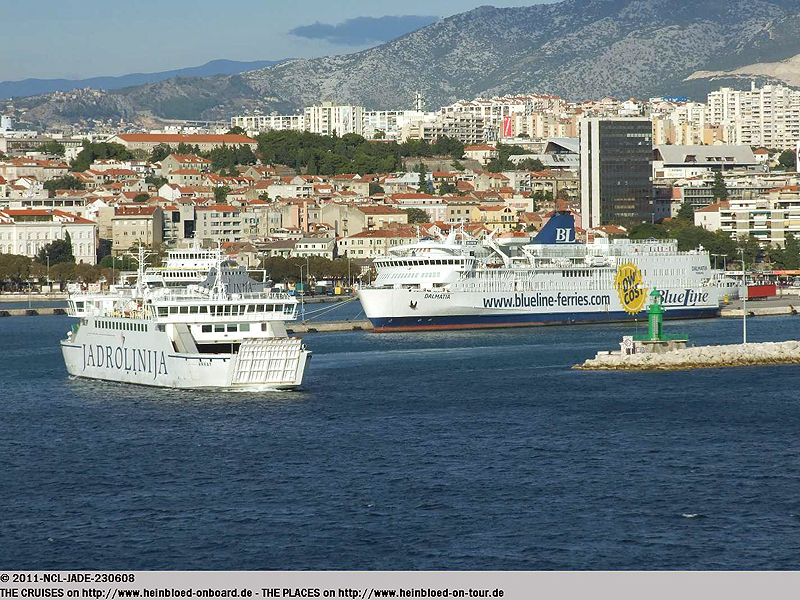 If I like to take a picture a ferry boat must come... Grrr....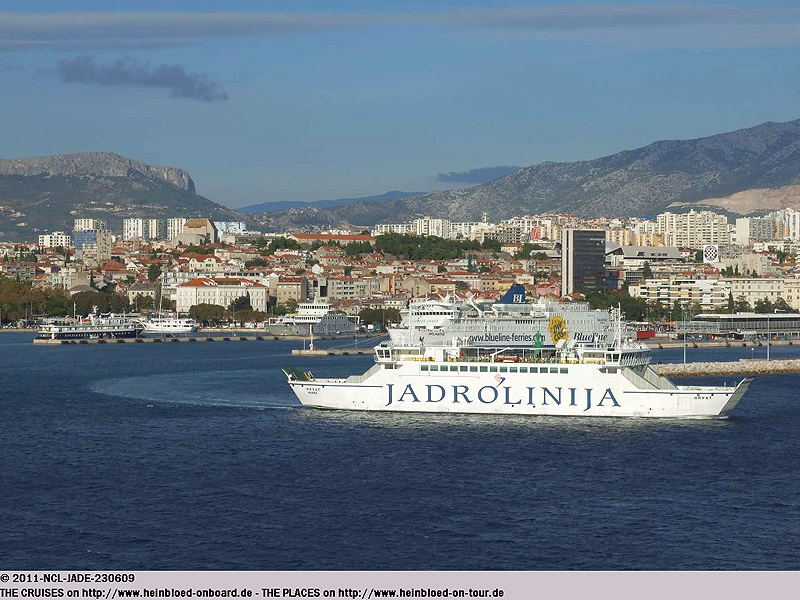 Wenn ich fotografieren will, drängelt sich immer eine Fähre dazwischen... Grrr....
Lt. AIS-Signal soll auch ein Passagierschiff ATHENA im Hafen liegen. Aber die sieht weder nach der ehemaligen VÖLKERFREUNDSCHAFT noch STOCKHOLM aus.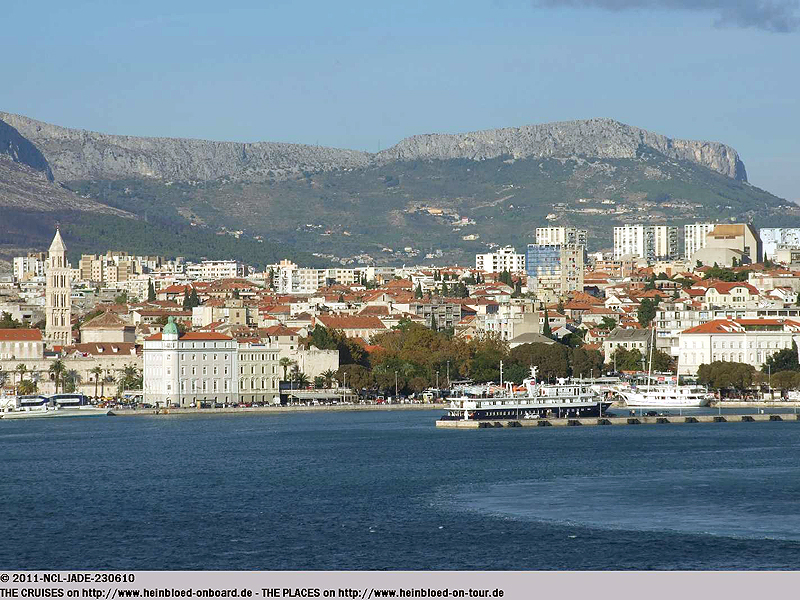 According to the AIS-signal there should be another passenger ship in port ATHENA. But it did not look neither like the former VÖLKERFREUNDSCHAFT (well known in former East Germany) nor STOCKHOLM (which hit ANDREA DORIA which sank).

Maybe it was not the CIC-Ship which was showed on the signal.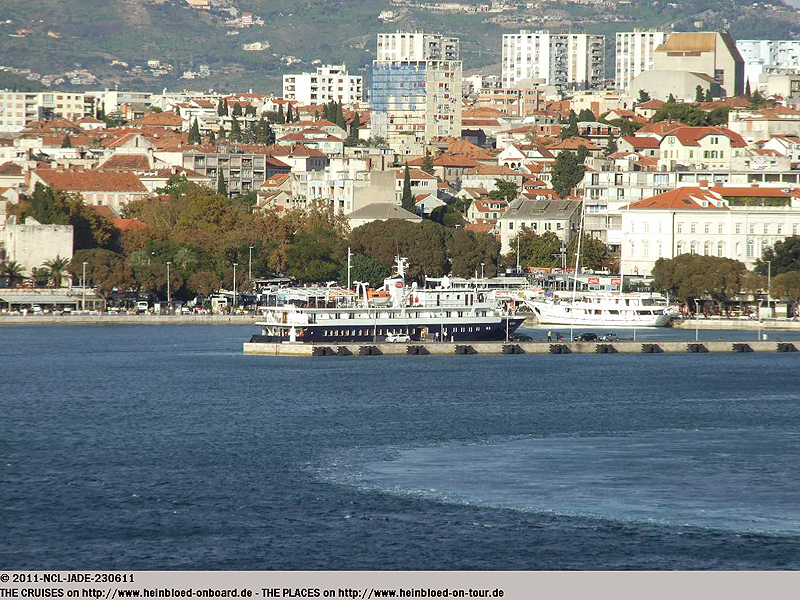 Scheint also auch nicht das CIC-Schiff gemeint gewesen zu sein.
Und hinter der DALMATIA lag lt. Liste der Spliter Hafenbehörden ein weiteres Kreuzfahrtschiff: LA BELLE DE L'ADRIAT. Allerdings kennt mein Douglas Ward App dieses Schiff nicht.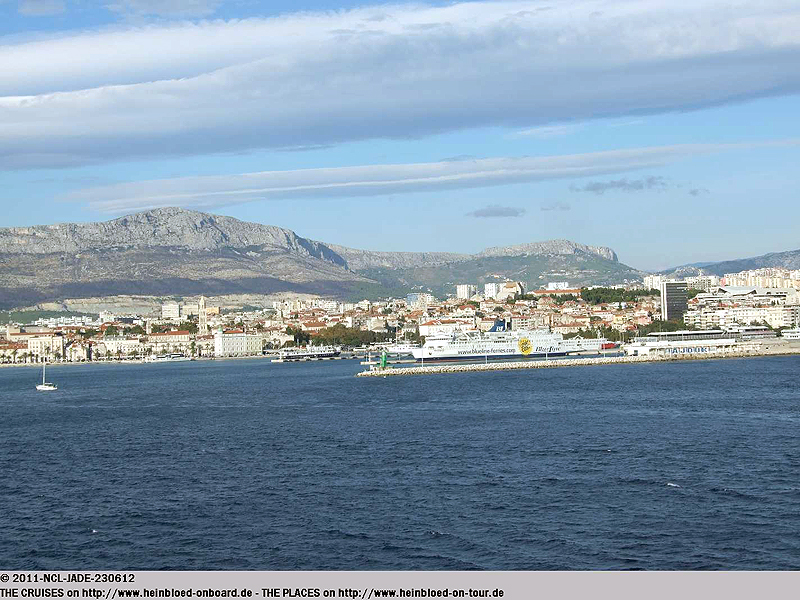 According to the call list of the Split Port Authorities there was another cruise ship berthed behind DALMATIA: LA BELLE D'ADRIAT. But my Douglas Ward App does not know this ship.

I had this afternoon an appointment with Armando. As there was a little time I had a drink at the Aloha Bar. When I took this picture a bar tender came immediately and asked if I would like to have a piece of cake.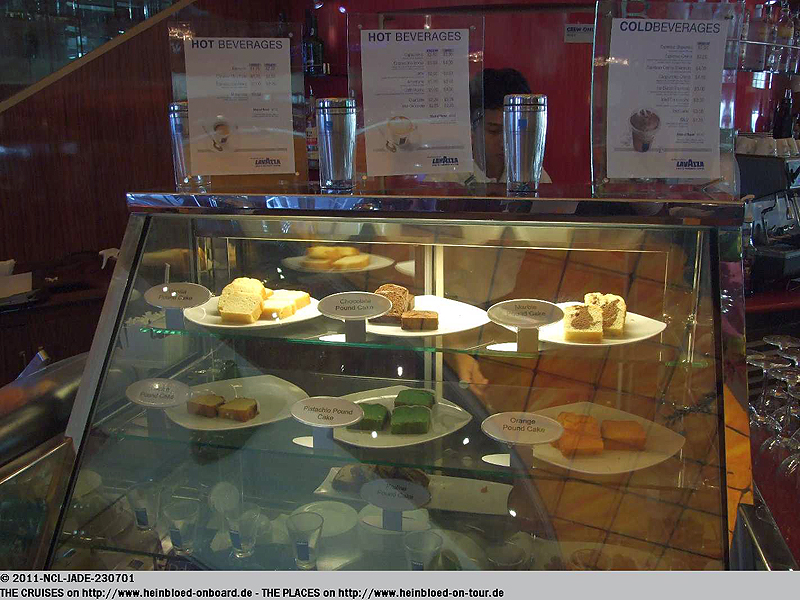 Ich hatte mich nachmittags mit Armando verabredet. Da noch ein wenig Zeit blieb, trank ich etwas an der Aloha Bar. Als ich dieses Bild mache, kommt sofort ein Mitarbeiter und fragt nach, ob ich nicht Lust auf ein Stück Kuchen hätte.
Hier wird wieder für die Behind The Scenes Tour geworben. Als Latitudes Platin habe ich die Tour frei, allerdings habe ich schon genug Stress und kenne sie ja von der NORWEGIAN GEM. Das gute hier: Die Sprechzeiten der nicht-englischsprachigen Mitarbeiter wird angezeigt und man kann den Hotel Director über seine Box direkt erreichen.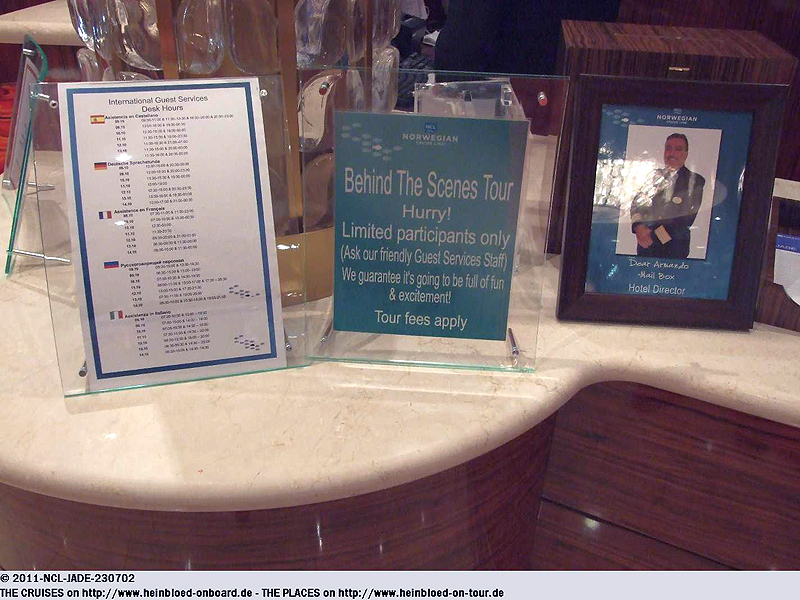 Here they advertised again for the Behind The Scenes Tour. As Latitudes Platinum I should have a free tour but it was stress enough and we knew it from NORWEGIAN GEM. The good here: All duty hours of non-English-speaking hostesses are displayed here and you can reach at any time the Hotel Director via his box.

The night we were invited for the reception of the Latitudes Gold and Platinum-members where Captain Kim also attended.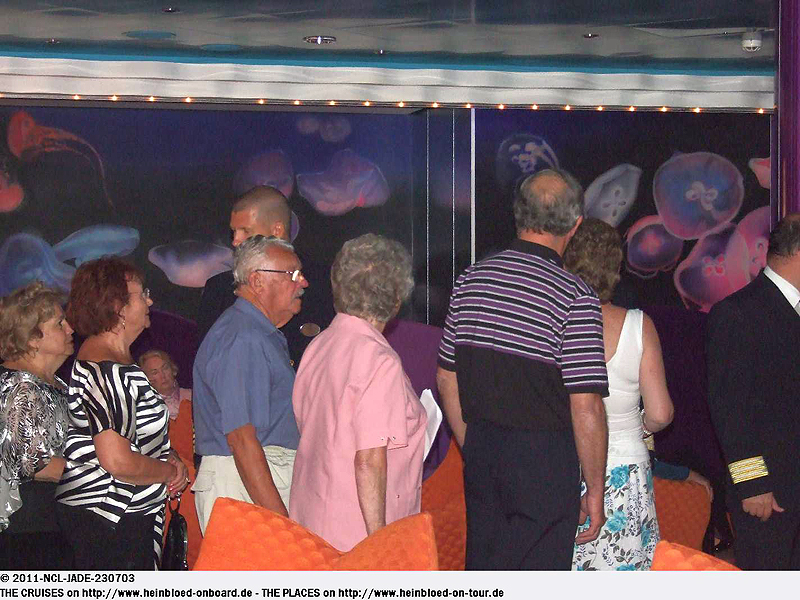 Abends sind wir beim Empfang für Latitudes Gold und Platin-Mitglieder an dem auch Kapitän Kim daran teilnimmt.
Er guckt rüber und bei der Gelegenheit beschwert er sich, dass ich dieses Mal mit dem Blog noch gar nicht richtig angefangen hätte... Der verschafft mir eine gute Zeit an Bord und beschwert sich bei mir, dass ich keine Zeit zum Bloggen habe...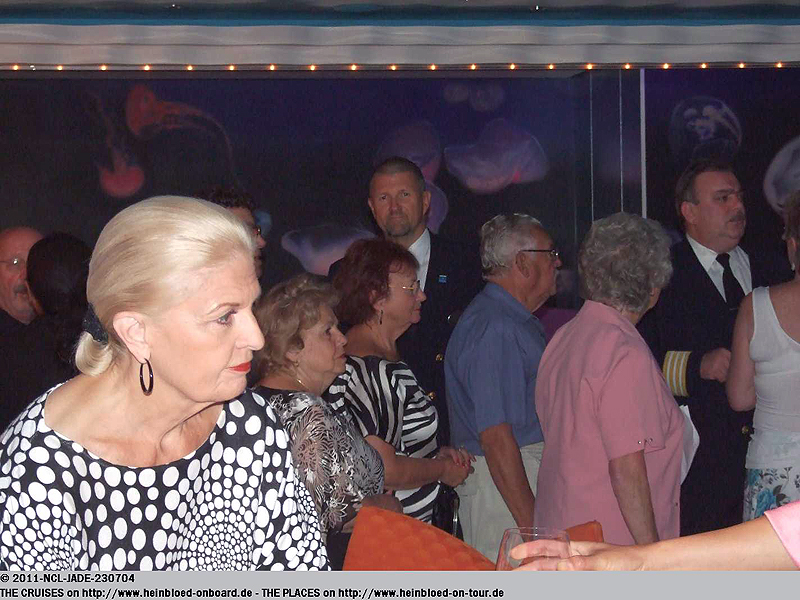 He looked to me and took the occassion to let me know that I am behind schedule with my blog... He gave me a good time on board and started to complain that I had no time to blog...

As usual we had few bites of cheese.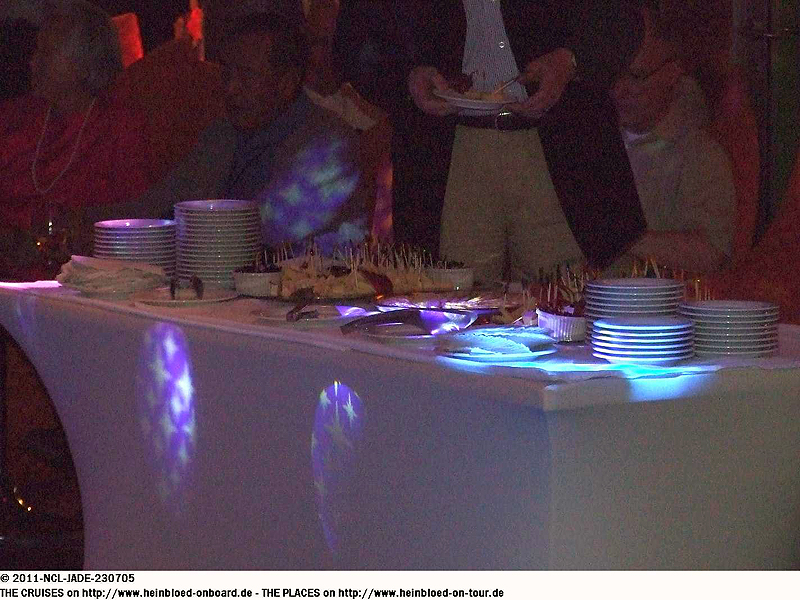 Wie üblich gibt es ein paar Häppchen Käse.
Vor dem Abendessen nehme ich aber bloß eines zum Probieren.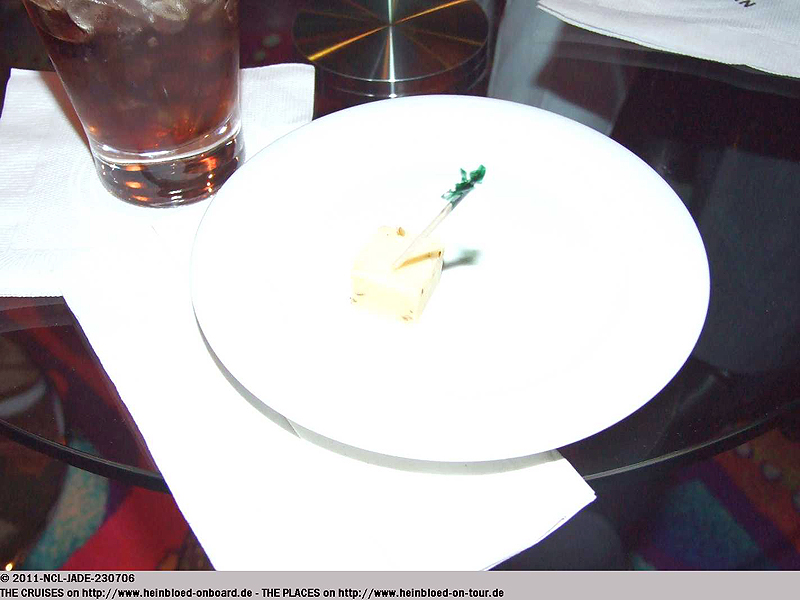 Before dinner I only took one little piece to test.

It's normally very nice in Medusa Lounge but mostly it is a little chilly and cold here.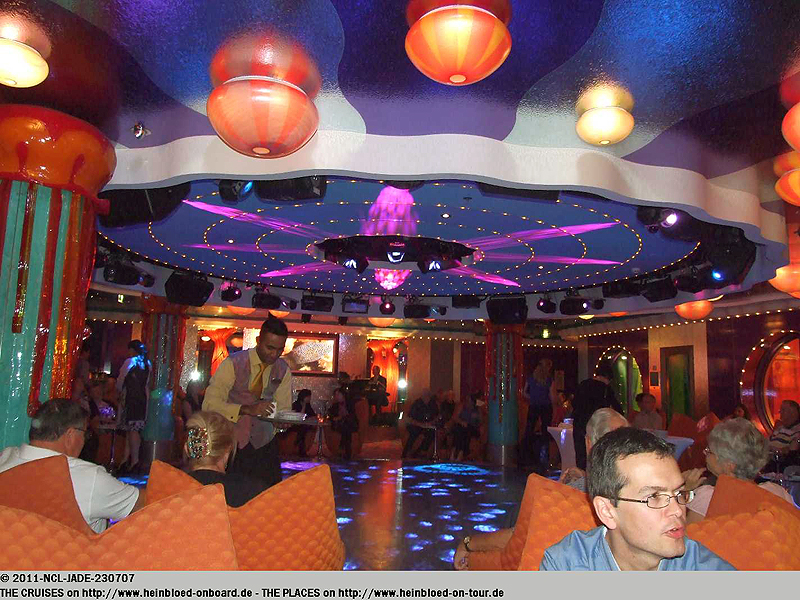 Ist eigentlich ganz schön in der Medusa Lounge. Leider nur meistens immer etwas sehr kühl.
F&B-Manager Alain kommt an den Tisch als er hört, dass Bruno und seine Familie aus der deutsch-französisch-luxemburgischen Ecke her kommt. Armando hatte mir angeboten, dass unsere Eltern meine Einladung für die Behind the Scenes-Tour übernehmen können, aber wir lehnen dankend ab, weil ja die Führung größtenteils in English ist und auch mein Vater nicht 90 Minuten laufen kann. Alain meint, dass eh nur die Galley das Interessante ist und wird sich etwas ausdenken. So ist NCL... Nun wisst ihr, warum wir immer wieder gerne mit denen fahren...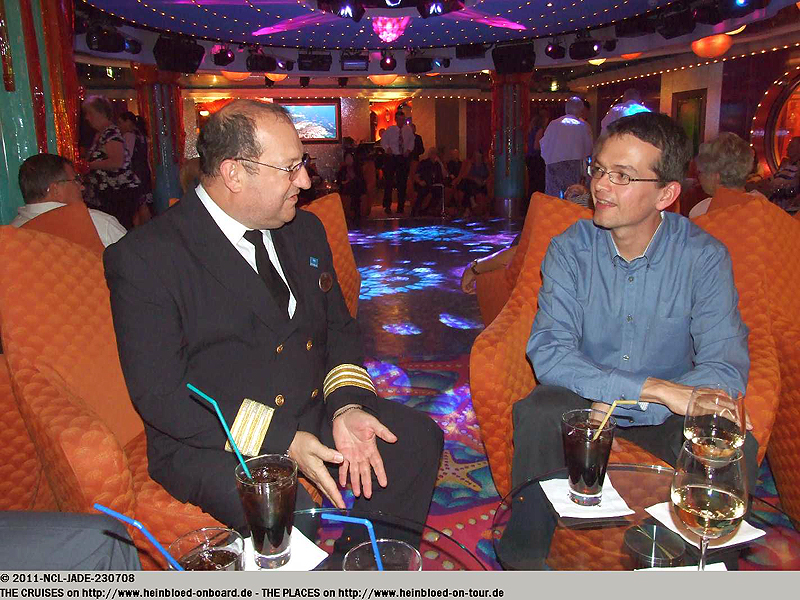 F&B-Manager Alain came by when he heared that Bruno and his family were originated from the German-French-Luxembourg tri-state area. Armondo offered that our parents could use our invitation for Behind the Scenes-Tour but we said no as the tour is almost in English and my father cannot walk 90 minutes. Alain said that the most interesting part is the galley and promised to find an alternative. That is NCL!!! Now you know why we love to go with them again and again...