Scroll down for English explanations - alternates with German explanations.

Endlich mal langer Auslauf. Erst um 19.00 Uhr legen wir ab.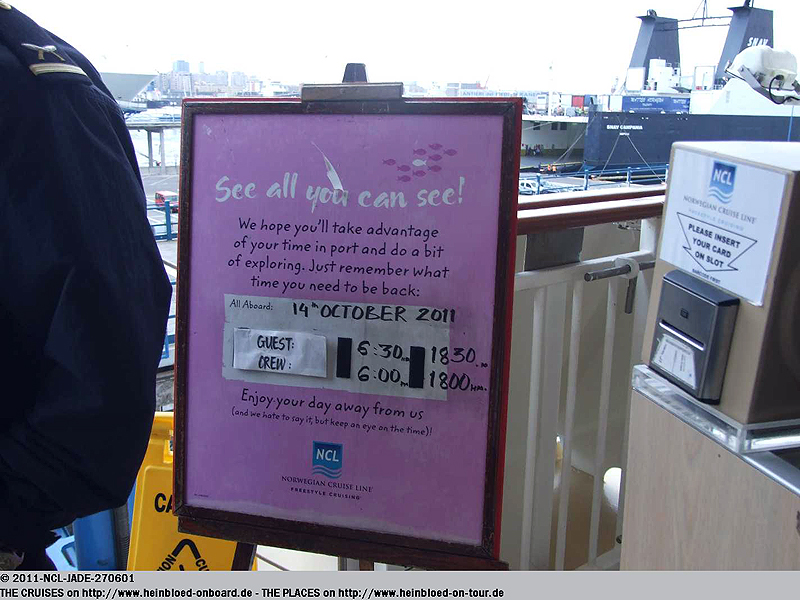 Finally with an extended stay ashore. We will leave at 19.00 hrs.

In front of the cruise terminal they wait for the private tours.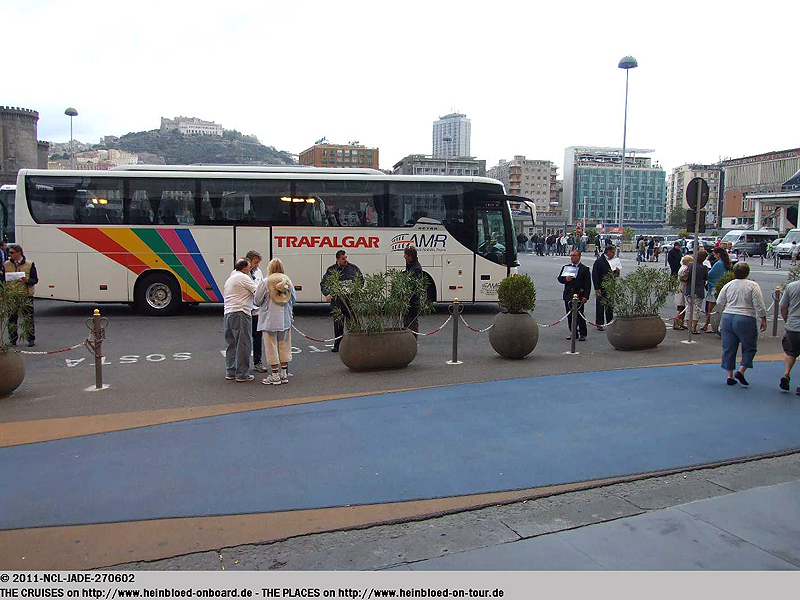 Vor dem Cruise Terminal warten die Abholer für die privaten Touren.
Die Teilnehmer für die Bustouren der Schiffe gelangen über eine separate Gangway direkt zu den Busparkplätzen.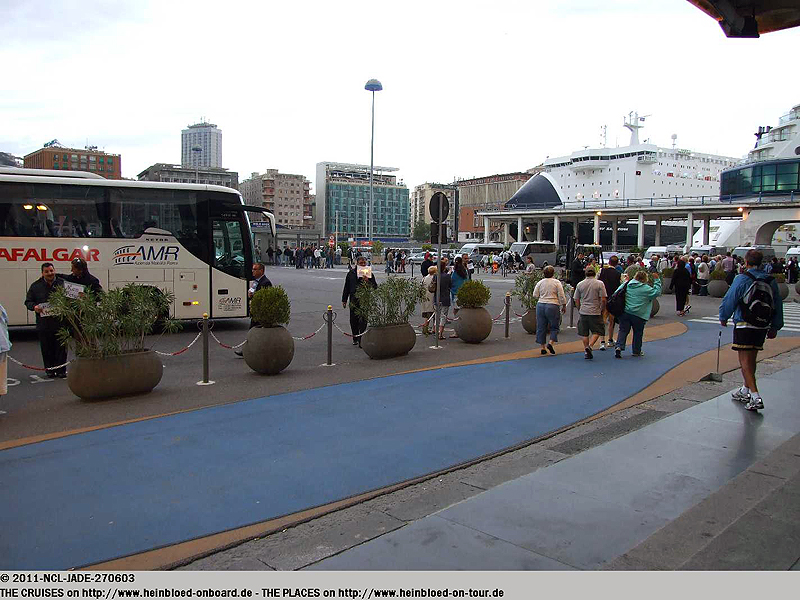 The participants for the ship's tours left on a different bridge directly to the parking of the buses.

Roberto of Amalfi Coast Destination was waiting for us. It was interesting: You wrote to ten. 1/3 did not answer. 1/3 answered a style where you know that the business was already good this year and they do not need new clients and you should be happy to get any reaction. The differences were three digits in Euro. What I liked here was the quality and speed of the answer that you know exactly what you should expect.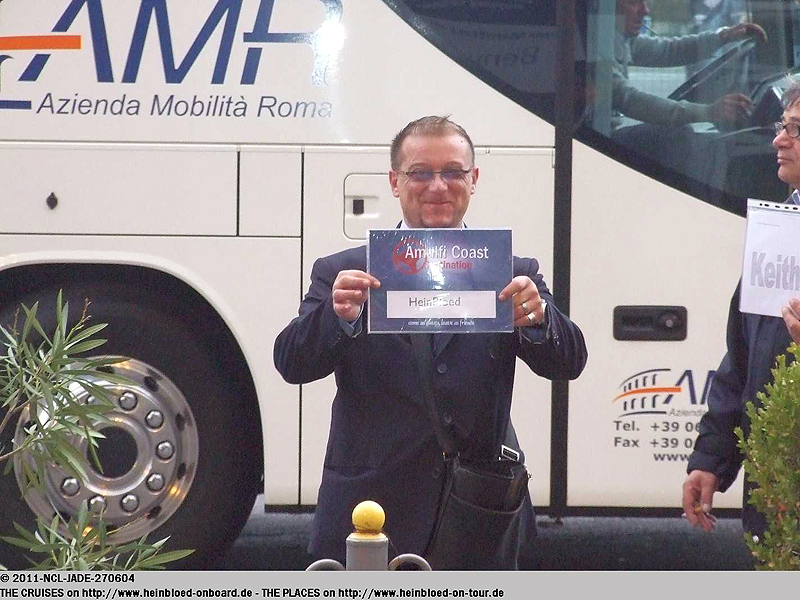 Auf uns wartet Roberto von
Amalfi Coast Destination
. Es ist interessant: Man schreibt zehn an. Von denen jedoch 1/3 gar nicht antwortet. 1/3 so antwortet, dass man weiss, dass man eigentlich es gar nicht nötig hat und man doch dankbar sein sollte, dass man überhaupt eine Antwort bekommt und bei dem Rest kommen auch mal dreistellige Eurosummen Unterschied heraus. Was mir gut gefiel, war doch die Qualität der Antwort, so dass man eine sehr gute Vorstellung hatte, was eigentlich auf einen zukommt.
Das Motto seines Unternehmens lautet, dass man als Gast kommt und als Freund wieder abreist. Deswegen lief die Begrüßung sehr persönlich ab. Nur das "Sir" als Anrede muss ich ihm irgendwann im Laufe der Reise abgewöhnen.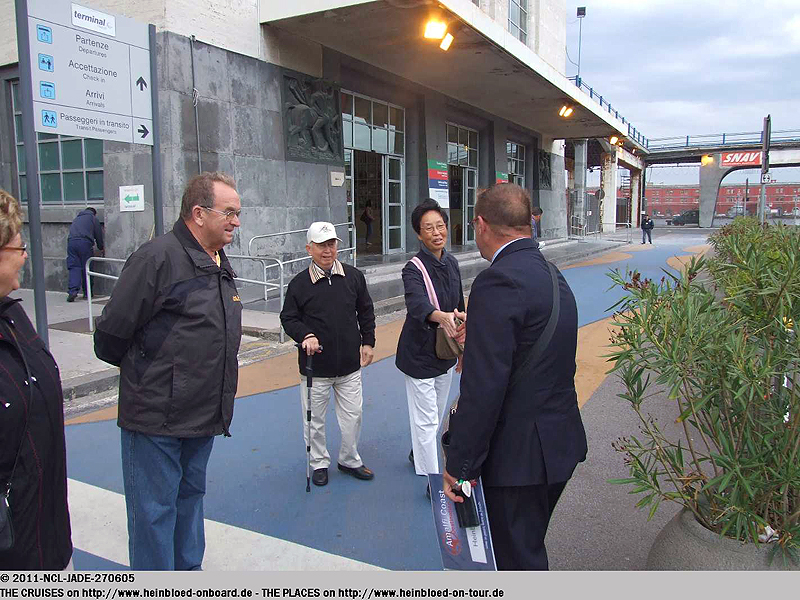 His company slogan was that you arrive as guest and leave as friend. So the greeting was very personal. But I need to break his habit to address me by "Sir" during the tour.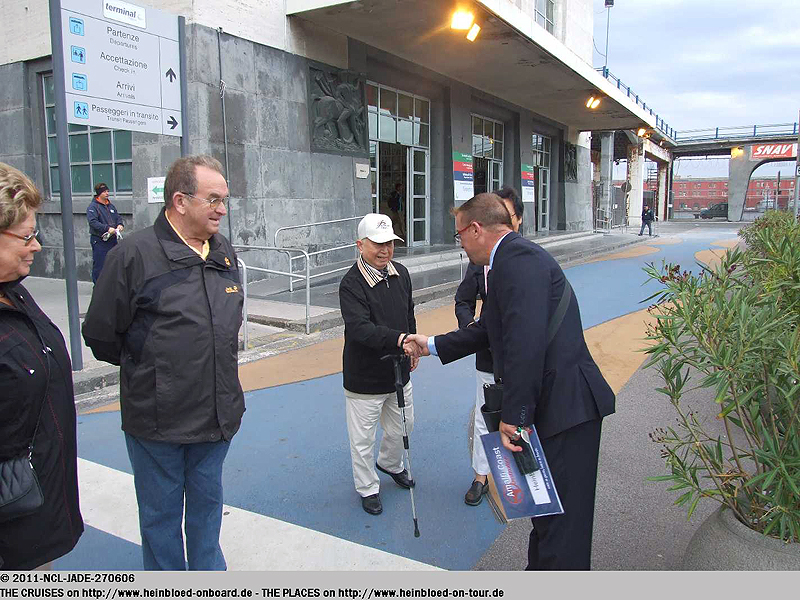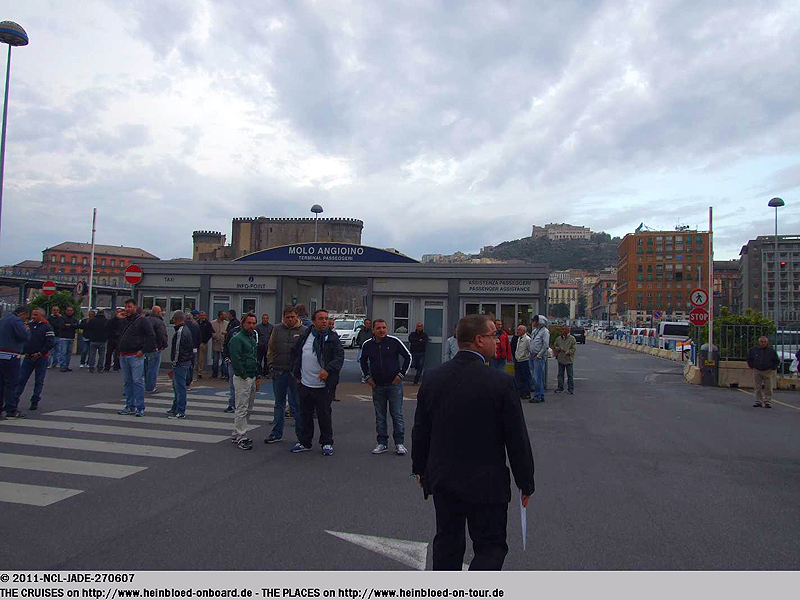 The vehicles of the tour operator were standing outside the checkpoint.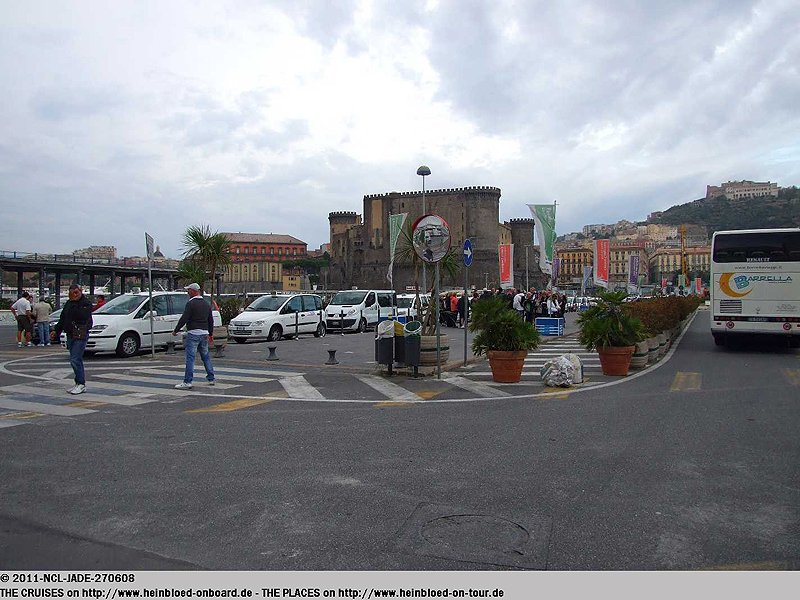 Die Wagen der Touranbieter stehen direkt vor der Zufahrtskontrolle.
Beim Anblick des FIATs dachte ich zunächst einmal an die gestrige Tour in Messina. Zu meiner Überraschung hatte ich allerdings so einen Van von FIAT zuvor noch nie gesehen. Er war erstaunlich geräumig und bequem.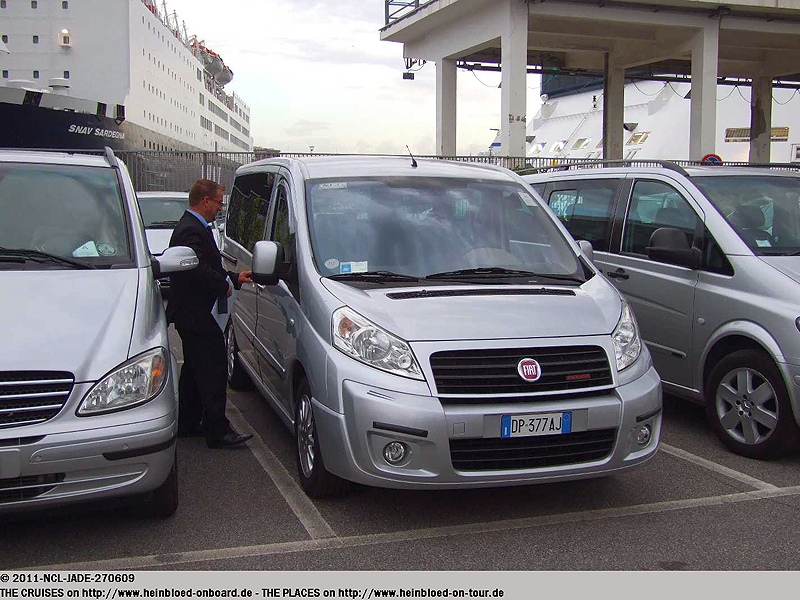 When I saw the FIATs I thought of our tour yesterday in Messina. To my surprise I have never seen such a van from FIAT before. It was really spacious and comforatable.

Roberto explained everything by his microphone so everyone in the backseats could understand well.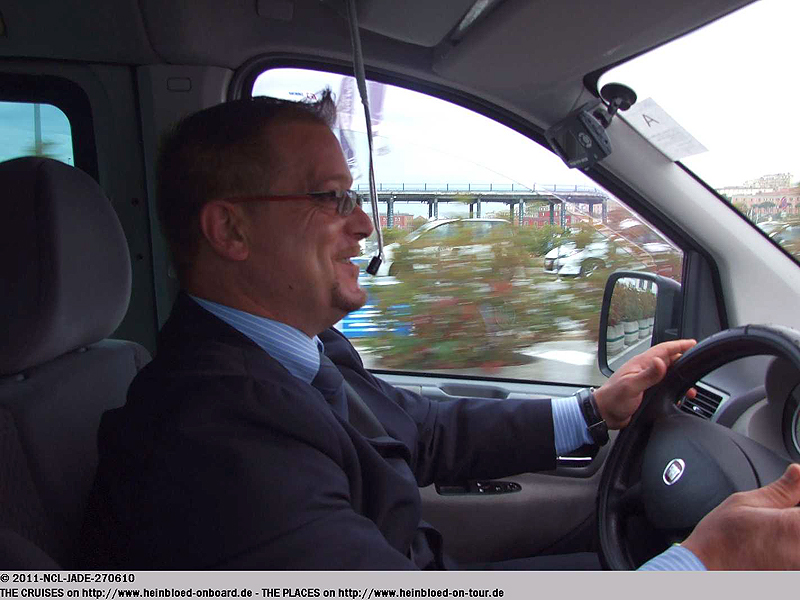 Roberto erzählt alles über die Anlage, so dass alle auch gut hinten verstehen können.
Die größte Herausforderung besteht seiner Ansicht nach, erst mal aus dem Hafen von Neapel überhaupt herauszukommen.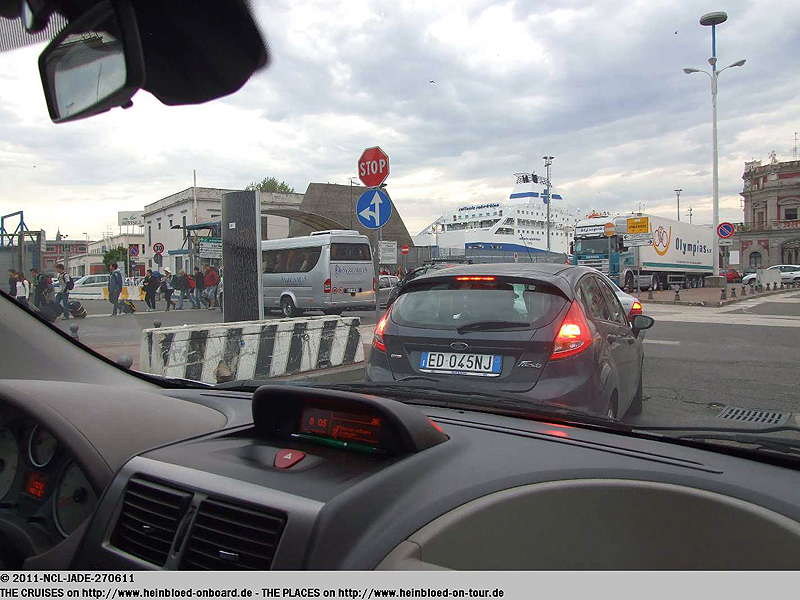 He said that the biggest challenge would be to leave the port of Naples somehow.

Soon we passed Mt. Vesuvius.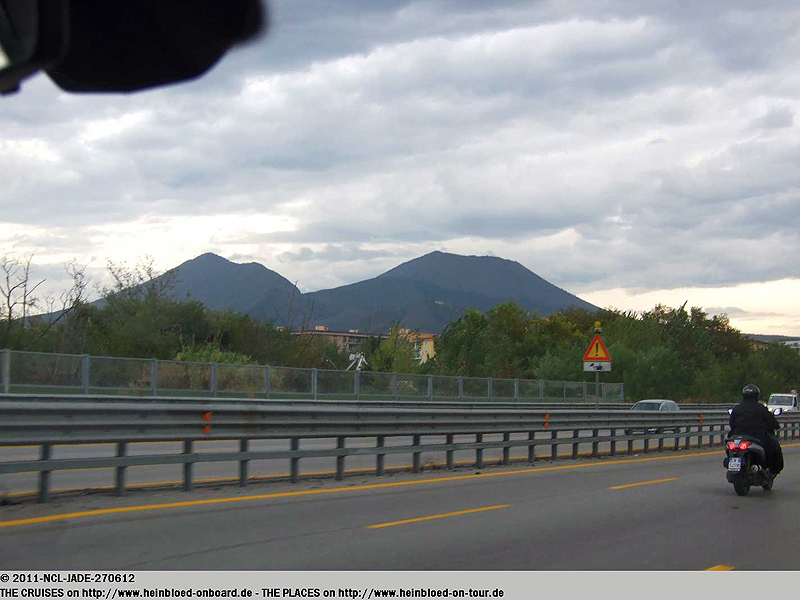 Schon bald geht es am Vesuv vorbei.
Und endlich sehen wir den Bus, den wir 2009 vergeblich gesucht haben. Aber anscheinend existiert er wohl. Wobei er ziemlich leer war. Ich gehe davon aus, dass auch dieses Mal niemand die Haltestelle am Cruise Terminal gefunden hat...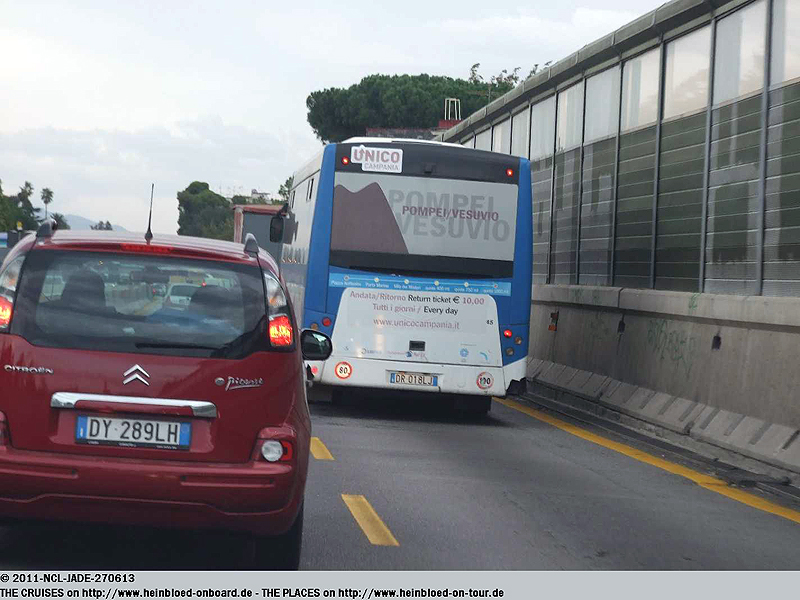 And finally we found the bus we tried to find 2009 without success. So it existed. But it was quite empty. I assumed that none found the bus stop again at the cruise terminal.

The first stop was a fotostop for Mt. Vesuvius.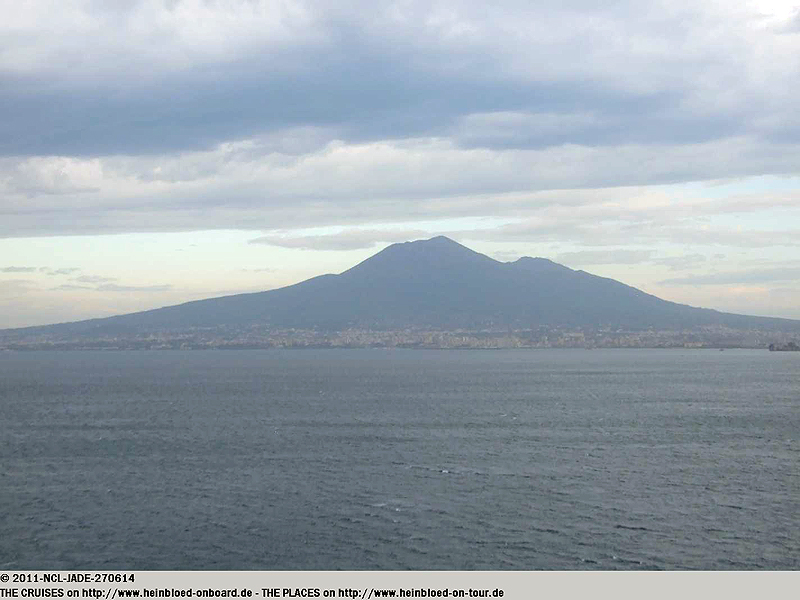 Der erste Stop ist ein Fotostop für den Vesuv.
Bruno nutzt die Gelegenheit seinen Eltern von seinem damaligen Besuch zu erzählen.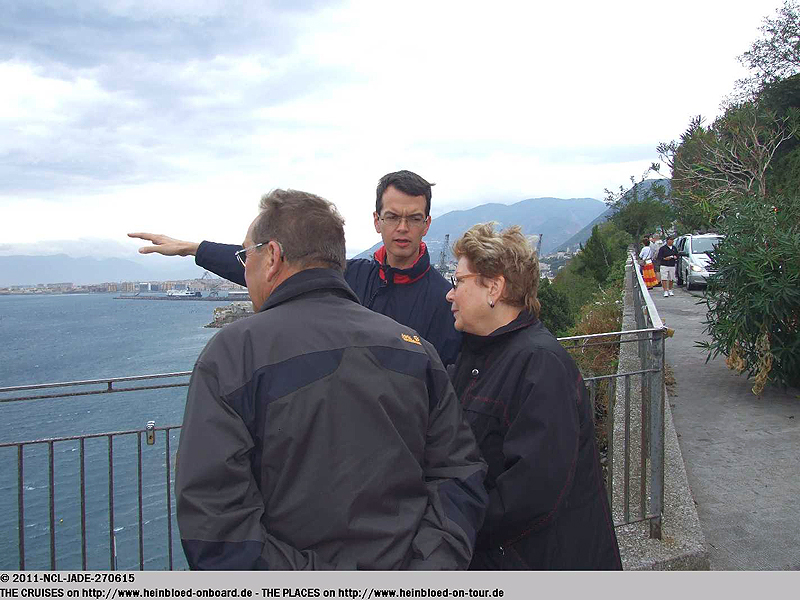 Bruno used the occasion to tell his parents about his visit then.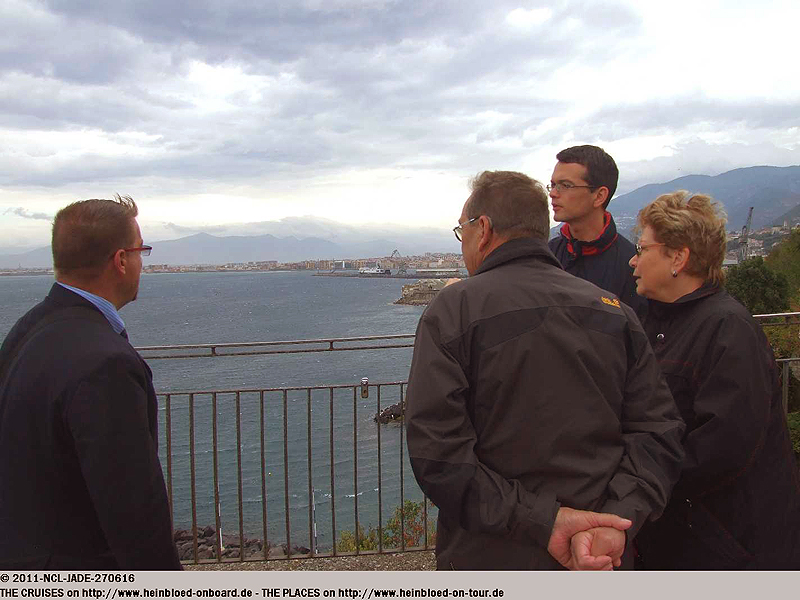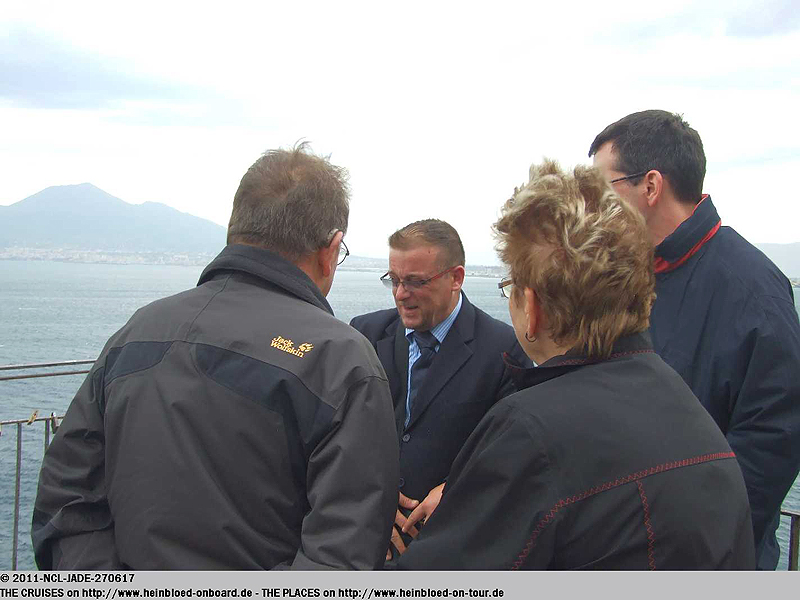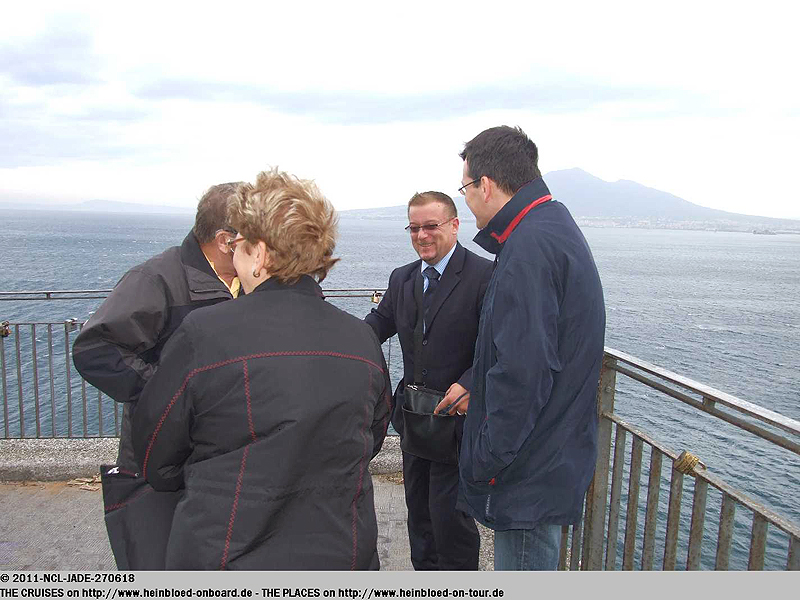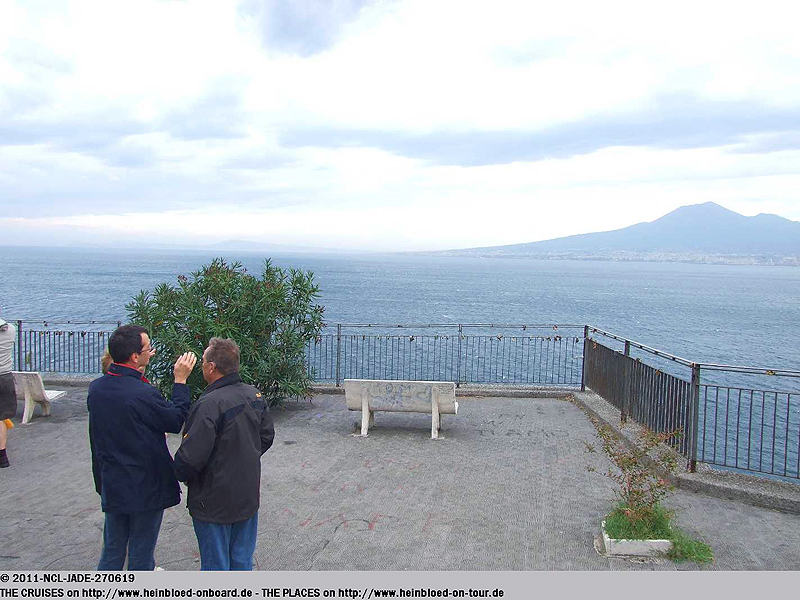 So Bruno got his souvenir photo from Mt. Vesuvius. His caught of two vulcanos was not so bad on this voyage. My parents found it was too windy. So they returned back to the car.

So nun bekommt Bruno noch das Erinnerungsfoto vom Vesuv. Seine Ausbeute mit zwei Vulkanen ist ja auf dieser Reise nicht schlecht. Meinen Eltern war es zu windig. Sie haben sich wieder ins Auto zurückgezogen.
Weiter geht es nach Sorrent. Zumindest haben wir es aus der Entfernung gesehen.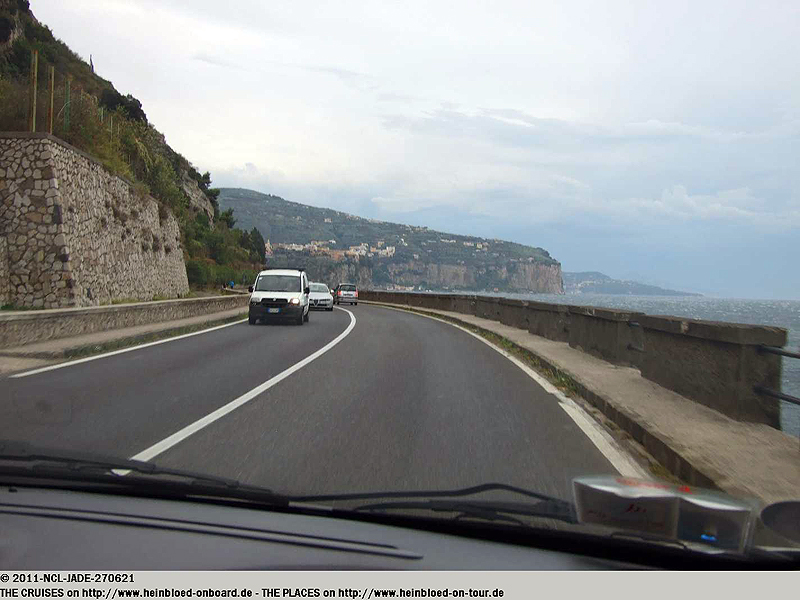 We headed then for Sorrento. Let us say we saw it from the distance.

As we took the wrong boat from Positano back to Sorrento we had time to discover Sorrento ourselves.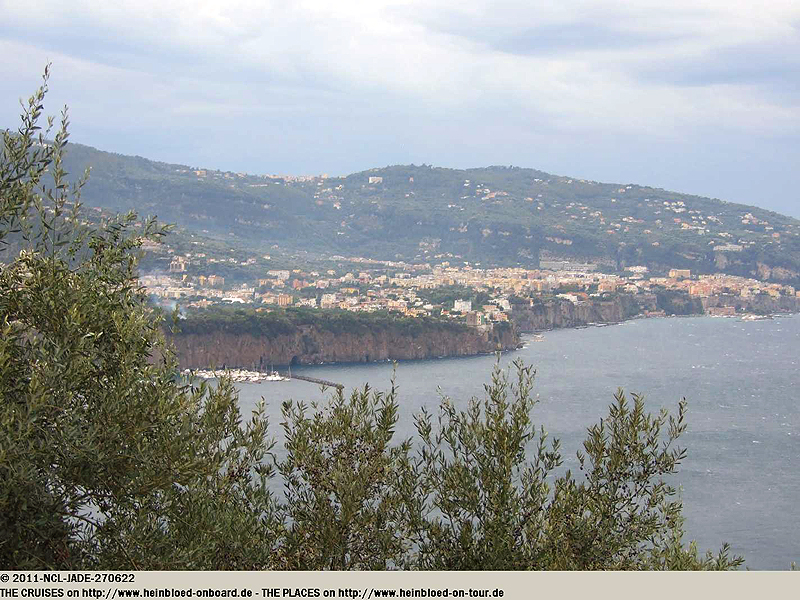 Da wir ja beim letzten Mal das falsche Schiff von Positano nach Sorrent erwischt hatten, blieb uns ja keine Zeit mehr, uns Sorrent selbst anzusehen.
Aber auch dieses Mal sehen wir es nur aus der Ferne. Es gibt eigentlich hier so viel zu sehen: Wiederkommen lohnt sich also. Nur man sieht: das Wetter spielt nicht mit. Die See ist schon so rauh, dass Roberto meint, dass wohl die Fähren nach Capri von Amalfi und Sorrent aus, den Betrieb einstellen werden.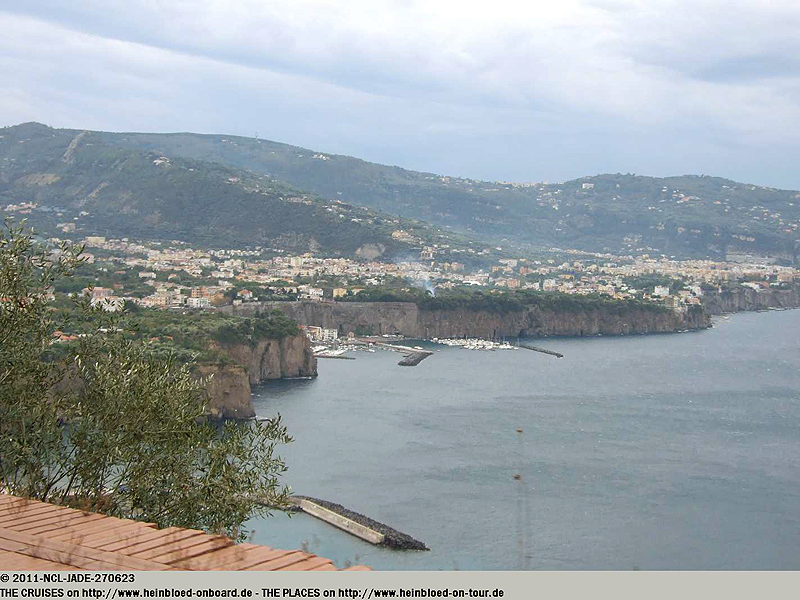 But again we saw it this time from the distance. Looked like that there is much to see: a comeback would be worth. But you can see: only the weather was not so nice. The sea was rough and Roberto said that they will suspend the services to Capri out of Amalfi and Sorrento very soon.

So we have to come back.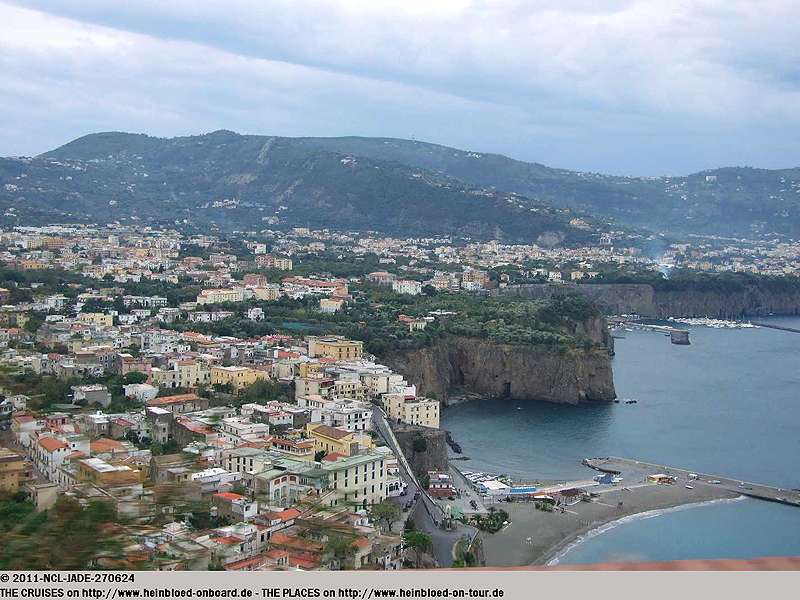 Also kommen wir wieder.
Roberto macht uns eben auf das Straßenleben aufmerksam. Den Fischstand hätten wir gerne besucht.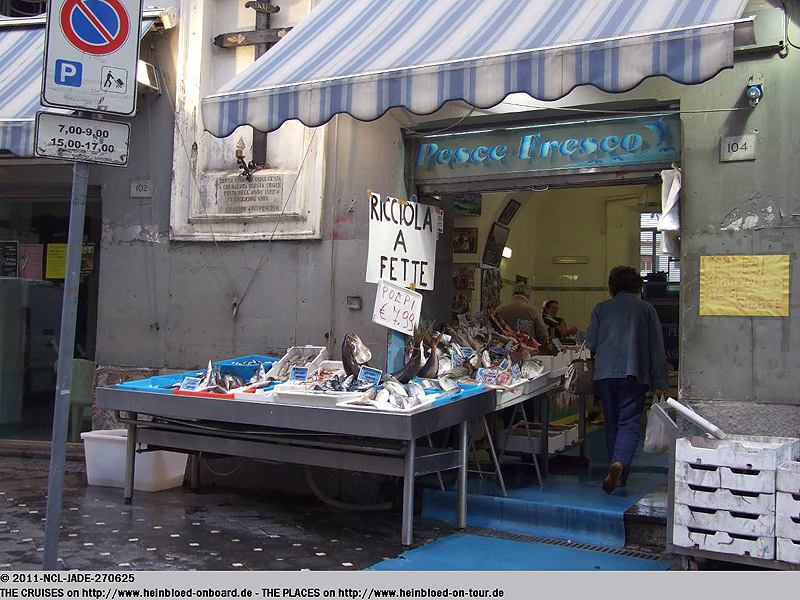 Roberto attracted our attention to the street life. We really would like to see the fish shop.

As well as the vegetable and fruit stand.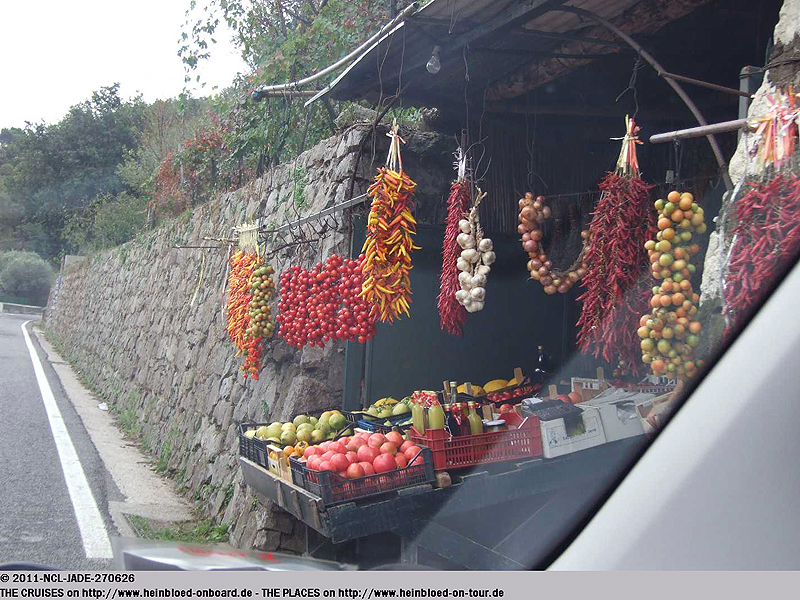 Genauso wie den Gemüsestand.
Der Sage nach müssen hier die Sirenen gesungen haben, um Odysseus verführen.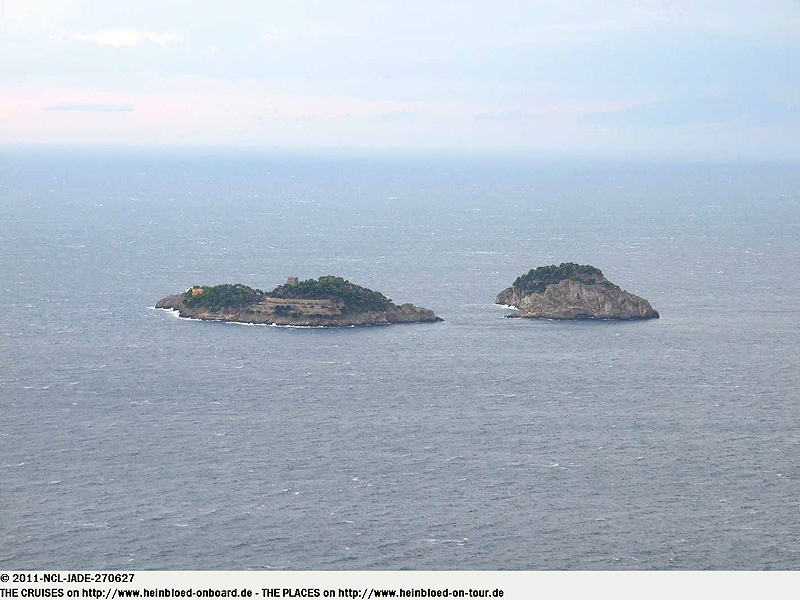 According to the saga the Sirenes must sing here to seduce Ulysses.