Scroll down for English explanations - alternates with German explanations.

Eigentlich fing die Reise etwas enttäuschend an. Die kurze Zeit während des Mittagessens an Bord gab es noch niemanden, den ich erkannt habe. Erst als es zur Seenotrettungsübung ging, war als erste unserer Crew-Freunde Monica im Treppenhaus und Bruno und ich wurden zur Verwunderung unserer Eltern mit Umarmung herzlich begrüßt. Nun wussten wir, dass wir unter Freunden waren - Alles wird gut. Und da wir sehr zeitig essen gehen, weil ich müde war, bekommen wir einen wunderschönen Tisch am Heck.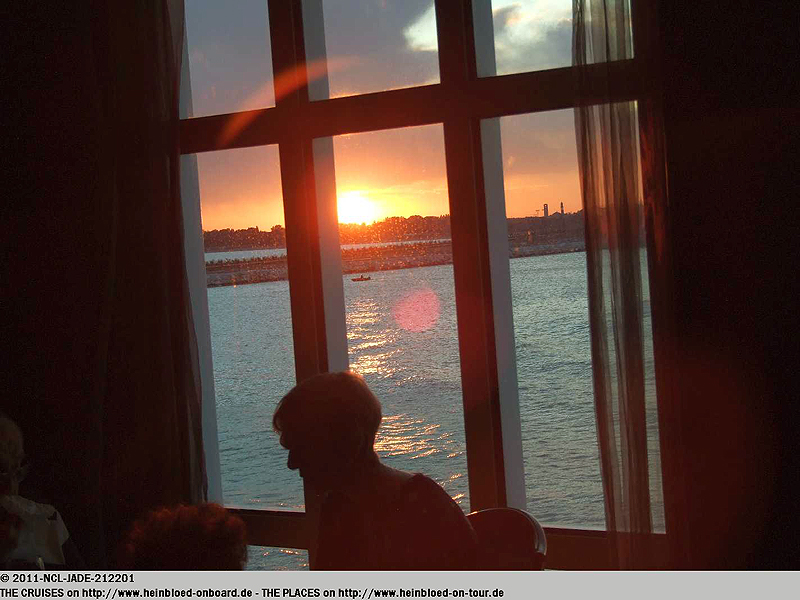 Somehow the voyage started very disappointing. The short time we were for lunch onboard I did meet anyone whom I know. But on the way to the life drill Monica was the first of our crew-friends who was in the stairways. Our parents were surprised that Bruno and I got hugged. Now we knew that we were there with friends - everything will be fine now. And as we went quite early for dinner because we were tired we got a very nice table at the aft.

Something has changed: the menu with the everyday's offer became larger but the daily changing menu became smaller. I am not sure if I should like it or not.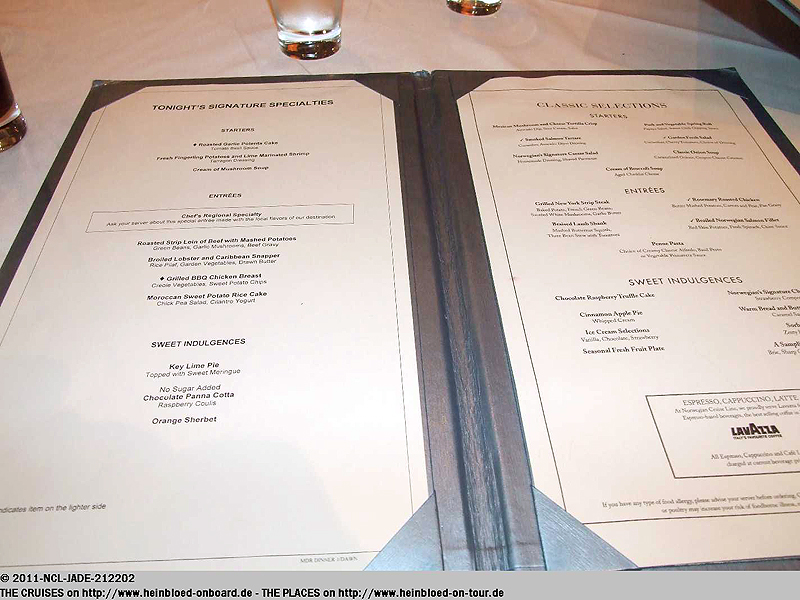 Eines hat sich wohl geändert: die Karte mit den Angeboten, die es jeden Tag gibt, ist größer geworden und dafür die täglich wechselnde Karte kleiner. Ob ich es gut finden soll, weiss ich noch nicht so recht.
Unser Kellner für den ersten Abend musste sich nicht vorstellen: Yohannes. Zuletzt haben wir ihn auf der NORWEGIAN GEM vor zwei Jahren erlebt.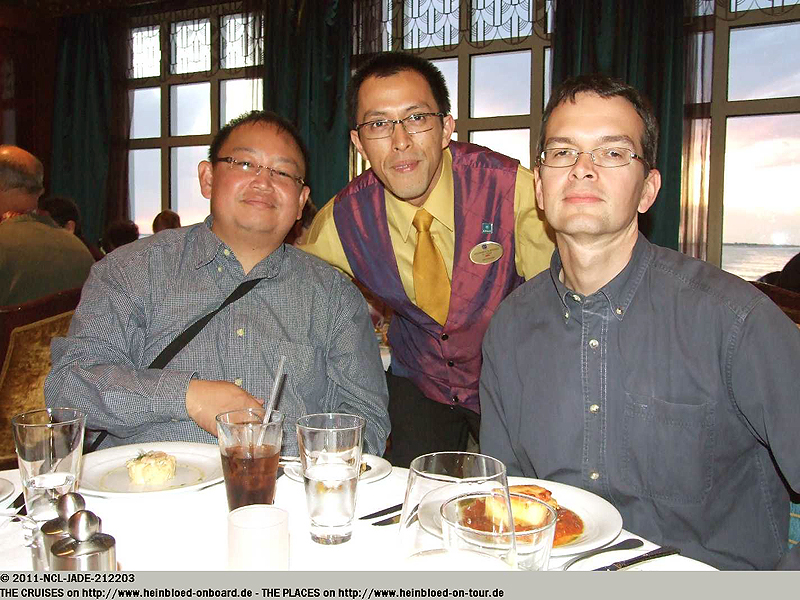 Our waiter for the first did not need to introduce himself as we knew him from NORWEGIAN GEM two years ago: Yohannes.

It was nice to be here again.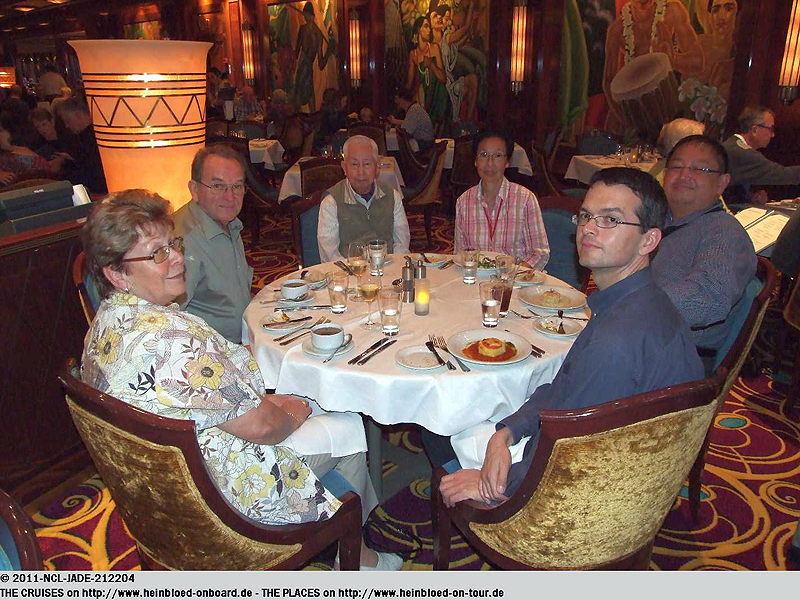 Insgesamt war es immer wieder schön, hier zu sein.
Bisher hatten wir auch noch nie das Sauerteigbrot. Richtig lecker.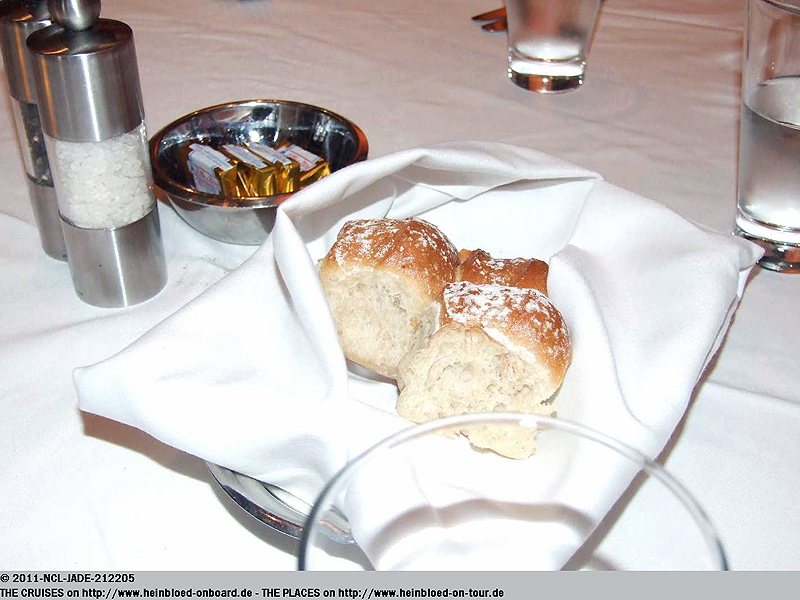 So far we never had this sourdoughbread before but it was great.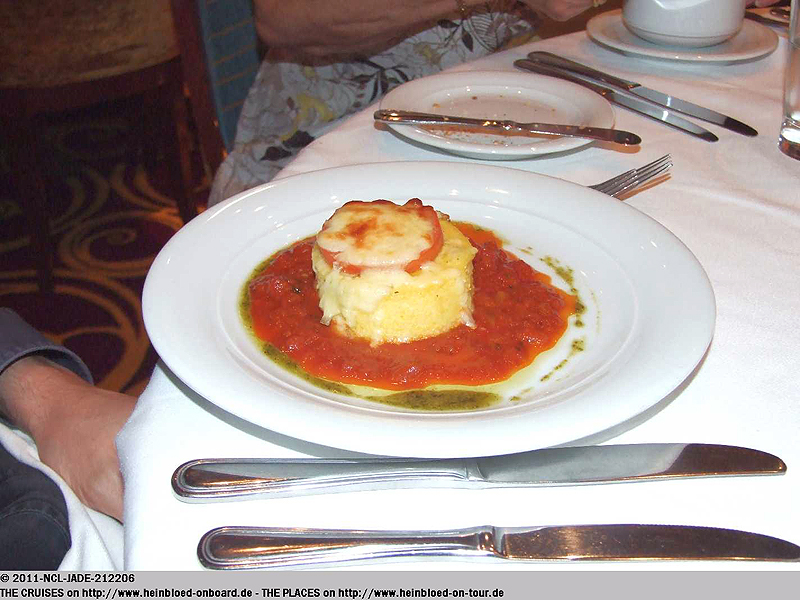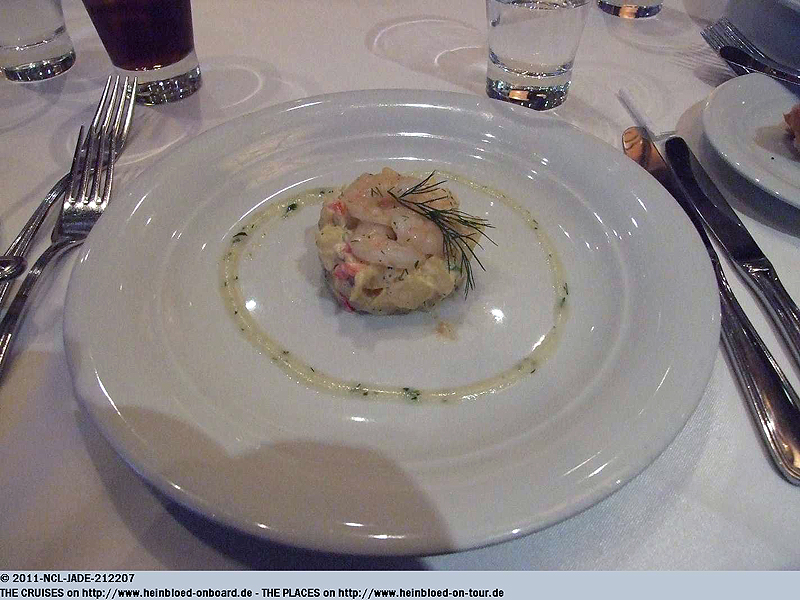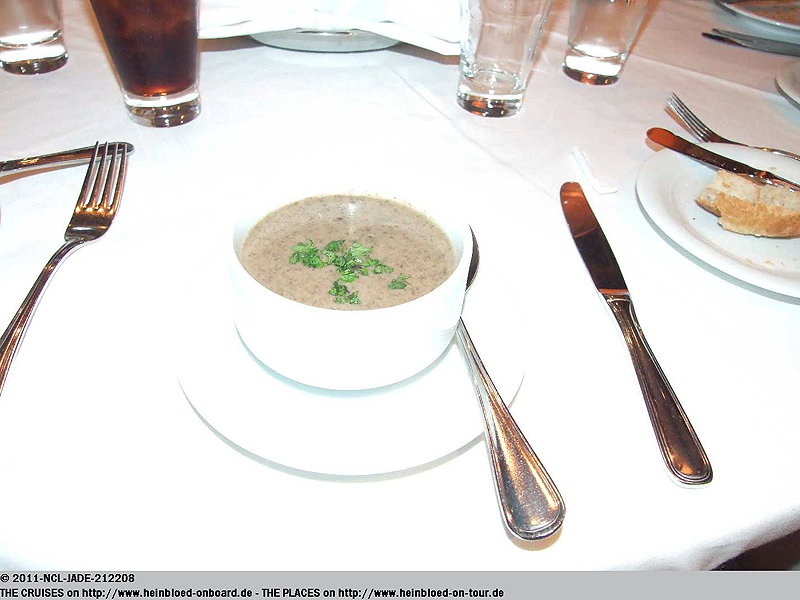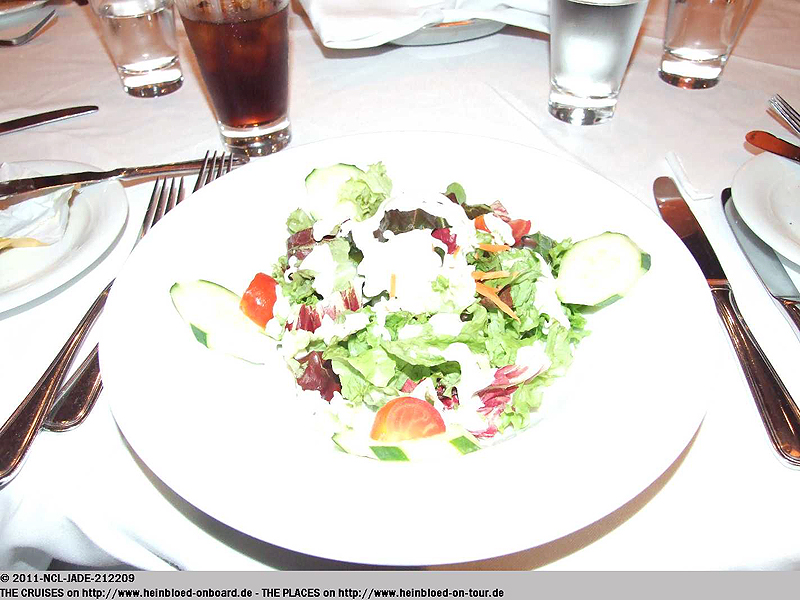 Slices of meat...

Fleischlappen...
Und neu ist immer eine regionale Spezialität, die nicht auf der Karte abgedruckt ist, sondern vom Kellner verbal vorgestellt wird. Hier gegrillter Thunfisch auf Salatbett.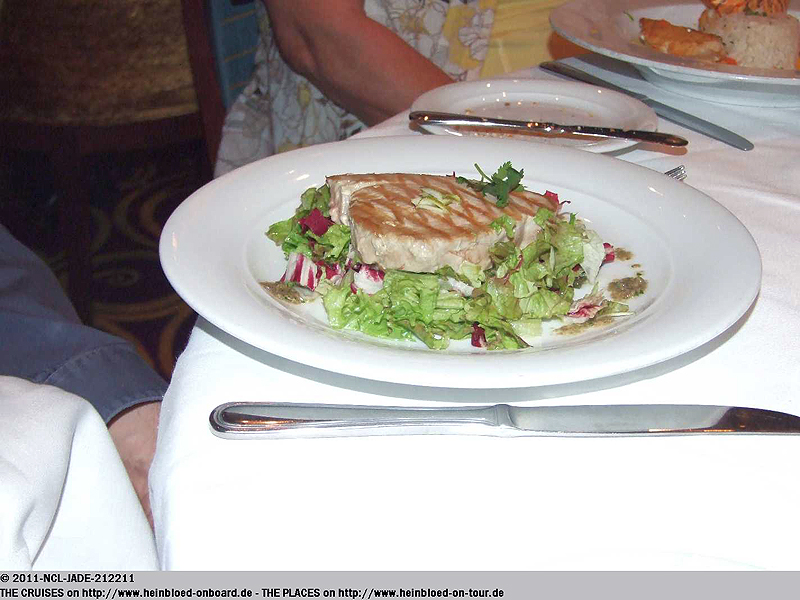 And new is the regional speciality which is not printed on the menu but recommeneded by the waiter verbally. Today the grilled tuna on salad.
The first night was already the lobster night.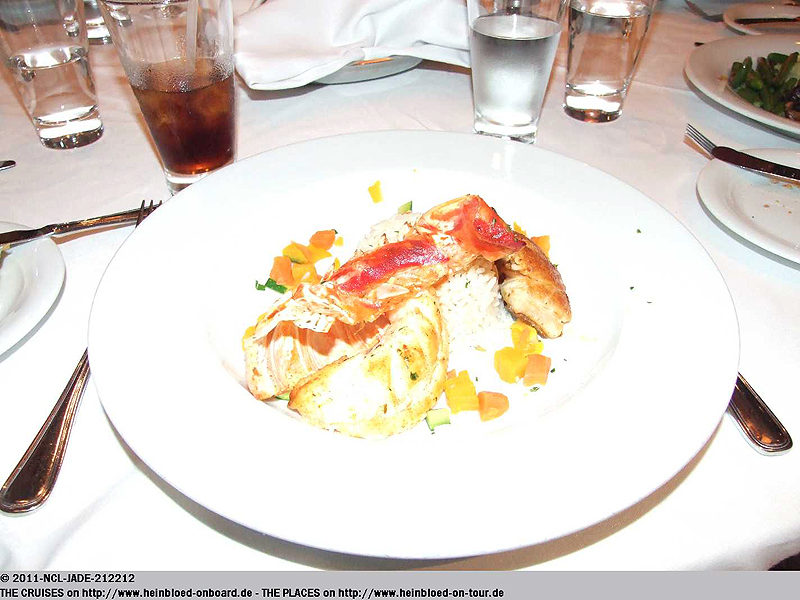 Der 1. Abend war bereits der Hummerabend.
Wir haben Brunos und meine Eltern darauf vorbereitet, dass es nicht so wird wie auf der WESTERDAM, da es Hummer nur einmal in der Woche gibt. Aber so mit dem 1. Abend wurde bereits voll ins Schwarze getroffen. So konnten wir auch sehr gut direkt die Tische für die restlichen Abende buchen.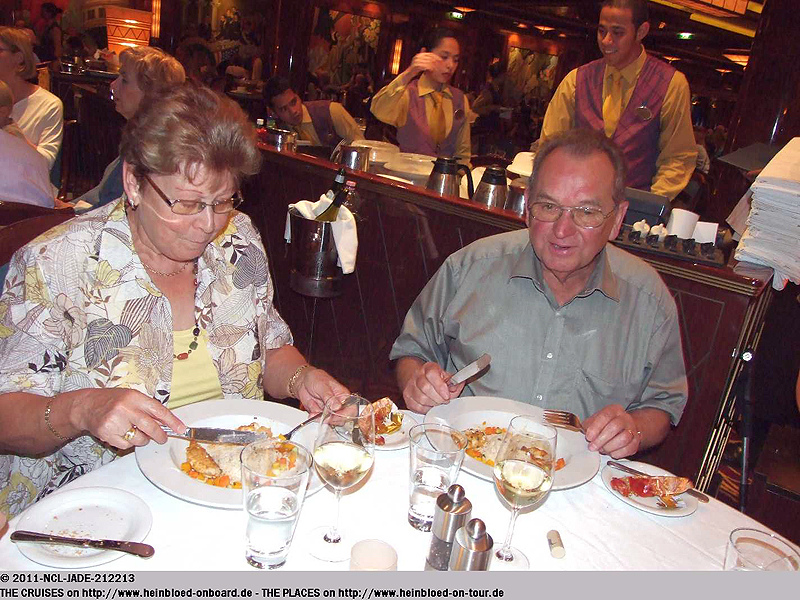 We prepared Bruno's and my parents that it would not like be like on WESTERDAM as they will offer lobster only once per week. So they hit already with the very first night. It was now easy to make the table bookings for the rest of the voyage.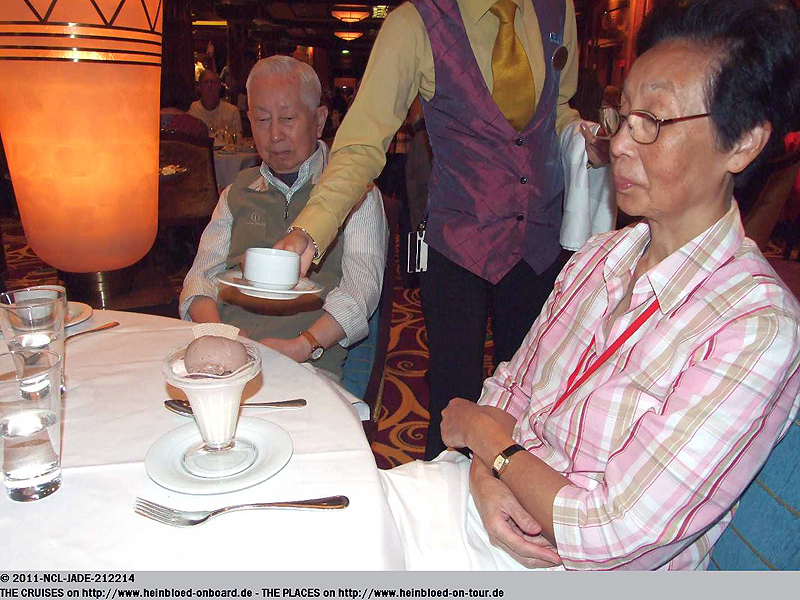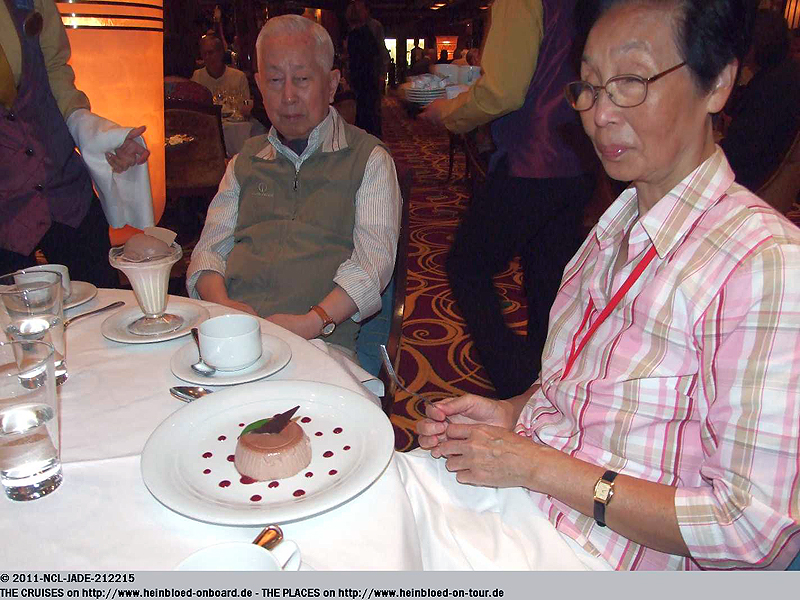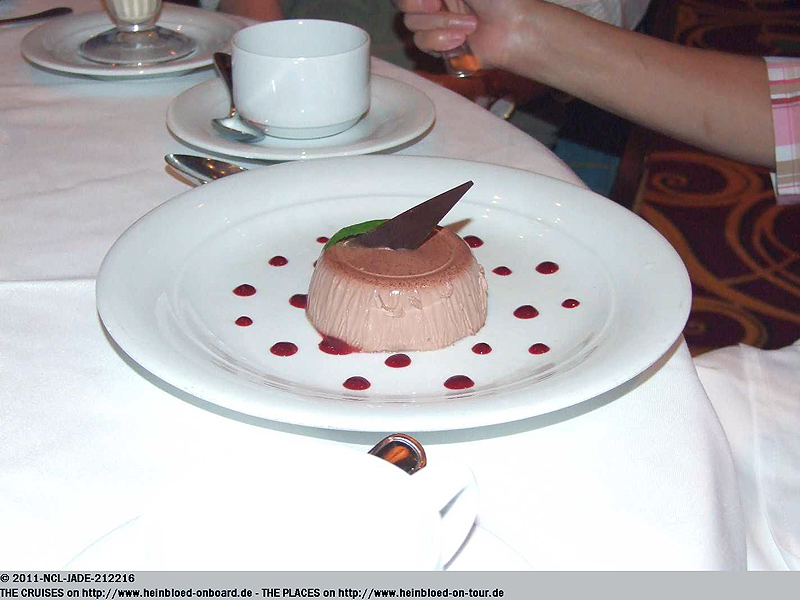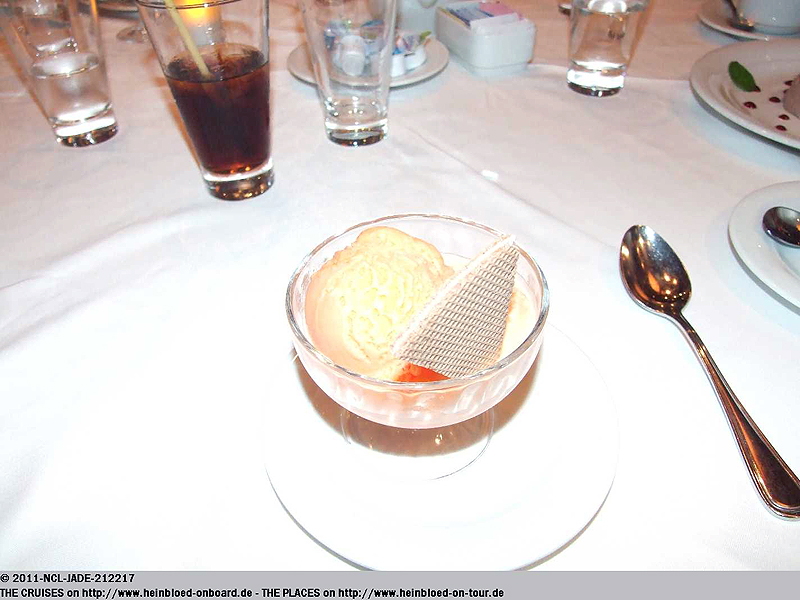 Anyway the first night was already a lovely experience.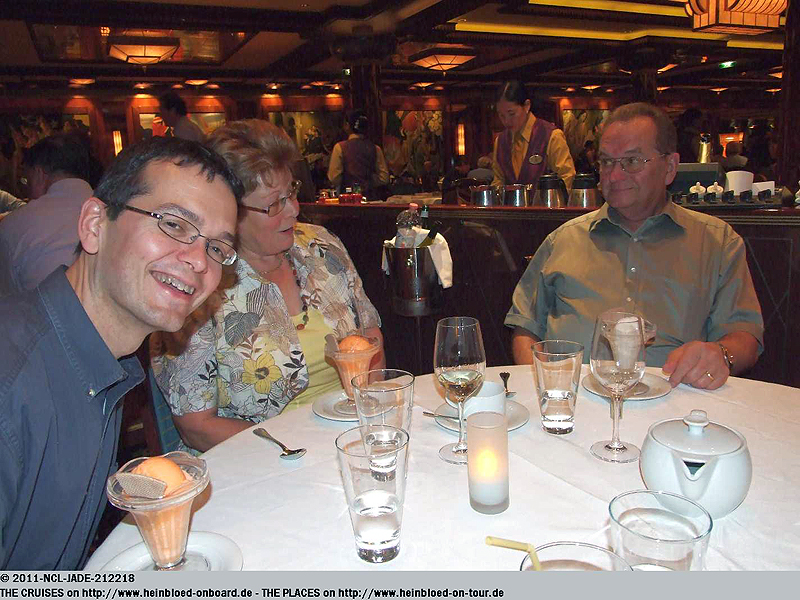 Auf jeden Fall hat uns der 1. Abend schon sehr gut gefallen.
Denn Mahmut ist auch an Bord. Ihn kennen wir schon von diversen Fahrten auf der NORWEGIAN JADE. Blöderweise habe ich den Namen von Yohannes' Assistentin nicht lesbar getroffen.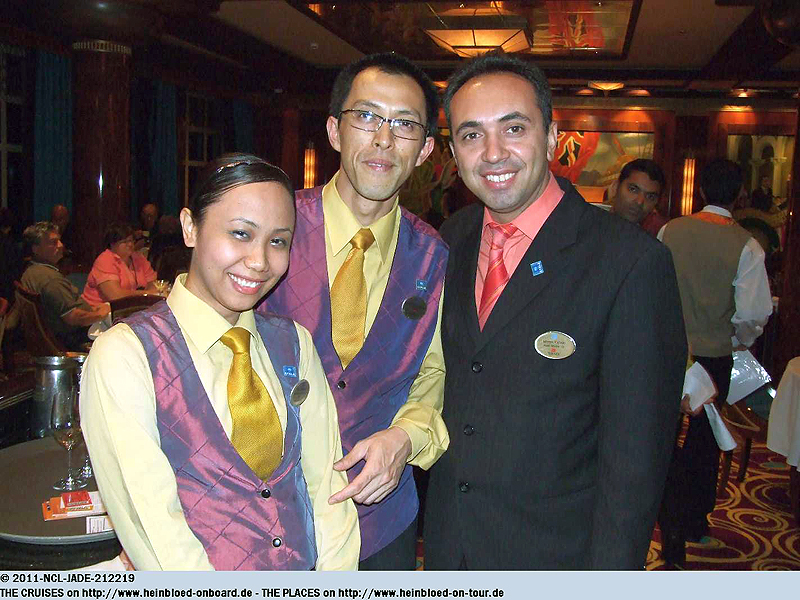 Because Mahmut was on board too. We knew him from several voyages on NORWEGIAN JADE. Unfortunately the name of Yohannes' assistant was not clearly taken.

For a short moment I went down to Carol to say hello as she were on all three cruises on NORWEGIAN JADE we have been before as our Future Cruise Consultant. For the start of the sales for NORWEGIAN BREAKAWAY we bought already a cruise reward. To my big surprise Captain Kim Karlsson came in whom we knew from our voyage in January 2011.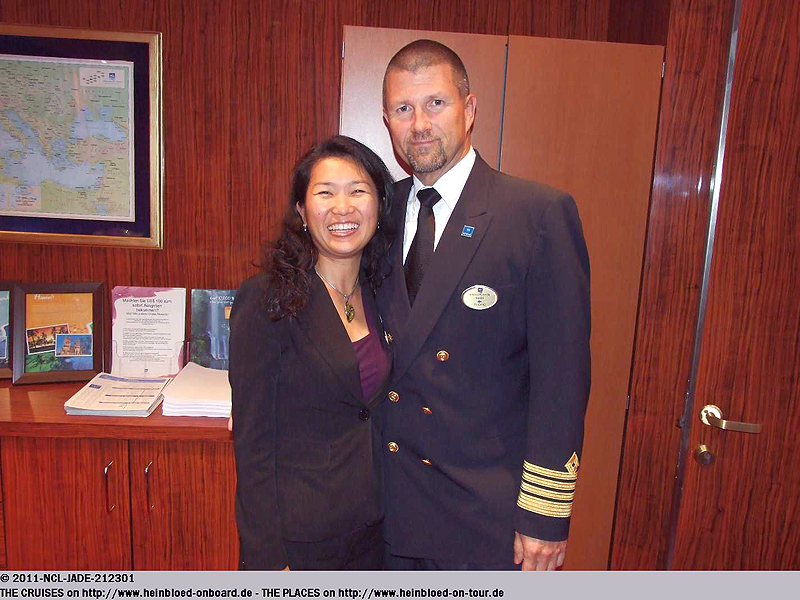 Ich gehe kurz zu Carol, um sie zu begrüßen, die alle drei bisherigen auf der NORWEGIAN JADE, die wir gemacht haben, als Future Cruise Consulant begleitet haben. Für den Verkaufsbeginn der NORWEGIAN BREAKAWAY statten wir uns schon mal mit einem Cruise Reward aus. Zu meiner großen Überraschung kommt Kapitän Kim Karlsson herein, der uns von unser Fahrt im Januar 2011 her kennt.
Unsere Decke wurde geteilt. Ob wie bei St. Martin weiß ich nicht. Nur hatten wir jetzt zwei Single-Decken gehabt.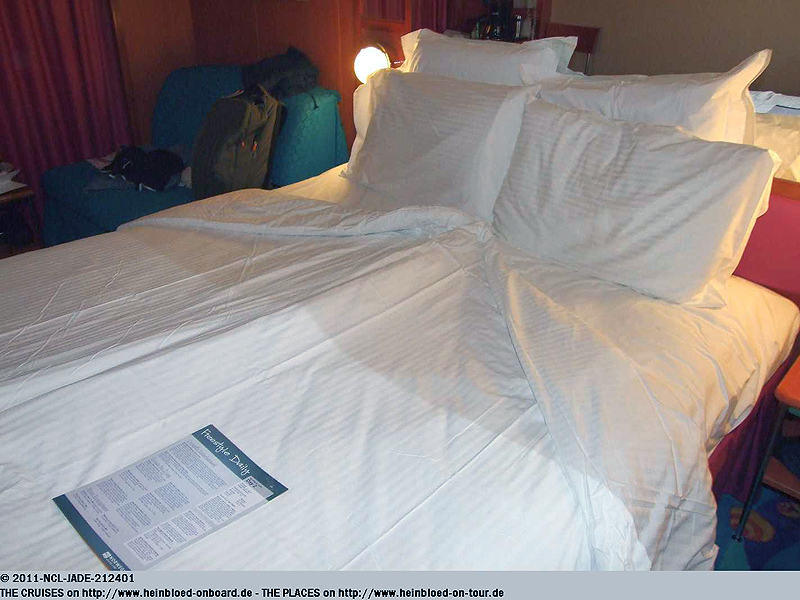 Our double-blanket was divided. I was not sure if they did it like with St. Martin (with a sword). Now we had two single blankets.

And finally we could open a fruit store on Deck 10. Promptly we received another fruit plate as greeting for our cabin. Everybody was so nice to us. Unbelievable that we only stay for one week.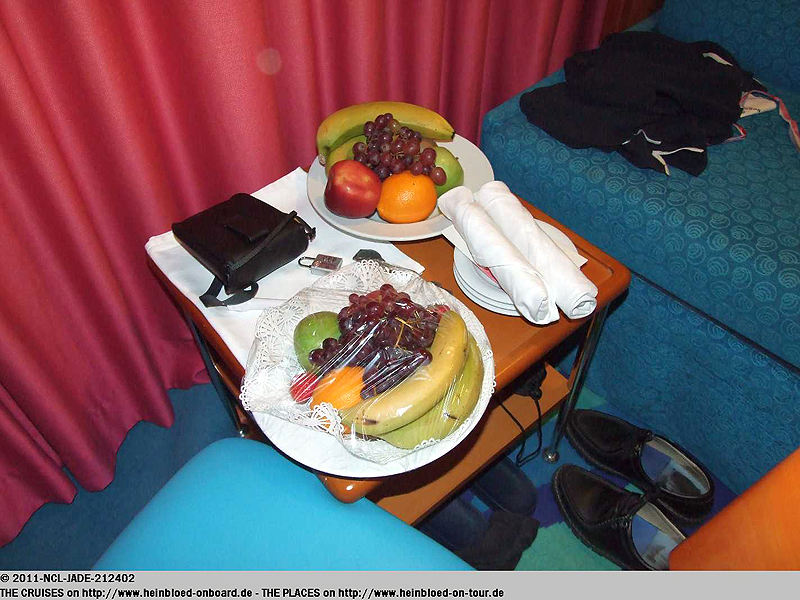 Und wir können einen Obstladen auf Deck 10 eröffnen. Prompt bekommen wir als Gruß noch einen weiteren Obstteller in die Kabine zugestellt. Alle sind so lieb zu uns. Kaum zu glauben, dass wir nur eine Woche bleiben.