Scroll down for English explanations - alternates with German explanations.

Es gab eine Beschwerde: Es ist bereits der 3. Tag an Bord und ich komme dem Blog nicht hinterher... Also wird ein Kapitel zwischendurch mit Übersetzung fertiggestellt, damit derjenige weiss, dass ich daran arbeite... Derjenige ist aber nicht schuldlos daran, dass ich keine Zeit für den Blog finde, weil er und seine gesamte Crew dafür sorgen, dass ich keine Zeit habe... aber keine Sorge: die Geschichten an Bord sind es wieder Wert aufgeschrieben zu werden - nur beim letzten Mal hatten wir sechs Seetage plus den 2. Tag in Alexandria, den wir an Bord verbracht haben... - Es ist recht frisch. Aber zum Glück trage ich Flanellhemd und Wollschal. Das landbasierte AIS-Netz ist ausgefallen. So habe ich keine Ahnung wo die NORWEGIAN JADE überhaupt steckt. In den letzten zwei Wochen haben ich jedeoch schon immer samstags Morgen beobachtet, dass der Kanal von Guidecca gegen 07.00 Uhr erreicht wurde. So nutze ich noch die Zeit mir ein paar Batterien zu kaufen und ein paar Bilder zumindest von der Umgebung zu machen.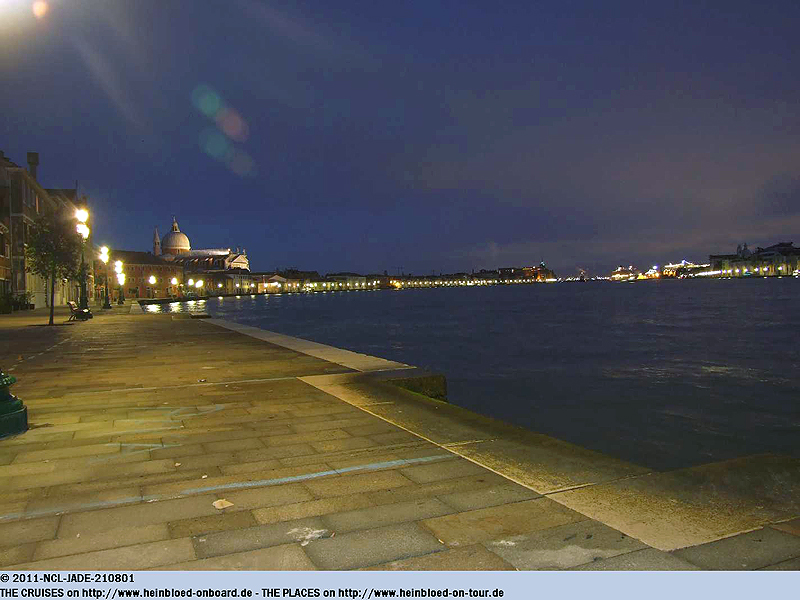 There was a complaint: I was already the 3rd day onboard and was behind schedule with my blog... So one chapter will be completed incl. translation to make this person know that I am working on... But this person is not unguilty that I do not find time to do my blog because he and his entire crew made sure that I have no time... But do not worry: the stories here on board are worth to be told - but the last time I had six days at sea and 2nd day in Alexandria we did not use to leave the ship and stayed onboard... - It was quite breezy and chilly. But it was good to wear a very thick shirt and my wool scarf. The shore-based AIS-signal network did not work that morning. So I had absolutely no idea where NORWEGIAN JADE was currently. In the last two weeks I observed her every Saturday morning and so I knew that she reached the cana of Guidecca around 07.00 hrs. So I used the time to buy some batteries and took a few pictures of the surrounding here.

But I had no clue what pictures I took as I had no guide book with: just my camera and my tripod.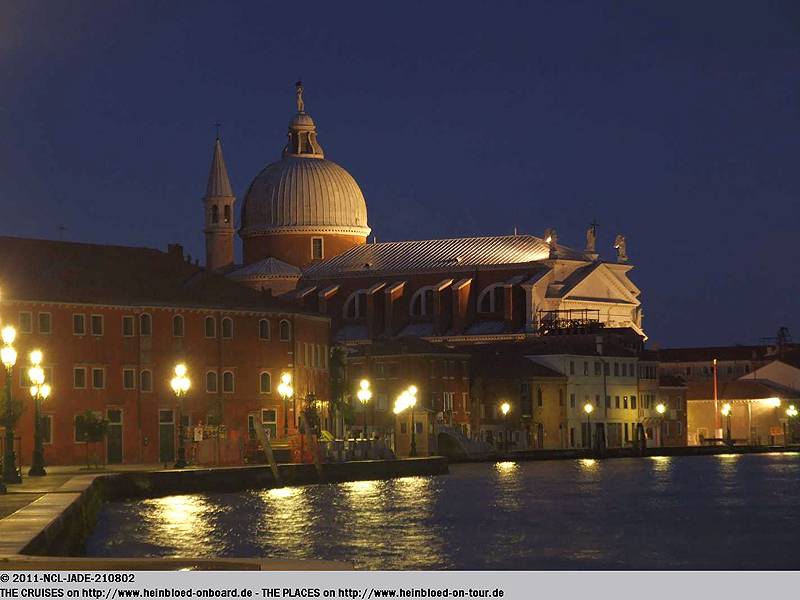 Ich habe bloß gar keine Ahnung, was ich überhaupt fotografiere, weil ich überhaupt keinen Reiseführer mithabe. Nur meine Kamera und mein Stativ habe ich mit.
Deswegen kann ich auch die Frage im kreuzfahrten-treff.de gar nicht beantworten, wo ich mich aufhielt. Auf jeden Fall sehe ich den Kreuzfahrthafen.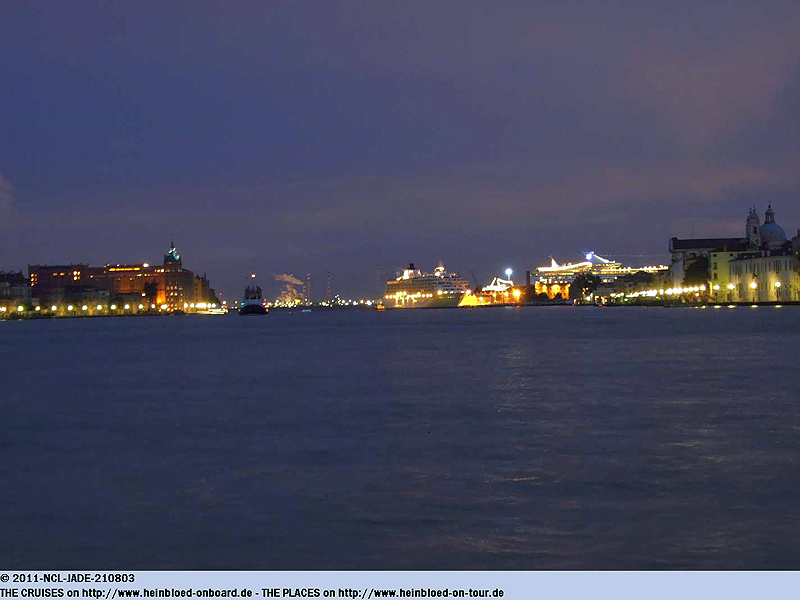 That was why I could not reply to few question in the Geman speaking forum, where I was located when I took the following pictures. I only knew that I saw the cruise terminal.

In the background THE WORLD, HAPPY DOLPHIN and VOYAGER OF THE SEAS.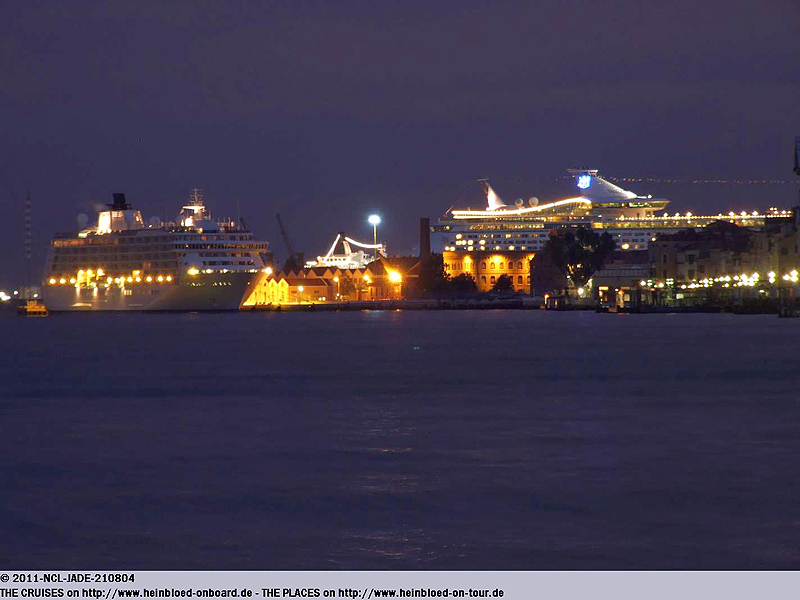 Im Hintergrund THE WORLD, HAPPY DOLPHIN und VOYAGER OF THE SEAS.
Drüben eine Mega-Yacht: Keine Ahnung wessen.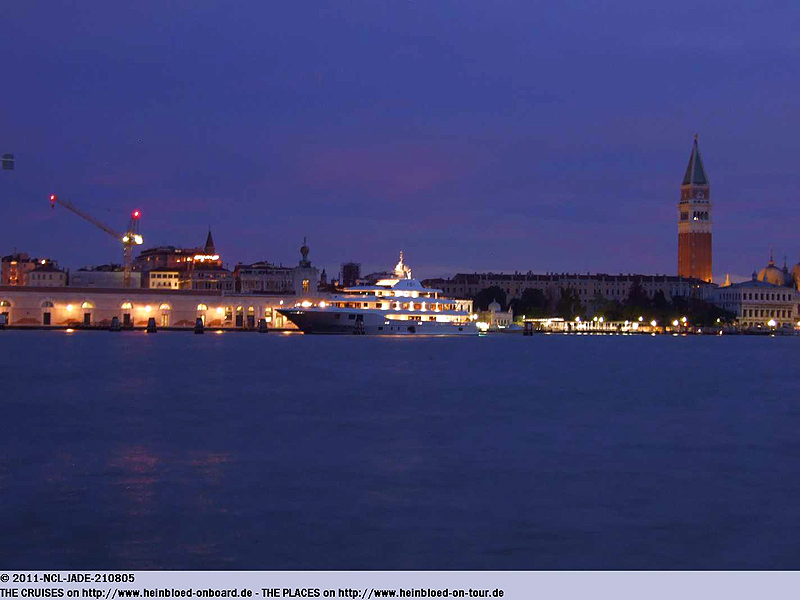 Opposite a Mega-Yacht but no idea whose.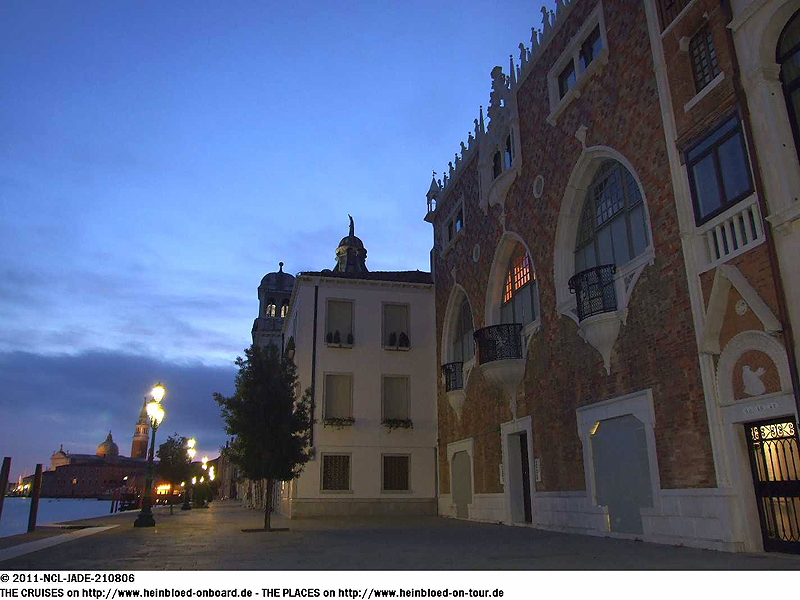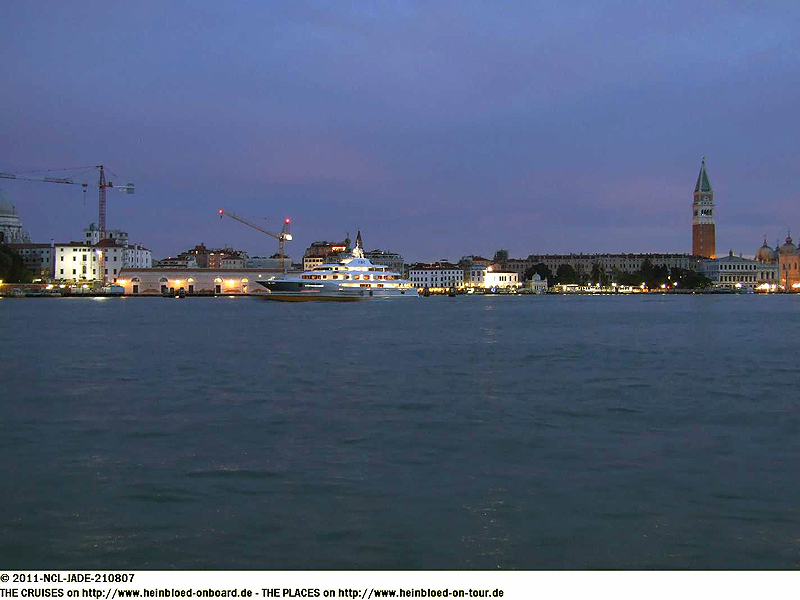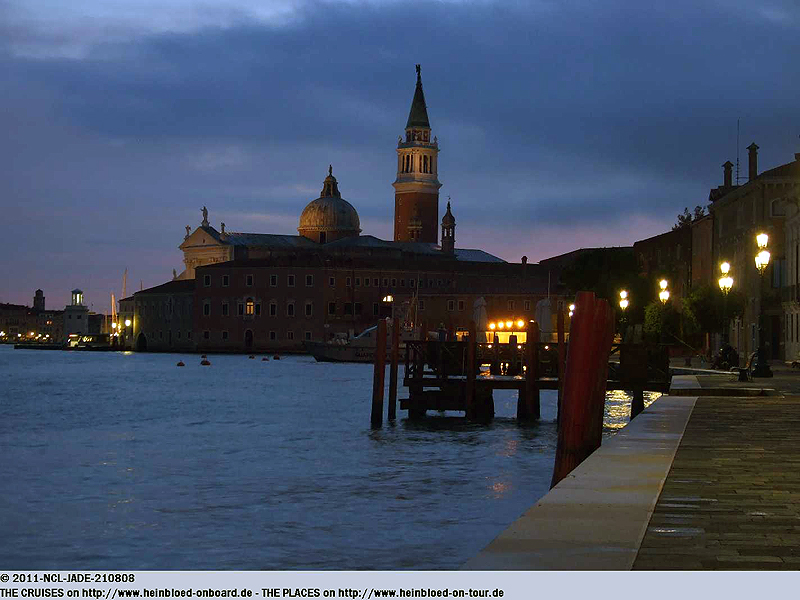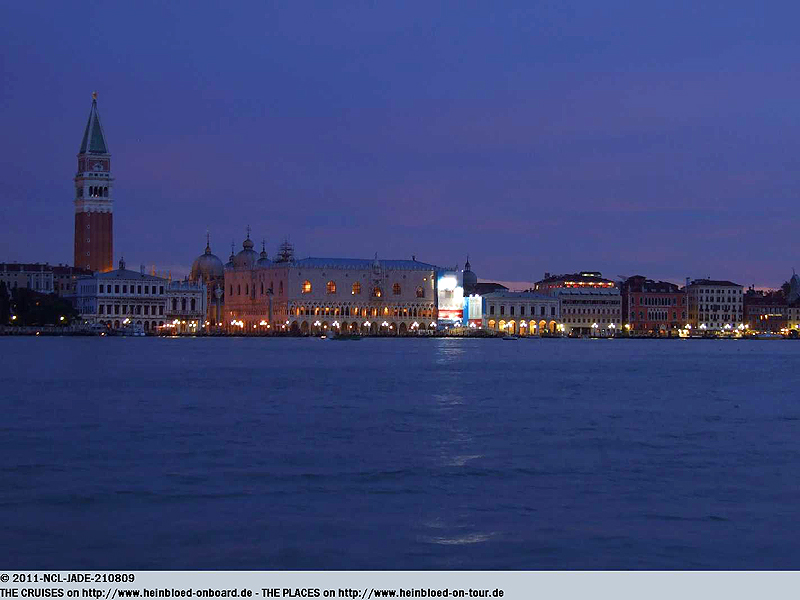 For this moment I woke up so early: NORWEGIAN JADE in front of St. Mark's Square.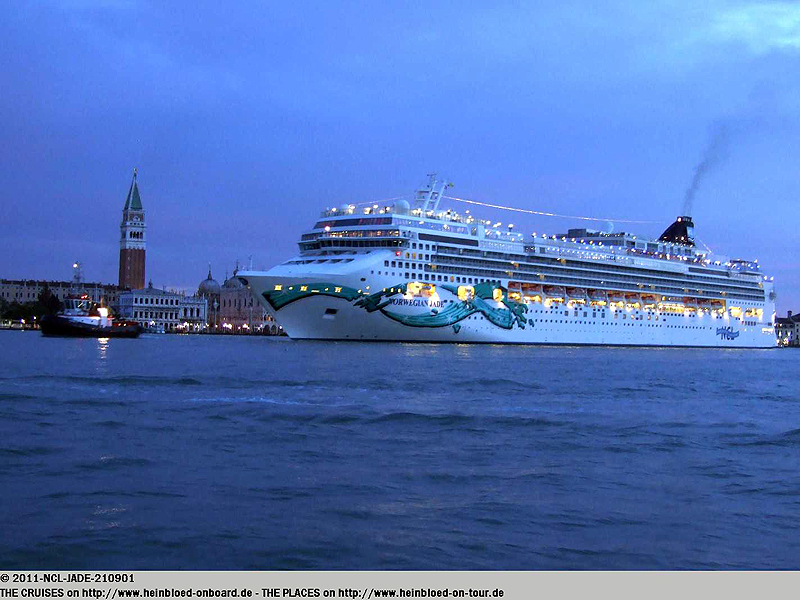 Für diesen Moment bin ich so früh auf. Die NORWEGIAN JADE vor dem Markusplatz.
Es ging alles sehr schnell. Irgendwann kam der Schlepper und auf einmal war sie vor mir.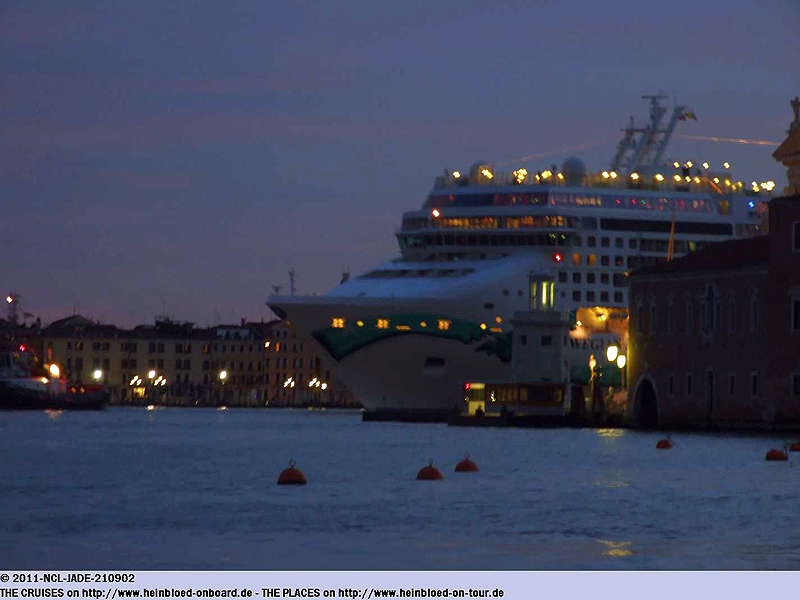 I went quite quickly. One moment a TUG appeared and then she was there.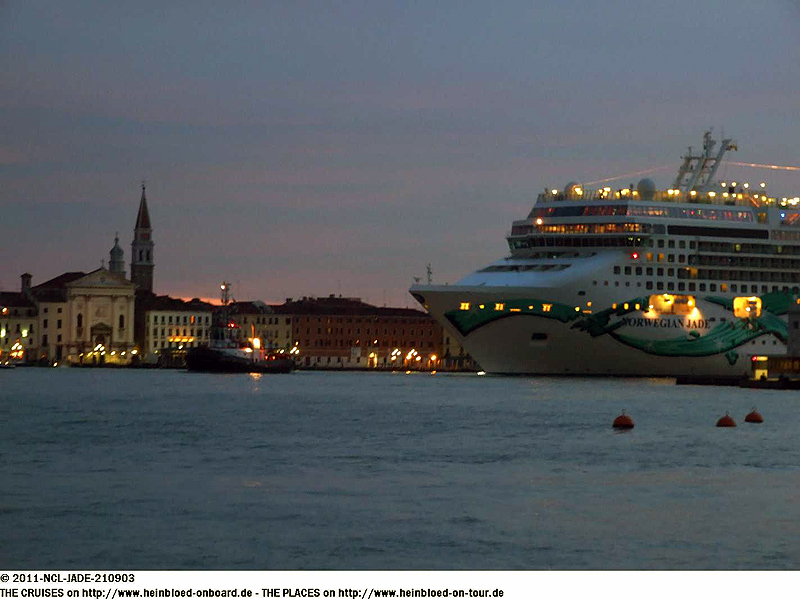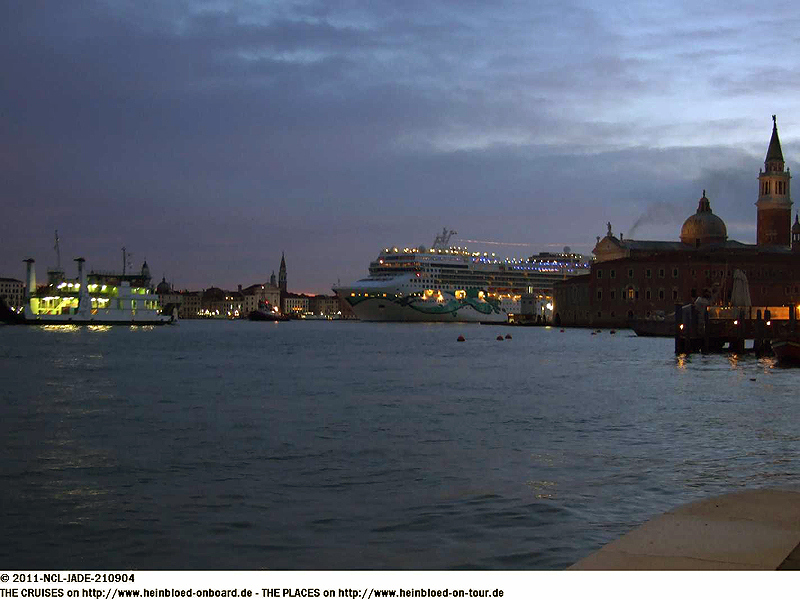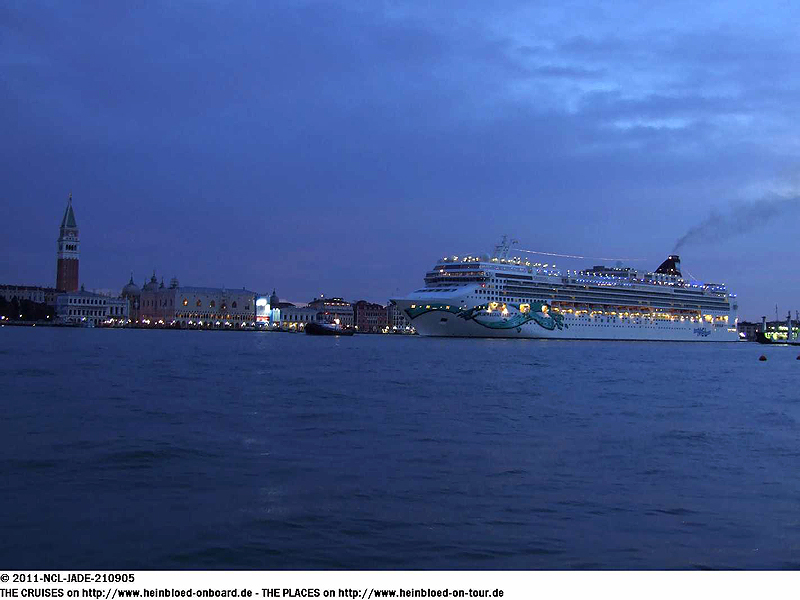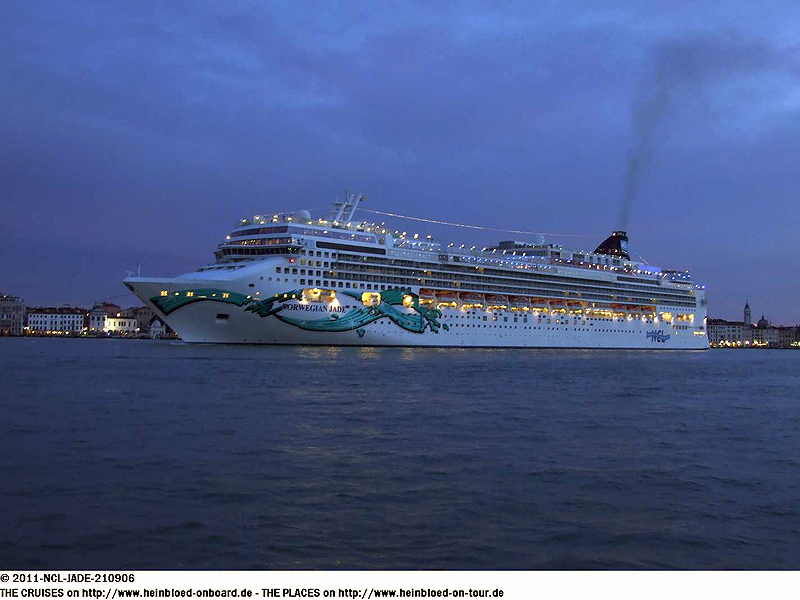 Somewhere there must be Remo whom I knew from Facebook. Originally I planned to be on the other side. Did he get notice of me. When we later checked the picutres we saw that you can see him as body.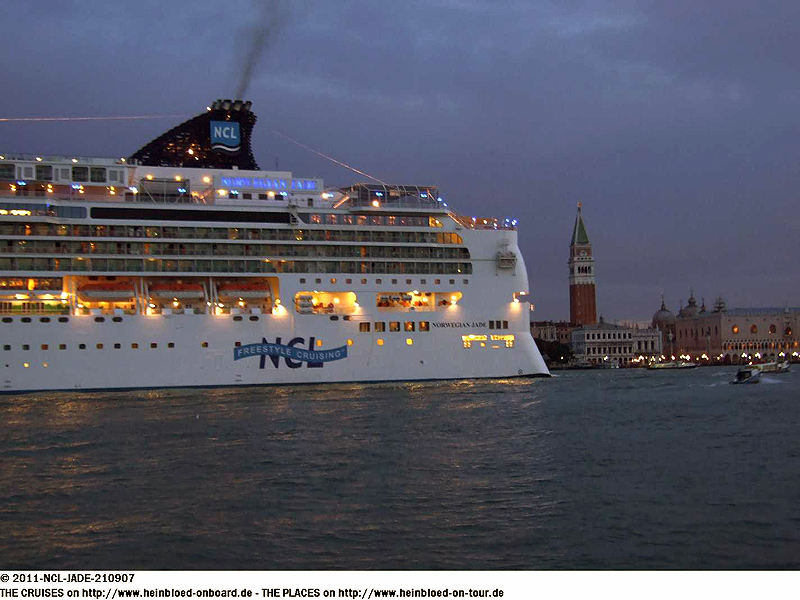 Irgendwo dort muss noch Remo herumhängen, den ich aus Facebook kenne. Eigentlich plante ich auf der anderen Seite zu sein. Ob er mich überhaupt wahrgenommen hat. Auf jeden Fall ergab der spätere Abgleich der Bilder, dass er auf meinen Bildern als Gestalt zu erkennen ist.
Und Captain Kim ist so zeitig an mir vorbeigefahren, dass ich um 07.05 Uhr noch den Wasserbus der Linie 2 nehmen konnte, um ihn hinterher zu fahren.

And Captain Kim passed so right on time that I could catch up at 07.05 hrs my Route 2 waterbus to follow him.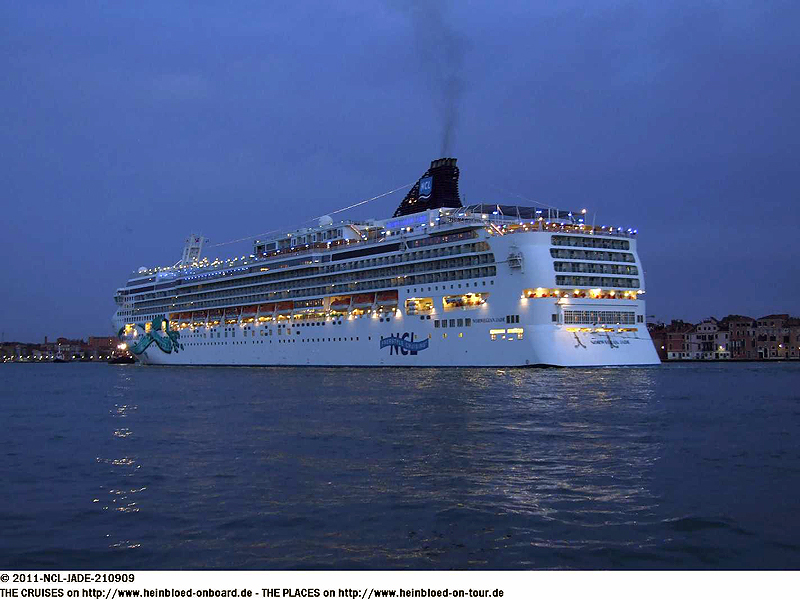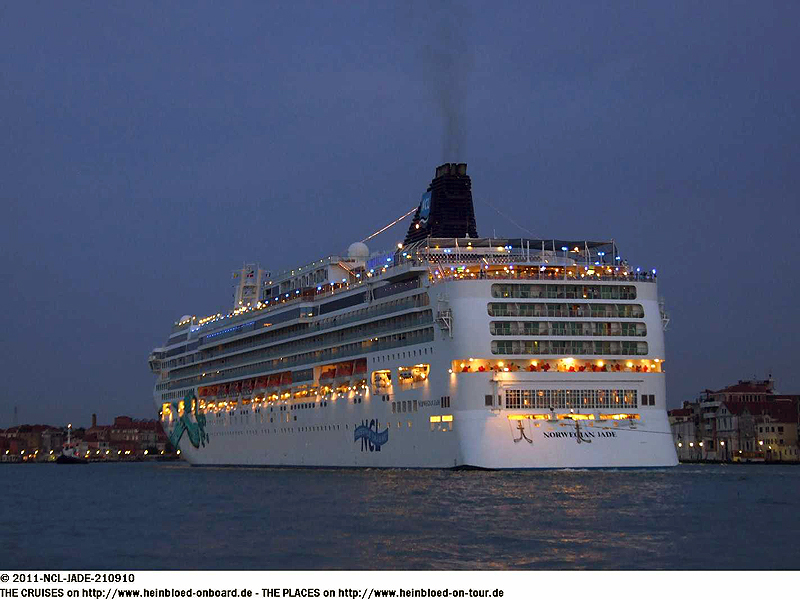 Obviously I went direct to Hilton Molino Stucky to pick-up some other cruisers from our roll-call on cruisecritic.com who stayed there overnight...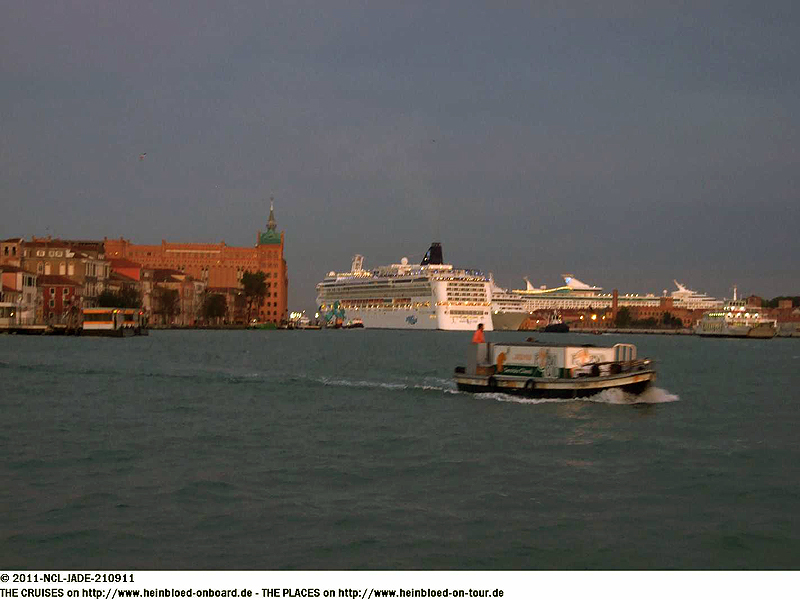 Anscheinend fährt er direkt zum Hilton Molino Stucky, um dort ein paar Mitfahrer vom Roll-Call aus cruisecritic.com abzuholen, die dort übernachten...
Wieso bekommen sie einen persönlichen Service und ich nicht??? Und warum holt er mich nicht von unserem Hotel ab???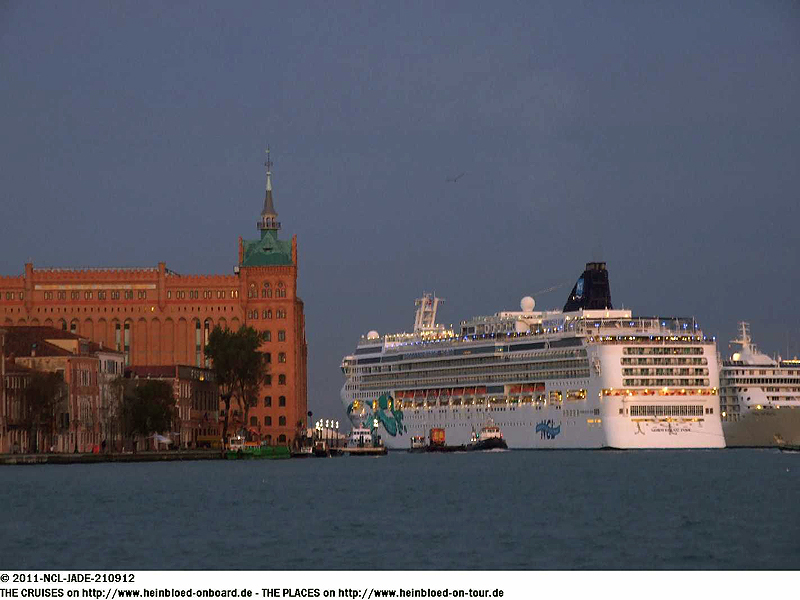 Why did they get such a personal service and not me??? Why is not he picking us up from our hotel???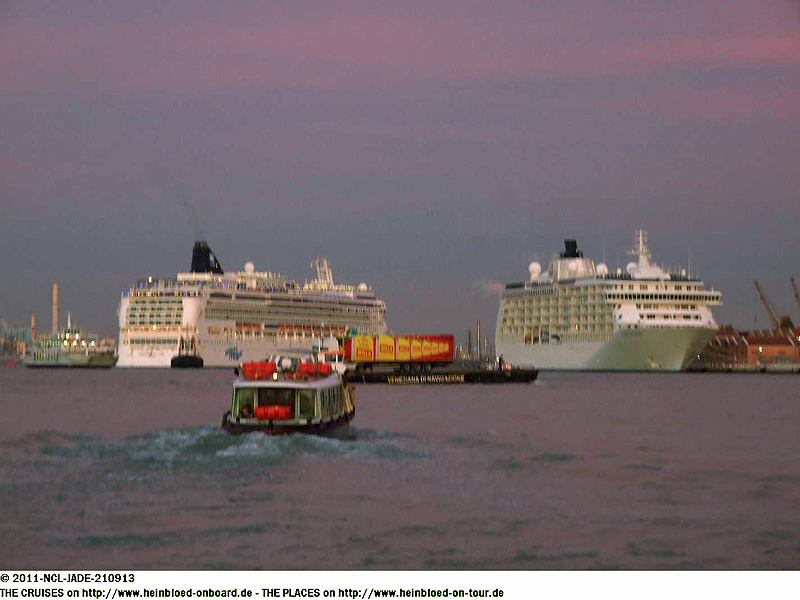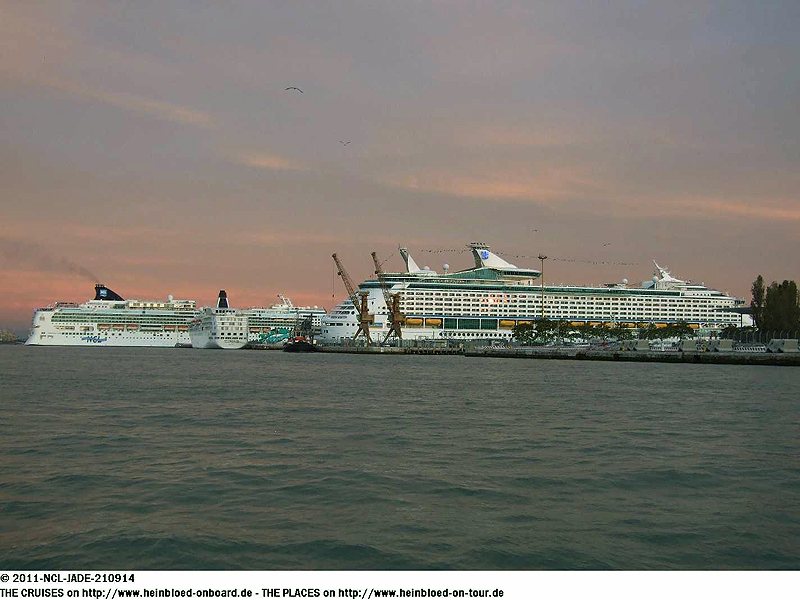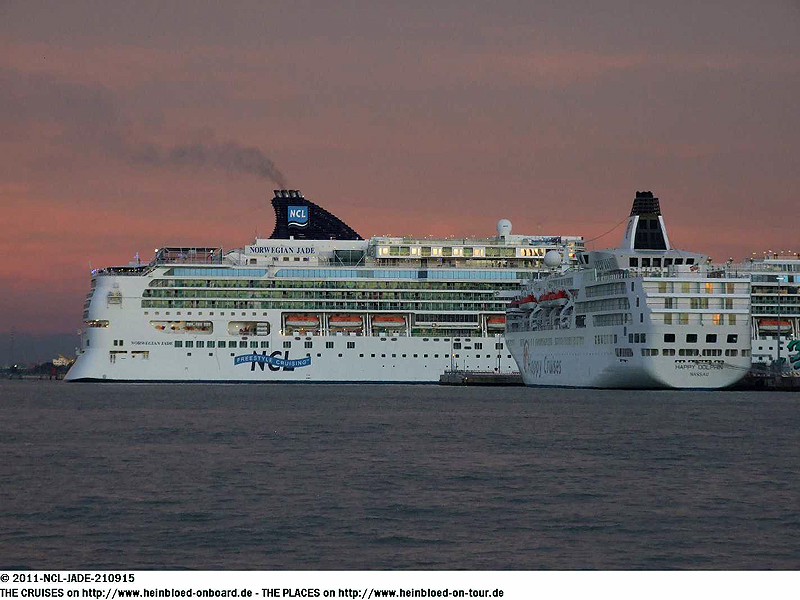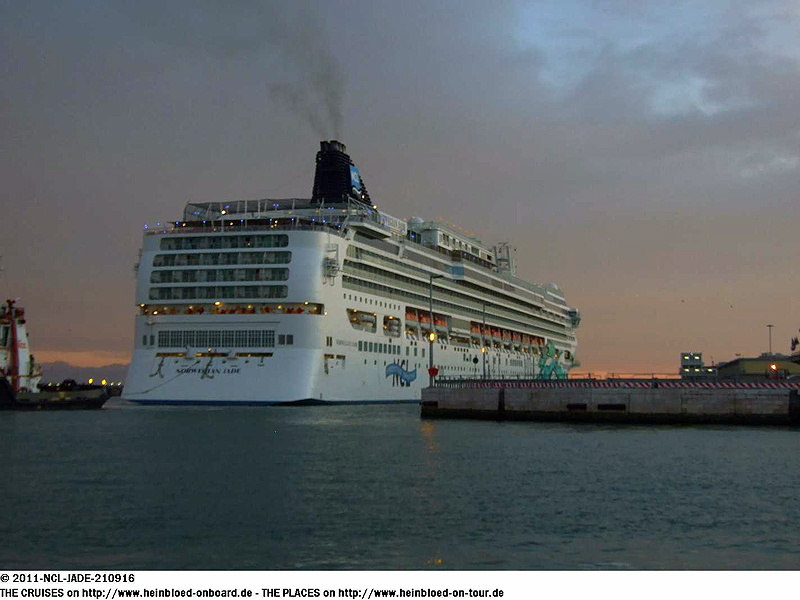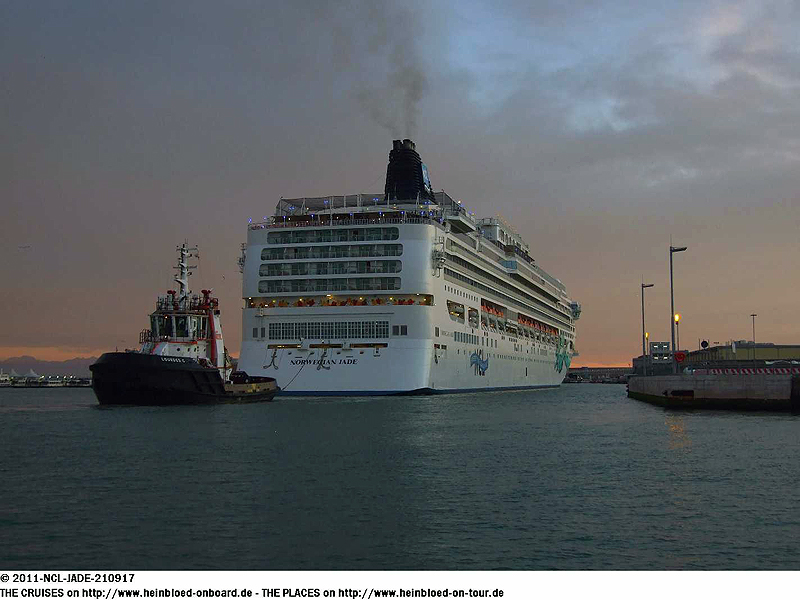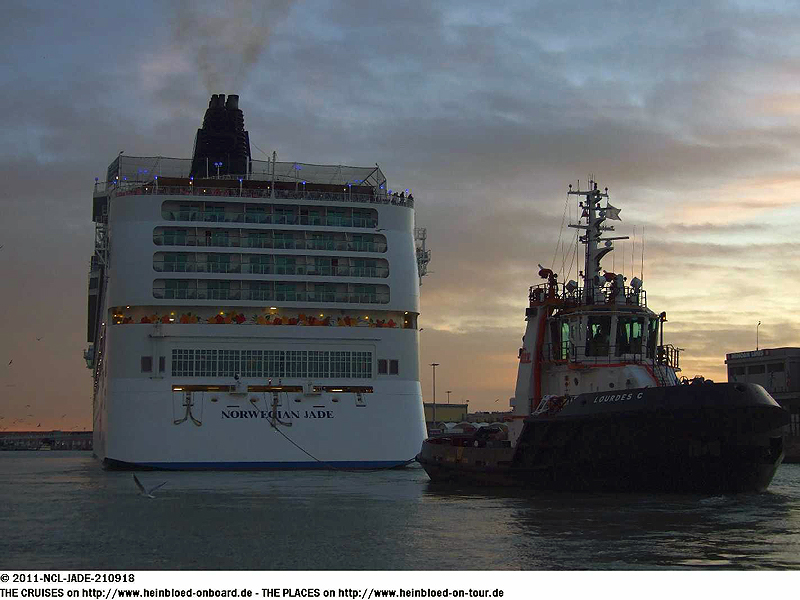 I was again very speechless when I passed her.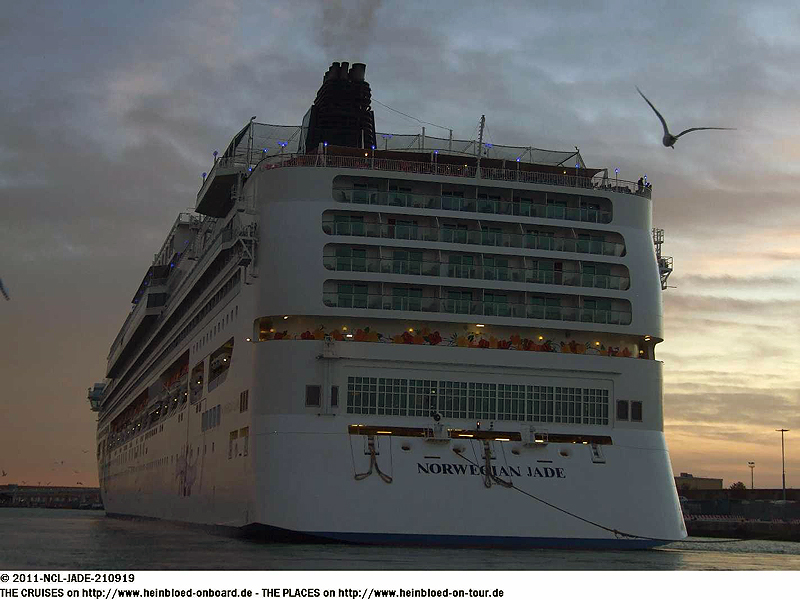 Ich war wieder ziemlich sprachlos, als ich an ihr vorbeigefahren bin.
Oben im weißen Bademantel steht übrigens Remo.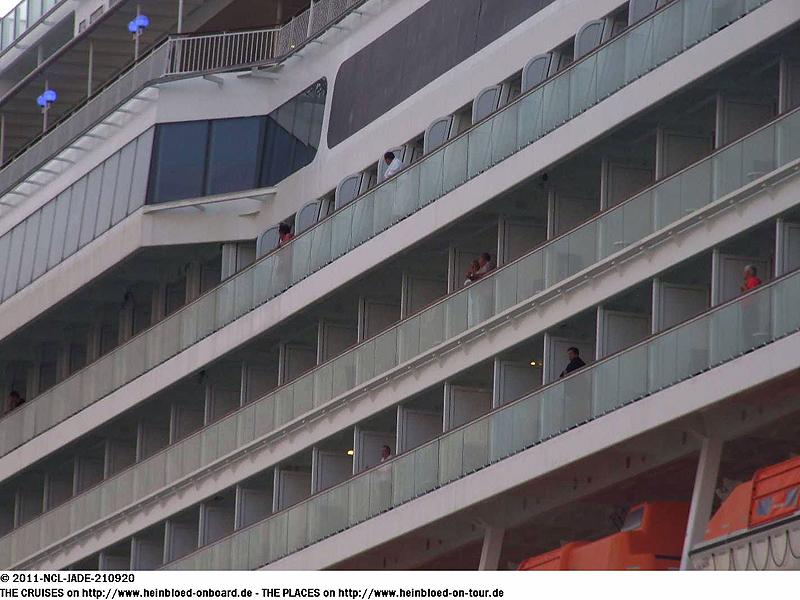 Above in the white bath robe should be Remo.

But now the time came to clear our cabins.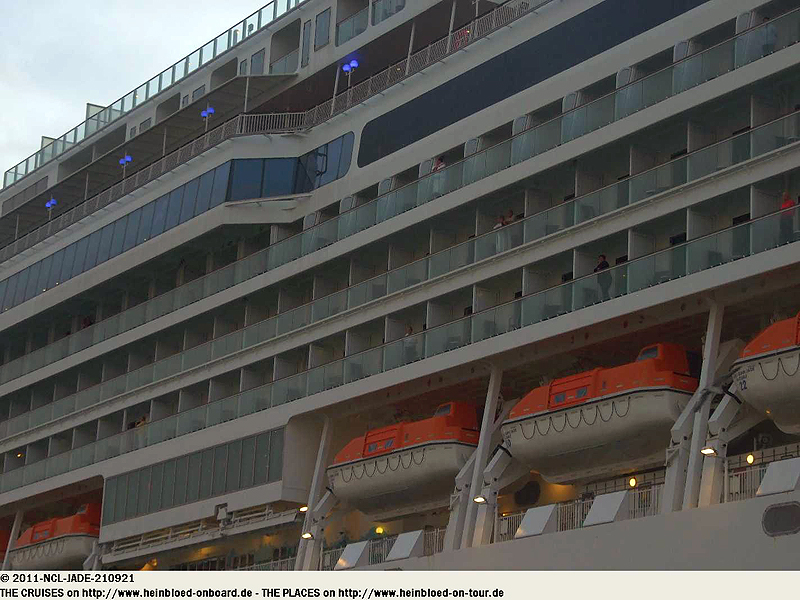 Jetzt wird es aber höchste Zeit, dass unsere Kabinen geräumt werden.
Ich bin froh, dass ich doch Linie 2 nehmen konnte, um so hautnah an meiner NORWEGIAN JADE vorbeizufahren.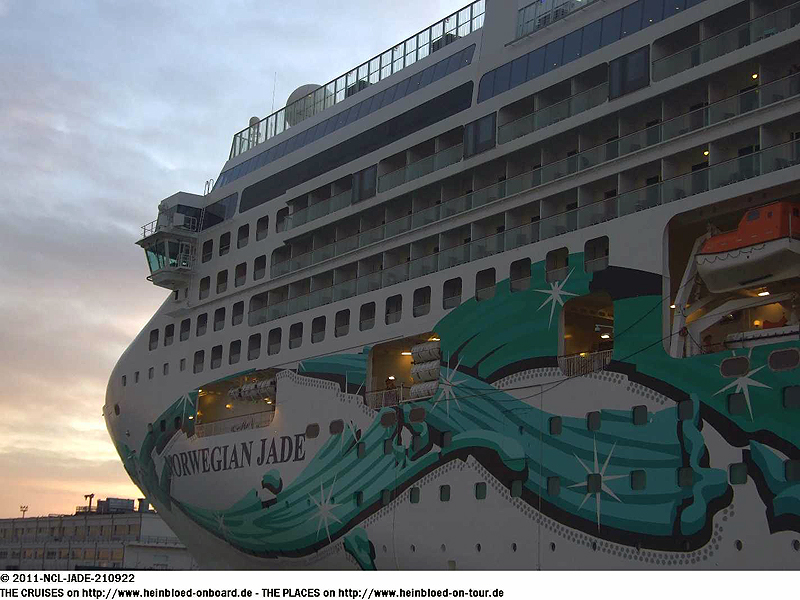 I was so happy that I was able to take Route 2 to be so close with my NORWEGIAN JADE.

Somehow I was wondering if Captain Kim noticed that I was just in front of him???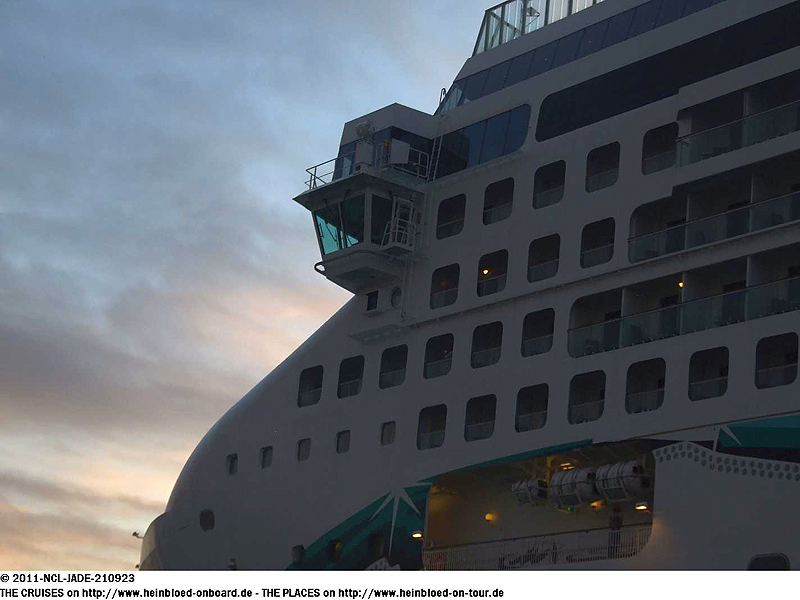 Ob Kapitän Kim, überhaupt sieht, dass ich vor ihm stehe???
Anscheinend sind alle aber auf der anderen Seite beschäftigt.

But obviously all were busy on the other side.