Scroll down for English explanations - alternates with German explanations.

Das war so mein erster Anblick, als ich vom Balkon aus, rausguckte: die VOYAGER OF THE SEAS neben uns. Da ich Bruno nicht weiter mit stören wollte, bin ich dann zum Great Outdoors auf Deck 12 gezogen.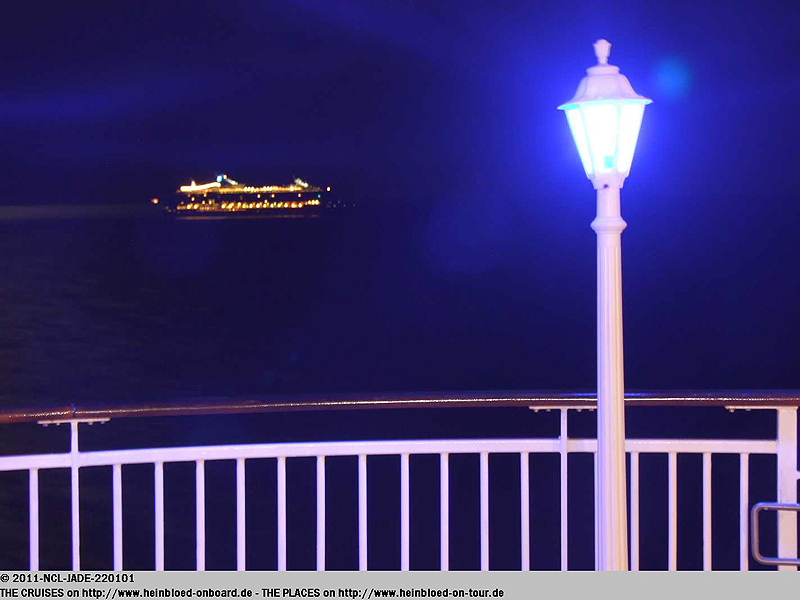 The first view out of our balcony was VOYAGER OF THE SEAS next to us. As I did not want to disturb Bruno while he was sleeping I moved to Deck 12 to Great Outdoors.

But I was a great start with the full moon, the calm sea and another cruise ship.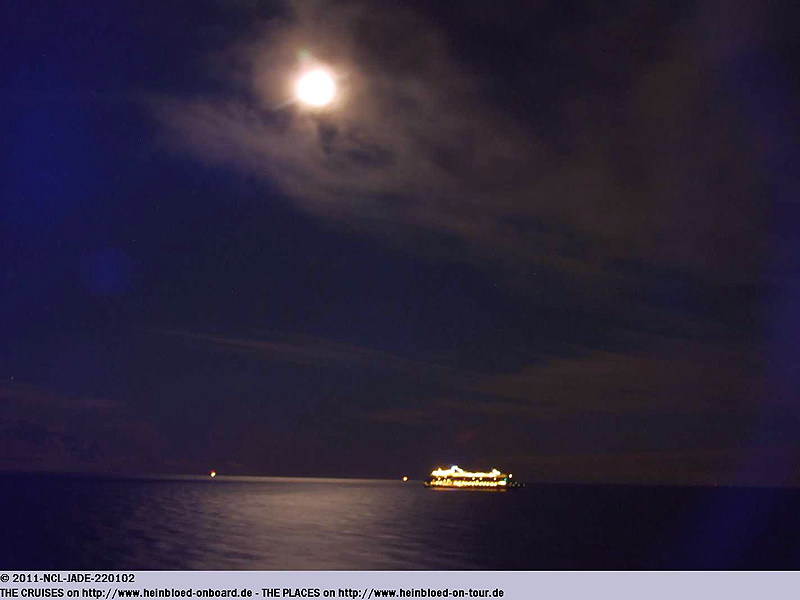 Es war ein schöner Einstieg: der Vollmond, die glatte See und ein anderes Kreuzfahrtschiff.
Um 02.00 Uhr zu fotografieren macht hungrig. Aber zum Glück ist ja das Blue Lagoon Café auf und so gönne ich mir ein paar Chicken Strips.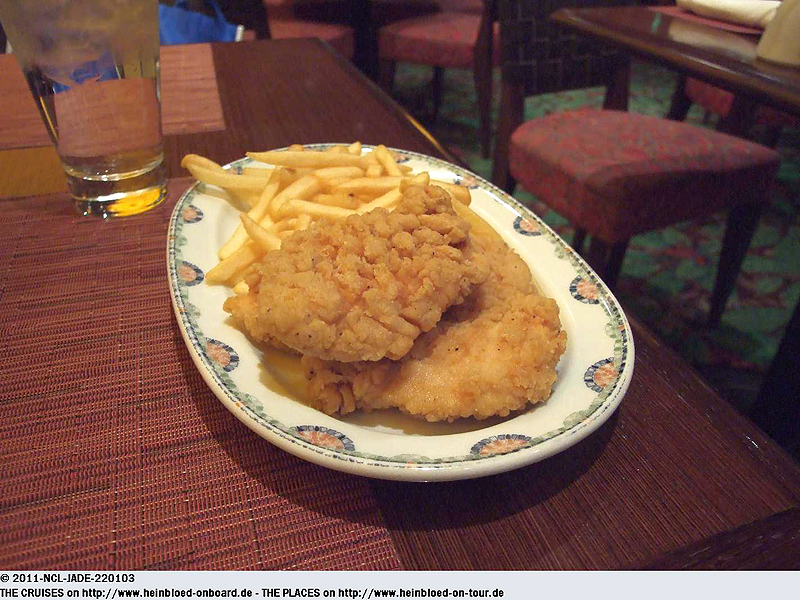 Taking pictures at 02.00 hrs makes you hungry. But you are lucky to have the Blue Lagoon Café and so I had some Chicken Strips.

I had always the impression that we sailed next to each other but the next morning I saw VOYAGER OF THE SEAS again arriving backwards in Koper.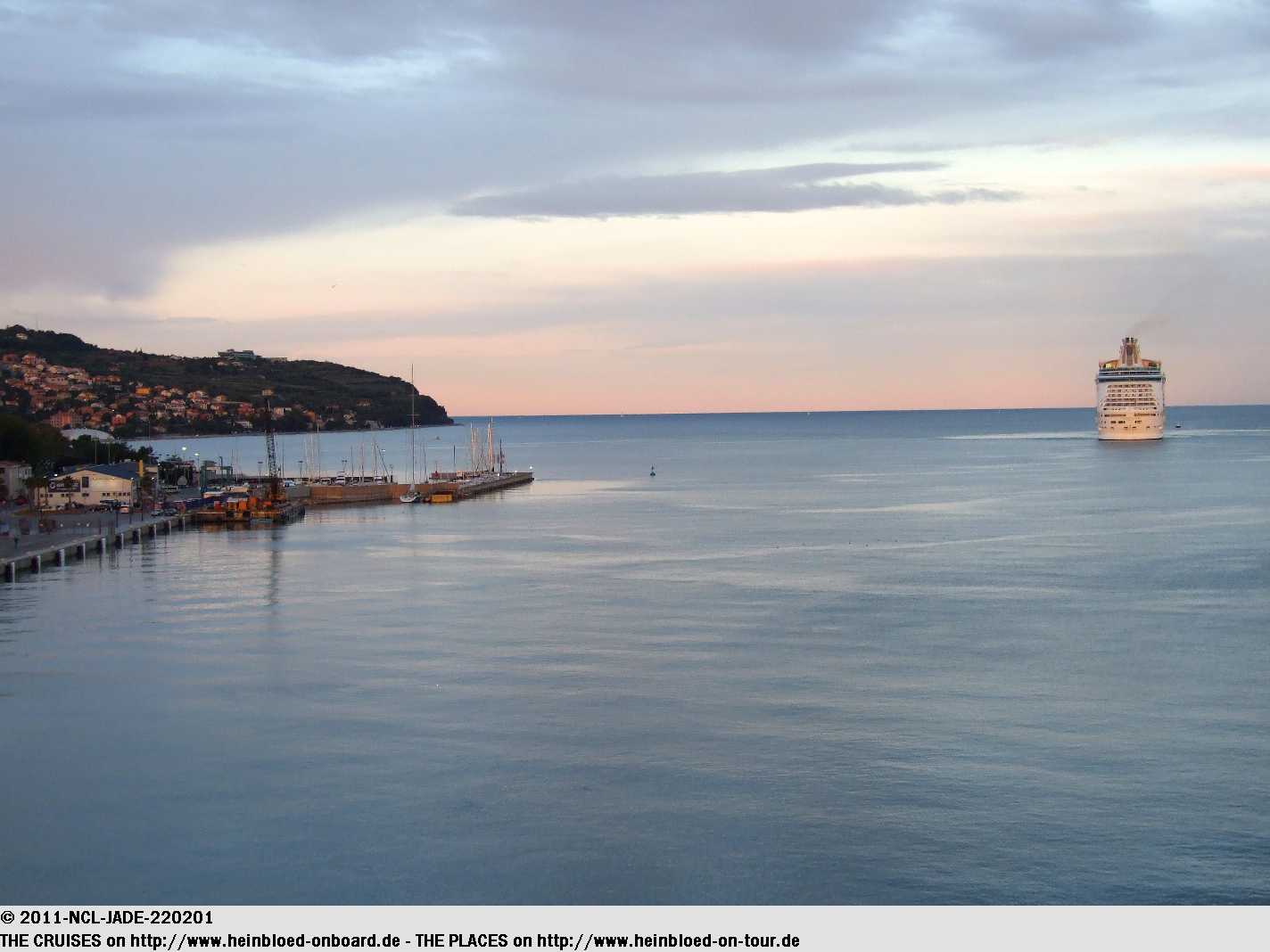 Ich hatte zwar immer den Eindruck, dass wir so ziemlich parallel gefahren sind, aber erst am nächsten Morgen, sahen wir erst die VOYAGER OF THE SEAS wieder, als sie rückwärts in Koper reinfuhr.
Irgendwie hatten wir mit der Auswahl der Kabinenseite schon richtig Glück. Ob das Kapitän Kim wohl wusste und mir deswegen den Ausblick verschafft hat???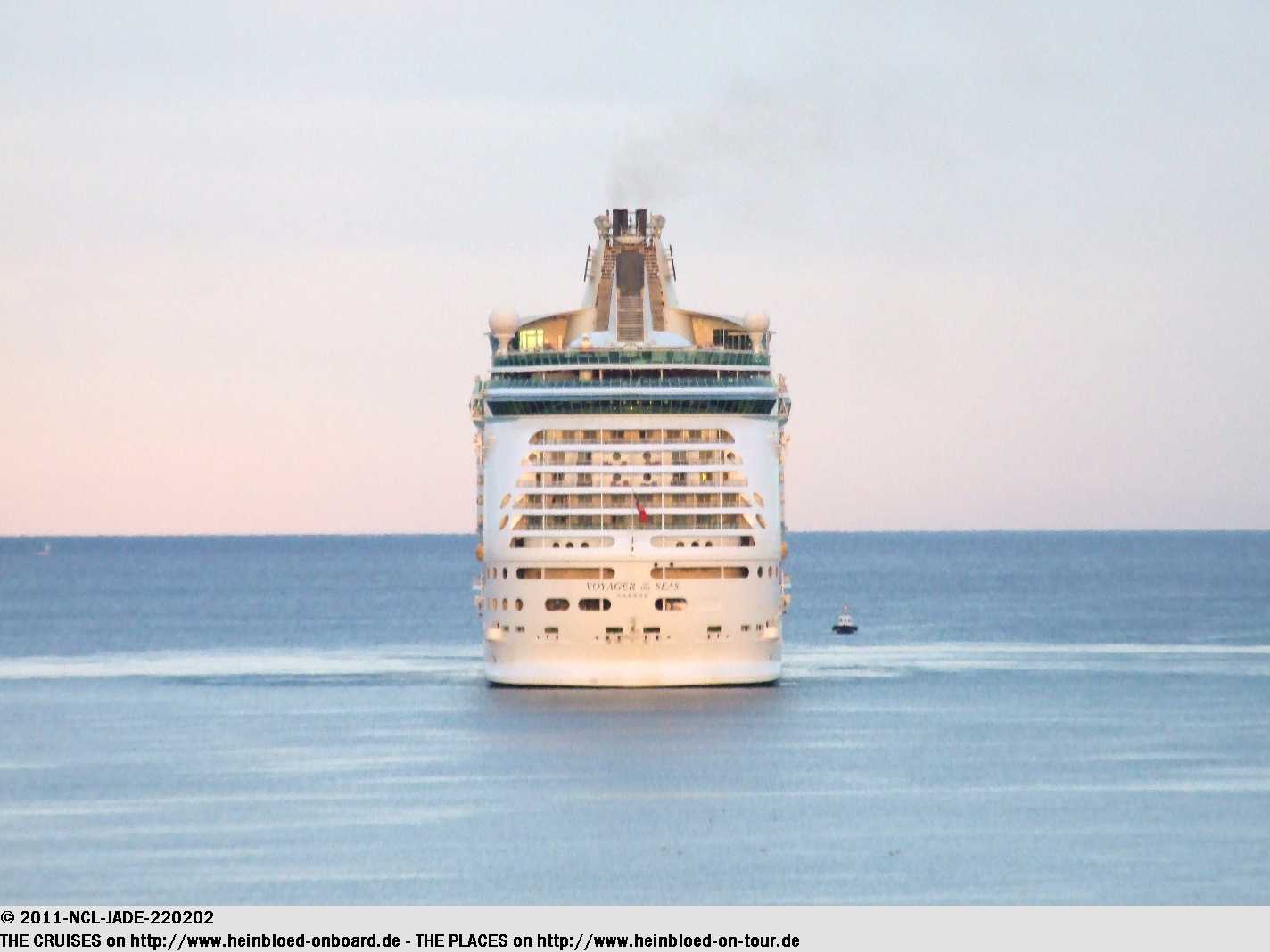 Somehow we were lucky with the selection of our cabin. I was wondering if Captain Kim knew htis and helped me to get the best view???

Check the aft... nothing...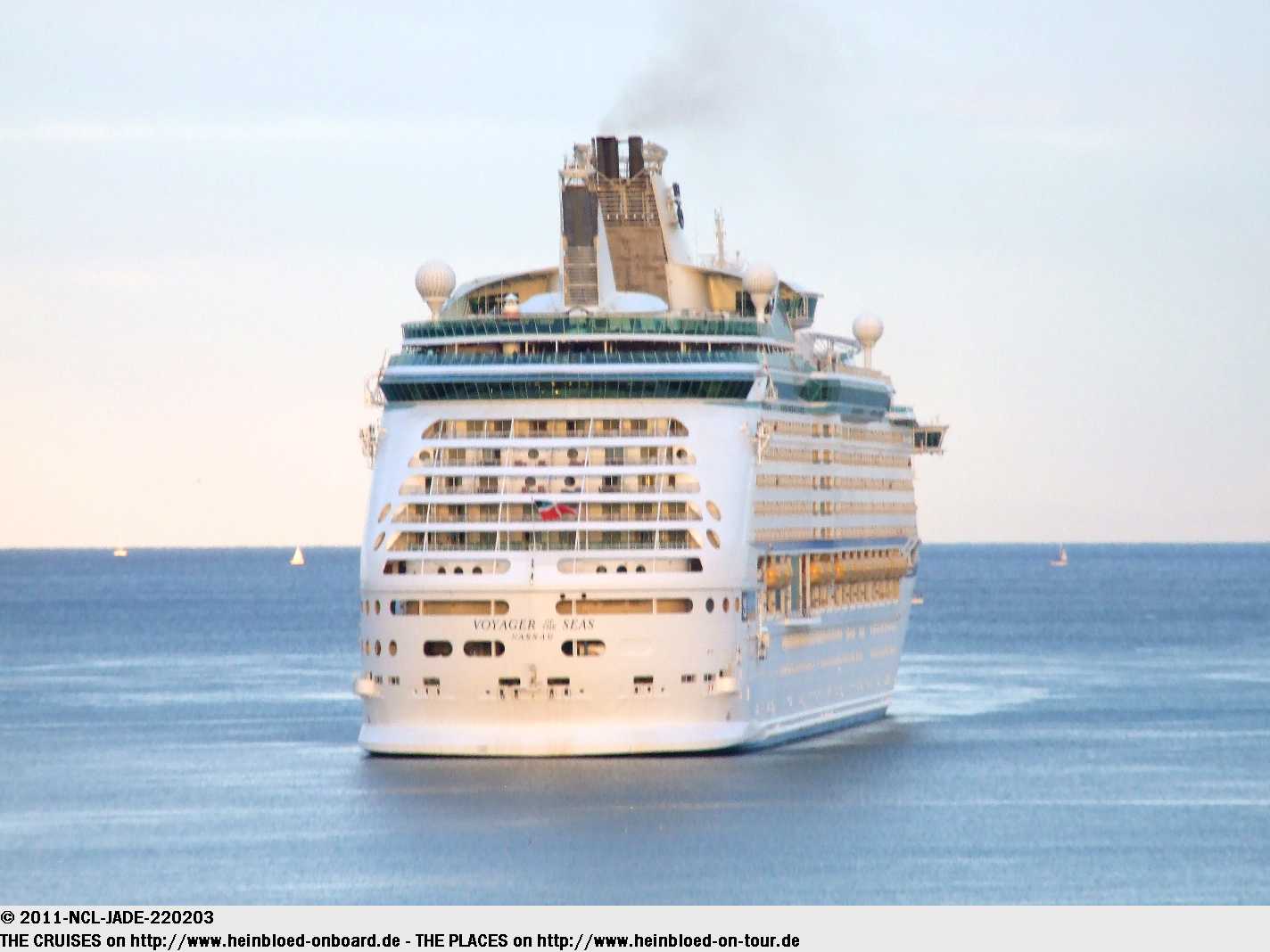 Man achte auf das Heck... gar nichts...
auf einmal kommt ein Segelboot von links...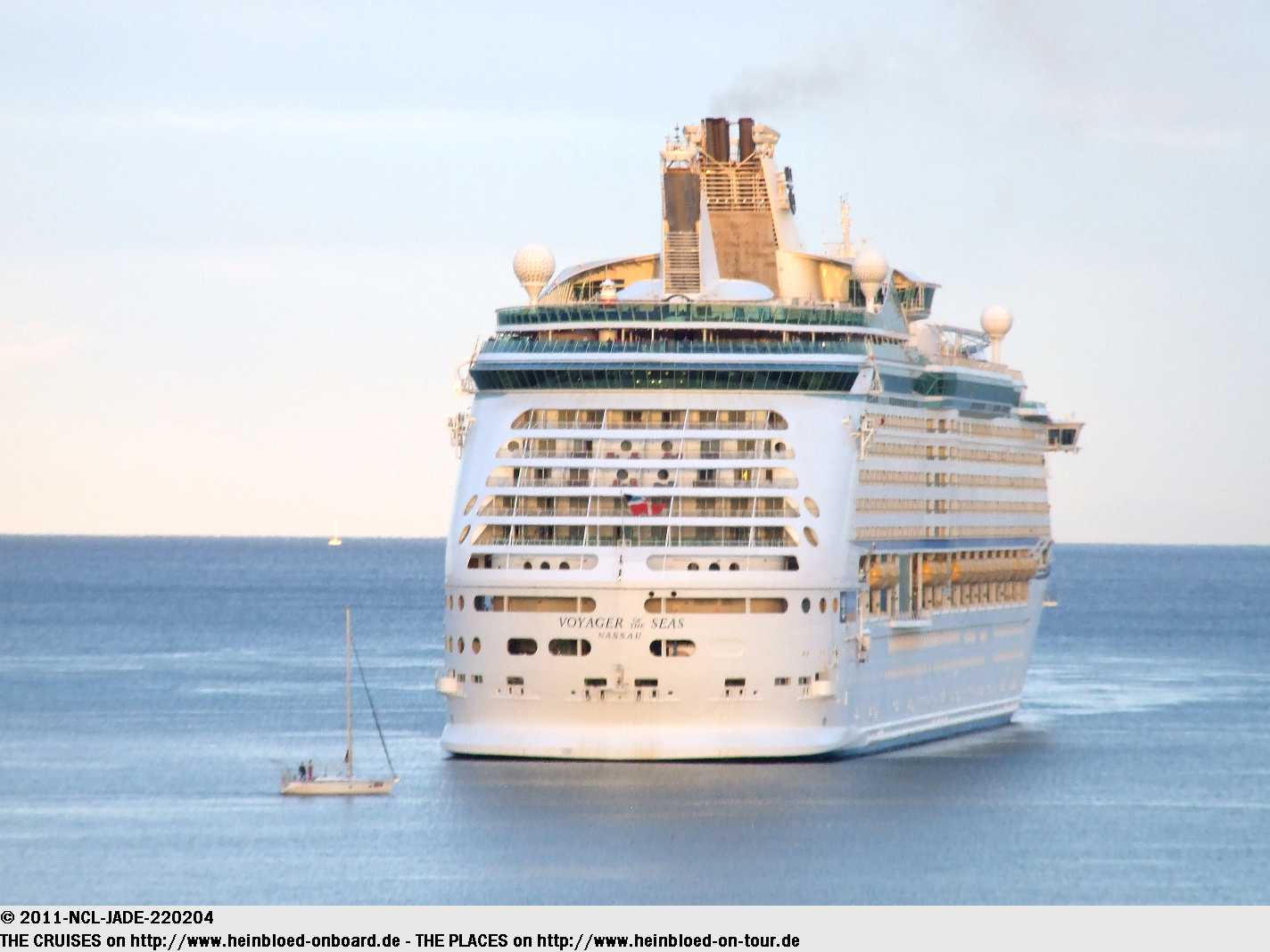 then a small yacht came from the left...

crossed...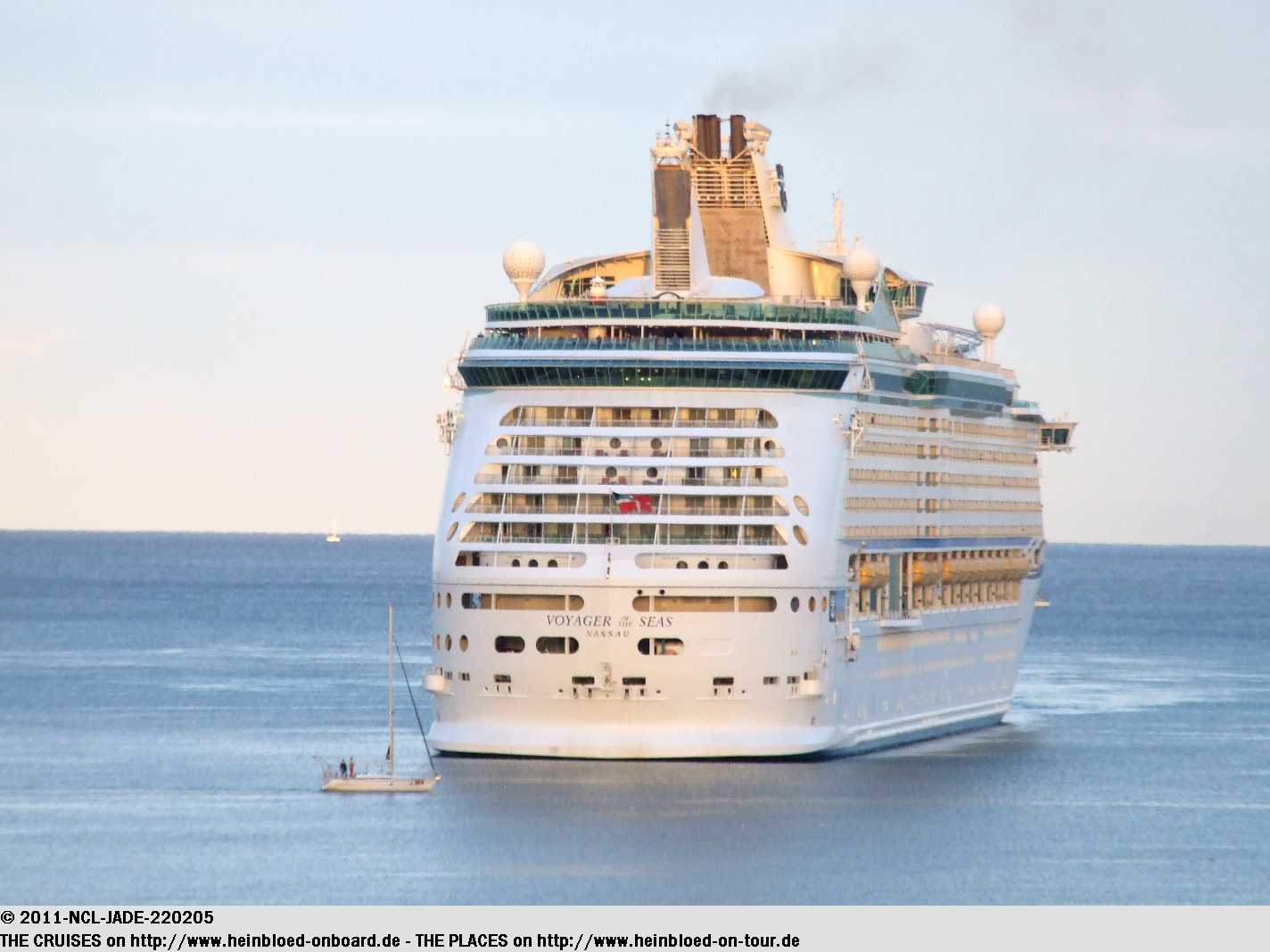 ... kreuzt vorbei...
im "toten Winkel" - ob das überhaupt jemand an Bord sieht??? Oder haben auch so Rückwärtsdetektoren, wie an meinem Auto??? Mamma Mia... (zuviel Venedig...)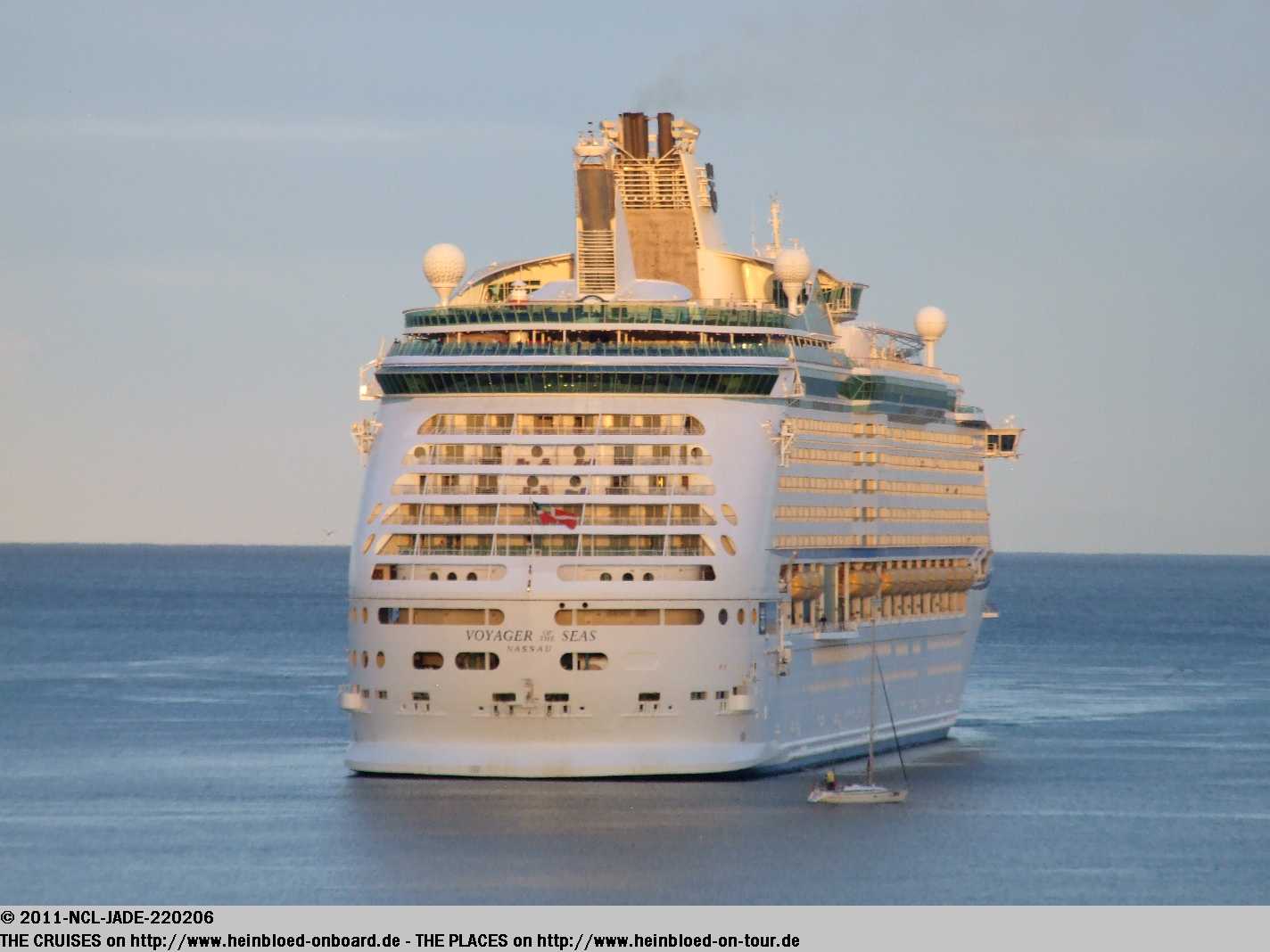 Just in the "blind angle" - I was wondering if anyone on board noticed him??? Or do they have detectors when they ran backwards like my car??? Mamma Mia... (too much Venice...).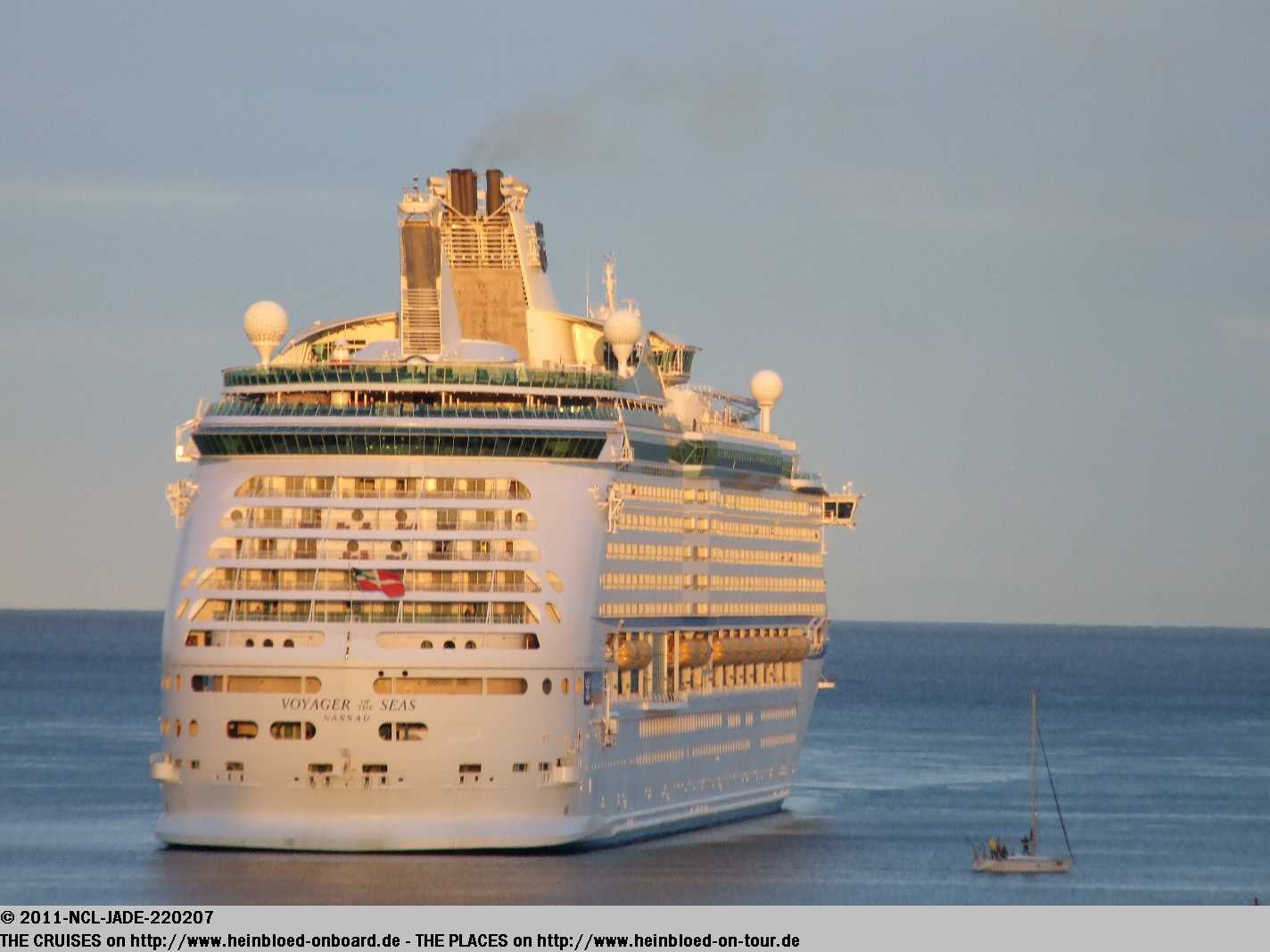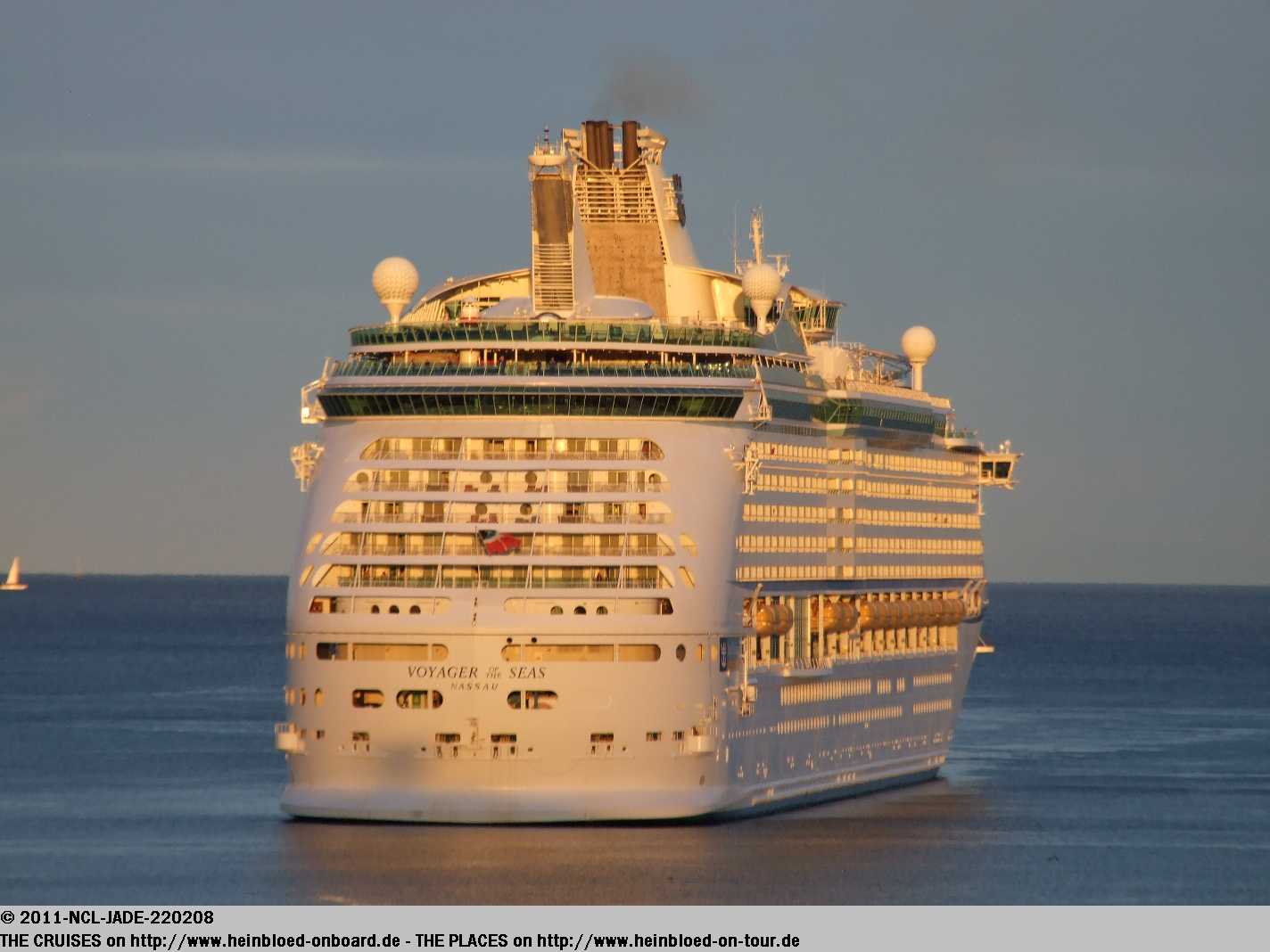 Ha - she need to come under our shadow...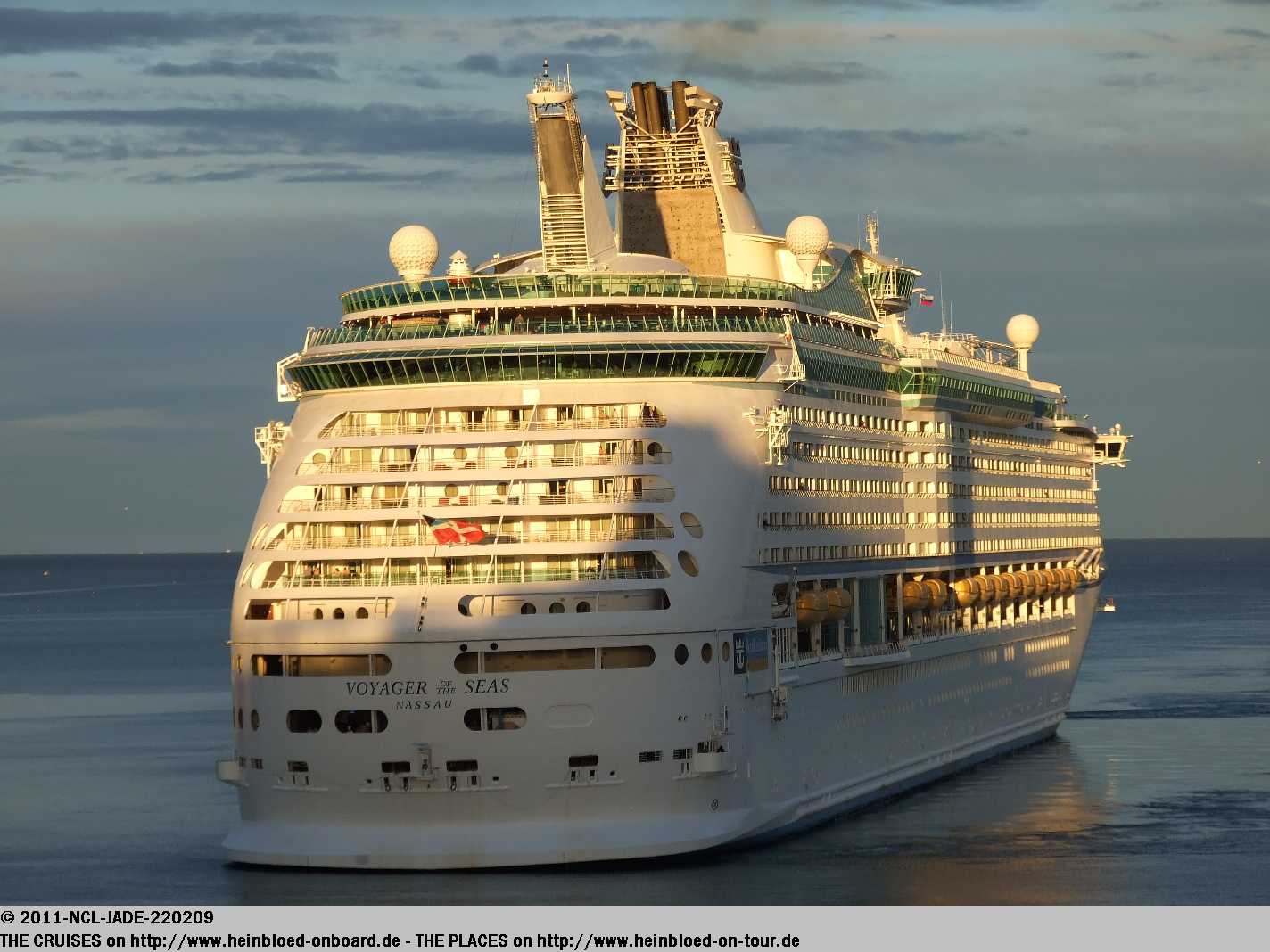 Ha - wieder muss sie sich unter unserem Schatten begeben...
Ob da auch jemand vom Roll-Call war. Ich meine nur am 01. und am 15.10.2011 sind welche an Bord vom kreuzfahrten-treff.de.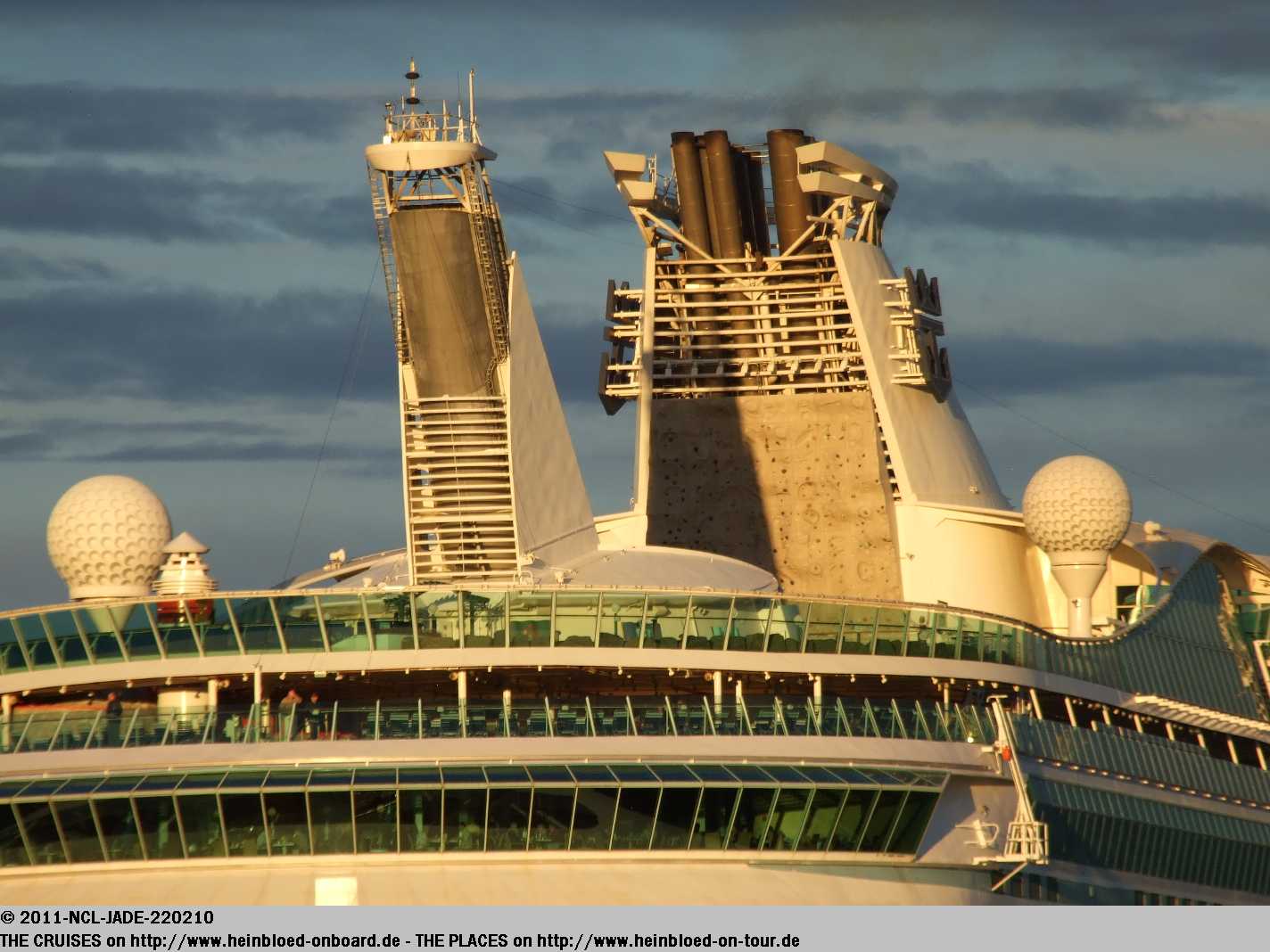 Curious if there was someone I know on board on roll-calls. On the German I could only find some on the 1st and on the 15th.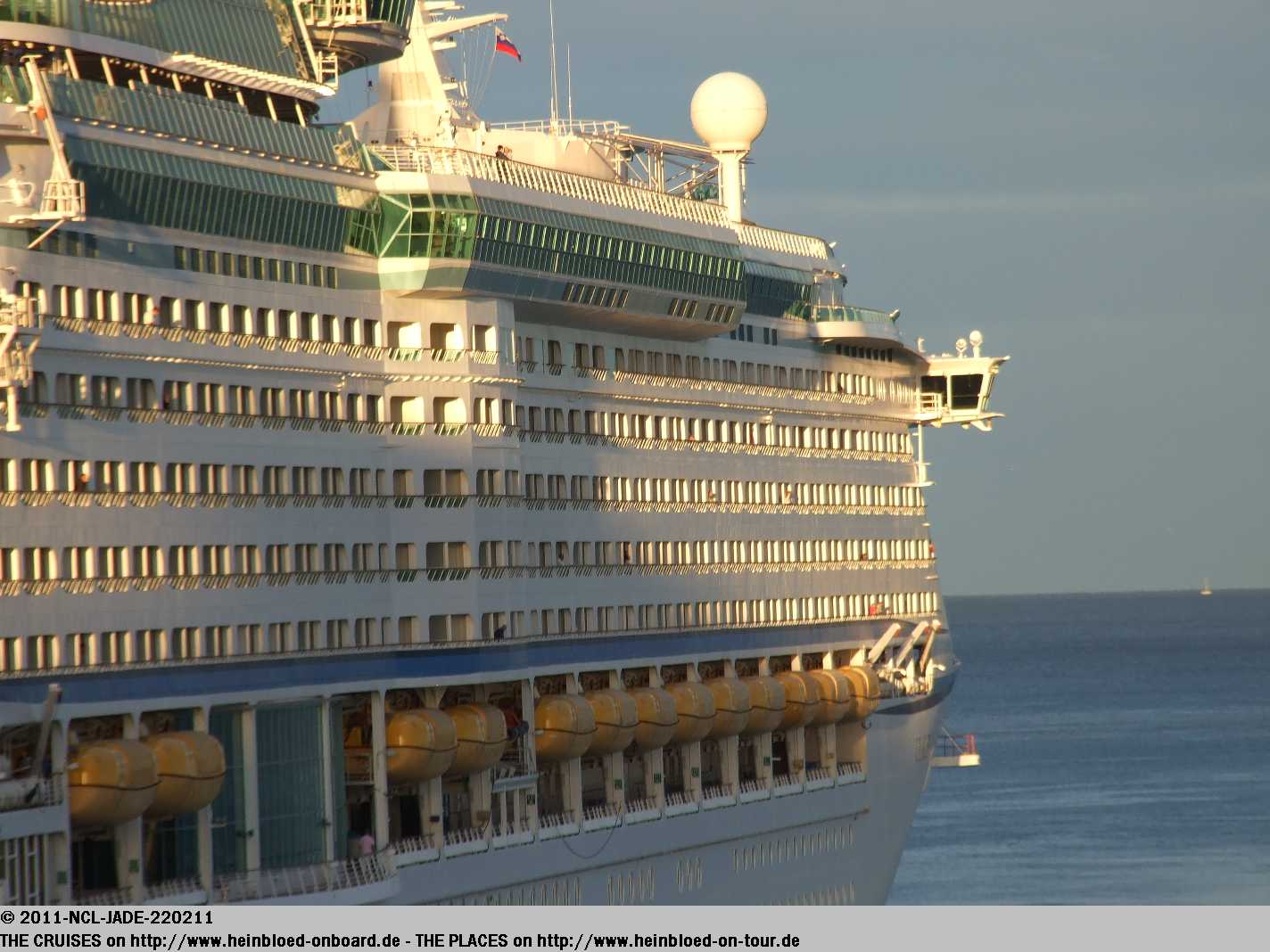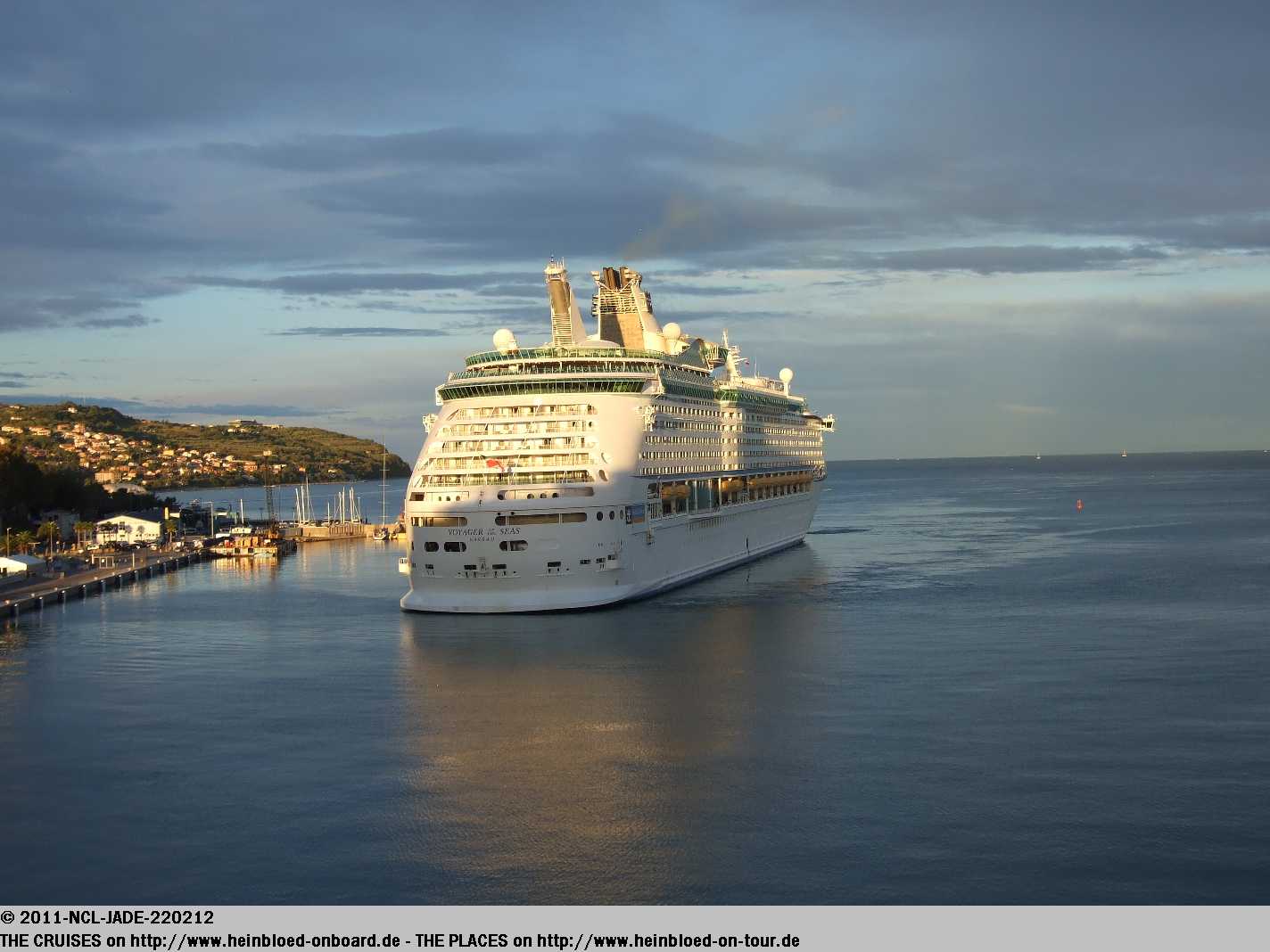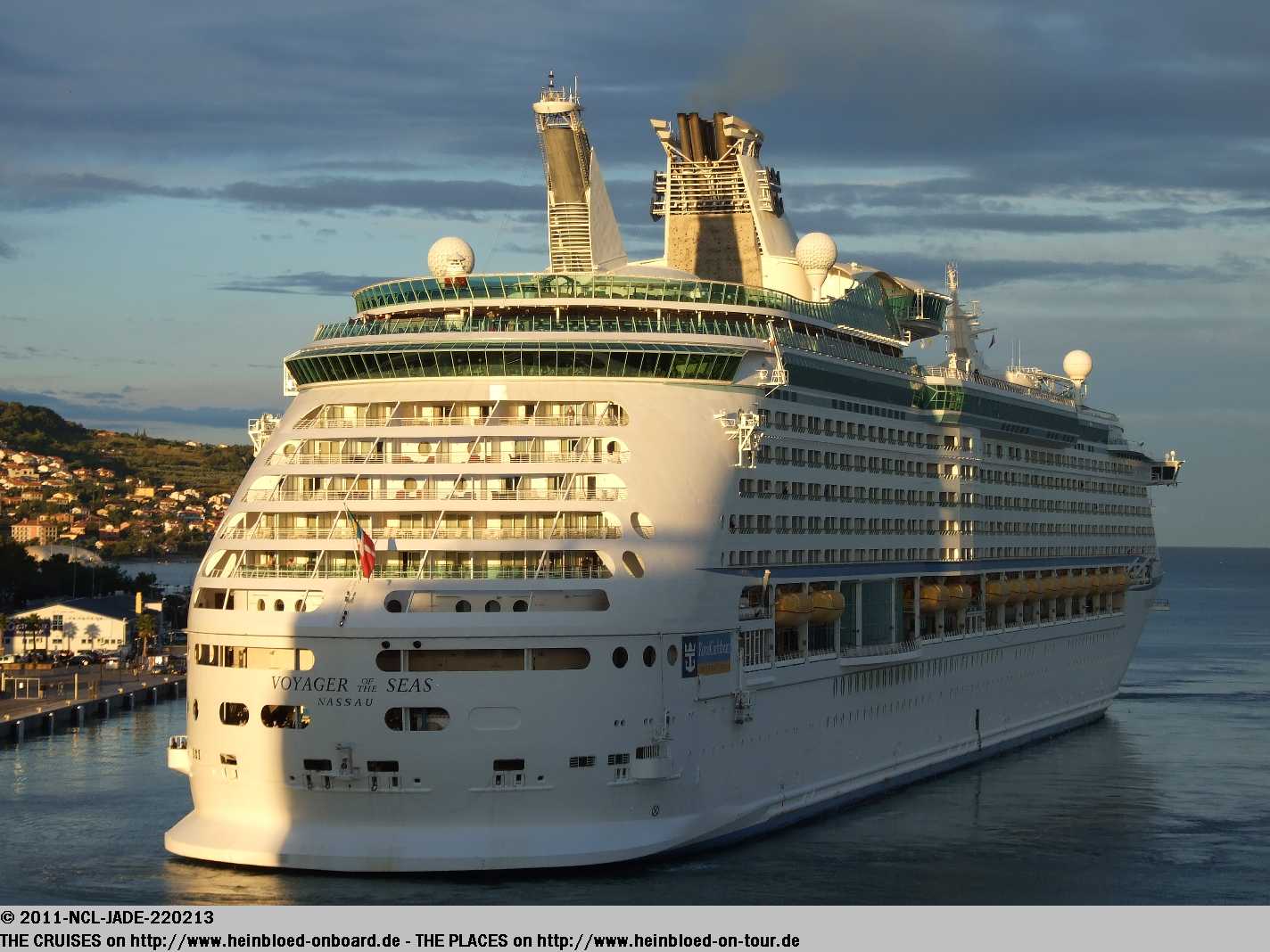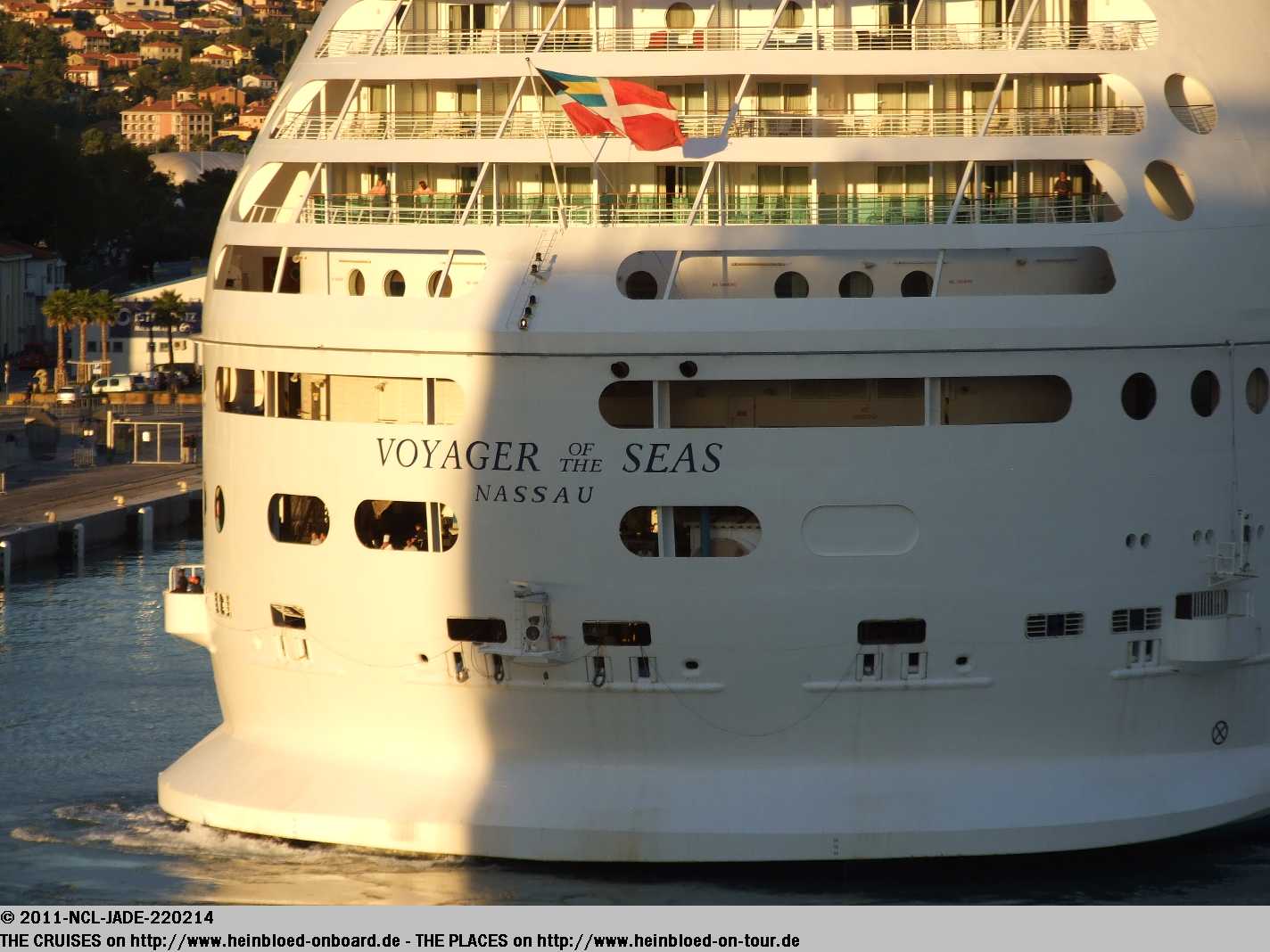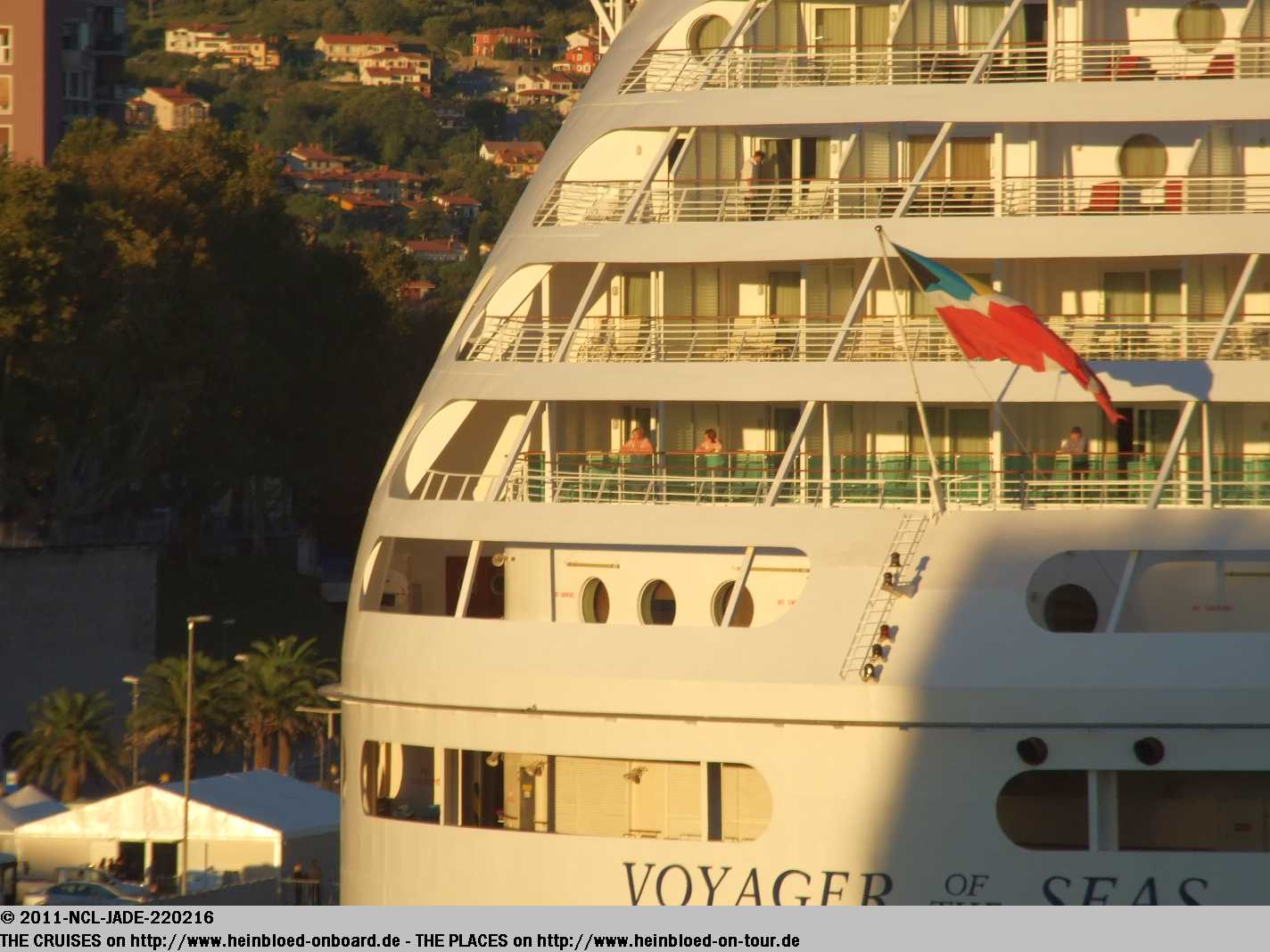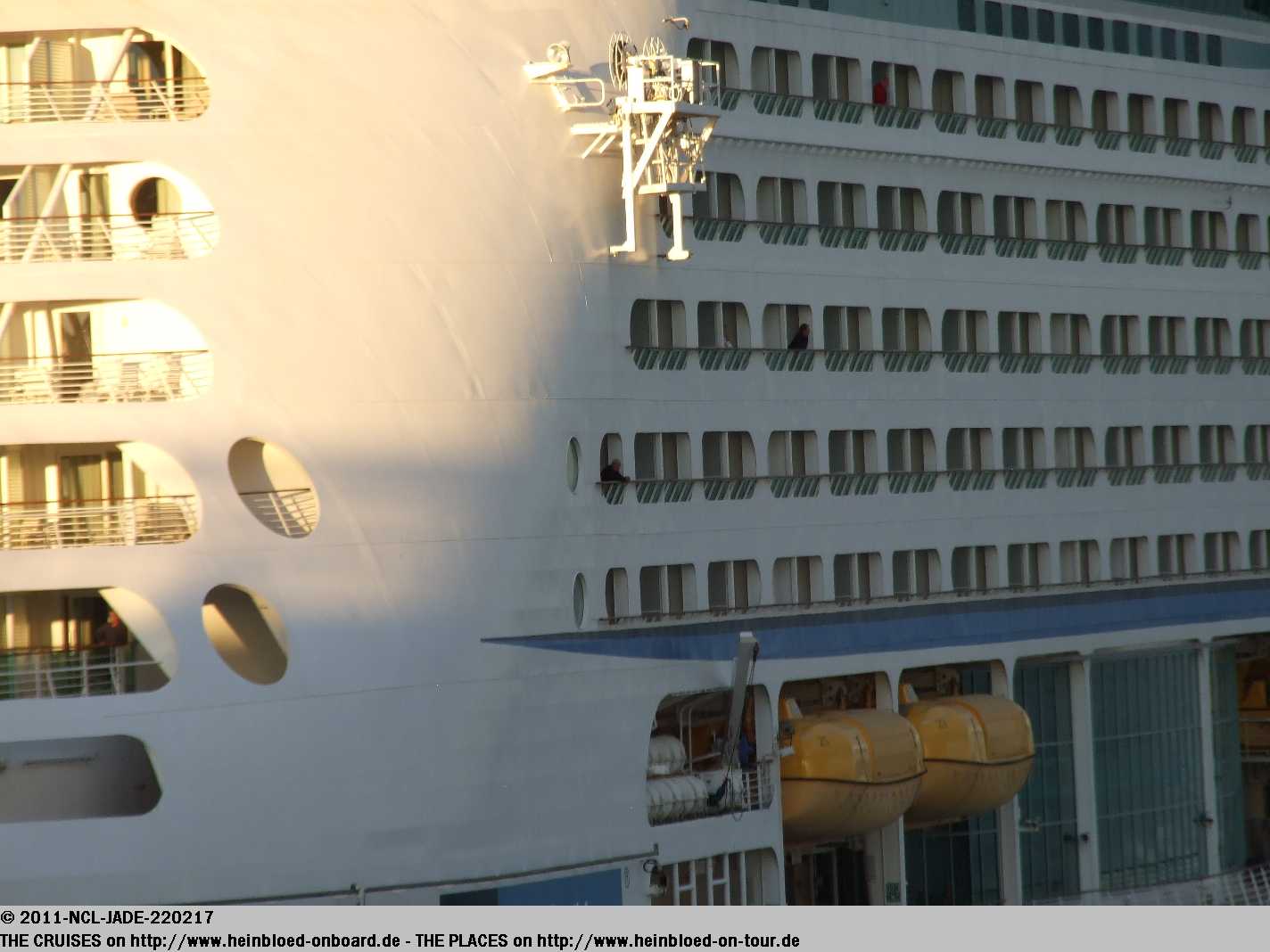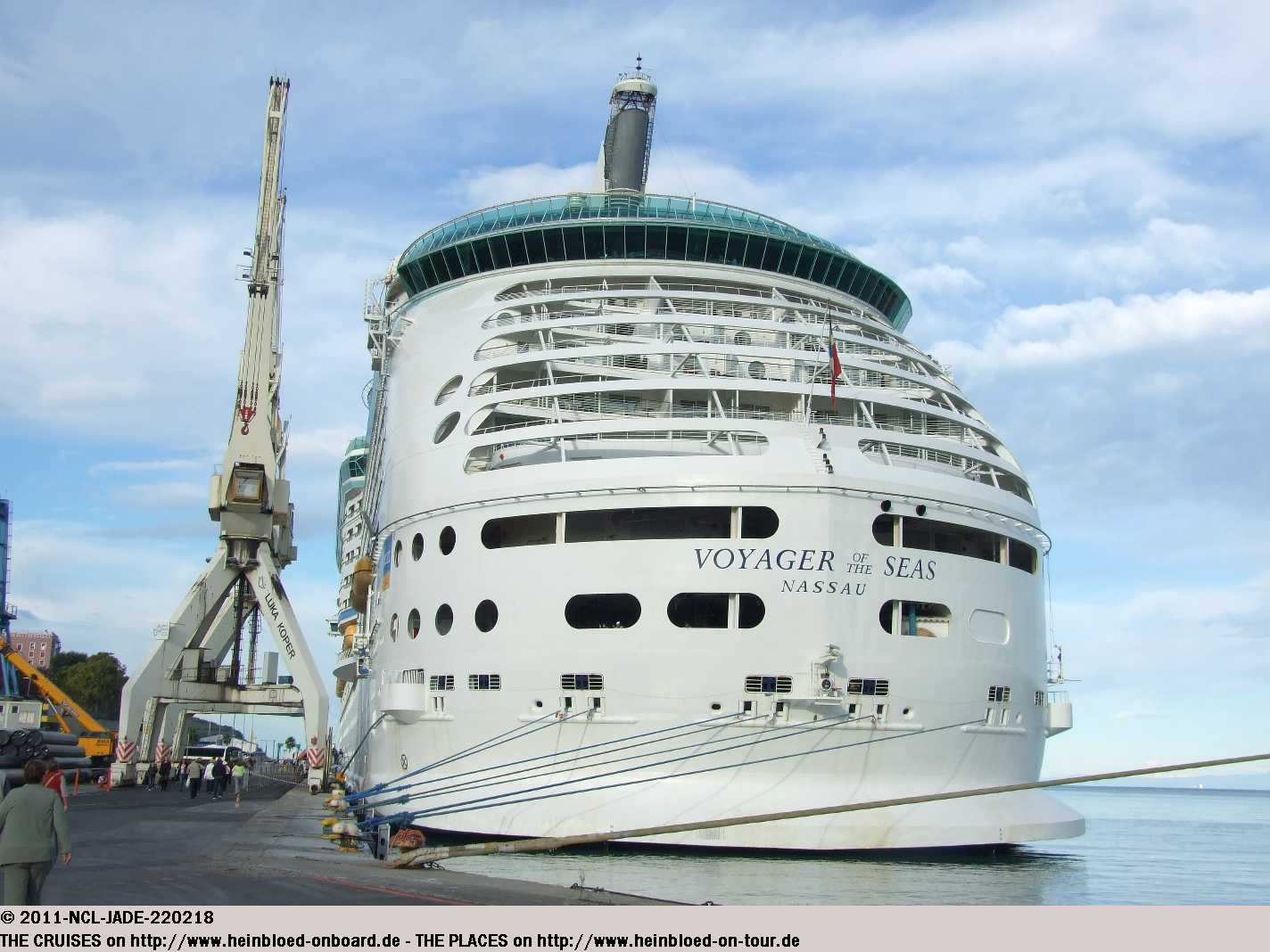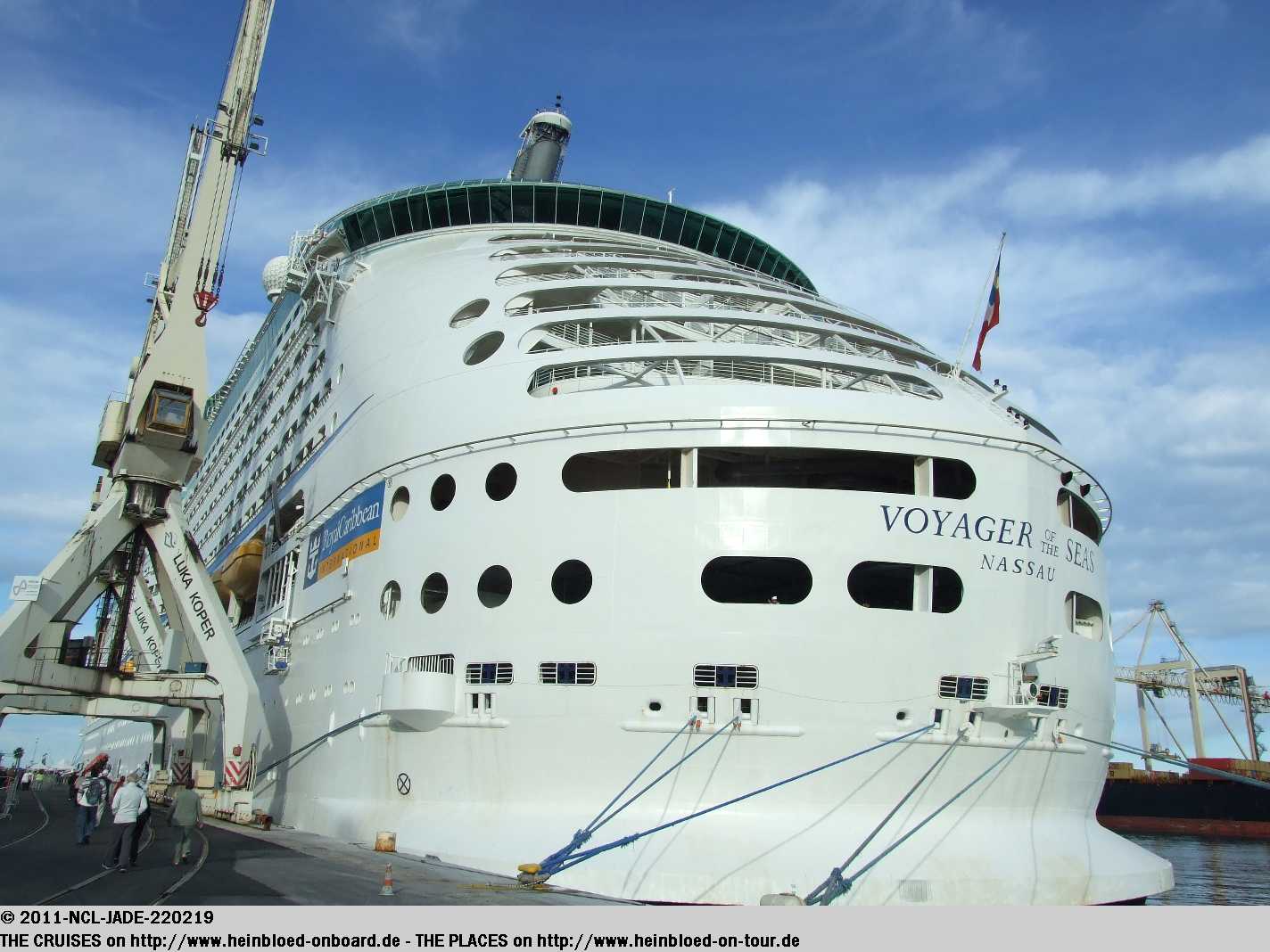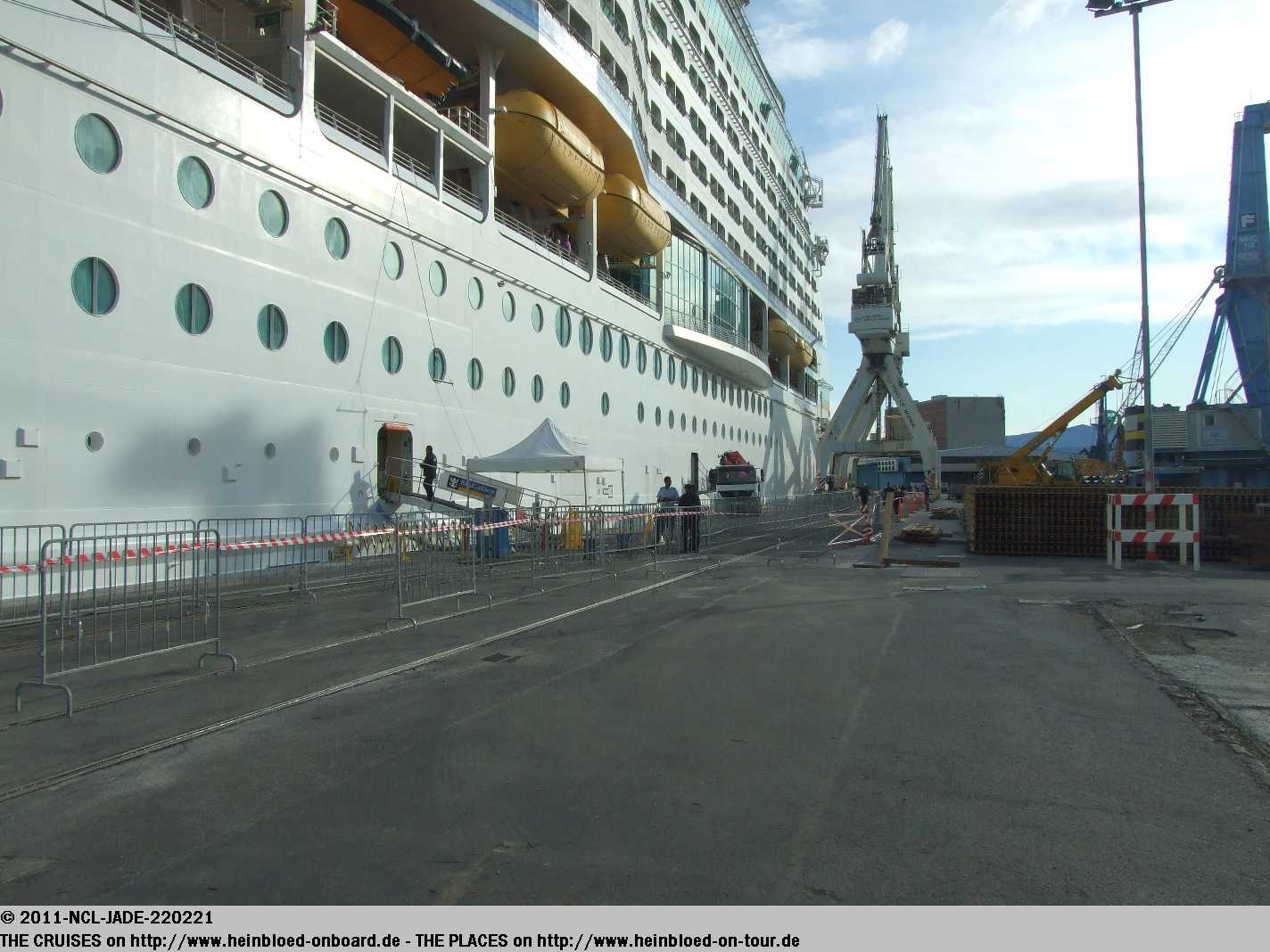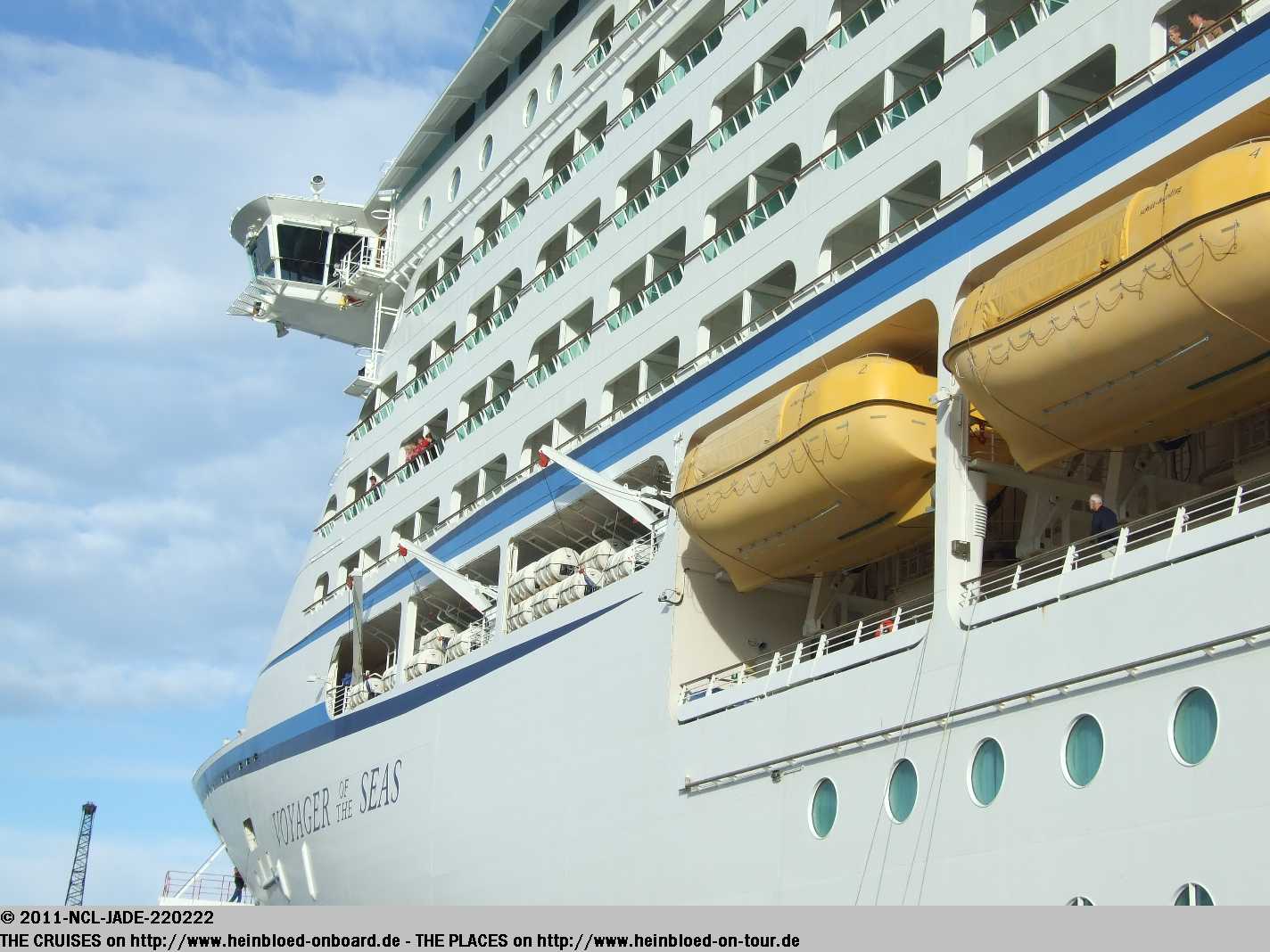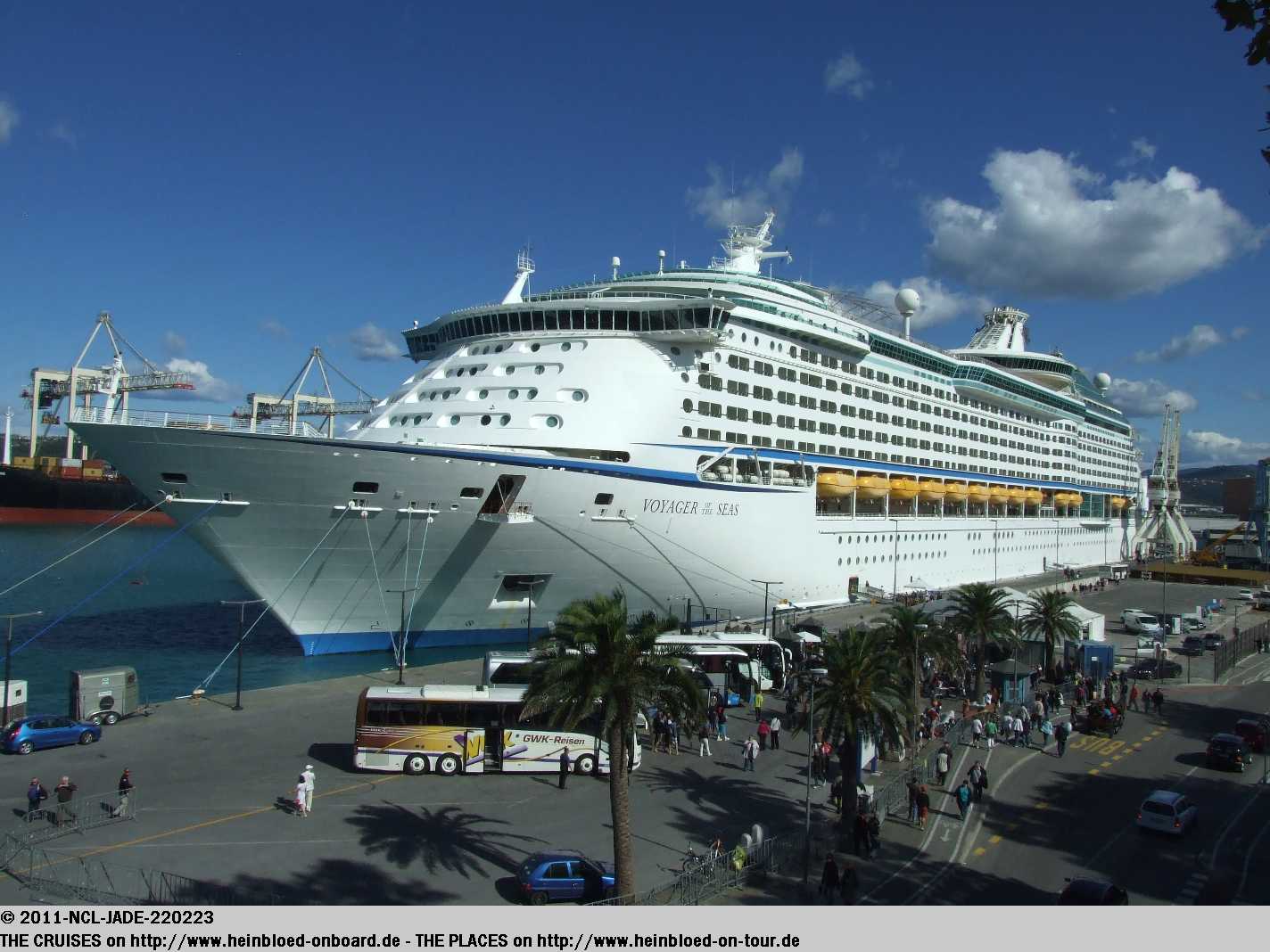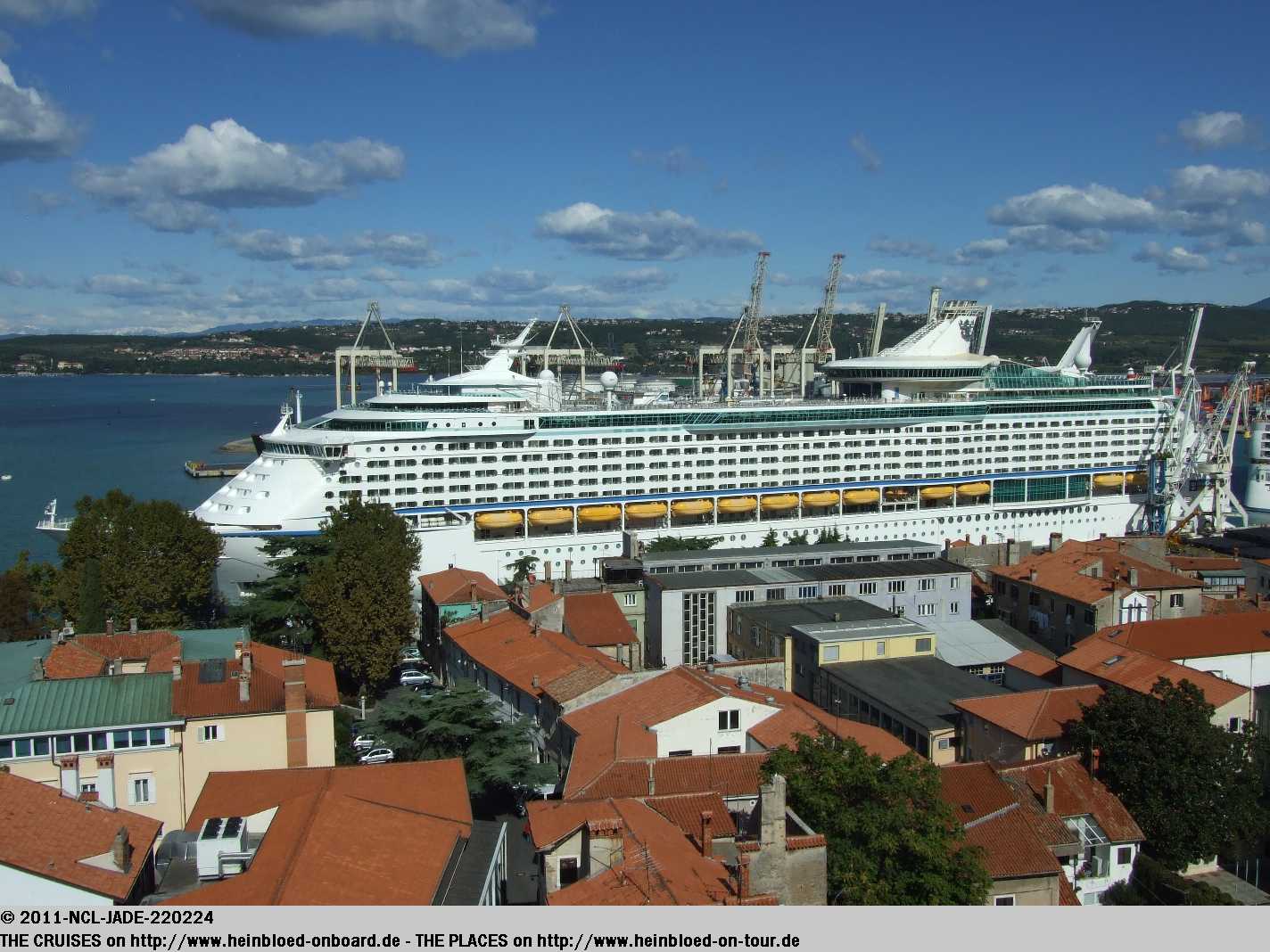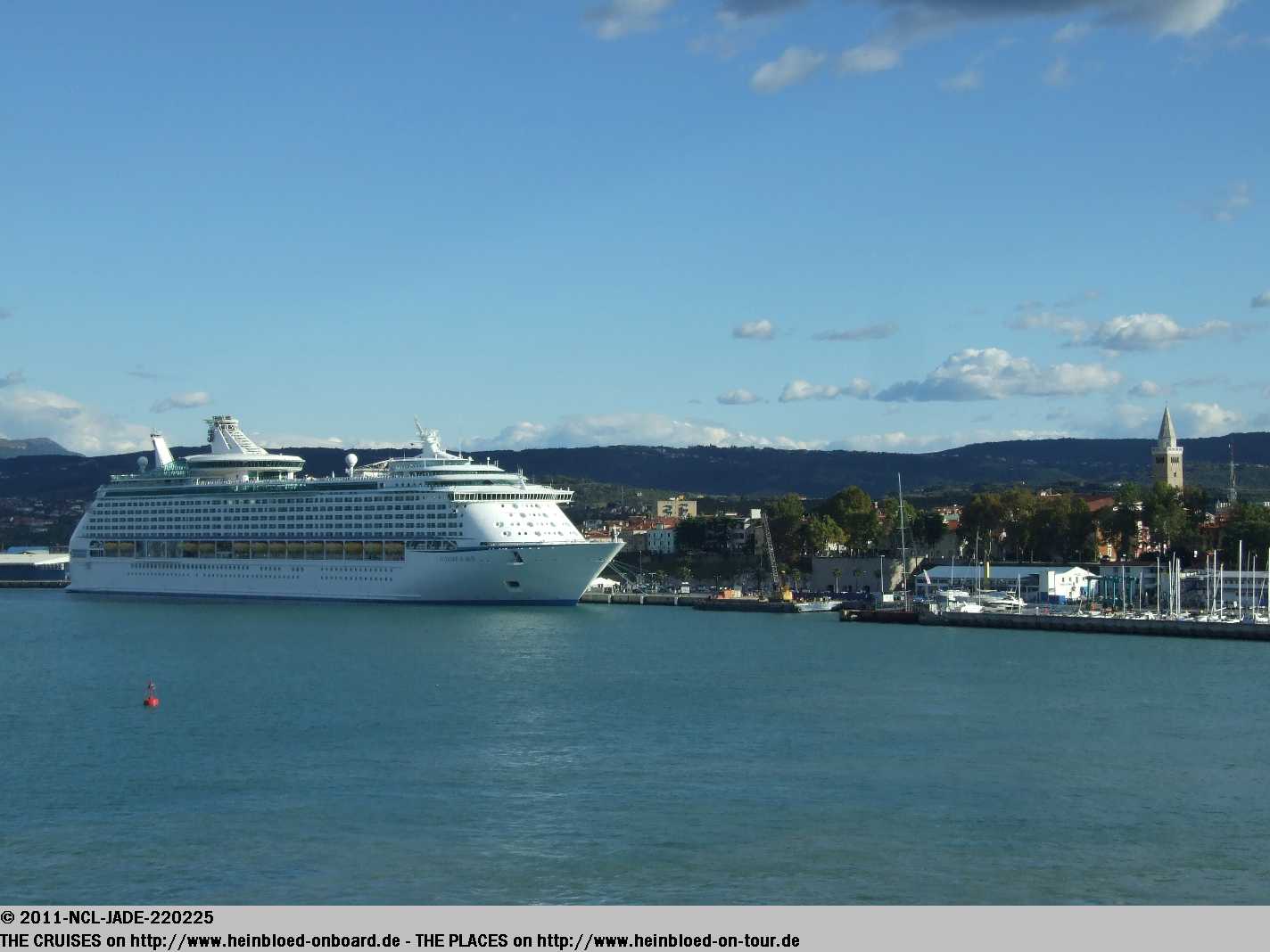 Ciao VOYAGER OF THE SEAS. That was the last touch of our voyage with Royal Caribbean.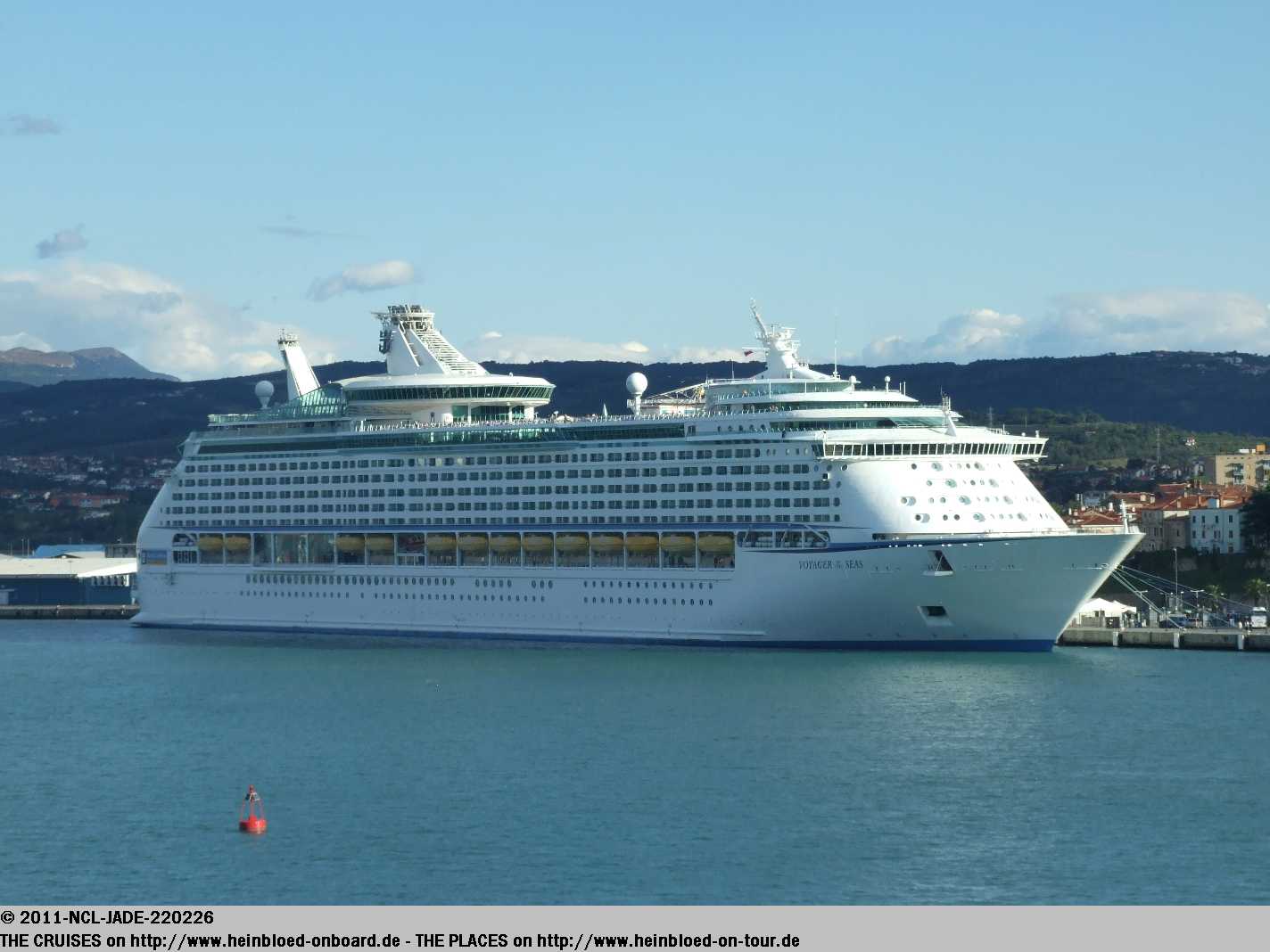 Ciao VOYAGER OF THE SEAS. Damit endet die Begegnung für diese Reise mit Royal Caribbean.
Liegt wirklich sehr nahe am Zentrum.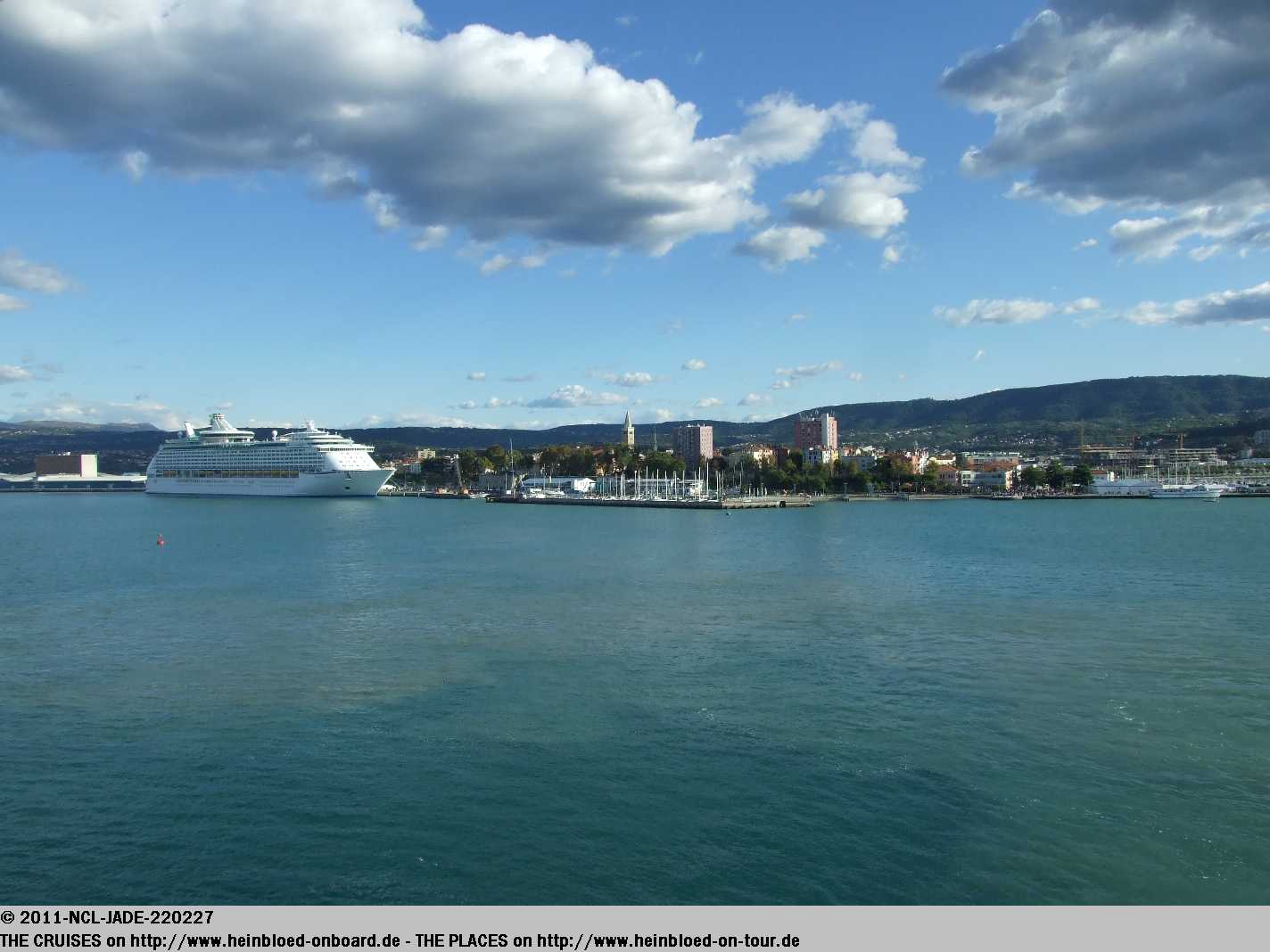 Was really very close to the city center.

In this cabin it was the first time for a long period that we did not have any trouble with the air condition. It was not blowing just on your face if you are sleeping below.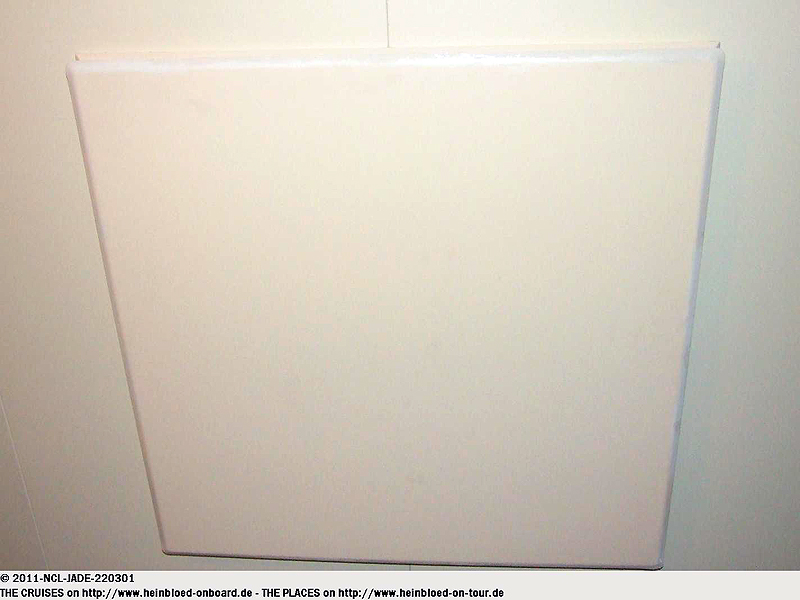 In der Kabine hatten wir zum ersten Mal seit langem keine Probleme mit der Klimaanlage. Es zieht nicht auf das Gesicht, auch wenn wir direkt darunter liegen.
Auch Brunos Mutter genießt hier den Ausblick auf die Einfahrt der VOYAGER OF THE SEAS.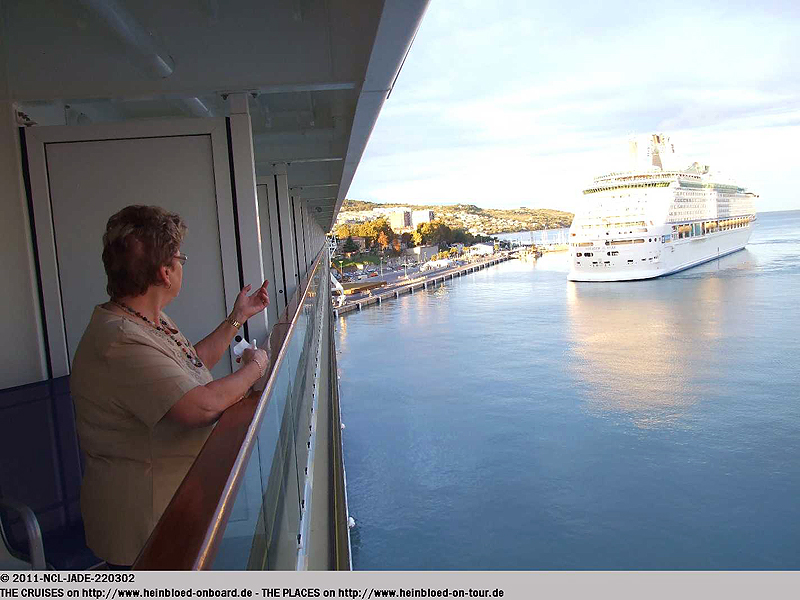 Bruno's Mother enyoed the view of the arriving VOYAGER OF THE SEAS.

Our stewards Antonio Chan and Rodamos: There was only an assistant for the morning. So Rod was part of Utility Hotel whom you meet in other parts of the ship in the rest of the day.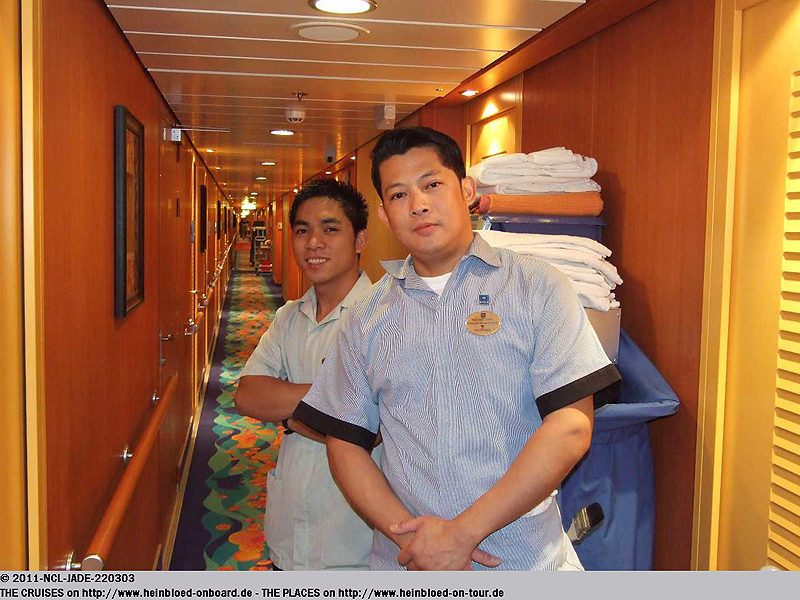 Unsere Stewards Antonio Chan und Rod Ramos. Einen Assistenten gibt es wohl nur morgens. Daher gehört Rod zur Utility Hotel, die dann den Rest des Tages in anderen Bereichen anzutreffen sind.
Was allerdings sofort aufgefallen ist. Bisher kannten wir immer bloß die gleichen Preise Mini-Bar und Bar. Die Mini-Bar-Preise sind höher: z. B. eine Flasche Wasser kostet 5,25 USD plus 15%, während sie an der Bar nur 4,50 USD plus 15% kosten. Daher lohnt sich das Wasserpaket auf jeden Fall noch mehr.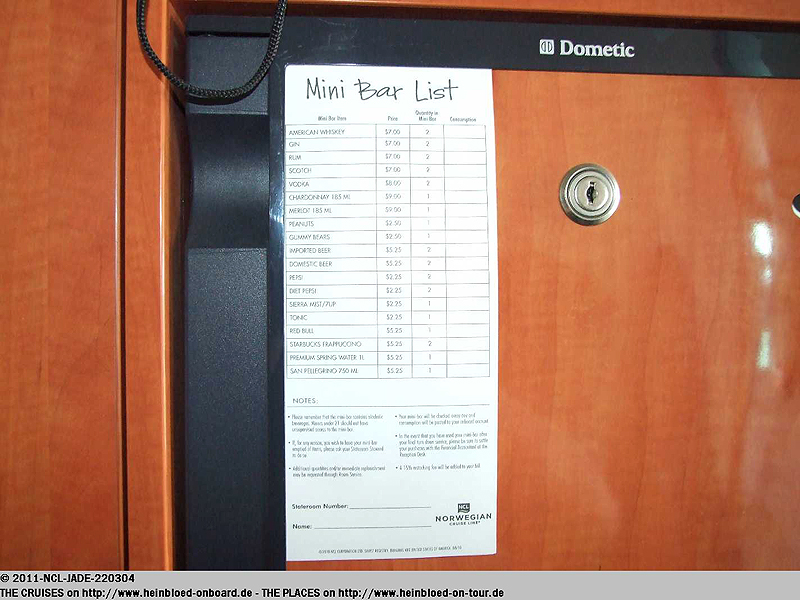 What was new to us. So far prices for Mini-Bar and Bar were same. Now the prices for Mini-Bar was higher. So one bottle of water was 5.25 USD plus 15% while at the bar they charge only 4.50 USD plus 15%. So the water package was worth more now.

The message sign was lightning: Hotel Director Armando de Silva called and left a welcome message. Again a souvenir cup. But this one was a coffee cup for a friend of a co-worker who could not order it with Tupperware.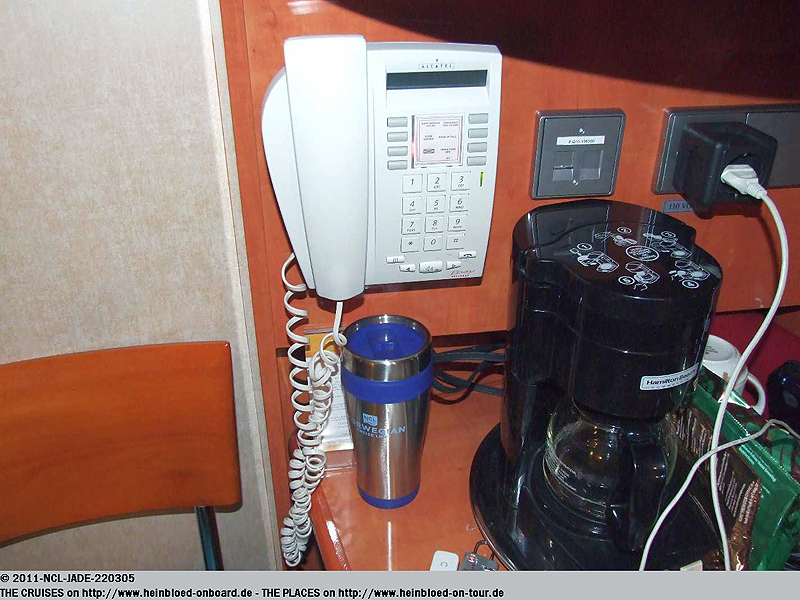 Am Telefon blinkt es: Hotel Director Armando de Silva hat angerufen und eine Willkommensnachricht hinterlassen, Schon wieder ein Souvenir-Becher. Aber den haben wir für den Freund einer Mitarbeiterin gekauft, der einen Isobecher für Kaffee wollte und den es bei Tupperware nicht im Angebot gab.
Unser Wasser wurde uns auf die Kabine gebracht.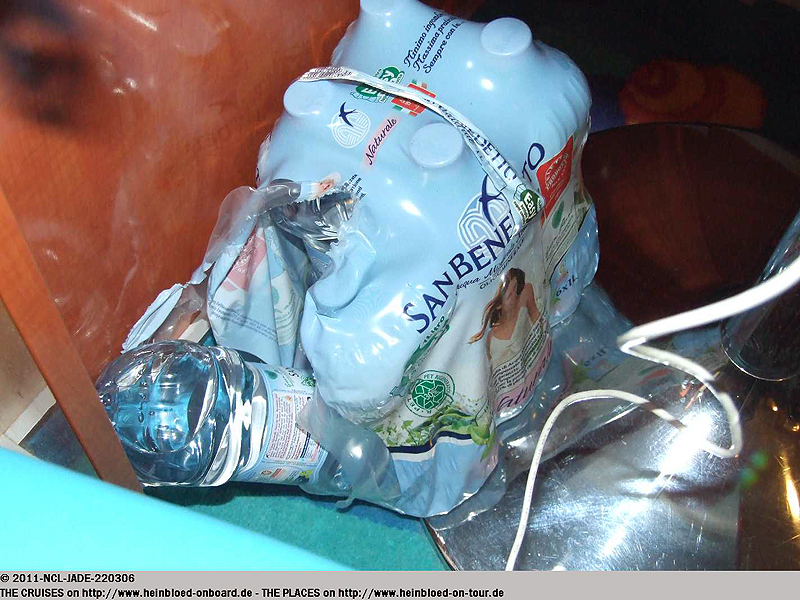 The delivered the water right to our cabin.

After the greetings on the phone another greeting came from Armando.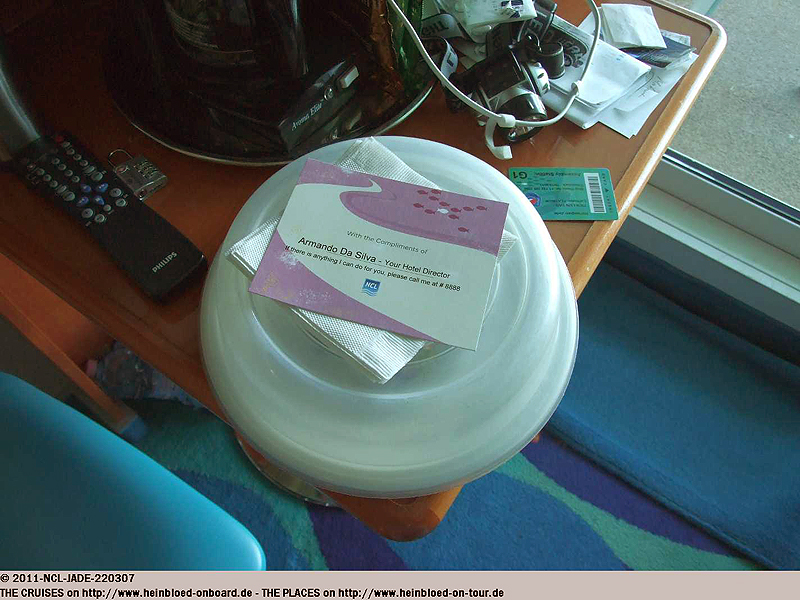 Neben dem telefonischen Gruß kommt noch etwas von Armando.
Ein paar Erdbeeren.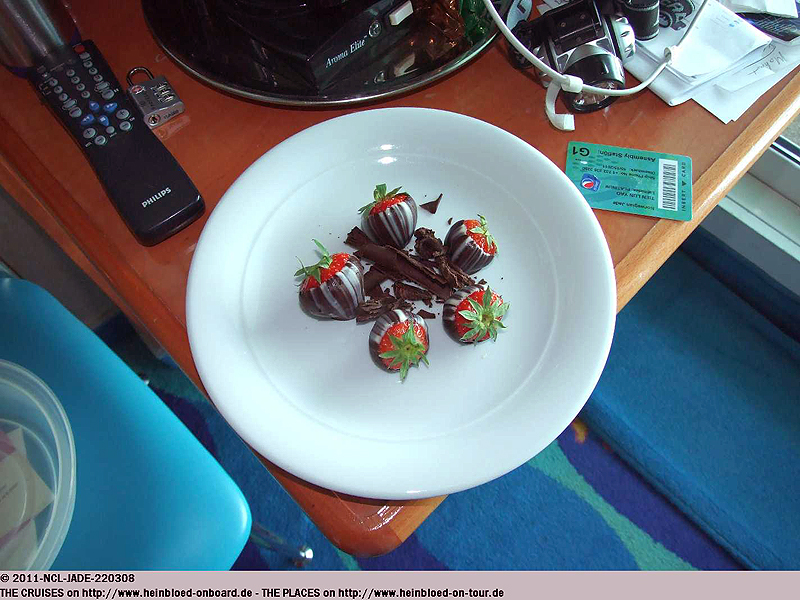 A few strawberries.

And our first towel animal. As usual our parents told our steward that they love the towel animals.Until end of the cruise it was like on WESTERDAM: My parents had finally a whole Zoological Garden in their cabin.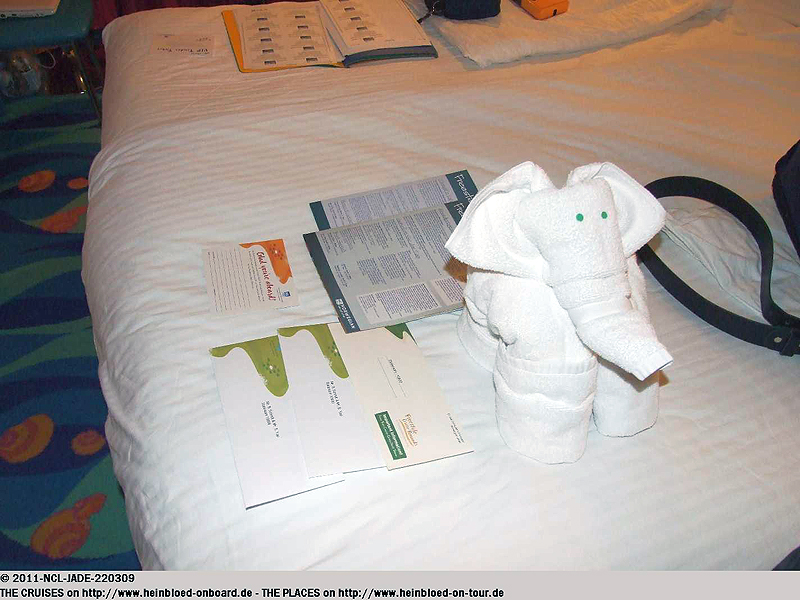 Und unser erstes Handtuchtier. Wie üblich haben meine Eltern unserem Steward erzählt, wie sehr sie diese Tiere mögen. Bis zum Ende Fahrt war es dann wie auf der WESTERDAM: Meine Eltern hatten am Schluss wohl einen ganzen Zoologischen Garten bei sich stehen.
Zeitsprung zurück zum Frühstück. Immer noch das Körbchen mit dem Gebäck.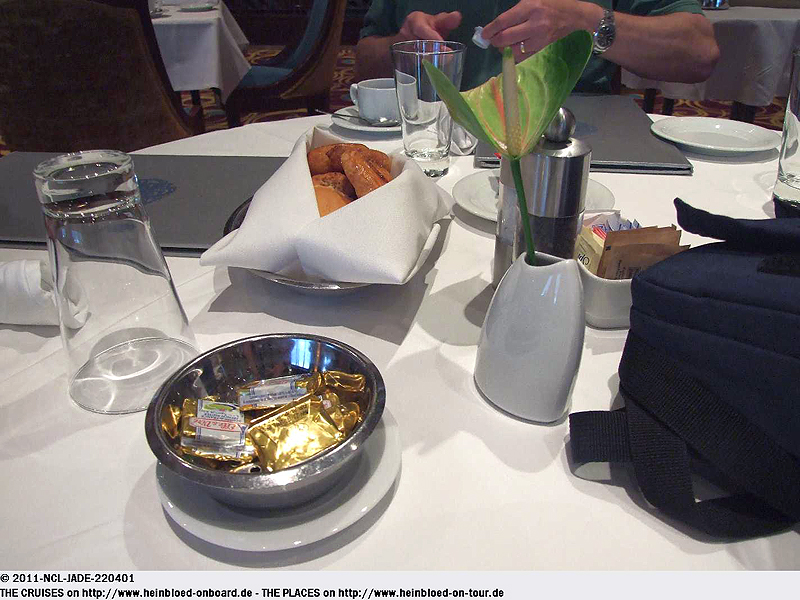 Time jump back to the breakfast. Still the basket with the pastries.

And again no kiwi. But a little piece of strawberry for garnish.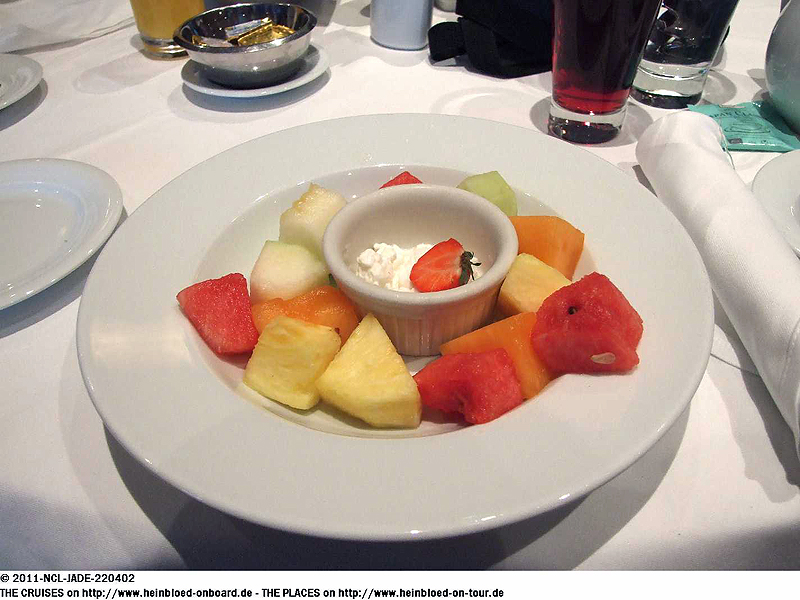 Und wieder mal keine Kiwi. Aber dafür wieder ein Stück Erdbeer zur Garnitur.
Auftrag ausgeführt: paiagirl (Frances von cruisecritic.com) wollte unbedingt einen Gruß aus Hawai'i an Mahmut senden und wir mussten daher die Macedamia-Nüsse von Zeebrügge hierher mitbringen.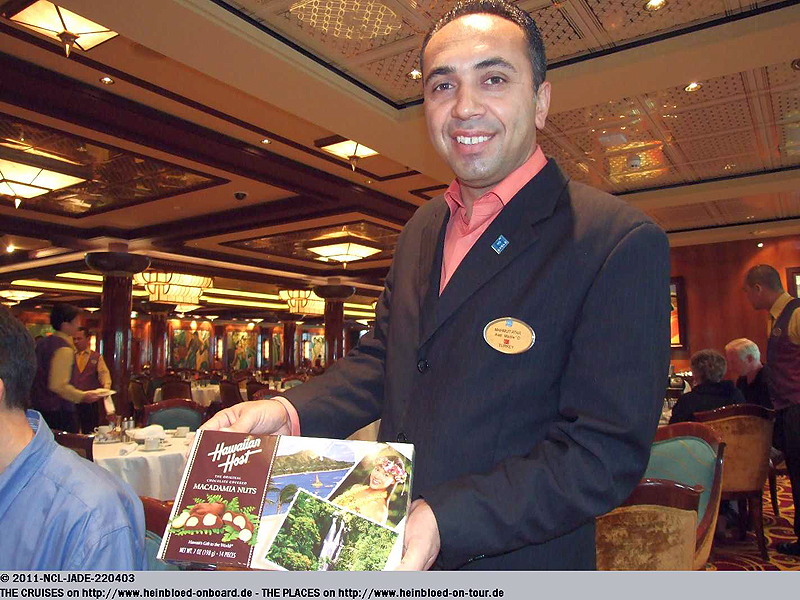 Order completed: paiagirl (Frances from cruisecritic.com) wanted to have a greeting from Hawai'i for Mahmut and so we had to carry them from Zeebrugge to the ship.

Bruno took as usual a cold breakfast (German Continental).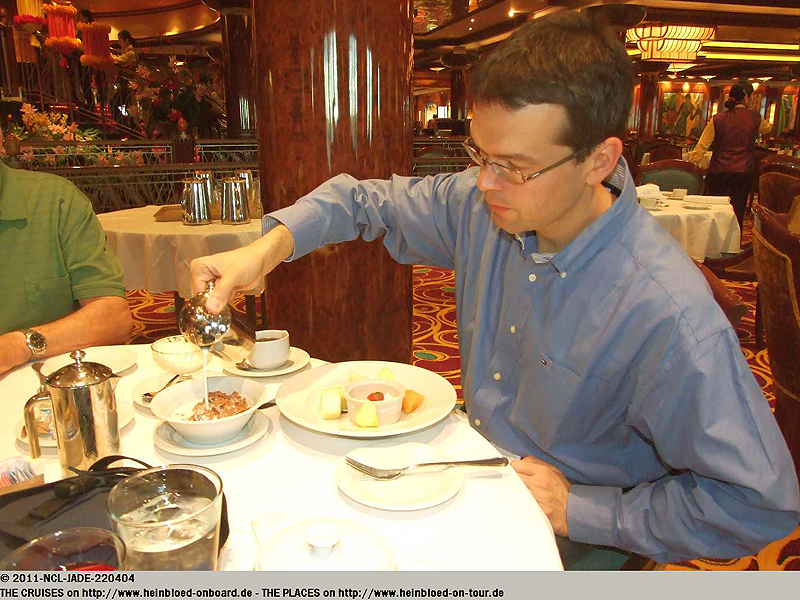 Bruno nimmt wie üblich kaltes Frühstück.
Seine Eltern und ich freuen uns auf das Egg Benedict auf Lachs.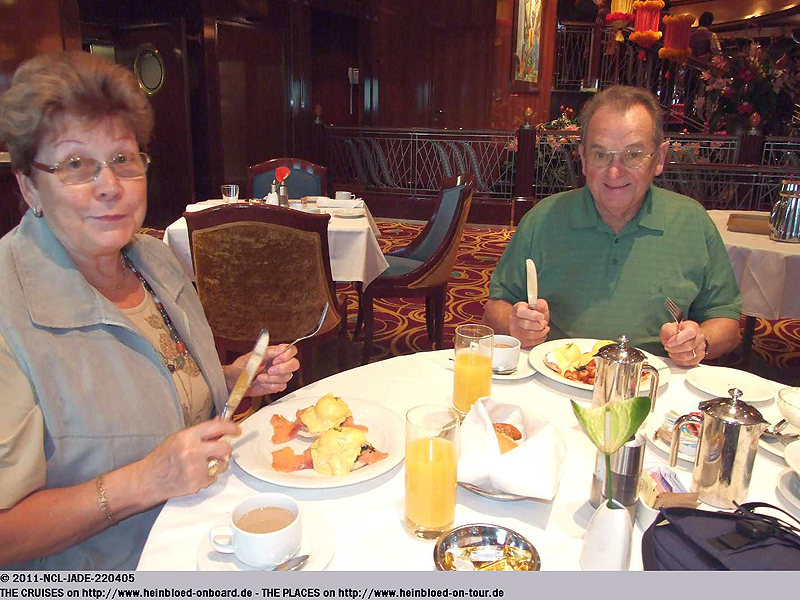 His parents and I were looking forward for an Egg Benedict on Salmon.