Scroll down for English explanations - alternates with German explanations.

Ich denke an meine Grundschullehrerin zurück... Morgenrot hatte doch glaube ich nichts Gutes für den Tag zu bedeuten...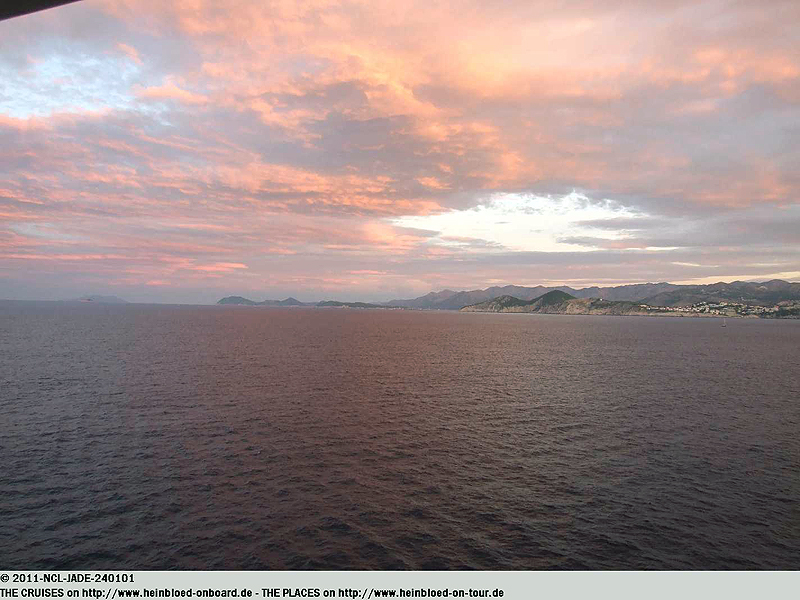 I remember what my Elementary School teacher tought me... Aurora does not mean anything good for the day...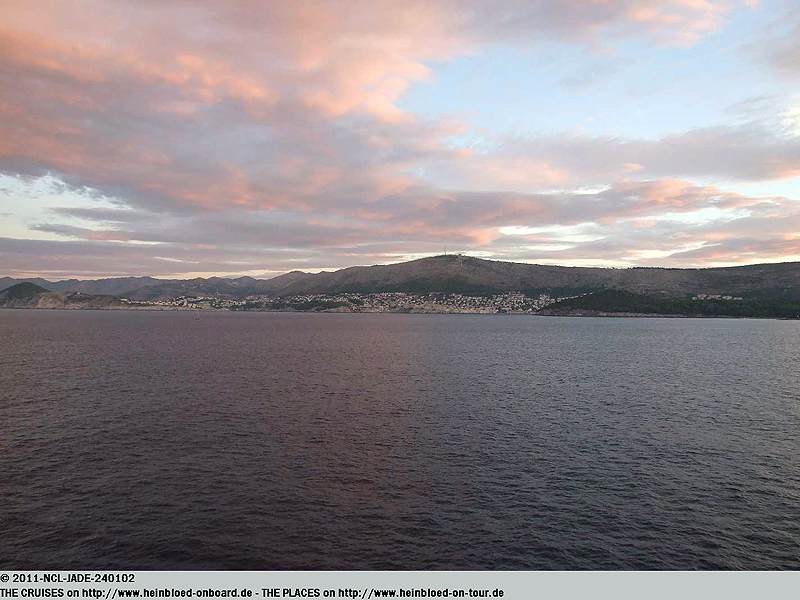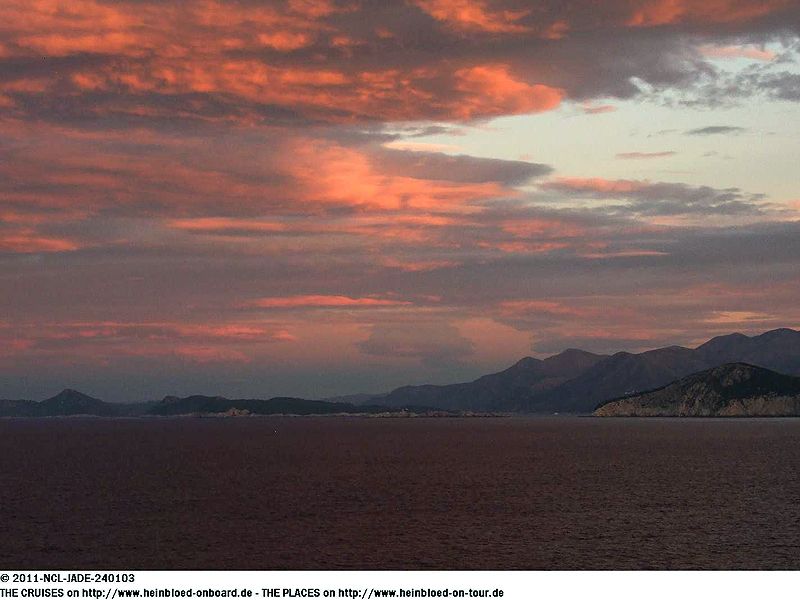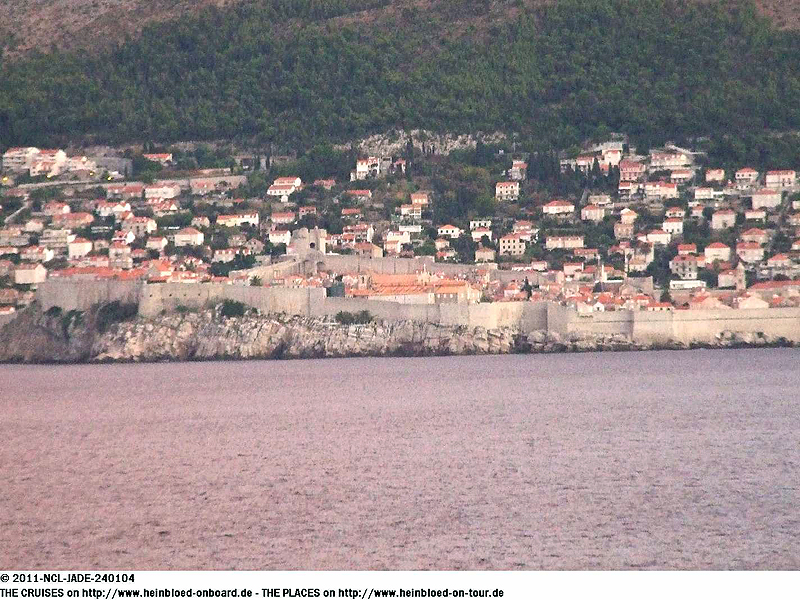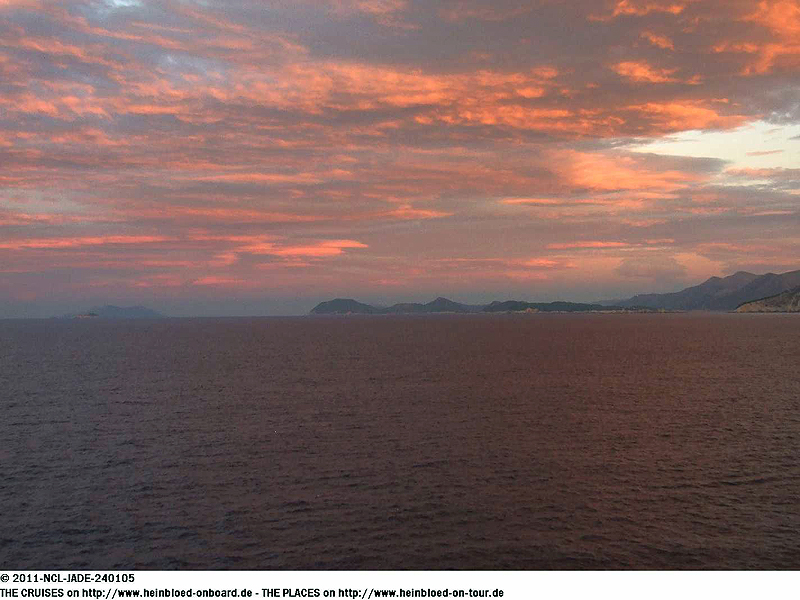 We are tendering in Dubrovnik. So what do we need a pilot for?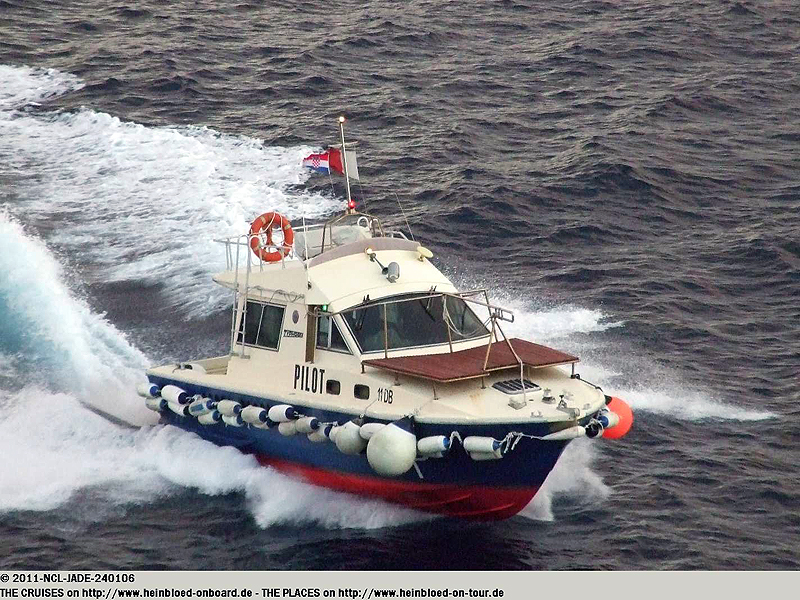 Wir tendern doch in Dubrovnik. Wozu brauchen wir einen Lotsen?
Später lernen wir: Lotsenpflicht bis zum Erreichen der Ankerposition. Beim Ablegen wird kein Lotse benötigt.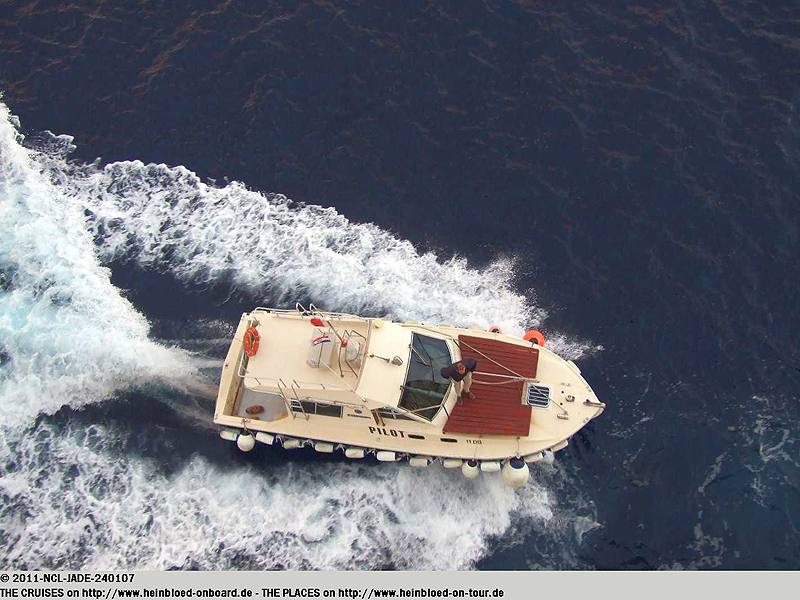 Later we learned. The pilot is obligatory until you reach your anchoring position. When you set sail you do not need a pilot.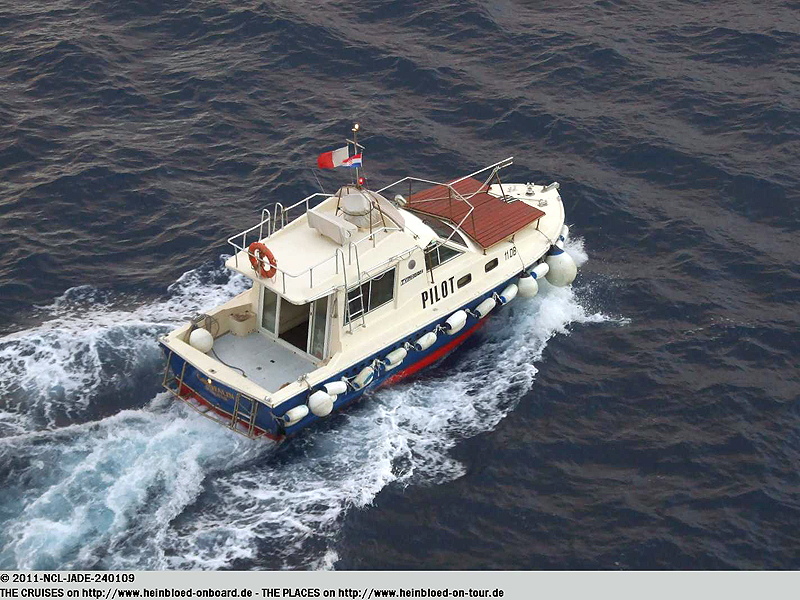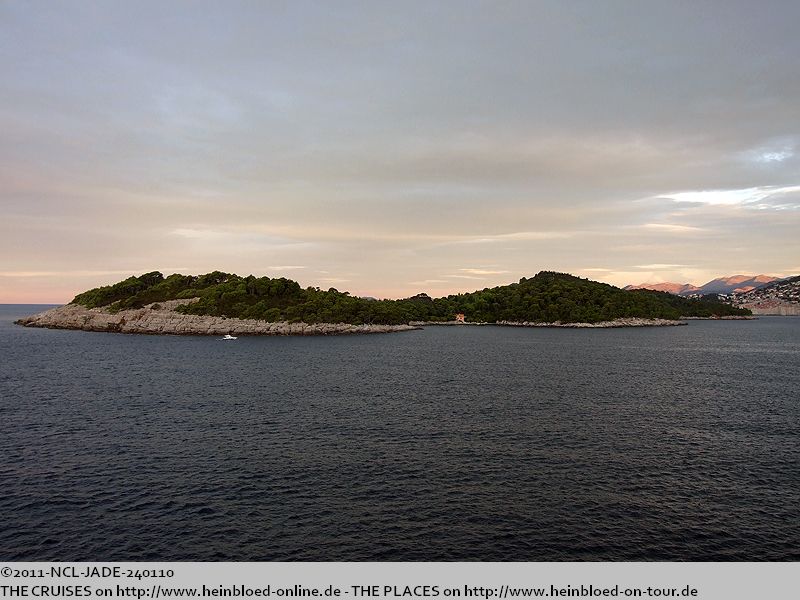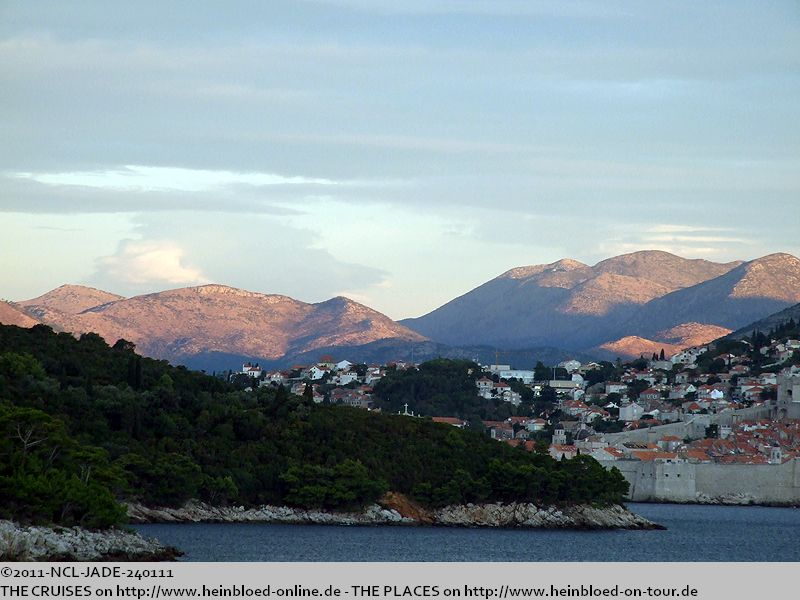 The tender boats were made ready to go.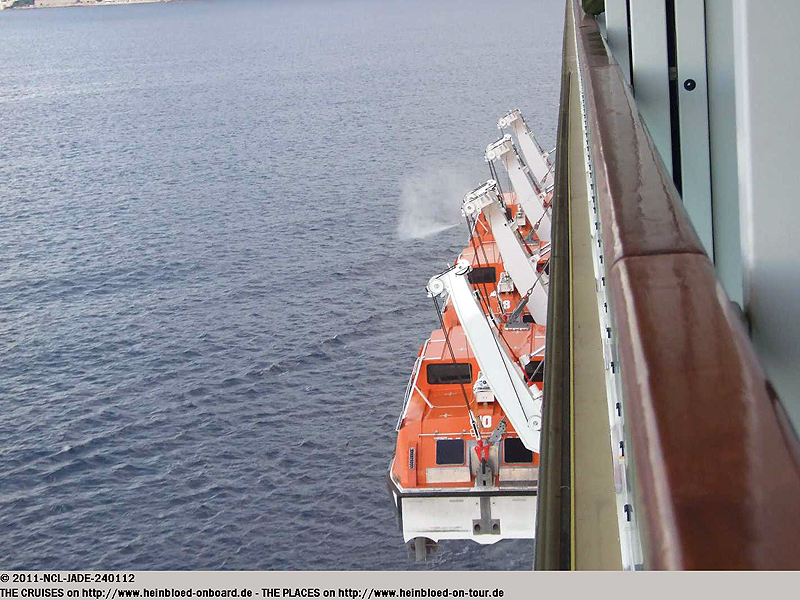 Die Tenderboote werden fertiggemacht.
Eine gute Gelegenheit Brunos Eltern vor der Silhouette von Dubrovnik zu fotografieren.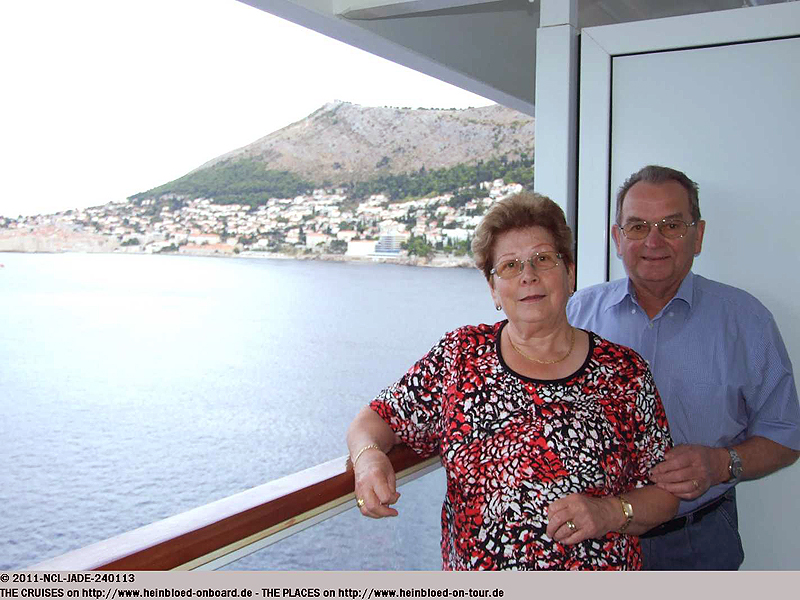 A good occassion to take pictures of Bruno's parents in front of the Dubrovnik skyline.

As well as from my parents.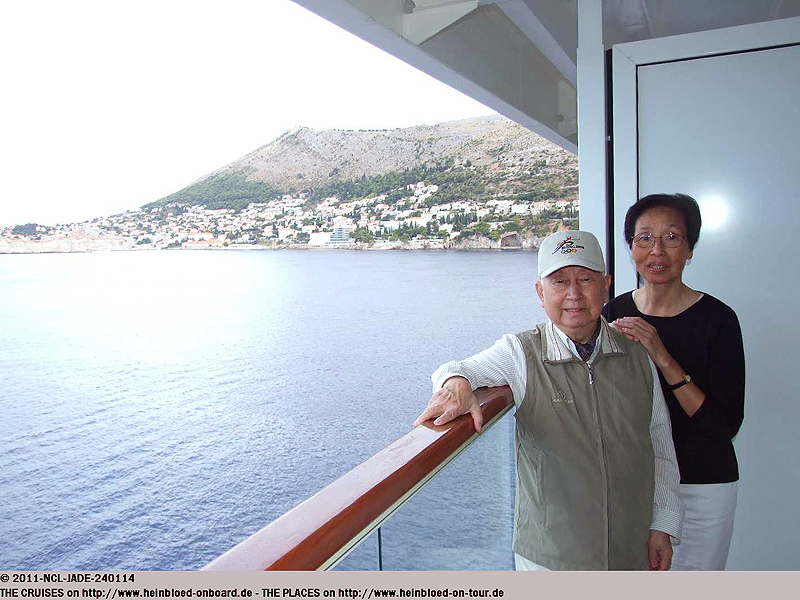 Natürlich auch meine Eltern...
Und uns natürlich auch.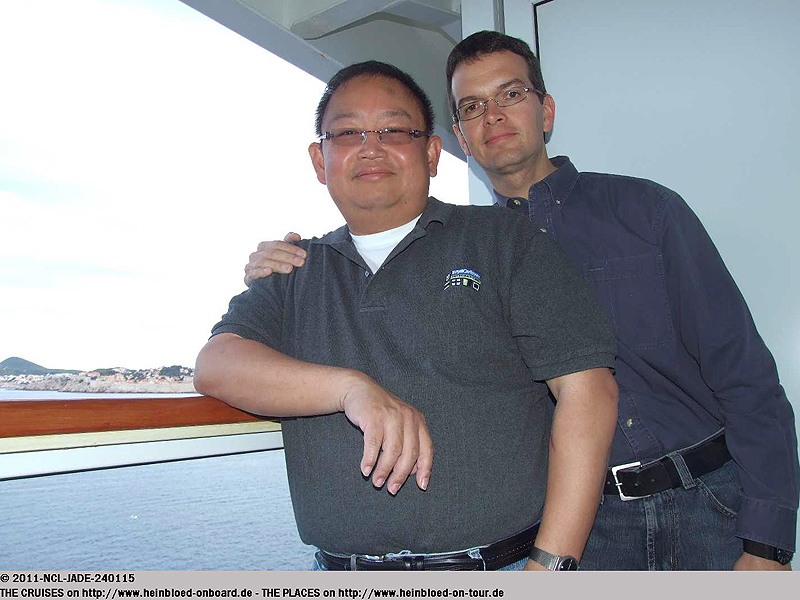 As well as from us.

For 54.95 USD we got a package of three pictures incl. album. As we only had two pictures which we liked they noted that we were entitled to get another picture.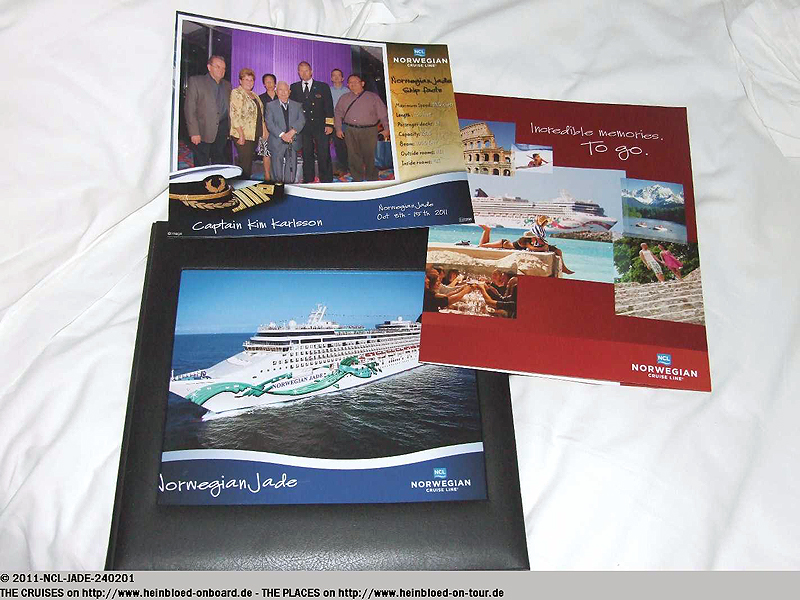 Für 54,95 USD bekommen wir ein Package von drei Bildern inkl. Album. Da wir aber nur zwei Bilder bislang haben, die uns gefallen wird notiert, dass wir noch Anspruch noch auf dein drittes Bild haben.
Immerhin ist da noch eine Karte unserer Route drin. Es gab übrigens auch ein Package für 199,00 USD mit allen Bildern der Fahrt.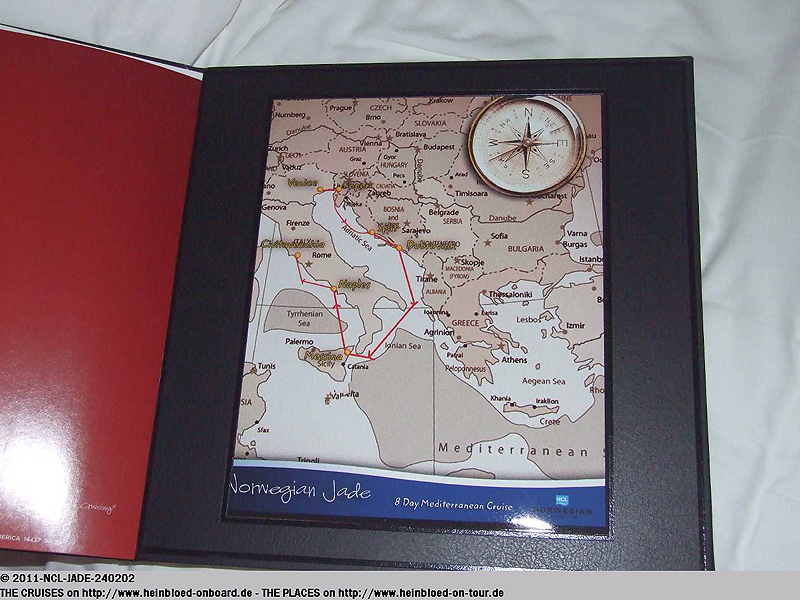 Anyhow it was good to have a map of our route. There were also packages for 199.00 EUR with all pictures of the cruise.

I bought some Lavender yesterday in Split. After the discussion with Bruno if mosquitos can reach Deck 10 or not I wanted to have some protection. After I learned from the movie "A good Year" with Russel Crowe that it helps against scorpions. So why not against mosquitos. You find also in your closet against clothes moths. I placed it just next to me and had a wonderful sleep until 04.30 hrs due to the wonderful smell.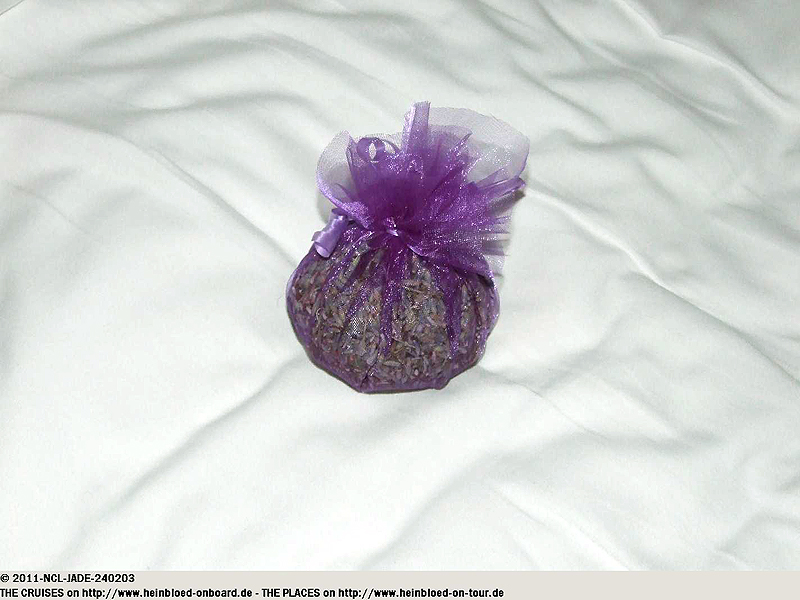 Ich hatte mir gestern in Split Lavender gekauft. Nach der Diskussion mit Bruno, ob nun Mücken es bis Deck 10 schaffen oder nicht, will ich mich schützen. Nach den Erkenntnissen aus dem Film "Ein gutes Jahr" mit Russell Crowe soll es ja gegen Scorpione helfen. Also warum nicht auch gegen Mücken. Im Kleiderschrank hängt es doch auch wegen der Motten. Es lag auf jeden neben mir und dank des angenehmen Duftes habe ich wunderbar mal bis 04.30 Uhr geschlafen...
Latitudes Platin bedeutet einen Wäschesack frei während einer einwöchigen Kreuzfahrt.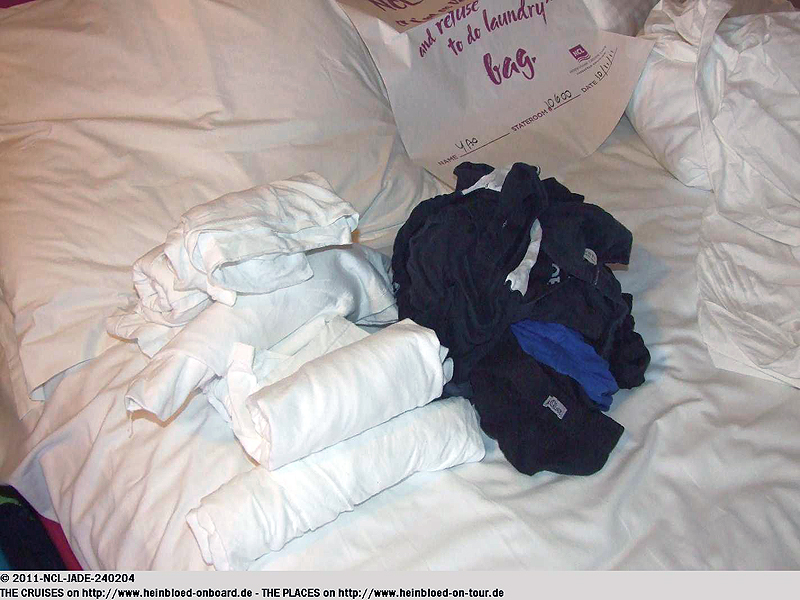 Latitudes Platinum means also a laundry bag free of charge for a one week long cruise.

As usual we rolled everything as small as possible that we can place as much as possible into the bag. So we could leave 3 sets of underwear for two persons at home... Each pound counts when you are flying a no-thrill airlines.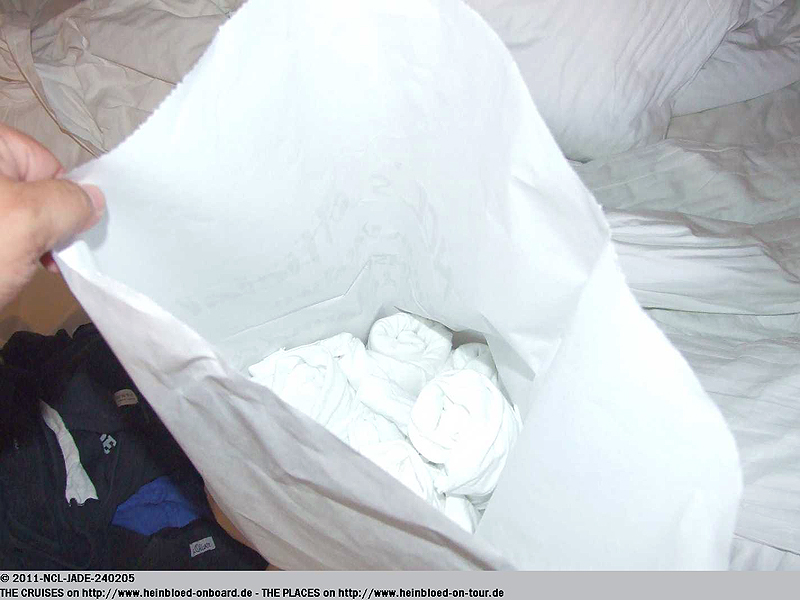 Wie üblich rollen wir alles möglichst klein, damit möglichst viel reinpasst. So konnten wir 3 Sätze Wäsche x 2 Personen weniger mitnehmen... Jedes kg zählt, wenn man mit BIlligfliegern fliegt.
Wir haben jetzt Projektvisitenkarten angelegt. Mit unseren Handynummern, E-Mail-Adressen, Facebook-Kontakten und Blog-URLs. So kann uns die Crew jederzeit "besuchen". Auch haben wir Etiketten für die Bilder der Crew vorbereitet.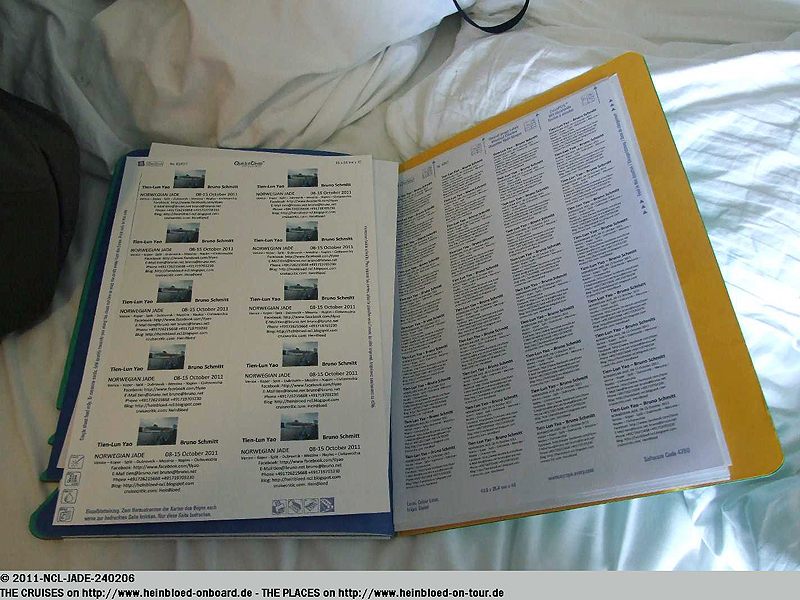 We set name cards for this voyages. Showing our mobile phone numbers, e-mail-addresses, Facebook-contacts and Blog-URL. So all crew members can "visit" us. We prepared also stickers for the crew pictures.

Our German Telekom offered now new data rates. So we do not need anymore to buy and refill domestic SIM-cards. I normally use 2-3 day passes M per day to make all picture transmissions and to use my iPhone ashore.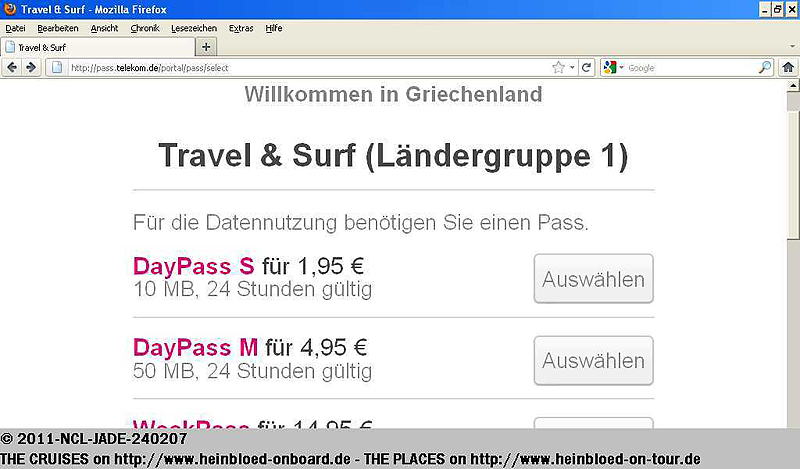 Genial sind die neuen Datentarife der Telekom. Seitdem müssen im europäischen Ausland keine nationalen SIM-Karten mehr aufladen. Mit 2-3 DayPass M komme ich am Tag aus, um Bilder zu übertragen und mein iPhone zu nutzen.
Man bekommt immer gut angezeigt, wieviel Guthaben man hat. Das ist wichtig, wenn man sich sonst wundert, warum der Upload der Bilder hängt.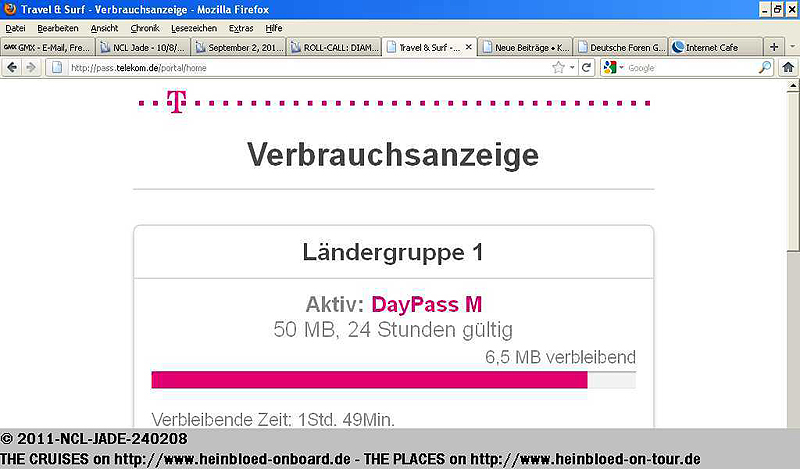 They show how much credit you have. That is important just in case you are uploading pictures and wondering why everything is stucked.

On Facebook I got messages that I should say hello to some crew-members. Some were so smart to let me know their Facebook sites of the crew-members so I knew whom I have to look for. In case I could not find them the secretary of Armando was most helpful to find out if someone was onboard and where to find him. You see it's not only me who adopt crew-members to their families and use every occasion to say hello to their crew-friends.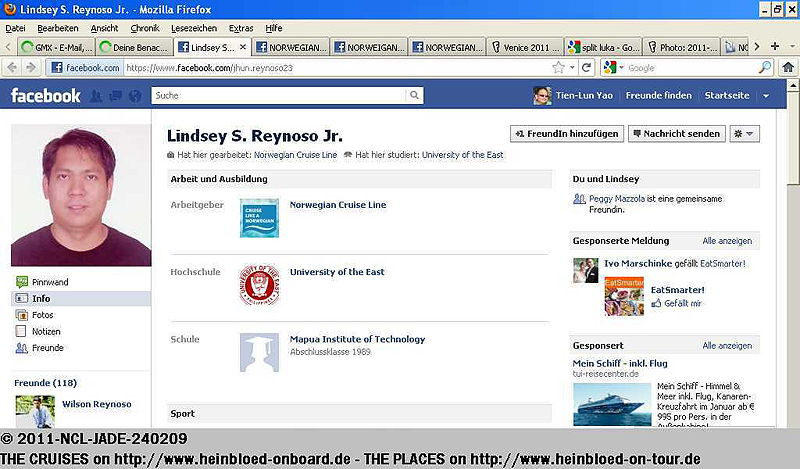 Über Facebook erreichen mich Nachrichten, dass ich Grüße an Crew-Mitglieder ausrichten soll. Einige waren schlau genug, mir auch die entsprechenden Seiten der Crew-Mitglieder zu schicken, damit ich überhaupt wusste, nach wem ich Ausschau halten sollte. In Fällen, in denen ich nicht die Crew-Mitglieder kannte, musste die Sekretärin von Armando herhalten, um die Crew Listen zu durchforsten. Man sieht, dass ich nicht der einzige bin, der Crewmitglieder bereits in deren Familien adoptiert und jede Gelegenheit nutzen, ihre Crew-Freunde zu grüßen.
Und abends gibt es wieder Canapés. Sowohl Brunos als auch meine Eltern halten das für NCL-Standard... Wie soll ich die bloß wieder auf ein anderes Schiff bekommen. Die wollen nun für immer und ewig auf der NORWEGIAN JADE bleiben, weil sie so verwöhnt werden...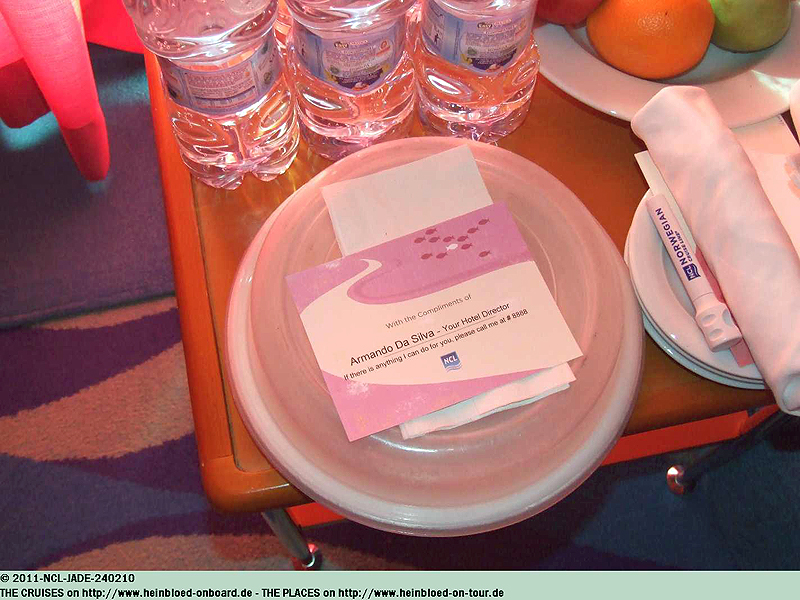 And in the evening we had again our canapés. Bruno's and my parents meanwhile think that this is NCL standard... How should we get them on another ship. We have to stay for the rest of our life on NORWEGIAN JADE to get pampered like now.

There is Tien-cold cut and Bruno cold-cut... so we had also Tien-Canapés and Bruno-Canapés. These were Bruno-Canapés... but he is only Gold and I am Platinum (there are three more cruises I did alone while I was in the USA...).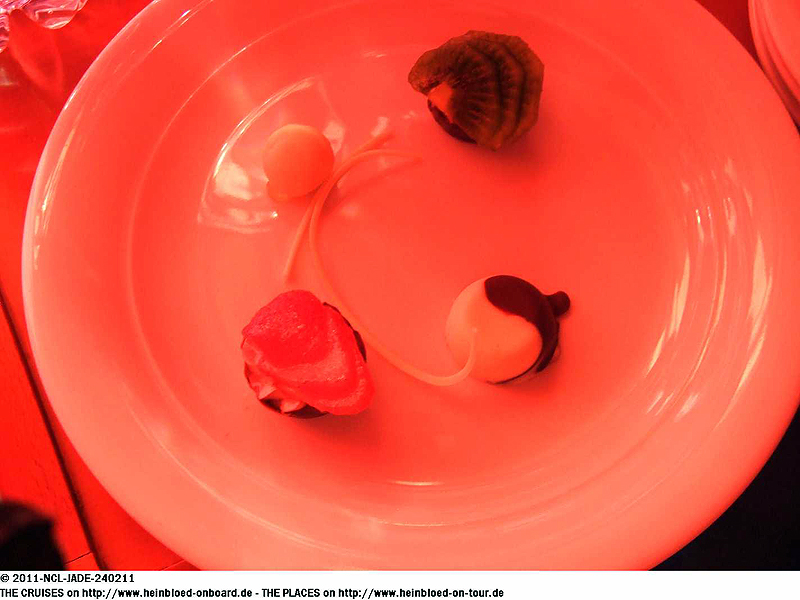 Es gibt Tien-Wurst und Bruno-Wurst... so gibt es auch Tien-Canapés und Bruno-Canapés. Das waren eindeutig Bruno-Canapés... dabei ist er bloß Gold und ich Platin (Es gab drei Fahrten in den USA, die ich alleine gemacht habe...).
Ein Frosch... ob man ihn gegen die Wand werfen kann?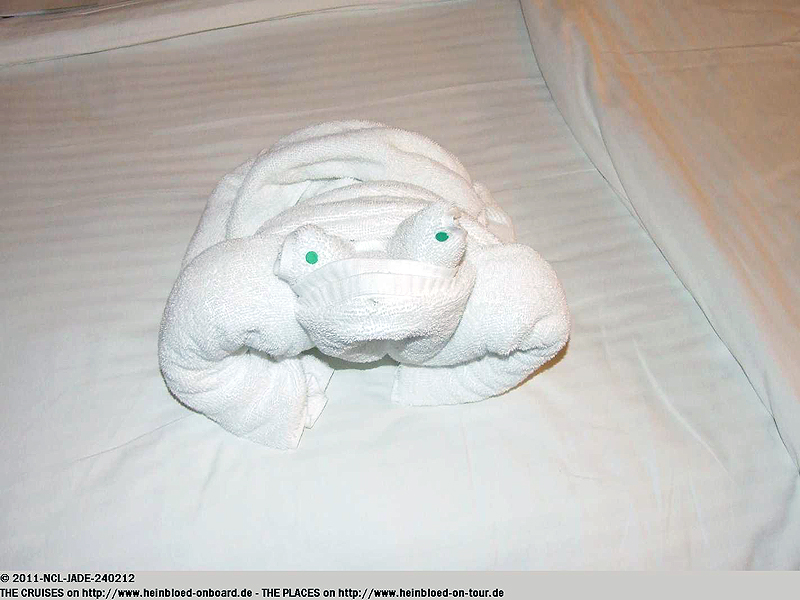 A frog... Should we throw it to the wall?

Our two guys were not mother-like Elizabeth or Juana but they were quite good. E.g. Elizabeth collected all receipts and put them into an envelop to get the space to clean. Something on a mother would do.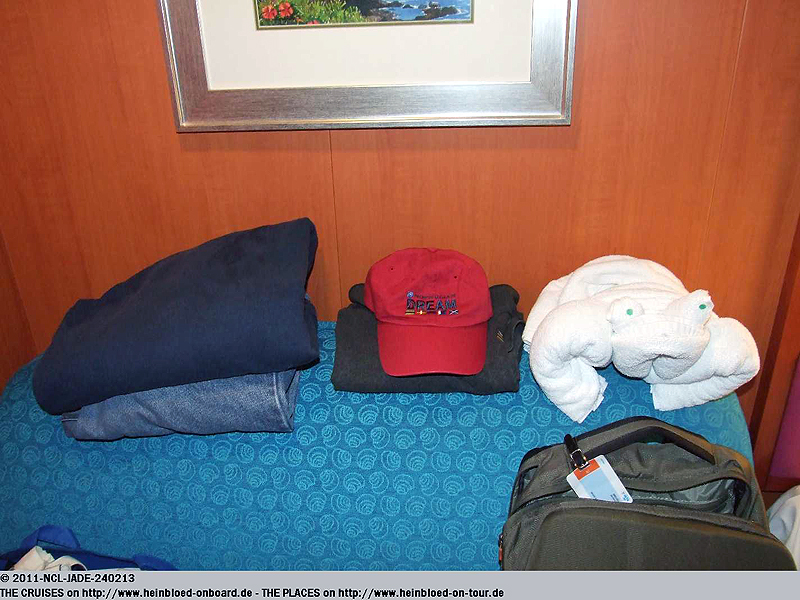 Unsere beiden Jungs haben nicht ganz so die mütterlichen Instinkte wie Elizabeth oder Juana. Aber der Ansatz ist gut. Also Elizabeth hat beispielsweise unsere ganze Quittungen in einem Briefumschlag gesammelt, damit sie überhaupt bei uns aktiv werden konnte...
Ansonsten hat uns NCL einen Korb gegeben... und wollen uns loswerden...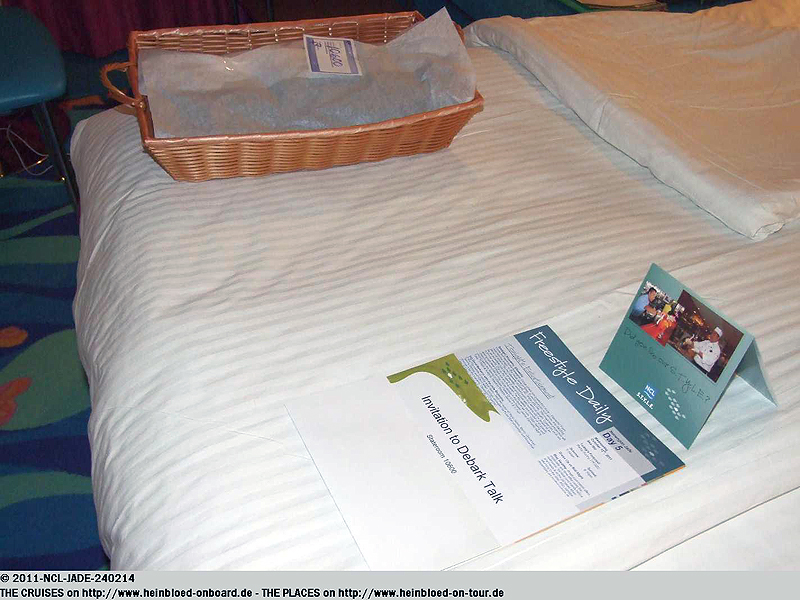 But NCL gave us a basket... that is what you are doing in Germany if you deny something...

That did not look like "Wash and Fold"... Now I have to fold my shirts by myself for the return journey. For that we have at home a lady who takes care of our ironing. I would break my fingers with this kind of activities... But luckily we had two mothers with us. I used the chance and carry all shirts on board where a bottom was missing. But somehow my plannings did not work properly as my parents attended more shows than I would ever would expected.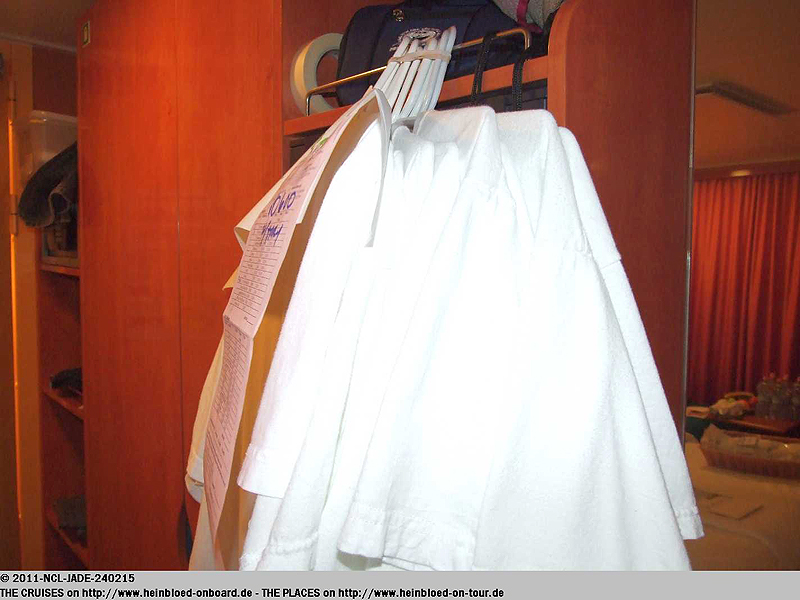 Aber das ist nicht "Wash and Fold"... Nun muss ich für die Rückreise meine Hemden selbst zusammenlegen. Dafür haben wir zu Hause eigentlich unsere Bügelfrau da. Ich breche mir meine Finger dabei... Aber zum Glück haben wir ja zwei Mütter mit. Ich habe die Chance genutzt und alle Hemden mit an Bord gebracht, an denen ein Knopf fehlte. Die Rechnung wäre beinahe gar nicht aufgegangen. Erstaunlicherweise waren meine Eltern öfters in einer Show als ich dachte...
Nicht nur den Korb haben sie uns gegeben, sondern wollen uns auch los werden... Wir werden zum Ausschiffungsgespräch in die Concierge Lounge eingeladen.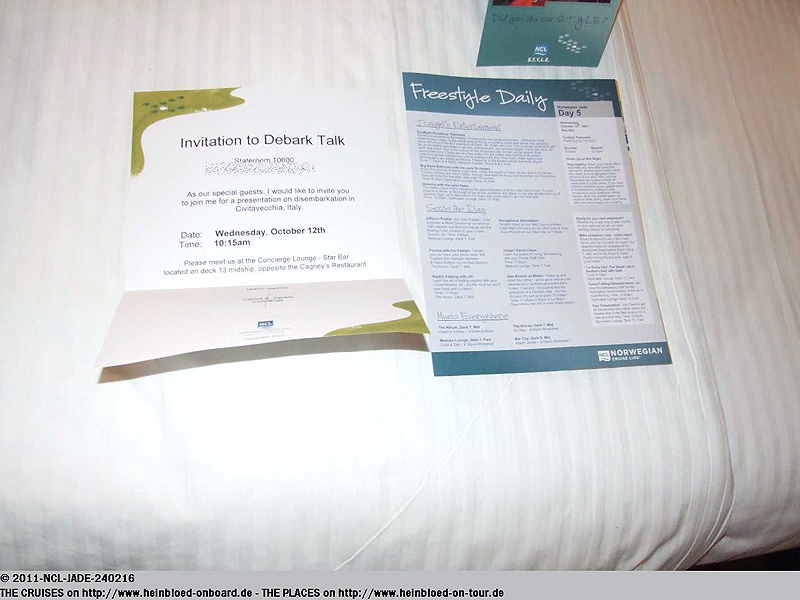 Not even we got the basket but they want to have us from ship too... They invited us for the debarkation talk in the Concierge Lounge.

And one more basked... full of breakfast pastries...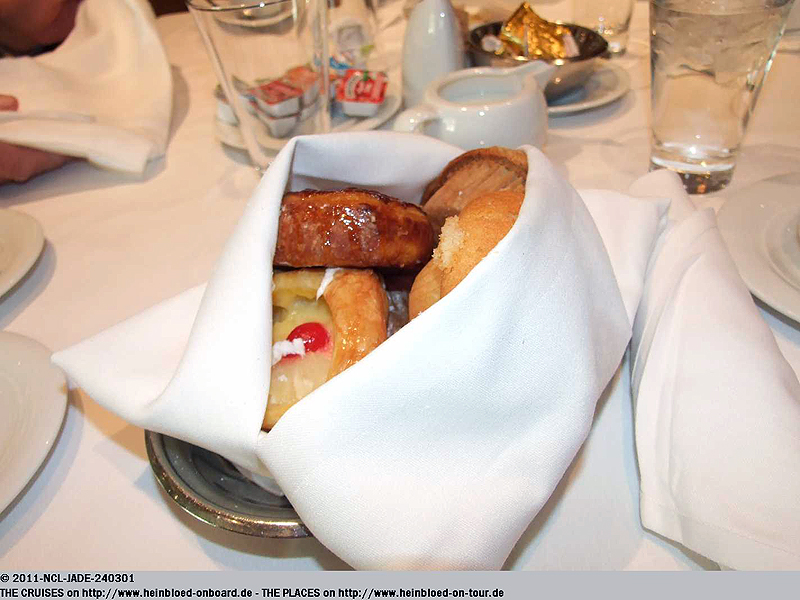 Und wieder gibt man uns einen Korb... voller Frühstücksgebäck...
Nachdem wir uns doch mal über die Temperatur der Früchte morgens "beschwert" haben (Ich nehme an, dass die Idee von Zahncremesorten für empfindliche Zähne nach einer Kreuzfahrt geboren wurde...), wurde bereits ein Teller mit Früchten vom Vorabend (Dessertfrüchteteller) auf unsere Bitte hin in einer moderaten Kühlumgebung gepackt. Leider hatten wir bloß darum gebeten einen Teller bereitzuhalten, so dass Bruno als Kavalier den vorgewärmten Teller seiner Mutter abtrat.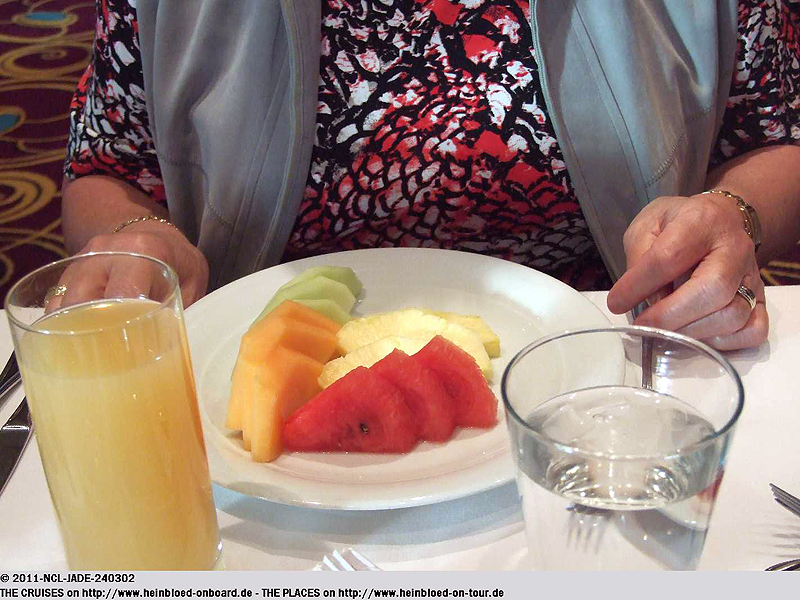 After we had the complaint that the temperature of the fruits were too cold (I guess that the tooth paste for sensitive teeth was invented on a cruise ship...) they prepared one plate with fruits from the night before (fruits for dessert) and placed it in a more moderate cooling area. Unfortunately we asked only for preparation of one plate so Bruno let his mother have the moderate cooled fruits.

Ernesto took a third plate so Bruno's mother could have some cottage cheese too.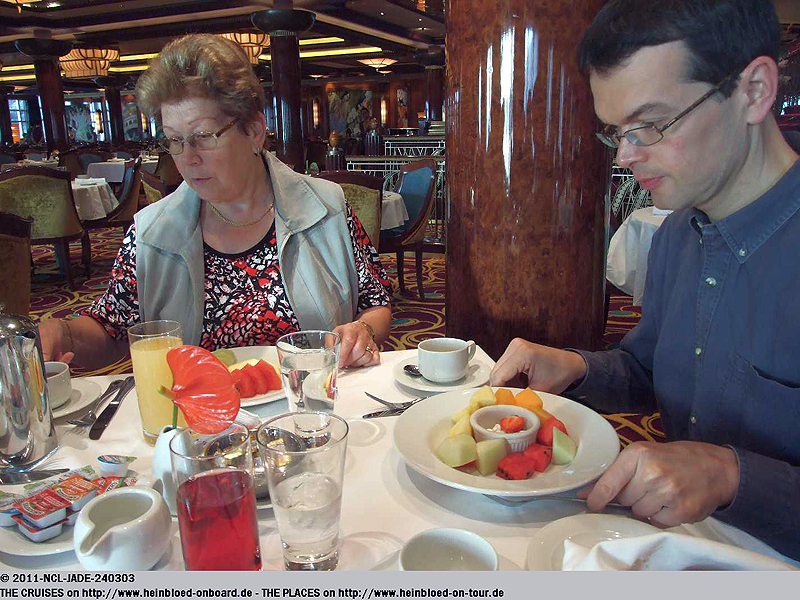 Ernesto brachte aber noch einen 3. Teller, damit Brunos Mutter auch noch Hüttenkäse hinzubekam.
Zu unserer Überraschung wurden wir freudig von Tresita begrüßt, die wir von unserer Fahrt 2009 auf der NORWEGIAN GEM her kannten.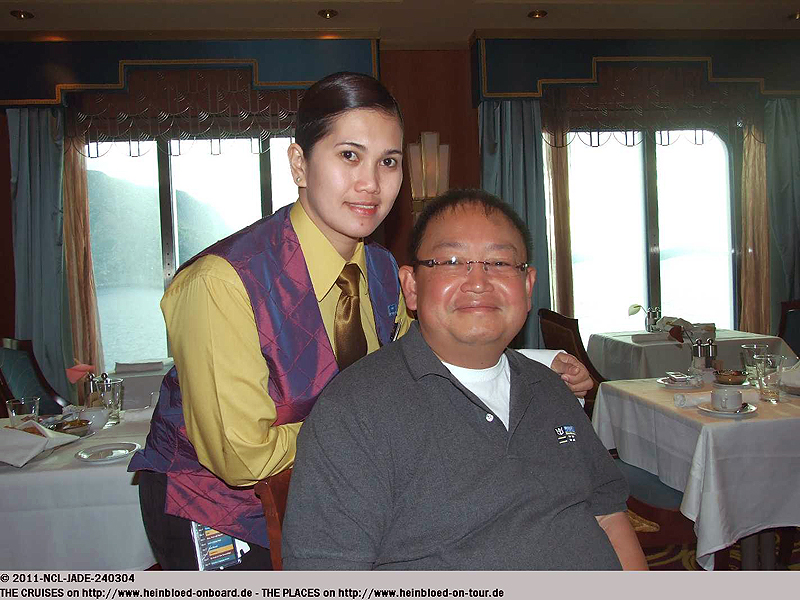 To our great surprise Tresita was greeting us whom we know from our sailing 2009 on NORWEGIAN GEM.

Bruno's mother wanted to try ONCE French toast.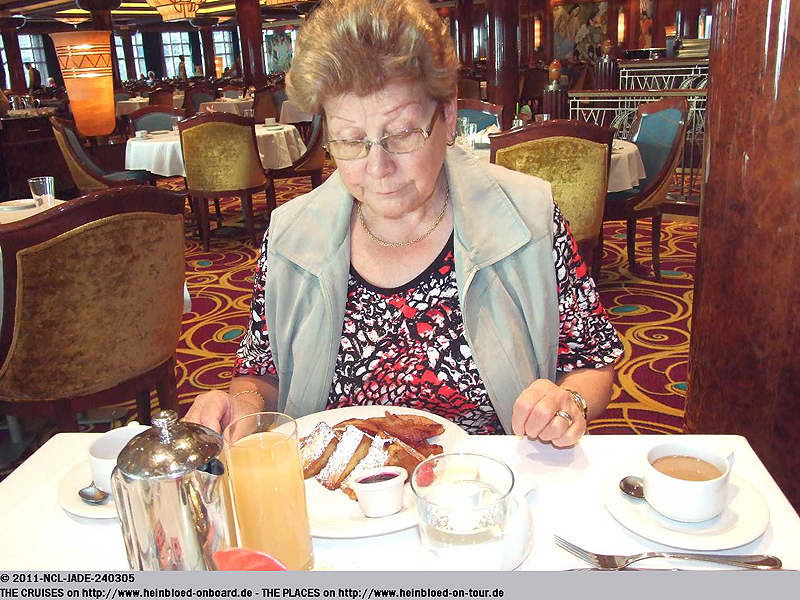 Brunos Mutter wollte mal EINEN French Toast probieren.
Aber Amerikaner haben immer etwas andere Vorstellungen was Größen betrifft.

But Americans do have a different opinion regarding sizes and quanitites.

Bruno said that they have less cream cheese than the last time. He said it in German. But Ernesto could hear what that was about and asked immediately if he should get him some more cream cheese. Maybe he can speak some German???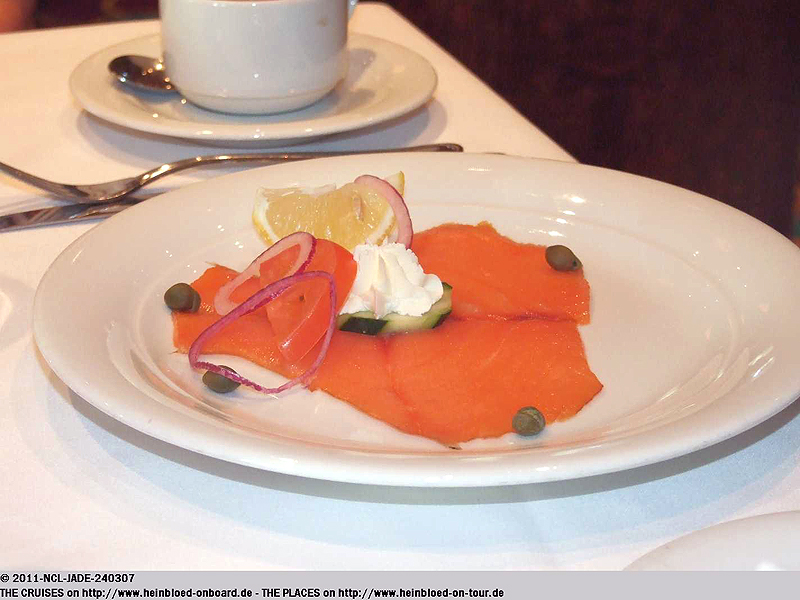 Bruno hatte festgestellt, dass immer weniger Frischkäse auf dem Teller ist. Die Anmerkung machte er auf Deutsch. Aber Ernesto wusste wohl, worum es geht und fragte sofort nach, ob er noch mehr Frischkäse holen sollte. Kann er etwa doch etwas Deutsch???
Auch Brunos Eltern hat es sehr viel Spaß gemacht, sich von Ernesto verwöhnen zu lassen.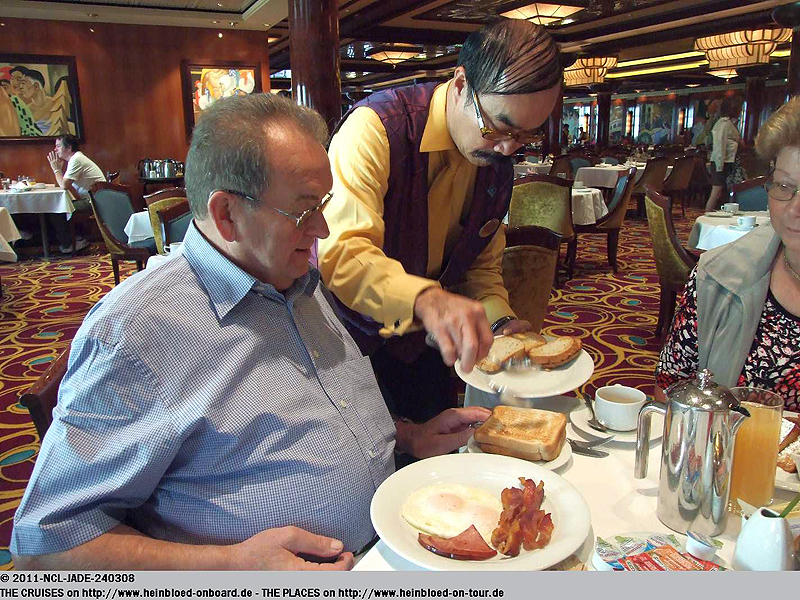 Bruno's parents had also very much pleasure to get indulged by Ernesto.

Bruno's father wanted to eat a little less. But here too: no chance with such portions.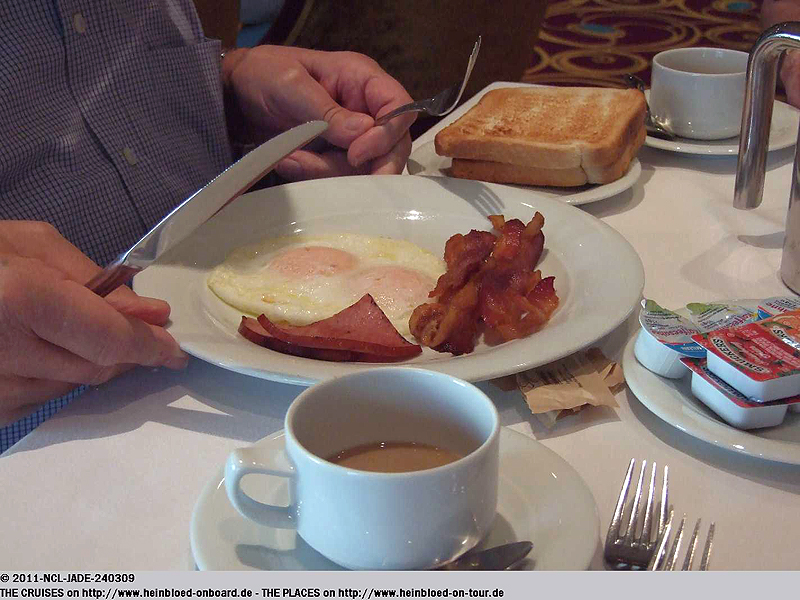 Brunos Vater wollte kürzer treten. Aber auch hier: bei den Portionen keine Chance.
Ich nahm an, dass die dunklen Punkte gestern von den Pilzen herkamen, die ganz klein gehackt waren. Nun habe ich erst verstanden, dass mit Herbs für Kräutern, die getrockneten Küchenkräuter gemeint sind. Ebenfalls wurde auf Anfrage (das kann aber JEDER GAST beim Maître machen - dafür muss man kein Latitudes Platin sein...) eine Aufschnitt- und Käseplatte (Cold Cut) für mich vorbereitet. Wer also nach Hause fährt und behauptet, dass es nichts Vernünftiges bei NCL zum Frühstück gab, sollte entweder den Mund aufmachen und fragen oder ins SB-Restaurant gehen. Sie können nicht immer sofort reagieren, aber auf Nachfrage ist fast alles möglich und wenn es irgendwie möglich ist, dann machen sie auch alles, um dich glücklich zu machen.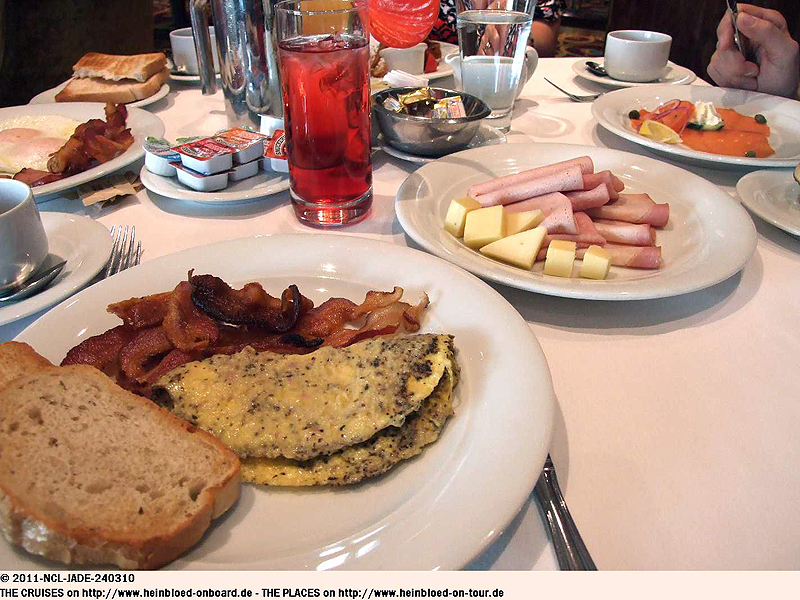 I thought that the dark dots came from the mushrooms which might be diced very small. Now I understodd that herbs stood for the dried herbs. Additional I got on request (a request EVERY GUEST can make with the maître without being Latitudes Platinum...) a cold cut and cheese plate. Who goes home and says that he could not get something adaquate for breakfast with NCL should open his mouth and ask or go to the self-service buffet restaurant. They cannot always react from minute to the other but they try to do their best to make you happy and maybe it's possible for the next day as they need a little extra time for your request.

Boiled ham, smoked ham and all together with my rye-bread with caraway... it was just yummy...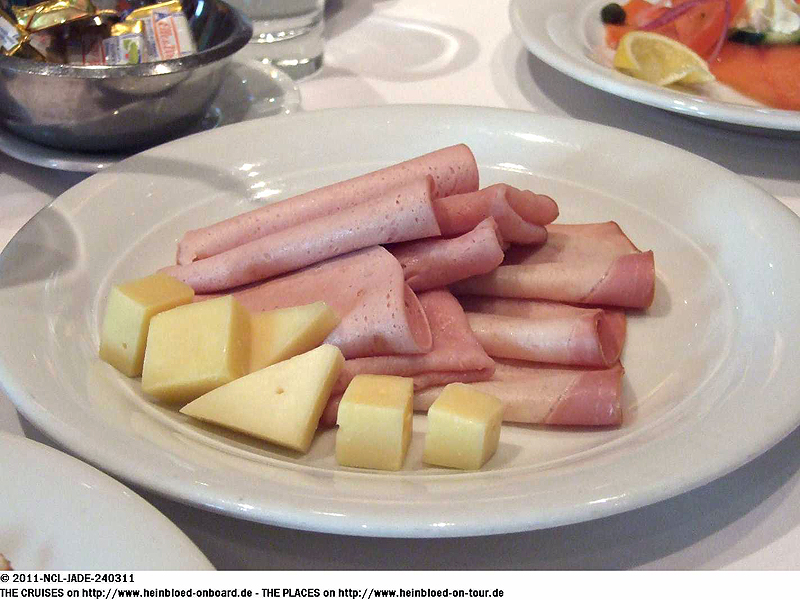 Gekochter Schinken, roher Schinken und das alles zum meinem Roggenbrot mit Kümmel... einfach nur lecker...
Ernesto wiederzutreffen ist uns immer wieder eine große Freude. Leider haben wir von einem Maître später gehört, dass leider sein Ruhestand bevorsteht. Das ist zwar für uns Schade, aber ich denke mal, dass er ihn verdient hat und gönne es ihm.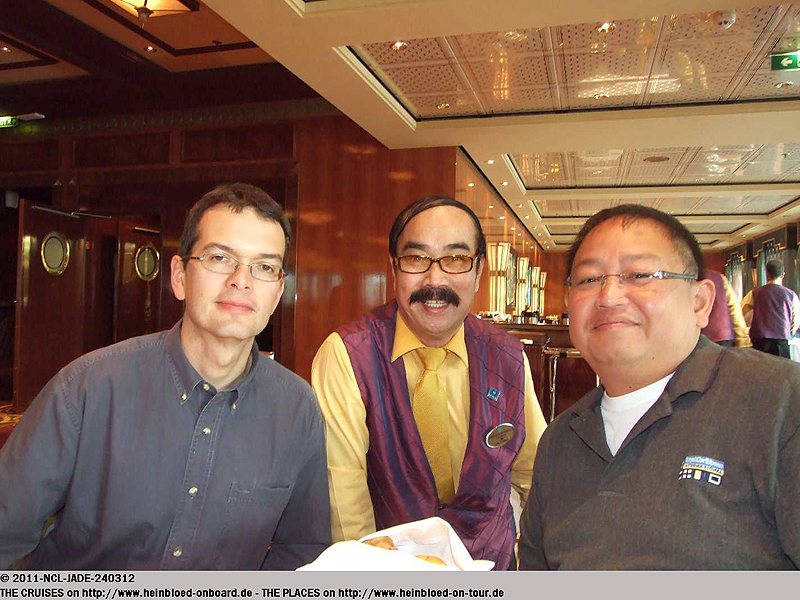 To meet again Ernesto meant always a great pleasure. Unfortunately we heared from a maître later on the cruise that he was just before retirement. This would be very sad for us but I think he deserves his retirement and we should be happy with him.