Scroll down for English explanations - alternates with German explanations.

Bis 09.30 Uhr dürfen wir die Concierge Lounge (= Star Bar auf Deck 13) nutzen, wenn wir zum Tendern wollen. Carlos begrüßt uns.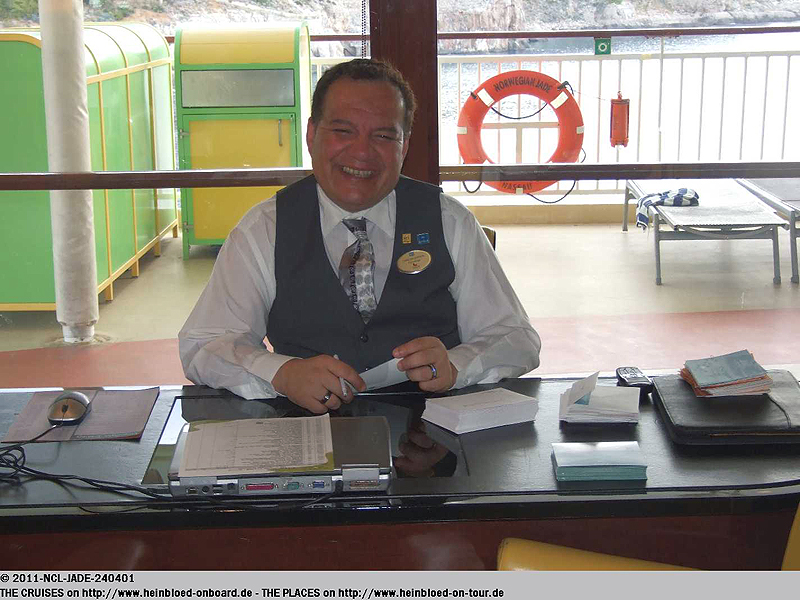 Until 09.30 hrs we may see the Concierge Lounge (= Star Bar on Deck 13) if we like to get on a tender. Carlos welcomed us.

It was quite surprising that we were taken out by the crew-lifts to Deck 4. Ryan took us on NORWEGIAN GEM by guests lift and set by his key on nonstop-ride.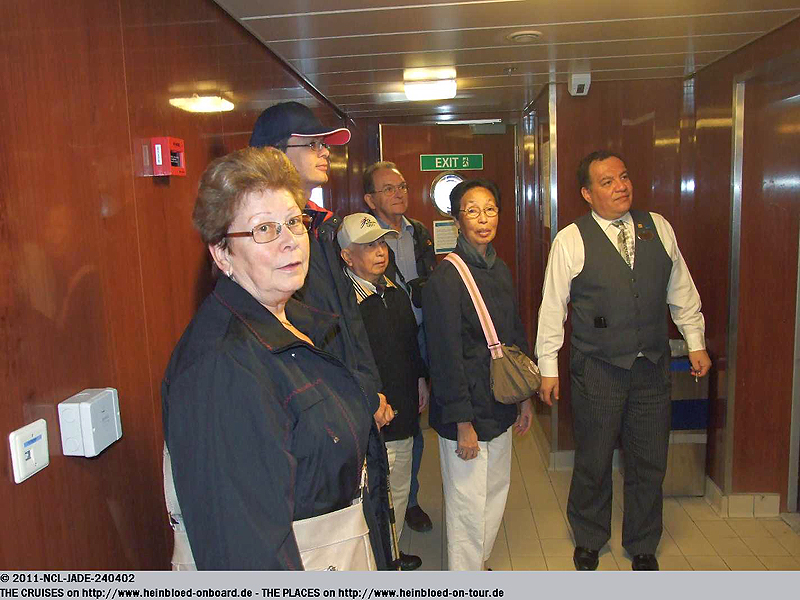 Überrascht waren wir jedoch, dass wir dann über die Crew-Lifte auf Deck 4 heruntergeführt wurden. Ryan hatte uns damals auf der NORWEGIAN GEM doch über den Gäste-Lift heruntergeführt und mit seinem Schlüssel auf Durchfahrt gestellt.
Auch heute geht der letzte Tender um 16.00 Uhr.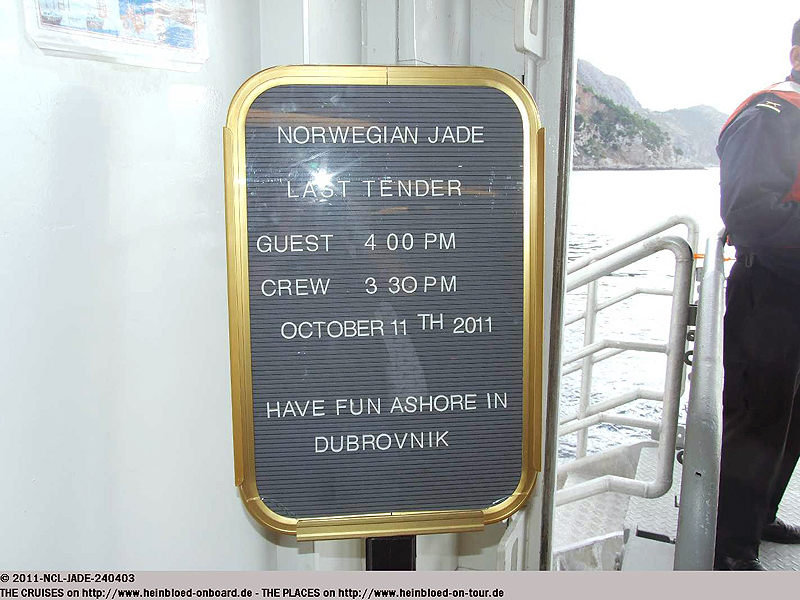 Again today the last tender leaves at 16.00 hrs.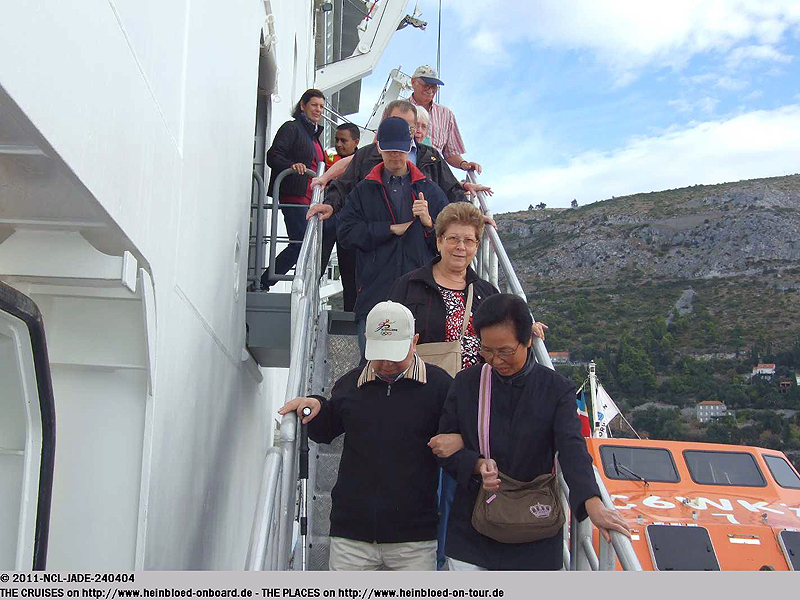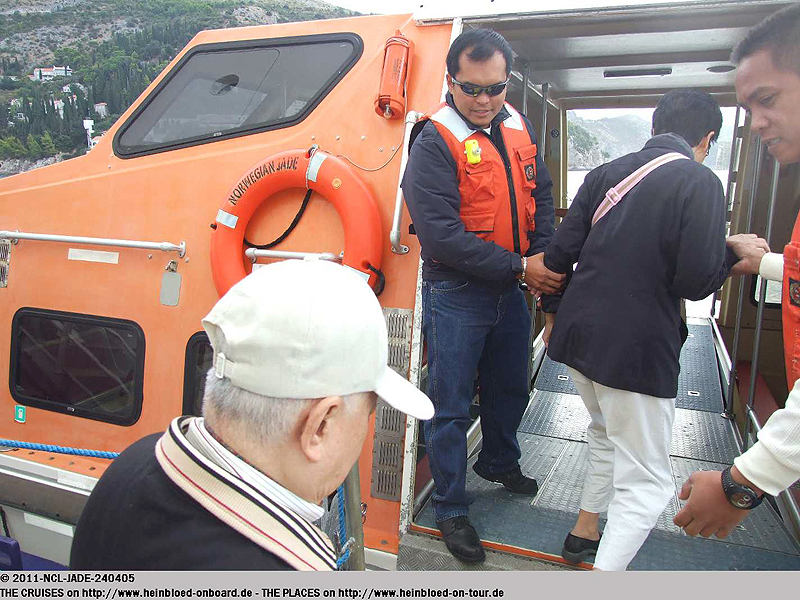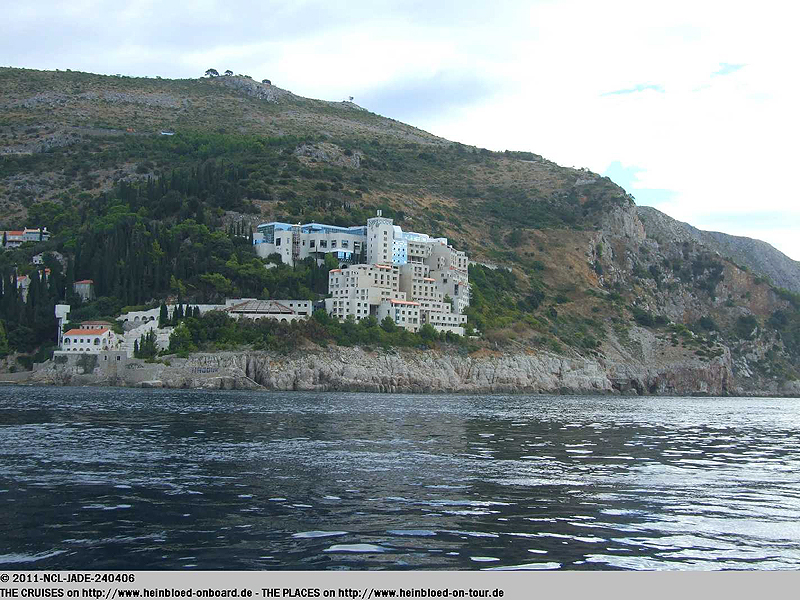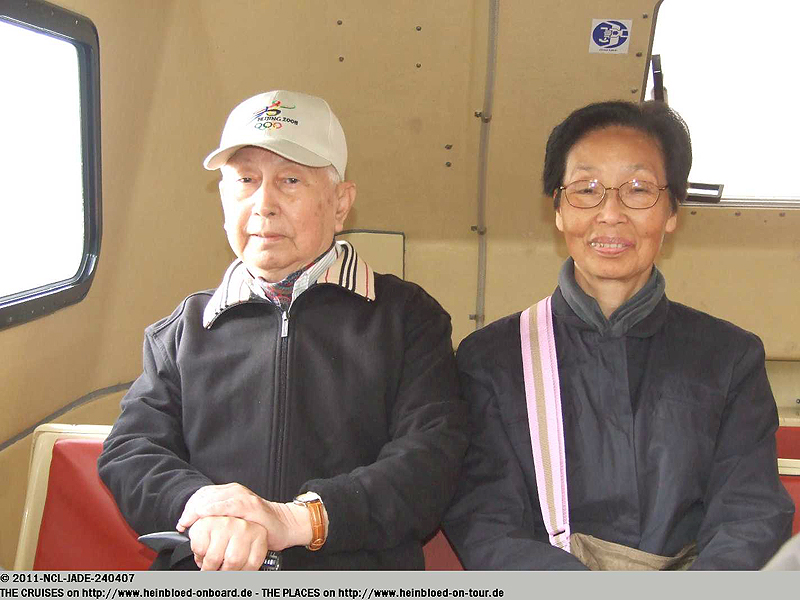 They told us already in January on NORWEGIAN JADE that it is much better as we do not berth in the new port but had to tender to be right in the old town.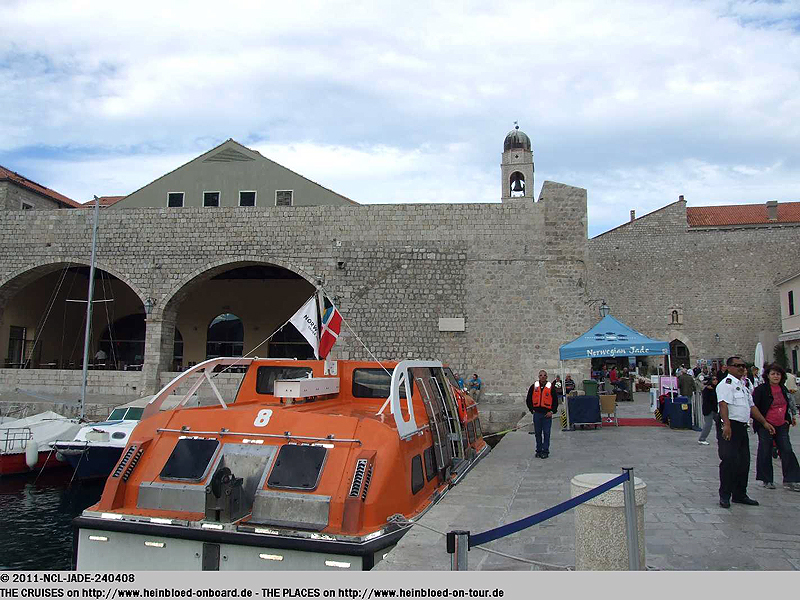 Im Januar hatte man uns bereits gesagt, dass es viel besser mit der NORWEGIAN JADE sei, weil sie nicht im neuen Hafen anlegt, sondern tendert und man direkt in der Altstadt sei.
Irgendwie sind die Fotografen so richtig aggressiv. Ich hätte schon Lust den einen ins Wasser mal zu schubsen. Er sollte ein Bild von uns sechs machen mit der NORWEGIAN JADE im Hintergrund. Das Bild ist so grottenschlecht, dass Bruno es sofort vernichten lässt. Abgesehen davon, dass er überhaupt auf keine Details der Mimik geachtet hat, kann man eh nichts von der NORWEGIAN JADE im Hintergrund sehen.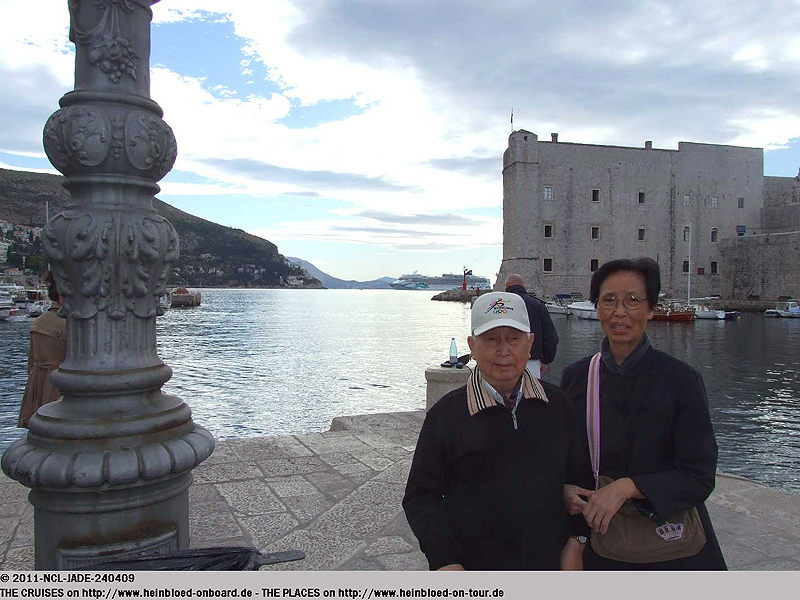 This morning the photographers were quite aggressive. I really was thinking about to push one of them into the water. He should made a picture of us with NORWEGIAN JADE in the background. But the picture was so bad Bruno asked for immediate destruction.

As we was the only ship anchoring it was quite quiet there.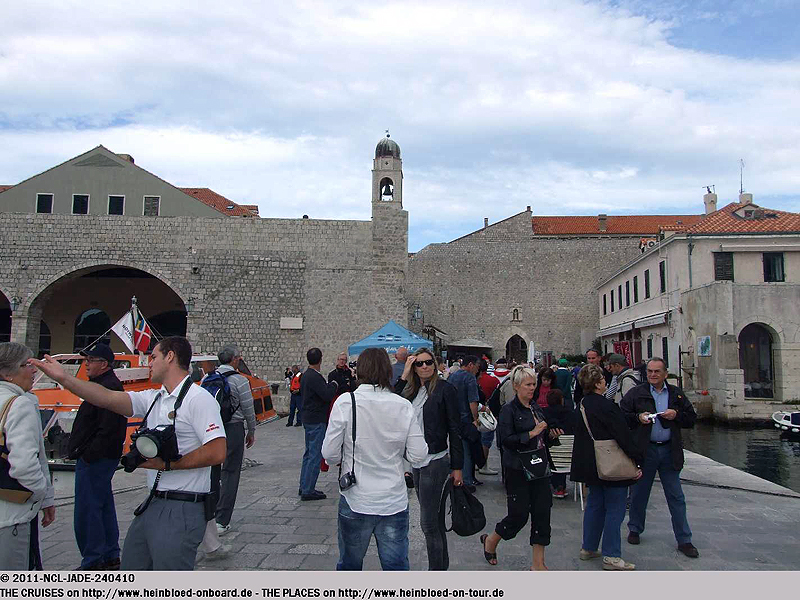 Da wir heute als einziger vor Anker liegen, ist es hier derzeit recht ruhig.
Einige Touranbieter haben ihre Stände aufgebaut.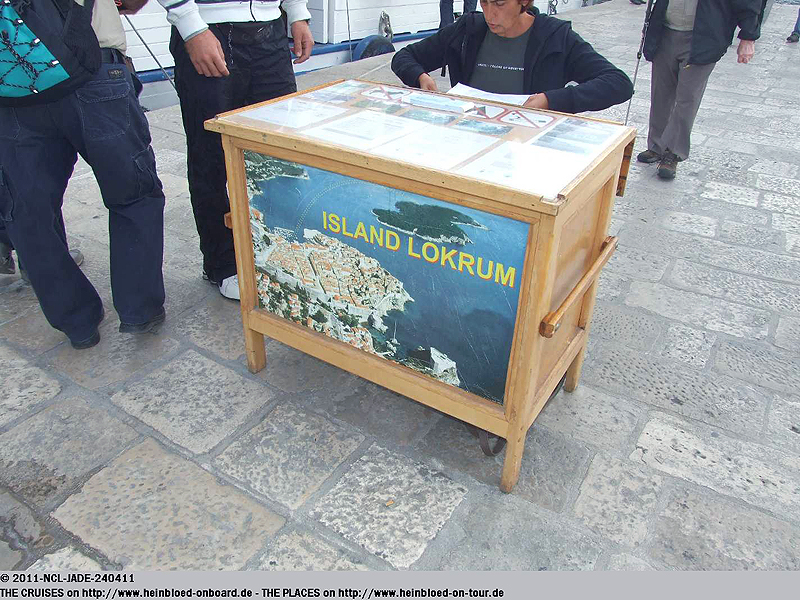 Few tour operators offered their tours at the stands.

After our experiences in Venice and Split I did not expected that someone would be here. The requests went quite chaotic. There were absolutely no response from Radio Taxi in Dubrovnik. We could not even call them as they had a toll-free-number which works only within Croatia. I was so desperate that I asked my Bosnian-Croatian taxi driver in our home village for assistance as I assist him occasionally to buy something from Apple in the US. He found Taxiservice Dubrovnik who confirmed that they can offer the tour in a van for 6 persons. But they would not have a German speaking driver. So Dario was waiting right on time for us. Due to strict regulations for vehicles in the old town we had to walk about 8-12 minutes to get on the first road with motor traffic. A friend of him drove all the time loops until we made it.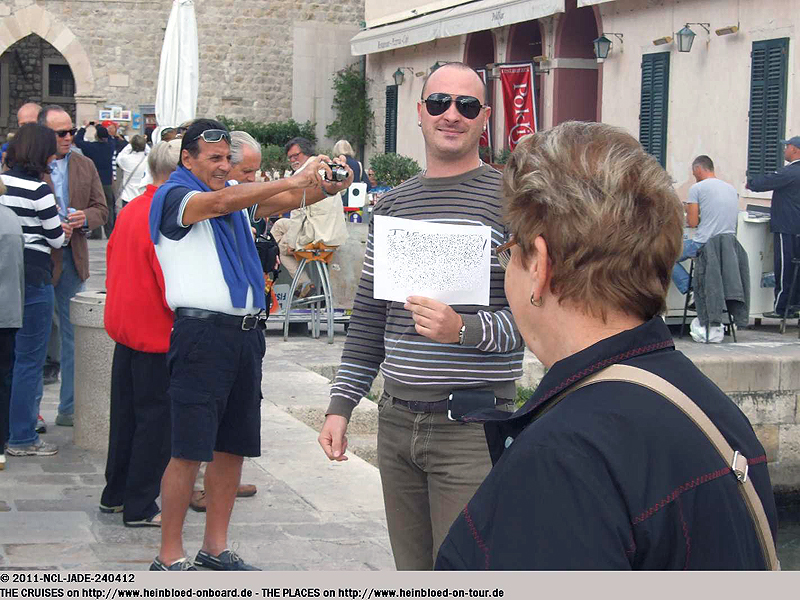 Nach den Erfahrungen in Venedig und Split habe ich eigentlich nicht damit gerechnet, dass jemand hier war. Die Anfragen liefen nämlich ganz schön chaotisch. Es gab einfach keine Antwort von der
Taxizentrale in Dubrovnik
. Anrufe waren ebenfalls nicht möglich, weil es nur eine Servicennumer gab, die nur innerhalb Kroatiens zu erreichen war. In meiner Verweiflung bat ich meinen bosnisch-kroatischen Taxifahrer aus meinem Dorf um Hilfe, dem ich gelegentlich schon mal Apple Produkte aus den USA mitbringe. Er hat dann diesen
Taxiservice Dubrovnik
gefunden, der dann auch unsere Anfrage im Kleinbus für 6 Personen bestätigt hat. Nur einen deutschsprachigen Fahrer hätte er nicht. So wartet Dario pünktlich auf uns. Aufgrund der strengen Auflagen für Fahrzeuge in der Altstadt müssen wir ca. 8-12 Minuten bis zur 1. Straße mit Straßenverkehr laufen. Ein Freund fährt wohl den Wagen im Kreis bis dass wir ankommen.
Wir hätten aber auch spontan Bootstouren und anderes buchen können.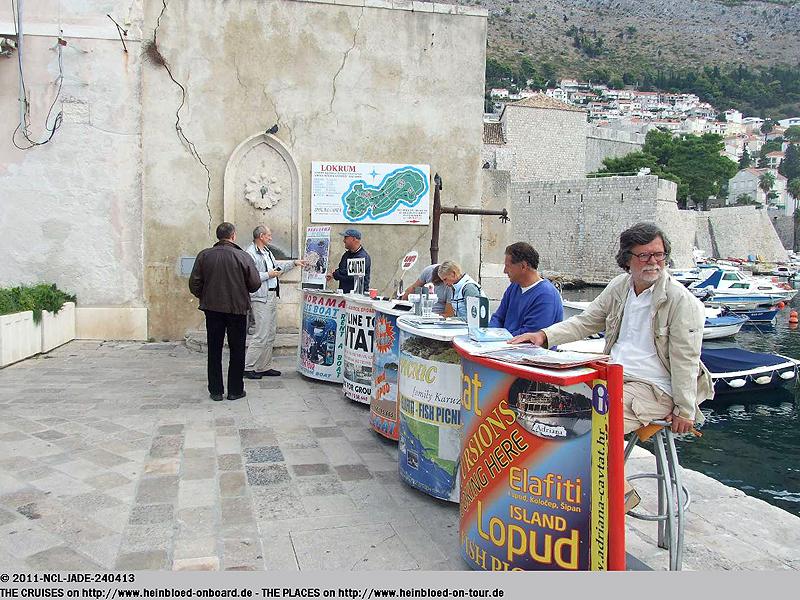 But we could book boat and other tours spontaneously.

I would like to take a water taxi to the new port but they wanted to have 150 EUR for the service.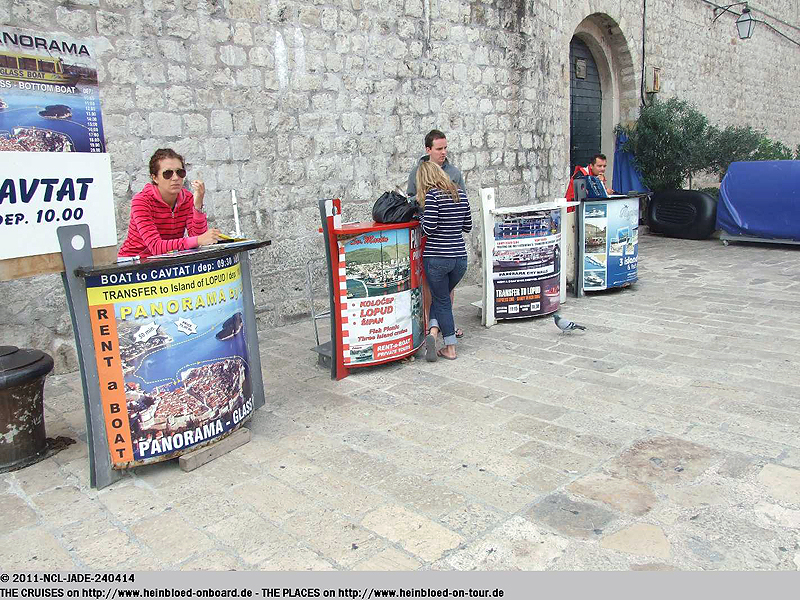 Ich hätte mir gerne ein Wassertaxi zum neuen Hafen genommen, aber dafür wollten die glatt 150 EUR haben.
Alles in Englisch...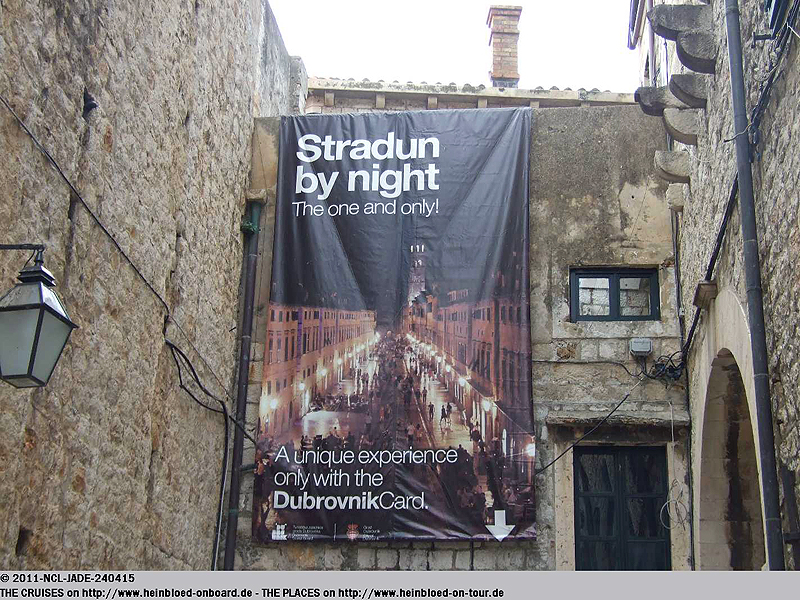 All in English...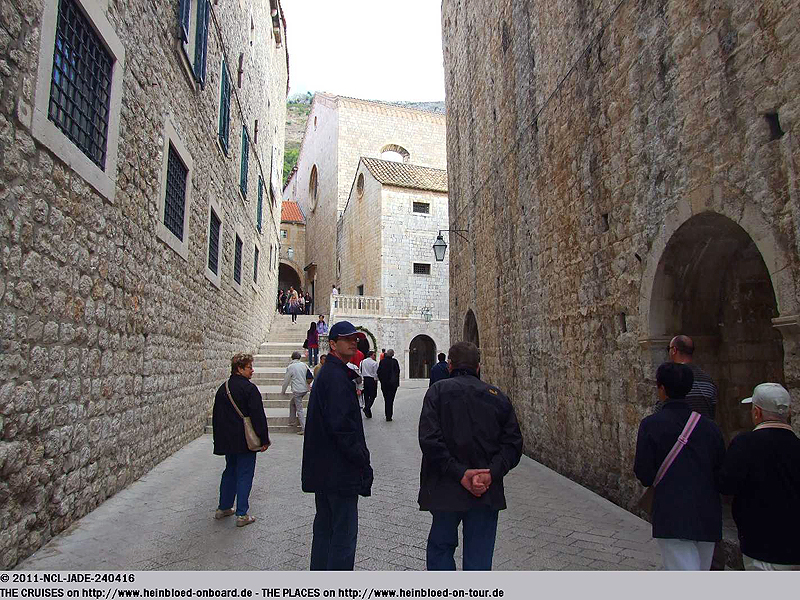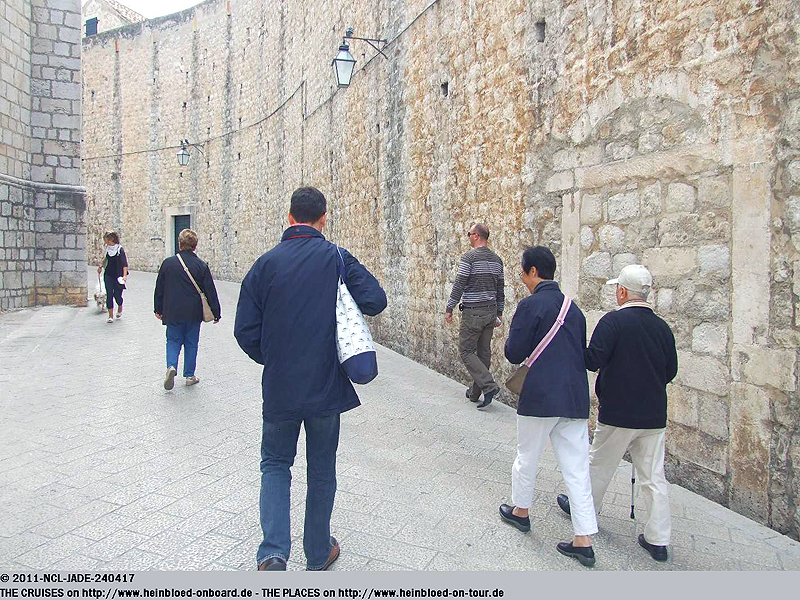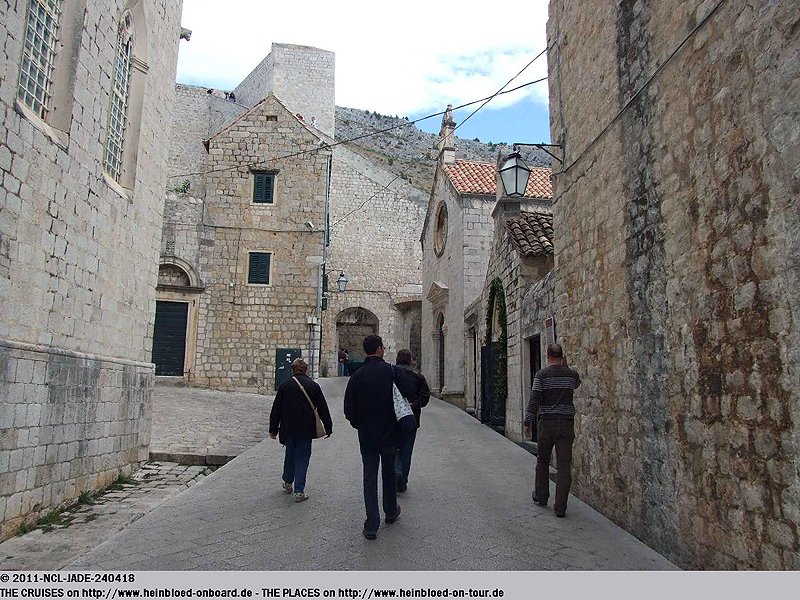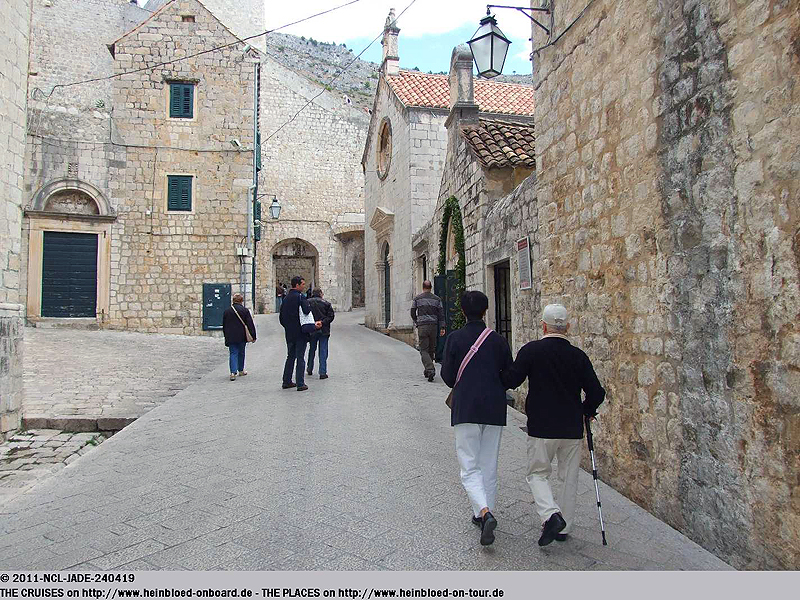 We arrived at the access point to the city wall.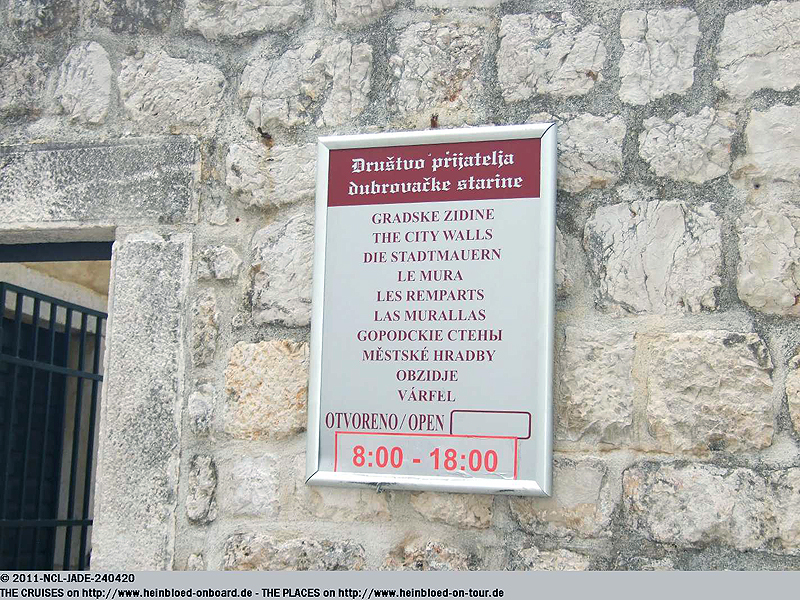 Wir kommen an einem der Zugänge zur Stadtmauer.
Der Preis ist etwas günstiger als mein Grillteller von gestern. Allerdings werden keine Fremdwährungen angenommen, sondern bloß HRK und Kreditkarten. Öffentlicher Dienst...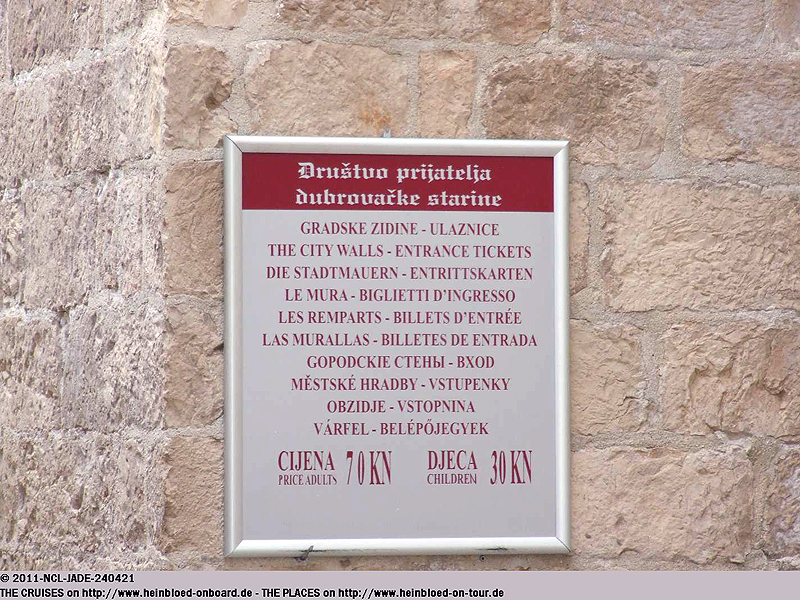 The admission fee is a little less than my yesterday's mixed-grill plate. But they do not accept foreign currencies but only HRK and credit card. Public services...

We should consider the use of a Dubrovnik Card. But anyhow: this was not our last time in Dubrovnik.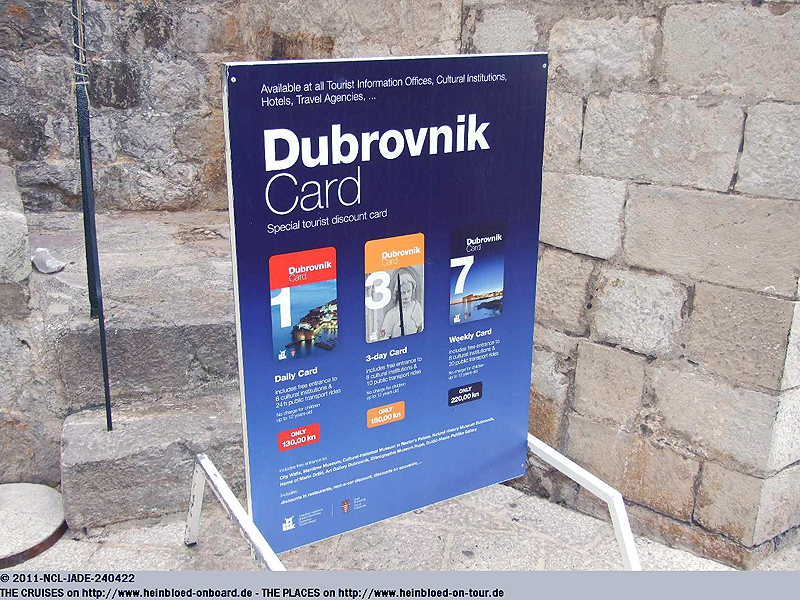 Die Dubrovnik Card wäre vielleicht auch eine Überlegung Wert gewesen. Vorab: es war sicher nicht der letzte Aufenthalt in Dubrovnik.
Und mit Hilfe von Dario entsteht dann doch noch eines der vielen Familienbilder mit der NORWEGIAN JADE im Hintergrund.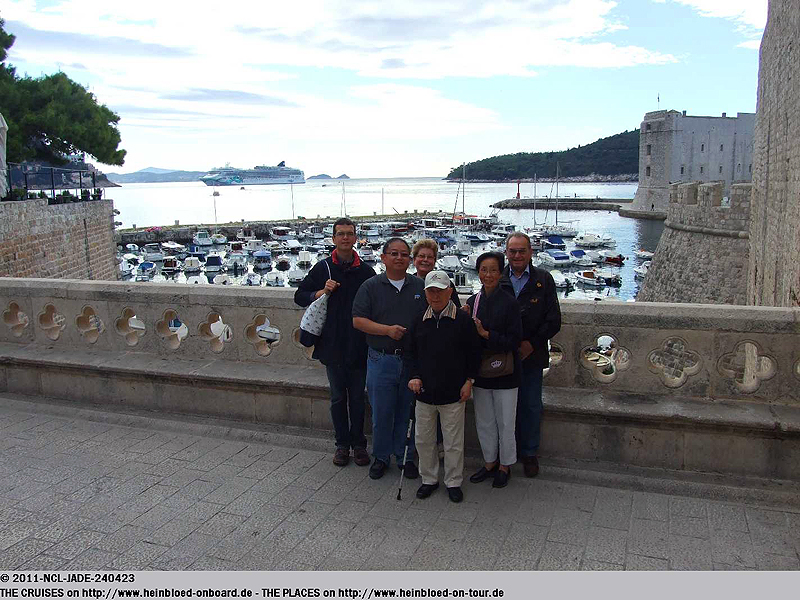 And with the help of Dario we got not just one family picture with the NORWEGIAN JADE as background.

In the old town everything was walking or using small electric vehicles.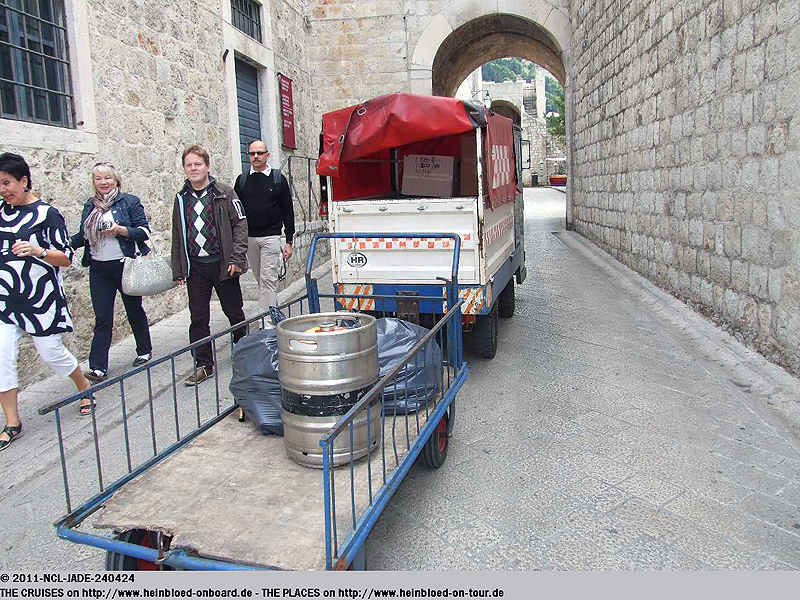 In der Altstadt selbst läuft alles zu Fuß oder es fahren kleine Elektrofahrzeuge.
Endlich eine normale Straße mit Autoverkehr.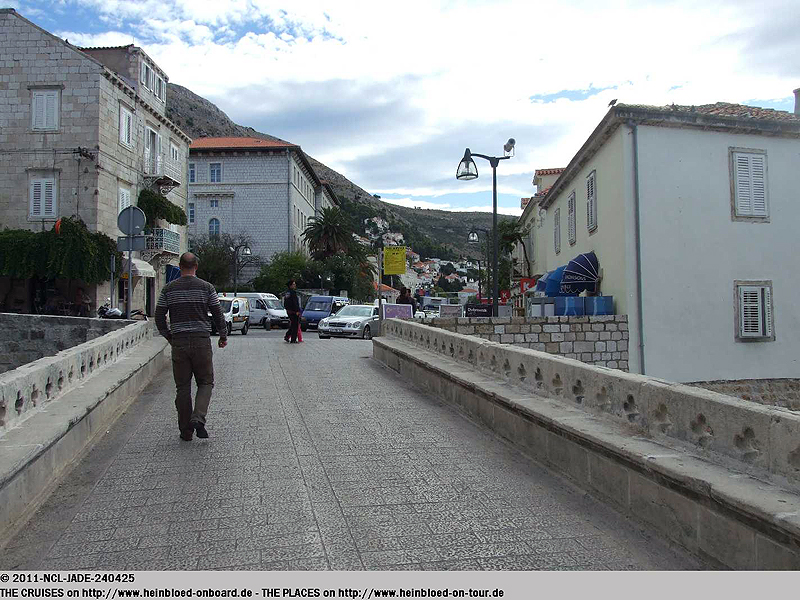 Finally a normal road with motor traffic.

And everywhere you can book a tour.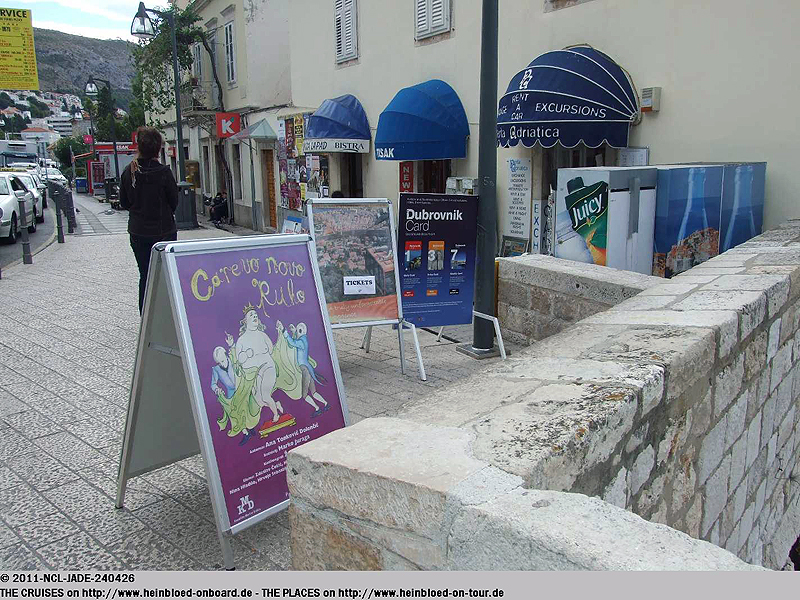 Und überall: Touren kann man an jeder Ecke buchen.
Die Taxipreise sind hier sehr reglementiert. Unsere Panorama Tour würde 350,00 HRK kosten. Alternativ nehmen sie 50,00 EUR (Touristenpreise für denjenigen, der nicht wechseln will... sie müssen es ja tun...). Bis zum neuen Hafen wären es 11,00 EUR. Aber dort liegen wir ja nicht.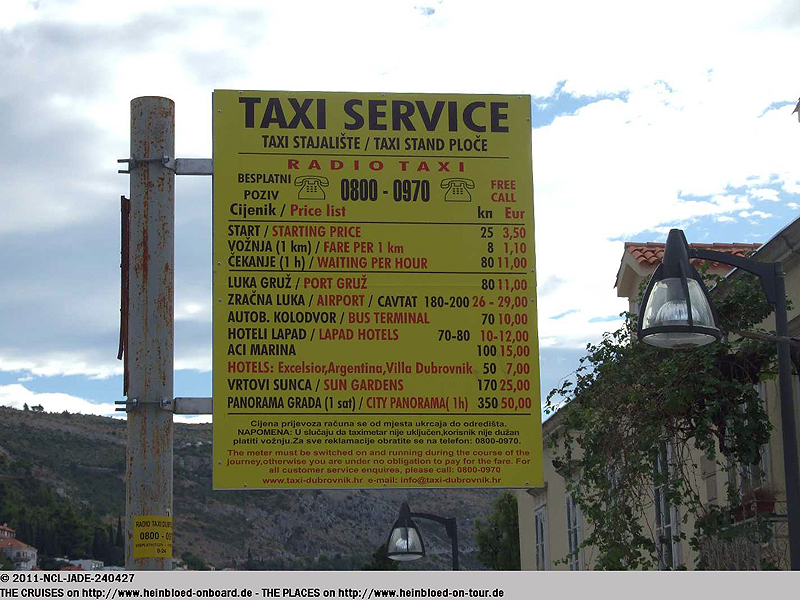 Taxi prices are regulated. Our panorama tour would be 350.00 HRK. Alternatively they would take 50.00 EUR (prices for tourists who do not want to change... but they need to do...). To the new port it would be around 11.00 EUR. But we are not there.

You can drive yourself by renting a car or a scooter.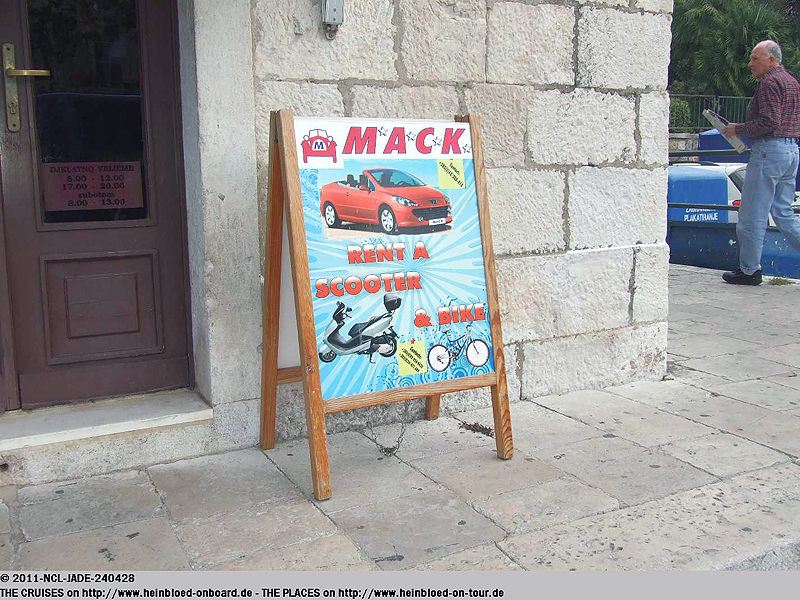 Man kann auch selbst fahren und Auto oder Scooter mieten.
Und die Fahrt geht dann auch schon los, weil Dario und sein Freund sich so gut abgesprochen haben, dass das Auto in dem Augenblick vorgefahren wird, als wir die Straße erreichen.

And finally our tour started because the coordination between Dario and his friend went perfectly so the car just arrived at that moment when we reached the road.

Anyway Dario did a great job. Anyhow I had some concerns who was driving the car actually.

Auf jeden Fall macht es Dario ganz toll. Auch wenn man gelegentlich Bedenken bekommt, wer eigentlich noch das Auto fährt.
Unser erster Weg führt uns direkt zum neuen Hafen... Kann der Mann Gedanken lesen. Meine Familie kann mir nicht den Vorwurf machen, dass ich das gesteuert hätte.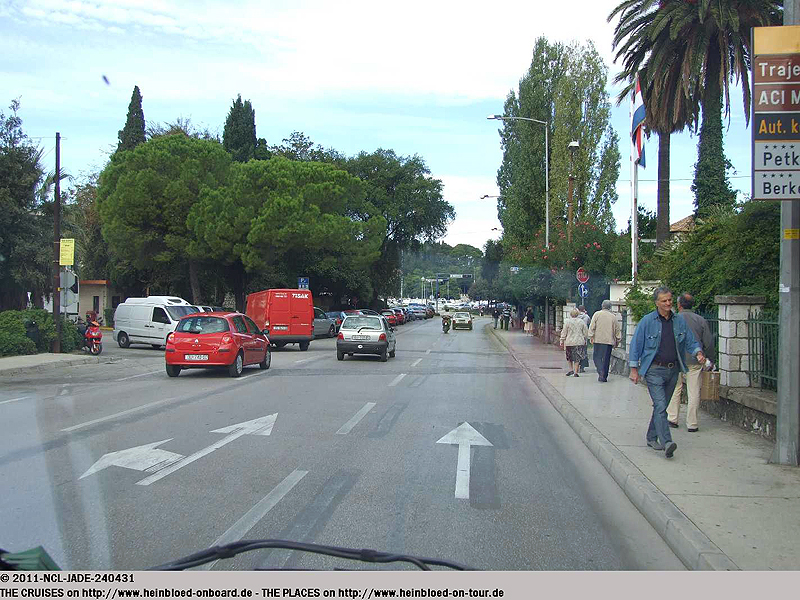 Our first way took us to the new port... This man could read mind. My family could not say that it was my request.

Oh what did my tired and inflamed eyes see: STAR PRINCESS... No photo-stops???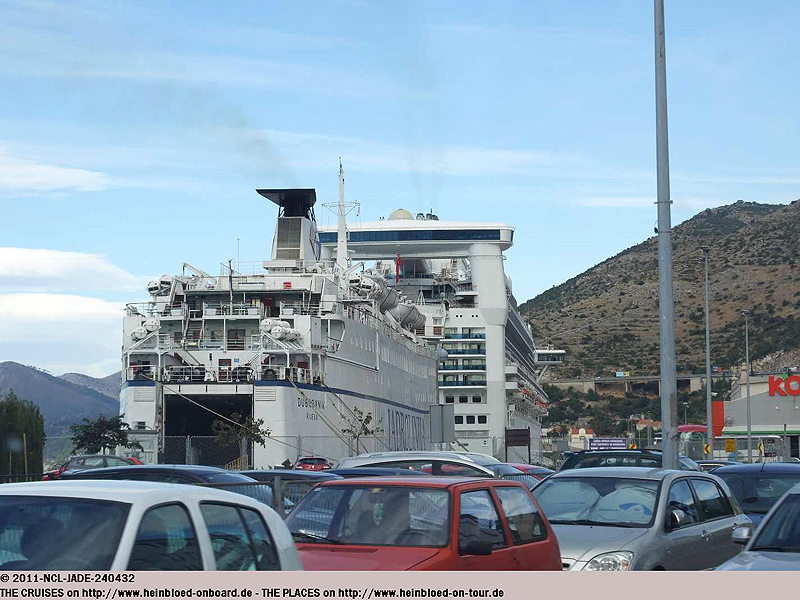 Oh was sehen da meine entzündeten und übermüdeten Augen... die STAR PRINCESS... Macht der Mann gar keine Fotostops???
Und doch - direkt neben der Tudman-Brücke gibt es einen Aussichtspunkt.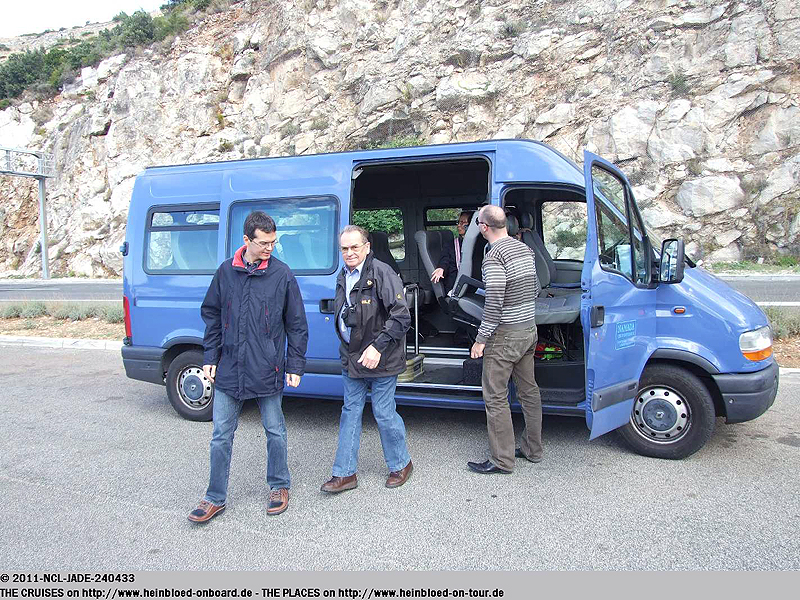 But then - just next to the Tudman-Bridge there was a outlook point.

But for the cruisers on STAR PRINCESS it was the wrong side of the town. You can see a little of the old town in the back but the nice view you have only if you access the old town by tender boats.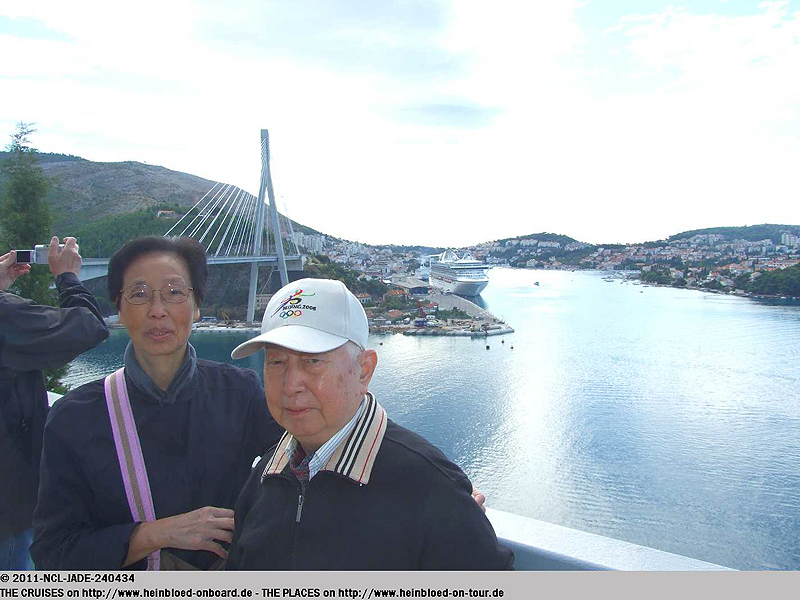 Nur es ist für die Kreuzfahrer der STAR PRINCESS die falsche Seite von Dubrovnik. Die Altstadt kann man nur etwas am Rande erkennen, aber den schönen Ausblick haben wir von der Seite, von der man tendert.
Mitlerweile müssen aber Brunos Eltern schon zig Aufnahmen von der STAR PRINCESS haben, aber auch irgendwie fasziniert einfach dieses Schiff schon alleine, weil es den Einkaufswagengriff hat.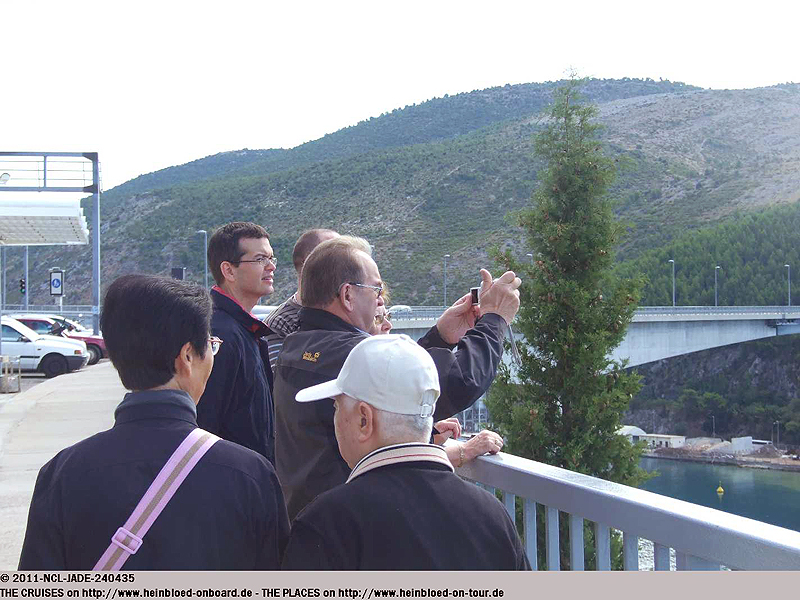 Meanwhile Bruno's parents must have also few pictures of STAR PRINCESS but somehow she is fascinating just because of her shopping cart handle.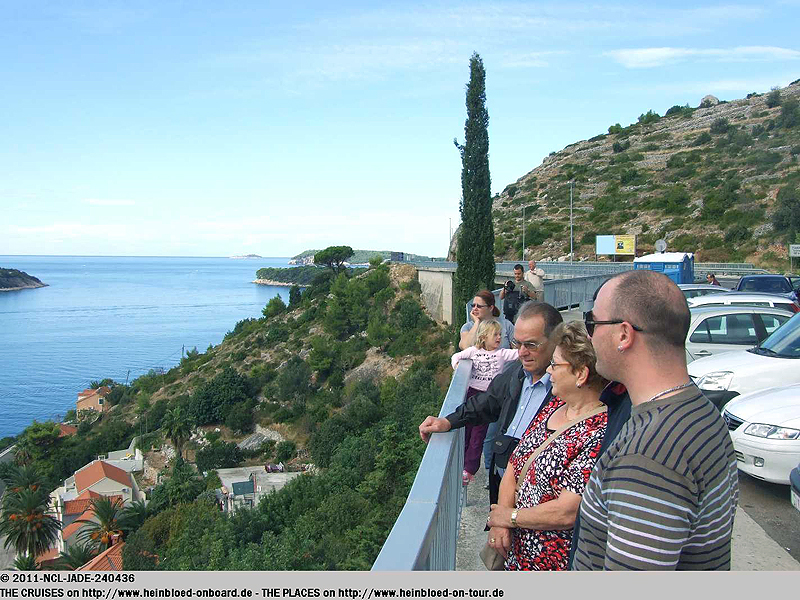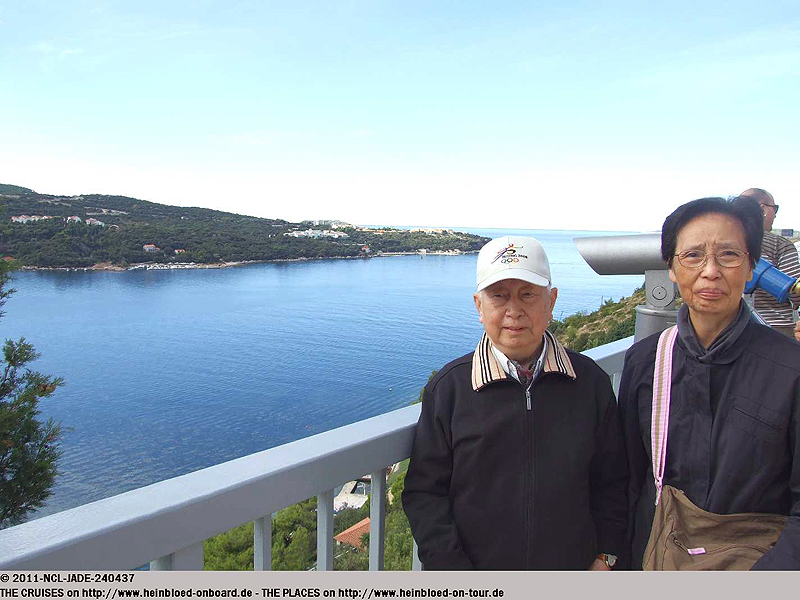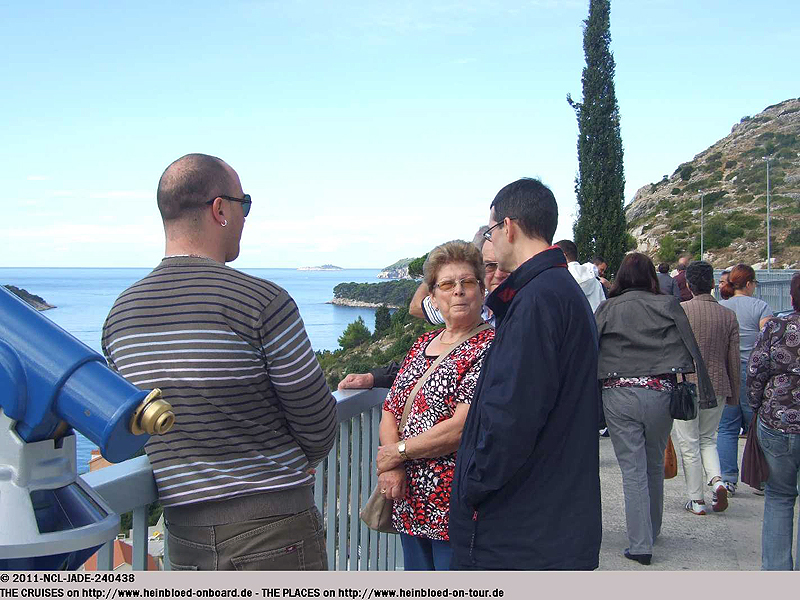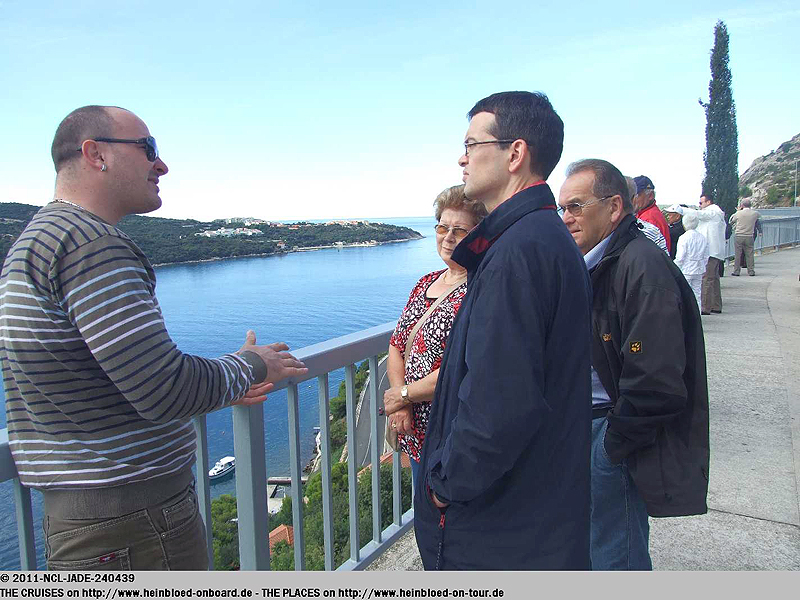 Crystal blue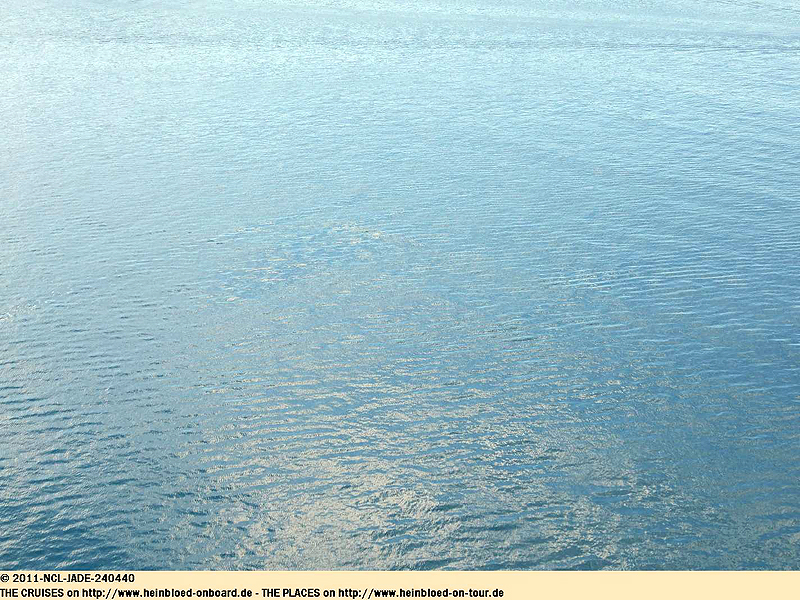 Kristallblau.
Schön ist es hier.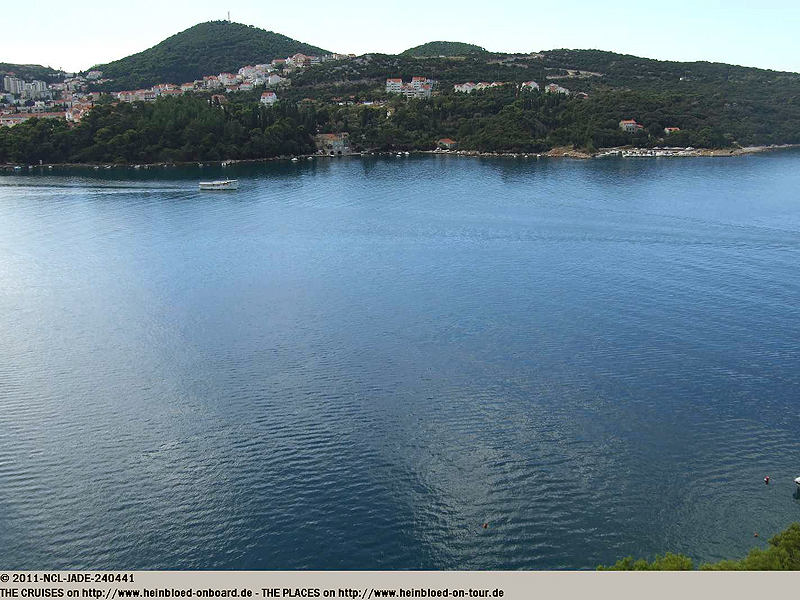 It was really nice here.

I wanted to be prepared... Let's see when we make it on STAR PRINCESS.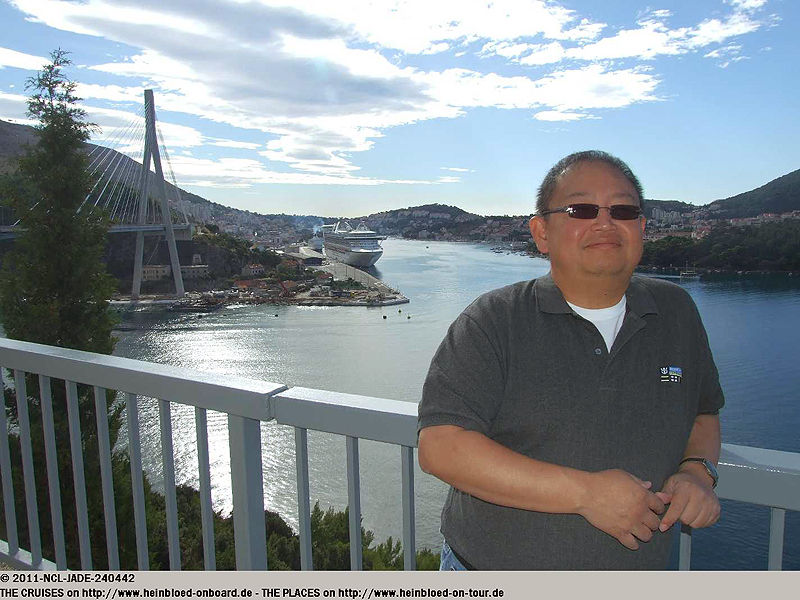 Auch ich baue mal vor... Mal sehen, wann es uns auf die STAR PRINCESS zieht.
Und das Bild mache ich mal sicherheitshalber für den Nachmittag. Die OCEAN MAJESTY war zwar gelistet, ist aber gar nicht da. Aber am Nachmittag kommt noch ein Schiff und da muss ich den Ort wiederfinden... und dann muss ich ggfls. perfekt Kroatisch können, falls der Fahrer kein Englisch kann. Und wie spricht man 518 m auf Kroatisch aus???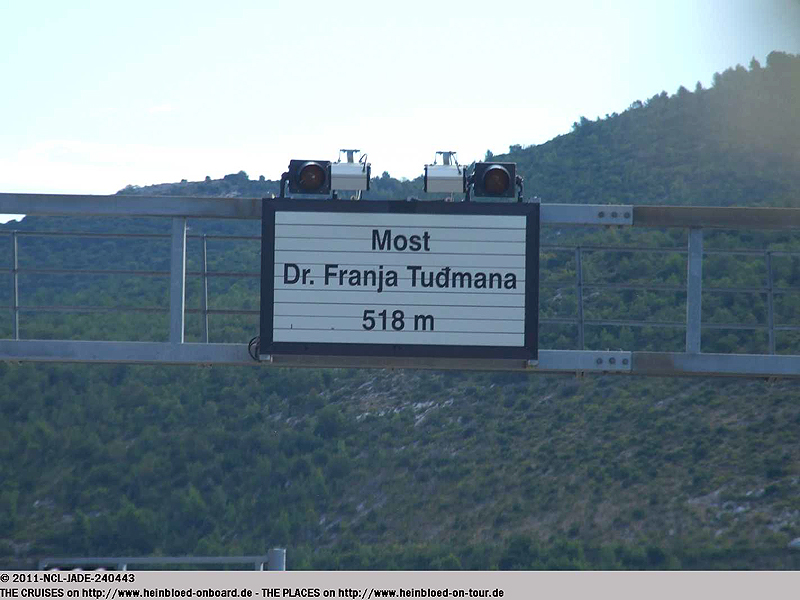 This picture I took for the afternoon for safety reasons. OCEAN MAJESTY was listed but not there. But another ship should arrive this afternoon and I need to find this place again... and maybe I need to know it in Croatian just in case the driver cannot speak any English. But how do you say 518 m in Croatian???