Scroll down for English explanations - alternates with German explanations.

Dieser Abschnitt ist nur etwas für Shipspotter. Ein kurzer Blick aus dem Fenster: ein Kreuzfahrtschiff.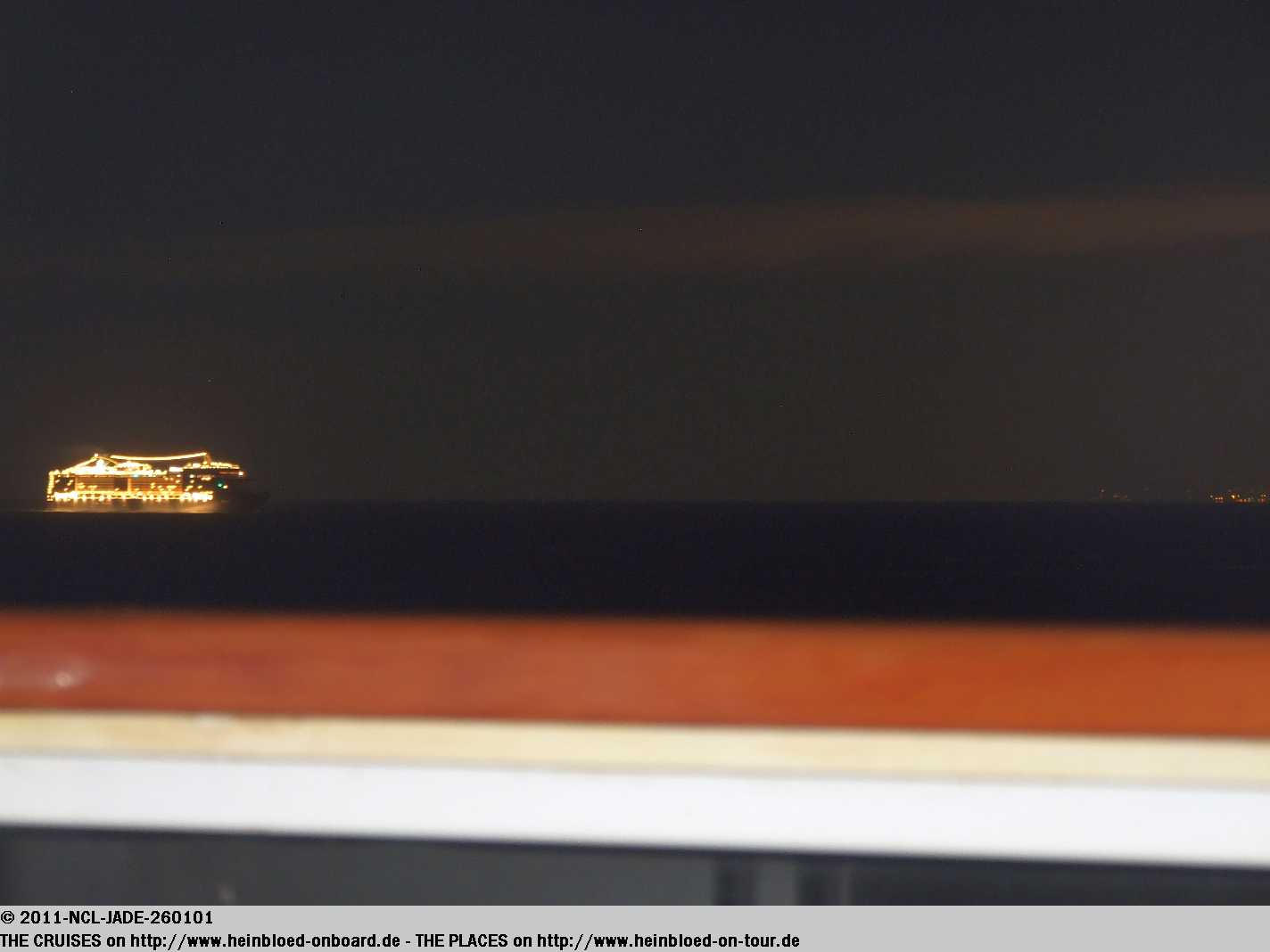 Something only for shipspotter. A view out of the window: a cruise ship.

To my big surprise: MSC FANTASIA.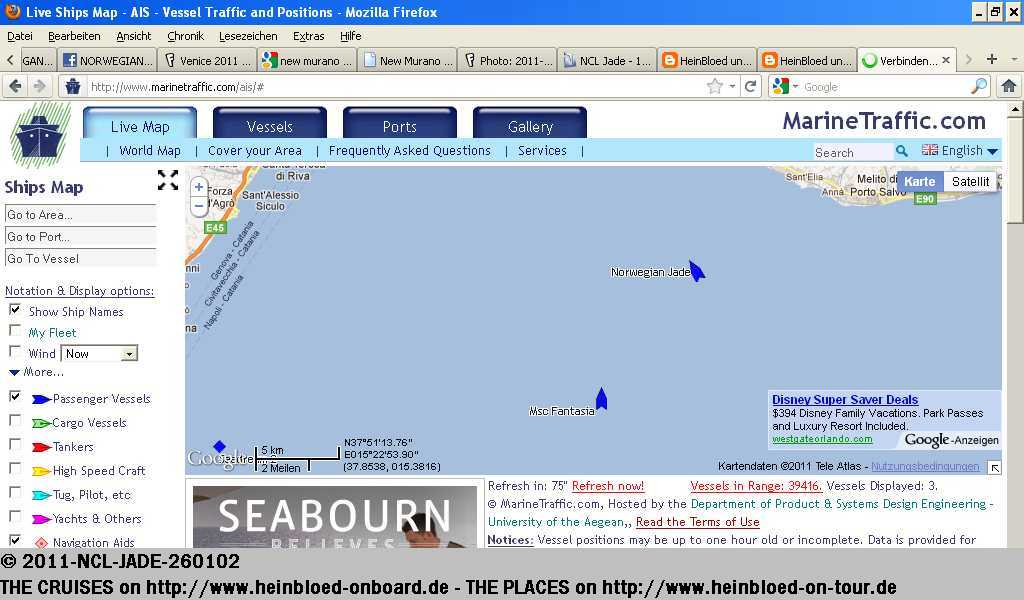 Zu meiner Überraschung stelle ich fest: MSC FANTASIA.
Sofort geht es auf Deck 12 zum Fotografieren. Leider sehr ärgerlich: ich erwische ein paar Jungs, die ziemlich rücksichtslos reinigen wollen und keine Rücksicht auf einen Gast nehmen. So ziehen sie einfach am Schlauch und kippen damit beinahe mein Stativ samt Kamera um. Auch machen Sie sich einen Spaß daraus, möglichst direkt neben mir ihren Hochdruckreiniger zu platzieren. Also ich das Deck wechsele, folgen sie mir. Na gut: wir haben also auf dieser Cruise auch nur das 99:1-Verhältnis geschafft. Ich mag sie auch bei ihrer Arbeit gestört haben, aber ein "Sir, excuse me - would you please..." - wäre auch kein schlechter Ansatz gewesen. Wenn man genau hinsieht: im Hintergrund raucht der Ätna.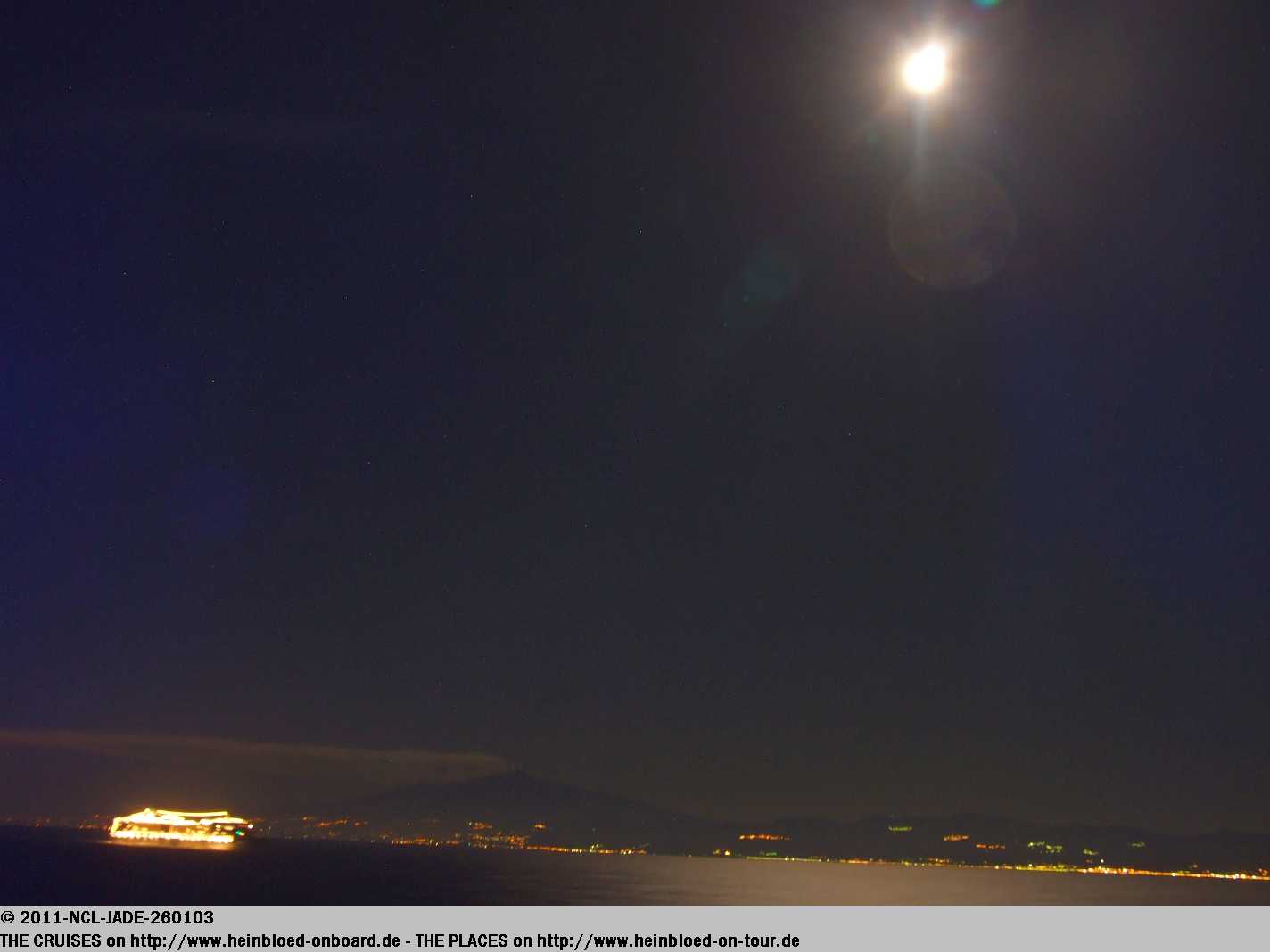 Immediately I went on Deck 12 to take pictures. Somehow angry: I ran to some guys who wanted to clean the deck without checking if there were any guests around. So they pulled their pipe and so they nearly tip my tripod incl. camera cover. Furthermore they had fun to place next to me to start their work with their highpressure devices. When I changed the deck they followed me. Anyhow. Now we had again on this cruise the 99:1 ratio. Maybe I bothered them with their work but a "Sir, excuse me - would you please..." would have been nice. If you look closer: in the background Mt. Etna was smoking.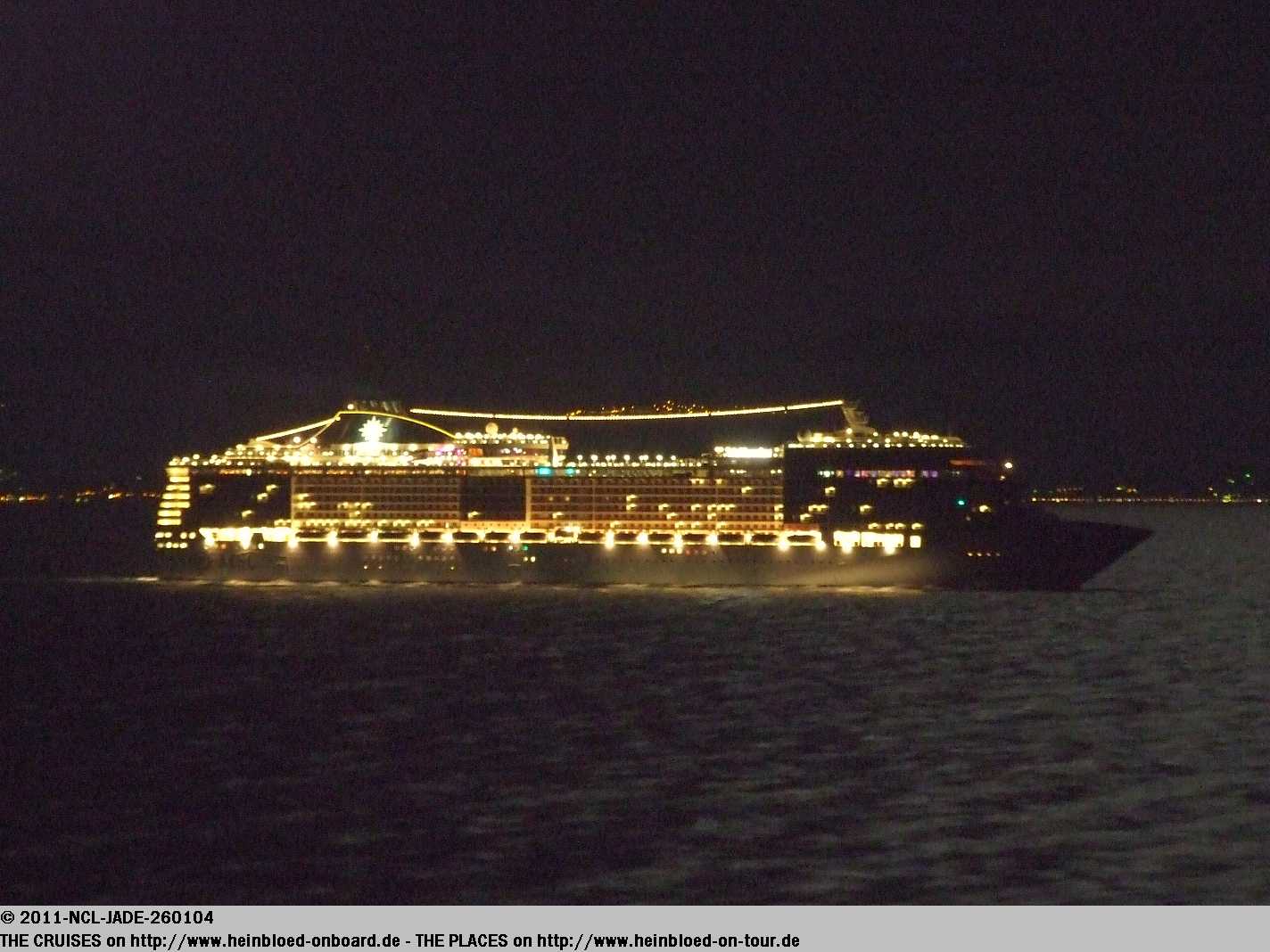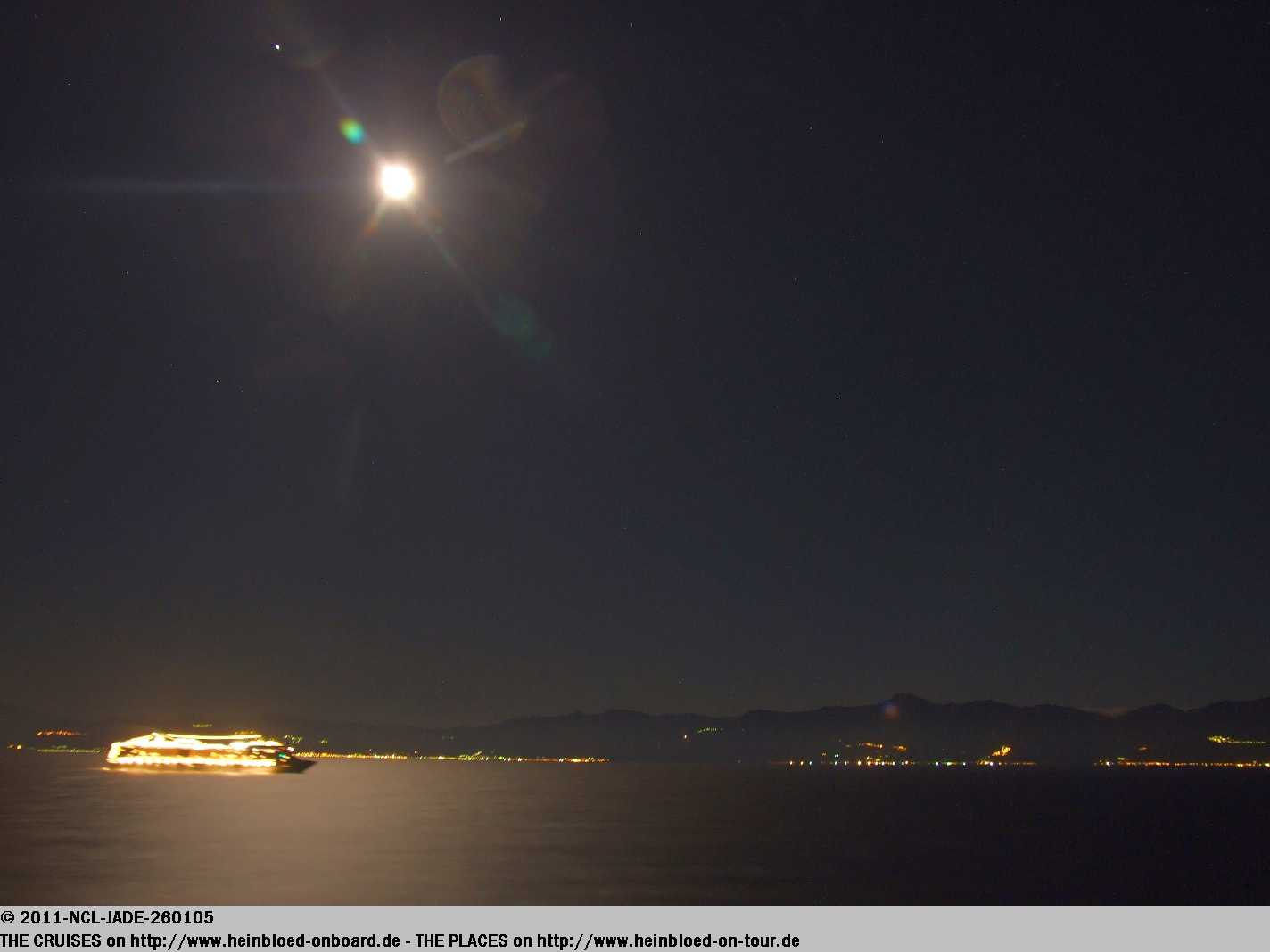 I thought that we passed MSC FANTASIA around Taormina. But as there were no public cruise ship call lists from the port of Messina and we arrived in a little strange loop I had no idea that this was already Messina.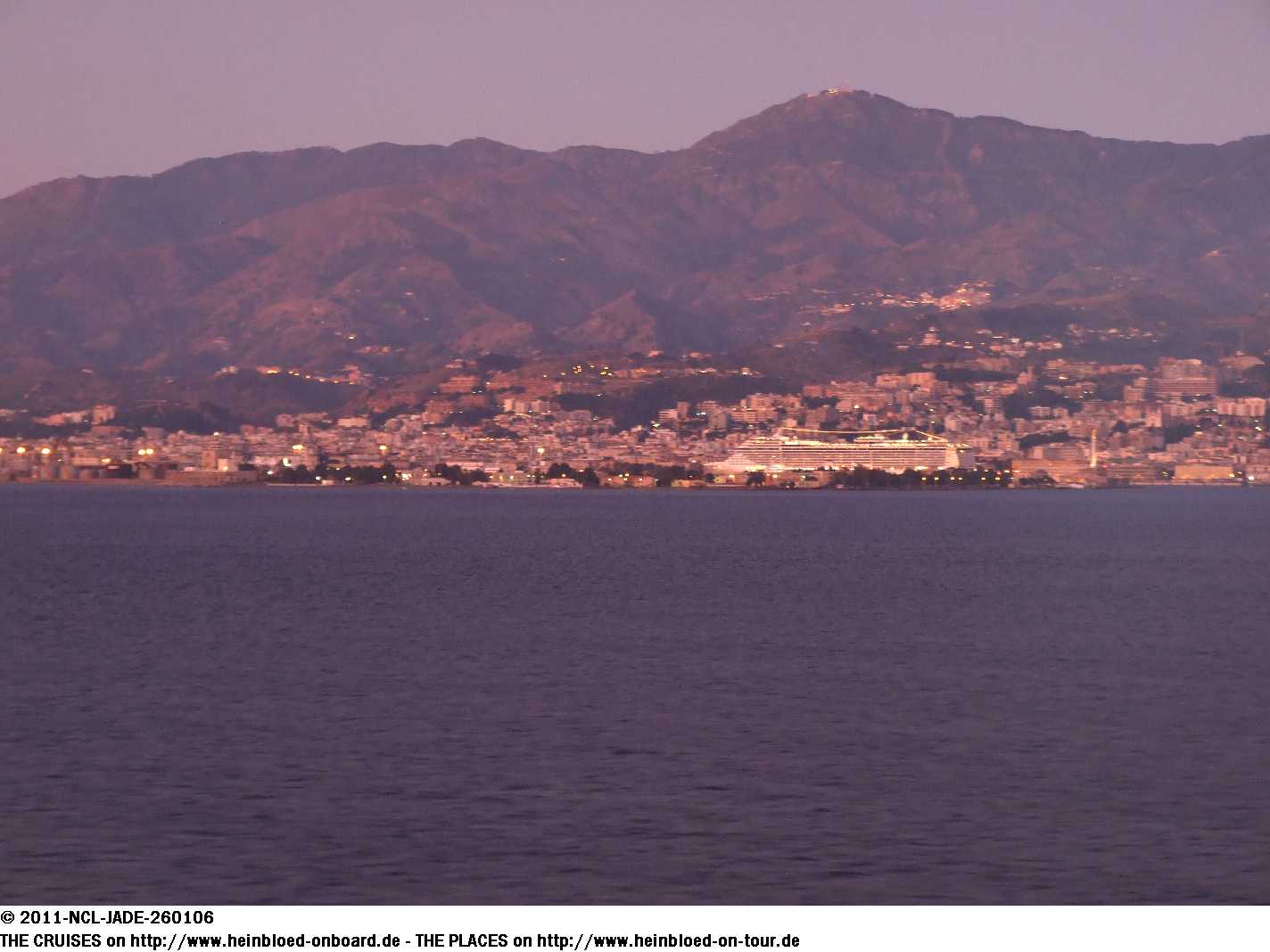 Ich gehe mal davon aus, dass wir an der MSC FANTASIA in Taormina vorbeiziehen. Aber da es keine Listen vom Hafen von Messina gab und irgendwie wir ein wenig merkwürdig zum Hafen fahren, kam es mir nicht in den Sinn, dass das schon Messina sein könnte.
Erst als wir anlegen, merke ich, dass wir in einem Bogen zum Hafen gefahren sind.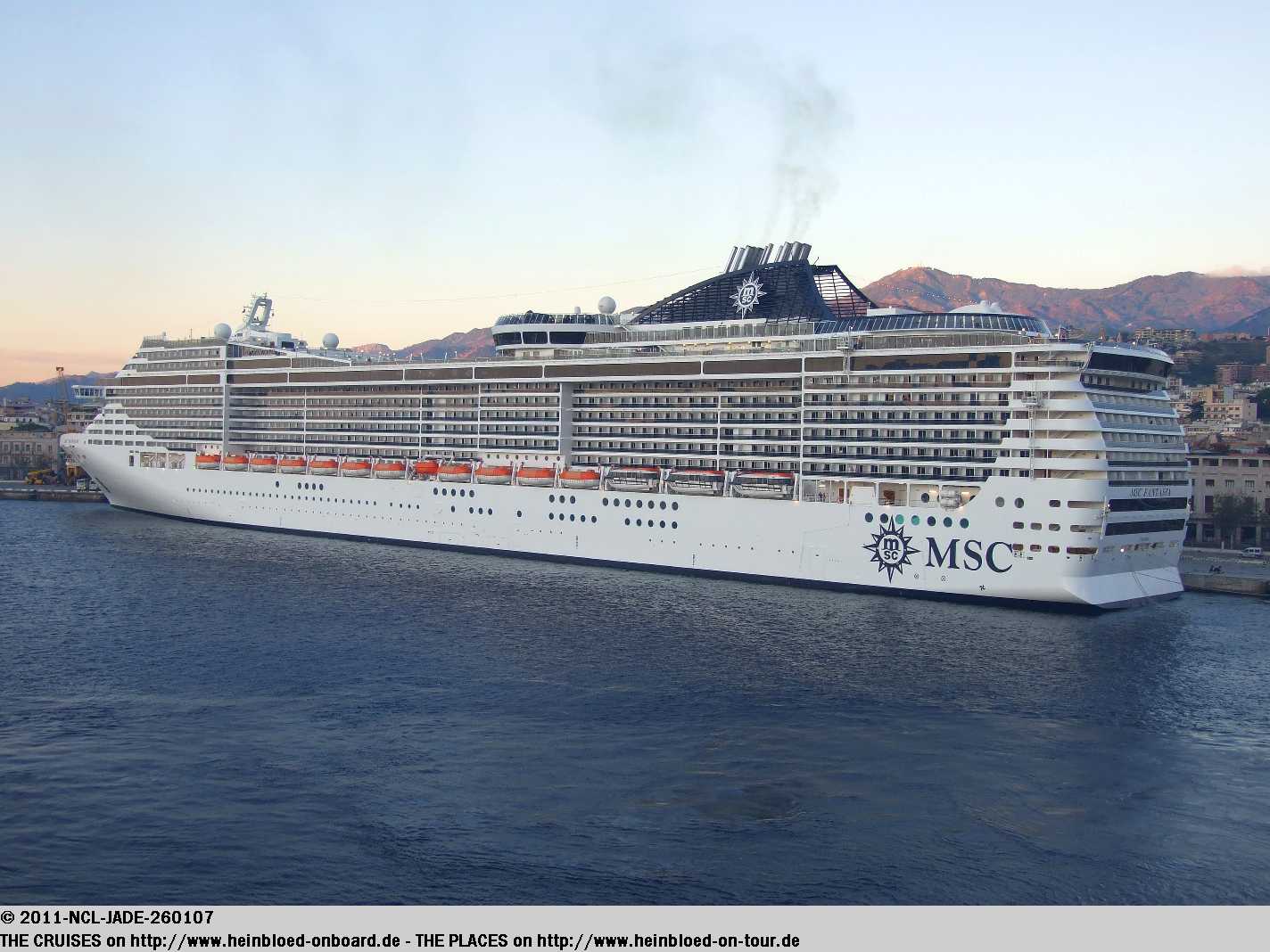 Just the moment we arrived in the port I saw that we made a big bow.

The further pictures were taken during the breakfast.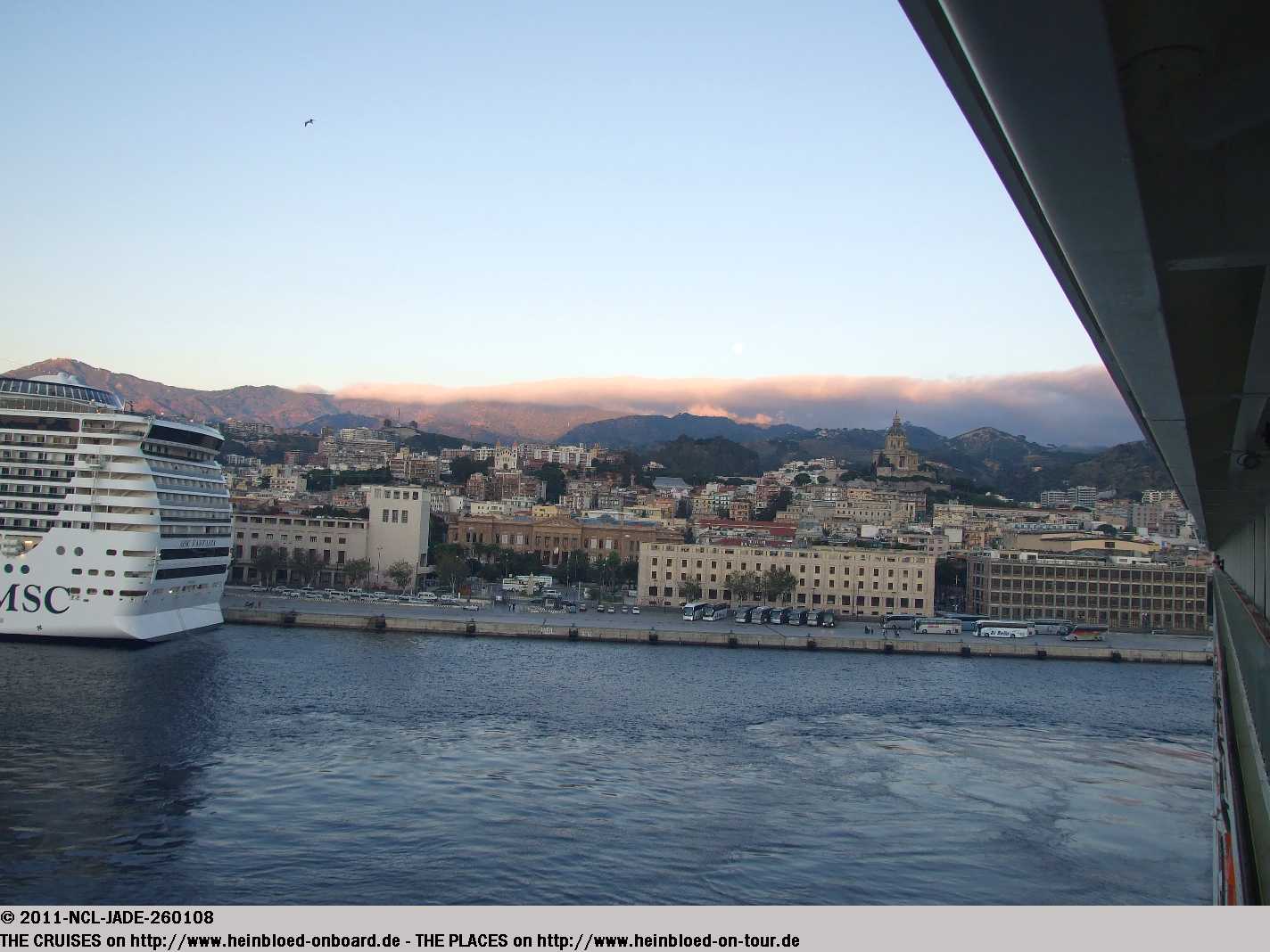 Die weiteren Bilder entstehen während des Frühstücks.
Auch packe ich die Bilder vom Ablegen bei. Sie legte bereits um 14.00 Uhr und war eigentlich um 07.00 Uhr schon. Was soll man eigentlich morgens um 07.00 Uhr in Messina??? Und was kann man tun, wenn man bereits um 14.00 Uhr ablegt??? Das ist einer der Hauptgründe für uns nicht mehr MSC zu fahren: Die Liegezeiten stimmen einfach nicht. Uns ist es ja schon in Malaga so ergangen, dass die Liegezeiten so knapp waren, dass man die Alhambra gar nicht besuchen konnte. Ein Grund nun mit der NORWEGIAN SPIRIT hinzufahren.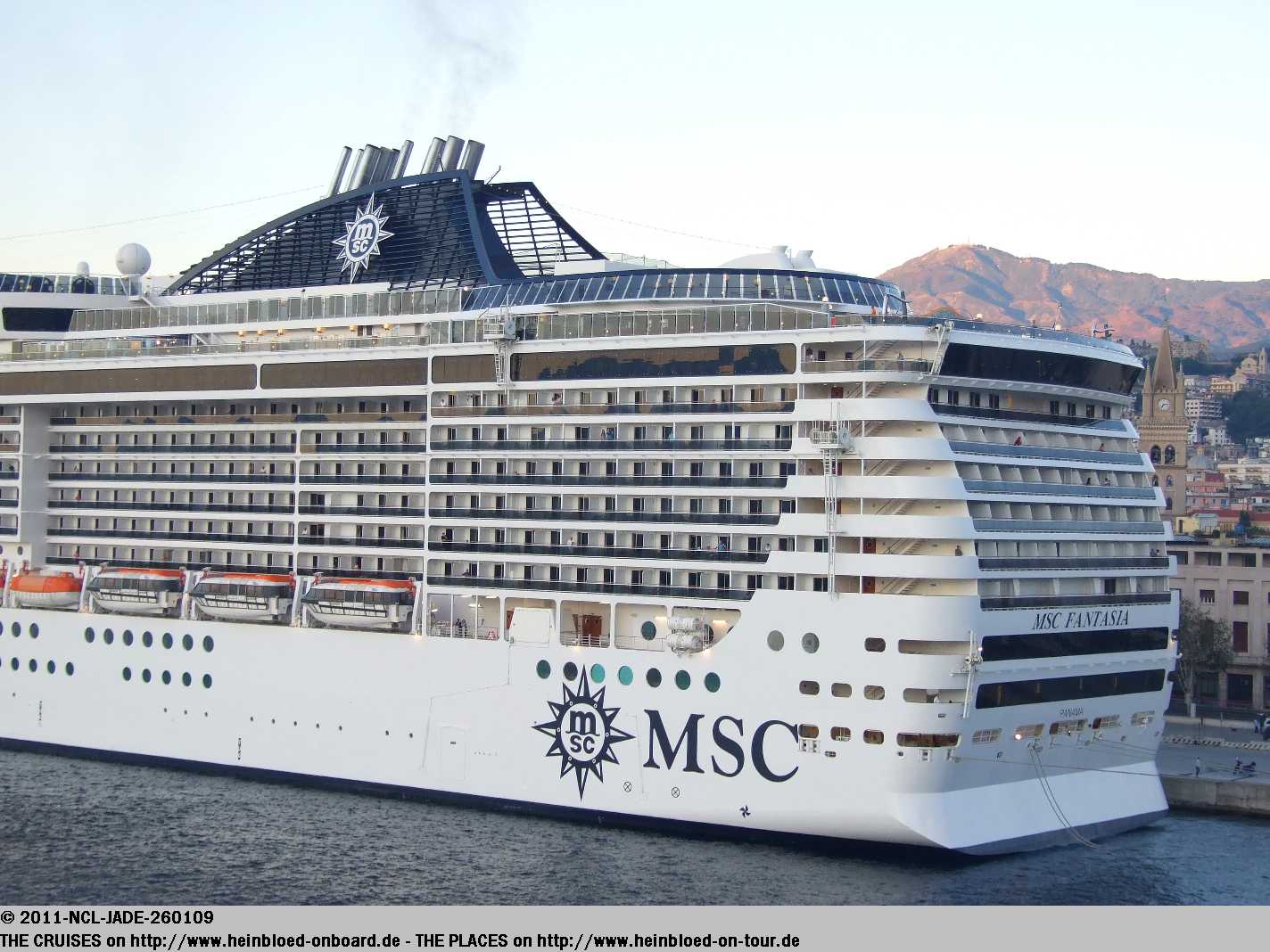 Furthermore I add the pictures when she was leaving. She left already at 14.00 hrs and was there since 07.00 hrs. What should you do at 07.00 hrs in Messina??? And what can you do if the ship leaves already at 14.00 hrs??? A major reason why we dislike to go on MSC. The time of stay were not good. It happened to us in Malaga too. The time of stay was so short that you had no chance to see Alhambra. One more reason to see it by NORWEGIAN SPIRIT.