Scroll down for English explanations - alternates with German explanations.

Es gibt Privilegien, die stehen mir als Latitudes Platin-Gast zu. Es gibt Privilegien, die mir die Crew und NCL zusätzlich gewähren, weil ich anscheinend ein besonderer Gast bin und es gibt Privilegien, die habe ich gesondert angefragt. Und das einzige Privileg, das ich angefragt hatte, war die Brückenbesichtigung. Bevor meine Eltern damals mit uns ausgewandert sind, hat mein Vater für eine Reederei gearbeitet. Und ich dachte mir, dass es ihm vielleicht sehr viel bedeuten würde, wenn er einmal im Leben auf die Brücke eines Kreuzfahrtschiffes darf. Seit seiner ersten Kreuzfahrt versucht er seine Ex-Kollegen in Taiwan zu animieren, dass Yang Ming Line ähnlich wie Hapag-Lloyd, MSC, NYK und CGM-CMA eine eigene Kreuzfahrtsparte aufmachen sollte und ich erster Geschäftsführer werden kann... Nun ist leider das Potential auf dem taiwanesichen Kreuzfahrtmarkt nicht das Größte und mein Chinesisch zu schlecht, um Geschäftsführer dort zu werden... Auf jeden Fall hatte Kapitän Kim mir das Privileg gewährt und dafür bin ich ihm äußerst dankbar. Bevor der nächste fragt: ohne eigenen Blog oder ähnliches, sollte man gar nicht erst fragen.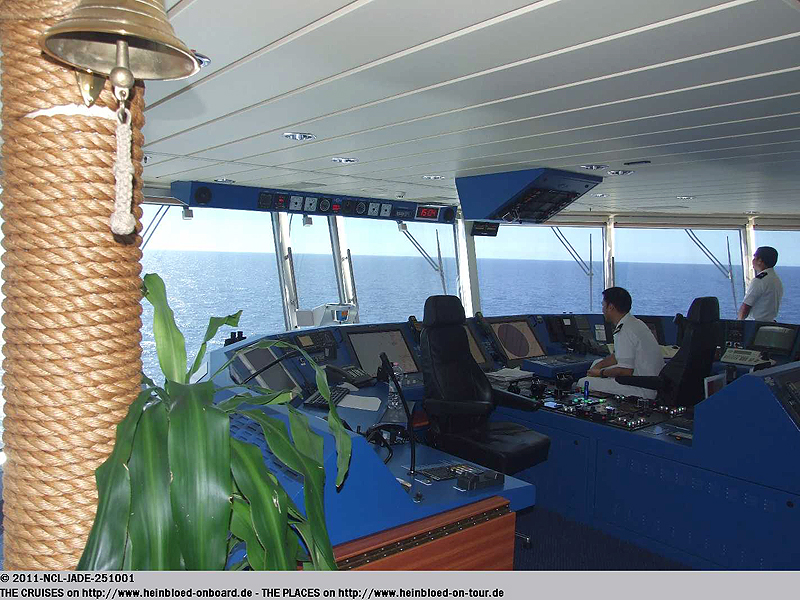 There are privileges which I get because I am Latitudes Platinum guest. There are privileges which the crew and NCL granted additional as I obviously was a special guest and there are privileges I need to ask for. The only privilege I asked for was the visit of the bridge. Before my parents emmigrated with us my father worked for a shipping line. I thought it might mean very much to him to be once in his lifetime on a bridge of such a cruiseship. Since his very first cruise he tried to convince his former collegues in Taiwan that Yang Ming Line should have like Hapag-Lloyd, MSC, NYK or CCM-CMA a own cruise division and I should become first general manager... But unfortunately the potential market on Taiwan is not the biggest and my Chinese is too bad to be a manager... But anyhow Captain Kim granted this privilege and I cannot thank him enough. Before the next asks: without a blog or something like this you must not ask.

The officer on duty took over the explainations.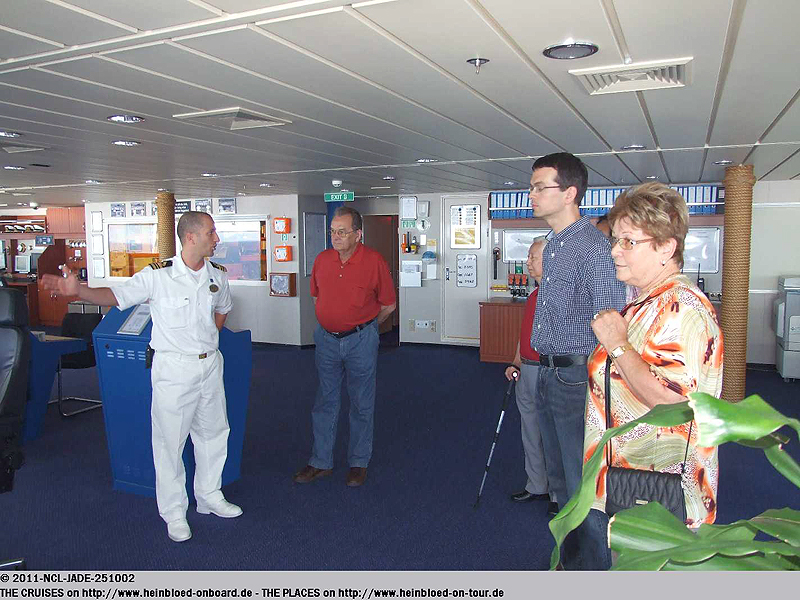 Der diensthabende Offizier hat die Erläuterungen übernommen.
Da wir u. U. damit gerechnet haben, dass vielleicht wegen Wetterbedingungen oder eines anderen Notfalls die Brückentour ausfallen könnte, haben wir weder Brunos Eltern noch meinen Eltern erzählt, dass diese Brückentour stattfindet. Umso größer war daher die Überraschung.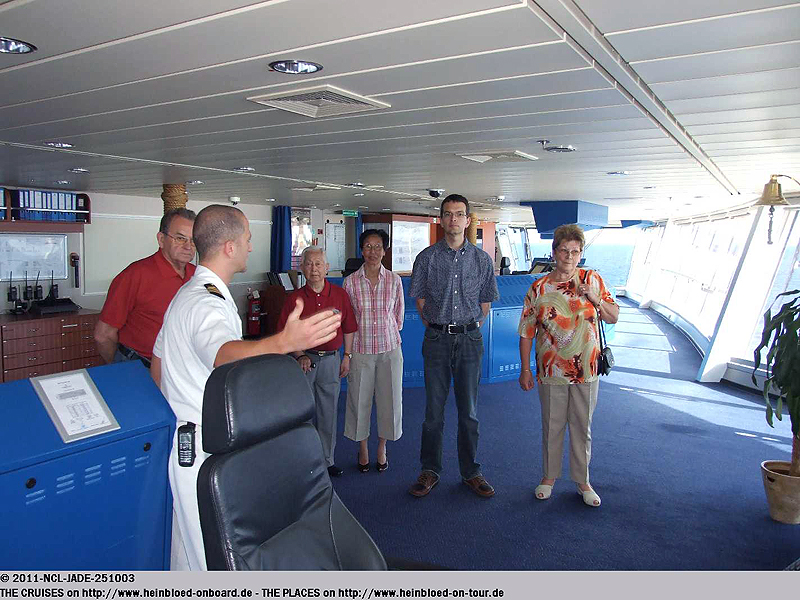 To avoid any disappointment because of last-minute cancellation due to weather or other obligations we did not tell our parents about the bridge tour. So their surprise was really big.

As Bruno works for a Japanese company who produce computer games and they use the same acronym NCL it might be an inspiration for a new game.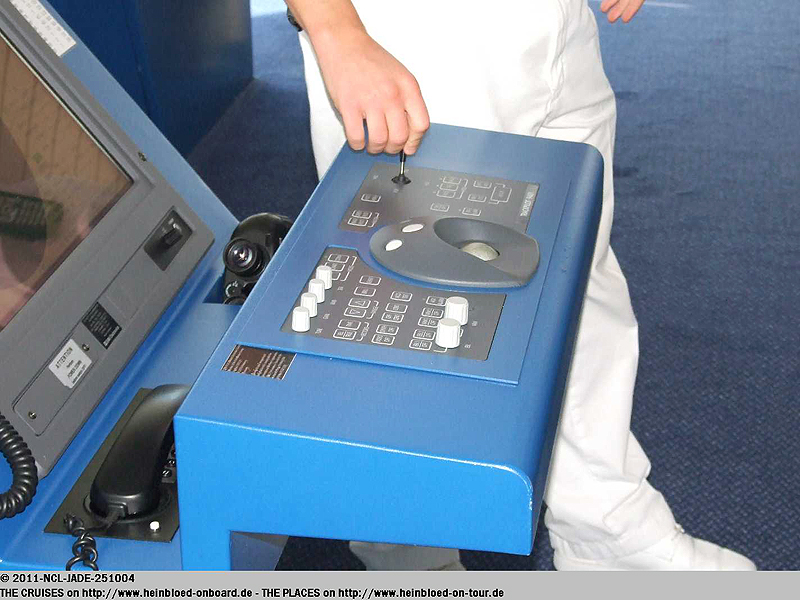 Da Bruno ja bei einem japanischen Spielekonsolenhersteller arbeitet, der die gleiche Abkürzung verwendet wie NCL, wäre es ja mal eine Anregung für ein neues Spiel:
Wir lenken ein Kreuzfahrtschiff mit diesem kleinen Joystock. Unglaublich.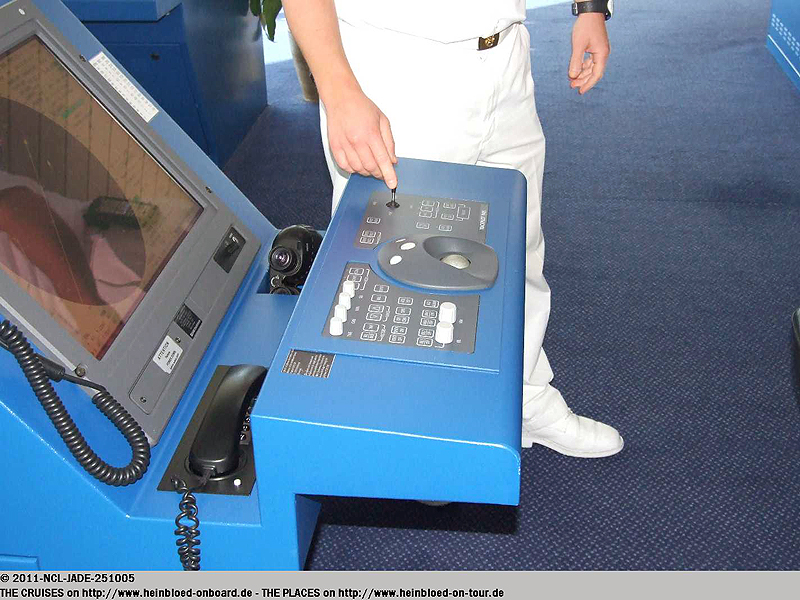 Unbelievable but the cruise ship is operated by this little joystick.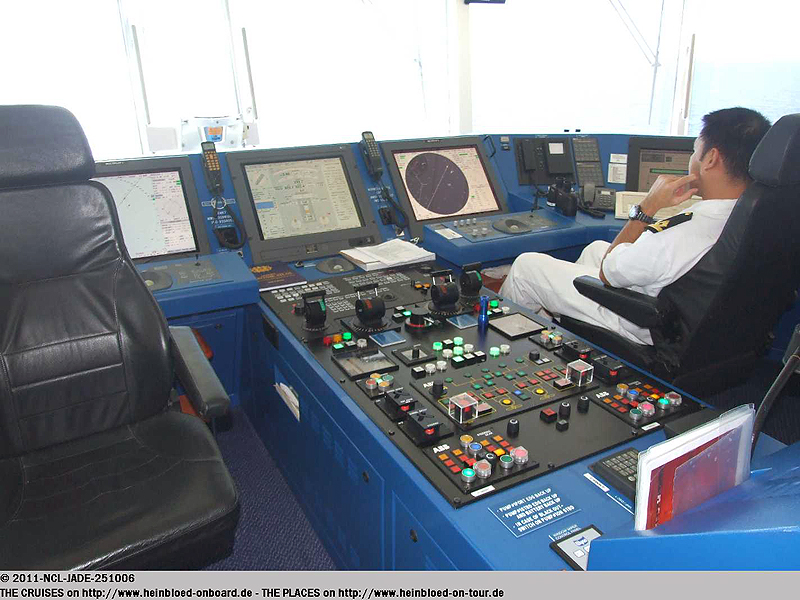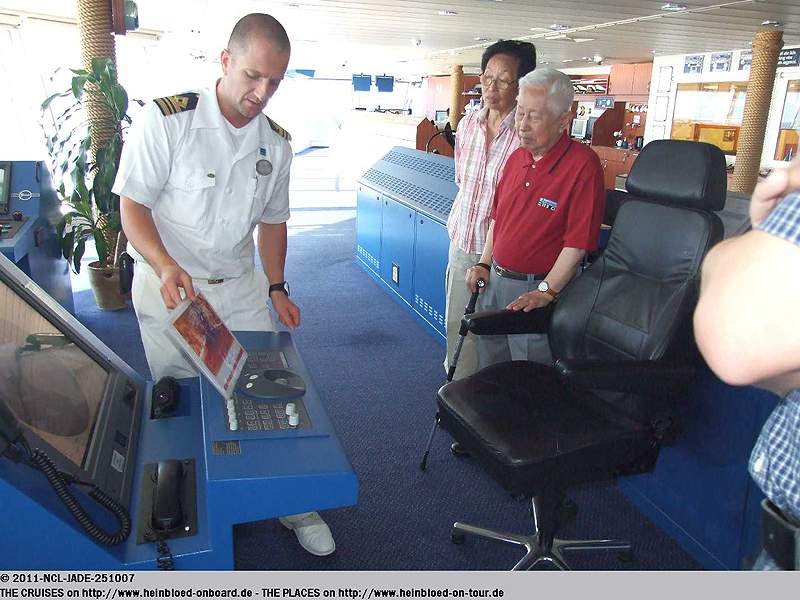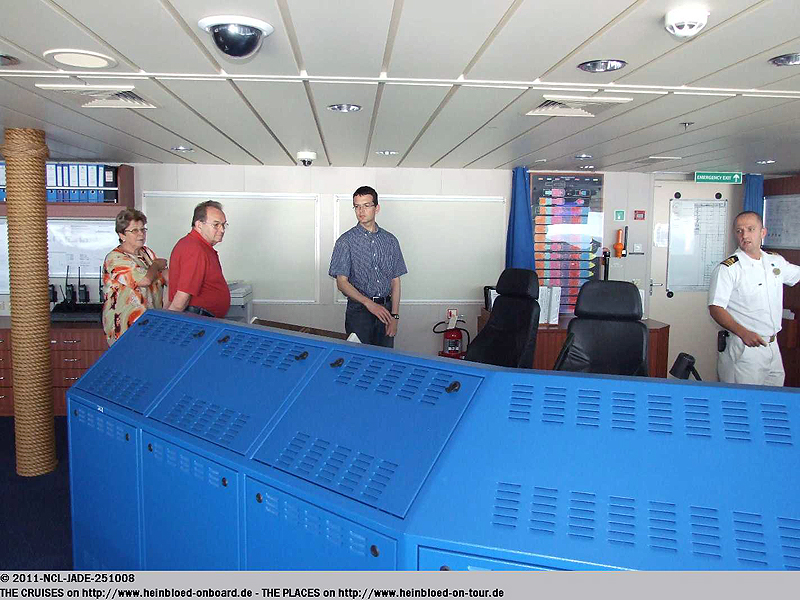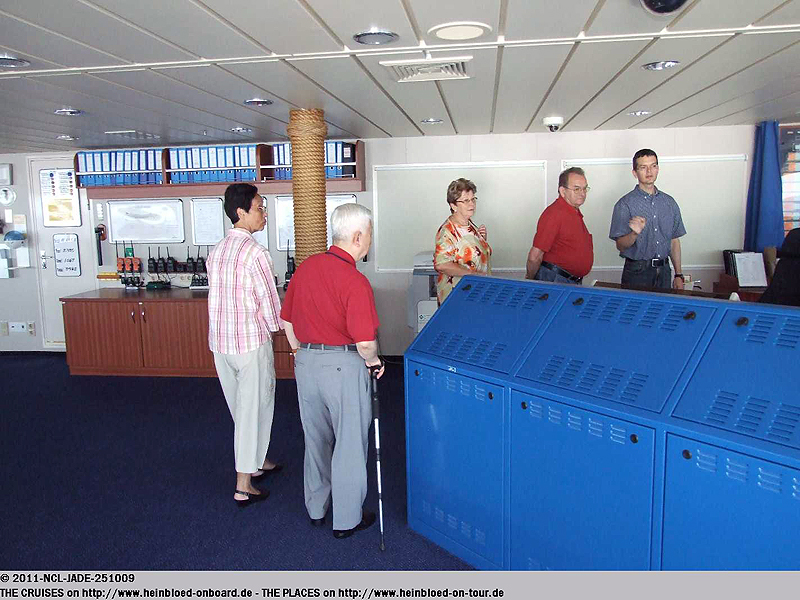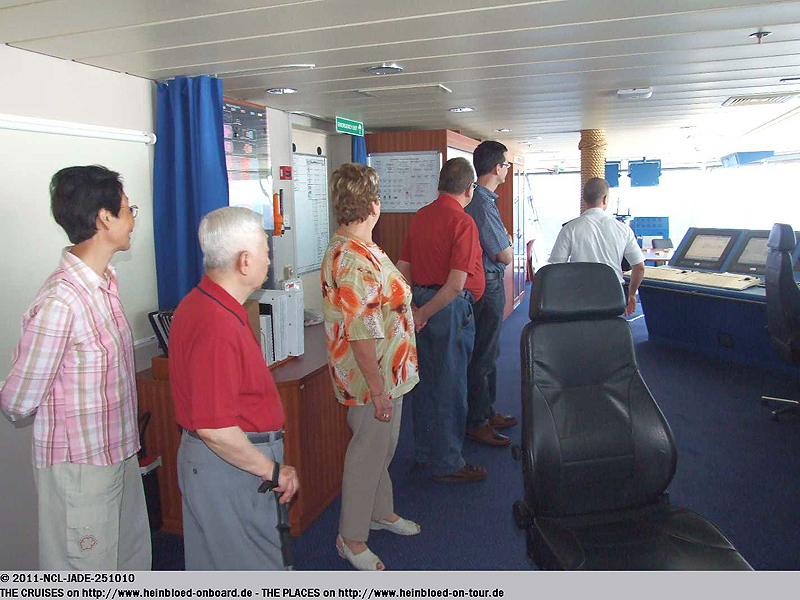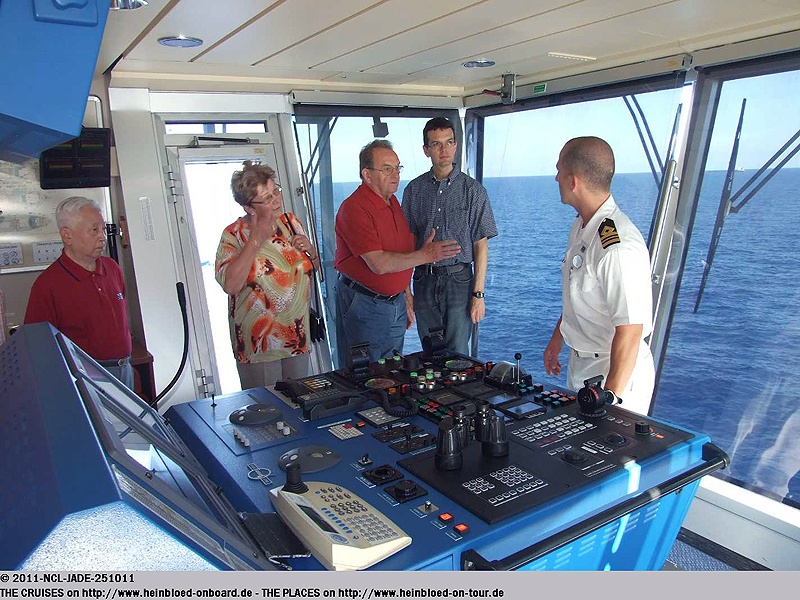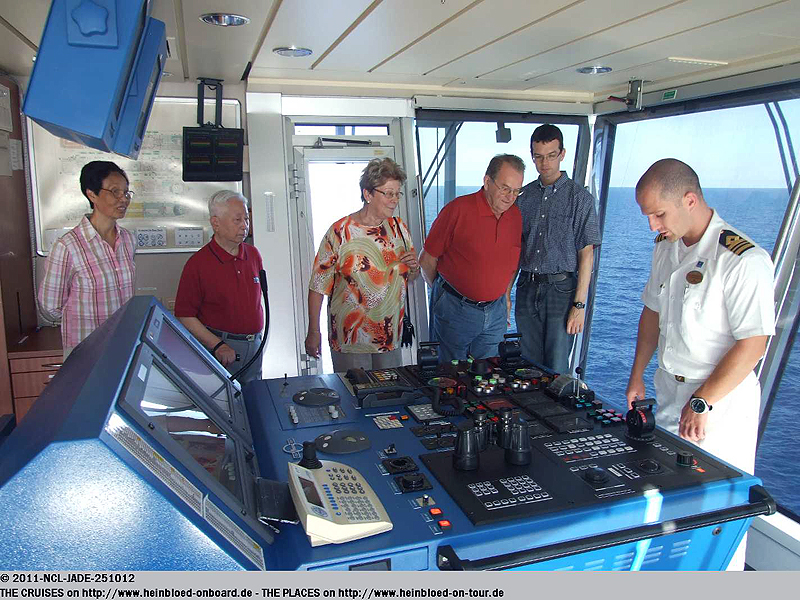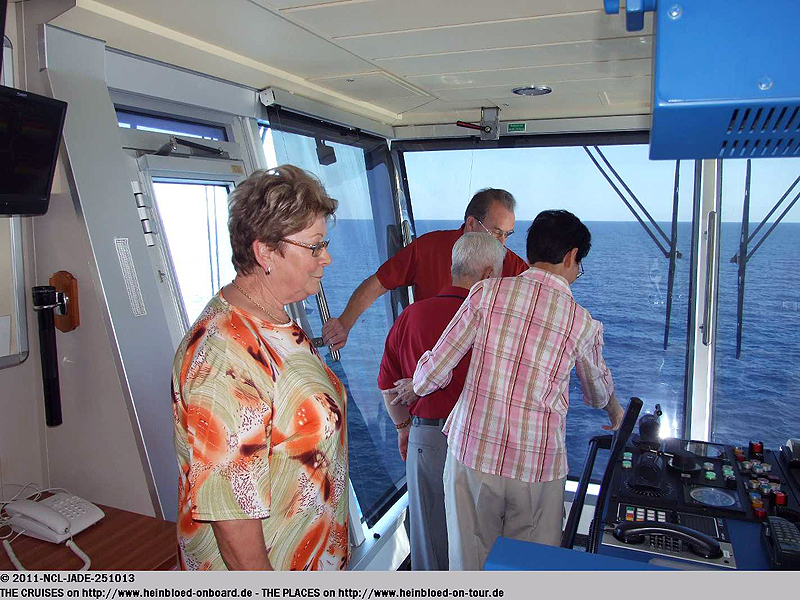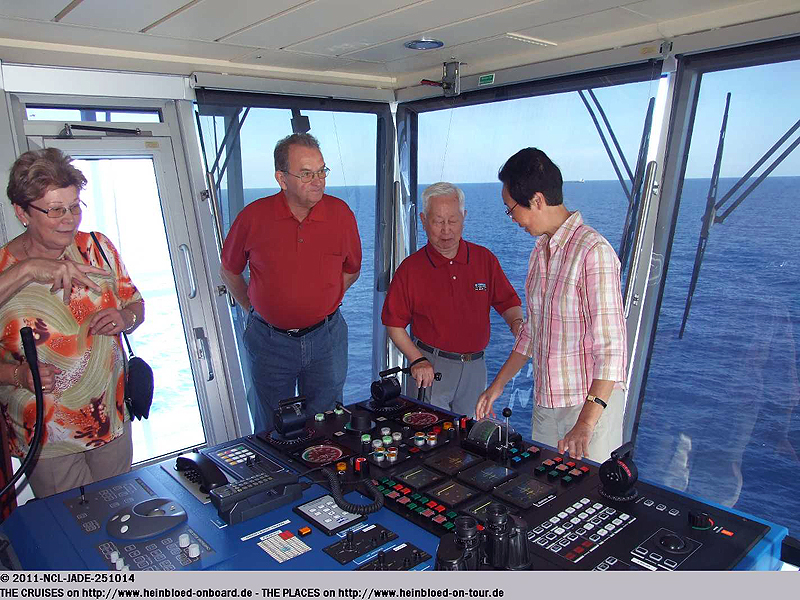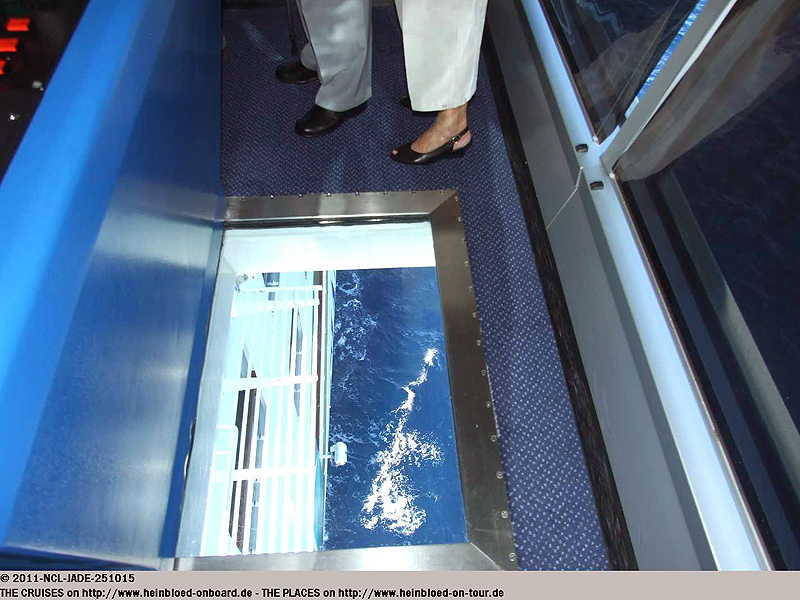 Now I understodd why sometimes the guests in forward cabins said that they were not advantaged... in the night they need to close the curtains because of the reflections. Nothing for me.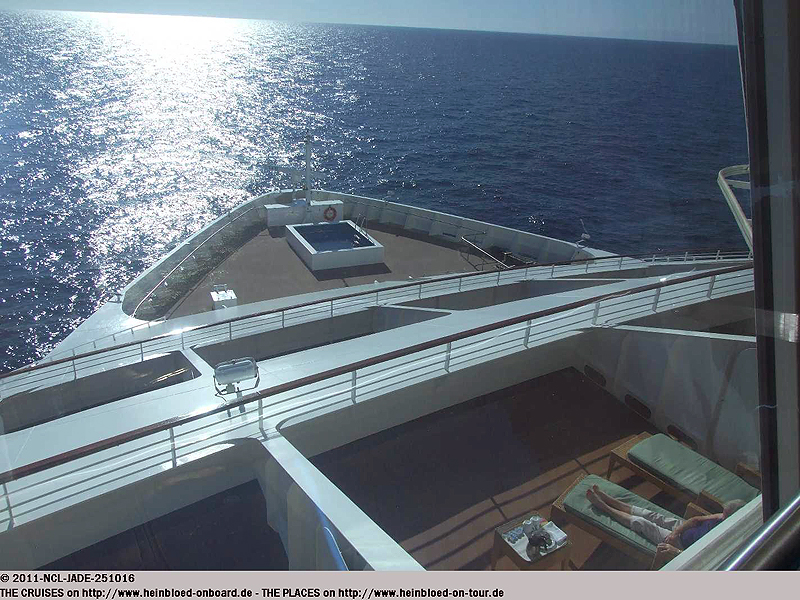 Jetzt verstehe, warum z. T. in Reviews berichtet wird, dass die Bugkabinen etwas nachteilig sind... und abends müssen wohl wegen Reflektionsgründen die Vorhänge immer zu sein. Nichts für mich.
Zum Schluss entsteht noch dieses Abschiedsbild. Kiitos - lieber Kapitän Kim!!! Im Inneren hoffe ich, dass sie im September 2012 auf der NORWEGIAN SUN sind und dann auch wieder unser Kapitän. Sie haben mir eine große Freude bereitet und ich bin gerne Gast der NCL.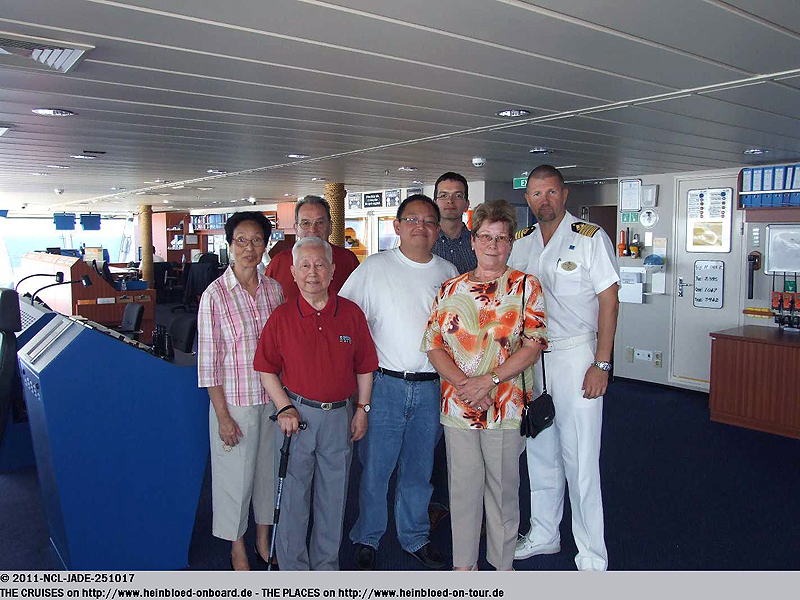 Finally a picture for memory. Kiitos - dear Captain Kim!!! I truly hope to meet you again on NORWEGIAN SUN in September 2012 as our Captain. You really made me a great pleasure and I love to be guest of NCL.

We wanted to be indulged one more time by Ernesto. Mahmut gave us his phone number so we asked him to arrange a table in Ernesto's service area. My parents took the elevator right to Deck 6 while I exit at Deck 7 to register us at the entrance. But Mahmut discovered Bruno and our parents and got me out of the queue.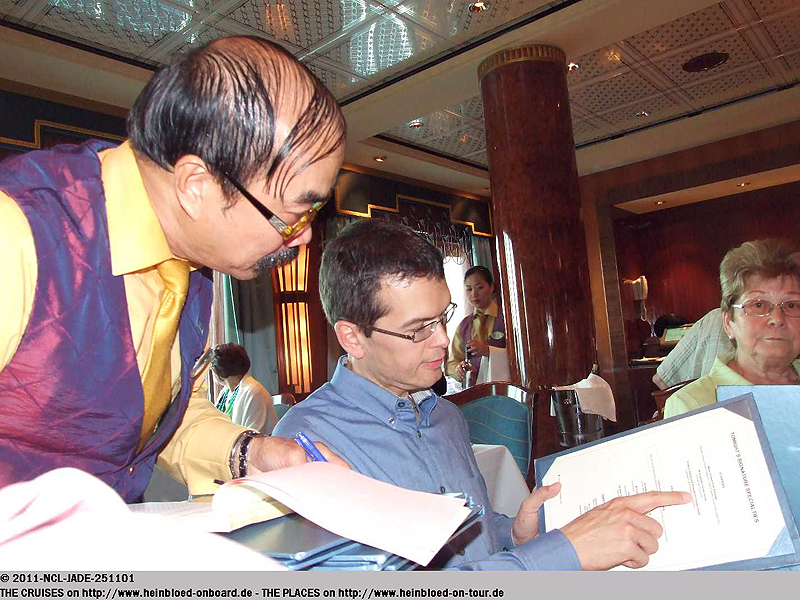 Wir wollen uns zumindest noch einmal bei Ernesto verwöhnen lassen. Mahmut hatte uns seine Telefonnummer gegeben und daher haben wir ihn gebeten einen Tisch in Ernestos Bereich zu reservieren. Meine Eltern fahren mit dem Fahrstuhl direkt zu Deck 6 und ich zu Deck 7 um uns anzumelden. Aber Mahmut entdeckt Bruno und die Eltern und holt mich aus der Schlange raus.
Wie lange kennen wir jetzt Ernesto: NORWEGIAN DREAM 2008... NORWEGIAN JADE 2009... 2011... 2011... und leider vielleicht nicht wieder, da er wohl ein Alter erreicht hat, bei dem er ans Aufhören denkt.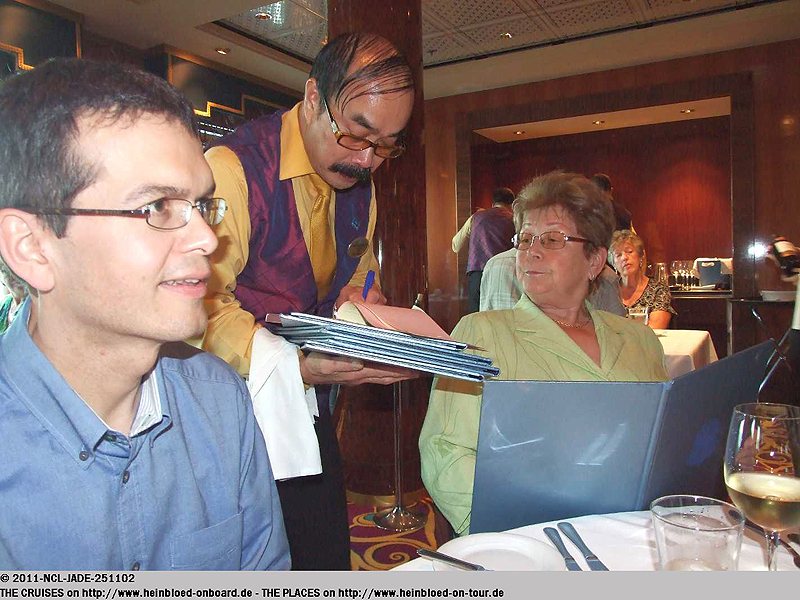 How long do we now Ernesto: NORWEGIAN DREAM 2008... NORWEGIAN JADE 2009... 2011... 2011... and maybe not again as he reaches now an age when he should think about retirement.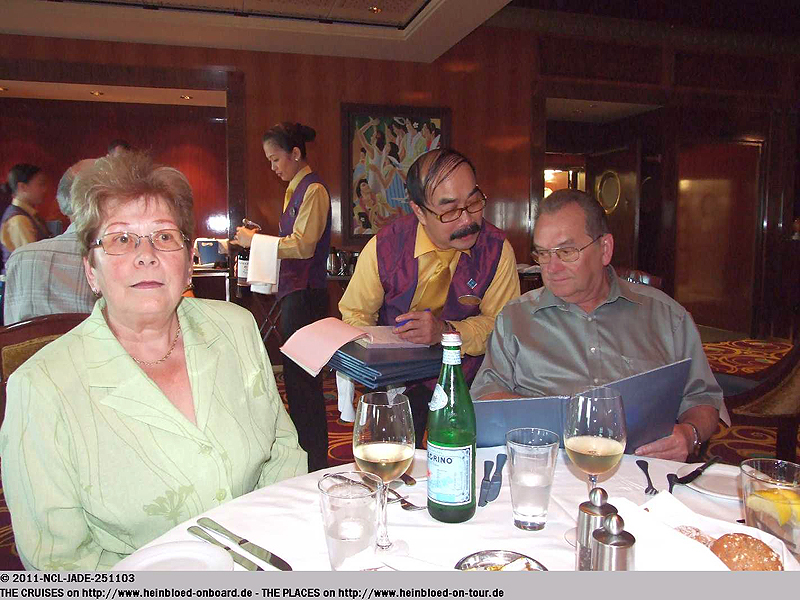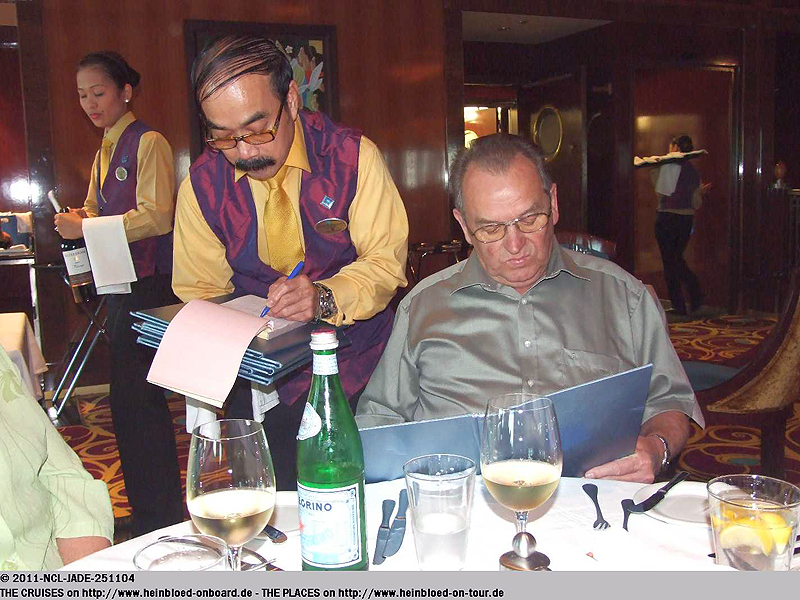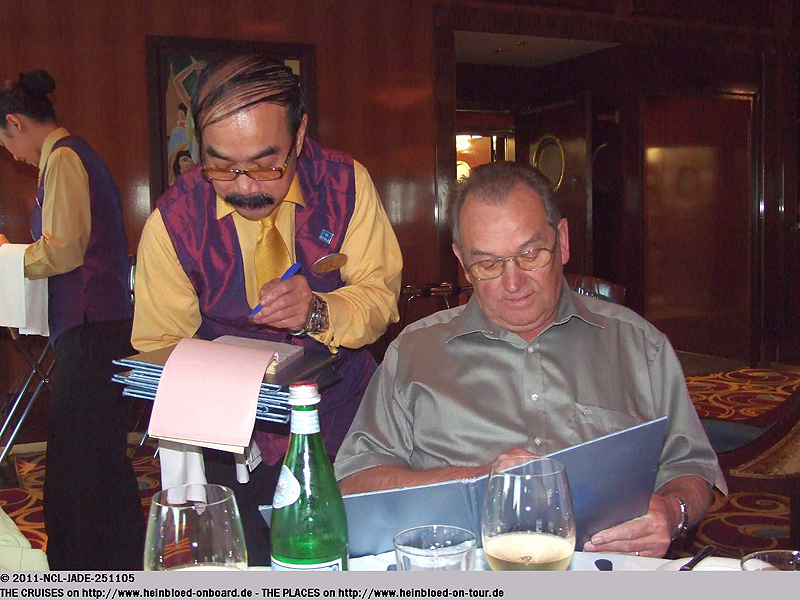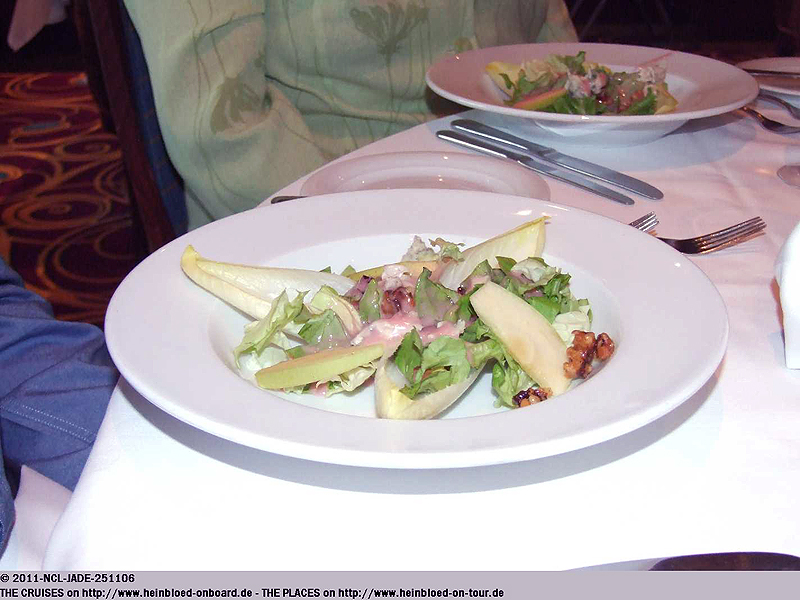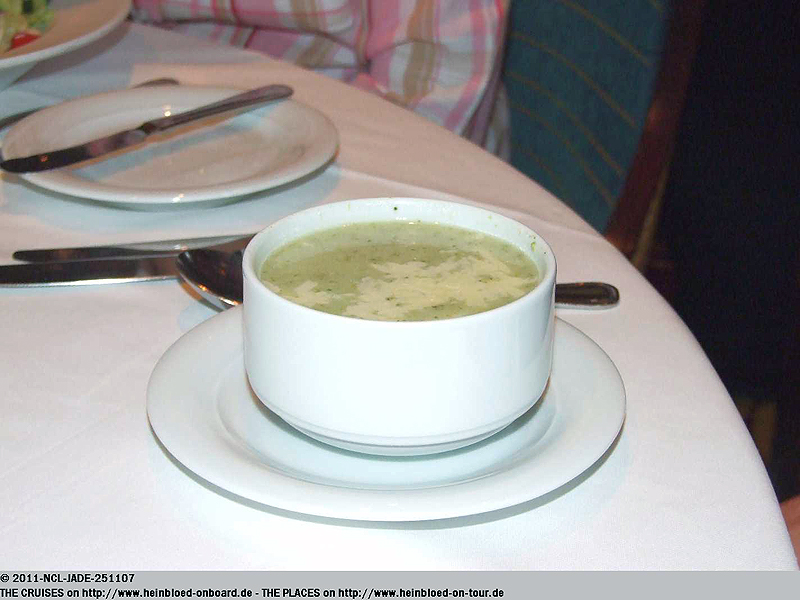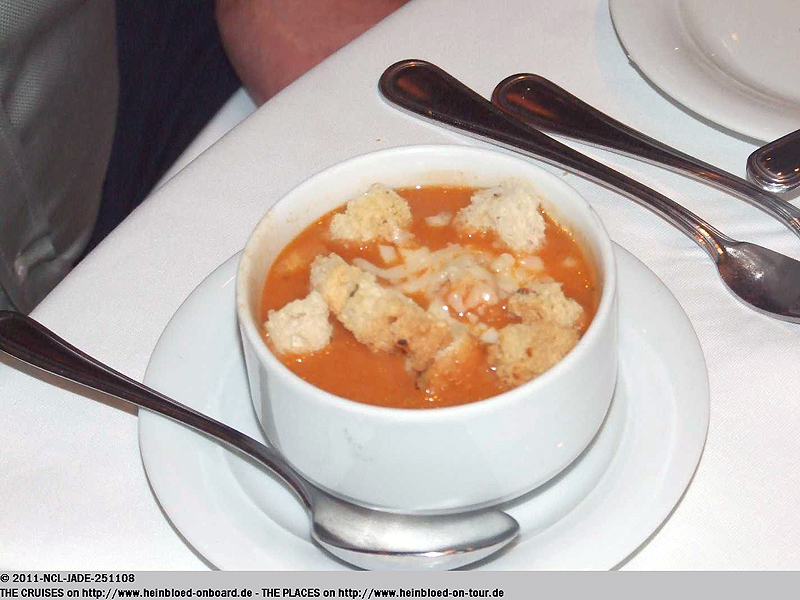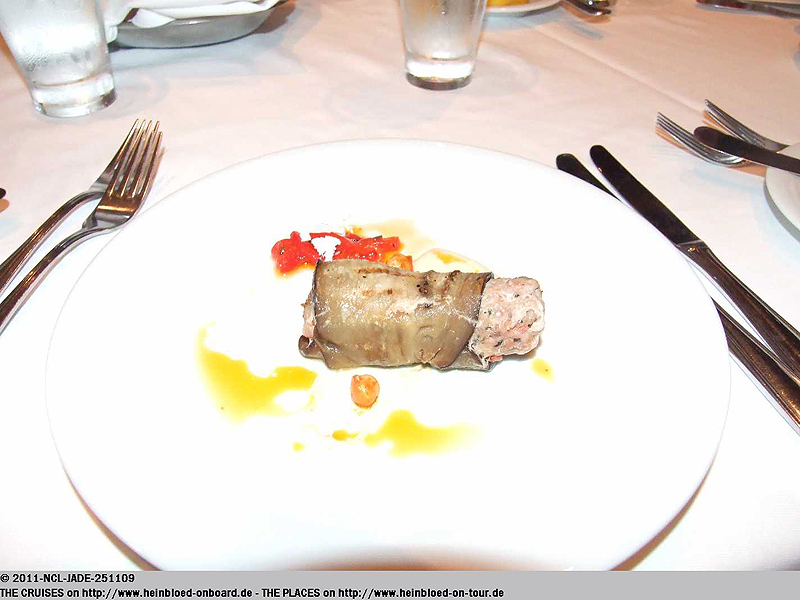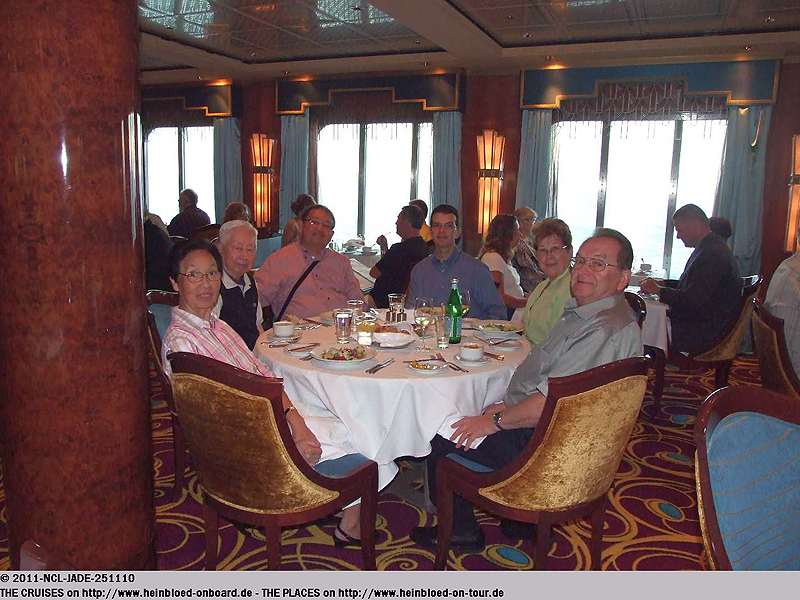 Somehow the soups today were full of cheese... So we had our fun first with my father when he had his fight with the cheese...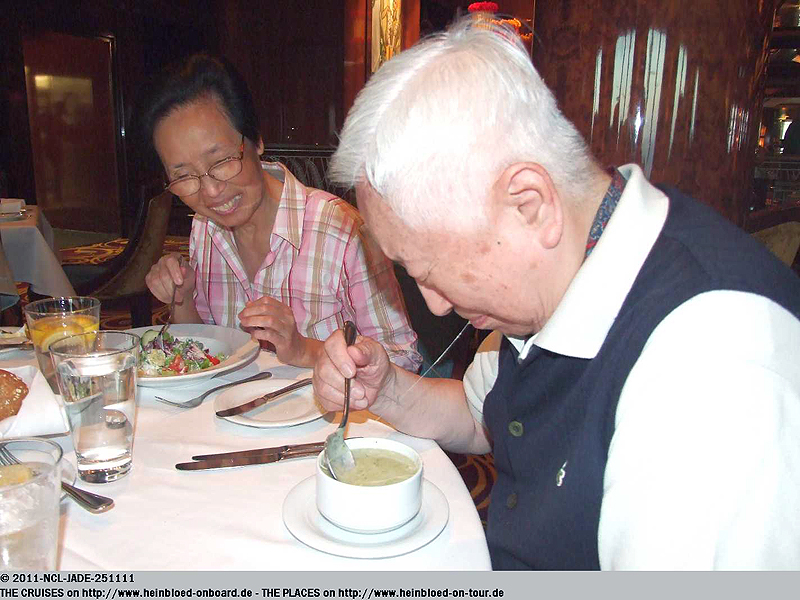 Alle Suppen sind heute irgendwie sehr käselastig... Zunächst haben wir Spaß mit meinem Vater, der mit dem Käse zu kämpfen hat...
Danach kommt Brunos Vater an die Reihe, der ebenfalls mit dem Käse kämpft.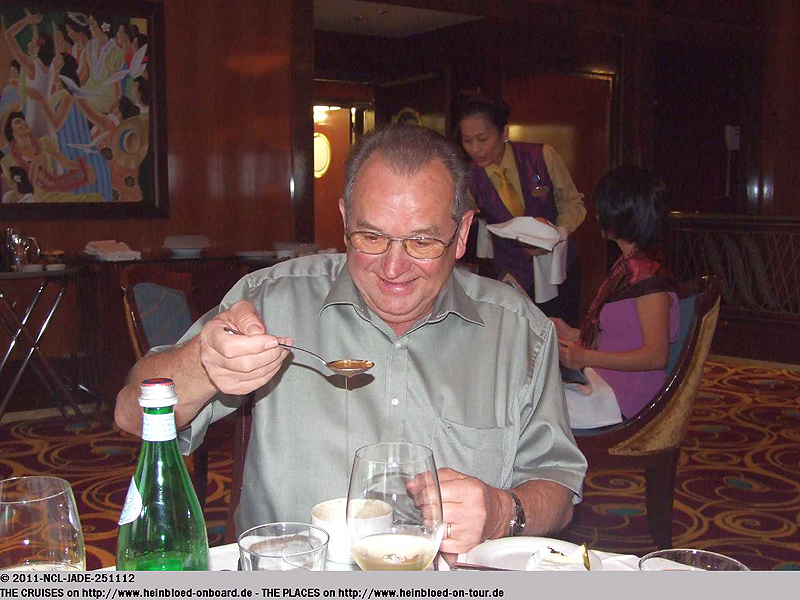 Then Bruno's father followed who had also a fight with the cheese.

This time it was easy: half of the table had fish...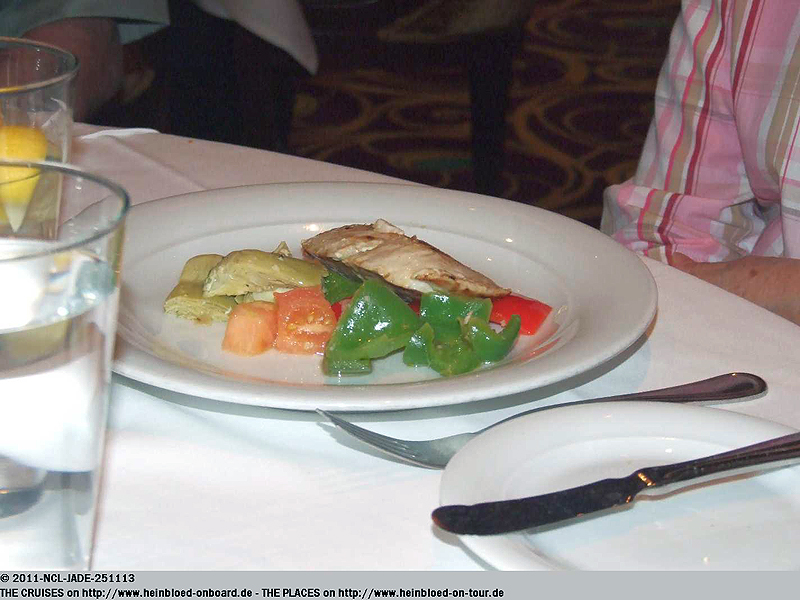 Dieses Mal war es ganz einfach: die eine Hälfte hatte Fisch...
und die andere Hälfte die Hühnchen-Spieße. Ernesto meinte aber, dass es zu wenig sei und hat einen Extra-Teller schon beiseite gestellt, damit wir jeder ein bisschen mehr Hühnchen bekommen. Ist dieser Mann nicht fantastisch.... Bisher hatte ich heute bloß ein Loch im Gürtel "verloren".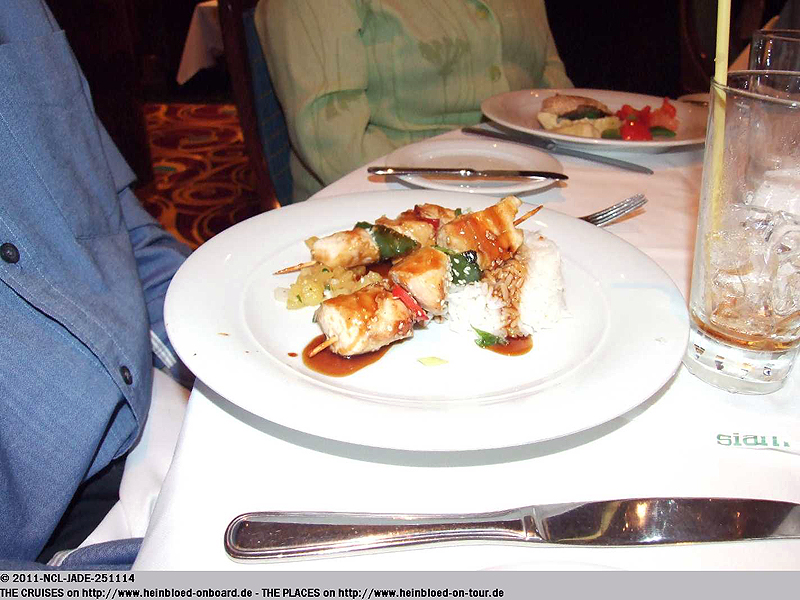 And the other half the chicken-skewer. Ernesto said that this was not enough to eat and had one extra plate ready for us to get us more chicken. Was not this man fantastic... Until now I "lost" only one of the holes in my belt...

When Ernesto's assistant served the espresso without milk Bruno was a little disappointed not having milk. But seconds later Ernesto came with the hot milk.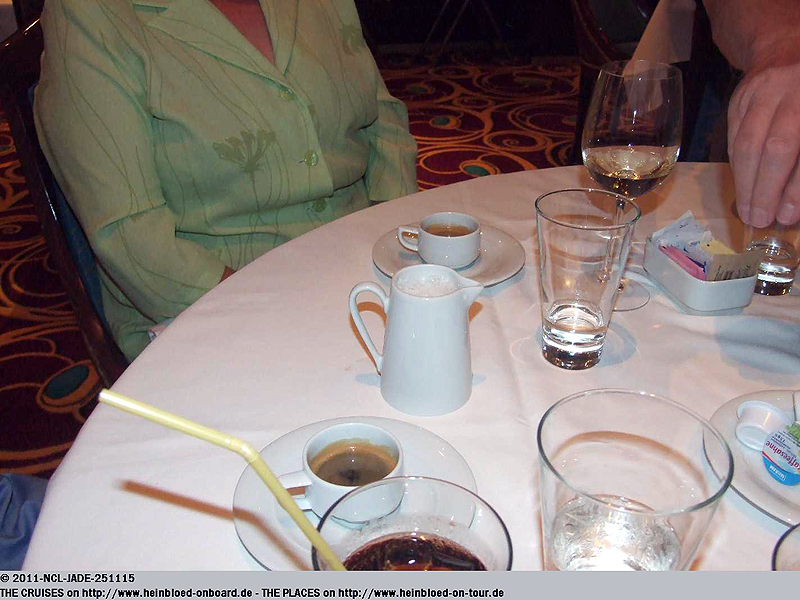 Und als Ernestos Assistent die Espresso ohne Milch bringt, war Bruno enttäuscht, dass die heiße Milch nicht kam. Aber Sekunden später kommt Ernesto mit der heißen Milch.
Und beim Dessert meint Ernesto, dass der heiße Schokoladenkuchen erst richtig lecker ist, wenn man noch Vanilleeis dabei macht. So ein Steward ist doch fantastisch, der nur das Beste für seine Gäste will.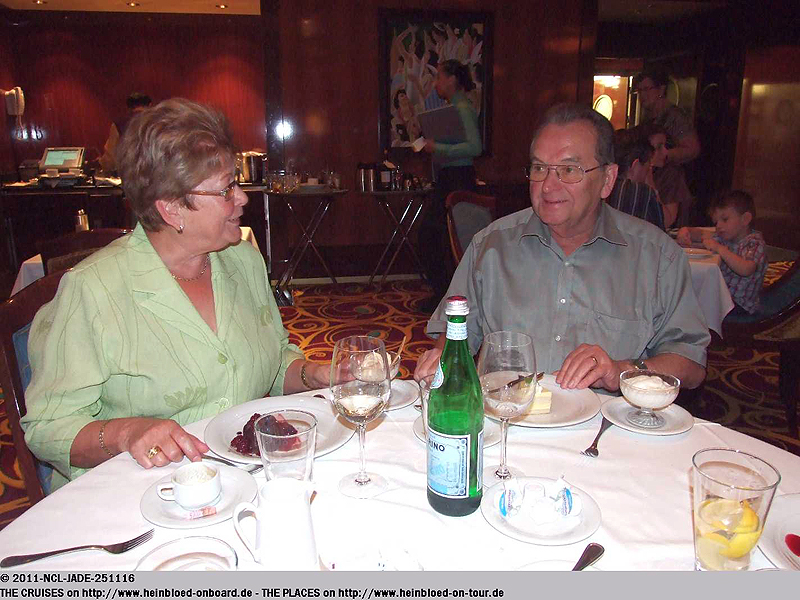 With the dessert Ernesto said that the hot chocolate cake was better if you have some vanilla ice cream at the side. Such a steward who just wanted the best his guests... is not this fantastic???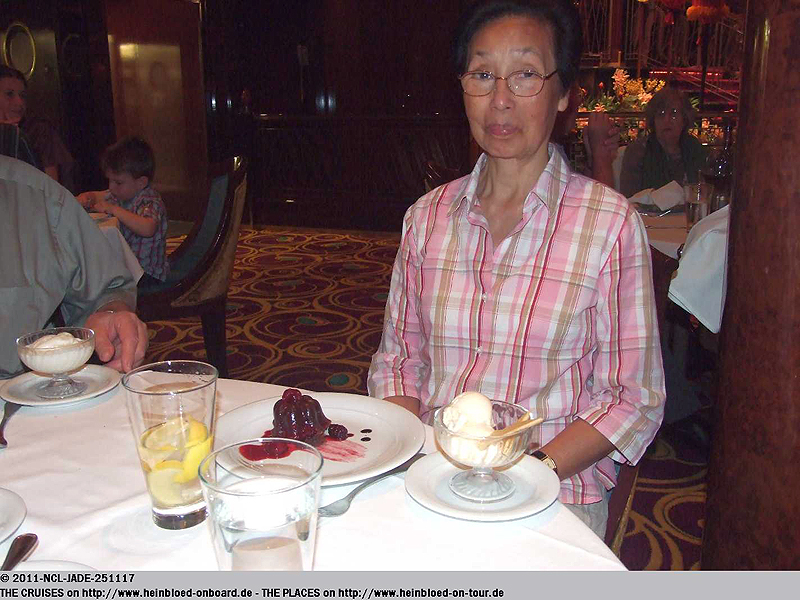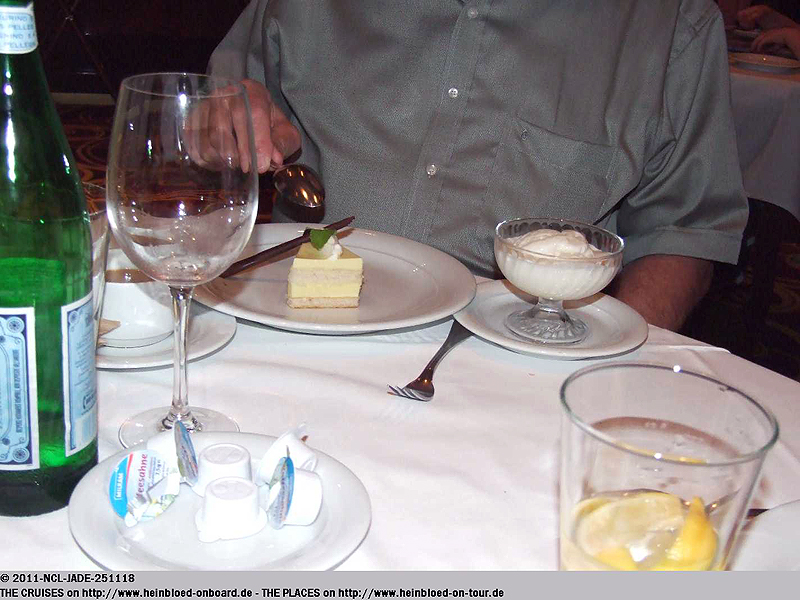 My father wanted only ice cream... and Ernesto got him a chocolate cake as well because he said that the ice cream would be better with a warm chocolate cake... My father was very exited... but not my mother and his doctor... my doctor either...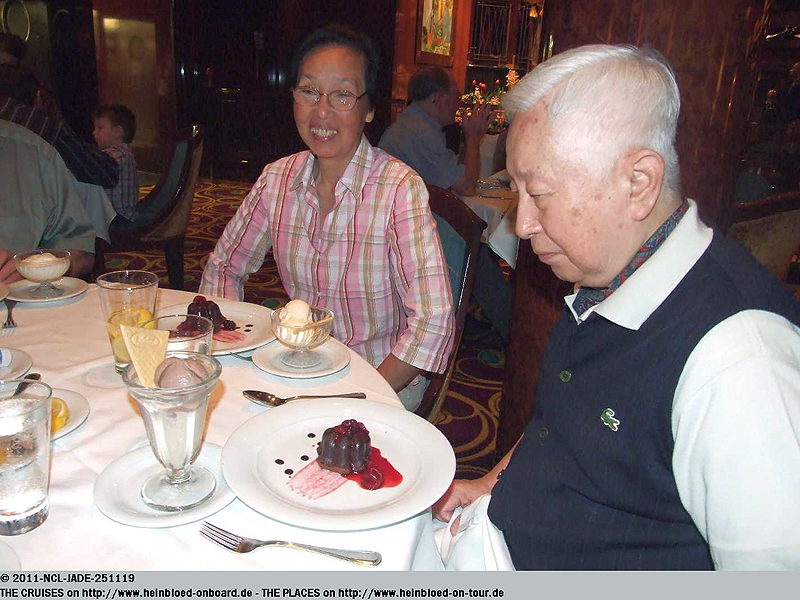 Mein Vater wollte ja bloß Eis... und Ernesto bringt ihm einen warmen Schokoladenkuchen mit, weil er meint, dass das Eis damit noch besser schmecken würde... Mein Vater ist natürlich darüber sehr begeistert: meine Mutter und sein Arzt weniger... mein Arzt übrigens auch...
Auch Bruno weiss schon gar nicht mehr wohin mit dem ganzen Nachtisch, der so richtig lecker ist.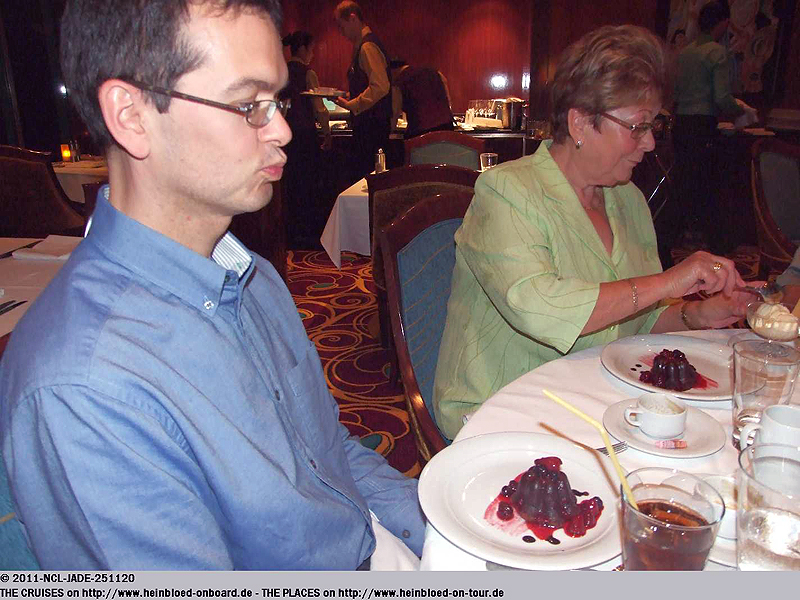 Also Bruno did not know where to go with all the desserts which was really good.

I was not a dessert-freak but I could not say no either. Thank you dear Ernesto for all the great time with NCL you gave us. All the best for your future. Just in case you are staying another season with NCL: we are on NORWEGIAN SUN in September 2012.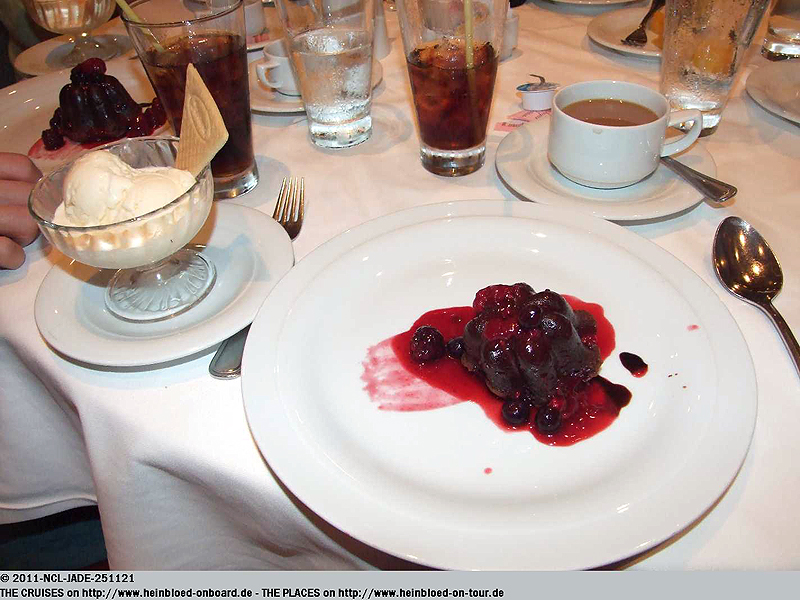 Ich bin ja nicht der Dessert-Freak aber dazu konnte ich auch nicht nein sagen. Vielen Dank Ernesto für viele tolle Stunden, die Sie uns bei NCL bereitet haben. Alles alles Gute für Ihre Zukunft. Und falls Sie doch noch eine Saison machen: wir sind auf der NORWEGIAN SUN im September 2012.
Eine Folge meiner nächtlichen Facebook-Eskapaden. Restaurant Manager Aydin Kaya wird auf einem der Bilder erkannt. Valentina, die sich gerade auf der NORWEGIAN EPIC befindet und die wir auch von der NORWEGIAN JADE her kennen, bittet mich ihn zu grüßen, was ich gerne mache. Er freut sich über diese Grüße und erzählt mir von Valentina und Andrew. Als ich erzähle, dass ich der Gast war, der Andrew zu dieser Auszeichnung auf der NORWEGIAN JADE verholfen hat, weil er mir sein T-Shirt geschenkt hat, drückt mir Aydin die Hand und meint, dass er sehr stolz sei, den Gast zu treffen, der das initiiert hat.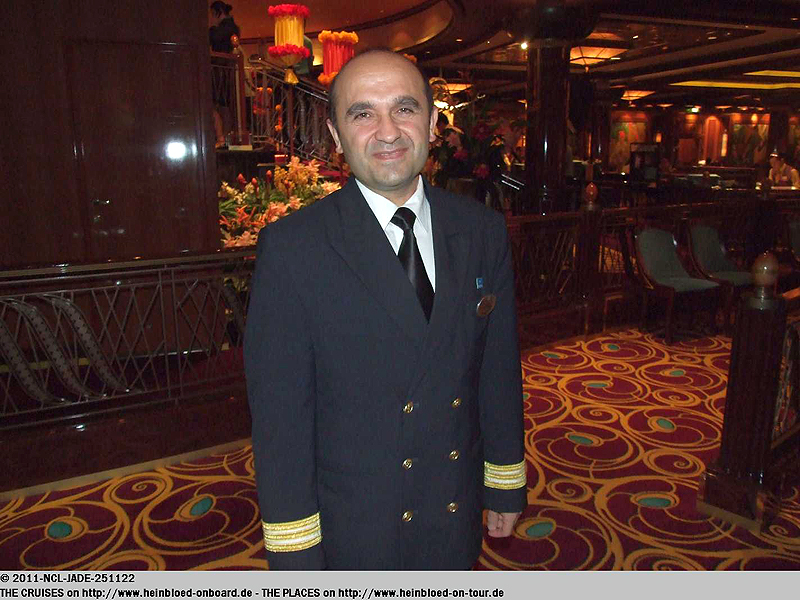 One consequence of the nightly Facebook-activities. Restaurant Manager Aydin Kaya was identified on one of the pictures. Valentina who was actually on NORWEGIAN EPIC and whom we know from NORWEGIAN JADE asked me to send him some regards. He was happy to get the regards and told me of Andrew and Valentina. When I told that I was the guest who initiated to honour Andrew because he gave me his t-shirt Aydin was very proud to meet me and shaked my hands.

Tonight we had the Elements show: normally a show I would not like because I do not like magicians and acrobats. But I had to see it again although I knew it from January 2011.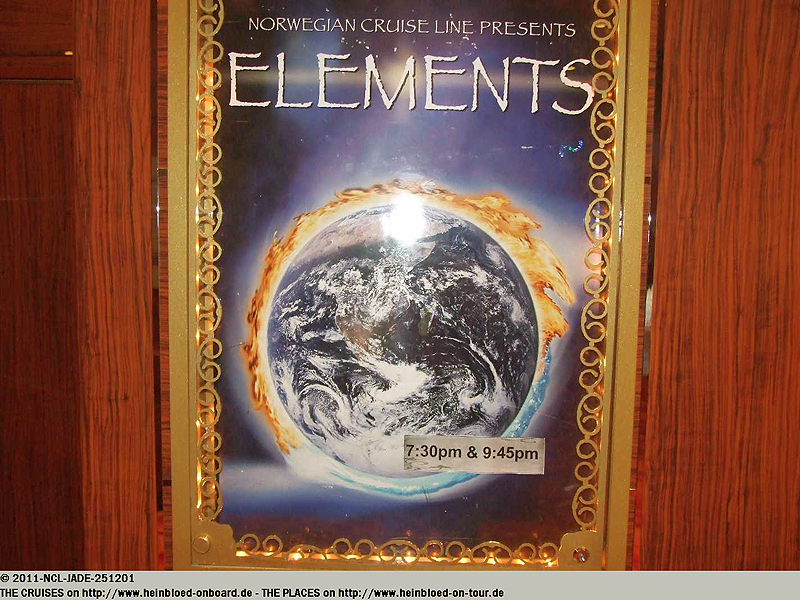 Heute abend geht es zu Elements: eine Show die ich theoretisch nicht mag, weil ich nicht so der Fan von Magier und Akrobaten bin, aber trotzdem wieder besuche, weil ich sie von Januar 2011 her schon kenne.
Dieses Mal sind wir schlau genug und sitzen nicht vorne, sondern bewusst weit hinten und mittig um alles mitzubekommen.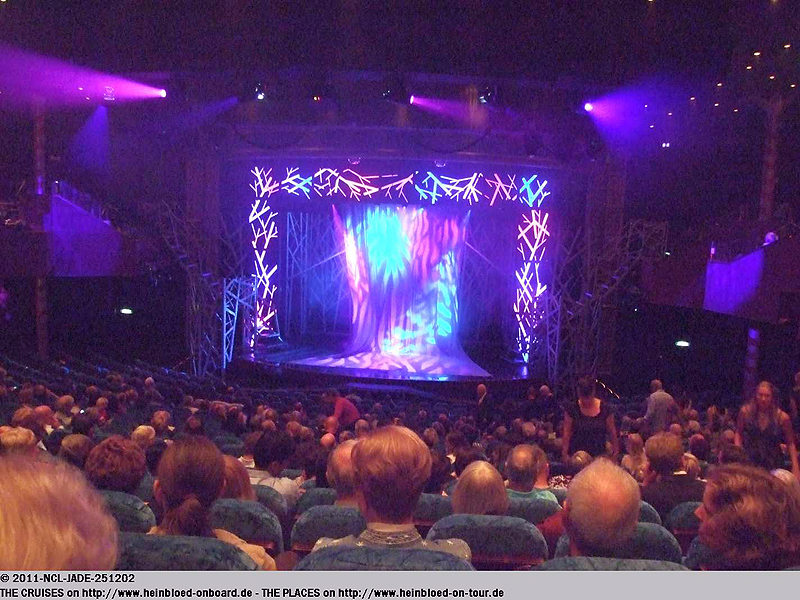 This time we were clever enough not to sit in the front rows and sat in the rear and in the center to see everything.

Everybody was exited. We too. So we enjoyed the full show without taking pictures. Who want to see them should go to our January 2011-voyage on NORWEGIAN JADE.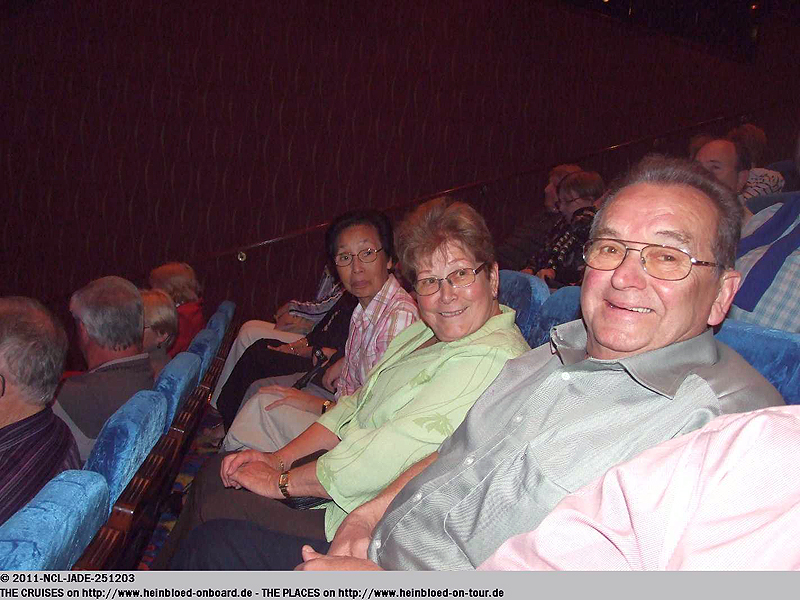 Alle sind begeistert. Wir auch. Deswegen genießen wir voll die Show ohne Bilder zu machen. Die können ja unter der Januar 2011-Fahrt auf der NORWEGIAN JADE abgerufen werden.
Nur das Finale: es war alles wieder wie ein einziger Traum.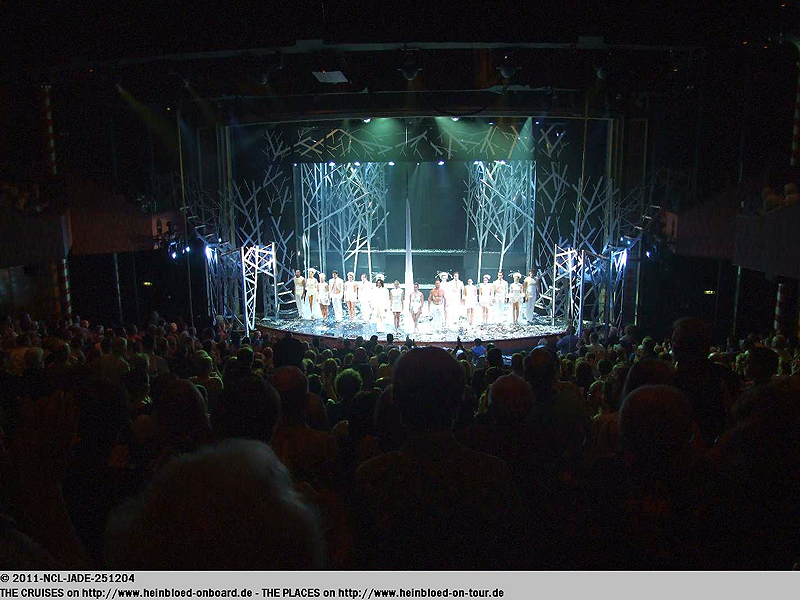 On the finalee: it was like a big big dream.

Standing ovations.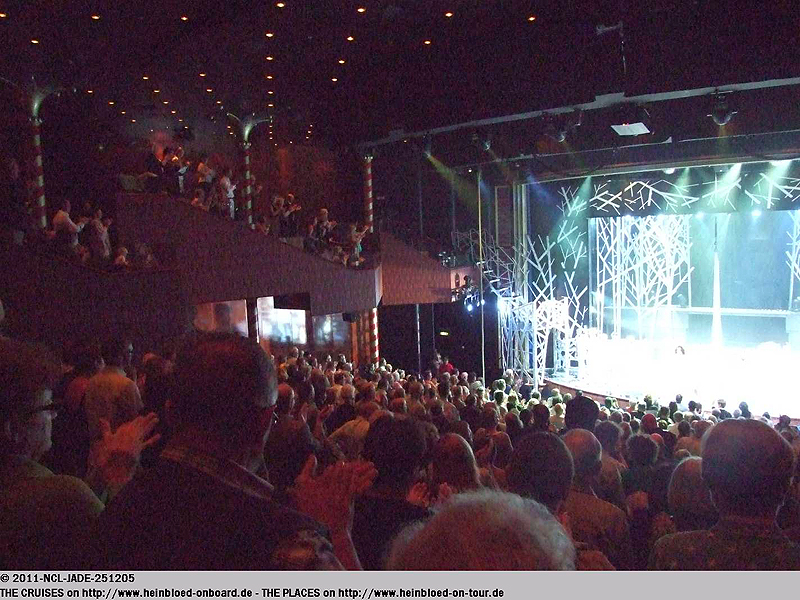 Stehende Ovationen.
Und kein Ende.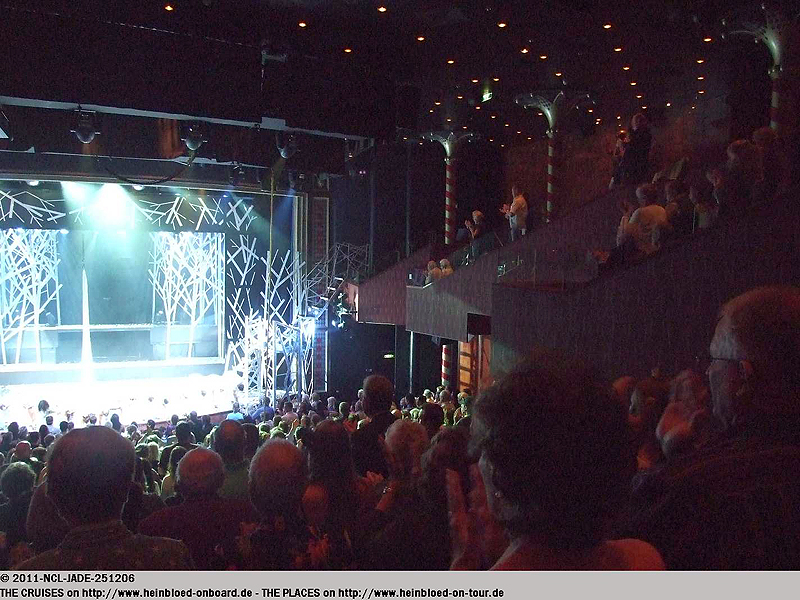 And no end.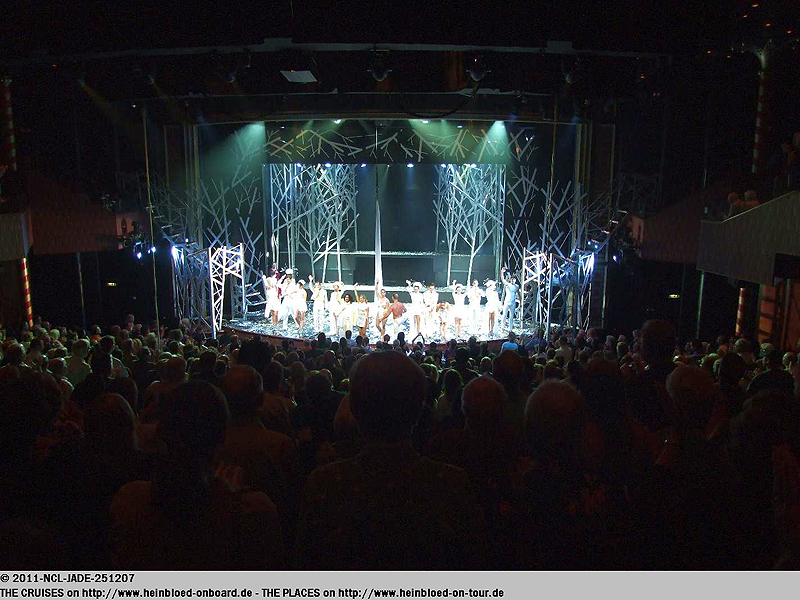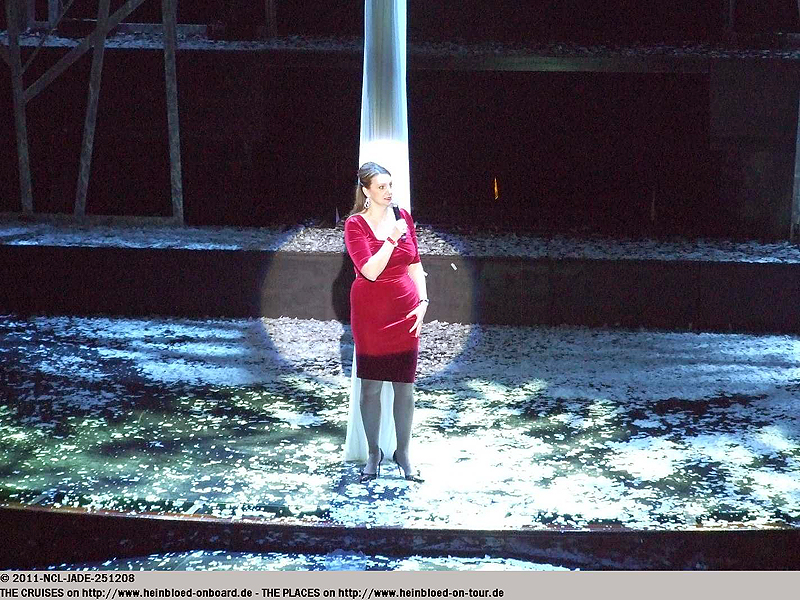 As promised I visited Ronnie and to see the new sushi-offer. They changed it to à-la-carte-pricing. The Miso-soup was 1.50 USD.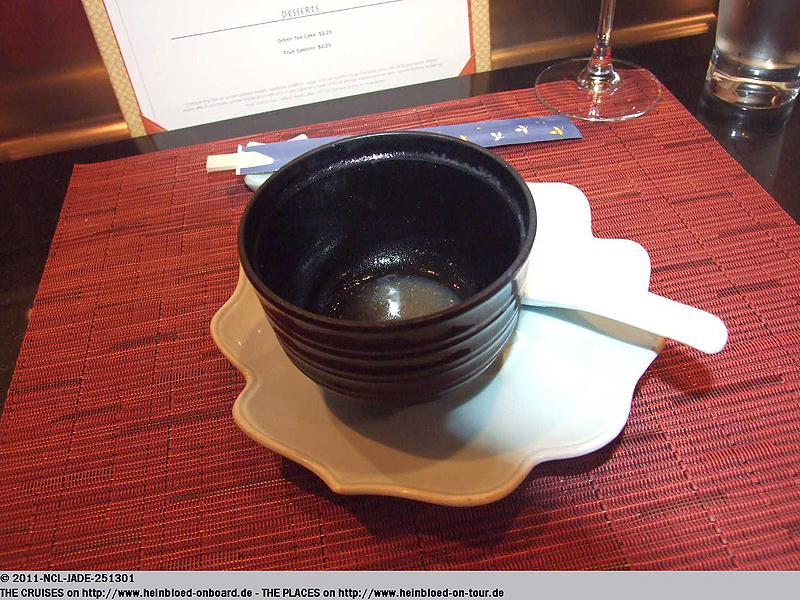 Wie versprochen besuche ich Ronnie und will mir das neue Sushi-Angebot ansehen. Es ist auf à-la-carte-Preise umgestellt worden. Die Miso-Suppe kostet 1,50 USD.
Diese Rolle um die 5,00 USD herum. Genau weiss ich es nicht mehr.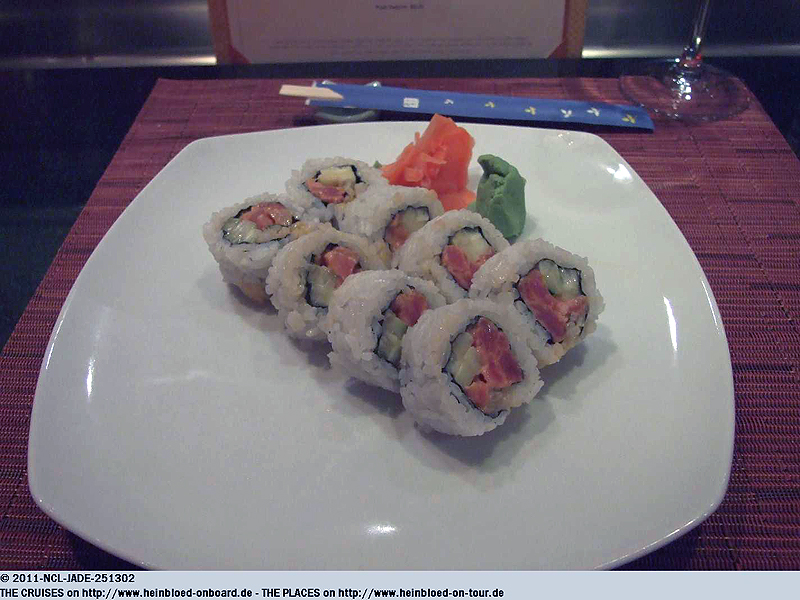 This role around 5.00 USD. But I could not remember.

Only the seaweed salad which I like very much was unfortunately overpriced with 2.95 USD because you got exactly one bite. I had sushi 2008 on NORWEGIAN GEM. Then I disliked it because there were many Americanized versions. Now the selection is more authentic Japanese. But the cover charge is no add-value compared to the shore. Like 25 USD covercharge in Cagney's means a value of 50-70 EUR in Frankfurt, Germany. Like my meal 10 USD cover charge means maybe a value of 12 EUR in Frankfurt or 12 USD in Los Angeles. The quality was fine. But it was nothing what you cannot get ashore as well.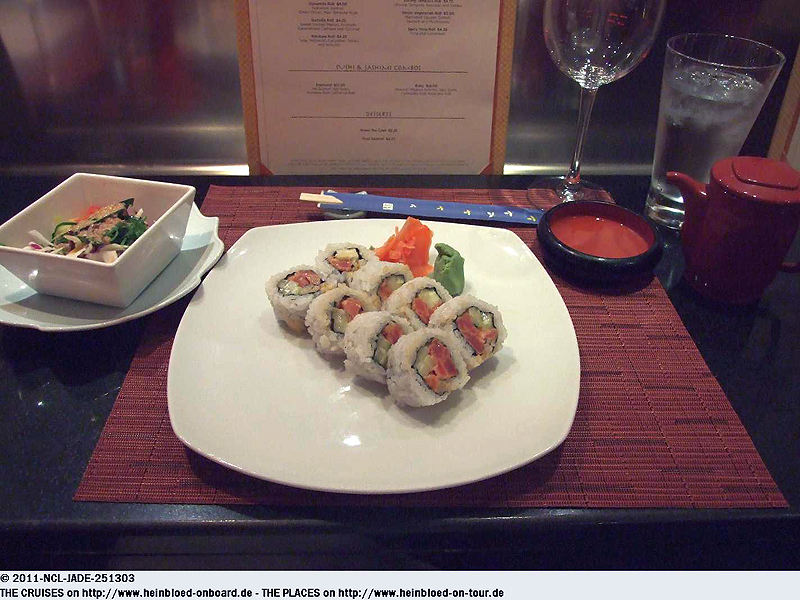 Nur der Seetang-Salat, den ich eigentlich sehr gerne esse, war leider mit 2,95 USD (oder so ähnlich) etwas überteuert, weil es davon nur eine Gabel voll gab. Zuletzt war ich 2008 auf der NORWEGIAN GEM Sushi essen. Damals mochte ich es nicht, weil zuviele amerikanisierte Sorten gab. Die Auswahl hier war japanischer. Nur wenn ich hier zuzahle, dann habe ich einen geringeren Mehrwert gegenüber der Straße. D. h. 25 USD Zuzahlung im Cagney's bedeuten einen Wert von 50-70 EUR in Frankfurt. Nur hier bedeuten etwa die 10 USD, die meine Rechnungssumme betragen würde in Frankfurt einen Wert von 12 EUR und in Los Angeles vielleicht 12 USD. Von der Qualität war es gut. Nur wie gesagt, es ist nichts, was mich vom Hocker reisst, und was ich nicht auf der Straße bekommen würde.
Aber hauptsächlich geht es darum, mit Ronnie ein paar Worte wechseln zu können und die Sushis waren Nebensache. Vor allem weil ich ein weiteres Loch am Gürtel verloren habe... Aber Ronnie hat gute Nachrichten für mich: Sein Freund Chandra ist auf der NORWEGIAN SUN. Ihn kennen wir auch von der NORWEGIAN JADE 2009 und mit viel Glück ist er September 2012 an Bord. Also steht wieder einer Fahrt mit guten Freunden im September 2012 nichts im Wege.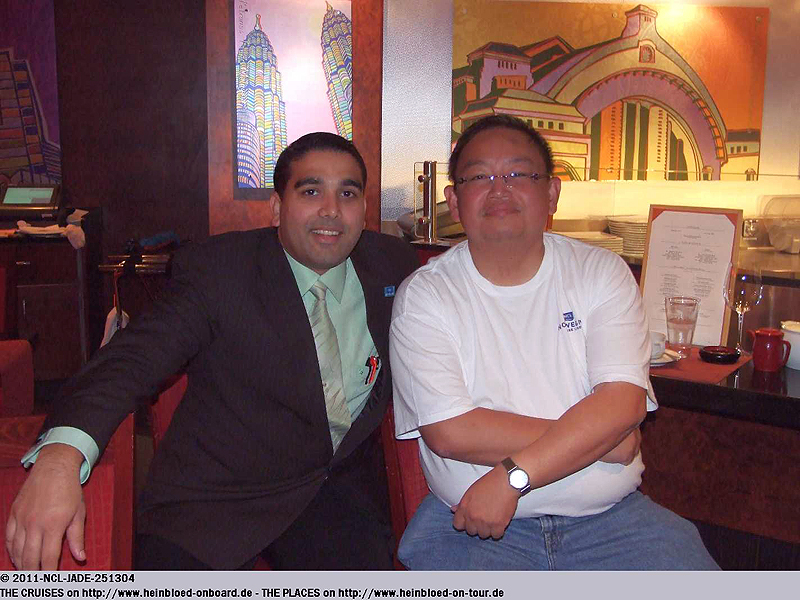 But anyway it was more to exchange some words with Ronnie and the sushi were not the main target. Because I lost another hole on my belt.... But Ronnie had good news for me: His friend Chandra whom we knew from NORWEGIAN JADE 2009 should be onboard of NORWEGIAN SUN. And maybe he will be in September 2012 again on NORWEGIAN SUN. So nothing against a cruise with good friends again in September 2012.