Scroll down for English explanations - alternates with German explanations.

Das letzte Frühstück fällt traurig aus: ich springe immer zwischen Tisch und Promenadendeck. Die Kellner sind deswegen leicht genervt, zumal wir heute Morgen nur unbekanntes Personal hatten. Und es gibt kein Omelette mehr.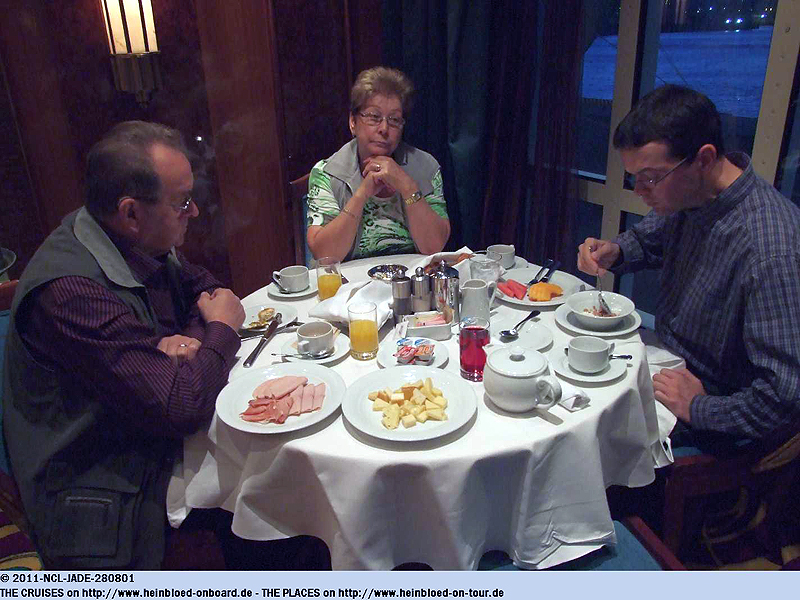 The last breakfast was very sad: I jumped all the time between table and promenade. The waiters whom we all did not know were somehow a little nervous on it. No more omelette available.

On the screen we could follow the progress of the debarkation.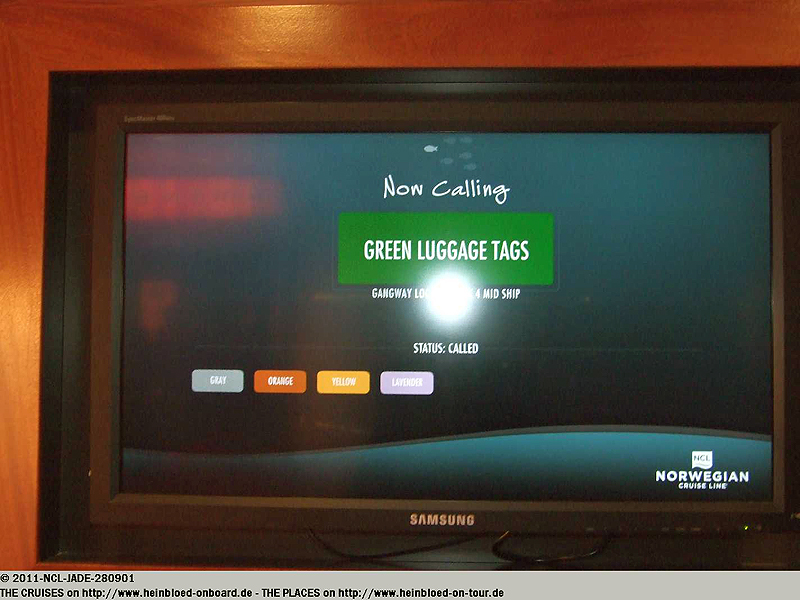 Am Bildschirm können wir den Ausschiffungsvorgang beobachten.
Aber mit VIP-Kofferanhänger begeben wir uns zum Jasmine-Restaurant. Dort werden wir von Vanessa empfangen.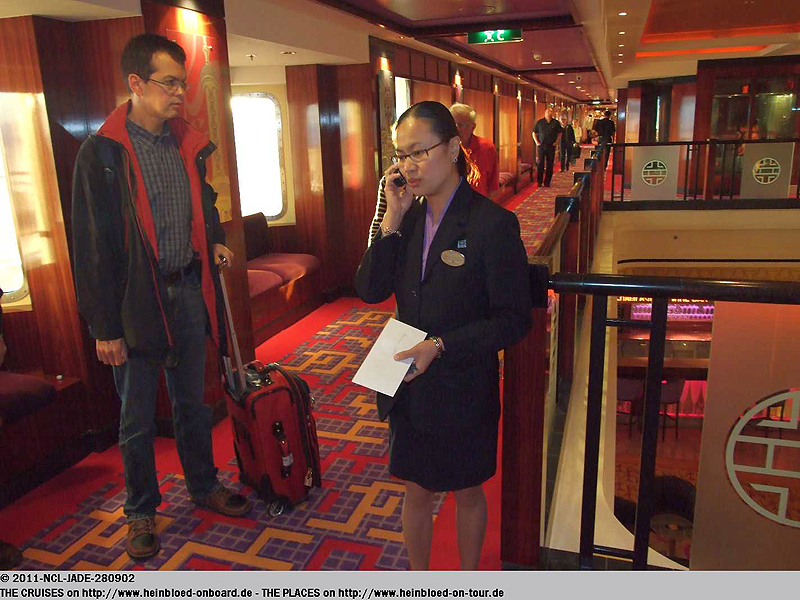 But with VIP-baggage tags we went to the Jasmine-Restaurant. There we were welcomed by Vanessa.

She took us through a crew stairway down in a crew-elevator.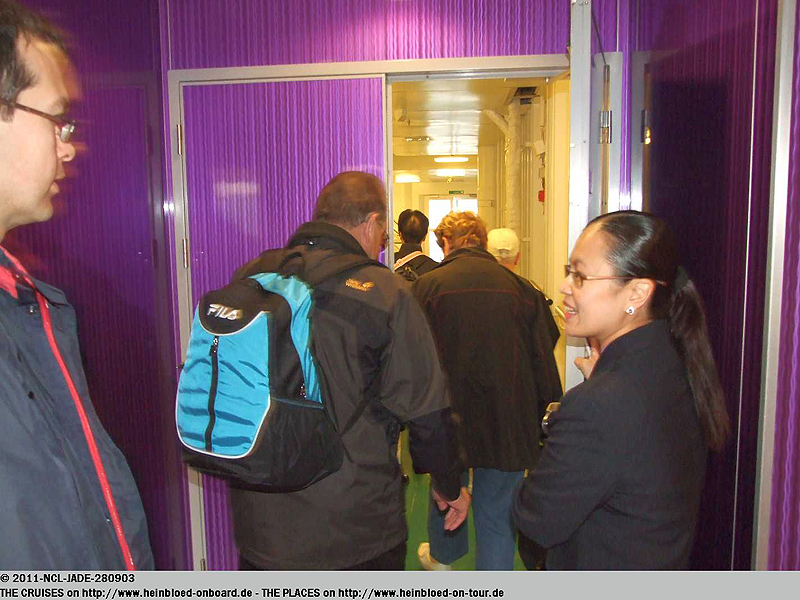 Sie bringt uns dann wieder über ein Crew-Treppenhaus direkt in einen Crew-Fahrstuhl.
So geht es direkt für uns nach unten.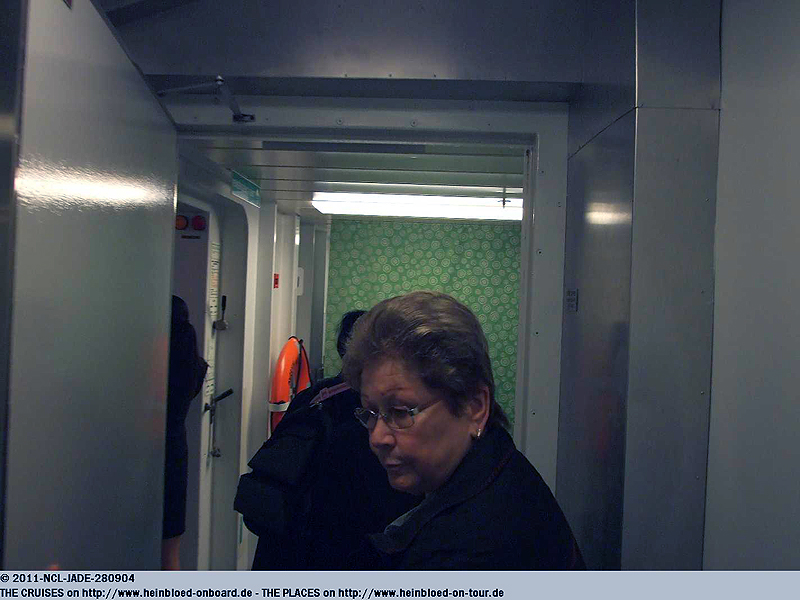 So we went directly down.

Yes - all was over. They prepared already for the next guests.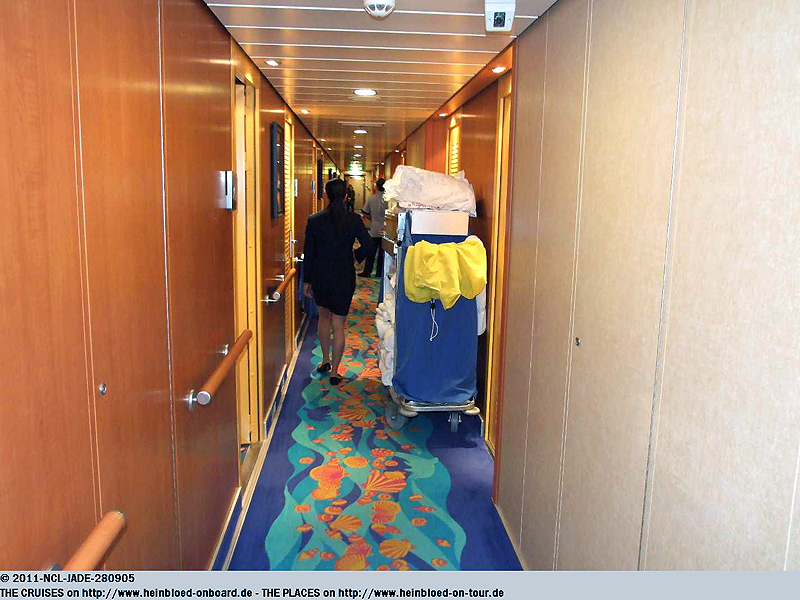 Ja - alles vorbei. Es wird alles für die nächsten Gäste schon vorbereitet.
Jill verabschiedet uns. Ich spreche sie auf die Show "Shout" an, weil ich davor keine Gelegenheit hatte. Das läuft aber nur alle 14 Tage.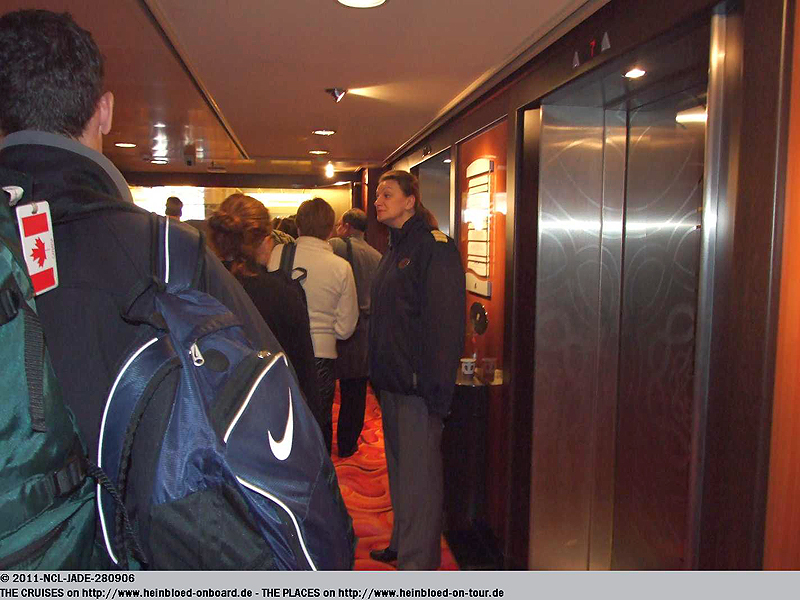 Jill said good-bye. As we had no earlier occasion I asked her why we did not see the show "Shout" but learned that it was only presented every two weeks.

Armando was glad that he had a chance to say personally Adeus. We told him that we booked our parents to Madeira on NORWEGIAN SPIRIT. At the time when I wrote the lines I had an appointment in Hamburg, Germany in the restaurant O Pescador to enjoy Portguese hospitality - even not by Armando.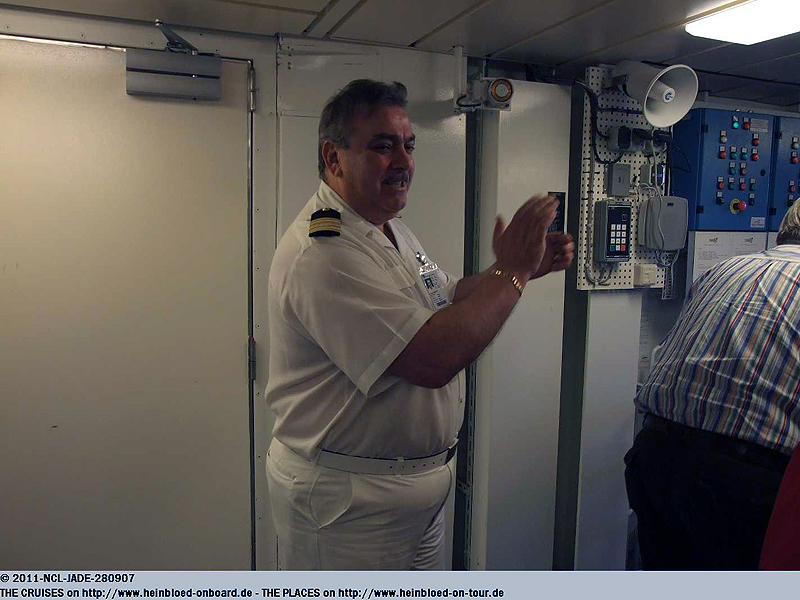 Armando freut sich, dass wir doch noch die Chance haben, persönlich Adeus zu sagen. Wir erzählen ihm, dass wir die Eltern bereits nach Madeira auf die NORWEGIAN SPIRIT gebucht haben. Und zum Zeitpunkt des Schreibens werde ich abends ins
O Pescador
in Hamburg gehen, um mich schon auf Madeira einzustimmen. Ich will einfach portugiesische Gastfreundschaft erleben, wenn auch leider ohne Armando.
Leider betrifft uns diese Information nicht mehr.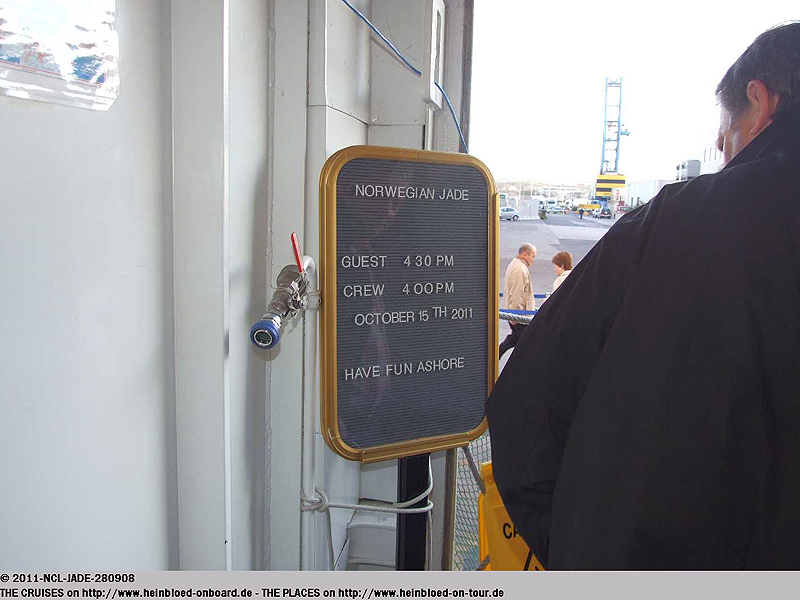 Unfortunately the information did not apply to us.

Captain Kim might sit with a cup of coffee and had his well-deserved breakfast. Kiitos again for the wonderful cruise.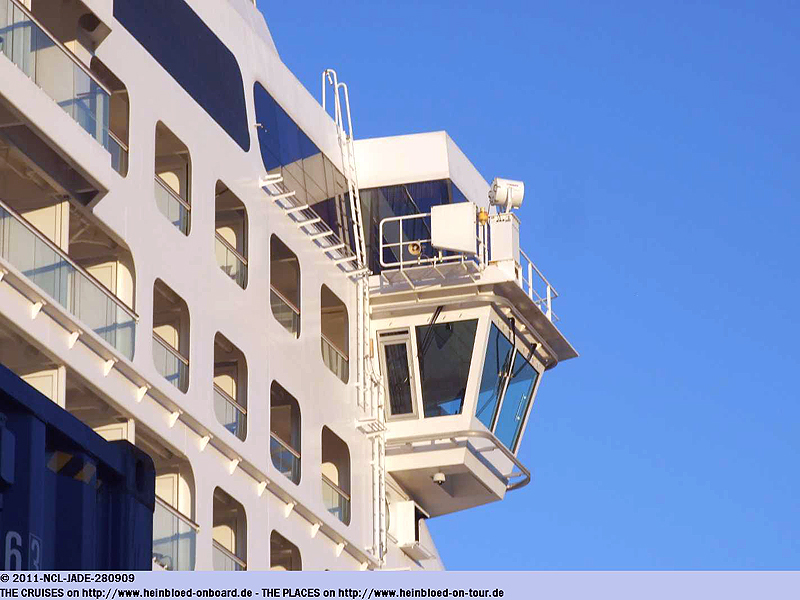 Kapitän Kim dürfte vermutlich bei seinem wohlverdienten Kaffee zum Frühstück sitzen. Kiitos nochmals für die wunderbare Fahrt.
Innen werden wir direkt zu unseren VIP-Koffern geführt.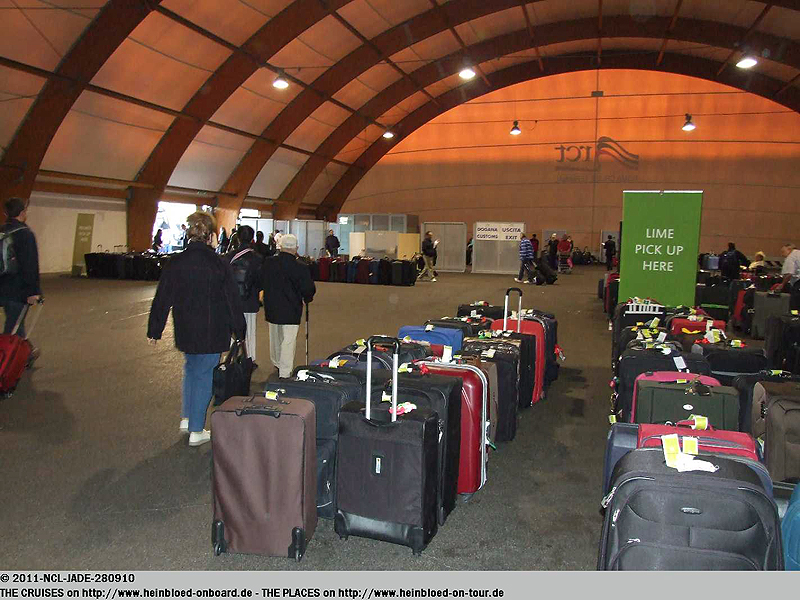 Inside we were escorted tour VIP-bags.

Quickly we found our bags.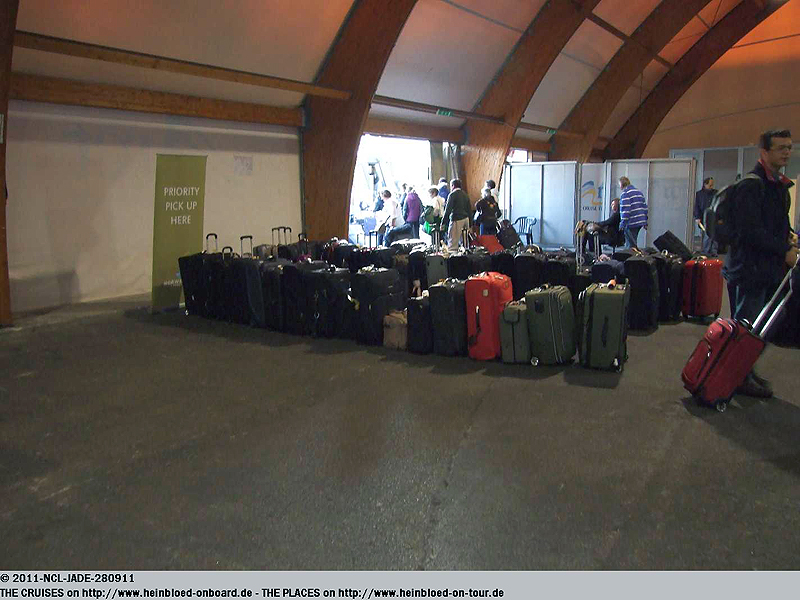 Schnell sind unsere Koffer gefunden.
Günstig sind die Koffer nur für die platziert, die einen NCL-Transfer gebucht haben. Wir müssen an das andere Ende des Festzeltes. Nur so eben sind die Wege hier nicht, als das man bequem selbst die Koffer rausrollen kann.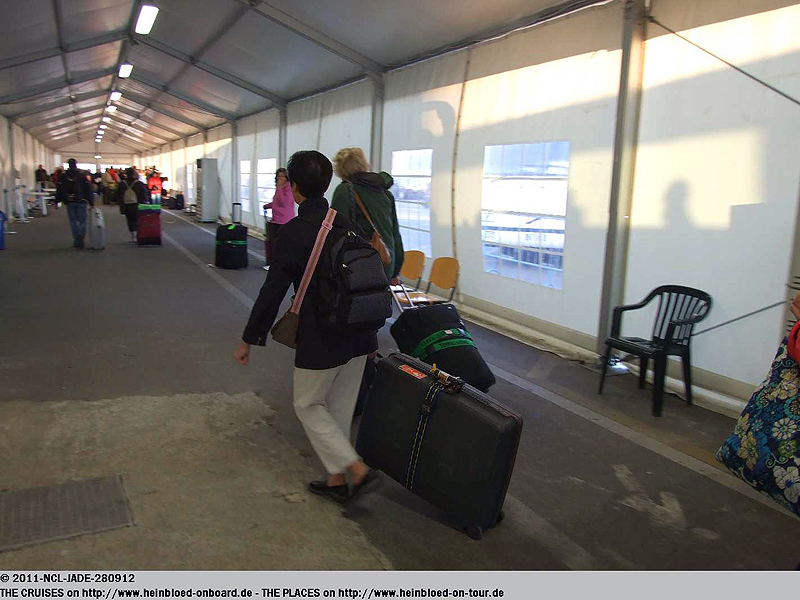 The location was only pleasant for those who booked a ship's transfer. We need to walk all way down to the other end of the party tent. But the ways were not very even so it was impossible just to roll out the bags.

Daniela of Autonoleggio MZ sent us Fabio who was waiting for us.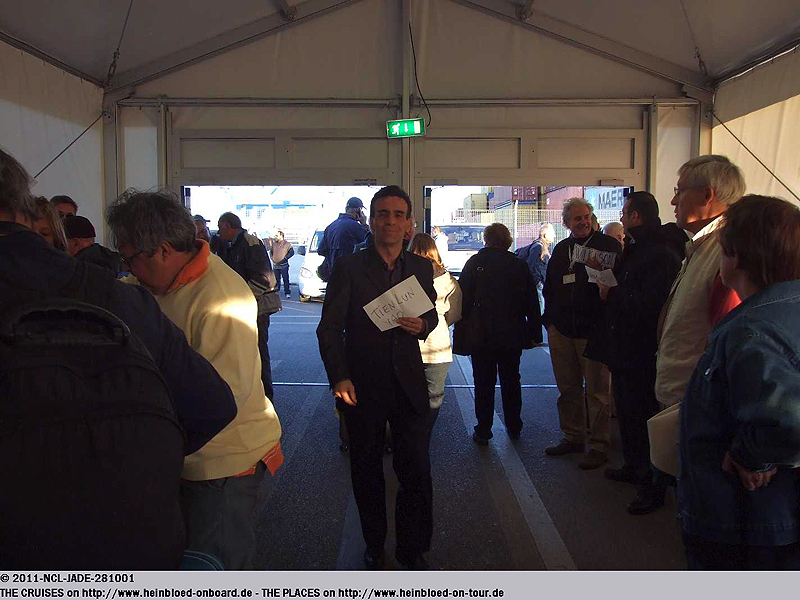 Daniela von
Autonoleggio MZ
hat Fabio geschickt, der bereits auf uns wartet.
Sie hat sichergestellt, dass wir ausreichend Platz für uns und unser Gepäck haben.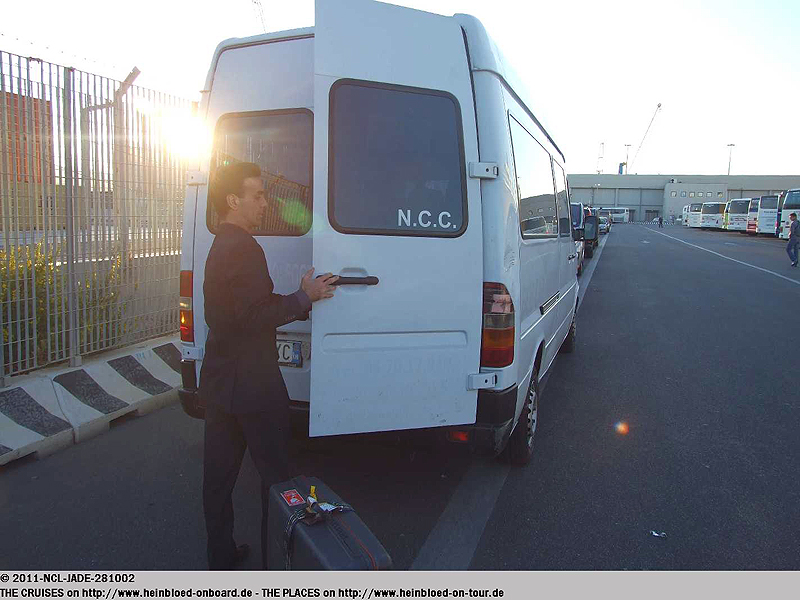 She made sure that we had enough space for us and our bags.

The bags were pre-sorted. My parents should leave at the airport. I will go with them and help them with the check-in. Later I would follow the others by train to Rome.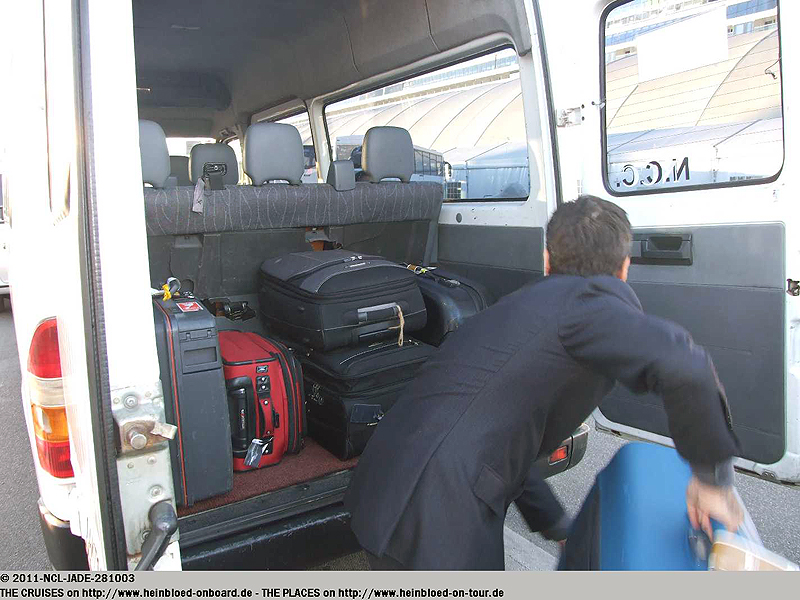 Die Koffer werden schon vorsortiert. Meine Eltern steigen bereits am Flughafen aus. Ich steige mit aus und helfe ihnen beim Einchecken. Später fahre ich dann nach Rom nach.
Für Brunos Eltern haben wir eine kurze Fotostopp-Tour in Rom vorbereitet, weil sie noch nie hier waren.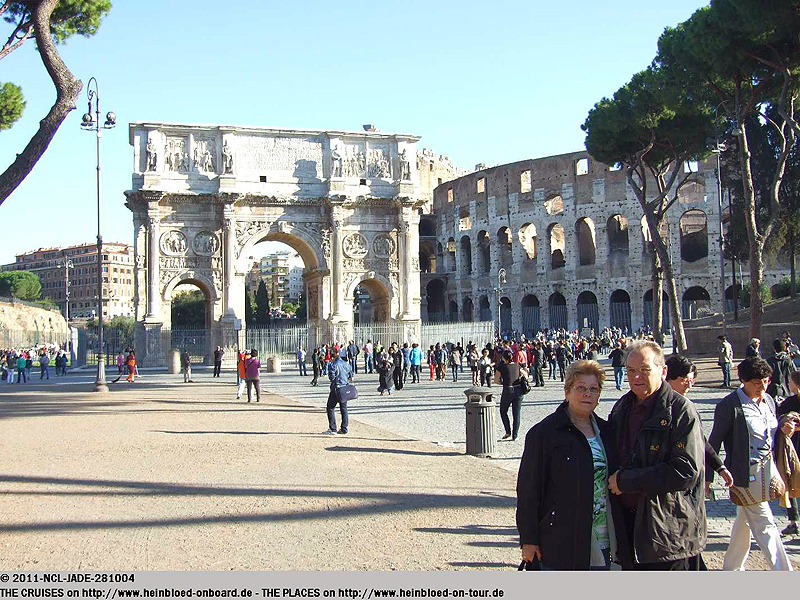 For Bruno's parents who have never been before in Rome we arranged a short photo-stop tour.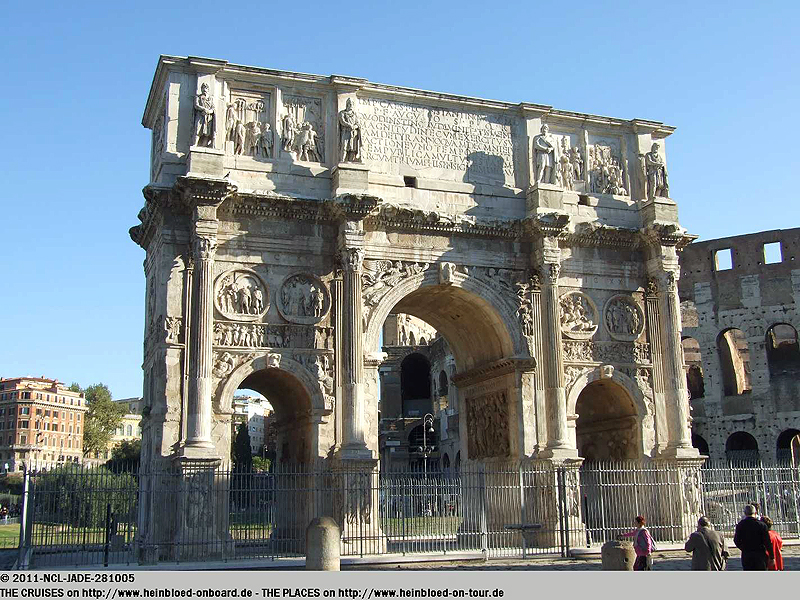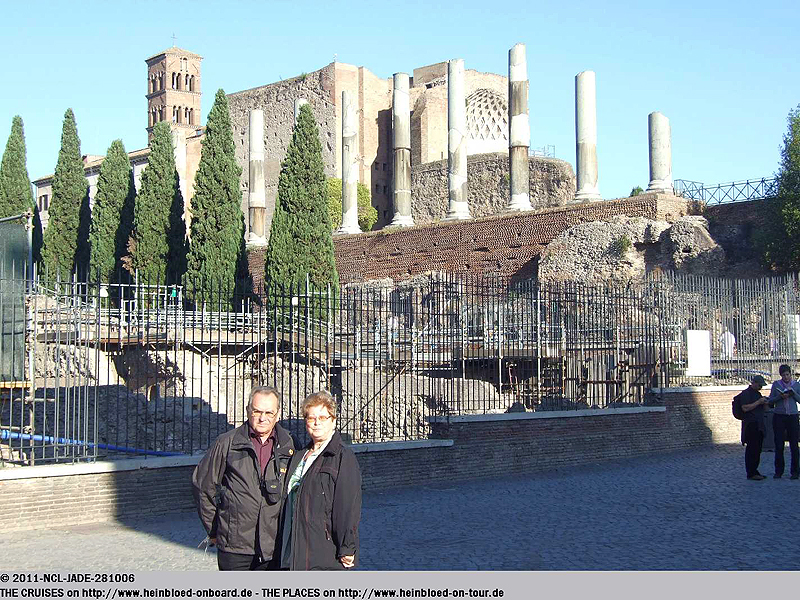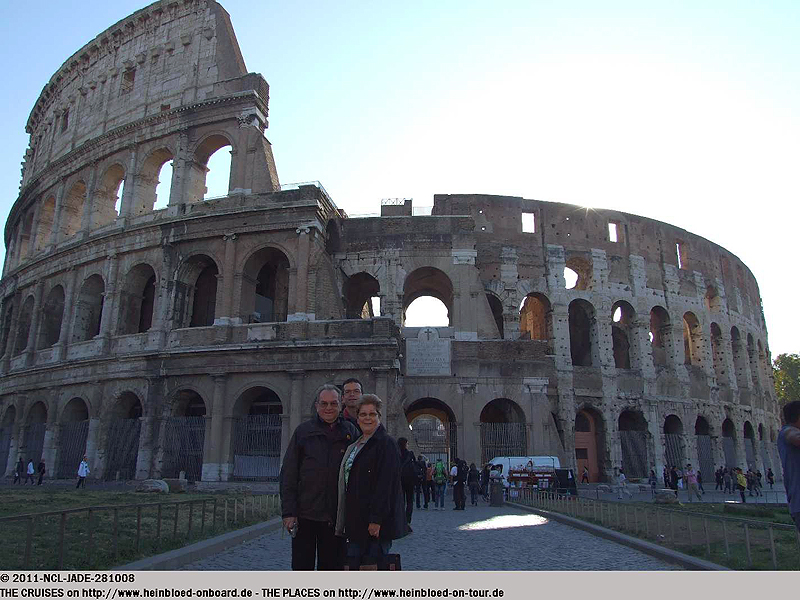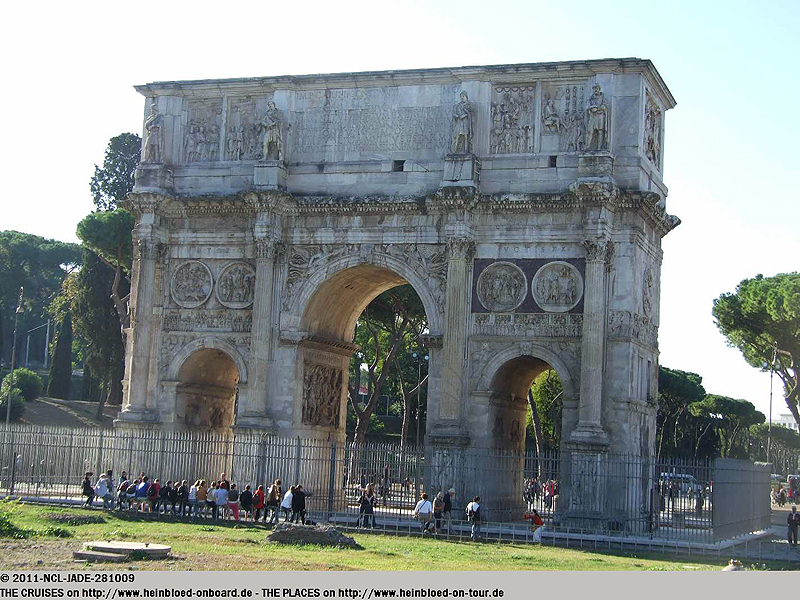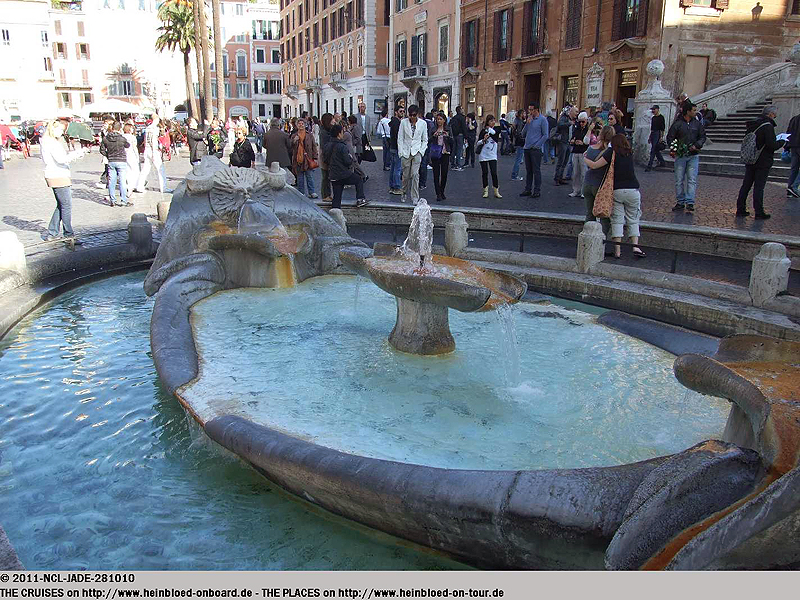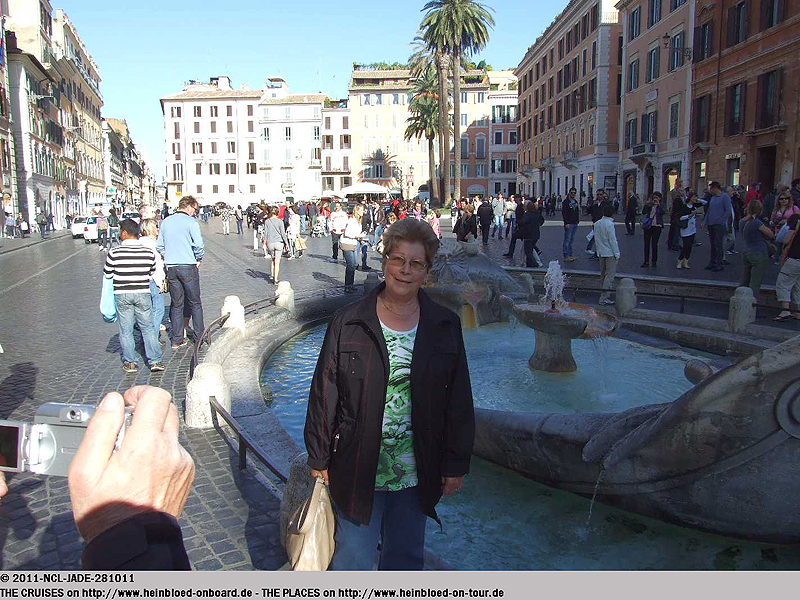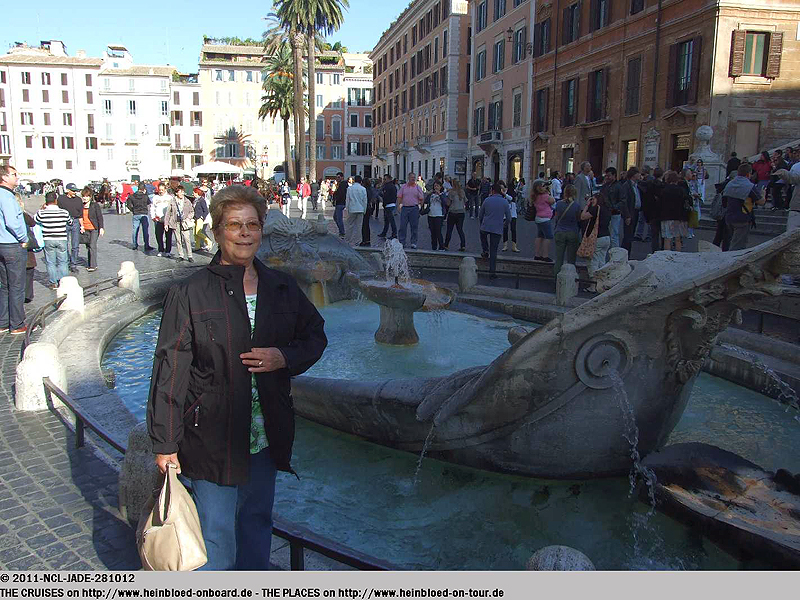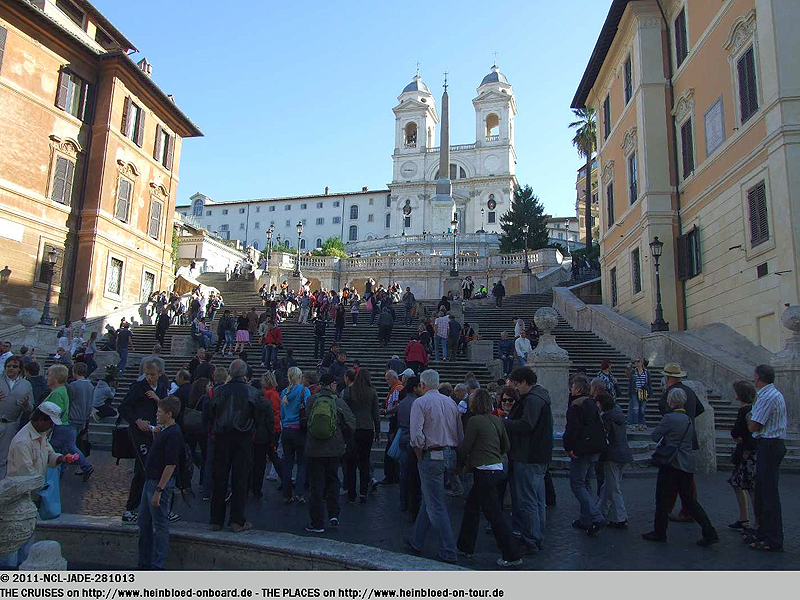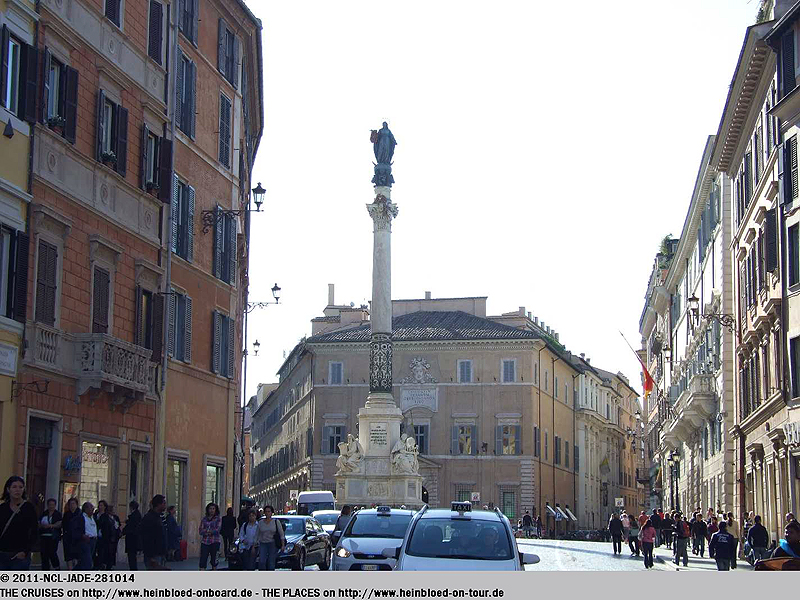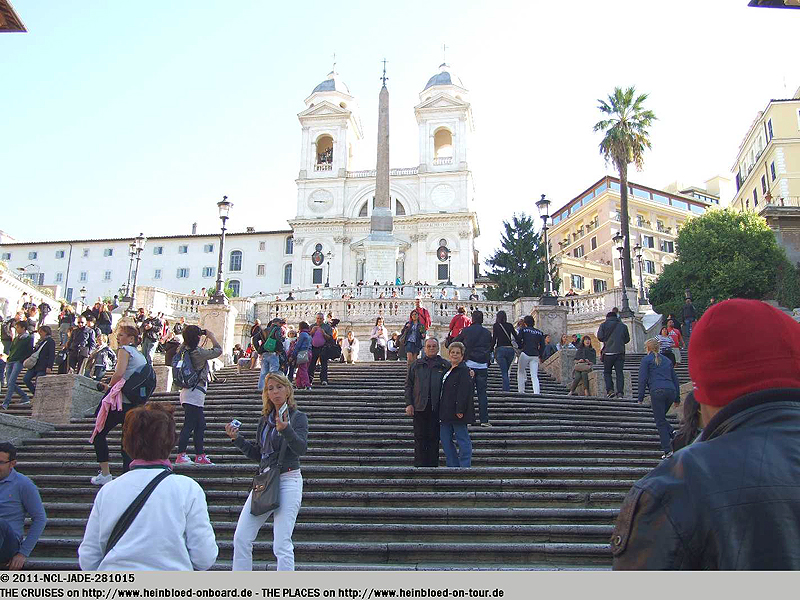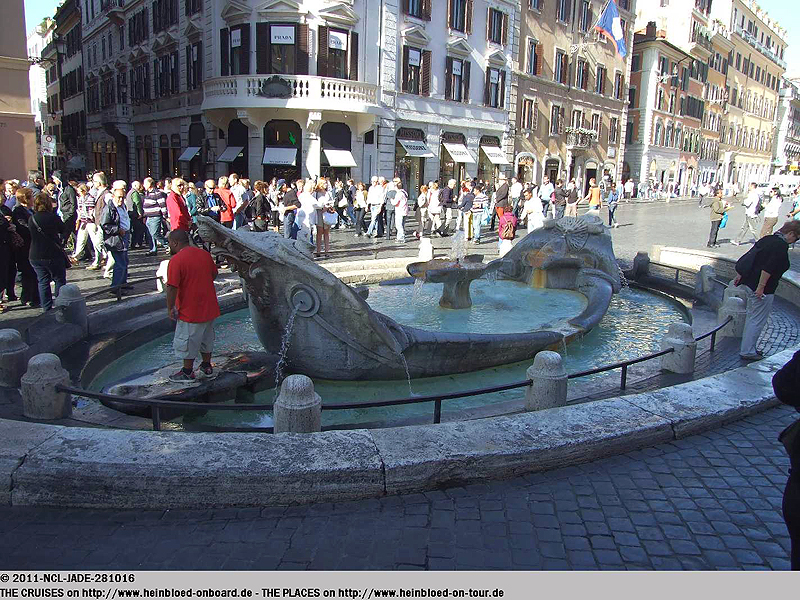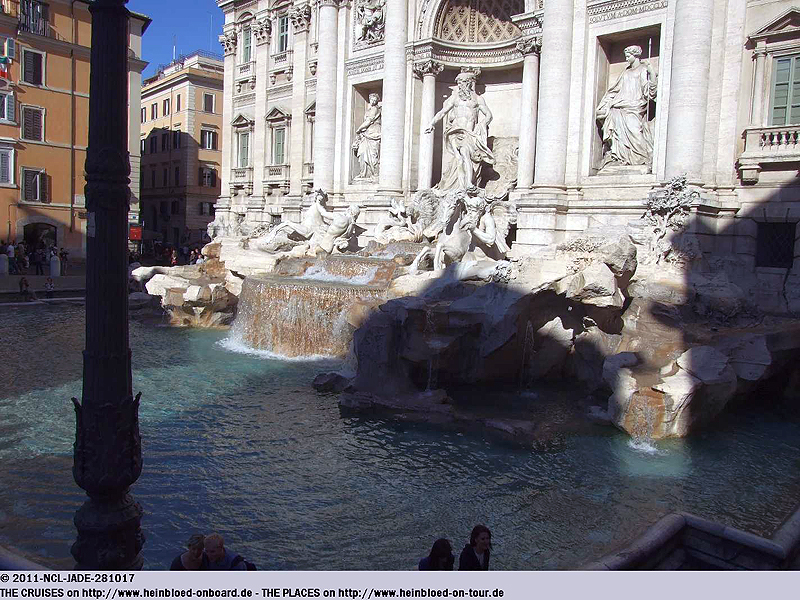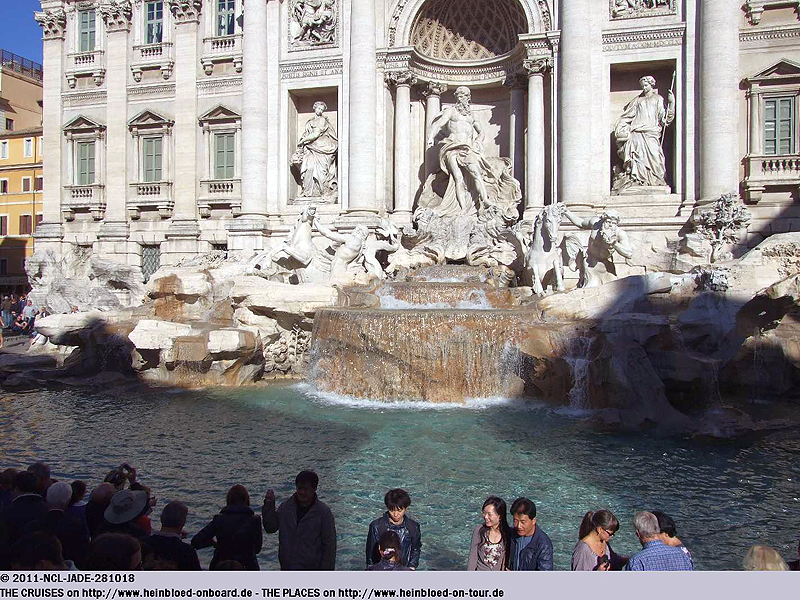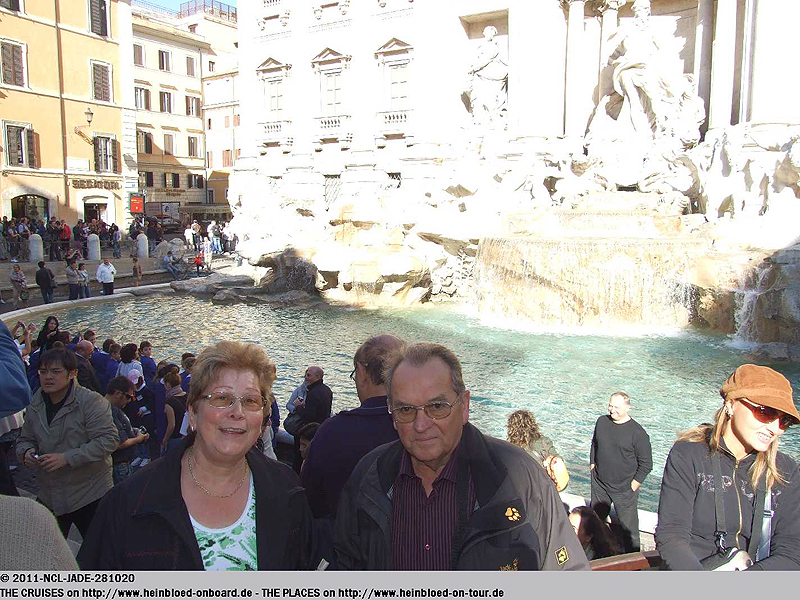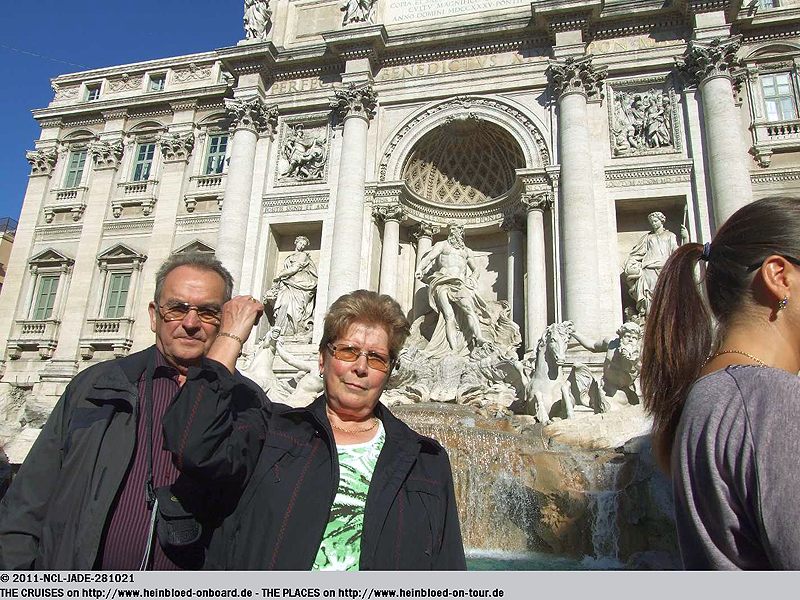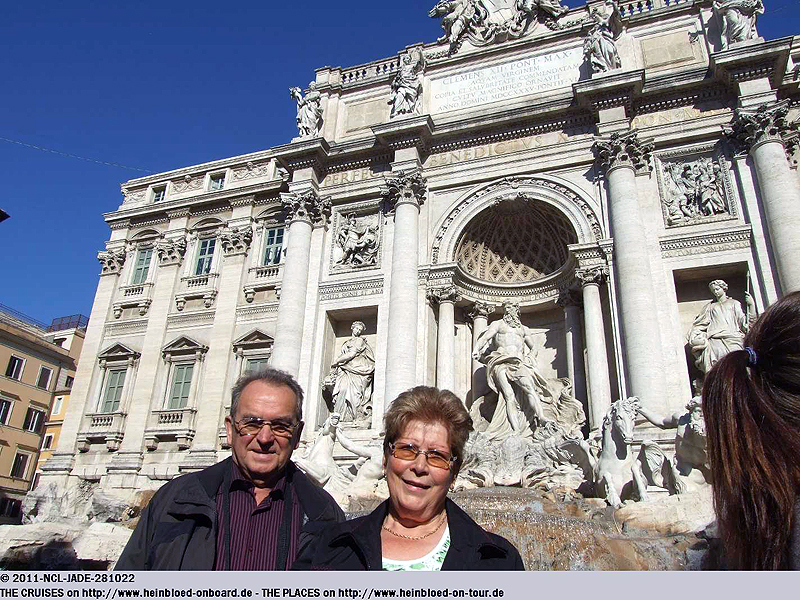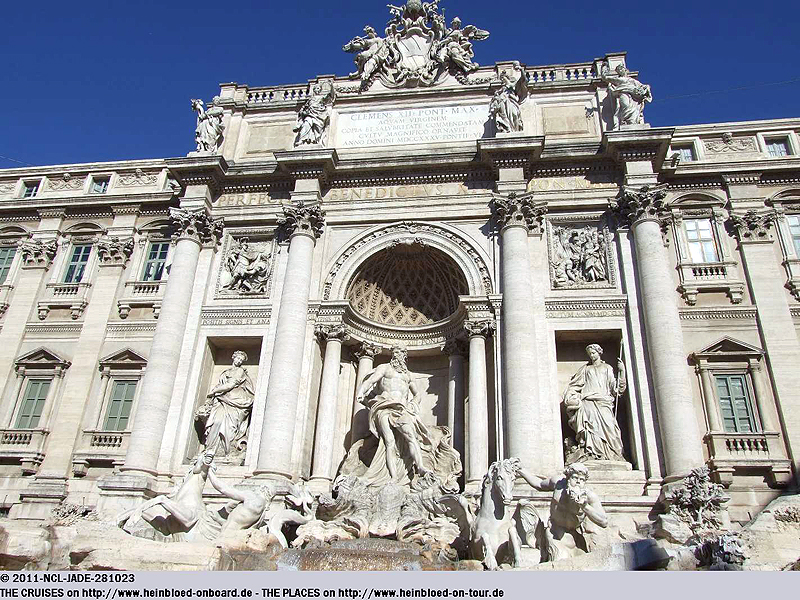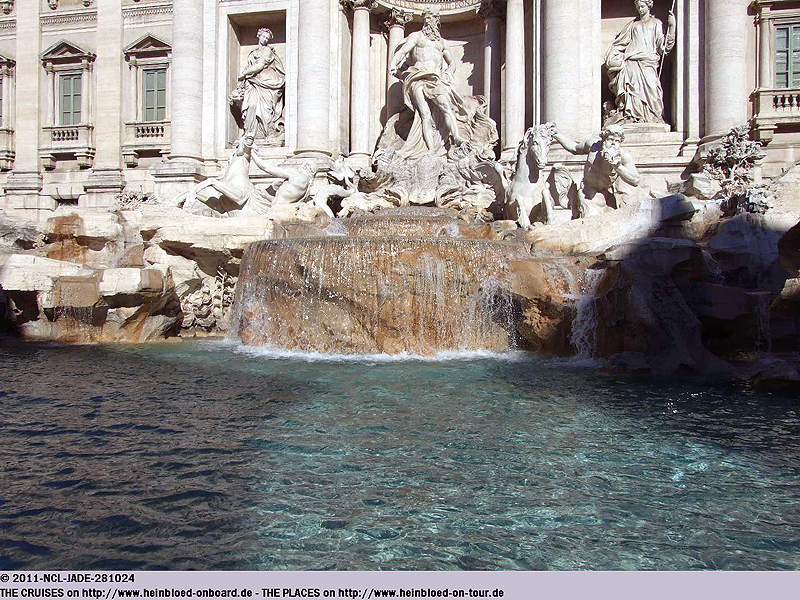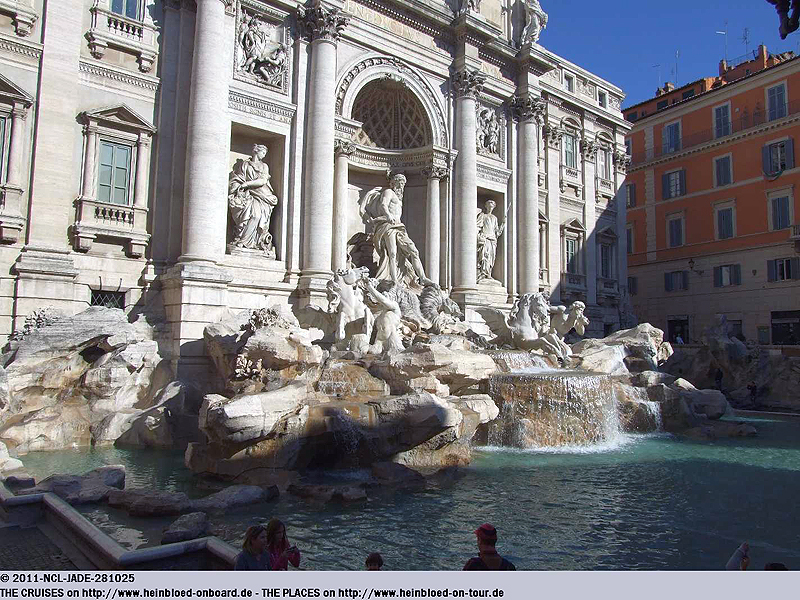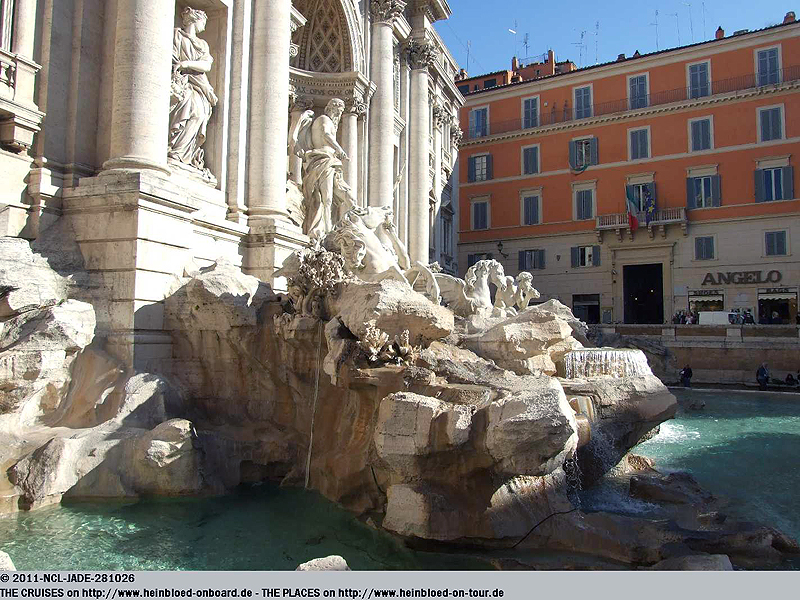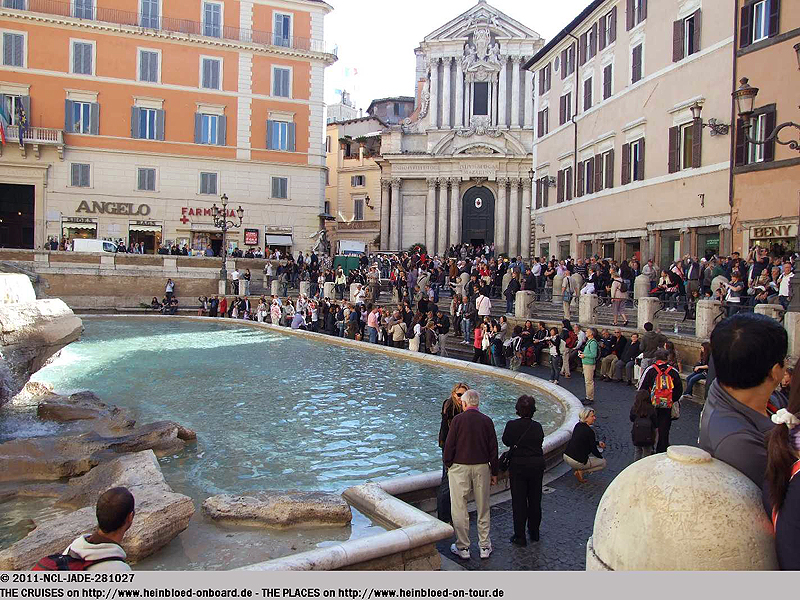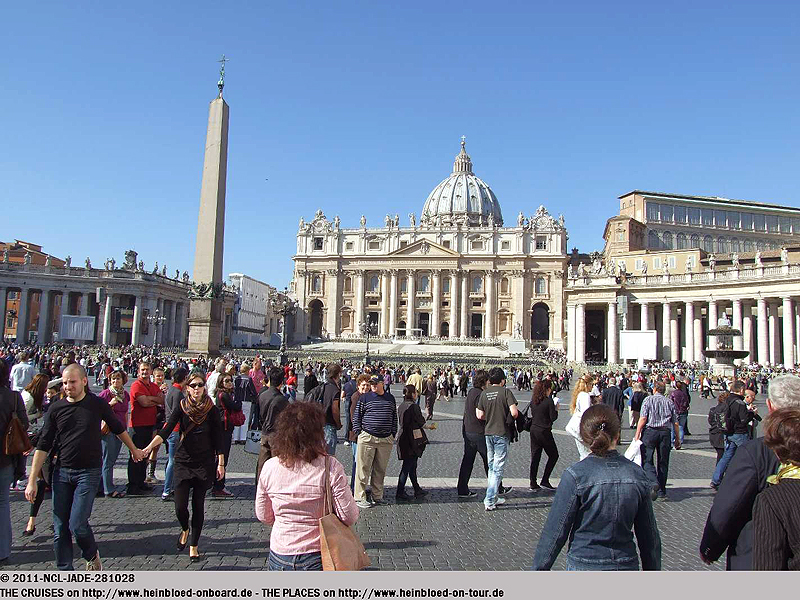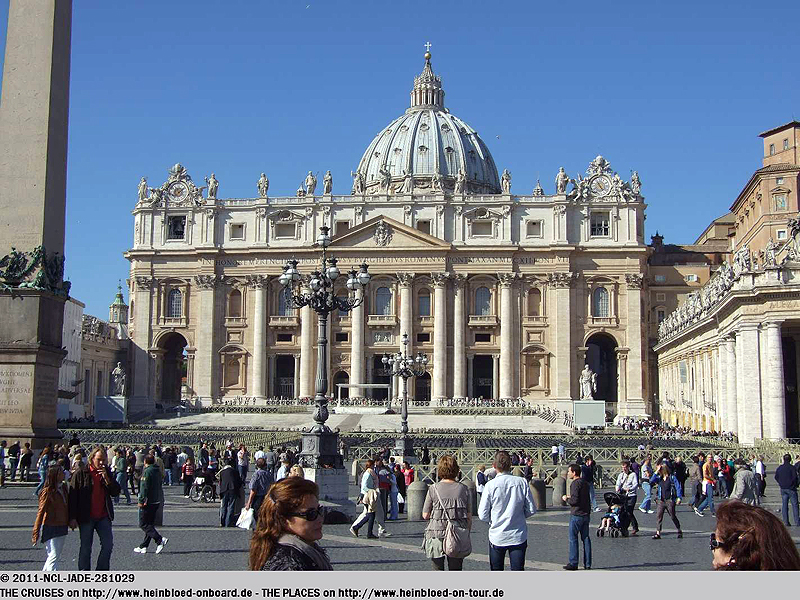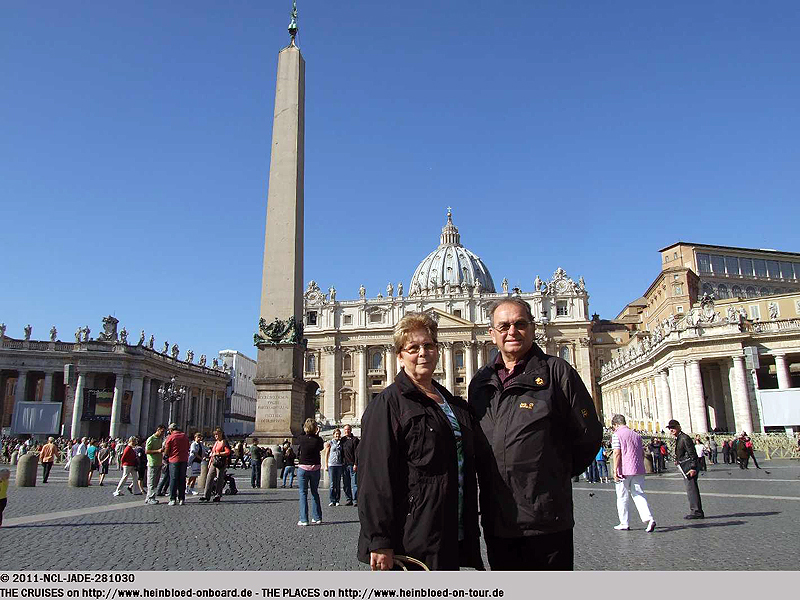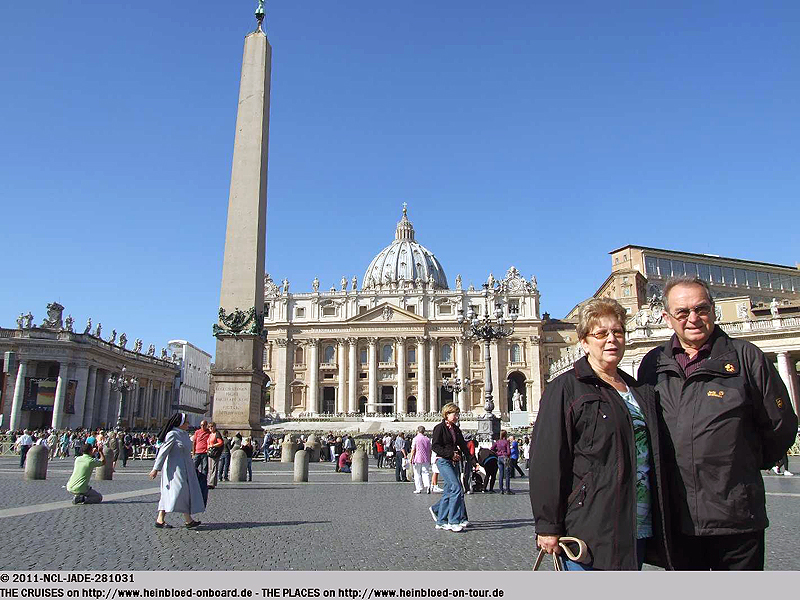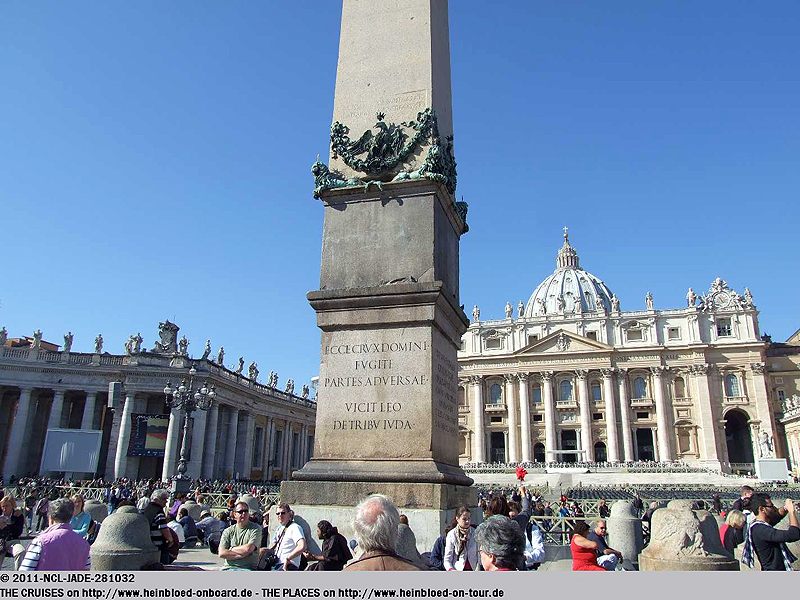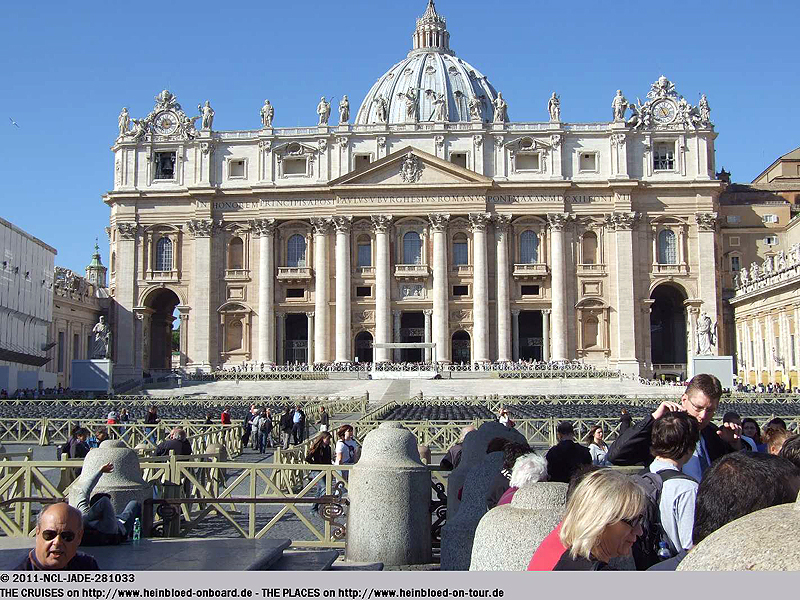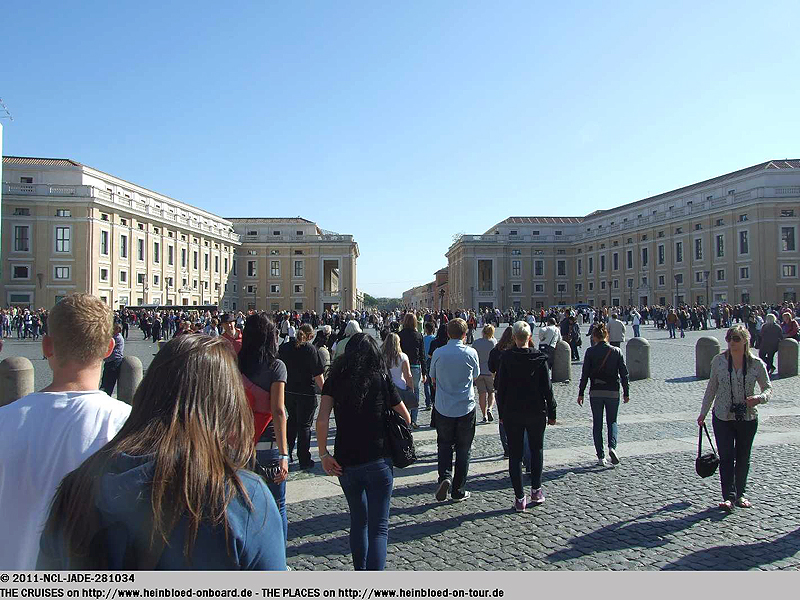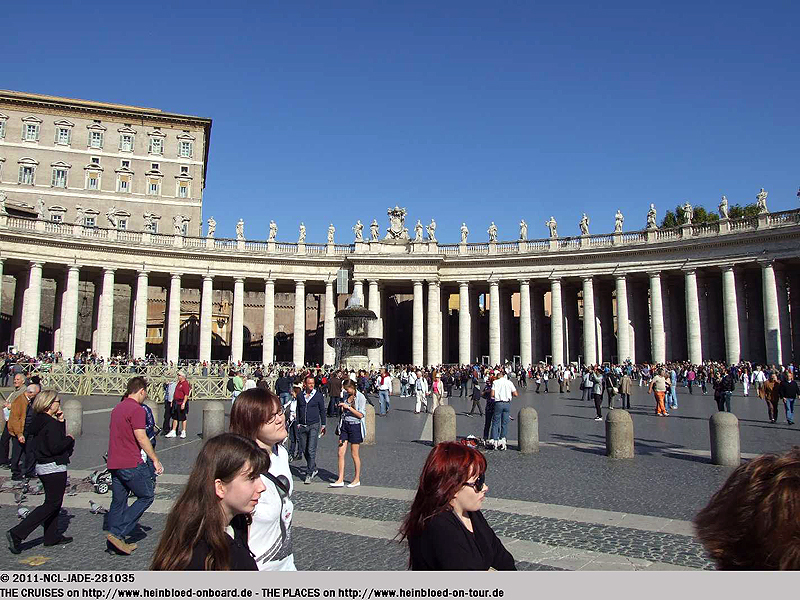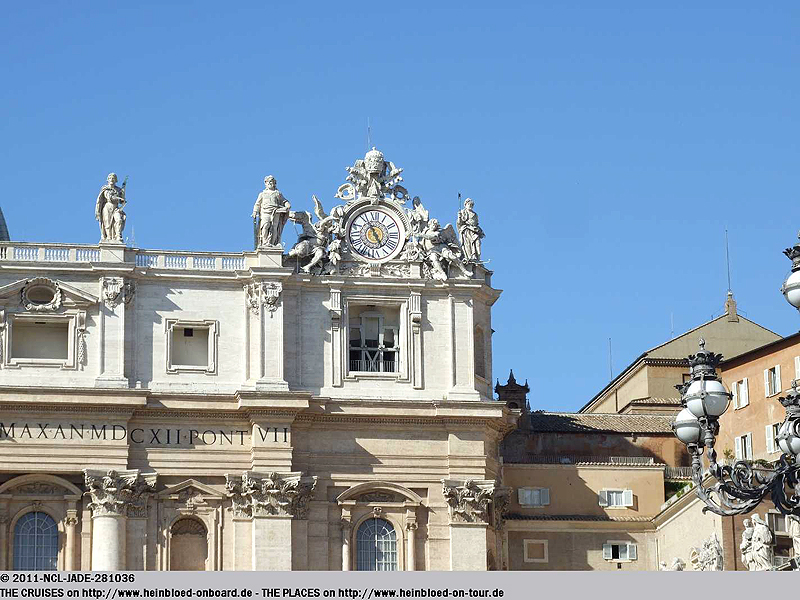 When I rejoined we need to return to the airport soon. I did not like to wait at the airport all the time. We assumed that Fabio worked for Ferrari before - or he was from Southern Italy. We did not find it out until the end of the transfer. Anyhow we were very satisfied with Daniela as it was a little cheaper than the others and the taxis in Civitavecchia. Anytime again.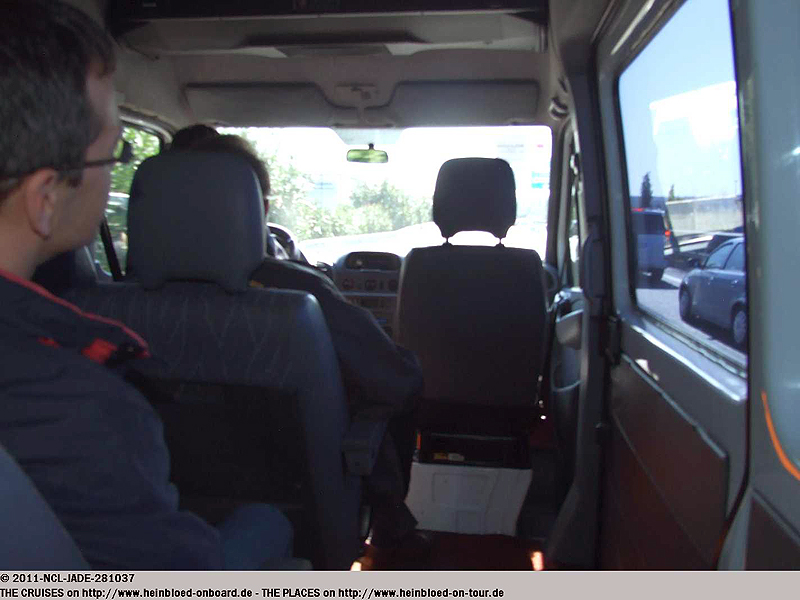 Als ich wieder zusteige geht es auch bald wieder zum Flughafen zurück. Ich hatte keine Lust solange am Flughafen zu warten. Fabio muss aber vorher für Ferrari gefahren sein - oder er kommt aus Süditalien. Das haben wir bis zum Schluss nicht herausbekommen. Auf jeden Fall sind wir mit Daniela wieder sehr zufrieden, da es doch ein bisschen günstiger ist, als die anderen und als die Taxi in Civitavecchia. Immer wieder gerne.