Scroll down for English explanations - alternates with German explanations.

Wir sind ja keine großen Fans vom Alizar, weil wir lieber im Grand Pacific sitzen. Aber als wir erfahren, dass Adina im Alizar ist, ist es selbverständlich, dass wir auch einmal bei ihr essen gehen. Wir kennen sie bereits von der NORWEGIAN DREAM und GEM.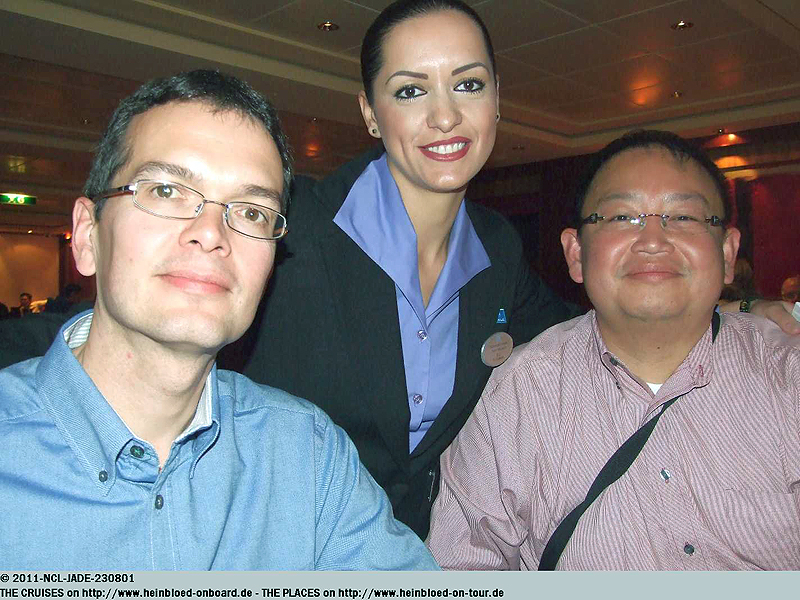 We were no big fans of Alizar because we prefered to sit at Grand Pacific. But when we learned that Adina was working in Alizar it was clear that we also would have a dinner with her. We knew her already from NORWEGIAN DREAM and GEM.

She was totally different like others. For instance she saw that Bruno's pants were dark and so he got a dark napkin.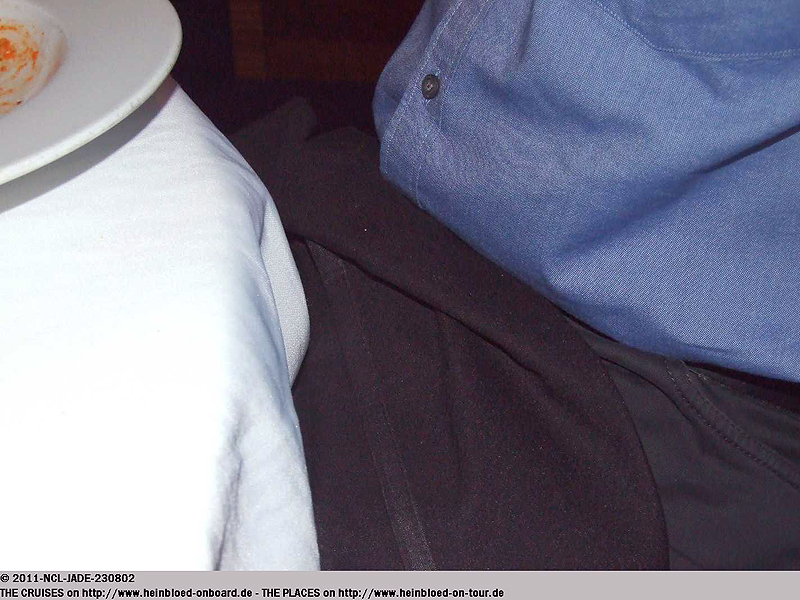 Sie ist eben anders drauf, als die anderen. Sie sieht beispielsweise die dunkle Hose von Bruno und so bekommt er eine schwarze Serviette.
Es macht einfach Spaß sich von ihr verwöhnen zu lassen.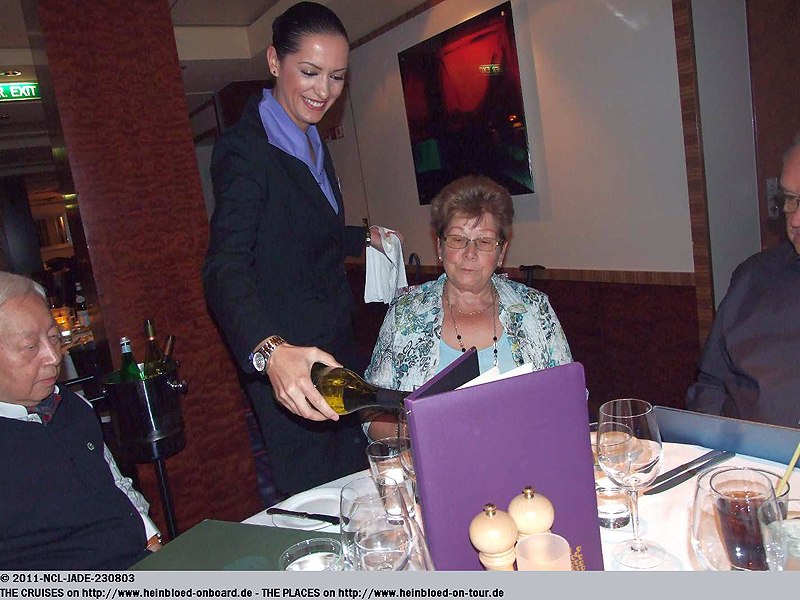 It was just a pleasure to be indulged by her.

Just correctly like it should be.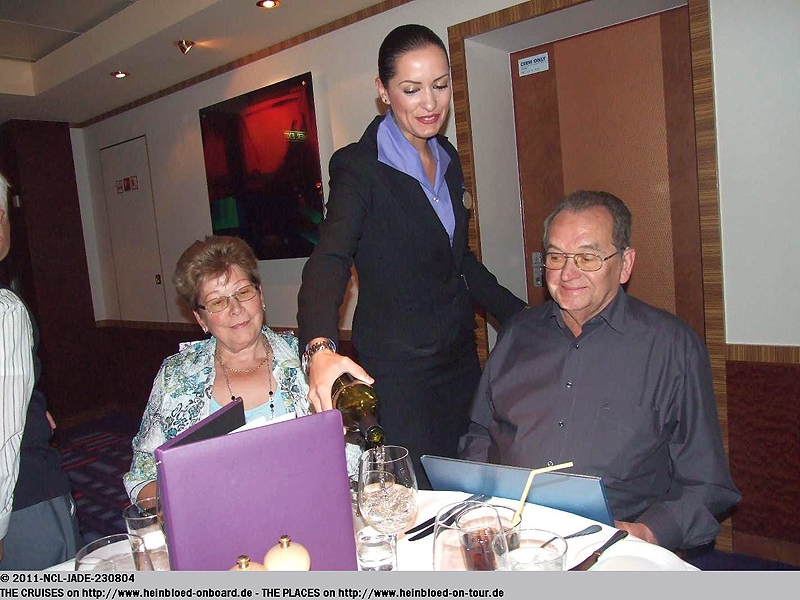 Einfach korrekt.
Beim griechsichen Salat baten wir darum, dass meine Mutter keinen Feta-Käse und keine Zwiebeln bekommt. Absolut kein Problem. Der hier ist für Bruno.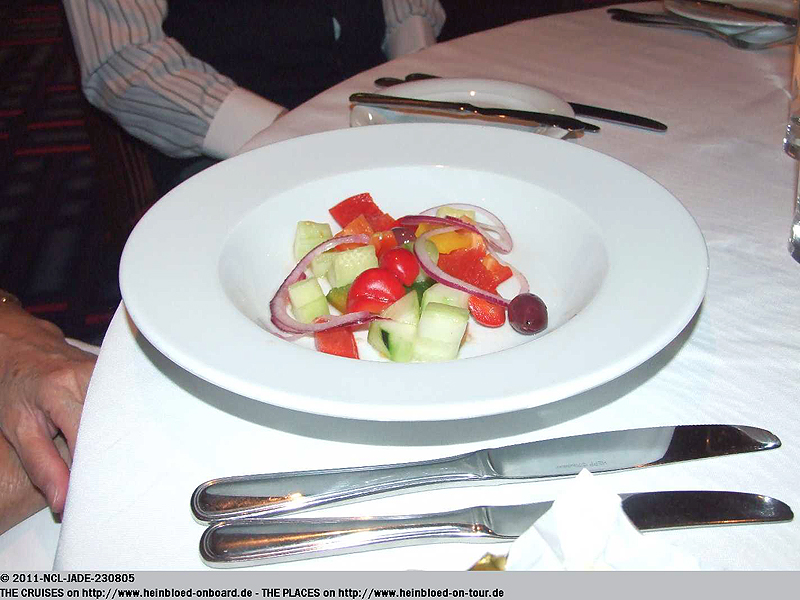 For the Greek Salad we asked the waiter for no cheese and no onions for my mother. He only said that this is no problem. This one was the full version for Bruno.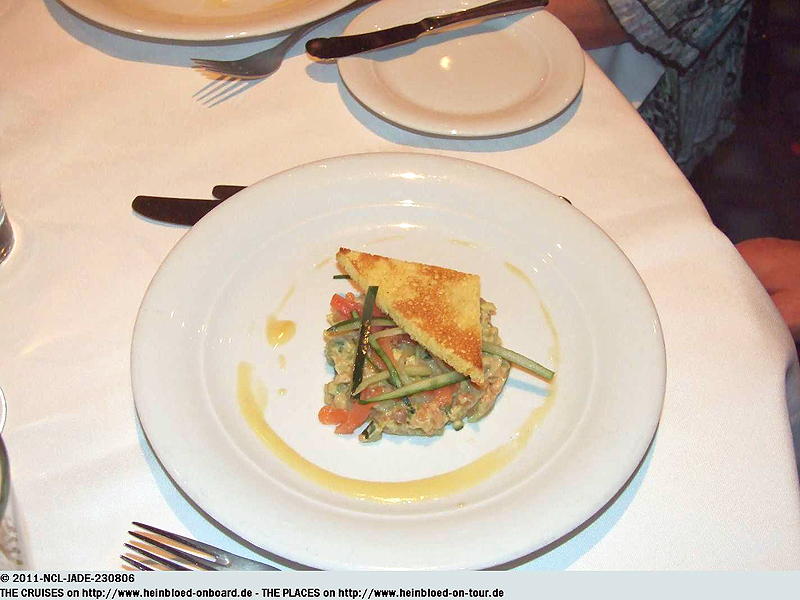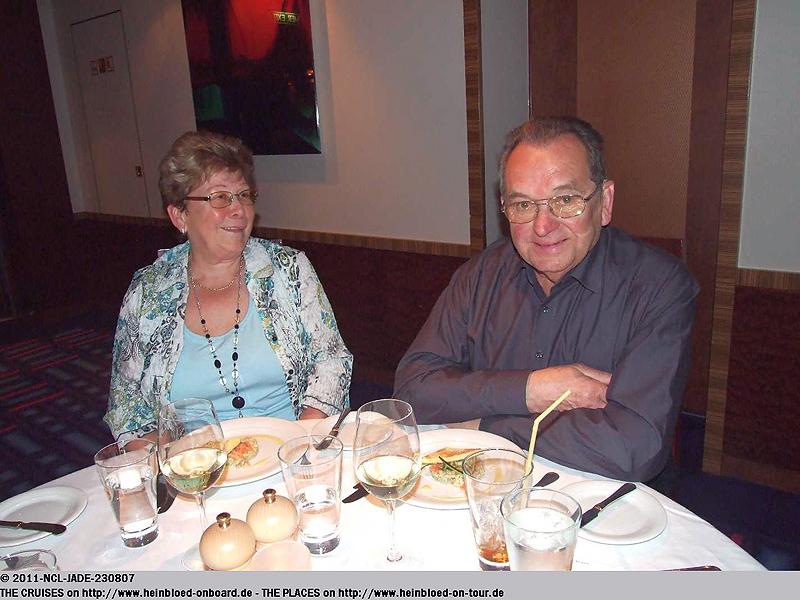 The Soup of the Year (Corn Chowder) which we got every lunch in January 2011 - just for me at one night. I need to have her one night. Meanwhile they offer more alternatives during the lunch. That we recognized it was due to the high number of days at sea we had in January 2011. But this time we had only one day at sea and so only one real occassion to have full lunch onboard.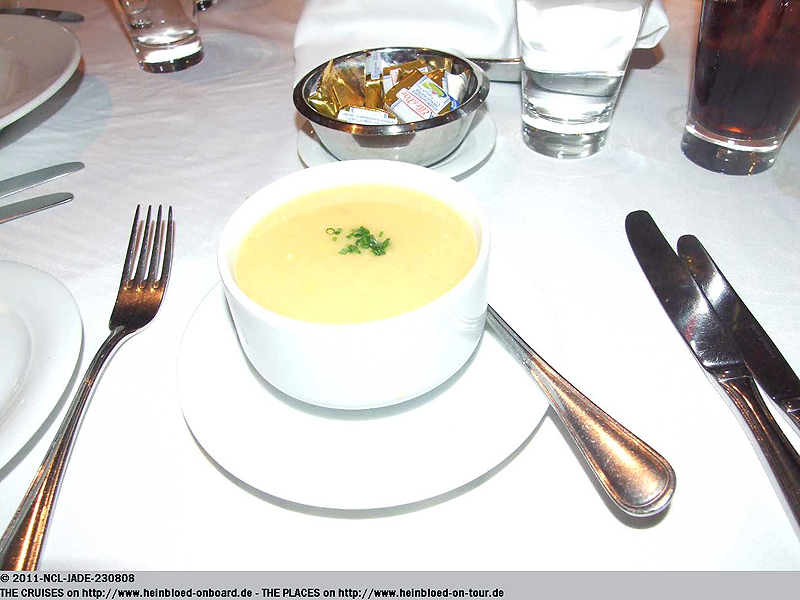 Die Suppe des Jahres (Maiscremesuppe), die wir im Januar 2011 jeden Mittag bekamen, gab es nun heute Abend. Also einmal muss ich sie doch haben. Mitlerweile gibt es wohl wieder eine Alternative, wie mir der F&B-Manager erklärte. Das es überhaupt jemandem auffallen würde, lag wohl bloß an der hohen Anzahl der Seetage, die wir im Januar 2011. Dieses Mal gab es ja nur einen Seetag.
Wie gesagt: auch bei Sachen, die schon fertig sind: man kann bei NCL seine Sonderwünsche äußern: Durch das Freestyle-Konzept ohne feste Tischzeiten, kann man nicht mehrere Hundert Portionen vorproduzieren. Daher braucht es i. d. R. etwas mehr Zeit wie in einem à la carte-Restaurant an Land, weil es erst kurz vor dem Servieren zu Ende zubereitet werden kann.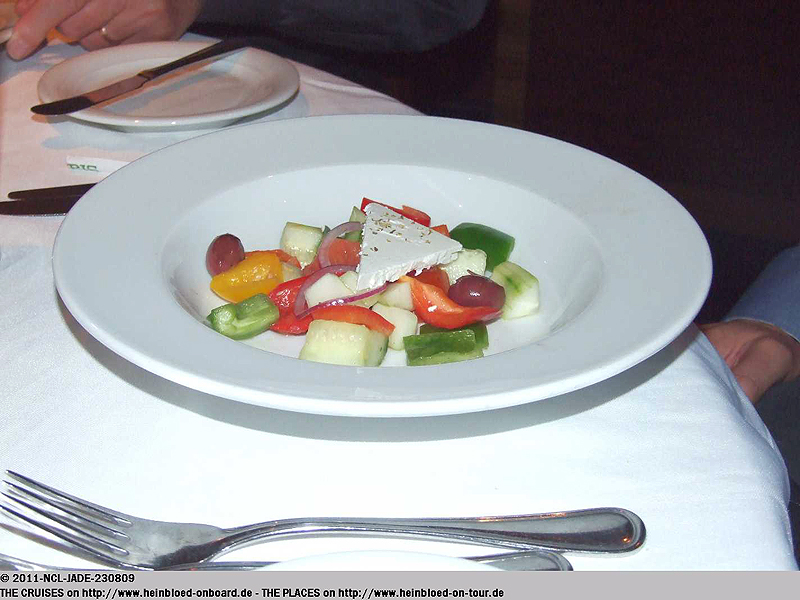 As said: even with those meals which are normally prepared ready to go: you can ask for specials with NCL: due to freestyle without fixed dinner sittings you cannot produce hundereds of meal ahaed. So you need a little more time like you would be in an á-la-carte-Restaurant ashore because everything need to be prepared to perfection the very last minute.

Steak knife... Ready to go...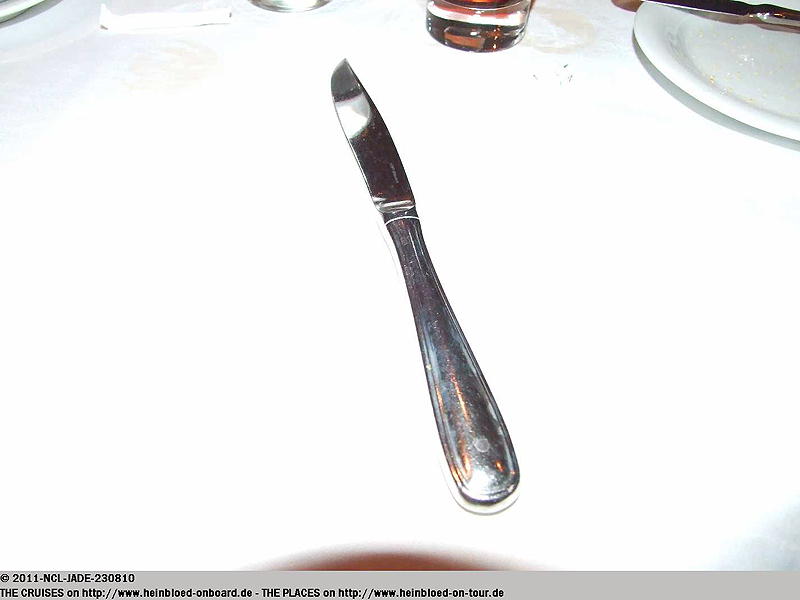 Steakmesser.... Es geht bald los...
Es gab dann auch wieder die regionale Spezialität, die eben nur mündlich erklärt wird.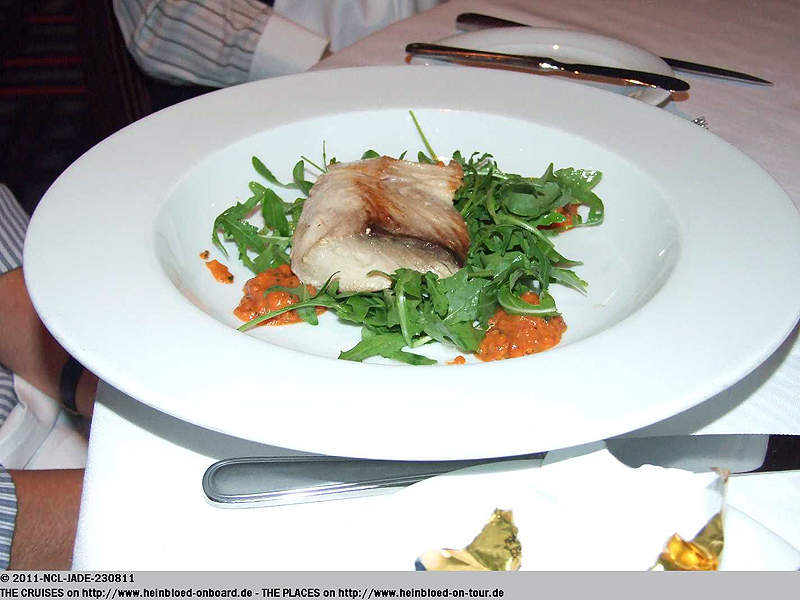 There was again a regional speciality which was explained verbally only.

All from the daily selection.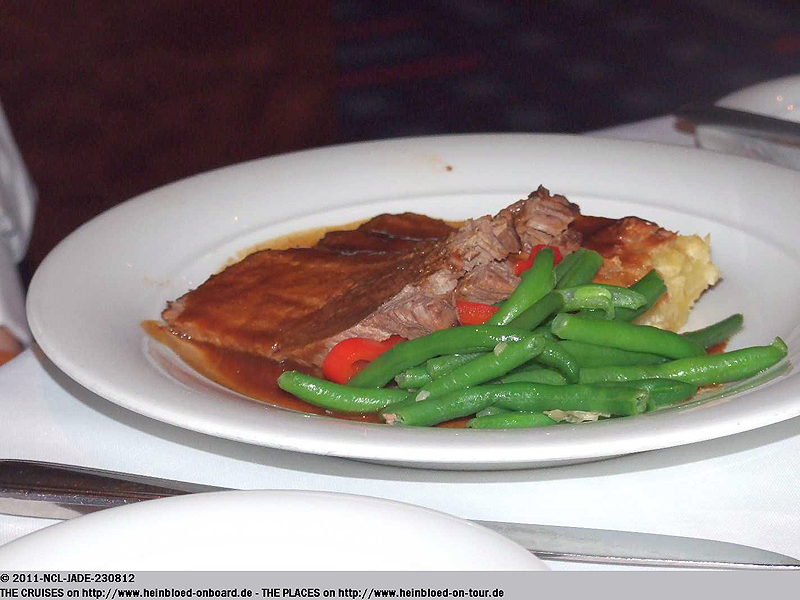 Alles von der Tagesauswahl...
Ich hatte aber ein Rib-Eye-Steak auf der täglich-verfügbaren Auswahl verfügt, was mich irritiert hat. Und ich bekomme es so gebraten, wie ich es mir wünsche - und ich muss keine 10 USD zuzahlen, wie im Papas Italian Kitchen... nur dachte ich bisher, dass es immer bloß ein Sirloin bzw. New York Strip als täglich verfügbares Angebot gegeben hat. Am nächsten Tag wird aufgeklärt: das Angebot der täglich verfügbaren Gerichte unterscheidet sich im Alizar und im Grand Pacific. So gibt es hier mein Rib-Eye Steak. Ich würde es aber auch Anfrage auch im Grand Pacific bekommen. Nur müsste dann mein Kellner 10 m weiter laufen, um es aus dem Teil der Galley zu holen, der für Alizar alles bereitstellt.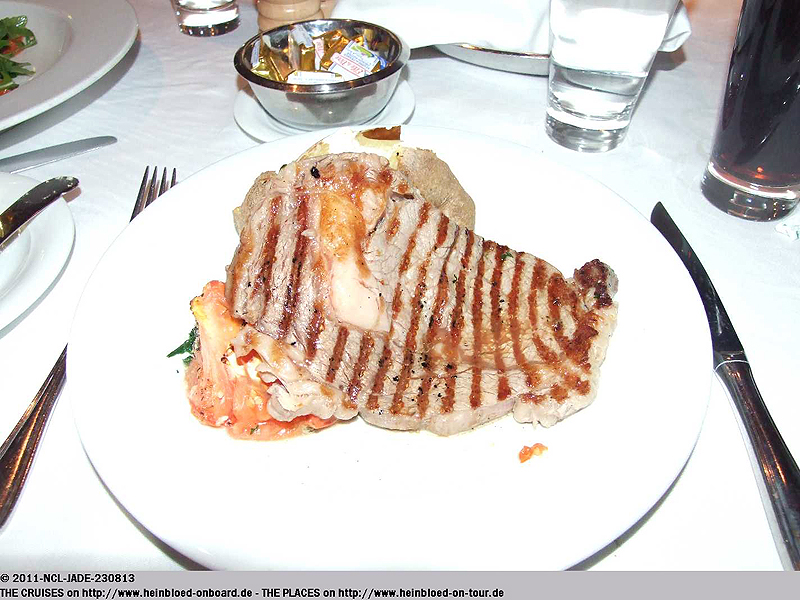 But I had a Rib-Eye-Steak from the daily available selection which made me confused. And I got it the way I loved - and I must not need to pay 10 USD extra like in Papa's Italian Kitchen... But I always thought that I could get a Sirloin or a New York Strip as every day available option. The next day I was explained: there was a difference on the every day available menu in Alizar and Grand Pacific. So my Rib-Eye-Steak was only available here. But on request I could also get it on Grand Pacific. But then the steward need to walk few yards more to the section of the galley which prepares the food for Alizar.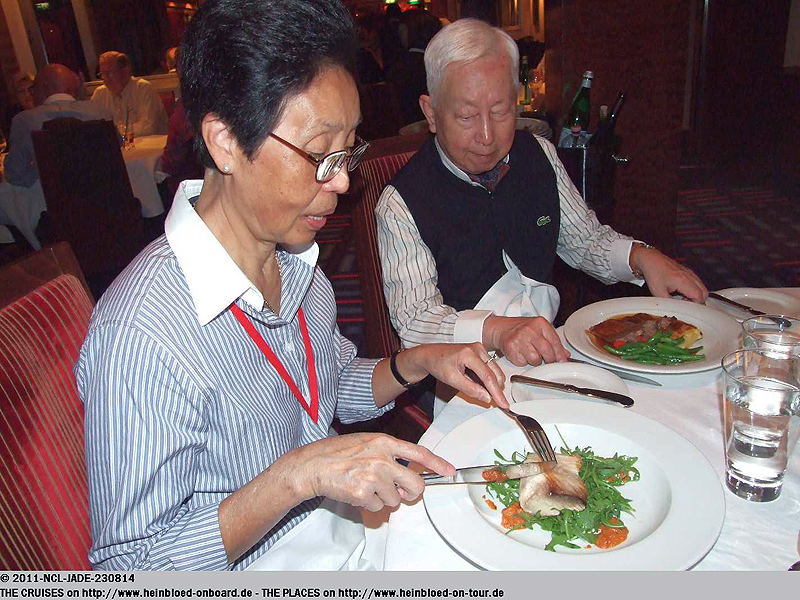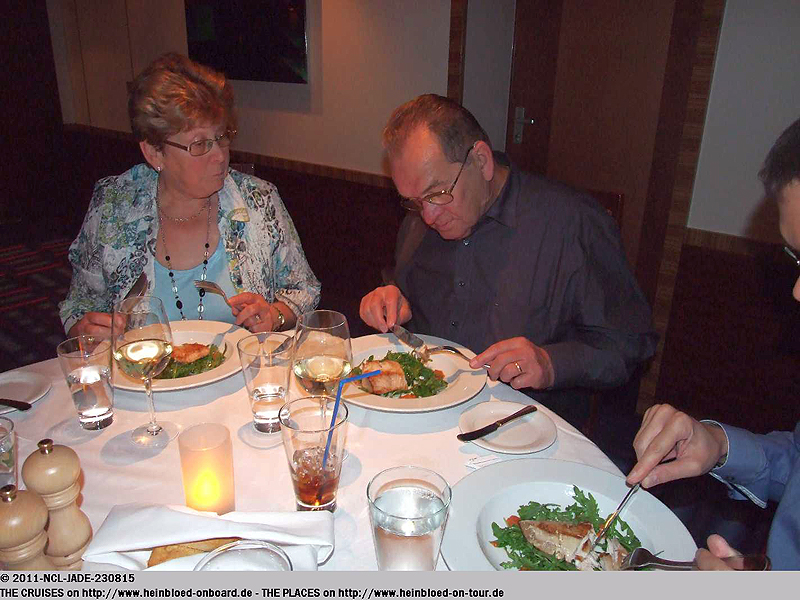 As the regional speciality was always fish so far (always according to the port we called) Bruno was very satisfied.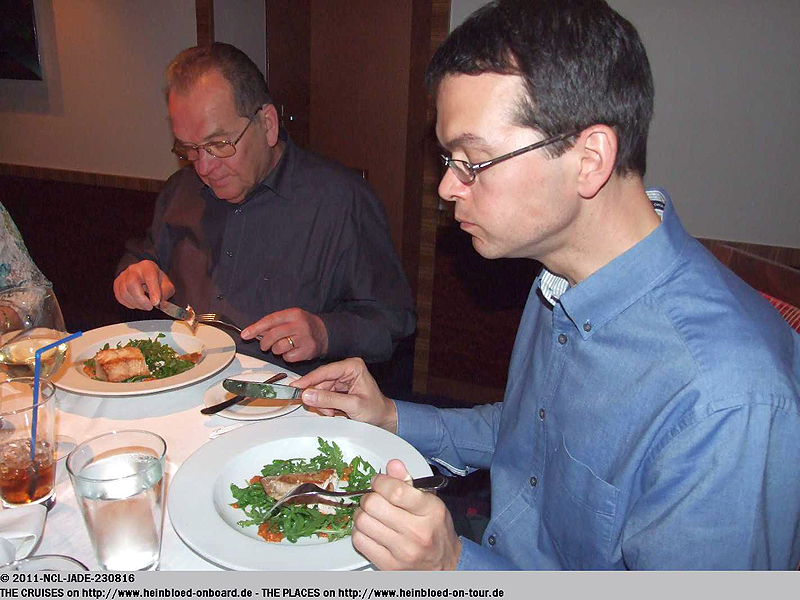 Da es bei den regionalen Spezialitäten ausschließlich Fisch bisher gab (immer in Anlehnung an den Hafen, der angelaufen wurde), war Bruno zufrieden.
Auch gab es hier wieder mal einen aufmerksamen Krümmel-Wegräum-Service.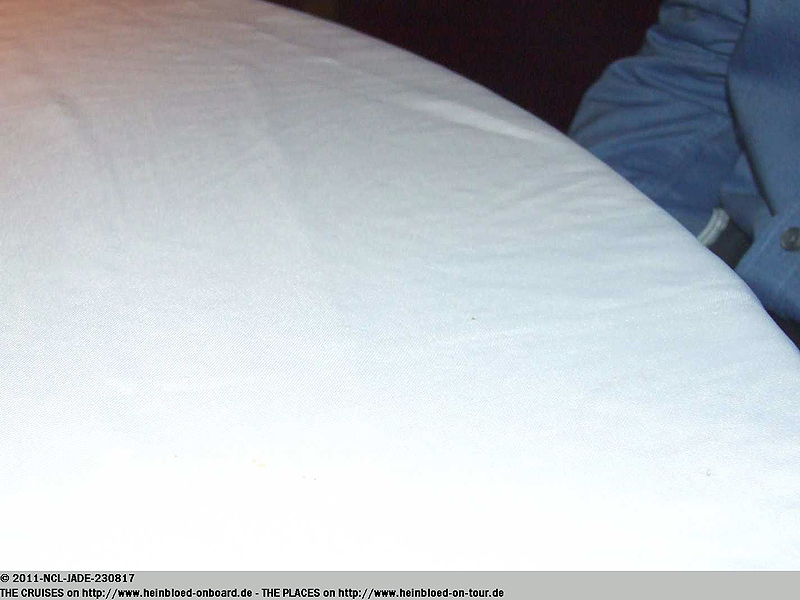 Again we had an attentive service which includes the bread-crumb-cleaning.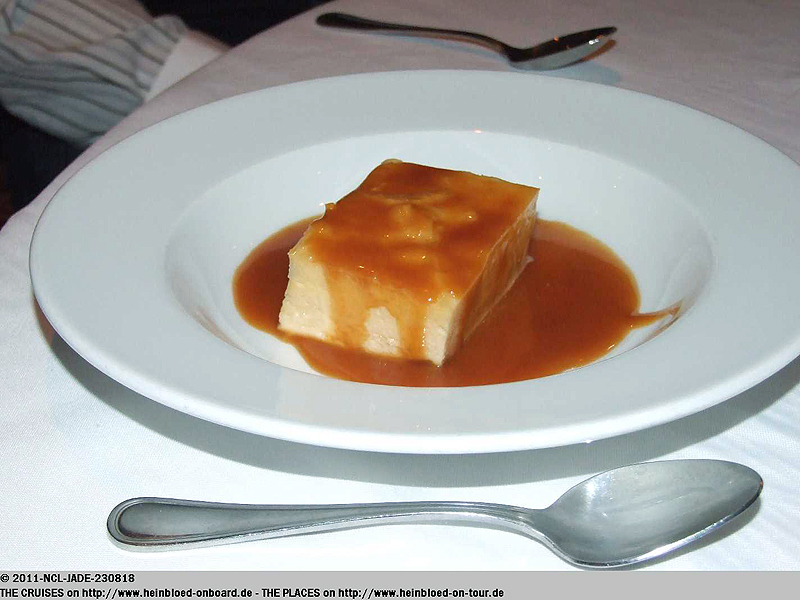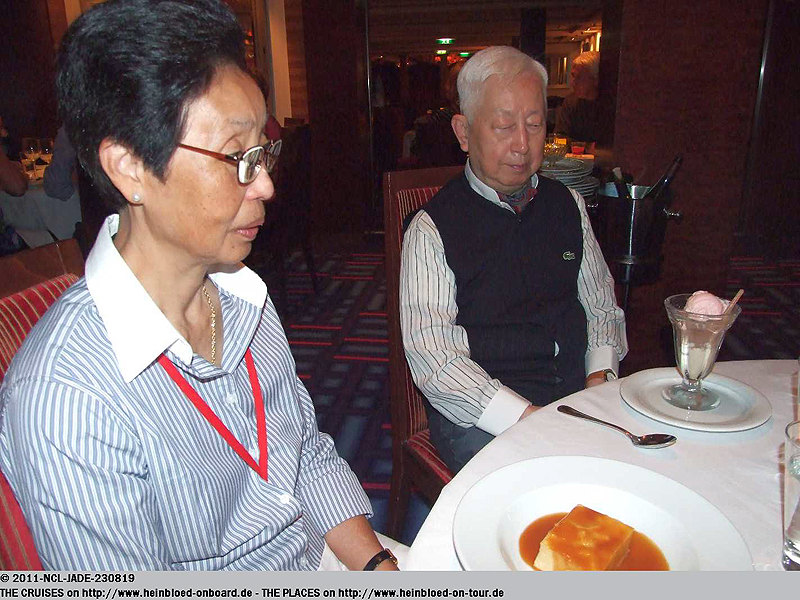 Here you can see Bruno's mother with the Kiwi Sherbet.

Hier sieht man noch Brunos Mutter mit dem Kiwi Sorbet.
Bruno meinte jedoch, dass er eher nach Schauma Grüner Apfel Schampoo schmeckt...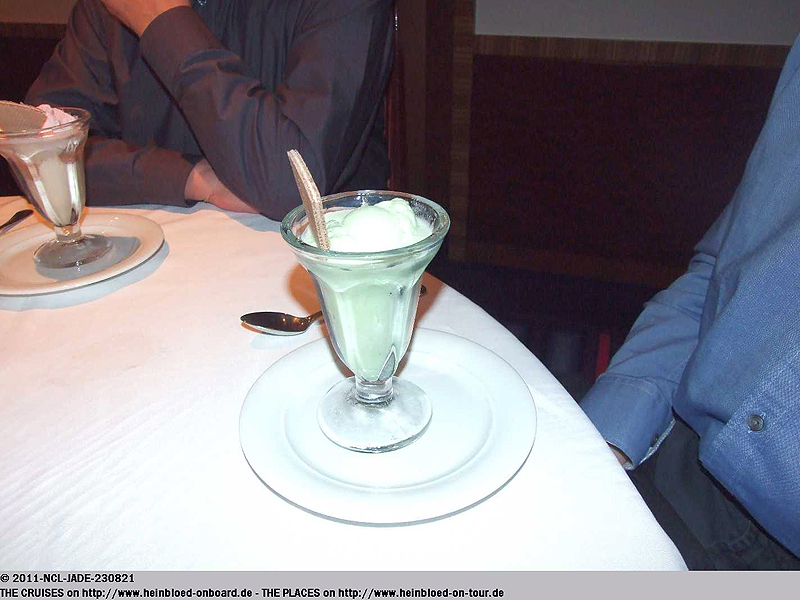 Bruno said that it tasted more like a Green Apple Shampoo he had to use as child.

I had the Tirami-Su-Cake.

Ich habe mir die Tirami-Su-Torte gegönnt.
Und wer jetzt beleidigt geht und hinterher behauptet, dass die Desserts nichts taugen, ist selbst Schuld: Nicht meckern - sondern fragen. Für Brunos Mutter haben wir kurzerhand auch ein Stück Tirami-Su-Torte bestellt: war gar kein Problem. Dass man nicht immer den Geschmack aller Gäste trifft, passiert nun mal. Nur bringen die Stewards gerne immer sofort eine Alternative. Bloß bei den warmen Sachen kann es einen kleinen Moment dauern, weil man eben das eine oder andere noch zu Ende garen muss.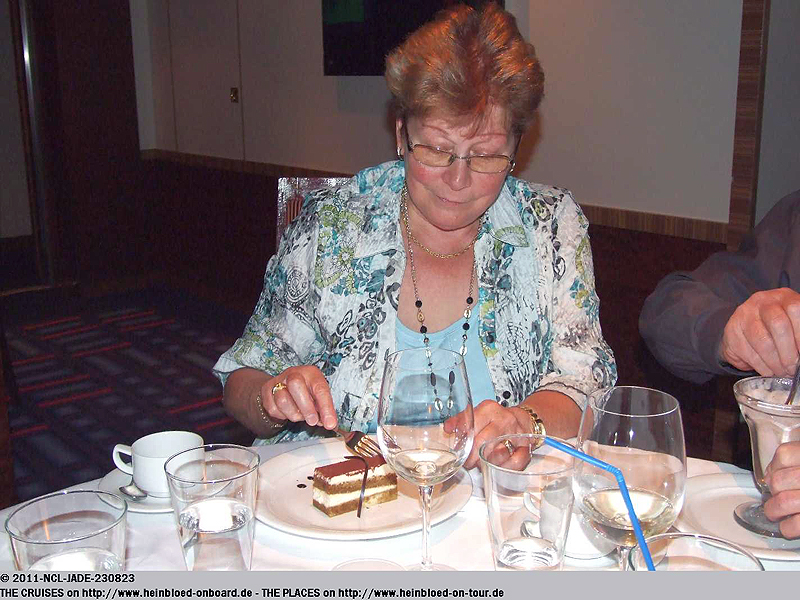 And who might be upset now and leaves the restaurant and tells everybody how bad the dessert were: Do not be angry - Just ask. - For Bruno's mother they just got immediately a piece of the Tirami-Su-Cake: it was no problem. They cannot meet the different flavours of all individual guests. This could happen. But all stewards will get you an alternative. Only with the warm meals it might need a few moments as they need to finalize the preparation of your meal.

Bruno said that the coffee became better since our sailing in January 2011. Obviously NCL accept the comments of the coffee lovers like Bruno and did something for them.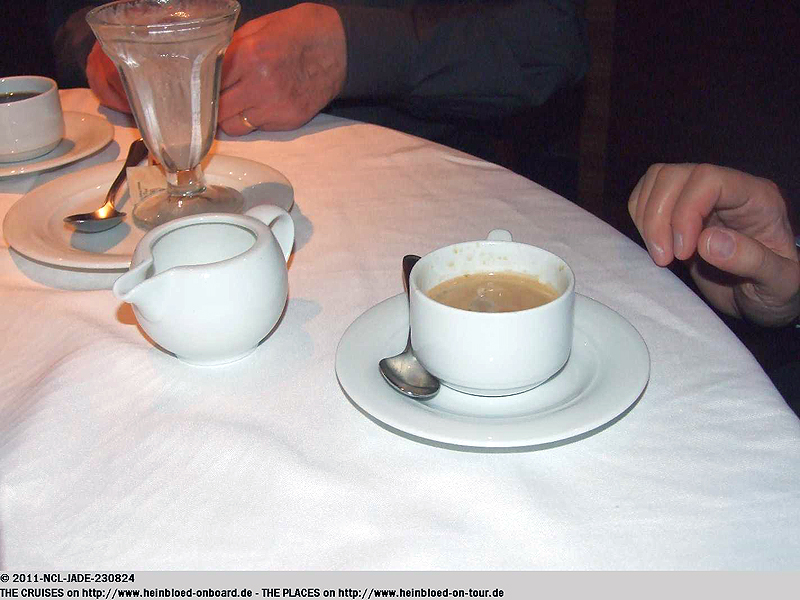 Bruno meint, dass der Kaffee besser geworden sei, seit unserer letzten Fahrt im Januar 2011. Anscheinend nimmt NCL die Anmerkungen von Bruno und anderen Kaffeeliebhabern ernst und hat etwas getan.
Die "Showdown"-Show haben wir irgendwie dann doch wieder verpasst. Nur ich kannte sie ja schon - irgendwie - oder auch nicht...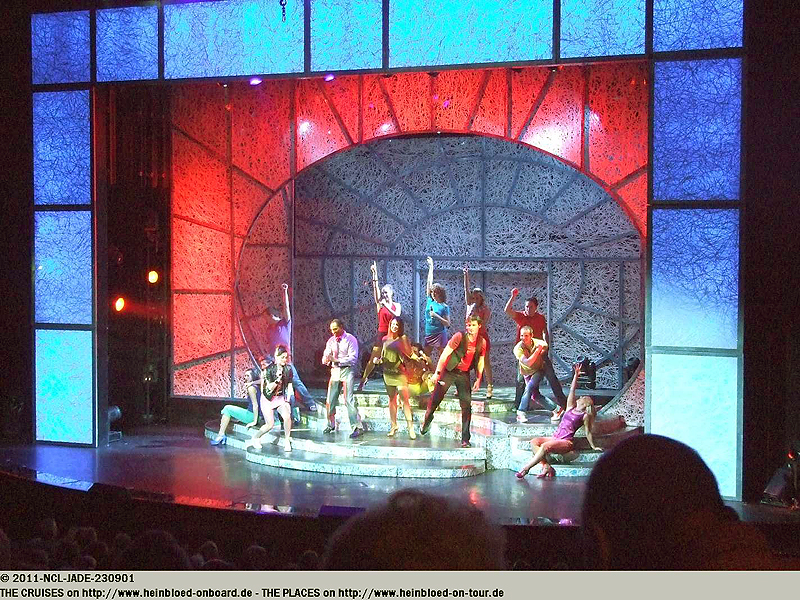 Somehow we missed the "Showdown"-show again. Somehow we knew it already - or not - do not know.