Scroll down for English explanations - alternates with German explanations.

Es begann alles im Restaurant
Opatija Grill in Braunschweig
... Beim Anblick dieses Bildes von Dubrovnik, musste es eine Reise dahin sein, um das mal selbst zu sehen.

It started all in a restaurant in Brunswick, Germany: Opatija Grill - Watching this painting of Dubrovnik I knew: one day I should see it myself.

So I prepered well my voyage by having many many Rasnicijs (grilled pork skewer) and Cevapcicis (minced meat rolls).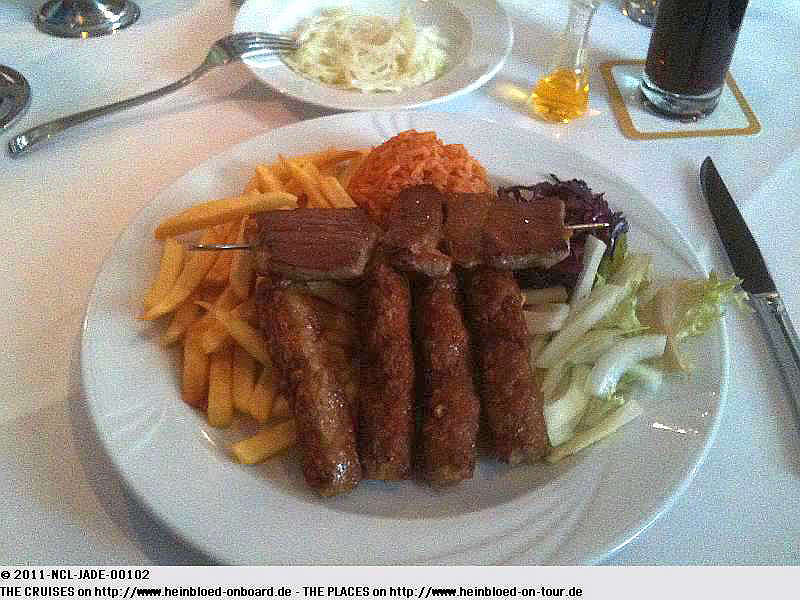 Mit dem Verzehr von sehr vielen Rasnicijs und Cevapcicis bereite ich mich intensiv auf die Reise vor.
Genauso wie
Dorothy von unserem Reisebüro cruisebrothers.com
, die mir die Unterlagen schickt, damit ich nicht selbst die Gepäckanhänger basteln muss, zumal auf denen der Priority Hinweis fehlt.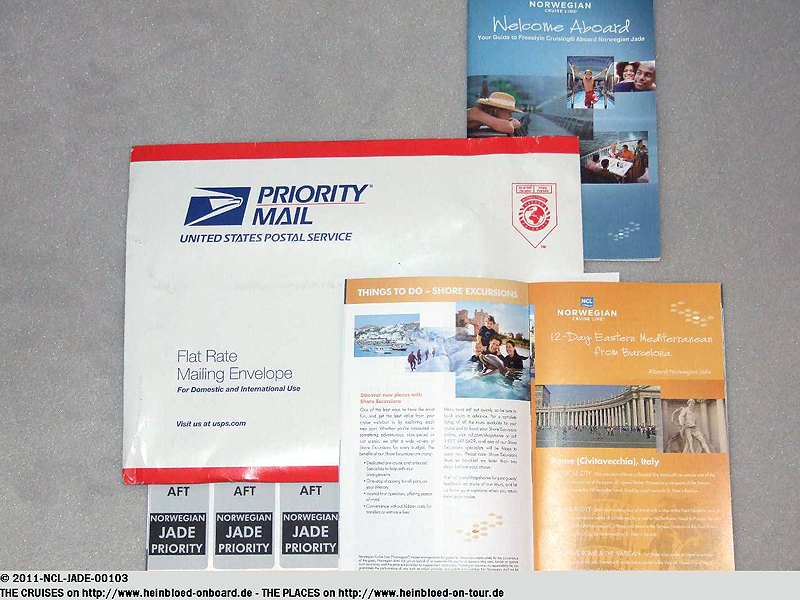 Also Dorothy from cruisebrothers.com prepared our voyage well by sending us the luggage tags as they also show the Priority information and you must not fold yourself.

Of course we hoped that we meet as many of our crew-friends on the ship as possible and so we prepared ourselves very well.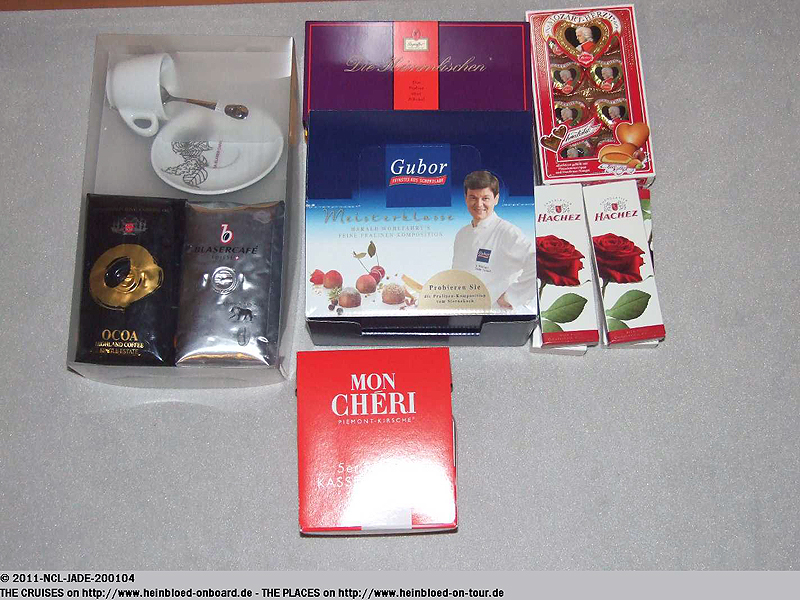 Natürlich hoffen wir, dass wir möglichst viele unserer Crew-Freunde an Bord treffen und bereiten uns entsprechend vor.
Nun hoffen wir mal, dass unser
Haus und Hof-Kaffeelieferant Walter Merkel
weiss, was er ausgewählt hat und wir nicht hinterher auf der NORWEGIAN JADE Hausverbot bekommen.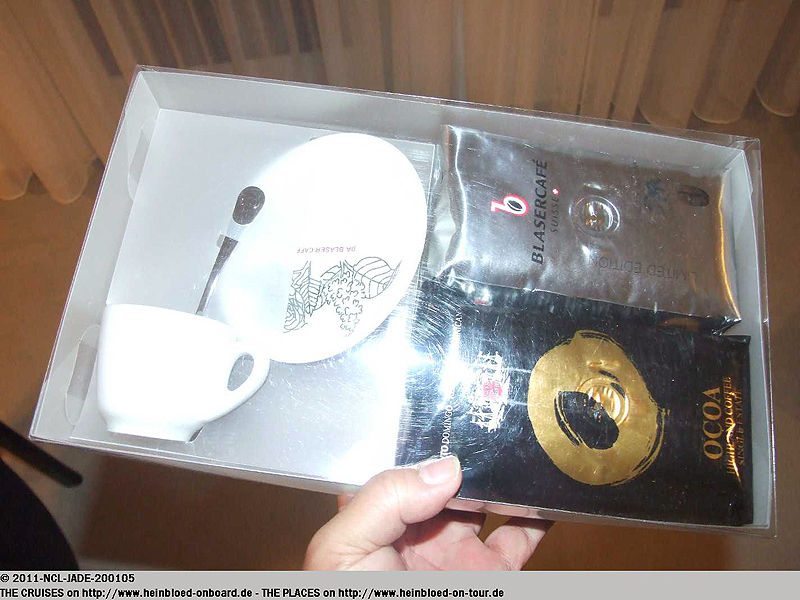 We also hope that our appointed coffee supplier Walter Merkel knew what he selected and we will not allowed anymore to see NORWEGIAN JADE.

As we went this time with parents again we selected Cologne/Bonn as most simpliest departure place. As many parts of Germany just started with there fall break and although we had many spare time we made it finally last minute to the airport. But thank to Europcar who gave us a C-Class Mercedes and Hertz who gave me a BMW with no space for our bags we made it. By the way Hertz offer a Short time rental for 3,6 or 9 hours. This one fits for such a transfer.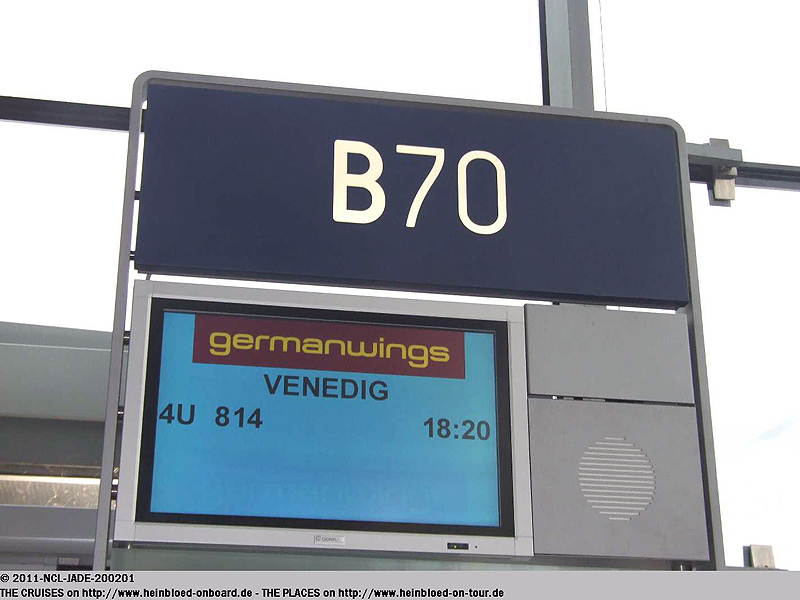 Da wir ja dieses Mal wieder mit Eltern verrreisen, war der Ausgangspunkt Köln/Bonn am Einfachsten zu erreichen. Wegen Herbstferienbeginn in vielen Bundesländern und trotz sehr viel Zeitreserven, war es beinahe schon Last Minute, bevor wir den Flughafen erreicht haben, aber dank Europcar, die uns einen C-Klasse Mercedes spendiert haben und Hertz, die mir einen 1-er BMW spendiert hatten, in den kaum Gepäck reinging, haben wir es doch geschafft. Übrigens bietet Hertz einen Klasse
Kurzzeittarif für 3, 6 oder 9 Stunden
an, der sich wunderbar für so einen Transfer eignet.
Am Gate habe ich in Erwägung gezogen, evtl. die CO2-Kompensation zu zahlen. Nur mit der Tastatur war kaum eine Navigation möglich.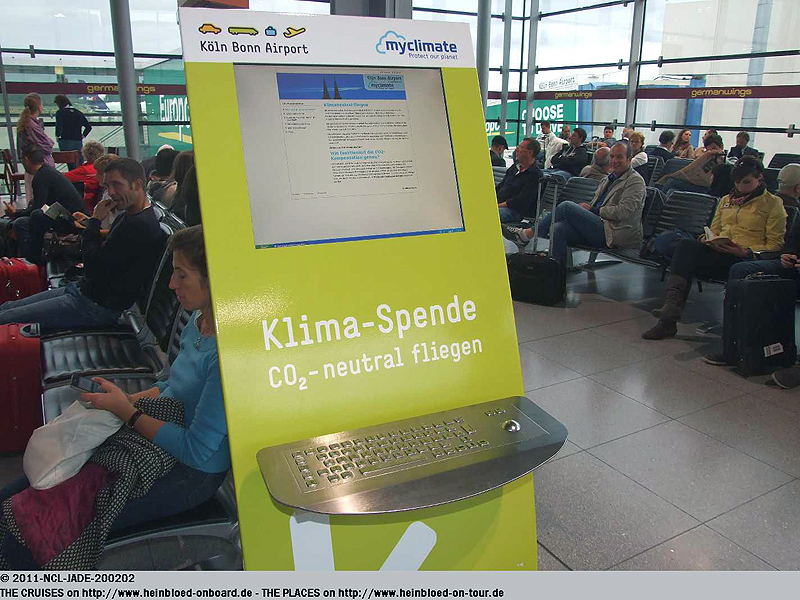 At the gate I was thinking about to pay for CO2-compensation but somehow the keyboard did not work properly.

The first time by Germanwings. But now we knew the difference: you walk yourself down to walk yourself to your aircraft.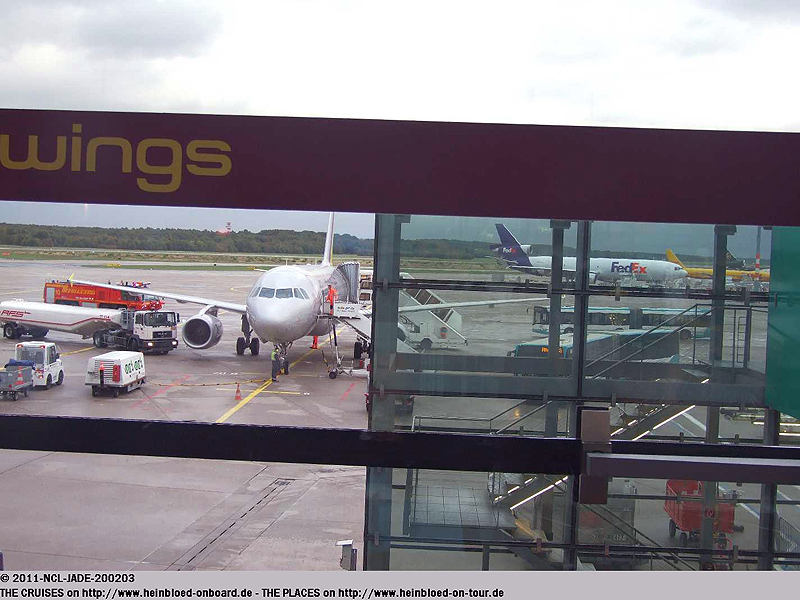 Zum ersten Mal mit
Germanwings
. Das war also der Unterschied: man musste also selbst runterlaufen und hinten wieder rauf.
Grund zu Verschwinden: es fängt an zu regnen, als wir zum Flugzeug laufen.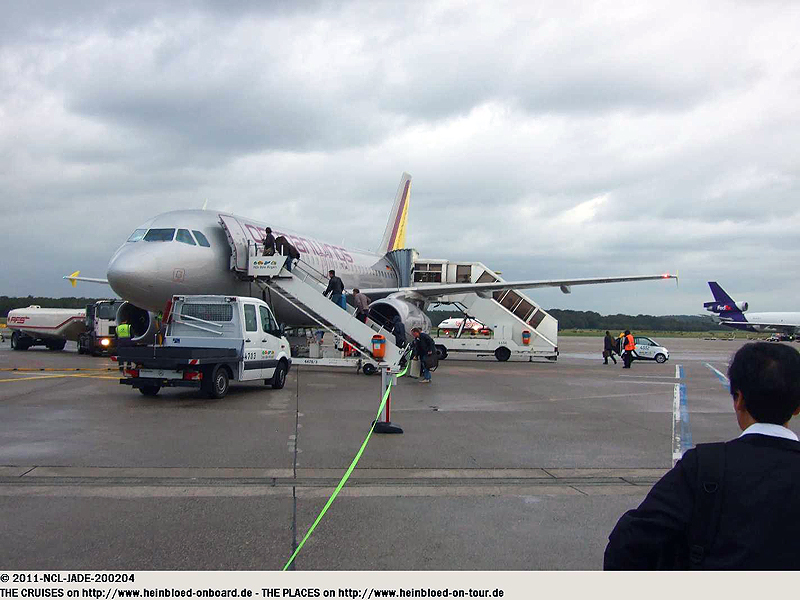 Reason to escape: it started to rain when we walked to the plane.

There Bruno and his parents came.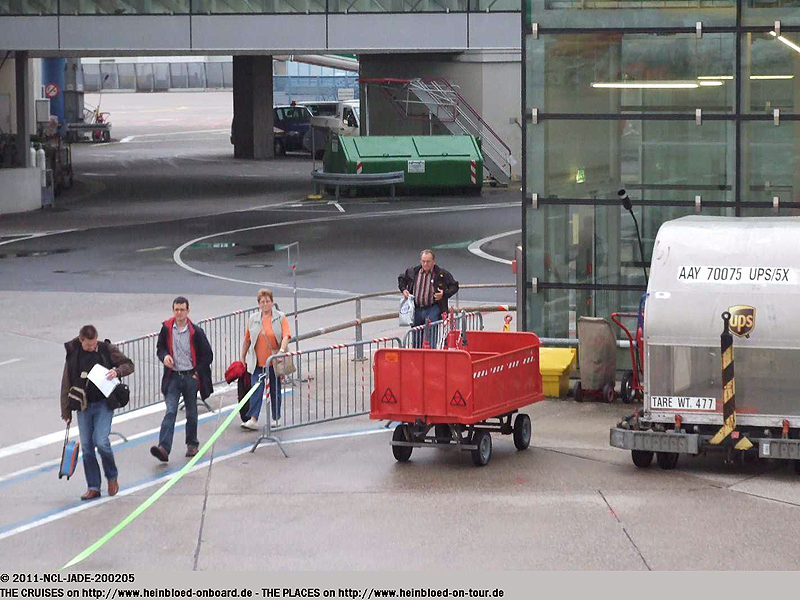 Hinten kommen auch Bruno und seine Eltern.
Wir hatten zum Glück Best Seat gebucht mit viel Platz in der ersten Reihe.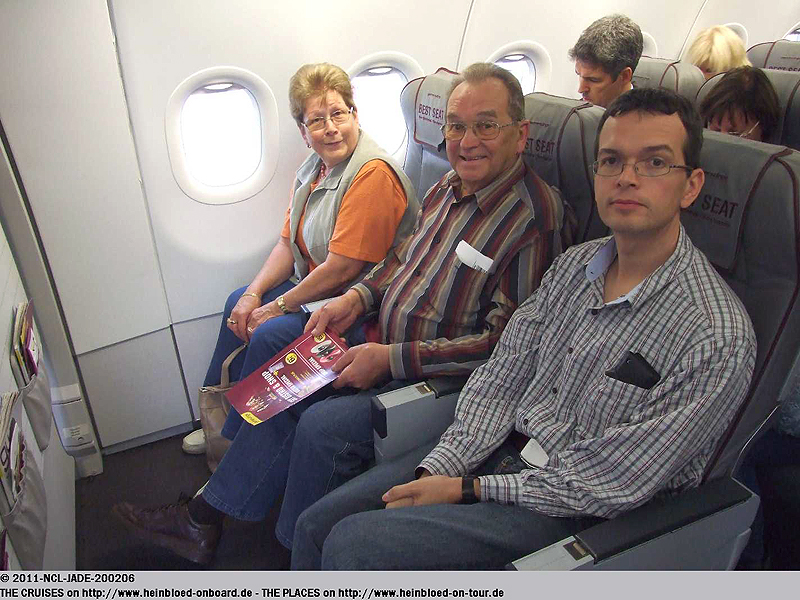 We had luck to book Best Seat with a lot of space in the first row.

My parents were glad too.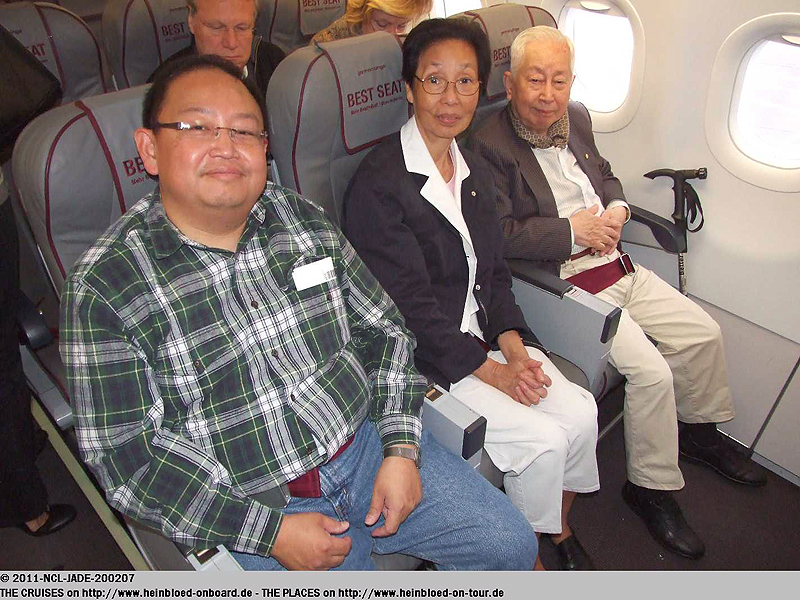 Auch meine Eltern sind begeistert.
Und mit dem Sonnenuntergang an der Seite.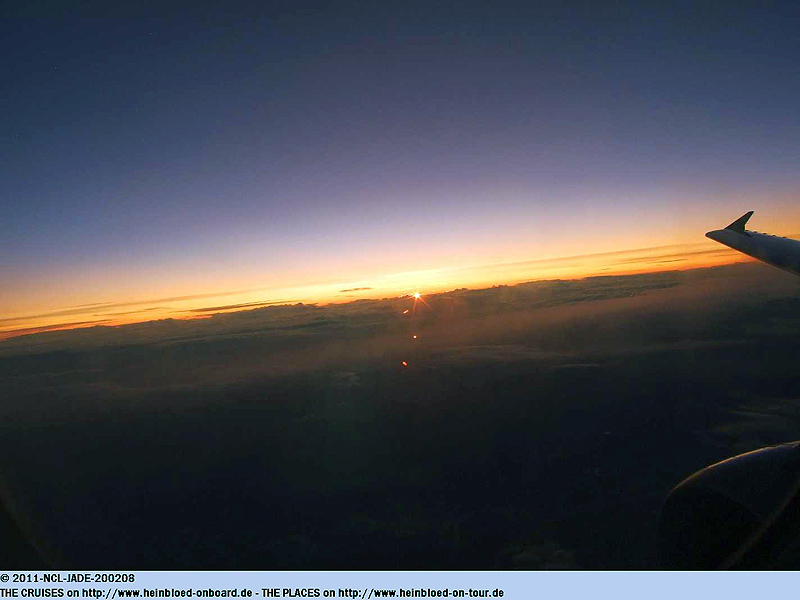 And with the sunset at the side.

We did not travelled Business Class and you had magazines.

Wir sind ja nicht Business Class geflogen und es gab sogar Magazine.
Durch die Tarifwahl gab es auch einen Voucher für ein kleines Brötchen und ein kleines Getränk.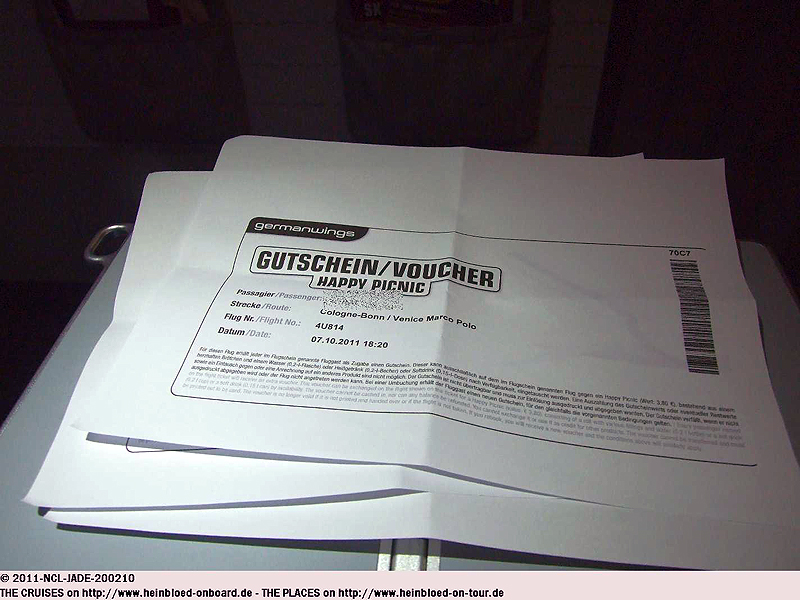 Due to the selection of fare we had a voucher for a small roll and a cold drink.

But it was not the sandwich which was printed in the magazine.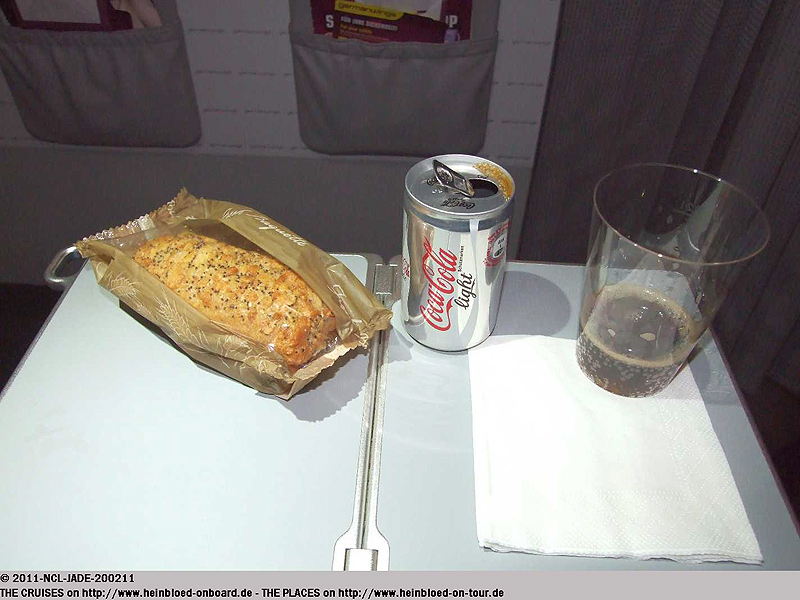 Leider waren es nicht die Sandwiches, die in den Prospekten abgedruckt sind.
Da wir in Reihe 1 saßen, kamen wir auch schnell heraus.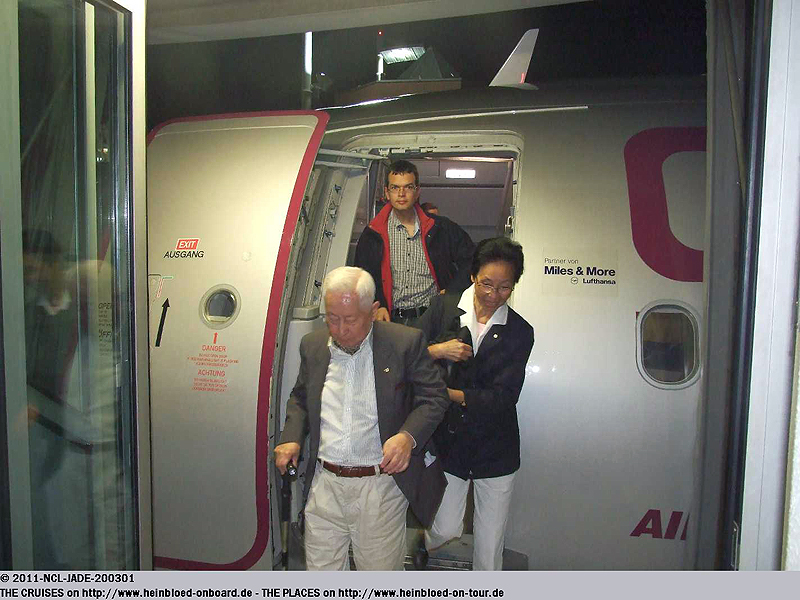 As we sit in row 1 we got quickly out of the plane.

So we had plenty of time to find the baggage claim.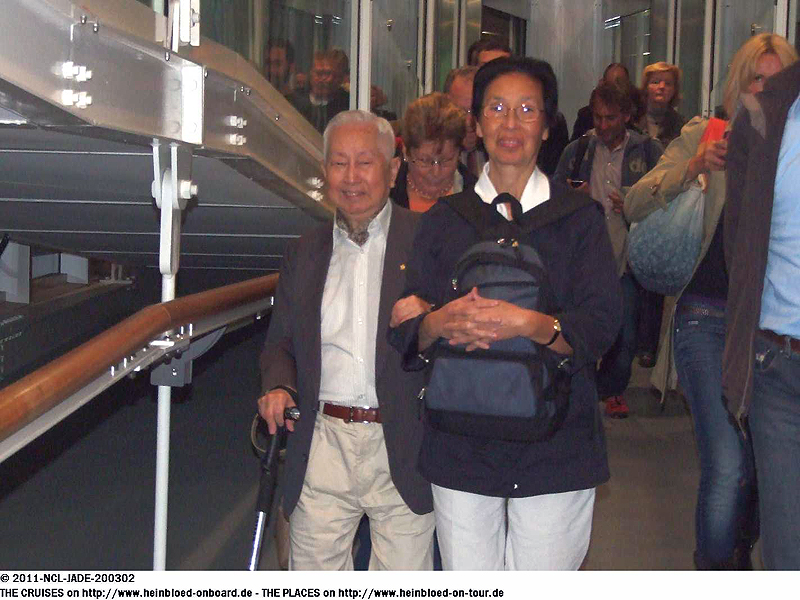 So hatten meine Eltern viel Zeit, bis zum Gepäckband zu laufen.
Mit Pfandsystem.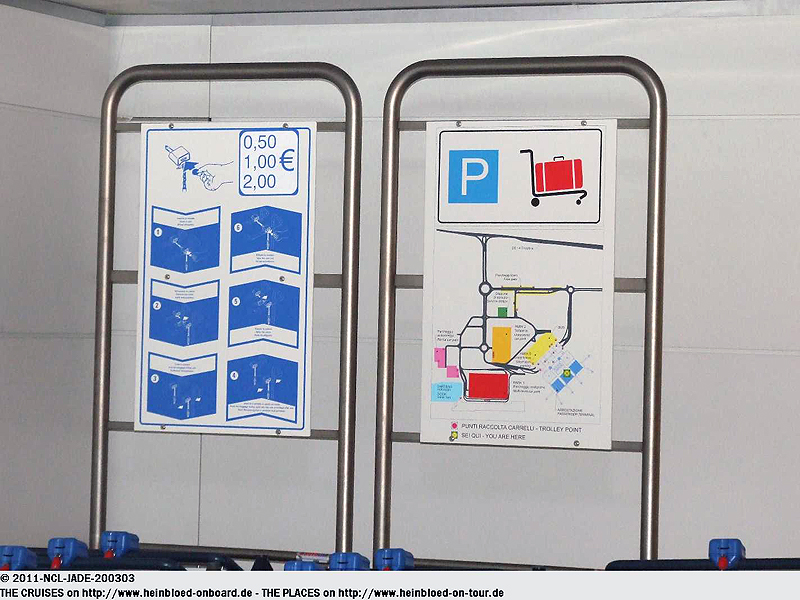 With a deposit system.

And for a piece of 50 Cent, 1 OR 2 Euro... so not 3.50 EUR as some guests thought...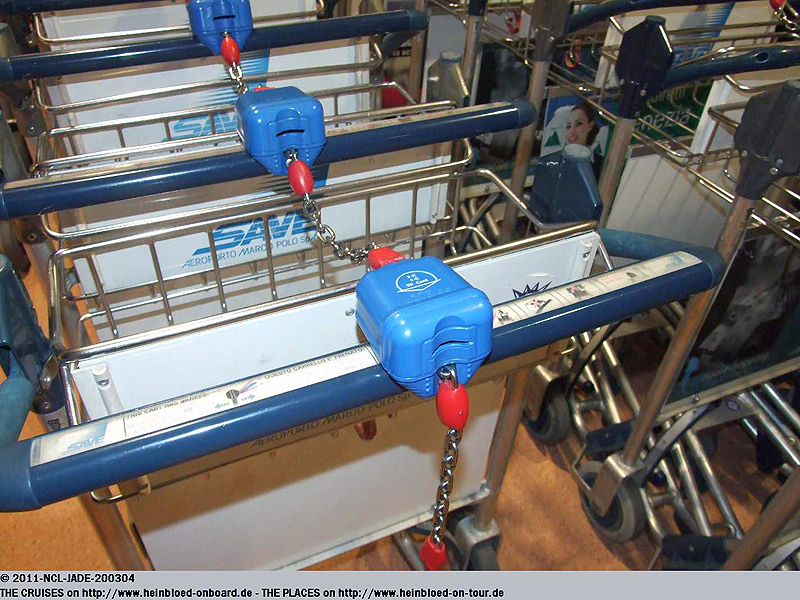 Und sogar für 50 Cent, 1 ODER 2 Euro... also nicht 3,50 EUR, wie manche dachten...
Wer es nicht passend hatte: hier konnte man wechseln.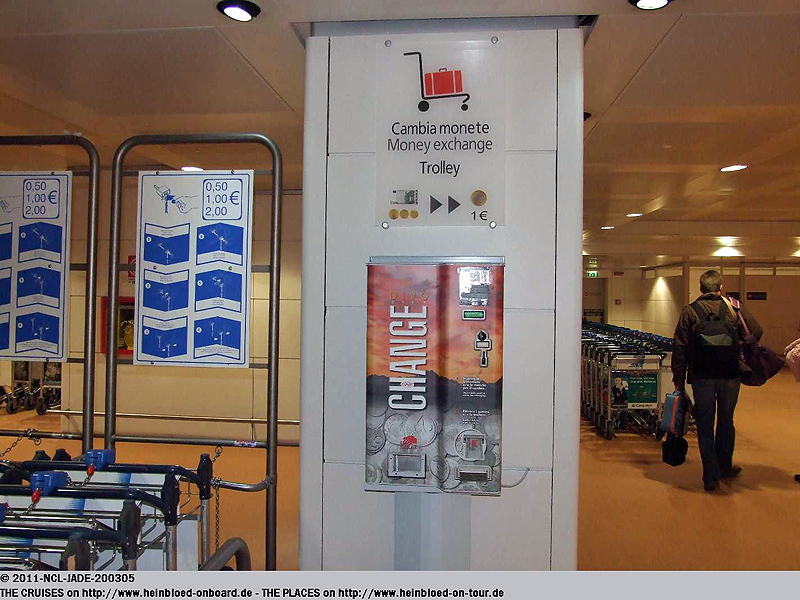 Who need change could use this machine.

ATM was already available in the baggage hall.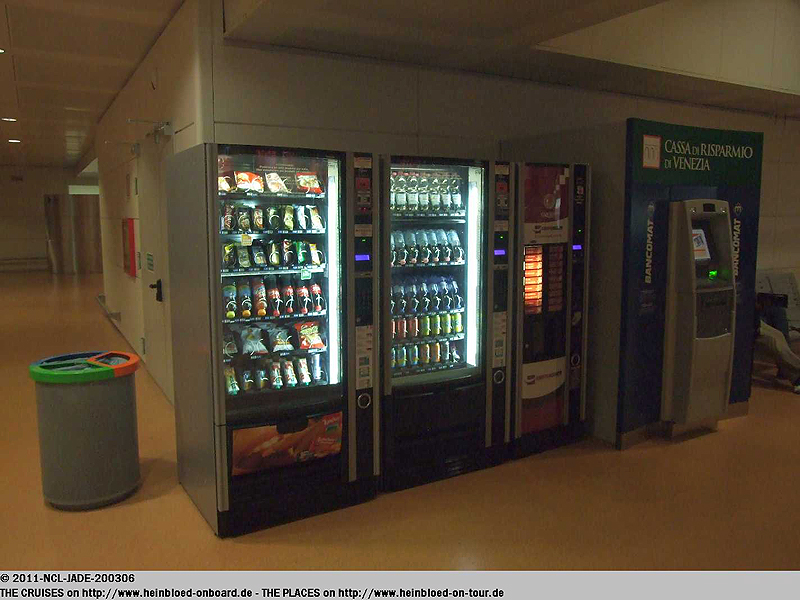 Auch ein Geldautomat befand sich direkt in der Gepäckhalle.
Und super saubere moderne Toiletten...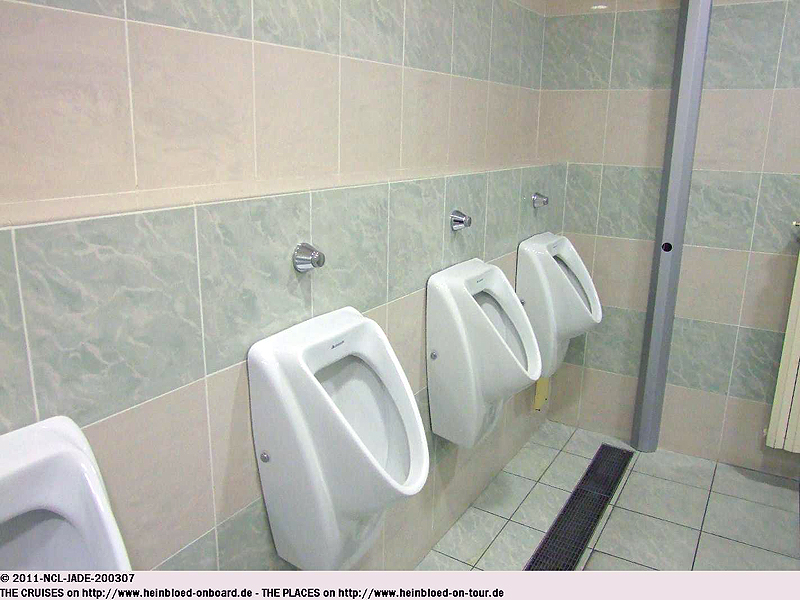 And very clean modern toilets...

You could use the waiting time for your baggage to buy tickets for waterbuses or taxis.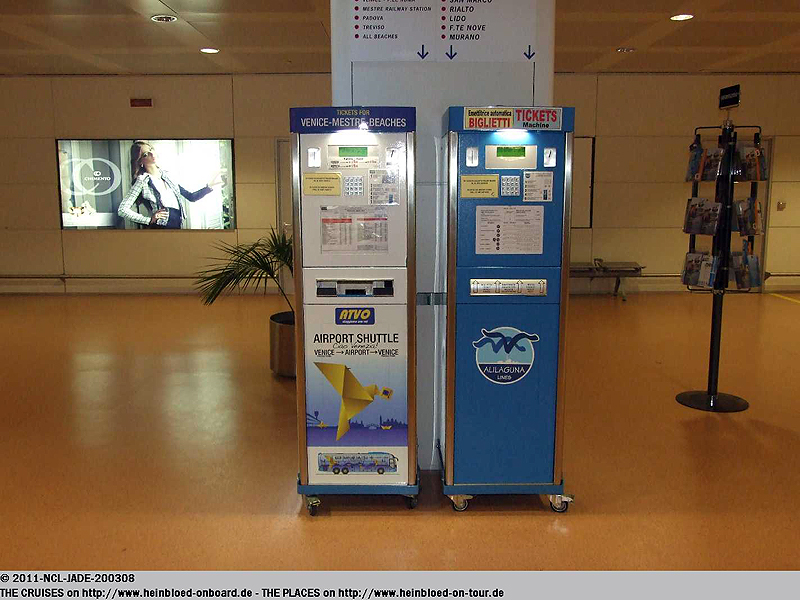 Die Wartezeit auf das Gepäck konnte man damit verbringen, in dem man sich die Fahrkarten für die Wasserbusse oder Taxen kaufte.
Ich hatte versucht einen 12-Stunden-Pass zu kaufen, aber das ging irgendwie nicht, weil ich wie üblich die PIN meiner Kreditkarte vergessen hatte.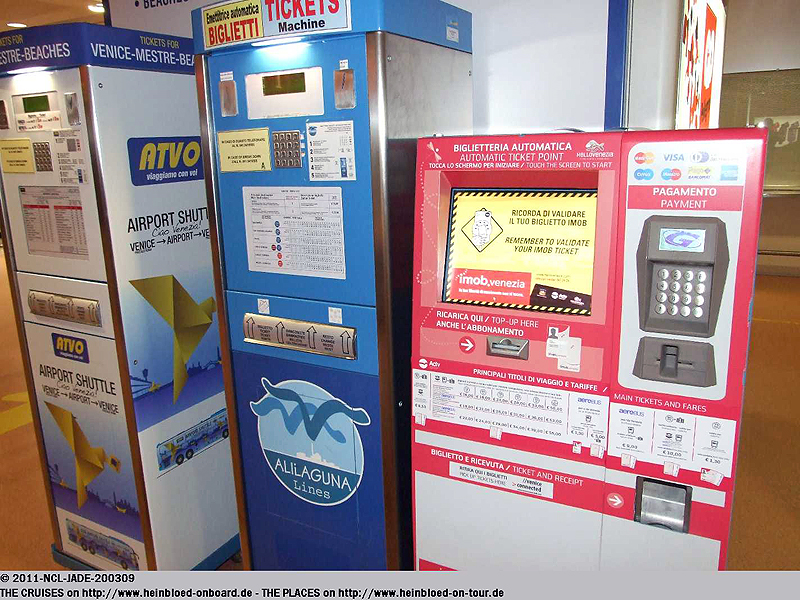 I tried to buy a 12-hours-pass but somehow it did not work as I usually forgot my PIN of my credit card.

Due to selected fare we must not pay any extra for our bags: 20 kgs was free.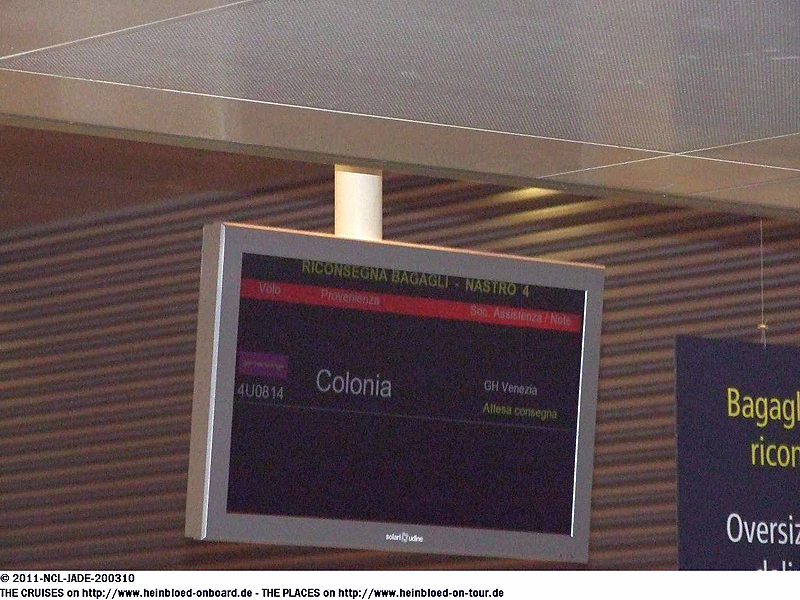 Übrigens auch für das Gepäck mussten wir aufgrund der Tarifauswahl nichts zahlen: 20 kg waren frei.
Und überall schon die Hinweisschilder für Kreuzfahrer, dass sie für den Rückflug bescheid wissen: Erst drei Stunden vor Abflug öffnen die Check-In-Schalter.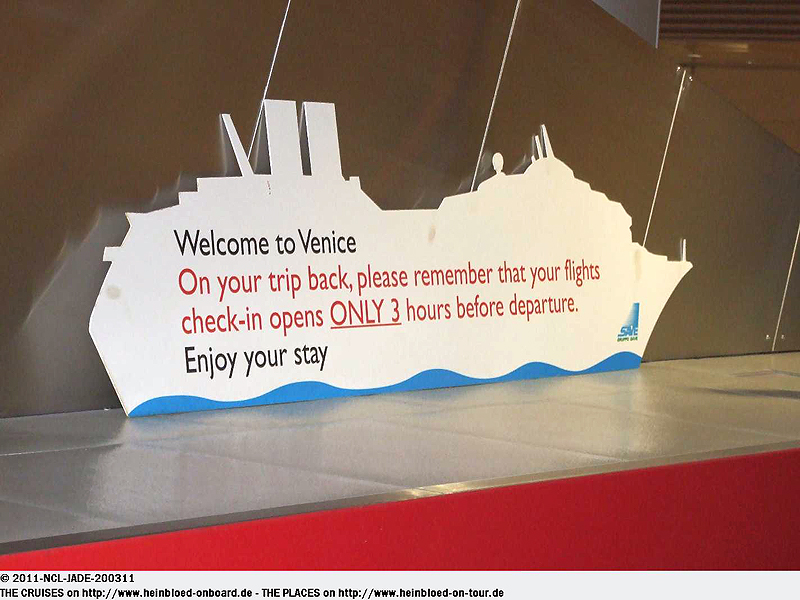 And everywhere signs for cruisers who should know for their return flight that the check-in opens three ahead of the departure time.

It should be simple to find around.

Man sollte sich einfach zurecht finden.
Überall ist alles gut ausgeschildert.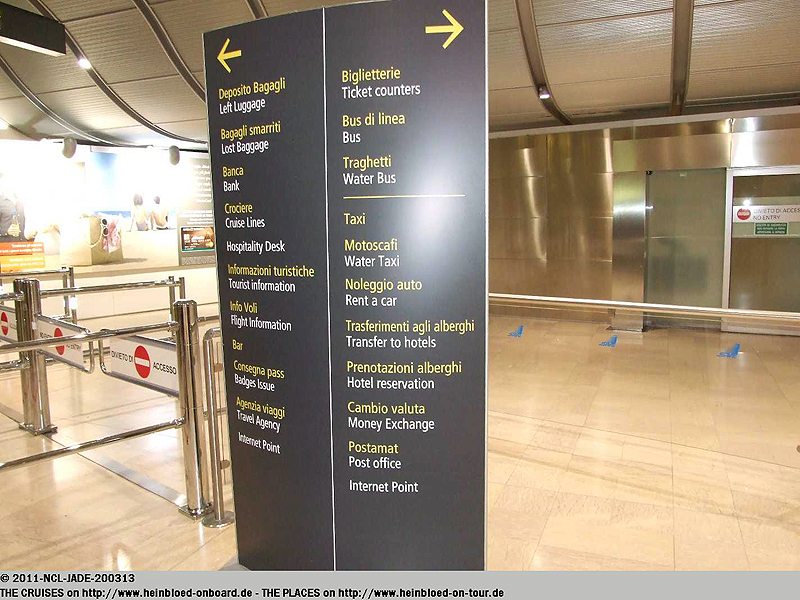 Everything was well signposted.

In one corner you find the closed office of Costa.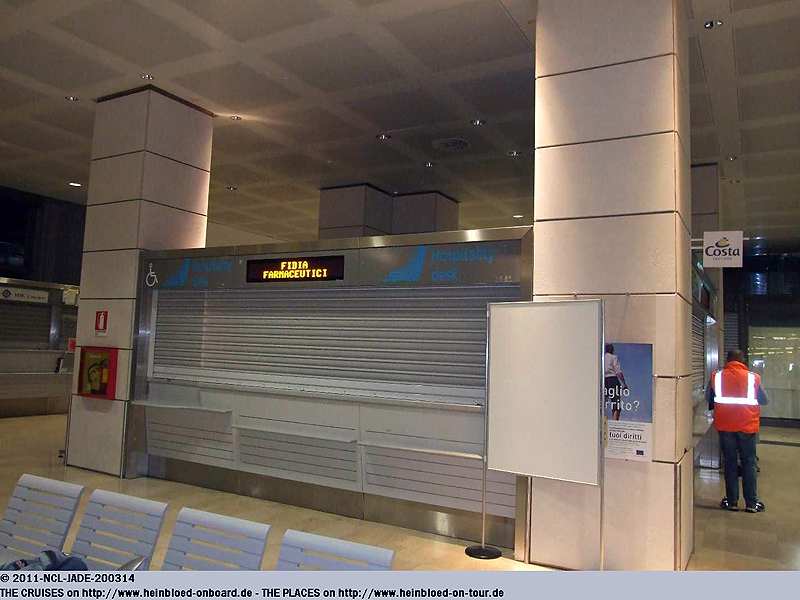 In einer Ecke finden sich die derzeit geschlossenen Büros von Costa.
Und von MSC.

And from MSC.

We booked a van from Venezia Porta Est. The reception worked quite well.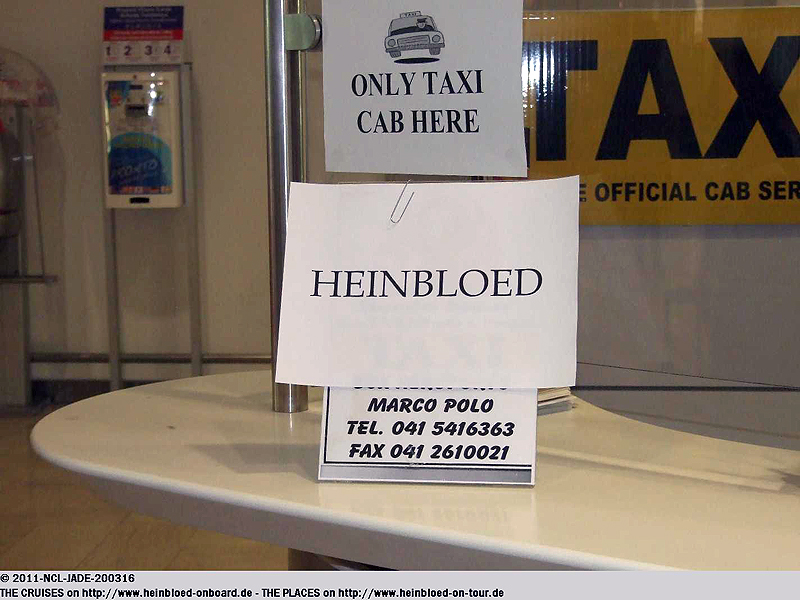 Wir hatten für uns einen Mini-Bus bei
Venezia Porta Est
gebucht. Der Empfang klappte vorzüglich.
Mauro hatte uns direkt zum Bus geführt und auch mit dem Gepäck geholfen. Hat alles super geklappt. Mauro hat uns direkt die Quittung ausgestellt, die dann auch für morgen gilt.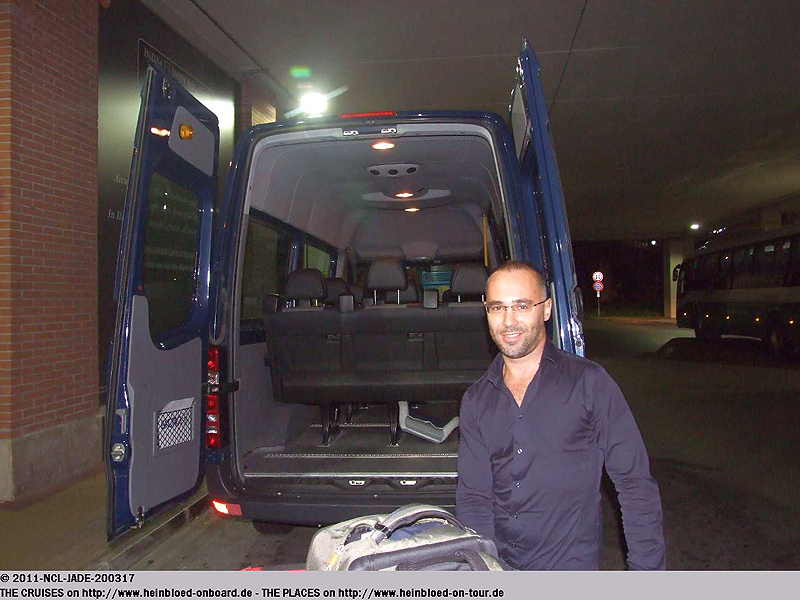 Mauro took us directly to the bus and helped us with the bags. Worked very well. Mauro released a receipt which would be also valid for tomorrow.

Welcome at Hilton Garden Inn in Mestre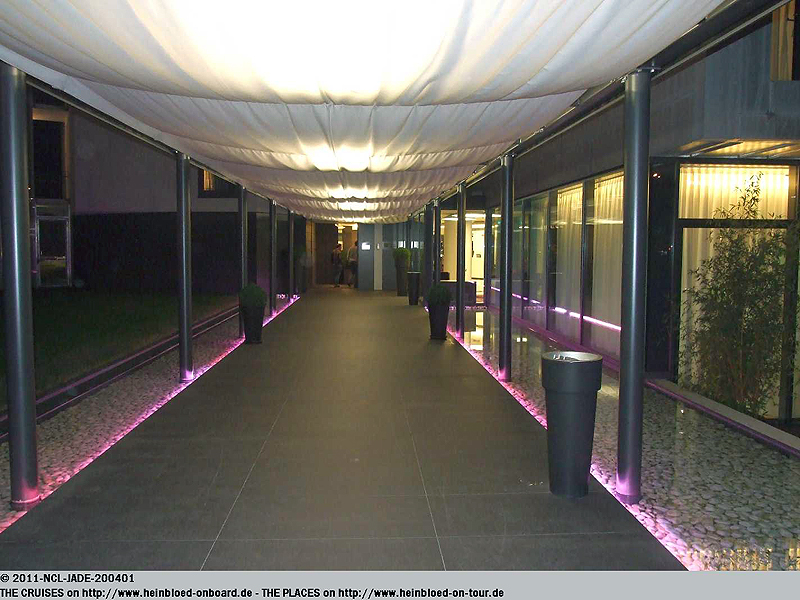 Willkommen am
Hilton Garden Inn in Mestre
.
Eigentlich hätten wir in Treviso landen und wohnen sollen, aber weil die Erneuerung der Start- und Landebahn doch länger dauert, sind wir in Venedig Marco Polo gelandet. Nur als wir das erfahren hatten, kostete das Hilton in Venedig selbst drei Mal soviel, als vor einem Jahr, als ich die Flüge buchte. So waren wir froh, dass wir für 111,00 EUR Vorauszahltarif inkl. Frühstück bekommen haben.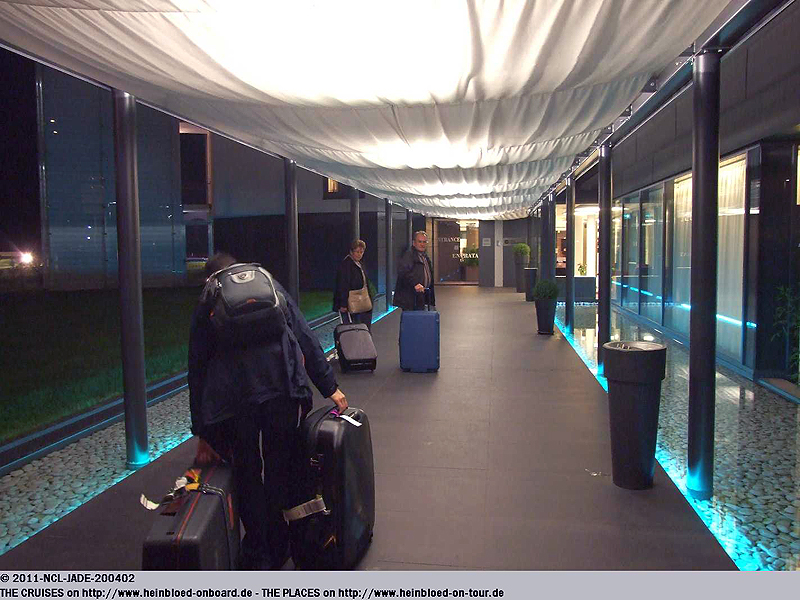 We should normally land in Treviso and stayed there. But as the works for the runway was extended we landed in Venice Marco Polo. But when we learned it the Hilton in Venice itself costs three times the price one year ago when I booked the flight. So we were glad to book for 111.00 EUR incl. breakfast (advanced purchase).

Let's see the room of my parents.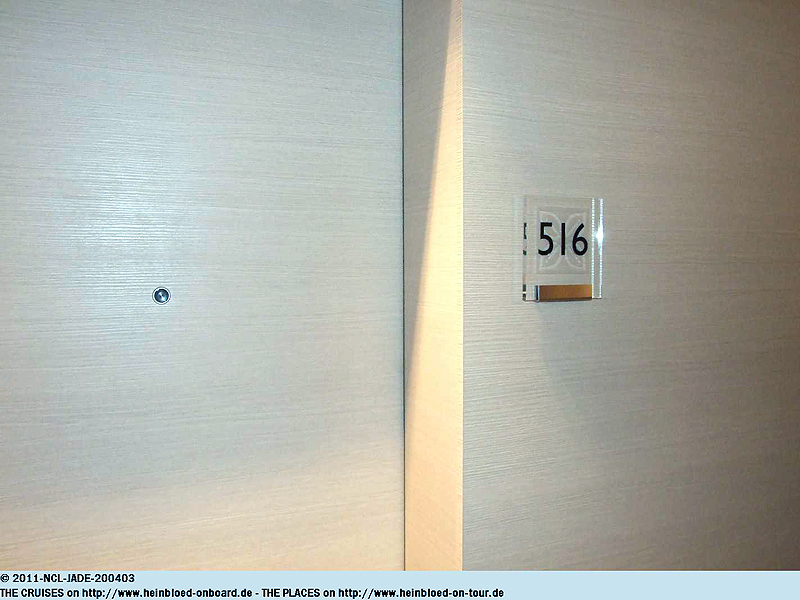 Gucken wir uns mal kurz das Zimmer meiner Eltern an.
Typisch Italiener: die hatten erst mal die Geburtsdaten in den Pässen geprüft und meinten, dass die Ältesten das Upgrade bekommen sollen. Dabei bin ich doch das Hilton Honour Mitglied. Zumindest bekomme ich kostenlos Internet...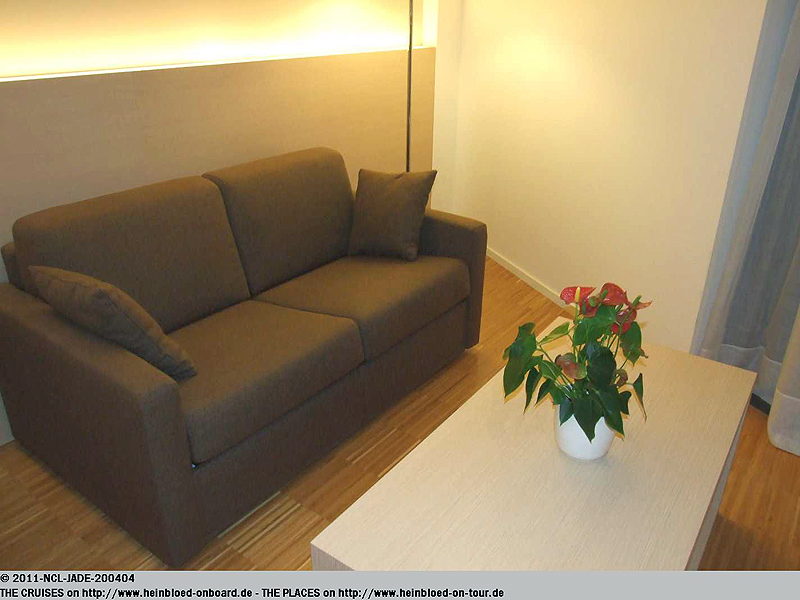 Typical Italian: they checked the birthdates in our passports and said that the oldest should get the upgrade. But I was the Hilton Honour member. But I got free internet...

Well nice... I guess they checked more who would fit into this queen-size-bed.

Na gut... ich denke, mal dass sie wohl eher geguckt haben, wer am ehesten in das Queen-Size-Bett passt...
Das Hotel ist ja erst vor einem Jahr eröffnet worden...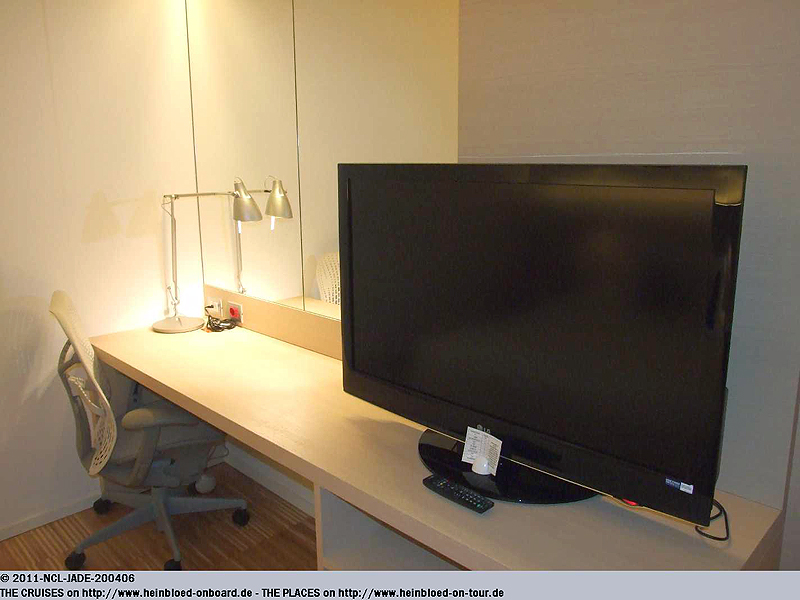 The hotel was opened one year ago...

Water was complimentary.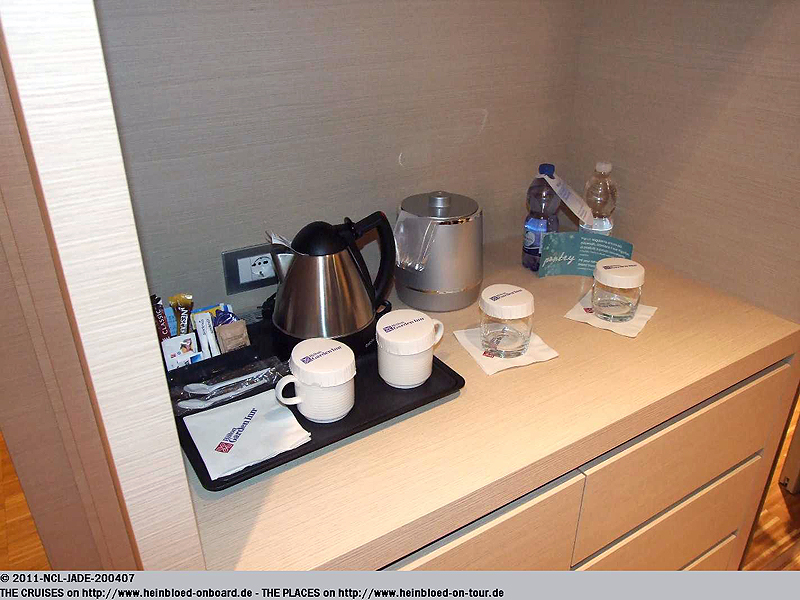 Das Wasser war kostenlos.
Mit Badewanne...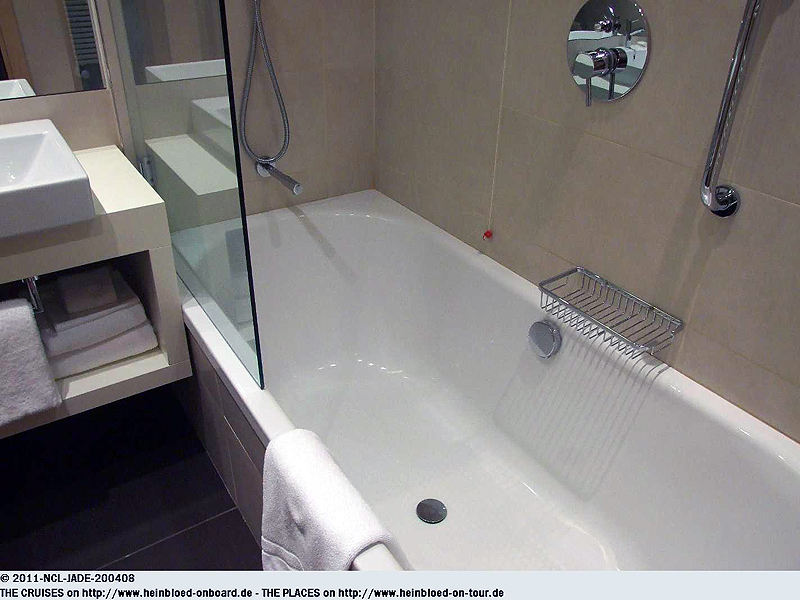 With bathtub

while our bath was more decent...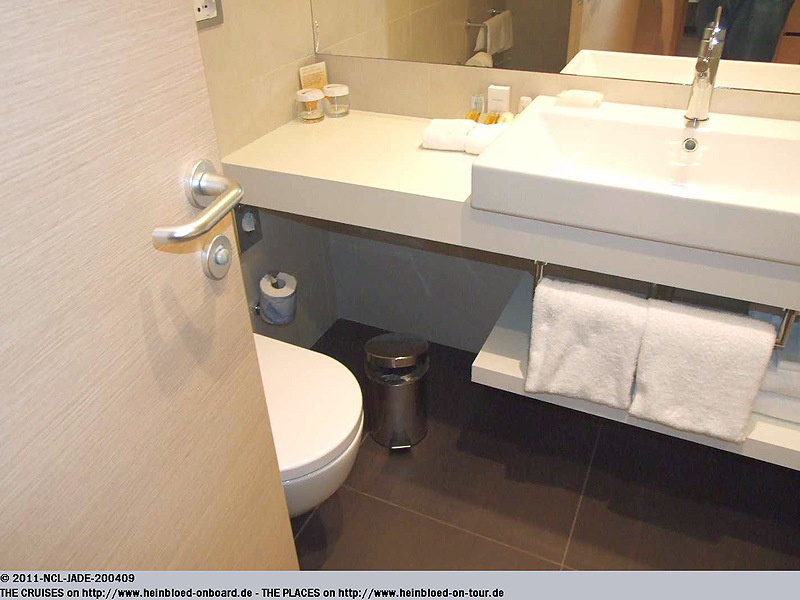 Während unser Bad bescheidener war...
Und bloß eine Dusche hatte...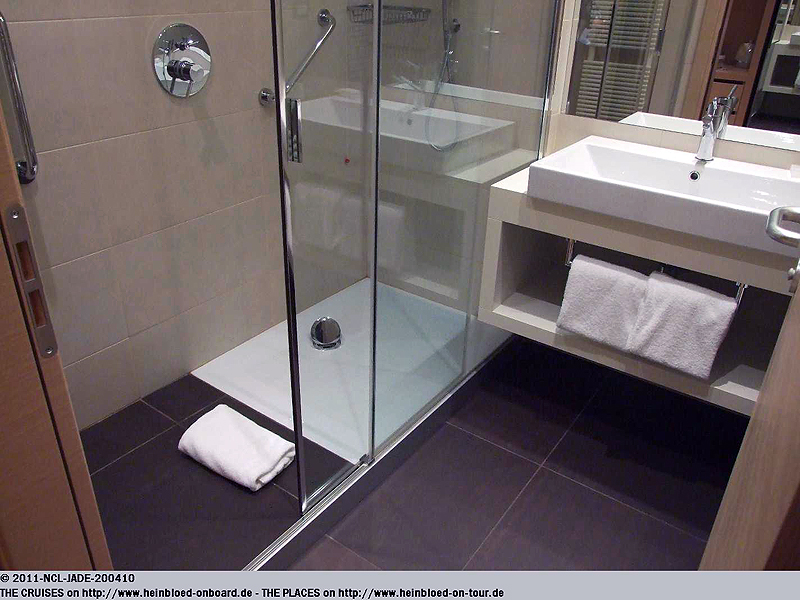 and only had a shower...

But it was a very nice one.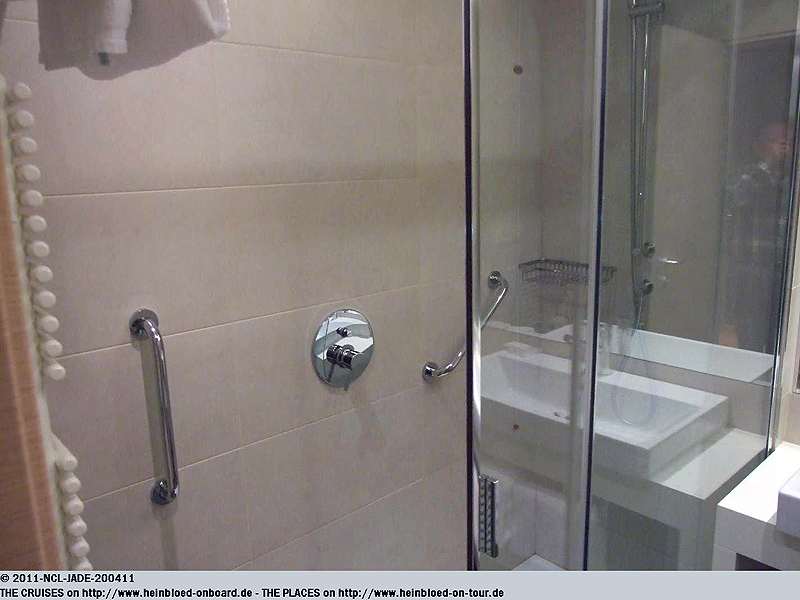 Aber auch eine sehr schöne.
Mit Produkten von Neutrogena.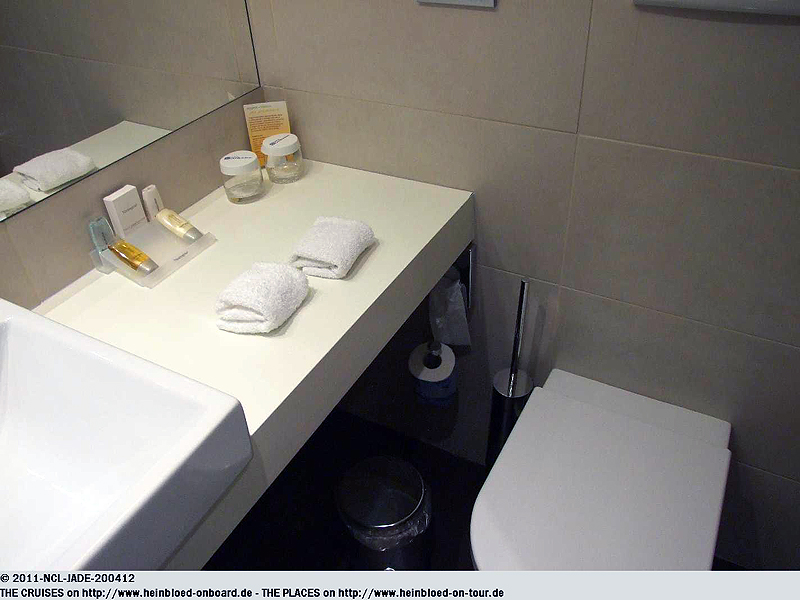 With products from Neutrogena.

But without suite you got water too.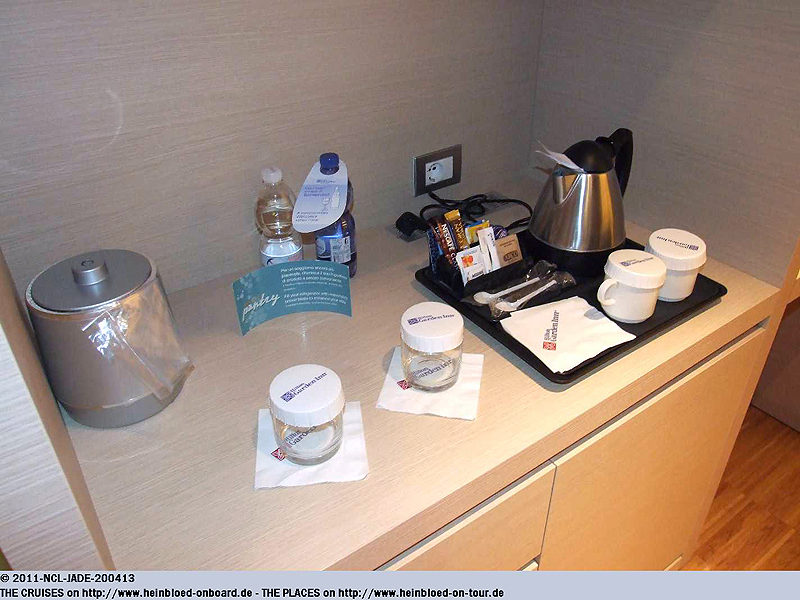 Und auch ohne Suite gibt es Wasser.
Zum Glück getrennte Betten.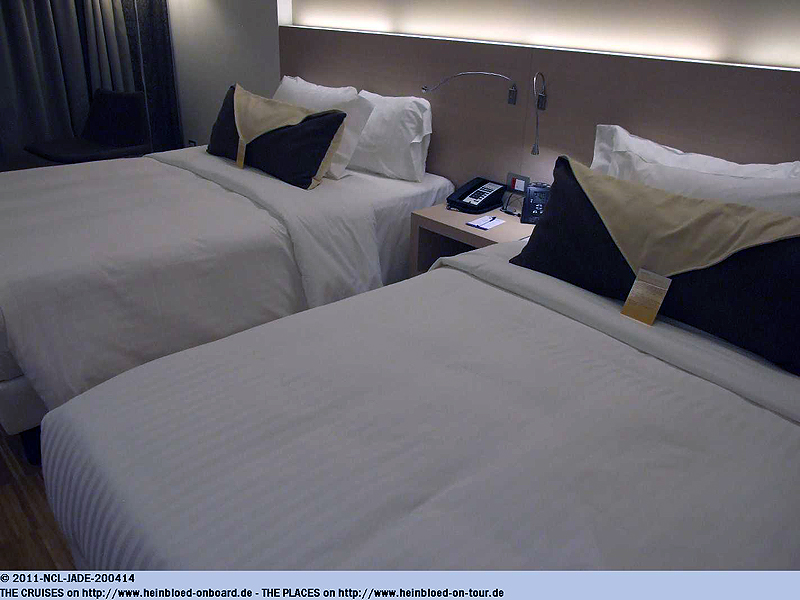 And we had seperate beds.

I think that you cannot say anything bad for this price.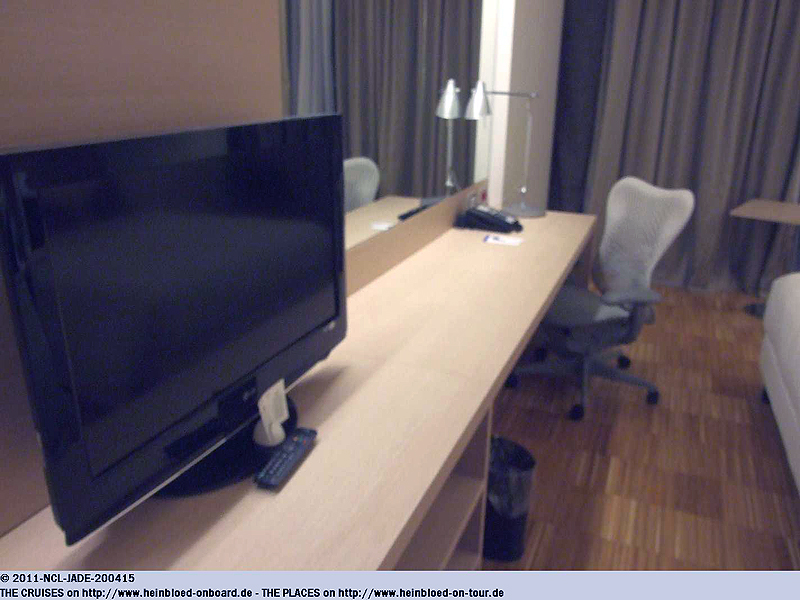 Für den Preis konnte man wohl nicht meckern.
Unten an der Rezeption haben wir gelesen, dass man sich die Matratzen so einstellen kann, wie man es am liebsten mag.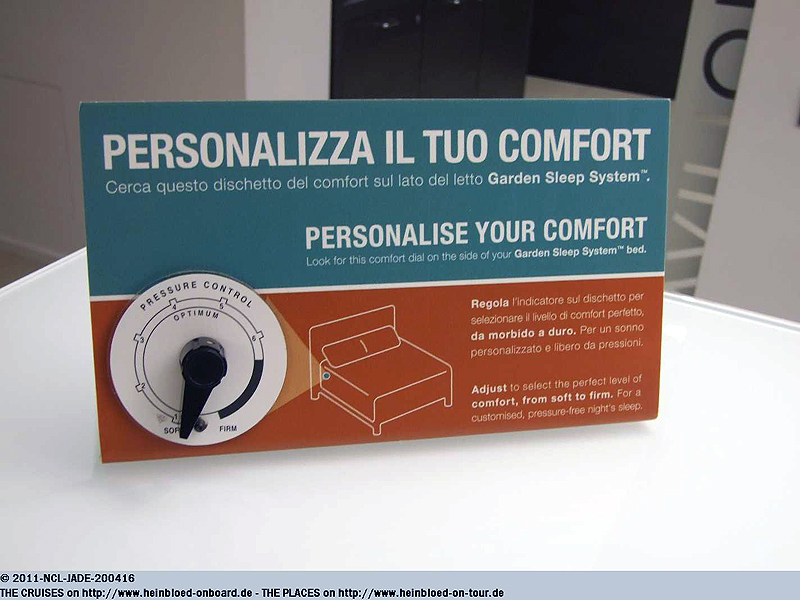 At the reception we read that you can adjust the mattress yourself as it would fit best to you.

Here you get already for my shipspotting activities the 12-hours-ticket for 16.00 EUR (2011). Locals pay much less.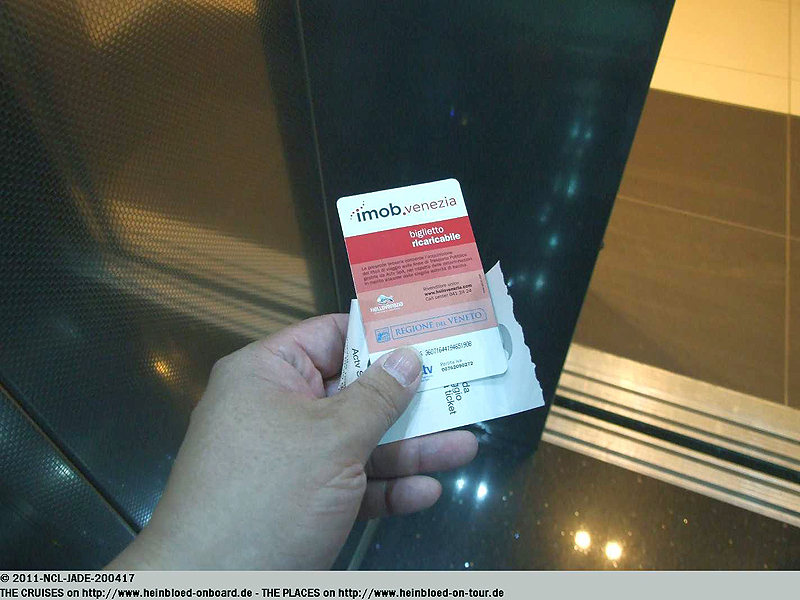 Hier bekomme ich für meine Shipspotter Fahrt morgen früh bereits meine Fahrkarte: 16,00 EUR für 12 Stunden (2011). Einheimische zahlen viel weniger.
Der Ausblick aus unserem Zimmer.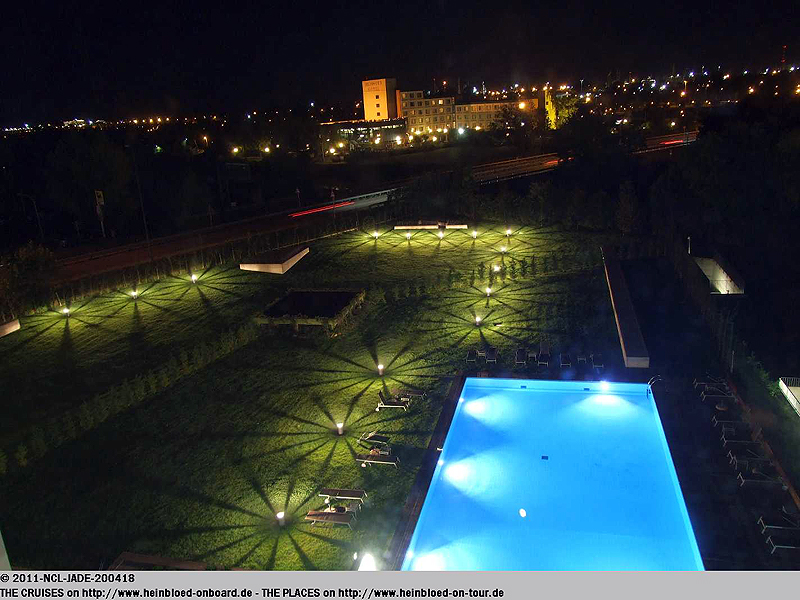 The view from our room.

Even to the cruise terminal where we could see VOYAGER OF THE SEAS. I tried to play full moon and watched over to the ship very intensively to disturb the sleep of garfield (Stefan from a German forum).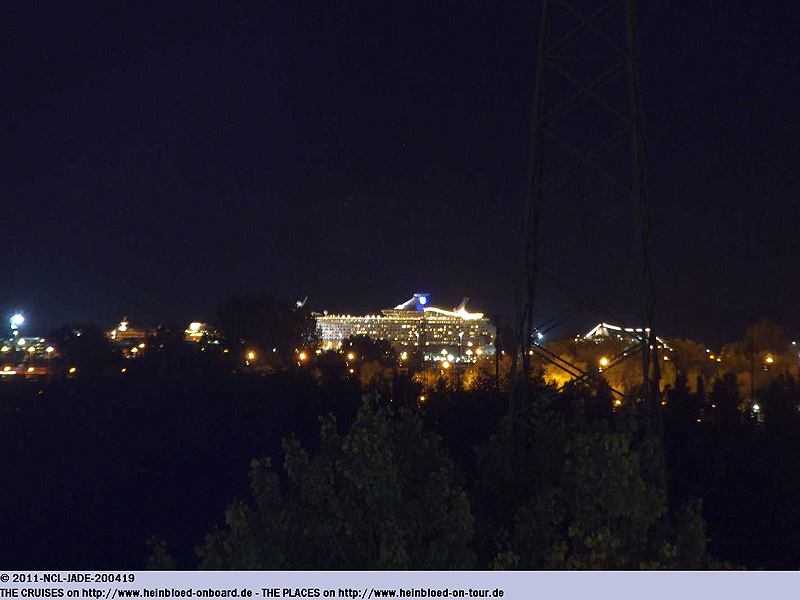 Sogar rüber zum Cruise Terminal, in dem die VOYAGER OF THE SEAS liegt. Ich versuche Vollmond zu spielen und gucke das Schiff intensiv an, und versuche garfield (Stefan aus
kreuzfahrten-treff.de
um seinen Schlaf zu bringen - Manche kennen ihn besser auch von seiner Homepage bzw. seinen Kurzgeschichten
https://www.urlaub-auf-hoher-see.de/
).
Das kleine Sandwich reichte nicht, um satt zu werden, also gehen wir noch mal kurz in das Hotelrestaurant. Ich gönne mir erst mal einen San Bitter. Wir sind ja in Italien.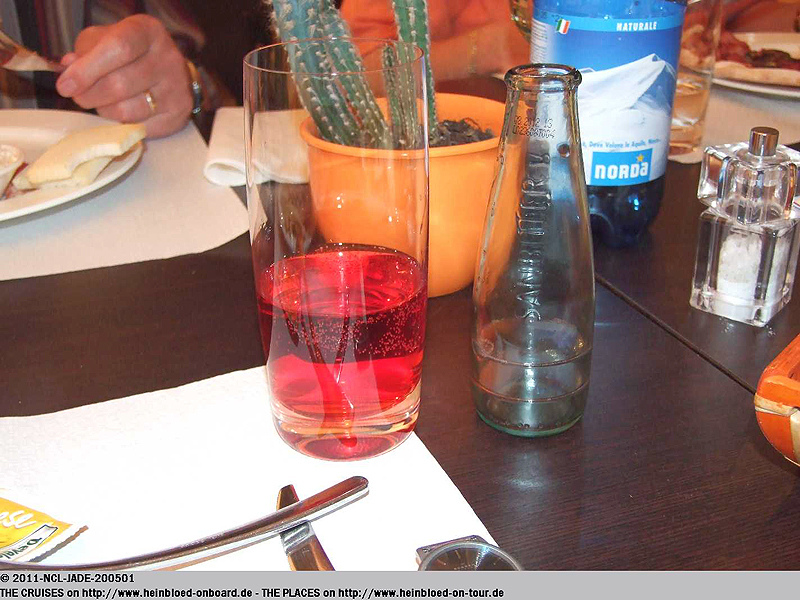 The small sandwich was not enough to become full so we went down to the hotel restaurant. I allowed myself to have a San Bitter. We were in Italy.

The first crossinis.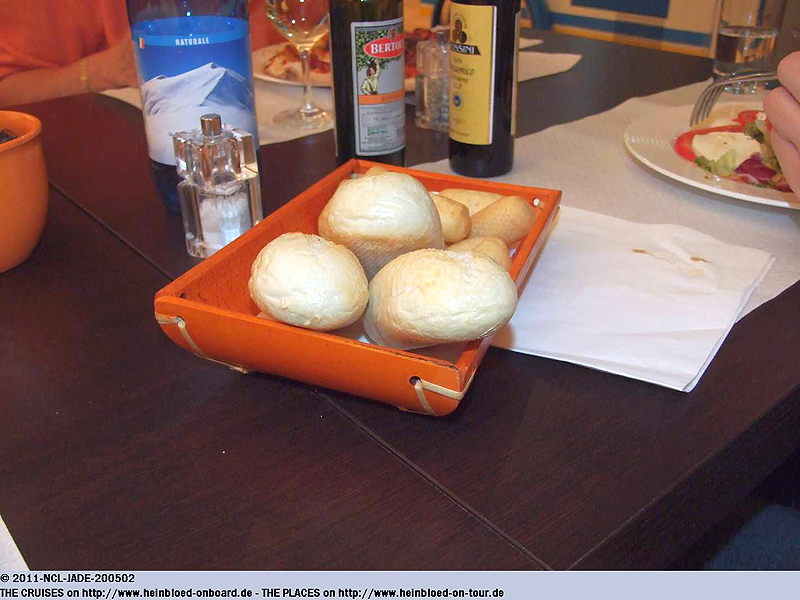 Die ersten Crossinis.
Mein Burger, der nach dem 1. Hotel von Conrad Hilton benannt wurde und nach Kindertagen bei Wimpy in Köln schmeckt.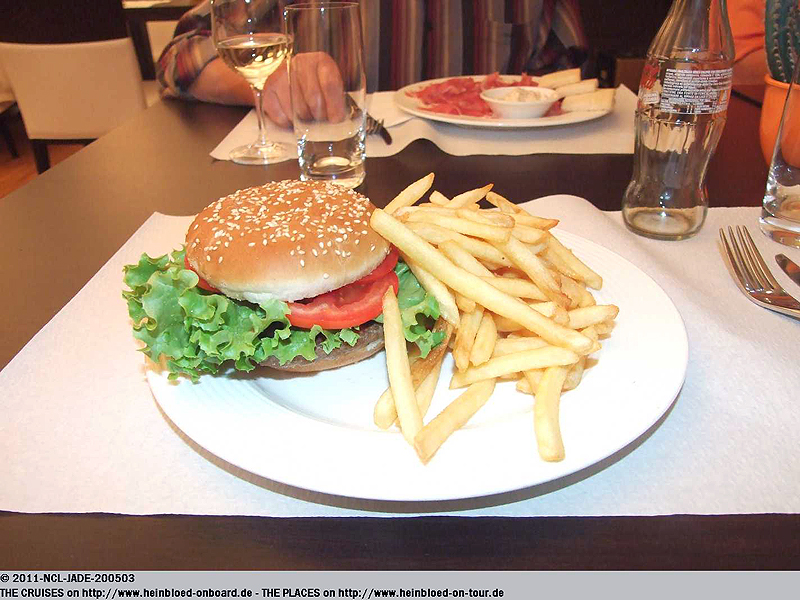 My burger which was named after Conrad Hilton's first hotel and tasted like childhood at Wimpy's in Cologne.

And Bruno had healthy food again...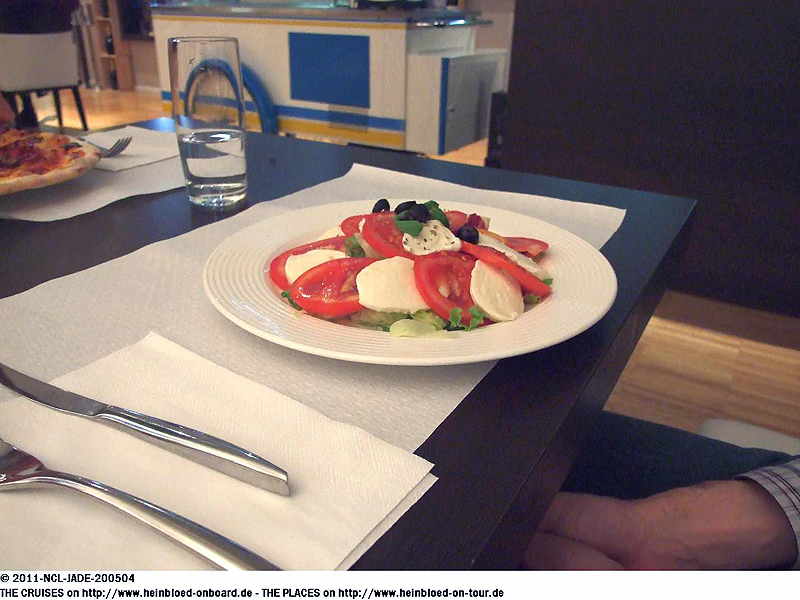 Und Bruno ernährt sich wieder gesund...