Scroll down for English explanations - alternates with German explanations.

Wir liegen so zentral, dass wir mal kurz in die Altstadt reinlaufen.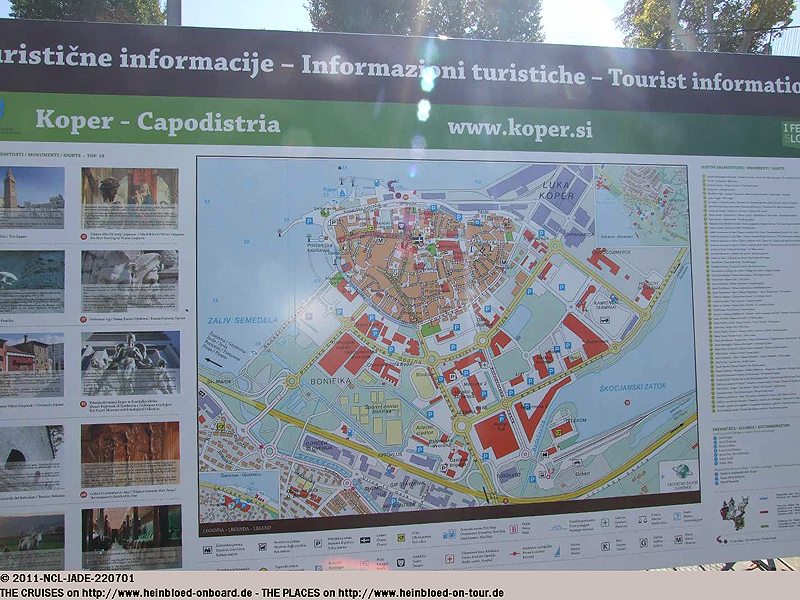 We berthed at such a central location that we used the chance to jump into the old town.

From the entry to the old town it's really just a jump. But why is VOYAGER OF THE SEAS getting the best place. But she was here the whole season week by week.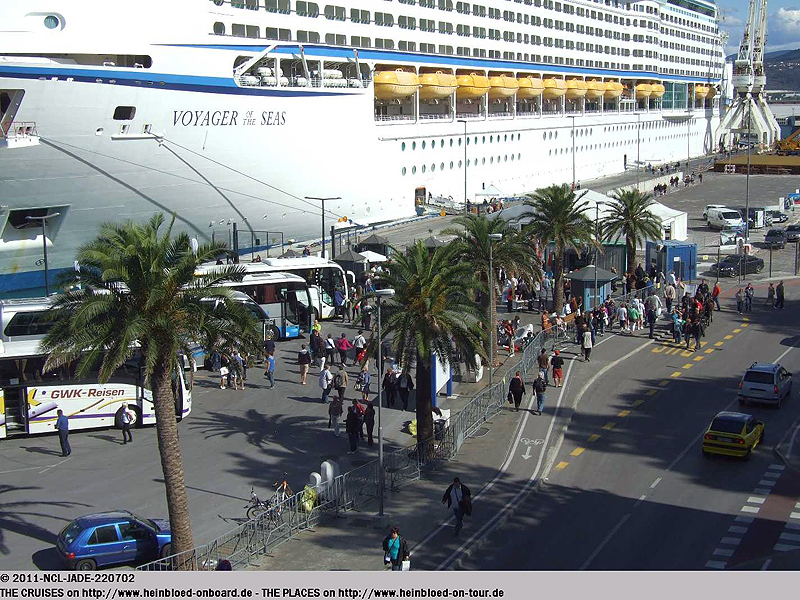 Vom Zugang der Altstadt ist es nur ein Katzensprung bis zu den Schiffen. Aber ausgerechnet die VOYAGER OF THE SEAS bekommt den besten Platz. Schließlich war sie ja die ganze Saison wöchentlich hier.
Vorsorglich machen wir schon mal Bilder von uns vor dem Schiff, falls wir mal mit der VOYAGER OF THE SEAS fahren sollten.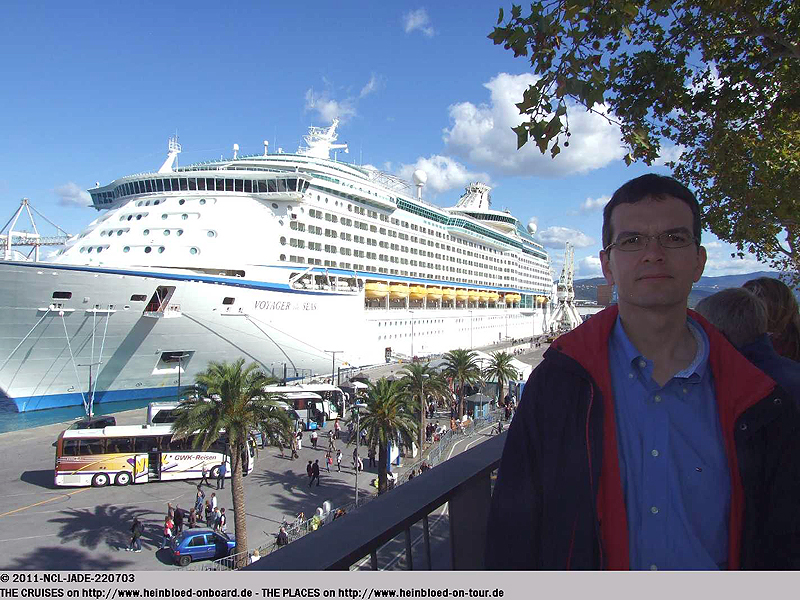 Just in case we are going one day on VOYAGER OF THE SEAS we prepared some pictures.

But I made a commercial event for Princess (totes), MSC (sweatshirt) and NCL (cap) of this shooting.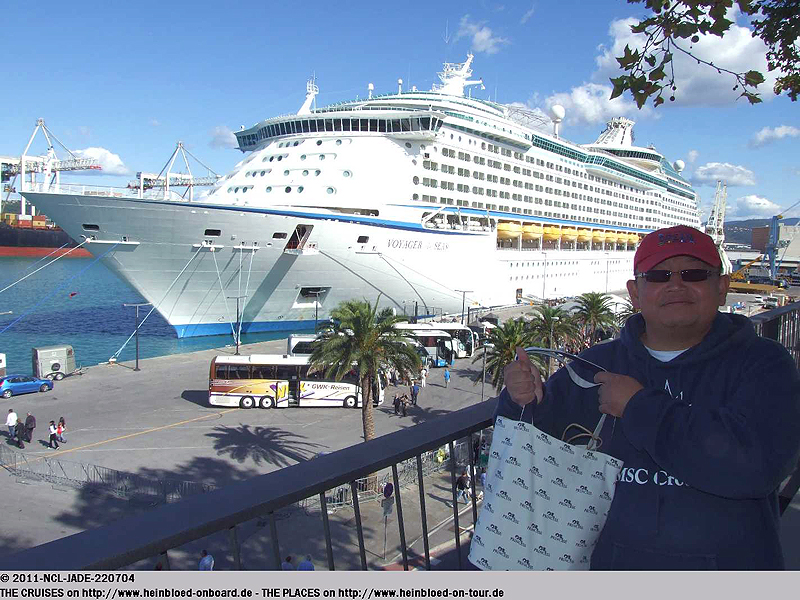 Ich mache daraus eine Werbeveranstaltung für Princess (Tasche), MSC (Sweatshirt) und NCL (Mütze)...
Von hier sind wir in wenigen Minuten im Herzen der Stadt.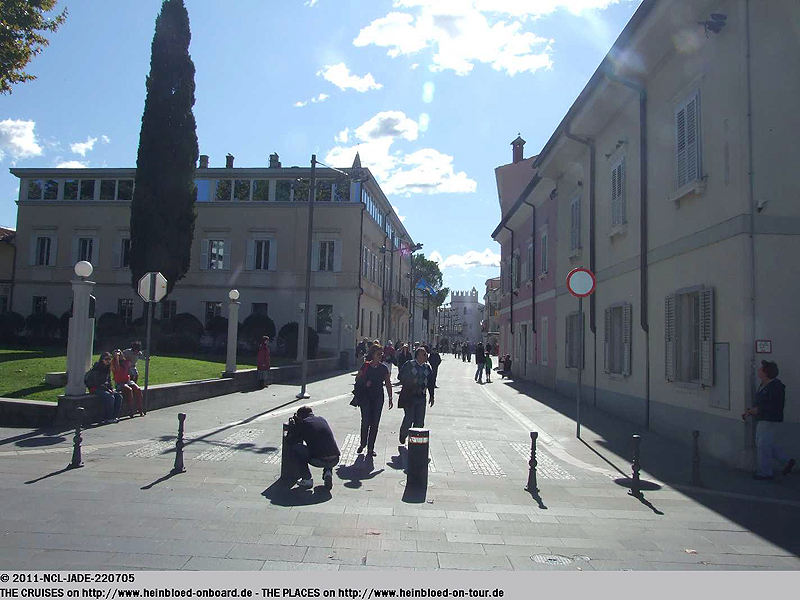 From here we are only minutes from the heart of the city.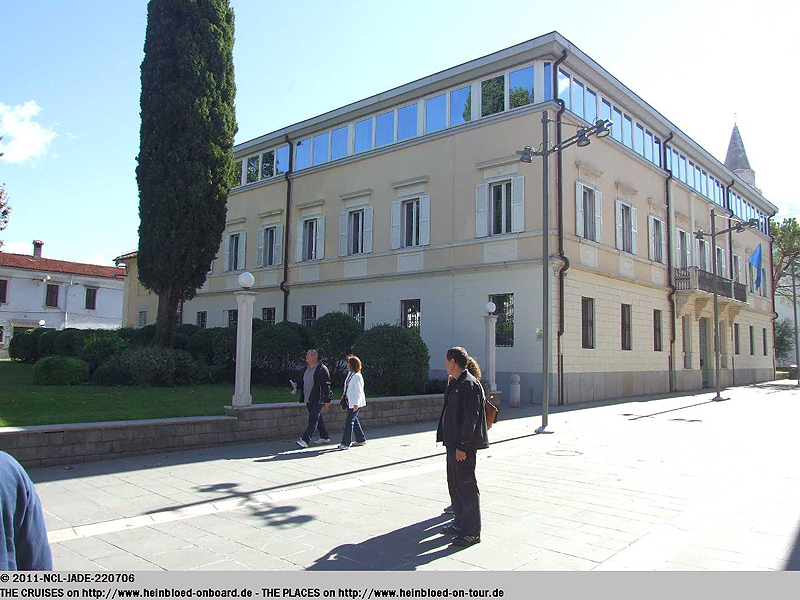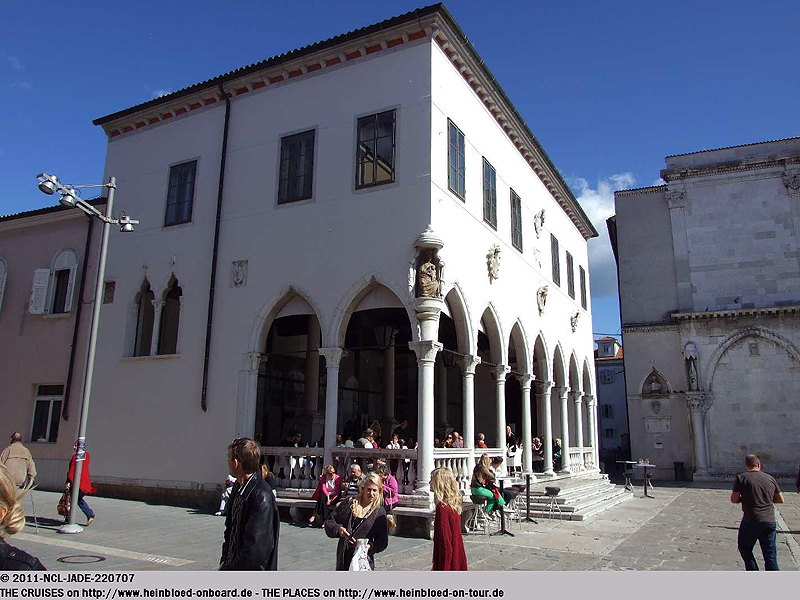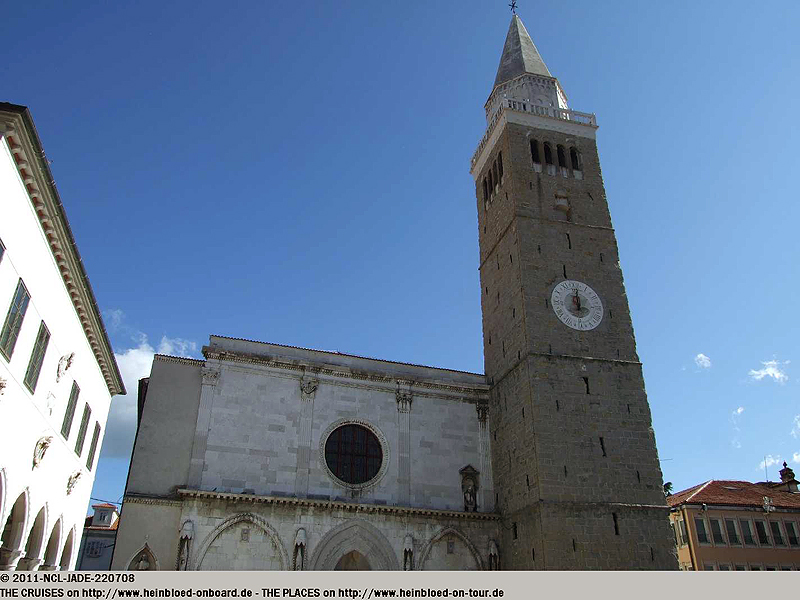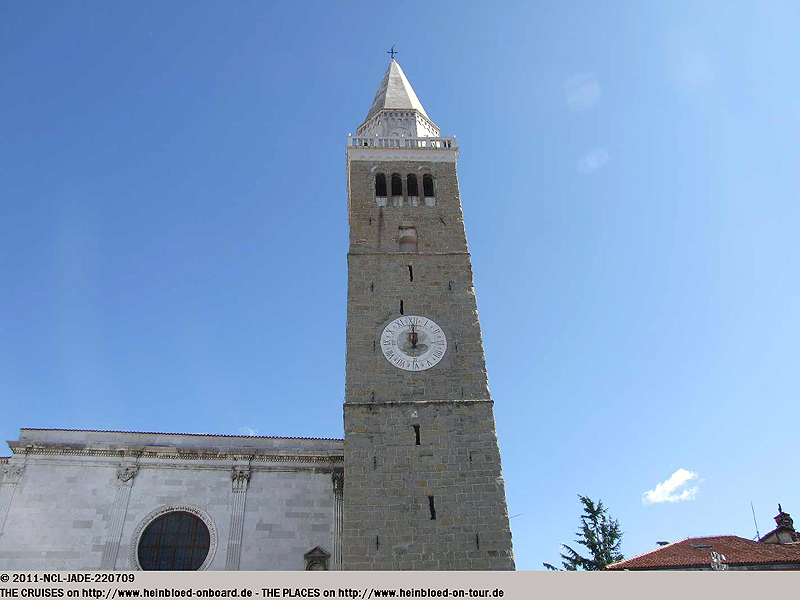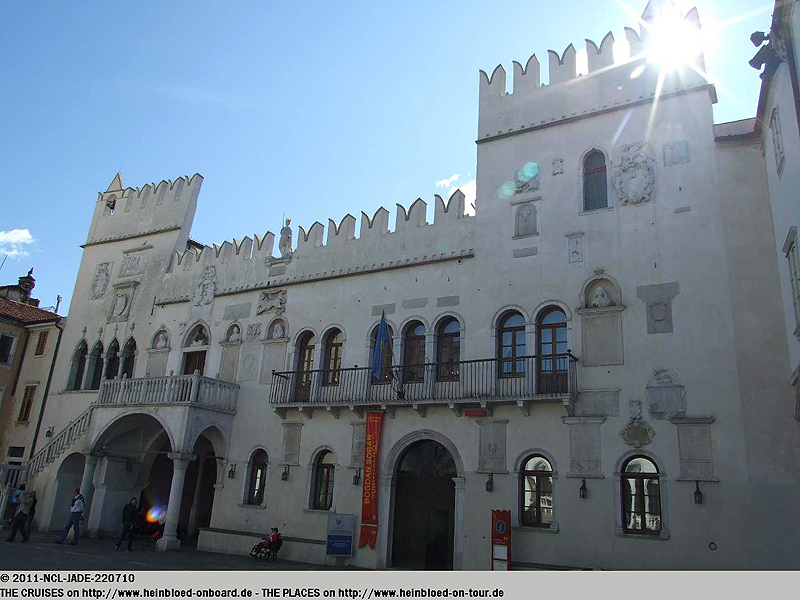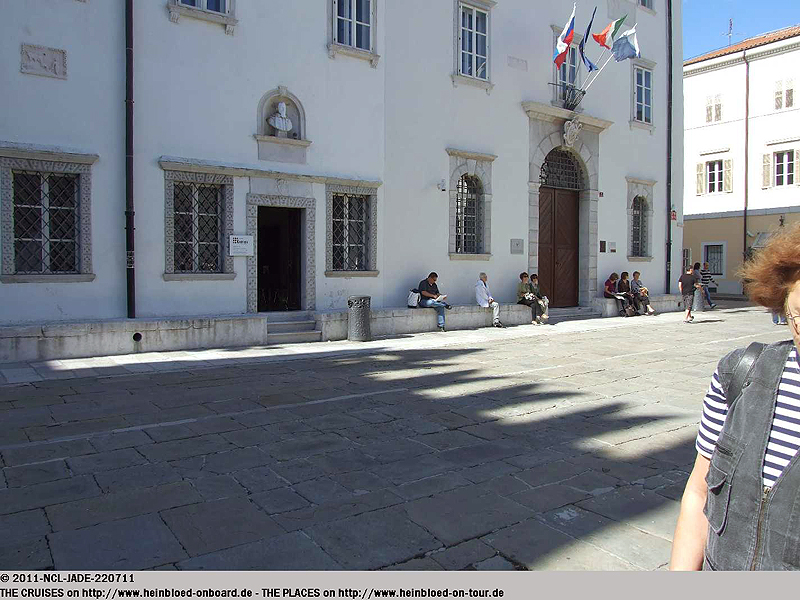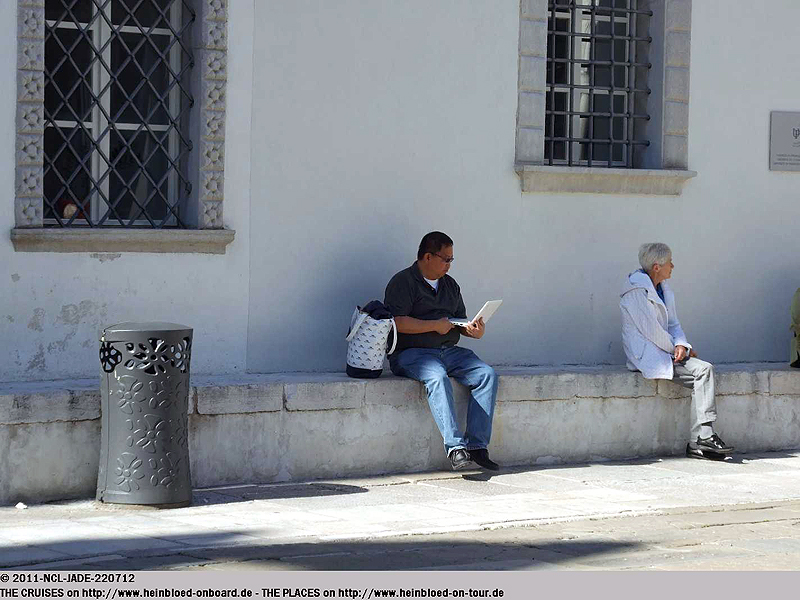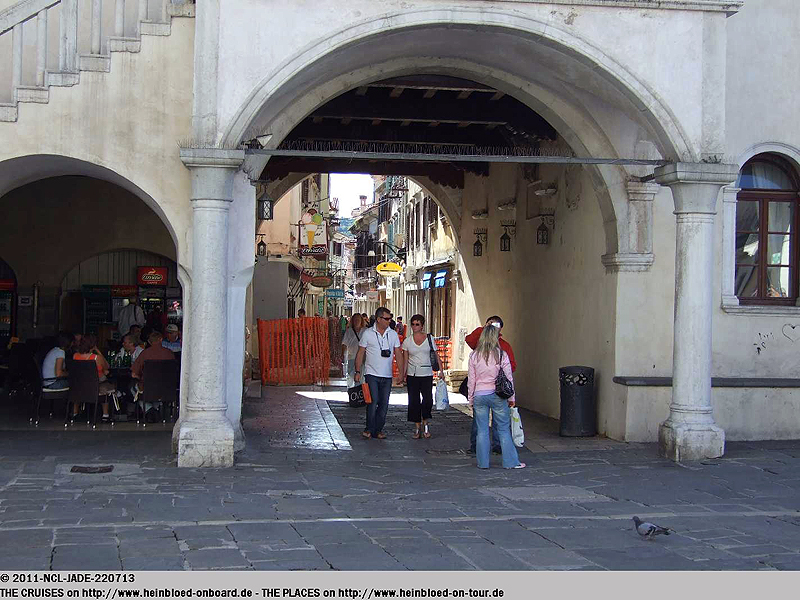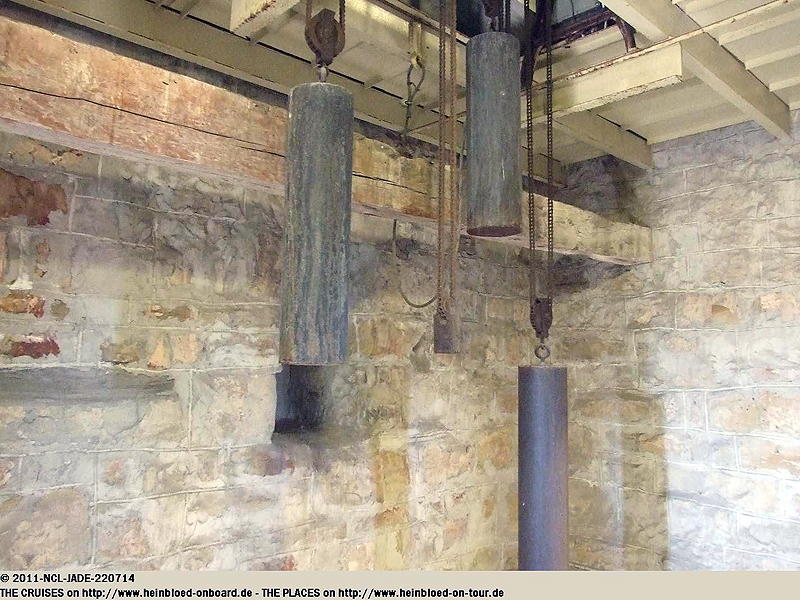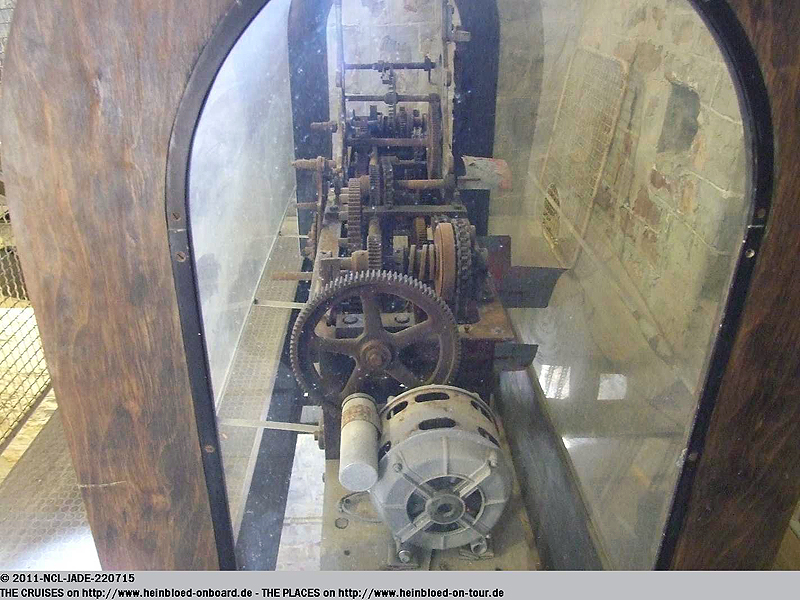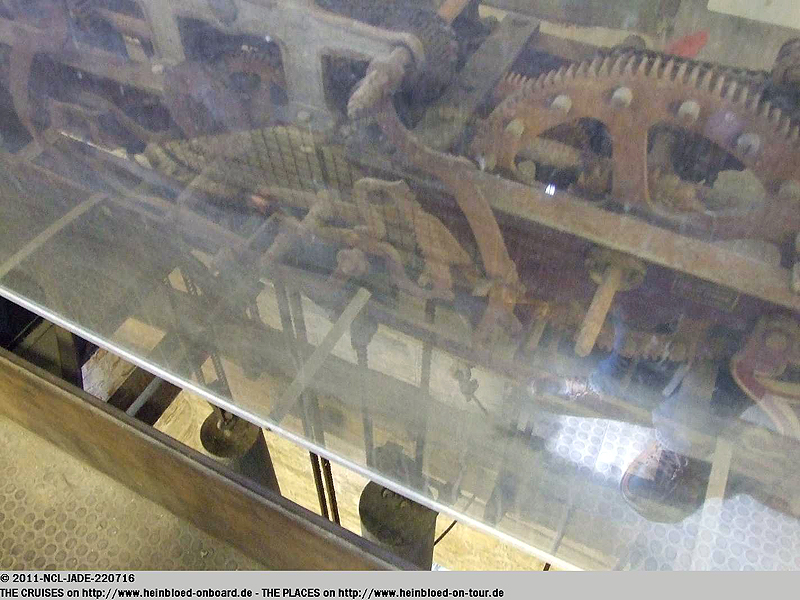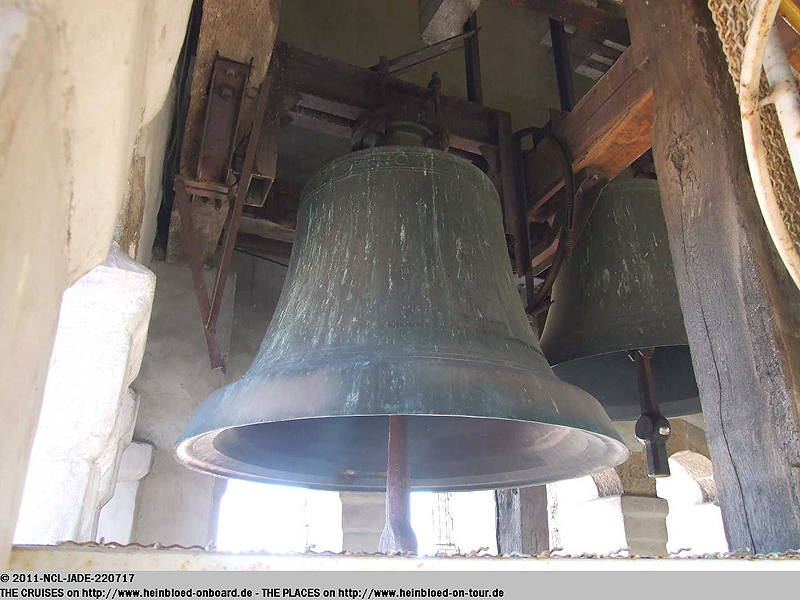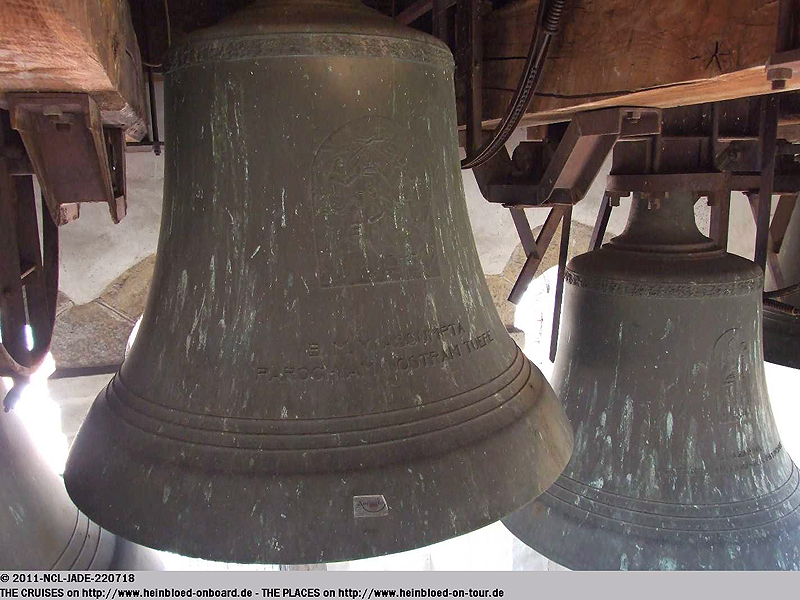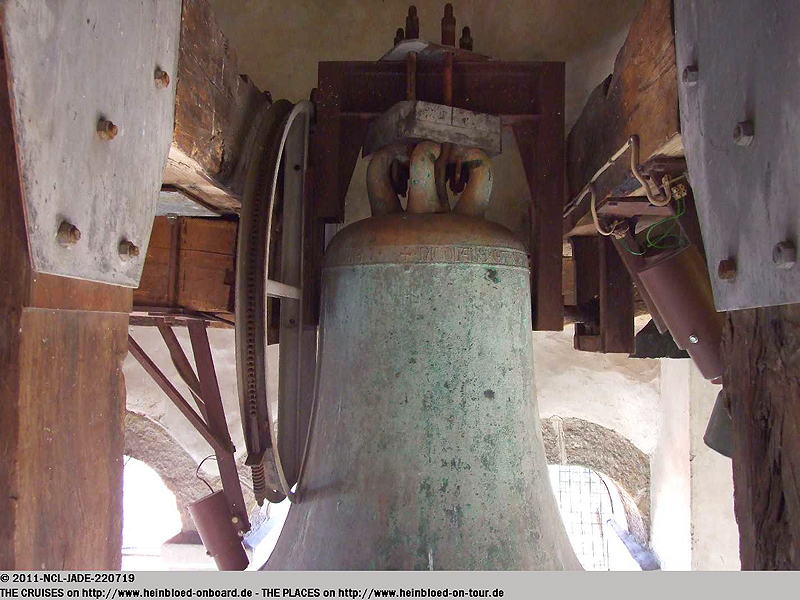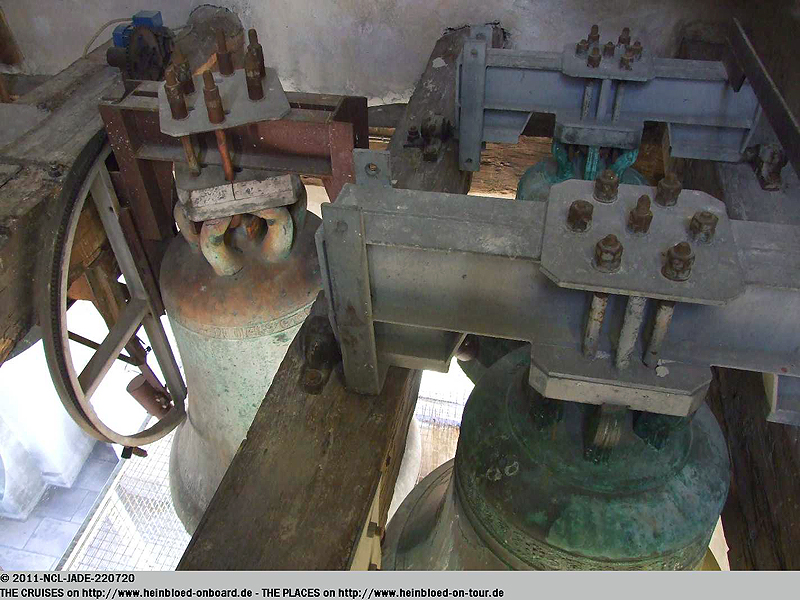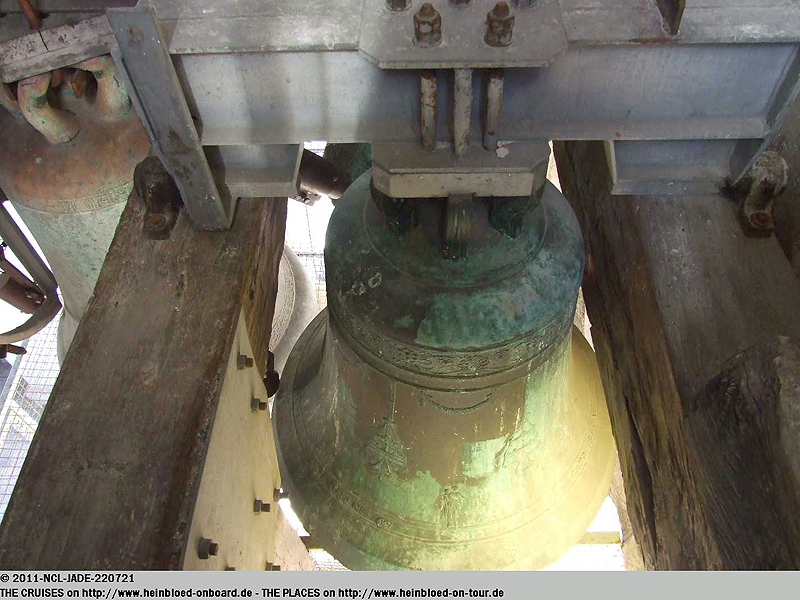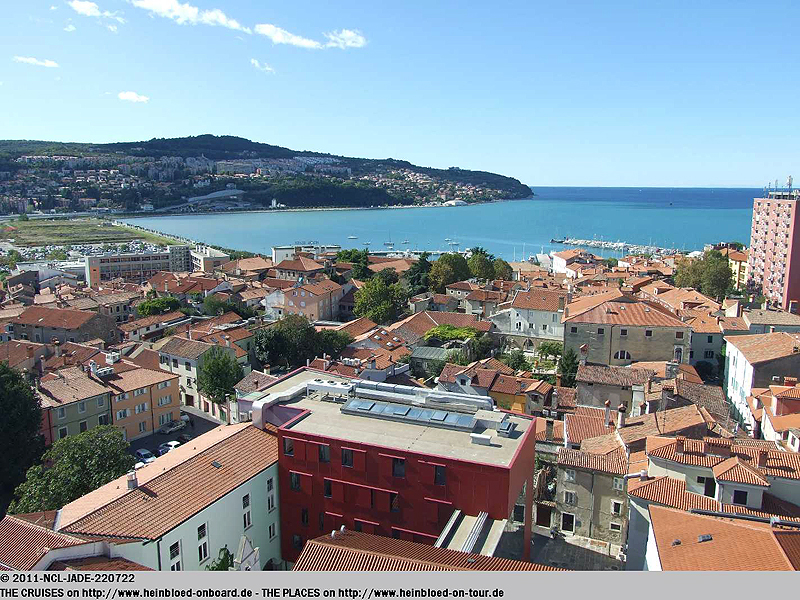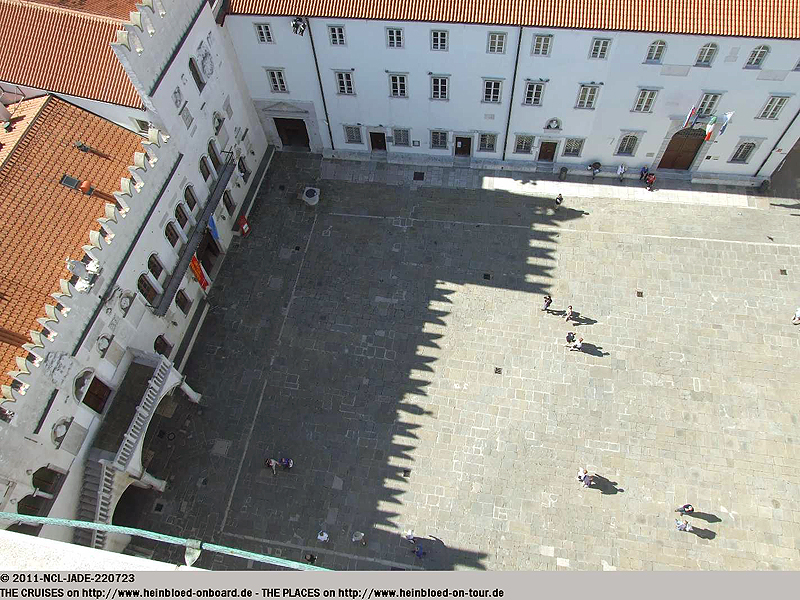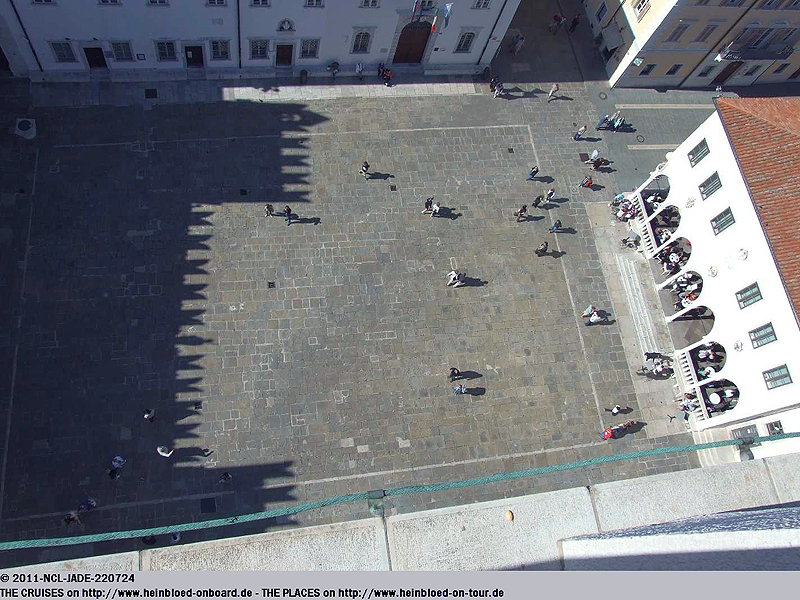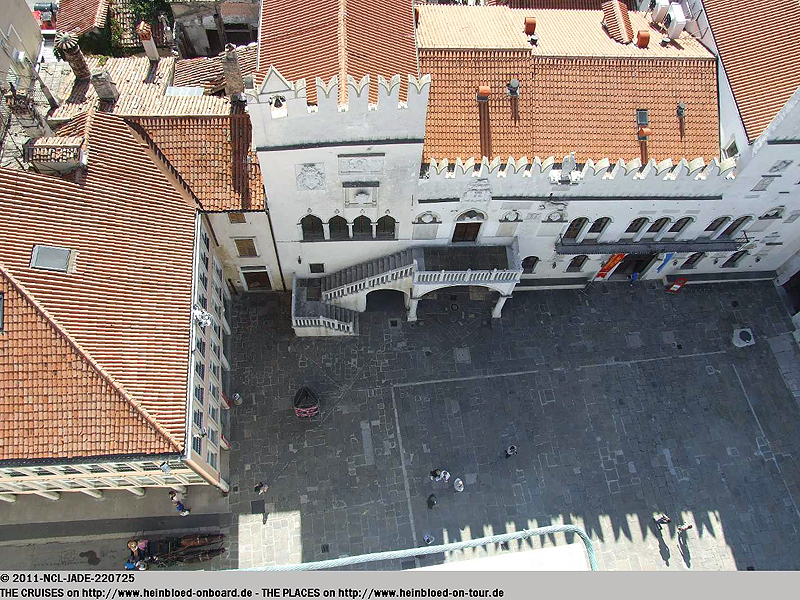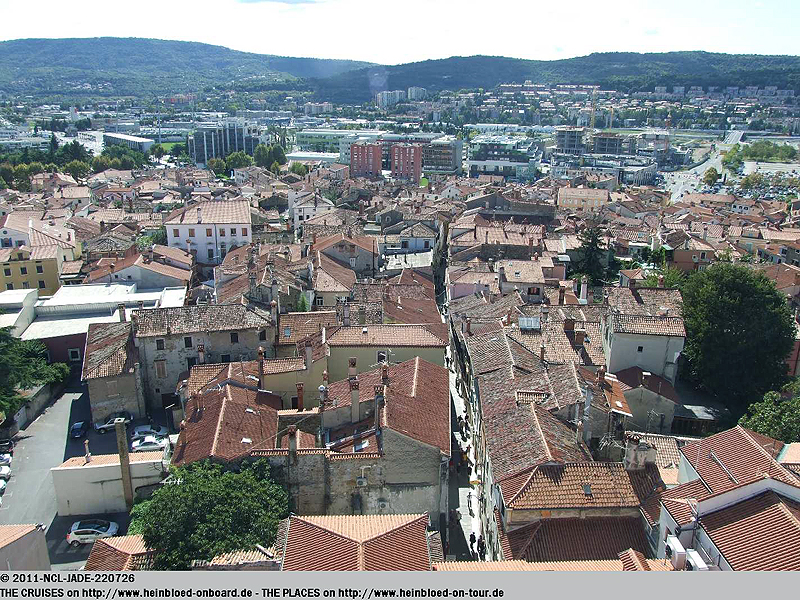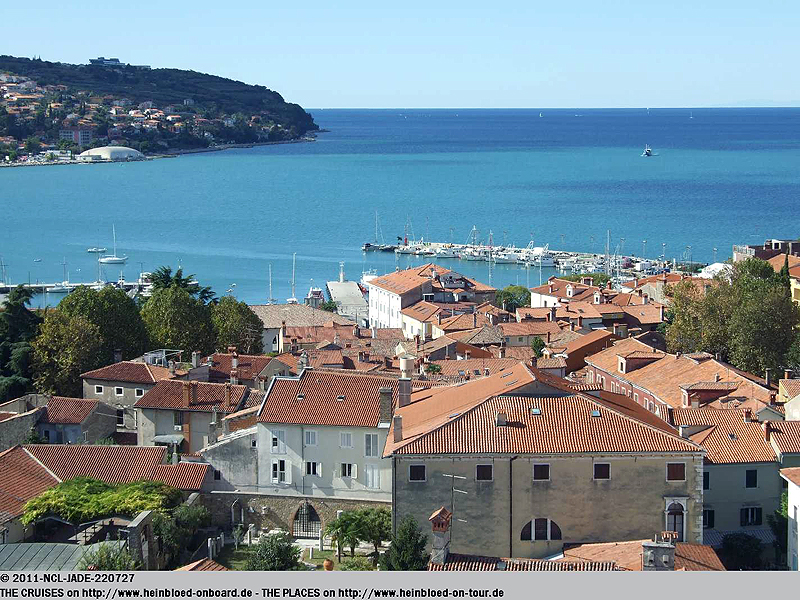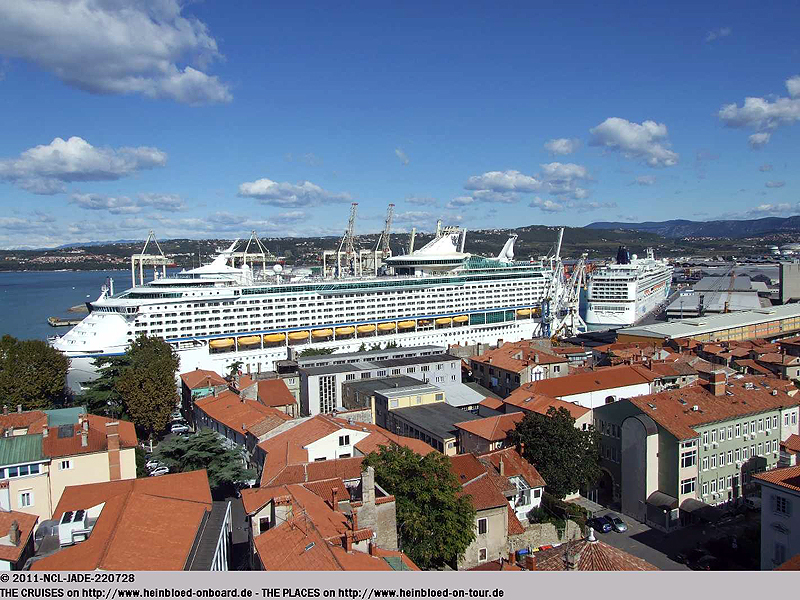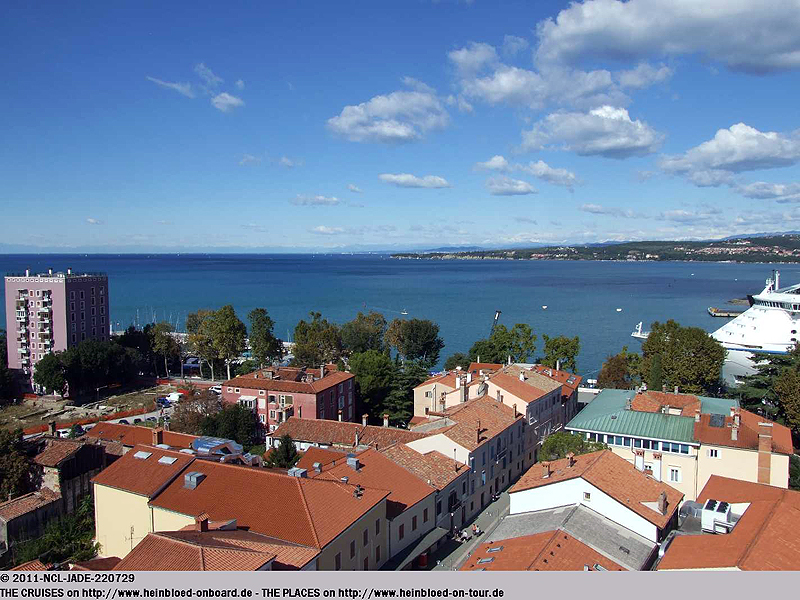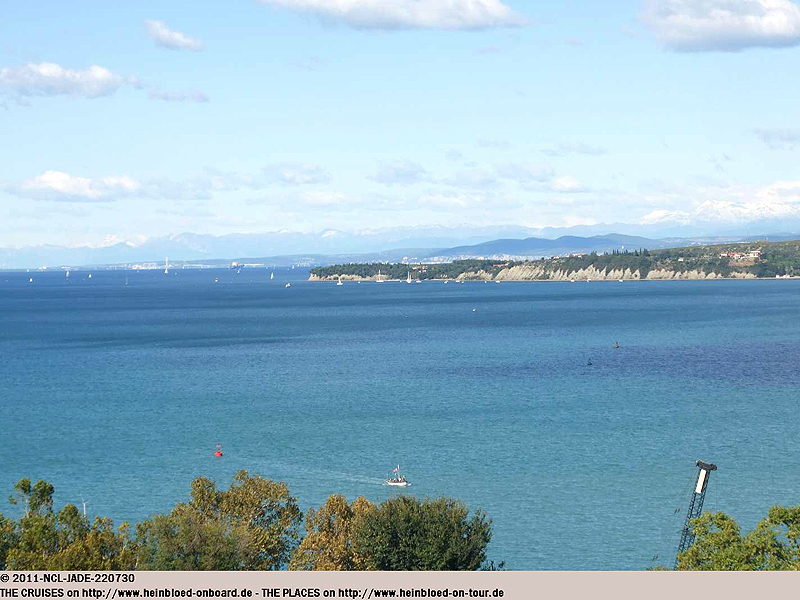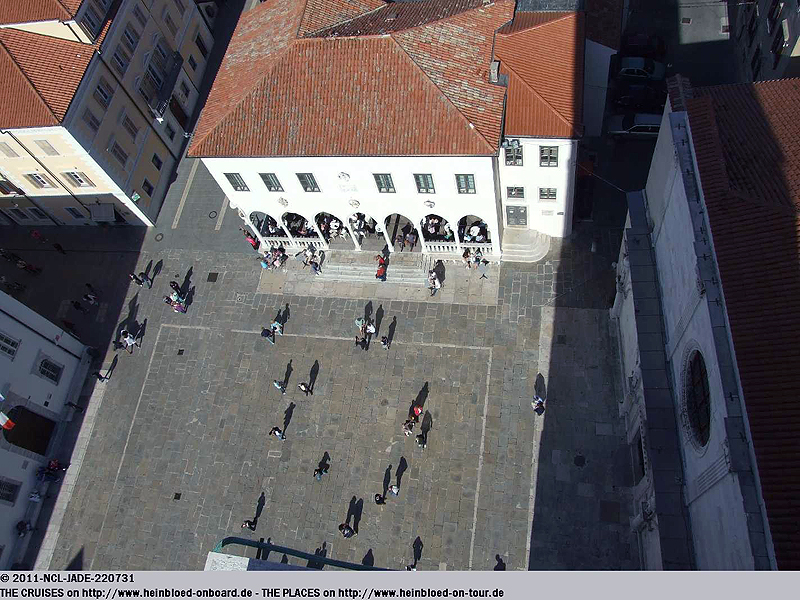 As there was a 3G-network available I preferred to stay down and transmit my Facebook pictures and as there was no elevator.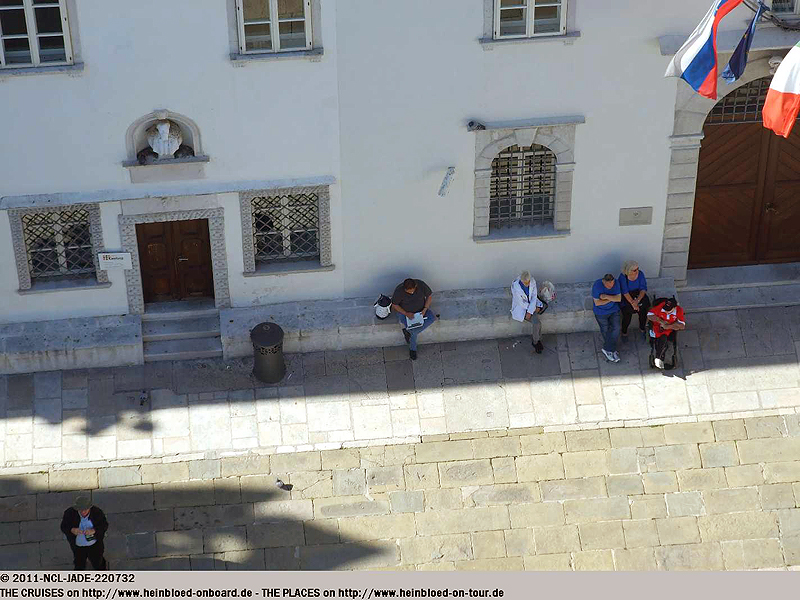 Ich nutze lieber das 3G-Netz, um die Bilder an Facebook zu übertragen, zumal es keinen Fahrstuhl gibt.
Aber mit dem Wetter hatten wir eigentlich nicht gerechnet.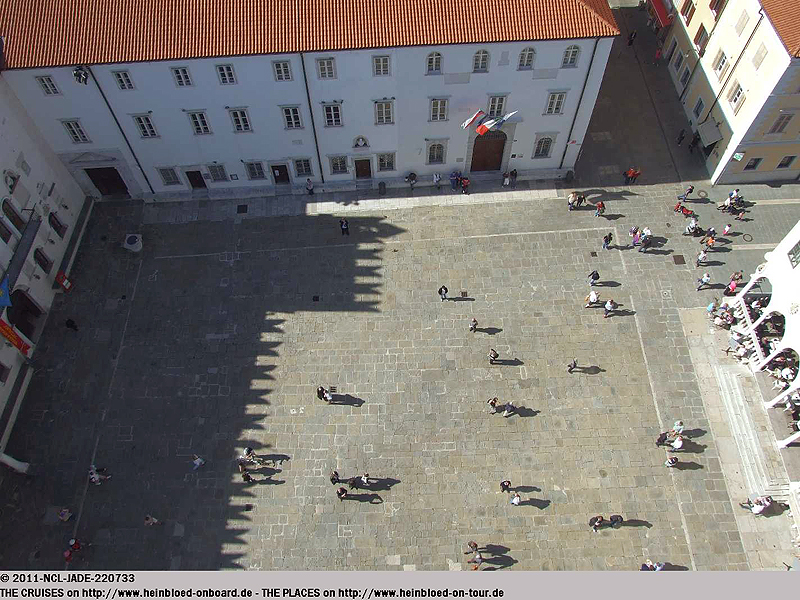 Honestly spoken we did not expect this kind of weather.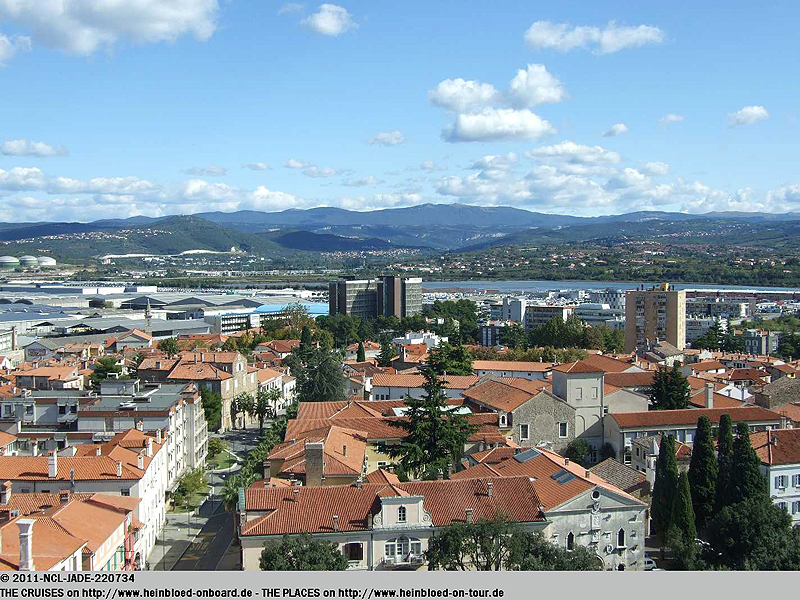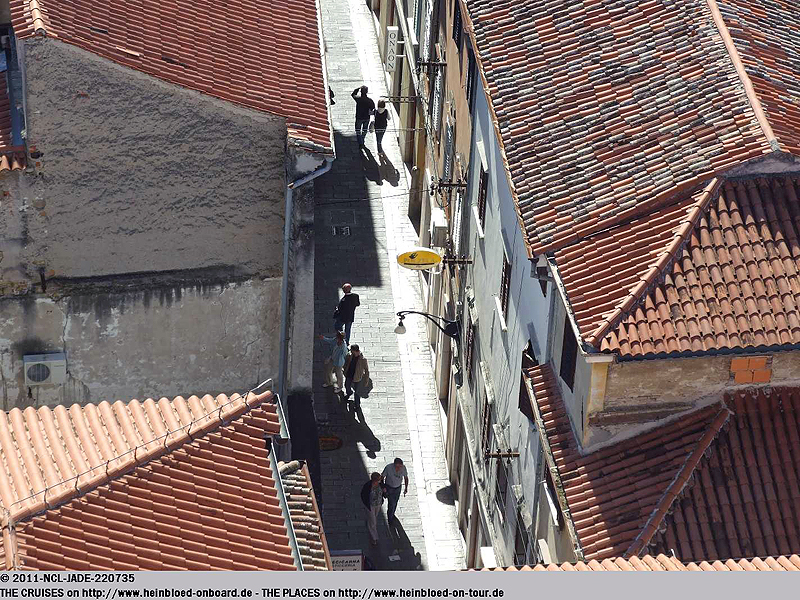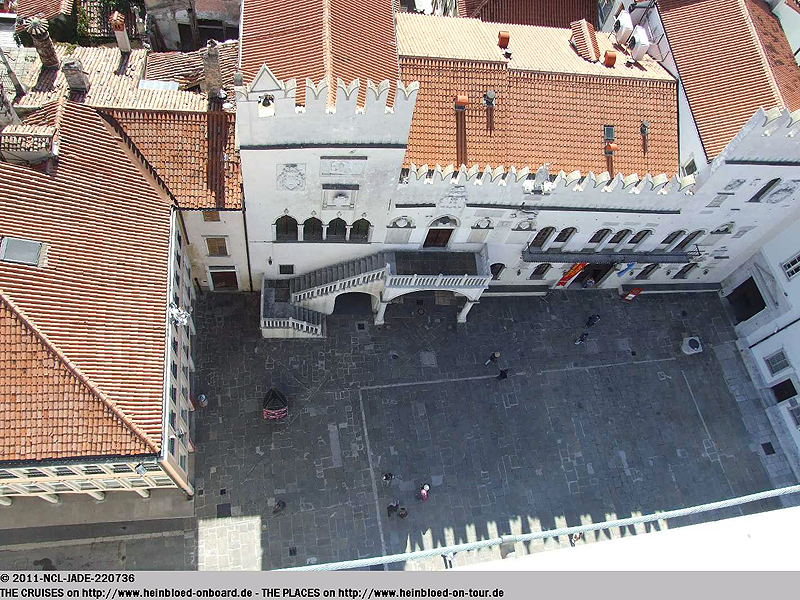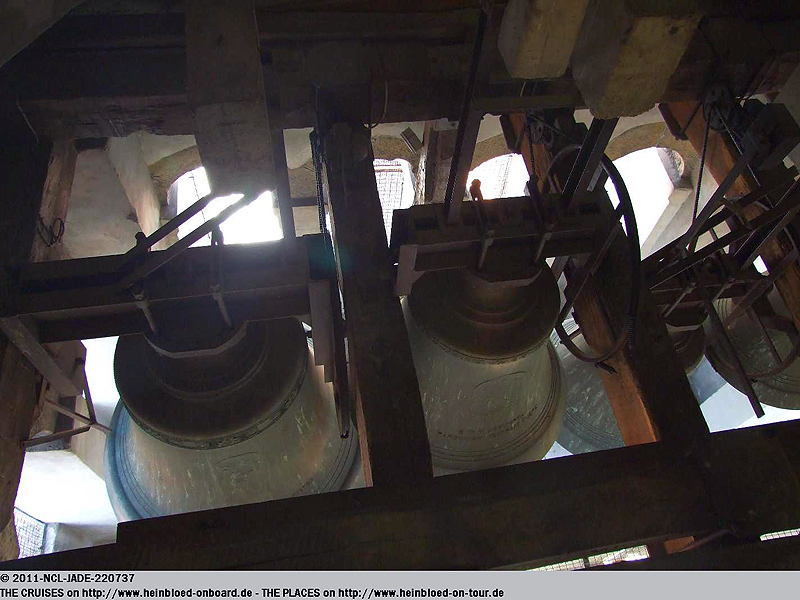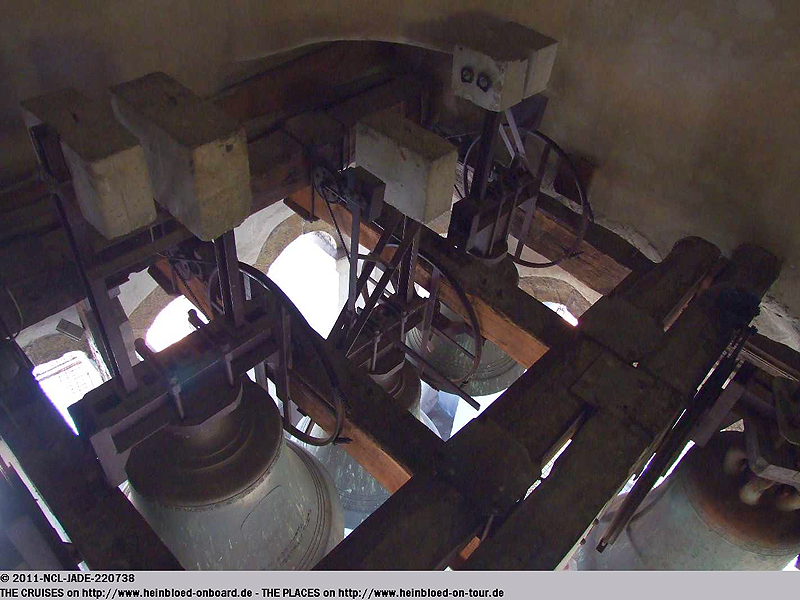 By the way that was the city bell tower (Campanile) which Bruno climbed to the top.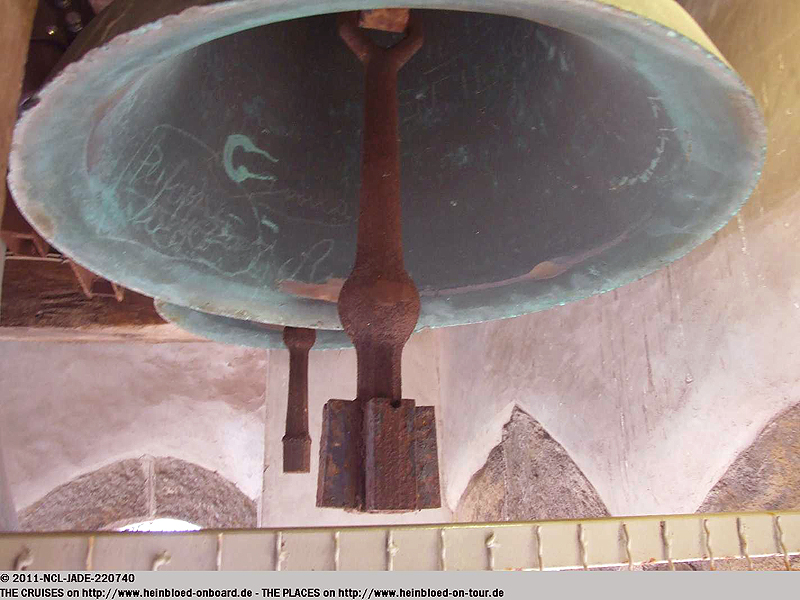 Es ist übrigens der Stadtglockenturm (Campanile), den Bruno bestiegen hat.
Der Spaß hat 4 EUR (2011) gekostet.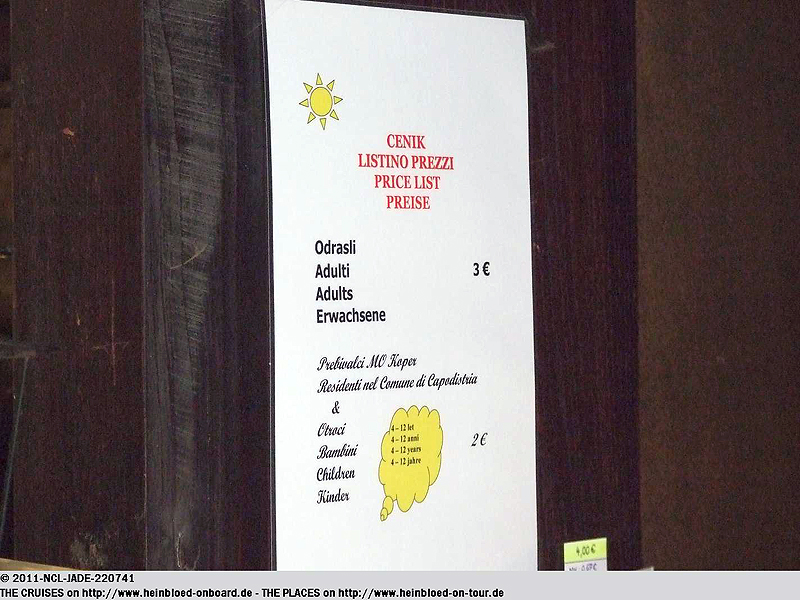 You have to spend 4 EUR (2011) for this fun.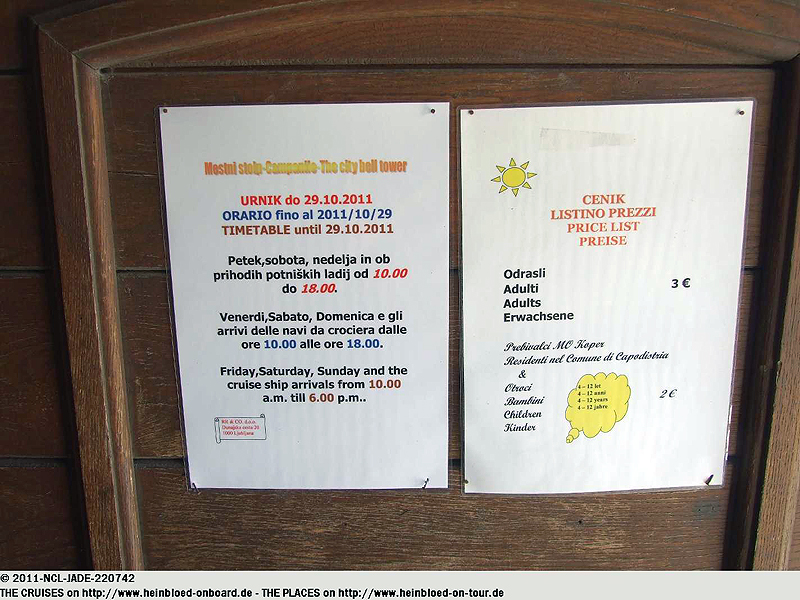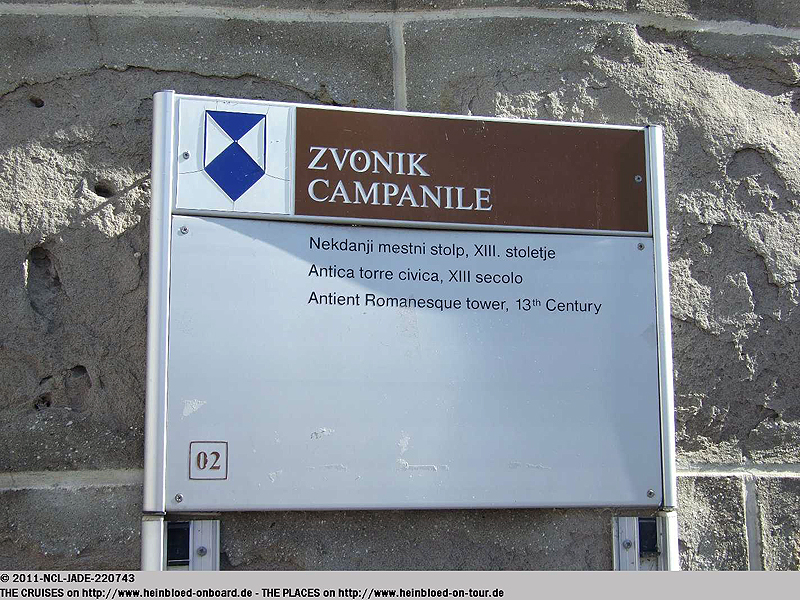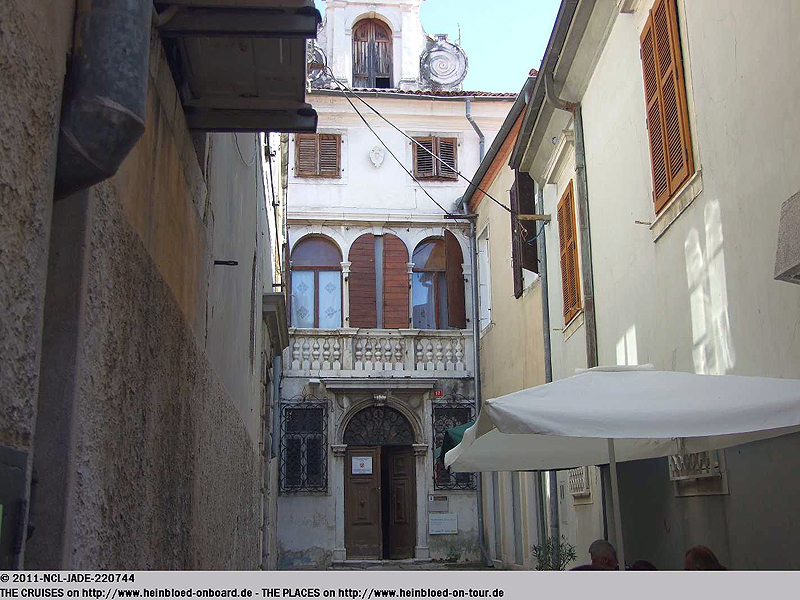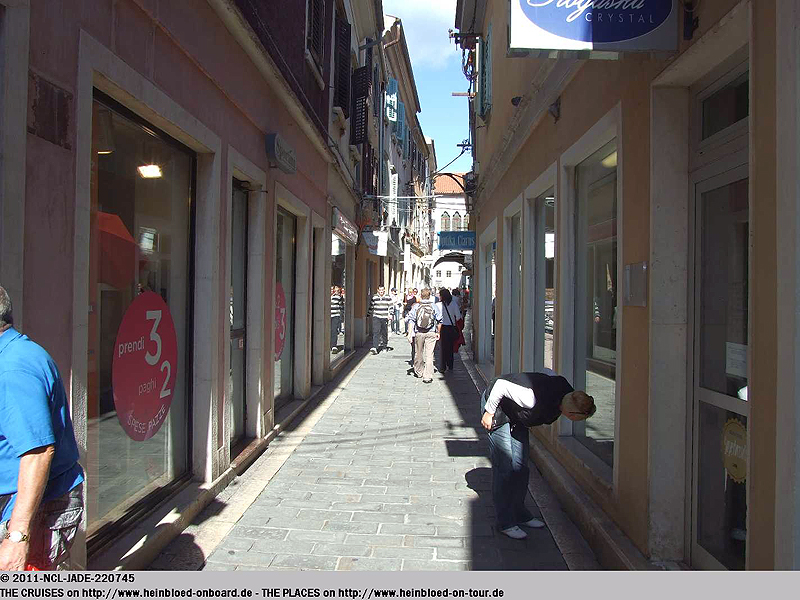 Bruno went through the little lanes while I still was transmitting pictures.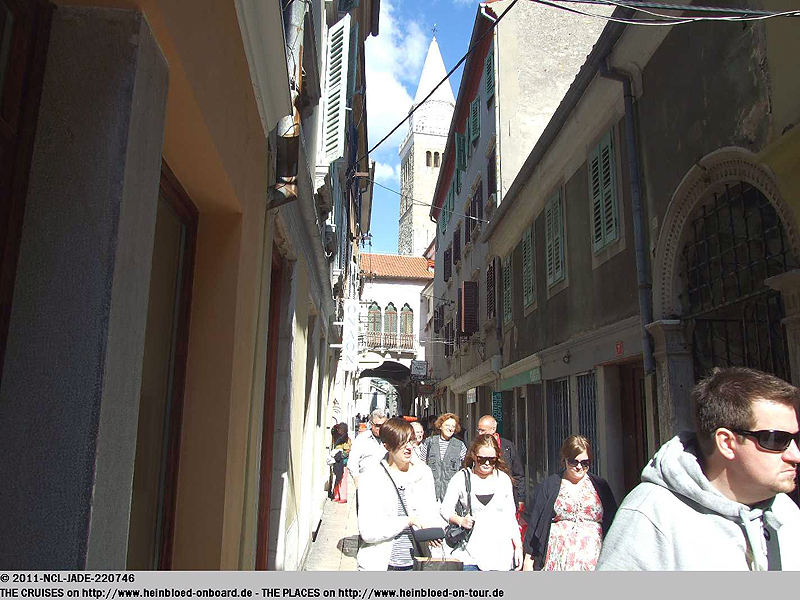 Bruno geht noch ein wenig durch die Gassen, während ich weiter Bilder übertrage.
Zum Schluss gönnen wir uns noch eine Tasse Cappucino. Unglaubliche 1,40 EUR für den leckeren Cappucino. Das haben die Italiener gut gemacht, dass sie diesen Landesteil mal kontrolliert haben und so positiv beeinflusst haben... Können die nicht als nächstes die NORWEGIAN JADE mal occupieren... zumindest die Kaffeemaschinen???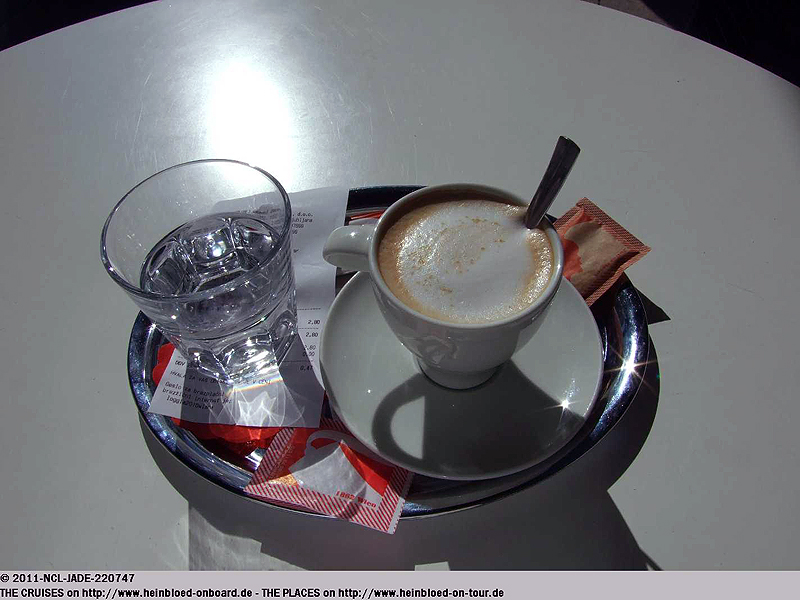 At the end we bought a cup of cappucino. Fantastic 1.40 EUR only for a nice cup. Well managed by the Italian who controled and influenced this area in history. Could not they occupy NORWEGIAN JADE as well... maybe not whole ship but the coffee machines???

The queue in front of the security was quite long. One crew member from NCL walked through the lines and said that the NCL-guests should queue on the right side and the RCI-guests on the left side.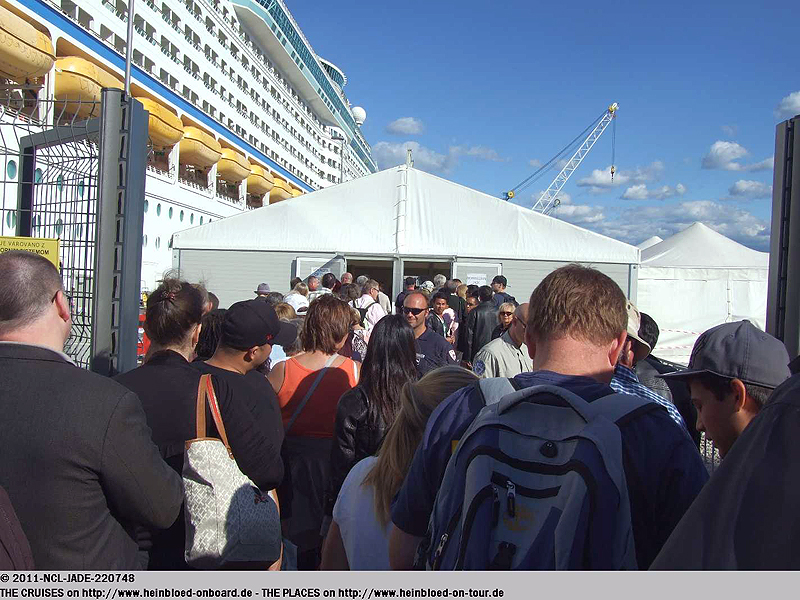 Die Schlange vor der Security ist recht lang. Einer von NCL geht immer durch die Reihen und sagt, dass sich die NCL-Gäste rechts anstellen sollen, und die RCI-Gäste links.
Kalte Handtücher erwarten uns an der Gangway.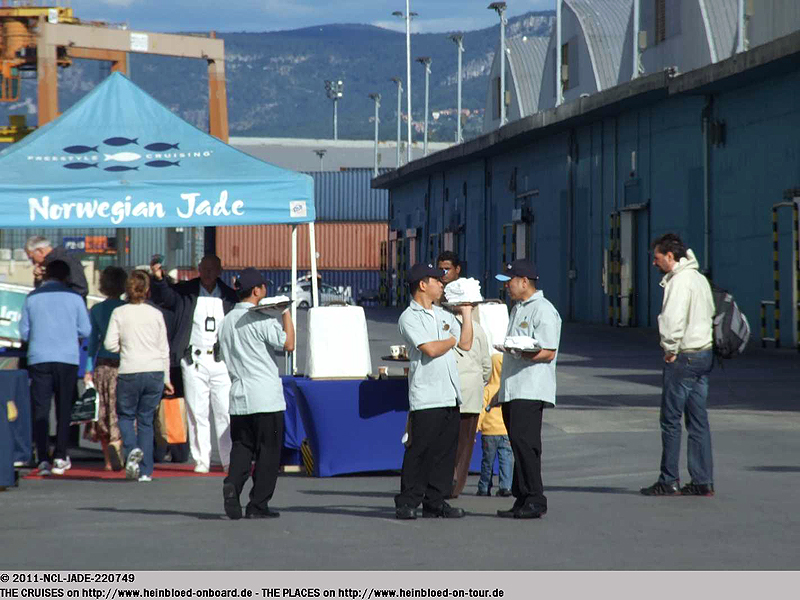 Cold towels were waiting for us at the gangway.

And in case we would purchased wine we need to store them here. We were allowed to keep our olive oil. For those who had to hand it over: do not worry: you get it back the last day. But we are flying back by easyJet. Weight restrictions are non-negotiable: with 12.00 EUR/kg every wine will become too expensive. We exchanged already the weight of the crew-chocolate against the Murano-glasses and the olive oil... So not so much more capacity... Who wanted to drink the wine onboard pays 15.00 USD corkage fee.

Und hätten wir Wein gekauft, hätten wir ihn hier abgeben müssen. Unser Oliveröl dürfen wir jedoch behalten. Für diejenigen, die ihn abgeben müssen, wäre es auch nicht tragisch, weil sie ihn am letzten Tag zurückbekommen. Aber wir fliegen mit easyJet zurück. Die sind bezüglich Gewichtsüberschreitung wenig verhandlungsbereit: Bei 12,00 EUR/kg wird jeder Wein einfach dann zu teuer. Das Gewicht der Schokolade für die Crew haben wir ja schon gegen die Murano-Gläser und das Olivenöl eingetauscht... Sehr viel mehr Spielraum bleibt nicht mehr... Diejenigen, die den Wein an Bord trinken wollen, zahlen 15,00 USD Korkgeld.