Scroll down for English explanations - alternates with German explanations.

Das war zwar nicht abseits der abgetretenen Pfade, aber
Da Maria
in Amalfi war trotzdem sehr nett. War nur fünf Minuten zum Parkplatz.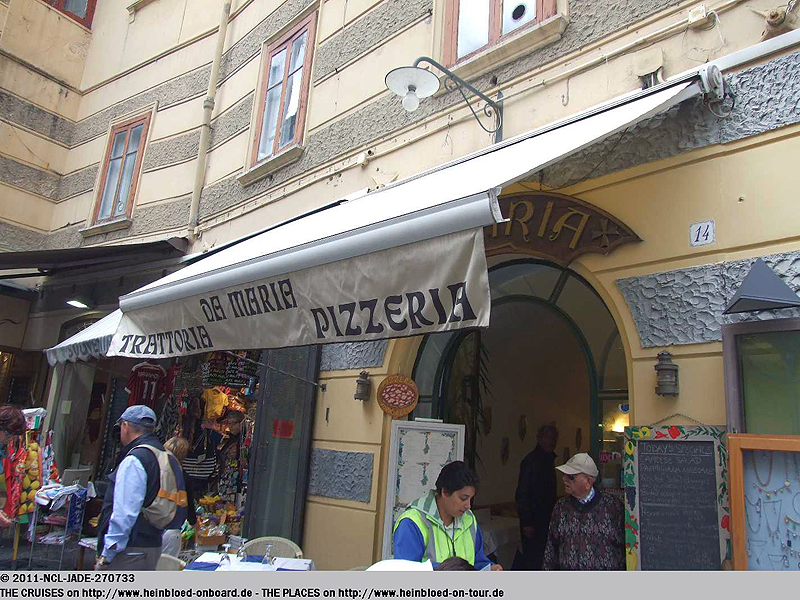 It was not off the beaten path but Da Maria in Amalfi was also very nice. Only five minutes away from the parking.

When we arrived typical few street musicians were playing typical Italian songs like "O Sole Mio".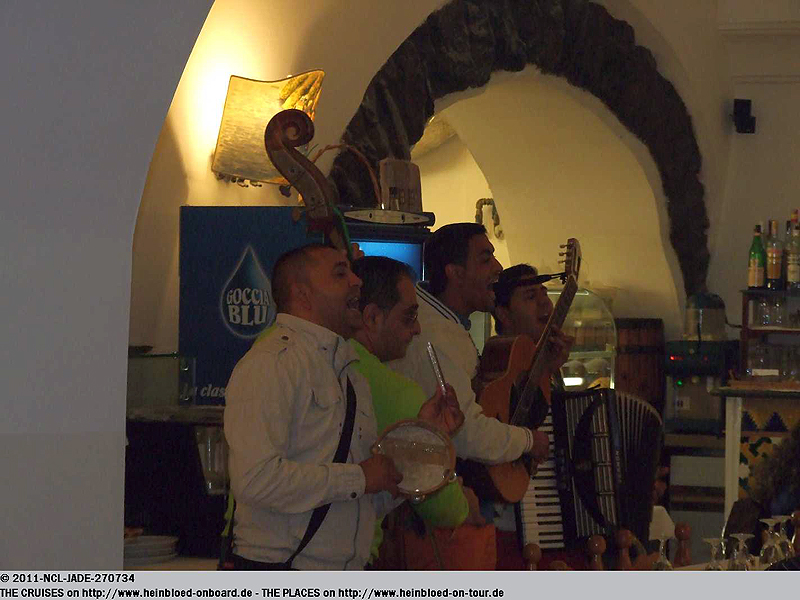 Als wir ankommen spielten gerade Straßenmusiker typisch italienische Lieder wie "O Sole Mio".
Das kommt aber gut bei den Gästen an, die fleißig am Mitklatschen waren.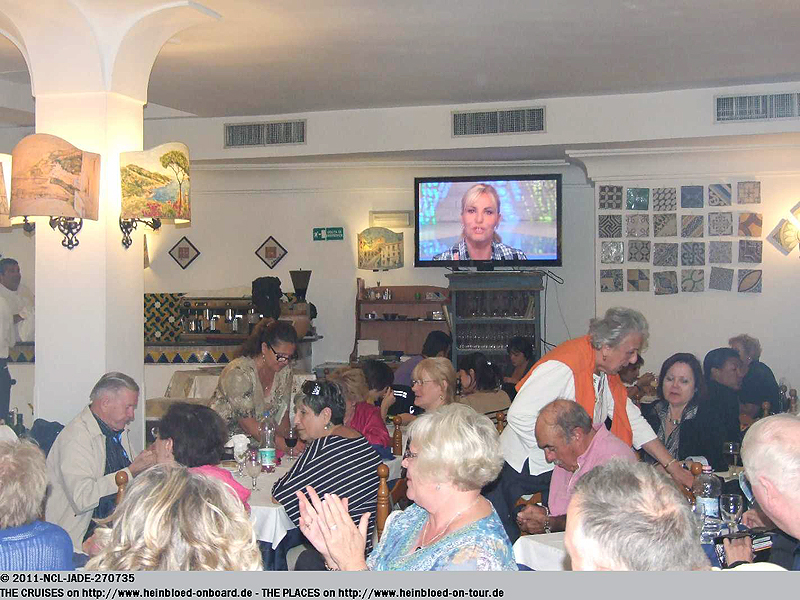 But the guests liked it so they clapped their hands all the time.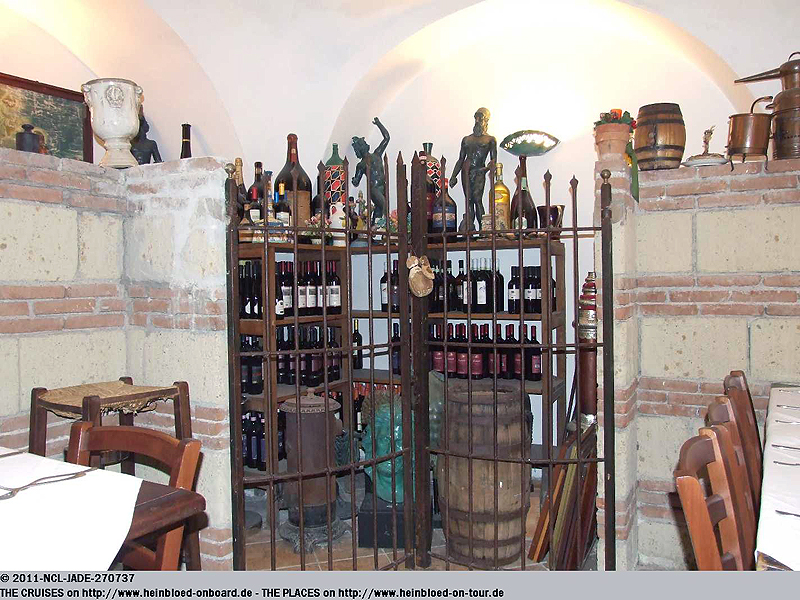 The pizza was very good but Da Michele in Naples was slightly better. My father wanted to have my pizza because he said that my pizza looked better than his although we had the same.

Die Pizza war sehr gut, aber Da Michele in Neapel ist ein klein bisschen besser. Mein Vater hat mir meine Pizza dann abgejagt, weil er meinte, dass meine Pizza besser aussah, obwohl wir die gleich hatten
Auch hier: eine Pizza wurde vergessen und nachgereicht.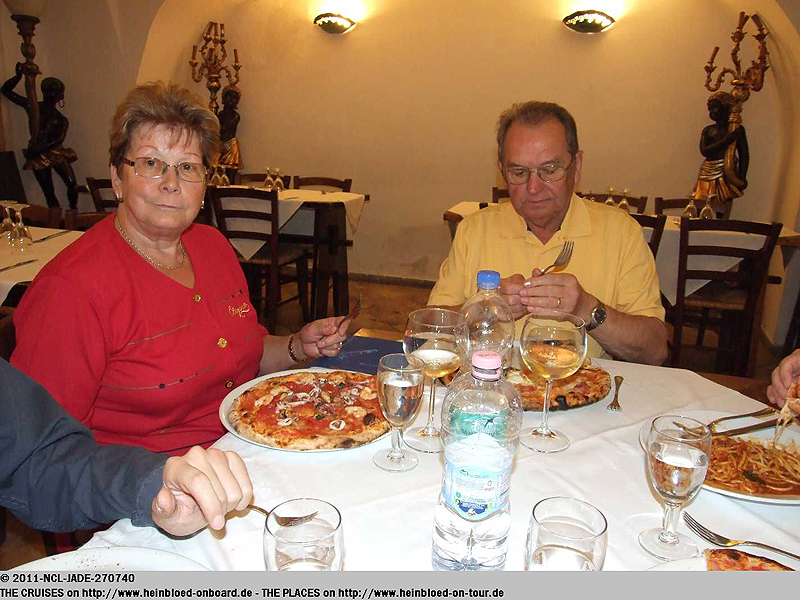 But again: one pizza was forgotten and post-delivered.

While we were eating it started pouring rain. So more and more guests came who wanted to have lunch there.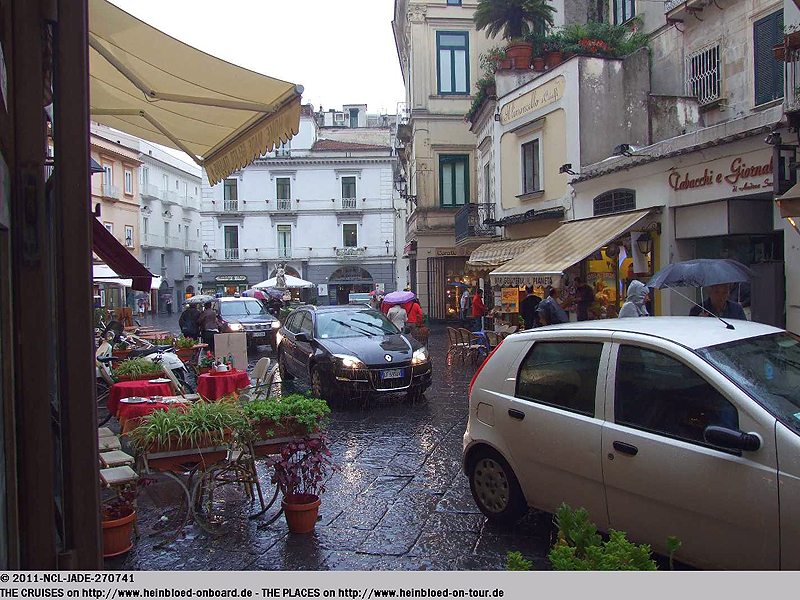 Während wir beim Essen saßen, fing es in Strömen an zu regnen. So drängten immer Gäste nach, die ins Lokal wollten.
Soviel Wasser, dass wir auf auf den Besuch bei unserem Zitronensorbet-Macher verzichtet haben.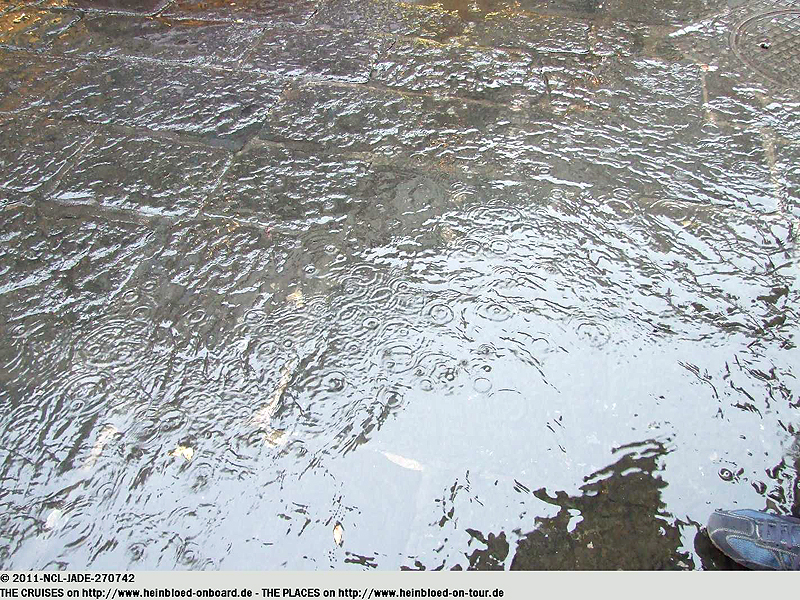 Too much water to see our lemon-sherbet-maker.

Opposite I bought some soft lemon drops which I bought for my employees last year. But when I tried one myself I confiscated them and took them all in my office.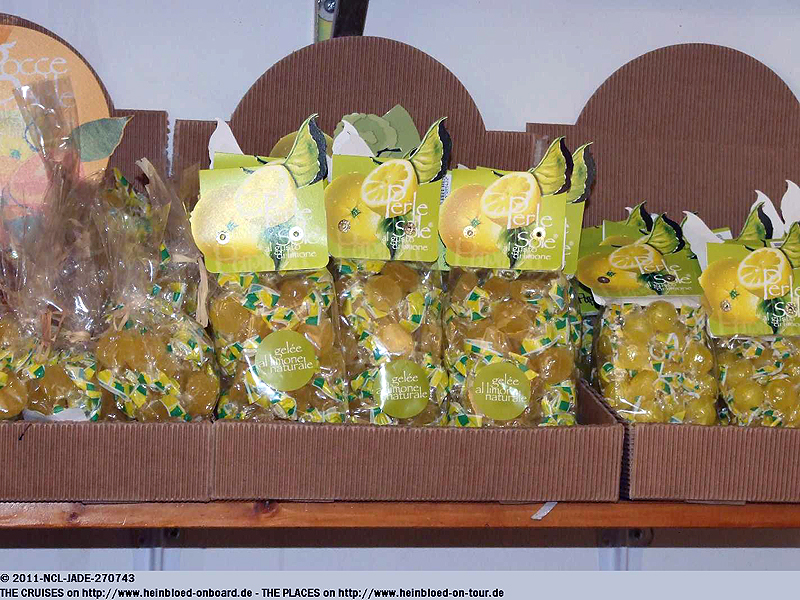 Gegenüber kaufe ich die weichen Zitronenbonbons, die ich im letzten Jahr eigentlich für meine Mitarbeiter gekauft hatte. Als ich allerdings eines davon probiert hatte, wurden sie kurzerhand einkassiert und wieder in mein Büro zurückgebracht.
Für meine Eltern besorge ich noch Schirme. Die waren aber so unverschämt, dass sie nun während des Regens 5 EUR pro Schirm verlangt haben. 2007 in Rom stiegen die Preise von 1 EUR auf 2 EUR. Ich will im Restaurant zahlen, aber werde aufgefordert am Platz auf die Rechnung zu warten. Das dauert mir zu lange, weil Roberto mit dem Wagen wartet. Der Wirt erklärt mir, dass Italiener langsam seien und das sogar "Amore" miteinschließen würde. Ich erkläre, dass ich leider keine Zeit hätte und das Essen so gut schmeckte, dass ich gerne bezahlen würde und ich normalerweise nicht zahlen und einfach gehen würde.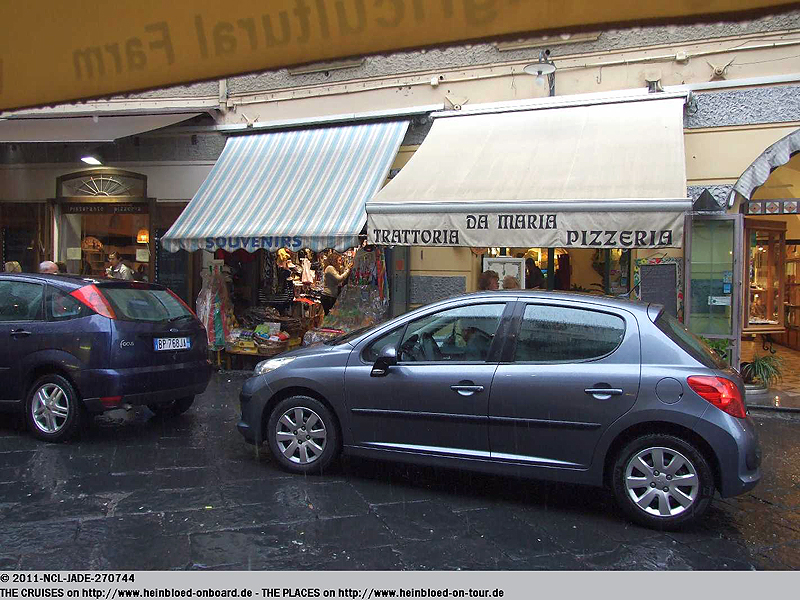 For my parents I bought few umbrellas. They were outrageous to charge 5 EUR per umbrella when it started to rain. 2007 the price raised in Rome from 1 EUR to 2 EUR. I wanted to pay in the restaurant but was asked to stay at our table. It took too long ans Roberto was waiting in his car. The patron explained that Italians were slow including doing "Amore". I explained that I had no time and that the food was good which I would like to pay and that I normally would not pay if it takes too long and I would just go.

We crossed the mountains for about one hour to get to Pompeij. Our hope that the rain would stop by this time was not fulfilled. As you can see: it looked like this around the access area to the antique sites.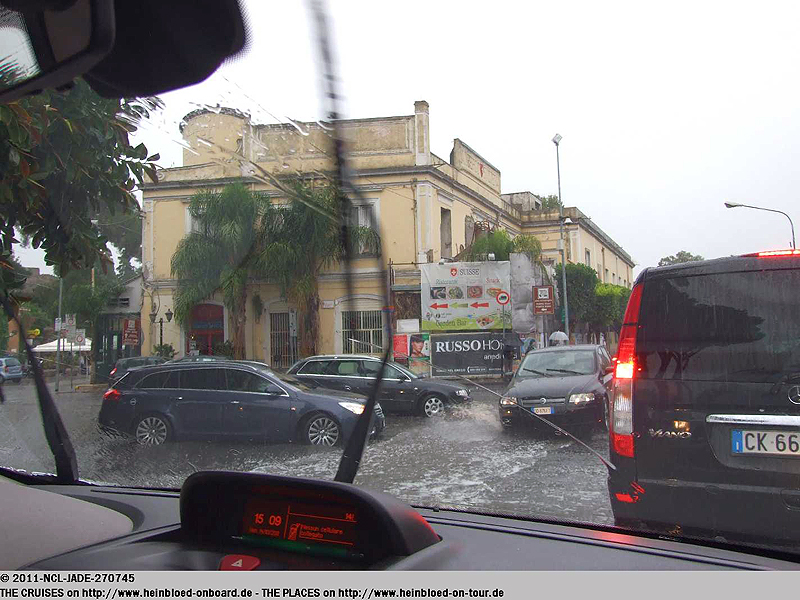 Es ging eine Stunde quer über die Berge nach Pompeij. Unsere Hoffnung, dass der Regen nachlassen würde erfüllte sich leider nicht. Wie man sieht: so sah es vor der Zufahrt zu den antiken Stätten aus.
Mein Vater merkte, dass ich traurig darüber war, dass es ausgerechnet hier nicht klappte, weil er sich das so sehr gewünscht hatte. Er meinte nur: entweder bei der nächsten Kreuzfahrt oder man fliegt einfach nach Neapel. So ging es für uns zurück nach Neapel. Denn alles andere macht keinen Sinn.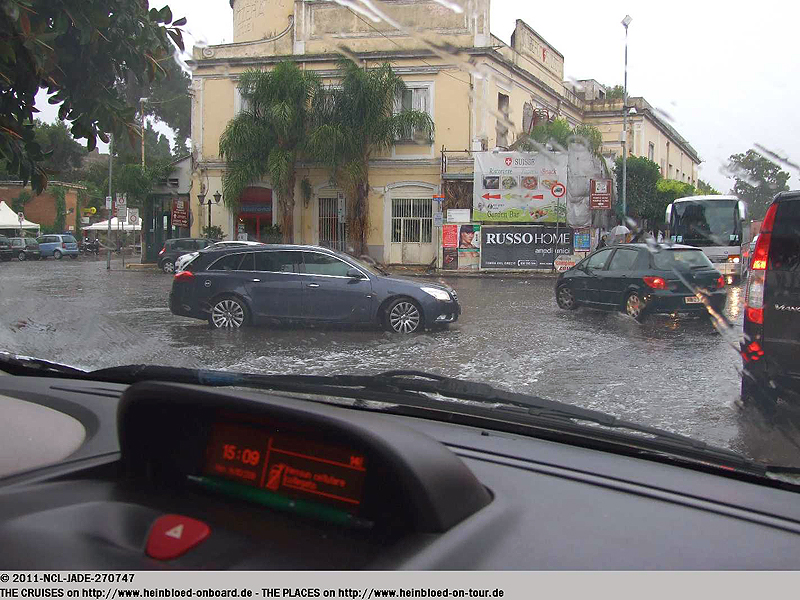 My father noticed that I was sad that it did not work here because he really would love to see it. But he only said: next cruise or you just fly to Naples. So we returned to Naples. It would not make any sense to create an alternative program.

Barely arrived in Naples everything was dry. Roberto offered us again his car to get me to the ISLAND ESCAPE as he has an access card to the pier. It was great with Roberto. I am sure he can show us more places the next time we are in this area.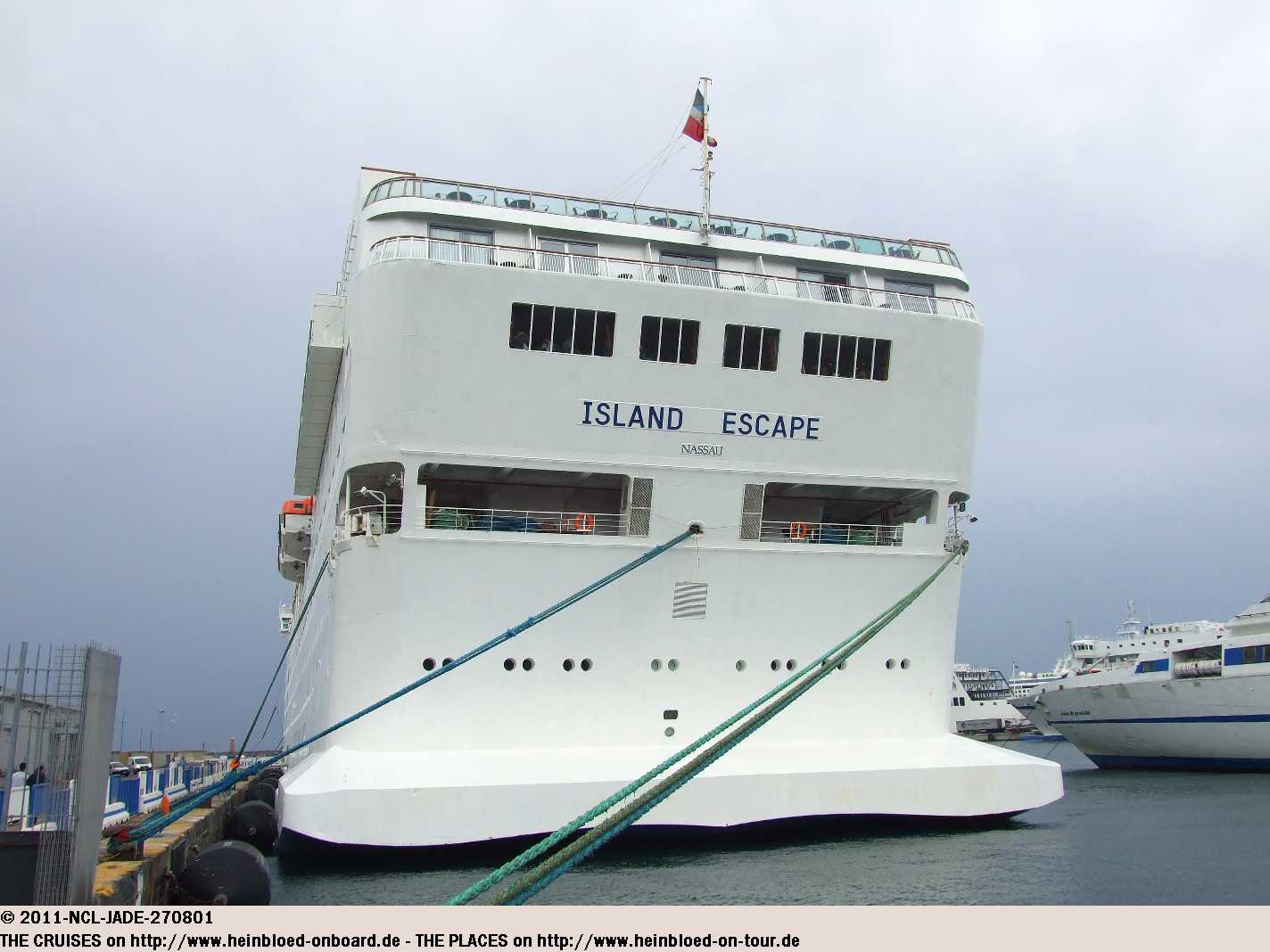 Kaum in Neapel angekommen, war alles wieder trocken. Roberto bietet nochmals seine Fahrgelegenheit an, damit wir an die ISLAND ESCAPE kommen. Er hat ja eine Zufahrtskarte zu dem Pier. Es war richtig gut mit Roberto. I bin sicher, dass es noch viel gibt, was Roberto uns zeigen kann, wenn wir das nächste Mal wieder in der Gegend sind.
So nutze ich die Gelegenheit noch ein paar Bilder vom Schiff zu machen. Wir wären bestimmt 20-30 Minuten bis zu diesem Liegeplatz gelaufen.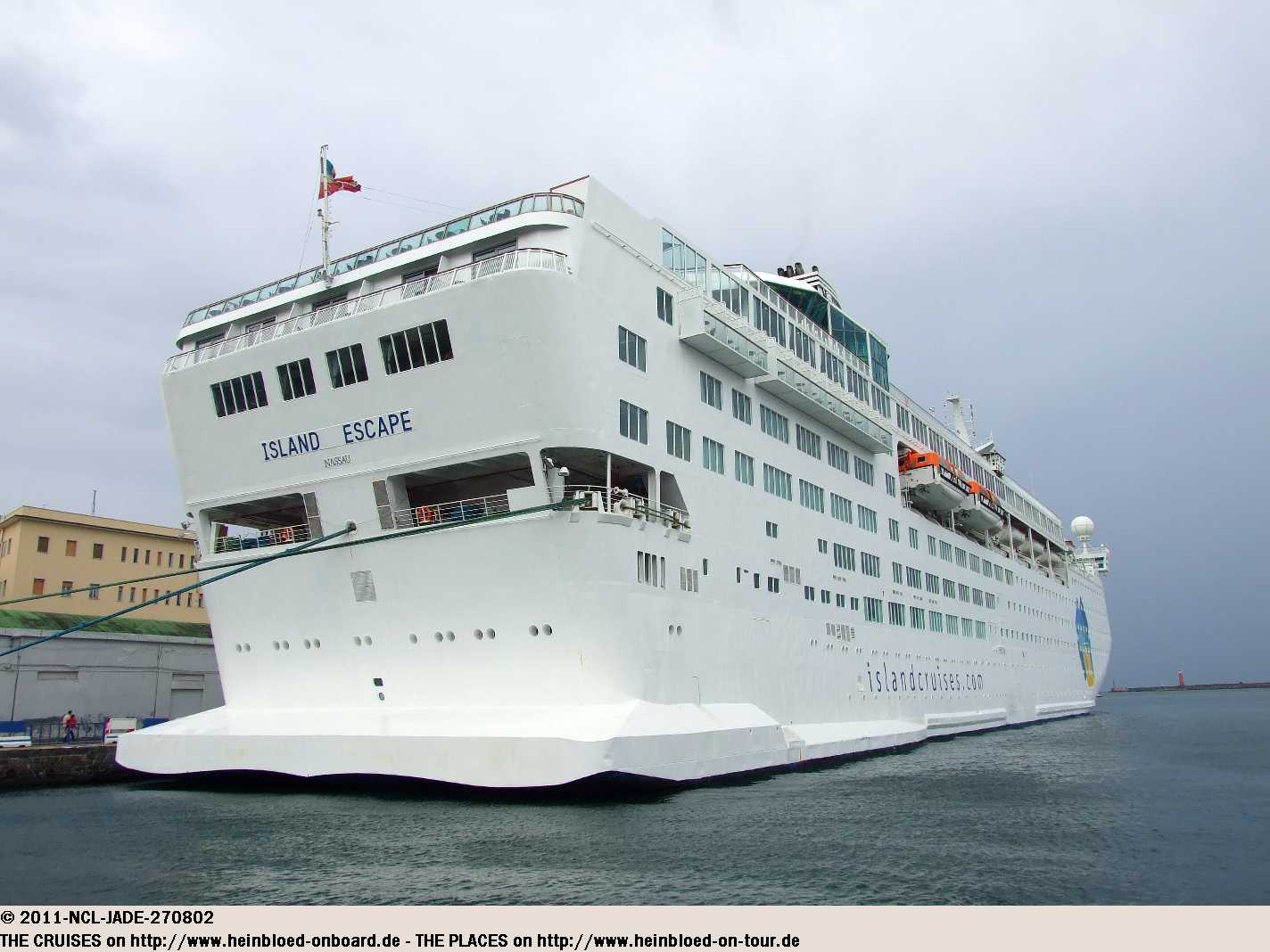 So we used the occasion to take few pictures from the ship. We need to walk about 20-30 minutes to this berth.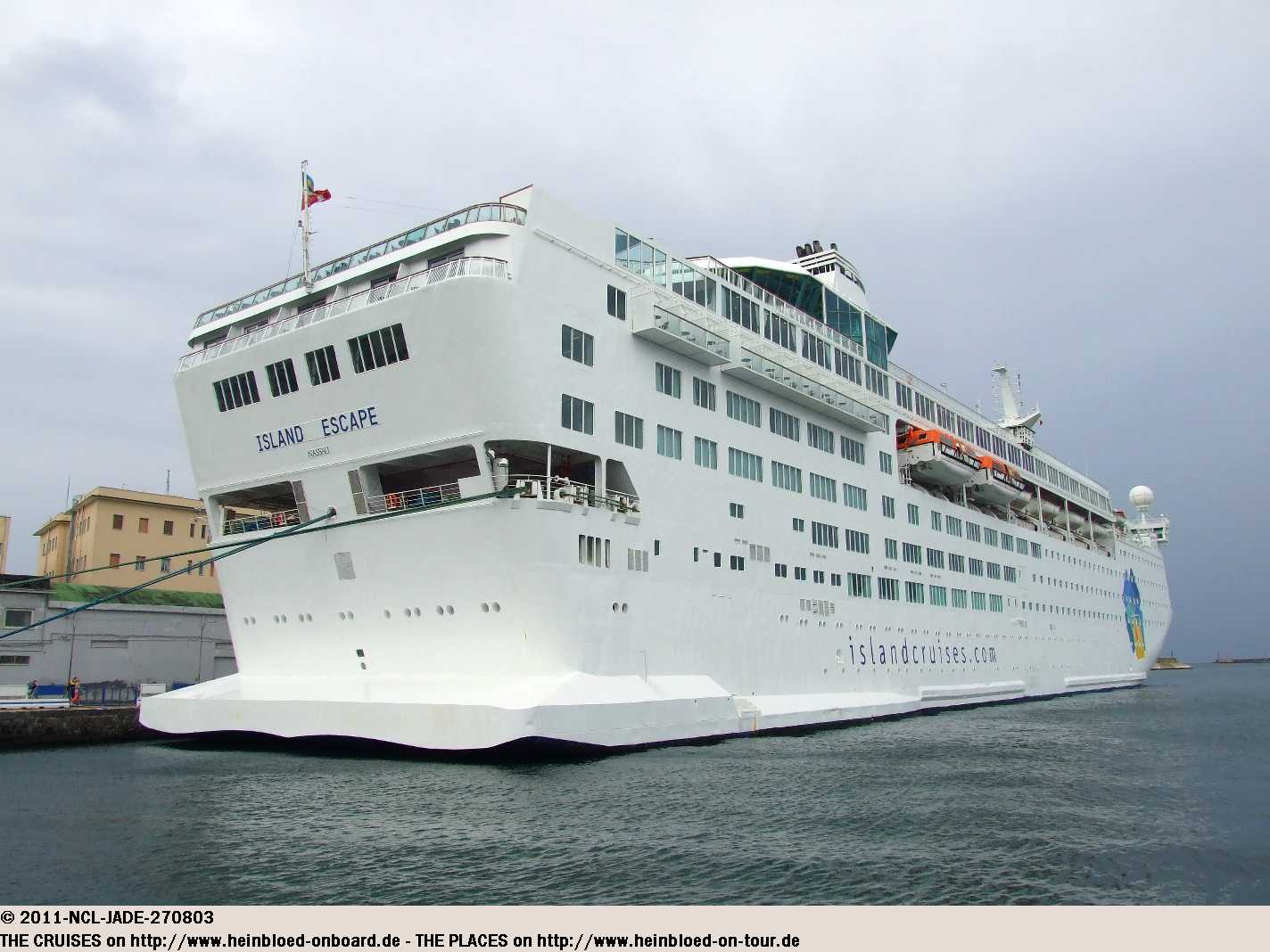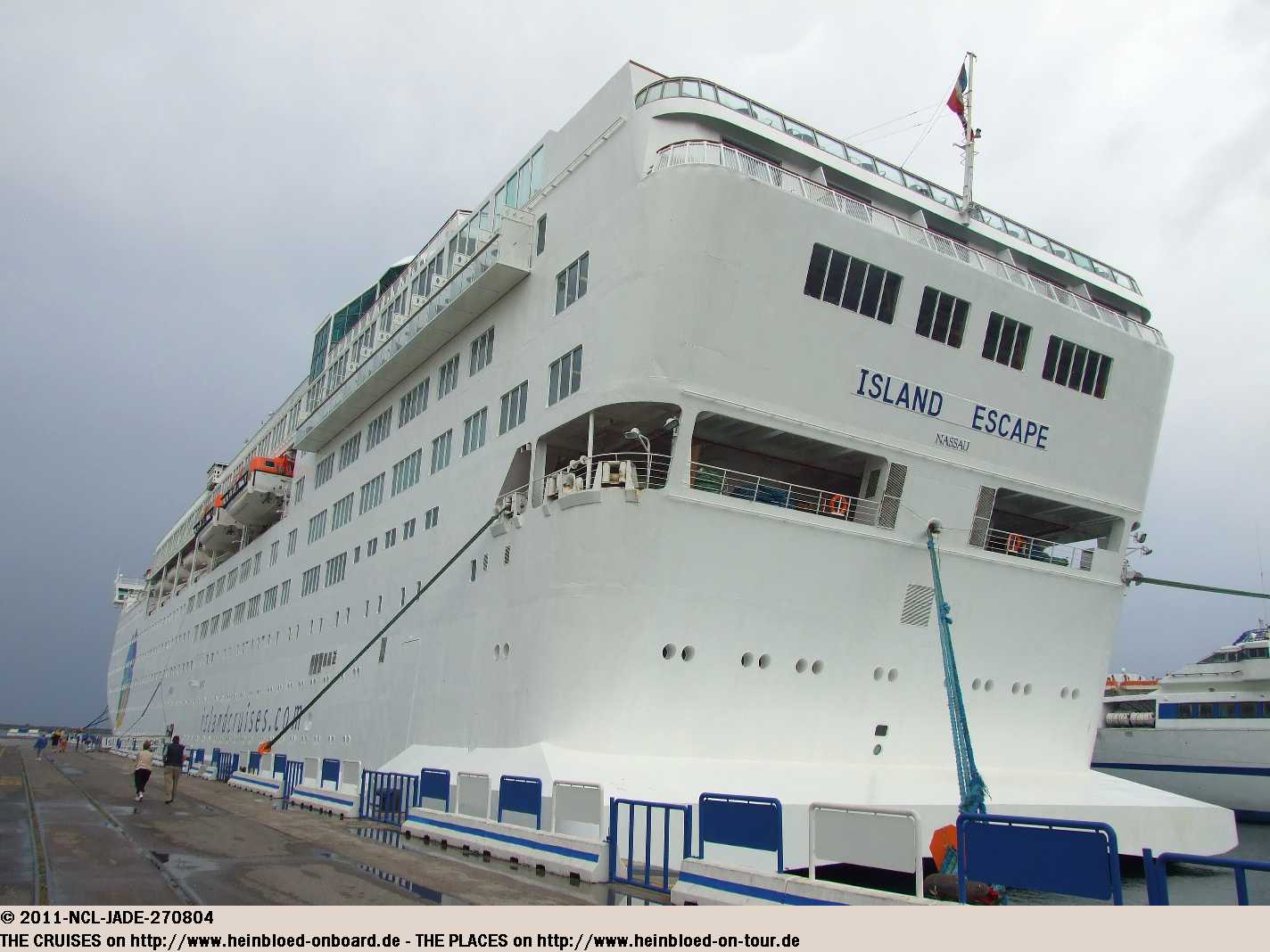 There is a better loyalty program but Latitudes: The NCL-crew and Facebook. We knew Valentina from NORWEGIAN JADE. We do not maintain a strong pen-friendship but I like to see her postings of pictures and information where she is actually. From time to time she just asks "How are you doing - what is your next NCL-cruise". Currently she is on NORWEGIAN EPIC which was one day ahead of us in Naples. For September 2012 I planned a secret "Operation Pettycoat" and for this I need something which you can only get from NORWEGIAN EPIC. And Valentina got it for me and through the port-agent and Armando it arrived on NORWEGIAN JADE. No other line has a better loyalty program but Valentina and Facebook. But she only stands for many other crew-members who ask how we are and when they will see us again. We love this crew. We are with friends. Even we will not meet any of our current crew-friends on NORWEGIAN SUN in September 2012: we will make new friends.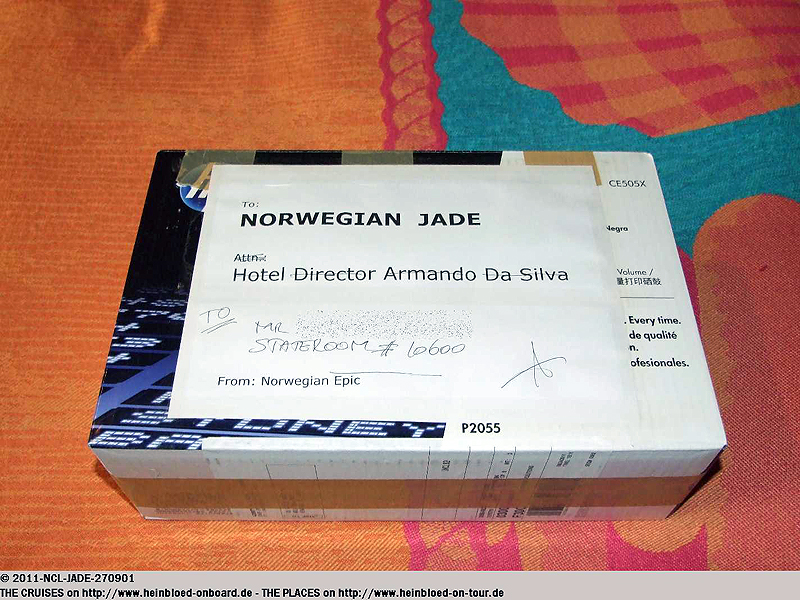 Es gibt ein besseres Kundenbindungsprogramm als Latitudes: Die NCL-Crew und Facebook. Valentina kennen wir von der NORWEGIAN JADE. Wir pflegen keine intensive Brieffreundschaft, sondern ich freue mich, wenn sie Bilder postet und ich sehe, wo sie steckt und sie fragt von Zeit zu Zeit mit einem "How are you doing - what is your next NCL-cruise" mal nach. Sie ist momentan auf der NORWEGIAN EPIC, die einen Tag vor uns in Neapel lag. Für September 2012 ist ein streng-geheimes "Unternehmen Petticoat" geplant und dafür brauchte ich etwas von der NORWEGIAN EPIC. Und Valentina hat es mir besorgt und über den Hafenagenten und Armando auf die NORWEGIAN JADE schicken lassen. Bei keiner anderen Kreuzfahrtlinie gibt es ein besseres Kundenbindungsprogramm als Valentina und Facebook. Sie steht aber stellvertretend für viele andere Crew-Mitglieder, die von Zeit zu Zeit mal fragen, wie es einem geht und ob man sich mal wiedersieht. Wir lieben diese Crew. Wir sind bei Freunden. Auch wenn wir keine bisherigen Freunde von der Crew auf der NORWEGIAN SUN im September 2012 treffen: wir werden bestimmt neue Freundschaften schließen.
Unsere letzten Canapés sind zum Glück Tien-Canapés.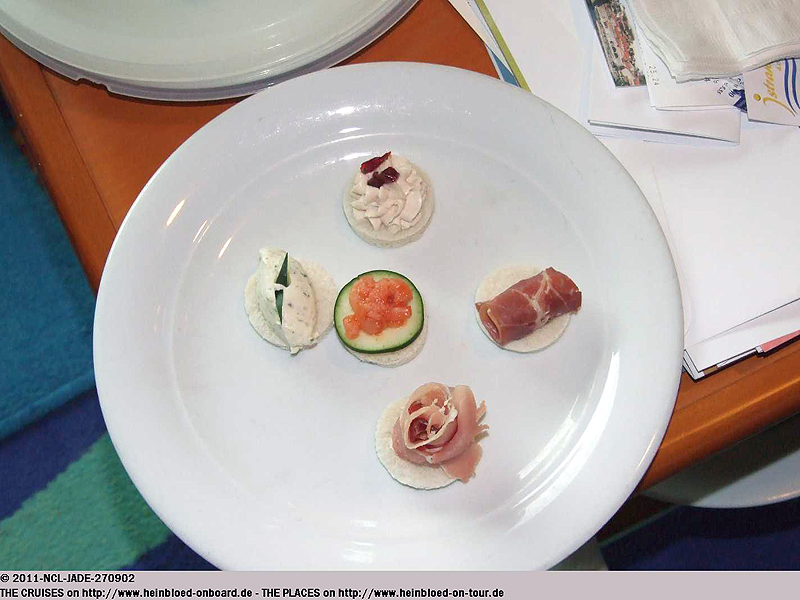 Our last Canapés were luckily Tien-Canapés.

The the very last we had the turn-down service. Our Zoological Garden was already taken away.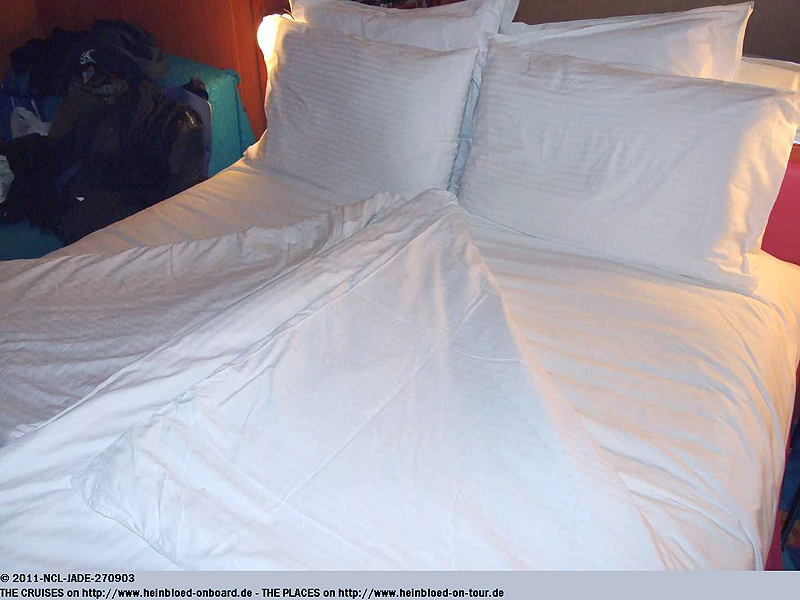 Und zum letzten Mal werden unsere Betten gemacht. Nur unser Zoologischer Garten wurde bereits abgebaut.