Scroll down for English explanations - alternates with German explanations.

Und meine NORWEGIAN JADE ist doch schöner...

And my NORWEGIAN JADE is much more beautiful...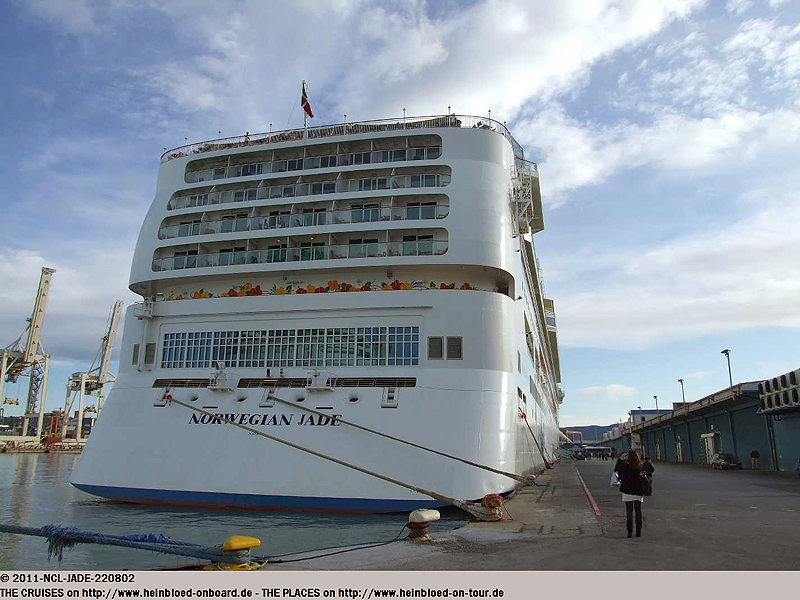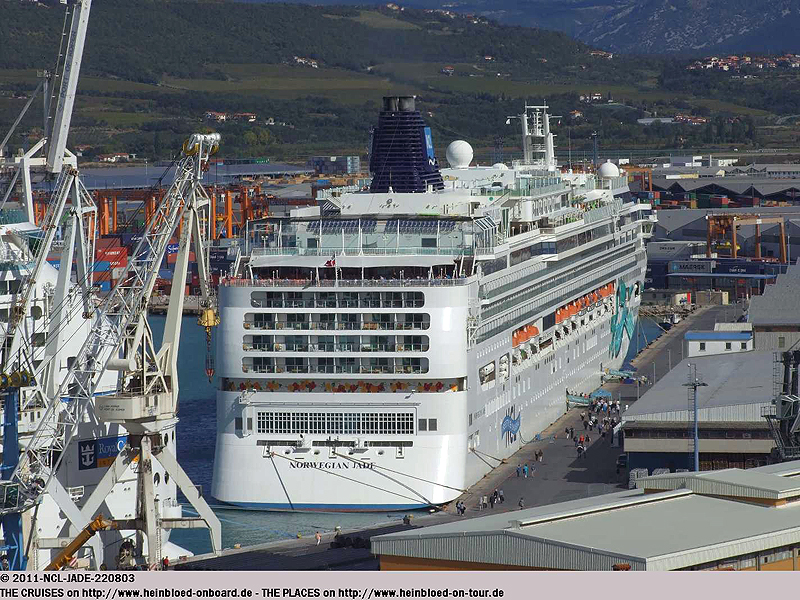 As some pictures were taken on top of the Campanile I assumed that Bruno need to walk up some more towers on my behalf during the voyage...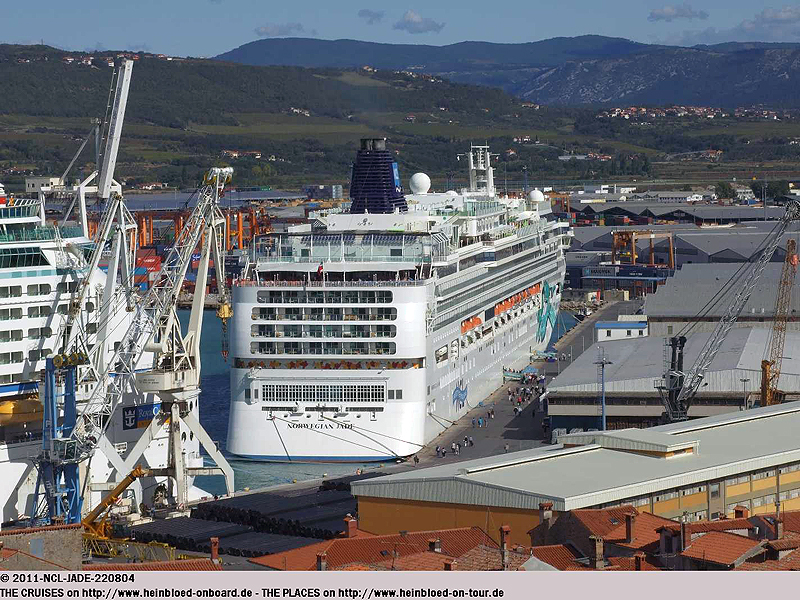 Da die Aufnahmen auf dem Glockenturm entstanden sind, wird wohl Bruno im Verlaufe der Reise noch den einen oder anderen Turm für mich besteigen müssen...
Das
cruisecritic.com
-Treffen wurde leider nach hinten verschoben: 17.00 Uhr im Frühstücks-/Mittagsessenteil vom Cagney's für die Gäste von The Haven. Das passt mir gar nicht, weil ich für 17.30 Uhr im Le Bistro bestellt habe. Denn zuvor sollte das Treffen von 16.30 Uhr bis 17.30 Uhr dort stattfinden und es wäre perfekt gewesen. So laufe ich so zum Treffen und mache mein Hemd dann später zu, wenn ich ins Le Bistro gehe.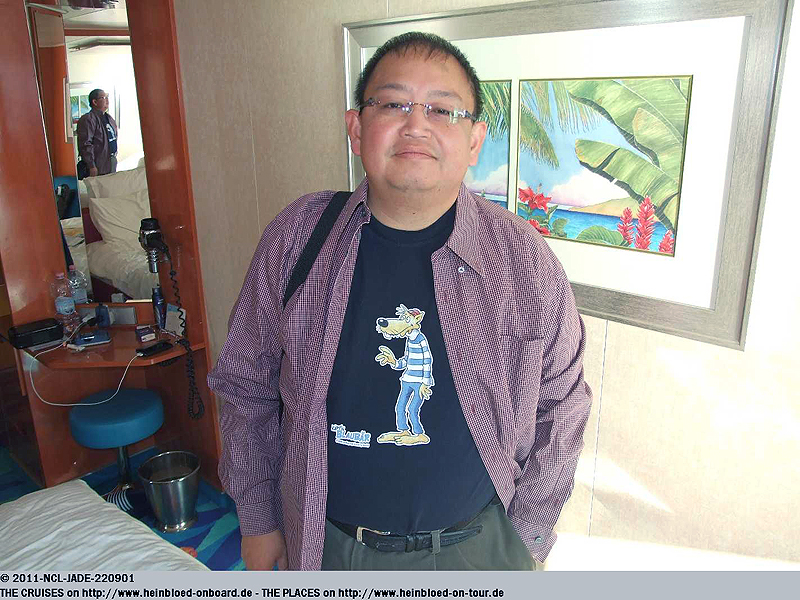 As the cruisecritic.com-Meet & Greet was postponed: 17.00 hrs in the extension of Cagney's where The Haven and VIP-guests have their breakfast and lunch. That was somehow unpleasant for me as we booked for 17.30 hrs a table at Le Bistro. Before we should have the meeting from 16.30 hrs to 17.30 hrs right there and it would be more than perfect. So I went that way to the meeting and just before arriving at Le Bistro I closed my shirt.

The Private Fuction sign was not for us but a Swiss travel group which had their meeting in the Star Bar. We had to walk through in transit.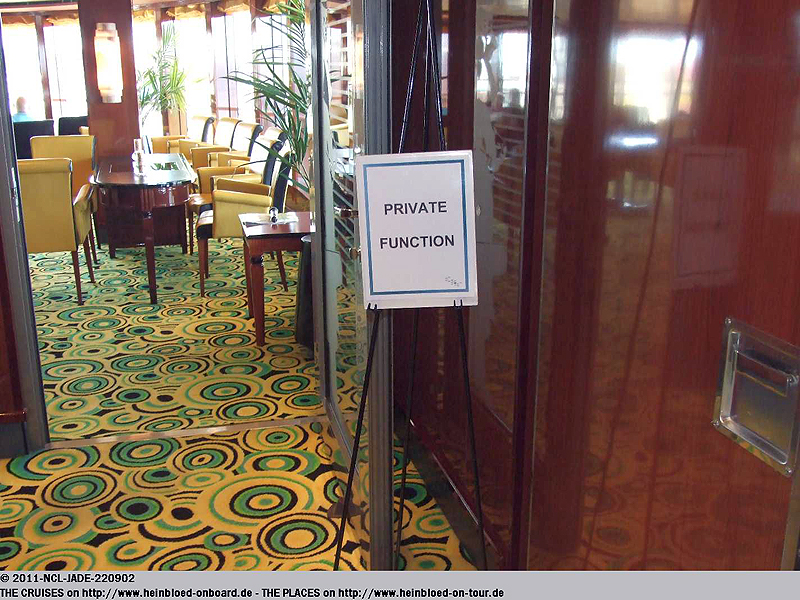 Das Schild Private Function galt allerdings der Schweizer Reisegruppe, die sich in der Star Bar trifft. Wir müssen im Transit durchlaufen.
Es gibt wie immer ein paar Getränke und Kekse.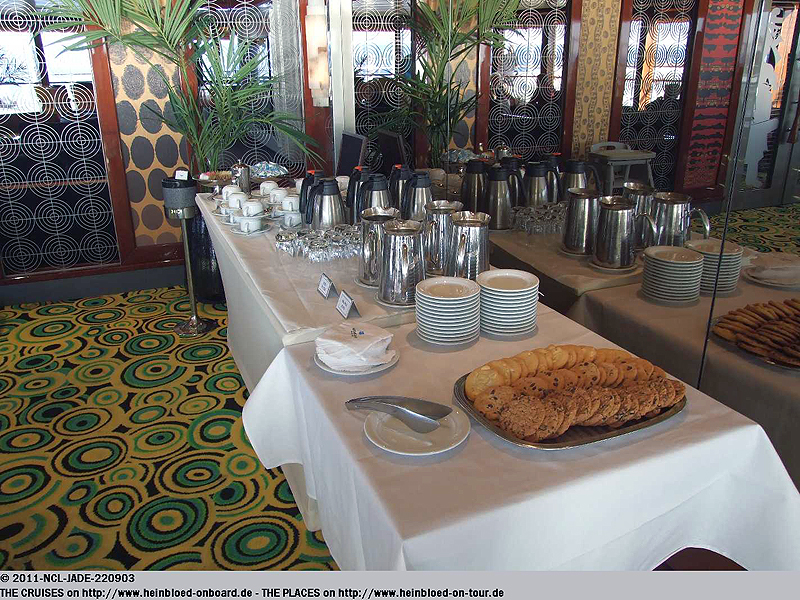 As usual we got few beverages and cookies.

By the way that is LoanLady (Mary from cruisecritic.com) who organized the meeting.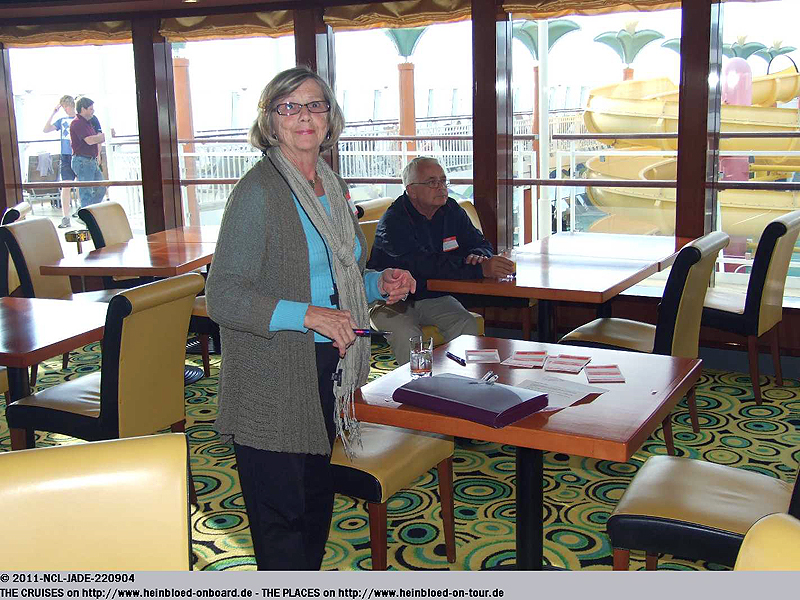 Das ist übrigens LoanLady (Mary aus cruisecritic.com), die die Organisation übernommen hat.
Da ich schon genug mit meiner eigenen Familie zu tun hatte, war ich doch ganz froh, dass ich mich zu gar nichts verpflichtet hatte.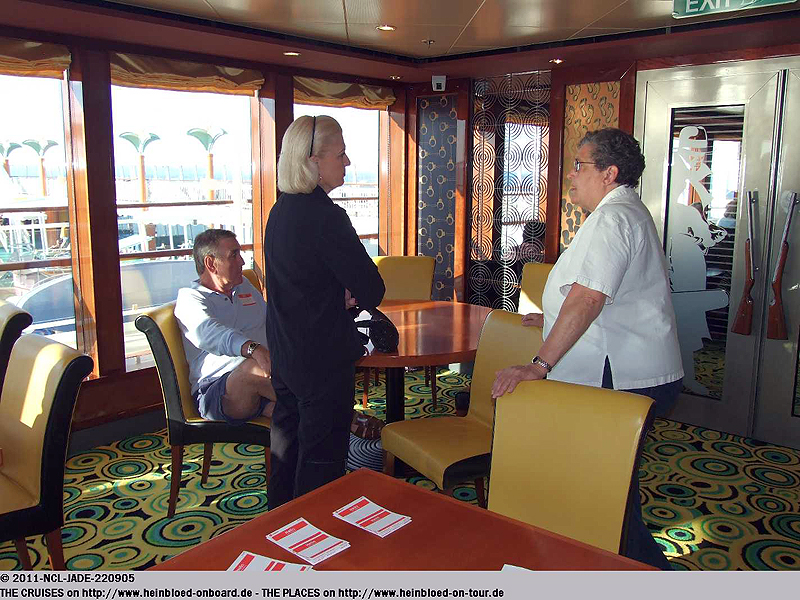 As I had enough work with my own family I was quite happy that I had nothing to do with any kind of obligations.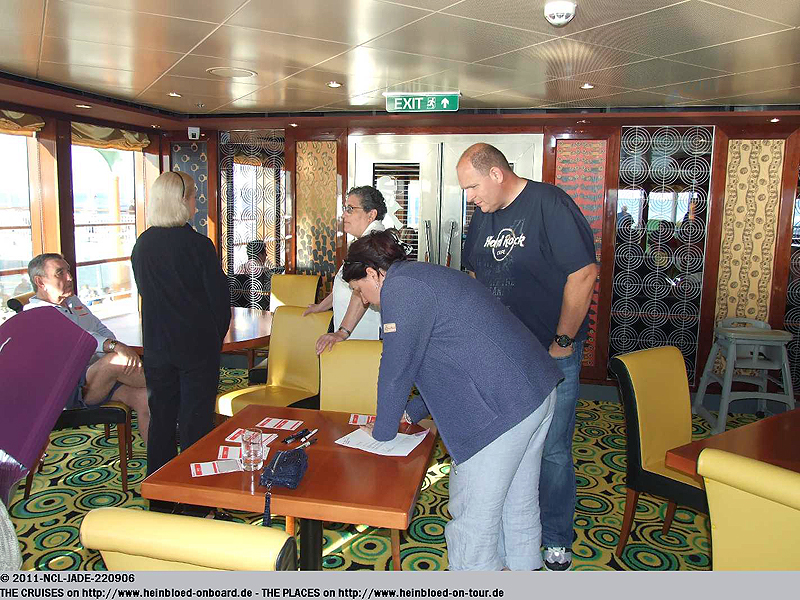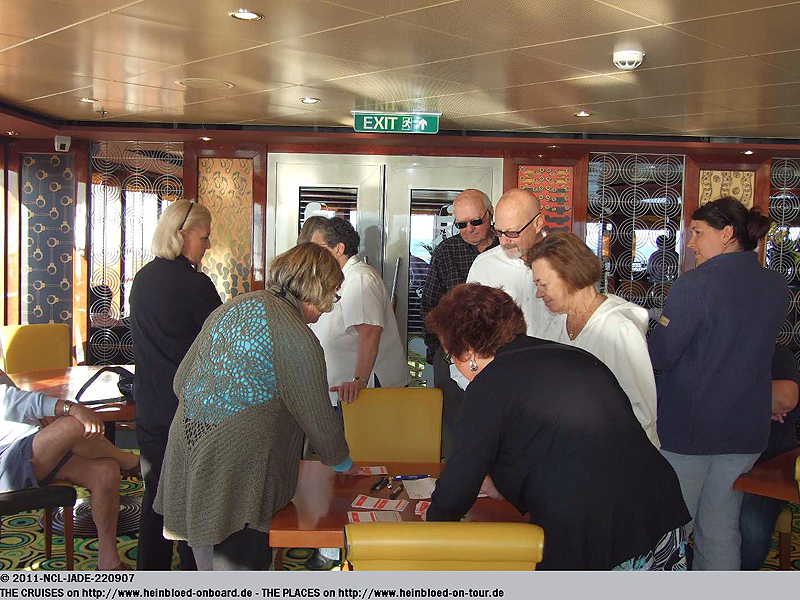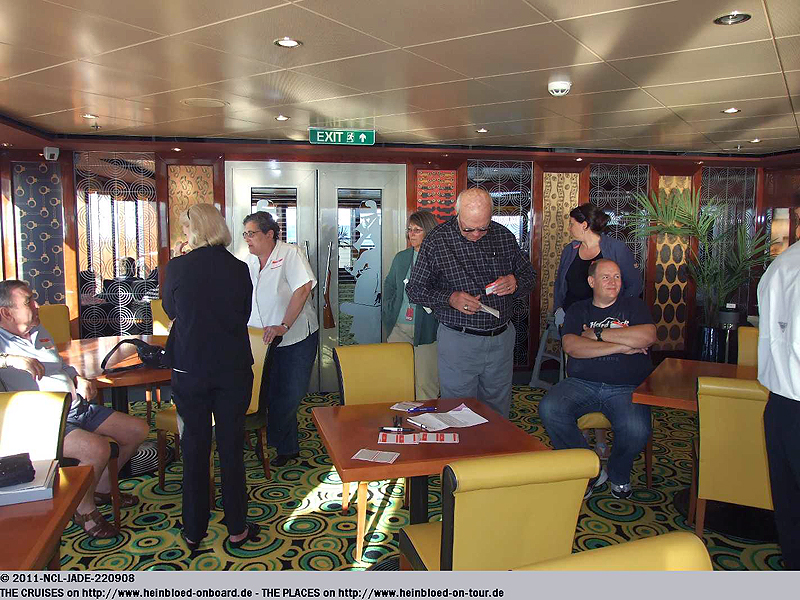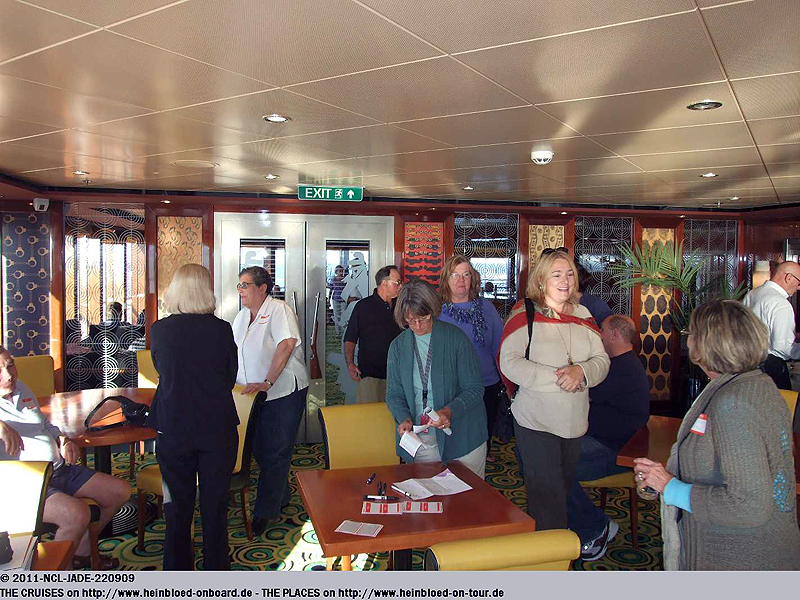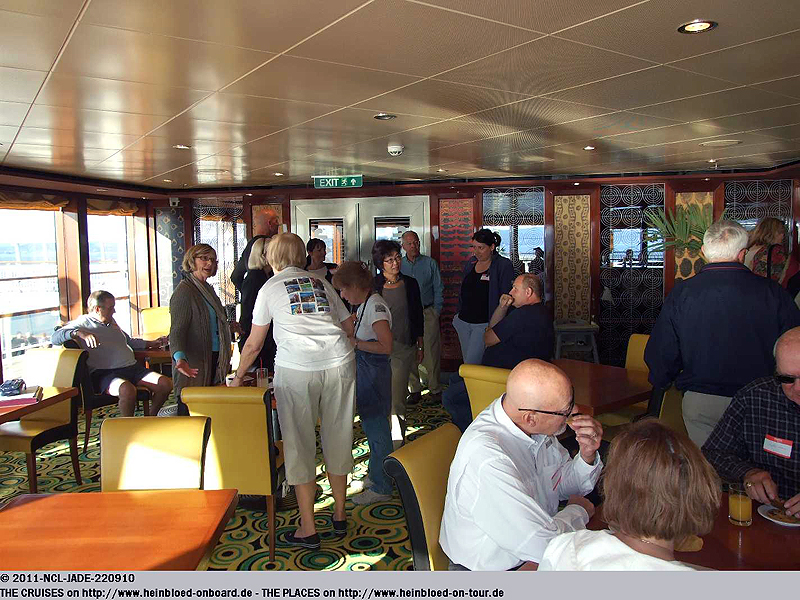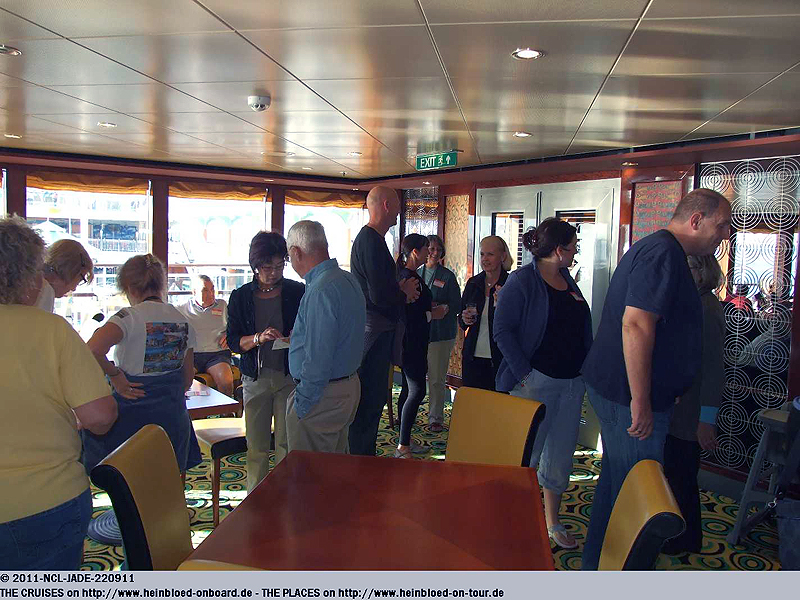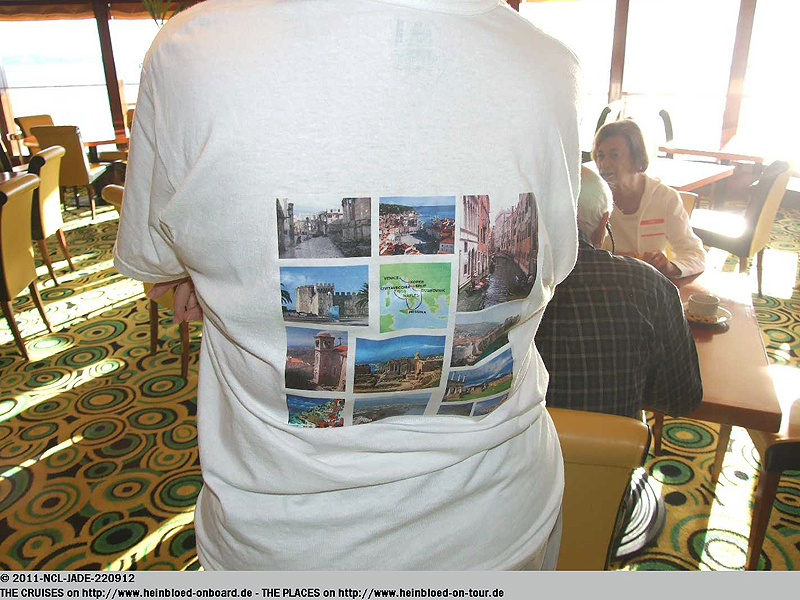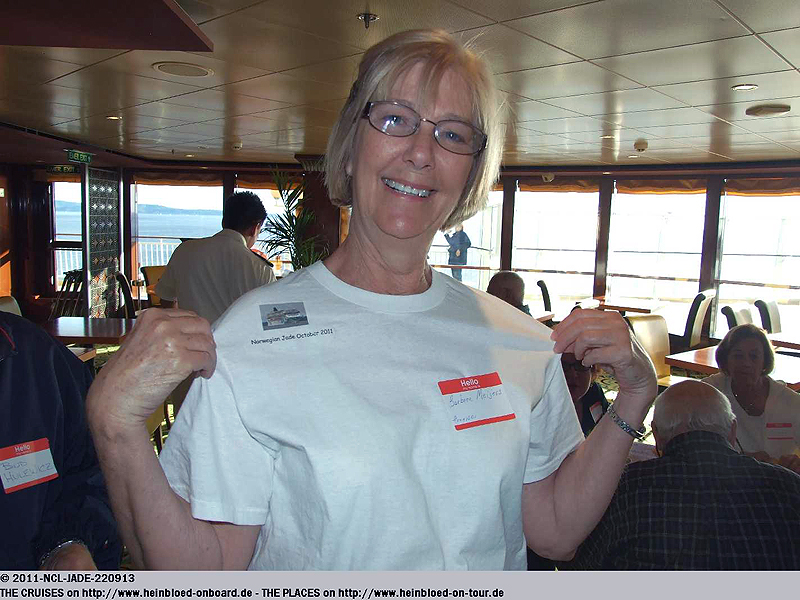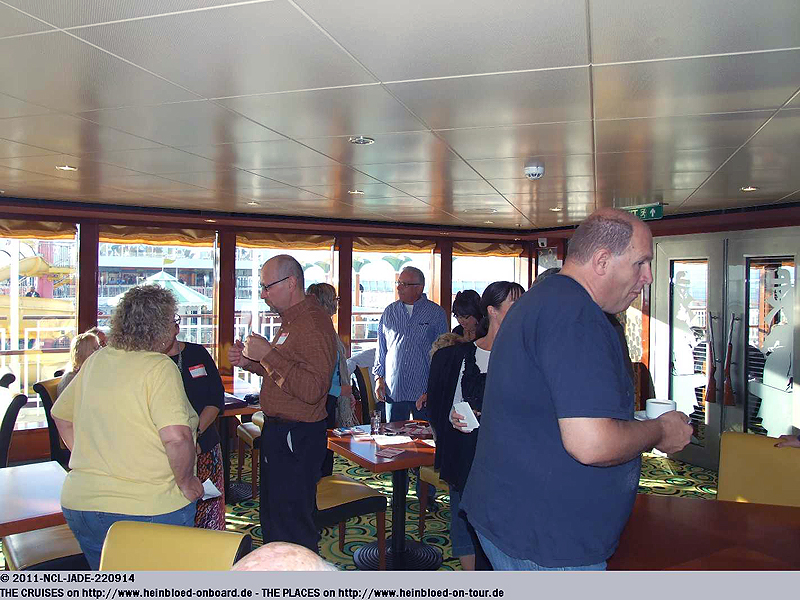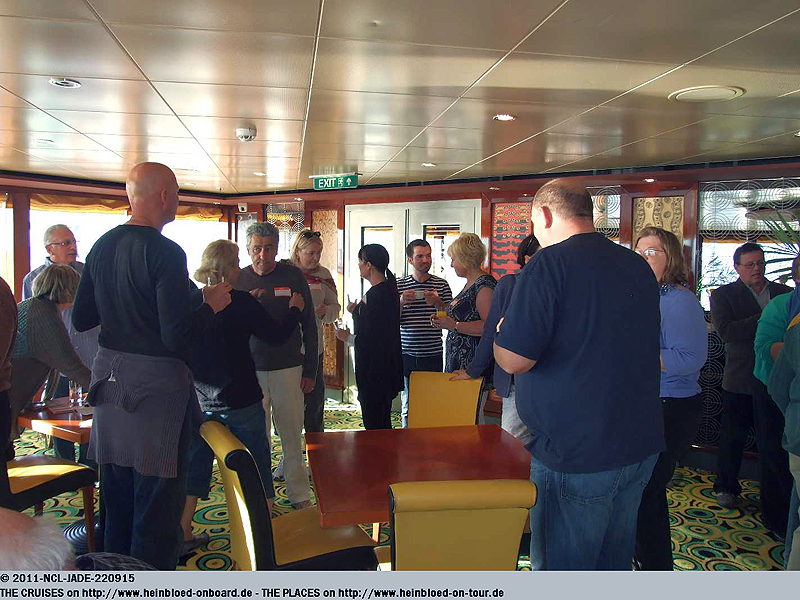 Hotel Director Armando introduced his team but I did not know one of the them.

Hoteldirektor Armando stellt dann sein Team vor, aber ich kennen von denen keinen einzigen.
Wie gewöhnlich weisen alle nochmals darauf hin, dass sie für uns da sind, und dass wir keinesfalls Scheu haben sollten, uns an sie zu wenden, wenn es irgendetwas gibt, was für uns ein Problem darstellt.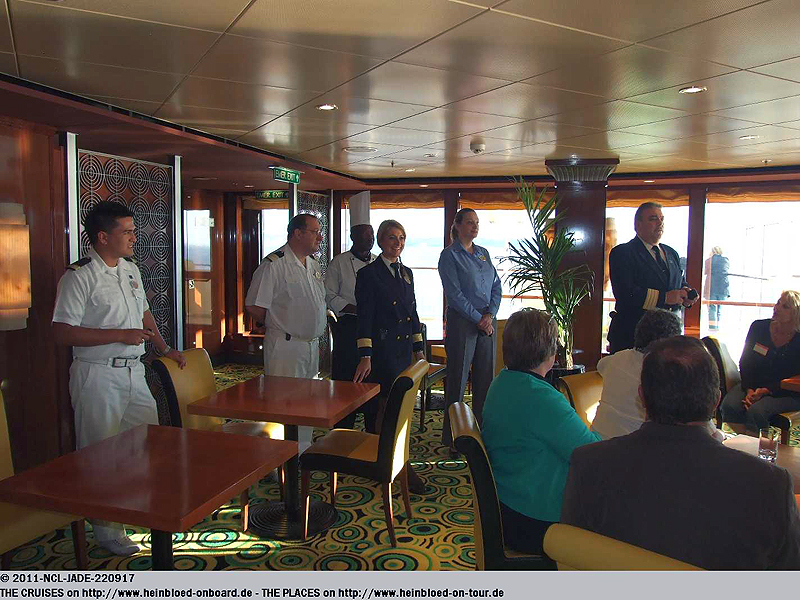 As usually they told us not to hesitate if there is anything they could do for us which might be a problem for anyone of us.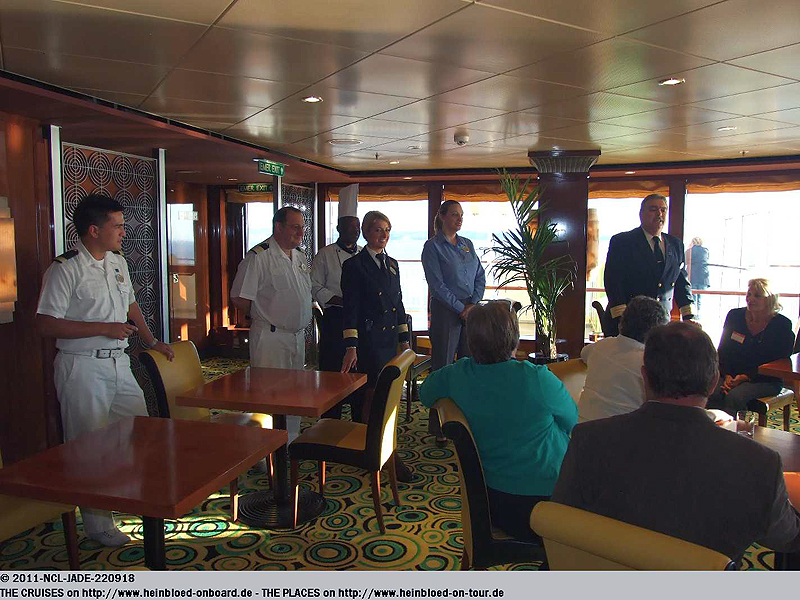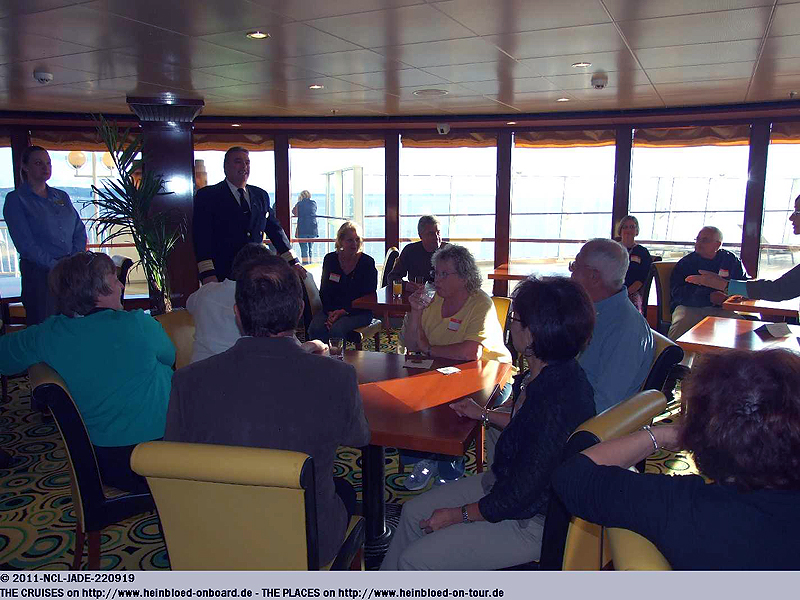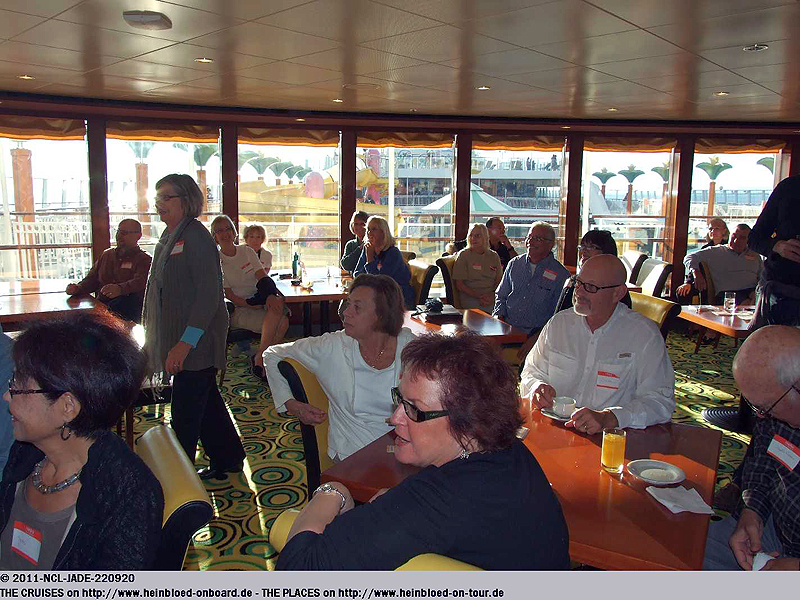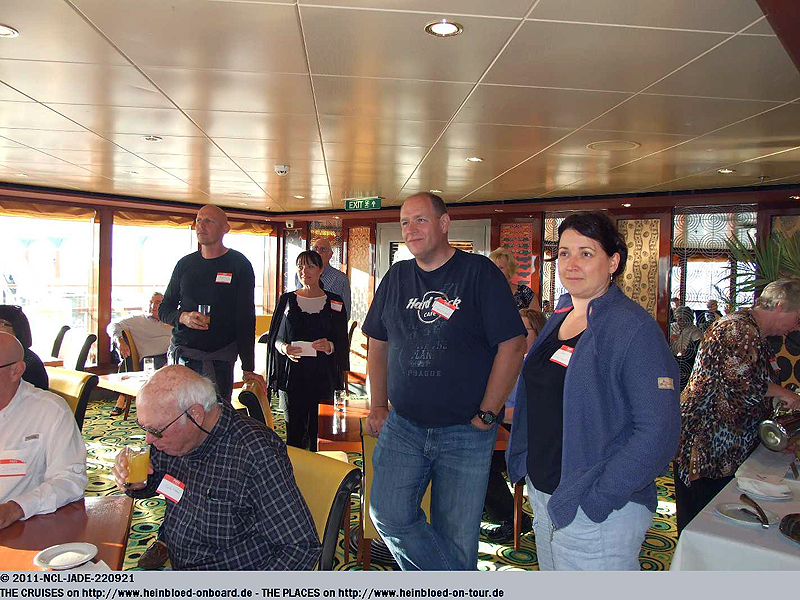 Hotel Director Armando.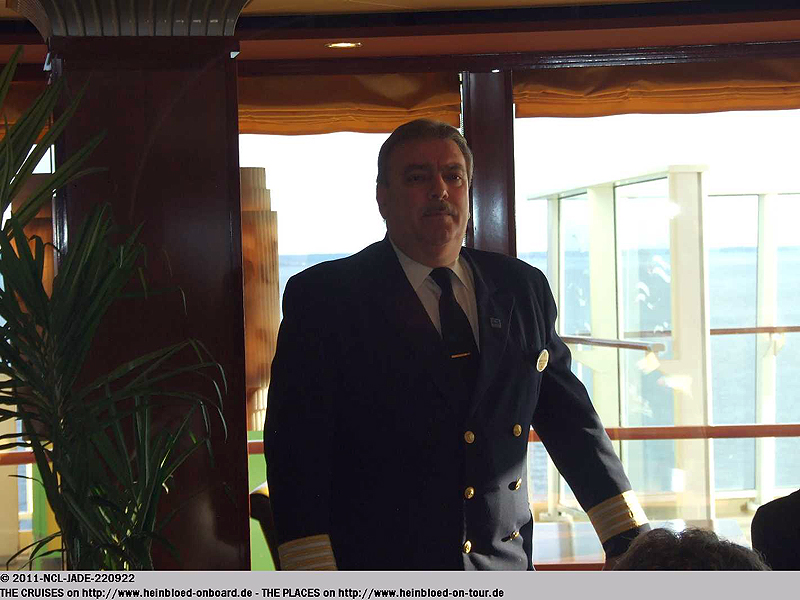 Hoteldirektor Armando.
Kreuzfahrtdirektorin Jill - Gary kommt bald wieder und ist gerade in Urlaub - sehr schade... weil Gill nicht singt... in Gegensatz zu Gary. Fand ich damals klasse: Ein Künstler erkrankte und Gary sang dann selbst...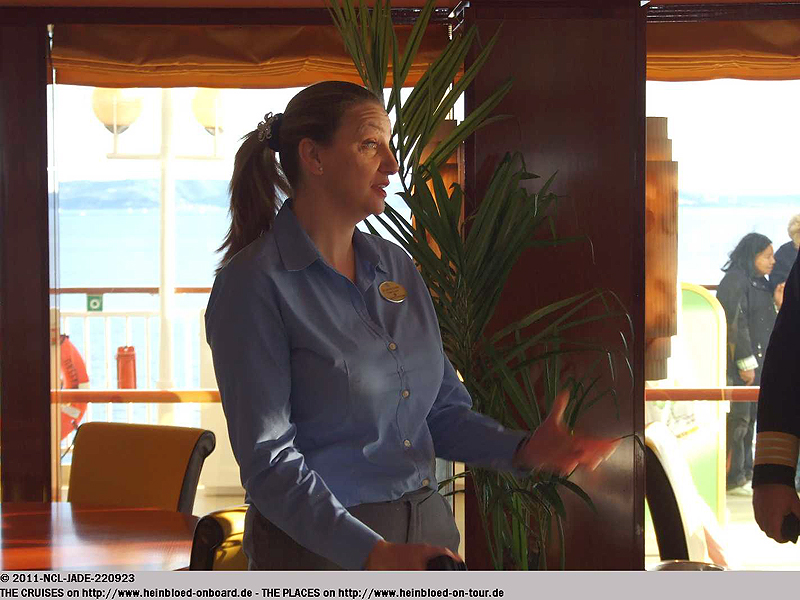 Cruise Director Jill - Gary will return soon but is currently on vacation - very sad... because Gill does not sing... compared to Gary. I liked it very much: one of the artists became sick and Gary sang himself.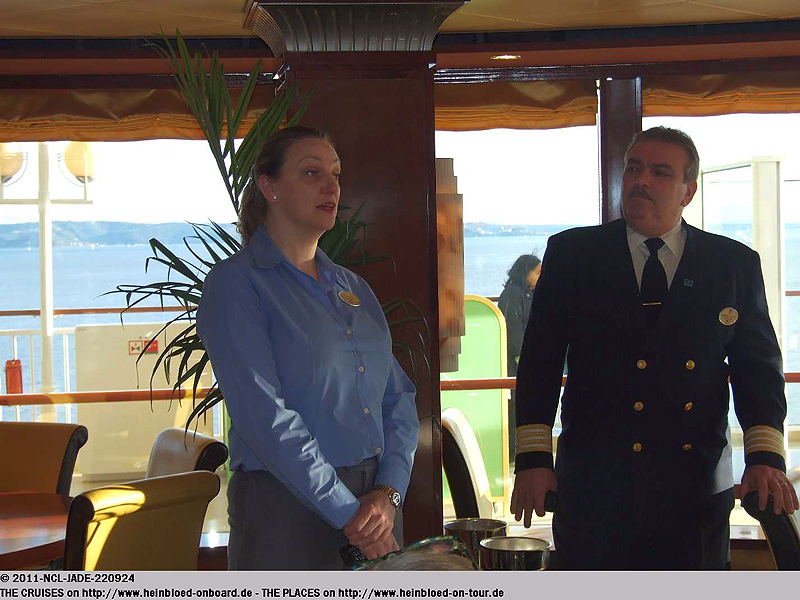 This is Guest Service Manager Ramona.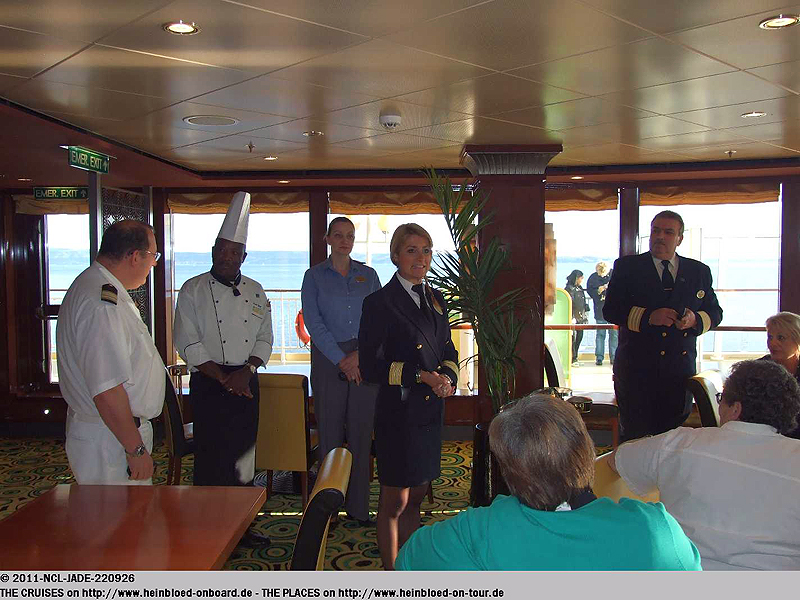 Das ist Guest Service Manager Ramona.
Sie hat übrigens auch hinterher die Fragen zum Thema Baby an Bord der NORWEGIAN JADE beantwortet, die mir jemand aus dem Kreuzfahrten Treff übermittelt hat, damit er danach beruhigt die Reise buchen kann.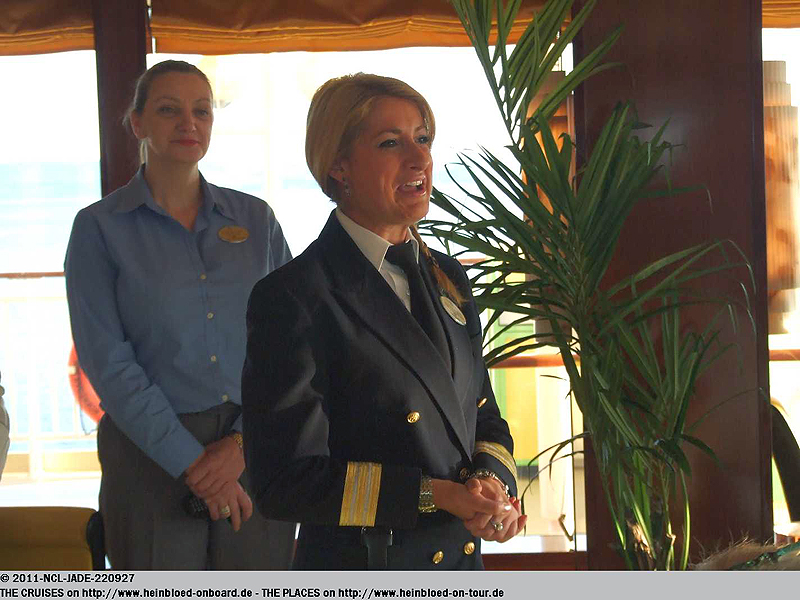 By the way she managed later the response of the questions regarding infants on board of NORWEGIAN JADE. Someone who read my posting in a German internet forum sent me his questions to book later the voyage after he knew what he could expect with his baby on board.

Alain is F&B Manager.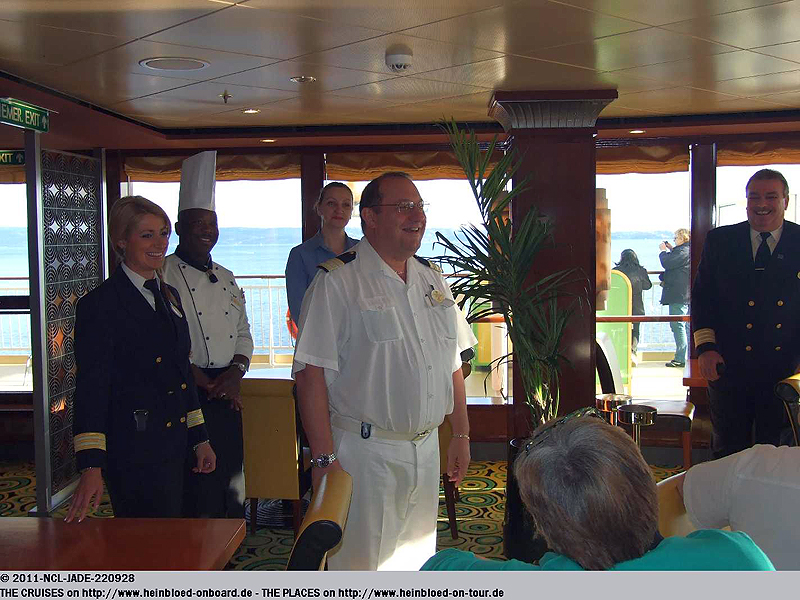 Alain ist F&B Manager.
Wie sich hinterher herausstellt, direkt um die Ecke von Brunos Eltern aus Lothringen.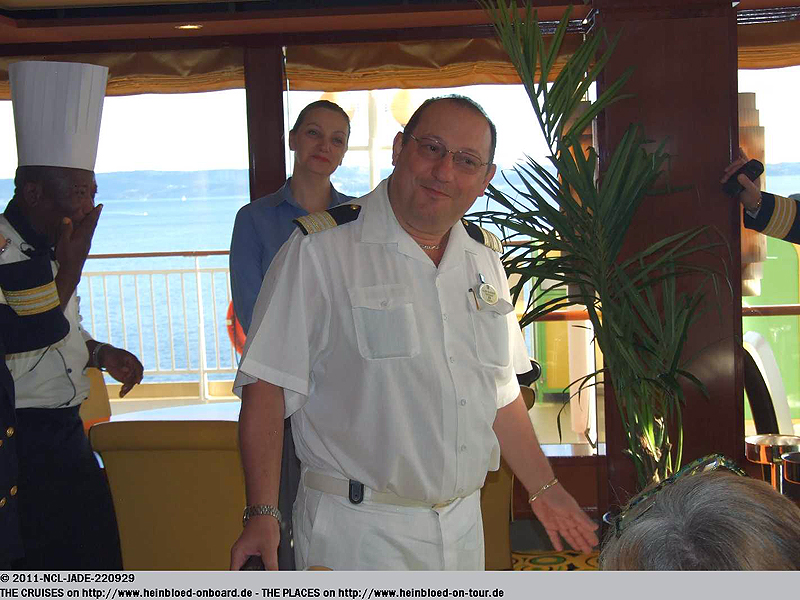 Like we learned later: just around the corner from Bruno's parents from the French department Lorraine

and Restaurant Manager Aydin Kaya.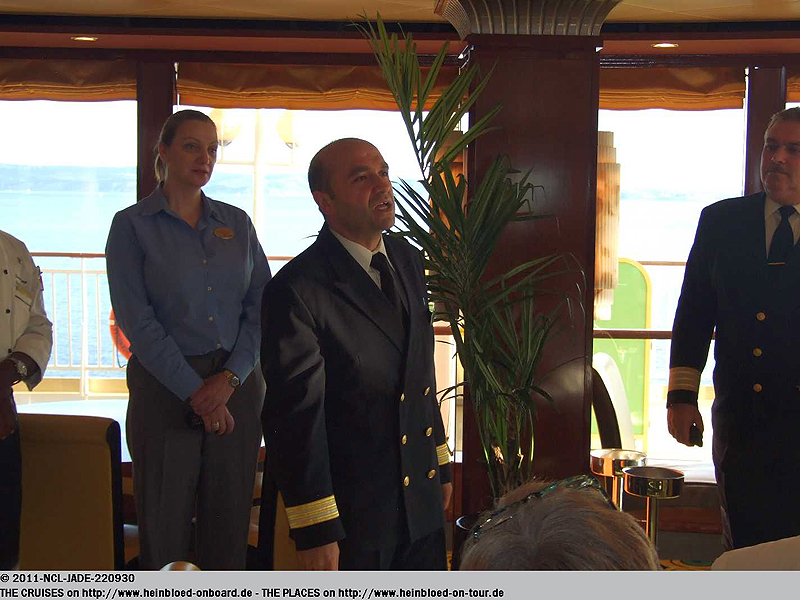 Und Restaurant Manager Aydin Kaya.
Als hier die Bilder in Facebook veröffentlicht wurden, musste ich Aydin sofort aufsuchen, um Grüße zu übermitteln.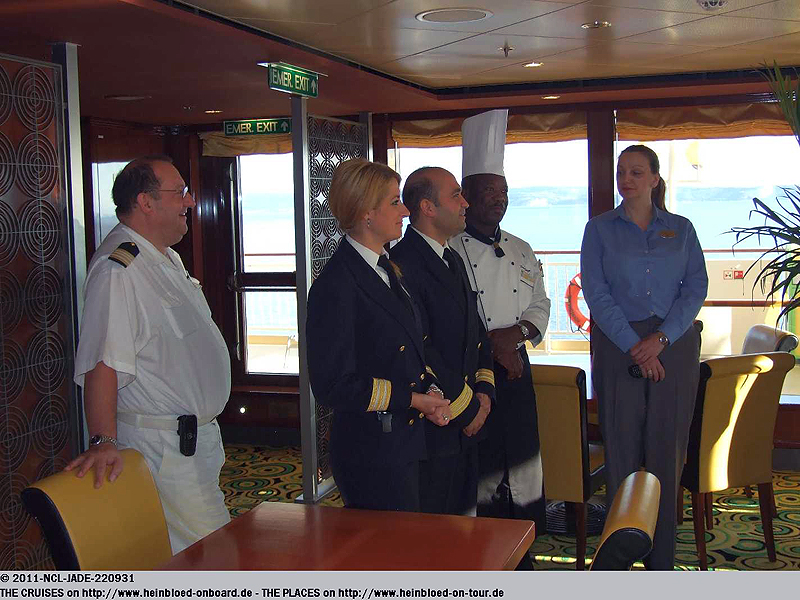 When I published the pictures on Facebook I was asked to find Aydin asap and to give him regards.