Scroll down for English explanations - alternates with German explanations.

Normalerweise geht die Tour über Trogir und über die Küstenstraße zurück. Wir wollten aber unbedingt einen Besuch in einem Restaurant einbauen, in dem es Rasnizij und Cevapcici gibt. Leider lerne ich durch Nikola, dass es gar keine kroatische Spezialität ist, sondern von den Bosniern annektiert. Die wiederum haben es als Überbleibsel ihrer türkischen Herrschaft behalten.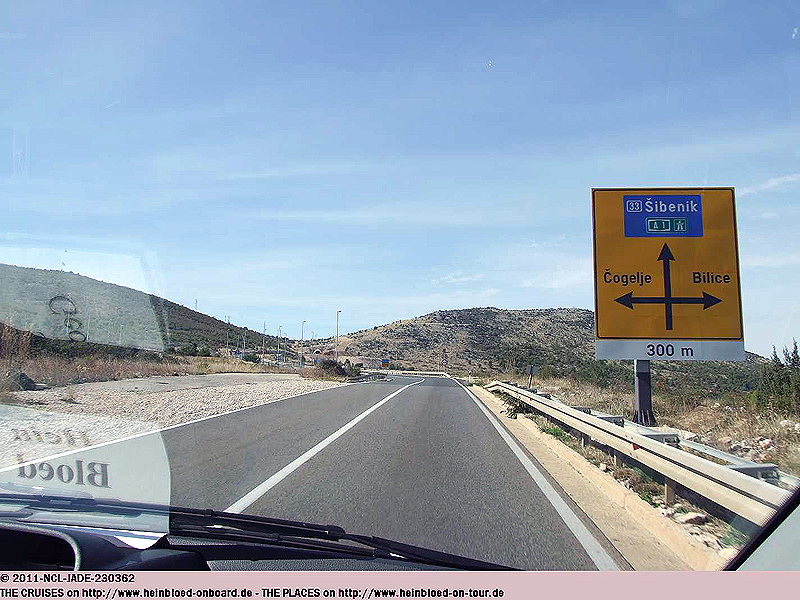 Normally this tour would take us back via Trogir and alongside of the coastal road. But I wanted to include a visit in a restaurant to have Rasnizij (meat skewer) and Cevapcici (minced meat rolls). But I learned from Nikola that this is not an original Croatian speciality but a Bosnian. They had it from their Turkish occupation.

Nikola suggested to go to a restaurant in Sibenik: Torcida.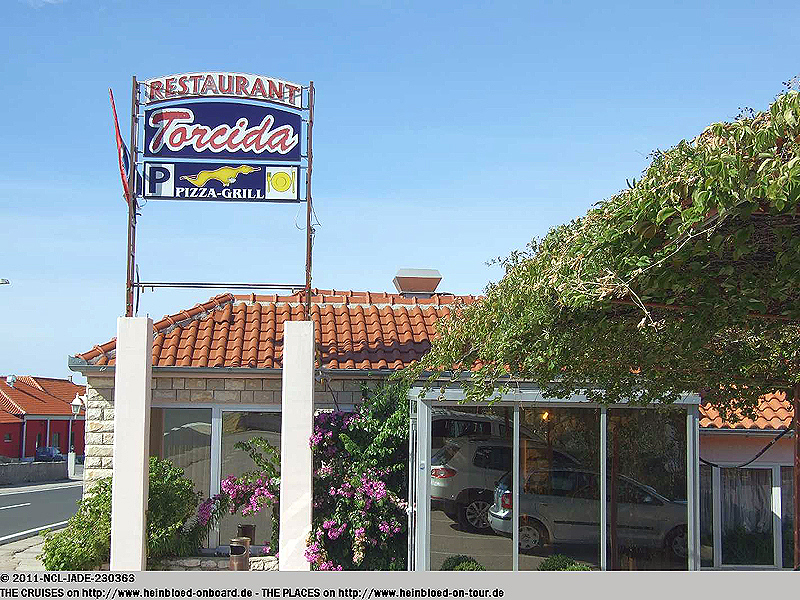 Nikola hatte uns ein Restaurant in Sibenik vorgeschlagen:
Torcida
.
Innen war es sehr gemütlich. Nur um 12.00 Uhr waren wir eindeutig zu früh da. Denn die Einheimischen kommen alle erst gegen 13.00 Uhr und dann ist erst der Grill und der Backofen richtig heiß und es geht alles sehr schnell, obwohl das Restaurant dann ziemlich voll ist, was für den Erfolg und das Essen spricht.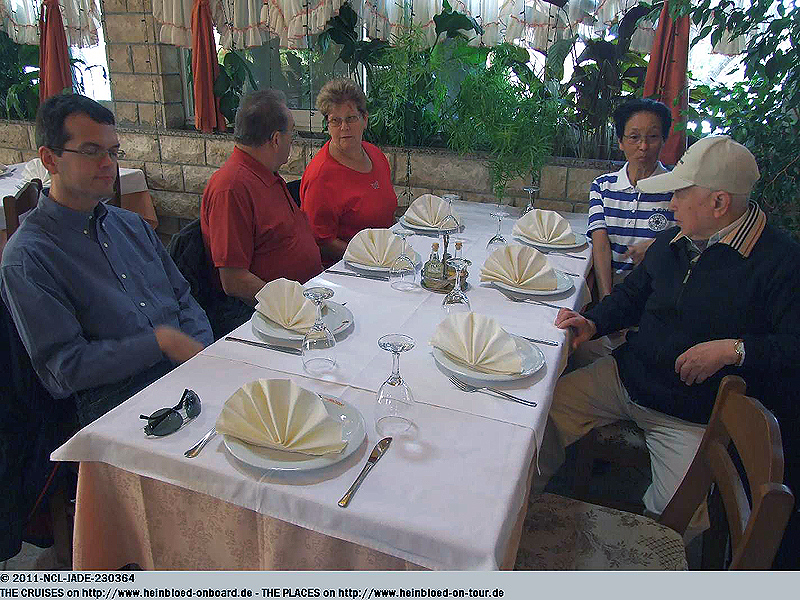 I was a very nice place. But 12.00 hrs was too early to see them. All locals came around 13.00 hrs and at this time the grill and the stove were really hot. Then it goes very quickly although the restaurant was very full what stands for the success and food.
The soups came in tureens. One tureen should be enough for four persons but really was only for one.

Die Suppen kamen in Terrinen. Eine Terrine hätte für vier Personen gereicht, aber ist eigentlich nur für eine Person.
Erst gegen 12.45 Uhr bekommen wir bespielsweise Brot. Aber das leckerste, das wir soweit gegessen haben.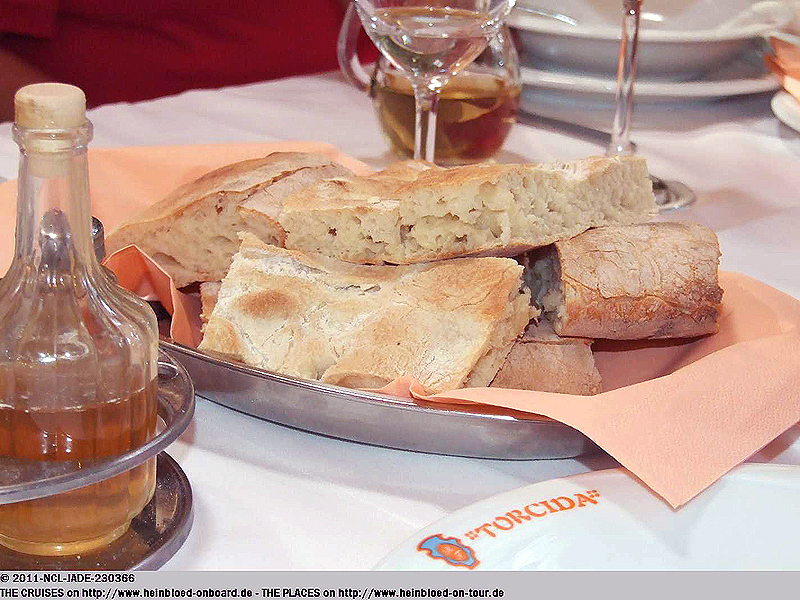 Around 12.45 hrs we got our bread. But it was the best bread we ever had so far in our life.

And our families were very exited on this food.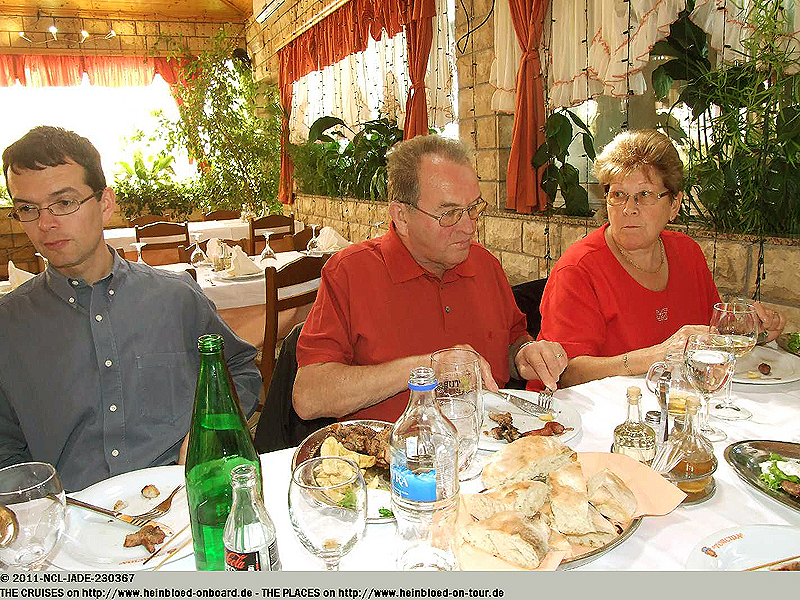 Auch unsere Familien sind von dem Essen ganz begeistert.
Ich fürchte, dass ich in Deutschland nie wieder Rasnicij und Cevapcici essen werde.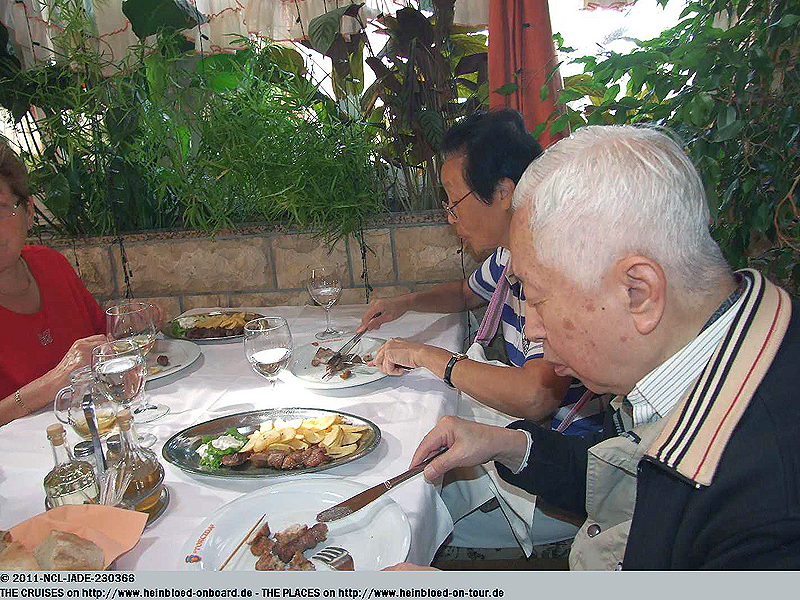 I am afraid that I will never ever have again Rasnicij and Cevapcici in Germany.

It was very nice... and the waiters spoke German... we were the only tourists (at this time of the day)... but somehow they should all see my demenzia doctor and not me (I ask for an appointment in Göttingen, Germany for consultation as I forgot a ship's name and a name of a crew-member...). The fact that they forgot my soup was fine as we had enough... But they also forgot my mixed grill. I was lucky that everybody had so much that I could eat from their plates and could return once my plate would arrive.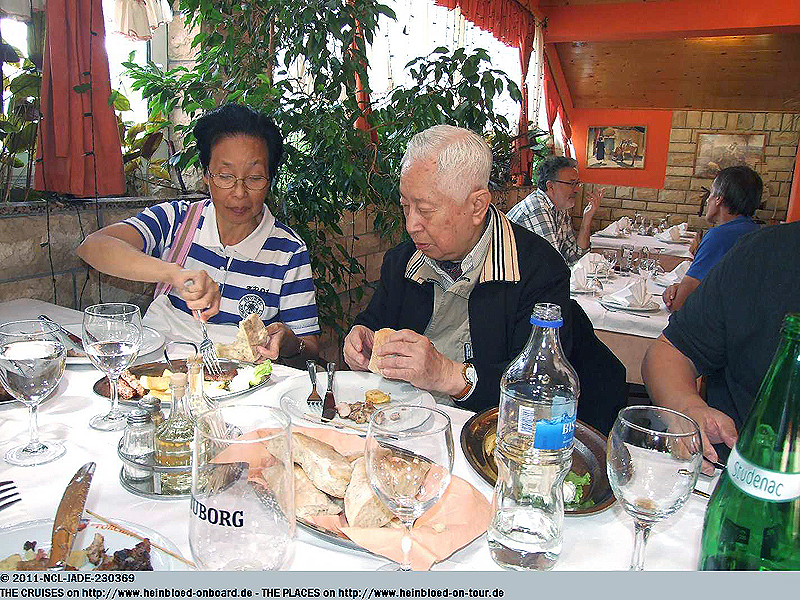 Es war eigentlich ganz nett... nettes Ambiente... und die Kellner sprachen Deutsch... wir waren die einzigen Touristen (um diese Zeit)... nur gehören die alle irgendwie in die Demenzklinik und nicht ich (Ich hatte mich sicherheitshalber in Göttingen untersuchen lassen, nachdem ich einen Schiffsnamen und den Namen eines Crewmitglieds vergessen hatte...). Dass sie meine Suppe vergessen haben, war ja nicht schlimm... war ja genug da. Aber sie haben meinen Grillteller vergessen. Zum Glück ist bei allen so reichlich da, dass von den anderen mitesse und denen es zurückgeben kann als meiner kommt.
Dann kommt er: genauso teuer, wie die Eintrittskarte in den Nationalpark.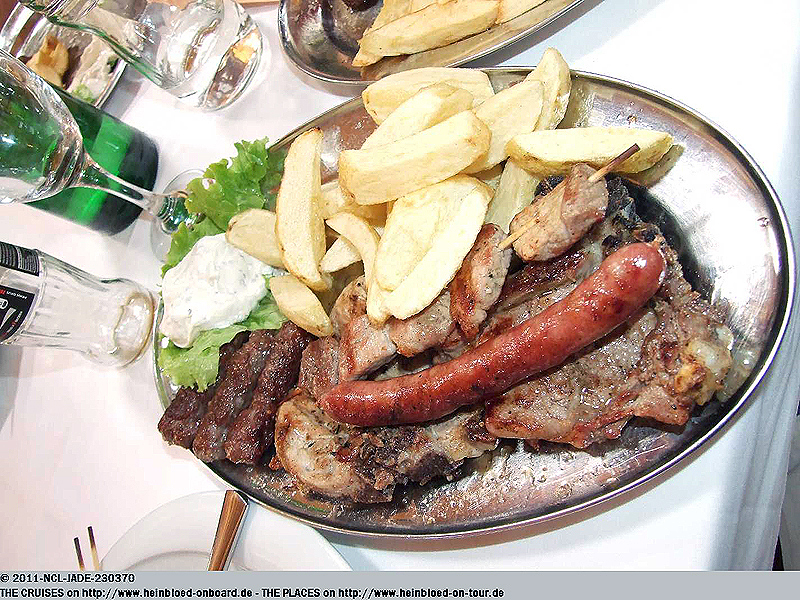 Finally it arrived: same price like the admission to the national park.

As we were under time pressure I only ate my sausage in the piece of bread.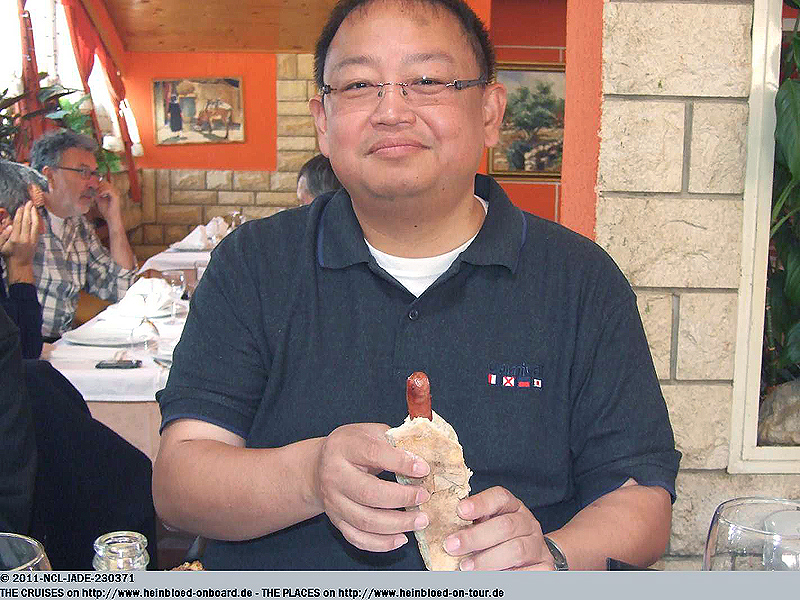 Da wir es eilig haben und ja auch noch etwas von Spilt sehen wollen, esse ich als einziges mein Würstchen in einem Stück Brot.
Den Rest lasse ich mir einpacken und will später auf dem Schiff in Ruhe weiteressen. Als ich damit wieder an Bord will, wird es mir an der Security abgejagt, mit dem Hinweis auf die Schilder von heute Morgen. Aber das galt ja nur für Lebensmittel, die nicht an Land sollen. Von Lebensmittel, die nicht an Bord dürfen steht hier nichts. Eine lange Diskussion bringt jedoch nichts, da hier keiner mehr weiterkommt, weil hinter mir ja nur der Tenderzugang ist. Ich gebe auf, damit niemand ins Wasser fällt. Ich wette aber, dass es mir nur abgejagt wurde, weil mein Paket so toll gerochen hat und sie bestimmt damit abends eine Party abends gefeiert haben... O.K.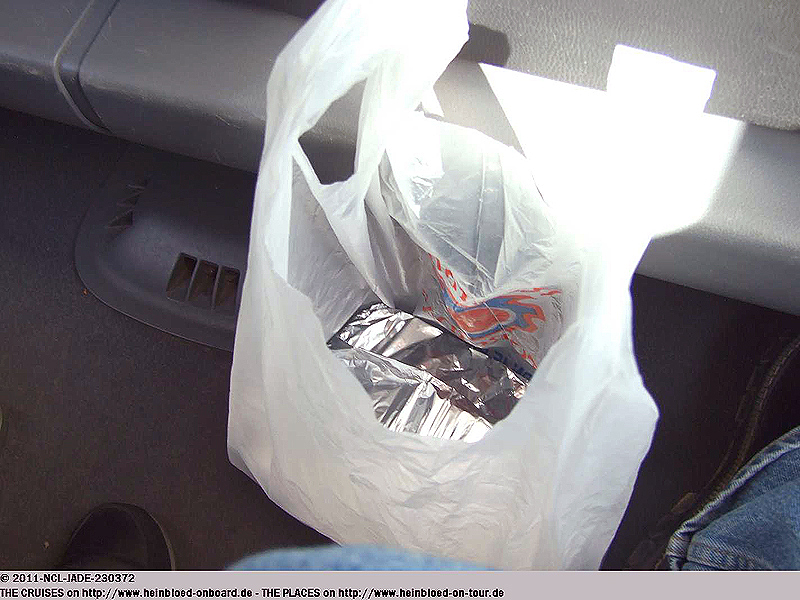 I let them make a doggy bag for me to have it later onboard. When I arrived at the ship the security denied to take on board and directed to the signposts. But that was for food taking ashore. Nothing about food coming onboard. No chance for a major discussion as one tender boat after the other arrived. I gave up that none need to wait in the water. I beg that they only confiscated my bag because it smelled so wonderful and they need something for their party the night... O.K.

Nikola said that this restaurant was more for local worker. So I expected a more canteen style restaurant which might not accept Euro or credit cards. So I went to an ATM at the exit of the national park to get 500 HRK (= 90 USD). It fit perfectly incl. beverages, soups, tips for 7 persons and so yummy. Only the bills remembered me to the past. Did Germany sold their old Deutsch Marks for recycling to Croatia???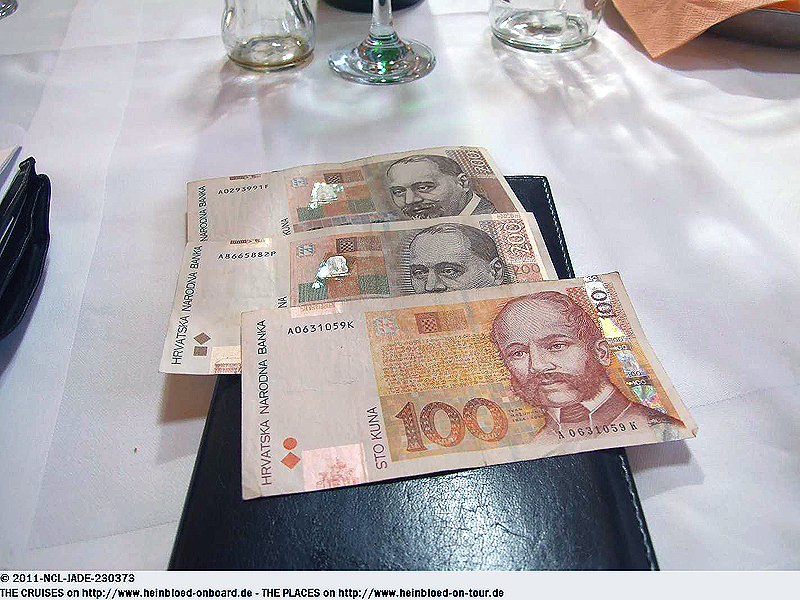 Nikola hatte gesagt, dass es ein Restaurant ist, bei dem viele lokale Arbeiter essen gehen. Daher rechnete ich eher mit einer Kantine, bei der ich vielleicht mit Euro oder Kreditkarte nicht zahlen kann. So habe ich sicherheitshalber am Ausgang des Nationalparks am Geldautomaten 500 HRK (= 67 EUR) geholt. Das passte wie die Faust aufs Auge: inkl. Getränke, Suppen, Trinkgeld für 7 Personen und so lecker. Nur die Geldscheine kommen mir irgendwie so bekannt vor. Hat Deutschland seine alten DM-Scheine recycelt und sie nach Kroatien verkauft???
Wir standen vor der Alternative: gar nichts von Split und dafür Trogir. Damit mein Vater auf das Schiff zurück kann, nehmen wir die Autobahn zurück.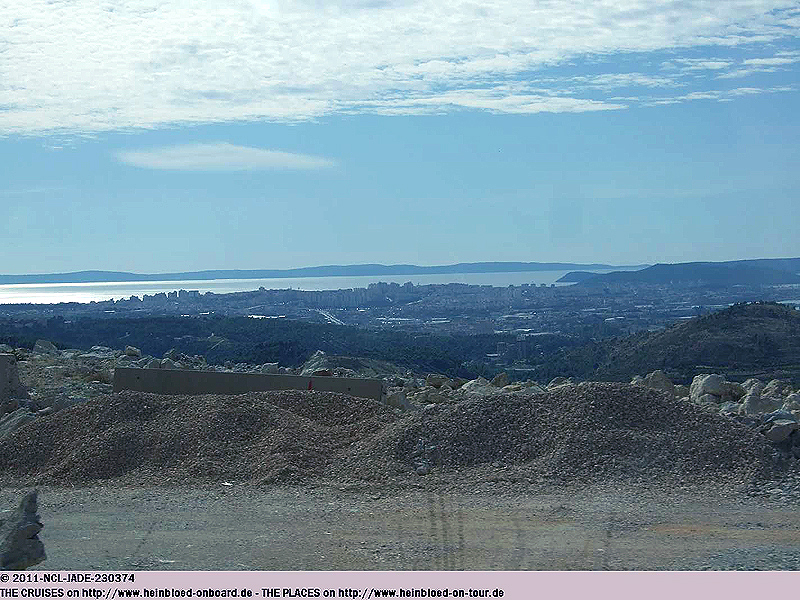 We had the option: nothing from Split but Trogir. To give my father a chance to return to the ship we took again the highway.

Taxi Service Split sent again an e-mail and apology for the mistake. So everything was fine with me. We would book them again but would ask my Croatian-Bosnia taxi driver at my home place to remind them a week ahead of my booking. So book them but send them a reminder a week ahead. All other things went quite well.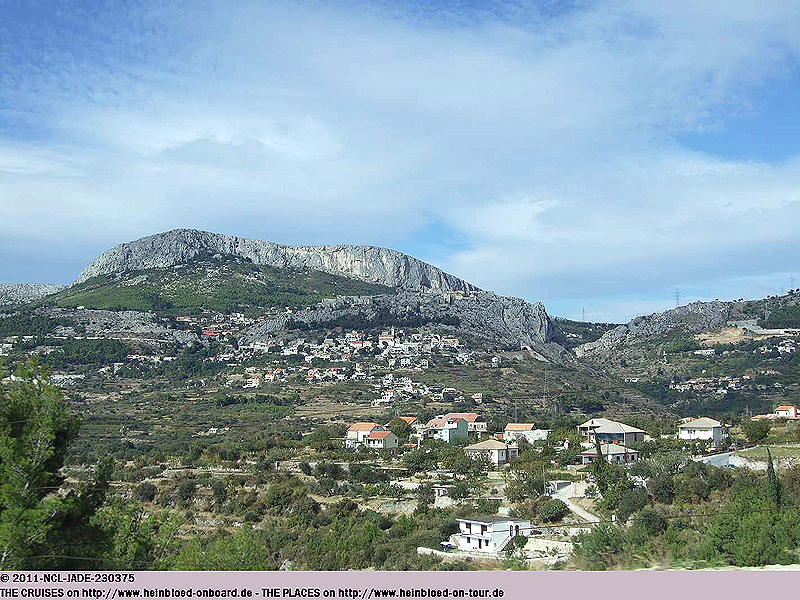 Taxi Service Split hat sich nochmals per E-Mail gemeldet und sich für die Panne entschuldigt. Daher ist für mich der Vorgang abgeschlossen. Wir würden sie beim Besuch sie wieder buchen, allerdings meinen kroatisch-bosnischen Taxifahrer bei mir zu Hause bitten, nochmals sie eine Woche vorher anzuschreiben, um an unsere Buchung zu erinnern. Daher ruhig bei ihnen buchen, aber eine Woche vorher nochmals eine Mail schicken. Sonst hat alles ziemlich gut geklappt.