Scroll down for English explanations - alternates with German explanations.

Anfahrt auf Split. Irgendwie erinnere ich mich noch an die NAVIGATOR OF THE SEAS. Ein Maître kam aus Split und der andere aus Dubrovnik. Und auf die Frage, welche der beiden Städte schöner ist, wurde jeweils die eigene Stadt genannt. Wir sind gespannt.

Arriving in Split... Somehow I remember NAVIGATOR OF THE SEAS.One Maître was from Split the other from Dubrovnik. To the question which city is more beautiful each of them answered that of course the city of his own. We were curious.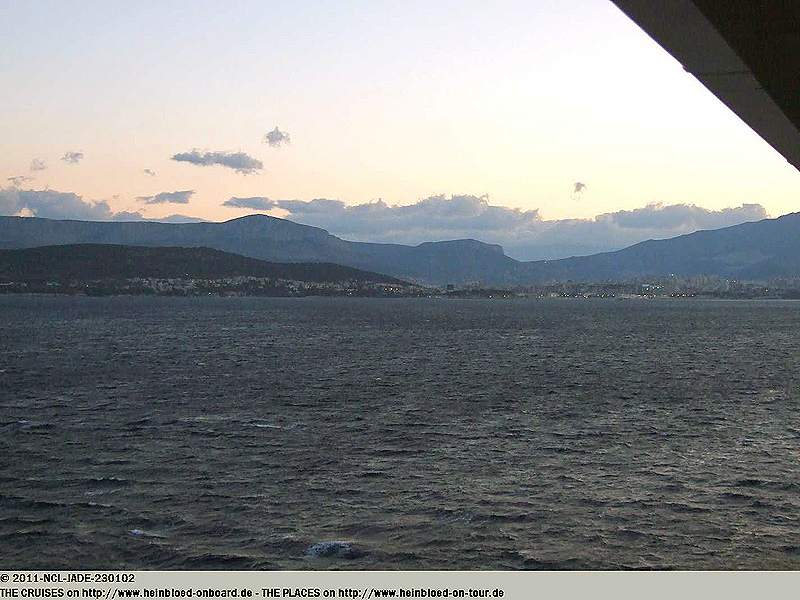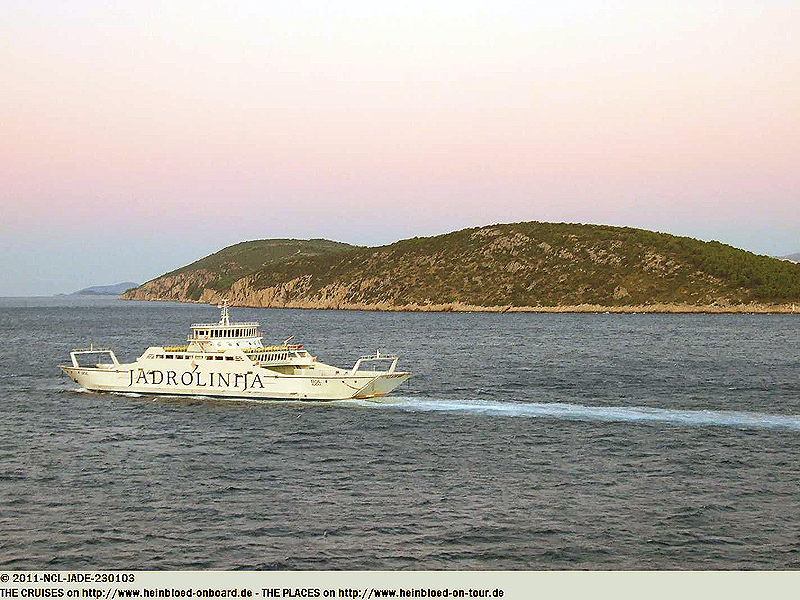 The tenderboats were prepared to start.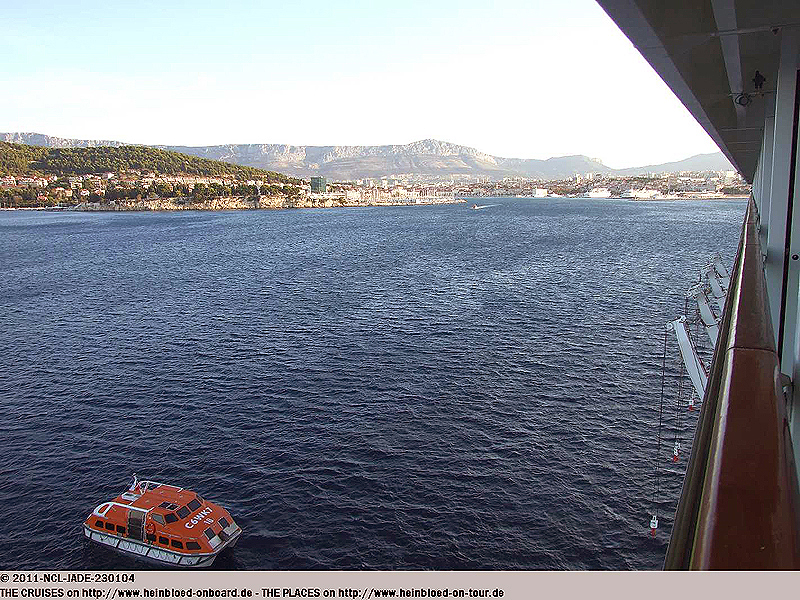 Die Tenderboote werden fertig gemacht.
Ganz schön weit weg.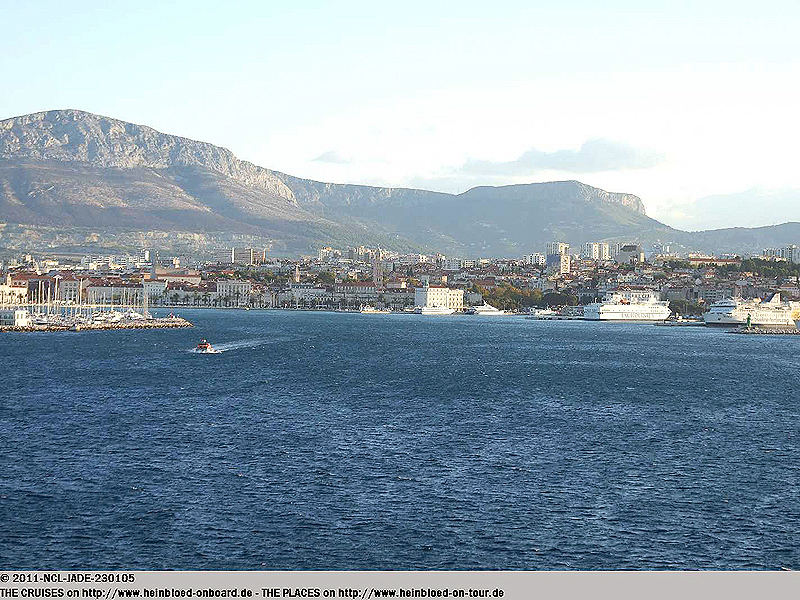 Looked far away.

We went to have breakfast. As there was no croissant in the basket I need to ask and got them on an extra plate.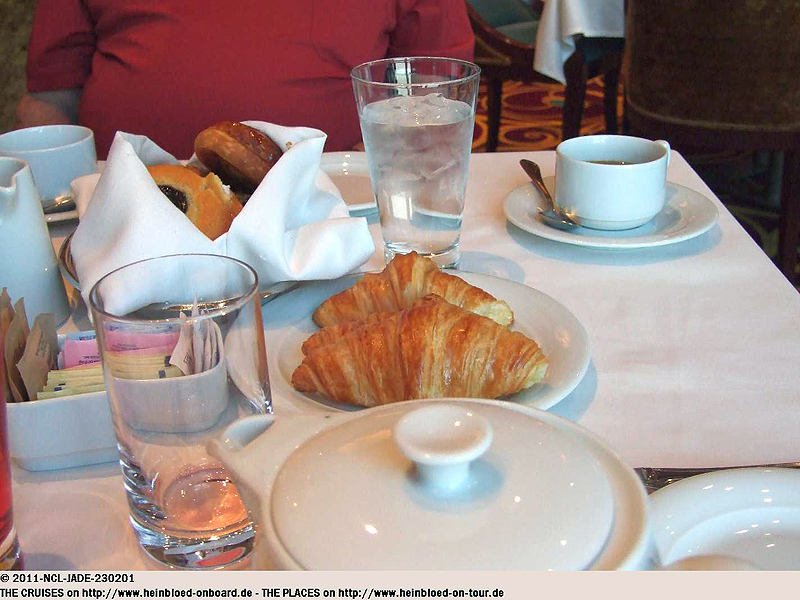 Wir gehen frühstücken. Da es im Korb keine Croissants gibt, muss ich leider danach fragen und bekomme sie auf einem extra Teller.
Die Banane wird für mich erst an der Servicestation geschnitten.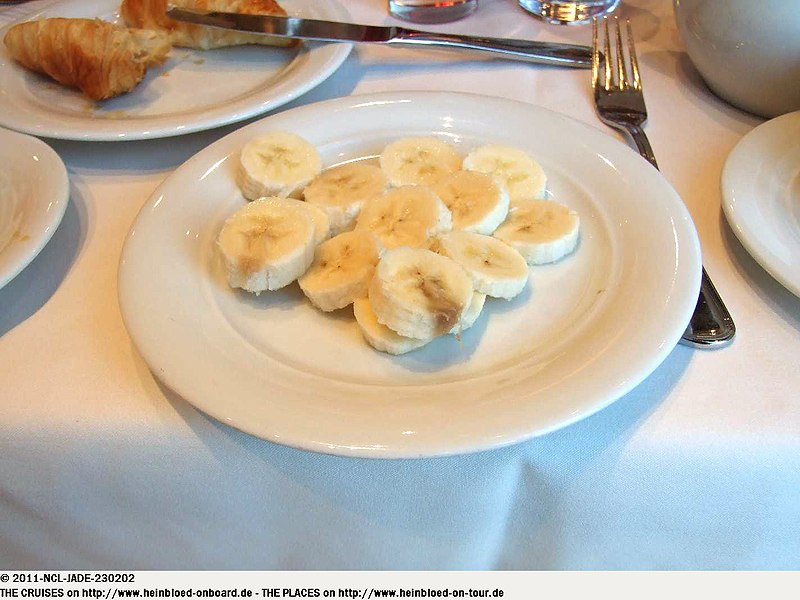 The banana was cut finally at the service station.

Strange: we should keep our silverware. We knew this only from few other lines. When we asked Armando later if this is a new policy he was very shocked.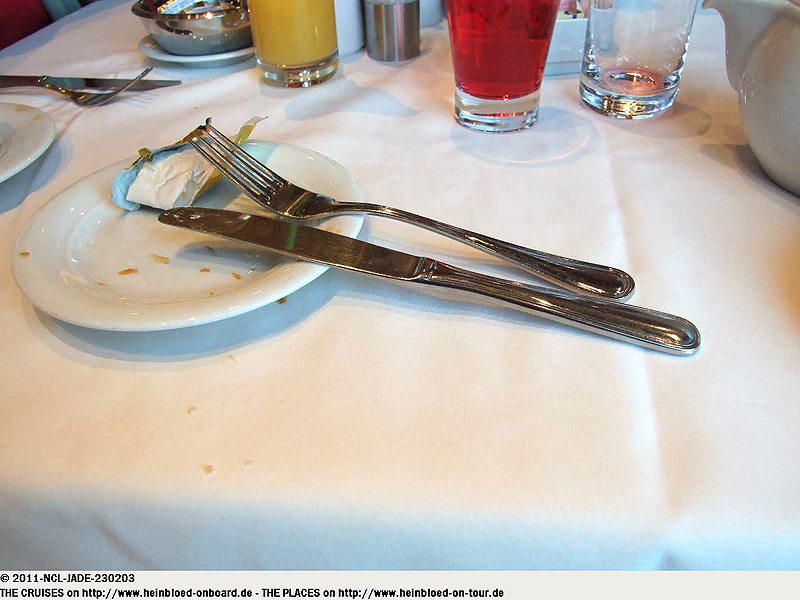 Ungewöhnlich: wir sollen das Besteck behalten. Das kennen wir eigentlich nur z. T. bei der Konkurrenz. Als wir später Armando ansprechen, ob das neue Policy sei, war er nur entsetzt.
Es sollte nicht nochmals ein Egg Benedict auf Lachs sein, sondern etwas leichteres...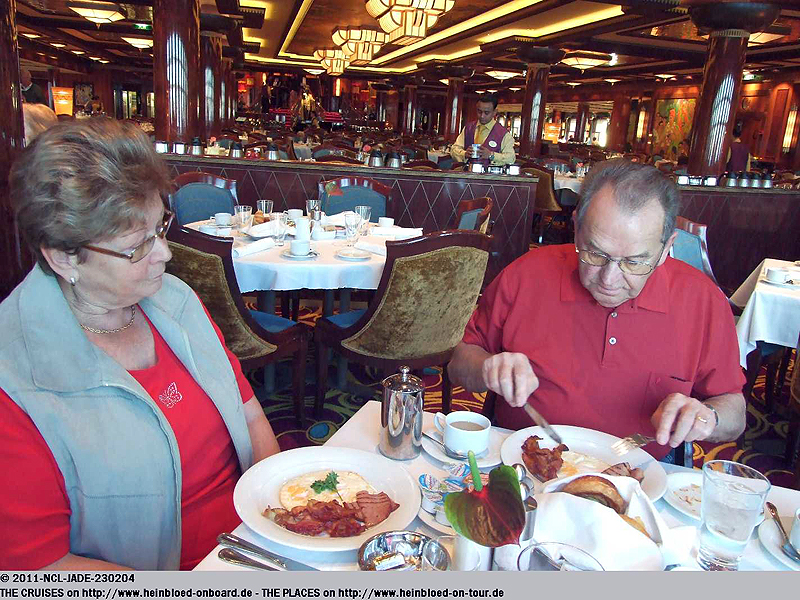 Something lighter was need but an Egg Benedict on salmon.

So only fried eggs.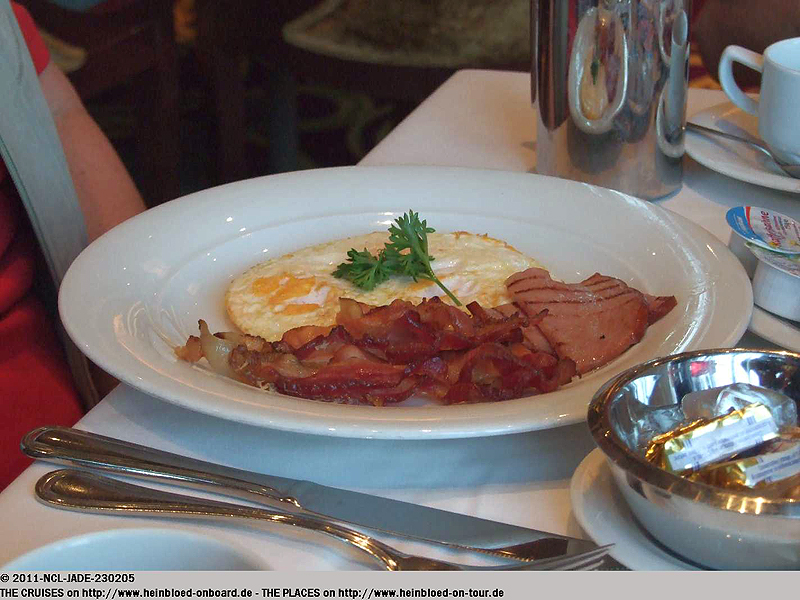 Daher nur Spiegeleier.
Ich hatte ein Omelette mit Kräutern bestellt. Aber nur das Petersilienblättchen scheint für die Kräuter zu stehen.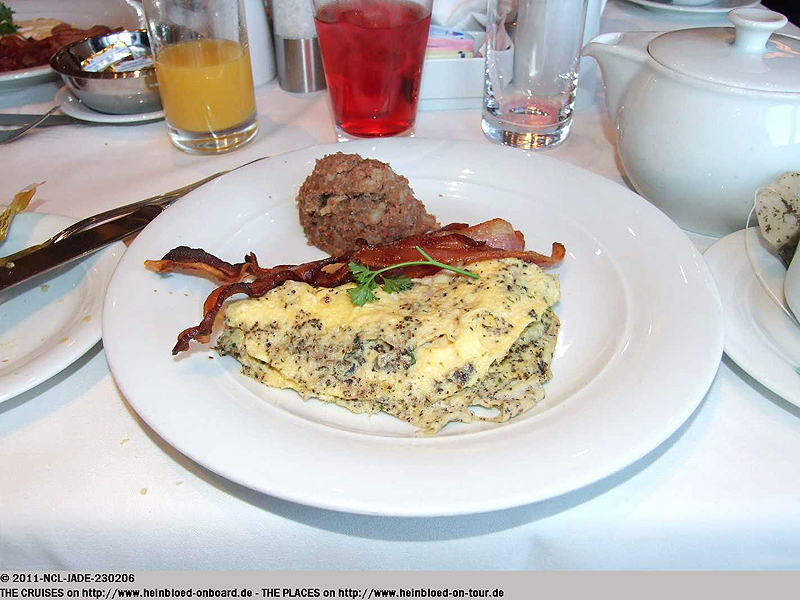 I ordered an omelette with herbs. But it looked like that only the little leave of parsley stood for the herbs.

It was well signposted that you are not allowed to take food ashore. Strict EU- and US-regulations.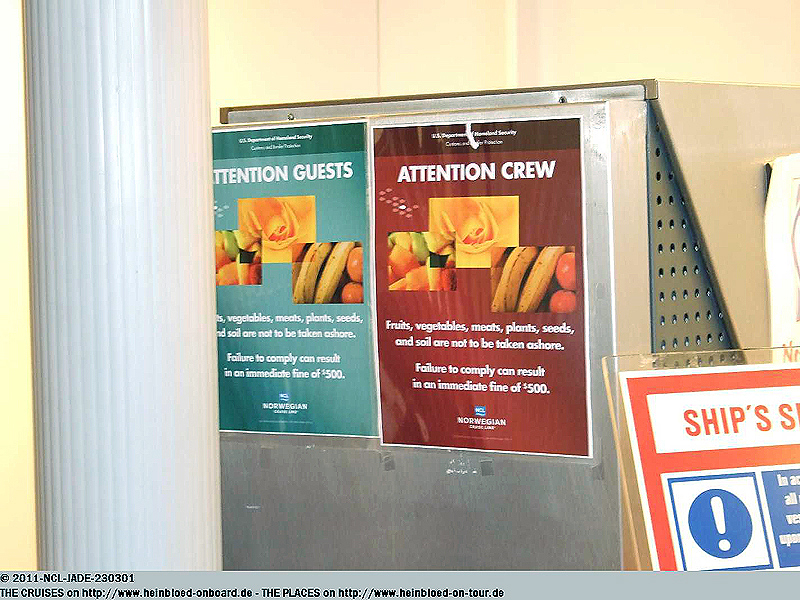 Die Schilder weisen darauf hin, dass wir keine Lebensmittel an Land mitnehmen dürfen. Strenge US- und EU-Regeln.
16.00 Uhr geht der letzte Tender.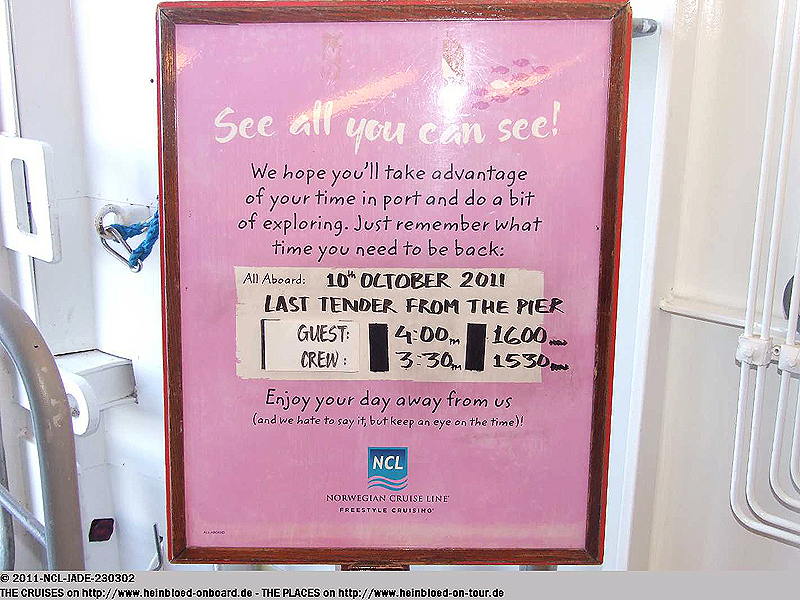 16.00 hrs was the departure of the last tender.

We had Priority Tender Tickets. Furthermore we had the offer if we wanted to leave the ship very early to use the Concierge Lounge. So we went directly to the exit. We should keep our tickets for Dubrovnik as well but one wanted to collect them. For us it was no problem as we got them from Concierge Carlos as well as from Future Cruise Consultant Carol. After they took away we were told by the next again to keep them for tomorrow. We did not care anymore and gave up...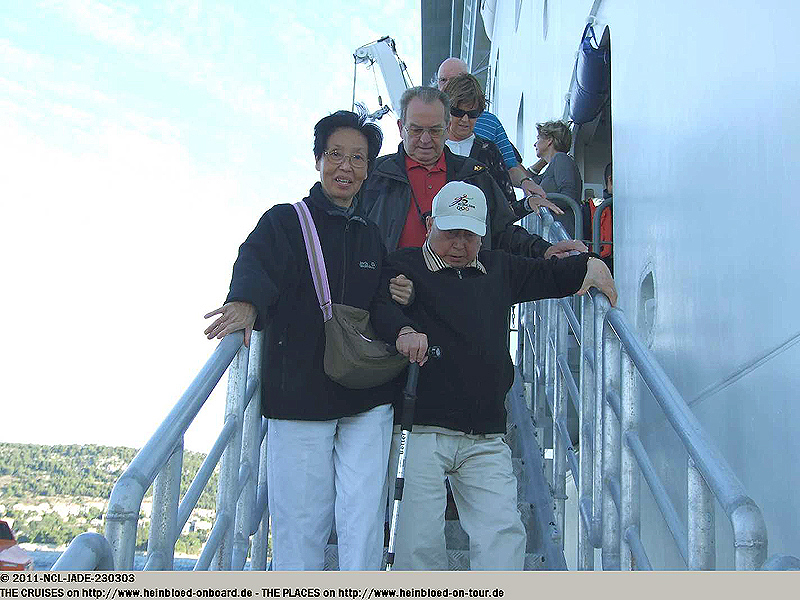 Wir hatten ja Priority Tender Tickets. Ferner hatten wir das Angebot, falls wir sehr früh vom Schiff wollten, die Concierge Lounge zu nutzen. So sind wir direkt runter zum Ausgang. Die Priority Tender Tickets sollen wir für Dubrovnik behalten, aber einer will sie doch einsammeln. Uns war es egal, weil sowohl Concierge Carlos als auch Future Cruise Consultant Carol uns mit Priority Tender Tickets versorgt haben. Nach dem sie uns teilweise abgenommen wurden, hieß es bei der nächsten Kontrolle, dass wir sie für morgen unbedingt behalten sollen... Egal...
Wie damals schon bei Herrn Pannen auf der NORWEGIAN DREAM und GEM: sie machen wirklich alles, damit jeder mitkommt.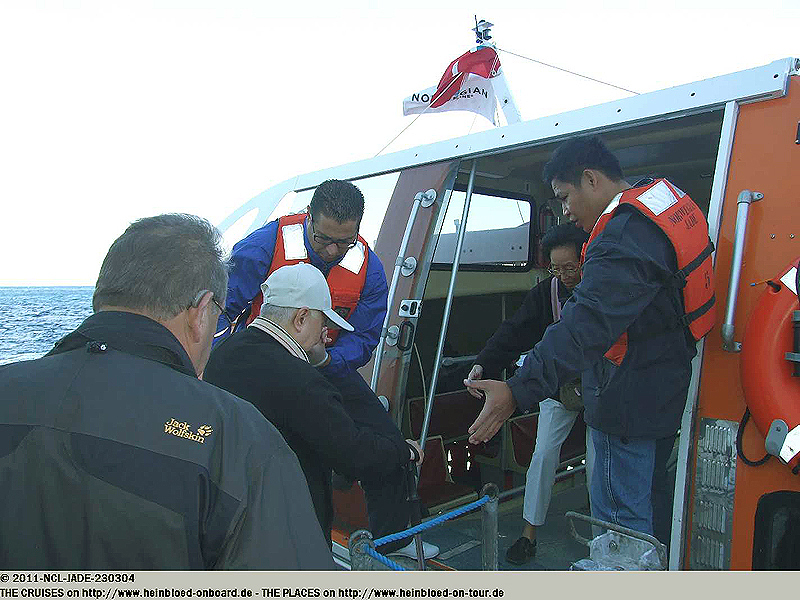 As before with Mr Pannen on NORWEGIAN DREAM and GEM: they do everything that everybody make it.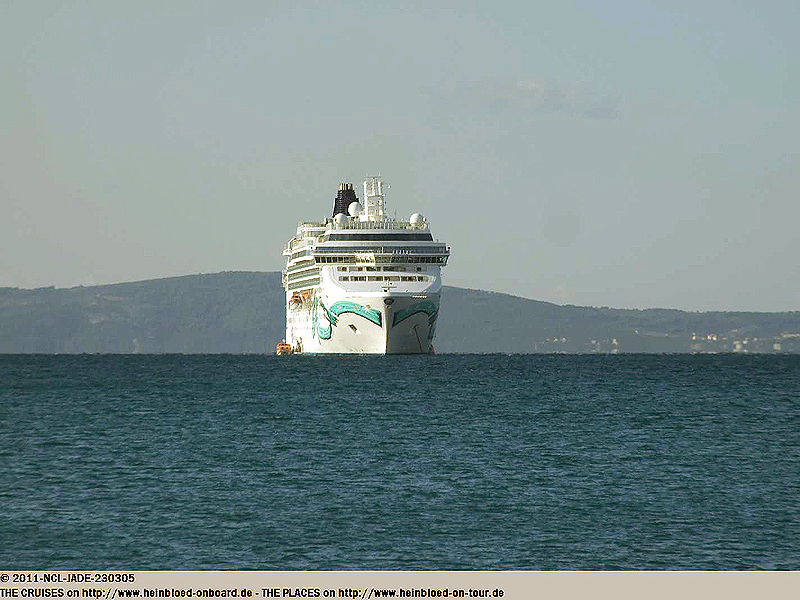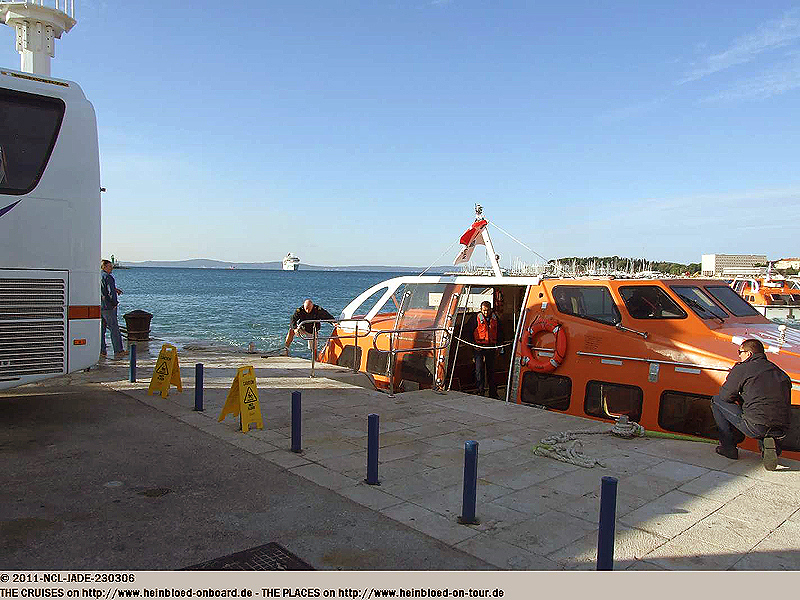 At the tenderboat station a bad surprise was waiting for us: no vehicle which was waiting for us. And no other taxi so far away to discover.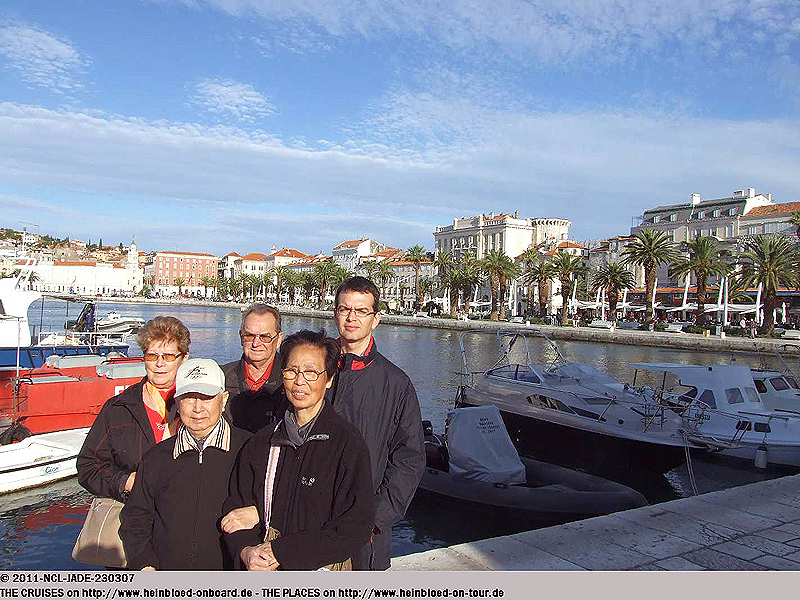 An der Tenderbootstation wartet eine böse Überraschung auf uns: kein Wagen da, der auf uns wartet. Und auch sonst kein Taxi weit und breit zu sehen.
Leider ist bei der Disposition ein Fehler passiert, aber man schickt sofort Ersatz. Deswegen nutzen wir die Wartezeit, um uns gegenseitig zu fotografieren.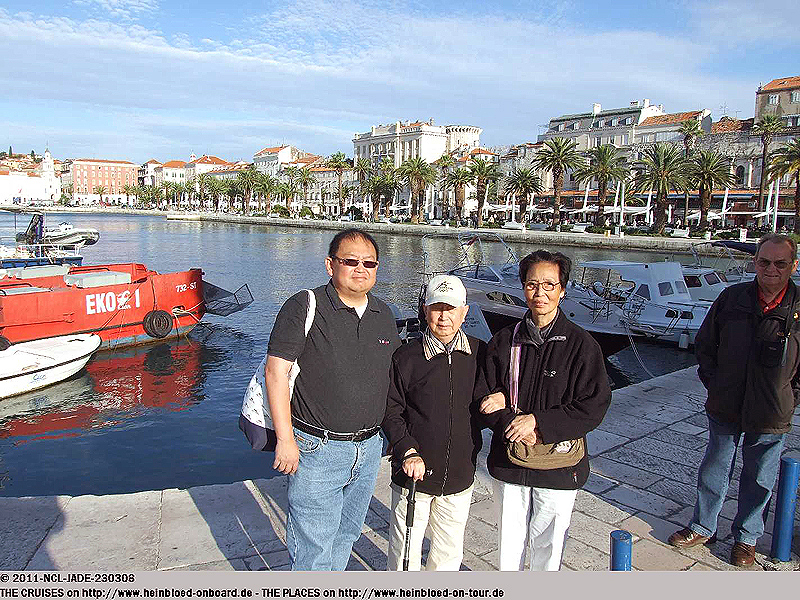 Unfortunately a mistake was made when they allocated the cars this morning. But they sent immediately another car. So we used the time to take some pictures.

It was not hot but very sunny so you could stand it quite well.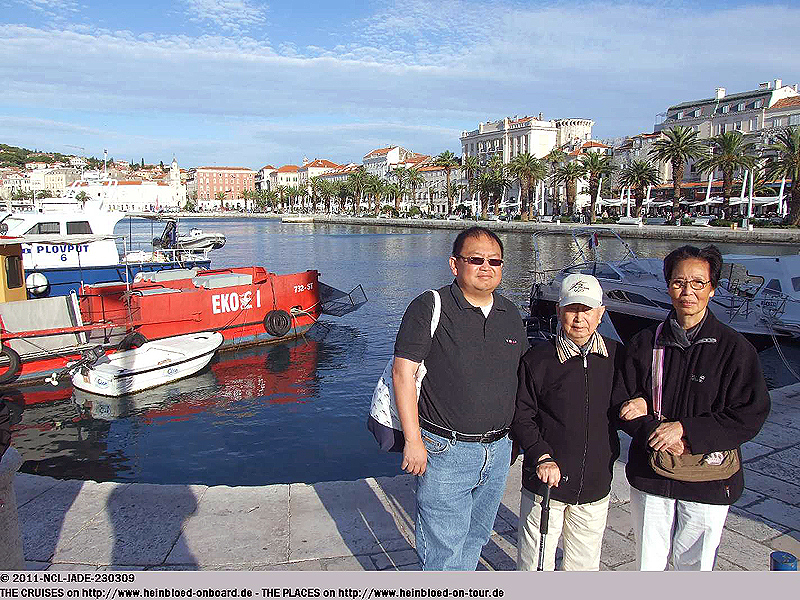 Es war zwar nicht heiß, aber schön sonnig, so dass es sich gut aushalten ließ.
Vielleicht hätten wir einfach den HoHo-Bus nehmen sollen, der direkt vom Tenderboot-Pier abfährt.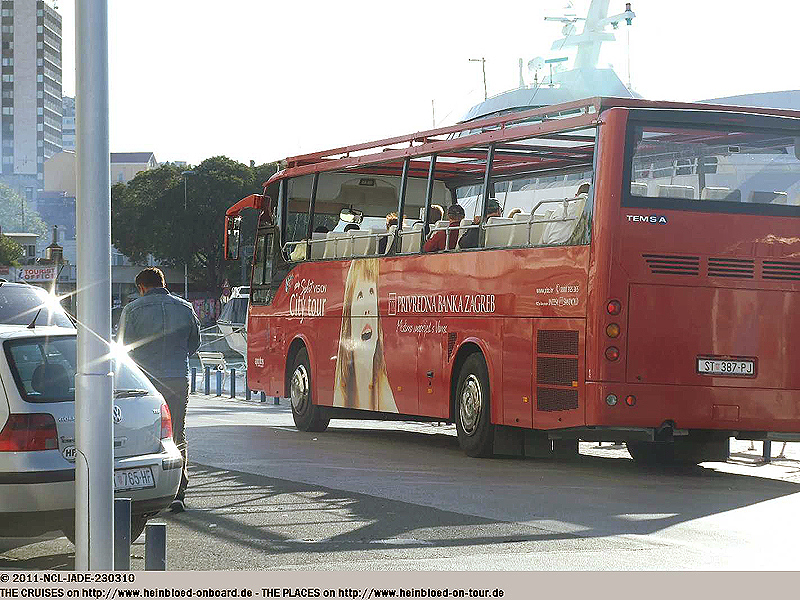 Maybe we better should only take the HoHo-Bus which was waiting for guests right next to the tender boat.

I was called again and they apology for the mistake again and due to delay and unavailablity of the German speaking driver they offered us a price adjustment. So not like in Venice where they told me that it should be my problem to find another option. So for the next trip I could still imagine to book them: Taxi Service Split. I should accept the offer of my Bosnian-Croatian taxi driver at my home place to make a call in Croatian as reminder.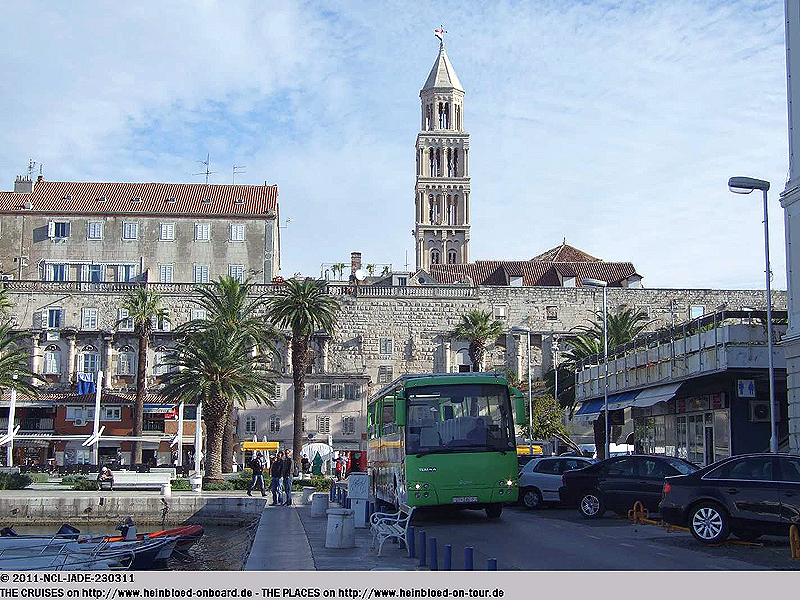 Ich werde angerufen und man entschuldigt sich nochmals und bietet mir direkt eine Preisanpassung wegen der Verzögerung an. Also nicht wie in Venedig. Leidiglich den deutschsprachigen Fahrer konnte man nicht mehr stellen. Da sie das Problem nicht einfach auf mich abgewälzt haben, kann ich mir durchaus auch vorstellen, trotzdem mit denen zu buchen:
Taxi Service Split
. Ich hätte auf das Angebot meines bosnisch-kroatischen Taxifahrers zu Hause zurückgreifen sollen, um einen Erinnerungsanruf in kroatisch zu tätigen.
Und da kommt schon das Fahrzeug.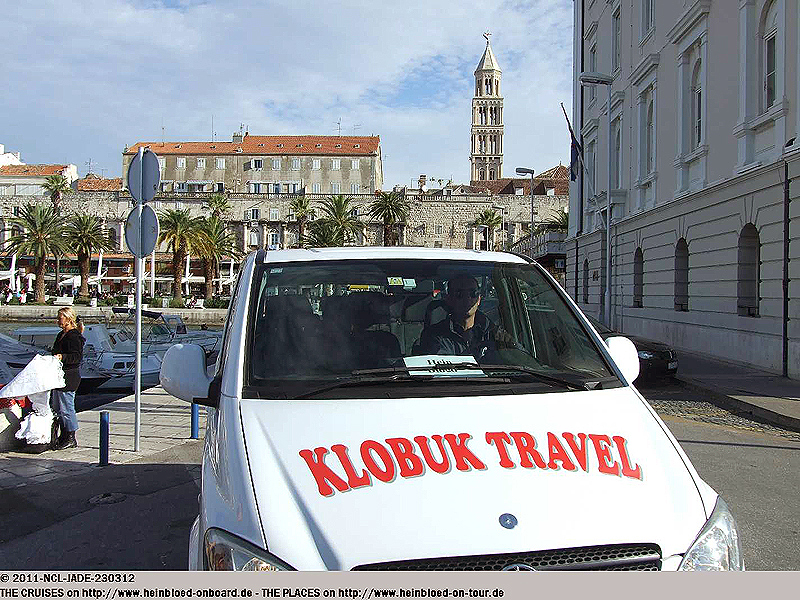 And then the vehicle came around the corner.

Everything was prepared as ordered.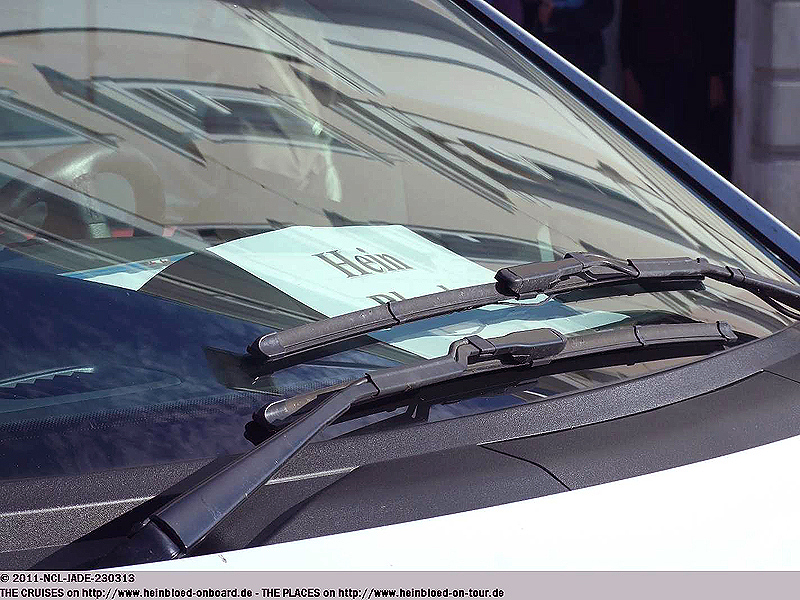 Alles war wie verabredet vorbereitet.
Uns fiel ja schon auf, dass direkt am Pier kein Taxi zu finden war. Erst als wir herausbekommen, dass das Befahren des Piers extra kostet und als wir aus dem Hafengebiet raussind, sehen wir die Taxis, die vor dem Hafentor warten.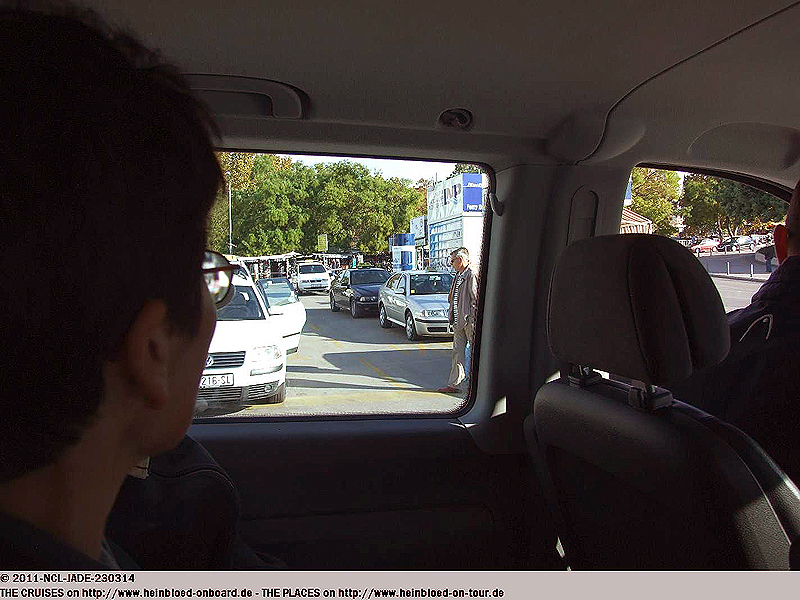 We saw already that there was no taxi right at the pier. When we learned that you have to pay extra to enter the pier and once we left the port area we saw the taxis waiting outside the port gate area.