Scroll down for English explanations - alternates with German explanations.

Endlich kam doch noch das Latitudes-Meeting...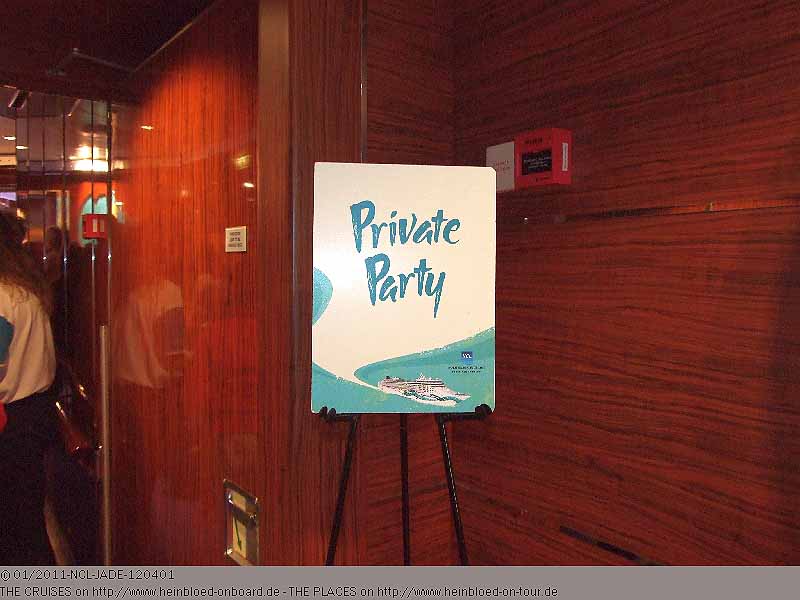 Finally we had the Latitudes-Meeting.

As it was the last day on sea there was only one for all members. So no extra party for Latitudes Gold and Platinum.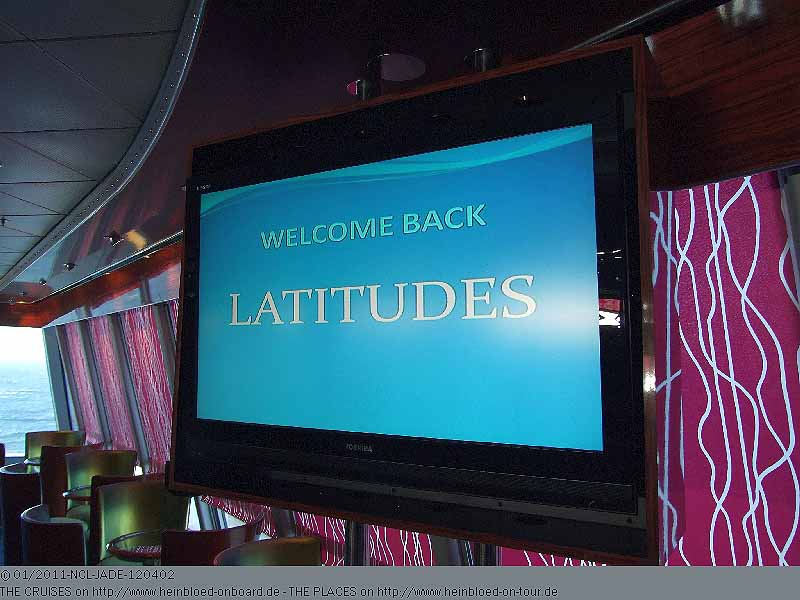 Da letzter Seetag war, gab es nur eine für alle. Auf die Party für Latitudes Gold und Platin wurde verzichtet.
Auf der einen Seite stand Kapitän Kim Karlsson und auf der anderen Seite die anderen Senior Offiziere. Keiner kam auf der Seite vorbei, also gute Chancen sie eine Runde durchzuquälen...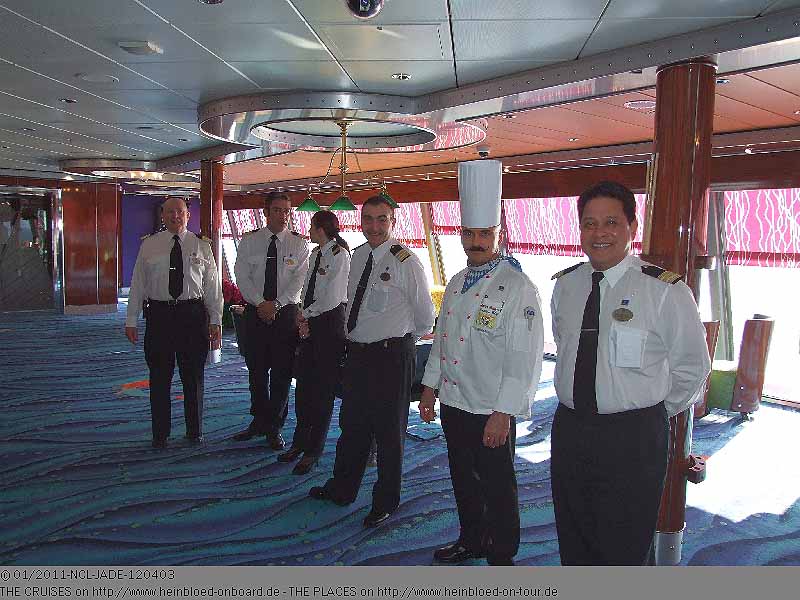 On one side Captain Kim Karlsson was standing alone while his senior officers were waiting for the guests on the other side. But none came on this side so a good occassion to torture them for a while...

The band played and so it was a very good atmosphere.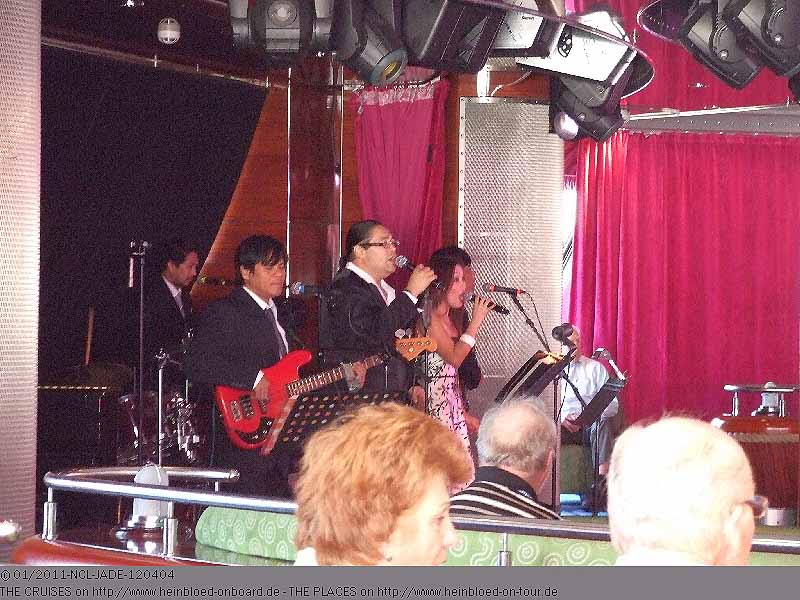 Die Band spielte und sorgte für eine gute Stimmung.
Carol hat dann souverän durch das Programm geführt. Übrigens ein Hinweis an alle Single-Männer... NORWEGIAN JADE buchen und 600 USD mitbringen... Man kann sich ja von Carol beraten lassen... und sie kann einen ja nicht rauswerfen... und ist immer sehr nett... Besser als die Single-Treffs... Wieso 600 USD??? Man darf bis zu 4 Cruise Rewards kaufen = 1.000 USD. Da aber direkt 400 USD wieder dem Bordkonto gutgeschrieben werden, reichen 600 USD aus... Nur vom 08.-15.10.2011 braucht niemand auf die NORWEGIAN JADE zu gehen, um sich von Carol beraten zu lassen... Ich habe schon alle Termine für Beratungen geblockt... Wir haben uns zwar für 2013 entschieden... aber noch nicht für Ende 2012... so können wir lange mit ihr darüber diskutieren, ob wir nun auf die NORWEGIAN JADE, NORWEGIAN SUN oder gar NORWEGIAN EPIC gehen... Aber vielleicht fragen wir erst mal unsere Crew-Freunde, wo sie sein werden...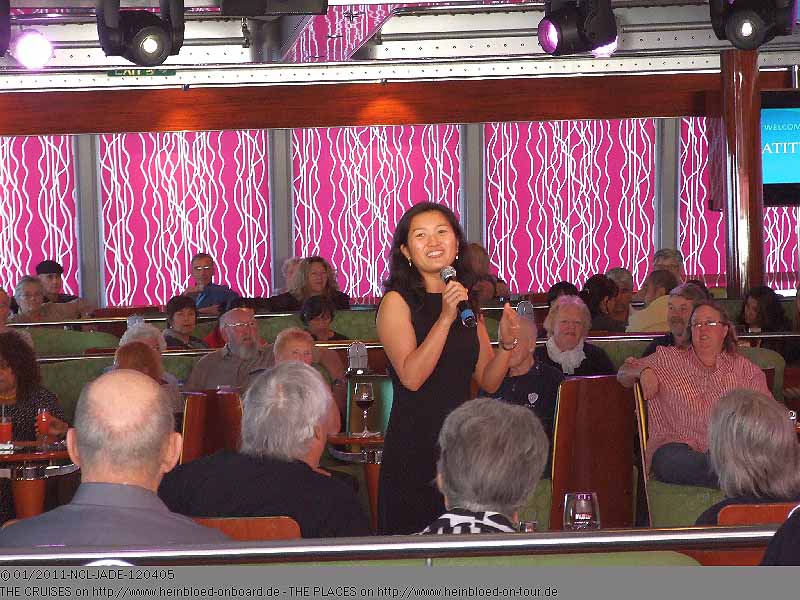 Carol presented the programme with a very high sovereignty. By the way for all single-men... Book NORWEGIAN JADE and have 600 USD with you... You can have free consultation from Carol... and the best: she cannot throw you out... and she is always very nice... it's better than the single-meetings... Why 600 USD??? You can buy upto 4 cruise rewards = 1,000 USD. But 400 USD goes on your board account as on board credit so 600 USD are fine... Only from October 8-15, 2011 you should not go on board to get consultation from Carol... I blocked all the time on this cruise for consultation with her... we decided already for 2013... but no decision is made for late 2012... so we have good reasons to discuss to go on NORWEGIAN JADE, NORWEGIAN SUN or maybe NORWEGIAN EPIC... Let us hear first where all our cruise friends are going to...

Then Captain Kim Karlsson came and took over the mike...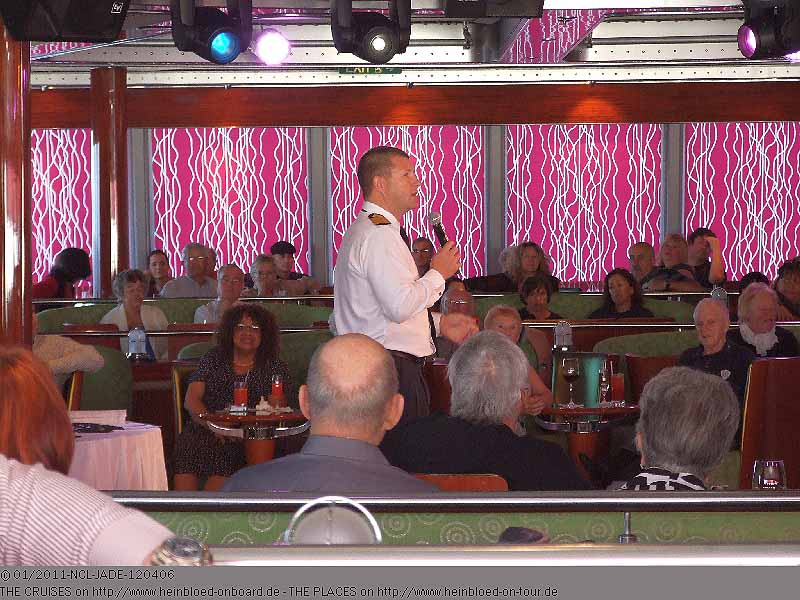 Dann kam Kapitän Kim Karlsson und übernahm das Mikrofon...
... und stellte nochmals seine Senioroffiziere vor.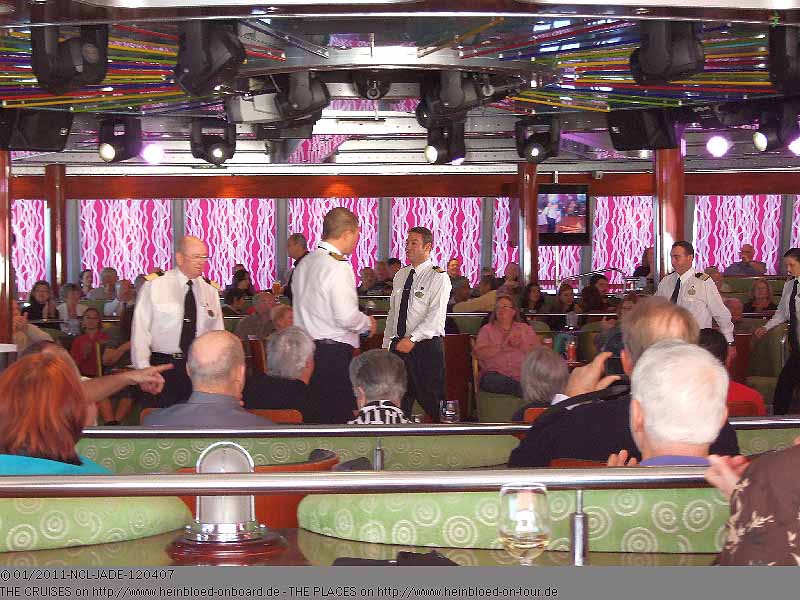 ... and introduced again his senior officers.

No more canapés. No idea if it was because of the GI and because of savings... As some of the bartenders from downstair need to help I was easily identified and got with requesting my Pepsi Light... You could win some prizes but as we do not drink champagne we did not show up. We got so much so that we could also grant something to others.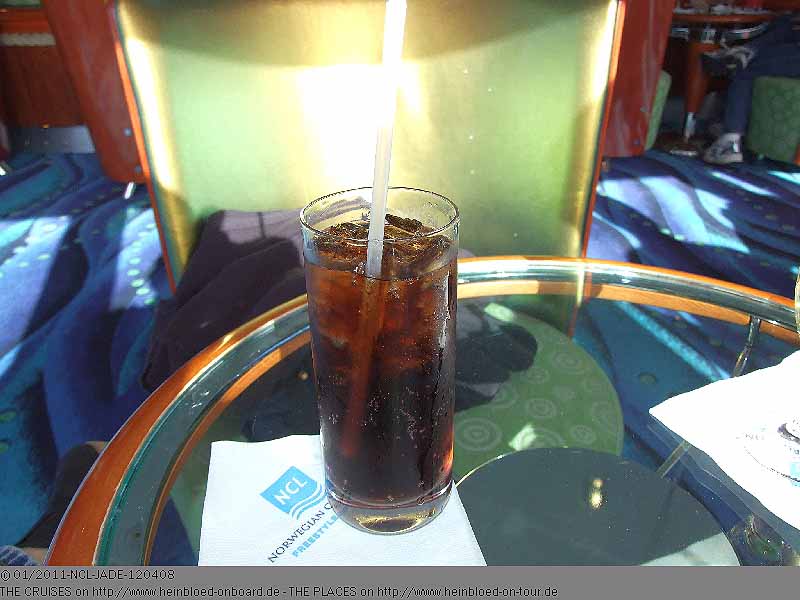 Es gab keine Canapés mehr. Entweder wegen GI oder weil gespart wurde... Da auch einige Bartender von unten aushelfen mussten, wurde ich schnell erkannt und bekam ohne Nachfrage meine Pepsi Light... Es gab noch ein paar Preise zu gewinnen, aber da wir ja eh keinen Champagner trinken, haben wir uns nicht gemeldet. Wir haben ja schon viel bekommen, dass wir auch anderen mal etwas gönnen können.
Den Rest des Nachmittags haben wir im Spa verbracht. Die 150 USD sind wirklich gut angelegt.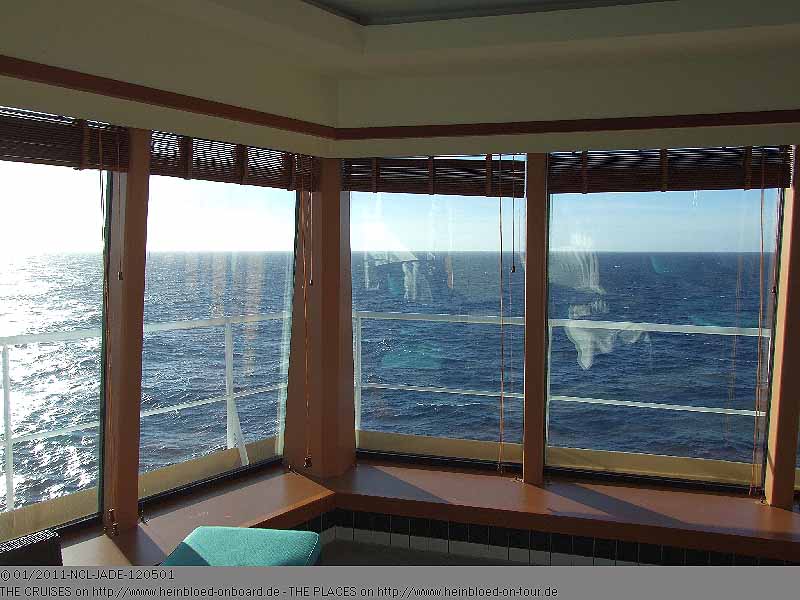 The rest of the afternoon we spent in the spa. The 150 USD were a great investment.

Watching a little TV...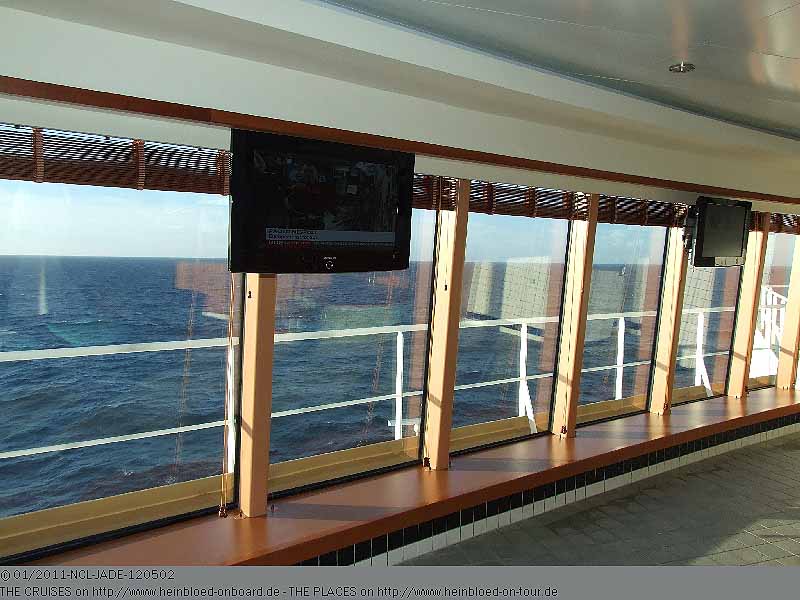 Wir gucken ein bisschen Fernsehen...
Wenn es wärmer ist, kann man auch der Crew beim Sonnenbaden zugucken...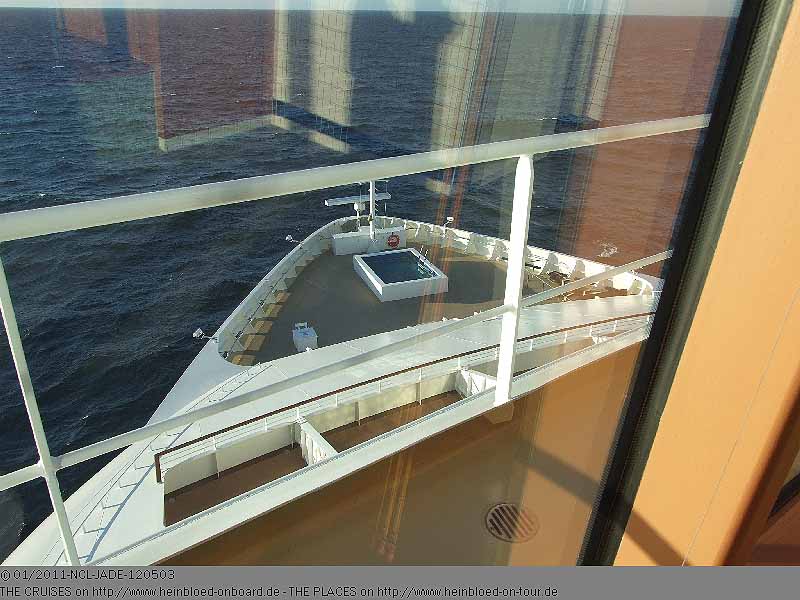 If it would be warmer you can see the crew sunbathing...

I would be interested to know how much you can see from outside... but the gym was too far away and in between treatment rooms.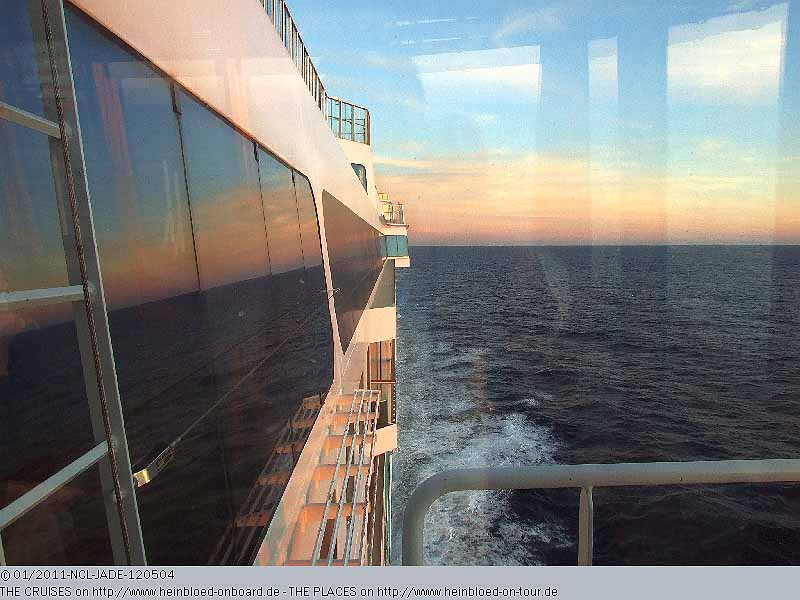 Mich würde ja interessieren, wieviel man eigentlich von außen sieht... aber das Fitness-Studio war schon zu weit entfernt und dazwischen liegen Behandlungsräume.
Auf den Besuch des Fitness-Studios kann ich bequem verzichten. Als ich etwas vergessen hatte, musste ich 280 m zum Heck und wieder 280 m zurück zum Bug... Und bei der Gelegenheit freue ich mich über Post von Les...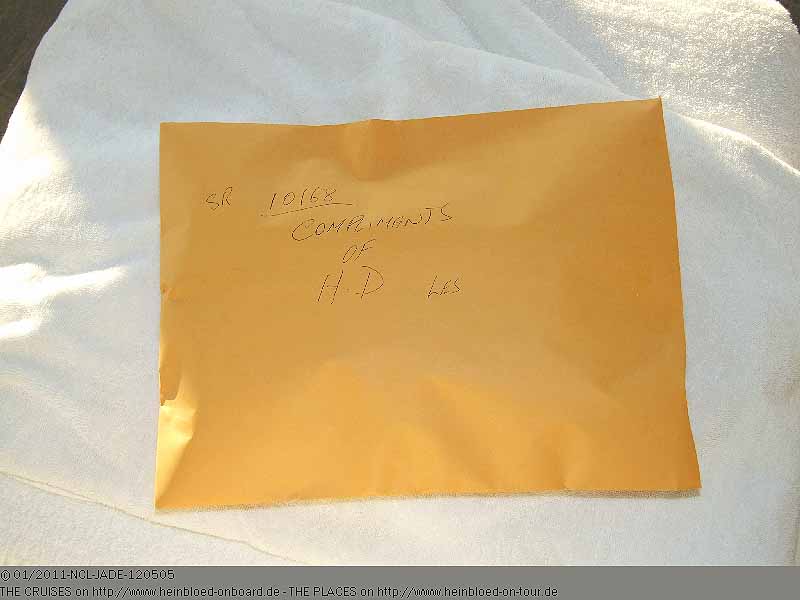 There was no need to see the gym. As I forgot something I need to walk to the aft 950' and return to the bow 950'... And so I was happy to find some mail from Les...

Finally a NCL-Polo-Shirt... one for the crew... but I will definately impress the others on CARNIVAL SPIRIT... On NCL-ships I better do not wear it... Just to make sure that I get a reprimend by the Staff Captain because I do not wear a name tag.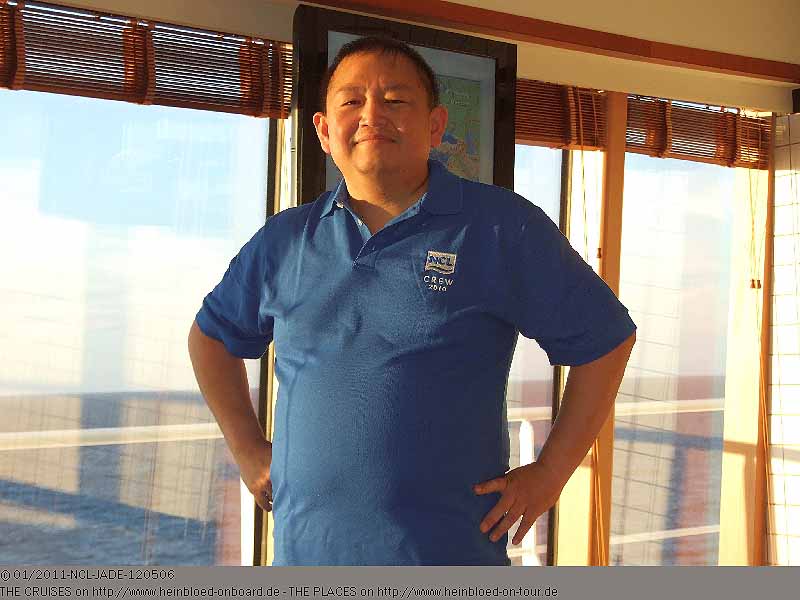 Endlich ein NCL-Polo-Shirt... eines für die Crew... aber damit werde ich bestimmt Eindruck auf der CARNIVAL SPIRIT schinden... Auf NCL-Schiffen werde ich es besser unterlassen, das zu tragen... Nicht, dass ich vom Staff Captain einen Anschiss bekomme, weil ich kein Namensschild trage...
Der Hauptgrund in den Spa zu gehen: Seit Alexandria erleben wir jeden Abend diesen tollen Sonnenuntergang. Sicherlich kann man ihn auch in der Spinnaker Lounge erleben...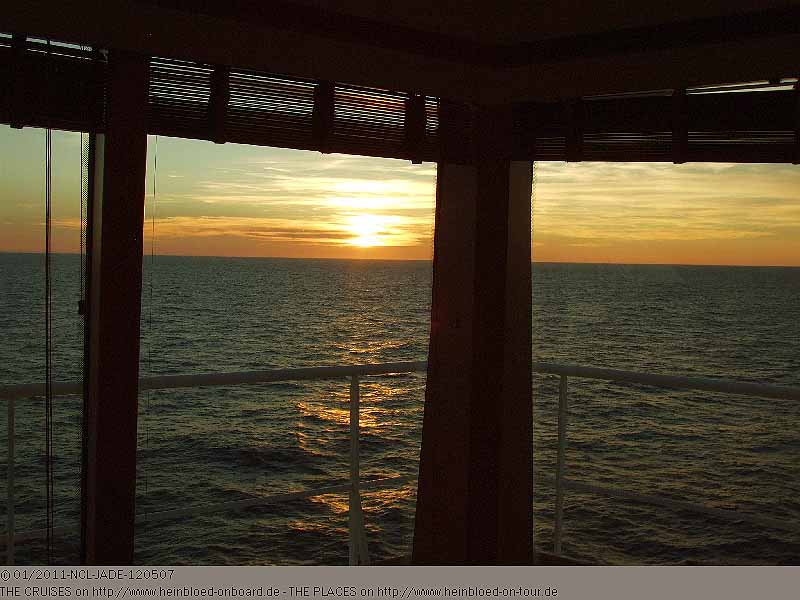 The main reason to see the spa: Since Alexandria you experience every night this beautiful sunset. Of course you could see it also from the Spinnaker Lounge...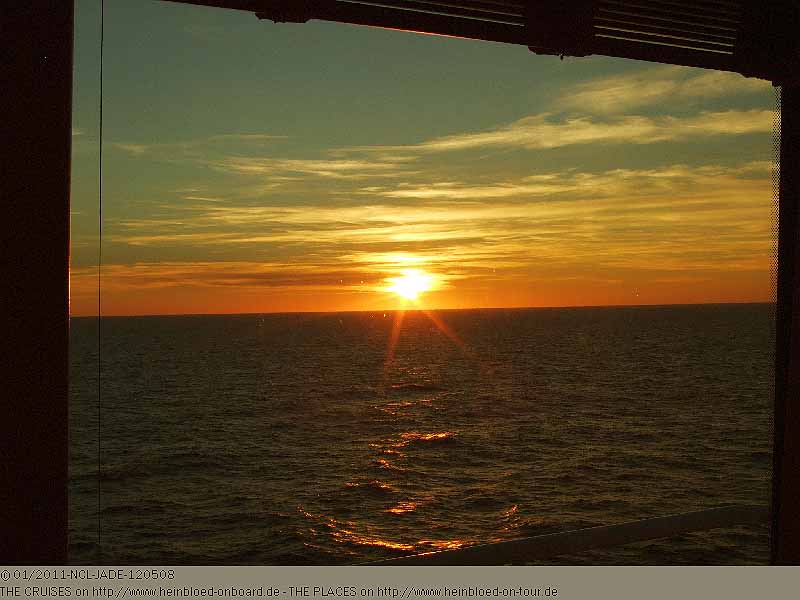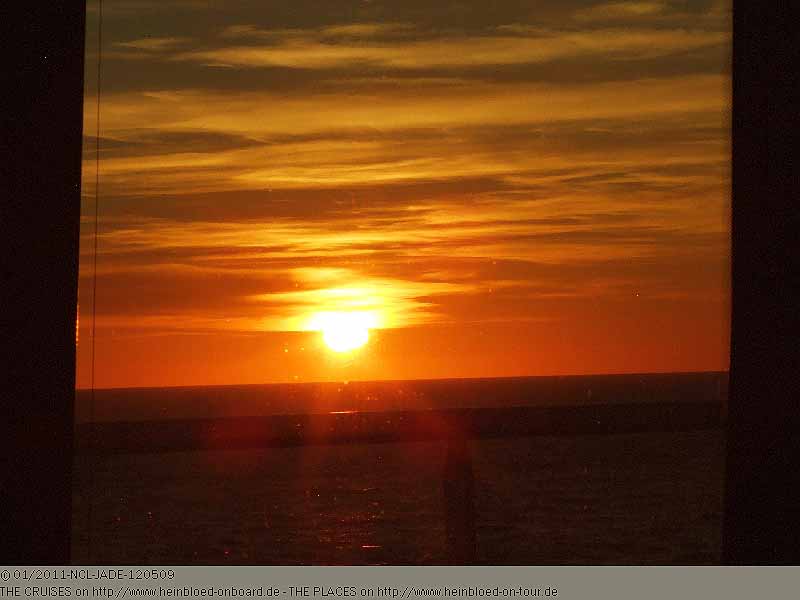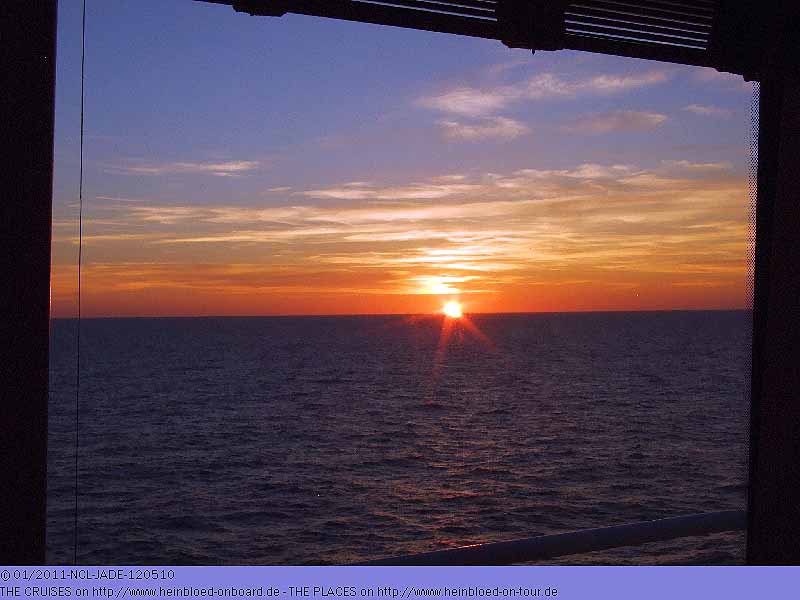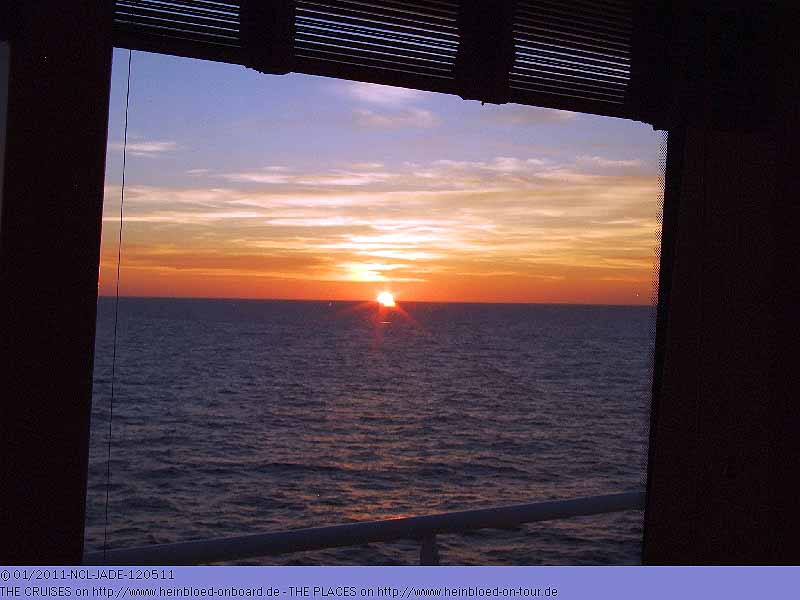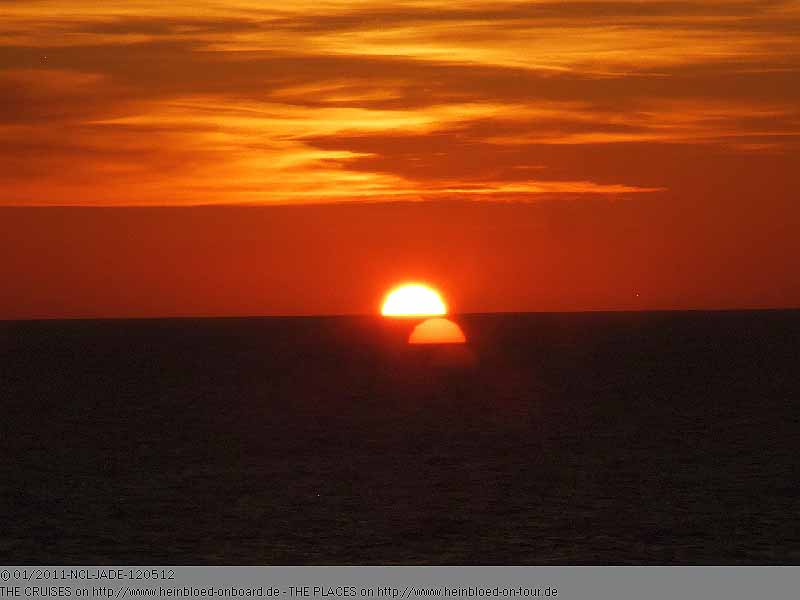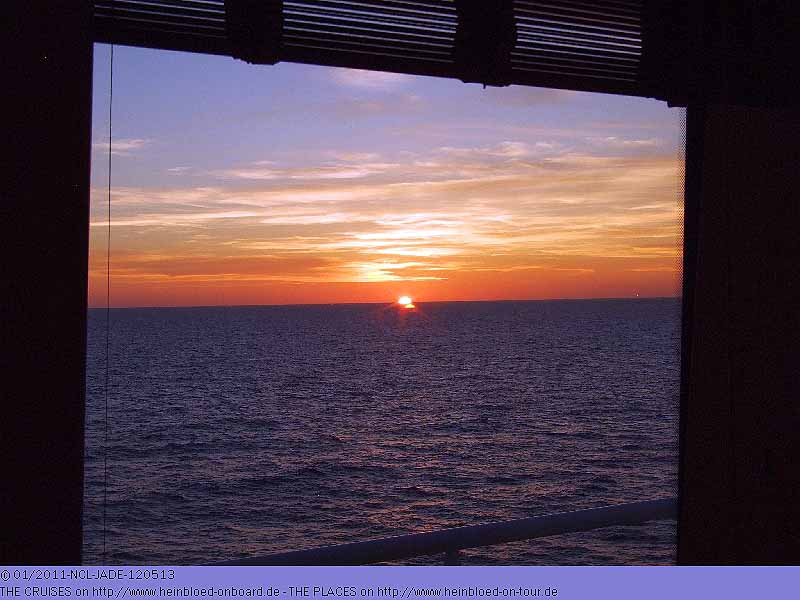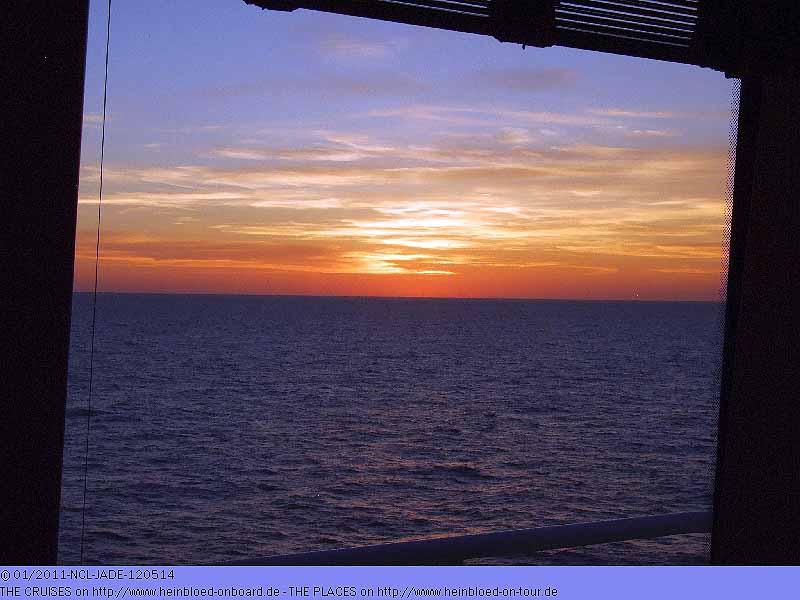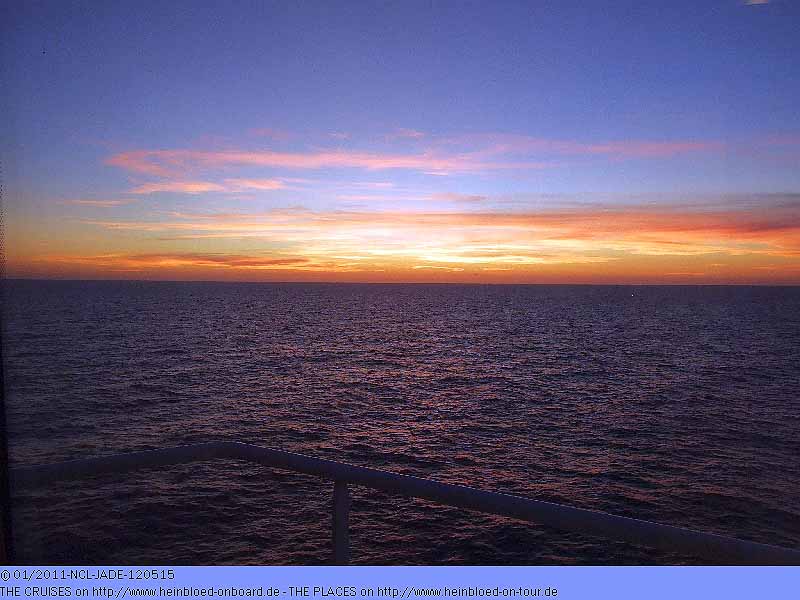 ... but there is no jacuzzi where you can sit in to enjoy the sunset...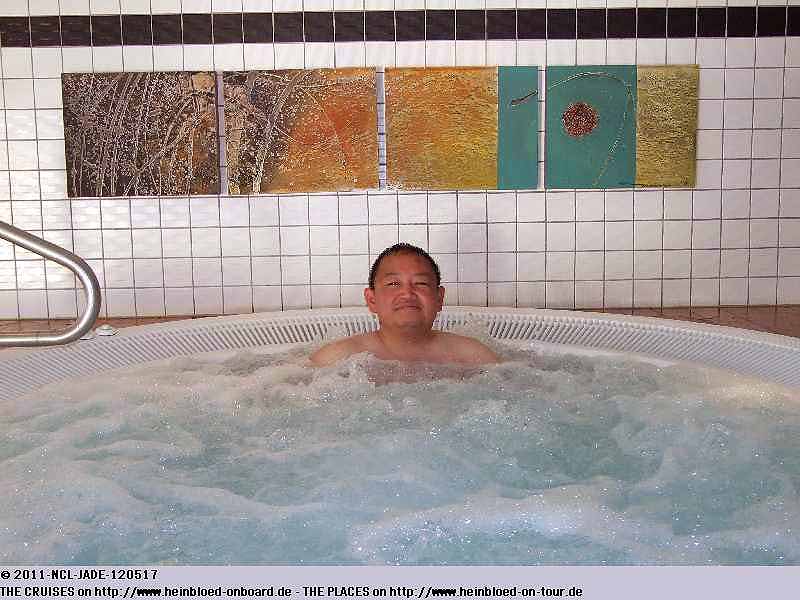 ... aber da gibt es keinen Whirlpool, in dem du sitzen kannst, um den Sonnenuntergang zu erleben...
Übrigens das ist Alain... Sein Titel "Utility Hotel"... einer der guten Geister, die so im Hintergrund arbeiten und ohne die das Schiff nicht funktionieren würde. Er hat Zentner von Handtüchern geschleppt, und damit dafür gesorgt, dass wir nicht nackt im Spa herumlaufen. Immer mit einem freundlichen Lächeln. Immer mit einem freundlichen Gruß. Wieder jemand, der leer ausgehen würde, wenn man die Service-Charge streicht und man nur seine Kellner (funktioniert ja beim Freestyle nicht...) und seinem Kabinenstewards bedenkt. Vielen Dank dafür, dass wir jederzeit uns im Spa sauwohl fühlen konnten.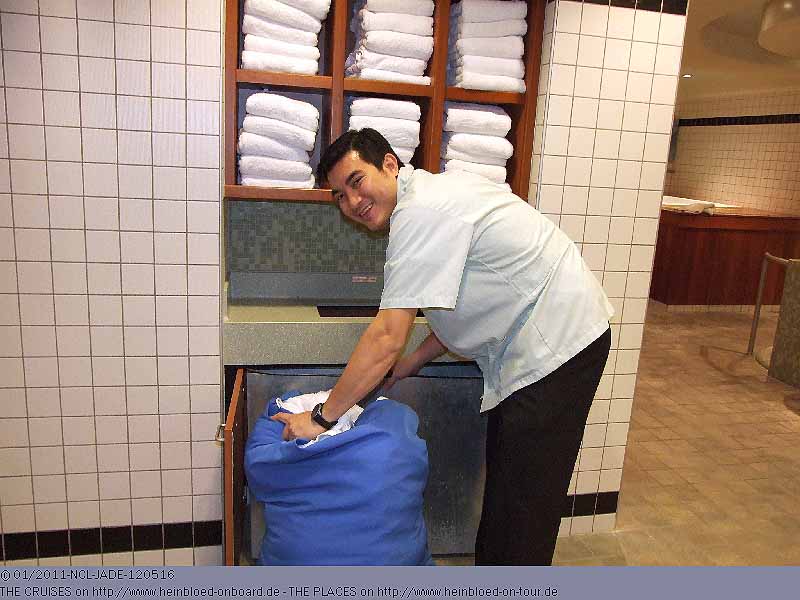 By the way I would like to introduce Alain... His title "Utility Hotel"... one of the good ghosts who are working in the background and without them the ship would not work. He must carried tons of towels and took care that we did not need to be naked in the spa. Always a friendly smile. Always a friendly greeting. Someone who would not get anything if you cancel the service charge and only tip your waiter (which does not work with Freestyle...) and his cabin steward. Thank you so much for letting us feeling "sauwohl" (the best expression for well you can have in German - felling well like a sow) in the spa.