Scroll down for English explanations - alternates with German explanations.

Carol, der Traum meiner schlaflosen Nächte... Ich freue mich für sie, dass sie nun befördert wurde und daher ihr eigenes Reich hat. Dieses Mal erinnert sie sich an mich... Wir kaufen direkt einen Cruise Reward und buchen NORWEGIAN SPIRIT für Januar 2013...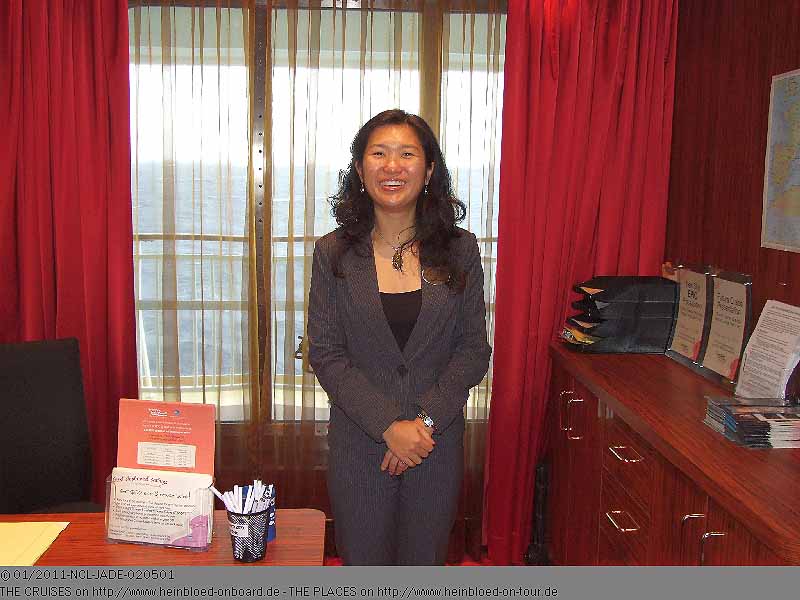 Carol, the dream of my sleepless nights... I am really happy for her that she got promoted and had now her own kingdom. This time she remembered me... We book a cruise reward and book NORWEGIAN SPIRIT for January 2013...

She was checking my records and were surprised that I am only Latitudes Gold but had 14 cruises on NCL. So I should be Platinum. I explained that we were on one occassion guests of NCL. She said that this can be ignored somehow and made sure that I got my new status Platinum as I will it become anyway at the end of this cruise and due to my new bookings. It felt great. And maybe this is exactly the reason why prefer to go on NCL: They treat us great. So that's why they deserve the majority of our loyalty. One plan just passed away: We will stay for October 2011 on NORWEGIAN JADE. I was thinking about to go on VOYAGER OF THE SEAS instead as they have an overnight stay in Venice. Carol convinced me to stay and it costed her a smile and a phone-call. So I am willing to pay my hotel room for the pre-cruise in Venice - otherwise I would had my room with RCI.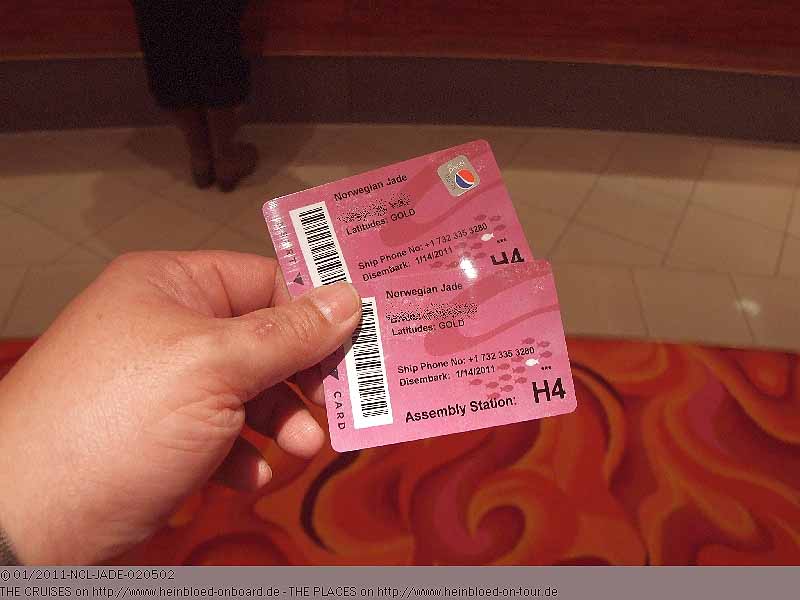 Sie guckt sich kurz meinen Status an, und wundert sich, dass ich Latitudes Gold bin, aber 14 Kreuzfahrten mit NCL stehen habe. Daher müsste ich doch Platin sein. Ich erkläre ihr, dass wir einmal Gast bei NCL waren. Sie meint nur, dass wir wohl darüber hinwegsehen können und sorgt dafür, dass ich zum Platin-Mitglied aufsteige, da ich es ja eh mit Ende der Fahrt geworden wäre und ja auch schon neu gebucht hatte. Es fühlt sich gut an. Und vielleicht ist das auch der Grund, warum wir lieber mit NCL fahren: Sie behandeln uns einfach toll. Also gehört ihnen auch der größte Anteil unserer Loyalität. Ein Plan ist auf jeden Fall gestorben: wir bleiben im Oktober 2011 auf der NORWEGIAN JADE. Ich hatte u. U. in Erwägung gezogen, auf die VOYAGER OF THE SEAS umzubuchen, aber bloß, weil sie eine Übernachtung in Venedig an Bord haben. Carol hat mich überzeugt, dass ich bei NCL bleibe und es hat sie ein mildes Lächeln und einen Telefonanruf gekostet. Dafür zahle ich eben mein Pre-Cruise-Hotel in Venedig, das ich sonst bei RCI umsonst gehabt hätte.
Mit der neuen Karte (das bedeutet nicht, dass man auch eine Platin-Karte bekommt... die wiederum ist für die ECHTE-Suiten- und Villa-Gäste) kommt auch das Schreiben für die Platingäste.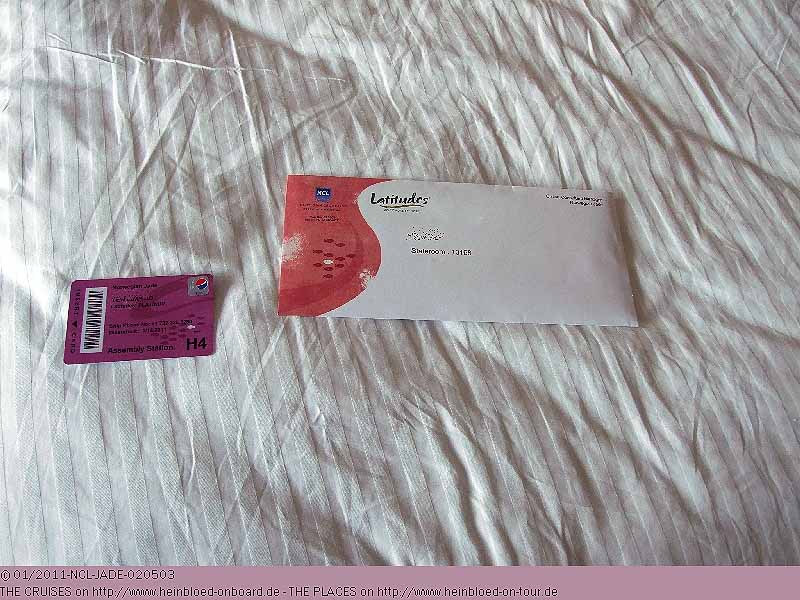 With a new card (it does not mean that you get a platinum card... they are limited to TRUE-Suites and Villa-guests) I got the letter for Platinum-Guests.

For the daily life it means that we will once per cruise guest in Le Bistro and our laundry will be done twice on this voyage for free. The "Behind-the-scenes"-Tour we knew from NORWEGIAN GEM. Totally it should be a good plan to become Platinum-Member as fast as possible and to stay with NCL. Just for a good order's sake: that we go sometimes with others just means that we need a confirmation how great the price-value-ratio is on NCL and mostly we stay with them. And they do not go everywhere... so we have a good excuse to be illoyal from time to time.

In der Praxis bedeutet das für uns, dass wir einmal Gast im Le Bistro sind und unsere Wäsche zwei Mal auf dieser Reise waschen lassen dürfen. Die "Behind-the-scenes"-Tour kennen wir ja von der NORWEGIAN GEM. Insgesamt ein erstrebenswertes Ziel möglichst schnell Platin-Mitglied zu werden und immer schön bei NCL zu bleiben. Nur der guten Ordnung halber: weil wir eben auch mal zwischendurch mit anderen fahren, wissen wir eben das Preis-Leistungs-Verhältnis bei NCL zu schätzen und bleiben überwiegend bei ihnen. Sie fahren ja nicht überall hin... daher aben wir auch eine gute Ausrede für unsere Untreue...
Jemand ist unsere Kabine eingebrochen und hat die Kaffeemaschine und den Eiskübel geklaut... Später erfahren wir, dass wegen des Norovirus-Alarms diese Sachen vorübergehend nicht zur Verfügung stehen... Für uns aber eh kein Problem: Wir bestellen im Restaurant ja immer Eiswasser ohne Eis und da ja nur Bruno Kaffee trinkt, vermisse ich die Maschine nicht so sonderlich... Er übrigens auch nicht, da es nur amerikanischen Kaffee aus Riesenpads gibt und er den sonderlich nicht mag...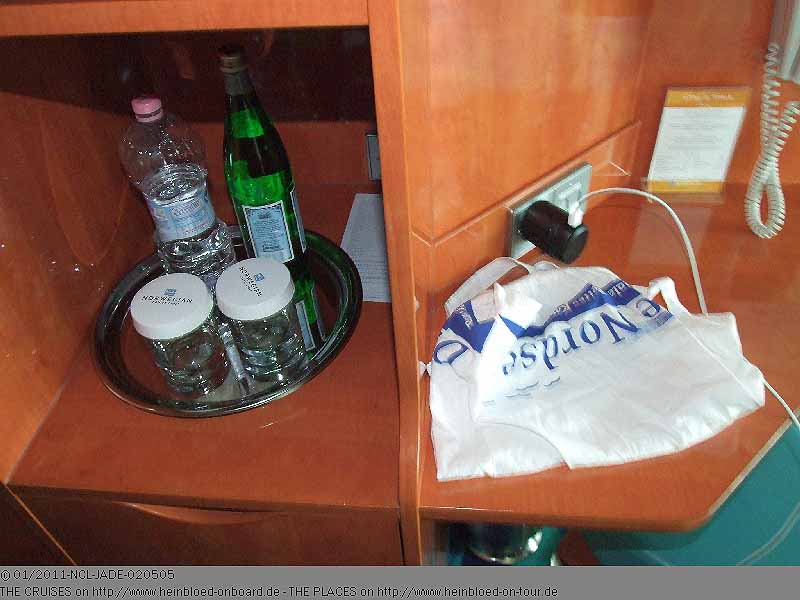 We had a burglar in our cabin... Somebody stole our coffee machine and the ice bucket... Later we learned that it has something to do with the norovirus alert that you cannot have it temporary... For us it was no problem: We order always ice water without ice and only Bruno drinks coffee... So I am not missing the machine too much... By the way he either as he does not like too much the American coffee from the giant-pad.

We asked for a shoe mint. Then it was standard... Today only on request... It was always the small things which made the difference with NCL...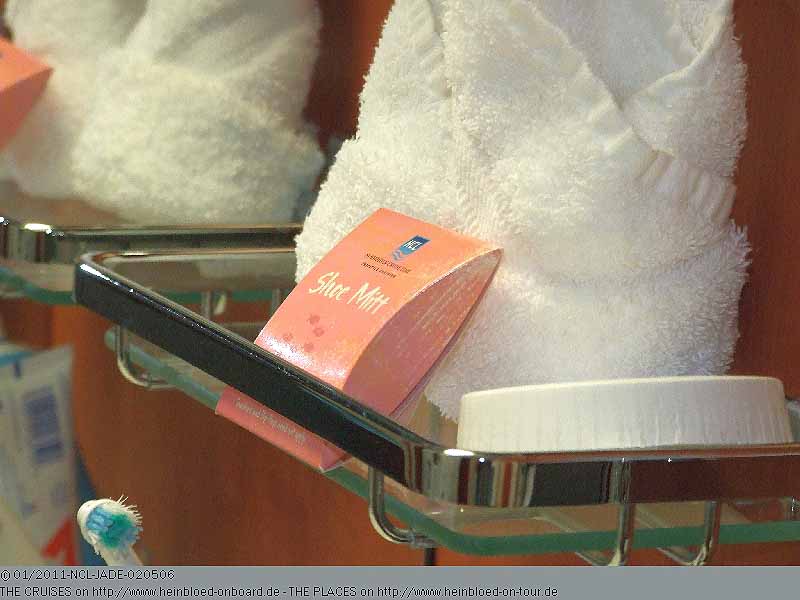 Wir hatten nach einem Schuhputztuch gefragt. Früher selbstverständlich... Heute leider nur noch auf Anfrage... Es waren immer die kleinen Dinge gewesen, die NCL von anderen unterschieden hat...
Das Wetter lädt leider nicht zum Verweilen auf dem Balkon ein...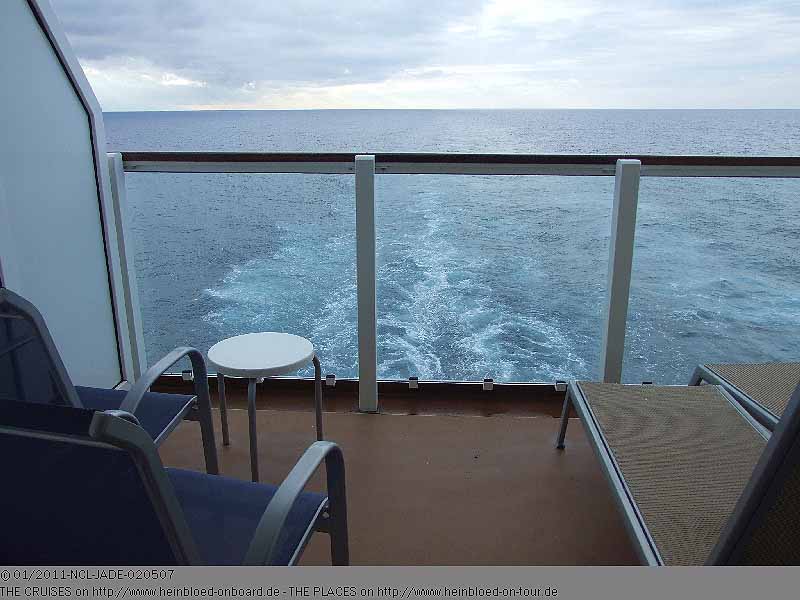 The weather was not very inviting on the balcony...

We would not had any pleasure either due to the smokers without respect who thought to dispose their ash over the railing...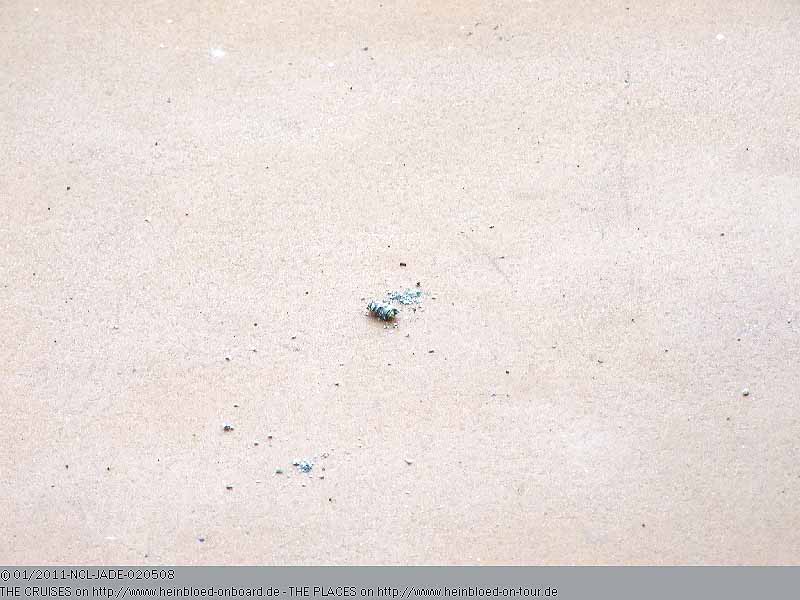 Hätte eh keinen Spaß gemacht, bei den rücksichtslosen Rauchern, die meinen über die Railing ihre Asche entsorgen zu müssen...
Alles naß... niemand ist draußen... daher ist das Schiff im Innern recht voll...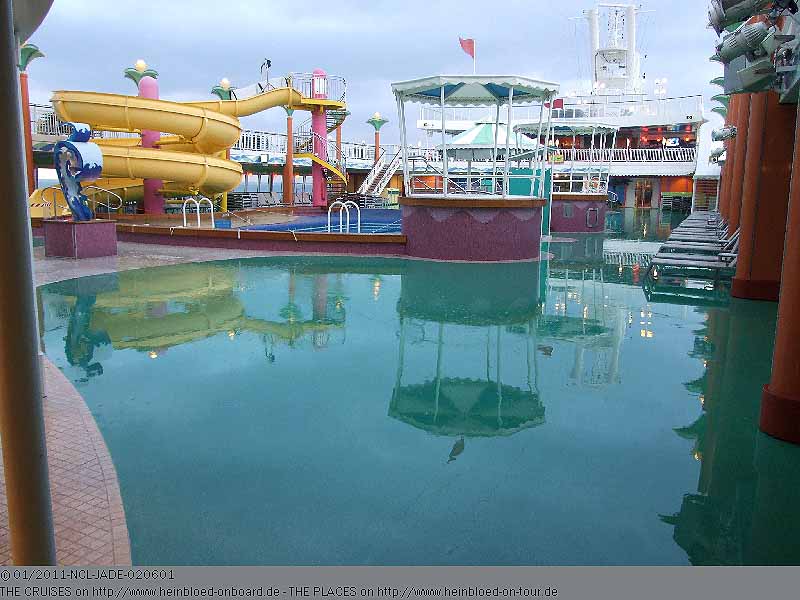 All wet... nobody outside... so the interior of the ship is quite crowded...

In the Garden Café everything was changed to Silverservice...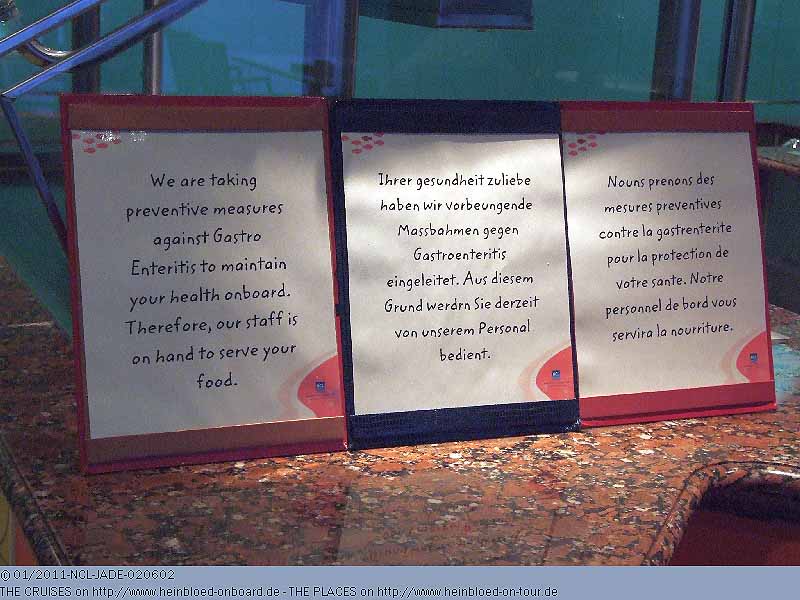 Im Garden Café ist alles auf Bedienung umgestellt worden...
Alles wird einem übergereicht... übrigens, falls es die Seafood-Balls gibt... Die sind echt klasse...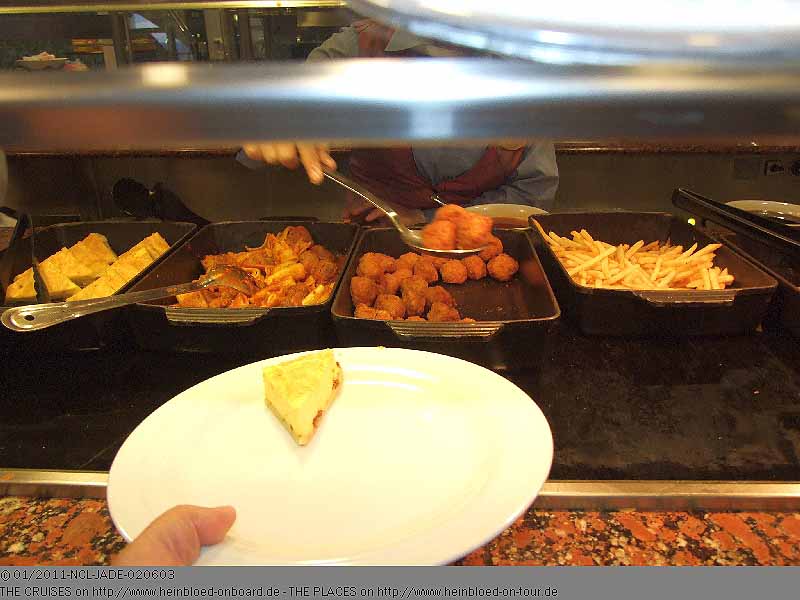 Everything was handed over... by the way, if there are seafood-balls available... totally great...

I am not the cake lover in the afternoon so I preferred a hearty snack but not every afternoon...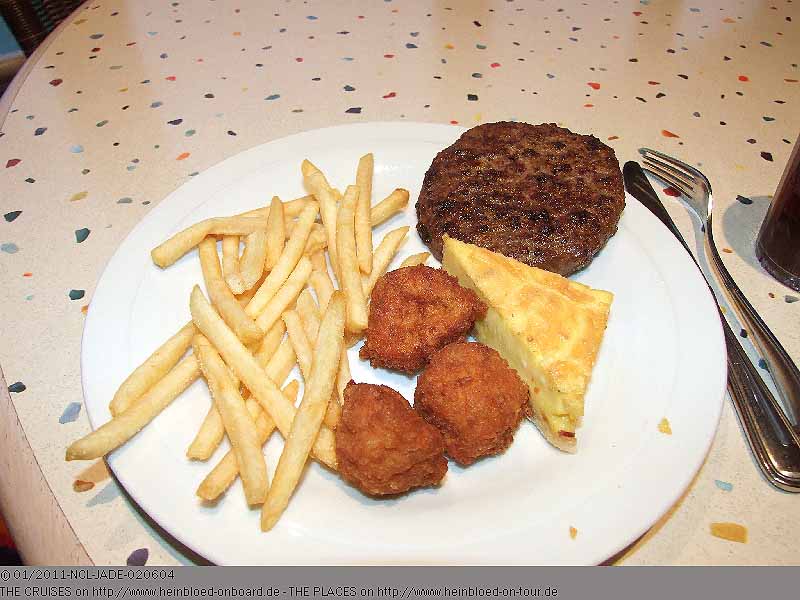 Ich bin ja nicht so der Kuchenesser, deswegen freue ich mich nachmittags auf etwas herzhaftes... aber nicht jeden Nachmittag...
Bruno wollte eigentlich einen Kaffee an der Aloha Bar zu sich nehmen. Aber es spielt gerade einer Senioren-Tanztee-Musik... mit dem Erfolg: alle Tische belegt und niemand konsumiert... und diejenigen, die konsumieren wollen, bekommen keinen Platz... sie hätten doch eine Heavy-Metal-Techno-Band für den Nachmittag engagieren sollen... Dann hätten wir bestimmt Platz gehabt... Also gehen wir ins Blue Lagoon Café. Dort will der Bartender uns wieder ins Aloha Café schicken, weil er uns erklärt, dass es dort den besseren Espresso gibt. Als wir erklären, dass wir leider unten keinen Platz finden, sorgt er dann dafür, dass Bruno seinen doppelten Espresso bekommt.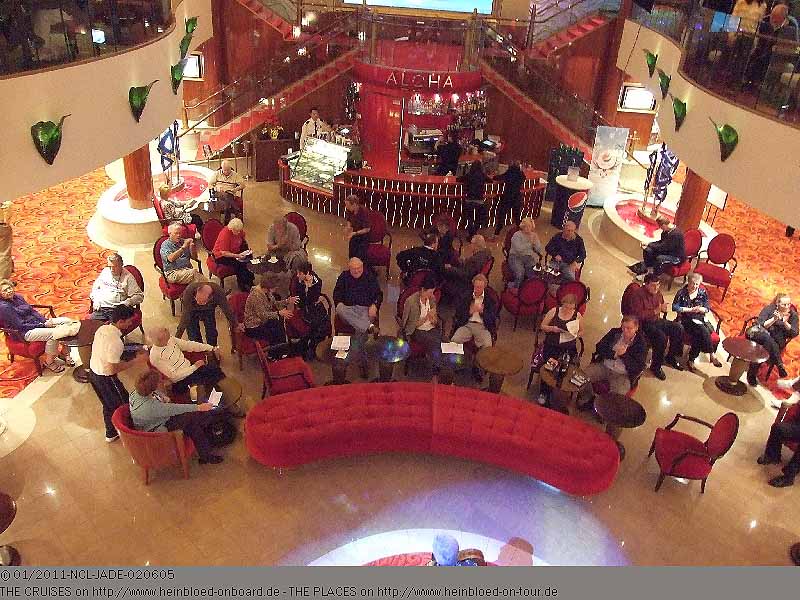 Bruno wanted to have some coffee at the Aloha Bar but there was just Senior-Dance-Teaparty-Music... with following success: all tables were taken and nobody drank... und those who wanted to drink got no seats... they should hire a heavy metal techno band for the afternoon... Then we might got seats... So we went to Blue Lagoon Café. There a bartender want to send us back to Aloha Café as he explained that we get there a better espresso. When we explained that we could not find any seats he took care of Bruno's double espresso.

In the afternoon we went to the spa and recover a little. I did not take care of a skin wound which I had next to my eyes so the steam bath boiled it so I need to leave it soon. Thereafter we went to the meeting of the Friends of Dorothy. For all who have no idea what happens there... Nudist party with a lot of fun... Was it is what you would like to hear??? No - it works very civilized: you meet, have a drink together und talk to each other - that works same with single travellers, dry alcoholics (Friends of Bill W.), Bridge- and Mah-Jong-Players. Everybody is welcome and you must not be a Friend of Dorothy. Tolerance is all you need. There are no pictures of the meetings as not everyone can afford to be outed ashore. But you find us in the Star Bar left from the Cagney's.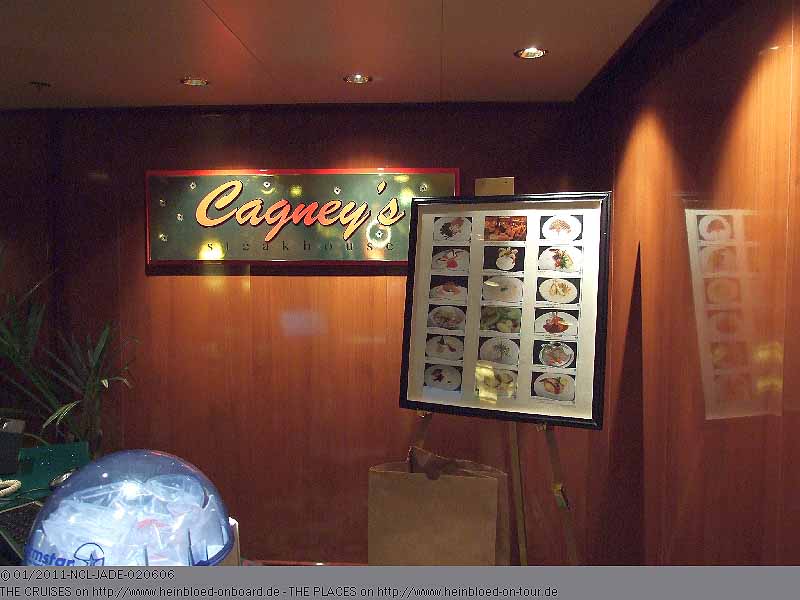 Nachmittags gehen wir in den Spa und erholen uns dort ein wenig. Leider beachte ich nicht die Hautwunde, die ich am Auge habe und verbrühe mich im Dampfbad, so dass ich bald da wieder raus muss. Danach gehen wir zum Treffen der Friends of Dorothy. Für diejenigen, die nicht wissen, was dort passiert... Nacktparty mit viel Spaß... Das war doch das, was Ihr hören wolltet - oder??? Nein - es geht ganz zivilisiert zu: man trifft sich, trinkt ein Glas und unterhält sich - das ist alles, so wie bei den Runden für Alleinreisende, trockene Alkoholiker (Freunde von Bill W.), Bridge- oder Mah-Jong-Spieler. Und jeder ist willkommen und muss kein Friend of Dorothy sein. Toleranz ist alles. Nur da nicht jeder unbedingt in seinem Leben an Land dazu öffentlich bekennen kann, gibt es keine Bilder von diesen Treffen. Aber ihr findet uns in der Star Bar links vom Cagney's.
Für den Abend haben wir einen Tisch im Jasmine Garden gebucht. Mich erwartet der "frecheste" Kellner von NCL: Andrew

For the night I booked a table at Jasmine Garden. I was expected by the "most terrible" waiter on NCL: Andrew

Then I had my Celebrity T-Shirt on and he just said that I could not stay on the ship with this T-Shirt... So he made us all laughing on on NORWEGIAN JADE in 2008.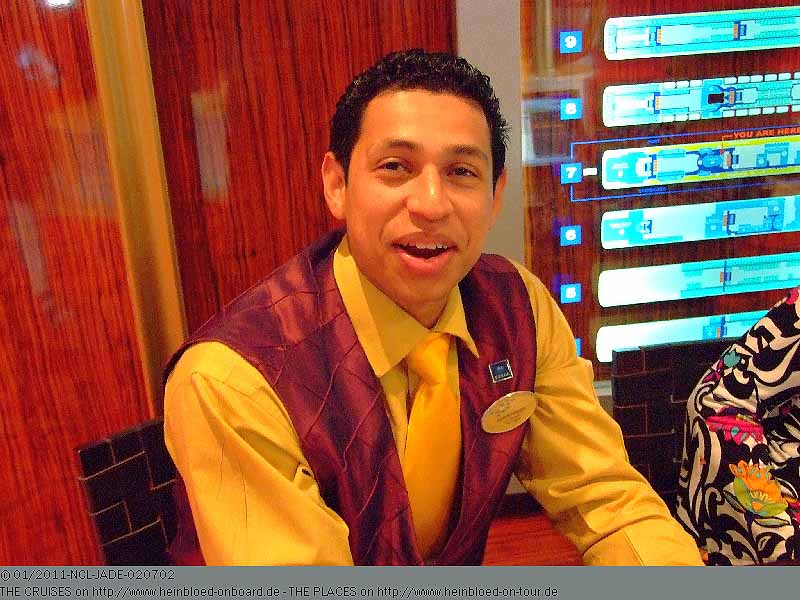 Damals hatte ich ein Celebrity T-Shirt an und er meinte bloß, dass ich damit nicht an Bord darf... Damals
2008 auf der NORWEGIAN JADE
hat er uns alle zum Lachen gebracht.
Heute bringe ich ihn wieder zum Lachen und zeige ihm, was ich unter meinem neutralen Hemd anhabe... Und das ist das was ich an NCL so schätze: es gibt eine persönliche Nähe und eine professionelle Distanz und wenn wir beide darüber lachen können, dann ist das für mich das beste Verhältnis zwischen Gast und Crew.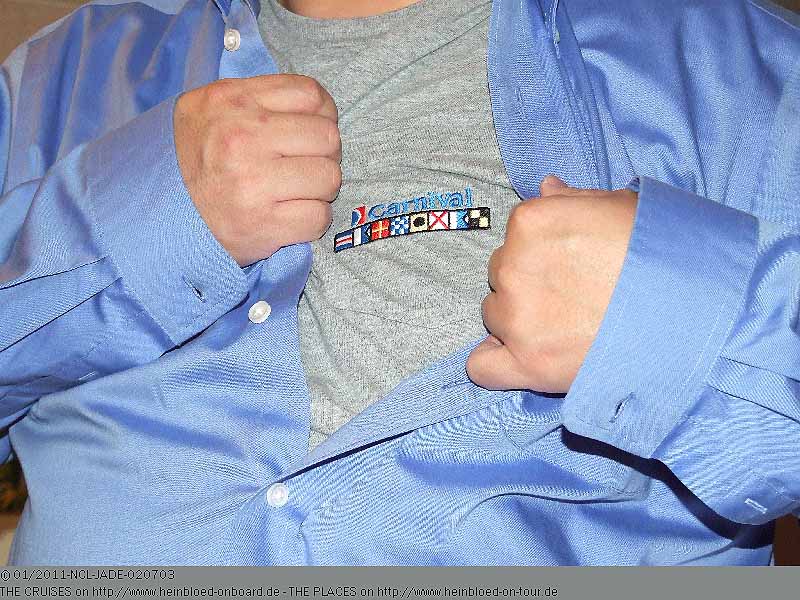 Today I made him laughing when I showed him my t-shirt which I weared under the neutral shirt... And that is what I appreciate with NCL: you have a personal friendship but a professional distance and if we both can laugh then we had the very best relationship between guest and crew.

But we need to ask the Maître to see us... Downstairs there were live music... and here we had the shopping mall-elevator-music from the loudspeakers... That did not fit together... They turned off immdiately the shopping-mall-elevator-music.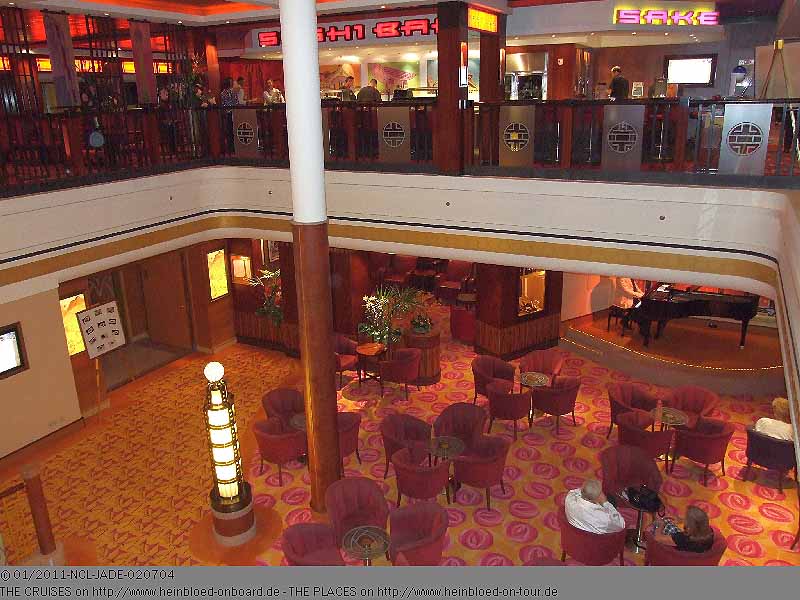 Leider müssen wir doch mal den Maître zu uns bitten... Unten spielt Live-Musik... oben kommt die Kaufhaus-Fahrstuhl-Musik aus dem Lautsprecher... Das passt nicht. Sofort wird die Kaufhaus-Fahrstuhl-Musik abgeschaltet.
Jedes Böhnchen gibt ein Tönchen... aber zum Glück haben wir eine Balkonkabine... da ist es nicht so schlimm...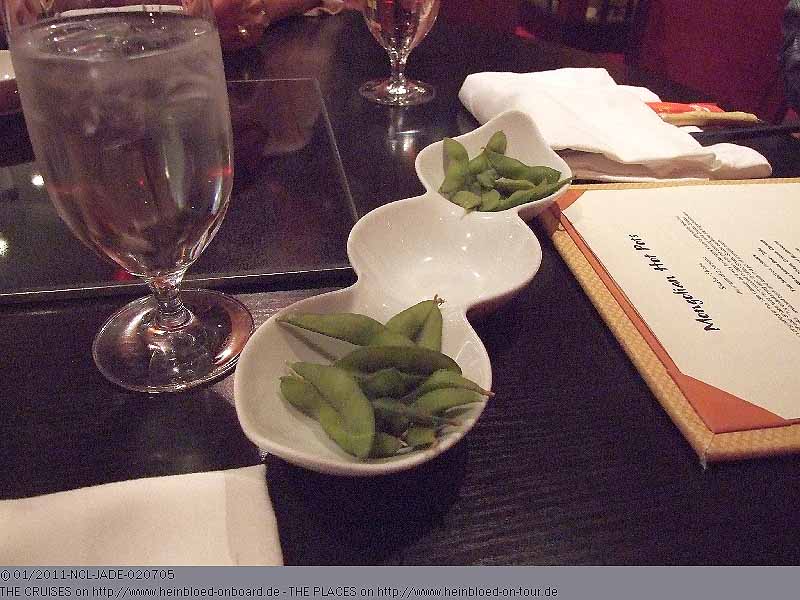 Every little bean makes a little noise... but we had a balcony cabin... so it was not too bad...

I loved the seaweed-salad....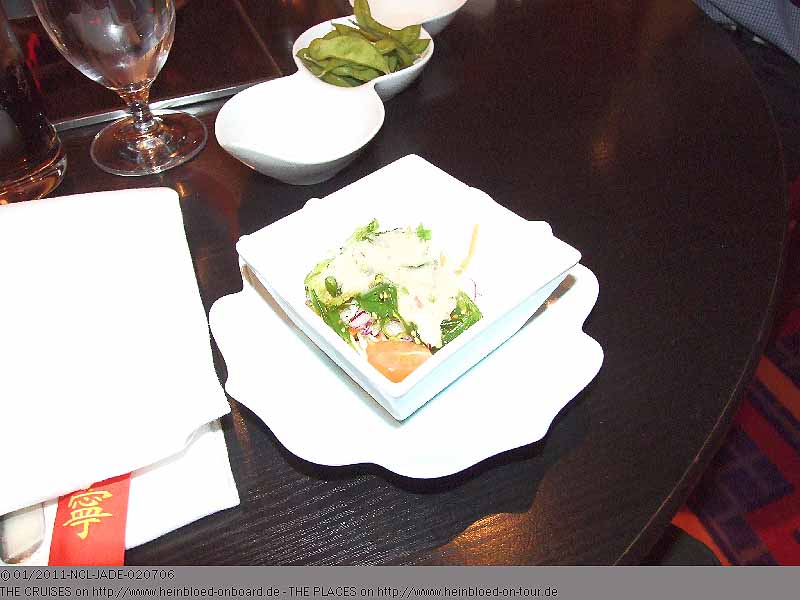 Den Seetang-Salat liebe ich...
Das Shabu-Shabu, das wir für 15 USD pro Person bestellen ist sehr kalorienarm, wie man sieht... leere Teller...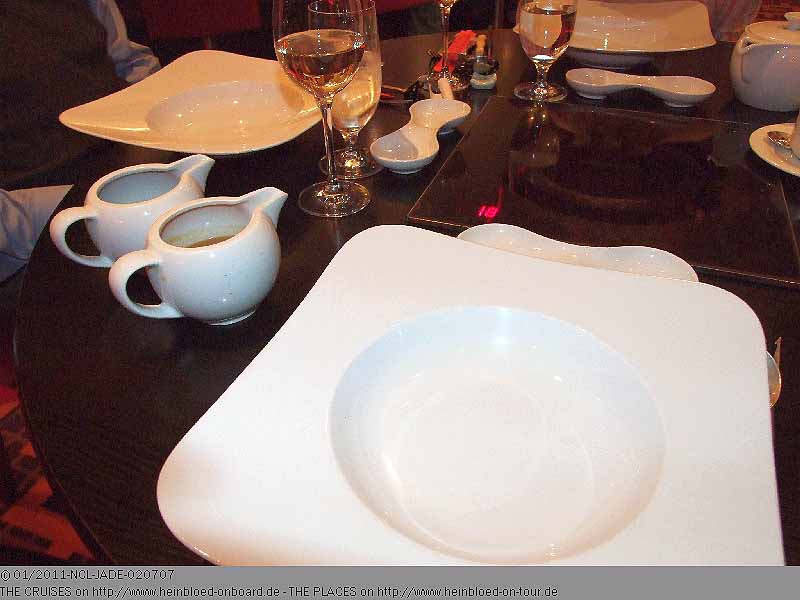 The Shabu-Shabu I ordered for 15 USD per person has no calories as you can see... empty plates...

In the center of the table you have an induction stove.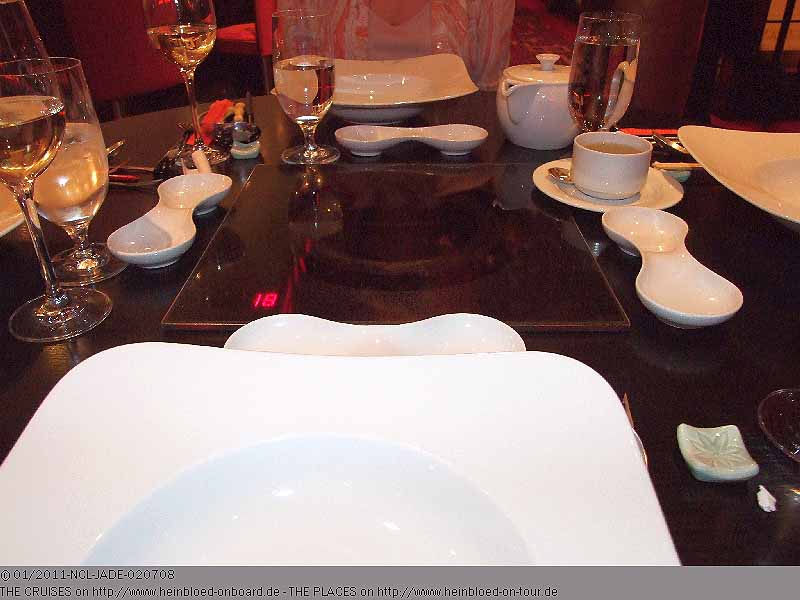 In der Mitte des Tisches steht eine Induktionsherdplatte.
Wir bekommen eine Platte mit Rindfleisch in hauchdünnen Scheiben und verschiedene Gemüse und Nudeln...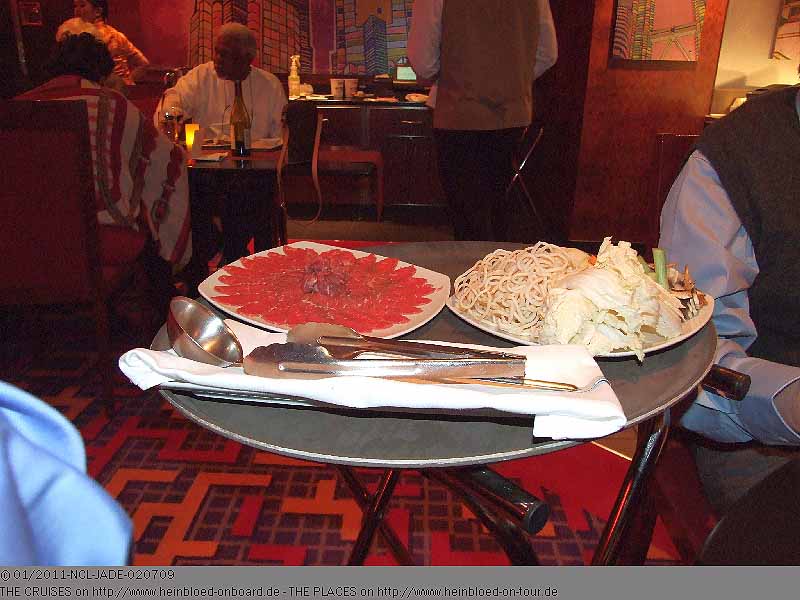 We got a plate with thin-sliced beef and various vegetable and noodles...

Then a Mongolian hot pot came...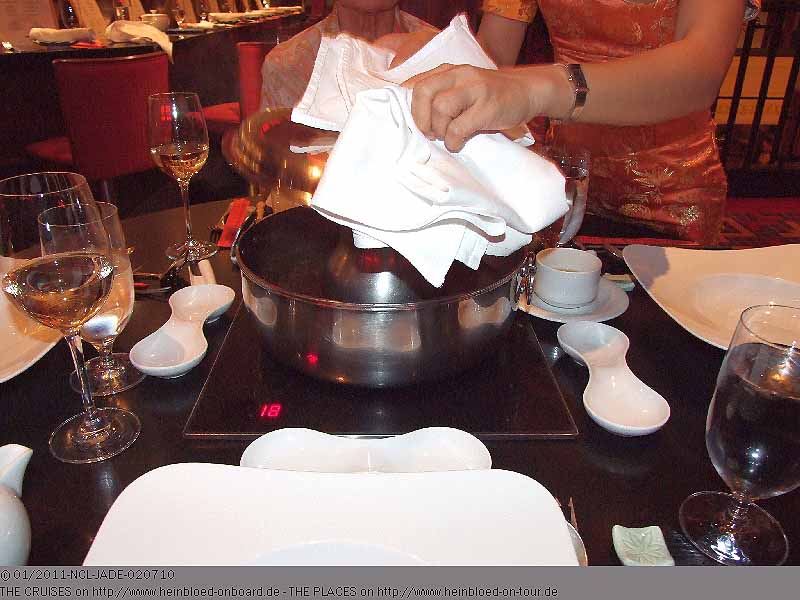 Dann kommt ein mongolischer Feuertopf...
mit Hühnerbrühe (alternativ kann man auch Fischbrühe haben).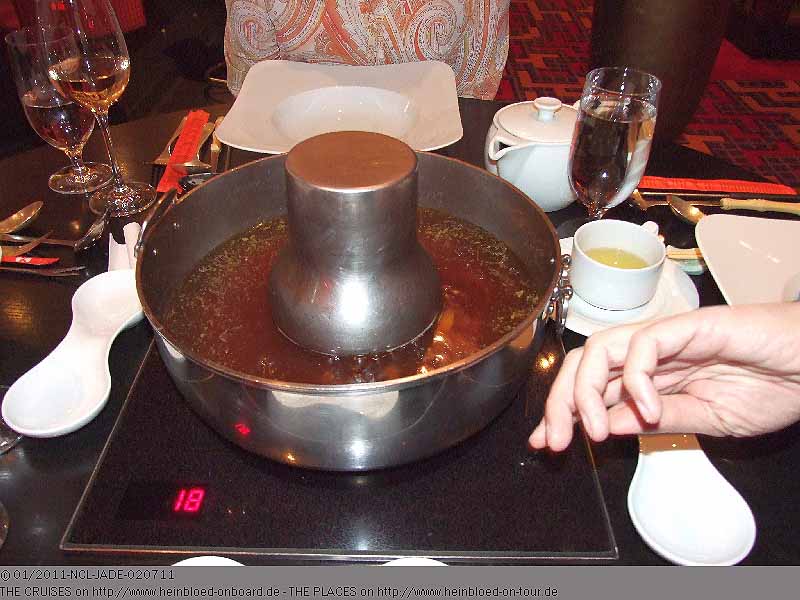 with chicken broth (you may also have fish broth).

First you have all the meat in the pot. Andrew offered us to have some more chicken. If you are full of the meat you can just put the left overs in the pot. Then you add the vegetables and finally the noodles. Last not least you had the very tasty soup in the soup plates. Unfortunately I was not fast enough to secure the pot and to have the last drops of the chicken soup in my cabin... it was just too fantastic.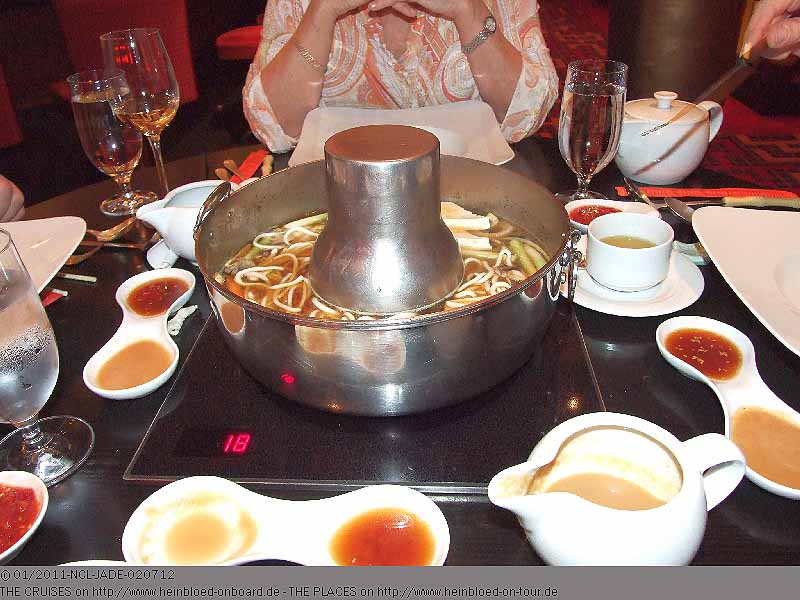 Zunächst verarbeitet man das Fleisch im Fondue. Andrew hat uns noch zusätzlich Hühnchen angeboten. Nach dem man vom Fleisch satt ist, schmeißt man einfach die übrigen Fleischstücke rein. Danach packt man das Gemüse dazu und am Schluss die Nudeln. Am Schluss wird dann die würzige Suppe aus den tiefen Tellern gegessen. Leider hatte ich schnell genug den Topf gesichert, um ihn mit auf die Kabine zu nehmen und die Hühnersuppe bis zum letzten Tropfen auszulöffeln... Sie war einfach fantastisch.
Andrew bietet uns zusätzlich zu dem Obstteller und grünem Tee-Eis, das es auch im Teppanyaki gibt, die Desserts an, die auf der regulären Karte vom Jasmine Garden stehen. Die nehmen wir auch. Keine Ahnung mehr, was das war, aber es schmeckte wie bei meiner Mutter.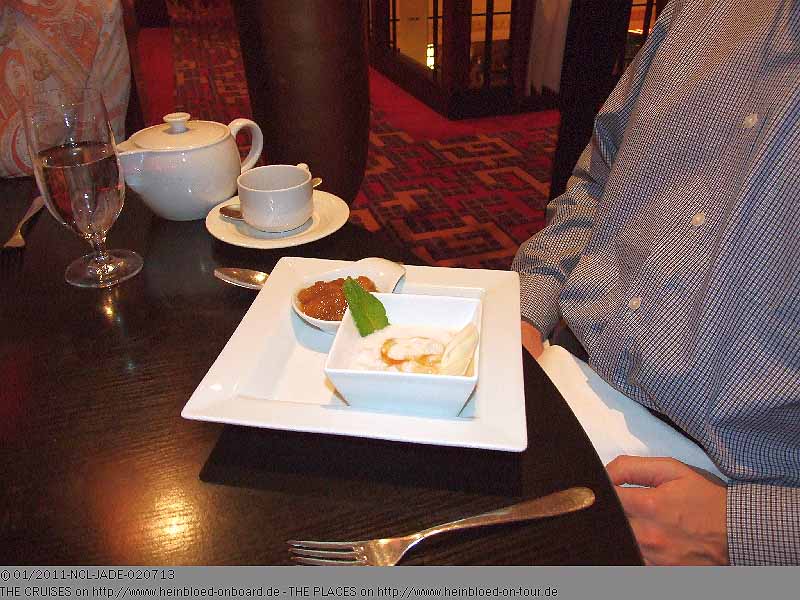 Andrew offered us additionally to the fruit plate and the green tea ice cream which you normally get with the Teppanyaki the deserts which are offered with the regular menus. Those were the ones we took. No idea what it was but it tasted like with my mother.

I took the three variations of Crème brullée... the green one made of green tea was my favorite... Honestly: it was very good... for 15 USD and with the knowledge of the price of the raw material I would personally expect few jumbo shrimps and few fish balls. It must not be very much more but I think it was little less too less... but maybe it was due to the fact that I frequently have it with my family and I know the values of the material.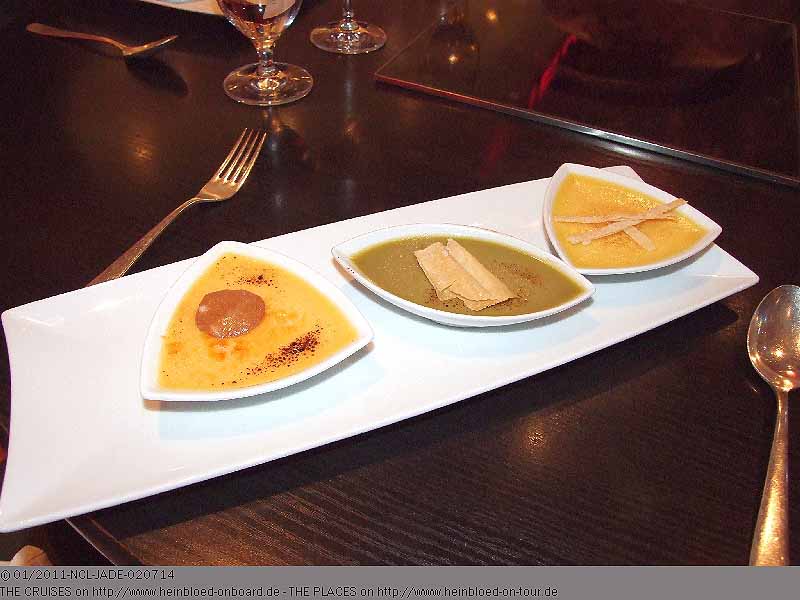 Ich nehme jedoch die dreierlei Crème brullée... das grüne aus grünem Tee ist das beste... Ganz ehrlich: es war sehr gut, aber für den Preis von 15 USD und dem Materialeinsatz, fände ich es persönlich gut, wenn es noch ein paar Großgarnelen und Fischbällchen dazu geben würde. Es muss nicht sehr viel mehr sein, aber ich persönlich fand es ein wenig zu wenig... liegt aber auch daran, dass wir nun in der Familie es öfters haben und ich daher weiss, wie die Verhältnisse so sind...
Da wir uns bei Andrew sehr wohl gefühlt haben, drängen wir nicht, um pünktlich in die Show zu kommen...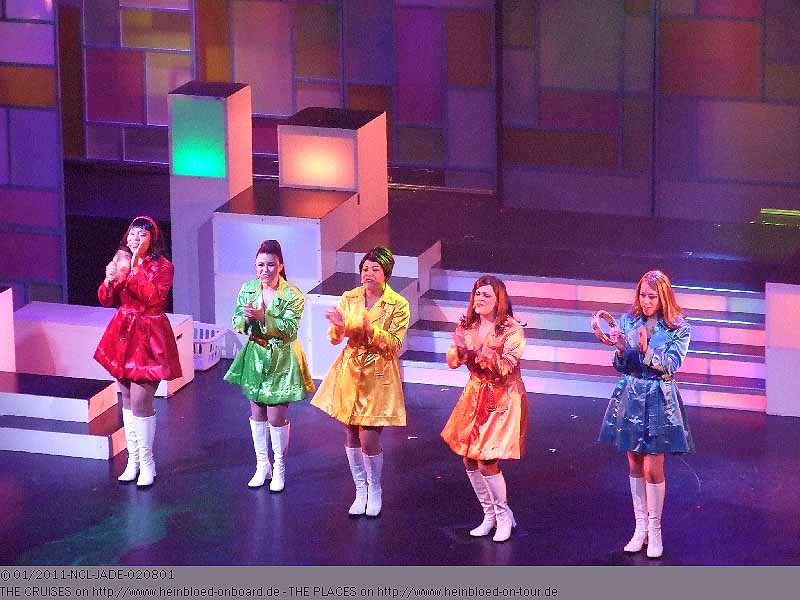 As we felt very comfortable with Andrew we did not make any pressure to be right on time in the show...

There was "Shout" - more or less Swinging London on stage...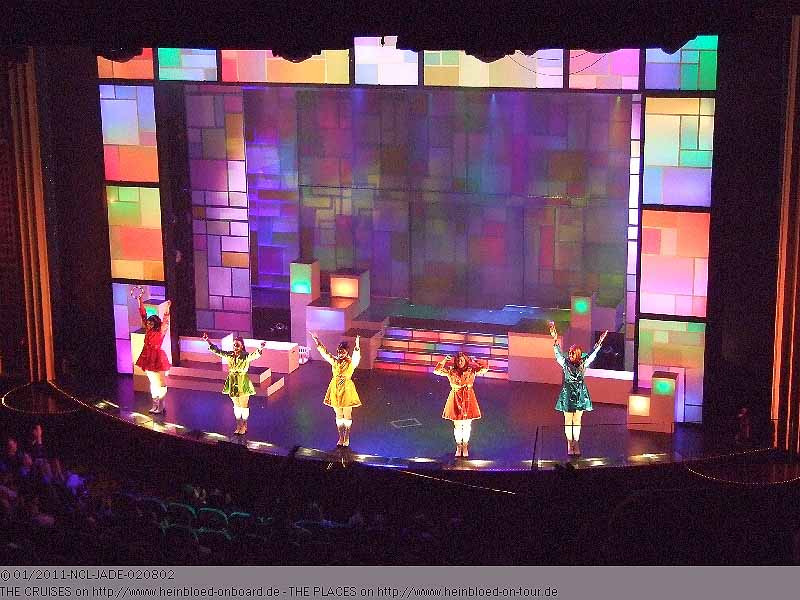 Es lief "Shout" - praktisch Swinging London auf der Bühne...
Selbst die letzten Stücke, die vor dem Finale liefen, lassen es mich bedauern, dass wir nicht pünktlich waren...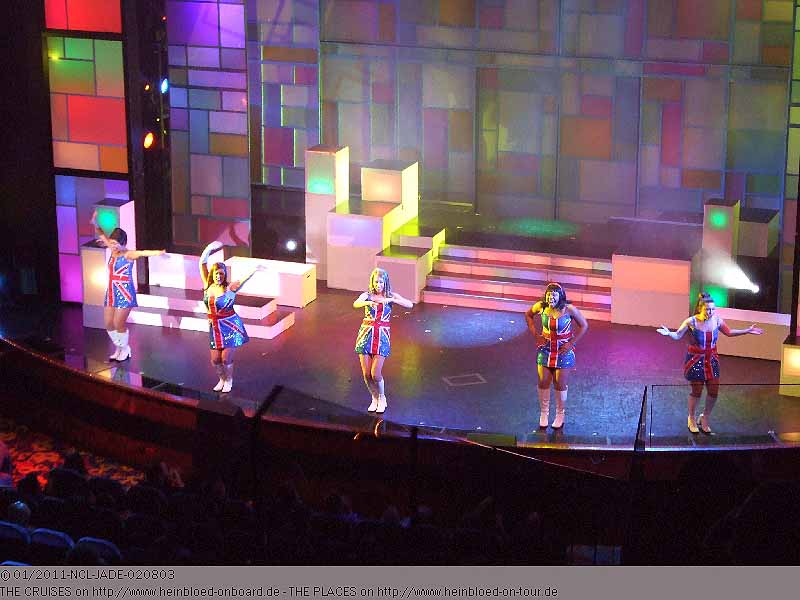 Even the very last pieces of music let me deeply regret that we were not there right on time...

But we are back again in October 2011 on board and we must need to find a more unfriendly waiter whom we can push to get right on time to the show: but this might be a mission impossible with NCL...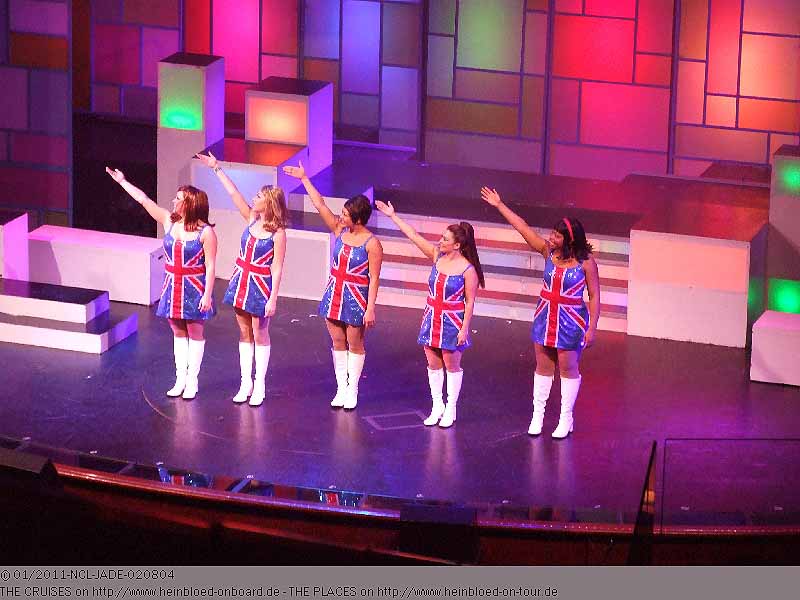 Aber wir sind ja im Oktober 2011 wieder an Bord und wir müssen uns dann einen ekelhafter Kellner suchen, den wir dann pushen können, damit wir pünktlich in die Show kommen: Eigentlich fast unmöglich bei NCL...
Wir gehen noch die Bar City und hören Adam James zu. Er spielt aber auch die Stücke, die wohl in der Show liefen. Nur einen Wunsch erfüllt er mir: "The Way You look tonight"... Bei "Midnight Train to Georgia" und "What becomes of the broken Hearted" kapituliert er...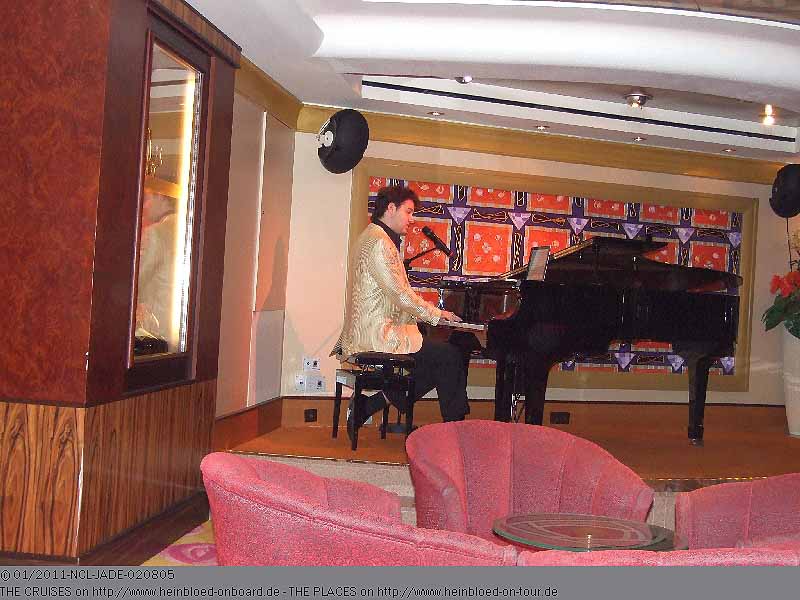 We went to the Bar City to listen Adam James. He played the same pieces of music like in the show. Only one request was accepted and sung: "The Way You look tonight"... With "Midnight to Georgia" and "What becames of the broken Hearted" he gave up...

The programme for the next day in Civitavecchia was waiting for us.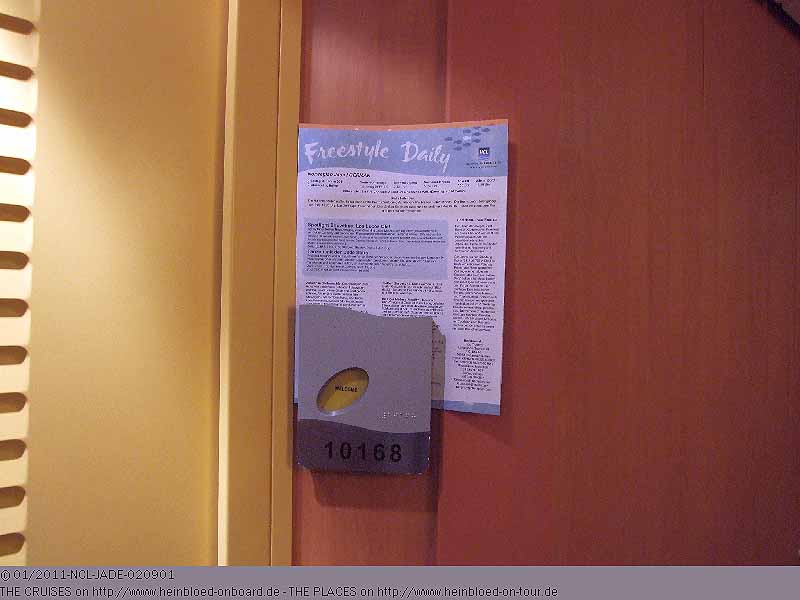 Das Programm für den nächsten Tag in Civitavecchia wartet auf uns.
Und kein Handtuchtier... schon wieder etwas eingespart bei NCL...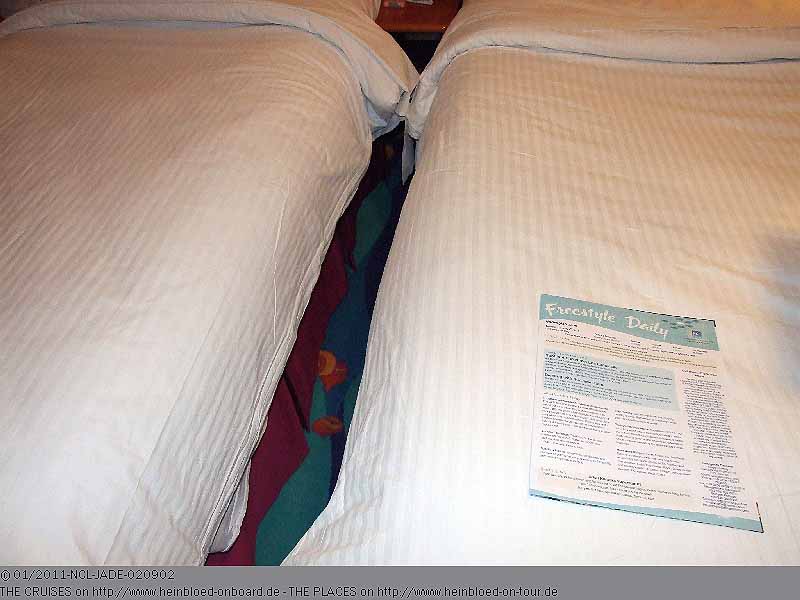 And no towel animal... cost cutting with NCL...