Scroll down for English explanations - alternates with German explanations.

Auf zum Frühstück... aber nicht bei Starbucks Coffee...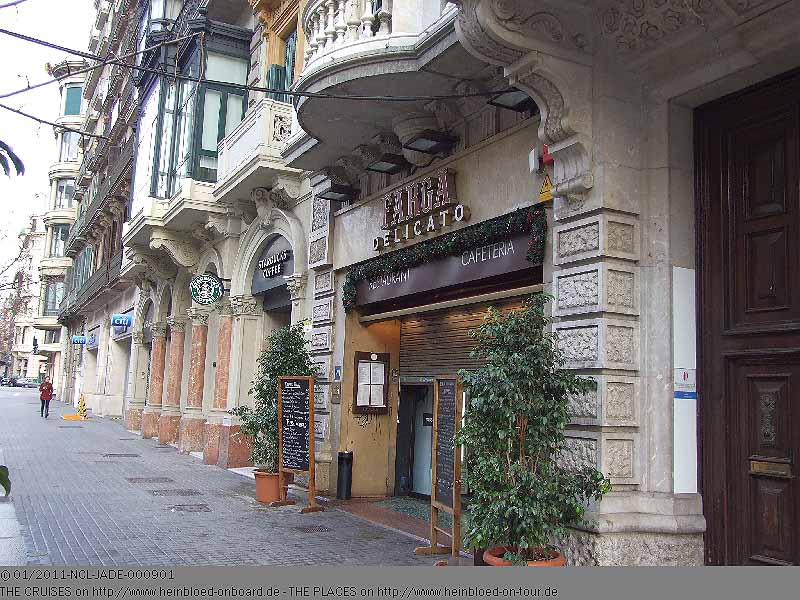 Let's have breakfast... but not with Starbucks Coffee...

With our last call in Barcelona on on OCEAN PRINCESS on October 2010 we had a 2nd breakfast with FARGA (you had them also in transit area at the airport terminal 1). This time we went directly there to have our 1st breakfast as the hotel rate does not include breakfast.

Bei unserem letzten Aufenthalt
mit der OCEAN PRINCESS im Oktober 2010
waren wir ja bei
FARGA
(gibt es übrigens auch im Transitbereich im Terminal 1 des Flughafens) zum 2. Frühstück. Dieses Mal sind wir direkt zum 1. Frühstück hingefahren, nachdem im Hotelpreis das Frühstück nicht inbegriffen ist.
Hier ist es jedoch das Delicato mit angeschlossenem Restaurant, dafür kaum Kuchen und Schokoladenverkauf.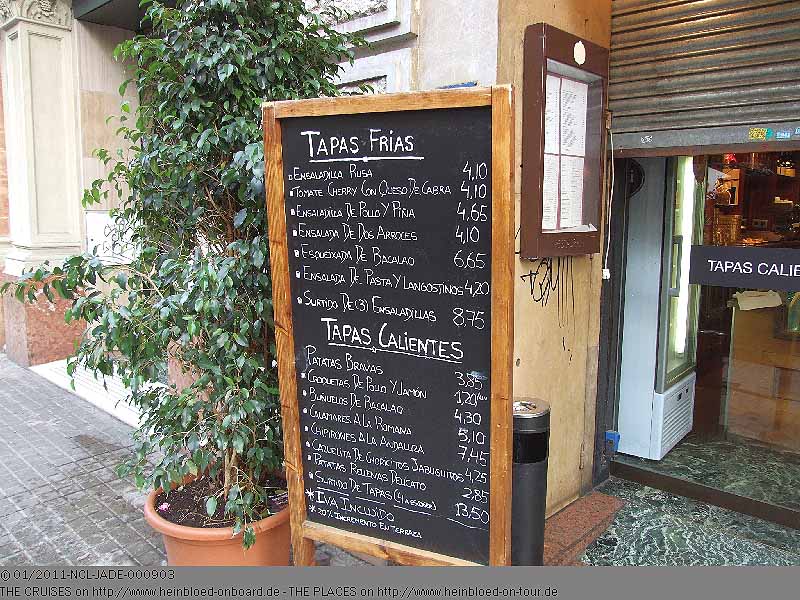 But this is a Delicato incl. integrated restaurant and so you do not have a point of sales for their chocolate and cake.

At 10.00 hrs the selection was a little limited. The sweet treats followed later. But we could be happy to find anything open on New Year's Day.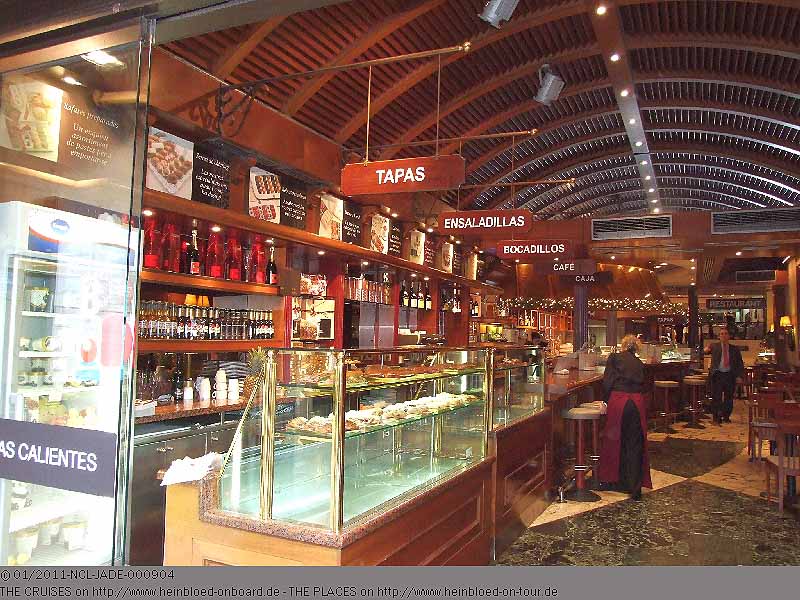 Um 10.00 Uhr morgens die Auswahl noch nicht ganz so riesig. Die süßen Sachen kommen erst später. Aber wir sind ja überhaupt froh, dass sie am Neujahrsmorgen schon geöffnet haben.
Während Bruno, Karl-Heinz und Käthe sich über den tollen Kaffee erfreuen, habe ich mit meinem grünen Tee weniger Freude, weil sie die ganze Teekanne mit losen Blättern vollgestopft haben, schmeckt er sehr bitter. Sie müssen wohl mit meinem Heilpraktiker gesprochen haben, der will, dass ich zu jeder Mahlzeit Bitterstoffe zu mir aufnehme... Aber die kleinen Brötchen und Croissants... einfach nur hmmmm....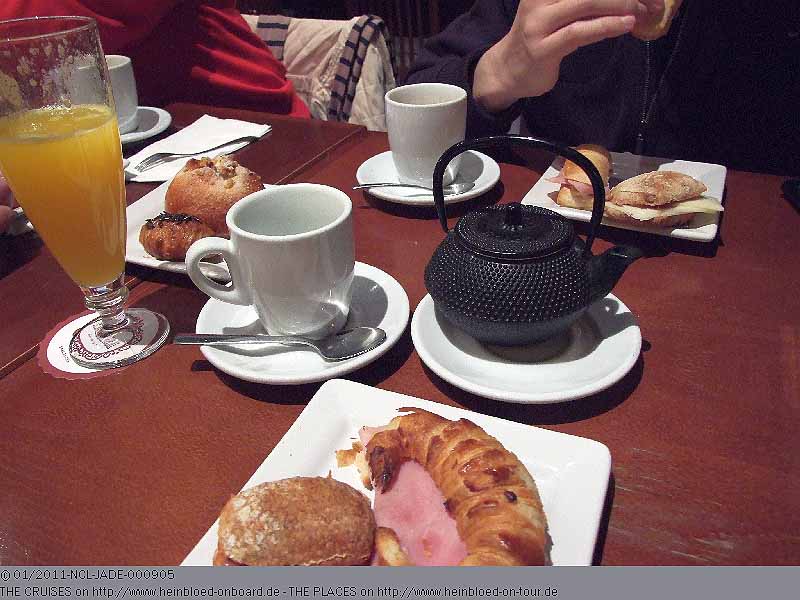 While Bruno, Charlie and Katie liked very much their coffee I had less pleasure with my green tea as they stuffed the whole pot full of tea leaves it was quite bitter. They may talked with my nature medical therapist who wanted me to have something bitter with every meal... But the little rolls and croissants... just hmmm....

We purchased at Catalunya train station with FGC our tickets for Montserrat in advance.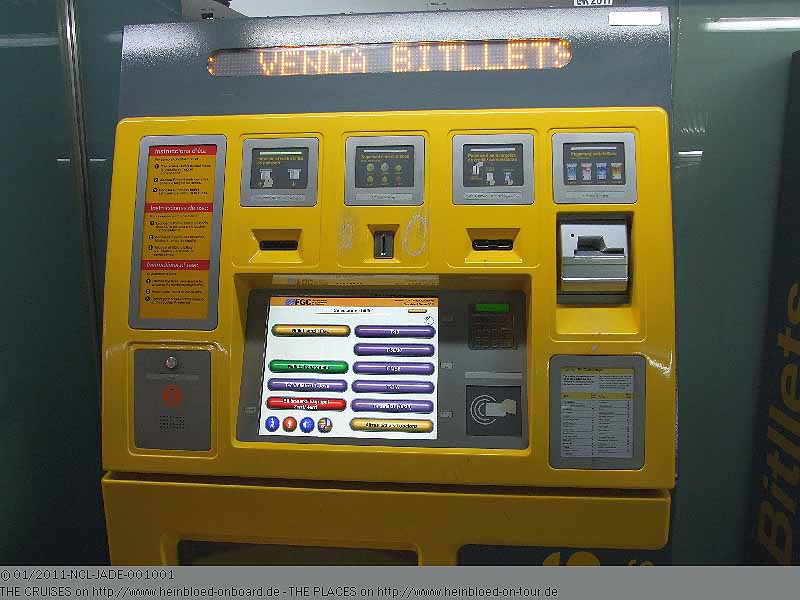 Am Bahnhof Catalunya haben wir bei FGC schon vorab die Fahrkarten nach Montserrat besorgt.
Zunächst ändern wir die Sprache.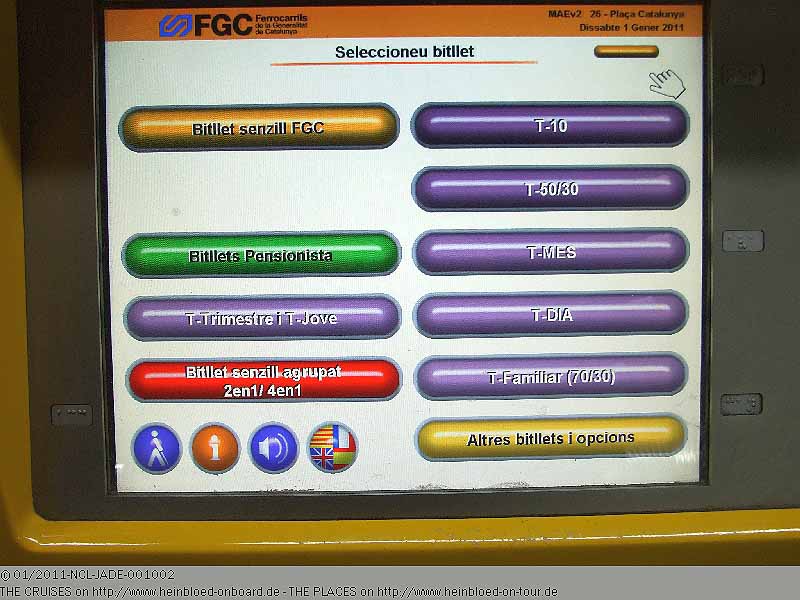 First we change the language.

English...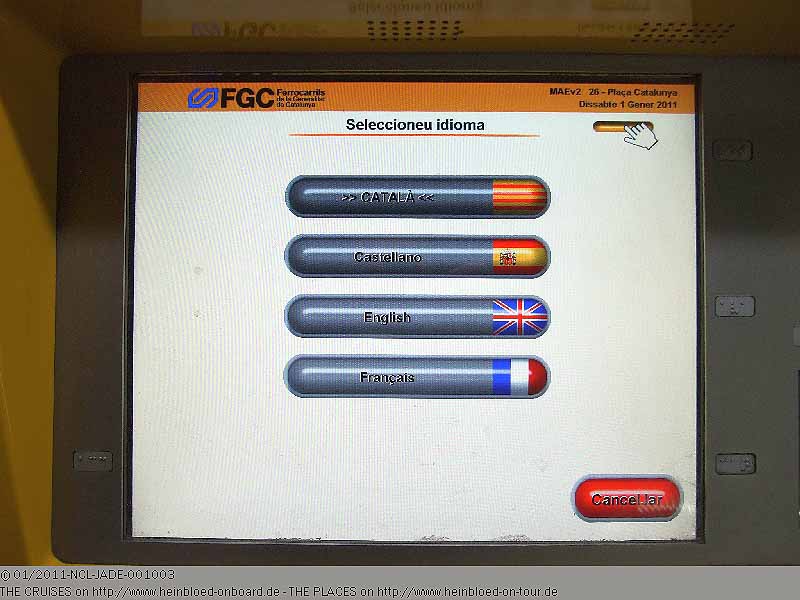 Englisch...
Dann "other tickets and options"...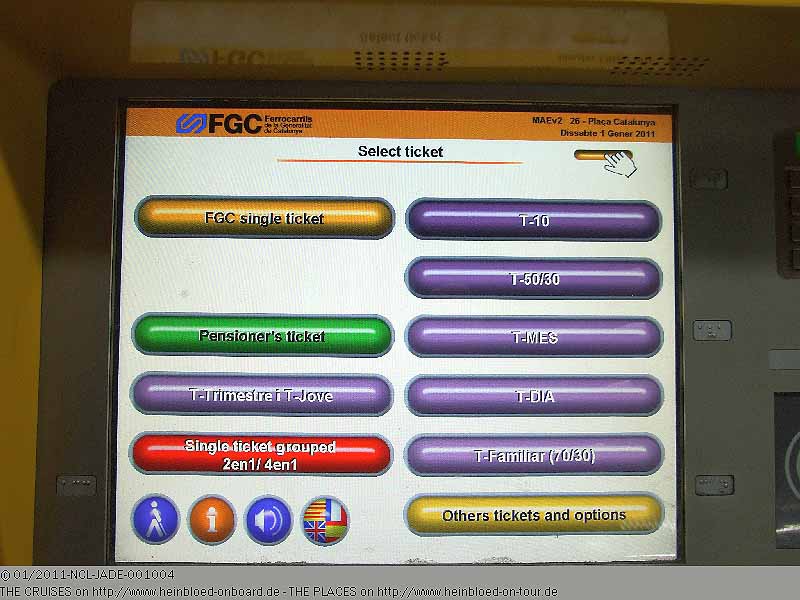 Then "other tickets and options"...

There are great day passes for Montserrat available which you can find on "Montserrat combined ticket".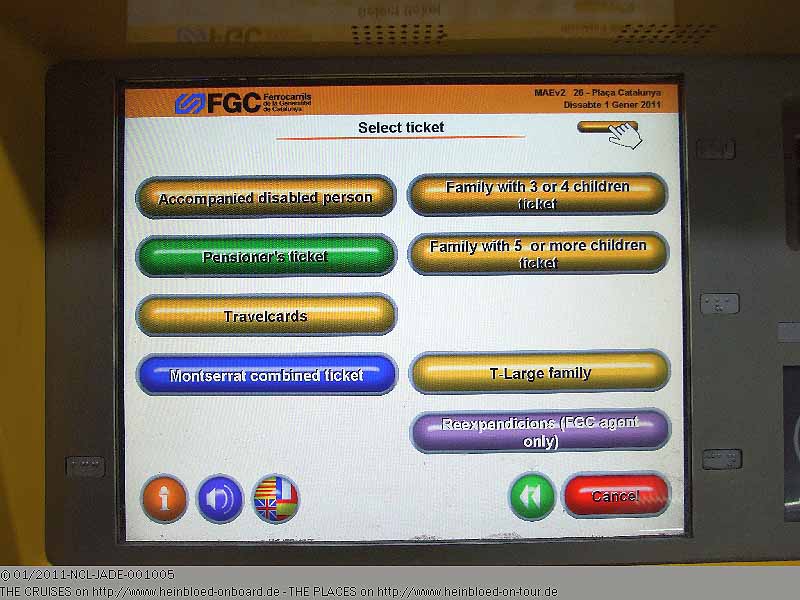 Es gibt nähmlich tolle
Tageskarten nach Montserrat
, die man unter "Montserrat combined ticket" findet.
TransMontserrat (23,10 EUR (2011)) schließt noch die Fahrt auf der Zahnradbahn bis zum Kloster und noch weiter hoch bis S. Joan mit ein, sowie die Audivideo-Show sowie die Metro-Fahrt innerhalb Barcelonas zum Placa Espanya und wieder zurück. Deswegen wollten wir die Karte eigentlich schon gestern kaufen, aber da war der Bahnhof ja wegen der Silvesterfeier geschlossen worden. Alternativ noch TotMontserrat (38,45 EUR (2011)), das noch zusätzlich ein Mittagessen und der Besuch im Museum einschließt.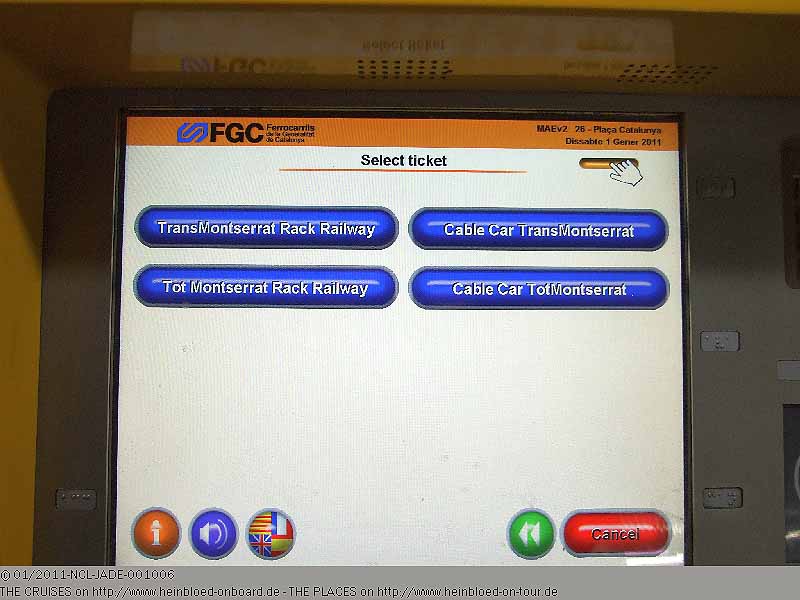 TransMontserrat (23.10 EUR (2011) includes the ride on the rack-railways to the monestry and further on to St. Joan and the access to the audiodeo-show and the metro-rides to and from Placa Espanya. That was why I wanted to buy the tickets the day before but the station was closed due to the New Year's Eve Party celebration on the square. You can also get TotMontserrat (38.45 EUR (2011)) which includes the lunch and the access to the museum.

We only take TransMontserrat as we dislike to be fed in the tourist self-service feeding station. You can pay cash or with credit cards.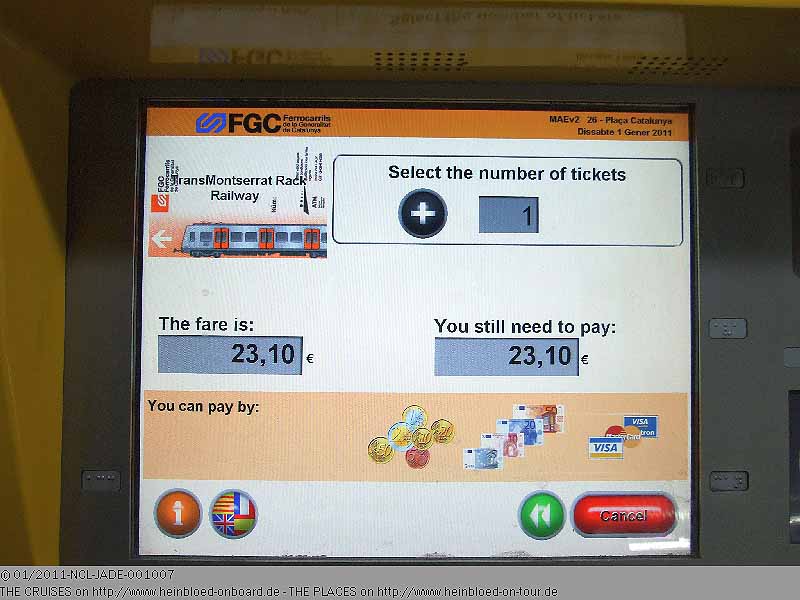 Wir nehmen jedoch nur TransMontserrat, weil wir keine Lust haben, dort in der Touristen-SB-Abfütterung zu essen. Man kann in bar und mit Kreditkarten zahlen.
Der Kauf ist wirklich einfach.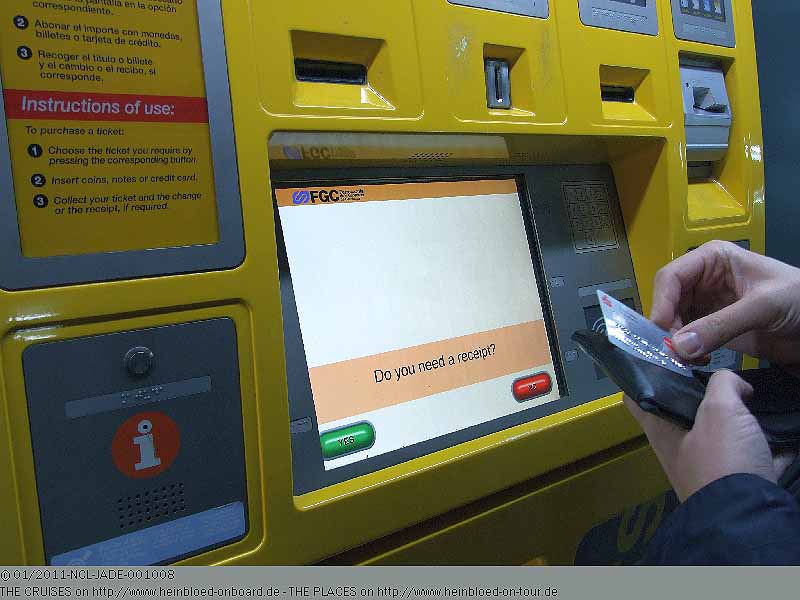 The purchase itself was very easy.

Keep it with you until your last ride on the metro from Placa Espanya home to your hotel.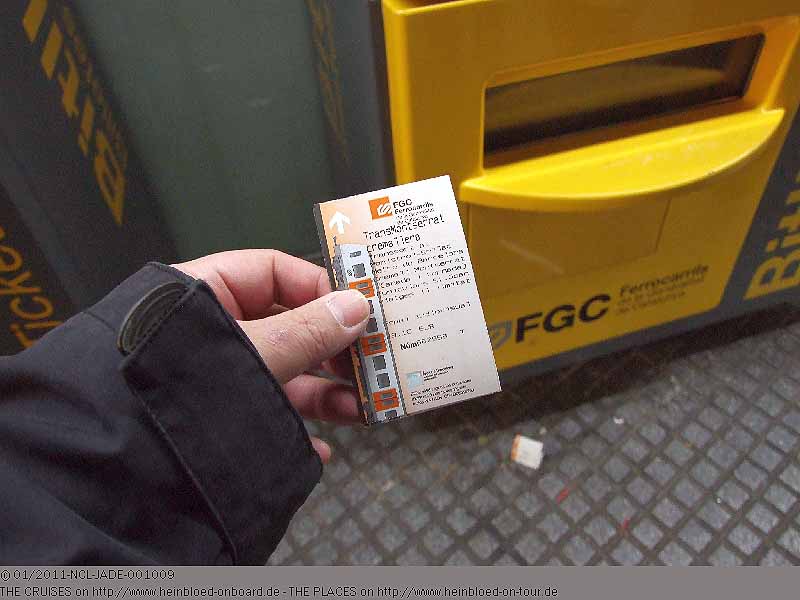 Gut bis zur letzten U-Bahn-Fahrt zum Hotel vom Bahnhof Espanya aufbewahren!!!
R5 nach Monresa
fährt in der Regel 1 x stündlich jeweils auf Minute 36.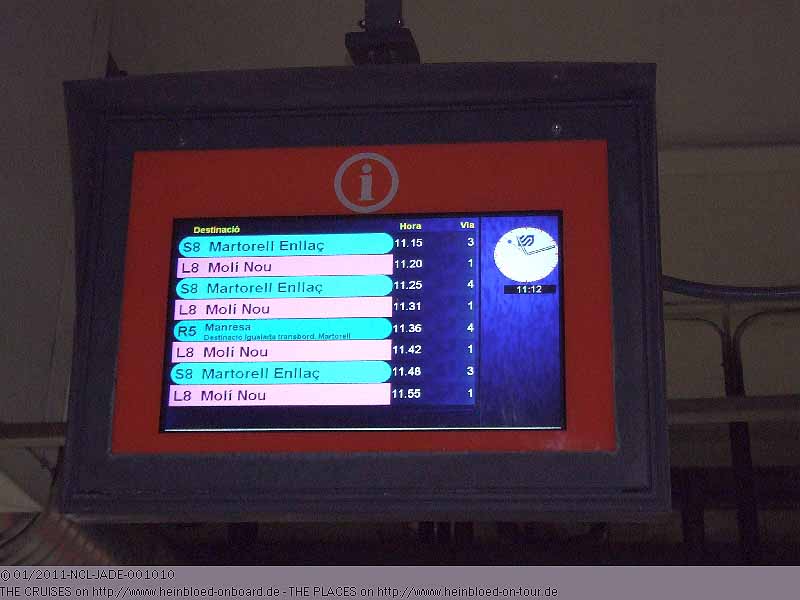 R5 towards Monresa is leaving normally once per hour 36 minutes past the hour.

Here is the first ticket check: Important: Do not forget to collect your ticket after enter the ticket to the slot and keep it for the last check when you are leaving this station after you arrived back here at Placa Espanya.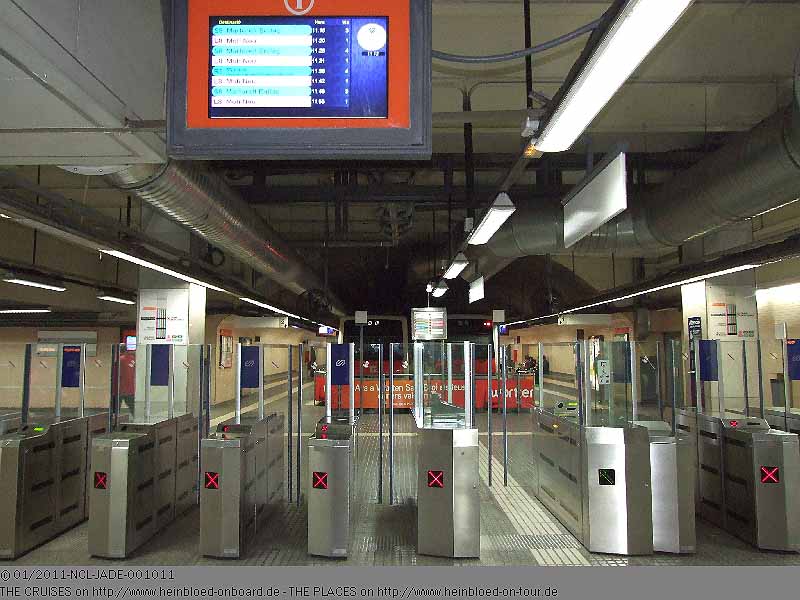 Hier geht es schon zur 1. Kontrolle. Wichtig: Die Fahrkarte nicht vergessen vor dem Durchlaufen wieder mitzunehmen und für die Rückfahrt bei Ankunft am Placa Espanya wird sie auch gebraucht.
Wir waren 11.36 Uhr unterwegs und ich fand es ziemlich voll. Einige mussten auch stehen. Und die Fahrt dauert über eine Stunde!!!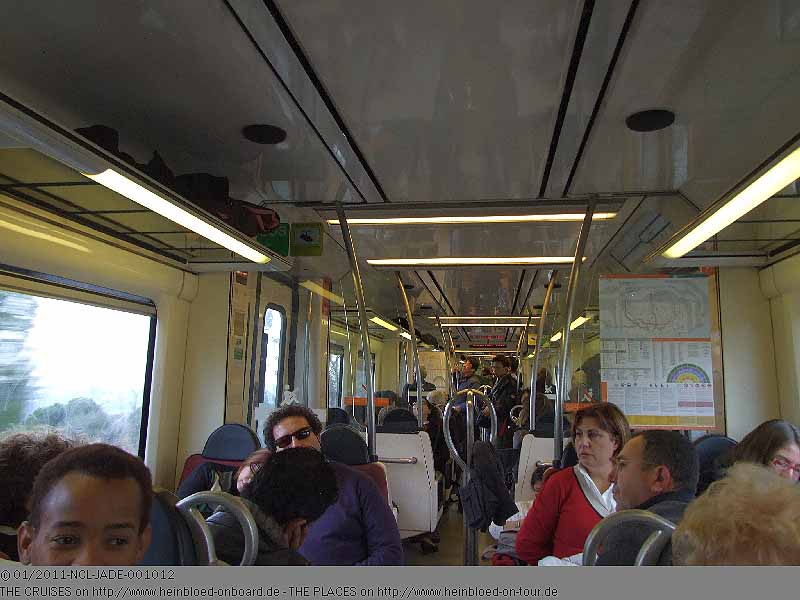 We were on the 11.36 hrs and I found it quite full. Some need to stand. And it took more than one hour.

From our Roll-Call on cruisecritic.com we met already our first cruisemates, like gail h (here Linda and Wayne) and Gaily125 (Gayle and her daughter... just left the train when the picture was taken). From them we heared about the terrorist attack in Alexandria. We even did not turn on the TV so far.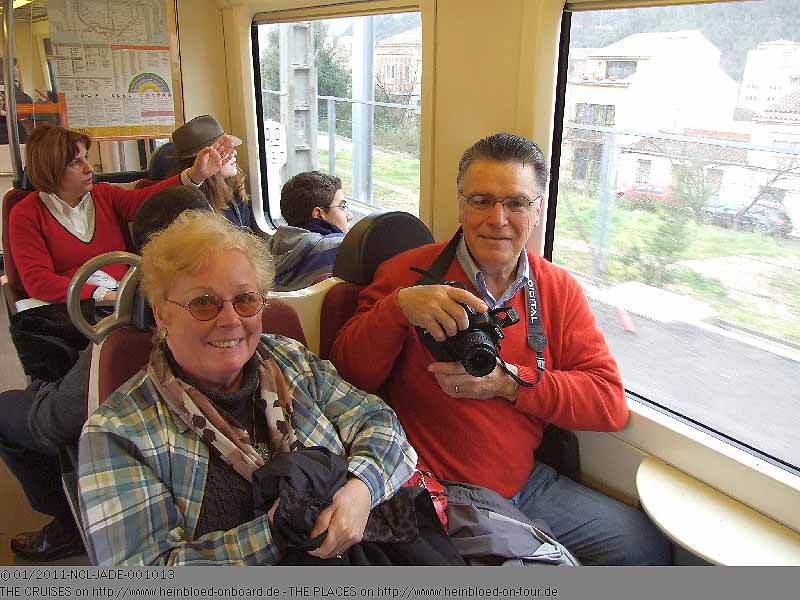 Aus dem
Roll-Call bei cruisecritic.com
treffen wir schon in der Bahn die ersten Mitreisenden, wie gail h (wie hier Linda und Wayne) und Gaily215 (Gayle und ihre Tochter, die leider gerade ausgestiegen sind, als die Aufnahme entstand). Leider erfahren wir hier auch über das Attentat in Alexandria. Bislang haben wir nicht geschafft, mal den Fernseher einzuschalten.

Hier müssen wir umsteigen: Monistrol de Montserrat.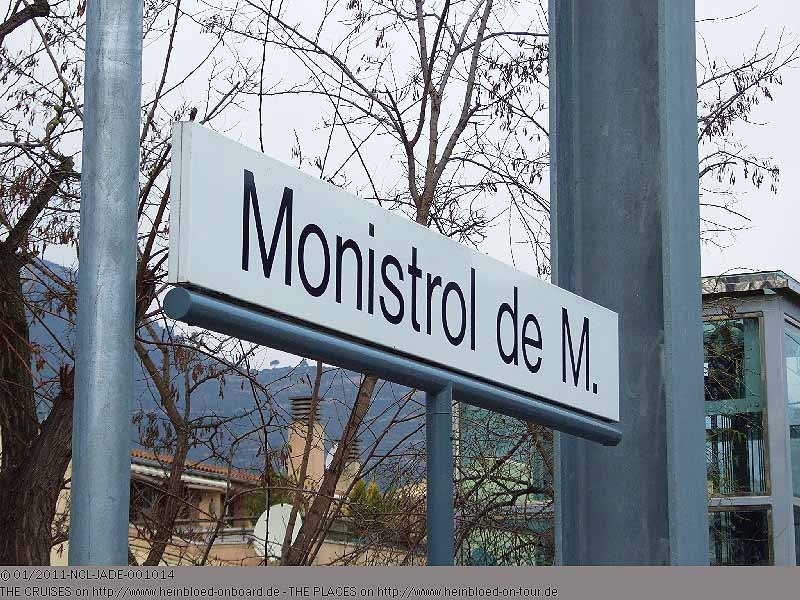 Here we need to change the train: Monistrol de Montserrat.

You should be ready to leave to make sure that you find a seat on your next portion of the ride on the rack railways.

Man sollte schon rechtzeitig und schnell rauskommen, um sicherzustellen, dass man einen Platz für den nächsten Abschnitt auf der Zahnradbahn findet.
Sie wartet schon 100 m weiter vorne am selben Bahnsteig.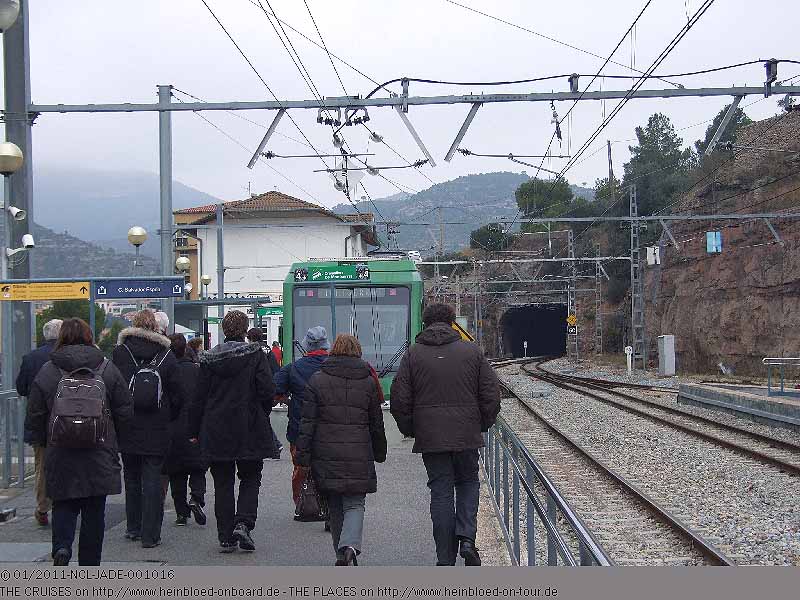 You need to walk about 100 yards forward on the same platform.

They checked our ticket in front of the door. So keep them ready.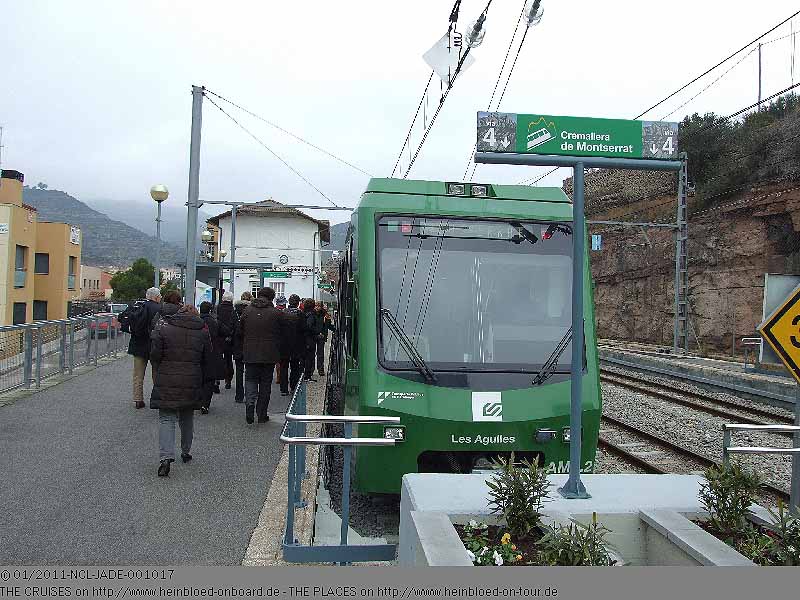 An den Türen werden die Fahrkarten kontrolliert, also bereit halten.
In Monistrol-Vila gibt es einen Großparkplatz für Montserrat-Besucher.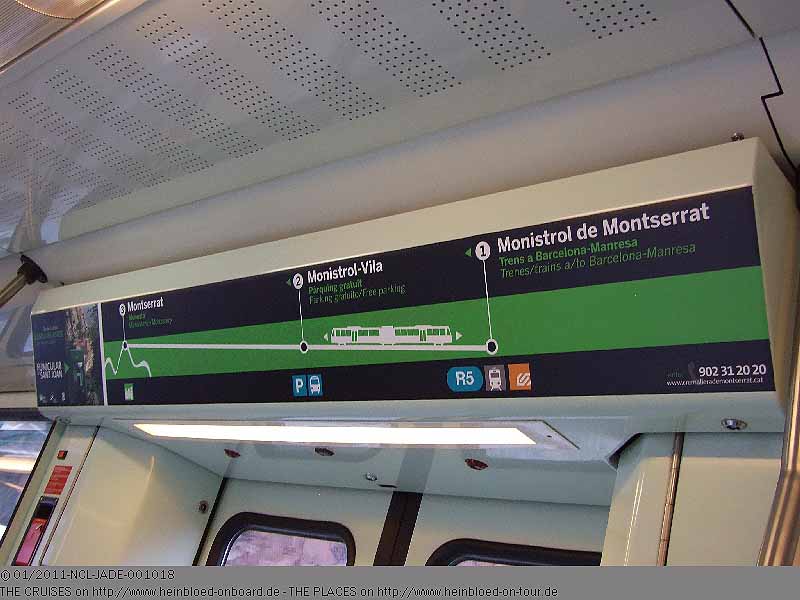 In Monistrol-Vila there is a large parking lot for Montserrat visitors.

The journey took about 15 minutes.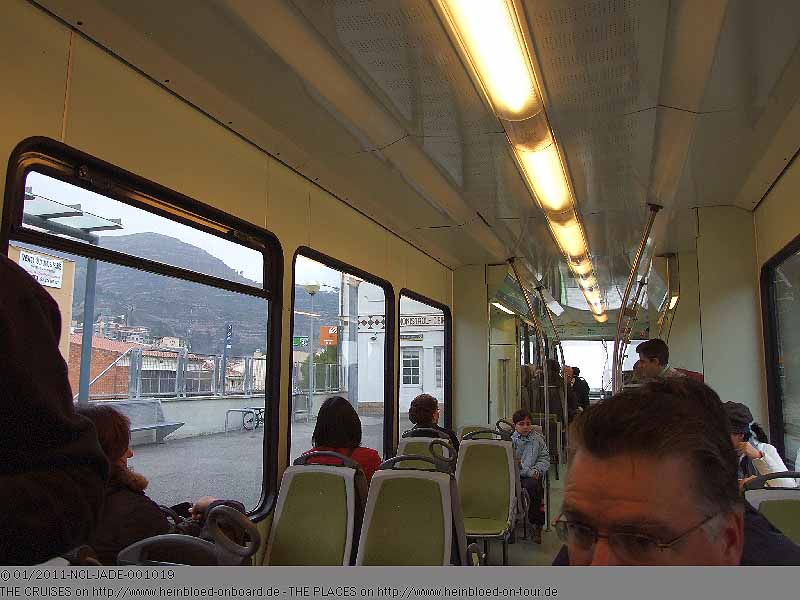 Die Fahrt dauert eine knappe Viertelstunde.
So geht es ziemlich steil hinauf. Alle genießen den Ausblick.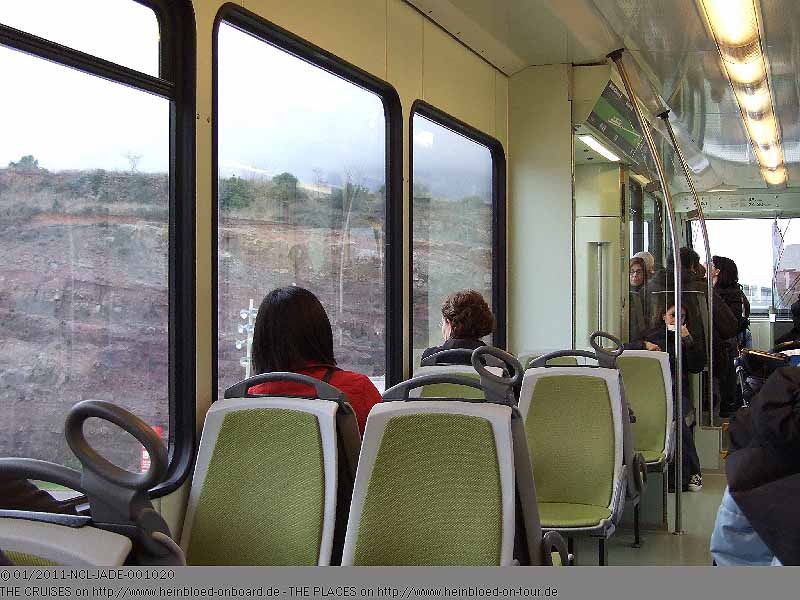 So it was quite steep to get on the mountain. Everybody enjoyed the view.

But on the top at this time it was a little foggy.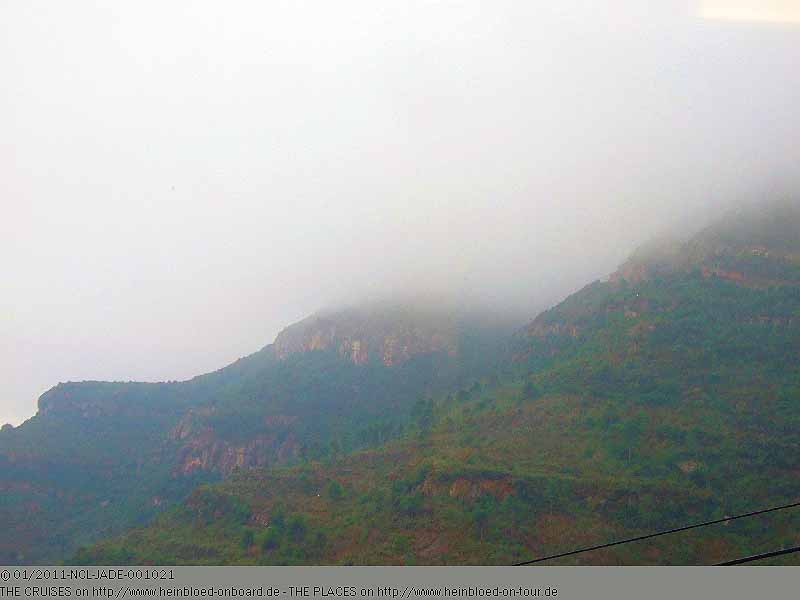 Leider ist oben alles um die Zeit eingenebelt.
Endlich sind wir da in Montserrat.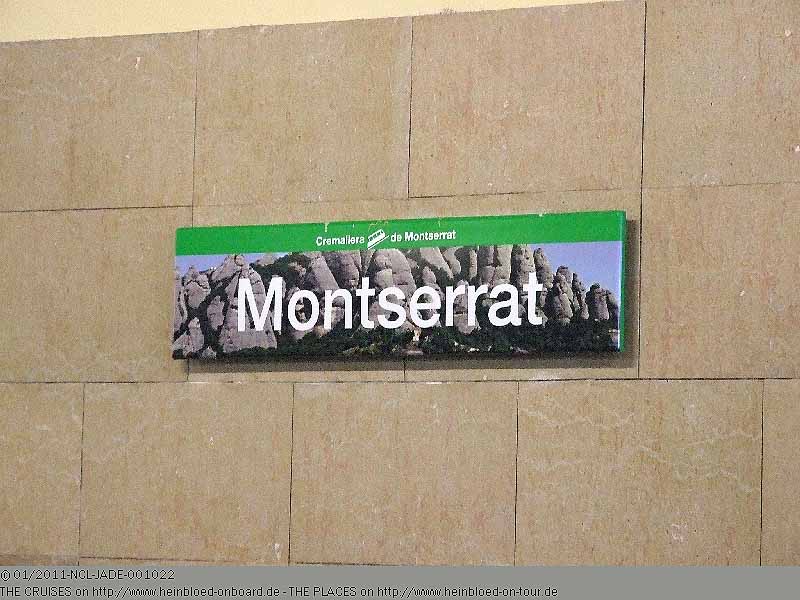 Finally we made it to Montserrat.

Here you see the rack.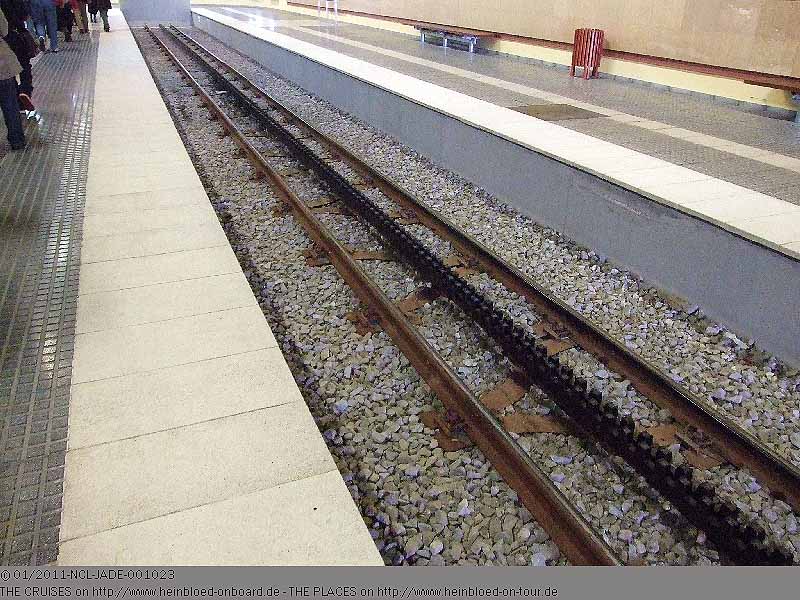 Hier sehen wir die Zahnradstange.
Die Fahrt hat wirklich Spaß gemacht.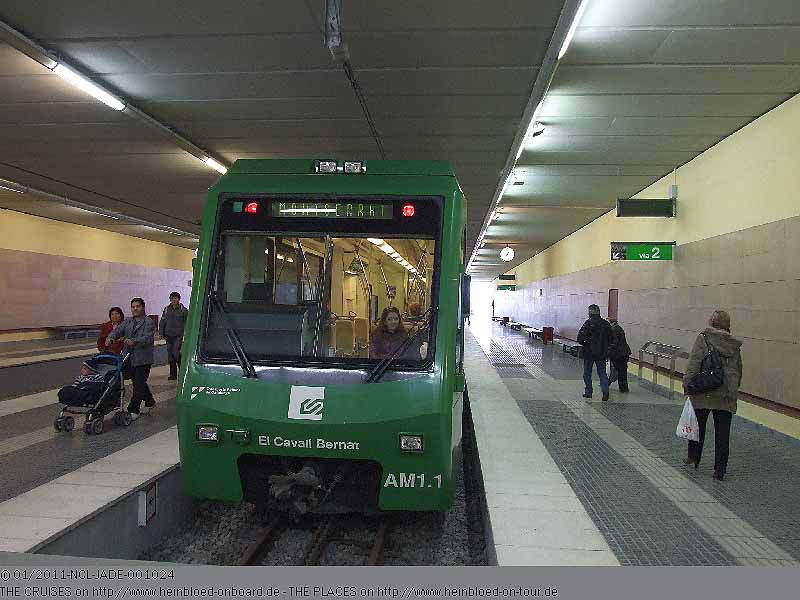 We liked the journey.

And you get some anticipation for the next you can see.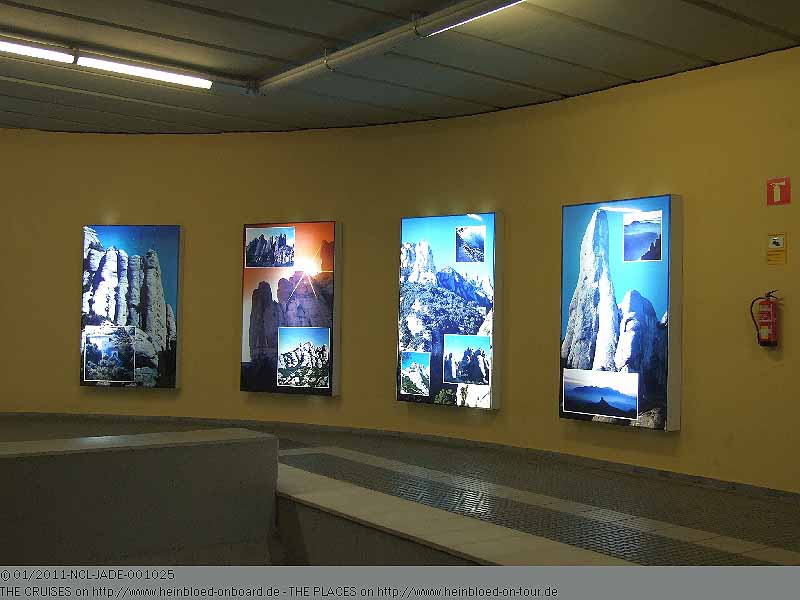 Hier kommt Vorfreude auf.
Achtung: wichtig für die Planung der Rückfahrt: nur einmal stündlich geht es bis nach Monistrol de Montserrat (jeweils auf Minute 15). Zwischendurch geht es nur bis zum Parkplatz.

Important for your planning of your return journey: only once per hour (15 minutes past the hour) there is a train back to Monistrol de Montserrat. Other departures are only for the parking.
Auf zum Frühstück... aber nicht bei Starbucks Coffee...