Scroll down for English explanations - alternates with German explanations.

Als wir hier an Bord sind, werden die Getränke hier abgenommen. Bislang dachte ich immer, dass jemand hier sitzt, aber der steht im Blickkontakt mit der Gepäckdurchleuchtungsanlage. Abgeben bis zum Ende der Reise oder 15 USD Korkgeld pro Flasche (0,75 l).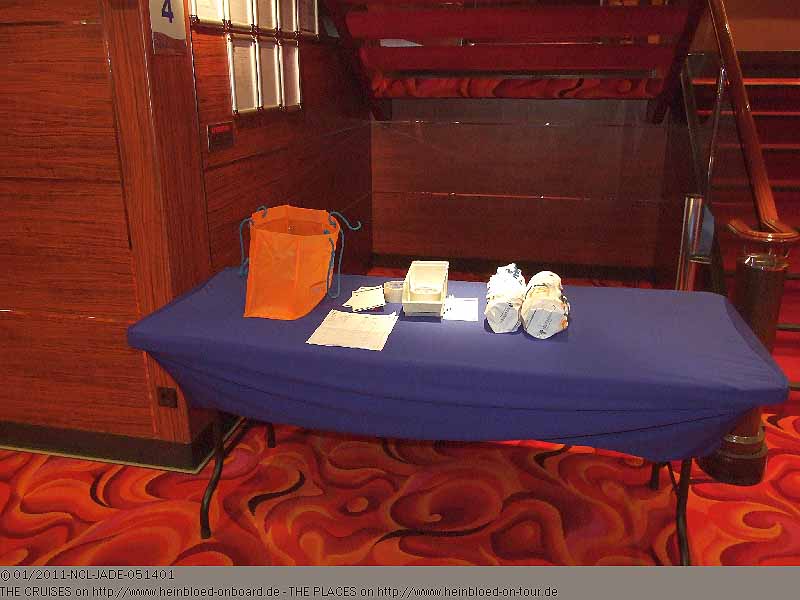 When we arrived on board they took away the purchased beverages here at this counter. So far I thought that the counter was unoccupied but they were in eye-contact with the baggage screening. You store it to the end of the voyage or 15 USD corkage fee per bottle (0.75 l).

What a shame that they did not use UV-light-protecting colors.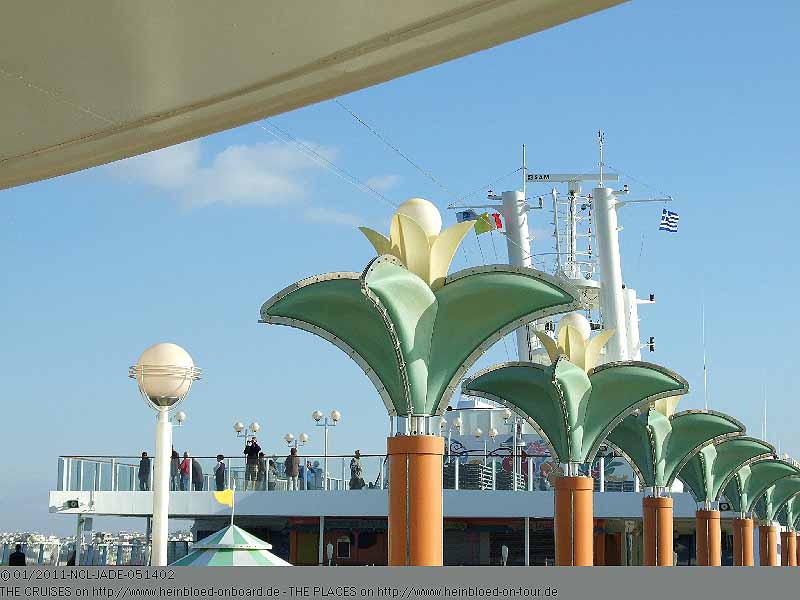 Schade, dass wohl die Farben nicht UV-Licht-beständig sind.
Aber nachts sieht man es nicht.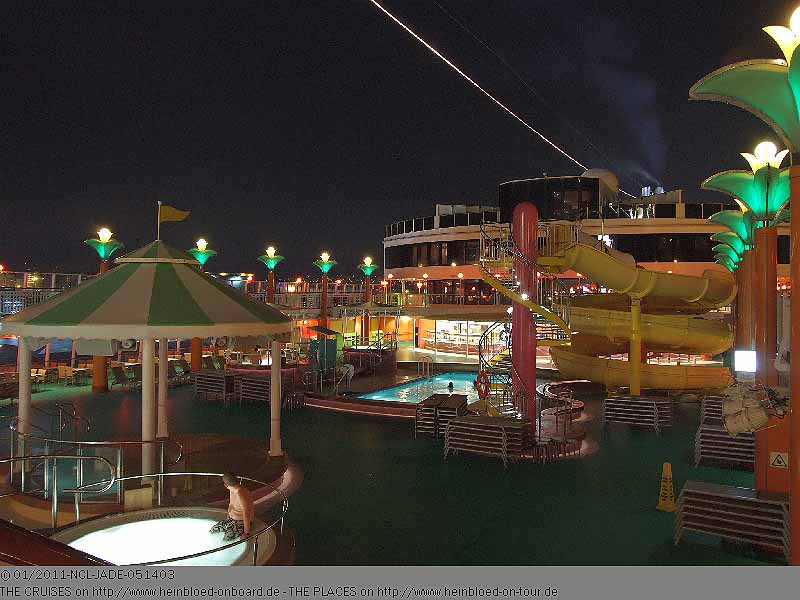 But in the night time you do not see it.

Our ship looks very "sexy" in the night - not like NORWEGIAN EPIC which looks like nothing.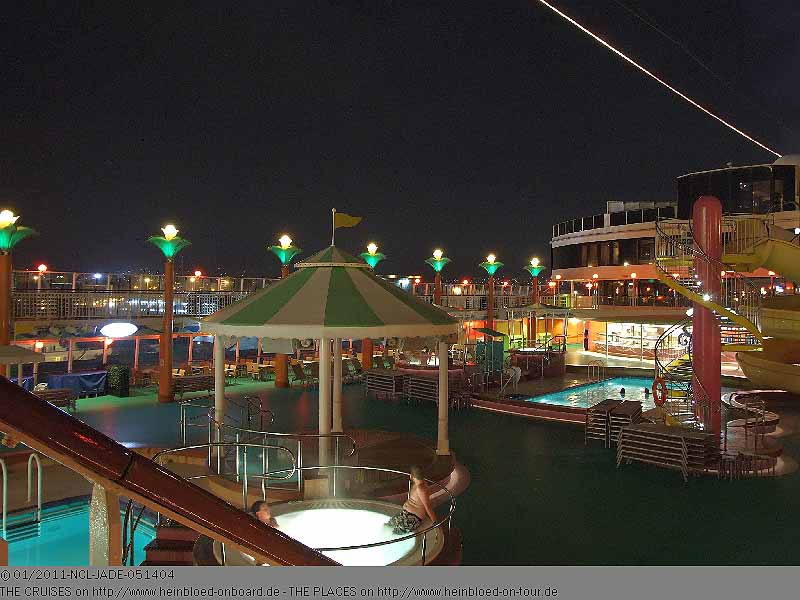 Unser Schiff sieht nachts "sexy" aus im Gegensatz zur NORWEGIAN EPIC.
Alle Flaggen sind weg.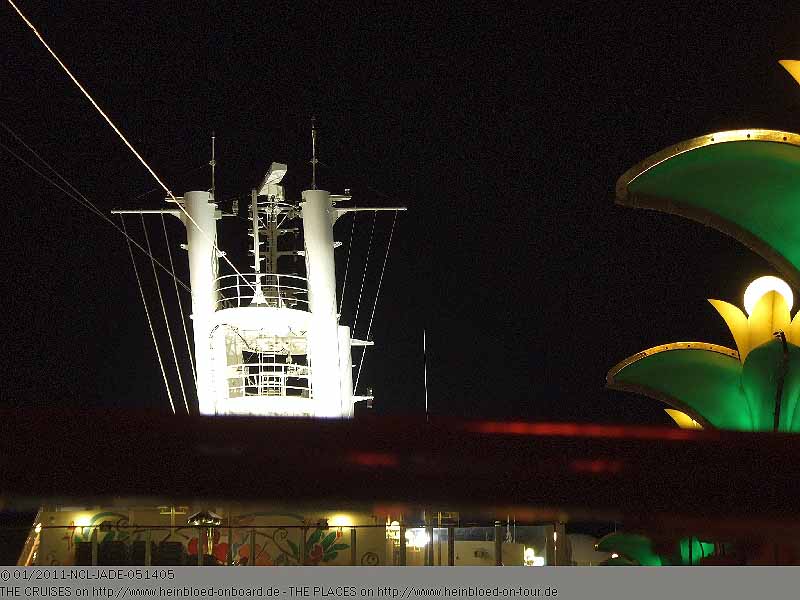 All flags are taken away.

You get in the Star Bar between 20.00 hrs and 22.00 hrs two Martinis for the price of one.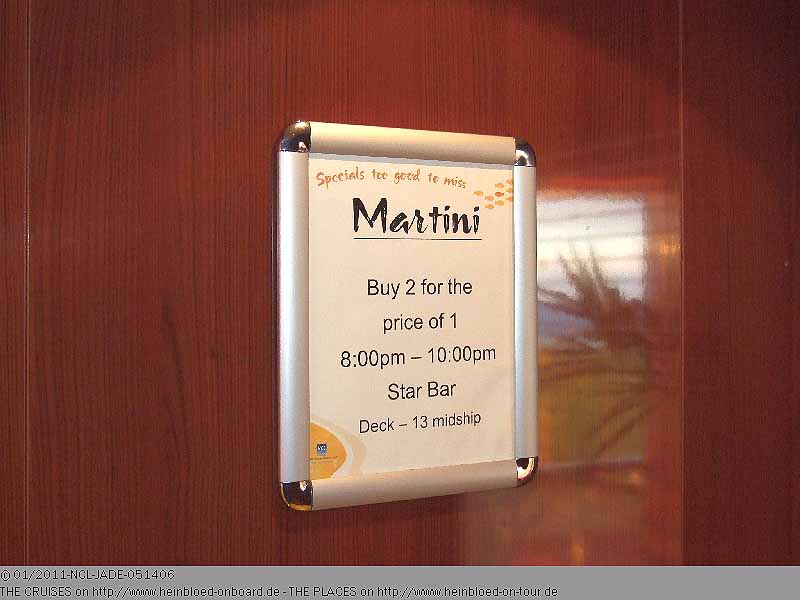 In der Star Bar bekommt man hier zwischen 20.00 Uhr und 22.00 Uhr zwei Martinis für den Preis von einem.
Und als Bonus gibt es nochmals zwei zum Preis von einem dazu: Eva und Rolendo, die uns immer sehr nett in der Star Bar bedienen. Da die Bar schön klein ist und nicht so viel Verkehr ist, sprechen beide viele Gäste schon mit ihren Namen an und kennen schon ihre Lieblingsgetränke... Wir fühlen uns sehr wohl bei den beiden.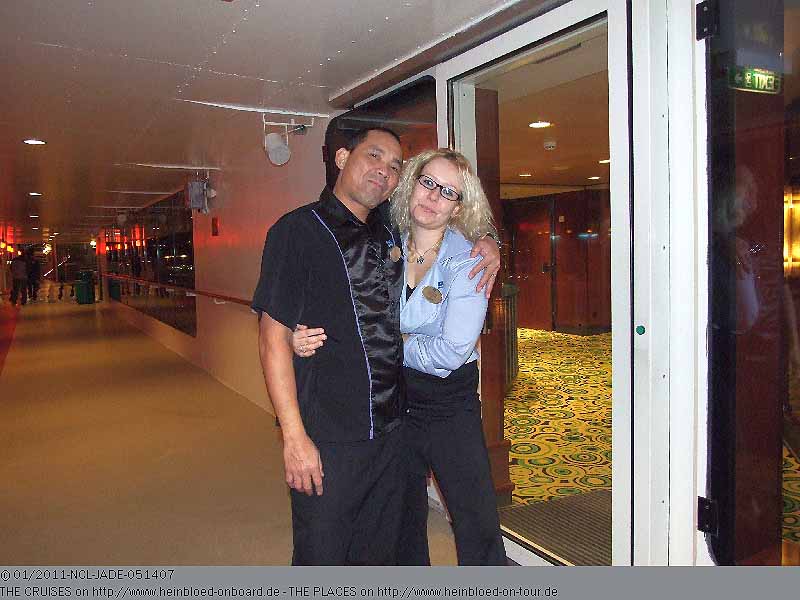 As bonus you get another two for the price of one: Eva and Rolendo who serve us very nice in the Star Bar. As the bar is very small and there is not so much traffic they can remember their guests by name and favorite drink... We feel very comfortable with them.

There is one difference with small but fine. The address "Welcome back, Sir! Nice to have you on board again" is like a switch: I feel better now than before. Alina used the switch and came to me to say that she remember me from NORWEGIAN GEM in 2009.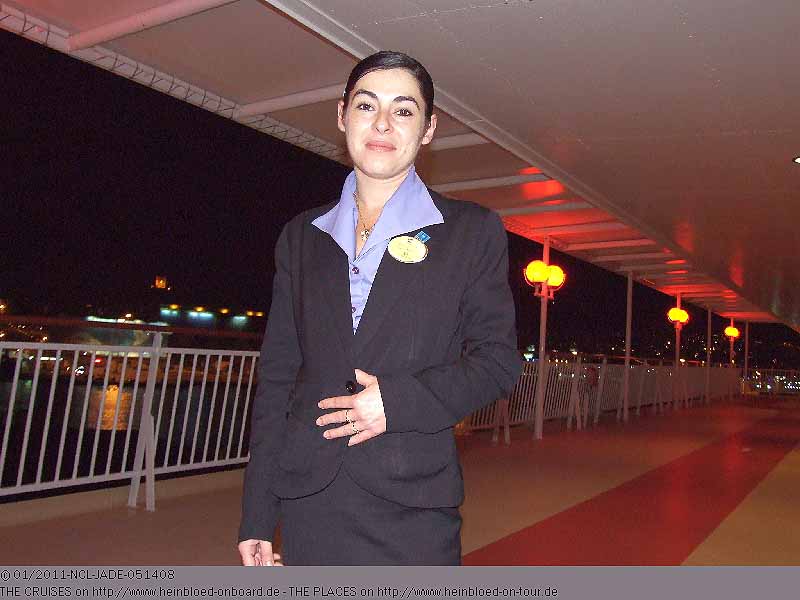 Es gibt einen Unterschied, der klein aber fein ist. Die Ansprache "Willkommen zurück, Sir! Schön, Sie wieder an Bord zu haben" ist wie ein Schalter: Ich fühle mich noch ein Stück wohler. Alina hat ihn betätigt, die auf mich zukommt und mir auch sofort sagt, woher wir uns kennen:
NORWEGIAN GEM 2009
.
In unserem Heckfahrstuhl besteht irgendwie ein Softwarefehler. Es ist immer Juli und es ist immer um die Mitternacht herum.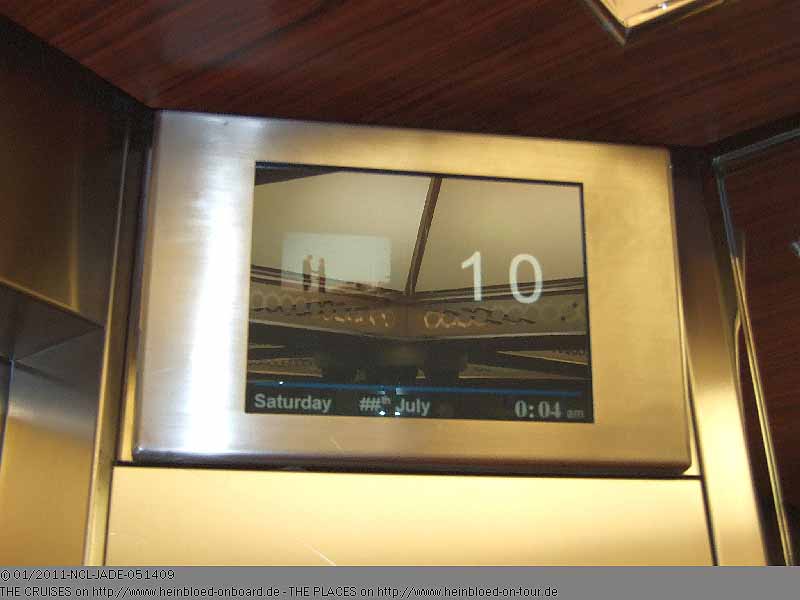 In our aft elevator there is a software malfuntion. It is always July and always around midnight.

I left the ship to take few pictures of the NORWEGIAN JADE.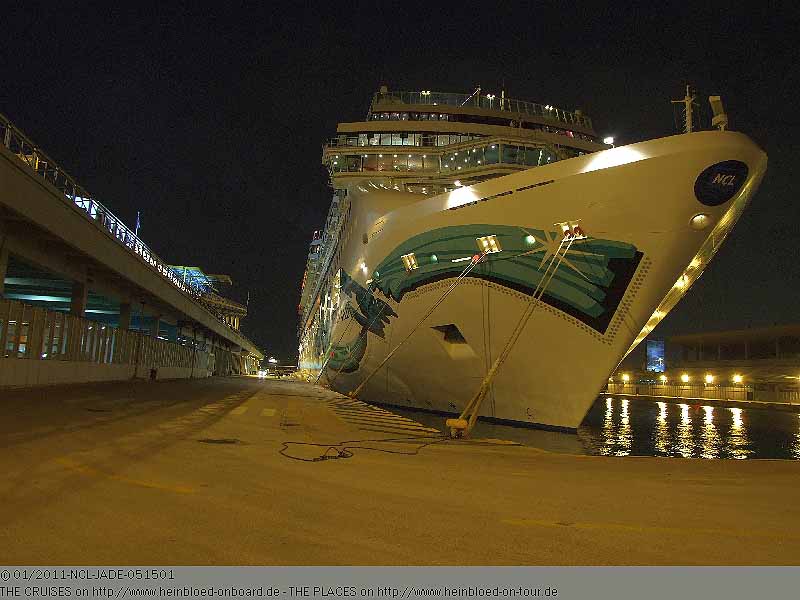 Ich gehe nochmals raus, um ein paar Aufnahmen von der NORWEGIAN JADE zu machen.
Wir haben zwar so viele Aufnahmen, aber wir haben ja auch eine besondere Beziehung zu dem Schiff: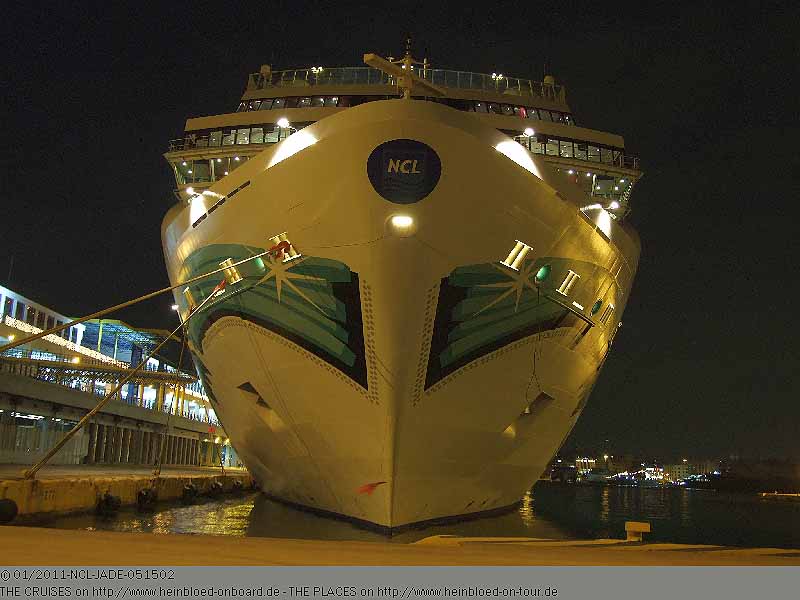 We have so many pictures but we have a very special relation to the ship:

we were already three time here and every time we came back very excited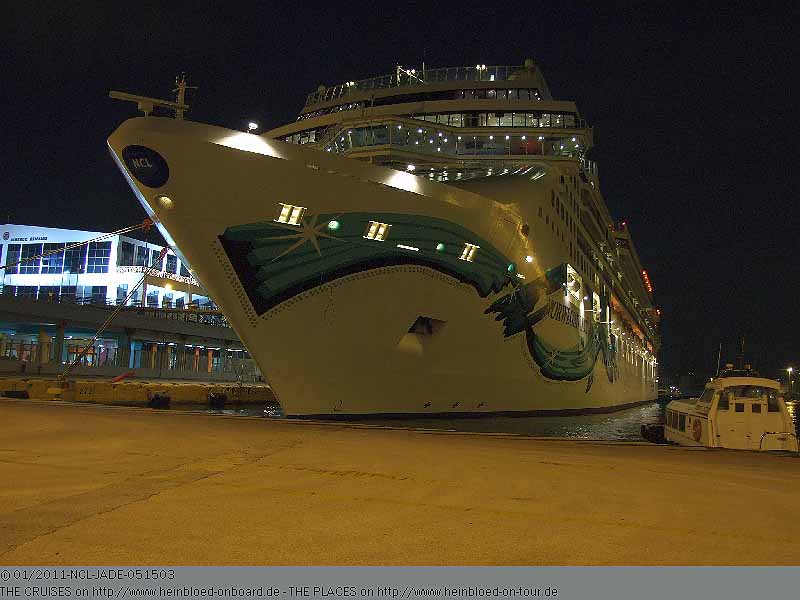 wir waren bislang schon drei Mal hier und jedes Mal waren wir begeistert wiedergekommen
und wir freuen uns auch schon auf das 4. Mal im
Oktober 2011 von Venedig nach Civitavecchia
.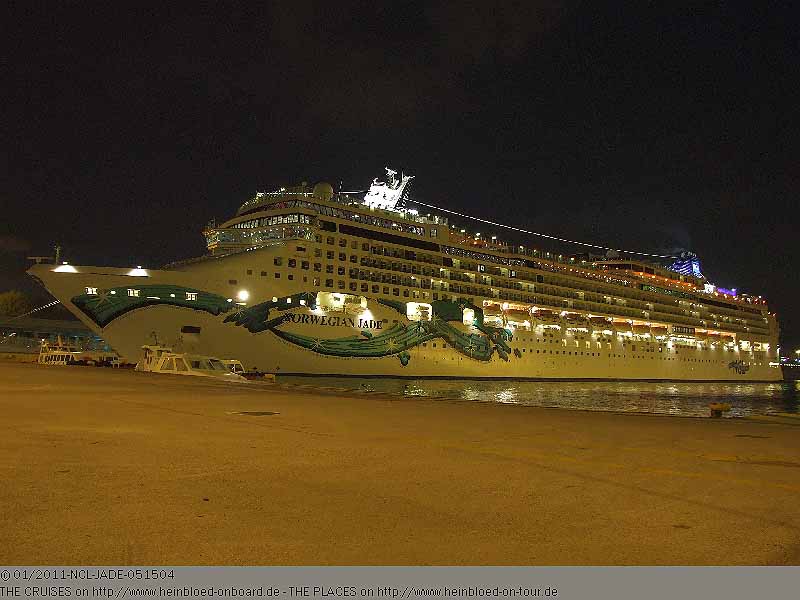 and we are looking forward to our 4th time in October 2011 from Venice to Civitavecchia (Rome).

But our cabin has really a disadvantage... we decided to ask at MSC SPLENDIDA to borrow us for the rest of the cruise one of their Israeli security guard... We would place him on Deck 12 to see which idiots just throw their garbage over the railing... Later we remember that the Israeli security guards had to leave the ship ahead of Alexandria and return later on board.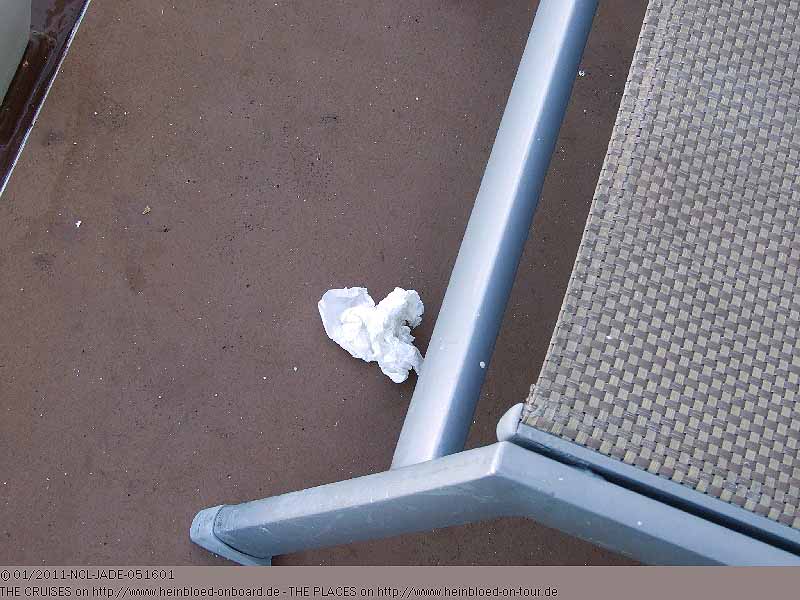 Leider hat wie gesagt unsere Kabine einen Nachteil... wir haben aber beschlossen, dass wir in Alexandria zur MSC SPLENDIDA laufen, um uns für den Rest der Kreuzfahrt einen israelischen Sicherheitsbeamten für den Rest der Fahrt ausleihen... und den stellen wir auf Deck 12 auf, der aufpassen soll, welche Idioten alles über die Railing werfen... Hinterher fällt mir ein, dass die israelischen Sicherheitskräfte vor Alexandria die MSC-Schiffe verlassen und später wieder zusteigen.
Eine Käseplatte kommt als Gruß in unsere Kabine...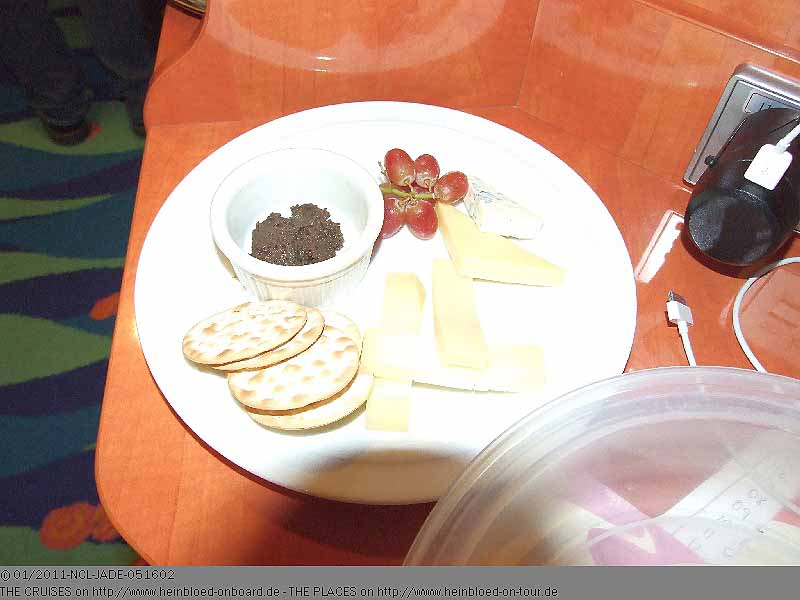 We received a cheese plate as regards to our cabin...

From the opposite tower we hear at 19.00 hrs: "The Children from Piraues" - most famous due to Melina Mercouri in the movie "Never on Sunday!".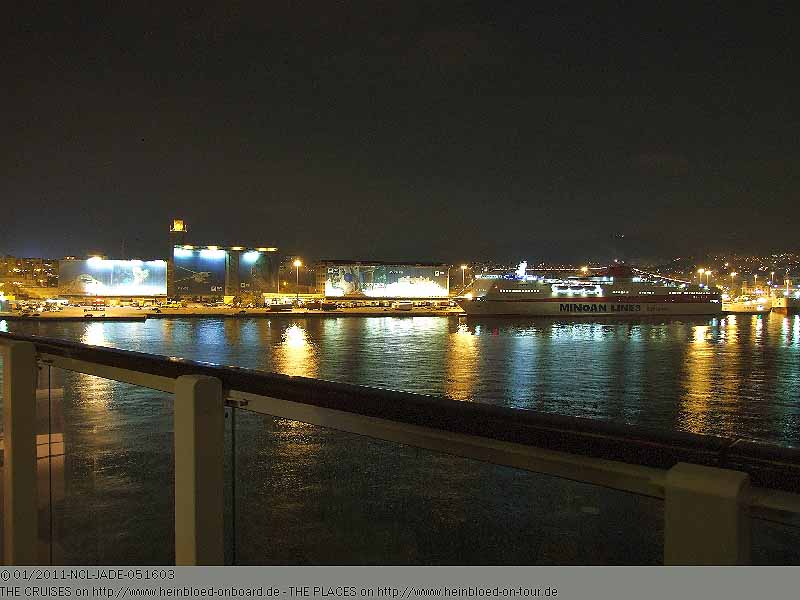 Drüben vom Turm hören wir das Glockenspiel um 19.00 Uhr: "Die Kinder von Piräus" - weltberühmt durch Melina Mercouri im Film "Sonntags nie!".
Die Kapitänsmütze, die ich von merg55 für die Organisation des Meet & Greet bekommen habe, wird kurzerhand in die Präsentation des Handtuchtieres integriert.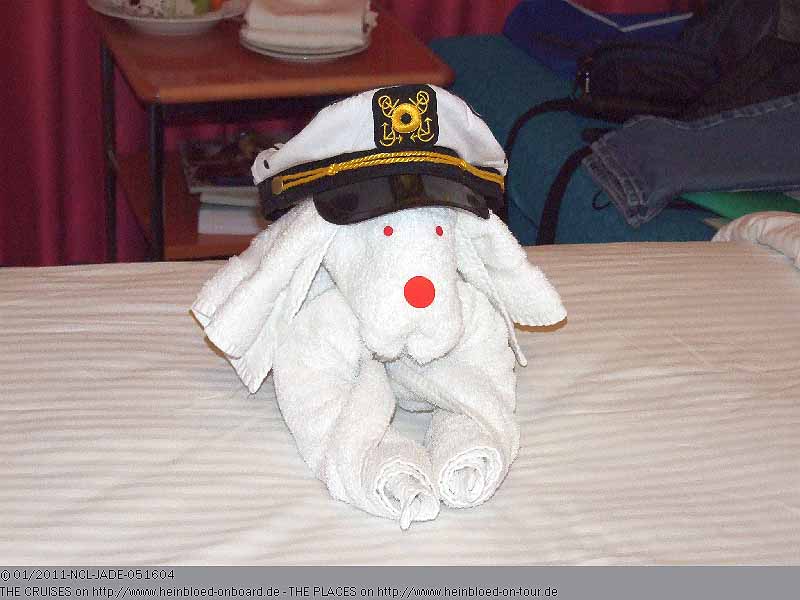 The Captain's hat which I got from merg55 for the organisation of the Meet & Greet was integrated into the presentation of the towel animal.

Last night Ernesto stored the Katie and Charlie's wine. Today you only need to show the receipt and someone will get it.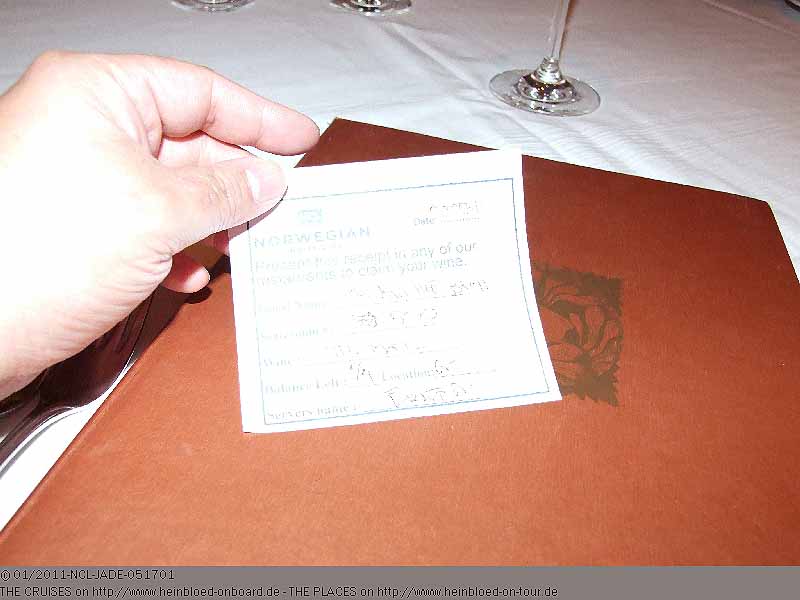 Gestern Abend hat Ernesto den Wein von Käthe und Karl-Heinz eingelagert. Heute muss man einfach nur den Beleg zeigen und er wird wieder geholt.
Wir sind noch so satt vom Mittagessen, dass wir nur wenig bestellen. So eine Kraftbrühe mit einem Ravioli.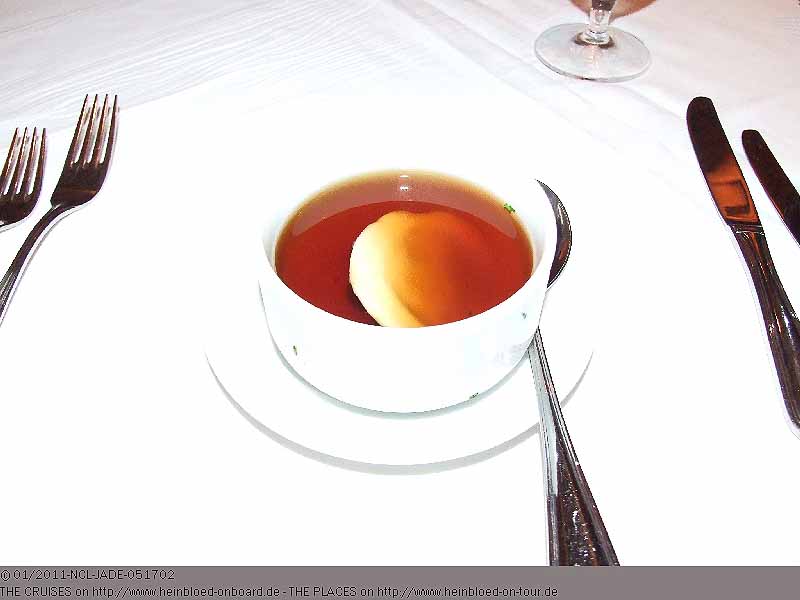 We were so full from our lunch that we order less than normal. So like a beef broth with one ravioli.

You see that Ernesto rather prefer to come with a pepper mill instead of placing salt- and pepper single portion bags on the table. This time we had no problems to get a table with Ernosto as went 20.30 hrs for dinner and many were already in the theater und so it was much more calmer and the chance was higher that not all tables around his service station are taken at the same time.

Man merkt, dass es Ernesto lieber ist, selbst mit der Pfeffermühle zum Tisch zu kommen, als nur die Salz- und Pfefferbeutel auf dem Tisch abzulegen. Dieses Mal gab es keine Probleme einen Tisch bei Ernesto zu bekommen, da wir erst um 20.30 Uhr gegessen hatten und daher viele im Theater saßen und somit es ruhiger war und die Chancen eben größer waren, dass nicht alle Tische von ihm gleichzeitig belegt sind.
Ich bestelle die Nudeln.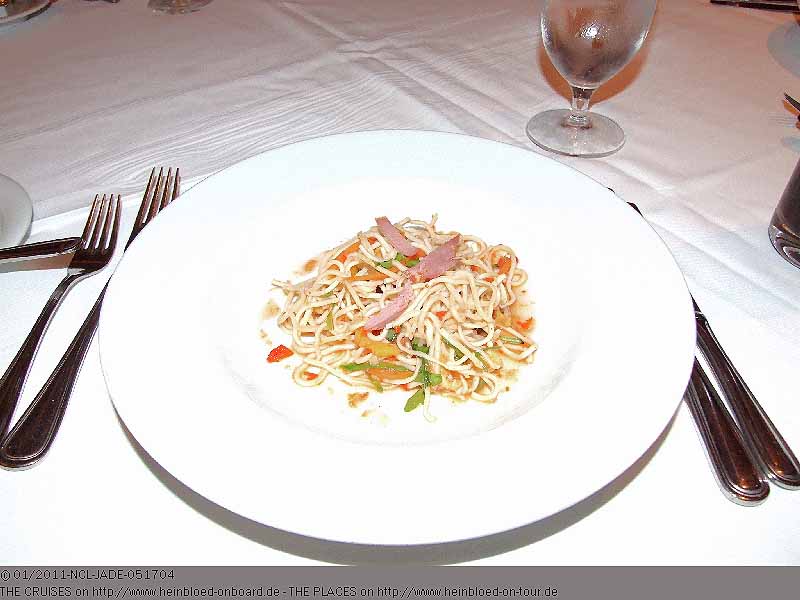 I ordered the noodles.

Beside the fact that I had not so much hunger: It was so spicy that I cannot eat more of them. For our favorite maîtres it would a perfect occassion to see around and to ask what was not correct and to offer an alternative. But here nobody appeared. Do not worry: Of course Ernesto did it.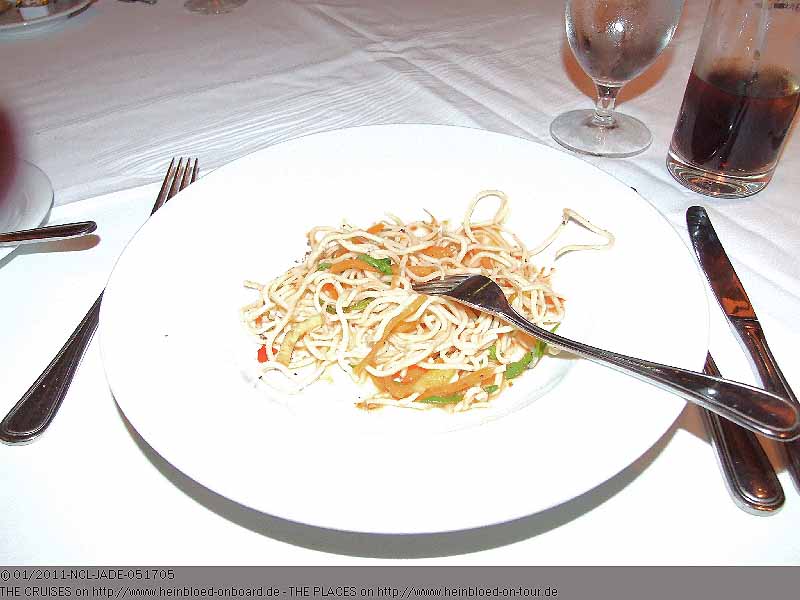 Abgesehen mal davon, dass ich keinen Hunger hatte: Es war so scharf, dass ich nicht mehr davon gegessen habe. Für unsere Lieblingsmaîtres wäre es ein Anlass gewesen mal vorbeizuschauen und nachzufragen, was nicht in Ordnung wäre und eine Alternative anzubieten. Aber hier erscheint keiner. Natürlich hat Ernesto das auch gemacht.
"Meine Frau hatte den Fisch..."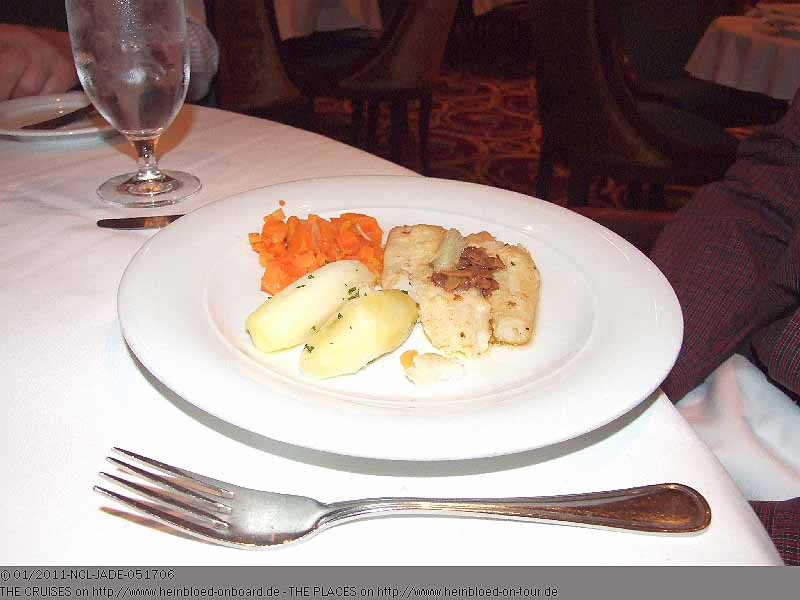 "My wife had the fish..."

but this time it was too salty... Do I need to have some concerns??? Did Messiah Ritzinger catch a cold??? Should I send him some herbal medication??? Or was he ashore and it was public holiday... "Never on Sunday!!!" and we find his frustration in the food???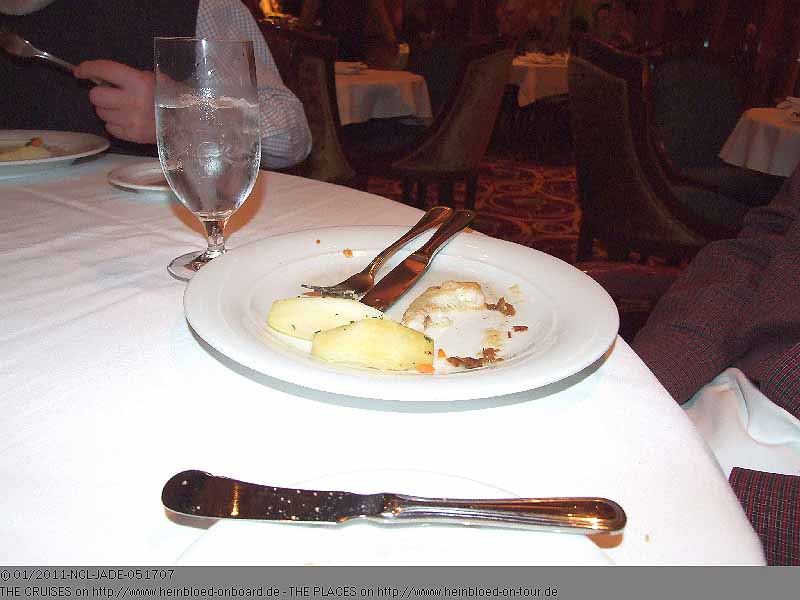 aber leider war er dieses Mal versalzen... Muss ich mir Sorgen machen??? Hat sich Messiah Ritzinger erkältet??? Soll ich ihm Sinupret und Bronchipret und Umckaloabo schicken??? Oder hatte er Landgang und es war Feiertag... "Sonntags nie!!!" und er lässt seinen Frust an uns aus???
Übrigens hatte ich die Jakobsmuscheln als Hauptgang, während die anderen sie als Vorspeise hatten. Die hatten bloß drei... Ernesto meinte, dass die Vorspeisenportion für einen ausgewachsenen Mann zu wenig sei und peppt meine Portion entsprechend auf. So ist Ernesto. Da wir aber nun wirklich so voll waren, dass wir weder Kaffee noch Dessert wollen, haben wir dem armen Kerl das Herz gebrochen. Es ist so schön, wie Ernesto einen bedient. Wir schätzen seine Art sehr.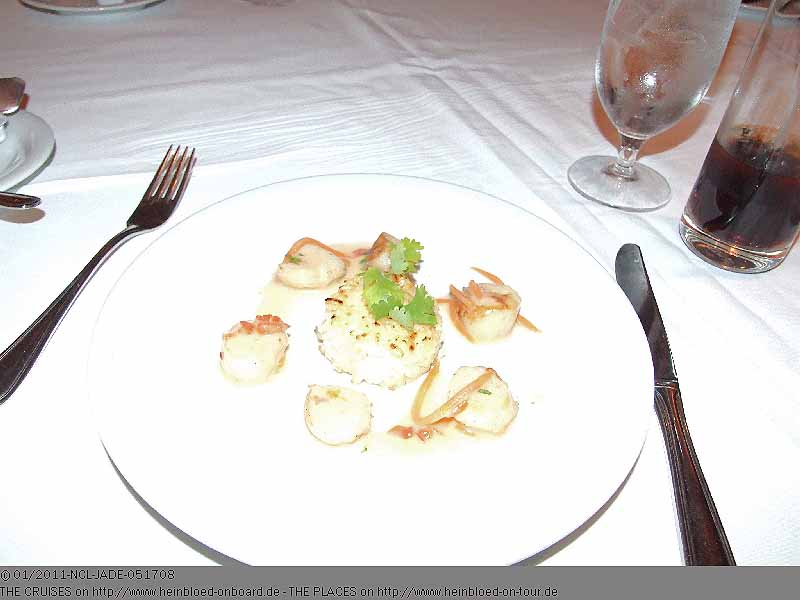 By the way I had the scallops as entree which are listed as starter. The other only had three... Ernesto thought that the starter portion is nothing for a true adult and upgraded my portion. That is Ernesto. As we were really full now we did not want coffee or desert either. So we broke the heart of this poor guy. It is really so nice how he serves us. We really appreciate his service.