Scroll down for English explanations - alternates with German explanations.

Wir stellen extra den Wecker, um den Stromboli nicht zu verpassen. An Bord ist es 06.47 Uhr neuer Zeit, d. h. in der Nacht wurde die Uhr schon mal auf die Ortszeit Piräus umgestellt.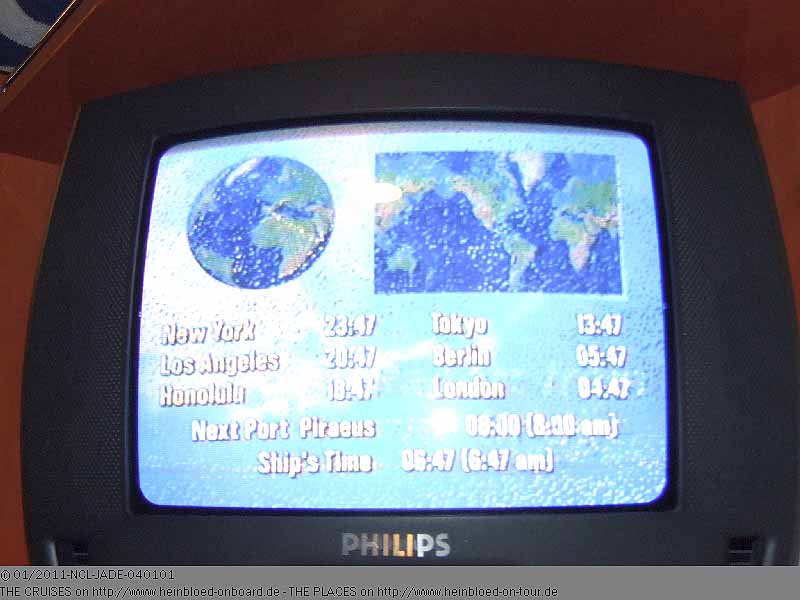 We set up the alarm not to miss Stromboli. So onboard time was 06.47 hrs new time, i.e. you changed the time one hour ahead to local time Pireaeus.

Outside it was still darf and around 07.15 hrs we should pass it according to the daily programme.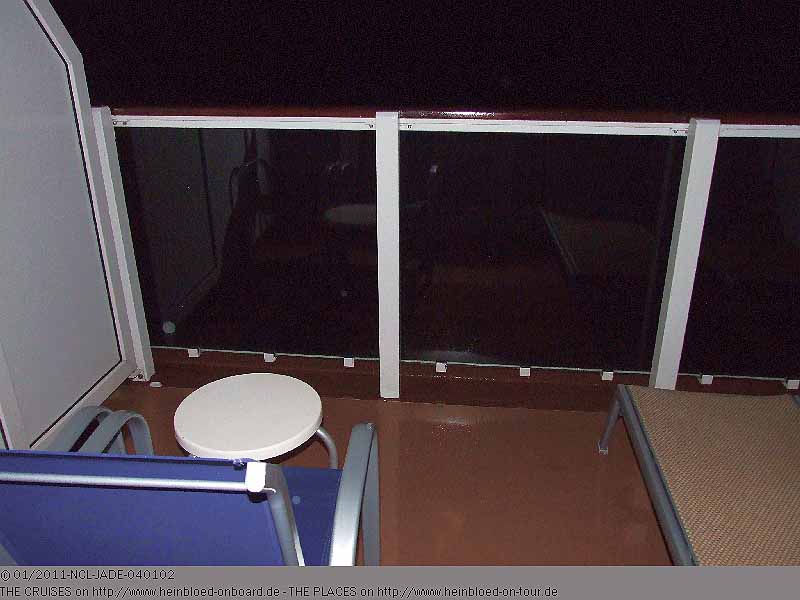 Draußen ist es aber noch dunkel und gegen 07.15 Uhr sollten wir ihn lt. Tagesprogramm passieren.
Allerdings hat da wohl einer bei der Gestaltung des Programms übersehen, dass es wohl 08.15 Uhr heißen muss. Eine Stunde umsonst zu früh aufgestanden.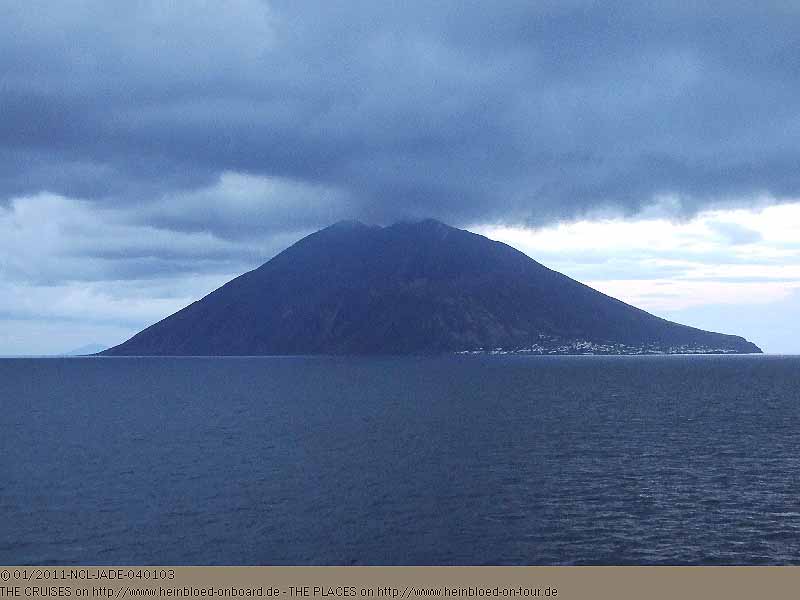 But I guess someone forgot the time change when the programme was set and it need to be 08.15 hrs. We woke up one hour earlier than need.

Bruno tried his "coffee" but it was more something for me as ocassionally I love to drink instant coffee and so he returned back to the restaurant's coffee and suffered...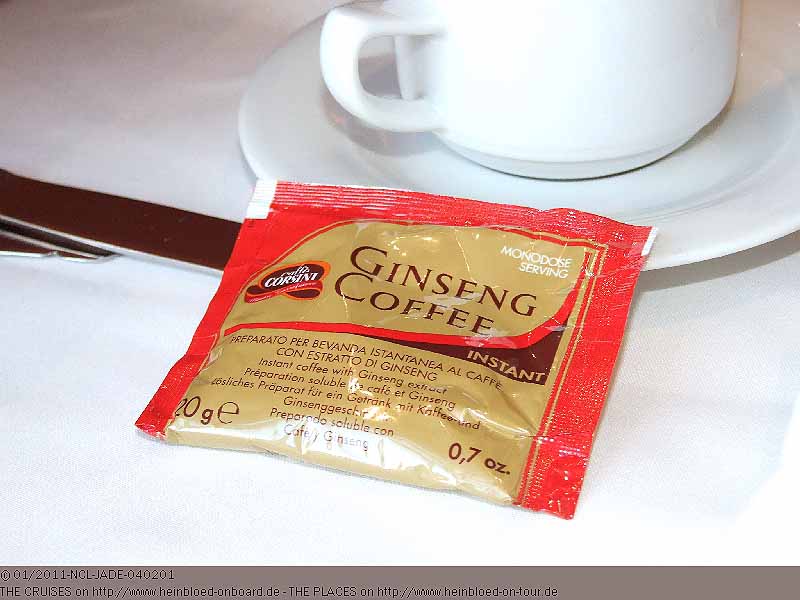 Bruno probiert seinen "Kaffee", aber der ist eher etwas für mich, da ich auch mal ganz gerne Instant-Kaffee trinke und so greift er dann doch auf den Kaffee im Restaurant zurück und leidet...
Ich führe meine eigene Teemarke mit... falls wir wieder einen Kellner erwischen, der nicht bereit ist, mir meinen grünen Tee zu suchen... Ich bekomme zwar heißes Wasser, aber leider keinen Teelöffel und Süßstoff, um meinen Teebeutel auszudrücken und meinen Tee sofort danach zu trinken...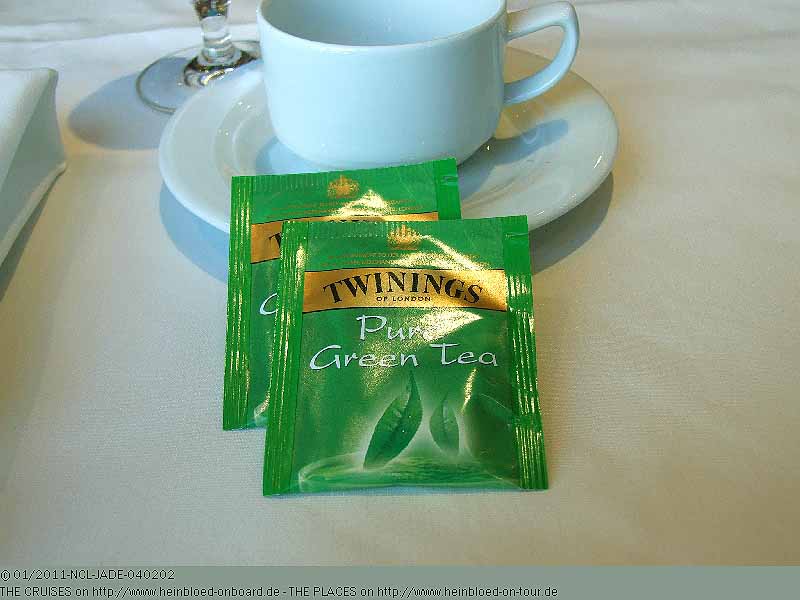 I have my own teabags with me... just in case we had a waiter who might be not willing to get me a green tea from somewhere... I got hot water but no teaspoon and sweatener to press out the teabag and having my tea thereafter...

He walked for me the extra-mile and so I got some of my soft-rolls but no butter...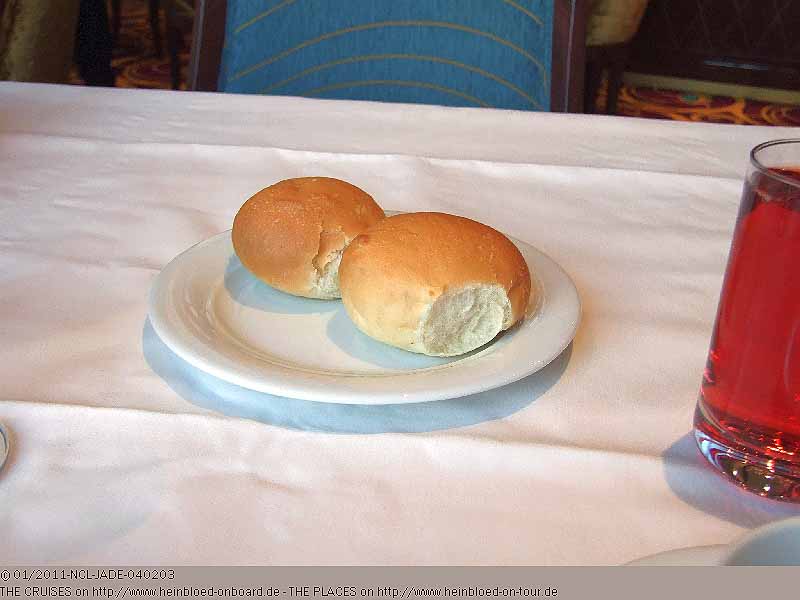 Er läuft für mich die Extra-Meile und ich bekomme meine Soft-Brötchen, aber leider keine Butter...
Weil es keine neuen Erkenntnisse zum Thema Fruchtteller gibt, teste ich mal den Melonenteller aus...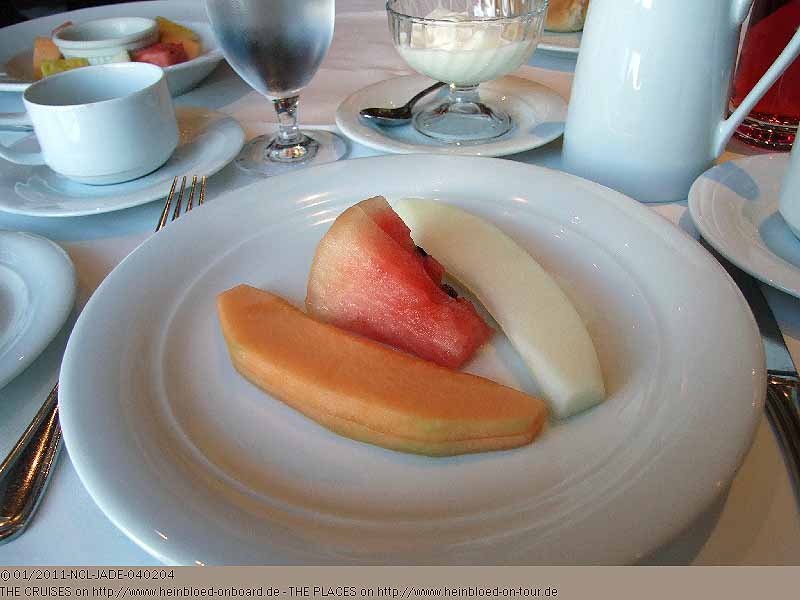 Because there were no news regarding the fruit plate I tested the melon plate...

"My wife took the fish..."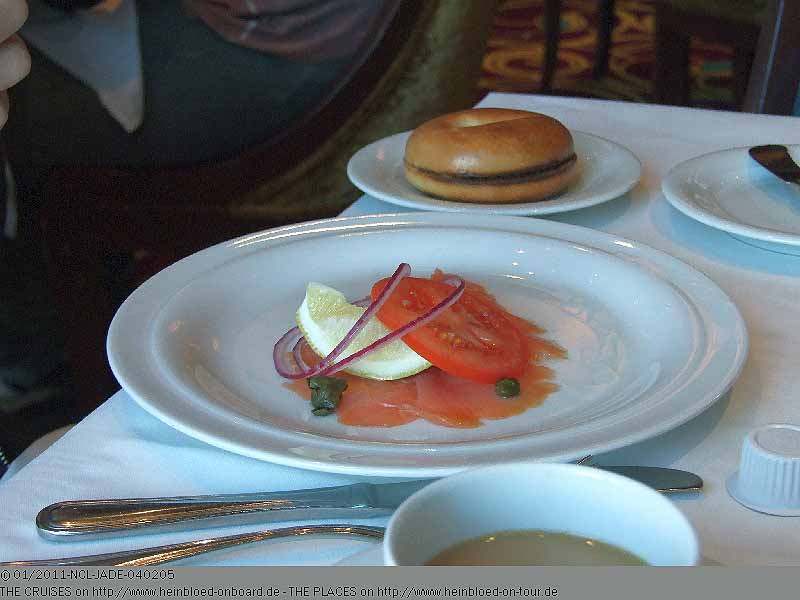 "Meine Frau nimmt den Fisch..."
Und ich nehme endlich Mal meinen Egg Benedict auf Lachs. Wer also auf Sieg (= 1. Tag) gesetzt hatte, hatte verloren. Wer jedoch auf Platz (= innerhalb der ersten drei Tage) gesetzt hatte, hatte gewonnen.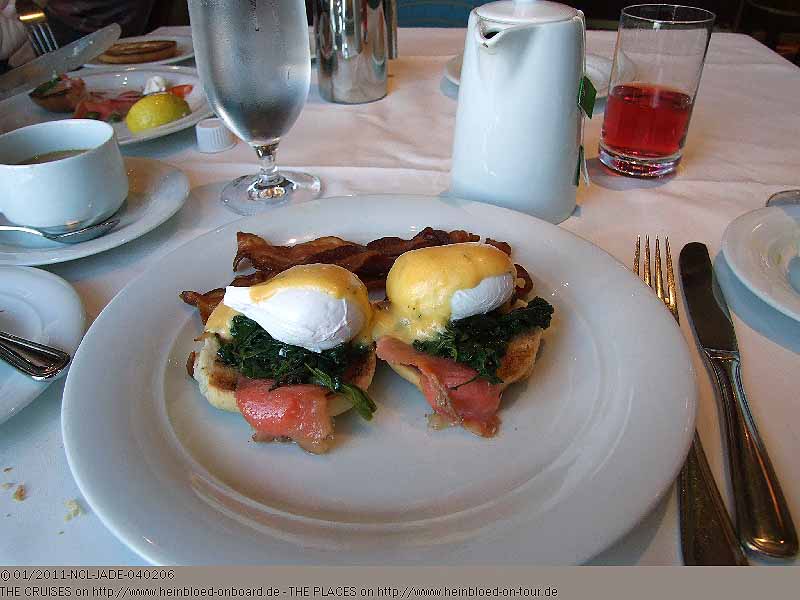 Finally I took Egg Benedict on salmon. Who was betting on victory (= 1st day) lost but who bet on place (= within the first three days) won.

If they try to give you table "55": reject the acceptance. It was a beautiful location in the aft but the stupid column does not allow you to see the service station. So nobody saw me to give a signal to ask for a spoon, sweatener or butter. One Maître was around but did not see me waving and was only intereste to other tables. With us he only showed up when everything was complete and asked if something is missing...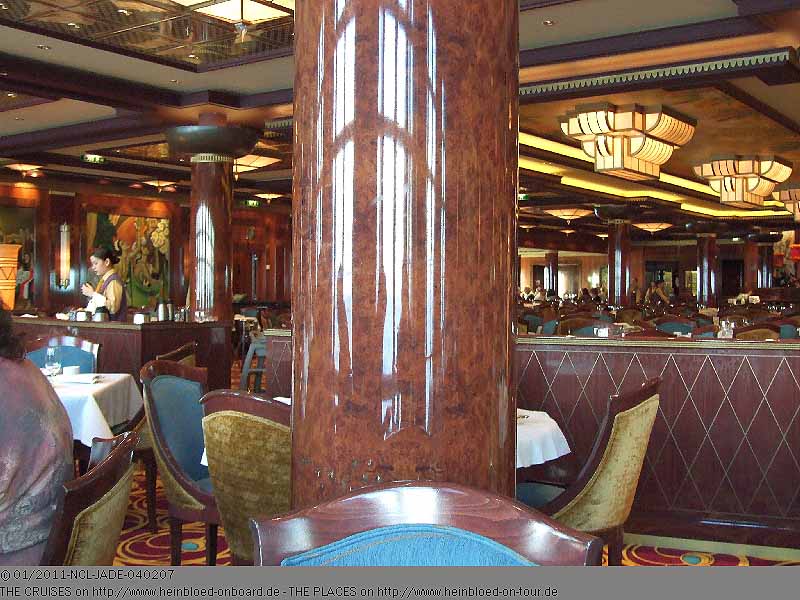 Wenn ihr den Tisch 55 zugeteilt bekommt: sagt sofort "nein". So schön wie die Lage am Heck ist, so dämlich ist die Säule, die mir den Blick zur Service Station verwehrt. So sieht mich keiner, dem ich ein Signal geben könnte, um nach einem Teelöffel, Süßstoff und Butter zu fragen. Ein Maître schwirrt herum, aber er sieht mein Winken nicht, interessiert sich nur für die anderen Tische und erst als bei uns alles vollständig ist, kommt er herum und fragt nach, ob uns noch etwas fehlt...
Nun dann müssen wir doch mal in Ahnengallerie der Maître gehen, die da anders drauf sind... Adina... z. Z. auf der NORWEGIAN SPIRIT, wie ich gehört habe... kennen wir von der
NORWEGIAN DREAM 2008
. Luiza, z. Z. auf der NORWEGIAN EPIC... Die von NCL tun wirklich alles, damit ich auf die NORWEGIAN EPIC nochmals gehe... Luiza kenne ich seit meiner Fahrt auf der
NORWEGIAN SPIRIT 2007
. Sie war damals Assistent Maître im Cagney's und bemerkt, dass ich meinen Salat kaum angerührt hatte. Sofort kommt sie und fragt nach, was nicht in Ordnung ist. Als ich ihr erkläre, dass er mir nicht so schmeckt, bietet sie mir an, mir sofort nochmals selbst einen Cesar's Salad zu machen. Ich lehne ab, weil ich eh noch Platz für mein Steak brauche und sie verspricht, dass ich beim nächsten Mal einen von ihr selbstgemachten bekomme... Nun haben wir uns seitdem auf der
NORWEGIAN JADE 2008
,
NORWEGIAN GEM 2009
und
NORWEGIAN EPIC 2010
gesehen und ich warte immer noch auf meinen Salat. Inoffiziell heißt es in Miami, dass solange ich nicht den Salat bekomme, ich immer wieder bei NCL buchen würde, um endlich den Salat zu bekommen, den sie mir seit vier Jahren schuldet...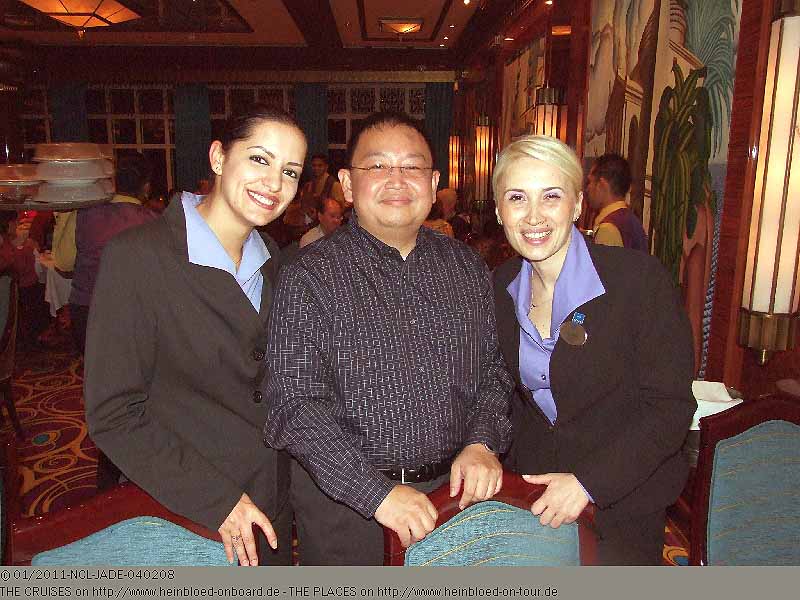 Now we need to check the galleries of the heritage of Maîtres which treated us other way like those on board... Adina... currently on NORWEGIAN SPIRIT as far as I heared... we know from NORWEGIAN DREAM 2008. Luiza currently on NORWEGIAN EPIC... NCL does everything to go back again on NORWEGIAN EPIC... Luiza I know since my first sailing on NORWEGIAN SPIRIT 2007. She was then Assistant Maître in Cagney's and remarked that I did not touch too much my salad. Immediately she came and asked what was wrong. As I explained that I did not like it she offered to prepare a new Cesar's Salad by herself... Now we met her on NORWEGIAN JADE 2008, NORWEGIAN GEM 2009 and NORWEGIAN EPIC 2010 and I am still waiting for my salad. Inofficially I heared that I would book NCL again and again as long as I do not get my salad somehow to get finally my salad which she owes me for four years...

Daniela on NORWEGIAN JADE 2009: she saw me running out of the restaurant because the waiter refused to get me a sticker for the soda-pass and I did not like to pay for the 1st coke. Stopped me: "Sir that is absolutely no problem to get you a sticker. You have a seat and enjoy your lunch. I am taking care of this!" and immediately I got my diet coke before I got my card with the sticker.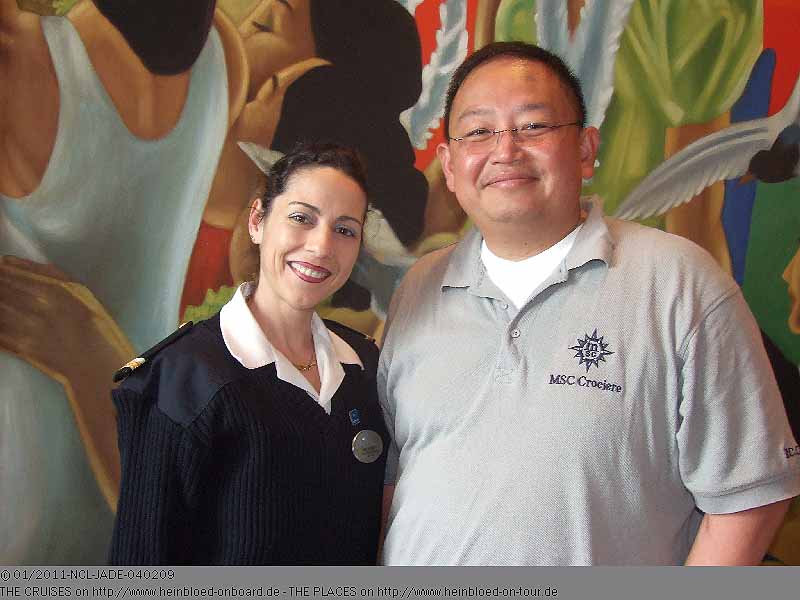 Daniela auf der
NORWEGIAN JADE 2009
: sah mich aus dem Restaurant rennen, weil sich der Kellner geweigert hat, mir einen Aufkleber zu besorgen für den Soda-Pass und ich keine Lust hatte die 1. Cola so zu bezahlen. Hat mich aufgehalten: "Sir, das ist absolut kein Problem Ihnen den Sticker zu besorgen. Setzen Sie sich hin und genießen Sie ihr Essen. Ich kümmere mich darum!" und sofort bekam ich eine Cola Light bevor ich den Aufkleber zurückbekam.
Mahmut auf der
NORWEGIAN JADE 2009
: hat uns sehr gut gehandelt, weil ich dachte, dass sie von gut unterrichteten Kreisen aus Kalifornien (... paiagirl (Frances) aus cruisecritic.com) entsprechende Instruktionen erhalten hat... Fühlte mich wirklich wie ein VIP, bis dass ich feststellen musste, dass er JEDEM Gast das Gefühl gegeben hat, dass er ein VIP ist.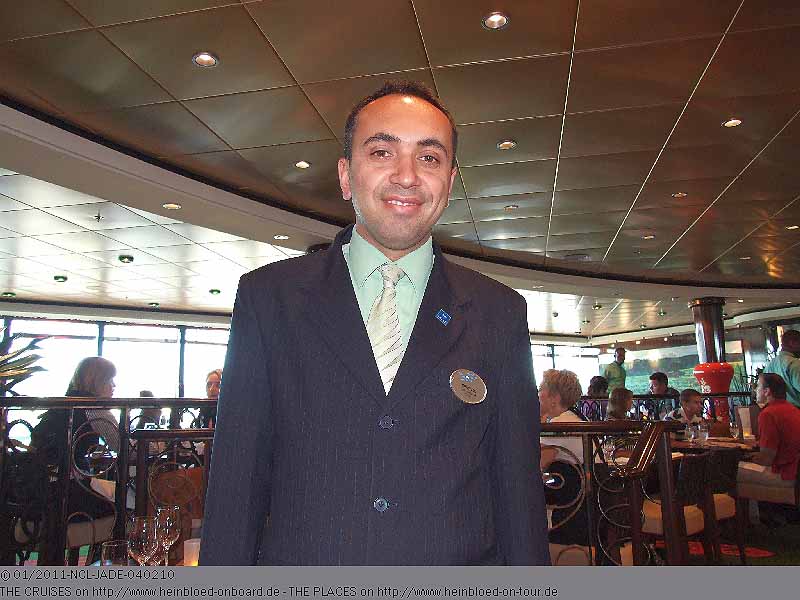 Mahmut on NORWEGIAN JADE 2009: treated us very well because I thought she was briefed accordingly by well-informed circles from California (... paiagirl (Frances) from cruiscritic.com)... I felt really like VIP until I need to find out that he gave EVERY guest the feeling to be an VIP.

I Gede from NORWEGIAN DREAM 2008: on Bermuda I bought also my own teabags because I do not like very much the flavour of passion fruits in my green tea from Lipton. So when I asked for some hot water and showed him my bags he only asked me: "Sir - why do not you just say anthing that you prefer to have jasmine tea and got a big container from the kitchen."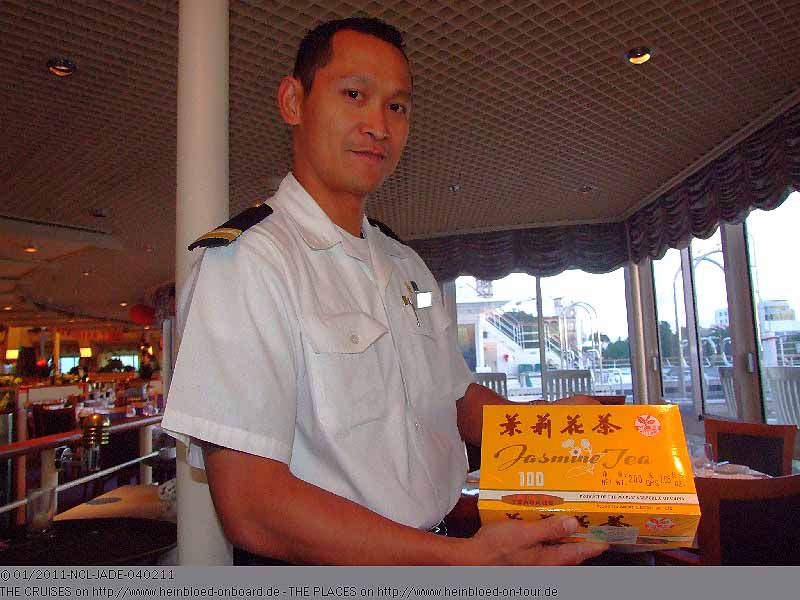 I Gede auf der
NORWEGIAN DREAM 2008
: auch in Bermuda habe ich mir eigene Teebeutel besorgt, weil ich auf die Dauer den grünen Tee von Lipton mit Passionsfruchtgeschmack nicht mag. Als ich dort um heißes Wasser bat und ihm die Beutel zeigte, fragte er mich bloß: "Sir - Warum sagen Sie eigentlich nicht, dass Sie lieber Jasmin Tee trinken und holt eine Großpackung aus der Küche."
Shridhar auf der
NORWEGIAN GEM 2009
: keine Chance auch nur die Hand zu heben, um auf mich bemerkbar zu machen. Hatte die Augen überall.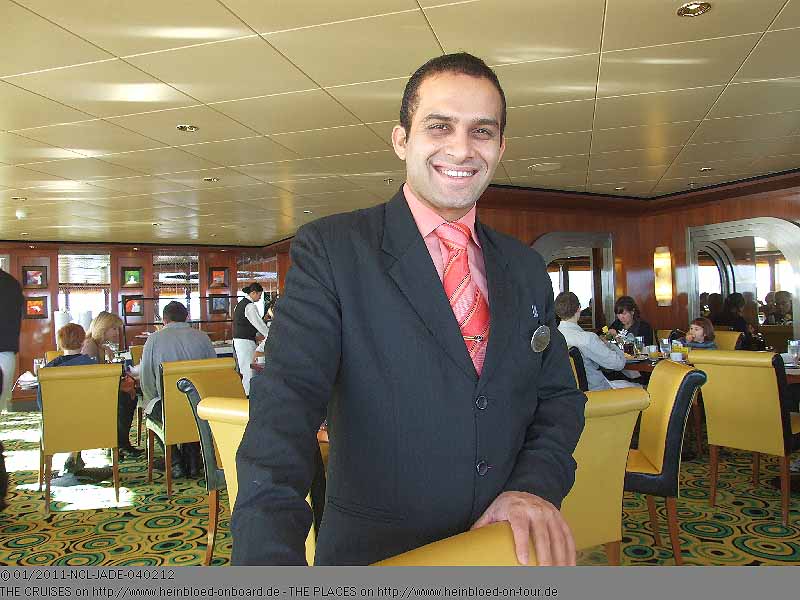 Shridhar on NORWEGIAN GEM 2009: no chance to raise the Hand to attrack the attention. Had his eyes everywhere.

Last not least Ramona which we knew from NORWEGIAN JEWEL 2008 and NORWEGIAN DREAM 2009. I really hope that she might read the lines: Ramona - we miss you!!! If she were around you as Maître you had a good life. She also followed our eyes. When we were looking for salt and pepper and asked the waiter for some. While he was running to his service station she already grabbed it from an untaken table and placed it to our table. There is nothing I am deeply regret for but her accident she had and which does not allow anymore her to work on a ship. So from us: ALL THE BEST!!! Maybe you can be our tour guide if we book a Black-Sea-cruise...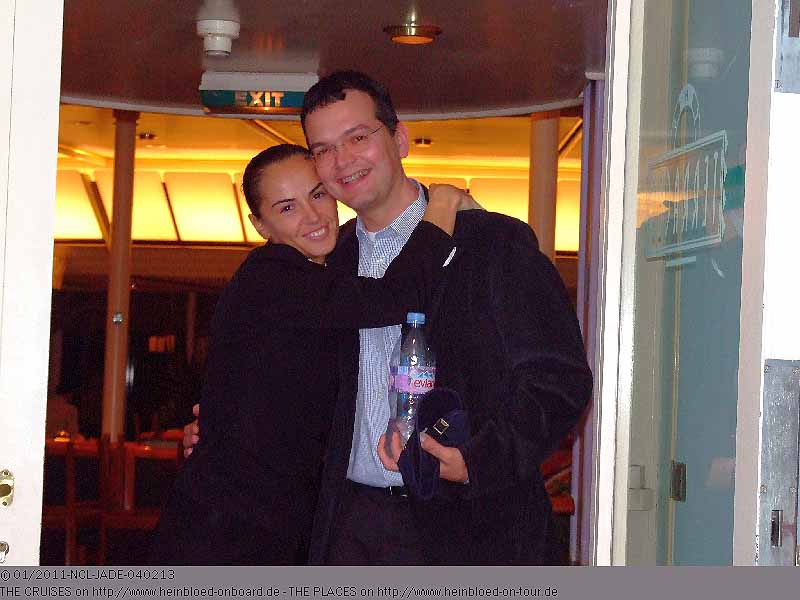 Und last not least Ramona, die wir von der
NORWEGIAN JEWEL 2008
und
NORWEGIAN DREAM 2009
kennen. Ich hoffe, dass sie diese Zeilen liest: Ramona - wir vermissen dich!!! Mit ihr in der Nähe als Maître konnte einem gar nichts passieren. Die verfolgte sogar unsere Blickrichtung. Wenn wir nach Salz und Pfeffer am Tisch Ausschau hielten und dann den Kellner, um Salz und Pfeffer baten, der dann zur Servicestation rannte, hatte ich schon vom leeren Nachbartisch sich Salz und Pfeffer geschnappt und uns hingestellt. Nichts bedauern wir mehr, als den Unfall, den sie hatte und der ihr es leider nicht mehr ermöglicht auf einem Schiff zu arbeiten: ALLES GUTE!!! Vielleicht mal als Fremdenführerin auf einer Kreuzfahrt im Schwarzen Meer...
Leider stellen wir fest, dass wir den Safe nicht mehr verschließen können. Zum Glück haben wir ja unser Band dabei, so dass er nicht offen steht und immer gegen die Kabinentür schlägt, wenn wir sie aufmachen. Arbeiten am Safe dürfen nur in Anwesenheit des Gastes ausgeführt werden. So werden wir gebeten, anrufen, wenn wir mal einige Minuten selbst in der Kabine sind.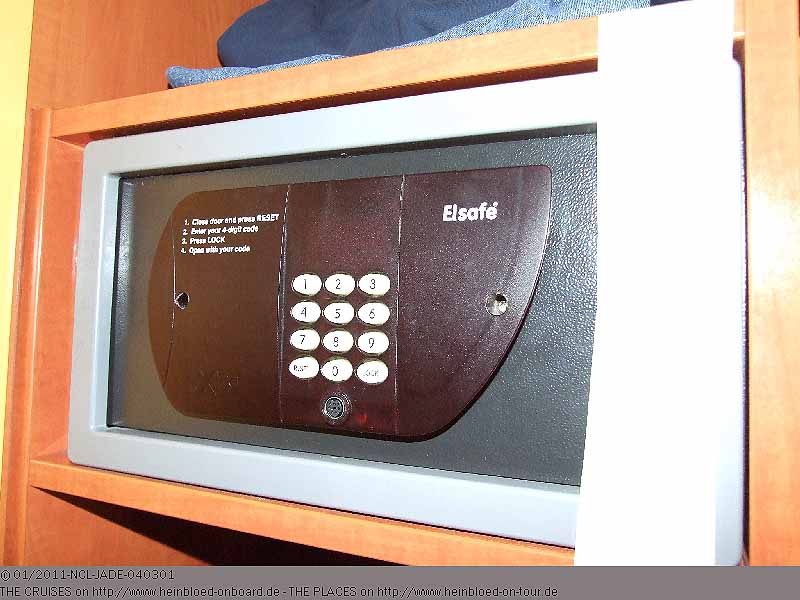 Unfortunately we saw that we cannot lock our safe anymore. Luckily we had our tape with us to close it that we can open and close the cabin door without any damages. Works at your safe are only allowed if you are present in your cabin. So we were kindly requested to call if we have the convenience to be for a couple of minutes in our cabin.

there are few good reasons why on NORWEGIAN EPIC is behind glass at the aft and forward... Nobody could throw down the his butter container over the railing from Deck 12.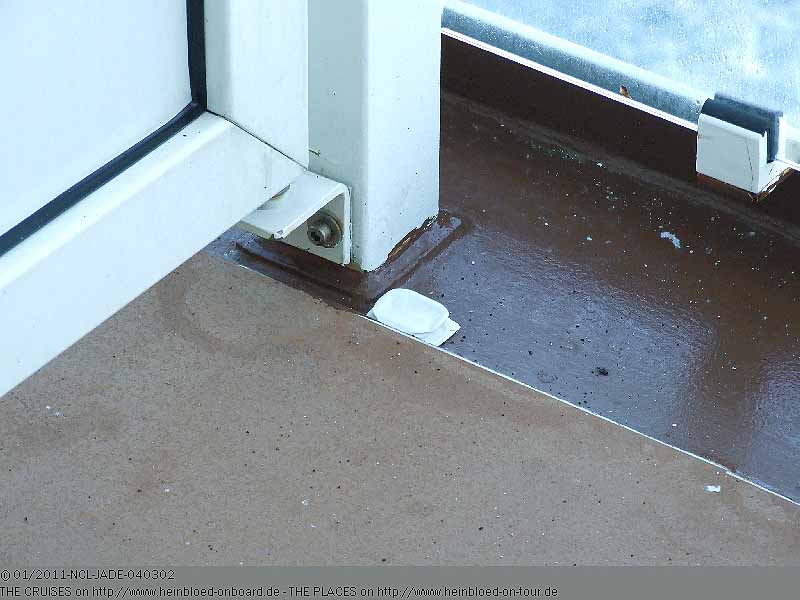 Es gibt schon gute Gründe, warum es auf der NORWEGIAN EPIC alles hinter Glas ist... am Heck und am Bug... Dann kann niemand von Deck 12 seine Butterpackungen einfach über die Railing werfen...
Man merkt schon, dass dort immer mehr Zigarettenasche ist...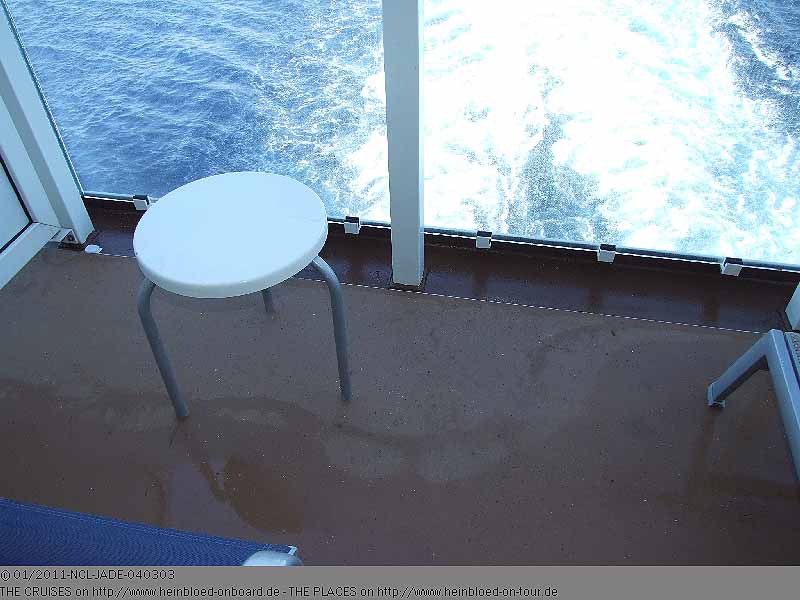 It was remarkable how much cigarette ash we had already on our balcony...

Unfortunately it was not just the batteries which might be week the whole locking unit was not working anymore. The technician just got a new one and built it into the safe.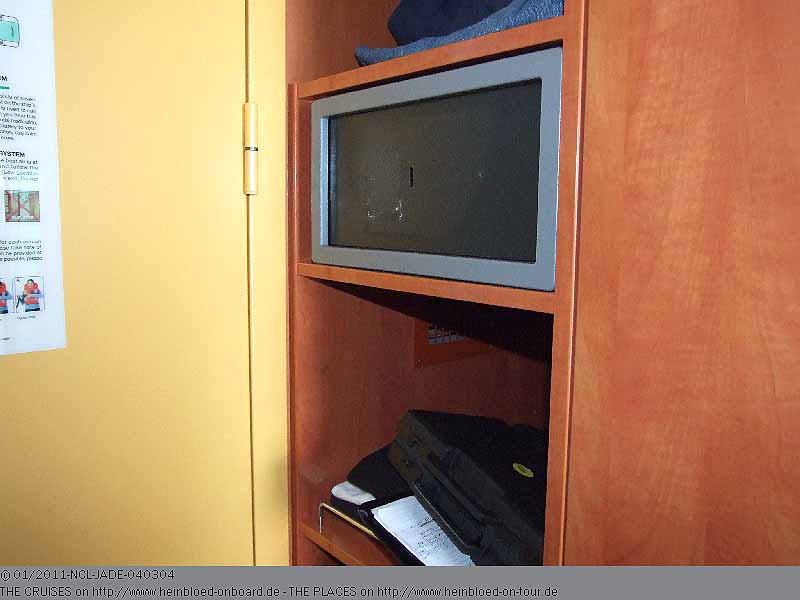 Leider waren nicht nur die Batterien leer, sondern die ganze Schlosseinheit. Der Techniker holt aber sofort eine neue und baut sie ein.
Wir machen den Wäschesack fertig... und da wir versuchen den Rekord zu brechen, füllen wir ihn so voll, und verschließen ihn mit unserem Klebeband, damit er nicht einreißt... Mal gucken, wann für Passagiere das Mitbringen von Klebeband allgemein untersagt wird...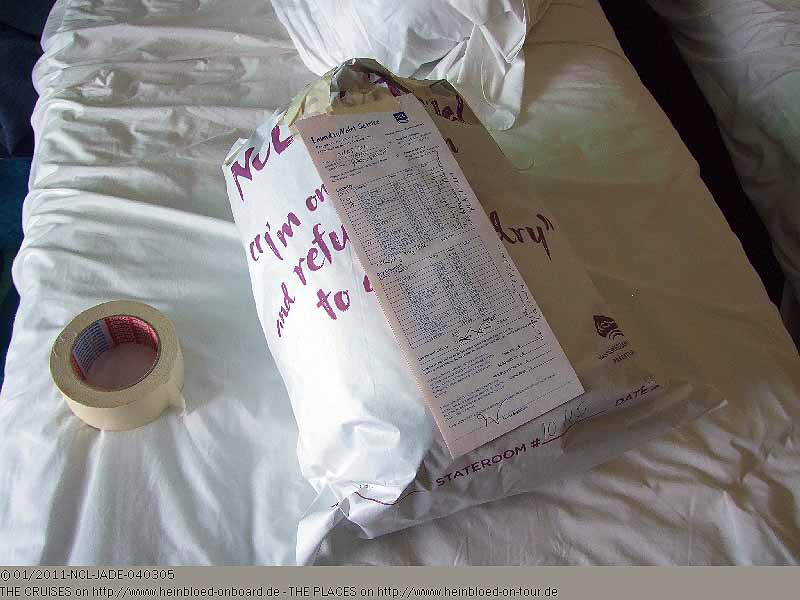 We prepared the laundry bag... as we tried to break the record we filled it so much and closed with our tape that it would not open... Let's see when they prohibited tapes to carry with you...

We arrived at the Strait of Messina. You cannot see Mt. Etna itself. If I would have known before that we had a pilot I would have ordered a Sicilian or Calabrese (no idea from which side the pilot came...) and asked for delivery... We enjoyed the view from our balcony even we were not standing too close at the railing during breakfast hours. We will call Messina in October 2011 again.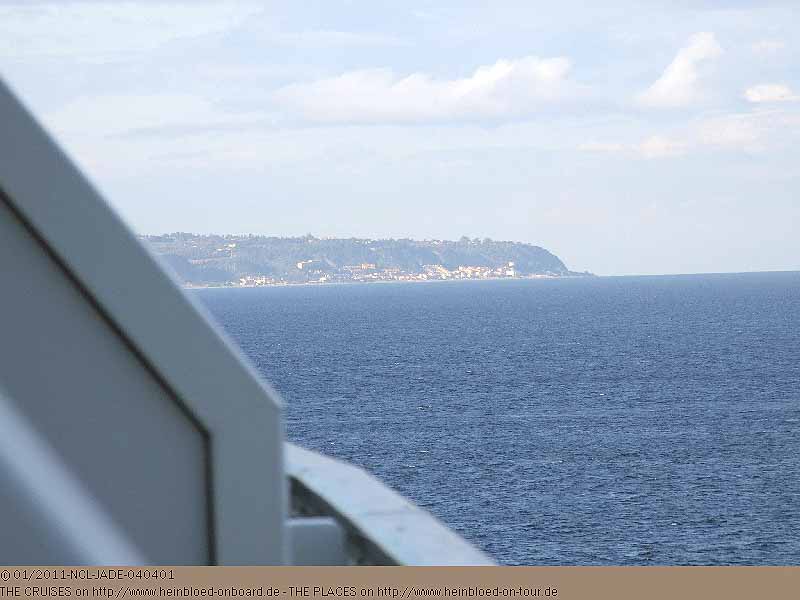 Wir laufen in die Straße von Messina ein. Den Ätna sieht man leider nicht. Hätte ich gewusst, dass ein Lotse an Bord kommt, hätte ich vorher eine sizilianische oder kalabresische (weiss ja nicht woher der Lotse kommt...) bestellt und sie ausliefern lassen... Insgesamt genießen wir die Aussicht aus unserem Balkon, auch wenn wir während der Frühstückszeit nicht so nahe an der Railing stehen... Messina laufen wir ja wieder im Oktober 2011 mit der NORWEGIAN JADE an...