Scroll down for English explanations - alternates with German explanations.

Als wir morgens aufwachen, sind wir in einer anderen Welt... Spuckbeutel für die rauhe See...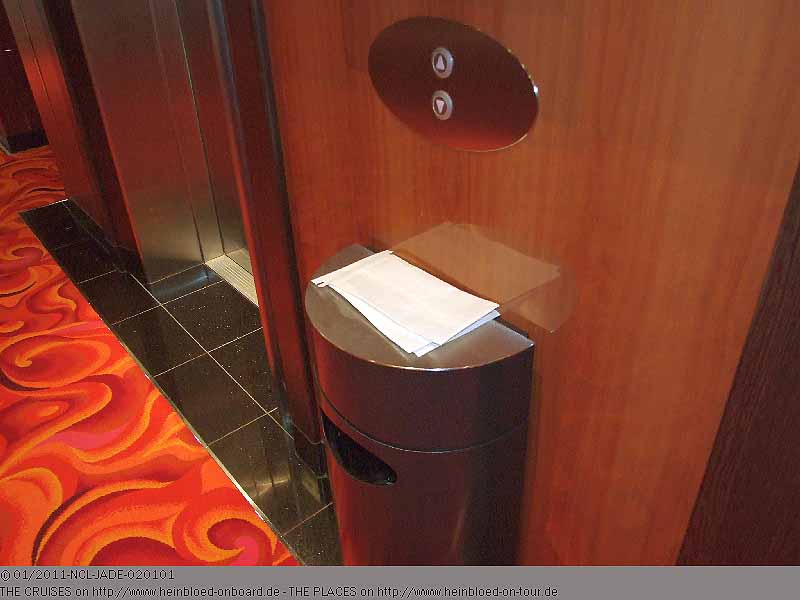 When we woke up the next morning we arrived in another world... Bags for the rough sea.

and open restrooms means that they increased the safety measurements. Better they watch me when I am peeing than to find myself in quarantaine and I see only my bathroom... So guess the one person who brought the virus on board must to be a Peeping Tom... No more jokes: WASH YOUR HANDS and SANITIZE!!!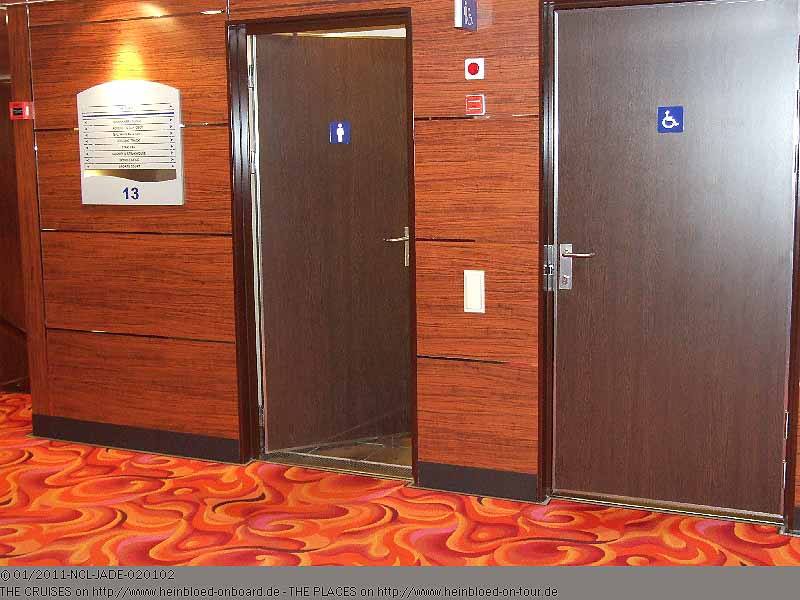 und offene Toiletten bedeutet, dass eine höhere Sicherheitsstufe herrscht. Besser man guckt mir was weg und guckt mir beim Pinkeln zu, als wenn ich mich in Quarantäne wiederfinde und nur noch mein Bad sehe... Also muss wohl derjenige, der den Virus an Bord gebracht hat, ein Spanner sein... Spaß beiseite: HÄNDE WASCHEN und DESINFIZIEREN!!!
Von Kabinen wie dieser sollte man ein wenig Abstand nehmen und nicht unbedingt die Türgriffe und Handgriffe anfassen... wobei wir die Crew immer dabei beobachten, wie sie fortlaufend alles desinfizieren und sich immer den Gefahren einer Ansteckung aussetzen.

You should keep distance from cabins which are marked like this and do not touch the handle or handrails around... but we saw the crew doing their very best to keep everything around clean and even it might be dangerous for them too.

Bruno went all the morning to the gym. As he said it got quite busy very quickly you should be there as early as possible to you like it more calm.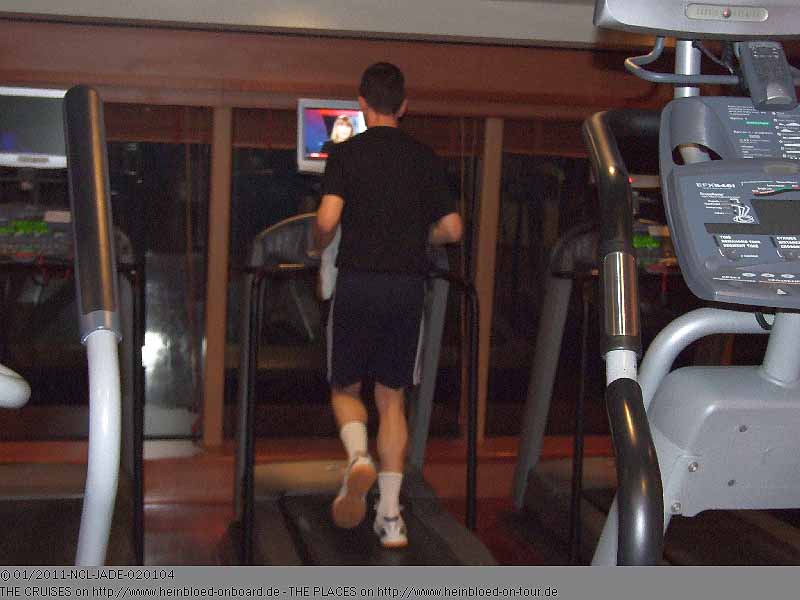 Bruno läuft morgens immer auf dem Laufband. Da er sagt, dass es sich schnell füllt, sollte man schon früh dort erscheinen, wenn man es ruhiger mag.
Es wird auf Portionsbehälter umgestellt. Auch hat man nur noch den möglichen Bedarf für die eine Mahlzeit.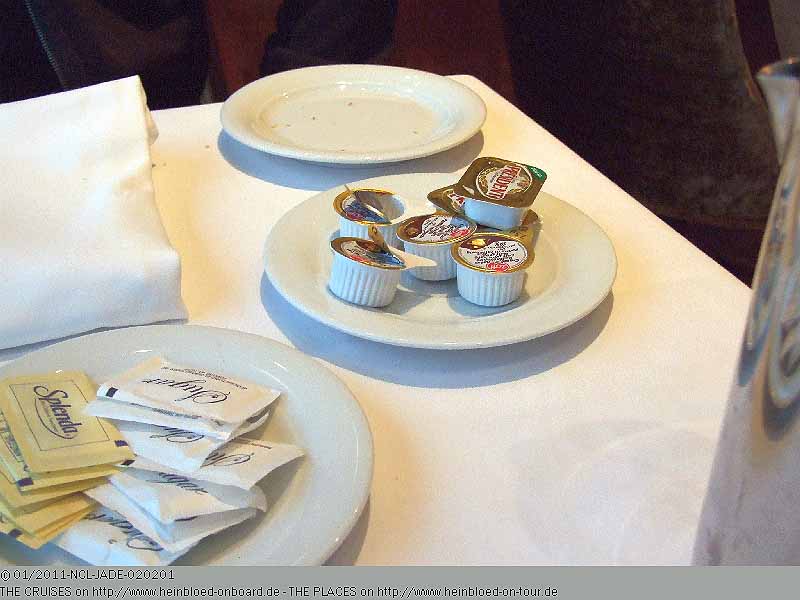 They changed to portion containers. And you only as much as you might need for your meal.

I got my pot of Green Tea. We had a wonderful waiter on this morning. Bruno's cereal was not available. Not one word - once he returned he apology for the delay as he walked all the way up to get it from the Garden Café. That is why we love NCL. That is why our bundle of singles need to be refilled very soon: those who are willing to walk an extra-mile deserve a little more from us...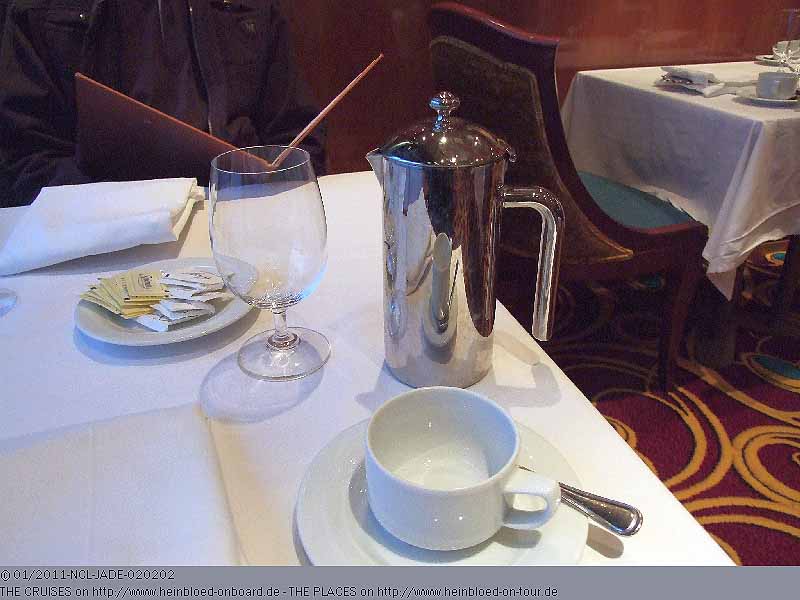 Ich bekomme meine Kanne grünen Tee. An diesem Morgen haben wir einen erstklassigen Kellner. Brunos Cerealien war nicht verfügbar. Nicht ein Wort - erst als er wiederkommt und sich für die Verzögerung entschuldigt, erfahren wir, dass er extra ins Garden Café gelaufen ist. Darum lieben wir NCL. Darum ist unser Bündel an Dollar-Noten immer so schnell aufgebraucht: diejenigen, die bereit sind, die Extra-Meile zu laufen, haben es sich ja auch eine Extra-Belohnung verdient...
Leider nur eine Folge des Norovirus... Dann gibt es wieder den Tablettservice statt den Brotkörbchen... Böse Zungen behaupten, dass ich den Virus an Bord gebracht hätte, weil ich den Tablettservice mit dem Frühstücksgebäck vermisse und die Körbchen nicht mag...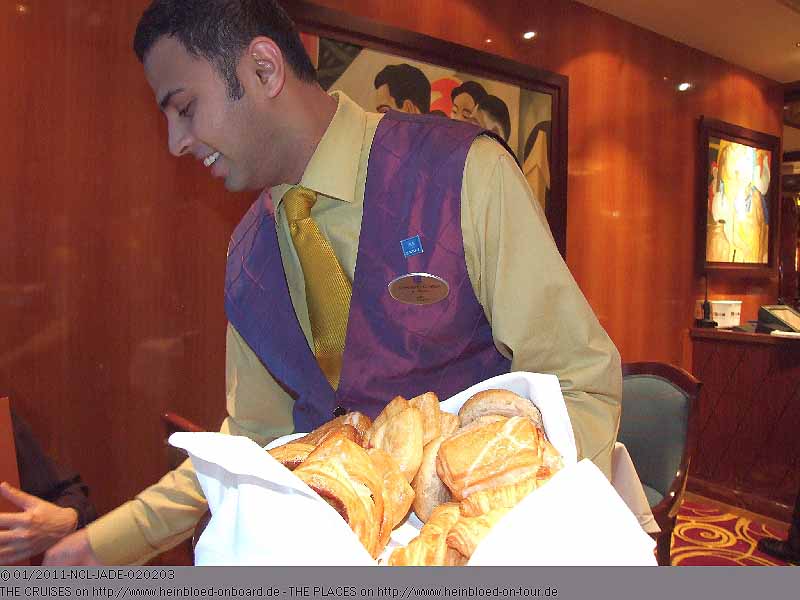 Unfortunately only because of the norovirus... I had back my tray service for the Danish instead of the basket... Bad people said that I carried the norovirus on board just to get my tray service which missed as I dislike the baskets.

Hmmm... do we need to go on NORWEGIAN EPIC again...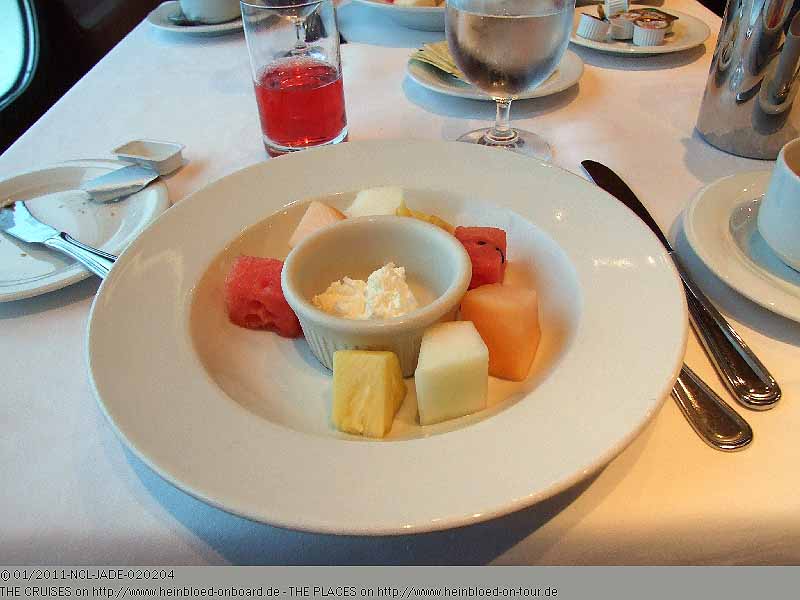 Hhmmm... müssen wir unbedingt NORWEGIAN EPIC fahren...
oder auf Kreuzfahrten gehen, auf denen auch Eric Cousins (NCL-Flotten-Küchenchef) ist, damit wir wieder einen schönen Obstteller bekommen, wie auf der NORWEGIAN EPIC??? Wer hat den Kiwi geklaut??? Und wo ist meine Erdbeere hin???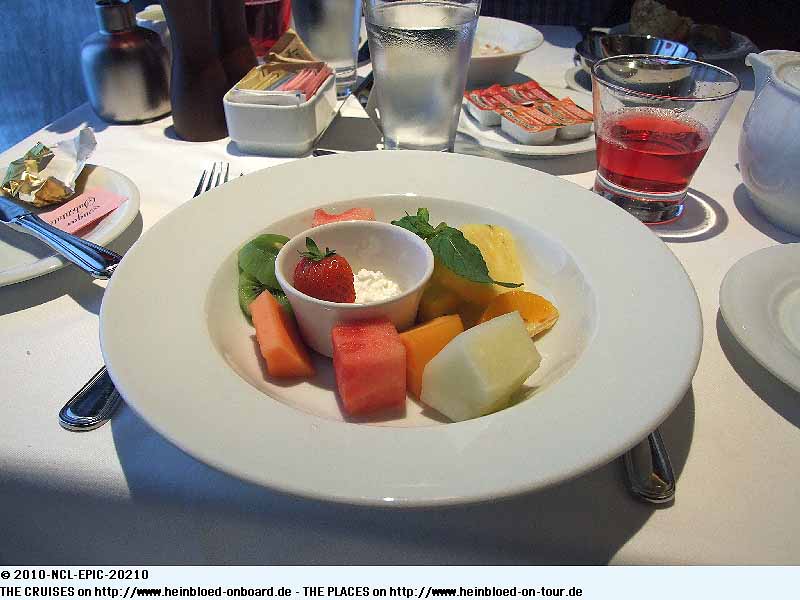 ... or going on a cruise with Eric Cousins (NCL-Fleetwide Chef) to get a nice fruit plate like on NORWEGIAN EPIC??? Who had stolen our kiwi??? And where is my strawberry???

No - totally wrong... I was still so full from my nightly snack... Whose who bet that there will be an Egg Benedict on salmon need to wait a little more...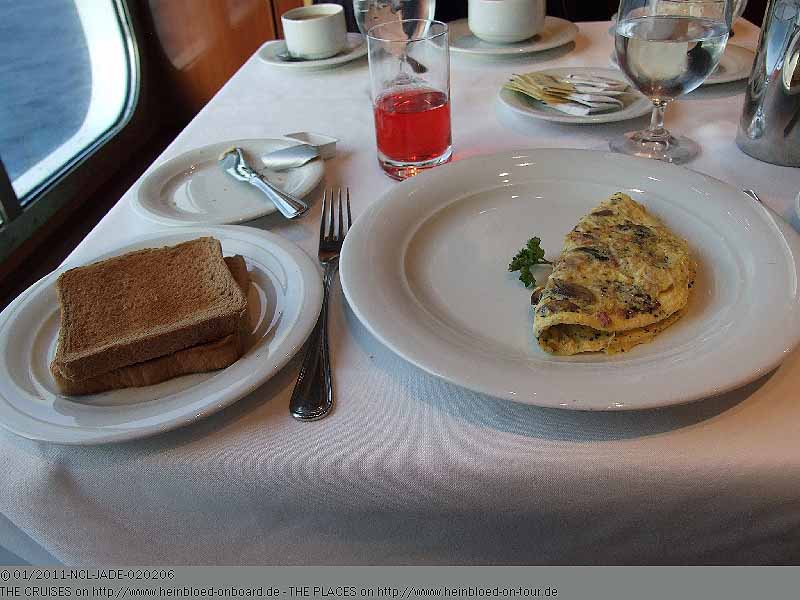 Nein - falsch geraten... ich bin noch so voll von meinem nächtlichen Snack... diejenigen, die gewettet haben, dass jetzt ein Egg Benedict auf Lachs folgt, müssen noch ein wenig warten...
Wichtig ist nur der Horizont und die Höhe im Fenster... Wir sitzen auf der Steuerbordseite und gucken zu den Fenstern auf der Backbordseite...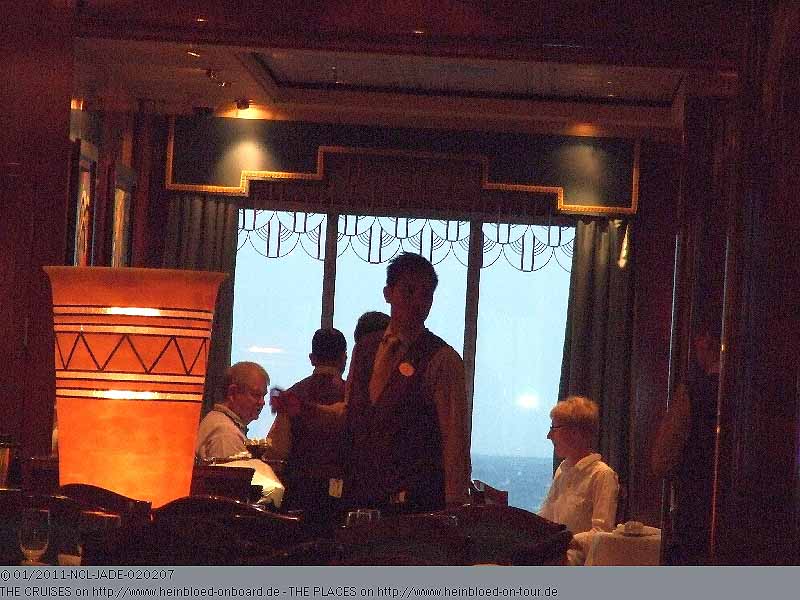 Important is only the height of the horizon in the window... We sat on the starboard side and look to the windows on portside...

It was much more higher but when I wanted to take the picture it did get higher again.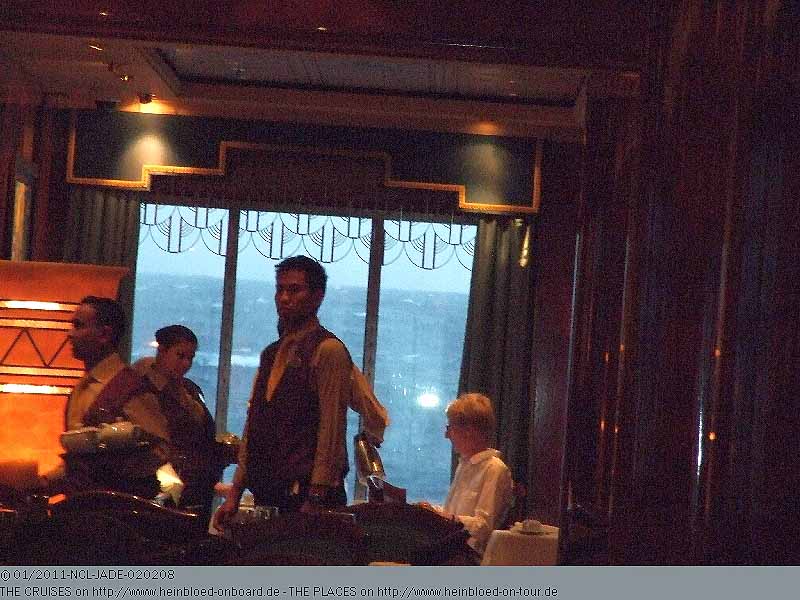 Es war auch schon höher als so, nur als ich fotografieren wollte, wurde es bloß nicht wieder so hoch.
Eine Riesenfreude: 10jackie (Jackie und Alex), die wir von unserer Reise auf der
WESTERDAM im Juli 2010
her kennen. Sie erzählen uns, dass nach unserer Ausschiffung in Rotterdam die Runde rund um die Britische Inseln alles nachgelassen hat und sie deswegen nicht mehr HAL fahren wollen.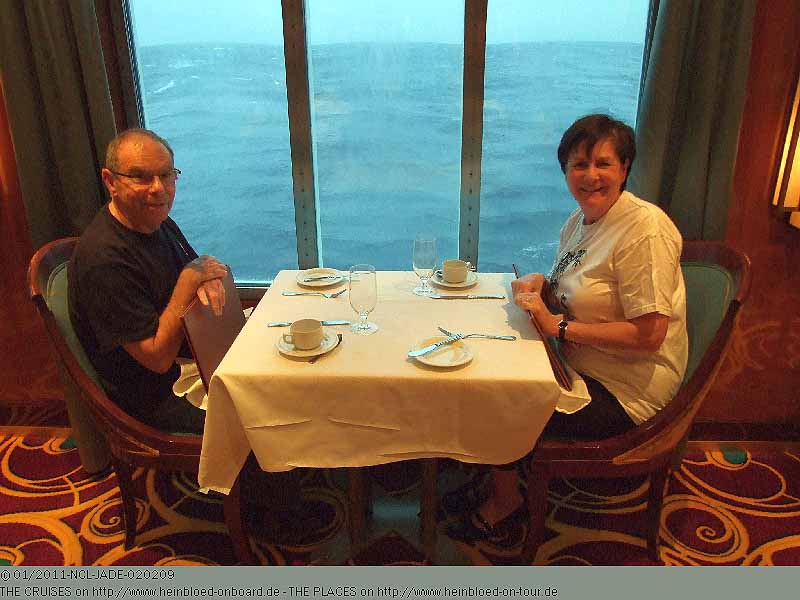 What a surprise: 10jackie (Jackie and Alex) whom we know from our voyage on WESTERDAM in July 2010. They told us that after our debarkation the voyage around the British Isle became weaker and were not interested to go anymore HAL.

What is now better: 45% runs perfectly superb and 45% runs totally disaster... or 90% runs on a very good level... Which situation do you like more??? It's a question of personal taste. We can handle the 45% disaster if the is someone we could address to which we did not have on WESTERDAM and OCEAN PRINCESS...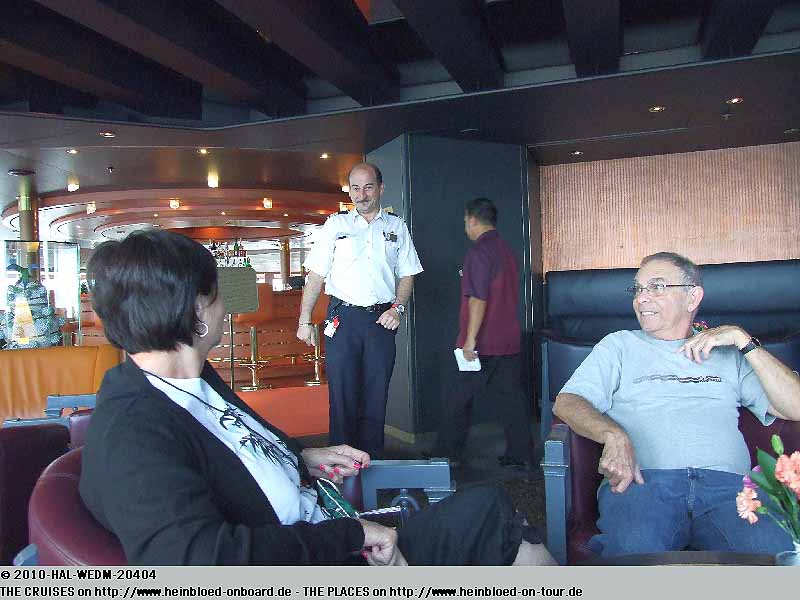 Was ist nun besser: zu 45% läuft es super und zu 45% läuft es katastrophal... oder zu 90% läuft alles auf einem guten Niveau gut... Welche Situation findet man besser??? Eine Frage der persönlichen Einstellung. Wir können ja auch die 50% Katastrophen handhaben, wenn wir jemanden hätten, den man damit belasten kann, was ja zuletzt auf der WESTERDAM und OCEAN PRINCESS nicht möglich war....
Um 09.15 Uhr beginnt das Meet & Greet. Für alle, die sich registriert haben, habe ich Namensschilder vorbereitet.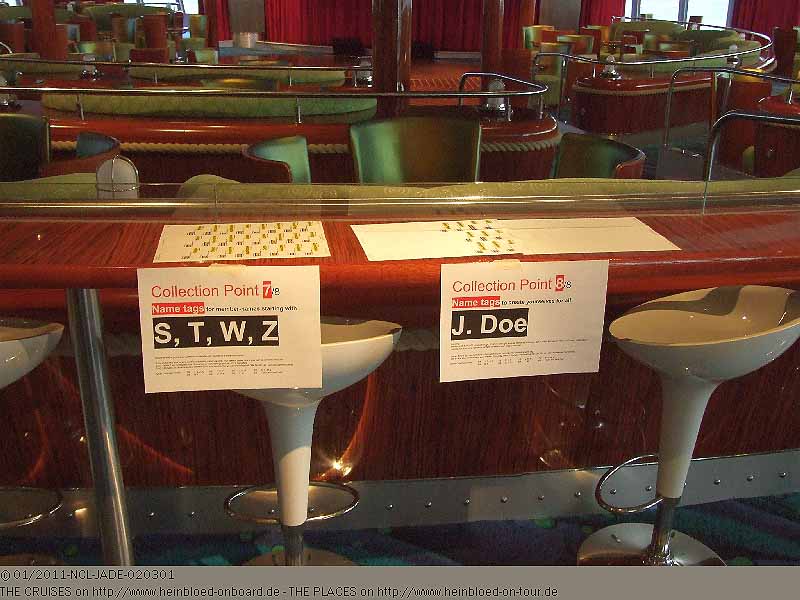 At 09.15 hrs we had the Meet & Greet. For all who registered I prepared name tags.

But less came than expected.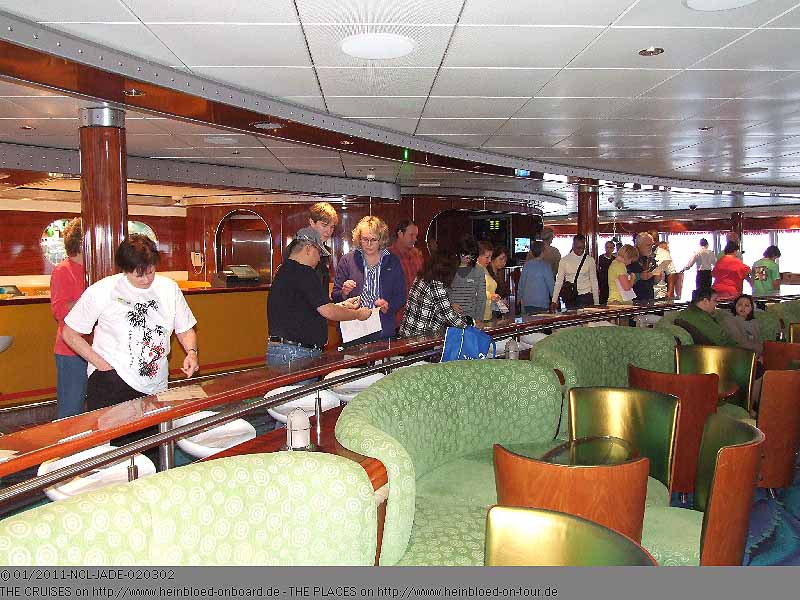 Leider kommen weniger als gehofft.
Einige haben es regelrecht verschlafen, weil sie gegen die Seekrankheit Tabletten genommen haben und einfach nicht aus dem Bett kamen.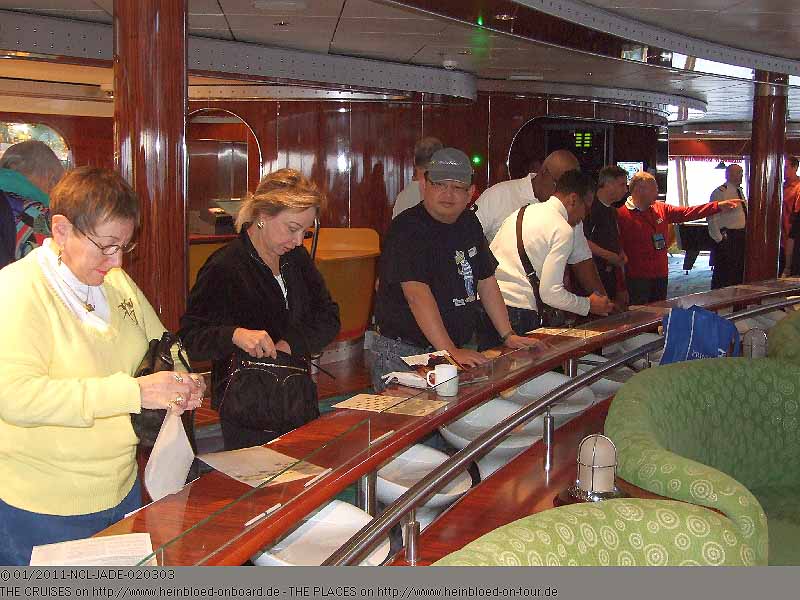 Some just overslept because they took something against motion sickness and they could not get out of their beds right on time.

We were very glad that some senior officers came by: From the left to the right: Alex Patagnan (Housekeeping Manager), Gary Glading (Cruise Director), Mirsad Bucuk (F&B-Manager), Sonja Sommeregger (Guest Service Manager), Ehab Rashwan (Assistent Hotel Director), Les Riley (Hotel Director)

Worüber wir uns sehr freuen: es kommen ein paar Senior-Offiziere: von links nach recht: Alex Patagnan (Housekeeping Manager), Gary Glading (Cruise Director), Mirsad Bucuk (F&B-Manager), Sonja Sommeregger (Guest Service Manager), Ehab Rashwan (Assistent Hotel Director), Les Riley (Hotel Director)
Und sie sind für uns ansprechbar und geben uns ihre Telefonnummer, damit wir sie erreichen können.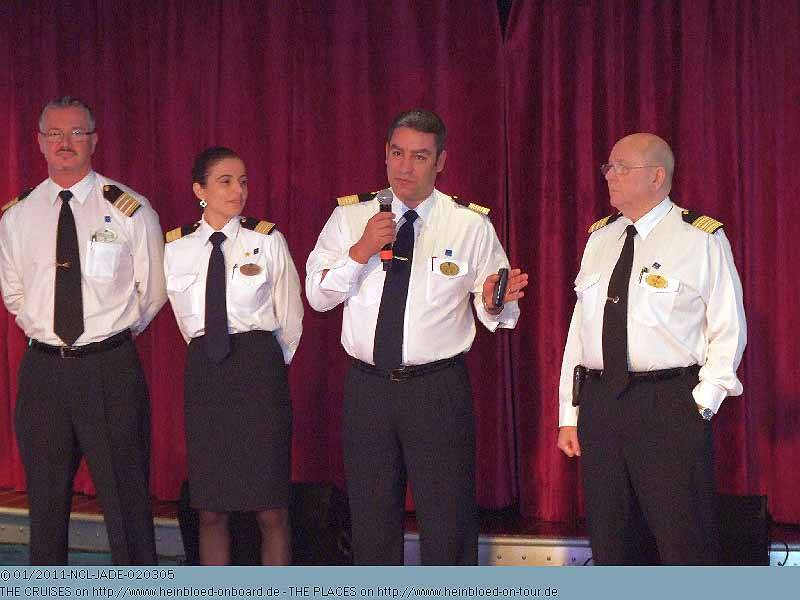 And they are accessible for us and let us know how to reach them by phone.

After the last disappointment on OCEAN PRINCESS when nobody showed up from Princess
it was a real pleasure to have them all with us especially as they were there to answer our question like how the situation in Alexandria would be. Ehab is Egyptian so we got first hand answers and he could calm down the guests. Some guests had problems with their cabin. So someone went down with their little notebooks from the stage to the guests to listen to their problems and note something. Les apologized for all inconvenience we had due to the higher safety measurements which were taken due to the norovirus. Because it came from a group who stayed in the same hotel in Barcelona some of us would like to know the name of the hotel to be able to rebook it.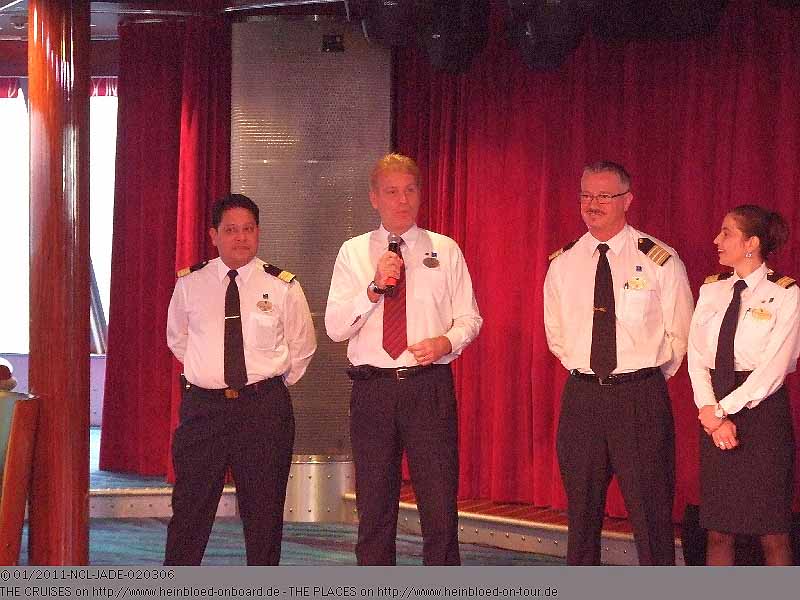 Nach der
letzten Enttäuschung auf der OCEAN PRINCESS
, bei dem niemand von Princess kam, eine echte Freude, zumal sie gerne die Fragen beantwortet haben, z. B. wie die Situation in Alexandria ist. Ehab ist nun Ägypter und konnte so aus 1. Hand die Situation beschreiben und die Gäste beruhigen. Als Gäste sich wegen ihrer Kabine melden, geht sofort jemand mit ausgezogenem Block von der Bühne, um sich die Probleme anzuhören und entsprechende Notizen zu machen. Les entschuldigt sich noch für die Unannehmlichkeiten wegen des Norovirus. Weil die Übertragung von einer Gruppe gekommen ist, die den Norovirus in ihrem Hotel in Barcelona geholt haben, interessieren manche Gäste ja schon dafür, in welchem Hotel diese Gäste waren, weil man dann ggfls. umbuchen kann.
Alle von unserer
cruisecritic.com-Gruppe
freuen sich darüber, dass sie sich die Zeit für uns nehmen.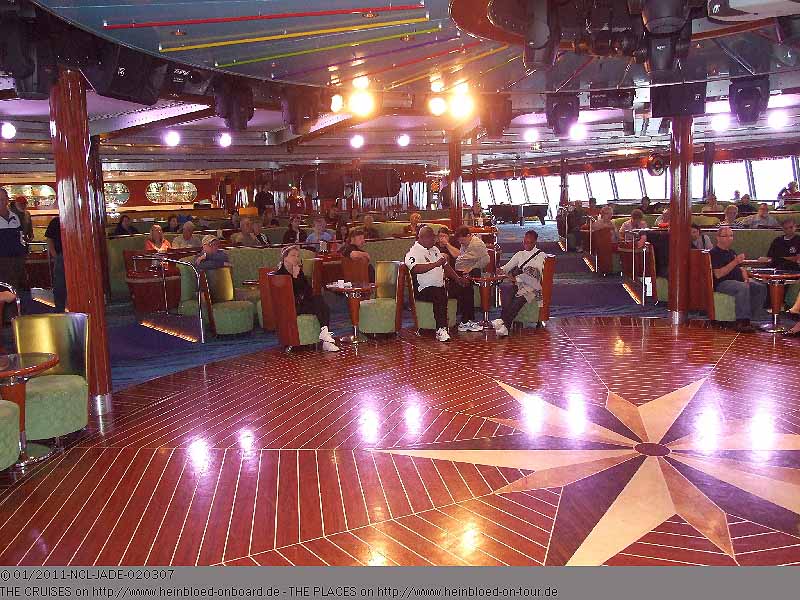 All of us from the cruisecritic.com-Group were happy that they took the time for us.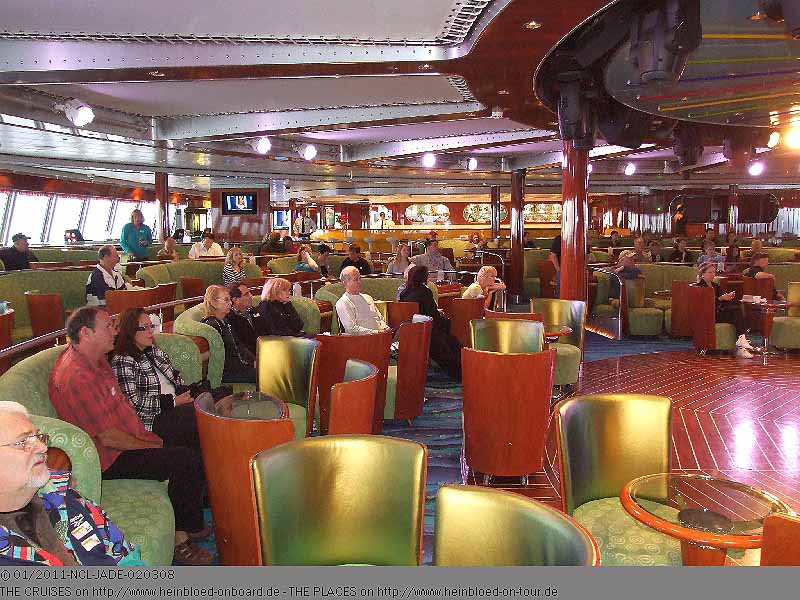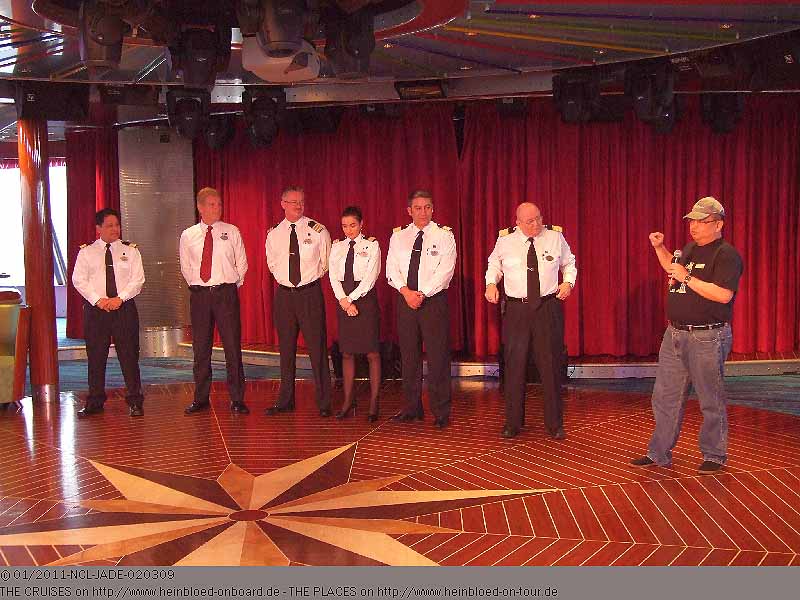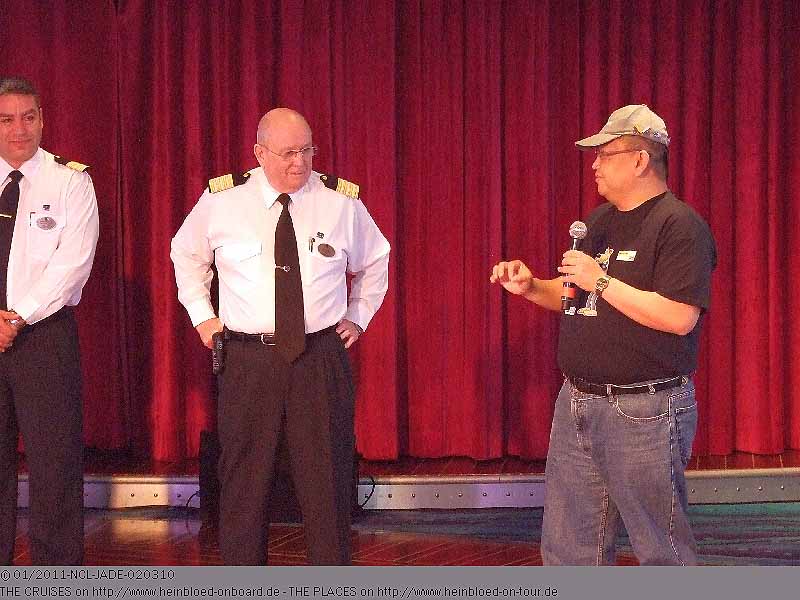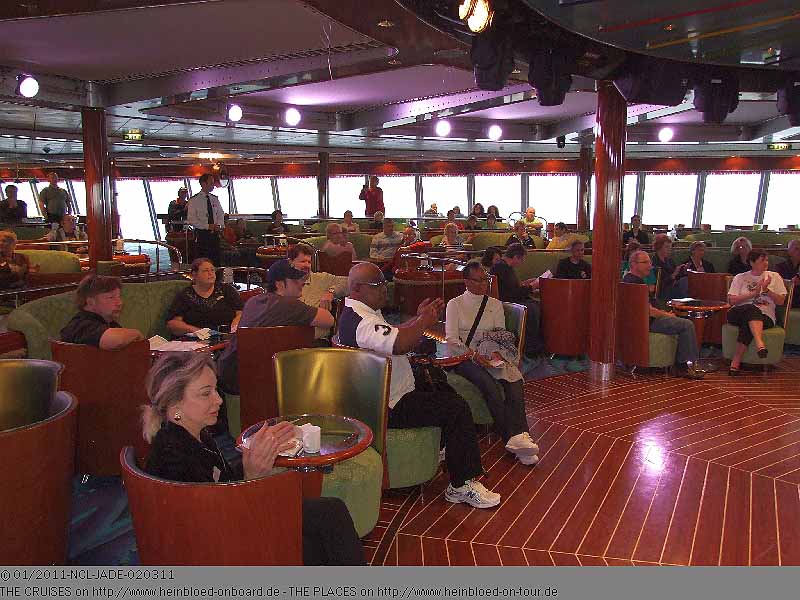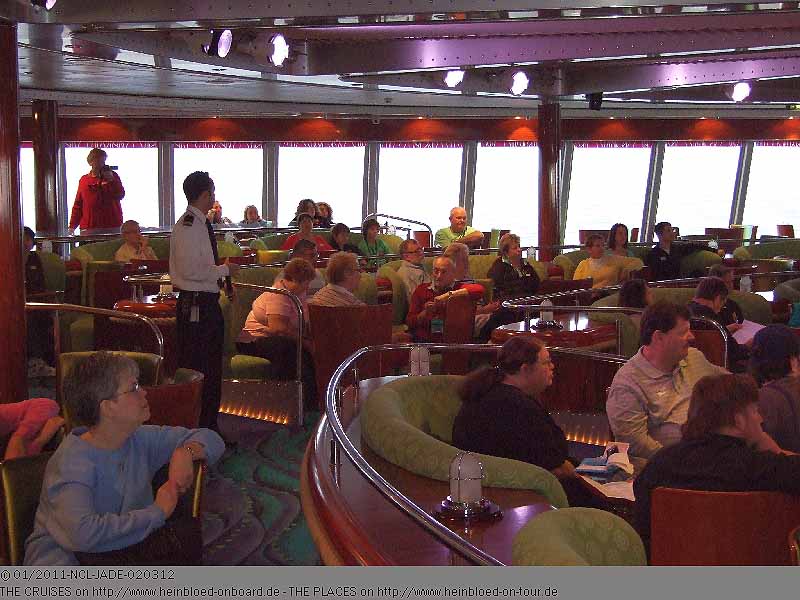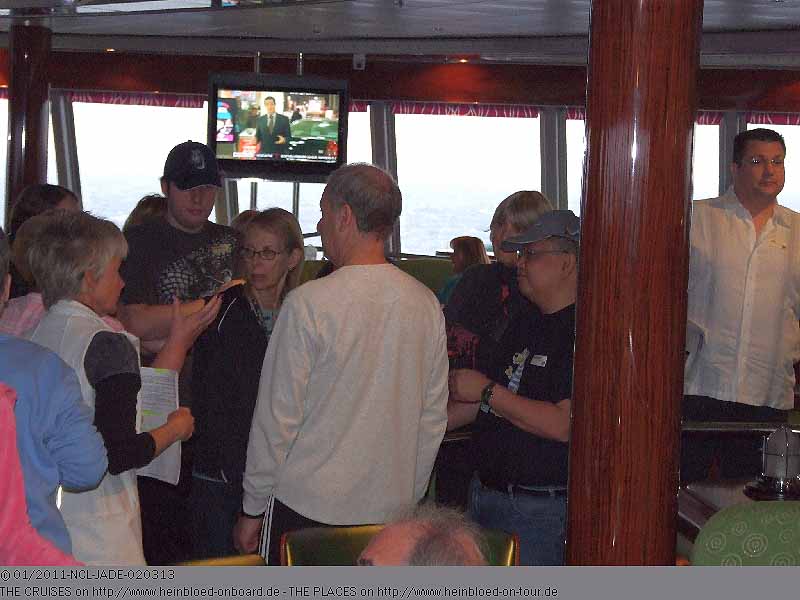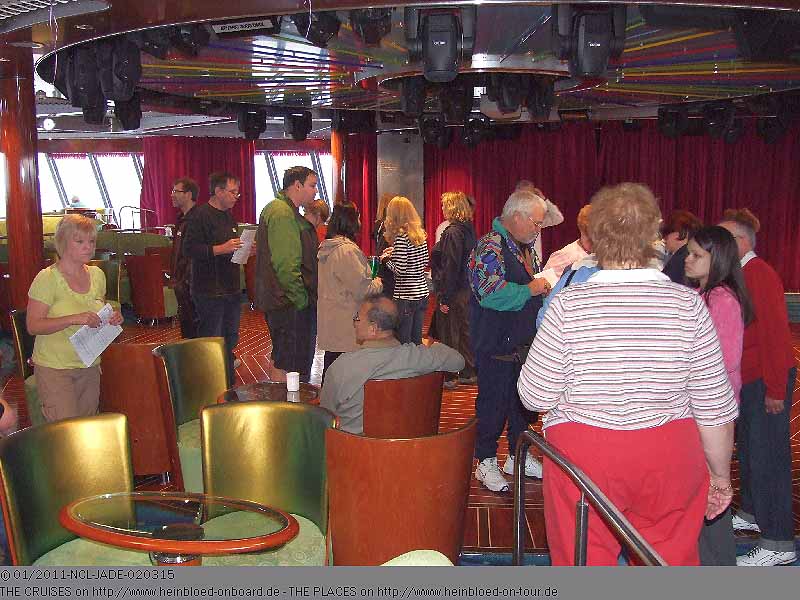 So those of them who booked together a private tour could meet in advance.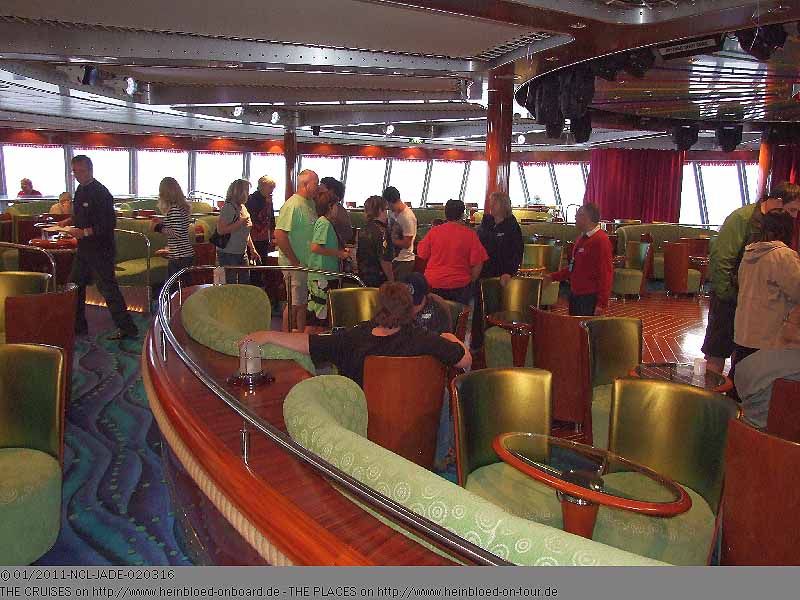 So konnten sich diejenigen treffen, die Touren gebucht haben.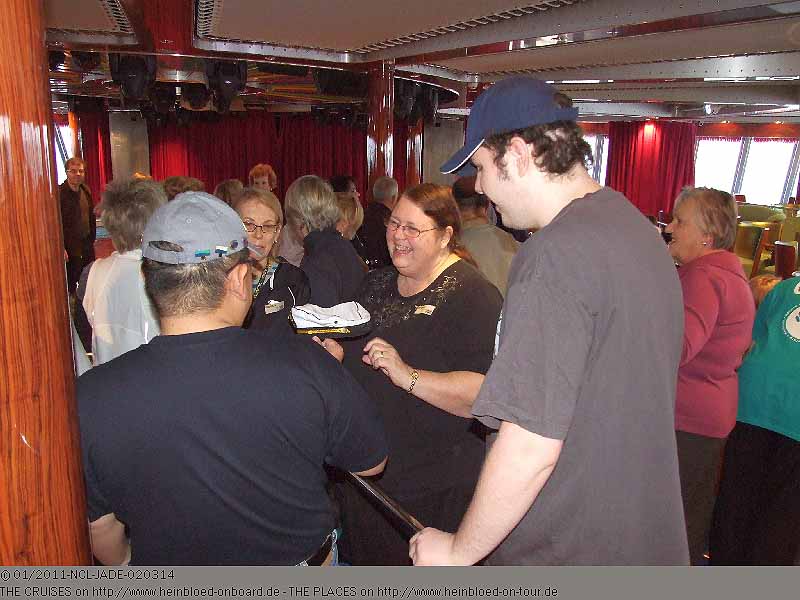 As appreciation I got from merg55 a captain's hat which she gave me for the organisation of the meeting...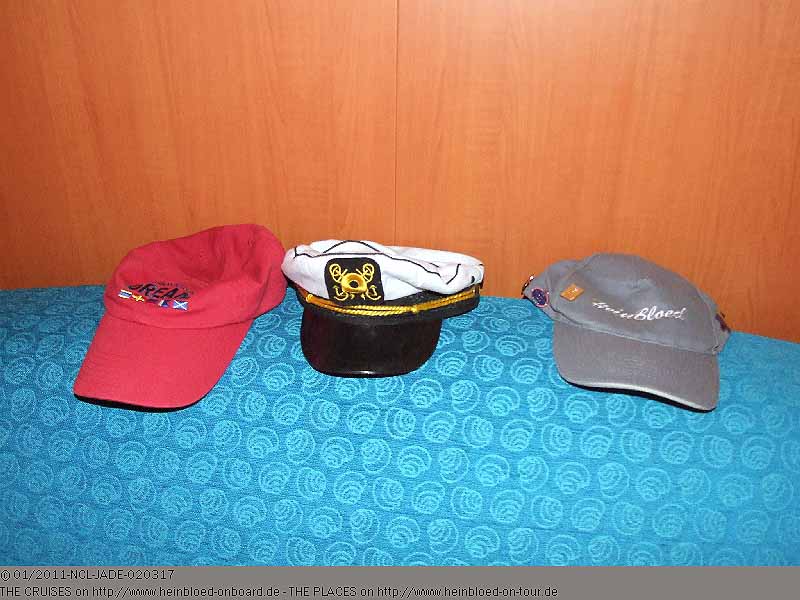 Zum Dank gab es von merg55 eine Kapitänsmütze, die sie mir für die Organisation verliehen hatte...
Wir gehen ins Blue Lagoon Café zum Mittagessen... Meine Nudeln Kanton Art sind wieder auf der Karte... Die hatte ich zuletzt auf der NORWEGIAN EPIC vermisst, weil man ja dafür in der Shanghai Noodel Bar dafür zahlen sollte. Richtig lecker sind auch diese Paninis mit Rucola...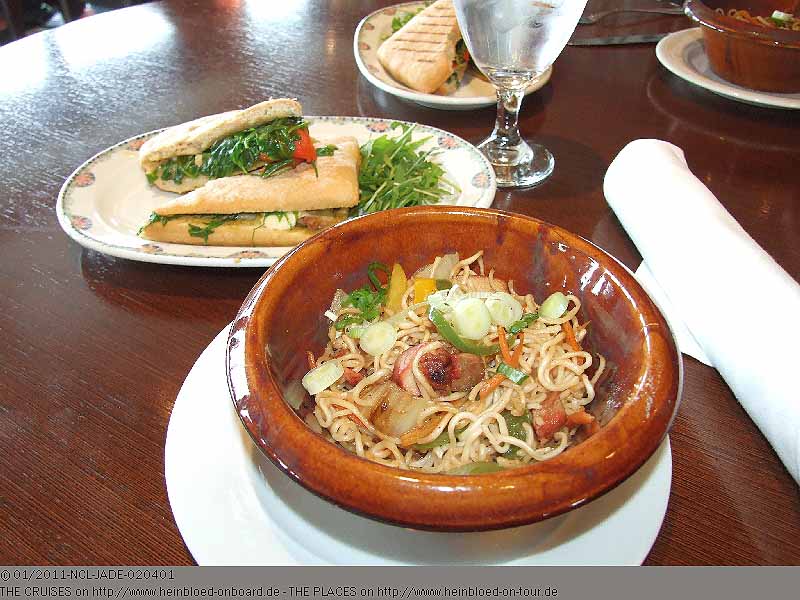 We went to Blue Lagoon Café for lunch... My noodles Cantonese Style are back on the menu... I missed them recently on NORWEGIAN EPIC as they moved them to Shanghai Noodle Bar to pay for. Very good were the paninis with argula.

Although the Blue Lagoon Café made you thinking because of the decoration and the coffee machine that they are specialized in coffee...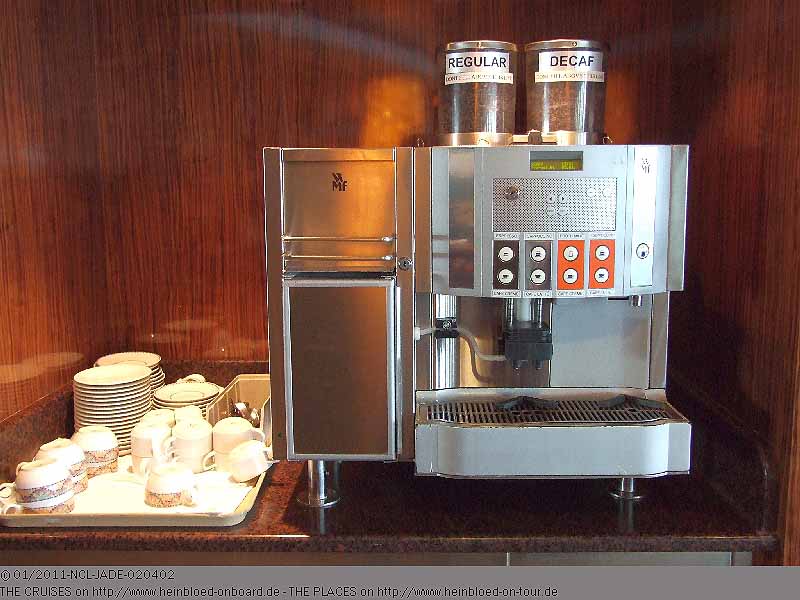 Obwohl das Blue Lagoon Café durch die Dekoration und diese Kaffeemaschine eine gewissen Kaffeekompetenz vermittelt...
Brunos Qualitätskontrolle überlebt der Kaffee nicht... Er zahlt ja auch gerne für guten Kaffee... aber wenn NCL will, dass Bruno auch wieder die Passage mit NCL zahlt, dann müssen sie was am Kaffee machen... auch der Bezahlkaffee ist ungenießbar...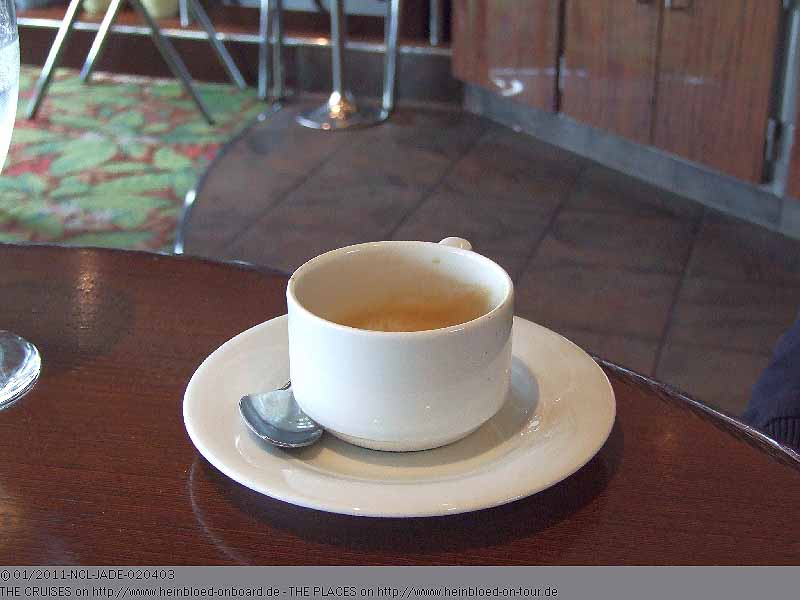 they did not survived Bruno's quality check... He is willing to pay for a good coffee... but if they want that Bruno pays the next cruise again they need to do something with the coffee... even the coffee to pay is unacceptable...

As I am not a coffee drinker I cannot understand Bruno's problem. I am just happy to see Monica again whom we new from our very last sailing on NORWEGIAN DREAM.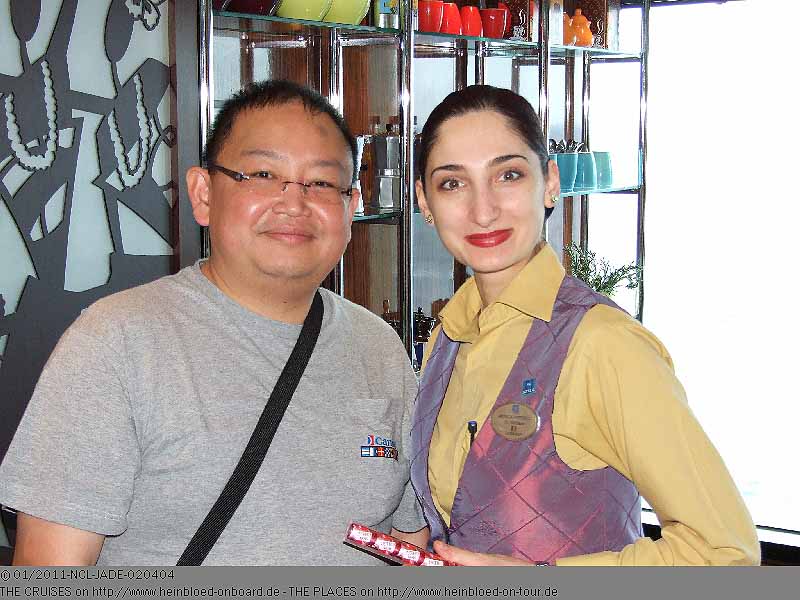 Da ich keinen Kaffee trinke, stoßen Brunos Kaffeeprobleme auf wenig Verständnis. Ich freue mich mehr über Monica, die wir von der
letzten Reise auf der NORWEGIAN DREAM
kennen.
Damals noch... in den alten Uniformen. Hier mit Jennifer, die wir
zuletzt auf der NORWEGIAN EPIC
wiedergetroffen haben. Wir haben nun mal überall bei NCL Freunde, weil sie uns toll behandeln. Im Mai 2009 haben wir Monica verpasst: wir haben in Southampton ausgeschifft und sie trat dann ihren Dienst an. Aber Freunde von uns haben ihr Grüße auf der folgenden Fahrt ausgerichtet und daher wissen wir, dass sie sich auch noch an uns erinnert.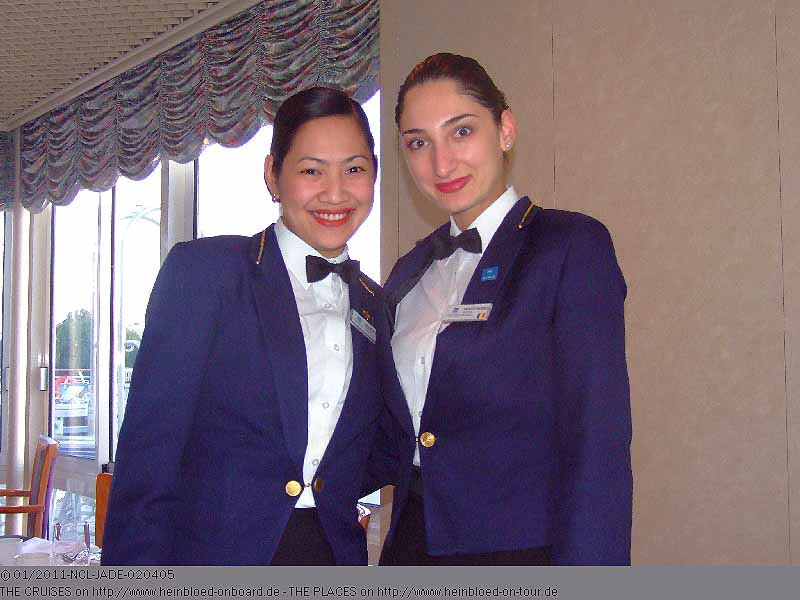 Then in the old uniforms. Here with Jennifer which we met recently on NORWEGIAN EPIC. We have everywhere with NCL friends which treat us great. In May 2009 we missed Monica as we debarked while she started her new contract. But friends of us passed some regards from us and so we knew that she remembered us.