Scroll down for English explanations - alternates with German explanations.

Als wir in die Kabine wiederkommen, sehen wir wie unsere Perle, Schatz, Juwel Elizabeth unseren Balkon saugt und dafür sorgt, dass wir ihn immer wieder benutzen können.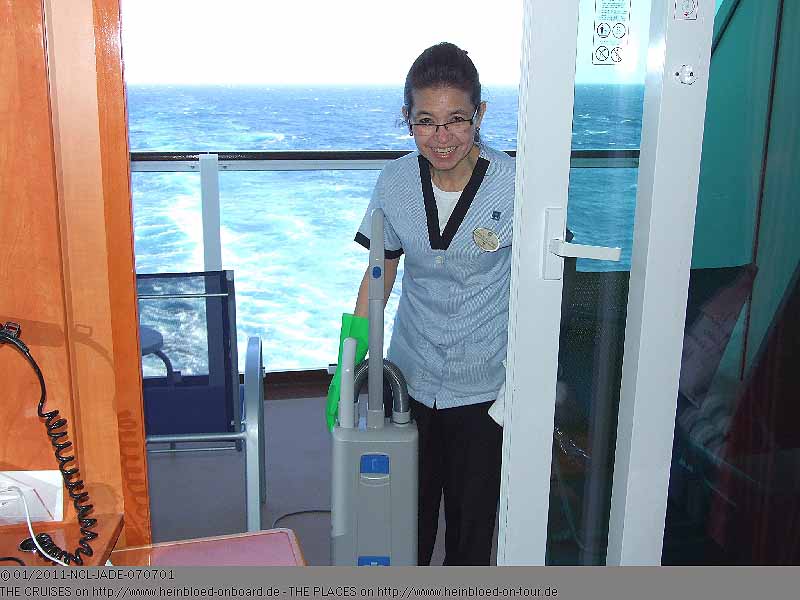 When we returned to our cabin we saw how our pearl, gem, juwel Elizabeth vacuum-cleaned our balcony and took care of that we can use it again.

Our laundry was back too.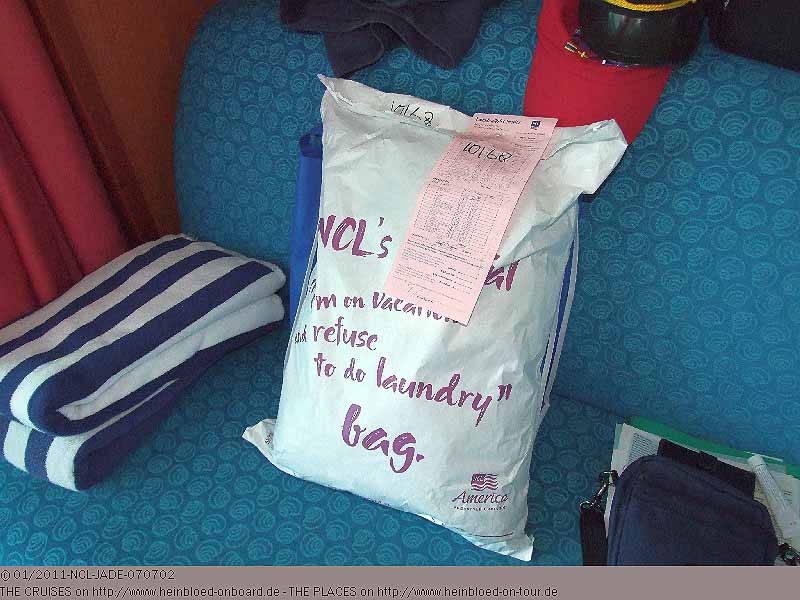 Unsere Wäsche ist ebenfalls zurück.
Und die Holland America Tasche ist wieder ein Stück kleiner geworden... Ich warte auf den Tag, bis wir endlich eine NCL-Tasche im Wäschebeutel wiederfinden...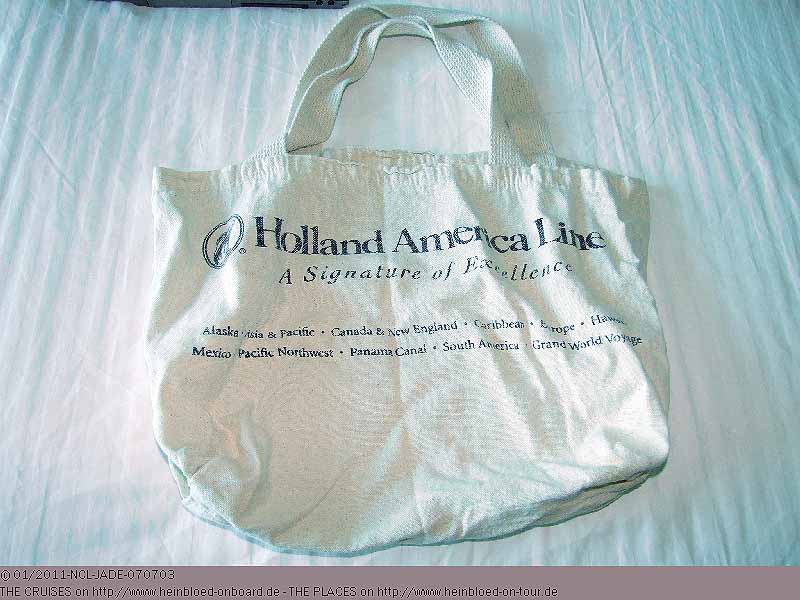 And the Holland America bag shrinked again a little bit more... I was still waiting for the day until I get finally an NCL-bag in my laundry bag...

Canapés came. As I was hungry and Bruno was in the gym and do not eat them anyway I ate them all before he returned... So we had no when he might ask...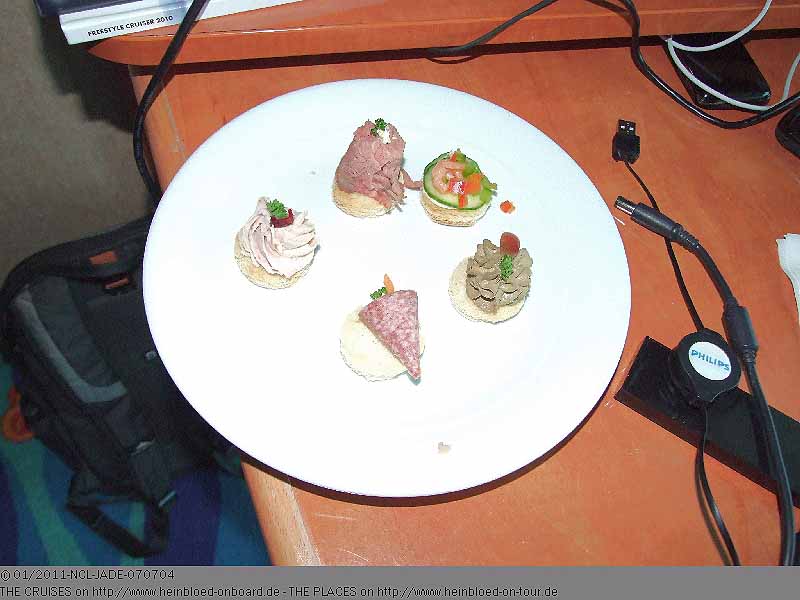 Es kommen Canapés. Da ich Hunger habe und Bruno im Fitness-Studio nichts damit anfangen kann, esse ich sie kurzerhand auf, bevor er wieder zurück... Gab es halt heute keine, wenn er nachfragen sollte...
Von NCL Miami haben wir eine Käseplatte spendiert bekommen... Für unsere Mühe, dass wir Kritik sachlich (mit Fotos) darstellen und auch erklären, wie wir uns das Gast wünschen würden...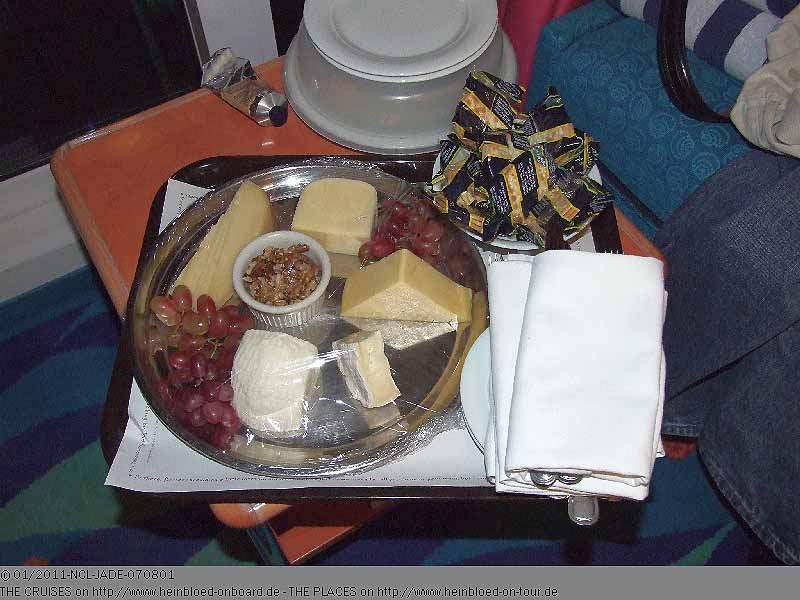 NCL Miami gave us a cheese platter... For the effort that we wrote letters (pictures) what we disliked and how we expect it should be for us as guests...

We two alone could not eat it all. So we took the platter to the meeting of the Friends of Dorothy to the Star Bar on deck 13. I was totally finished when I arrived the midship on deck 13 incl. the use of the elevator... what are our waiters all doing for us.... and which performance must the crew of CARNIVAL SPLENDOR gave???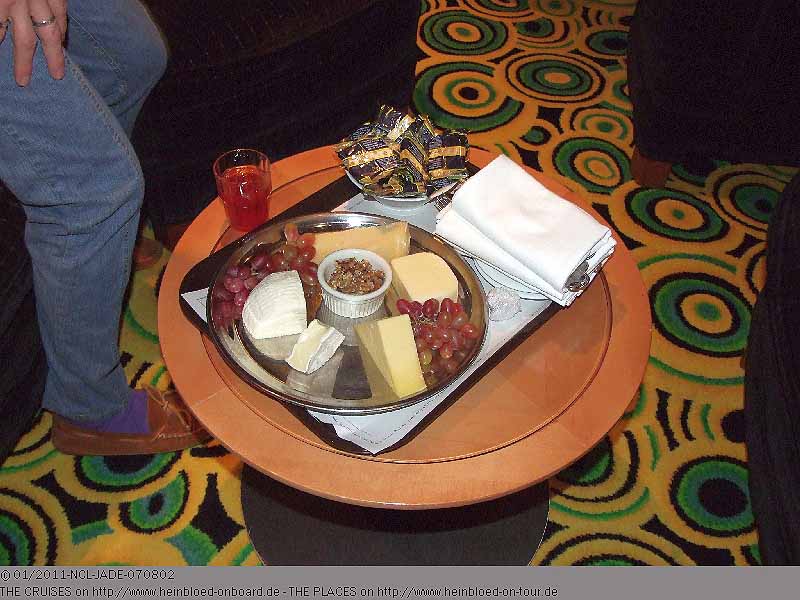 Wir können das unmöglich zu zweit essen. So nehme ich die Platte mit zum Treffen der Friends of Dorothy in die Star Bar auf Deck 13. Ich bin fix und fertig, als ich in der Mitte von Deck 13 inkl. Fahrstuhl ankomme... was machen bloß unsere Kellner mit... und welche Leistung muss die Crew auf der CARNIVAL SPLENDOR erbracht haben???
Es geht zum Abendessen ins Le Bistro.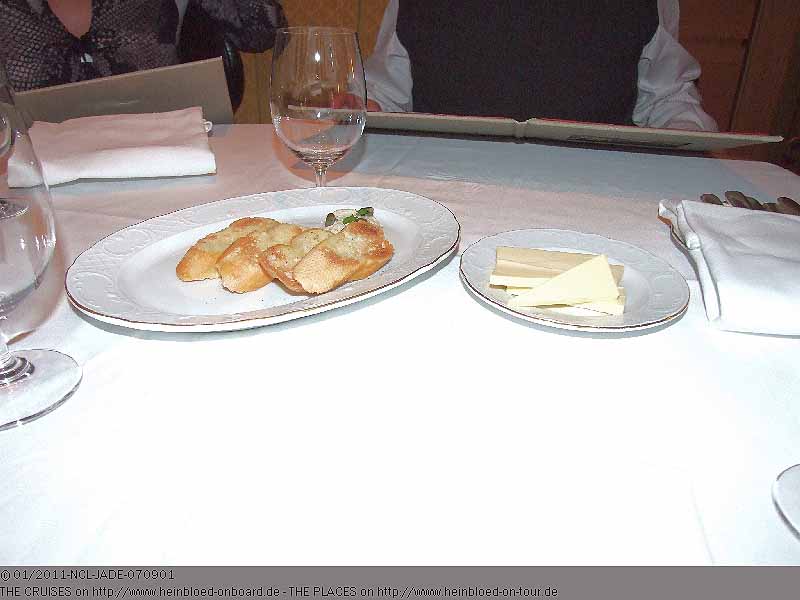 We had dinner at Le Bistro.

Due to my tier of the Latitudes-past passenger programme we were guests of NCL... (So you should go and go with NCL and become Latitudes-Platinum...) And the wine was for Katie and Charlie. But before we ordered new wine we let them get the left-overs of the last night. That was never a problem to "move" the wine from restaurant to another restaurant and to continue to drink. I did not expected it might be so easy and was very much impressed of the organisation.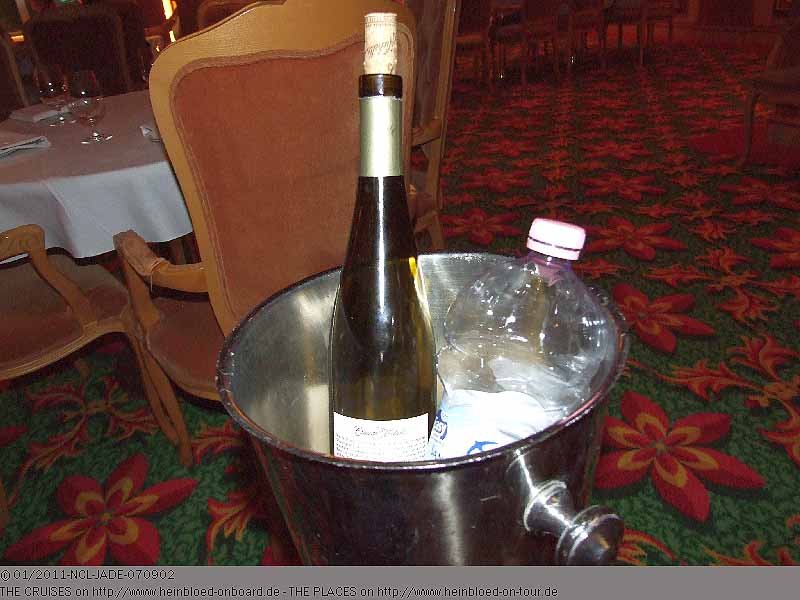 Wir sind ja nun Gäste von NCL aufgrund meines Latitudes-Status... (Also unbedingt weiter NCL fahren und Latitudes-Platin werden...) Und den Wein spendieren wir Käthe und Karl-Heinz. Aber bevor wir den neuen Wein bestellen, lassen wir den Rest vom Vorabend kommen. Das ist überhaupt kein Problem einen Wein von einem Restaurant in ein anderes Restaurant "mitzunehmen" und weiterzutrinken. So einfach habe ich mir das gar nicht vorstellt und bin sehr von der Organisation begeistert.
Drüben sitzen 10jackie (Jackie und Alex) aus cruisecritic.com und unterhalten sich mit dem Koch.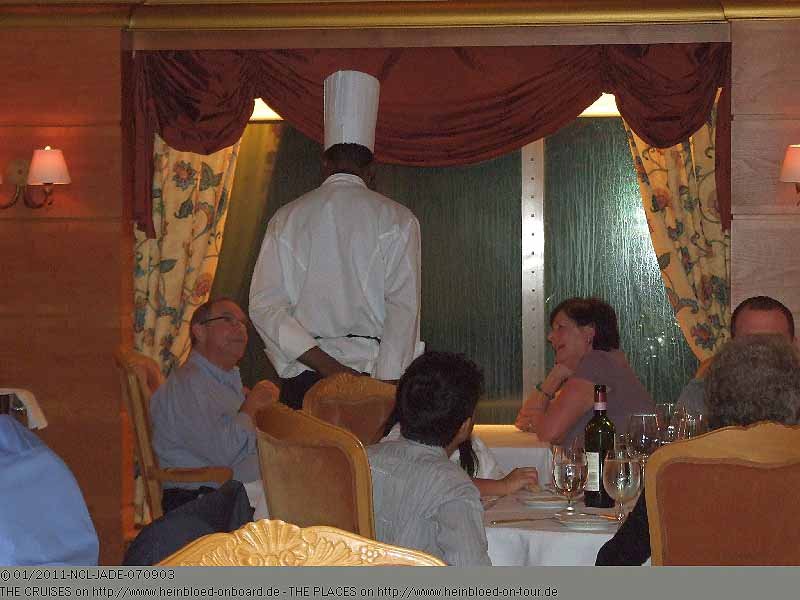 There was 10jackie (Jackie and Alex) from cruisecritic.com and had a talk with the chef.

We had a great evening so I totally forgot to take pictures of my scallops (regular size). Just tasty....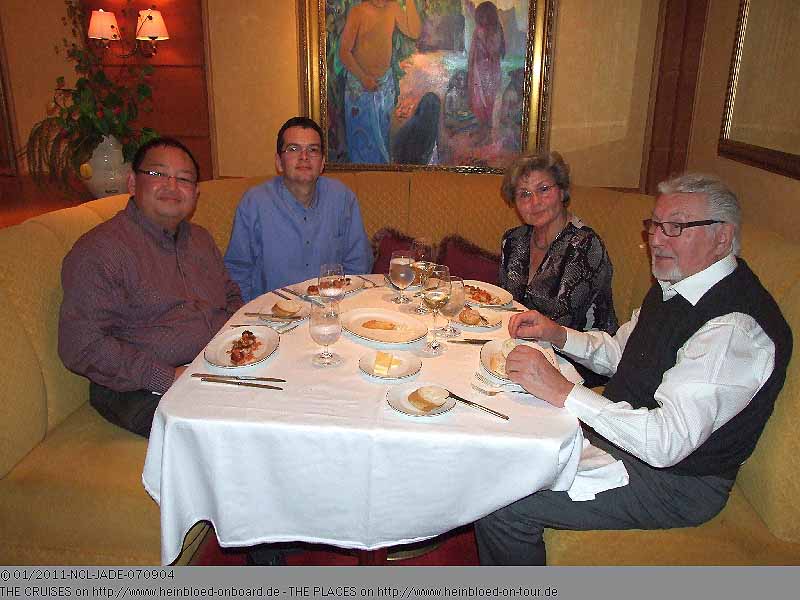 Wir haben so einen tollen Abend, so dass ich sogar vergessen habe, meine Jacobsmuscheln (normale Größe) zu fotografieren. Einfach lecker...
Die Schnecken wie immer gut... Wie immer fehlen die Toastbrotstreifen zum Eintunken in die Kräuter-Knoblauch-Butter....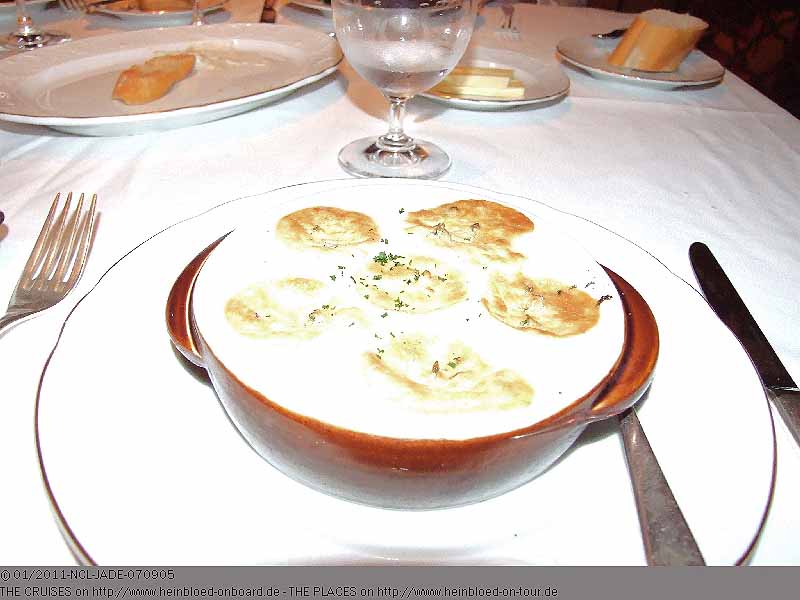 The snails were gut as usual...and as usual I missed the strips of toast bread to put them into the herbal garlic butter...

While liked more the new version of the mushroom soup....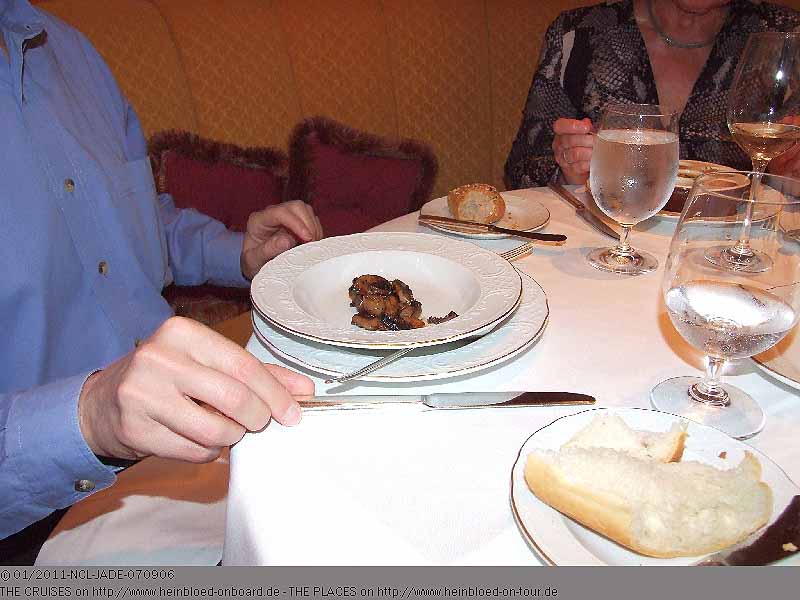 Während Bruno lieber die neue Fassung der Pilzsuppe mag,
bei der die Pilze bereits im Teller sind und nur noch mit der Suppe aufgefüllt werden,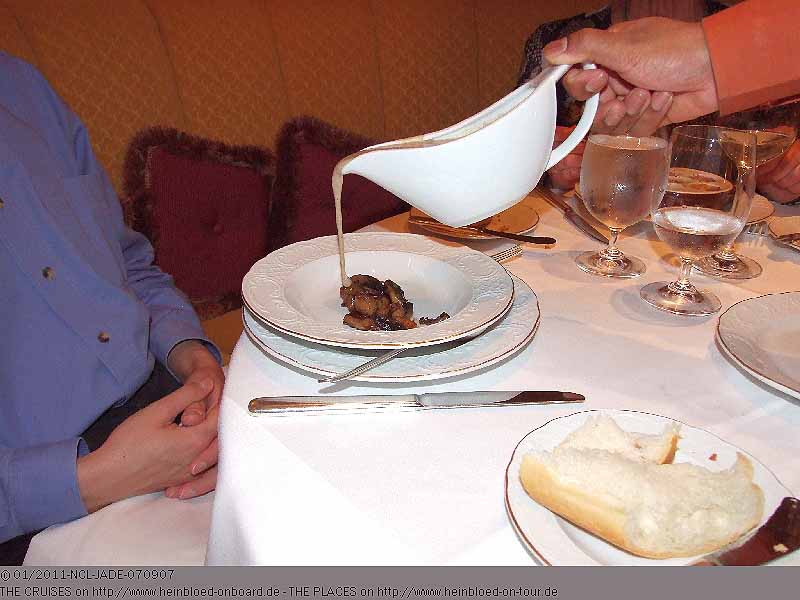 when the mushrooms were already in the plate before they fill up with the soup...

I missed the bread bowl like we got it before like we had on NORWEGIAN DREAM.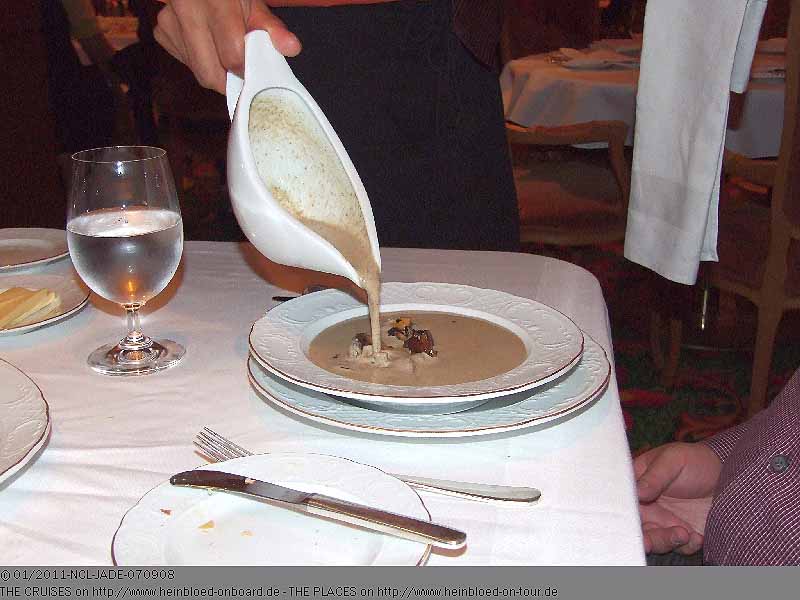 vermisse ich die Brotschale, in der sie früher serviert wurde, wie damals auf der
NORWEGIAN DREAM
.
Käthe gönnt sich noch die Gänseleberpastete.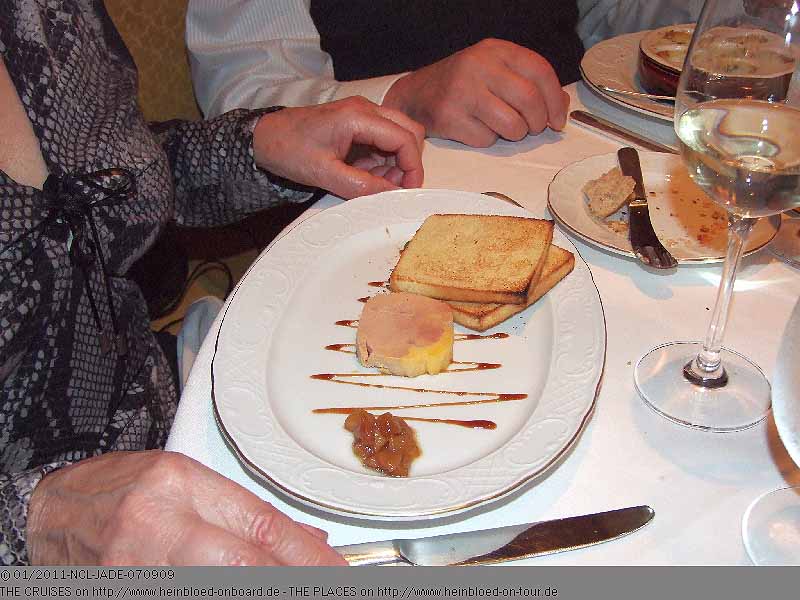 Katie indulge herself with some Foie Gras.

She took the Bouillabaise...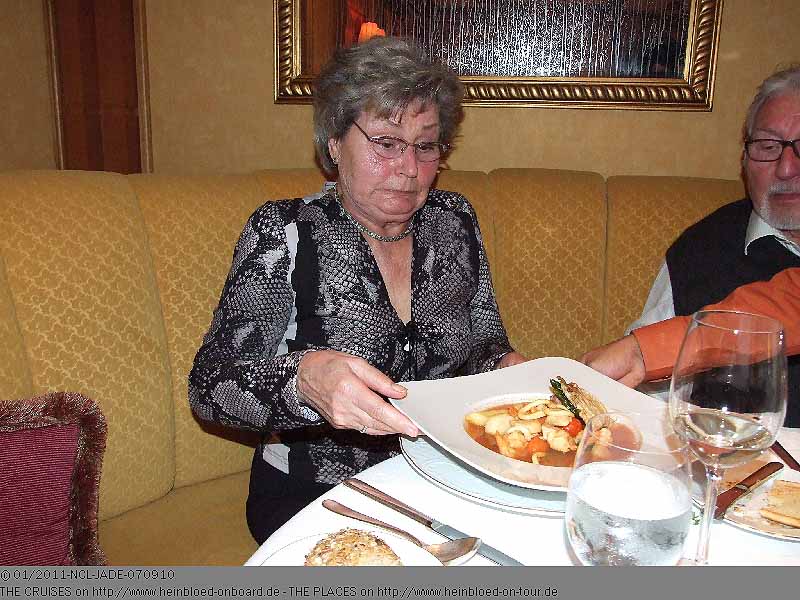 Käthe nimmt die Bouillabaise...
Ihr Urteil fällt jedoch genauso aus, wie das meiner Schwester, die sie auf der
NORWEGIAN GEM 2009
hatte: sie schmeckt, aber sie schmeckt nicht wie in Marseille... aber zum Glück soll die NORWEGIAN EPIC in der kommenden Saison 2012 auch Marseille-Provence anlaufen... Gelegenheit für Eric Cousins hier mal mitzufahren und sich ein Bild von einer Bouillabaise in Marseille zu verschaffen.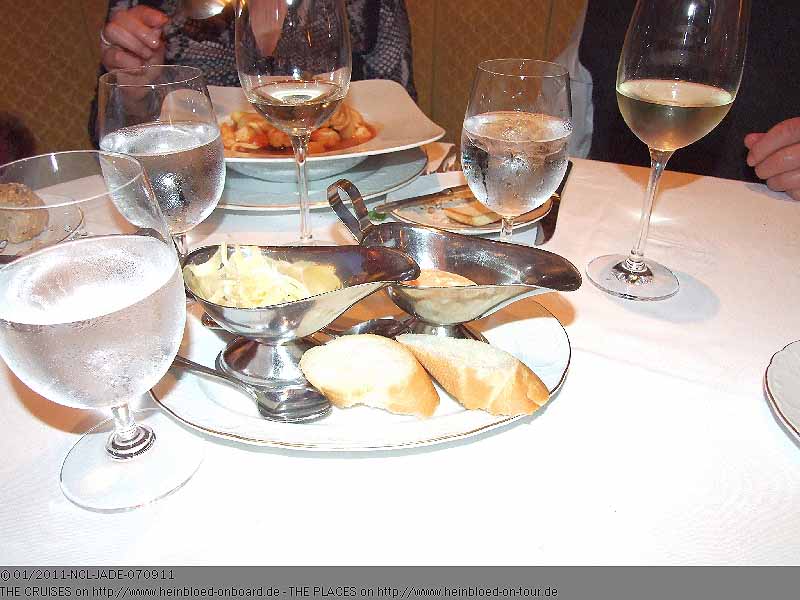 But she had the same rating like my sister on NORWEGIAN GEM 2009: tasted but does not taste like in Marseille... but luckily NORWEGIAN EPIC will call Marseille-Provence in the next year's season... Good reasons for Eric Cousins to go with and to get an impression of a Bouillabaise in Marseille.

"My wife had the fish..."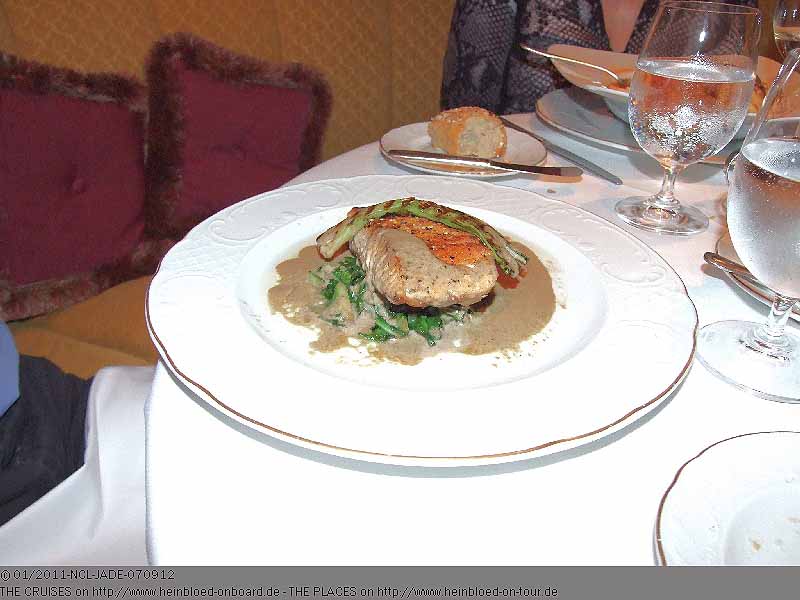 "Meine Frau hatte den Fisch..."
Ich hatte die Ente... Die Keule war das non-plus-ultra... Ich werde künftig darum bitten, dass ich zwei Keulen bekomme...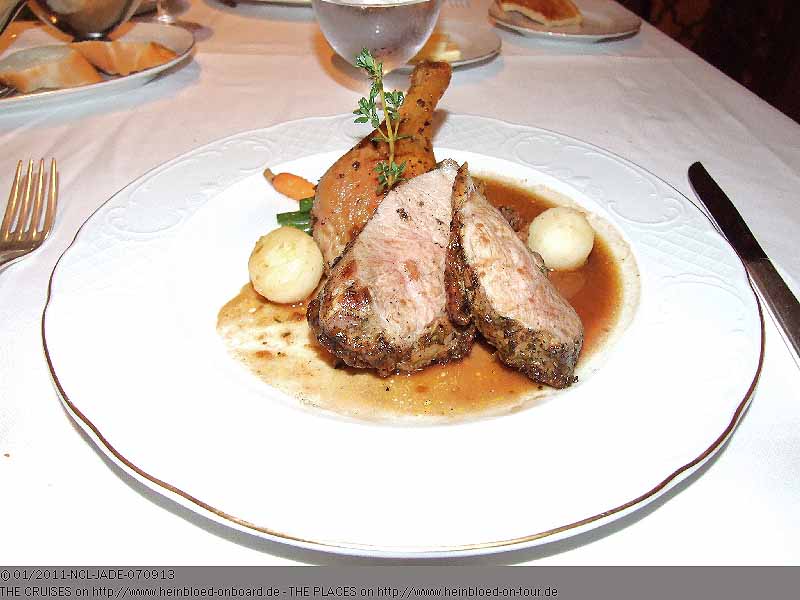 I had the duck... The confit was better than best... I will ask in future to have to coffins only...

Our waiters returned with two cakes and wanted to sing something because according to the computer there were few reasons to celebrate.

Unsere Kellner kommen mit zwei Torten zurück und möchten ein Ständchen bringen, weil im Computer stehen würde, dass es mehrere Anlässe zum Feiern gibt.
Nach dem aber keiner von uns Geburtstag hat, stellen wir fest, dass Käthe und Karl-Heinz in Kürze ihren 54. Hochzeitstag feiern.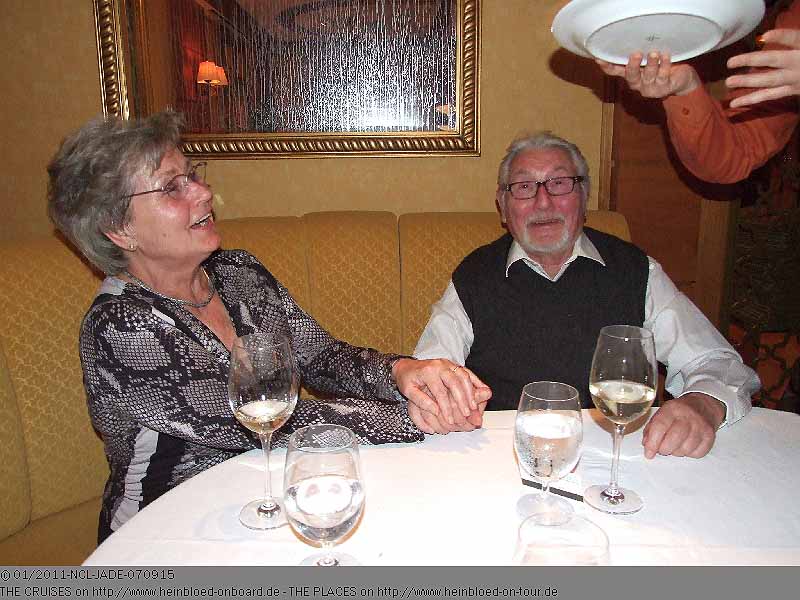 But as none of us had birthday here around we found out that Katie and Charlie will celebrate their 54th wedding anniversary soon.

So they place the "Happy Birthday" cake on the table and started to sing...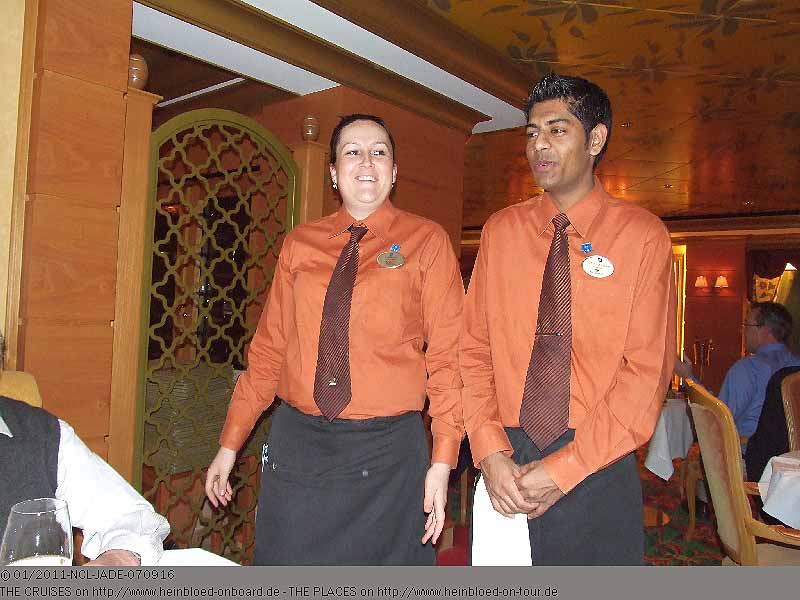 Kurzerhand wird die Torte mit "Happy Birthday" auf den Tisch gestellt und das Ständchen gebracht...
während wir nicht mehr wissen, wie wir noch weiter das Lachen unterdrücken sollen...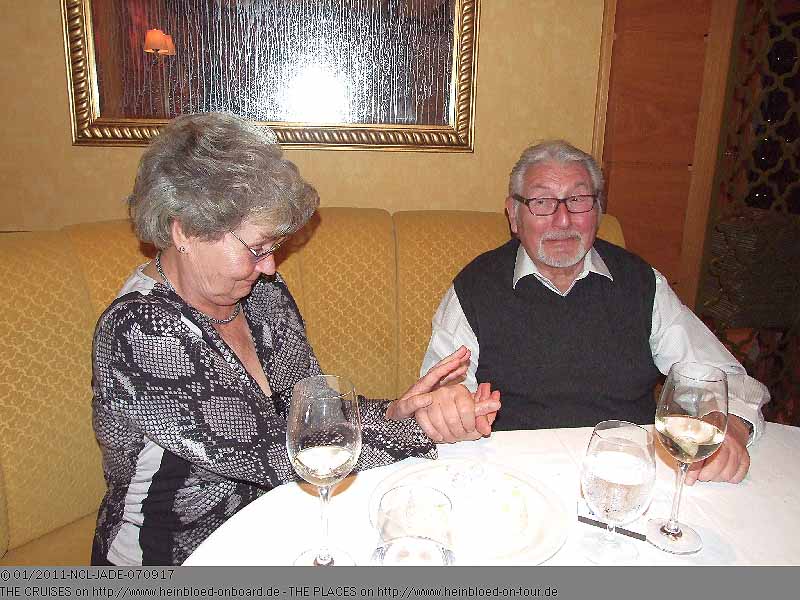 while we did not know to subpress our laughing...

It was so nice how Elena, Vikesh and Ana-Maria sang and they had like us the problems to subbress their laughter because the situation was too funny...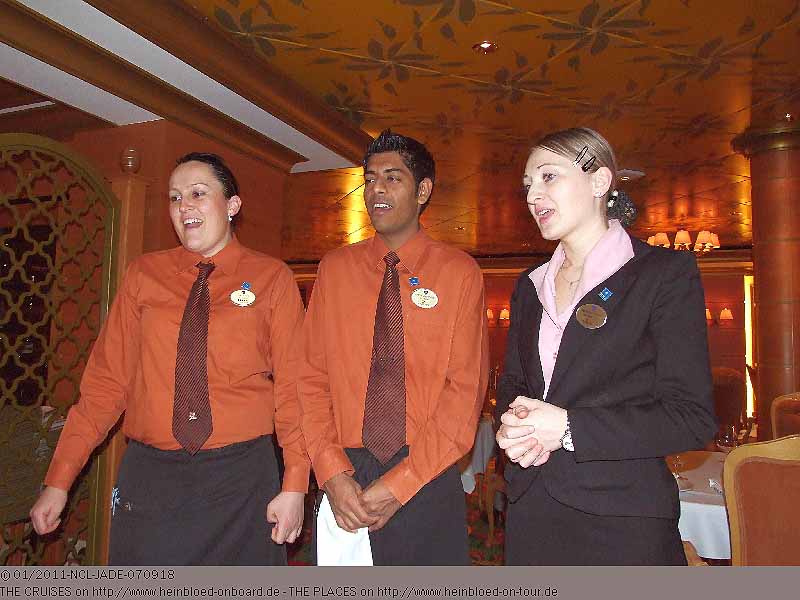 Es war so schön, wie Elena, Vikesh und Ana-Maria hier singen und selbst versuchen, nicht laut zu lachen, weil die Situation einfach zu komisch war...
Käthe war so gerührt, dass sie den Kellnern von ihrer Hochzeit damals erzählte.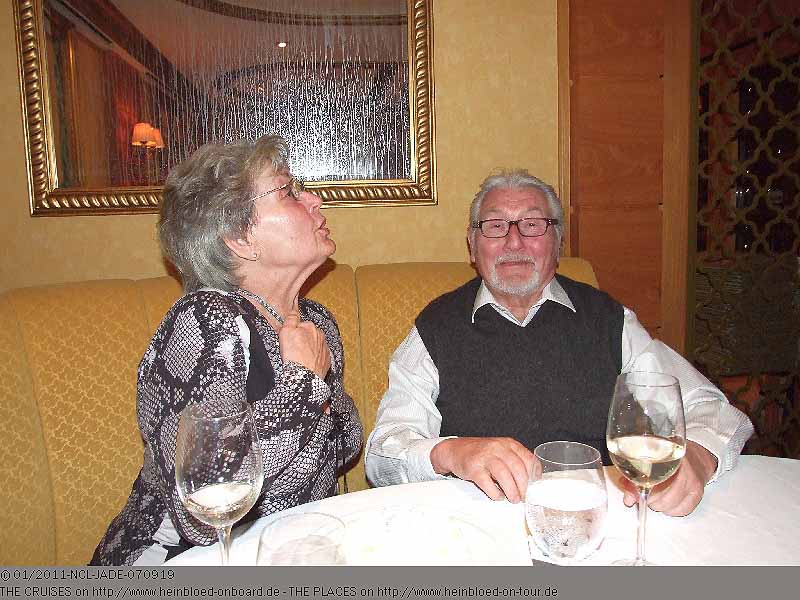 Katie was so touched that she told the waiters of their wedding.

Bruno took the Profiteroles... which you can also get at McCafé at McDonald's...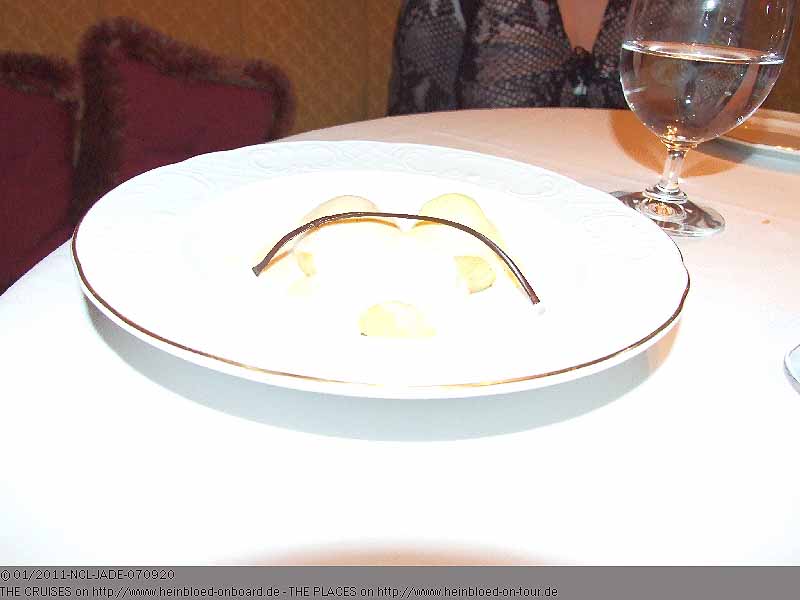 Bruno nimmt die Profiteroles... aber die gibt es ja auch bei McCafé...
Wir dagegen nehmen das Schokoladenfondue... Früher hatte ich immer gedacht, dass aus den Resten der Obstsalat für das Frühstück gemacht wird und aus der flüssigen Schokolade die Erdbeeren... aber seit meiner Behind-the-Scenes-Tour auf der
NORWEGIAN GEM 2009
bin ich beruhigt: alles was ja auf dem Buffet oder auf dem Tisch mal war, wird vernichtet. Daher bin ich auch sehr froh, dass sie nicht den Obstsalat von heute Morgen wieder in die Bestandteile zerlegt haben, sondern weiss, dass alles frisch ist.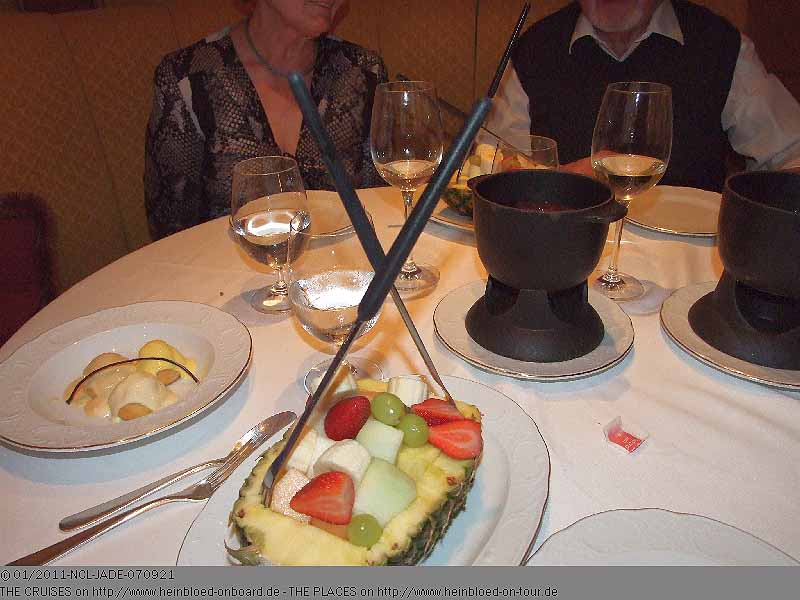 We all took the chocolate fondue... Before I did the "Behind-the-Scenes"-Tour on NORWEGIAN GEM in 2009 I thought they will prepare from the left-over the fruit salad for breakfast and need the chocolate for the strawberries. But there I learned that everything which was on the table or on the buffet will be disposed. So I was feeling quite safe with the knowledge that this was not the fruit salad from our breakfast which was recycled for our desert but to know that everything they do is totally fresh.

The trufes was served to make you exploding... But there was no wheelchair to take me back to our cabin. I was really happy to see that Le Bistro was elevated to the level we experienced when we saw the very first time Le Bistro on NORWEGIAN DREAM in 2007.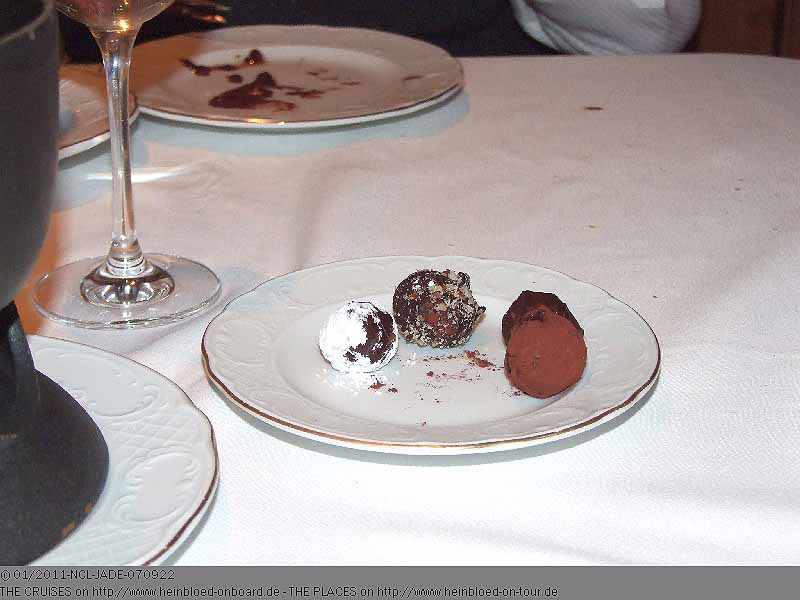 Die Trüffel, die einen zum Platzen bringen... Es ist allerdings kein Rollstuhl da, damit ich wieder auf meine Kabine gebracht werden kann. Ich freue mich echt darüber, dass das Le Bistro wieder an das Niveau herangeführt wurde, so wie ich es damals auf der
NORWEGIAN DREAM 2007
kennengelernt habe.
Übrigens der Doppelgeburtstag war eigentlich für den Nachbartisch bestimmt. So hören wir die Ständchen nochmals an und beschließen so den tollen Abend im Le Bistro.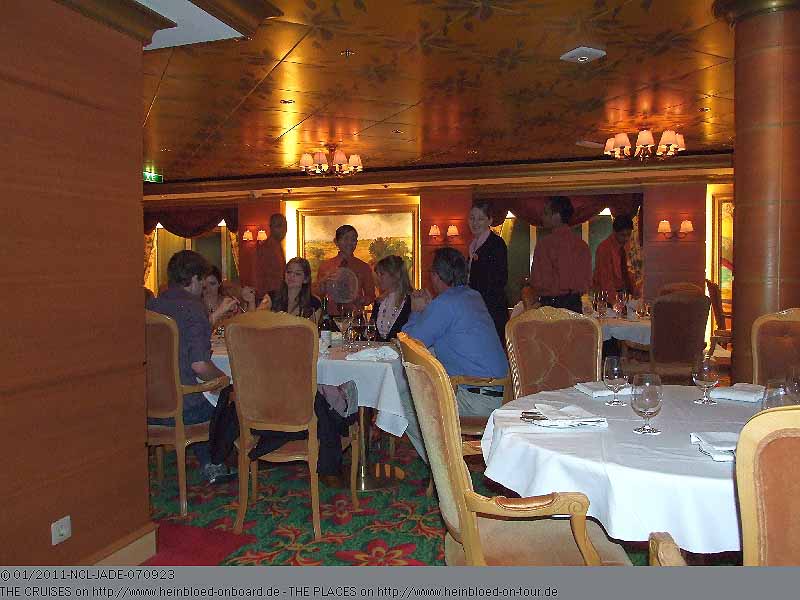 By the way the double birthday event was scheduled for the next table. So listened again them singing and terminated such a great evening in Le Bistro.

For Alexandria they brought our attention to the maintanence work they planned for our balconies. But we did not take too much care: just stuffed and tired. Such a day on sea might be more stressy than a day ashore. Good Night.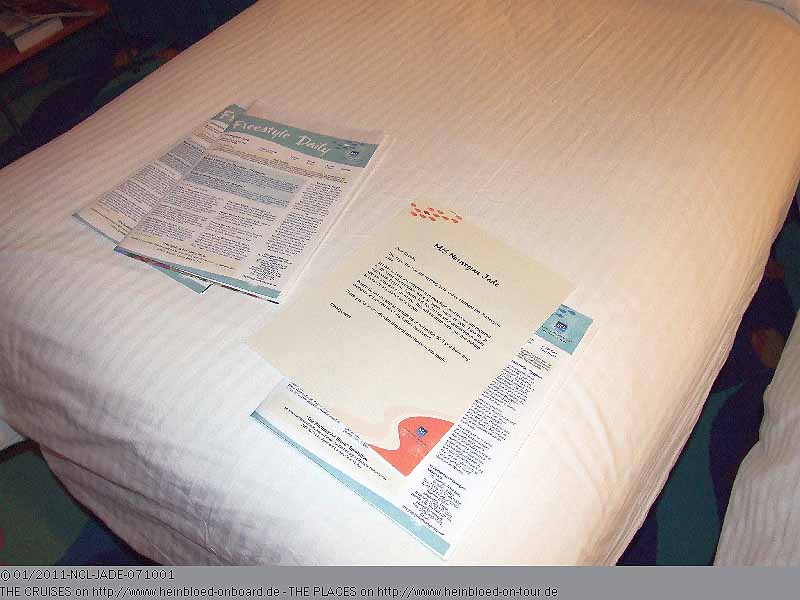 Für Alexandria werden wir schon auf Einschränkungen bei der Nutzung unserer Balkone aufmerksam gemacht. Das ist uns im Moment aber egal: wir sind voll und müde. So ein Seetag kann schon anstrengender sein als ein Tag an Land. Gute Nacht.