Scroll down for English explanations - alternates with German explanations.

Da es schon nach 14.00 Uhr ist, als wir wieder an Bord sind, gehen wir ins Garden Café zum Mittagessen. Zum Glück bekommen wir "Reste"... Wir sind etwas durchgefroren und sind so glücklich, dass man an uns gedacht hat und die restliche Suppe von gestern Abend nicht weggekippt hat, sondern wir sie hier im Garden Café bekommen haben... LECKER...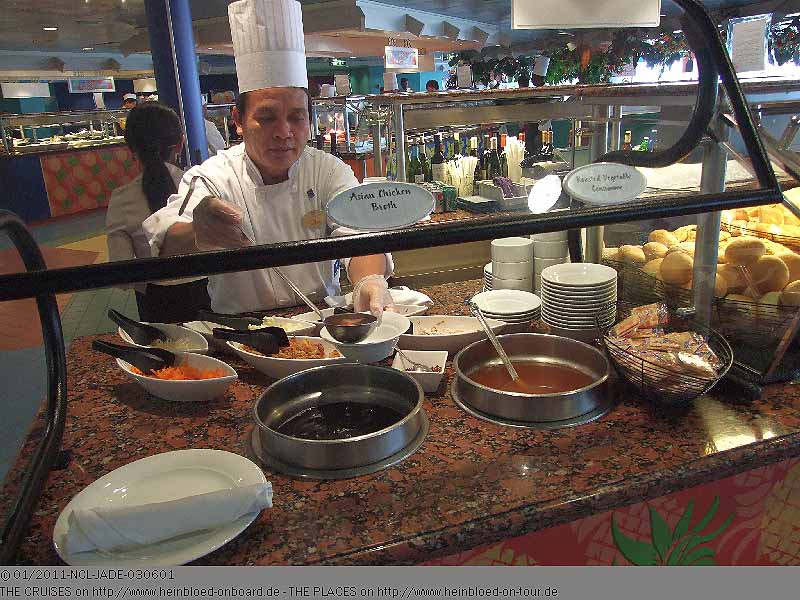 As it was already after 14.00 hrs when we returned to the ship we went to the Garden Café to have lunch. We were lucky to get "left-overs"... As it was very chilly we were quite happy that they thought of us and gave us the left-over soup from yesterday and did not disposed it... YUMMY...

German Bratwurst for the German guests... boiled with rough meat I would say... or was it an Americanized made in Chicago or Cleveland...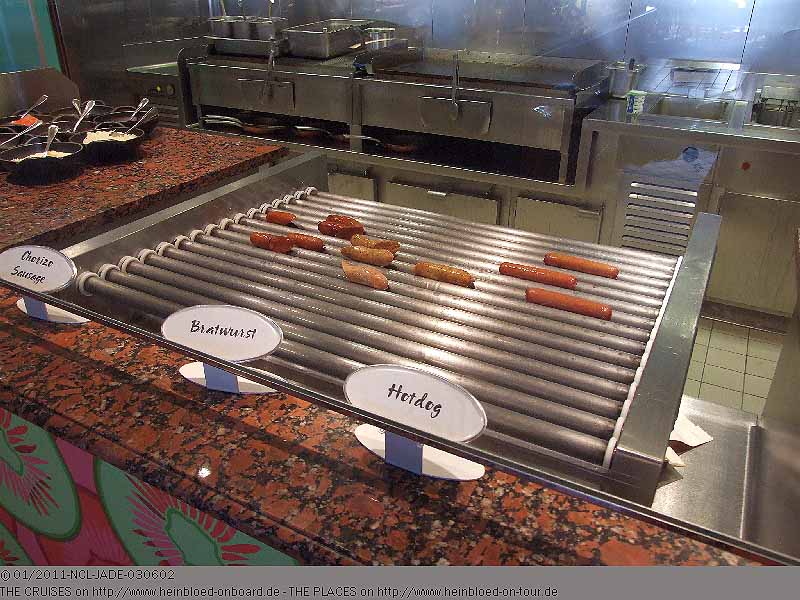 Bratwurst für die deutschen Gäste... gebrühte grobe würde ich behaupten... oder doch eine amerikanisierte made in Chicago oder Cleveland...
Sogar Sushi-Rollen gibt es... im Grunde muss ich sagen, dass ich vielleicht von meinen bisherigen Vorurteilen gegenüber den SB-Restaurants Abstand nehmen muss... Denn von der Auswahl her, muss man sagen, dass es toll ist.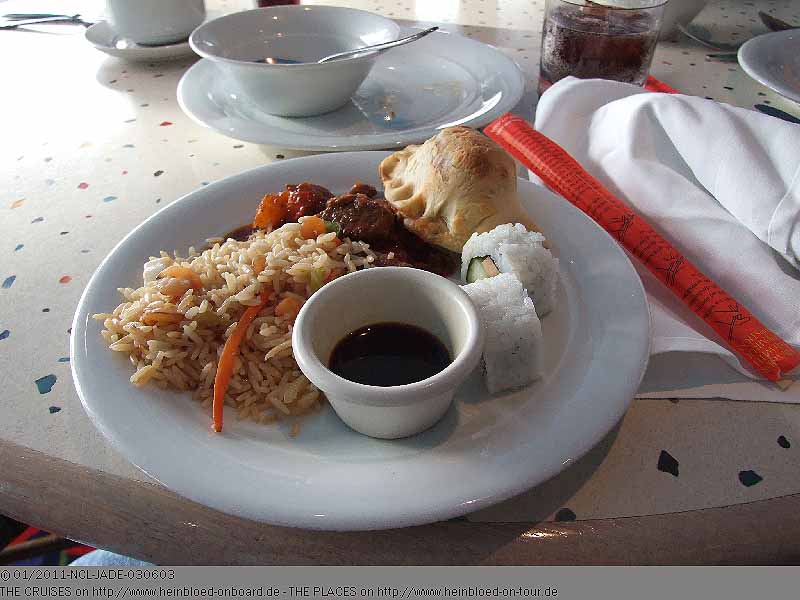 You had sushi-rolls too... Maybe I need to keep more distance to the opinion I had so far from the self-service restaurant... The options you have was totally great...

The rest of the afternoon I did some work for the company and spa and you can still get spa-passes for 150 USD. We went for dinner to Grand Pacific again and I did not like to discuss everything if there any priority I have or not. So I let them give a pager. Now we found out that we want to have for the rest of the cruise every night a pager: with the pager you are entitled to buy cocktails 2 for 1... Just show it at the bar... So you like to wait... It was no problem either to get a signal at the Aloha Bar.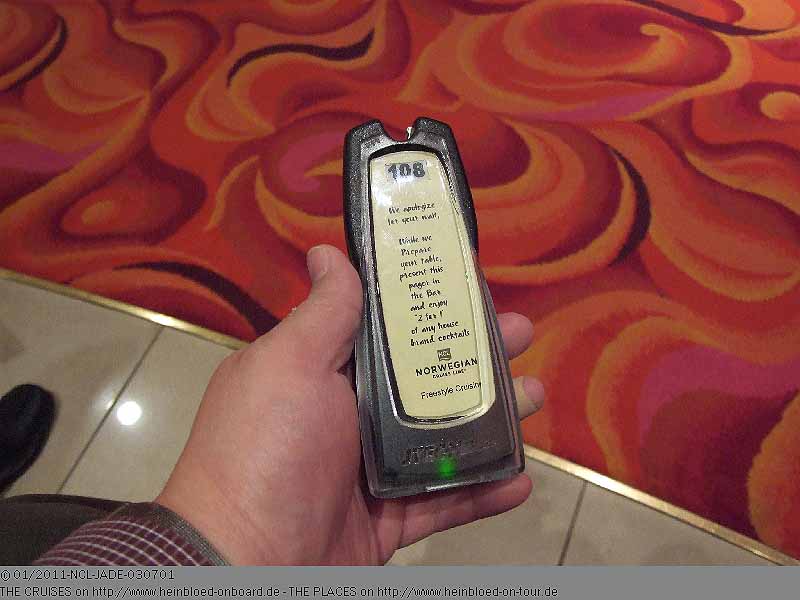 Den Rest des Nachmittags gibt es etwas Büroarbeit und Spa und auch noch heute am 3. Tag der Reise werden noch Spa-Pässe immer noch für 150 USD angeboten. Wir gehen abends wieder ins Grand Pacific und irgendwie habe ich keine Lust das jeden Abend auszudiskutieren, ob ich nun Priority habe oder nicht und lasse mir einen Pager geben. Da stellen wir aber fest, dass wir künftig jeden Abend einen haben wollen: Der Pager berechtigt nämlich für Cocktails zum Preis 2 für 1... An der Bar vorzeigen genügt... Da wartet man doch gerne... Auch an der Aloha Bar war es kein Problem ein Signal zu bekommen...
Da wir auch eine deutsche Speisekarte bekommen, sehen wir, dass NCL absolut super geworden ist: Nicht nur der Gast sollte verstehen, was er isst, sondern auch der Kellner, der die Bestellung aufnimmt. Die fremdsprachigen Karten sind daher zweisprachig.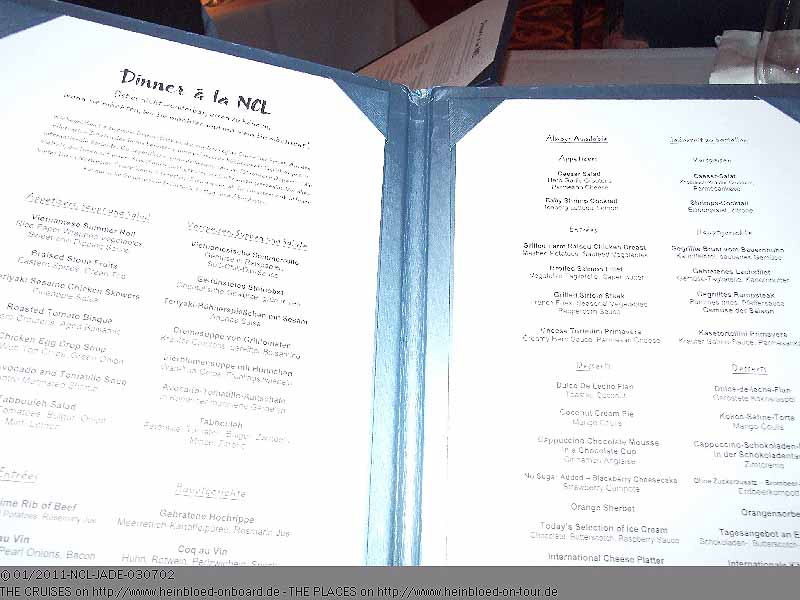 As we got a German menu as well we saw became very brilliant: Not just the guest should understand what he wanted to eat but the waiter should know what they would like to order. So the foreign language menus are bilingual.

The service became worse and worse... I thought at the beginning... but the norovirus limited the waiter to offer their best to pamper us. So we need to set the table ourselves. So silverware and plate were protected as long as possible against the virus. Finally we had to do our own napkin service...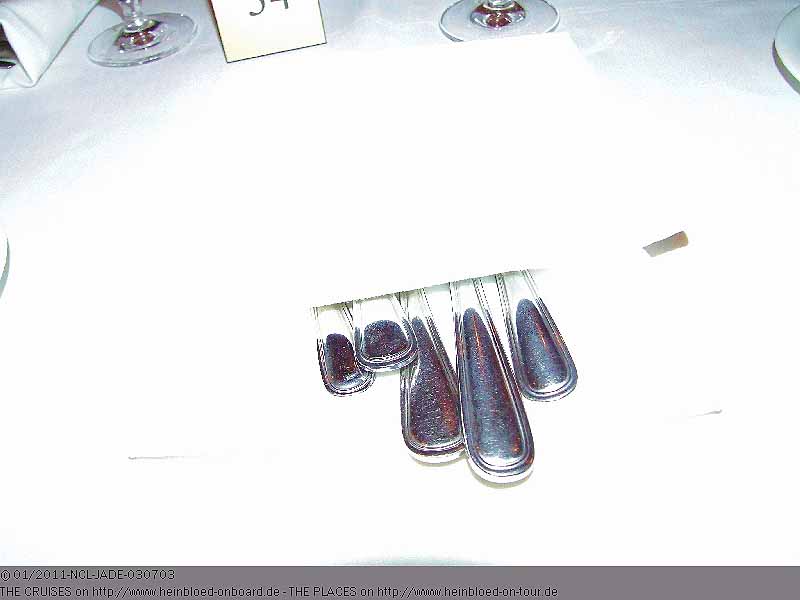 Der Service wird auch immer schlechter... dachte ich zunächst... aber der Norovirus schränkt die Möglichkeiten der Kellner ein, uns zu verwöhnen. Wir müssen Brotteller und Besteck selbst auflegen. So ist es längstmöglich vor Viren geschützt. Und dann noch die Serviette auf das Knie legen...
Damit gibt es natürlich auch wieder einen Tablettservice für Brot und Butter. Nichts wird auf dem Tisch stehengelassen, was auch nur mit dem nächsten Gast in Kontakt kommen könnte.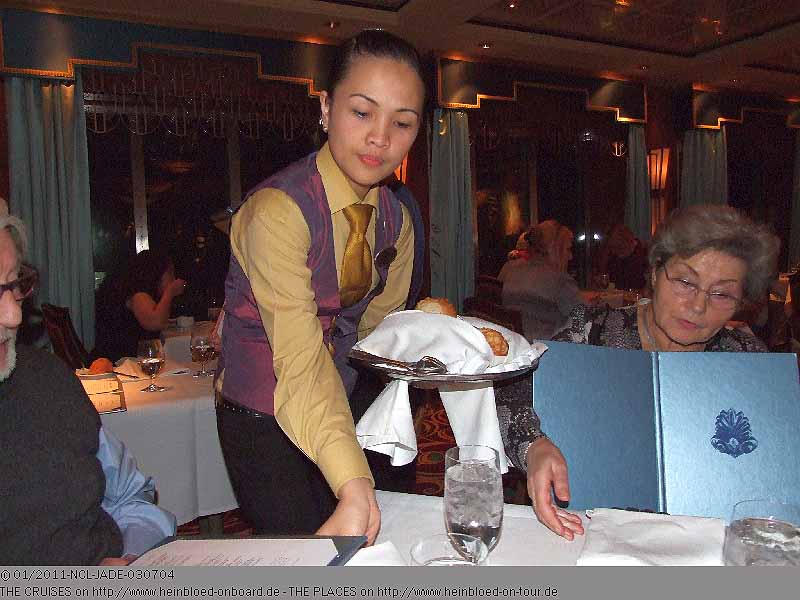 So you have the tray service again for bread and butter. Nothing was left on the table which can be touched by the next guest.

Terriyaki-Chicken-skewer...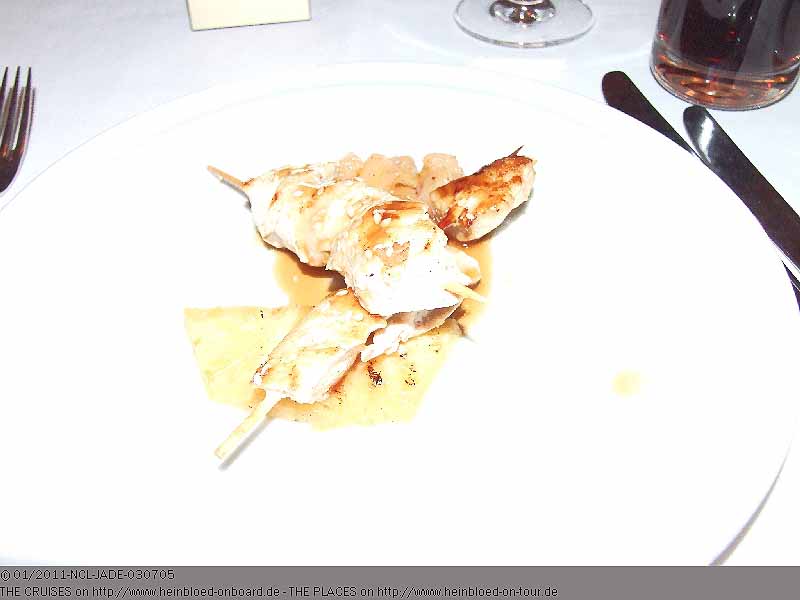 Terriyaki-Hühnerspieße...
Wan-Tan-Suppe...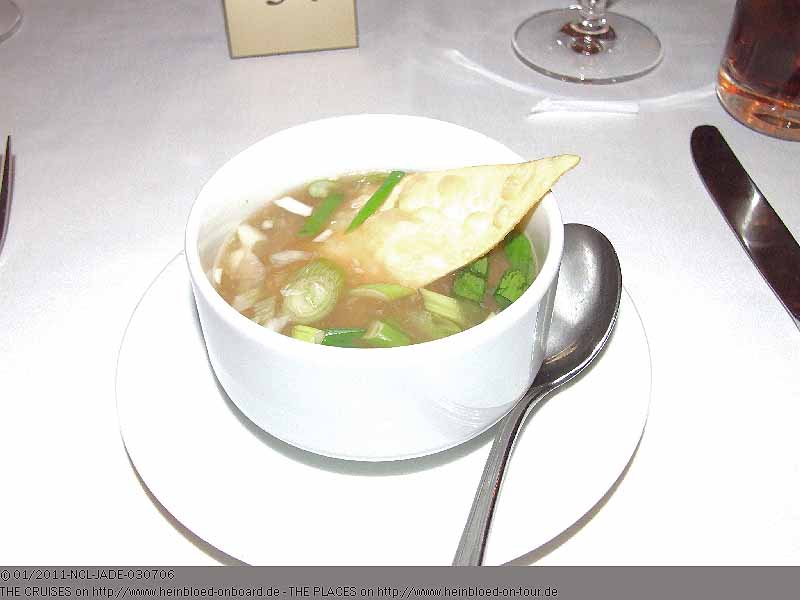 Won-Ton-Soup...

Tabouleh - I love it... to avoid any behaviour like a pig order a spoon to handle it... otherwise it might become very difficult...

Tabouleh - liebe ich... wenn ihr die Schweinerei am Tisch vermeiden wollt, bestellt euch einen Löffel dazu... alles andere wird schwierig...
Bruno bekommt ein Herzchen aus Toast mit seinem Coq au Vin... bestimmt vom Koch... und ich dachte, dass er immer zum Fitnessstudio oder in den Spa geht... stattdessen geht er wohl fremd und die lassen ihm jetzt ein Herzchen zukommen... Komm du mir nach Hause...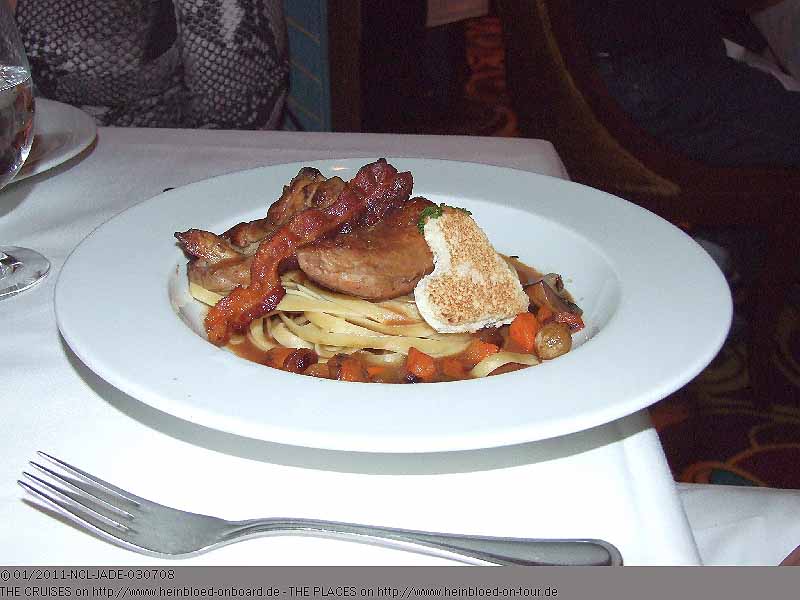 Bruno got a sweatheart made of toast with his Coq au Vin... maybe from the cook... and I always thought that he was in the gypm or in the spa... but obviously he visited someone else who sent him now a sweatheart... Just wait you are coming home...

I had my piece of meat... Prime-Rib...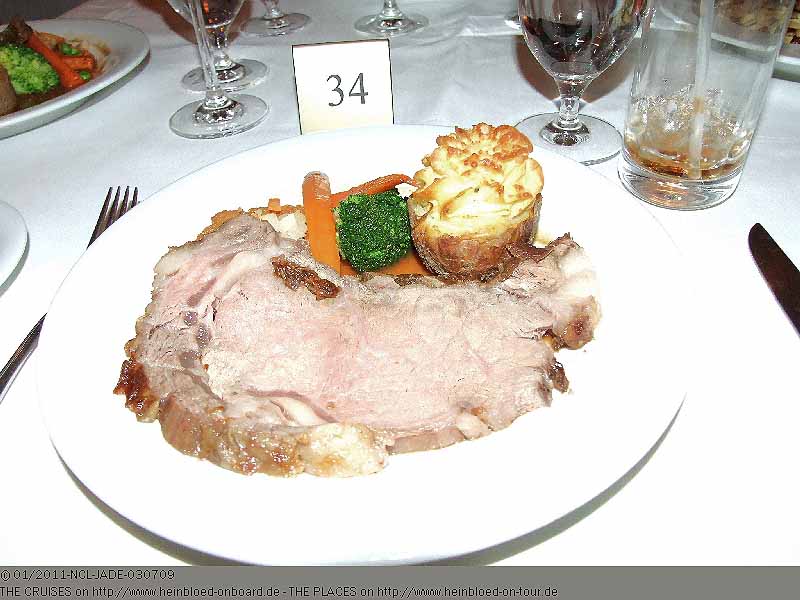 Ich hatte meinen üblichen Fleischlappen... Prime-Rib...
Orangensorbet: mein Lieblingssorbet - aber immer viel zu viel...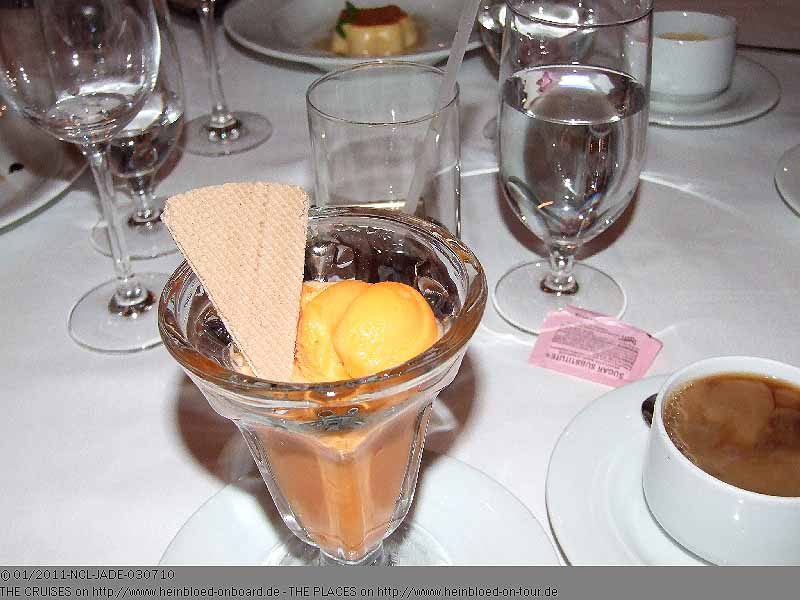 Orange sherbet: my favorite sherbet - but as usual too much...

With the deserts they always spent a lot of effort with the decoration.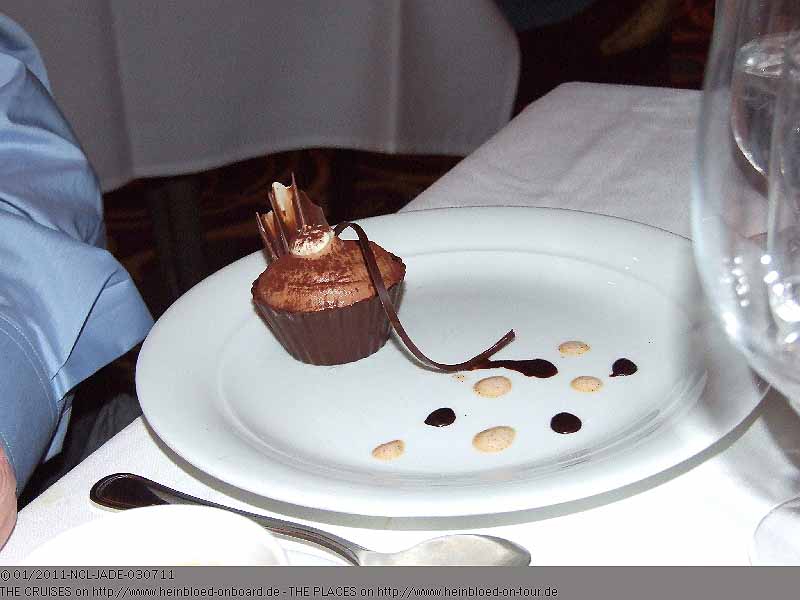 Beim Dessert machen sie sich auch immer sehr viel Mühe beim Dekorieren.
Beim Zahlmeister sehen wir, dass sie auch Euros gegen Dollar tauschen. Allerdings nehmen sie pro Transaktion 10 USD... Türkische Lira und Ägyptische Pfund gibt es nicht an Bord.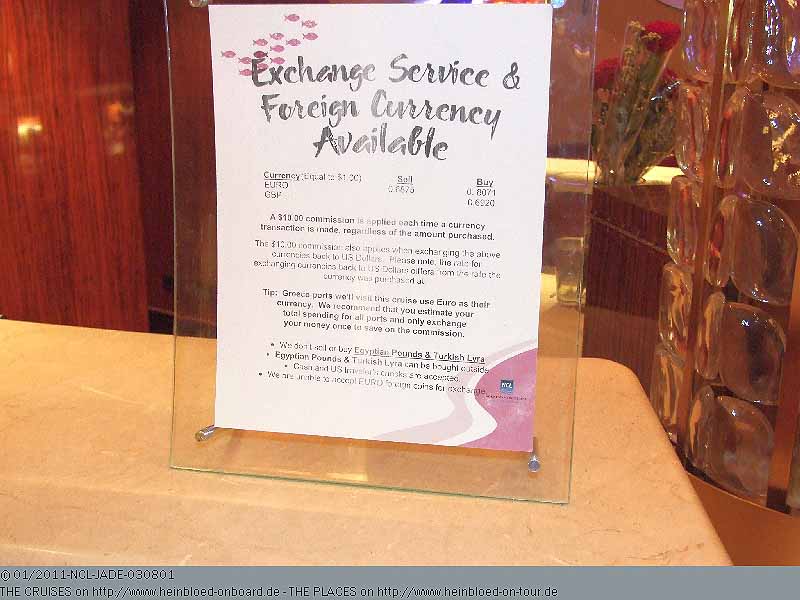 With the purser we saw that they exchange Euro against Dollar. But for each transaction they take 10 USD... But they do not have neither Turkish Lira nor Egyptian Pound on board.

But on other ships like WESTERDAM and OCEAN PRINCESS they did not let me talk to the Hotel Director and here they just placed a drop-box for him so none must have concerns to ask and to comment. So there is no gatekeeper to find a way to comminicate. I posted four questions and I was looking forward and I was very curious how and when they will contact me. The photo was great: so everybody knows who you are and know whom to deal with...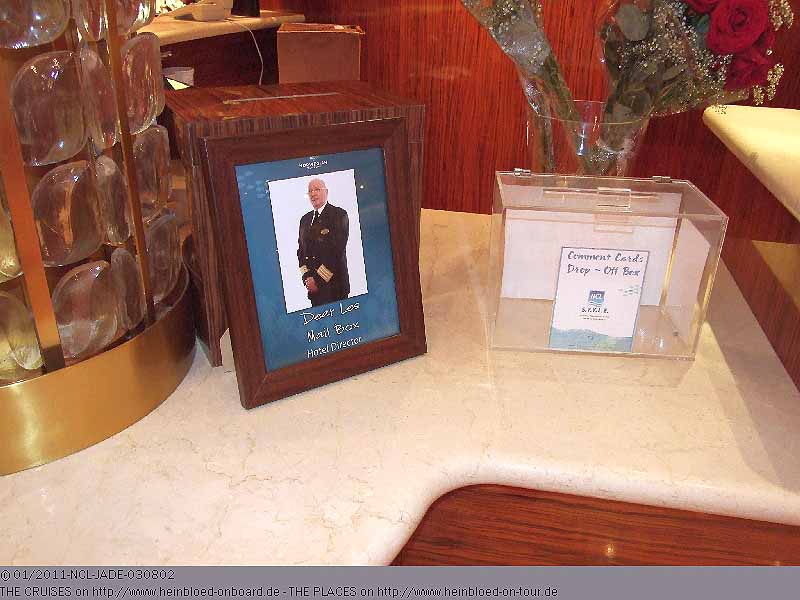 Tja auf anderen Schiffen wie auf der
WESTERDAM
und
OCEAN PRINCESS
lässt man mich nicht mit dem Hotel Director sprechen und hier ist einfach eine Box für ihn aufgestellt, in der jeder ohne Hinternis seine Fragen und Meinungen einwerfen kann. Das nimmt die Hürde Kontakt mit ihm aufzunehmen. Ich formuliere vier Fragen und bin gespannt, ob und wie schnell ich kontaktiert werde. Auch das Foto ist gut: wenn man ihn sieht, weiss man mit wem man es zu tun hat...
Ein Handtuchtier... endlich...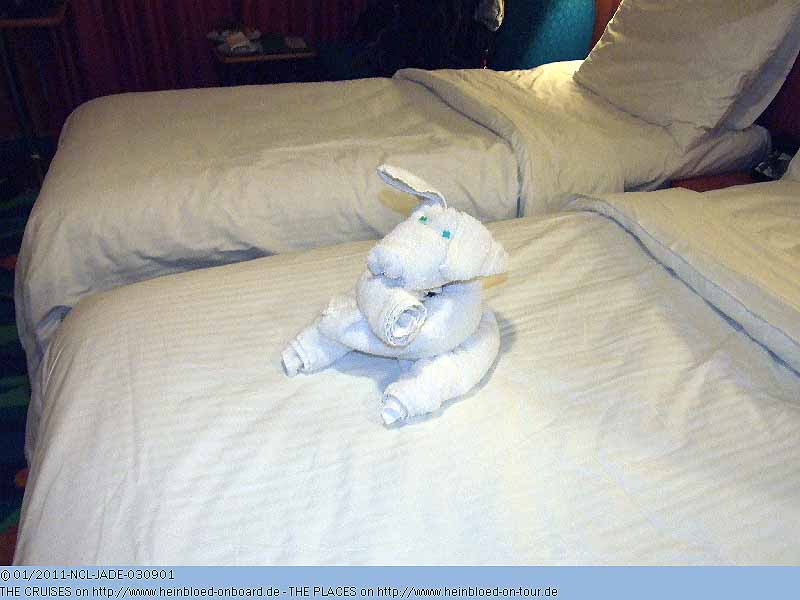 A towel animal... finallly...

Due to the norovirus they canceled the reception for Latitudes-members. The Captain did not want to shake hands under theses circumstances...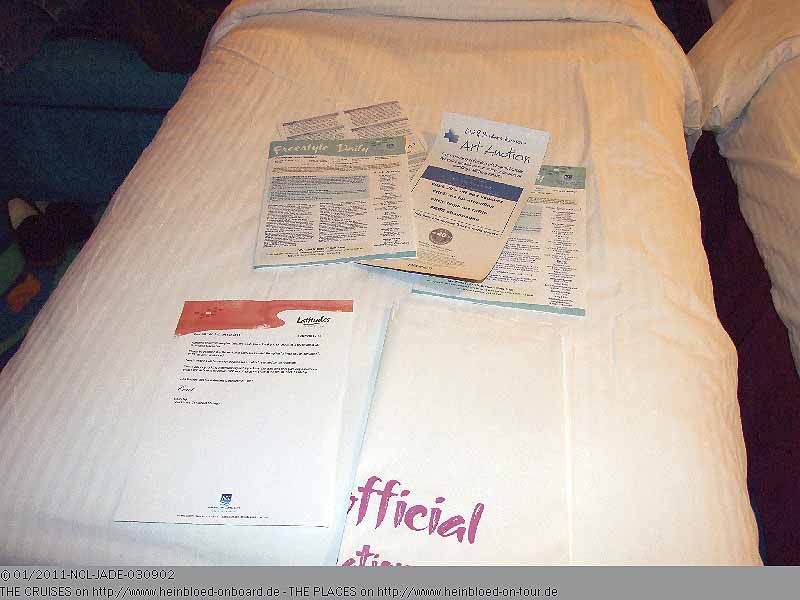 Aufgrund des Noroviruses wird der Latitudes-Empfang abgesagt. Der Kapitän möchte niemandem unter diesen Umständen die Hand geben...
Unser Wäschebeutel kommt für das 24,95 USD-Angebot: soviel wie in einen Beutel reinpasst... Und ein kostenloses Bingo-Ticket für den nächsten Tag...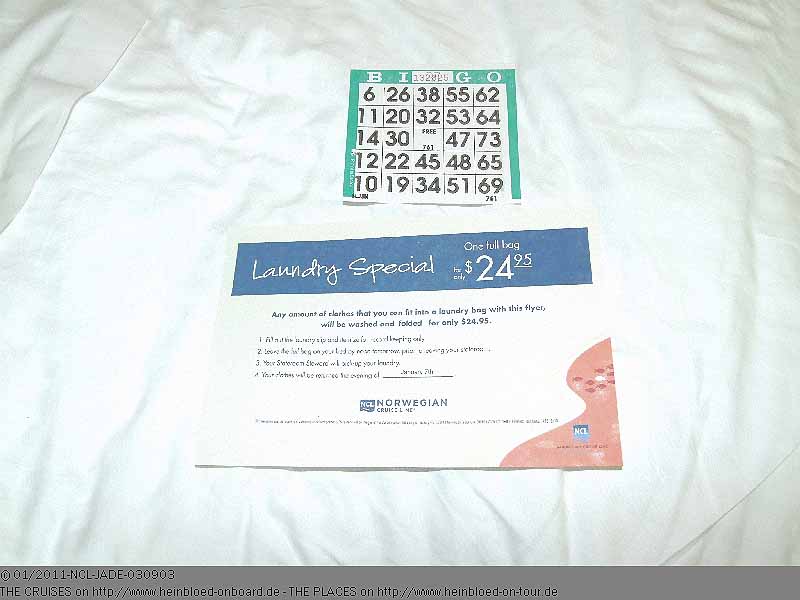 Our laundry bag came for the 24.95 USD-offer: as much as you can get into the bag... And a complimentary bingo ticket for the next day...