Scroll down for English explanations - alternates with German explanations.

Eine Überraschung erwartet mich: SAGA RUBY liegt ebenfalls in Valletta.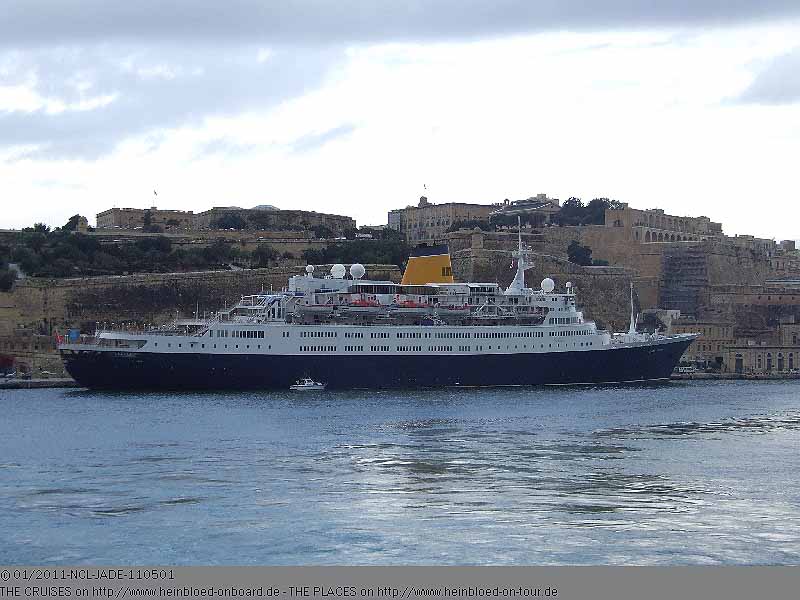 We had a great surprise waiting in Valletta for us: SAGA RUBY.

She is a true historic ship. I really want to go with. But you must be 50+. You companion 40+. If your companion is 40- you need a letter from your doctor why there is no other person 40+ who can go with you. So I need to wait another 6 years to go on this ship.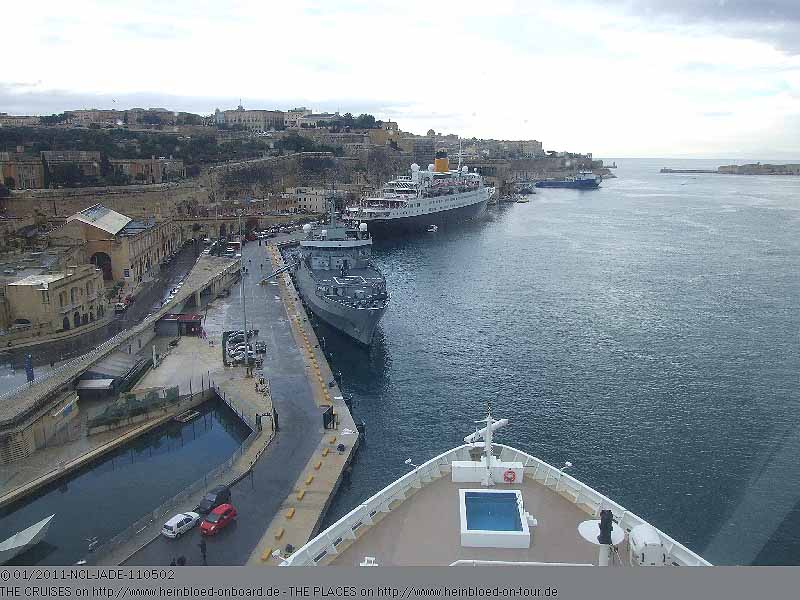 Sie ist wirklich ein Schiff mit Geschichte, auf der ich gerne mal mitfahren würde. Aber man muss 50+ sein. Der Begleiter 40+. Wenn dein Begleiter 40- ist, dann braucht man ein ärztliches Schreiben, warum es derjenige Begleiter sein muss und dass keiner 40+ zur Verfügung steht. So muss ich noch 6 Jahre warten, bevor ich endlich mal mitfahren kann.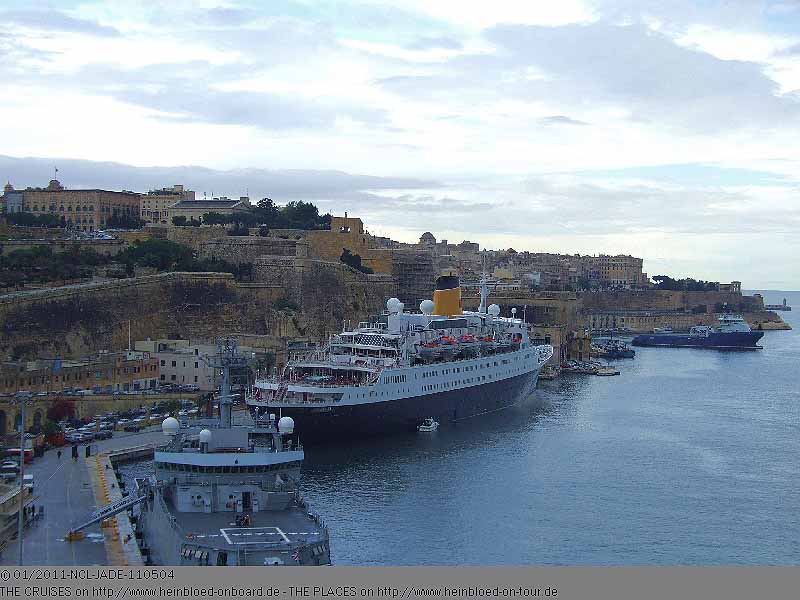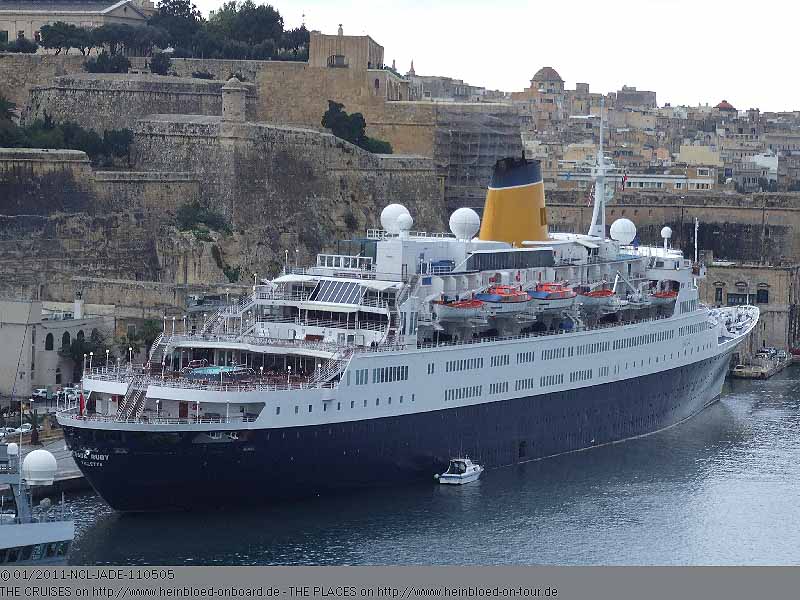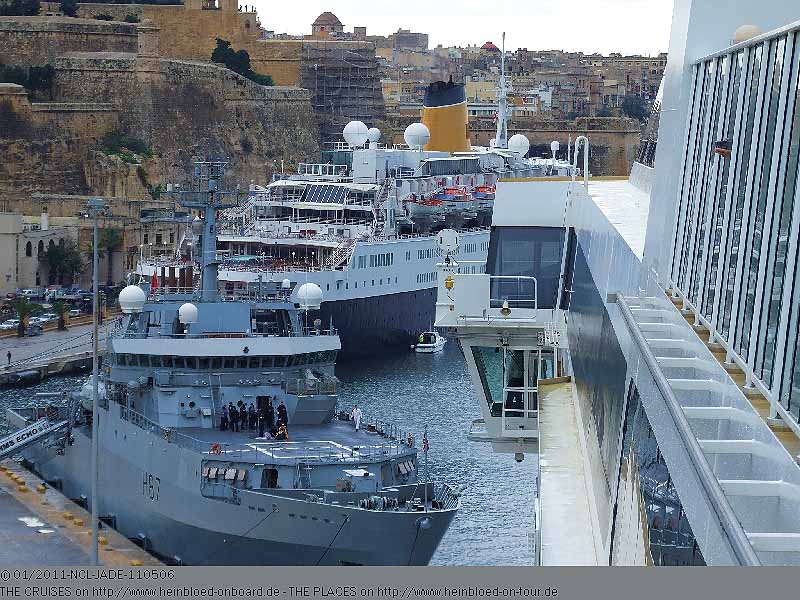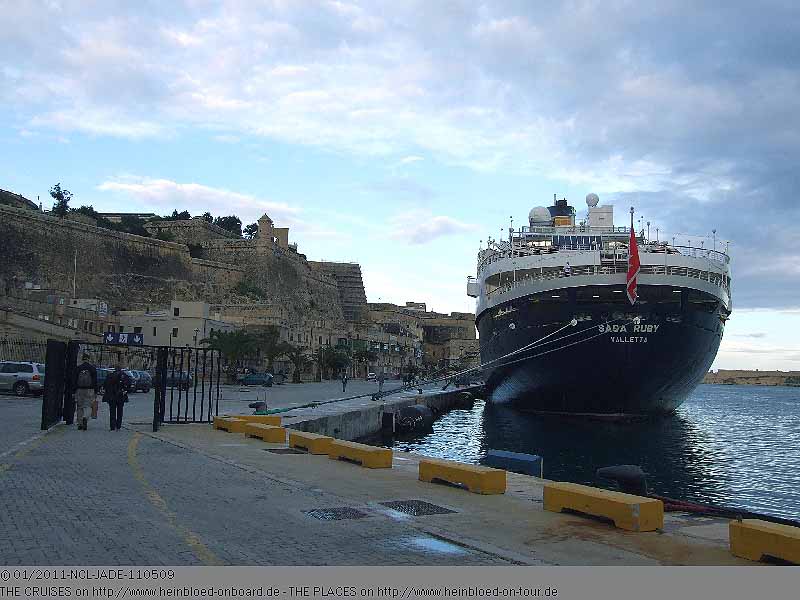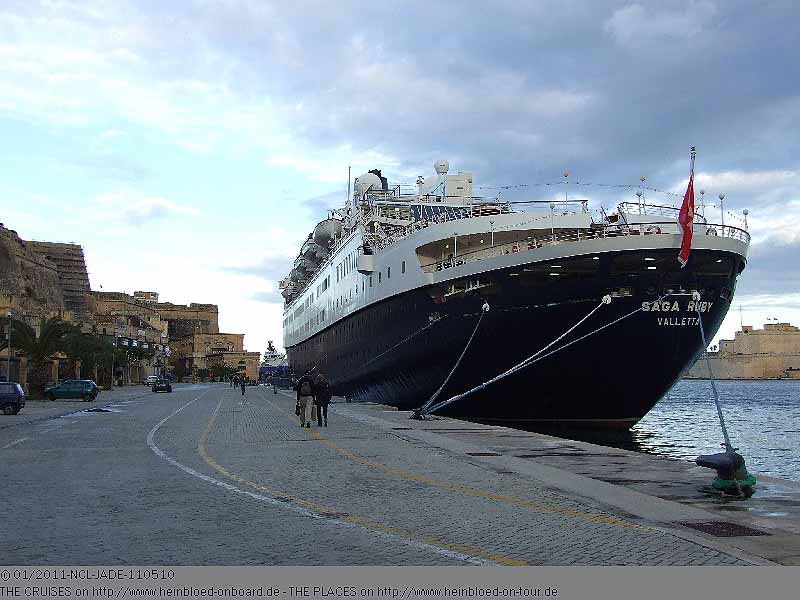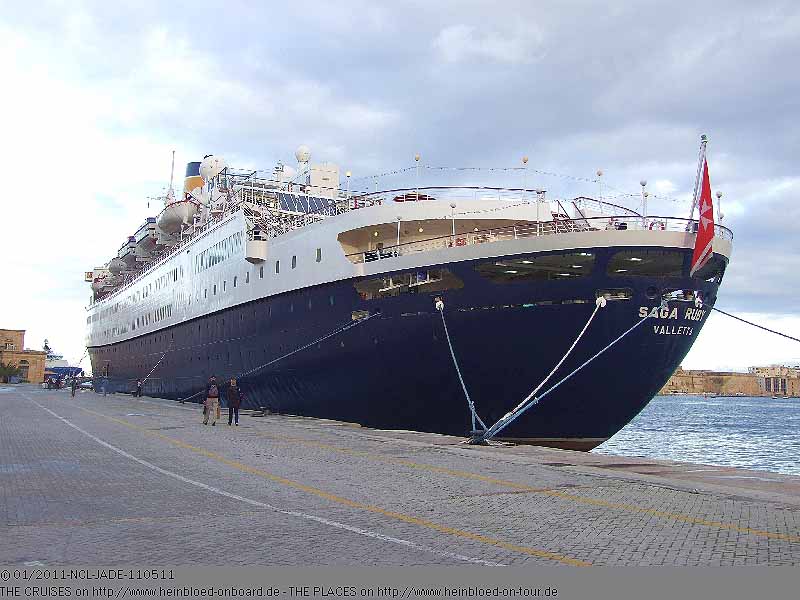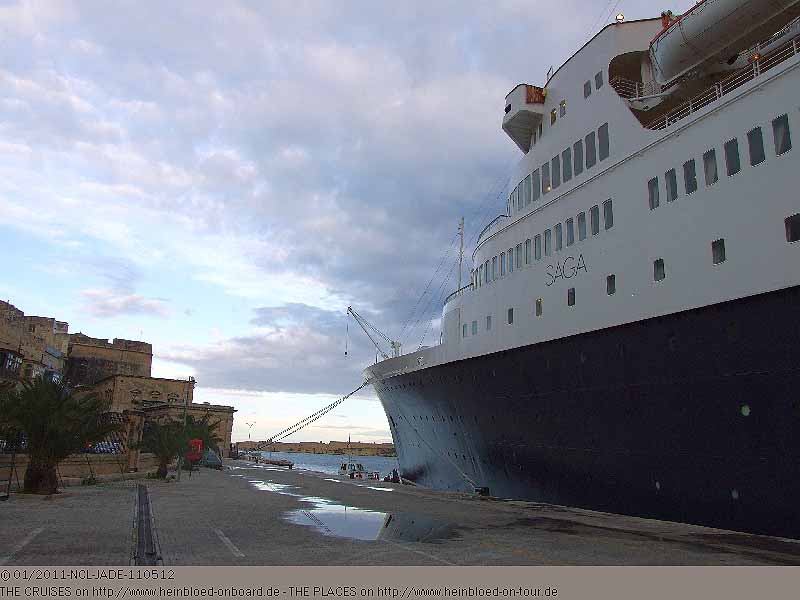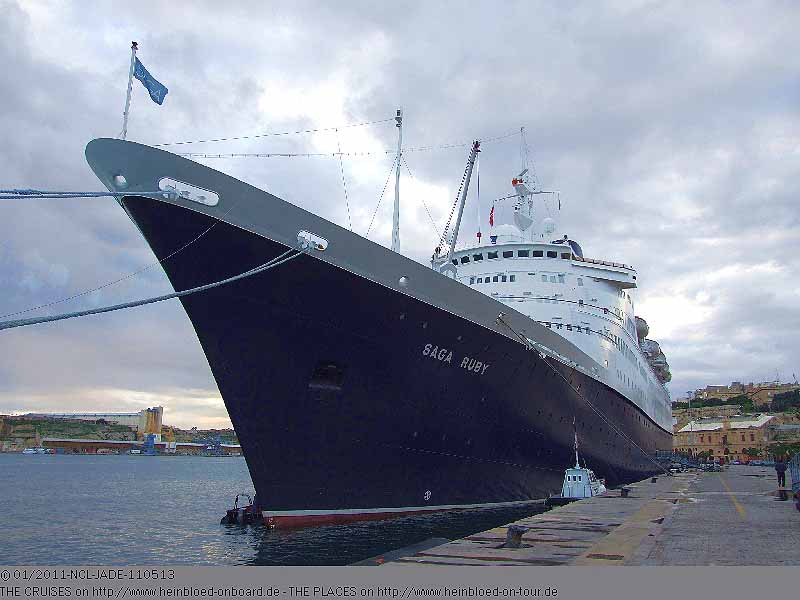 The life at the waterfront started again.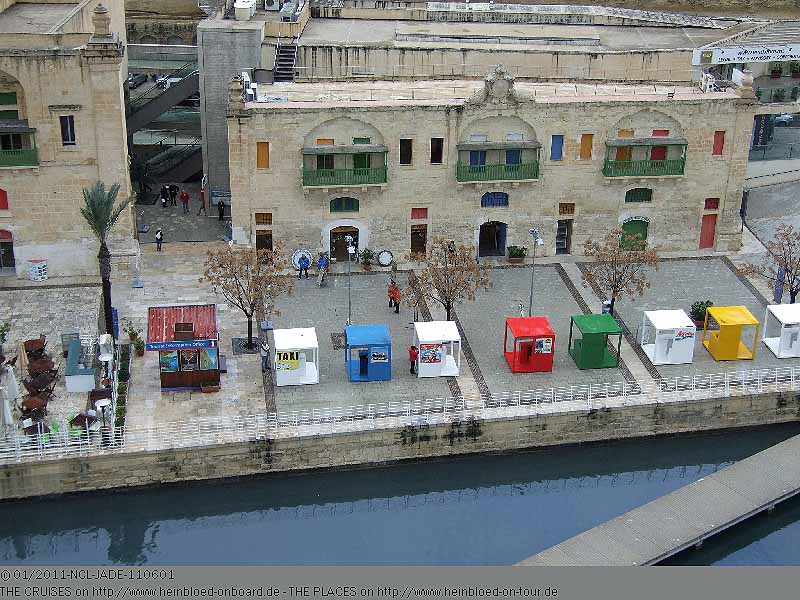 Irgendwie beginnt wieder das Leben an der Waterfront.
Hier warten wohl schon die Busse von den Privattouren.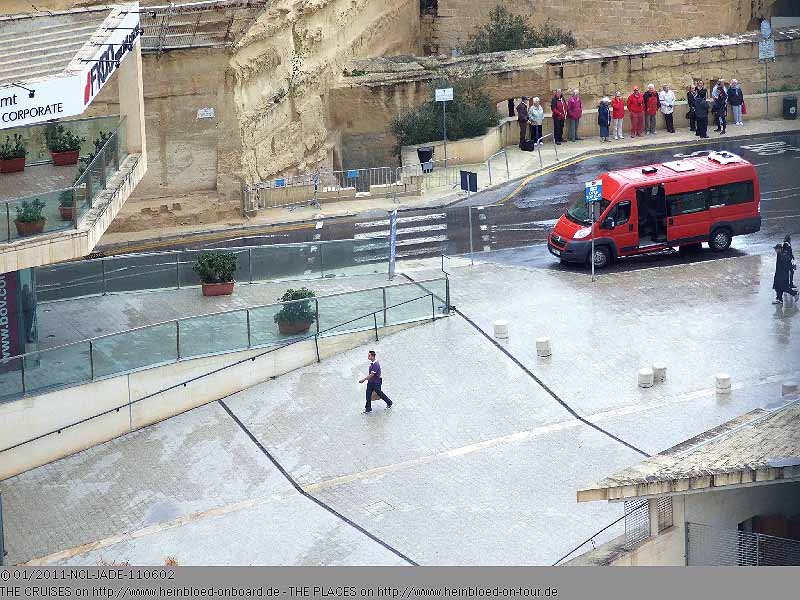 I guess the first buses for private tours were waiting here.

Looked like HoHo-Bus-Tours.

Sieht nach HoHo-Bus-Touren aus.
Den Geldautomaten von HSBC ist immer noch da. Als wir später dort Geld abheben, erleben wir gerade von einem US-Kreuzfahrer die Kreditkarte eingezogen wird. Ich wage es trotzdem meine Karte einzuführen. Also lag es nicht am Automaten. Sie sind verzweifelt. Sie haben weder Euros dabei noch ein Telefon, das in Malta funktioniert. Also rufe ich für sie bei HSBC an und teile ihnen mit, welche Filiale für diesen Geldautomaten zuständig ist. Ich lasse mir ihre Bordkarten zeigen und weiss nun, dass sie auch Gäste der NORWEGIAN JADE sind. Irgendwie taten sie mir leid. Ich gebe ihnen 40 EUR, damit sie davon ein Taxi zur HSBC-Filiale bezahlen können. Mal gucken ob ich mein Geld wiedersehe. Wenn nicht, bin ich für 40 EUR um eine Erfahrung reicher.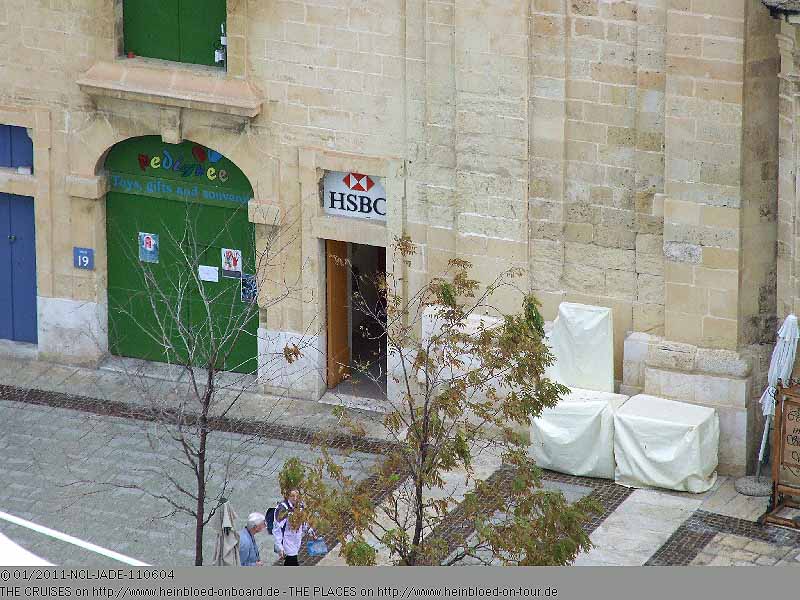 The ATM from HSBC was still there. When we withdraw money later the morning we become witness how the ATM kept the card of an US-cruiser. So I dared to insert my card. So it was not the machine. They were desperated. No Euros, no phone which works on Malta. So I called for them with HSBC and told them which branch will handle this ATM. I let them show me their ship's cards and so I knew that they were guests of NORWEGIAN JADE as well. I was so sorry for them. So I gave them 40 EUR to pay a taxi to the HSBC-branch. Let me see if I get back my money. If not I will become richer on experiences for 40 EUR.

As before you need to exit through the old cruise terminal.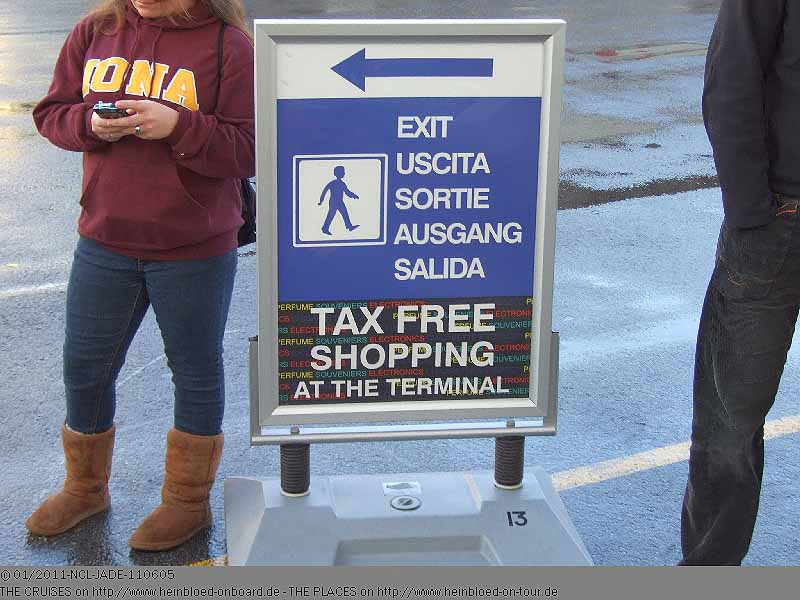 Wie damals auch muss man über das alte Terminal raus.
Nach links über die Rampe hinaus.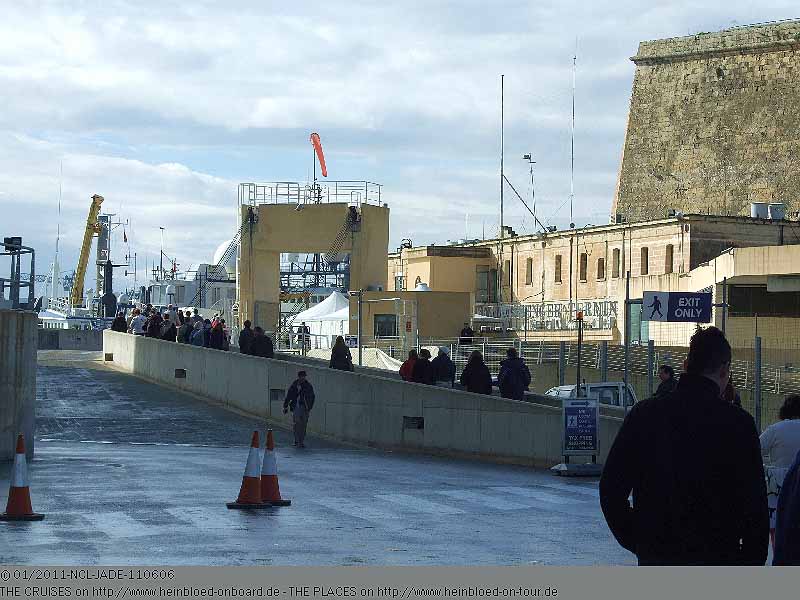 Left over the ramp.


Inside they offered sightseeing flights.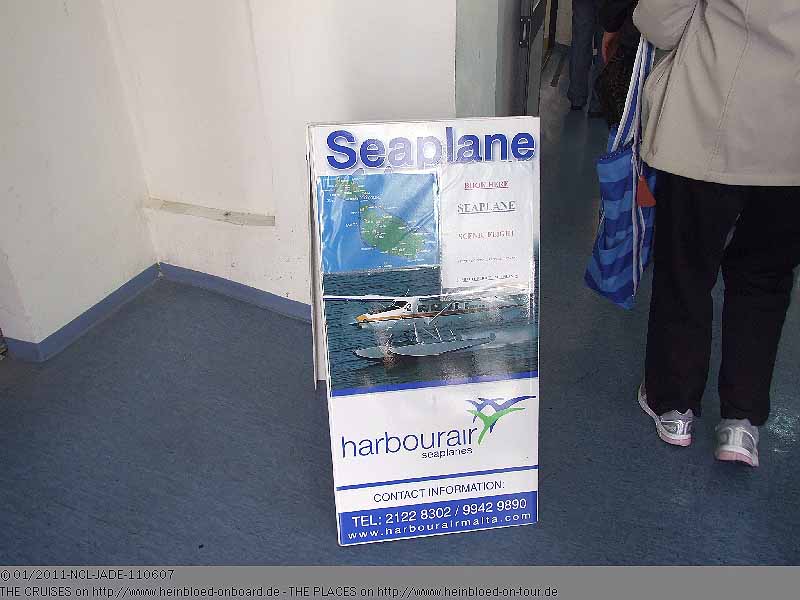 Hier werden Rundflüge angeboten.
Weiter geht es wieder zur Waterfront, um auch die Busse und Taxen usw. zu erreichen.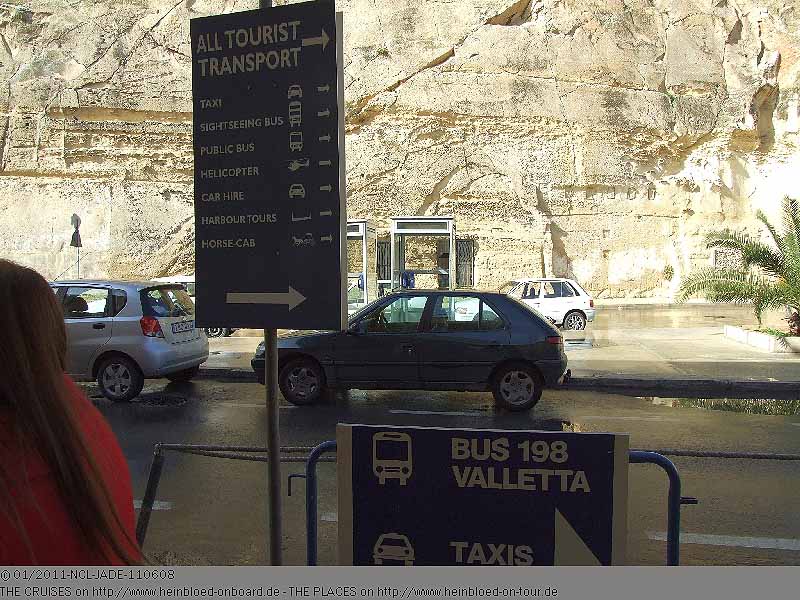 You were continuing to the waterfront where you reach buses and taxis.

Car Rental... so also to the right...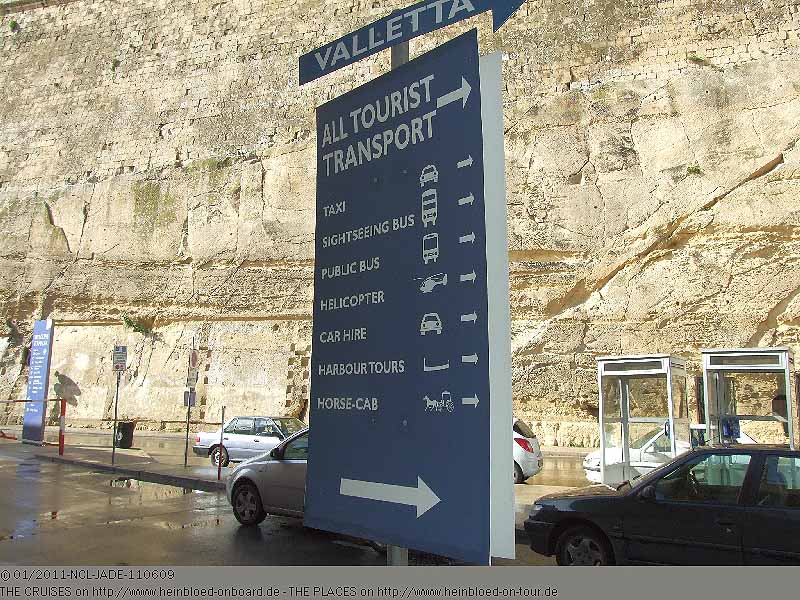 Car Rental... also auch rechts lang...
und dann wieder die ganze Waterfront entlang.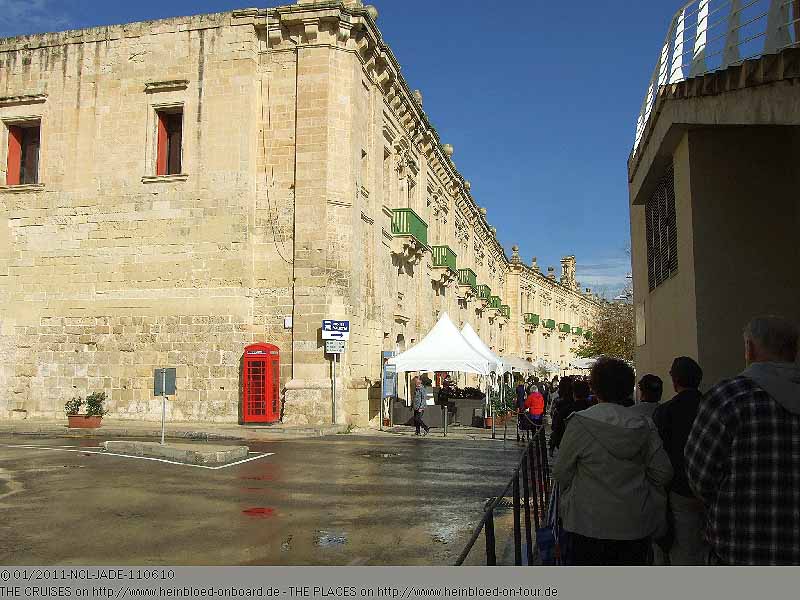 and again all along the waterfront.

So you find there also Valletta-bound Bus 198.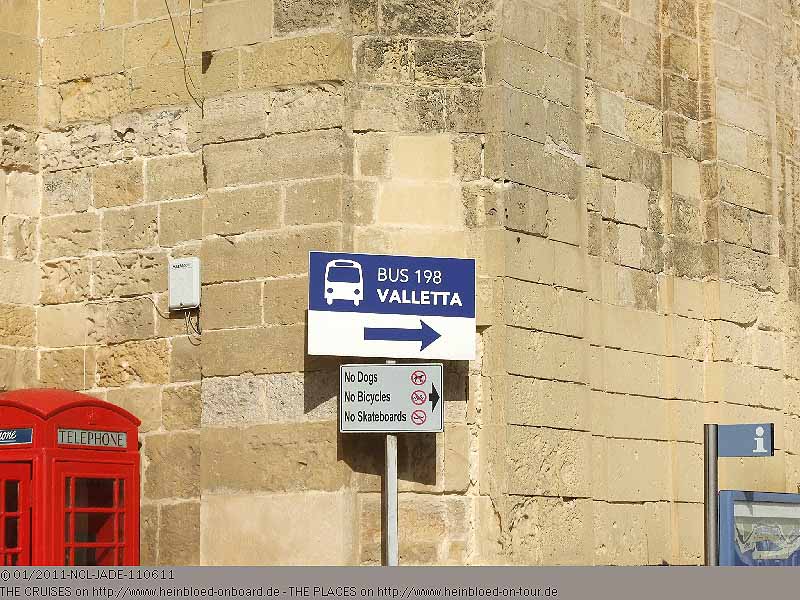 Es geht hier auch zum Bus 198 nach Valletta.
Einfach immer gerade aus. Man kann nichts falsch machen.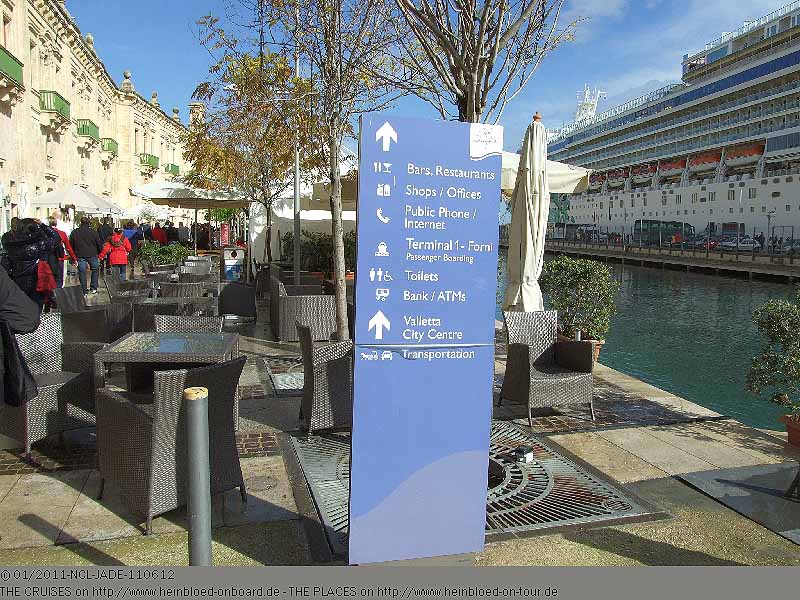 Just straight ahead. Nothing you can make wrong.

And that one restaurant after the other followed who offered free WiFi.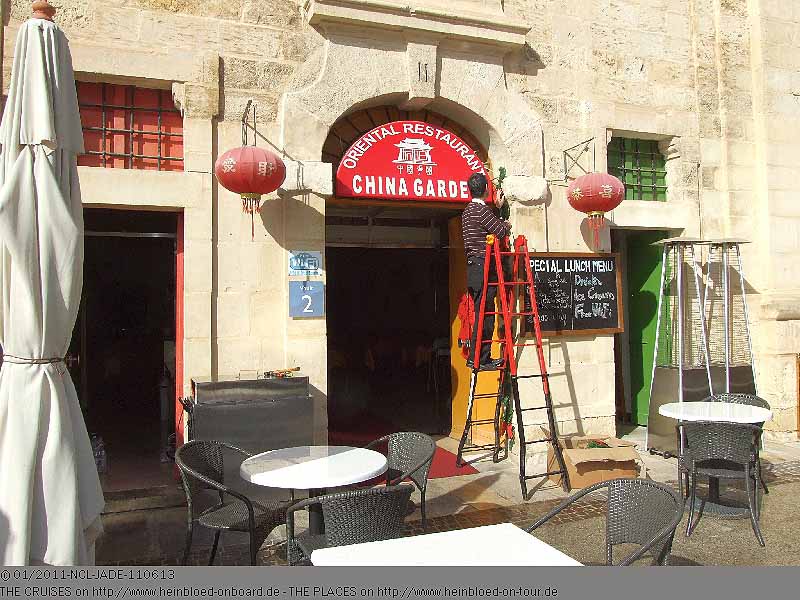 Und dann folgt ein Lokal nach dem anderen, das kostenlos WLAN anbietet.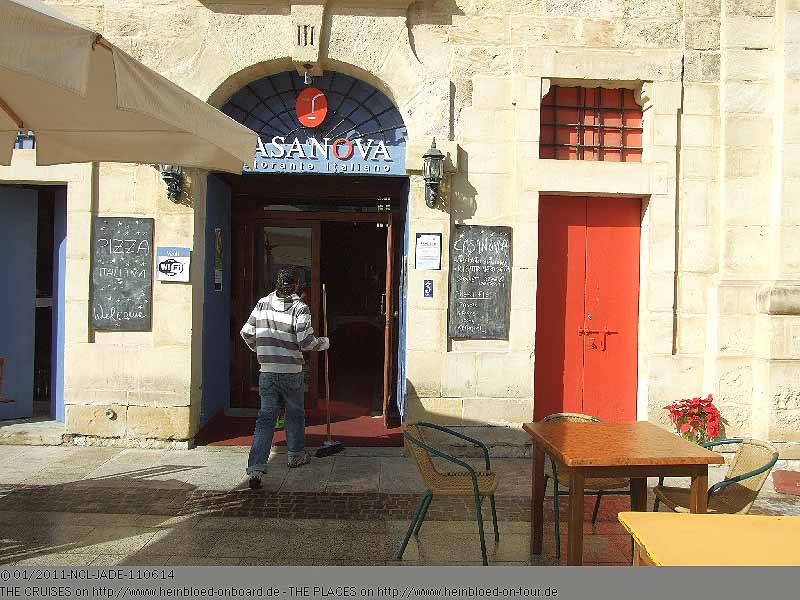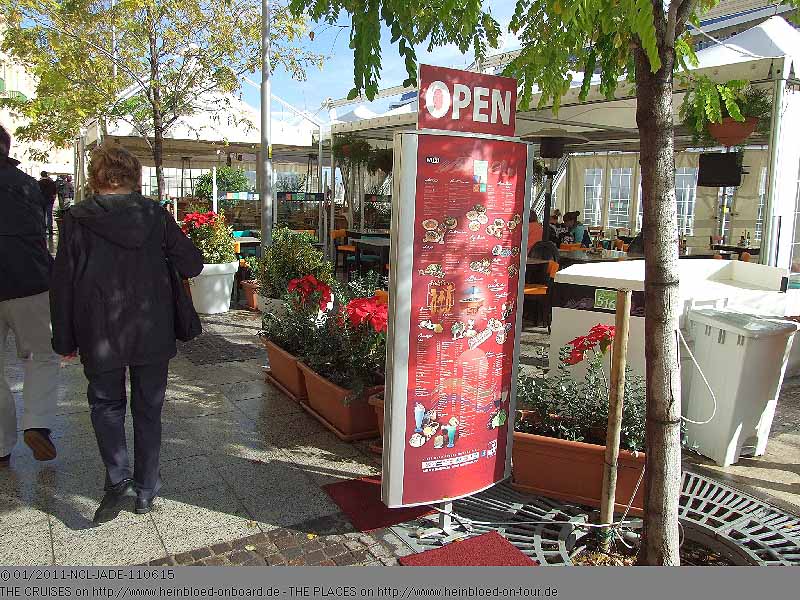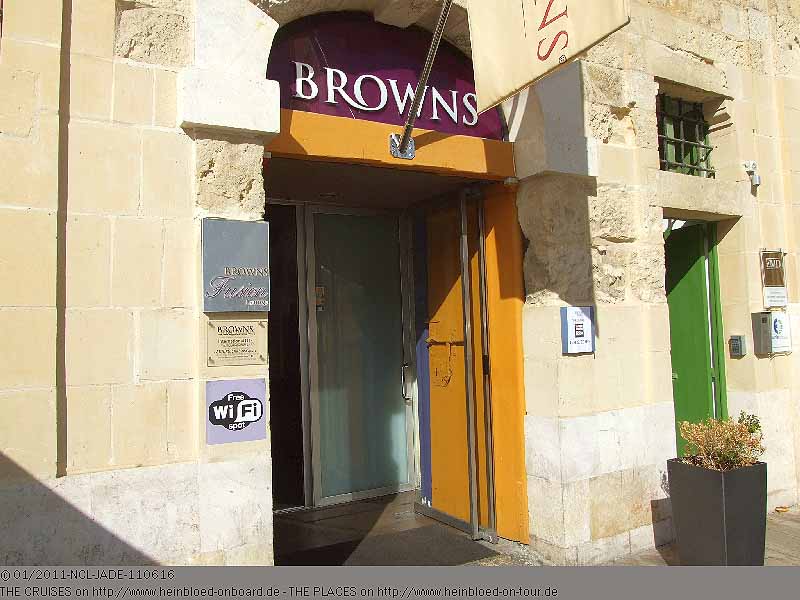 But the signals were too weak to get them on the ship. Too instable.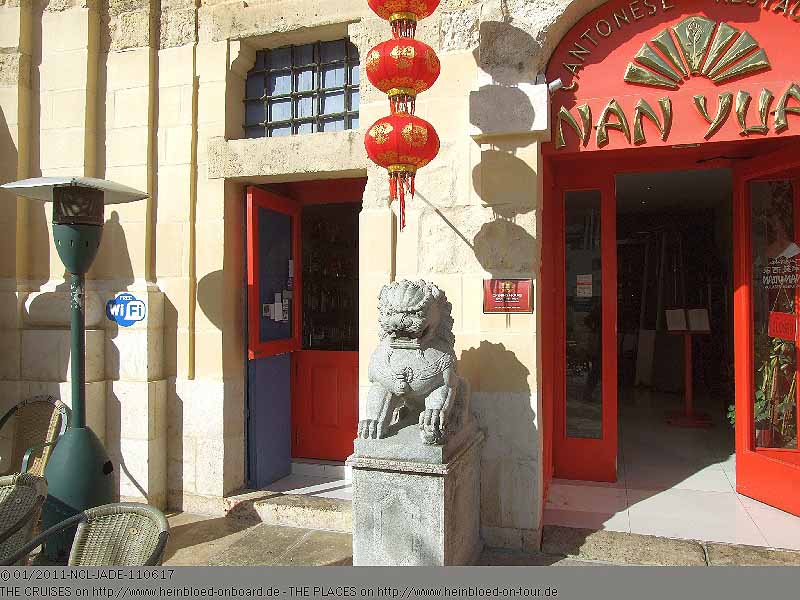 Leider reichen die Signale nicht bis zum Schiff. Ist zu instabil.
Irgendwie ist der AVIS-Stand weg... Ich rufe bei AVIS an: Im Winter ist der Stand nicht besetzt. Wir sollen zum Ende der Waterfront laufen. Auf der Höhe der Bank of Valletta-Filiale werden wir abgeholt. Hier treffen wir uns auch mit unserer Fremdenführerin Sabine, die uns schon verzweifelt sucht.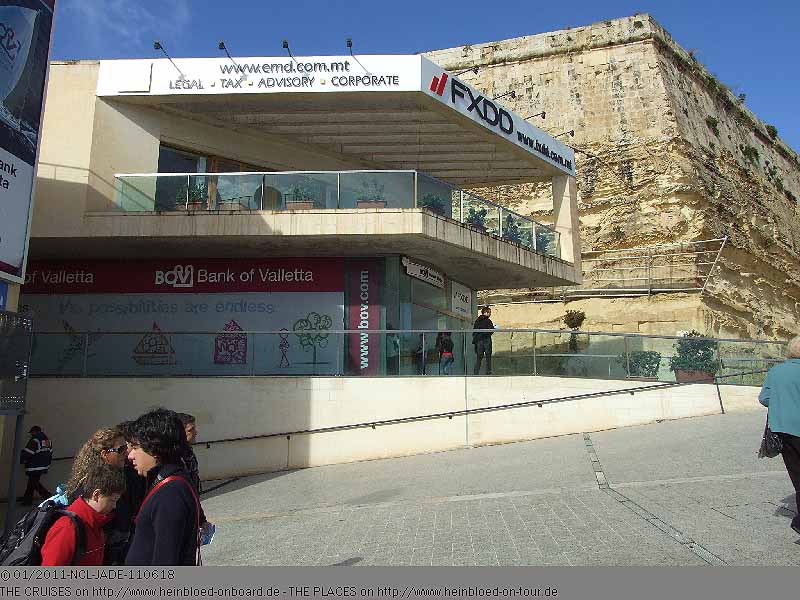 Somehow the stand of AVIS was gone... I called with AVIS: In the winter the stand is not attended. We should walk to the end of the waterfront at Bank of Valletta. Here we should get a lift to their branch. So we met here our tour guide Sabine, who was looking for us already.

They showed for SAGA RUBY. But how about us???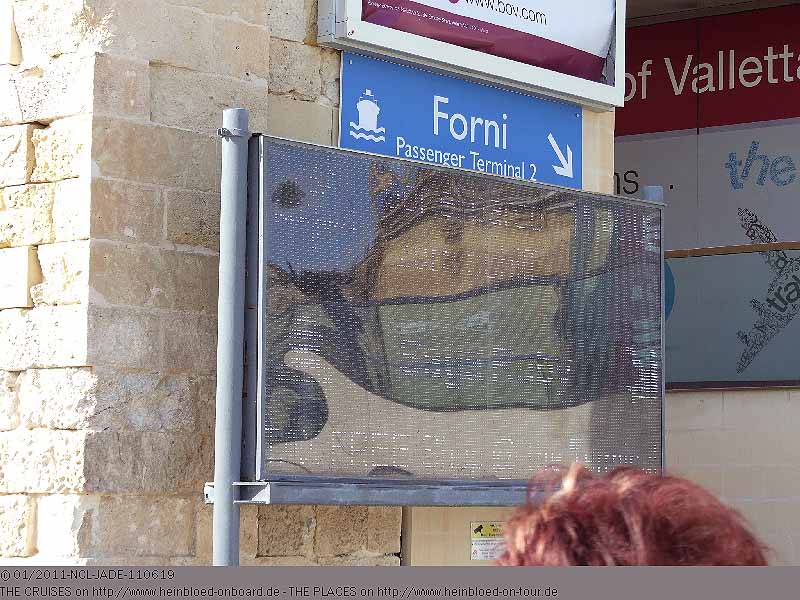 Auf die SAGA RUBY wird hingewiesen, aber was ist mit uns???
Gegenüber der Bank of Valletta fährt der Bus 198 nach Valletta ab.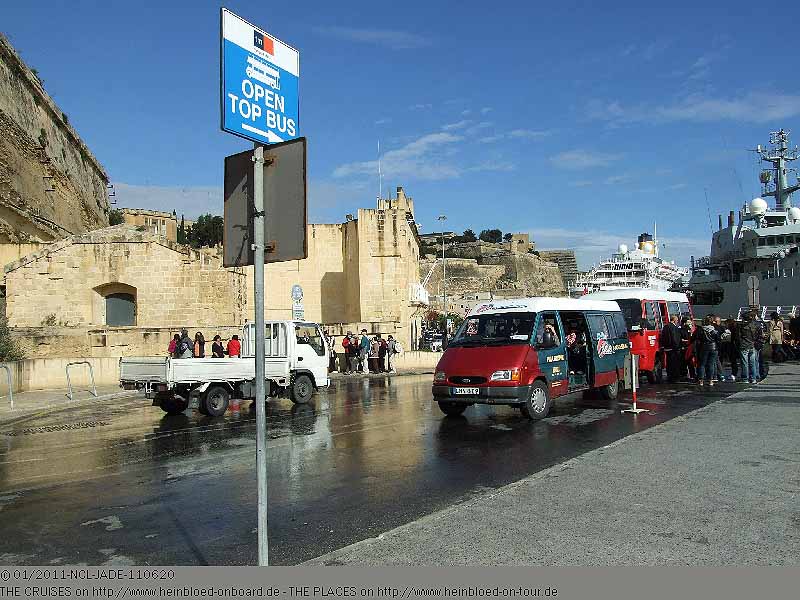 Opposite of the Bank of Valletta bus 198 to Valletta should start.

Ahh... every 30 minutes to the full and half hour from 09.00 hrs to 18.00 hrs.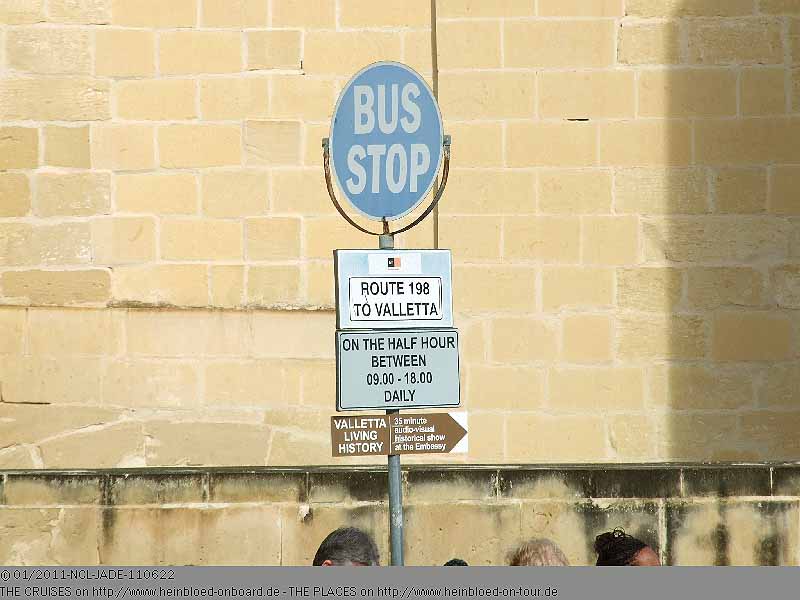 Aha, immer zur vollen und halben Stunde von 09.00 Uhr bis 18.00 Uhr.
Kennen wir doch - oder???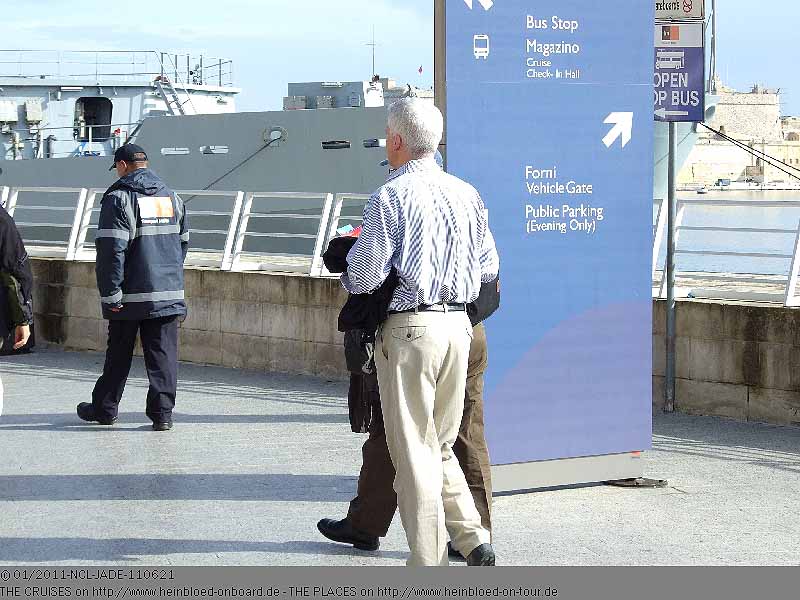 Don't we know them???

When we returned in the afternoon they displayed NORWEGIAN JADE as well.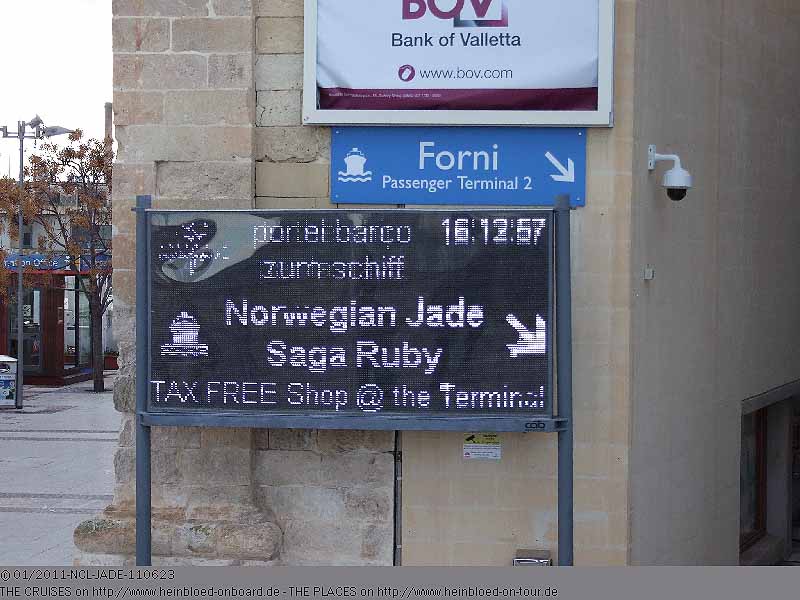 Als wir nachmittags zurückkommen, wird auch die NORWEGIAN JADE angezeigt.
Wir werden durch den Duty Free Shop zum Schiff geleitet.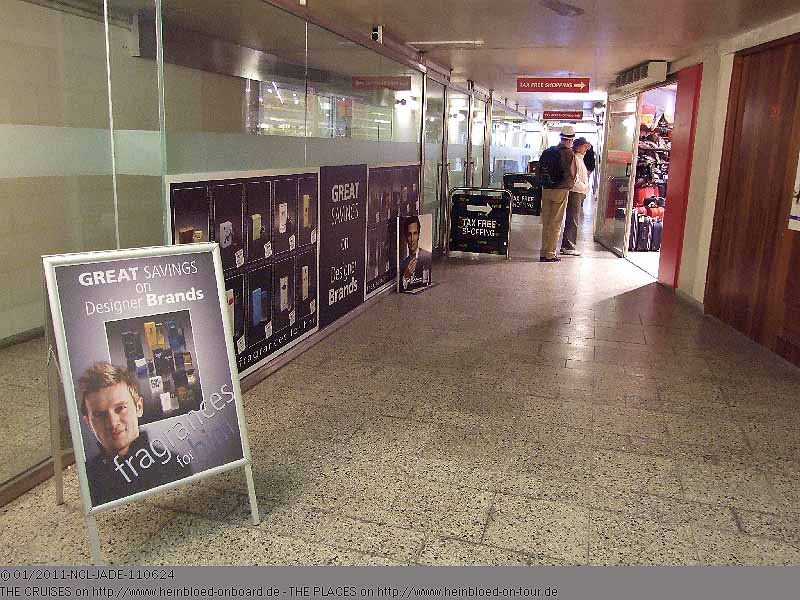 You were guided trough the duty free shop to the ship.

One box of Marlboro was 17.00 EUR (January 2011).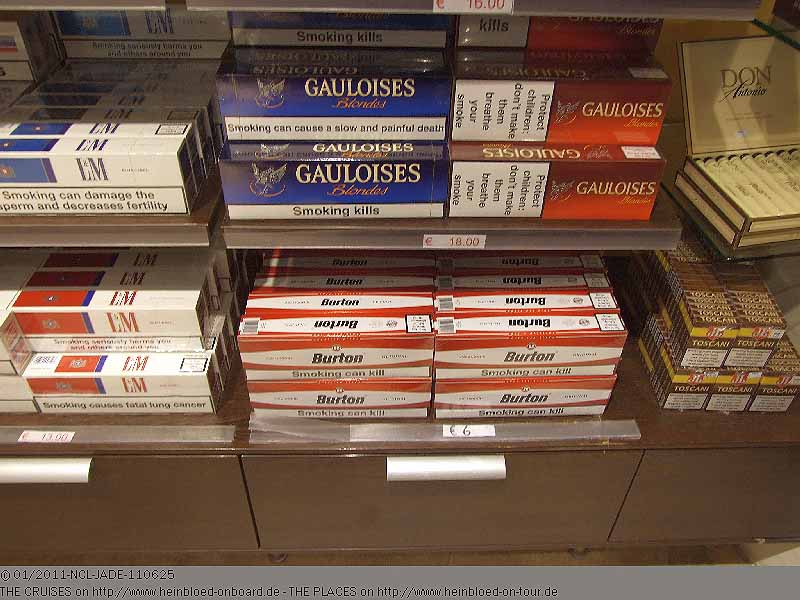 Eine Stange Marlboro kosten 17,00 EUR (Januar 2011).
Man kommt aber auch hier raus. Das müssen wir uns mal für das nächste Mal merken.

But here is an exit as well. We should remember for the next time.

Let's check which ships docked already here...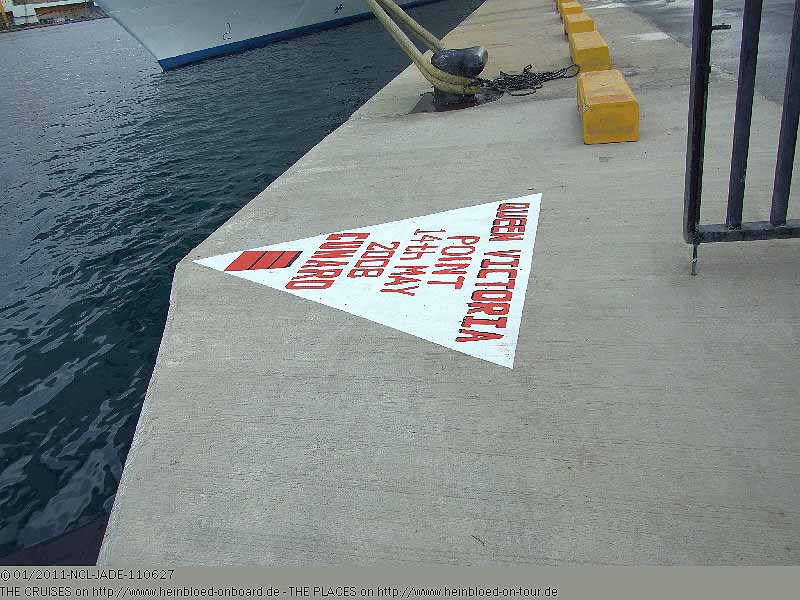 Sehen wir uns noch um, welche Schiffe schon alles hier waren...