Scroll down for English explanations - alternates with German explanations.

Ich hoffe, dass die Person aus cruisecritic.com jetzt nicht mehr mitliest, weil sie bestimmt einen Herzanfall bekommt und ich sie noch als Fremdenführerin im April in Los Angeles, Maui und Oahu brauche... Aber zunächst in die Kabine... Wieder wartet ein Gruß auf uns.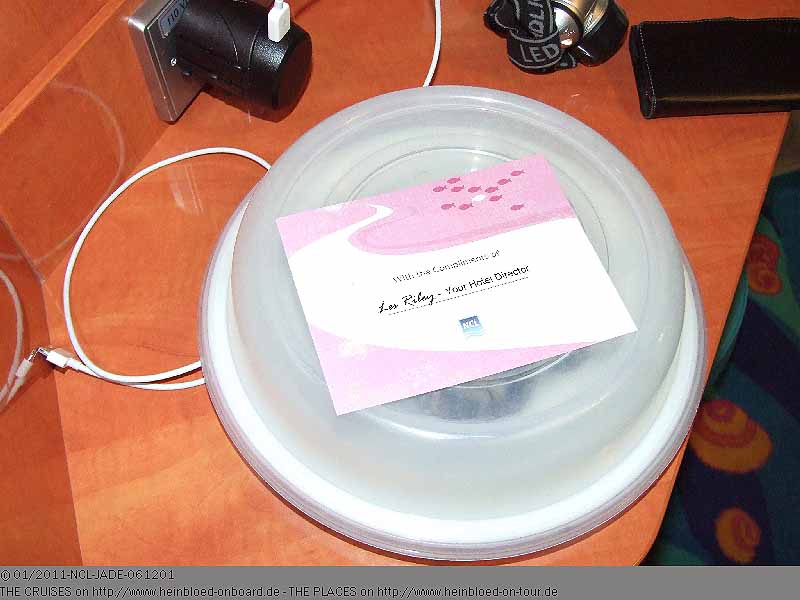 I truly that the person from cruisecritic.om is not reading anymore because she will have a heart attack and me still her as a tour guide in April in Los Angeles, on Maui and Oahu... But let us return to our cabin... Again we got a greeting.

Maybe the greeting came from MSC... because they could in reading that we here have no chance to lose weight. 11 nights on MSC brought us a loss of weight of 3 lbs.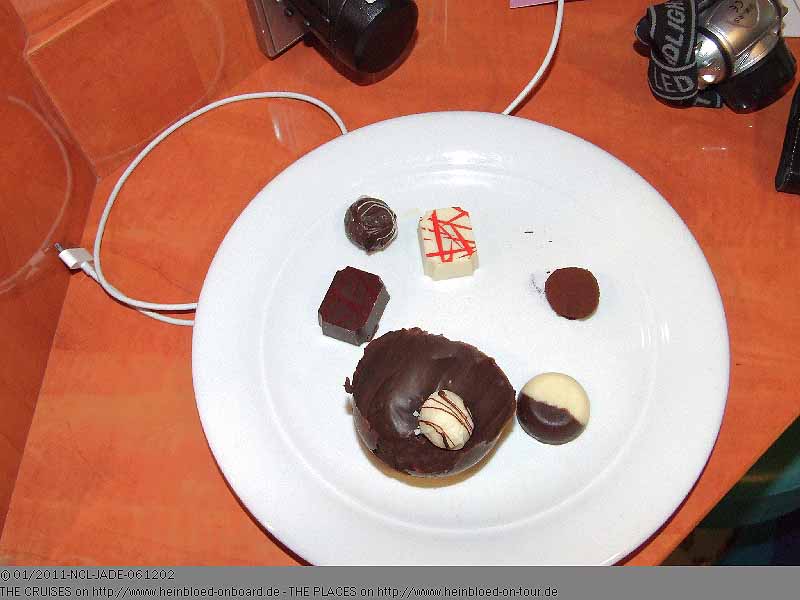 Vielleicht kam der Gruß von MSC... denn vielleicht haben sie ja gelesen, dass wir hier haben einfach keine Chance an Gewicht zu verlieren. 11 Nächte MSC haben immerhin zum Gewichtsverlust von 3 Pfund geführt.
Was ist das für ein Special Breakfast in Bed???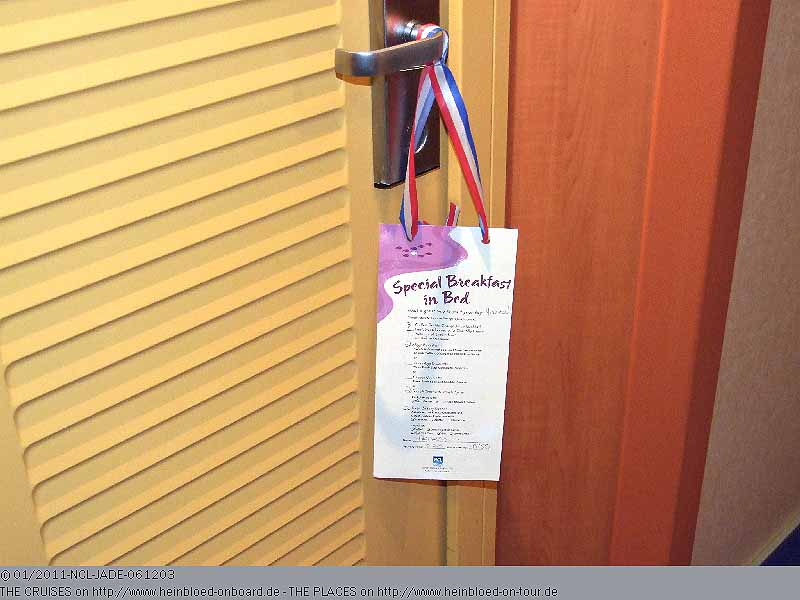 What is a Special Breakfast in Bed???

Does Carol has a new friend or why I am downgraded??? Why am I Bronze member???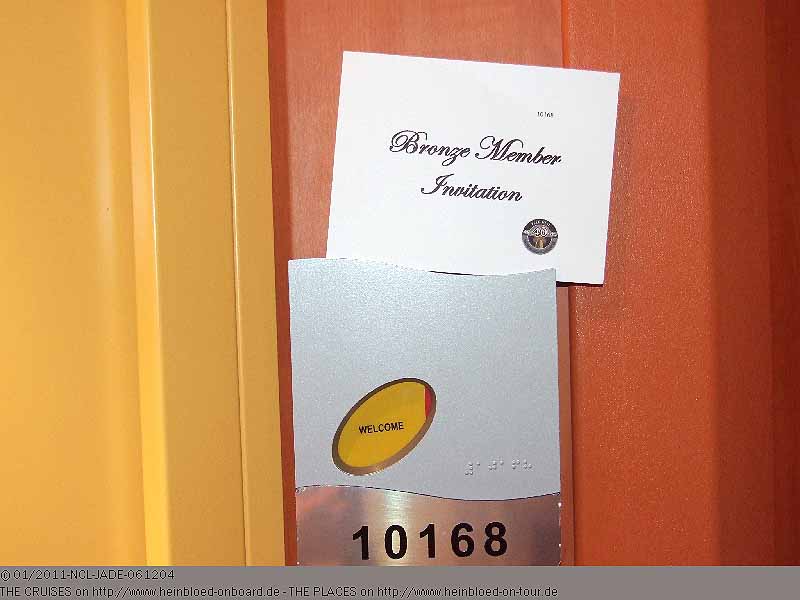 Hat Carol etwa einen neuen Freund und mich deswegen zurückgestuft??? Wieso bin ich Bronze Mitglied???
So haben die Jungs von Park West nie die Chance mich als Kunden zu gewinnen, obwohl mich das Bild von Charlie Brown und Snoopie schon interessiert hätte... ich und Bronze Mitglied... ich bin Platin-Mitglied...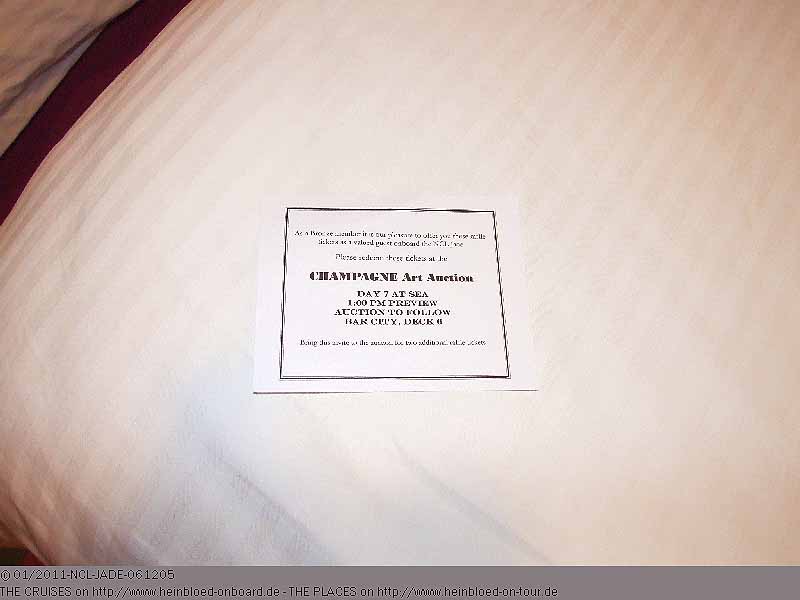 So the guys from Park West will never have a chance to get me as their customer although I might be interested in the Charlie Brown and Snoopy picture... me and Bronze member... I am a Platinum member...

I think NCL reacted when I was so upset on the Maîtres and used the chance to get Mahmut for me onboard whom we knew since our last cruise on NORWEGIAN JADE in 2009. The fact that you believe counts... but as you can his appearance made me angry because I was so unprepared to see him because one certain person always said that he left NCL due to his family commitments.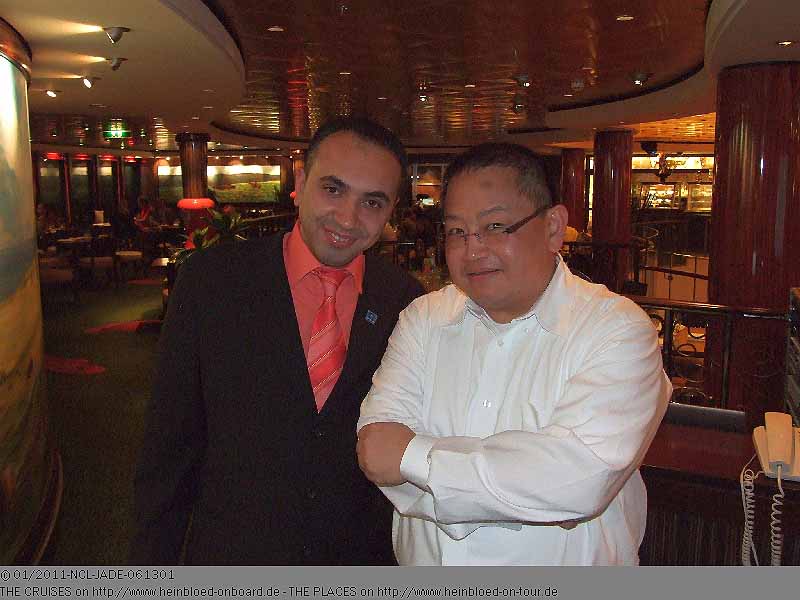 Nun hat wohl NCL reagiert, als ich mich ein wenig über die Maîtres aufgeregt habe und die Chance genutzt Mahmut für mich an Bord zu holen, den wir seit unserer letzten Fahrt auf der NORWEGIAN JADE in 2009 kennen. Bekannt zählt alleine der Glaube daran... aber wie man sieht, hat sein Erscheinen mich verärgert, weil es mich unvorbereitet trifft, weil eine bestimmte Person ja immer gesagt hat, dass er nicht mehr bei NCL wäre wegen familiärer Verpflichtungen.
Und wir sind nur ins Paniolo gegangen, weil es im Alizar zu voll war und wir nicht warten wollten. Wir waren einfach neugierig, wie es im Alizar ist und waren deswegen mal nicht im Grand Pacific.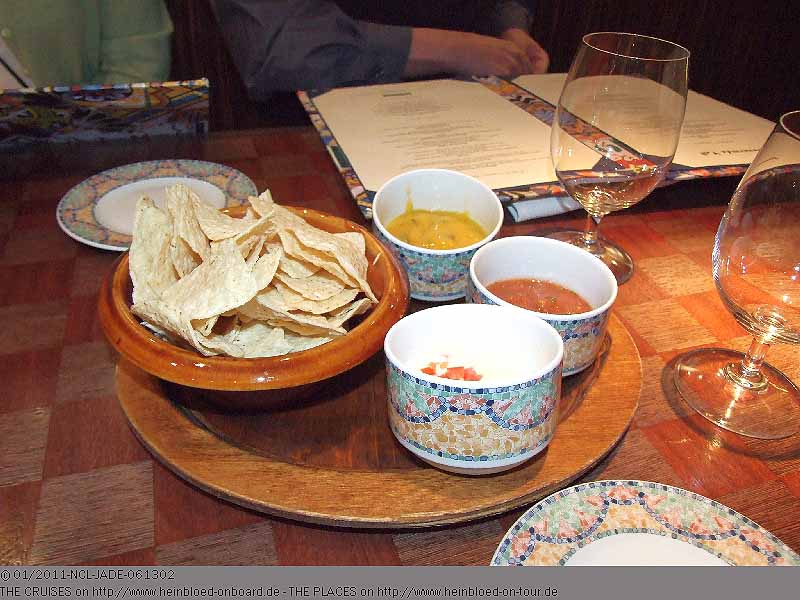 And we only went to Paniolo because it was too busy in Alizar and we did not want to wait. We were curious how it might be in Alizar and that was why we did not stop by at Grand Pacific.

As usual, the Frozen Margarita is included in the cover charge and I got again my non-alcohol.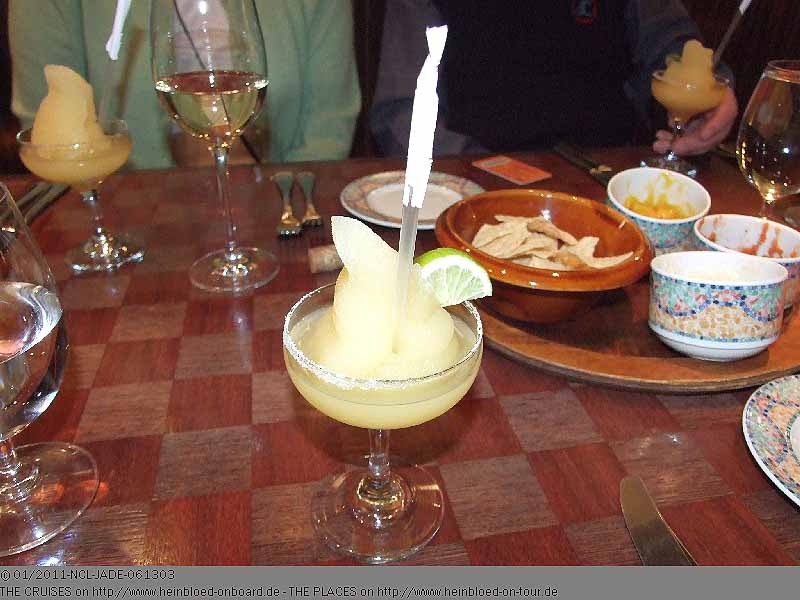 Wie immer ist der Frozen Margherita im Preis inbegriffen und ich bekomme wieder meinen alkoholfreien.
Unten im Foyer ist richtig gute Stimmung.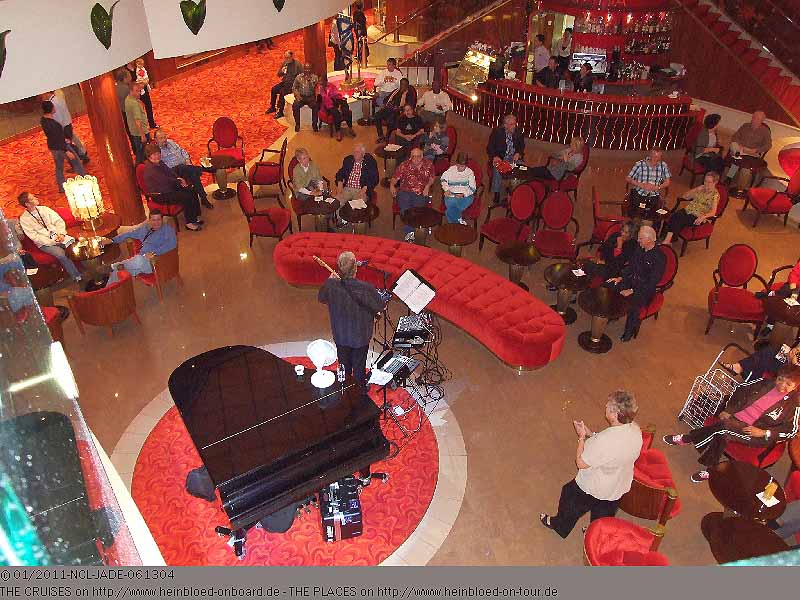 They seemed to have a good time downstairs in the lobby.

The Tuna was just delicious... but...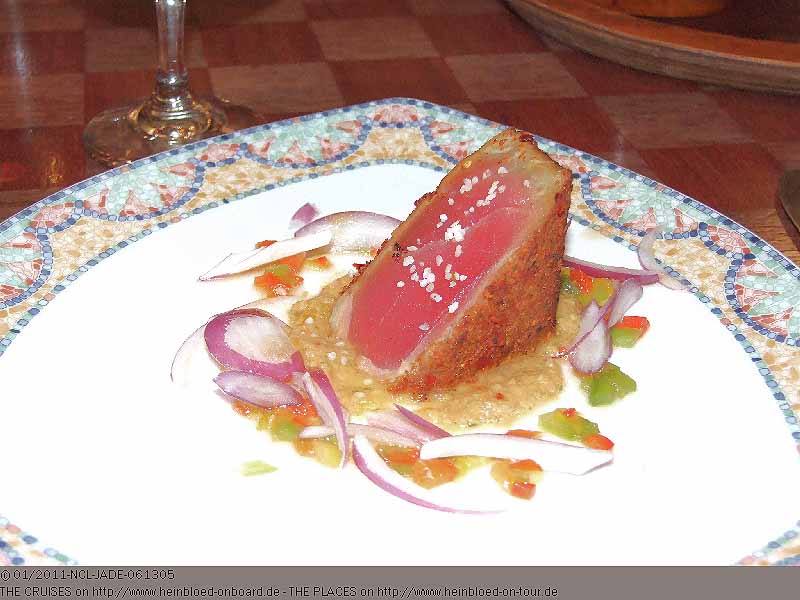 Der Thunfisch... einfach nur hmmm.... aber...
Liebe Käthe, es tut uns leid, aber das Bild können wir der Welt nicht vorenthalten: Keine Worte von mir würden besser die Schärfe des Thunfisches beschreiben wie dein Geschichtsausdruck. Bitte verzeih mir.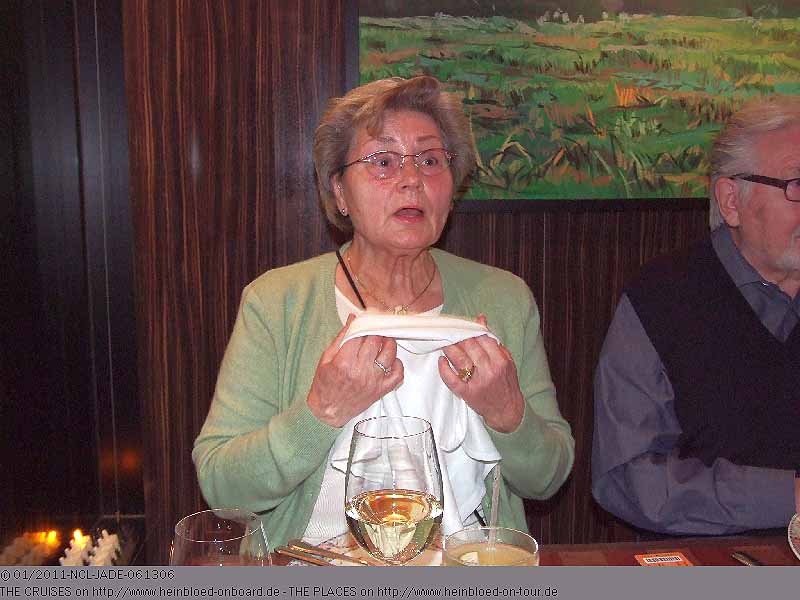 Dear Katie, we deeply regret that we cannot exclude the rest of the world to see this picture: None of my words would better describe how hot and spicy the tuna was but your face. Please forgive me.

I asked for a glass of ice cubes and took them for the rest of the evening. I should sew NCL. Is there no studied Harvard-lawyer on board??? Maybe they offer me free lifetime cruising but min. in a balcony cat....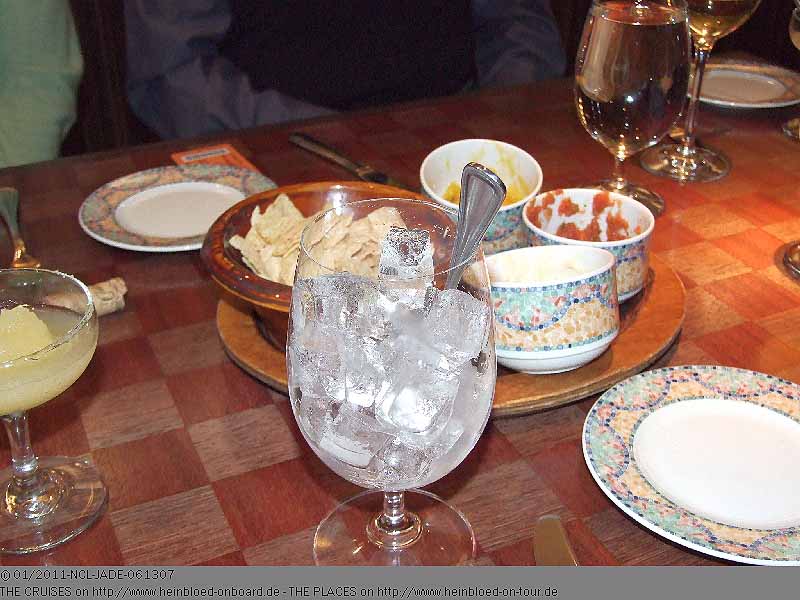 Mir selbst habe ich ein Glas Eiswürfel kommen lassen, die nach den Rest des Abends am Lutschen bin. Ich sollte NCL verklagen. Gibt es hier keinen studierten Harvard-Anwalt an Bord??? Vielleicht bekomme ich ja als Vergleich lebenslange Kreuzfahrten mindestens in einer Balkonkabine angeboten...
Der Cesar's Salad hier ist nochmals mit Hühnchen aufgepeppelt.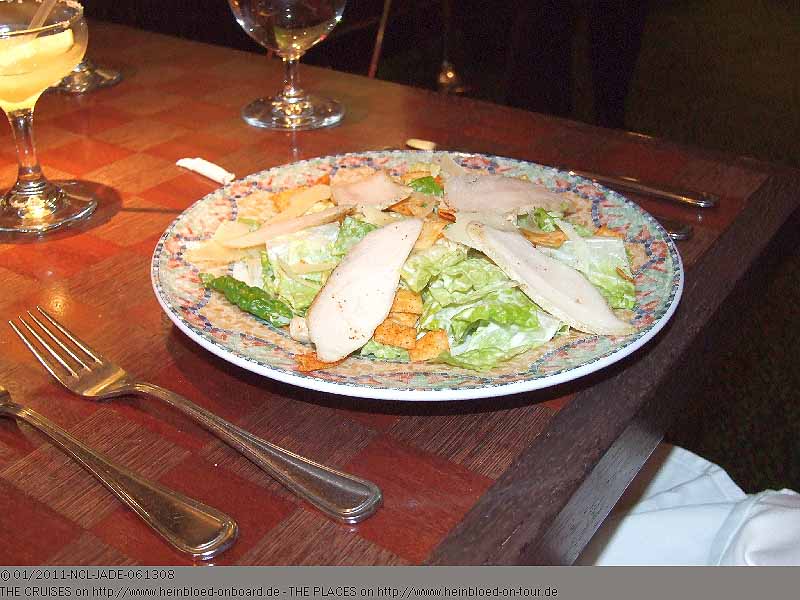 The Cesar's Salad was upgraded here with some chicken.

And with the Black Bean soup, none had an accident with the vinegar bottle.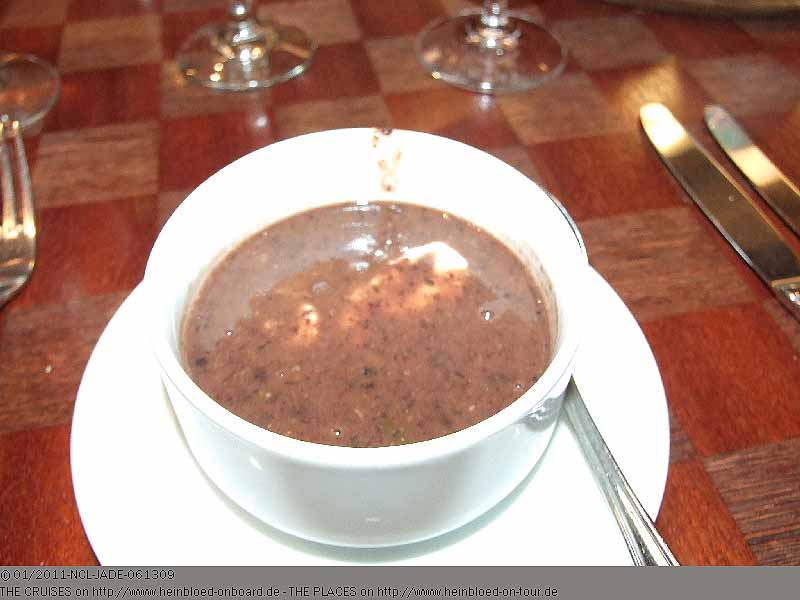 Und bei der schwarzen Bohnensuppe ist wohl niemandem die Essigflasche reingerutscht.
Ich suche nach Heftklammern oder ähnliches, um festzustellen, wie sie die Fajita-Rolle befestigt haben.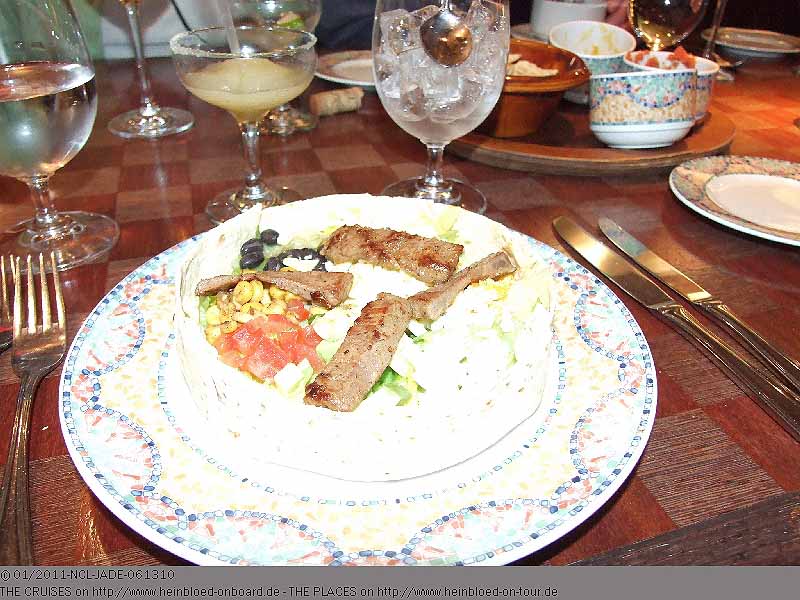 I was checking if they used a stapler to get the fajita in this shape.

Lobster Taco... the signature dish of this restaurant.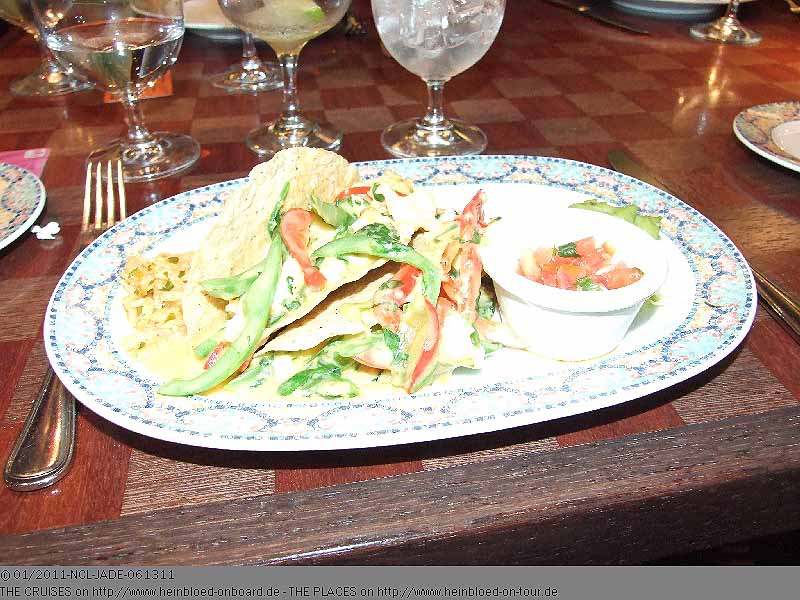 Lobster Taco... die Spezialität des Hauses.
Hier servieren Asep und Marybelle Käthe und Karl-Heinz ihre Fajitas...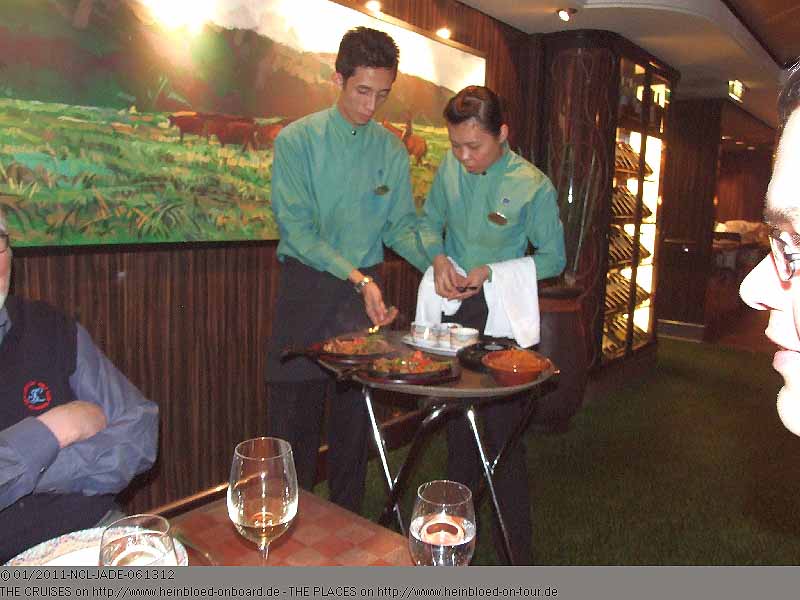 Here you see Asep and Marybelle serving Katie and Charlie their fajitas...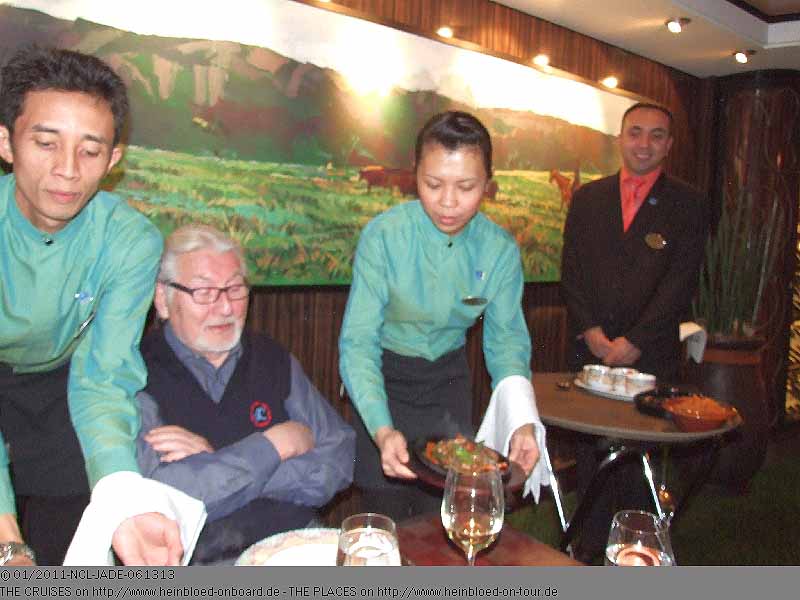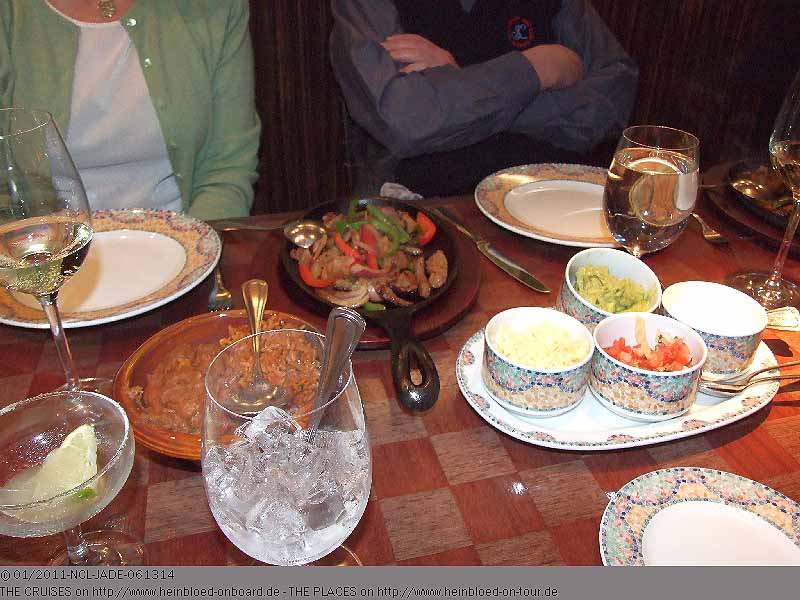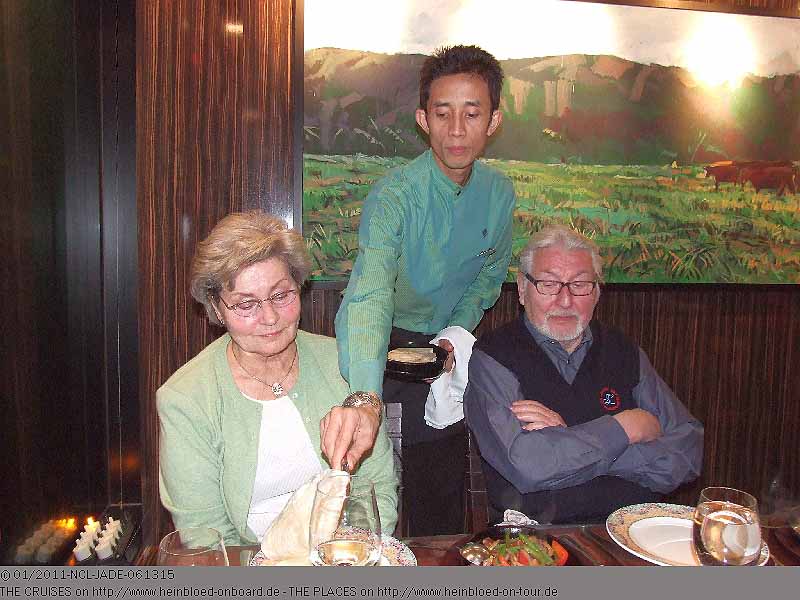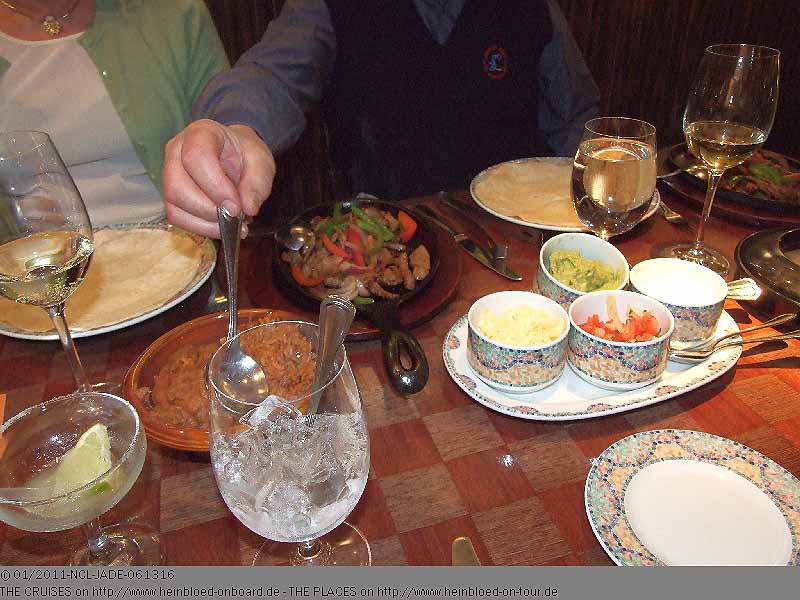 Insgesamt machen wir einen zufriedenen Eindruck - oder???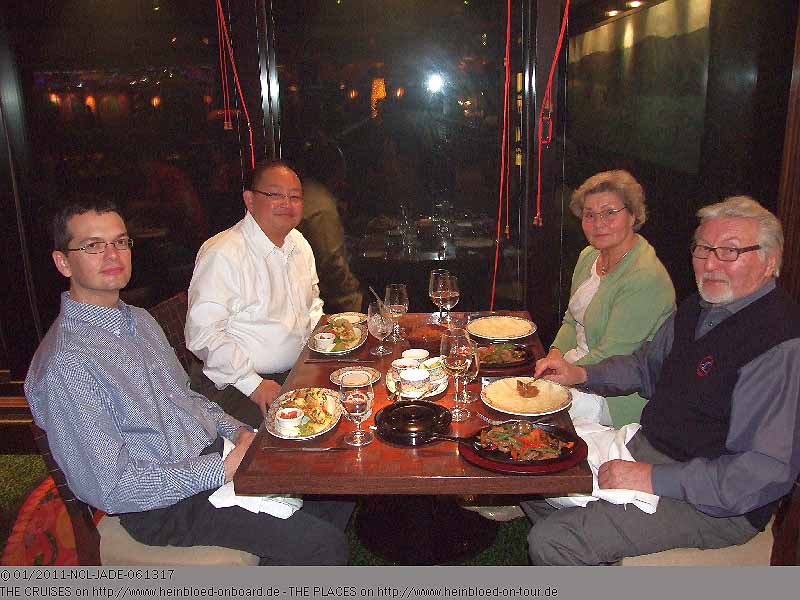 But did not we make a very satisfied impression - or is not it???

I never became a witness before that the crew members their maître by hugging them. Why was again crew got more than guests??? I want my hugs in October 2011 as well...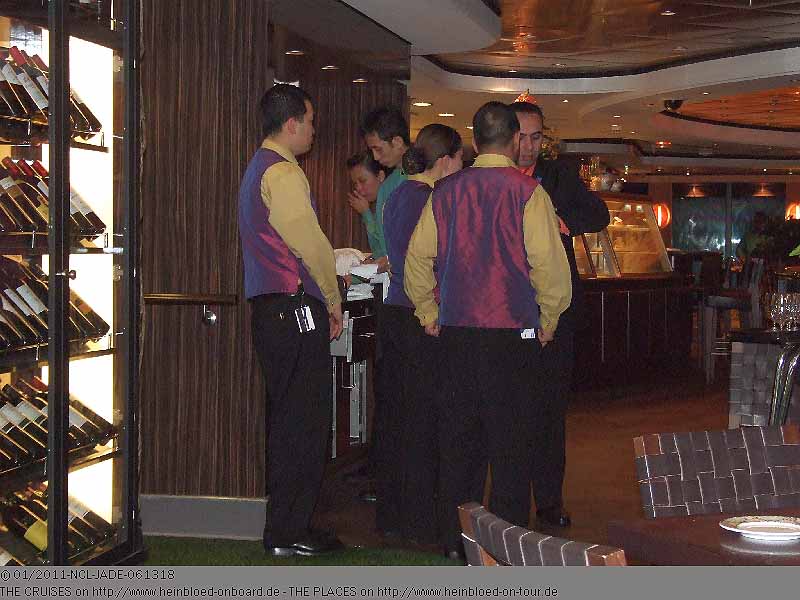 Ich habe bislang noch nicht erlebt, dass ein Maître von seinem Team mit einer Umarmung begrüßt wird. Wieso wird eigentlich mal wieder das Personal besser behandelt als die Gäste... Ich will im Oktober 2011 auch umarmt werden...
Im Oktober 2011 fährt auch CTcruiser aus cruisecritic.com mit. Sie baten mich Grüße auszurichten. Nur der Nachname passt irgendwie nicht zu der Person, die im Posting erwähnt wird. Hier steht Turner...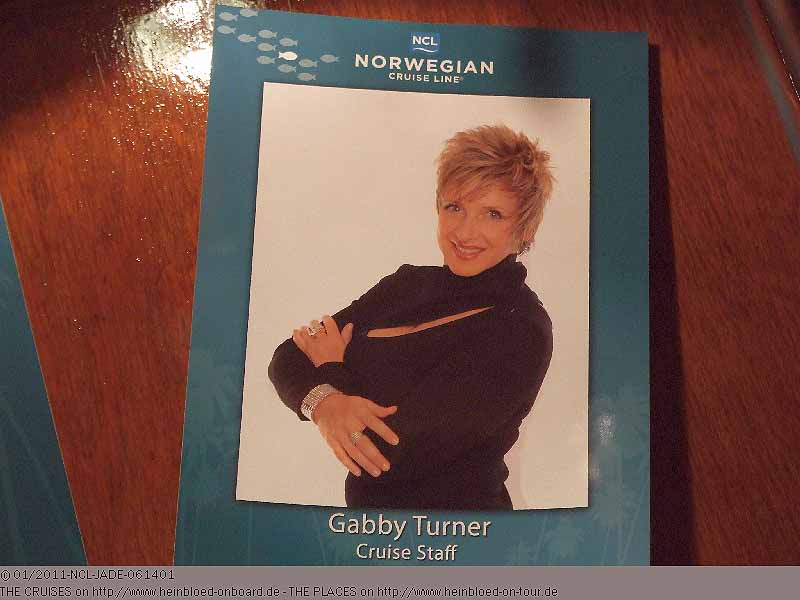 In October 2011 CTcruiser from cruisecritic.com will come with us. They asked me to deliver regards. Somehow the last name does not fit to the person they mentioned in their posting. Here it is Turner...

Who should surf the internet between 23.00 hrs and 01.00 hrs should get a credit of 50% of the minutes. The lines were so busy so you need three times longer to send an e-mail. I. e. you need 300% of your regular minutes and get 50% off as credit... = 150% of the regular minutes... They could call this offer by the name: 50% more...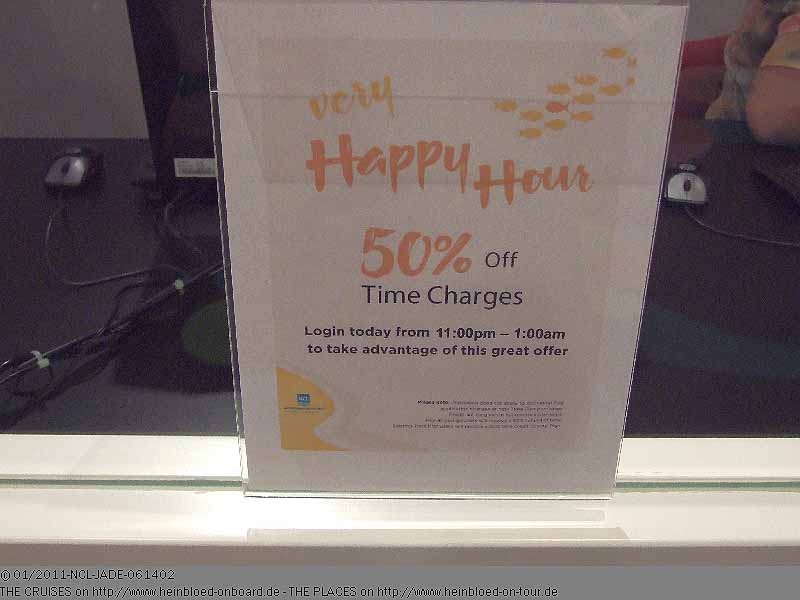 Wer heute zwischen 23.00 Uhr und 01.00 Uhr surft bekommt 50% der Minuten wieder gutgeschrieben. Da jedoch die Leitungen so überlastet sind braucht man drei Mal so lange, um eine E-Mail abzusetzen. Das heißt man braucht also 300% seines normalen Minutenvolumens um 50% davon wiederzubekommen = 150% vom normalen Minutenvolumen. Sie hätten die Aktion direkt 50% mehr nennen sollen...
Da wir ziemlich müde sind, sind wir bereits gegen 22.30 Uhr im Bett, als es draußen bei uns klopft und das abegegeben wird...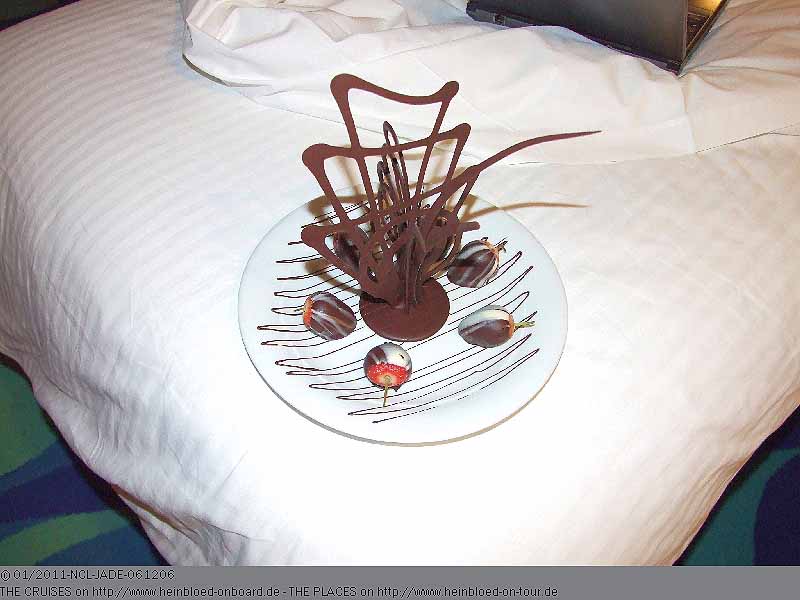 As we were quite tired we went already around 22.30 hrs to bed when someone knocked the door and deliver this...

The order from Executive Chef Messia Ritzinger to enjoy our cruise came too late... we have done it for the last six days...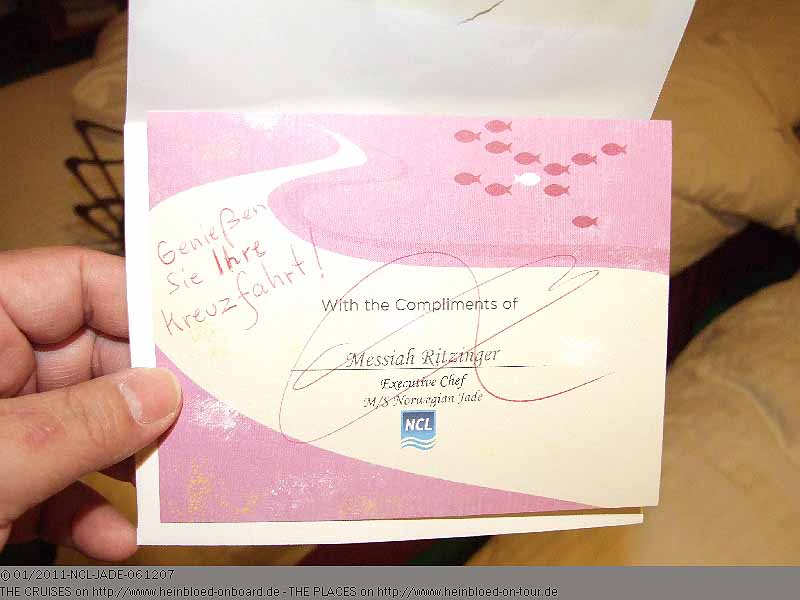 Die Aufforderung unsere Kreuzfahrt zu genießen kam leider zu spät vom Chefkoch Messiah Ritzinger... wir tun das schon seit sechs Tagen...