Scroll down for English explanations - alternates with German explanations.

An Schlaf ist nicht zu denken. Es wäre zu schade, das zu verpassen: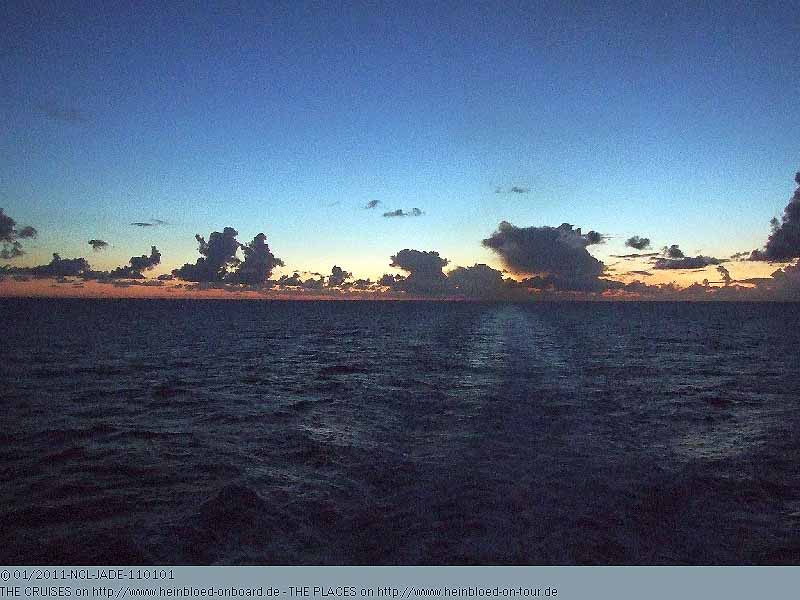 No chance to think of sleeping. It would be too sad to miss this: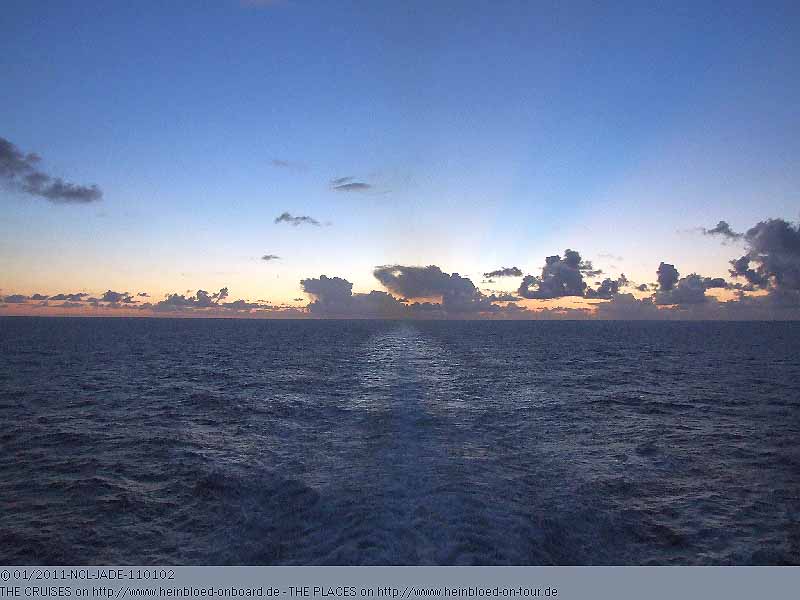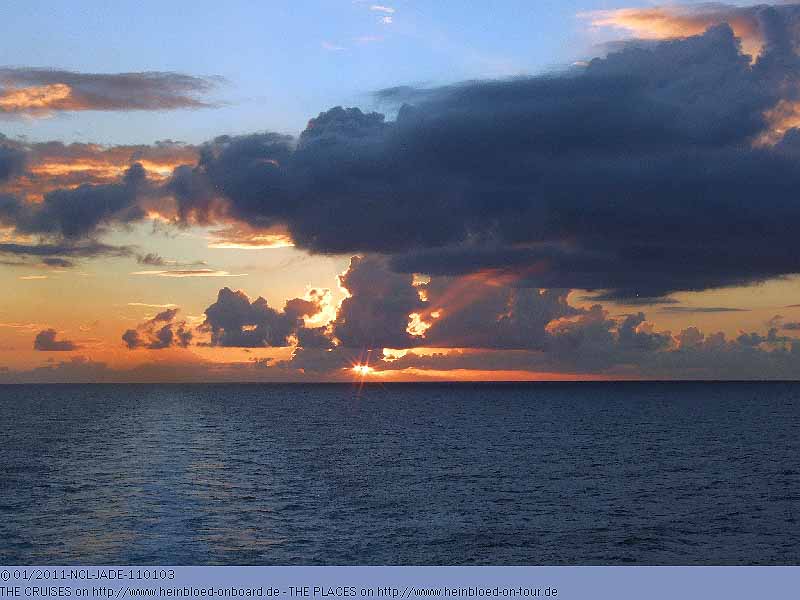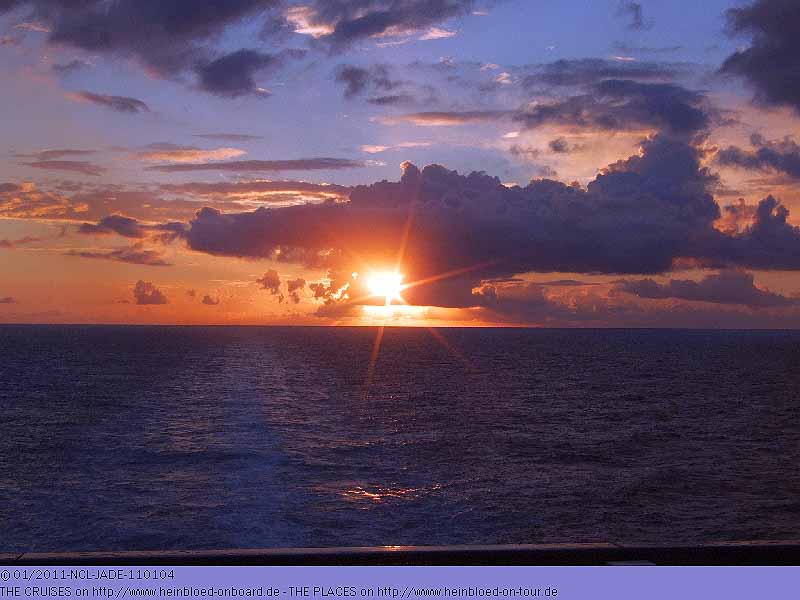 There was nothing serious to complain in the cabin.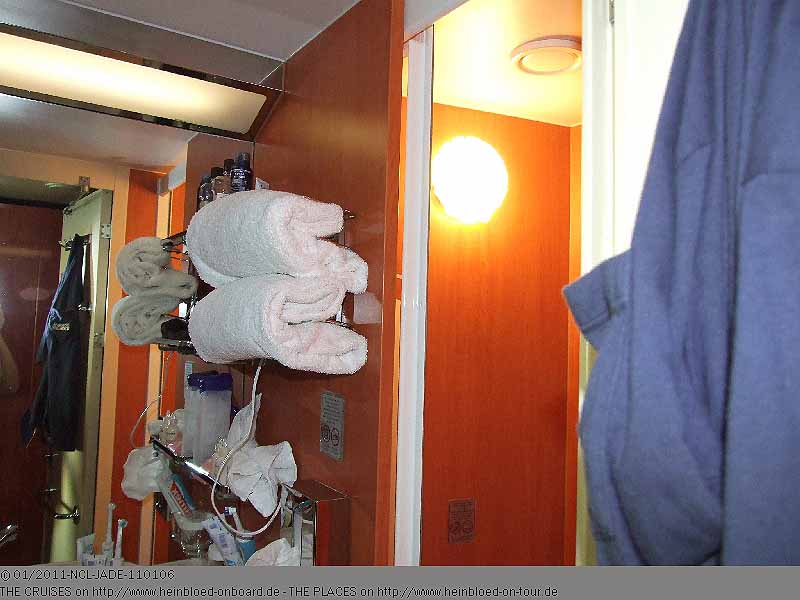 Es gab eigentlich nichts, worüber man sich in der Kabine aufregen musste.
An die Lampe über dem Waschbecken, die ein paar Sekunden länger brauchte, haben wir uns eh schon gewöhnt.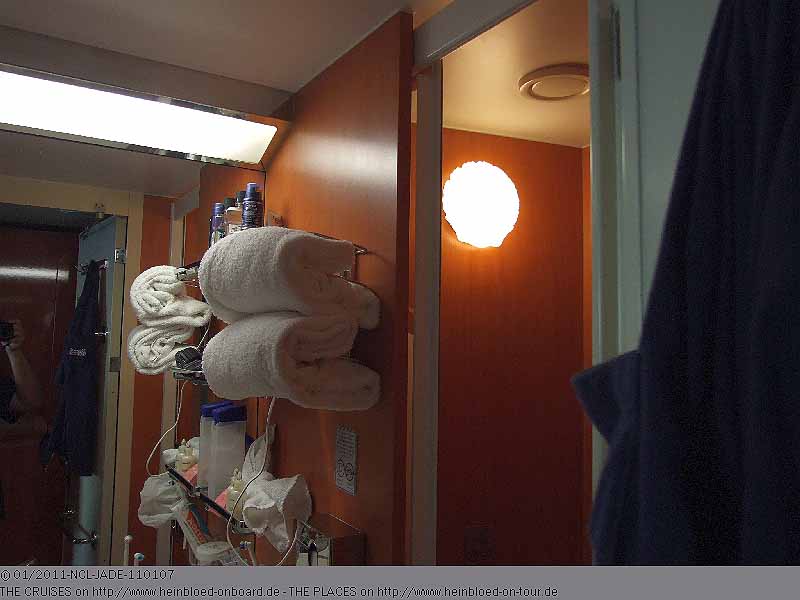 We learned to live with the lamp above the sink which need few seconds longer to be on.

But then it happened... The air-condition did not work anymore.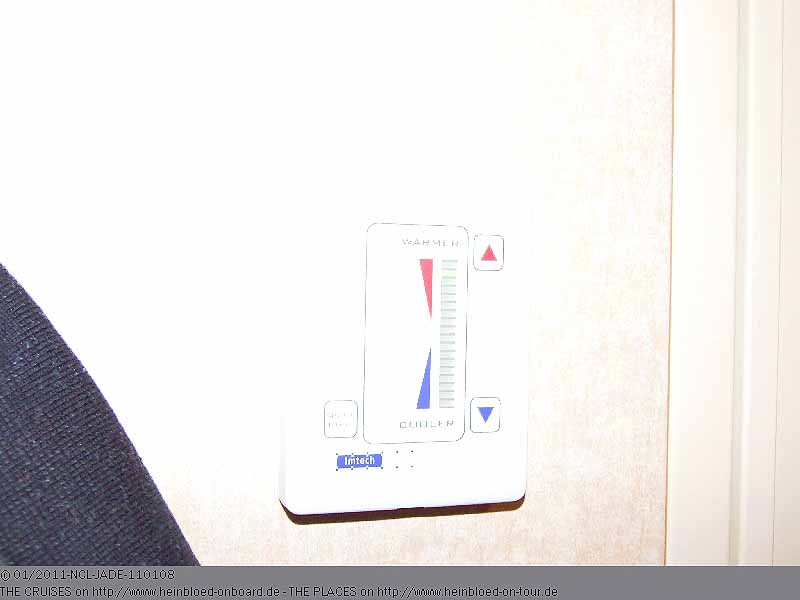 Und dann passierte es doch... Die Klimaanlage war auf einmal defekt.
Bei 20.1° C rufen wir die Rezeption an... ich rufe die Kollegen der Weltpresse zusammen und bereite schon mal meine Decke und Kissen für den Auftritt in der Lobby vor...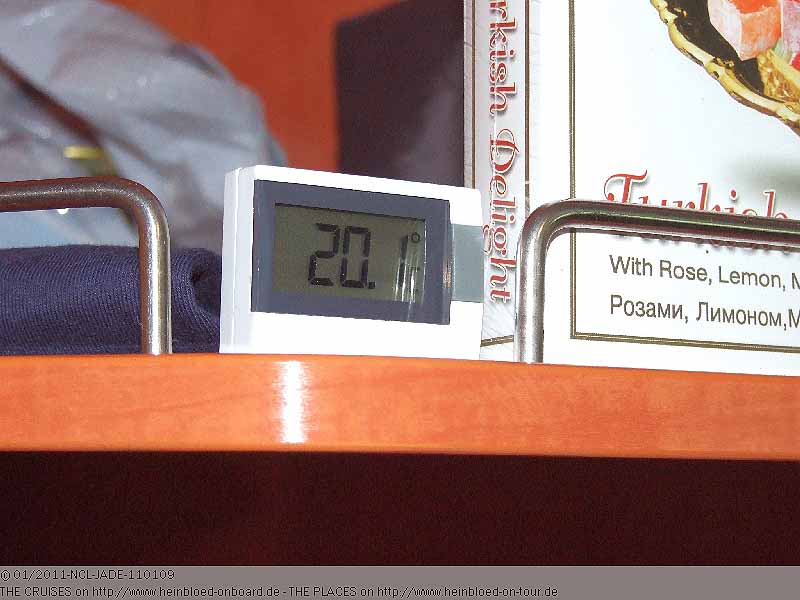 With 68 F we called the reception desk... I called the international world press and prepared myself with my blanket and my pillow for my march to the lobby...

Well we were somehow familiar to have the breakfast garbage on our balcony.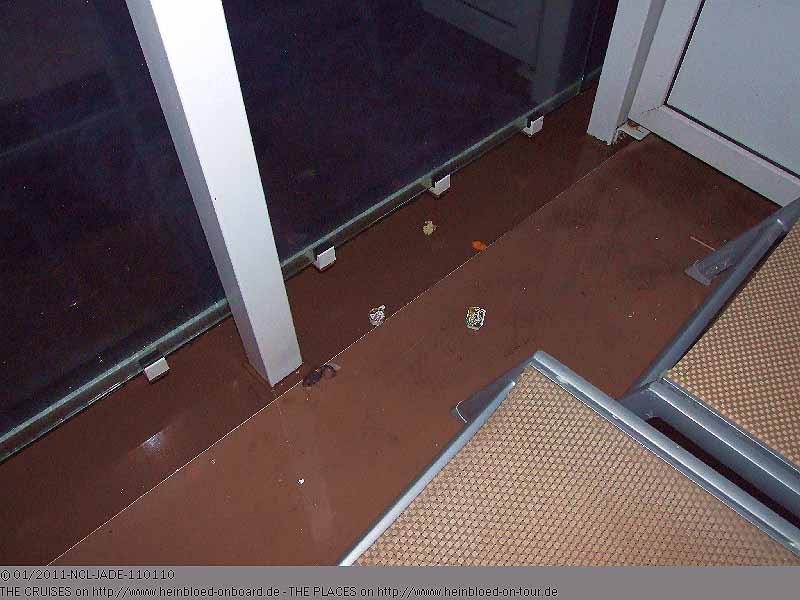 An den Frühstücksdreck haben wir uns schon fast gewöhnt.
Wir feiern wieder eine "Reunion-Party" mit Valentina, die uns von der
NORWEGIAN GEM 2009
her kennt. Wieso müssen eigentlich immer diejenigen, die wir kennen, im Cagney's arbeiten... So müssen wir uns jedes Mal Zugang verschaffen, um die Bilder zu machen. Sie geht übrigens als nächstes auf die NORWEGIAN EPIC. Die tun wirklich alles, damit wir mal wieder NORWEGIAN EPIC fahren...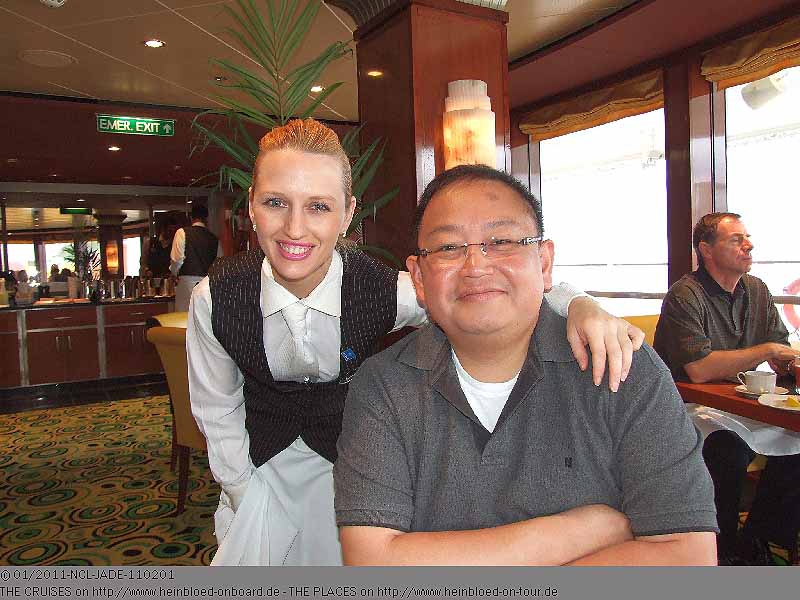 We celebrate again a "Reunion-Party" with Valentina who remember us from NORWEGIAN GEM 2009. Why must everyone whom we know work at Cagney's... So we need to get access to take those pictures. She will move to NORWEGIAN EPIC. They really do everything to make me booking NORWEGIAN EPIC.

Looked like the day in Malta will become more wet.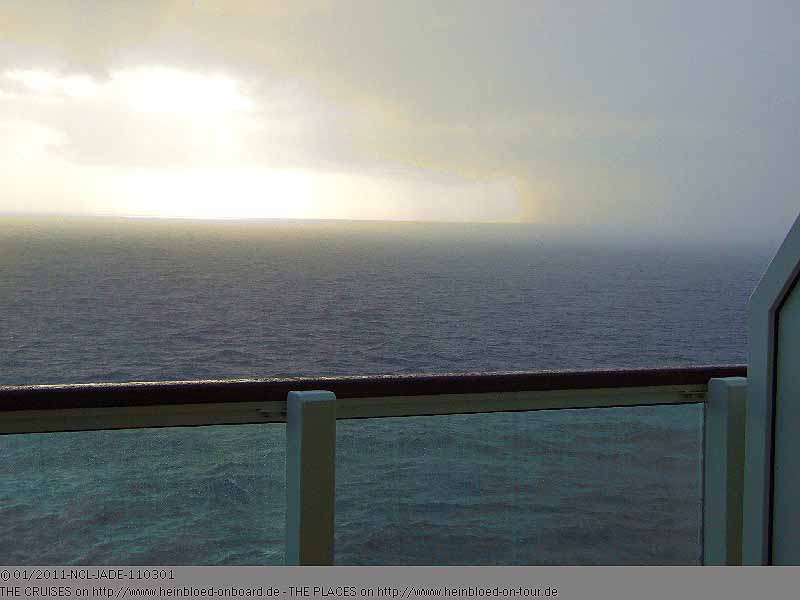 Leider verspricht der Tag auf Malta etwas nasser zu werden.
Zumindest auf dem Schiff wird es nass.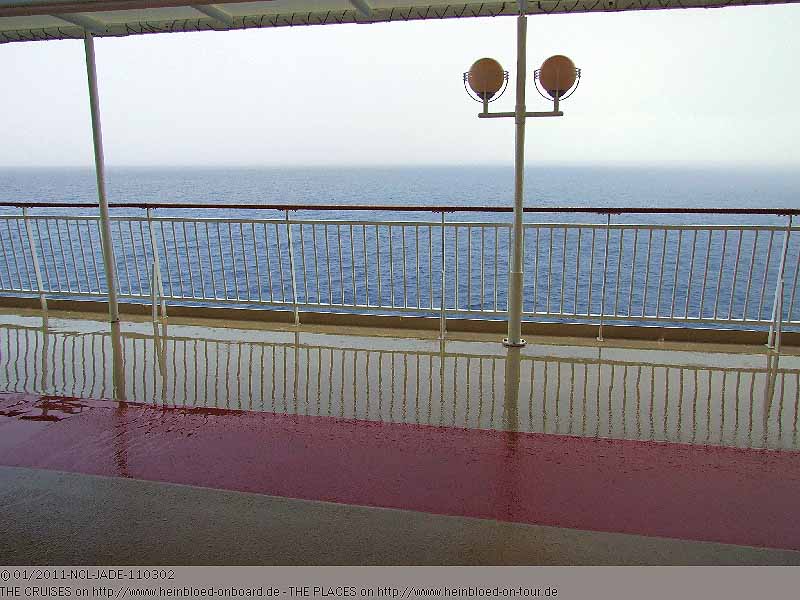 Or let's say you get wet when you were on the ship.

It was new that the debarkation must be terminated by 09.00 hrs. 10.00 hrs is history. I. e. you choose a debarkation time between 06.30 hrs and 08.30 hrs and they give you the baggage tags accordingly. Color and time available until tags run out. As long as there is no GI-alert you can help yourself at the side rack. If you carry yourself your bags from the ship you can go at any time without baggage tag.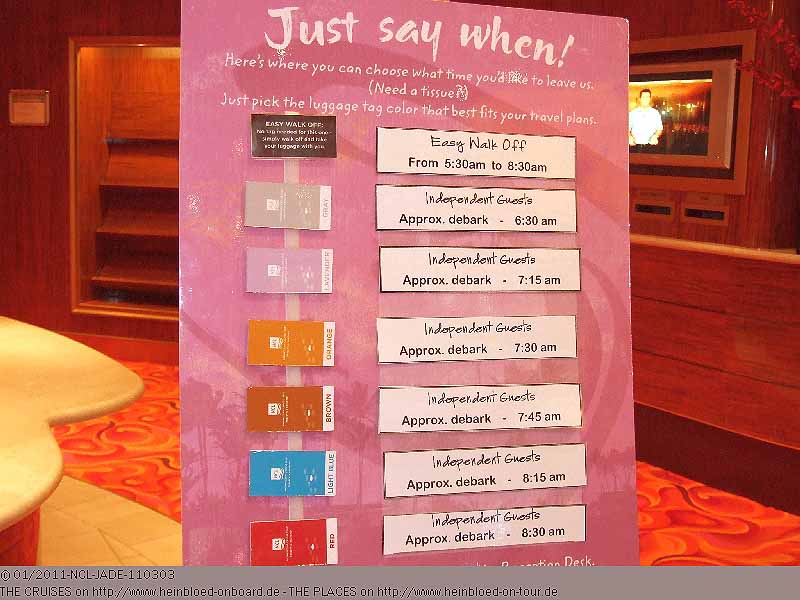 Neu ist, dass die Ausschiffung bis 09.00 Uhr abgeschlossen sein muss. 10.00 Uhr sind wohl passé. D. h. man sucht sich eine Ausschiffungszeit zwischen 06.30 Uhr und 08.30 Uhr aus und lässt sich entsprechende Kofferanhänger geben. Ausgabe der Farbe bzw. Zeit solange der Vorrat reicht. Wenn kein GI-Alarm ist, darf man sich die Kofferanhänger allerdings selbst am Seitenfach holen. Wenn man selbst die Koffer von Bord schleppt, kann man runter wann man will und braucht keinen Gepäckanhänger.
Als Latitudes-Gold oder Platin bekommen wir VIP-Kofferanhänger. Die Ausschiffungszeiten sind hier 07.00 Uhr, 08.00 Uhr und 09.00 Uhr.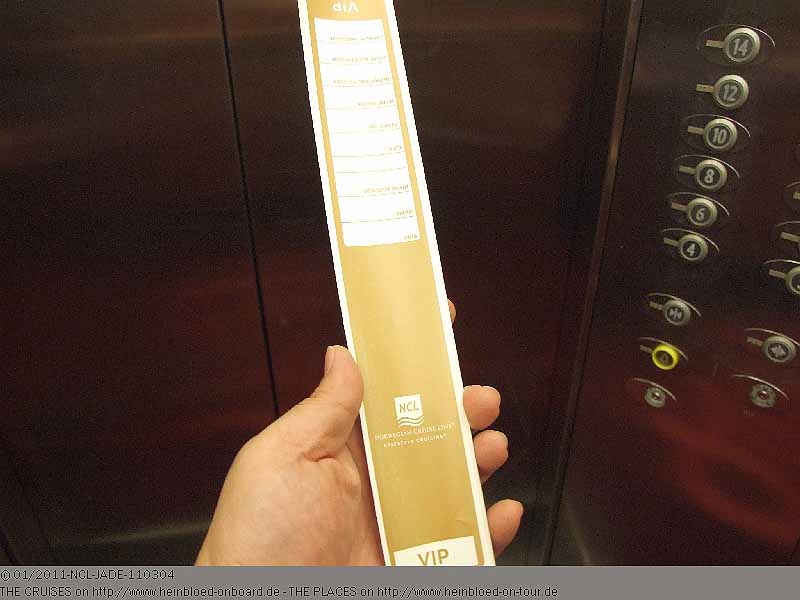 As Latitudes Gold or Platinum you get VIP-baggage tag. Debarkation times are 07.00 hrs, 08.00 hrs and 09.00 hrs.

By coincidence we learned with the announcements that we can register our purchases with the shopping guarantee. When I asked I learned that the leatherware store participates to this programme. So I should fill out twice this form. Here you learn how to claim (30 days after debarkation, 45 days in Europe).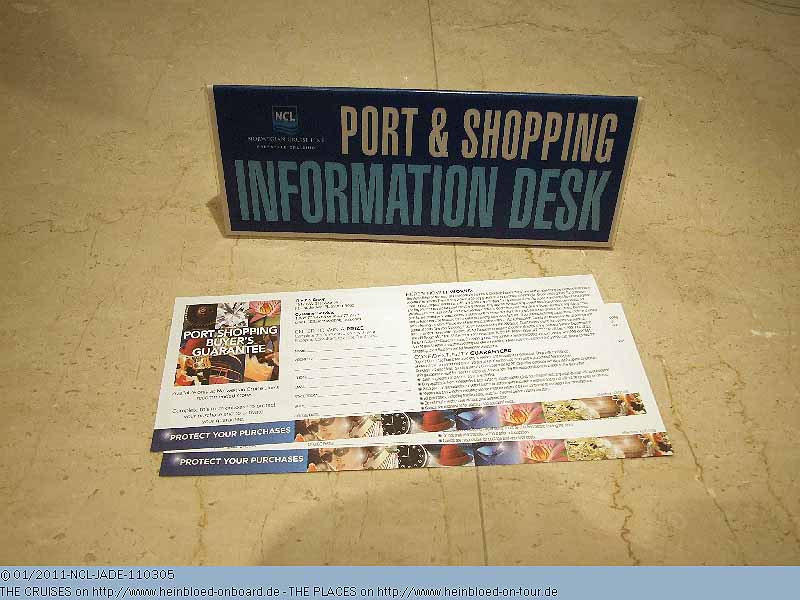 Zufällig bekommen wir die Ansage mit, dass wir unsere Einkäufe für die Einkaufsgarantie anmelden können. Als ich nachfrage, erfahre ich, dass das Lederwarengeschäft in der Türkei an diesem Programm teilnimmt. Daher soll ich die beiden Formulare ausfüllen und abgeben. Hier ist alles notiert, um seine Ansprüche (30 Tage nach Ausschiffung, in Europa 45 Tage nach Ausschiffung) anzumelden.
Als ich nachfrage, warum ich in dem Laden ein Logo von RCI und Celebrity gesehen habe, erfahre ich von Ekatarina, dass die anderen mit dieser Organisation das ganze abwickeln und man dann auf das Logo im Geschäft achten soll.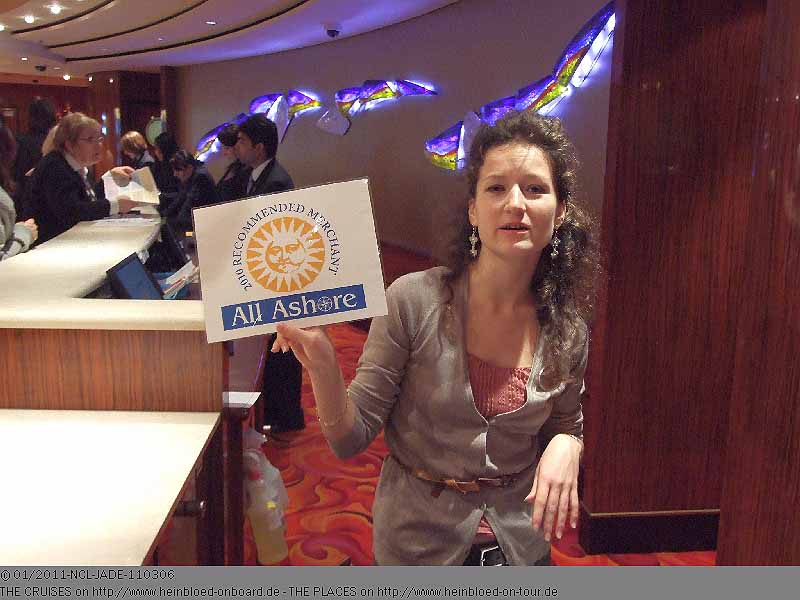 When I asked why I only found a logo of RCI and Celebrity, Ekatarina showed me the logo of the organisation who manage the shopping guarantee for other cruise lines and I should look for this logo in the shops.

We made it to Malta. Captain Kim Karlsson told us to be ready at the starboard side by 10.00 hrs to see this.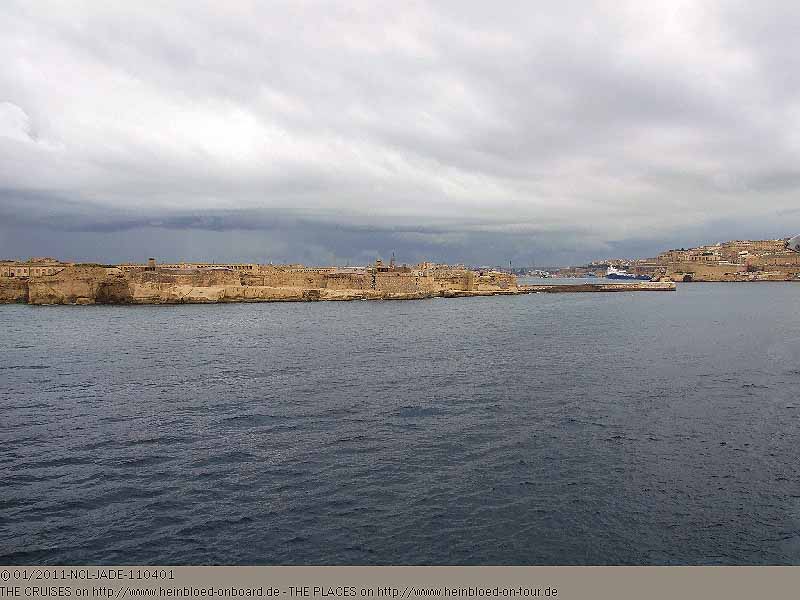 Wir erreichen die Einfahrt von Malta. Kapitän Kim Karlsson hat uns gesagt, dass wir bis 10.00 Uhr auf der Steuerbordseite stehen sollten, um das zu sehen.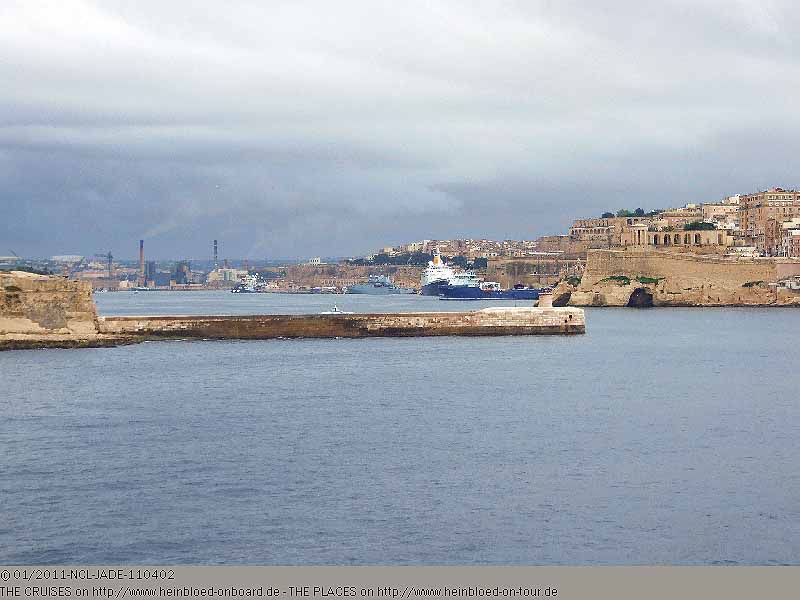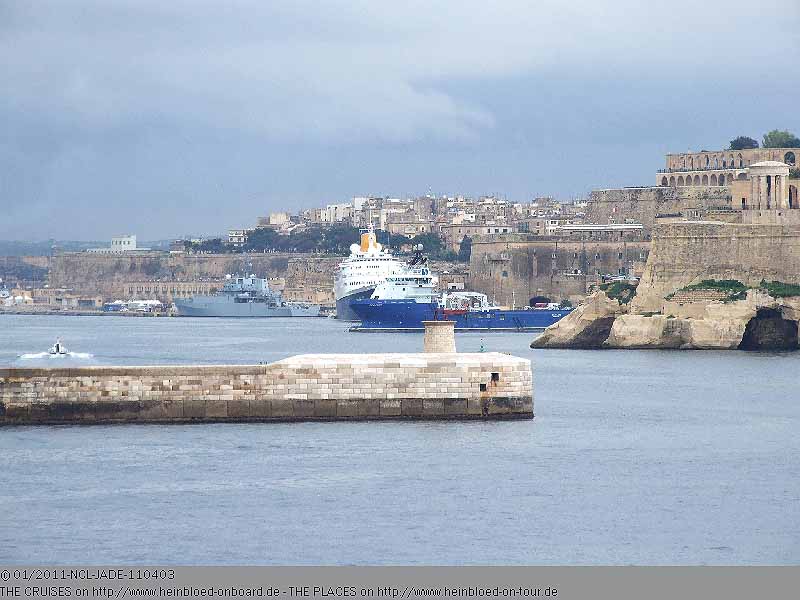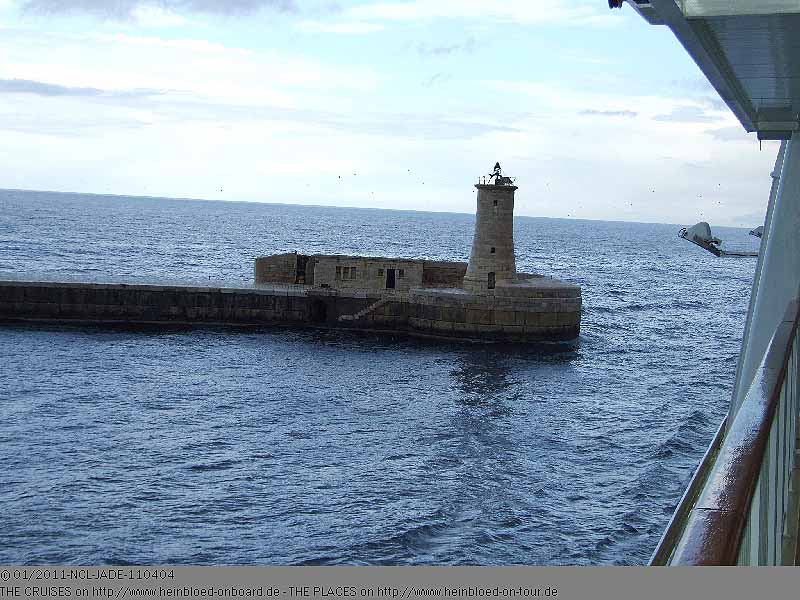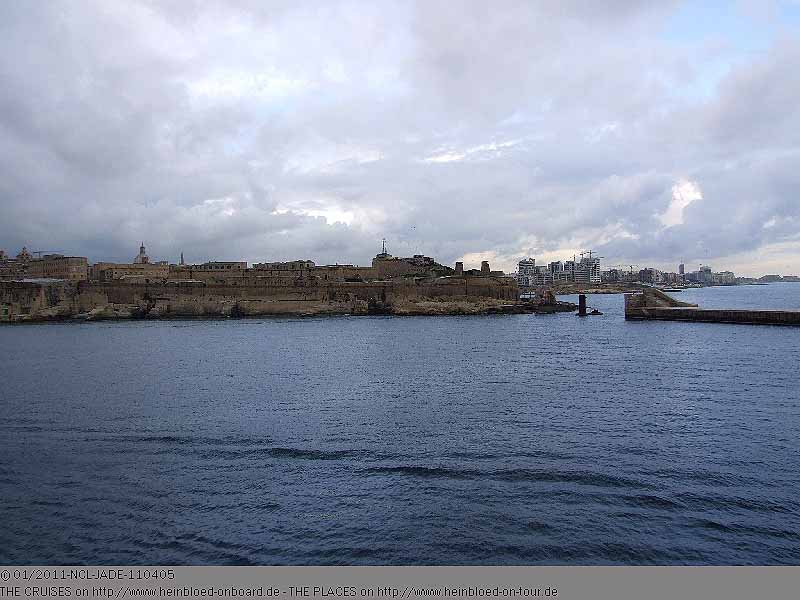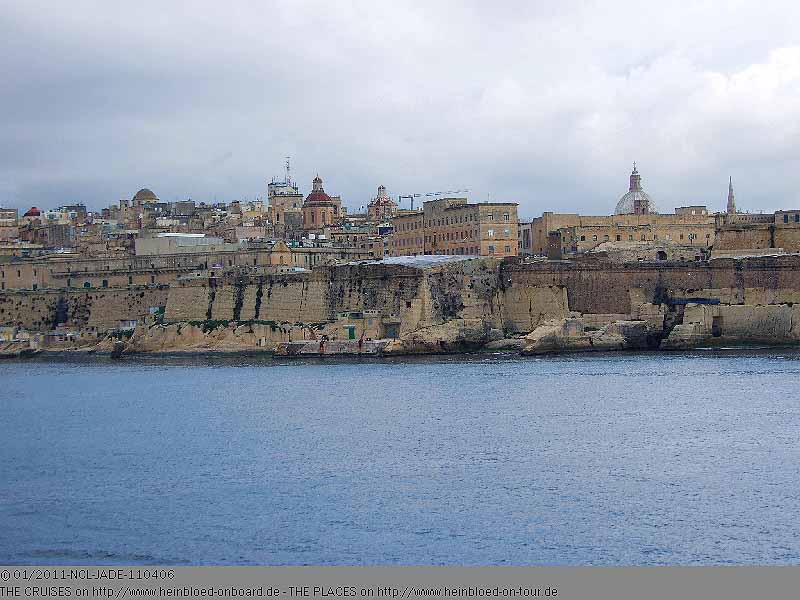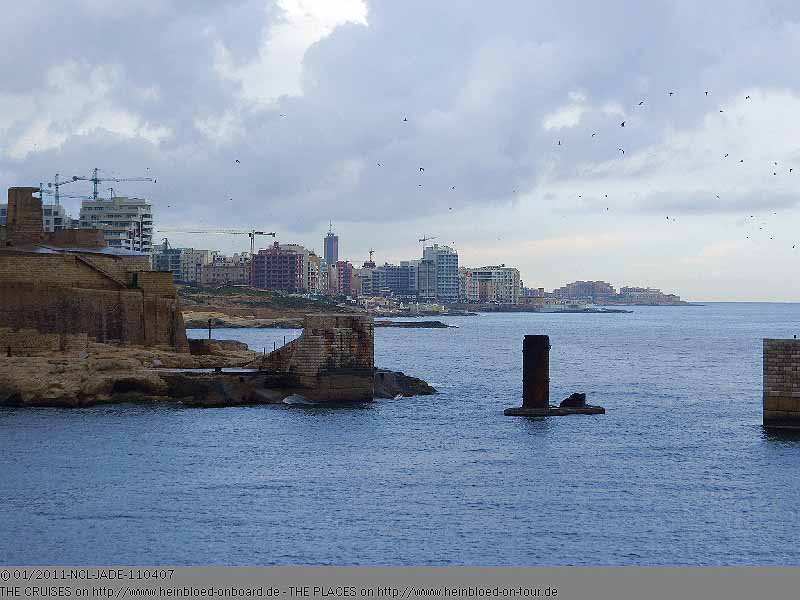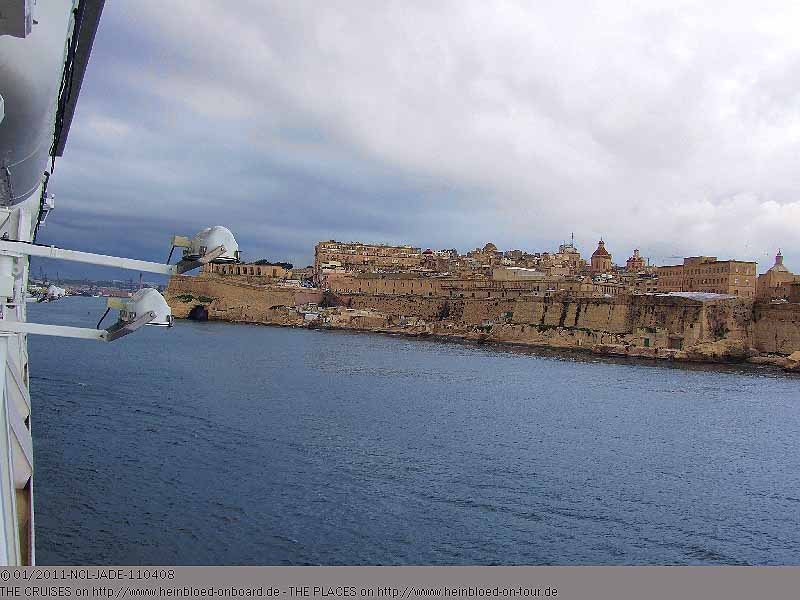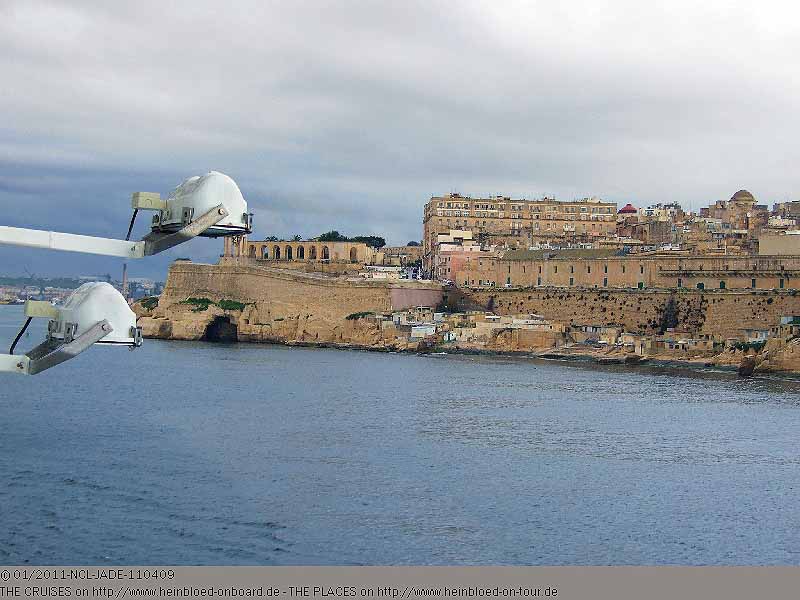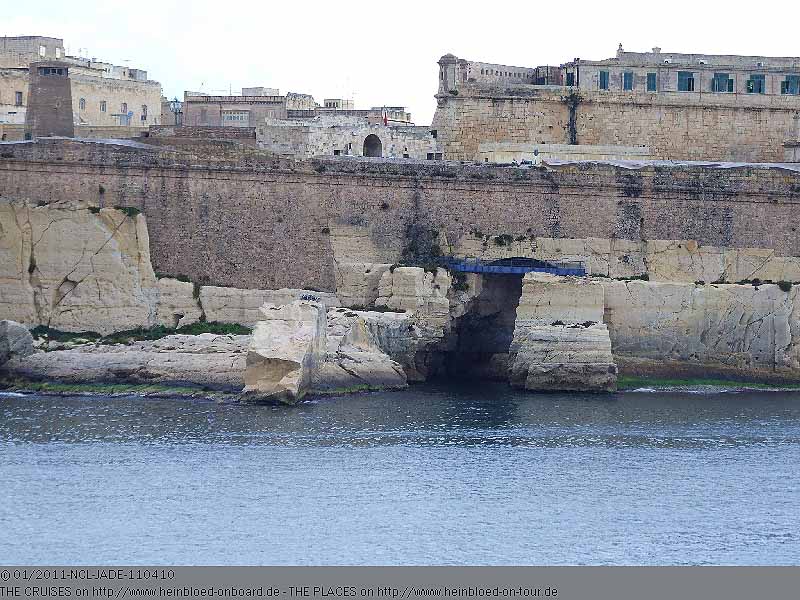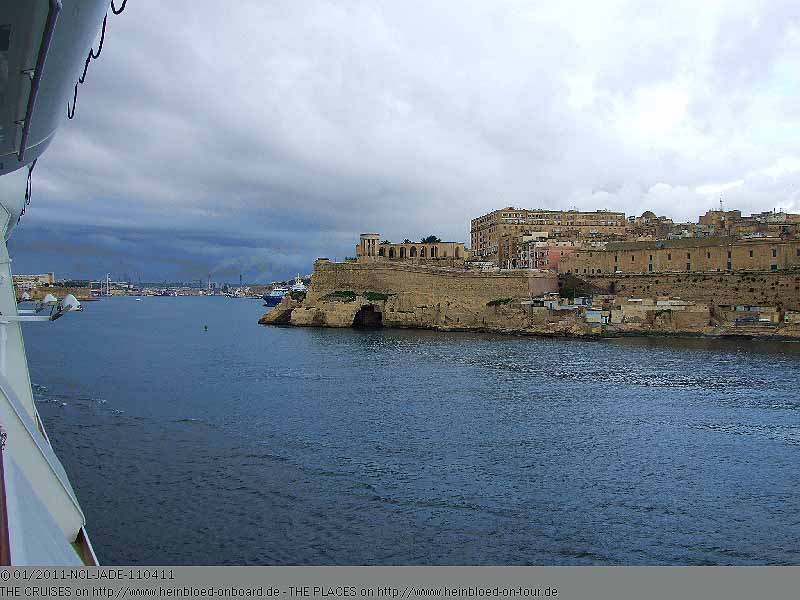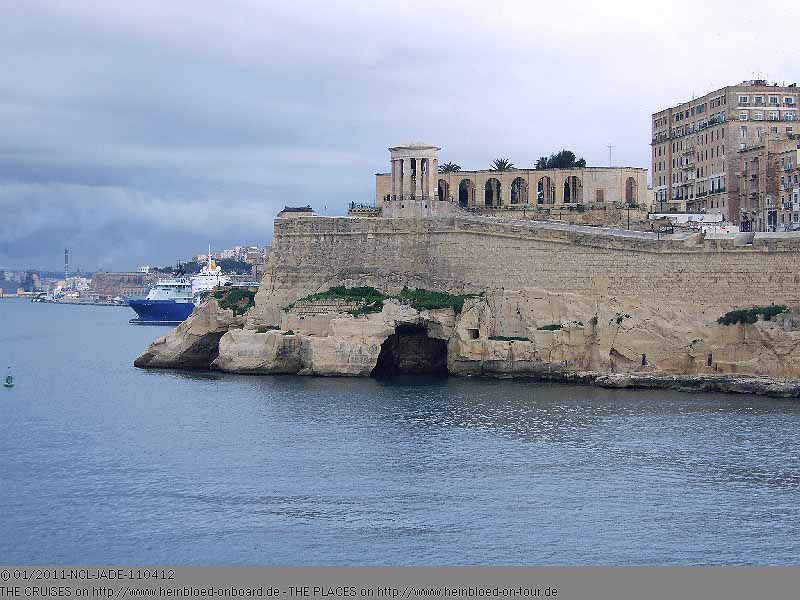 You can see how it looked like when you had sunshine as it looks double as beautiful like then on NORWEGIAN GEM 2009.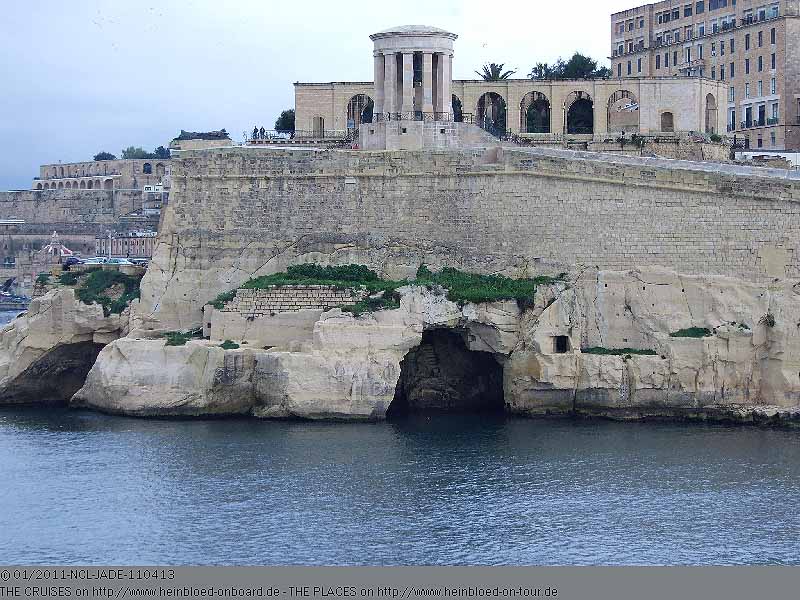 Wenn die Sonne scheint, dann sieht das ganze nochmals doppelt so schön aus, wie damals auf der
NORWEGIAN GEM 2009
.