Scroll down for English explanations - alternates with German explanations.

Nun NCL Miami hat wohl bei meinem Arzt angefragt, um sicherzustellen, dass ich nicht wieder Land and Sea nehme: bislang Lobster und Filet Mignon. Der Lobster ist nun Bestandteil vom Seafood Diabolo und zum Filet Mignon gibt es jetzt Jumbo Shrimps... Und somit wähle ich fleischlos das Seafood Diabolo.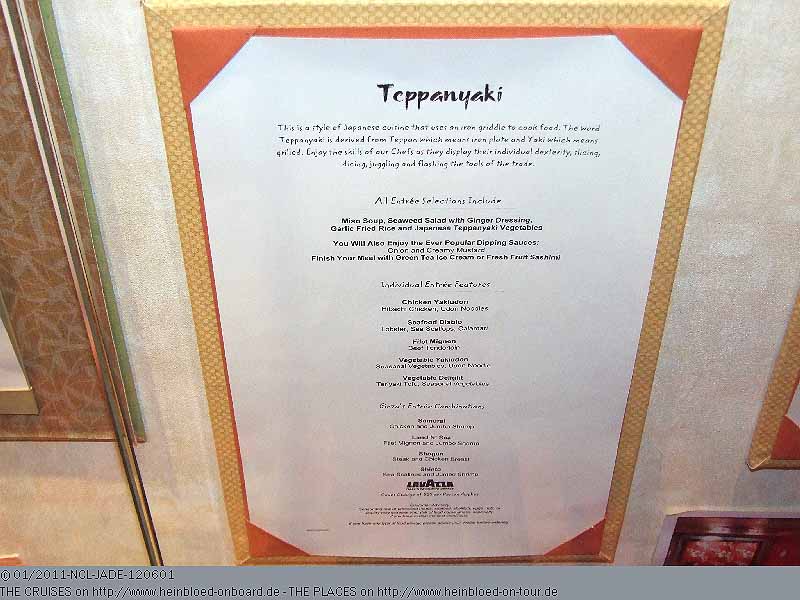 I think that NCL Miami asked my doctor to make sure that I do not take Land and Sea: so far it was lobster and filet mignon. Lobster is now part of Seafood Diabolo and you get now jumbo shrimps with the filet mignon... So I choosed Seafood Diabolo as meatless alternative.

Surprising: the napkin-service was reinstalled.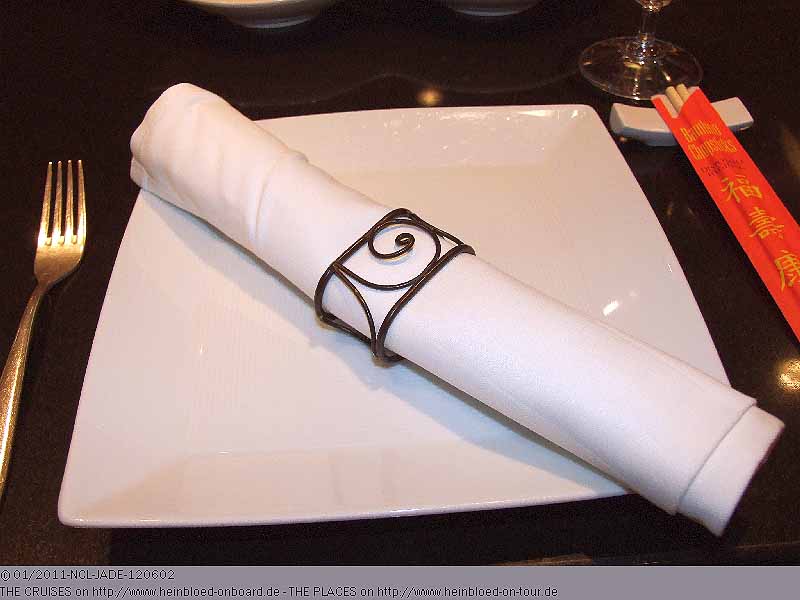 Überraschend: es gab wieder einen Serviettenservice.
Unser Kellner ging herum, um jeden die Serviette auf den Schoss zu legen.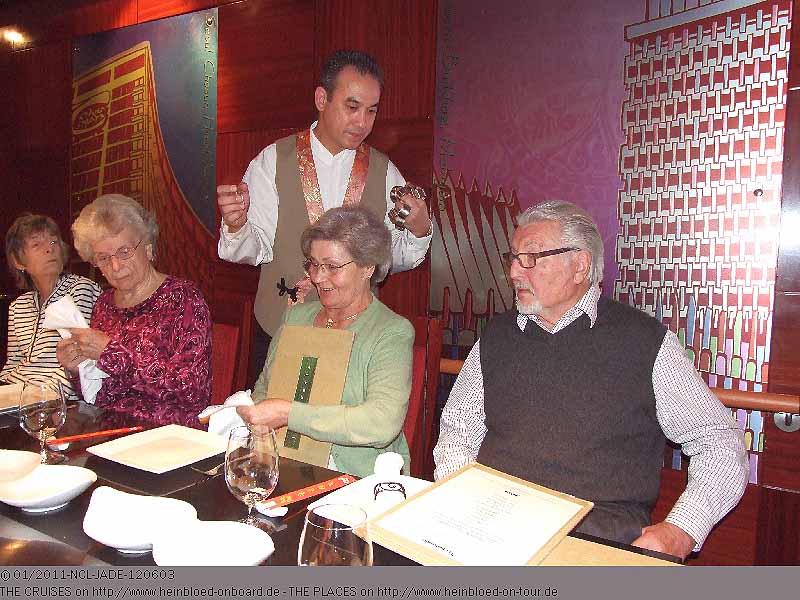 Our waiter went around and placed he napkins on the fold.

Then he went to the center and explained how it works: you only choose the main course and the desert. All other came automatically.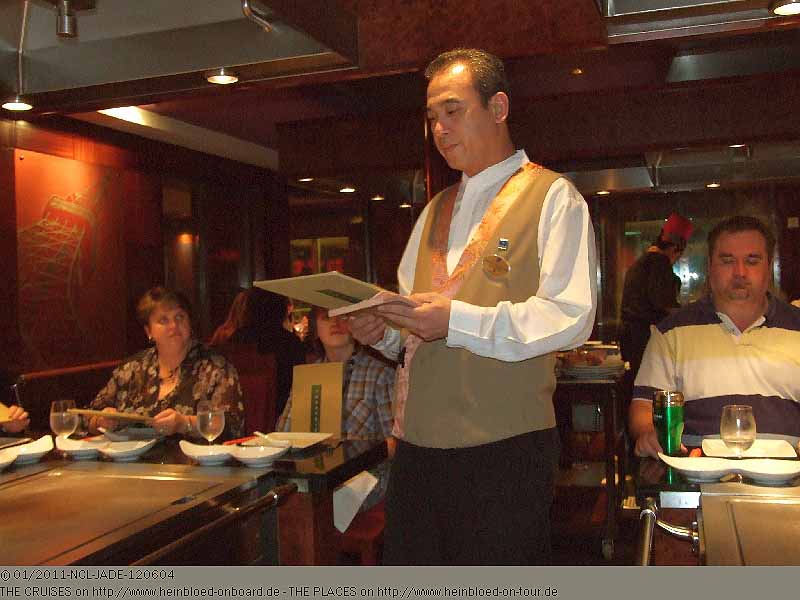 Dann ging er in die Mitte, um den Ablauf zu erklären: Man wählt nur Hauptgang und Dessert aus. Der Rest kommt automatisch.
Zunächst gab es die Bohnen, die wir schon beim Shabu-Shabu hatten.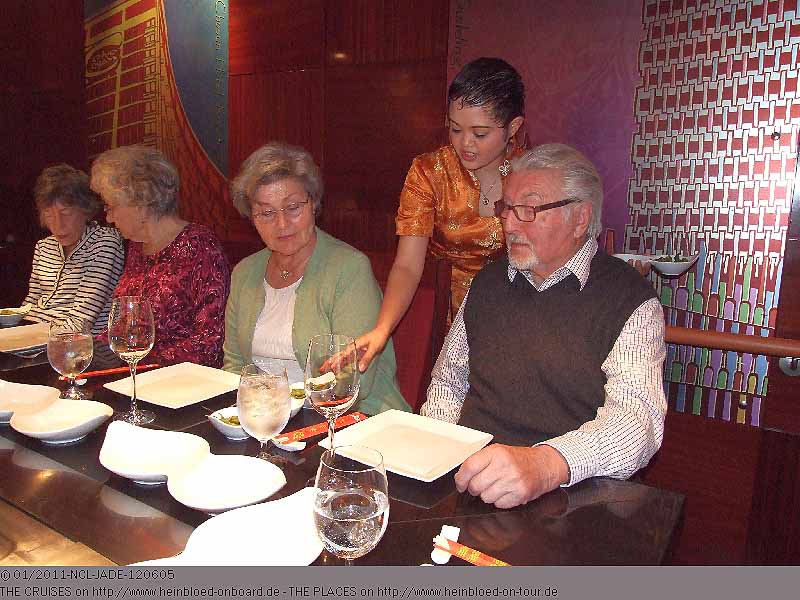 First we had the beans we knew already with our Shabu-Shabu.

Then we had a miso-soup.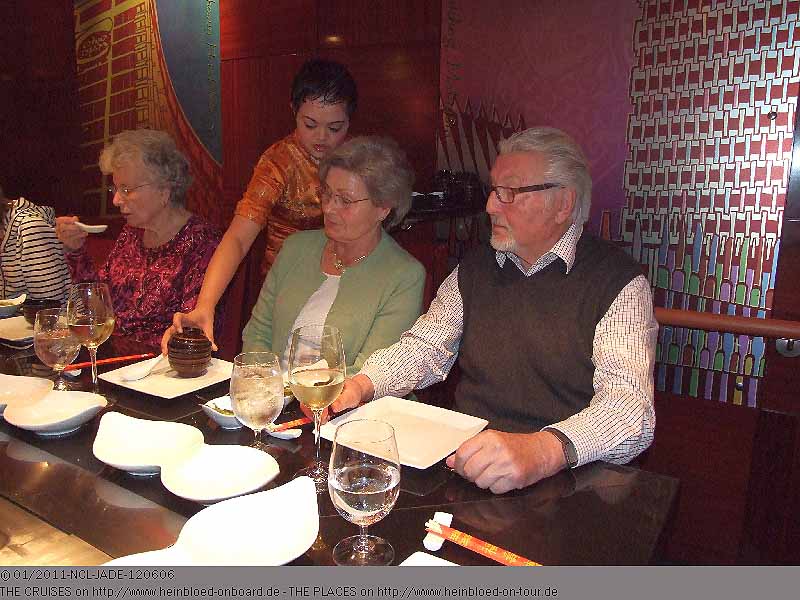 Dann gab es Miso-Suppe.
Eine Brühe aus Thunfisch-Flocken...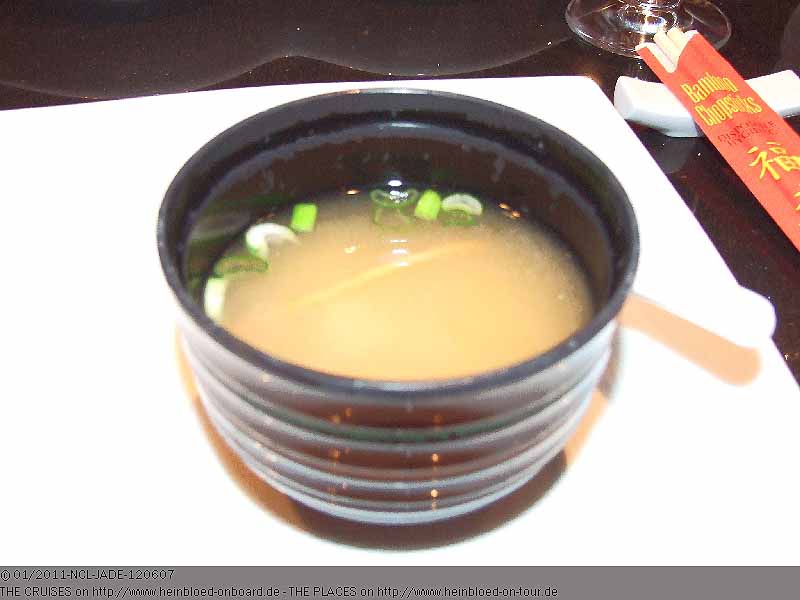 A broth made of tuna-flakes...

Then we had a salad.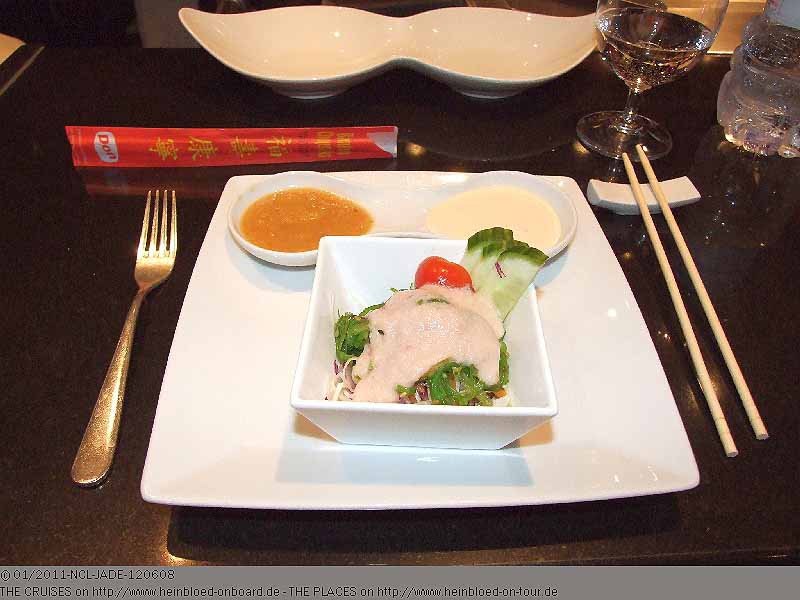 Dann gibt es Salat.
Und dann kommen die Köche, um die Show zu starten.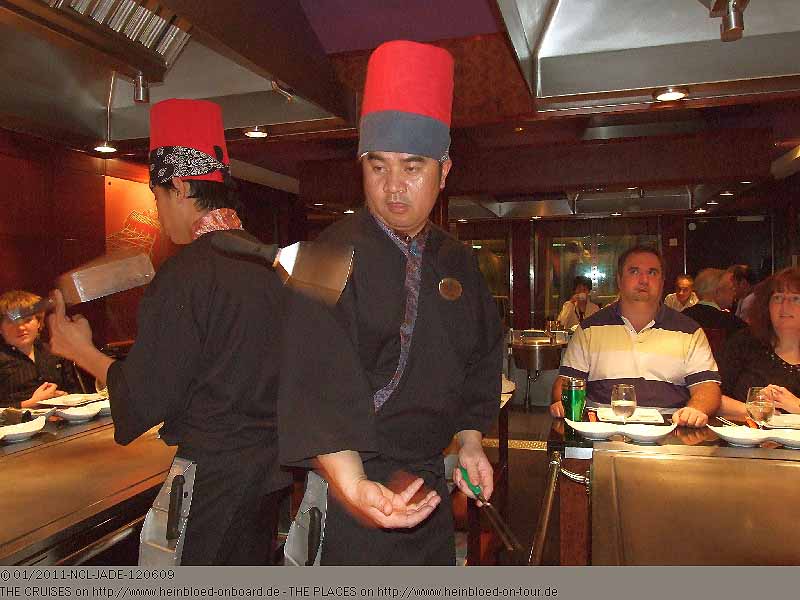 And then the chefs came to start their show.

Then the fried rice followed. The show is different with every chef. I do not want to spoil the surprises so some highlight pictures are taken out.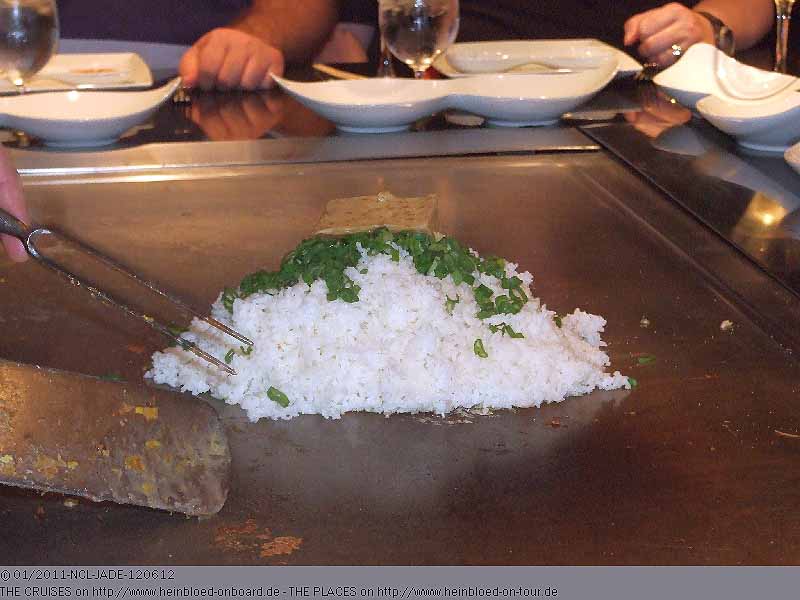 Der gebratene Reis folgte. Die Show ist bei jedem Koch immer etwas anders. Um die Überraschung nicht zu verderben, sind ein paar Highlight-Bilder herausgenommen.
Neu war der kostenlose Martini. Aber das ist nichts für mich.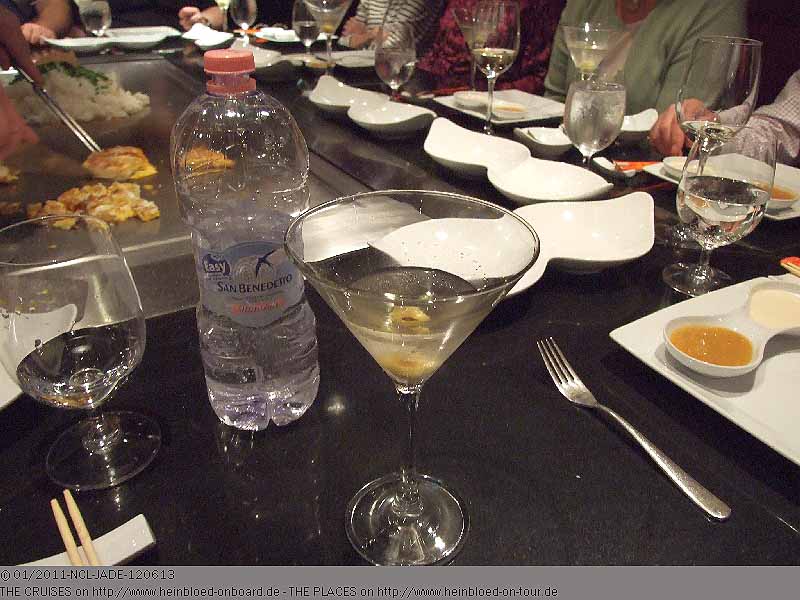 It was new that you got a complimentary martini. But that was nothing for me.

Then they started to fed the predators... To those couple at the other end of our table. If you identify yourself and send me an e-mail or add an comment with your e-mail address it would be a pleasure for me to send you the original picture which you might want to have to show your friends.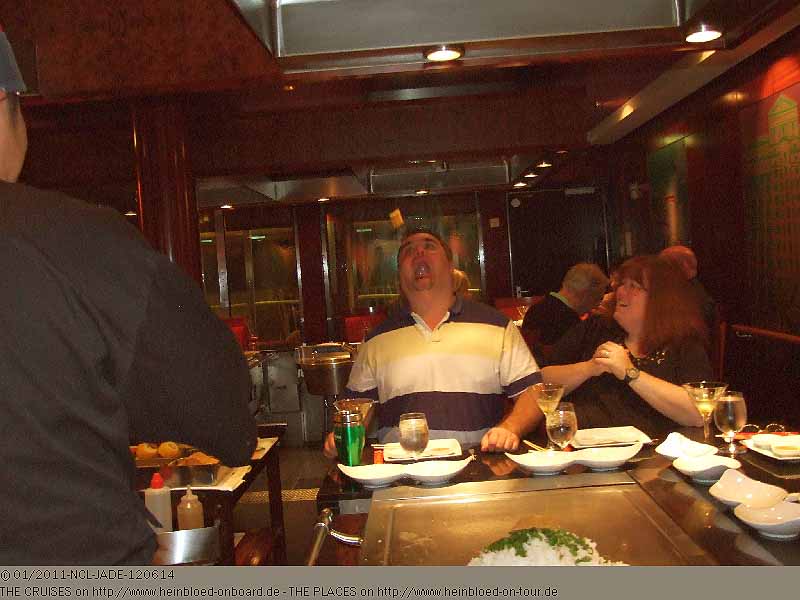 Dann fand die Raubtierfütterung statt...
Käthe hatte Pech, weil der Koch nicht hoch genug das Stück Ei geworfen hat.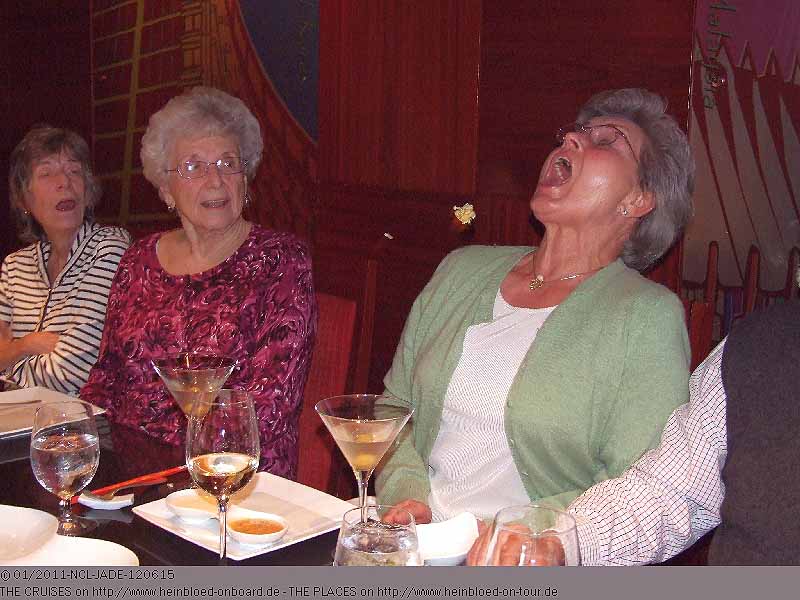 Katie had unluck because the chef did not throw the piece of egg high enough.

I took my glasses off and so I almost made it.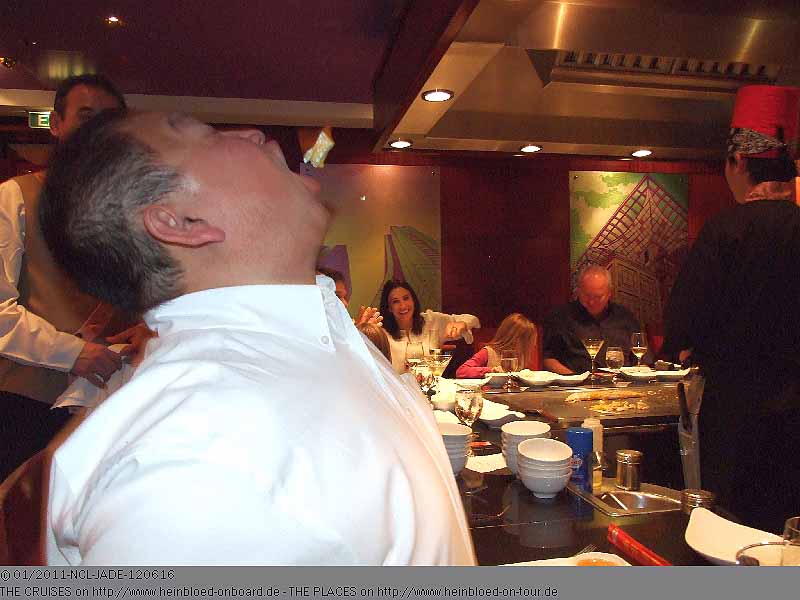 Ich hatte die Brille abgenommen und daher auch nur fast es geschafft...
Der Reis wurde weiter gebraten...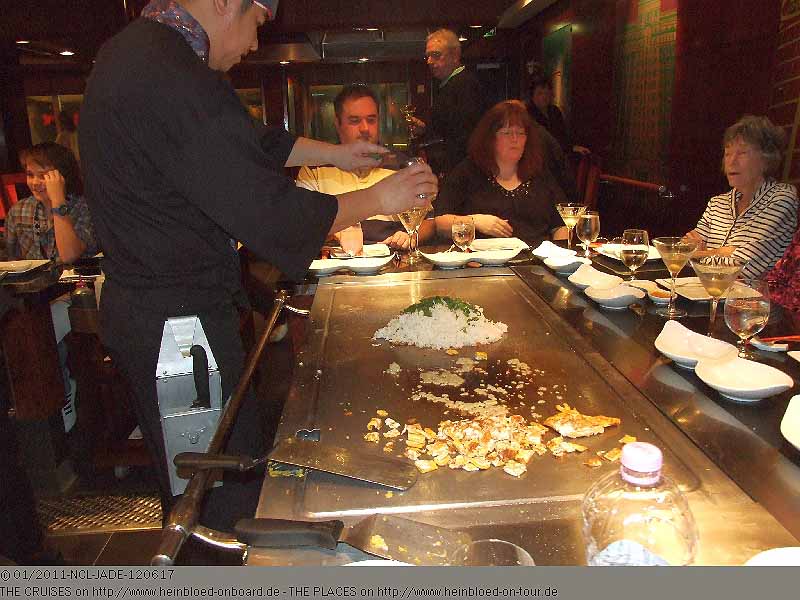 The rice still had to fry...

Then the vegetable sides came.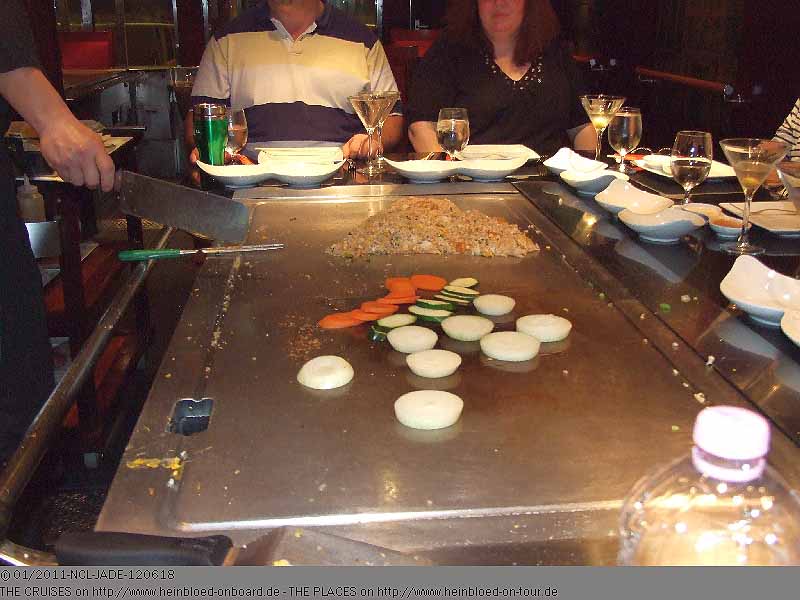 Dann kam die Gemüsebeilage.
Aus einer Scheibe Zwiebeln wurde ein Vulkan gebaut, der zum Rauchen gebracht wurde.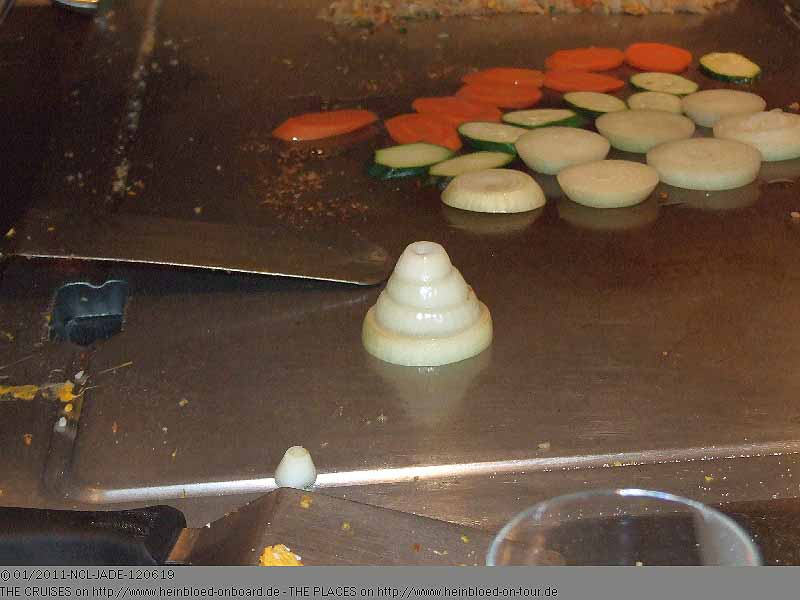 One vulcano was made out of slice of onion and it was made smoking.

They must read the blog of NORWEGIAN GEM 2009 and found out that Bruno is a vulcano lover as he got the vulcano of all things...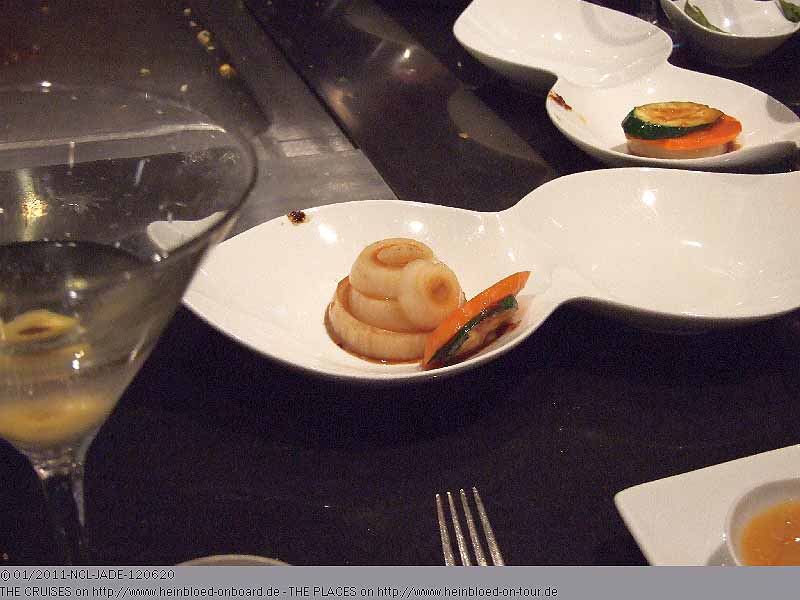 Und sie müssen den Blog von der NORWEGIAN GEM 2009 gelesen haben, dass Bruno ein Vulkanliebhaber ist und er bekommt ausgerechnet den Vulkan serviert...
Dann kam der Lobster und der Calamari von unserem Seafood Diabolo auf die Grillplatte.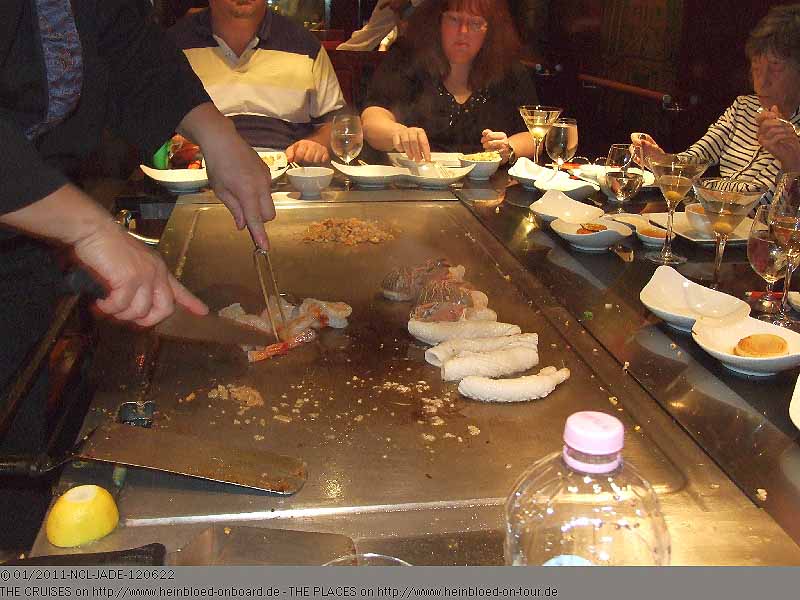 Then he moved the lobster and the calamari of our Seafood Diabolo on the hot plate.

Some time later the meat and the chicken of the other guests followed on the grill.

Irgendwann kam auch das Fleisch und das Hühnchen von den anderen Gästen auf den Grill.
Am Schluss folgten noch die Jakobsmuscheln.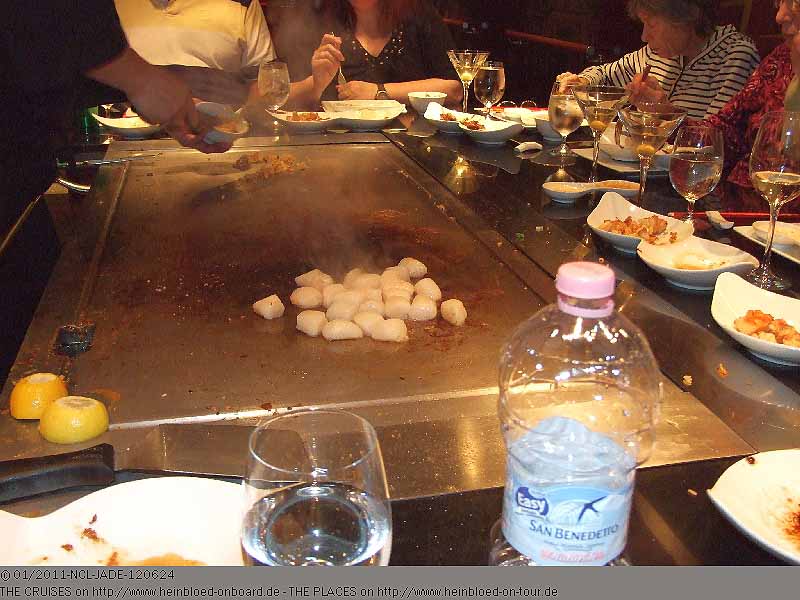 Finally our scallops.

A very nice gesture: an English lady which sat next to Katie offered her filet mignon to try.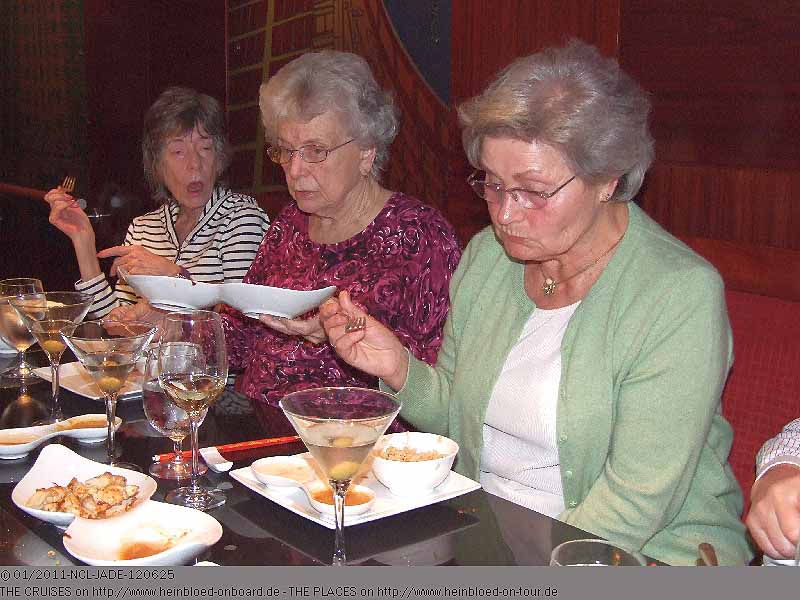 Total schöne Geste: die englische Dame neben Käthe hat ihr das Filet Mignon zum Probieren angeboten.
Am Schluss gab es Grüner Tee-Eis.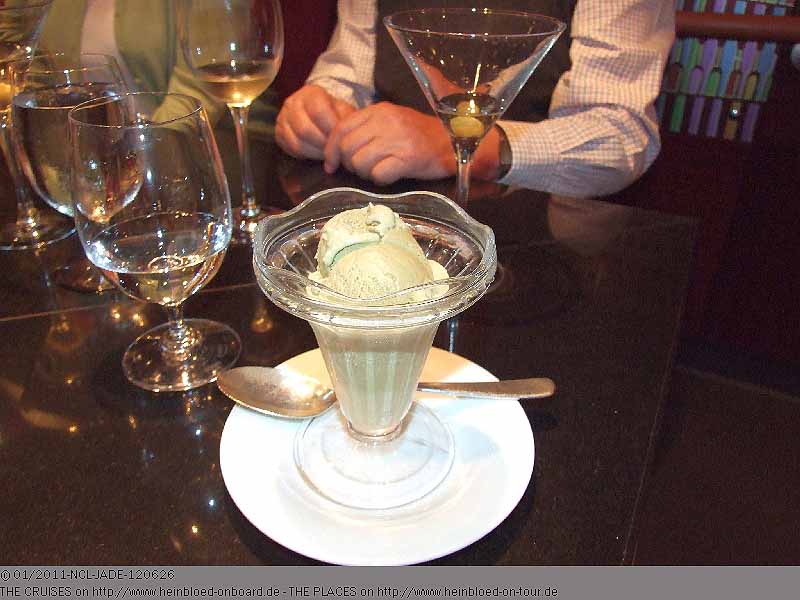 Finally there was green tea-ice cream.

I had the fruit plate with some mango and coconut sauce which was very good.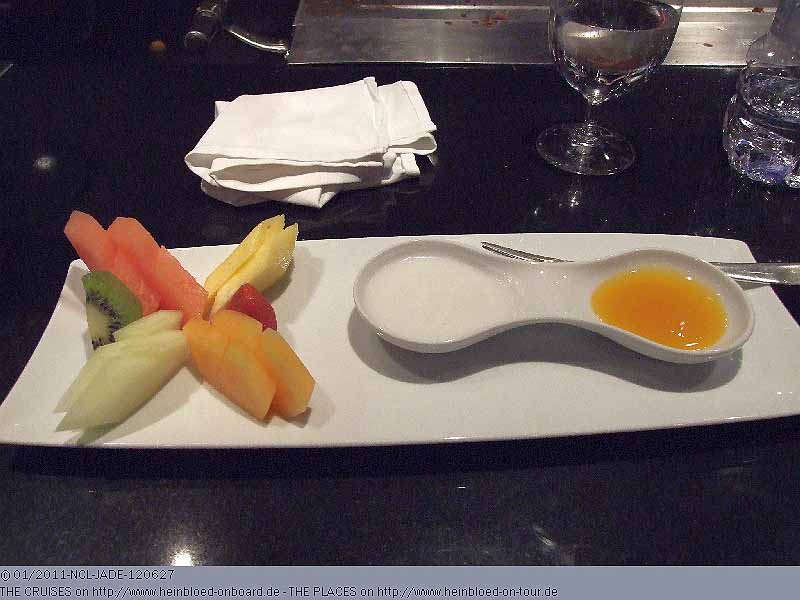 Ich hatte jedoch die Früchte mit der Mango bzw. Kokusnusssauce, was sehr gut war.
Und da wäre noch Precious... Restaurant Hostess im Jasmine Garden. Da das Treffen der Freunde von Dorothy um 19.15 Uhr anfing, wollten wir kurz zwischen dem Suppen- und Salatgang schnell in die Star Bar, um uns von unseren neuen Freunden zu verabschieden. Precious folgte uns zum Fahrstuhl und fragte nach, was nicht in Ordnung wäre, da wir so schnell aufgebrochen sind. Man merkte ihr an, dass ihr wirklich ein Stein vom Herzen gefallen ist, als wir erklärten, dass wir gleich wieder kommen. Echte Gastgeberqualitäten.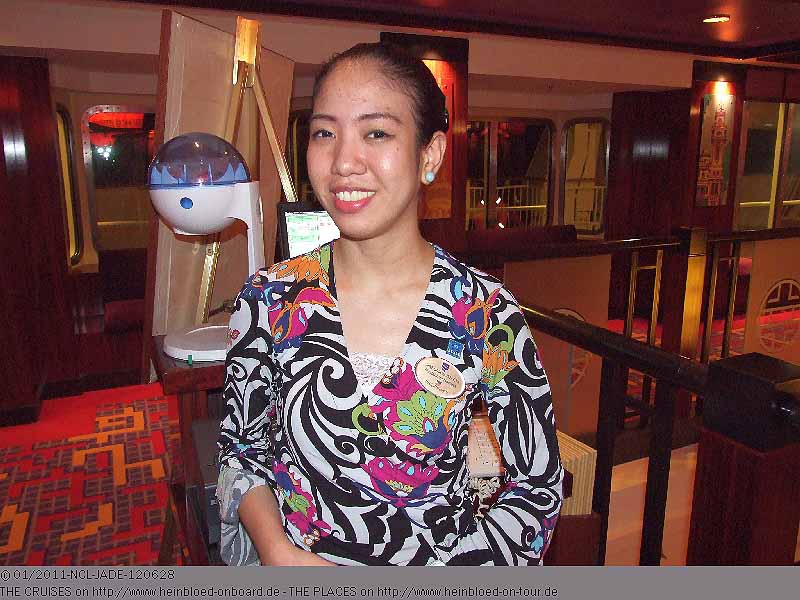 Finally there was Precious... Restaurant Hostess at Jasmine Garden. As the meeting of the Friends of Dorothy was 19.15 hrs we wanted to go quickly to the Star Bar to bid farewell to our new friends between the soup and the salad. Precious followed us to the elevator and asked us if there was anything wrong that made us leaving so quickly. It took a load of her mind when we explained that we will return in few minutes. True hospitality.