Scroll down for English explanations - alternates with German explanations.

Endlich Mittagessen. Ich hatte nach dem langen Marsch einen großen Hunger. Wir halten hinter einer Teppichfabrik.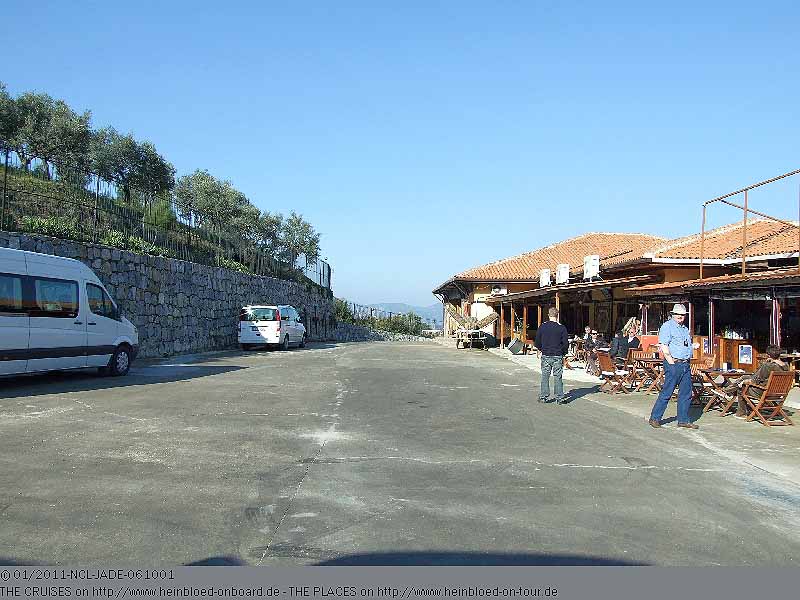 Finally lunch. I was very hungry after the long walk. We stopped on the backside of a carpet manufacturer.

Only a few buses more stopped there with us. I had the concern it might be a mass-tourist-feed-station but there was no reason.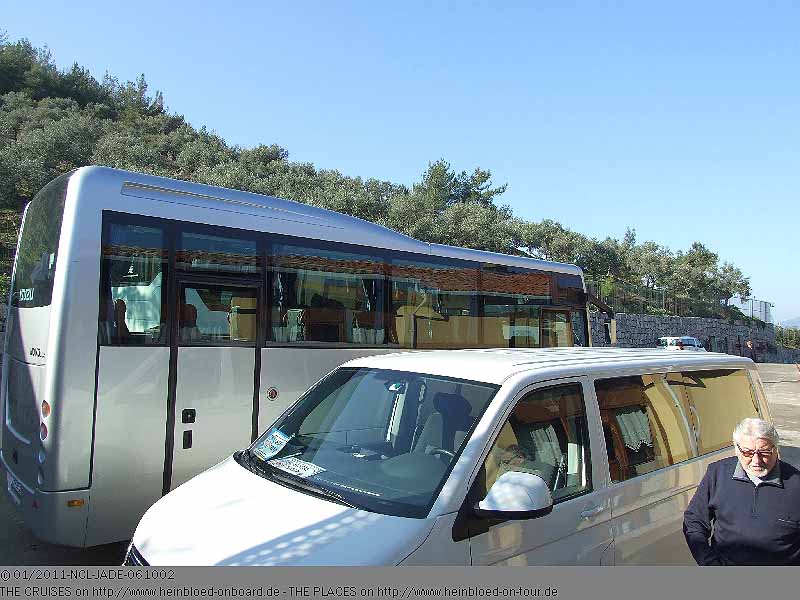 Mit uns halten aber nur sehr wenige Busse. Meine Befürchtungen, dass es sich um eine Massen-Touristen-Abfütterung handelt waren unbegründet.
Es wurde auf der Terrasse für uns eingedeckt. Deswegen unbedingt eine Jacke evtl. aus dem Fahrzeug mitnehmen.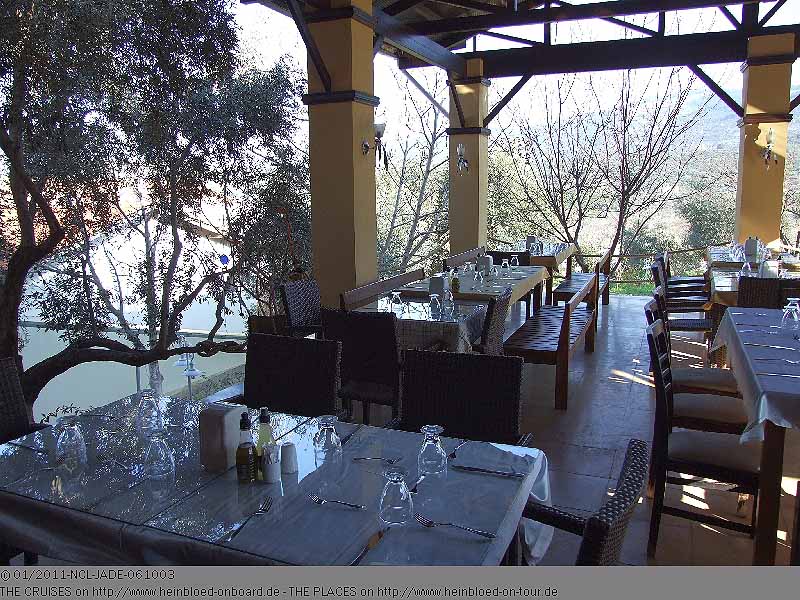 They set a table on the terrace. So you should have a jacket with you when are leaving the vehicle.

I liked it there very much.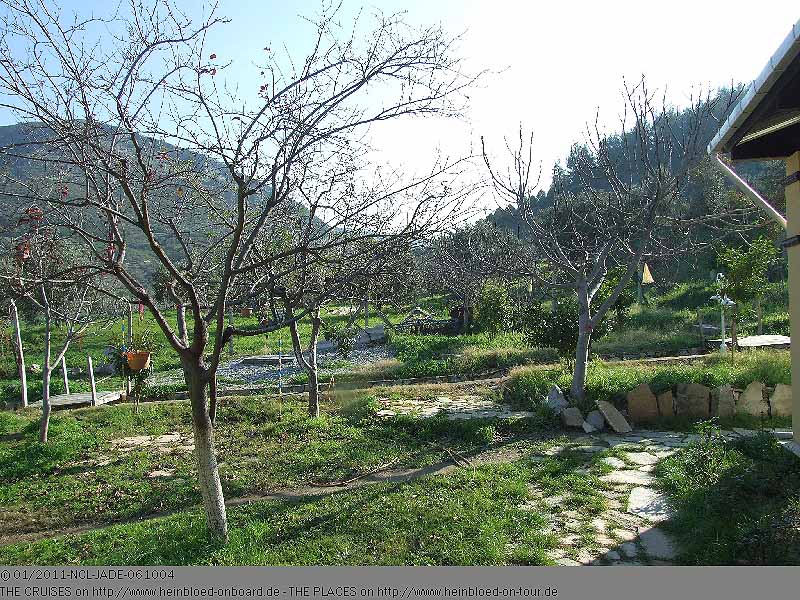 Ich fand es dort sehr schön.
Zunächst kam natürlich eine Menge Brot.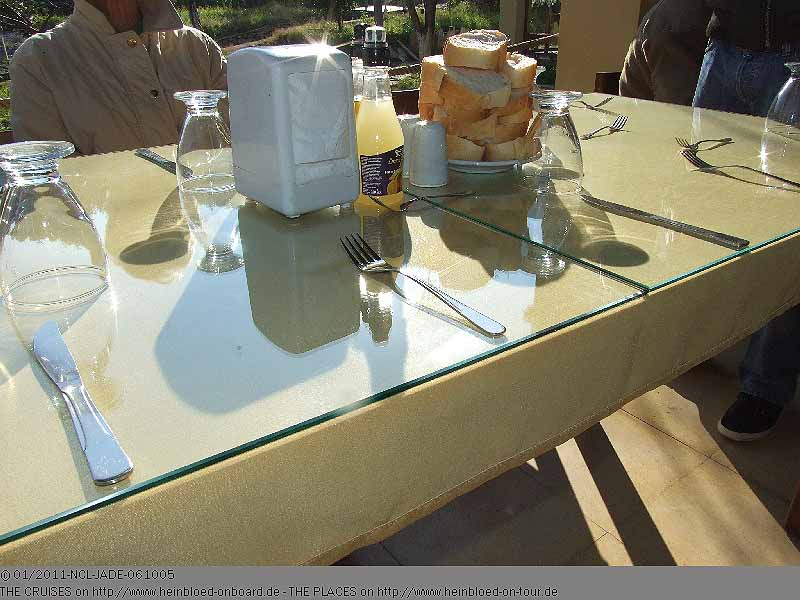 First of all we got lot of bread.

It was fantastic that Erkan ate with us and he was able to answer our questions and translate for us.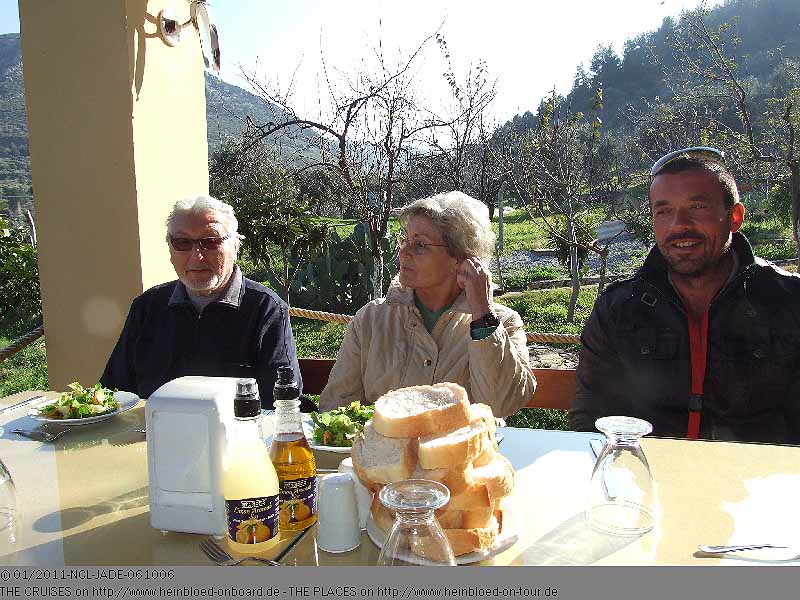 Gut war auch, dass Erkan mit uns mitgegessen hat und so für Fragen und Übersetzungen zur Verfügung stand.
Zunächst kommt ein leckerer Salat für jeden.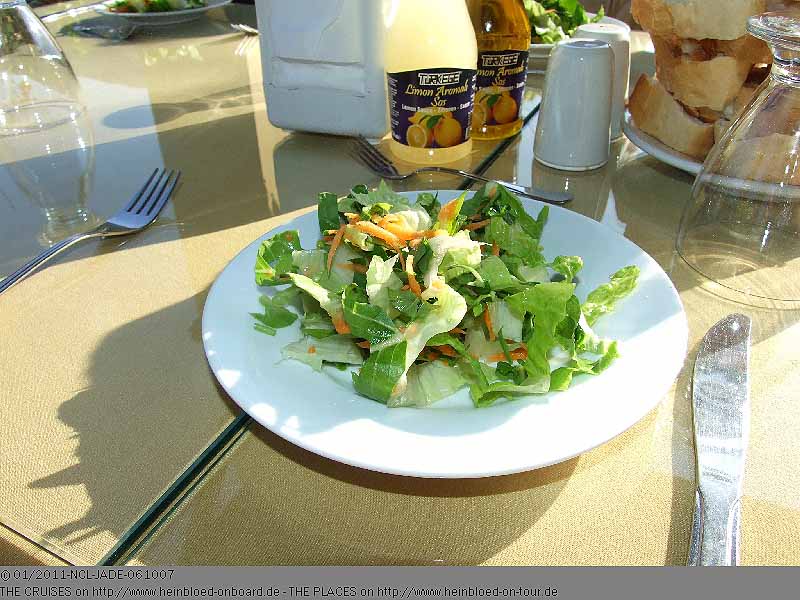 First of all we got a nice salad for each of us.

And then some eggplant starter followed.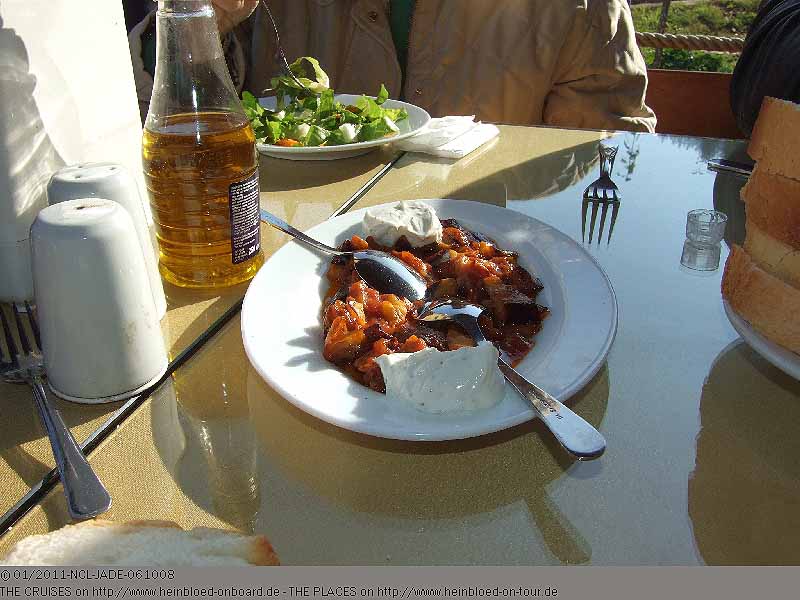 Und danach eine leckere Auberginenvorspeise.
Die besten Zigarren-Börek, die ich bislang gegessen habe.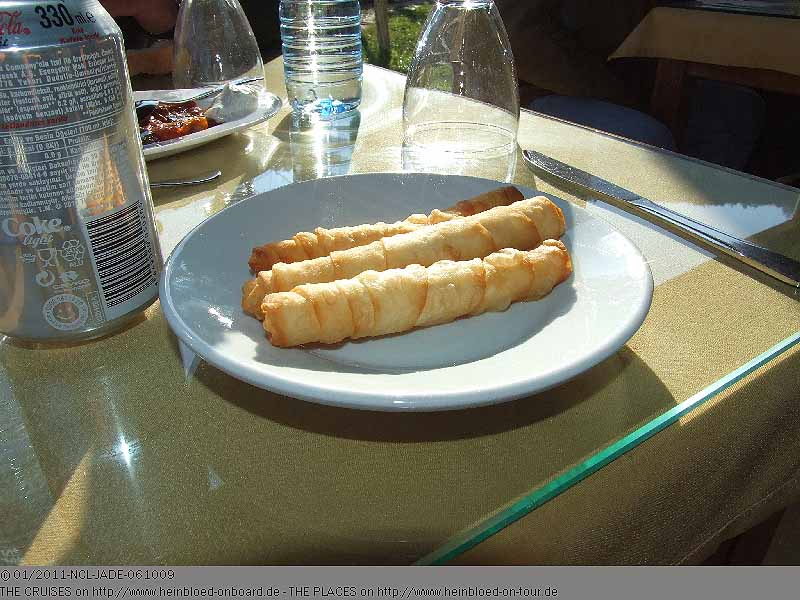 The very best cigar-börek which I ever had in my entire life.

Then we got chicken and köfte (meatballs) with some rice and grilled vegetables.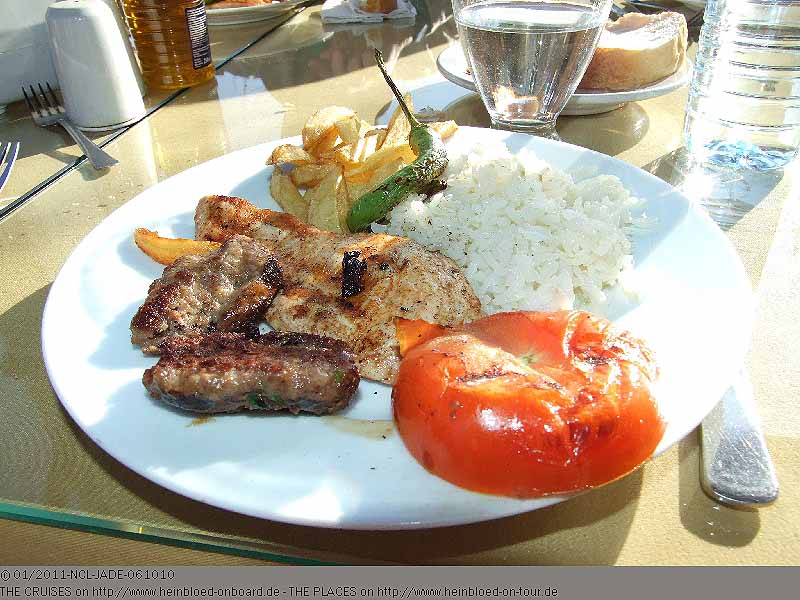 Dann gab es Hühnchen und Köfte mit Reis und gegrilltem Gemüse.
Zum Schluss gab es noch Nachtisch. Kaffee und Getränke waren kostenpflichtig, aber alles sehr sehr günstig. Wir konnten in USD und EUR bezahlen.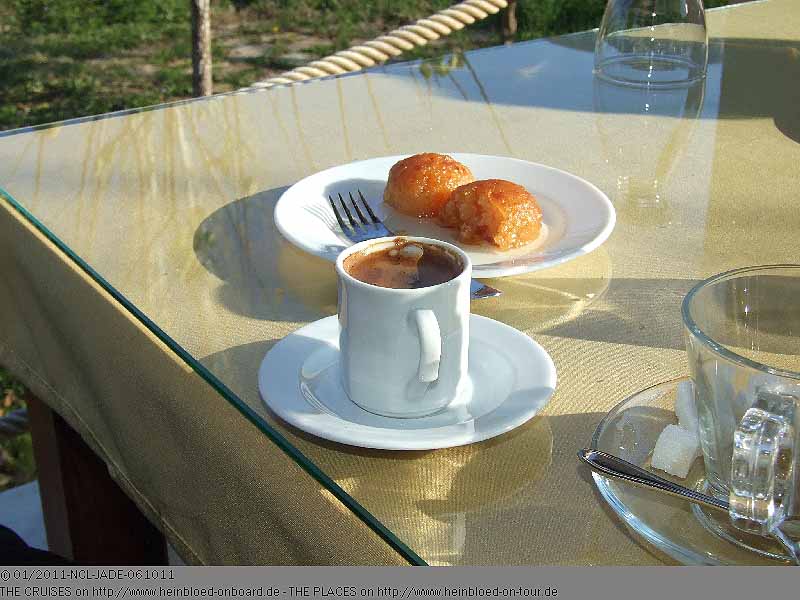 Finally we got a desert. Coffee and other beverages were not included but it was very cheap. We could pay in USD or in EUR.

We were heading the carpet manufactury with a sales exhibition.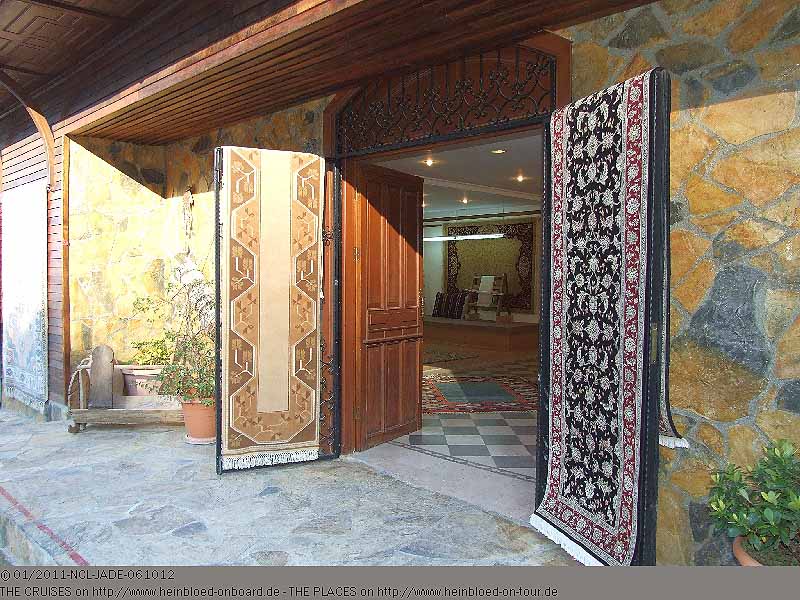 Weiter ging es dann in eine Teppichmanufaktur mit Verkauf.
Es gibt Demonstrationen.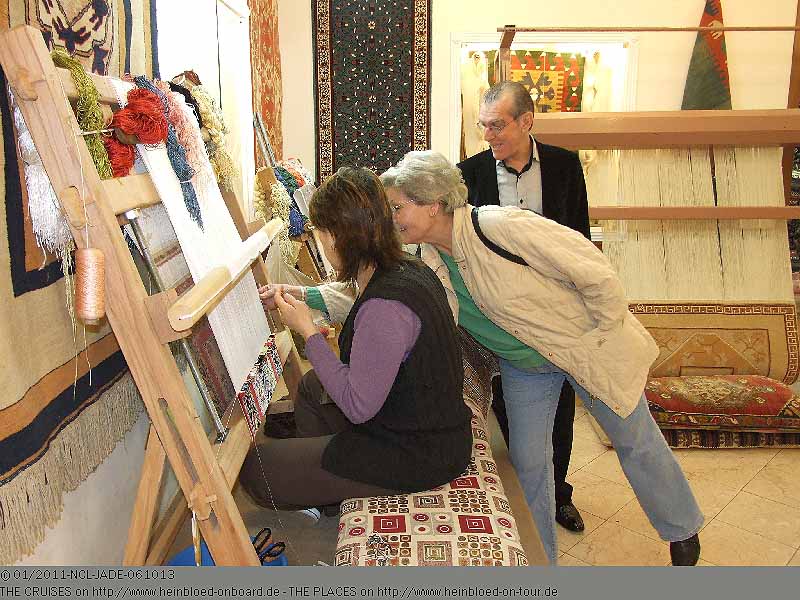 There was a demonstration area.

And few show rooms.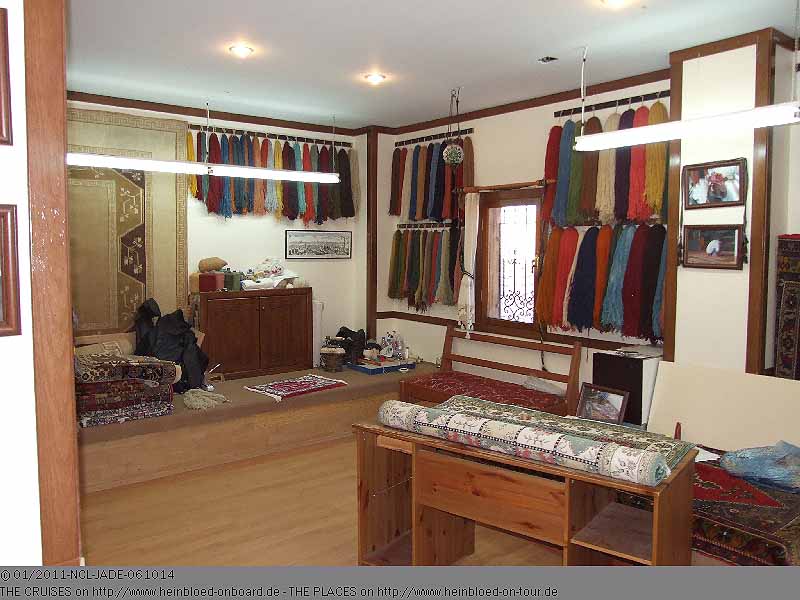 Und alle möglichen Schauräume.
Leider sollten wir so etwas vorher wissen, damit man sich auf so etwas einstellen kann. Es wurde respektiert, dass wir nichts kaufen wollten.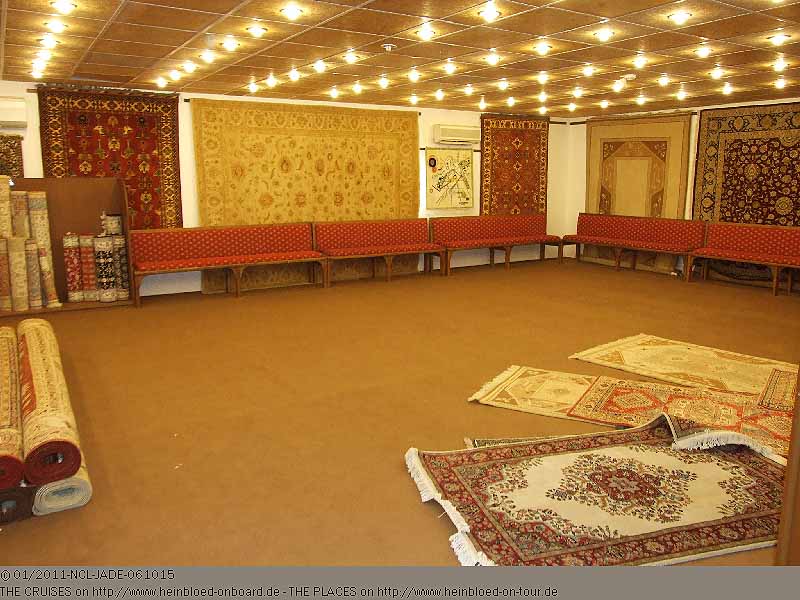 I think you better should know it ahead of that you can prepare yourself for such a visit. They accepted that we did not want to buy anything.

A jewelry store followed. You can just walk through to get to the exit. It is like with IKEA, i. e. you do not get out of the building where you got in.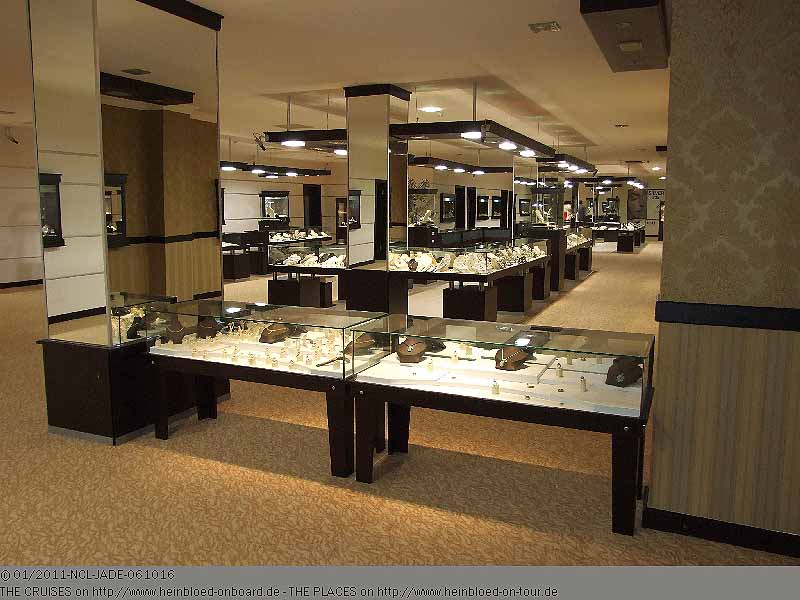 Im Anschluss gab es noch einen Juwelier. Auch hier kann man einfach durchlaufen, um wieder zum Ausgang zu kommen. Ist alles wie bei IKEA... d. h. man geht woanders raus, als dass man reingekommen ist.
Interesant für mich war dann der Souvenir-Laden am Schluss.

The souvenir shop at the end was the most interesting for me.

Here I bought some Turkish delights which were half of the price than I saw later at the cruise terminal and I was glad to find a can of Turkish olive oil (very nice) to compare.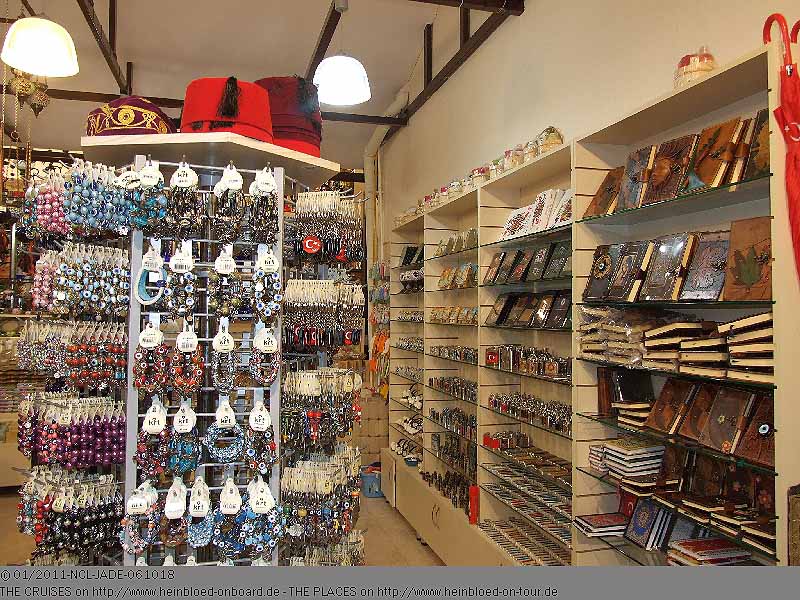 Hier habe ich ein paar türkische Süßigkeiten gekauft, die nur halb so viel kosteten wie später im Cruise Terminal und ich habe gerne eine Dose türkisches Olivenöl (sehr lecker!!!) gekauft, um zu vergleichen.
Es ging weiter in einen Lederwarenverkauf.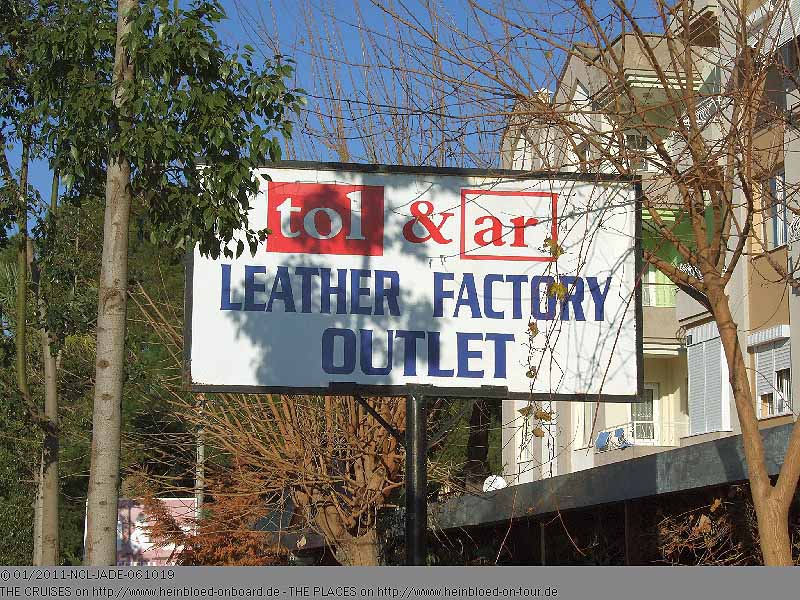 We continued with the leatherware outlet.

When we saw the buses parking in front of the house it was clear what will happen now. I am sure we will meet there many other cruisers.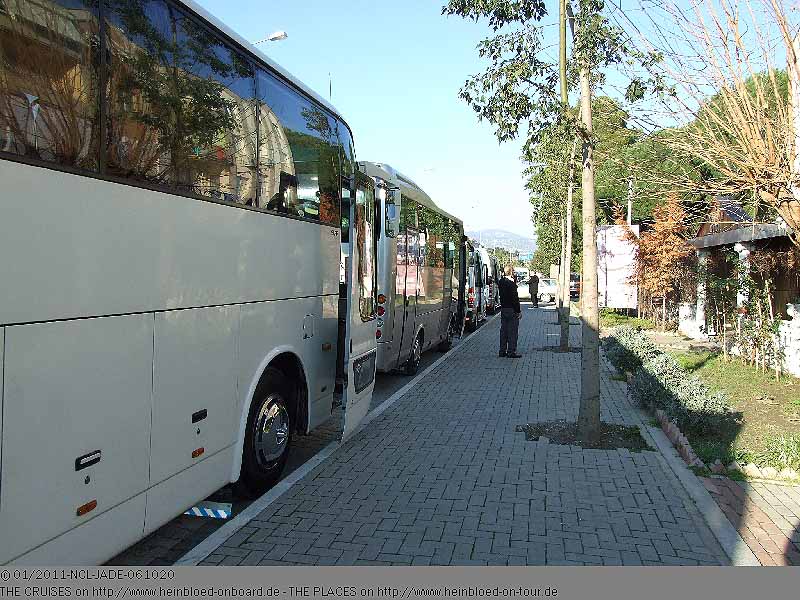 Anhand der Busse, die vor dem Haus parkten war schon klar, was los war. Hier treffen wir bestimmt auch andere Kreuzfahrer.
Man bekam eine kurze Vorstellung über das Angebot, aber wir sehr klare Vorstellung hatten, was wir haben wollten, ging es recht schnell.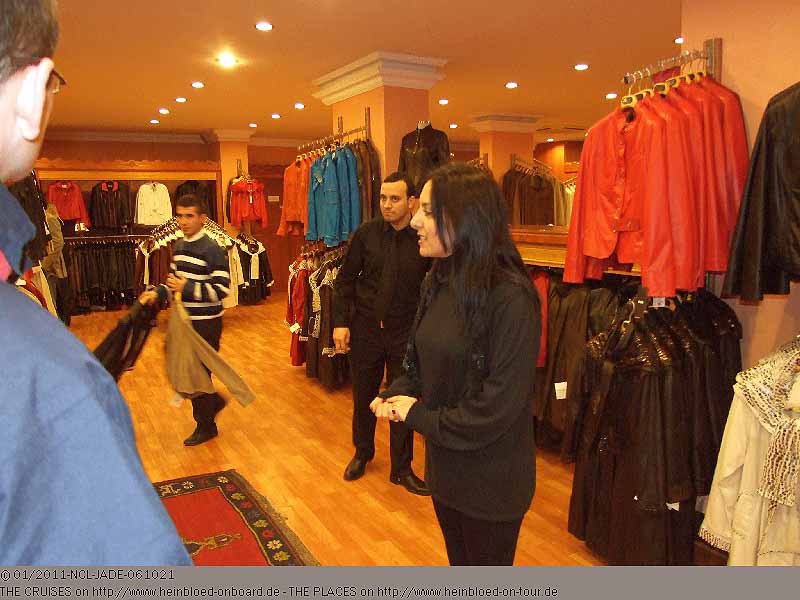 You get a short introduction of their offers but as we had very clear ideas what we need it went quite quickly.

We bought two belts for 60 EUR. The leather was good. On the way to the cashier, there was a mix up of the length so that we need to add a few holes in Germany that it will fit. But we got everything duty free. We loved to buy a backpack and a wallet. But they had only backpacks for ladies which I cannot use. And all of their wallets had no extra space for change. It was really a shame. From RCI and Celebrity, I saw here the sign. Let's see if NCL also gives a shopping guarantee for this shop.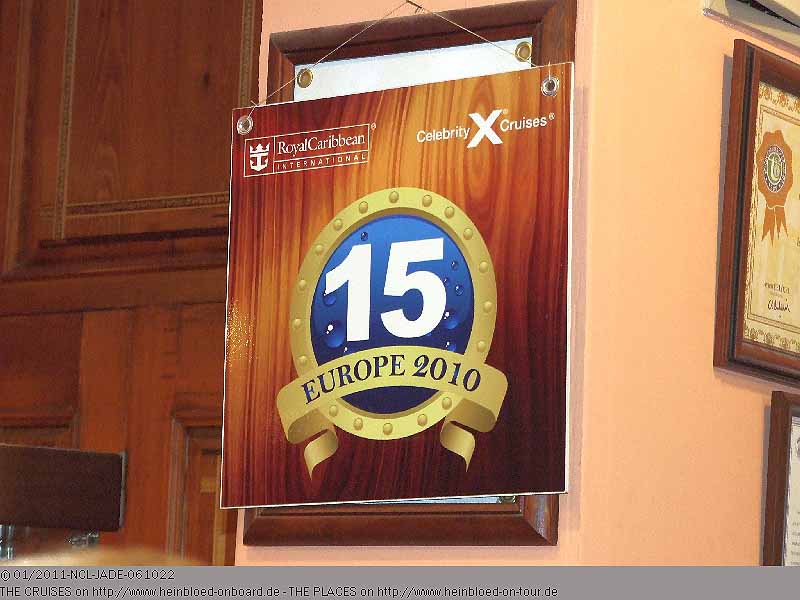 Wir haben zwei Gürtel für 60 EUR gekauft. Das Leder war gut. Auf dem Weg zur Kasse kam es wohl zu einer Verwechslung wegen der Längen, so dass die Deutschland noch vier Löcher rein müssen, damit er passt. Aber es gab alles zollfrei. Wir hätten sehr gerne noch einen Rucksack und eine Geldbörse gekauft. Leider gab es nur Rucksäcke für Damen, die ich unmöglich nutzen konnte. Und irgendwie hatten alle Geldbörsen kein Hartgeldfach. Das war schade. Von RCI und Celebrity habe ich hier ein Schild gefunden. Mal gucken, ob NCL auch für diesen Laden eine Garantie gibt.
Auf dem Rückweg gab es noch einen Blick auf den ehemaligen Artemis-Tempel, oder besser was davon übrig ist. Da es sehr kalt wurde, halten wir den Stopp hier besonders kurz.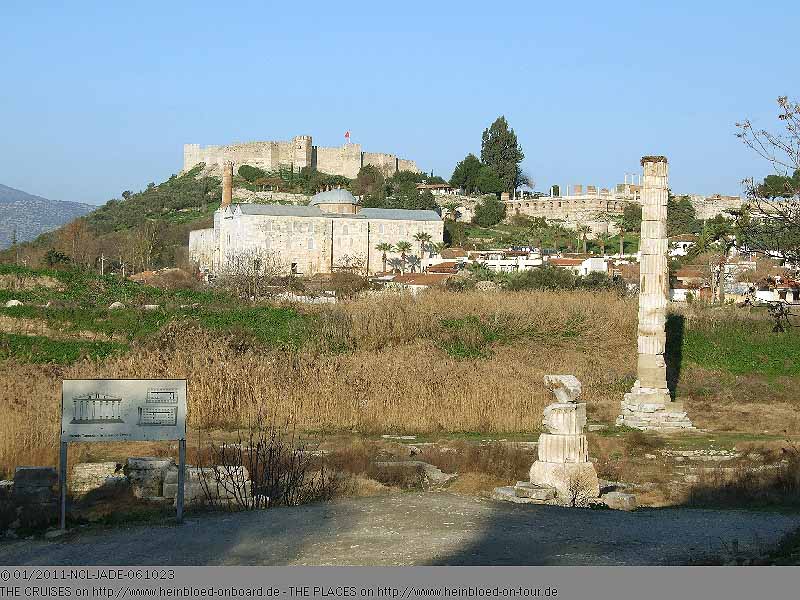 On the way back we had a short photo stop where the former Artemis Temple was located or better what was left. As it became very cold we kept the stop very short.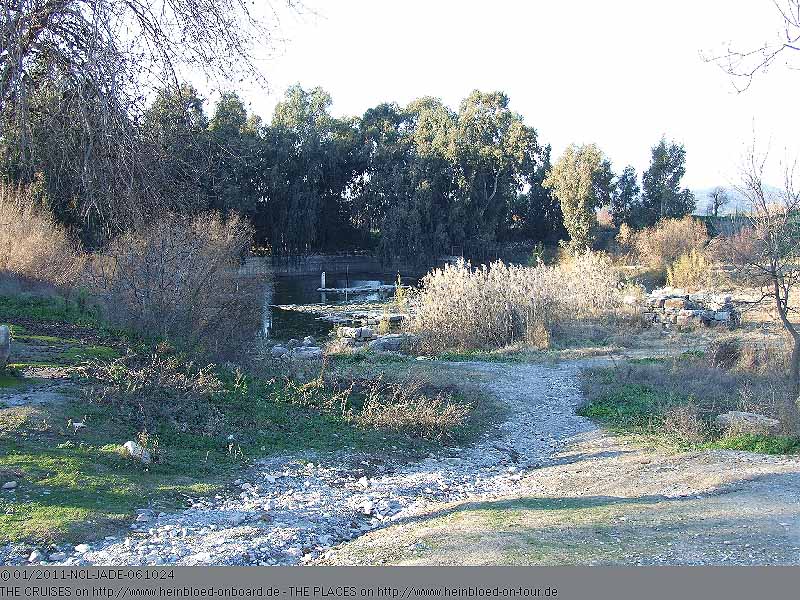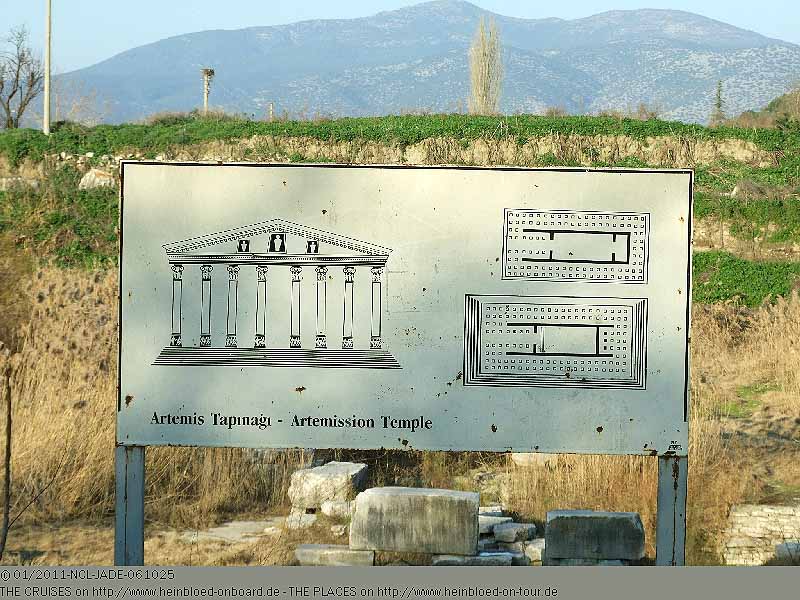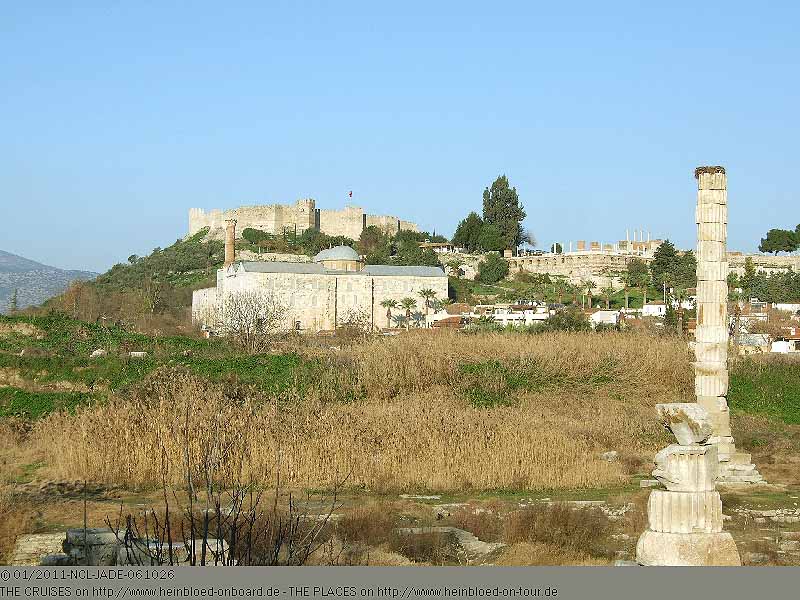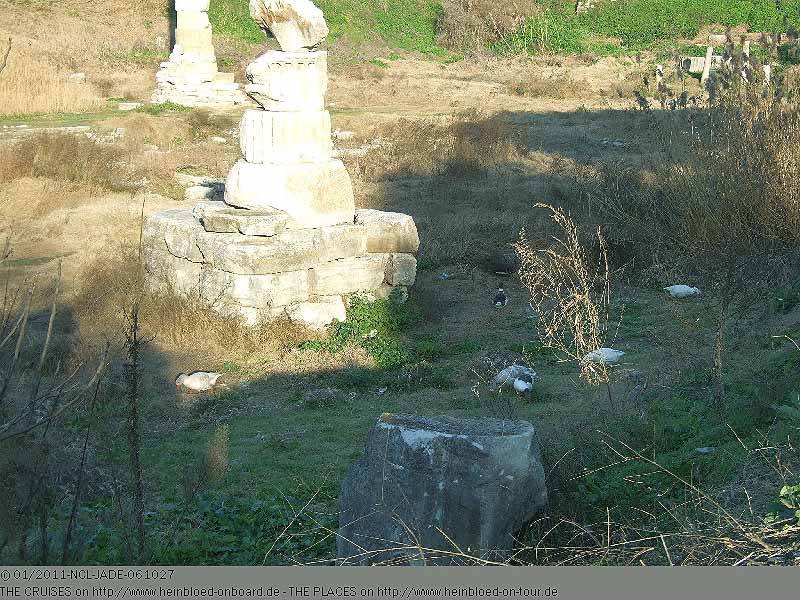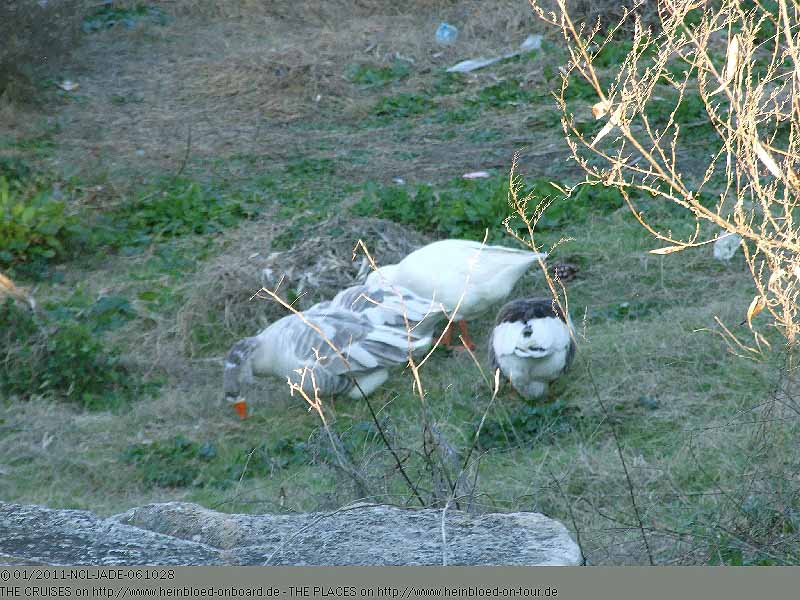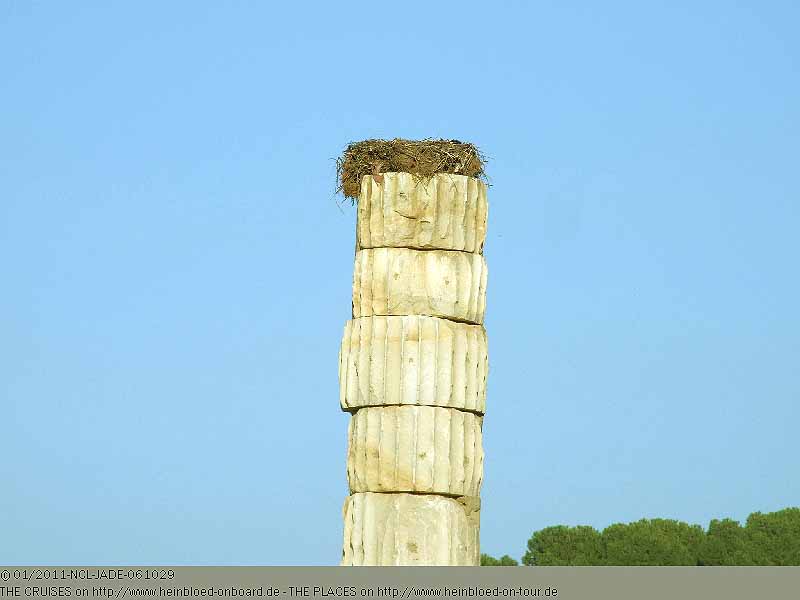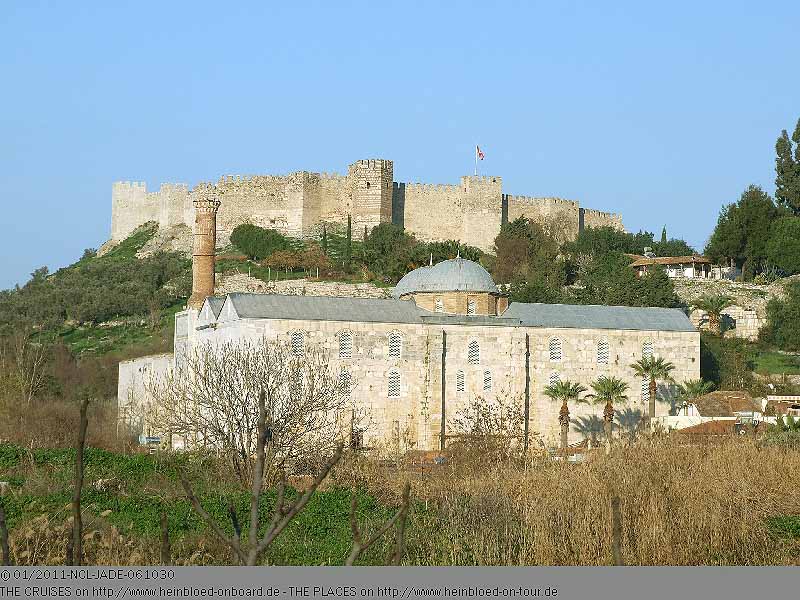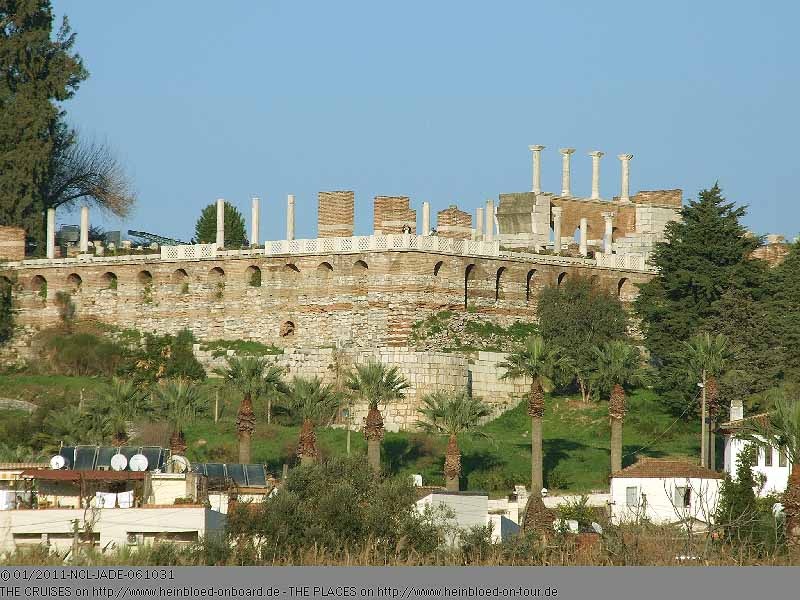 A wonderful tour was terminating. For less money, we got a lot to see and really great food. Especially they chose the right vehicle for us. Personally, I am willing to pay a little more for the tour if I could choose for myself which shops we should visit. If there is another chance I would definitely book Ephesus Deluxe again. They are based in Kusadasi but it looks like that they also offer tours out of Istanbul. We got damned much for damned little money. Thanks to a great tour guide: Erkan.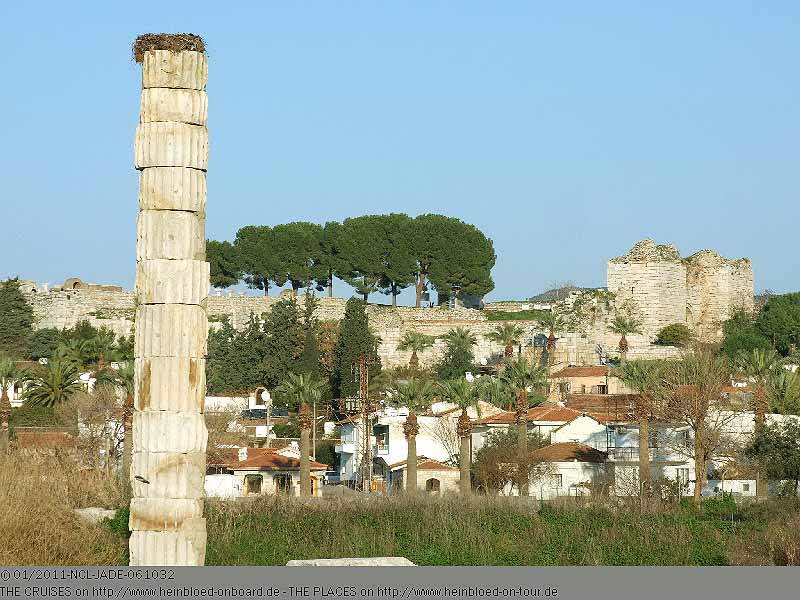 Eine wunderbare Tour geht damit zu Ende. Für wenig Geld bekommt man wirklich viel zu sehen und richtig gutes Essen. Vor allem das Fahrzeug stimmte auch. Ich persönlich wäre bereit auch ein wenig mehr Geld auszugeben, wenn ich dann selbst beeinflussen könnte, welche Geschäfte wir aufsuchen. Aber insgesamt würde ich auf jeden Fall wieder bei
Ephesus Deluxe
buchen, wenn sich eine Gelegenheit ergeben sollte. Sie sind zwar in Kusadasi ansässig, aber anscheinend auch in Istanbul aktiv. Wir haben verdammt viel für verdammt wenig Geld bekommen. Dank eines Super Fremdenführers: Erkan.
Bis zum Cruise Terminal sollte man dann auch schon die Landgangskarte ausgefüllt haben. Das Schiff ist auf den Bahamas registriert. Den Nachnamen, Vornamen und die Staatsbürgerschaft sollte man auch kennen.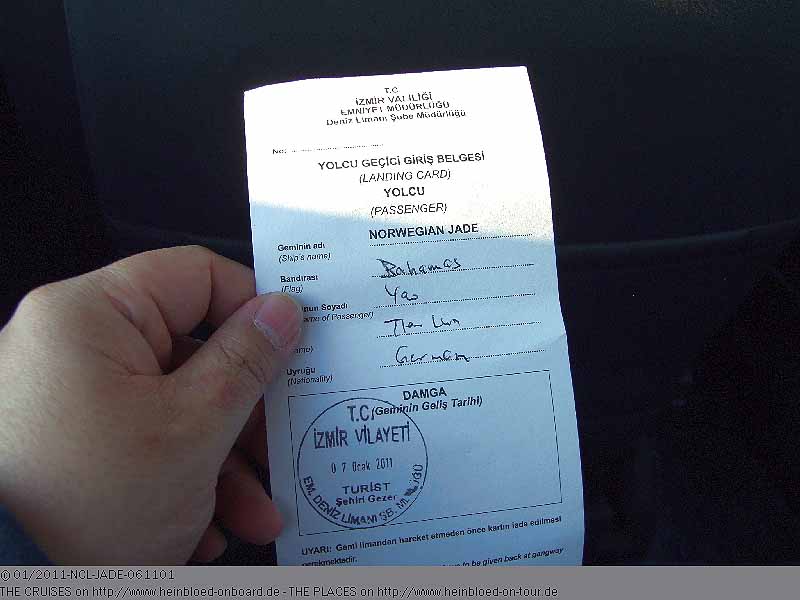 Before arriving back a the cruise terminal you should have filled out your landing card. The ship is registered on the Bahamas. You know yourself your last name, first name and nationality.



Erkan helped us to have a little more time at the cruise terminal to browse the internet. When we tried to buy some beverages and also told that we want to use the internet one of the employers said 3 EUR per hour. But his female boss insisted to have 5 EUR or just 30 minutes for 3 EUR. So we canceled our beverages. We did want to make Charlie a little pleasure and would like to enable him to have one Vodka-Bitter Lemon and wanted to buy a small bottle. The female boss wanted to have 4 EUR for less than one can. So we did not take this either and left.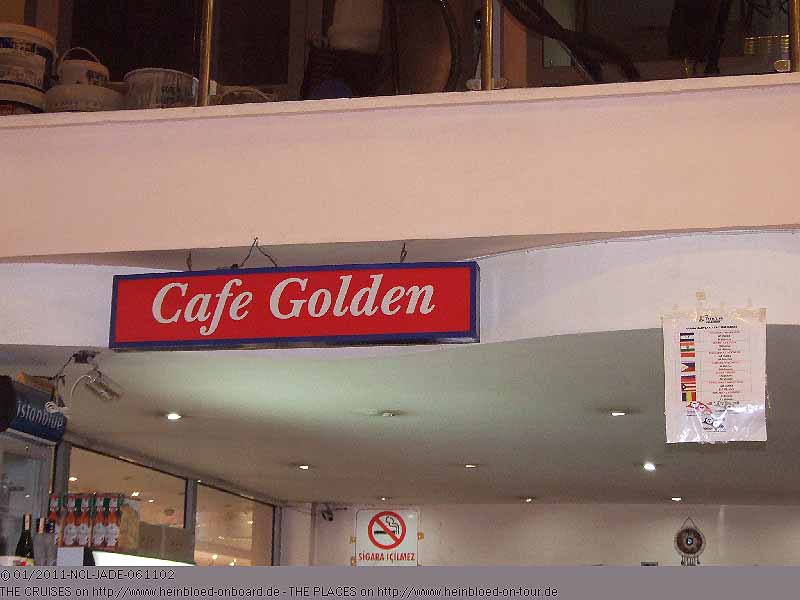 Erkan hat uns ein wenig mehr Zeit im Cruise Terminal verschafft, damit wir im Internet surfen konnten. Als wir ein paar Getränke kaufen und auch sagen, dass wir das Internet nutzen wollen, sagt einer der Angestellten 3 EUR pro Stunde. Die Chefin besteht auf 5 EUR oder 3 EUR für 30 Minuten. Darauf hin bestellen wir Getränke ab. Nur Karl-Heinz wolllen wir eine kleine Freude machen, damit er sich zumindest einen Wodka-Bitter Lemon gönnen kann und wollen eine kleine Flasche mitnehmen. Hierfür will die Chefin (250 ml) 4 EUR haben. Auch diese Flasche lassen wir stehen und gehen.
So sehen die Preise für Zigaretten (Januar 2011) im Cruise Terminal aus. Ich meine, dass sie auf Malta noch günstiger sind...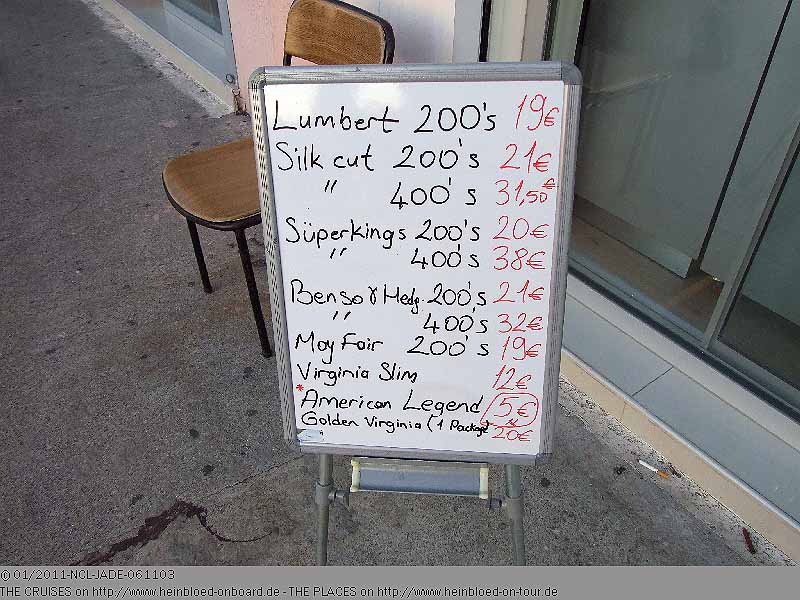 These were the prices for cigarettes (January 2011) in the cruise terminal. I think that it might be cheaper on Malta.

The funnel showed already smoke. That meant that we need to be on board soon.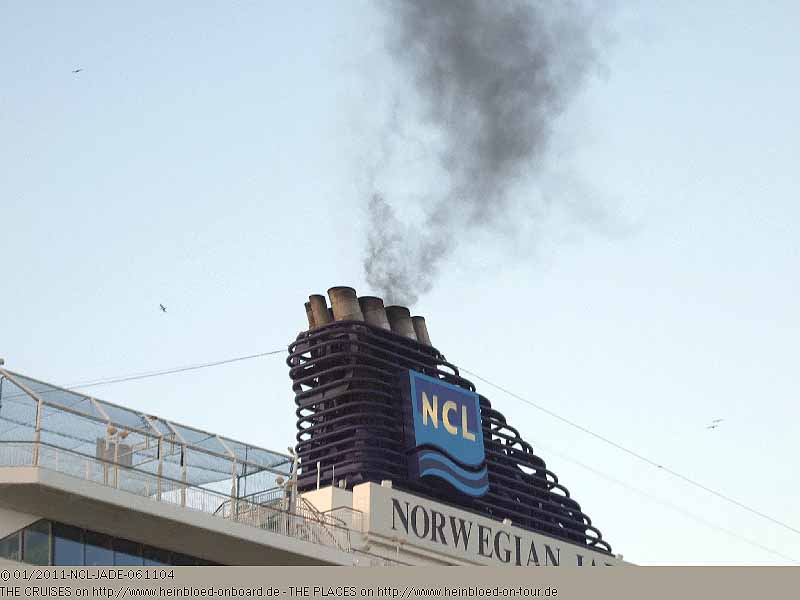 Der Schornstein raucht schon. Wir müssen bald an Bord.
Ich will unbedingt Aufnahmen von Bruno auf unserem Balkon haben. Bis dass er oben ist, bekomme ich viele Kameras in die Hand gedrückt, damit ich andere fotografiere. Vielleicht eigne ich mich ja auch Schiffsfotograf... oder besser nicht... die Jungs hier an Bord verstehen oft das Wort "Nein" nicht und daher sind die Sympathiewerte für diesen Berufsstand bei mir sehr niedrig.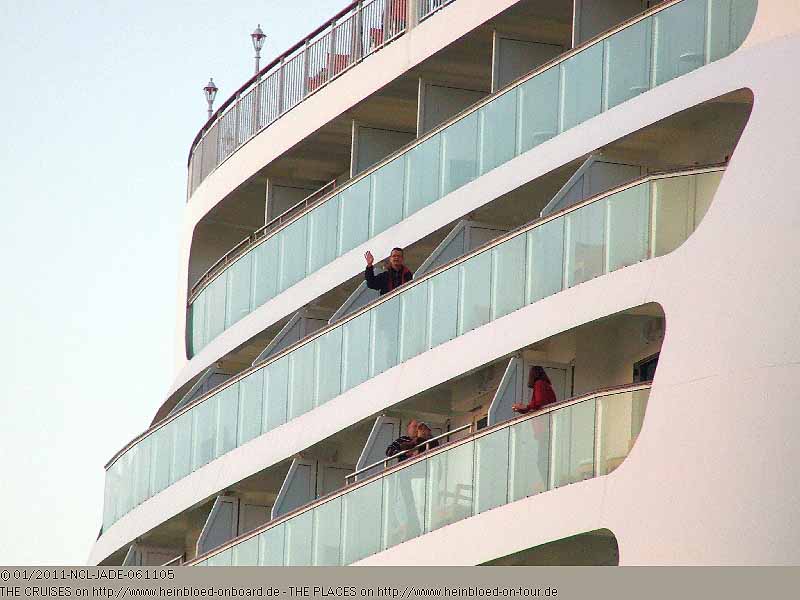 I wanted to take some pictures of Bruno on our balcony. Until he arrived there I got few cameras in my hand to take pictures of others. Maybe I should become ship's photographer.... or better not... the guys here on board mostly do not understand the word "No" and therefore my sympathy for their profession is very low.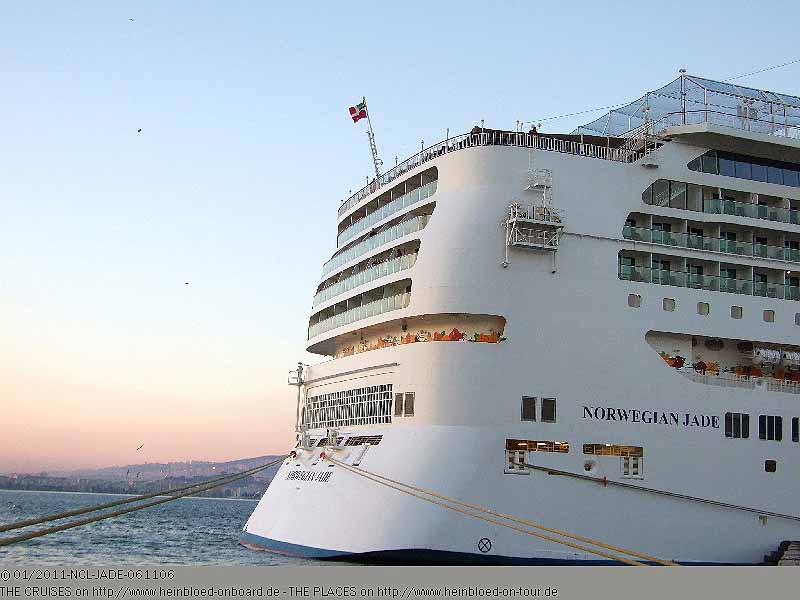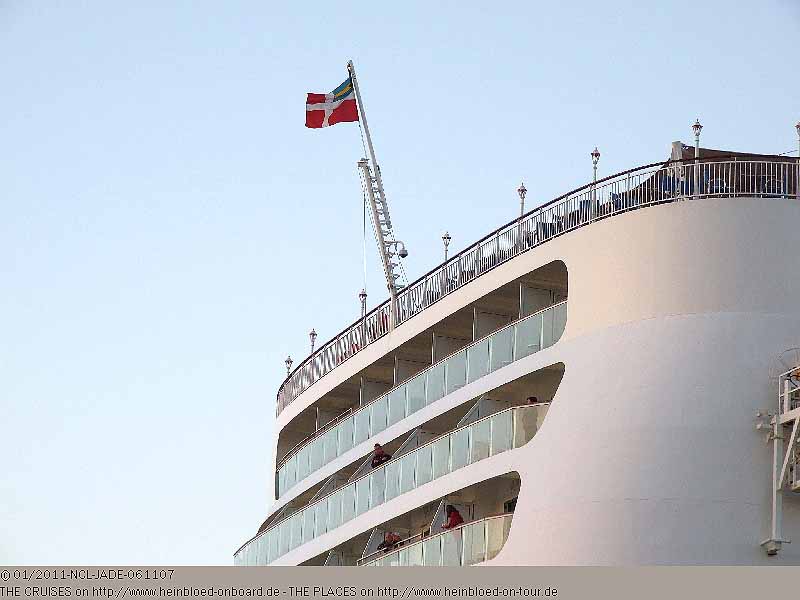 A wonderful day in Turkey went to the end... Now I need to make sure that one certain person from cruisecritic.com who counts as a person in well-informed circles and might know 57-58% of all NCL-Maître and warn them all before I go on board, need to skip and ignore the next chapter...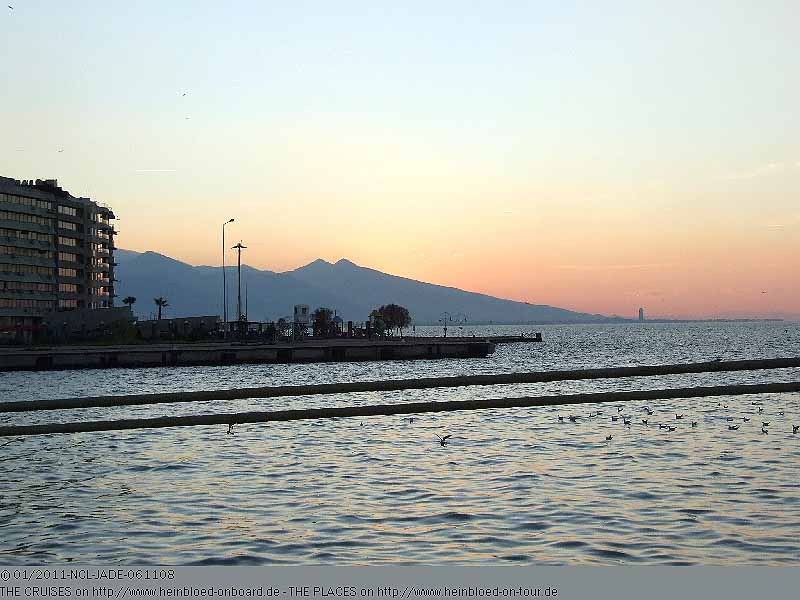 Ein wunderschöner Tag in der Türkei geht zu Ende... Nun brauche ich aber die Gewissheit, dass eine Person aus cruisecritic.com, die als Person aus gut unterrichteten Kreisen gilt, und ca. 57-58 % aller NCL-Maître kennt und sie vor meinem Erscheinen vorwarnt, das nächste Kapitel nicht liest....
Übrigens grüßen auch Katharina und Karl-Heinz diese Person und ihren Mann Eddie ganz ganz herzlich und erinnern sich gerne an das Treffen in Roatan Honduras zurück.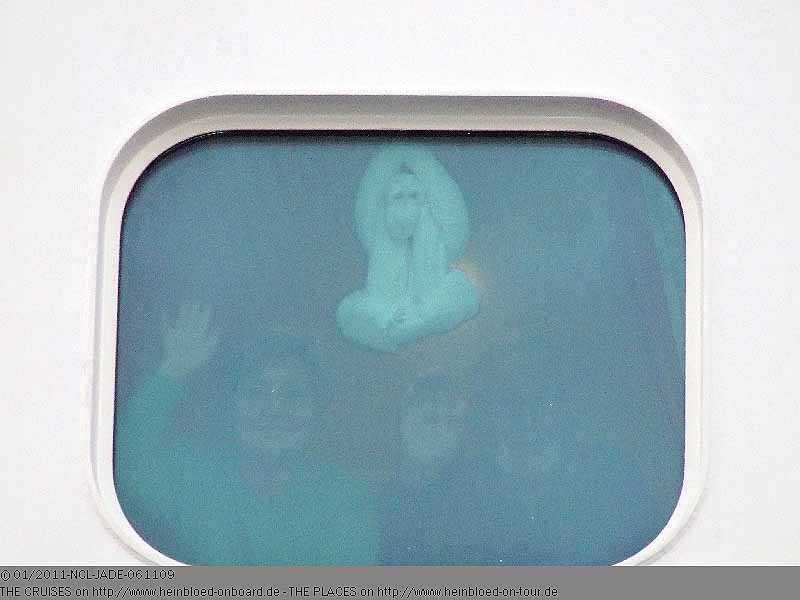 By the way, many greetings also from Katie and Charlie to this person and her husband Eddie and they remember very well the day in Roatan, Honduras.