Scroll down for English explanations - alternates with German explanations.

Wir fahren weiter entlang der Uferpromenade, die hier Corniche genannt wird. Wir haben uns daher nicht verfahren und befinden uns nicht an der Französischen Riviera...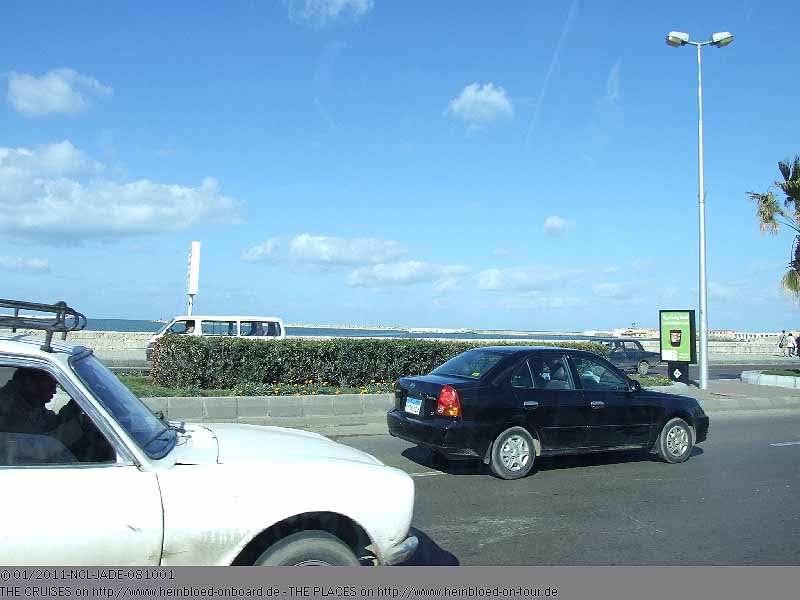 We continued alongside the promenade which is called Corniche. We did not take a wrong turn and we were not at the French Riviera...

Here it was very nice but we did not stop here.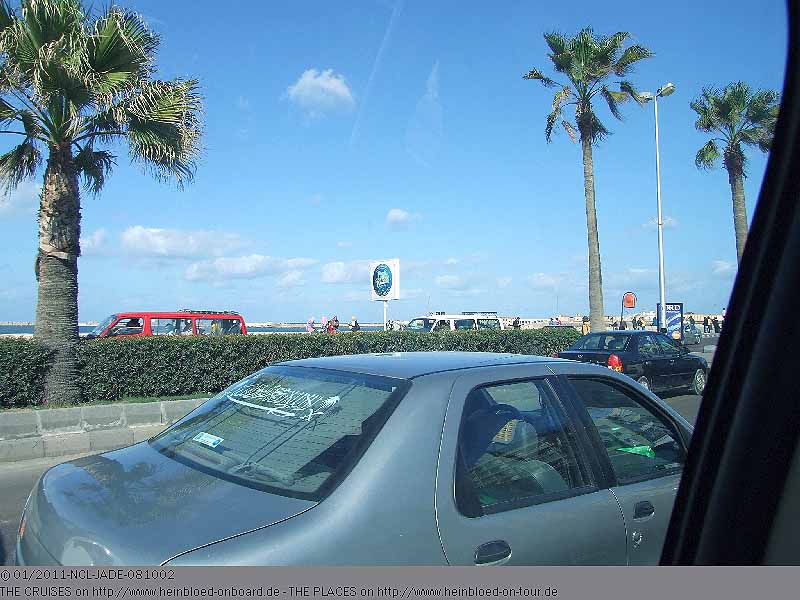 Hier war es wirklich schön, aber leider haben wir hier gehalten.
Wieder besorgte uns Foaud die Eintrittskarte. Wichtig: es dürfen keine Taschen mit in das Gebäude genommen werden. Die Garderobe ist weit außerhalb, so dass man besser die Sachen im Auto lassen sollte.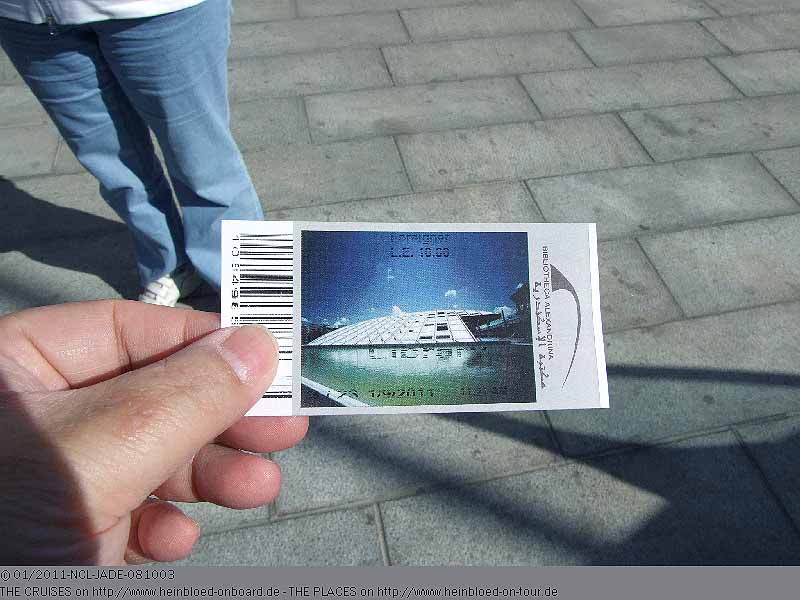 Again Foaud took care to get us tickets. Important: no bags are allowed to take with you to the library hall. The checkroom is far away from the building so you better leave all bags in the car.

Somehow the library existed only in Asterix and Cleopatra.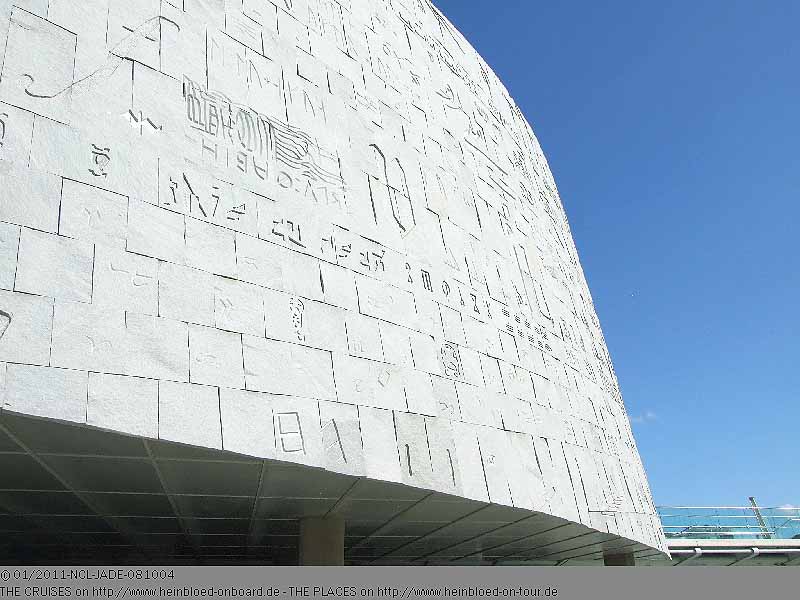 Irgendwie lebt für mich die Bibliothek nur aus Asterix bei Cleopatra.
So war ich froh, dass es in diesem Fall mal keine "alte Steine" sind, die wir besichtigen, sondern gerne versuchen herauszufinden, in welchen Schriften hier etwas steht.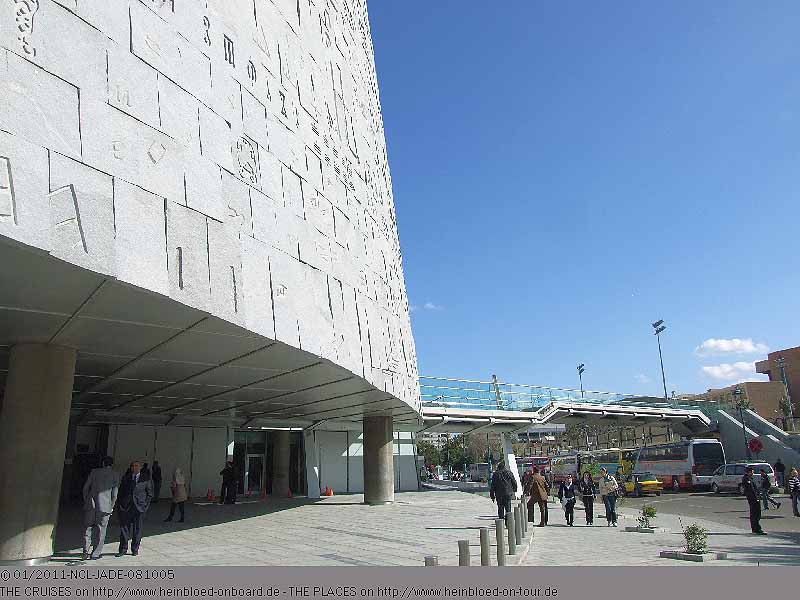 So I was quite happy that here we had no "old stones" which we saw but we liked to try to identify the different scripts and languages which were here on the wall.

The did not keep all very modern.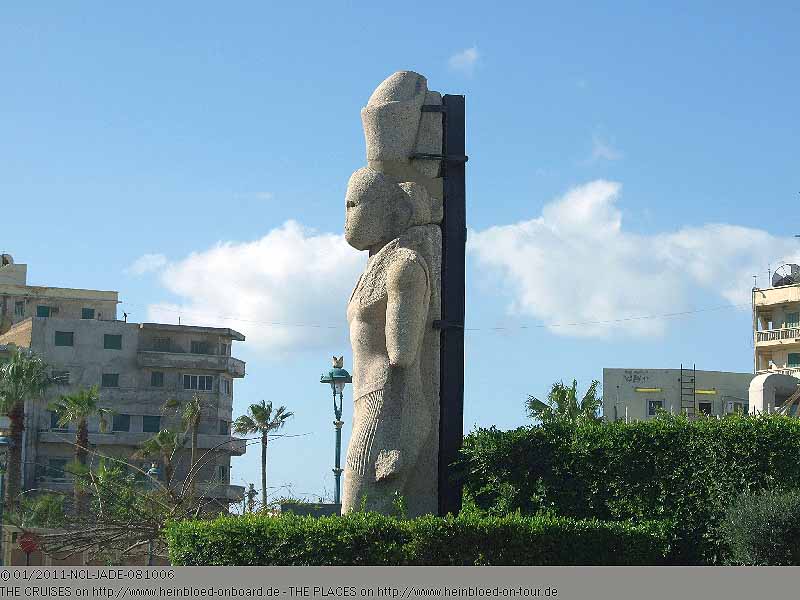 Es wird nicht alles modern gehalten.
Vor der Bibliothek ist ein Geldautomat.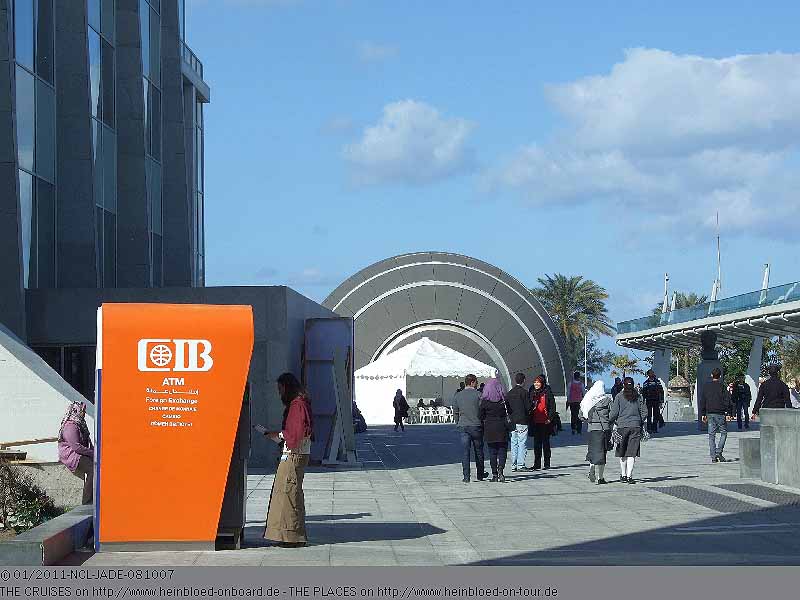 In front of the library you find an ATM.

Here you cannot just withdraw money with your card.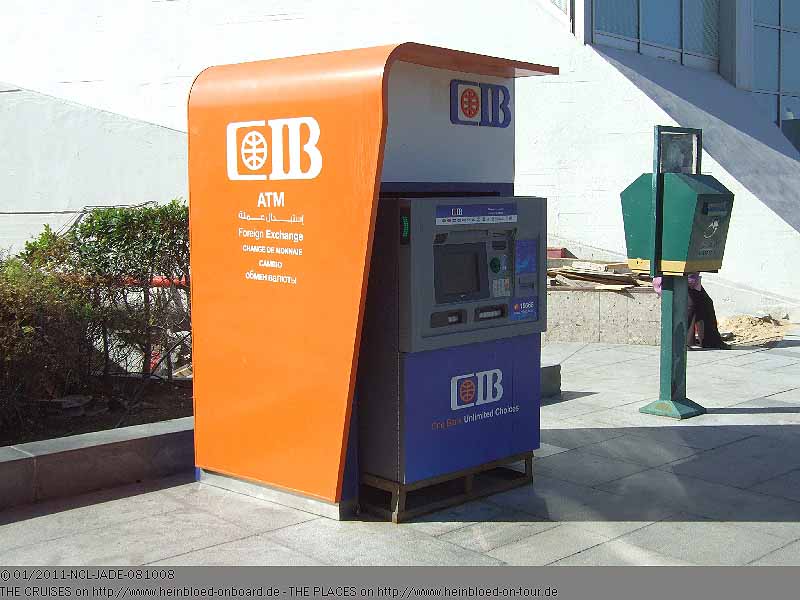 Bei dem kann man nicht nur mit der Karte Geld abheben,
sondern auch umtauschen. Denn die Behauptung der Zahlmeisterin auf dem Schiff, dass überall auch USD und EUR angenommen wird, gilt für eine öffentliche Institution wie der Bibliothek nicht.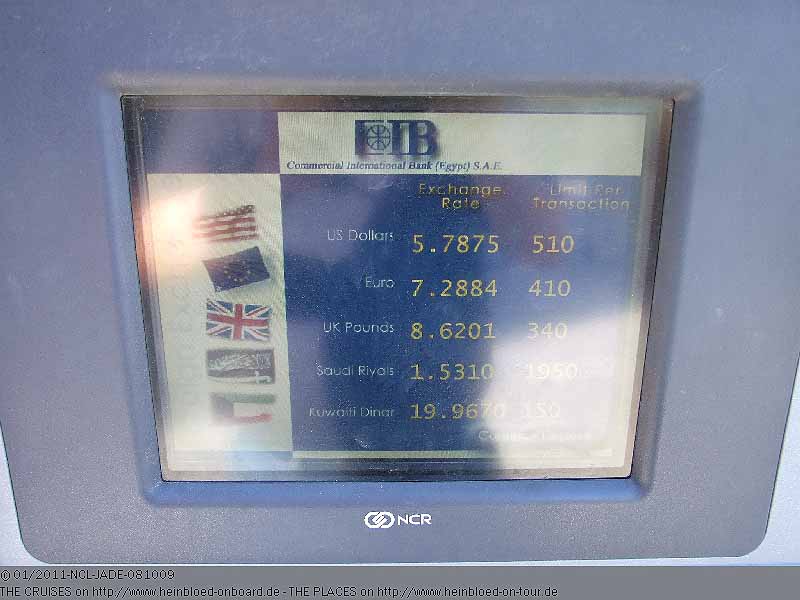 You also can exchange money. The information of the purser on board that USD and EUR are accepted everywhere is not correct for public institutions like the library.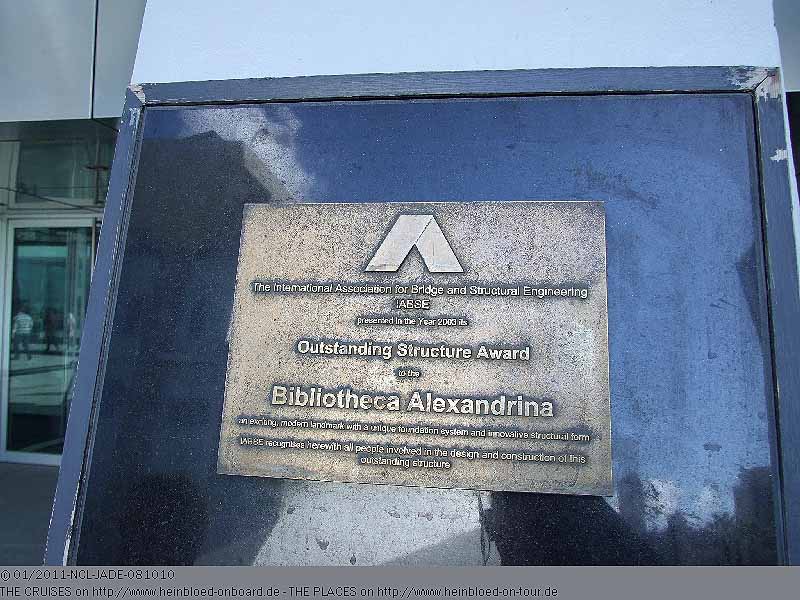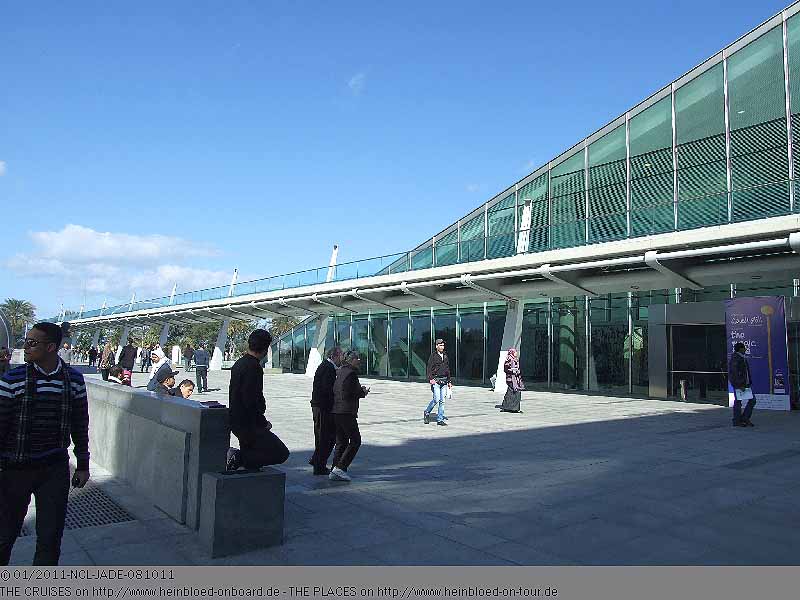 Behind the security check you find the reception desk.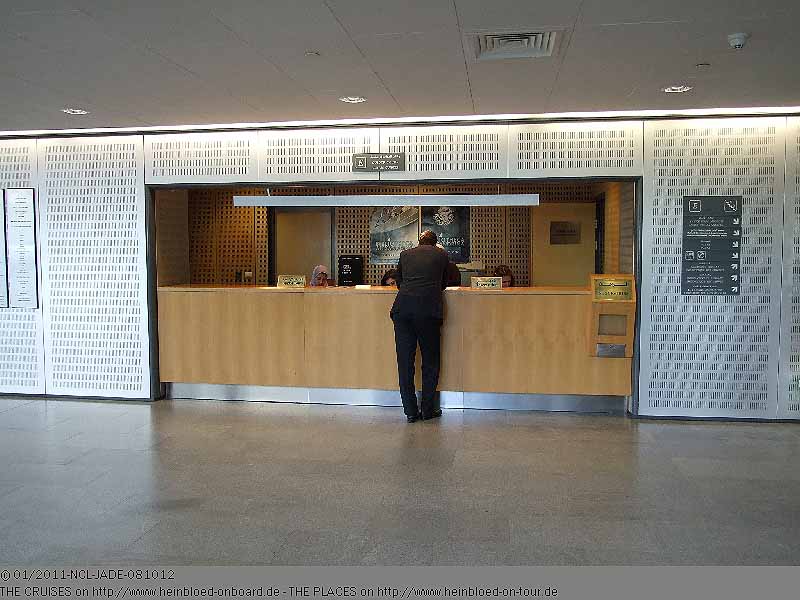 Nach der Sicherheitskontrolle ist rechts der Empfang.
Hier kann man sich für öffentliche Touren in Deutsch, Englisch und anderen Sprachen anmelden. Sie sind kostenlos.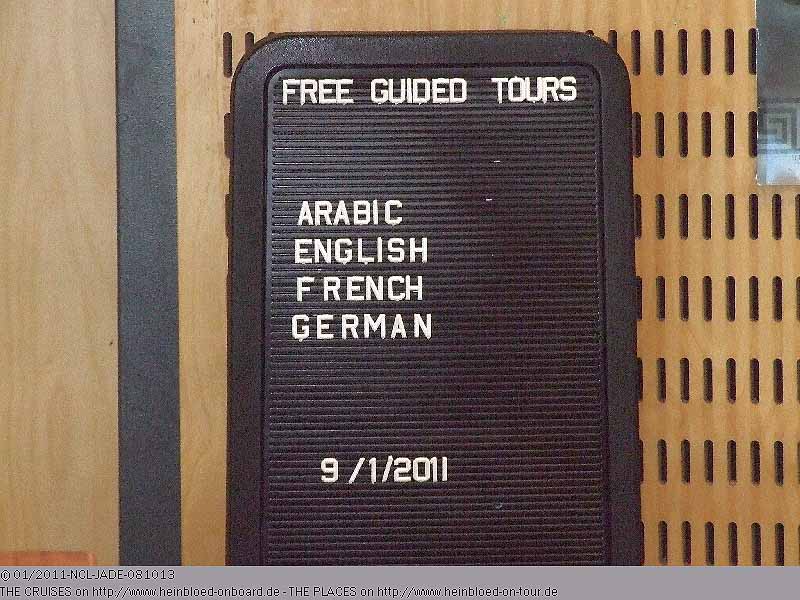 Here you can book public tours in English, German and other languages. They are free-of-charge.

Here you can thank to all countries which made the set-up of the library possible.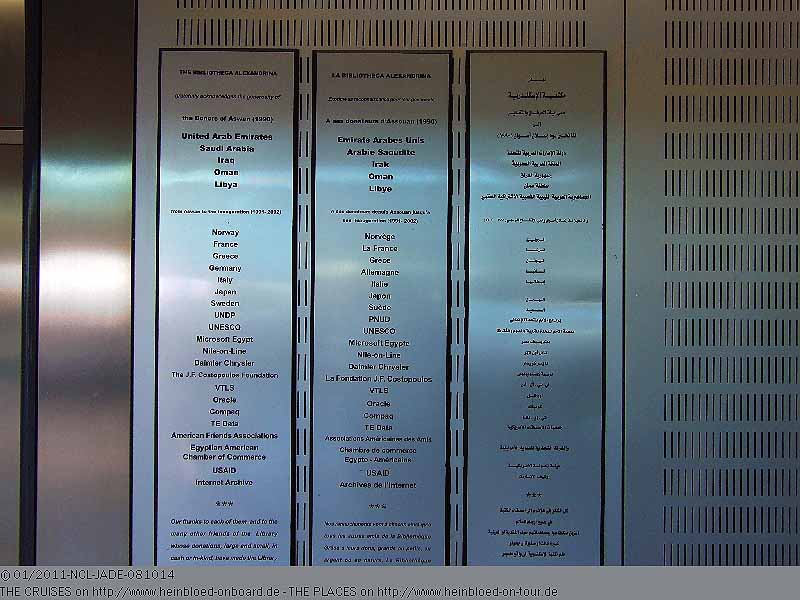 Hier kann man sich bei den Ländern bedanken, die sich am Aufbau der Bibliothek beteiligt haben.
Im Keller sind die Toiletten, aber in Ägypten fragt man diskret nach dem Telefon... Was witzig war: die Richtungspfeile an der Decke sind verkehrt rum, so dass eine Dame immer alle Männer vor dem Betreten der Damentoilette abhalten muss und umgekehrt...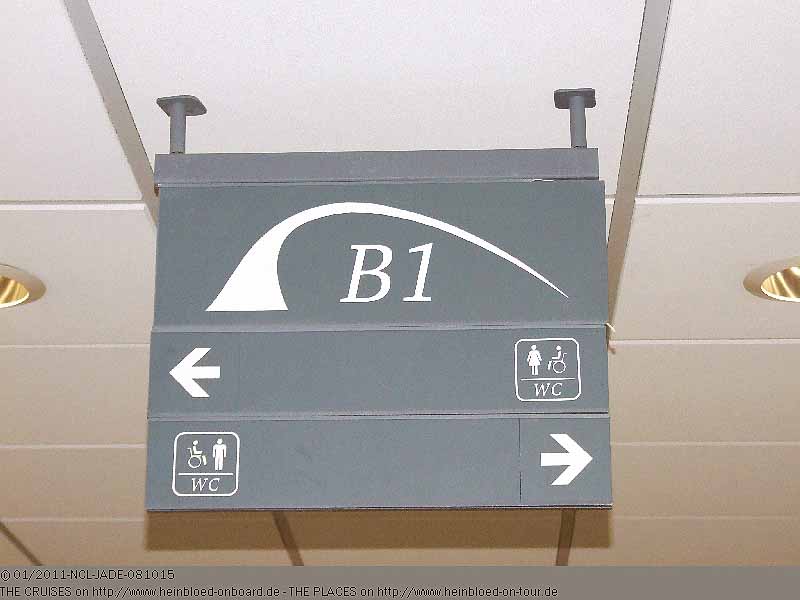 You find the restrooms in the basements but in Alexandria you ask for the telephone... What was funny: the arrows for the toilets at the ceiling were wrong. So a woman need to stop men to enter the ladies' room and vice versa...

Very nice... you had free-of-charge WiFi...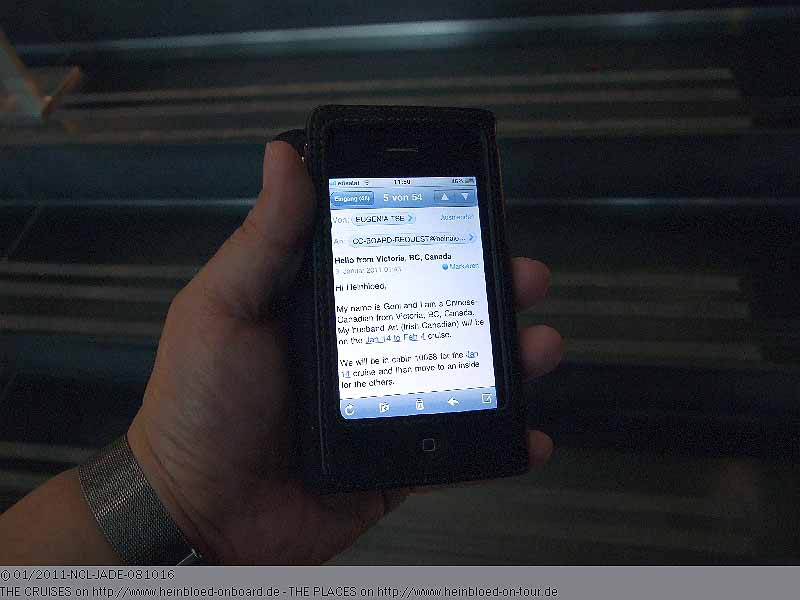 Sehr schön... Es gab kostenlos WLAN...
Der Lesesaal...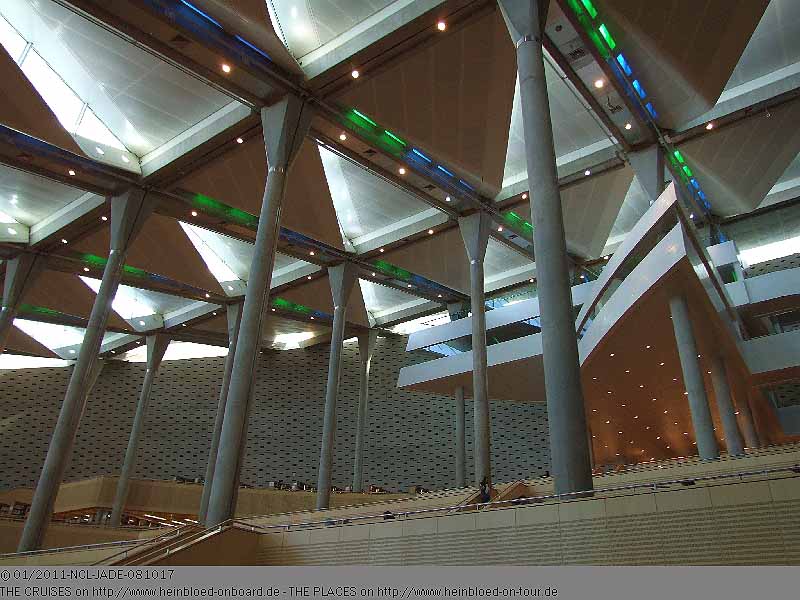 The library hall...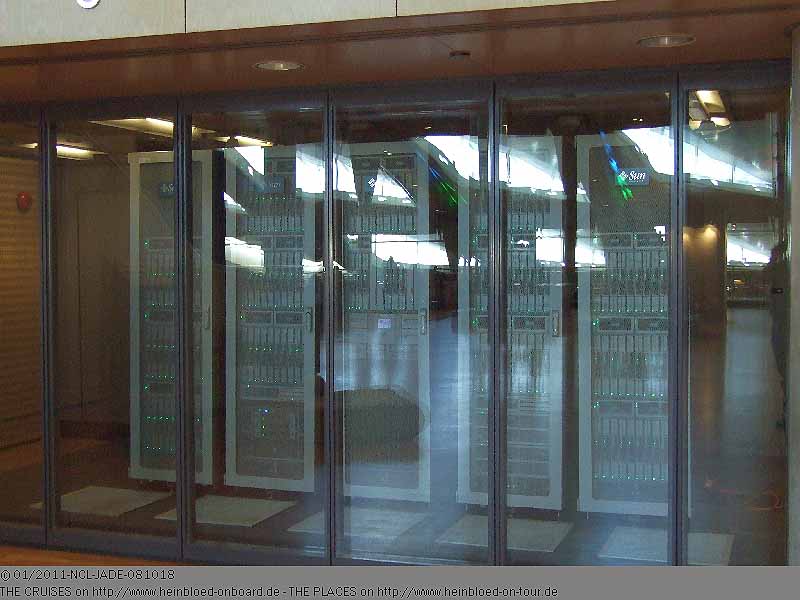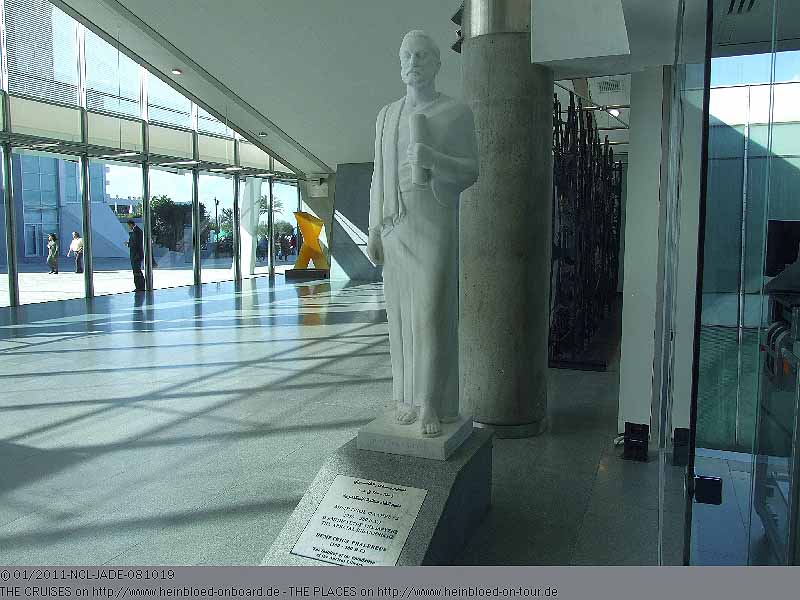 At 12.00 hrs Ingy came to meet us. She was educated at a German school. We learned that Alexandriaian women have the option to wear a headscarf or not.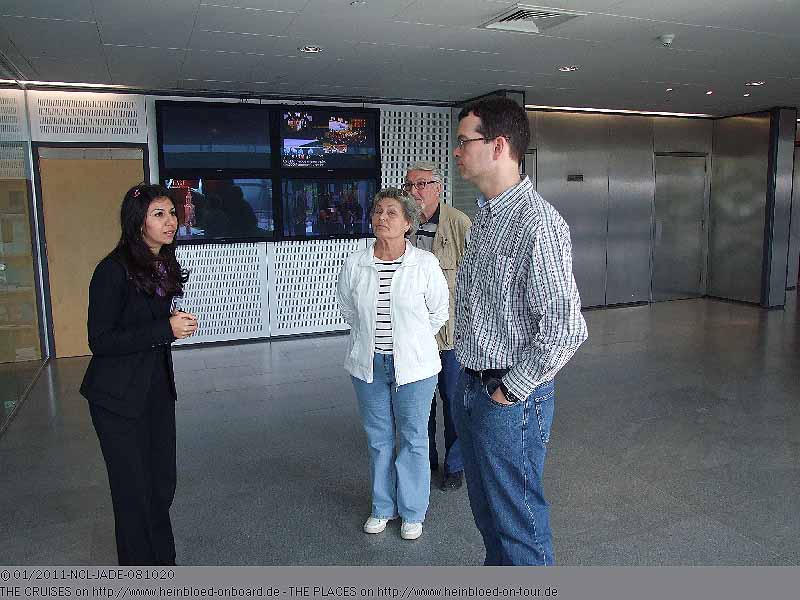 Um 12.00 Uhr wurden wir von Ingy abgeholt. Sie ist an einer deutschen Schule unterrichtet worden. Wir lernen, dass in Ägypten der Frau freigestellt ist, ob sie einen Schleier trägt oder nicht.
Ingy stellt uns in einem kurzen Rundgang von 30 Minuten die wichtigsten Einrichtungen vor. Die "normalen" Reiseführer dürfen wohl nicht mit in die Bibliothek. Andererseits sehen wir viele MSC-Gruppen hinter ihren Reiseführern durchlaufen...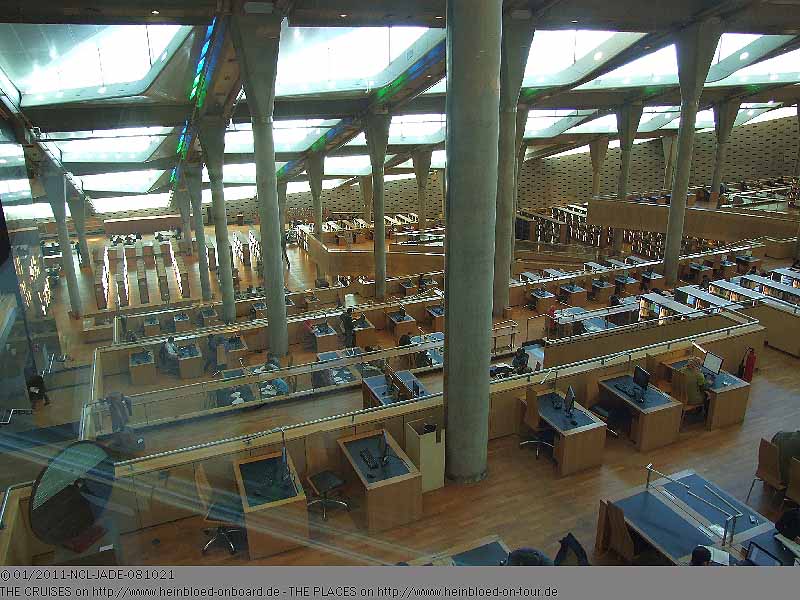 Within 30 minutes Ingy introduced us in a short walk the most essential fascilities. "Normal" tourguides were not allowed in the library. But we saw many MSC-groups which followed their tourguides...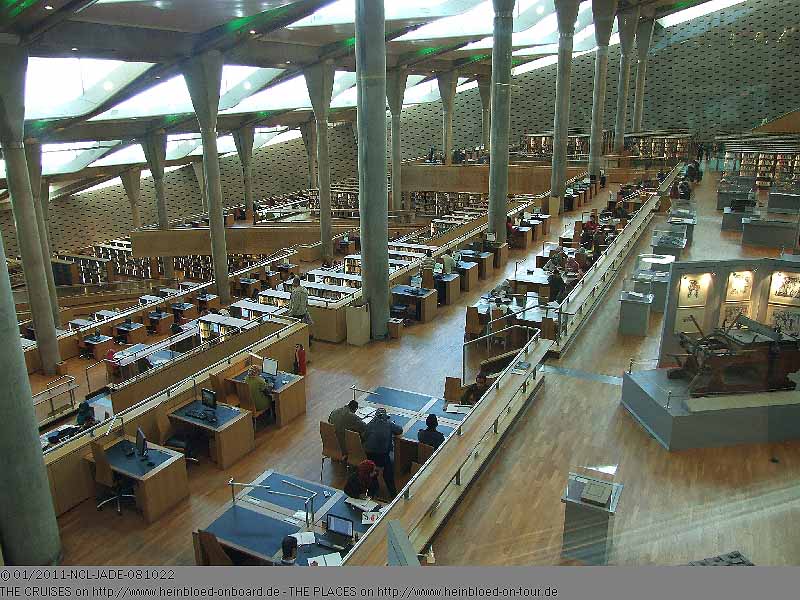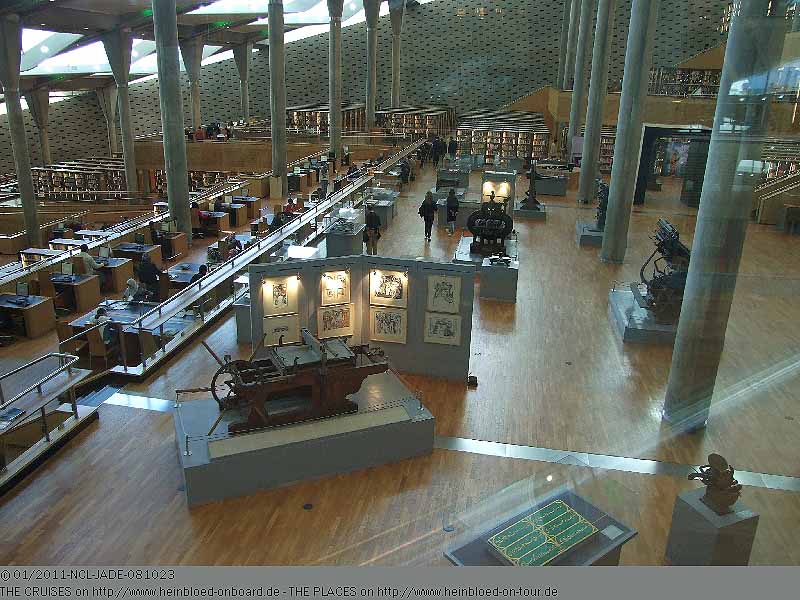 In a new form the library of Alexandria has all world-wide publication: they had copies of all websites ever.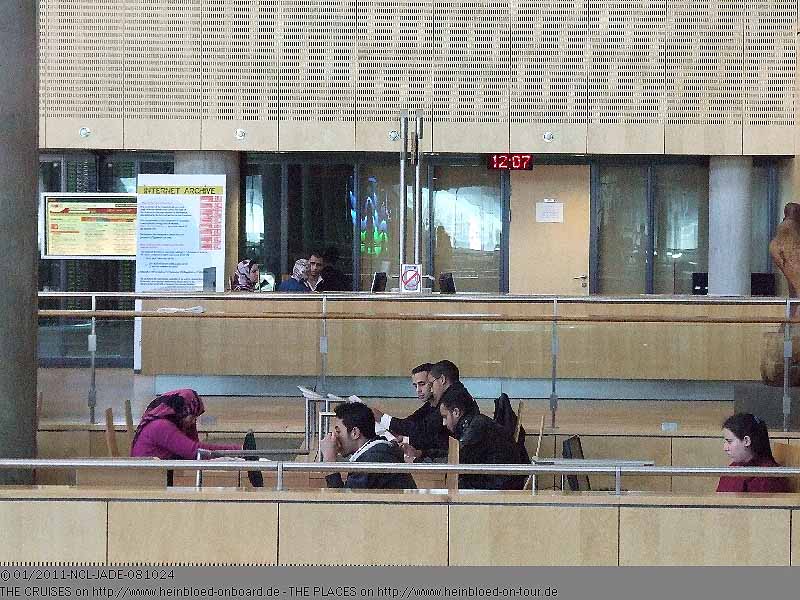 In einer neuen Form hat auch die Bibliothek von Alexandria alle Publikationen der Welt: von allen Webseiten gibt es hier eine "Kopie".
Man hat auch von zu Hause Zugriff:
https://www.bibalex.org/Home/Default_EN.aspx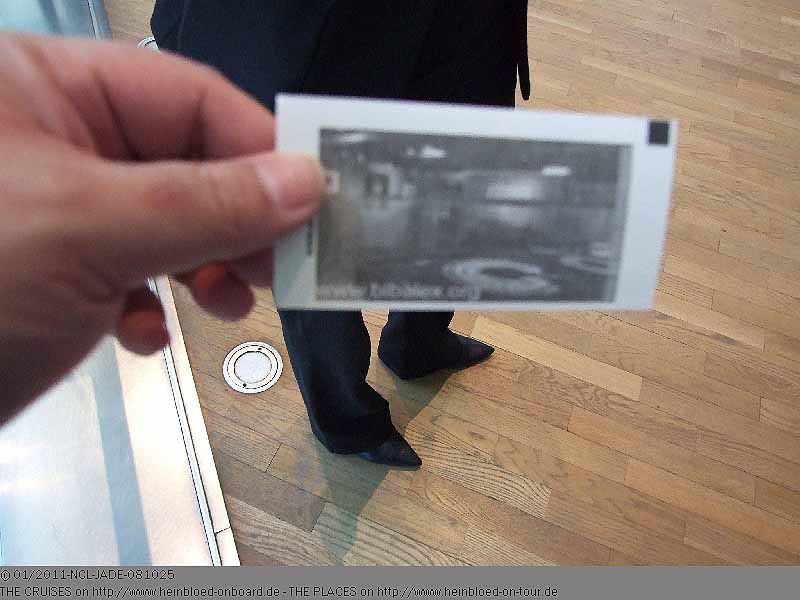 You have access from home: https://www.bibalex.org/Home/Default_EN.aspx

Ingy showed us the most important websites.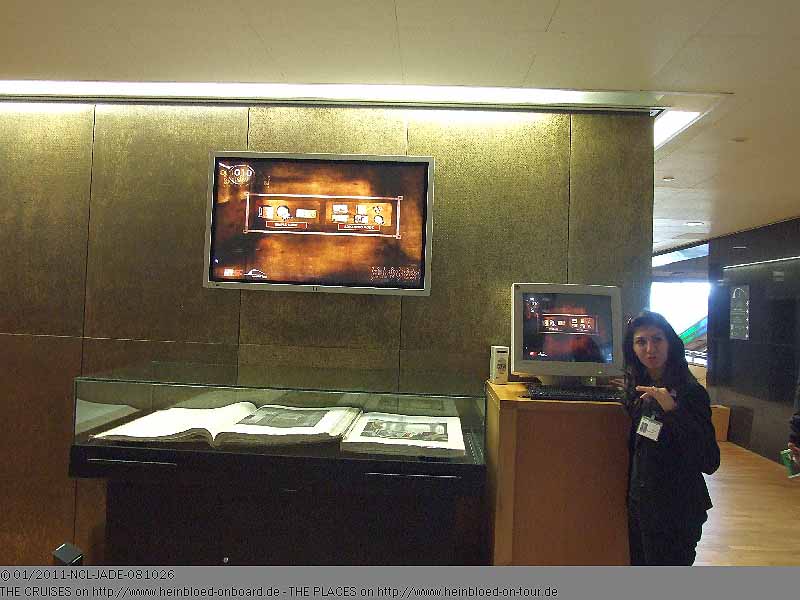 Ingy stellt uns die wichtigsten Webseiten vor.
Hier hätten wir uns nicht nur gut auf den Besuch der Bibliothek vorbereiten können, sondern auch des Landes.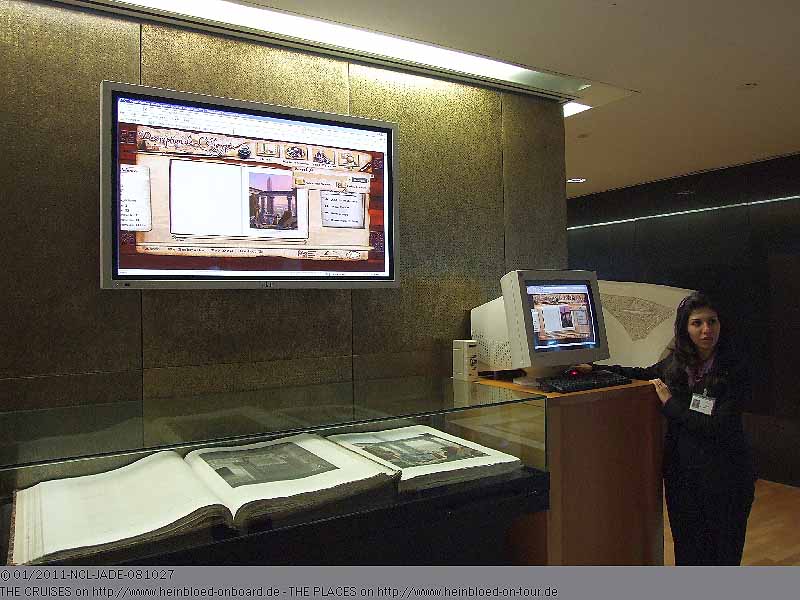 You cannot just prepare your visit of the library but the country.

Here they show all special projects which international libraries set up.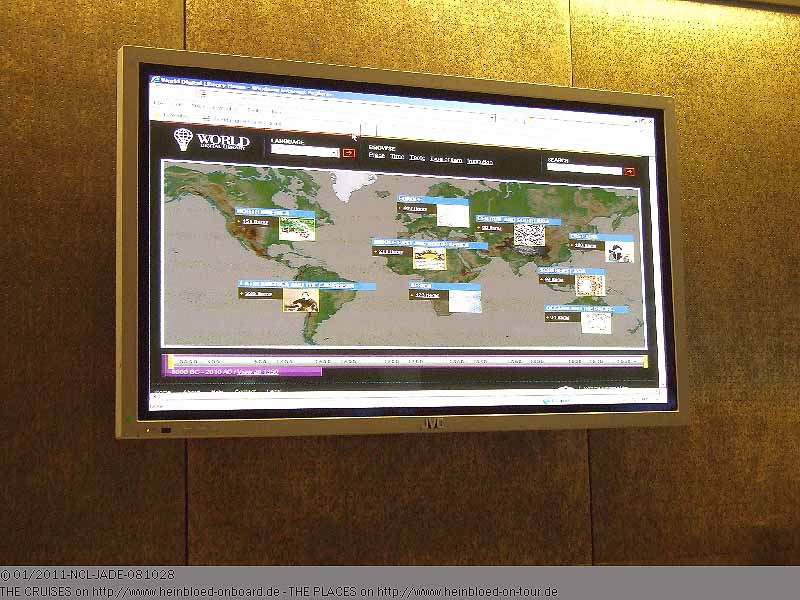 Hier werden die Anzahl der besonderen Projekte gezeigt, die von international führenden Bibliotheken ins Leben gerufen wurden.
Unten befindet sich die Kopie der einzigen Papyrus-Rolle, die gefunden wurde. Das Original ist in Wien. Hier ist auch Fotografieren ohne Blitz erlaubt.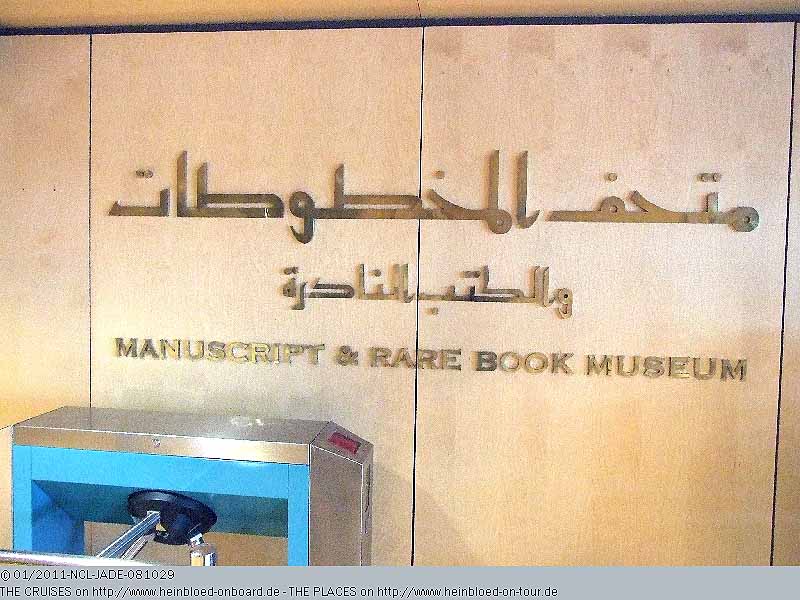 In the basement you find the copy of the only papyrus roll which was found. The original is in Vienna. Here you can take pictures without flash.

But we had to pay extra-admission fee. But only EGY was accepted. As we had only 30 minutes to get out, change money, get in, security check... we decided not to see. But you can see for free the exhibition on Alexandria's history but you cannot take any pictures there.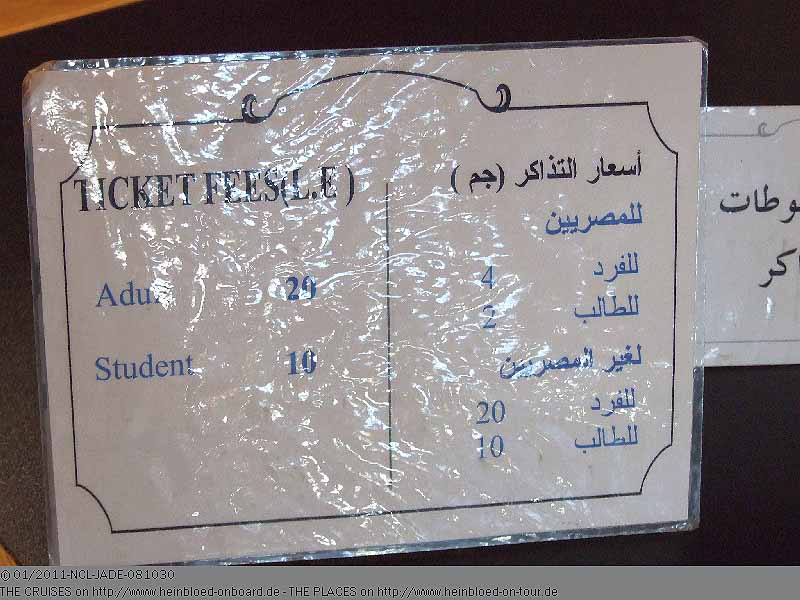 Hier hätten wir allerdings einen Zusatzeintritt zahlen müssen. Es wird allerdings nur EGY angenommen. Da wir eh nur 30 Minuten Zeit gehabt hätten, und dann nochmals raus, Geld wechseln, rein, Sicherheitskontrolle... haben wir darauf verzichtet. Dagegen darf man kostenlos nebenan in eine Ausstellung über die Geschichte Alexandrias, aber darin darf man leider nicht fotografieren.
Ingy hat uns erklärt, worauf wir alles achten sollten, um die besondere Architektur zu verstehen. Hier draußen kann man in der Tat alles nachvollziehen, was sie zuvor erklärt hat.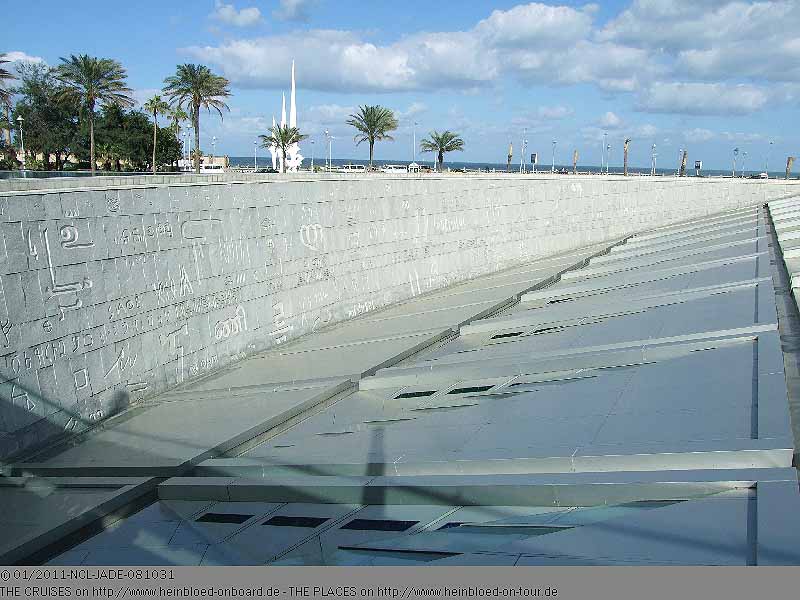 Ingy explained us what we should see to understand the architecture. Here outside we could follow her explanations she gave us before.