Scroll down for English explanations - alternates with German explanations.

Irgendwie waren wir es nicht mehr gewohnt, dass in der letzten Nacht nochmals einen Aufdeck-Service bekommen. Ich meine, dass wir zuletzt keinen mehr hatten und niemand sich mehr die Mühe machte in der letzten Nacht nochmals bei uns aufzutauchen. Aber unsere Perle... (schließlich geht sie auf die NORWEGIAN PEARL...) Elizabeth hat natürlich auch in der letzten Nacht alles bei uns in Ordnung gehalten.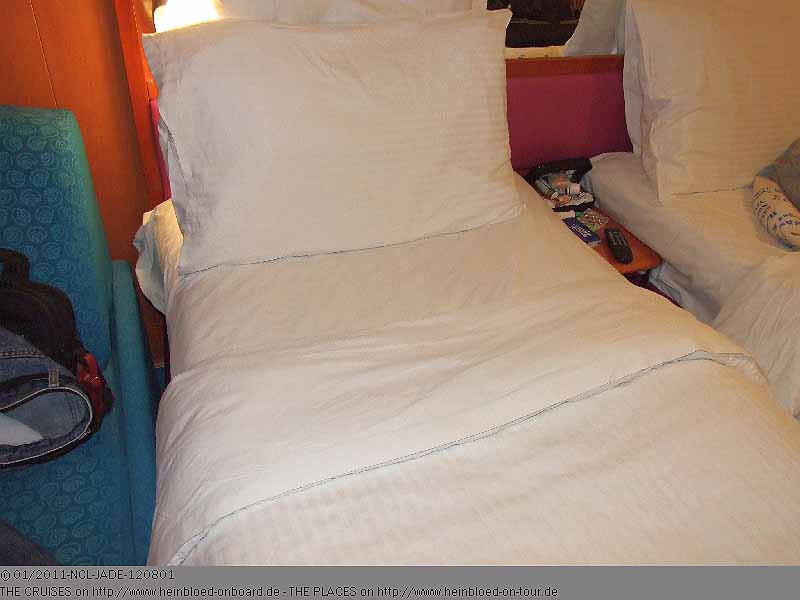 Somehow we were not used anymore to have a turndown-service in the last night of the cruise. I remember we had no on our last cruises that someone came the last night and showed up. But our pearl... (she is moving to NORWEGIAN PEARL...). Of course Elizabeth kept everything in good shape with us in the last night...

The cabin stewards were also in charge for the baggagetransfer to and from your cabin. So: Please buy suitcases made of Polycarbonate (extra light) on four wheels to ease their lifes... but you will also experience how much it will ease your life.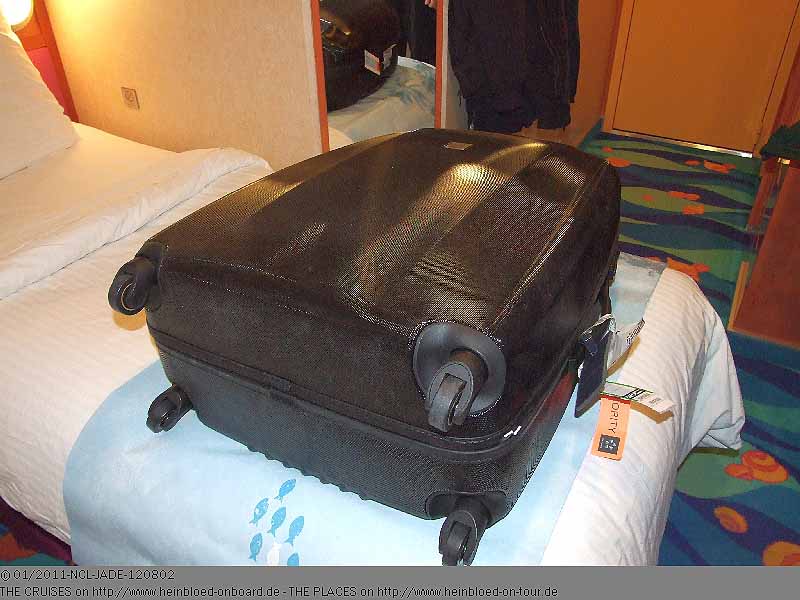 Die Kabinenstewards sind wohl auch für den Gepäcktransfer zu und von den Kabinen zuständig. Deswegen: Kauft bitte Polycarbonat-Koffer (extra leicht) auf vier Rädern, damit sie es nicht so schwer haben... aber ihr werdet feststellen, wieviel leichter es auch euer Leben macht...
In den alten Unterlagen habe ich nun nachgesehen: Gepäck musste bis Mitternacht vor die Kabine gestellt werden. Nun war es 22.00 Uhr, was ich leider gar nicht mag, weil es einem so den Tag zerreisst, wobei es hier ja noch geht, weil ein Seetag war. Aber wenn es ein Tag an Land gewesen wäre, würde ich mich doch ärgern. Hat man vielelicht so viel Personal eingespart, dass eben das noch nebenbei von den Kabinenstewards erledigt werden muss und deswegen in ihre Dienstzeit fallen muss. Kurz vor 22.00 Uhr sah es so aus. Noch voller sah es aus, als ich gegen 23.30 Uhr wieder in die Kabine ging.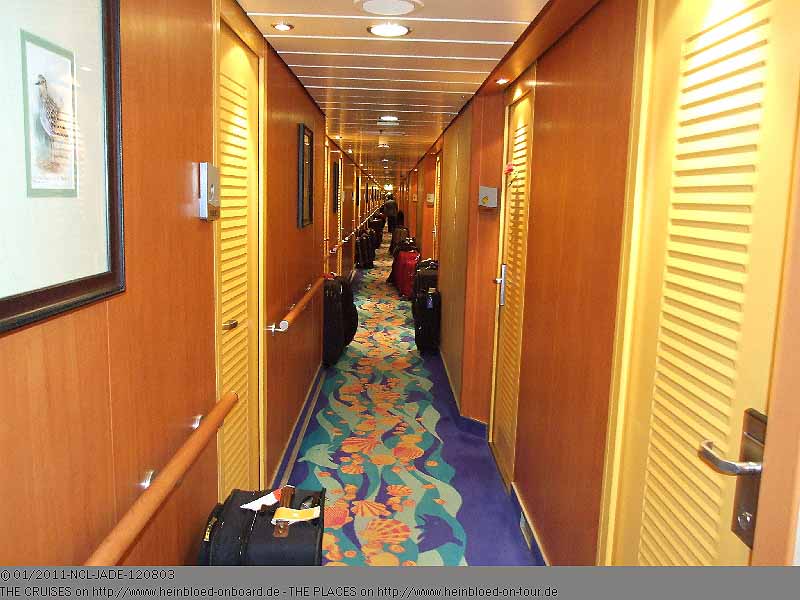 I checked in older record: You need to put your baggage in front of your cabin until midnight. Now it was 22.00 hrs which I really did not like because it made your life so stressy. Although you can handle it because it was a day on sea. But would it be a day ashore I would be very angry. Did they cut too much crew that the cabin stewards had to do this job within their regular working hours. Before 22.00 hrs it looked this way. It was much more when I returned to my cabin around 23.30 hrs.

We knew Kerie from our dinner at Alizar. She asked us to come to the Karaoke-finals to give our support. While Bruno wanted to go to bed I was very much interested to see the spectacle. The first of five finalists was Ken-San Diego whom we know from the cruisecritic.com-roll-call.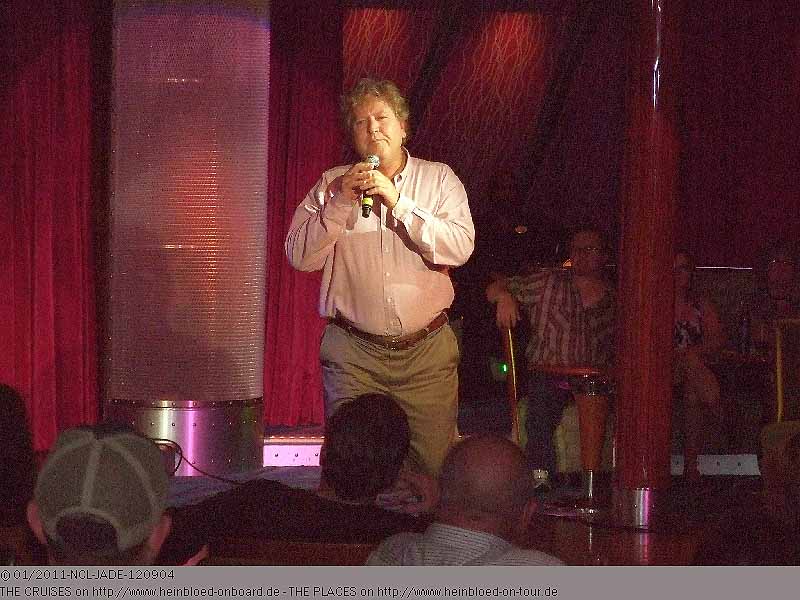 Kerie, die wir vom Dinner im Alizar kennen, hat uns gebeten, zum Karaoke-Finale zu kommen, um sie unterstützen. Während Bruno ins Bett geht, will ich mir das Spektakel doch mal ansehen. Der erste, der jedoch von den fünf Finalisten antritt ist Ken-San Diego aus dem cruisecritic.com-Roll Call.
Ich wunderte mich, dass meine Pepsi Light so schnell wässerig wurde, aber er brachte ja das Eis zum schmelzen...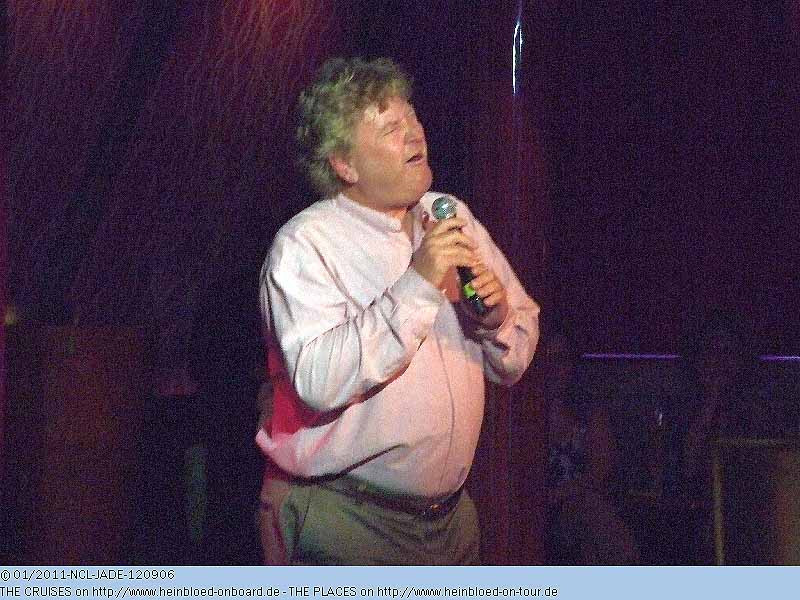 I was wondering why my Pepsi Light tasted like water so quickly but he made ice melting...

He was a professional. I tried to follow his eyes to see where he was reading the lyrics. He did not need a screen.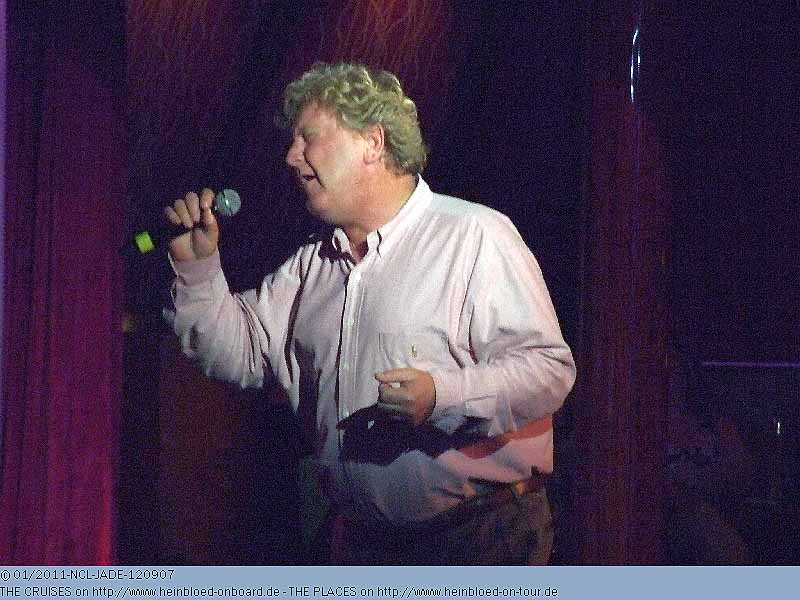 Er ist ein Profi. Ich habe versucht seinen Augen zu folgen und zu sehen, wo er überhaupt den Text abliest. Er brauchte keinen Bildschirm.
Und auf der Bühne findet Verlobung Nr. 1 statt. Sie kennen wir ja bereits von Adam James, bei dem sie ja schon häufiger vor dem Klavier auftauchte.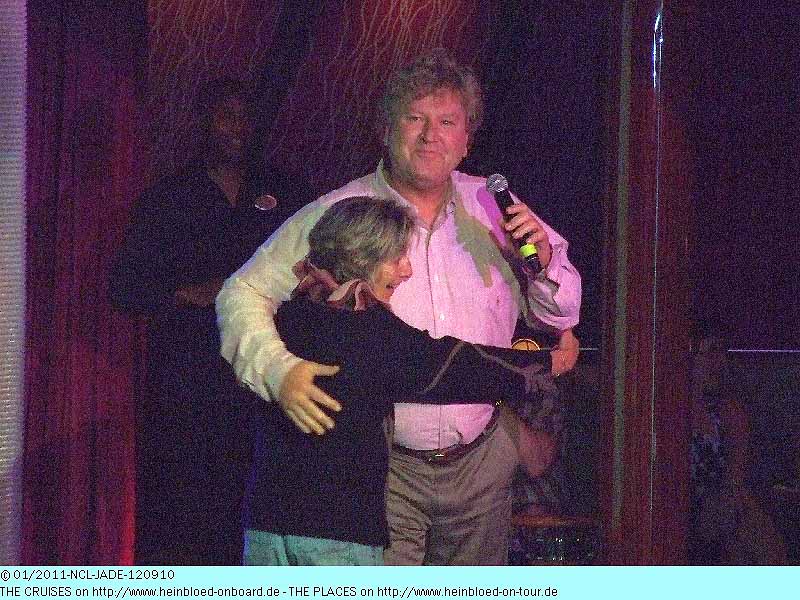 On the stage we had engagement no. 1. We knew her already from Adam James when she showed up in front of his piano.

Then candidate no. 2 followed.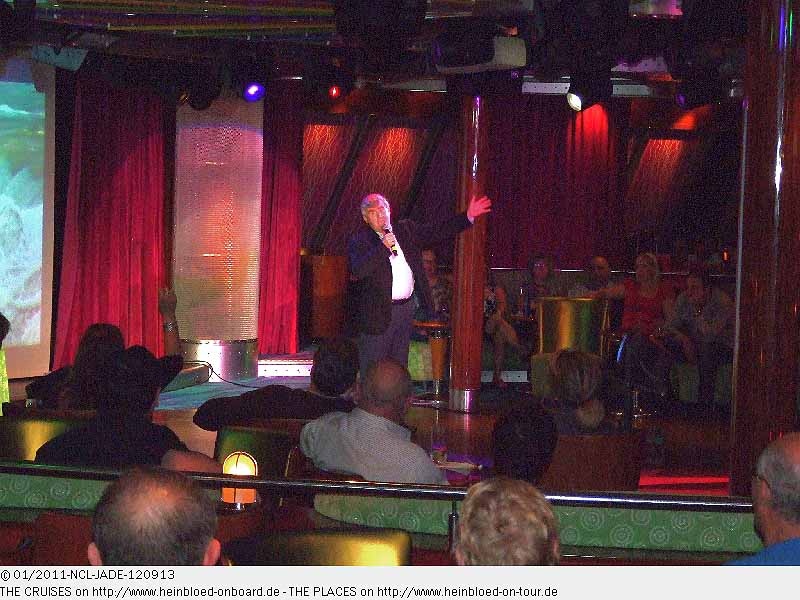 Danach kam Kandidat Nr. 2.
Und Verlobung Nr. 2.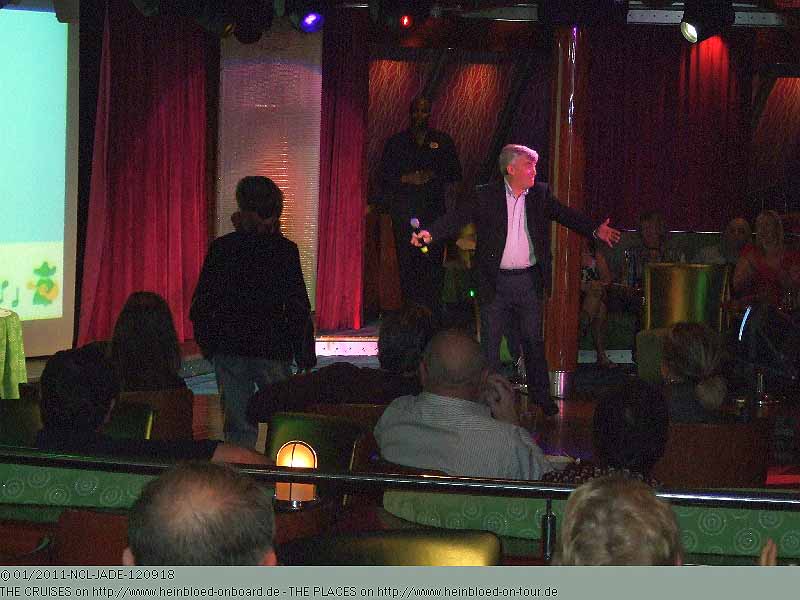 And engagement no. 2.

Then Karie came.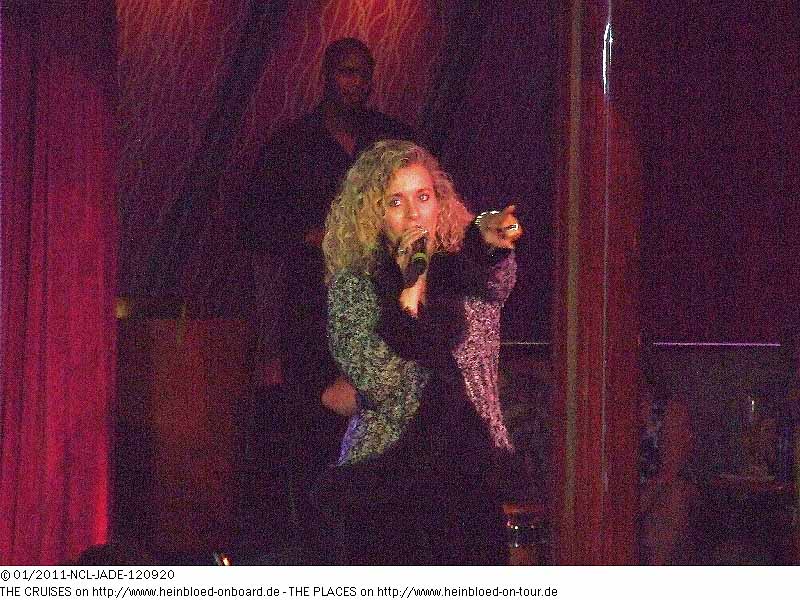 Und dann kam Kerie.
Und mit Karie kam die Katastrophe...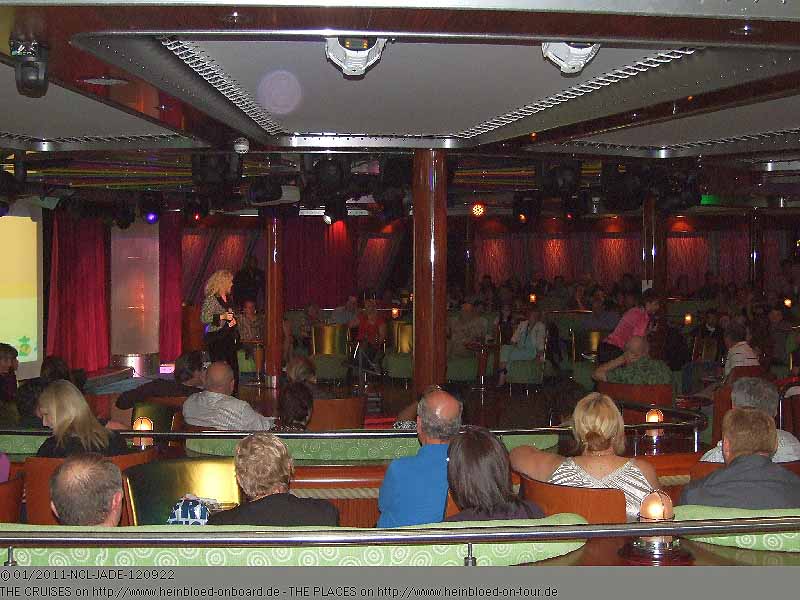 And with Karie the disaster came...

They could not start her music. Instead of becoming nervous she just took over the job of a Cruise Director and bridged the time by exchanging words with the jury.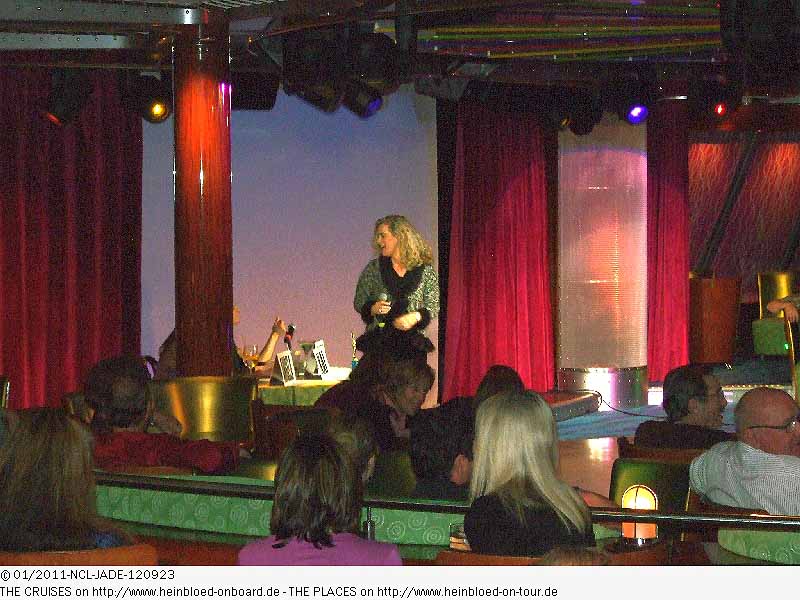 Ihre Musik konnte nicht gestartet werden. Statt nervös zu werden, übernimmt sie selbst die Aufgaben eines Cruise Directors und überbrückt die Zeit, in dem sie sich mit der Jury austauscht.
Sie stellt ihren Bruder Tom vor, der zuvor einen Tanzwettbewerb gewonnen hat, aber an dem Abend nicht nochmals uns etwas vortanzen wollte.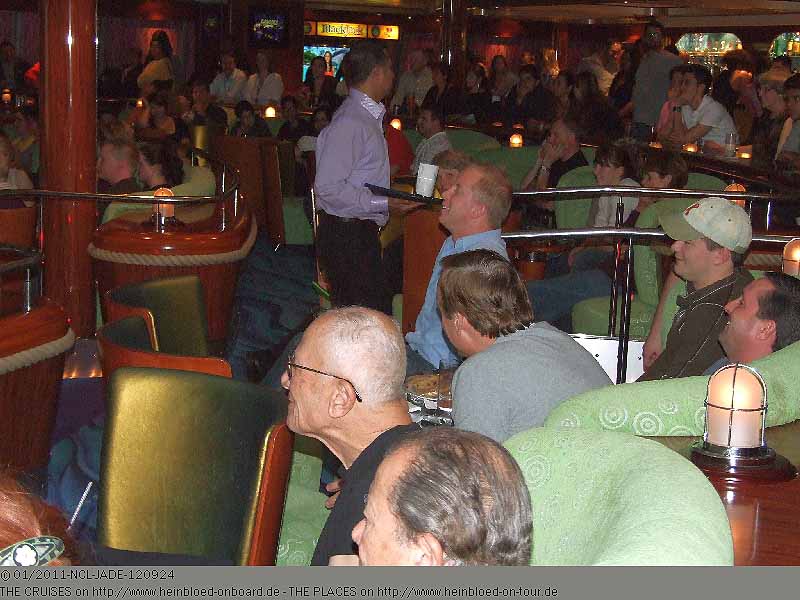 She introduced her brother Tom who won before a dance competition but did not like to show us again what he could tonight.

And then when her music luckily started she just began as there was nothing happened.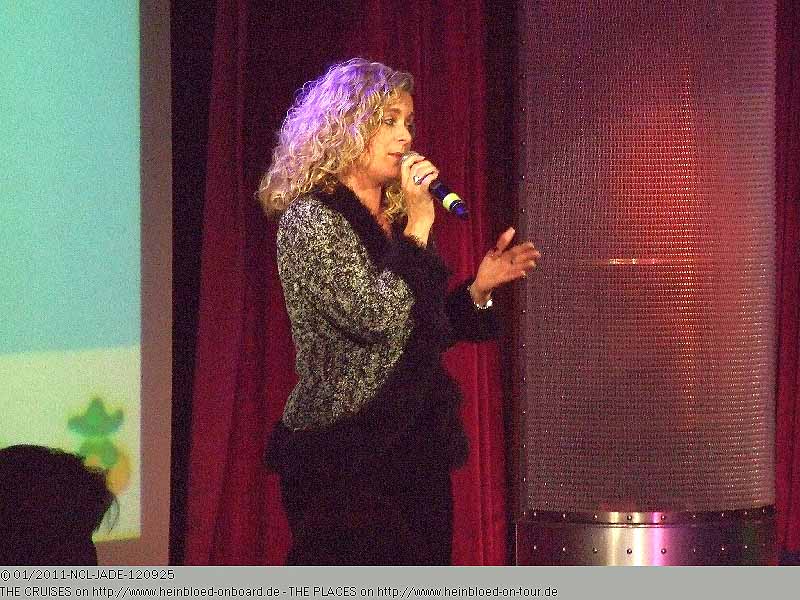 Und dann, als die Musik zum Glück wieder lief, fängt sie an, als ob nichts passiert wäre.
Nun greift aber Gabby ein und meint, dass sie verdient, ganz von vorne angekündigt zu werden.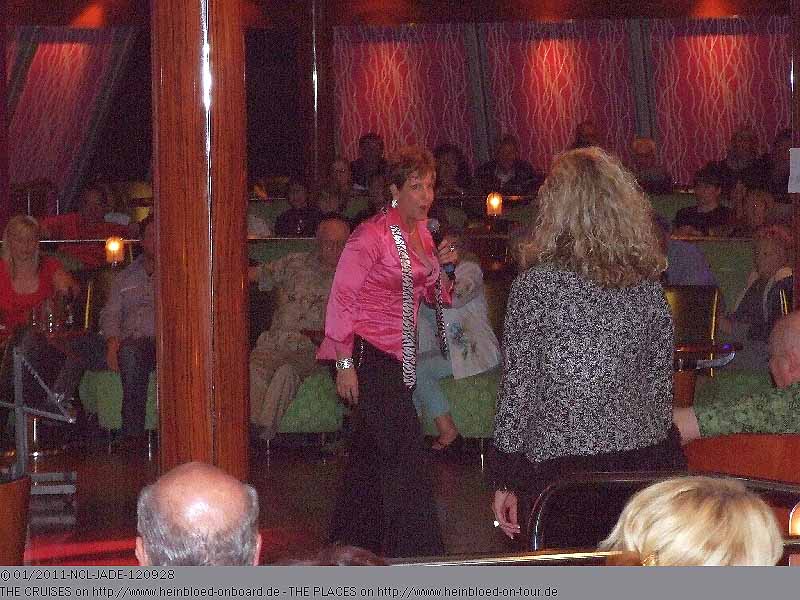 But now Gabby intervened and said that she deserved a totally new presentation from the beginning.

Like she would not do anything else but singing she started again to sing.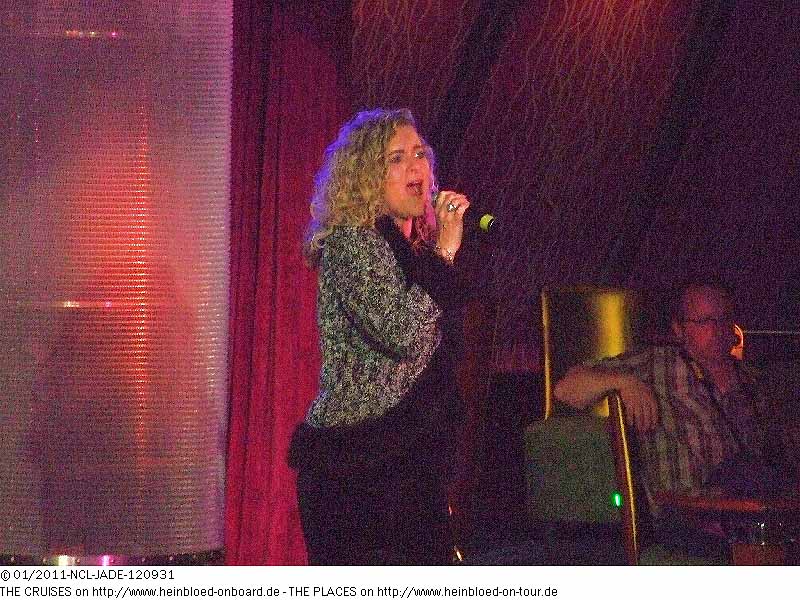 Wie ein Vollprofi, als ob nichts passiert wäre, beginnt sie zu singen.
Und wieder jemand, der den Bildschirm nicht braucht und quer durch die Spinnaker Lounge läuft und singt. Klasse!!!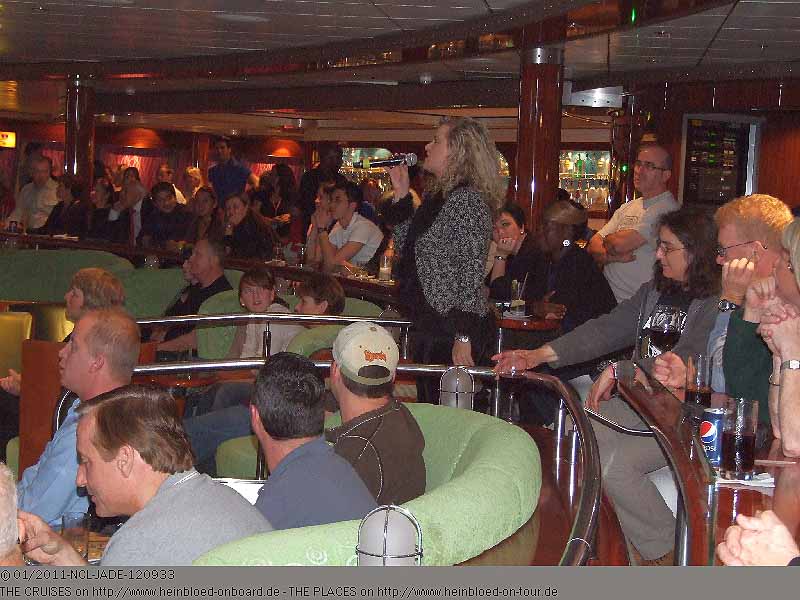 And again someone who did not use the screen and walked all around the Spinnaker Lounge and sang. It was fantastic!!!

In the Spinnaker Lounge I made finally the expericence I only know from other reviews: I stayed dry for a while because nobody showed up and all waiters prefered to watch the show but to get me a new Pepsi Light. Once I took a picture of my empty glass to remember for the blog a waitress came finally.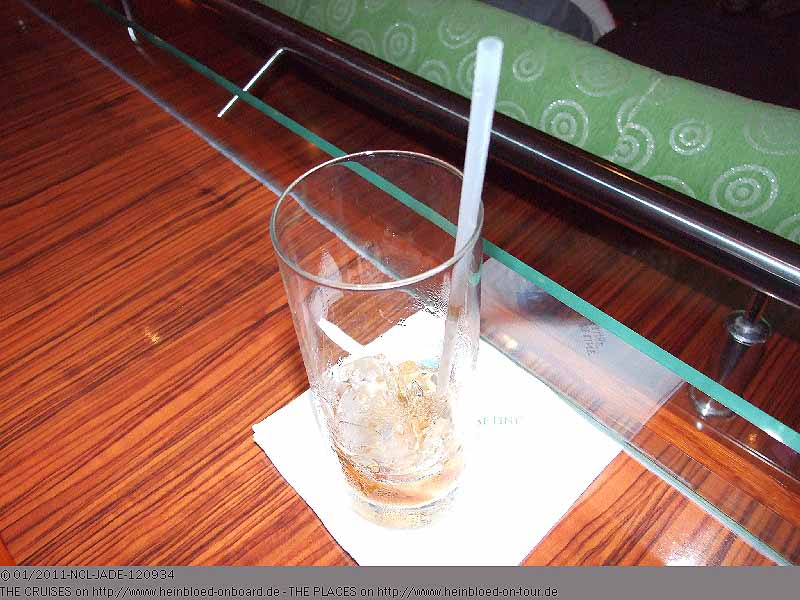 In der Spinnaker Lounge mache ich die Erfahrung, die ich bisher nur von anderen Reiseberichten kenne: ich bleibe eine Zeit lang auf dem Trockenen, weil niemand kommt und alle Kellner lieber die Show gucken, als mir eine neue Pepsi light zu holen. Erst als ich das Foto mache, um mich später für den Blog zu erinnern, fällt es einer Kellnerin auf, die dann kommt.
Danach folgt ein spanischer Beitrag. Zwei von den drei Juroren konnten auch fließend Spanisch, so dass es kein Problem war. Das nächste Mal versuche ich mich mal mit Deutsch... Mal gucken, was dann die Jury macht, wenn ich jodele...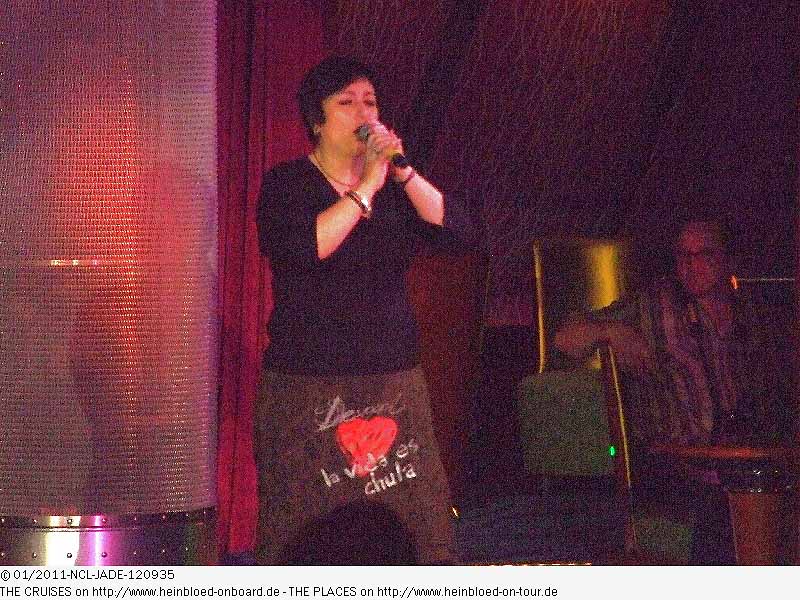 Then we had a Spanish performance. As two of three of the members or the jury spoke fluently Spanish it was no problem at all. Next time I should also try in German... Let's see what the jury will do I start to yodel...

Of course with a popular song like "New York, New York" you had something the Spinnaker Lounge can join. Personally I would say the song won not the original performance. But as said: my own personal opinion. We were not allowed to vote... I might imagine that then the result might be total different...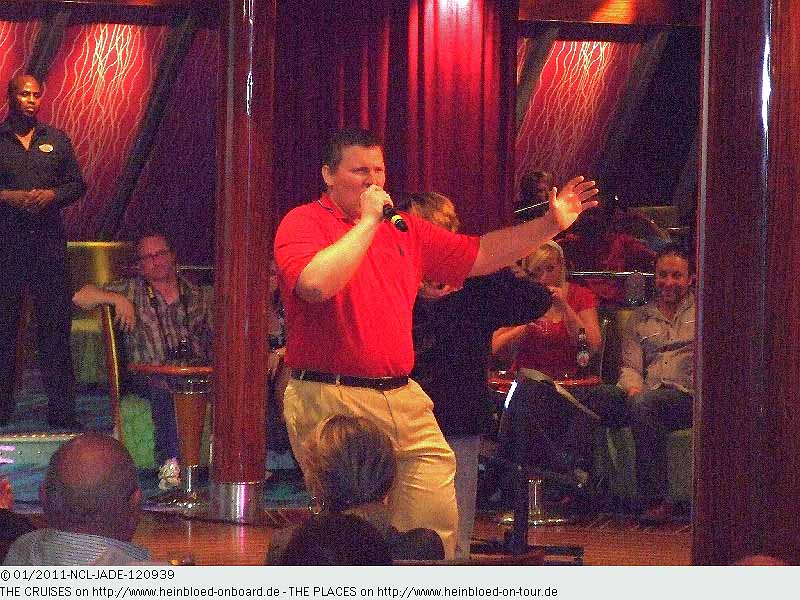 Mit "New York, New York" kam der Gassenhauer, bei dem die Spinnaker Lounge endlich mitmachen konnte. Persönlich meine ich, dass in dem Fall das Lied und nicht die Leistung gewonnen hat. Aber wie gesagt, das ist meine ganz persönliche Meinung. Wir durften nämlich nicht mitabstimmen... Ich könnte mir schon vorstellen, dass vielleicht das Ergebnis anders ausgefallen wäre.
Und Verlobung Nr. 3 versucht Gabby dann doch zu unterbinden... Die Kapelle neben der Spinnaker Lounge ist zu klein... Aber sie besteht auf die Verlobung Nr. 3. Ob sie aus Utah kommt, konnte ich nicht mehr herausfinden...

But Gabby did her best to stop engagement no. 3... The chapel next to the Spinnaker Lounge might be too small... But she insisted on engagement no. 3. I could not find out if she might be from Utah...

Robert and Gabby had no chance to separate the lady from her three fiancees on the stage.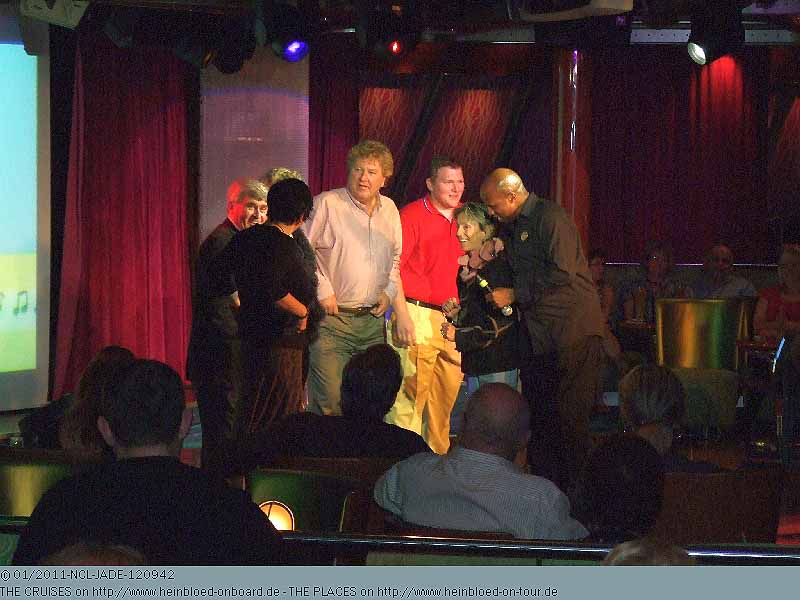 Robert und Gabby gelingt es nicht die Dame von ihren drei Verlobten auf der Bühne zu trennen.
Die Künstler nehmen es mit Humor.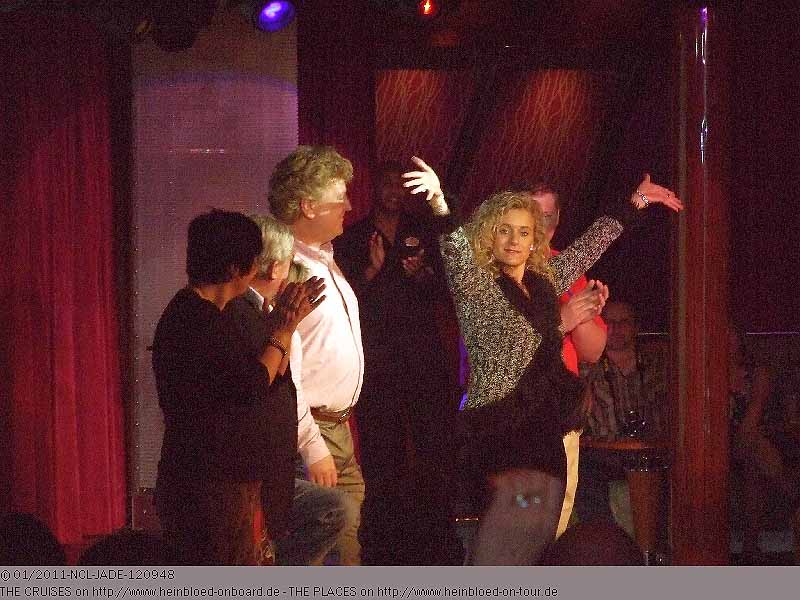 But all singers had a lot of humor.

I went again to the Garden Café. Everything was in preparation for the late night snack.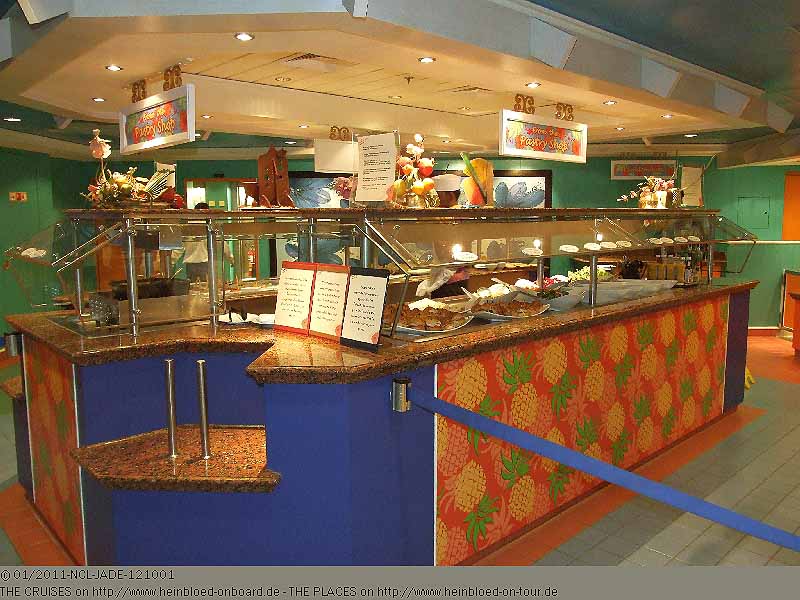 Ich gehe nochmals ins Garden Café. Alles wird für den Late Night Snack vorbereitet.
Für meine letzte Wan-Tan-Suppe suche ich das Blue Lagoon Café auf. Ich bin überrascht dort Andrew anzutreffen, der noch nach seinem Dienst im Jasmine Garden hier arbeitet. Aber erklärt mir, dass er die späte Schicht hat und daher morgen erst zum Mittagessen anfängt. So hat er ein wenig Zeit mit mir sich unterhalten und erzählt mir von einer überraschenden Begegnung. Drei Wochen nach meiner Fahrt auf der
NORWEGIAN JADE 2008
kommt eine Familie aus Deutschland an Bord und der Vater sagte zu Andrew: "Ich kenne Sie!". Andrew war damals noch nicht so lange bei NCL und meinte, dass es nicht sein könnte und dass er sich an ihn als Gast erinnern würde. Der Vater erzählt ihm von meinem Blog und gibt ihm den URL. Da der Blog in Deutsch war, hat der Vater ihm kurz übersetzt, was über ich über ihn geschrieben hatte. Es war wohl ein tolles Gefühl für Andrew, so von einem Gast angesprochen zu werden. Andrew und die Familie haben sich angefreundet und sind auch noch heute in Kontakt. Schön für mich auch, dass ich weiss, dass es tatsächlich Leute gibt, die den Blog lesen und etwas davon auf ihre Reisen mitnehmen...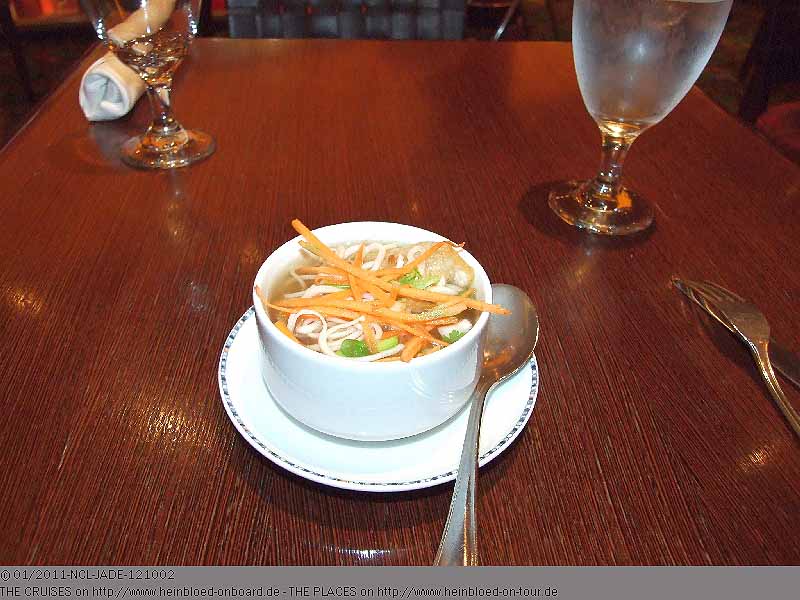 For my very last won-ton-soup I saw the Blue Lagoon Café. I was surprised to meet Andrew there who was working here after his work in Jasmine Garde. But he explained that the had a late-shift and need to show up tomorrow for lunch. So he had a little time to talk with me and told me about a very surprising acquaintance. Three weeks after my sailing on NORWEGIAN JADE 2008 a family from Germany cam on board and the father said to Andrew: "I know you!". Andrew was at this time not so long with NCL and said that this might not be possible and he would remember a previous guest. The father told him about my blog and gave him the URL. As the blog was in German the father translated the essentials what I wrote about him. It was a great feeling for Andrew to be address by a guest this way. Andrew and the family became friends and are still in touch. Nice for me to know that indeed there are people who read the blog and take something to their journeys...