Scroll down for English explanations - alternates with German explanations.

Nun zuletzt auf der
OCEAN PRINCESS
wollte ich den Hotel Director seit dem 2. Tag an Bord sprechen. Nachdem mir das Gespräch verweigert wurde, habe ich mich dann um 02.00 Uhr nachts des 5. Tages kurzerhand mit Decke und Kissen in die Lobby schlafen gelegt. Anschließend wurde der zuständige Hotel Director geweckt und ich bekam eine neue Kabine für diese Nacht.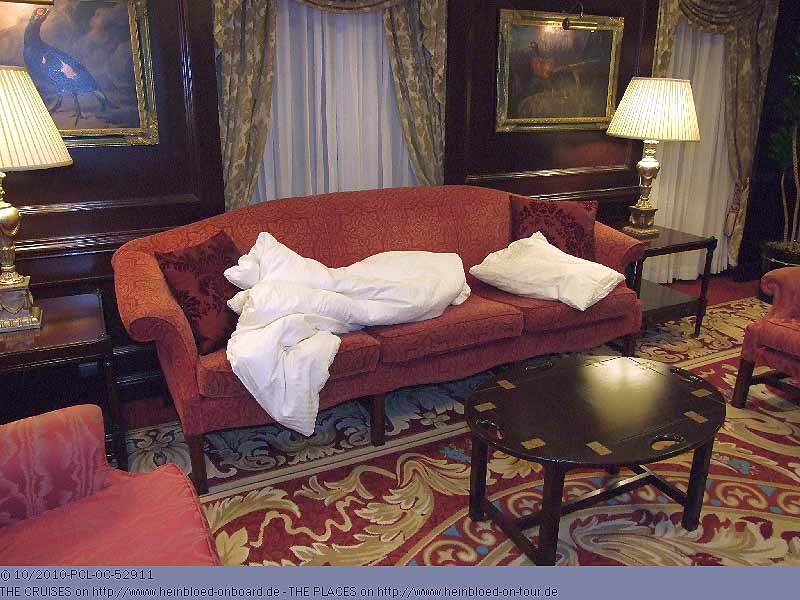 Recently on OCEAN PRINCESS I liked to talk to the Hotel Director since the 2nd day I was on board. As they refused me to talk with him I went down on the 5th day with my blanket and pillow to sleep in the Lobby. The Hotel Director in charge was waken-up and I got a new cabin for the night.

Somehow Hotel Director Les was very "mean" to me. To avoid the documentation my sleep with blanket and pillow in the atrium for which I ordered the press of the world CNN, New York Times, Reuters... but Les called already while we were having breakfast and said that he was looking forward to response to my questions in a personal discussion. Later F&B Manager Mirsad called and apologized that Les will not be available right now as he need to attend a meeting and asked when it will be convenient for us to meet him. We explained that we would like to see the passage of the Strait of Messina right now from our balcony. We should decide when to meet. So we set up the meeting for 11.30 hrs in the Aloha Bar.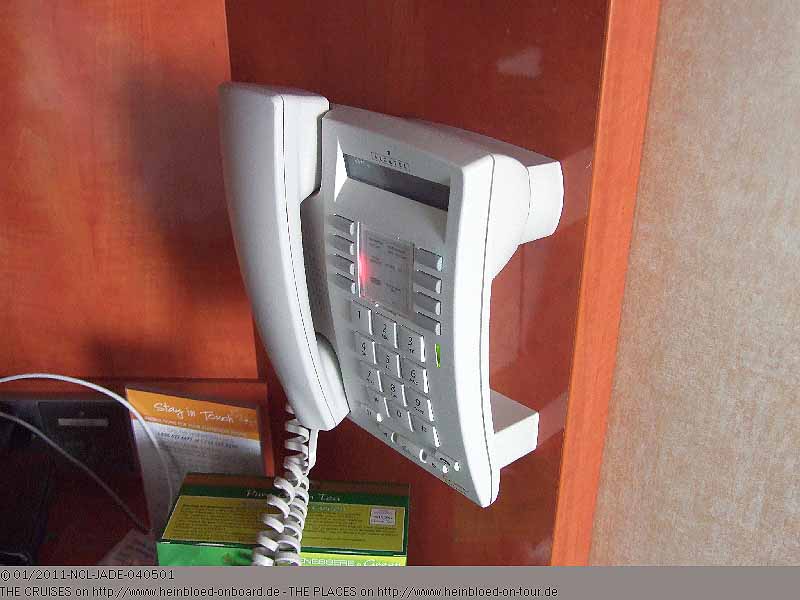 Der Hotel Director Les ist ziemlich "gemein" zu mir. Um meinen Auftritt mit der Bettdecke und Kissen im Atrium zu dokumentieren, hatte ich extra die Weltpresse eingeladen... CNN, New York Times und Reuter... aber Les hat schon während des Frühstücks schon angerufen und würde sich freuen, in einem persönlichen Gespräch meine Fragen zu beantworten. Später rief dann F&B Manager Mirsad und entschuldigt Les, der zu einem Meeting muss und fragt an, wann wir Zeit hätten, uns mit ihm zu treffen. Als wir erklären, dass wir gerade die Durchfahrt auf der Straße von Messina auf unserem Balkon genießen, heißt es bloß, dass wir den passenden Zeitpunkt bestimmen sollten. Wir einigen uns auf 11.30 Uhr in der Aloha Bar.
Da 3 von 4 Punkten eh den Verantwortungsbereich des F&B-Managers betreffen, waren wir eh beim richtigen Mann. Als Les mit seiner Besprechung fertig ist, kommt er jedoch auch nochmals persönlich vorbei, um uns zu begrüßen. Liebe Princess und liebe Holland America: So kümmert man sich um seine Gäste... Ich habe den Fehler gemacht, den Standard den ich hier auf einer "Billig"-Gesellschaft bekomme auf die "Premium"-Gesellschaften zu übertragen. Wir sagen in Deutschland: Der Gast ist König. Und ich werde dann lieber wie ein König an Bord von NCL behandelt als wie ein Bettler bei Princess und Holland America...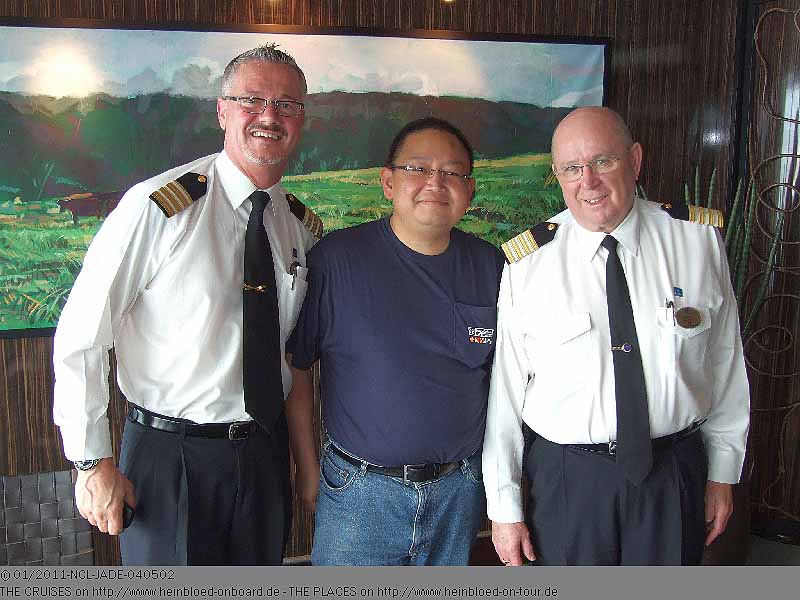 As 3 of 4 items we requested were anyway under the responsibility of the F&B Managers we were discussing anyway with the right guy. When Les was finished with his meeting he came by personally to say hello. Dear Princess and dear Holland America: That's the way you should treat your guests... My mistake was to the think that the standard on this "Budget"-company I should also get on a "Premium"-company. We say in Germany that the guest is the king. I preferred more to be treated like a king on NCL but a solicitor on Princess or Holland America.

Mirsad told me that he remembered me from a previous cruise and read also my blogs... I was checking all pictures to find him... the gentleman in the center might be him (Bruno said that it was a bad investment to buy the new glasses...)... just with grey hairs... Might be that he got the grey hairs once he read my name the passenger list... I could not find a pictures which fits better but this on NORWEGIAN GEM 2009... And as I never made his personal acquaintance before just means that I had no serious problem with his department so far and had no reason to complaint.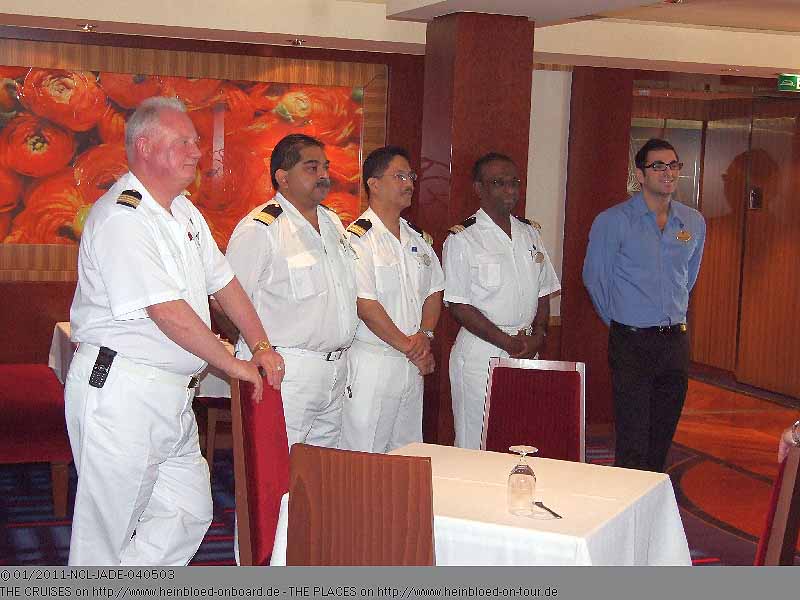 Mirsad erzählt mir, dass er mich auch von einer früheren Fahrt kennt und auch meine Blogs schon mal gelesen hat... Ich gucke natürlich alle Bilder durch um ihn zu finden... der Herr in der Mitte könnte es sein (Bruno meint, dass wohl meine neue Brille nicht so viel bringt...)... nur noch nicht mit weißen Haaren... Die könnte er ja auch erst dann bekommen haben, als er mich auf der Passagierliste entdeckt hat... Ein pasenderes Bild habe ich nicht gefunden, außer das hier auf der
NORWEGIAN GEM 2009
... Und das ich ich bislang nicht persönlich kennengelernt heißt ja nur eines: es gab bislang keinen Grund, dass ich mich über etwas aus seinem Bereich beschwere...
Er erklärt uns die unterschiedlichen Brühtechniken an Bord und warum der Kaffee in den unterschiedlichen Restaurants und Bars unterschiedlich schmeckt. Daher war damals von dem Bartender im Blue Lagoon Café vollkommen richtig, als er meinte, dass wir besser in die Aloha Bar gehen sollten.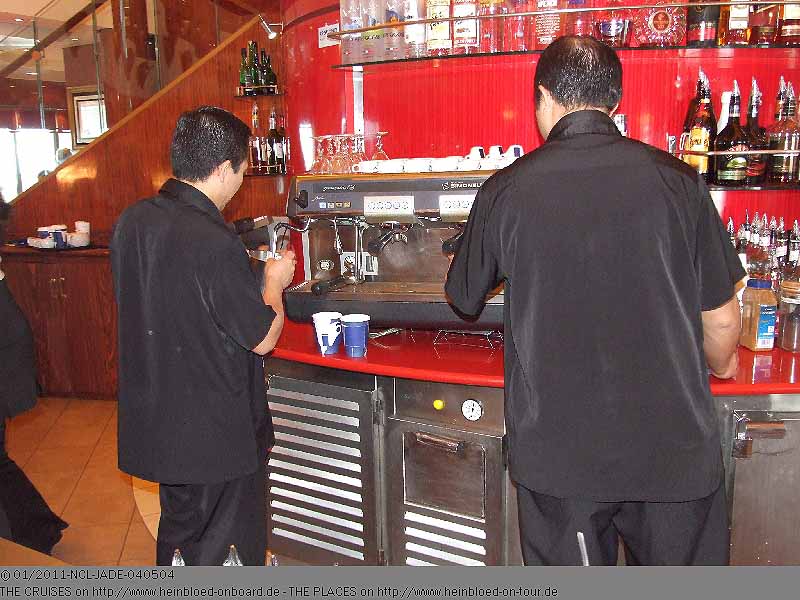 He explained us the different techniques of brewing coffee in the different restaurants and bars and why it tastes different from place to place. So the bartender from the Blue Lagoon Café was right that we better should see the Aloha Bar.

As we do not expect that a waiter walk everytime to the Aloha Bar to get us some hoffe or they place the coffee machine to the restaurant where we are currently... but they did not want to serve Egg Benedicts on salmon in the Aloha Bar... we suggested him a very simple solution (I am working in the Logistics - that is never transport problem but a problem to get something from A to B in quality C for price D until time E... so it's strange thinking): When we were entitled to have breakfast at the Cagney's (NORWEGIAN GEM 2009) we remember that they used then Bodum-French Press. If we could borrow until the end of our voyage such a coffee-pot we might buy at the next supermarket Bruno's favorite filtered coffee and all we need to do is asking the restaurants for hot water. But this would be impossible... some more had the same idea and used the Bodum-French Press as "extended borrow" so this solution would not work. But NCL has "logistics people" themselves and so we tried to find a solution both can work with. As sample Bruno will take in future his espresso after dinner at the Aloha Bar. Although you have Lavazza-coffee in all restaurants against fee. But not always with the appropiate techniques... and for him as coffee lover it was the best solution he could get. As Bruno meanwhile exchanged with other coffee lovers which feel same I maybe can convinced him to on MSC because they offer different coffee-/espresso-machines and so you choose your favorite coffee bar where you get the coffee you want... but it cannot be so bad... 1st Muffin with MSC are worse than those on NCL... and some more... see MSC FANTASIA 2009... and that is why we are not on MSC MAGNIFICA now although it would be just 2/3 of the money we paid here and would have only one port we know already. So we stay with NCL and have only port we do not know before while we know all other ports... As they got so much money when they were going public... maybe it's enough to buy an espresso-machine for the Grand Pacific... Otherwise I will write following for our packing list: Our Bodum-French Press (no "extended borrow" of NCL...) and some illy coffee.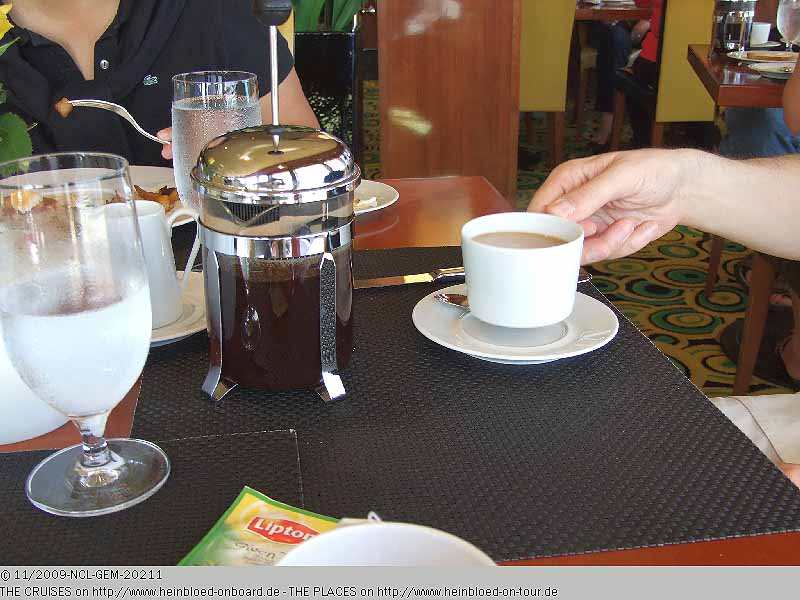 Da wir ja nun nicht erwarten, dass ein Kellner jedes Mal zur Aloha Bar läuft, um uns einen Kaffee zu holen bzw. sie die Kaffeemaschine in das Restaurant umstellen, in dem wir gerade sind... sie aber auch nicht an der Aloha Bar uns Egg Benedict auf Lachs servieren wollen... schlage ich eine einfache Lösung vor (ich bin Logistiker - ich habe kein Transportproblem, sondern nur ein Problem etwas von A nach B in Qualität C zu schaffen und das zu Preis D bis zum Zeitpunkt E... daher das etwas andere Denken...): Aus der Zeit als wir im Cagney's frühstücken durften (
NORWEGIAN GEM 2009
), wissen wir, dass Bodum-Kaffeekannen eingesetzt werden. Wenn sie uns eine bis zum Ende der Reise ausleihen könnten, könnten wir ja im nächsten Supermarkt Filterkaffee kaufen und wir bräuchten in den Restaurants nur nach heißem Wasser fragen. Leider geht das nicht mehr... auf die Idee sind wohl auch schon andere bekommen und haben die Bodum-Kannen als "Dauerleihgabe" betrachtet... Es sind keine mehr an Bord... Die Lösung fällt schon mal aus. Aber auch NCL hat "Logistiker", so dass wir gemeinsam einen Weg erarbeiten, dass Bruno morgens an einen besseren Kaffee kommt. Als Beispiel nimmt Bruno seinen Espresso nach dem Essen an der Aloha Bar ein. Zwar gibt es Lavazza-Kaffee auch in allen Restaurants gegen Bezahlung. Nur leider nicht mehr passenden Brühtechnik... und für ihn als Kaffeeliebhaber die Lösung die bessere. Da aber Bruno mitlerweile sich an Bord mit anderen Kaffeeliebhabern austauscht, die es genauo empfinden, bekomme ich ihn vielleicht doch noch rum, wieder mal MSC zu fahren, weil sie dort verschiedene Kaffee-/Espressomaschinen an Bord haben und man sich wirklich seine Lieblingsbar aussuchen, die einen Kaffee so zubereitet, wie man ihn selbst schätzt... aber so schlimm scheint es nicht zu sein... 1. Die Muffins sind bei MSC noch schlimmer als bei NCL... und noch einiges mehr... siehe MSC FANTASIA 2009... und deswegen sind wir nicht auf der MSC MAGNIFICA unterwegs, obwohl es nur die 2/3 gekostet hätte und wir bis auf einen Hafen alles nur neue Häfen gehabt hätten. So bleiben wir aber lieber bei NCL und haben einen neuen Hafen, während wir den Rest schon alles kennen... Nach dem sie ja soviel beim Börsengang eingenommen haben... vielleicht reicht es ja noch für eine Espresso-Maschine im Grand Pacific... Ansonsten schreibe ich mal sicherheitshalber für Oktober 2011 folgendes auf unsere Packliste: Unsere Bodum-Kaffeekanne (keine NCL-"Dauerleihgabe"...) und illy Kaffee...
So bekommen wir für das nette Gespräch noch einen Kaffee auf Kosten des Hauses und drei weitere Antworten auf drei weitere Fragen im Teil 4.3...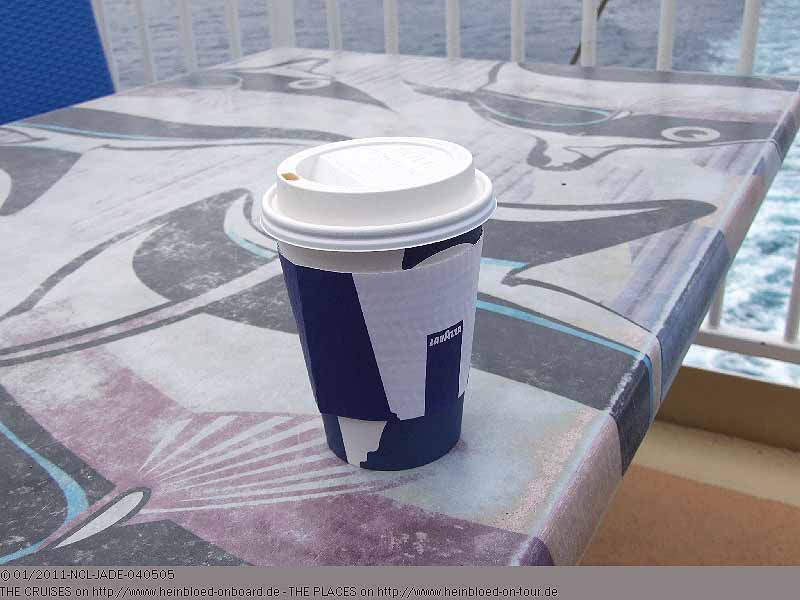 So we got for the nice talk some coffee on the house and three further answers you can find in part 4.3...

To the end we asked for others Hotel Directors and F&B Managers whom we have in good memories: Richard Janicki... from NORWEGIAN GEM 2009 to NORWEGIAN EPIC.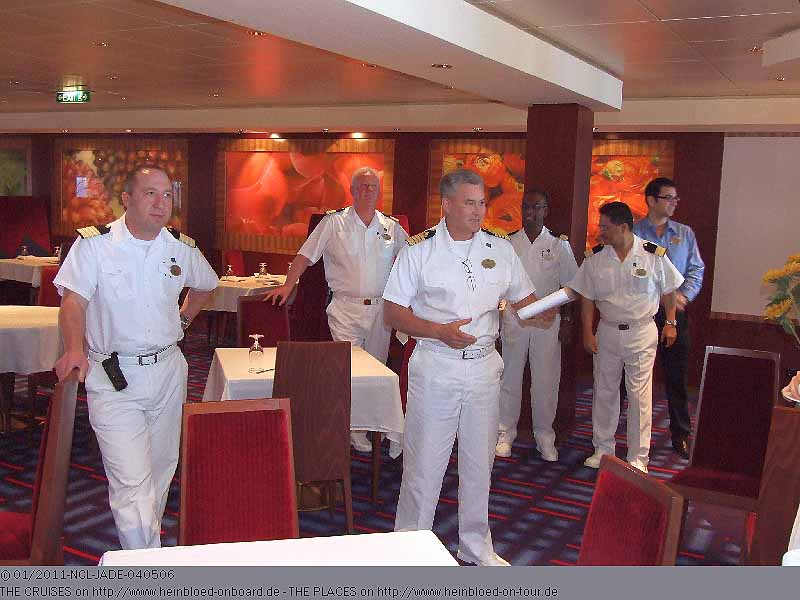 Abschließend fragen wir so nach anderen Hotel Directors und F&B Managern, die wir kennen: Richard Janicki von der
NORWEGIAN GEM 2009
auch auf der NORWEGIAN EPIC...
Panos Trigas, leider nicht mehr bei NCL... aber der ist damals auf der
NORWEGIAN DREAM
nicht nur eine Extra-Meile gelaufen, sondern Marathon...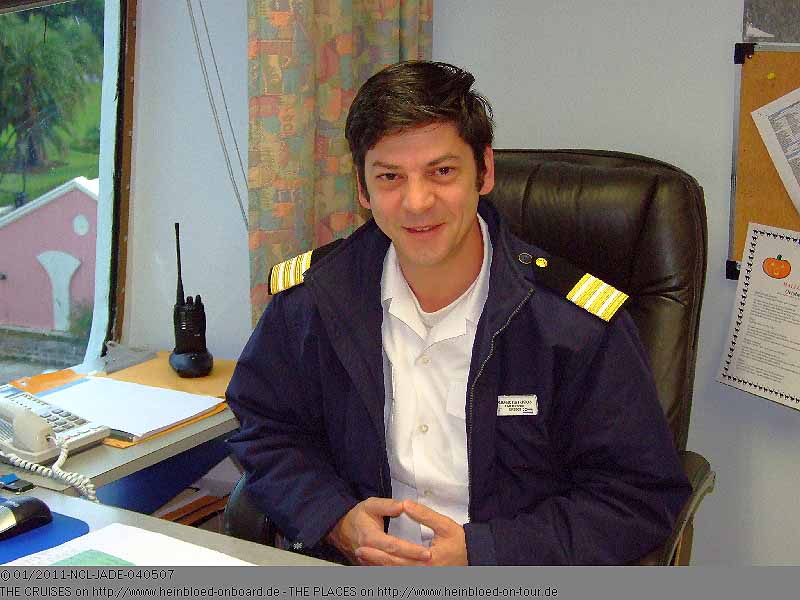 Panos Trigas, unfortunately not anymore with NCL... but the person who was not walking an extra-mile but marathon then on NORWEGIAN DREAM...

Then we had something for exchange with NCL... So we had two bottles of champagne and one bottle of wine...

Damals gab es noch bei NCL Tauschobjekte... Wir hatten damals zwei Flaschen Champagner und eine Flasche Wein...
die wir gegen 9 Flaschen Wasser eingetauscht bekommen haben...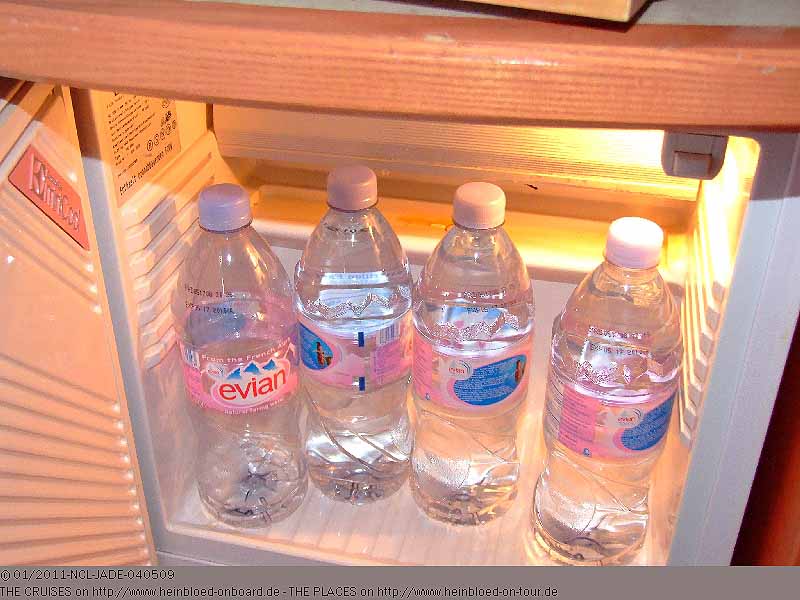 which we could exchange against 9 bottles of water...

For German speaking guests and friends of German cuisine they offered on the Great Outdoor a Beer Fest... You can see the with the bread whose signature you find here...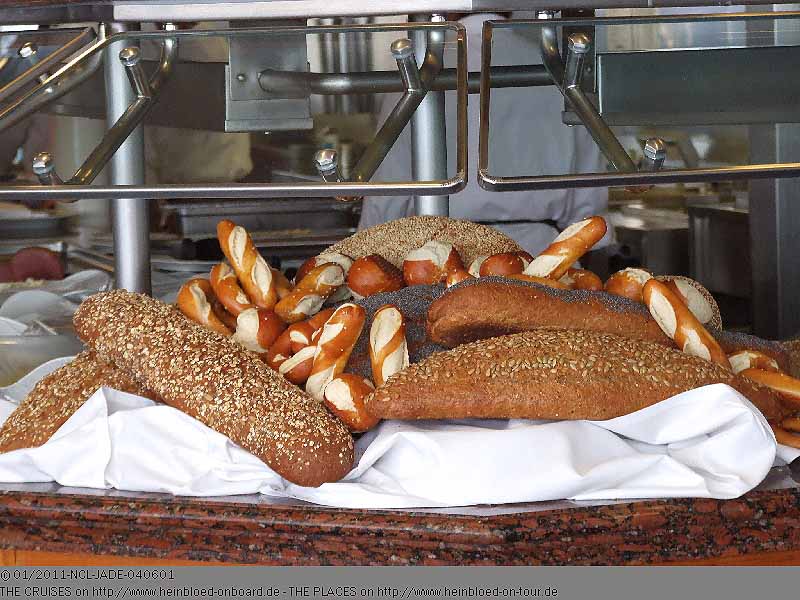 Für die deutschsprachigen Gäste und Freunde deutscher Küche wird auf dem Great Outdoors ein Bierfest angeboten... Anhand der Brotsorten können wir schon sehen, wessen Handschrift das trägt...
Tja... echt viel Mühe... und es gab sogar Schweinebraten mit Sauerkraut...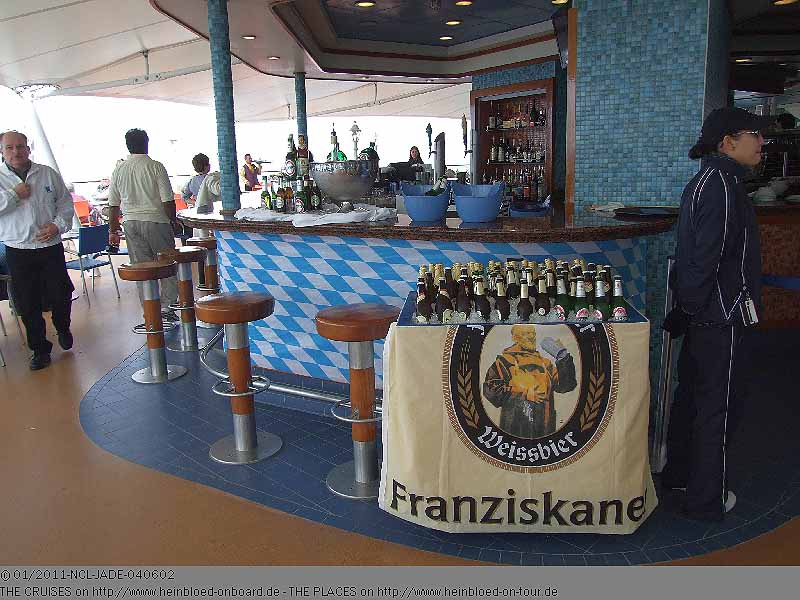 Yeah... a lot of effort... you even got roast pork and sauerkraut...

... but polka music as well... but no Bavarian folk music group... and we were just two decks below... HEEEEELP!!!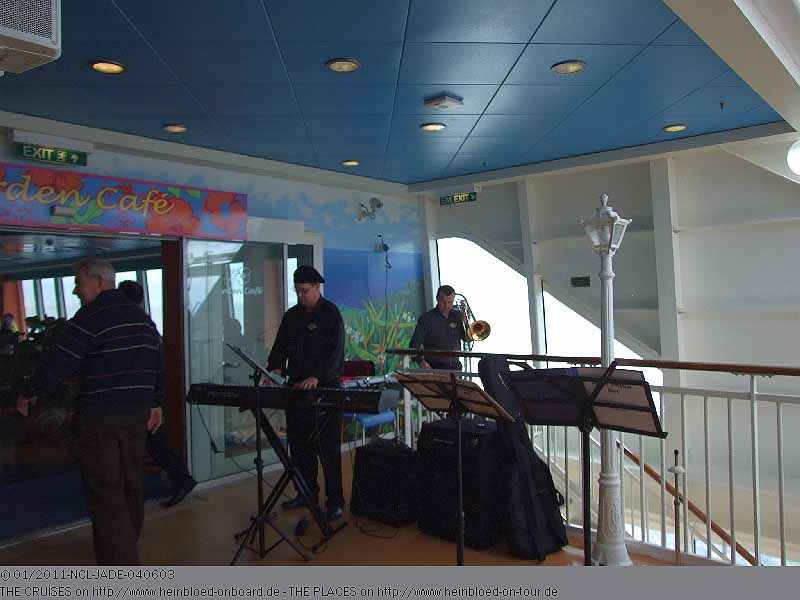 ... und leider auch Polka-Musik... Zum Glück keine bayerische Trachtengruppe... und wir sind zwei Decks darunter... HIIIILFE!!!!
Vorne gibt es die Alternativen... Hot Dogs und Burgers usw...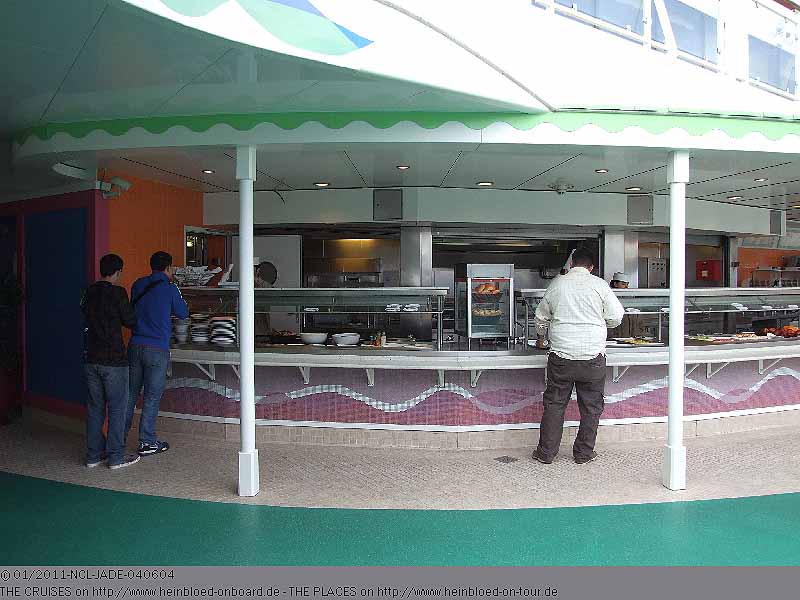 In the front you have the alternatives... hot dogs and burgers etc...

With every weather... you always find some in the whirlpools...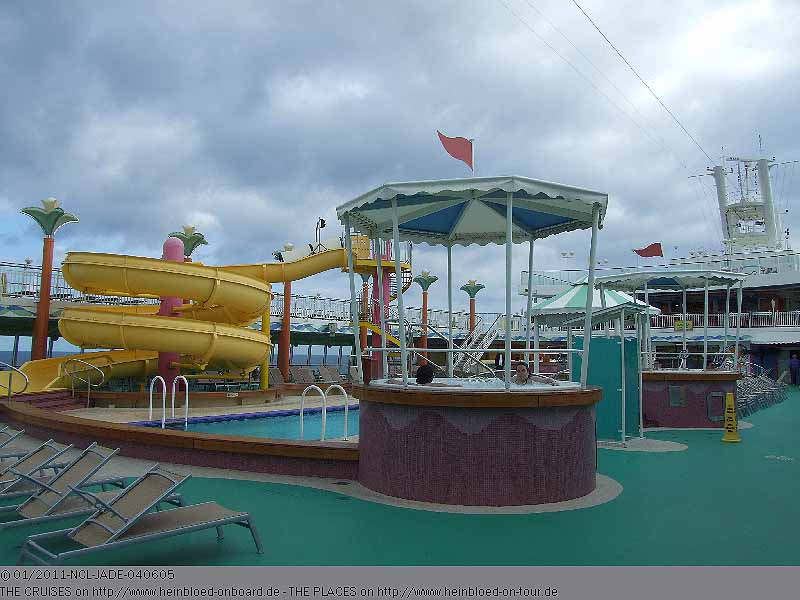 Bei jedem Wetter... ein paar sind immer im Whrilpool...
Wir gehen in die Spinnaker Lounge. Dort kommen wir zum Ende des Bingos...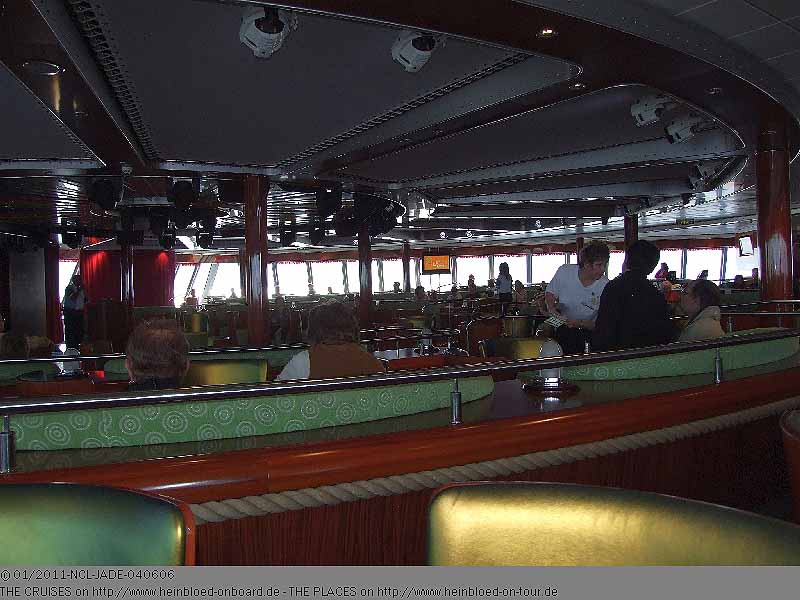 We went to Spinnaker Lounge. There we arrived with the end of the Bingo events...

And then it started to rain... Maybe we were lucky that there was no more polka on Deck 12 and we could open our balcony door...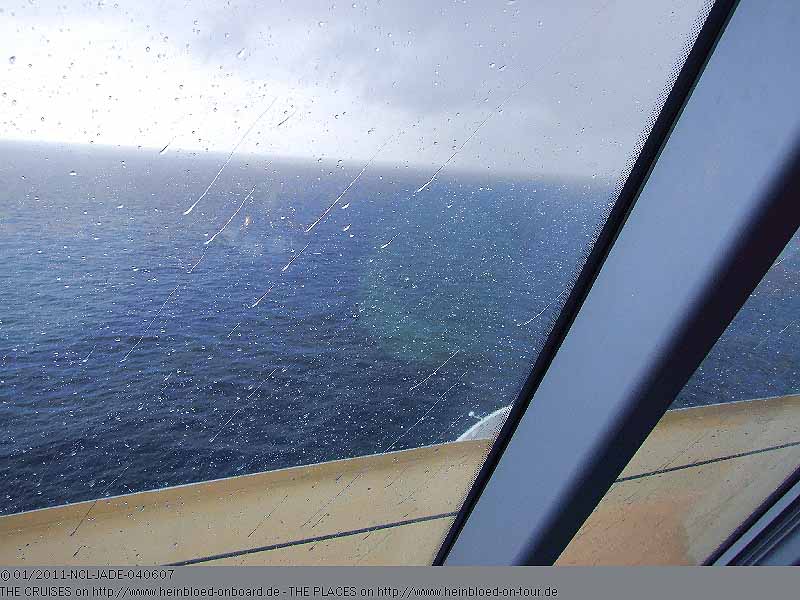 Und dann fängt es an zu regnen... Haben wir Glück, dass es keine Polka mehr auf Deck 12 gibt und wir doch mal unsere Balkontür öffnen können...
Trotz Regens: die hängen immer noch im Whirlpool...

Even it was raining: still in the whirlpool...

So we got a quick bite for lunch. There were no new knowledge to get as the lunch menu stays the same all cruise long. So I can save to upload pictures you know. (No wonder with 0.40 USD/minute). We saw someone serving we know from NORWEGIAN DREAM 2008... Swaroop...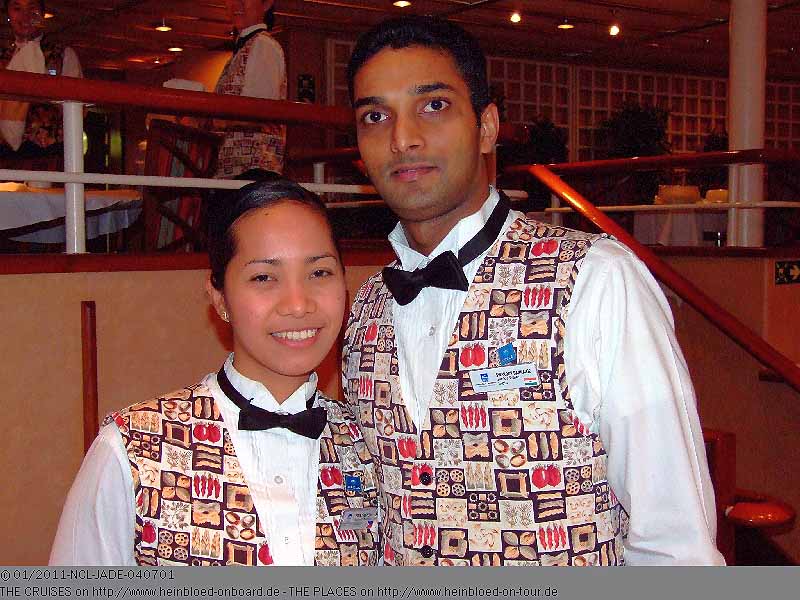 Nun wir schnappen uns irgendwo eine Kleinigkeit zu essen. Es gibt keine neuen Erkenntnisse, da die Mittagskarte gleich bleibt und nicht wechselt. Also spare ich mir das Heraufladen der Bilder, die man schon kennt. (Bei 0,40 USD/Minute sicherlich verständlich). Wir sehen jemanden beim Servieren, den wir von der
NORWEGIAN DREAM 2008
kennen... Swaroop...
Bei uns klebt auch ein roter Punkt, allerdings im Türrahmen. Als wir nachfragen, ob das die Kennzeichnung der Kabinen mit schwierigen... Gästen oder besser Gäste, die eine besondere Herausforderung darstellen, wäre, verneint man dieses... Diese Markierung ist für den nächsten Werftaufenthalt. In unserem Fall betrifft es das Badezimmerlicht, das ein wenig länger braucht, bis dass es richtig hell leuchtet und die Balkontür, die nur zu 99% schließt...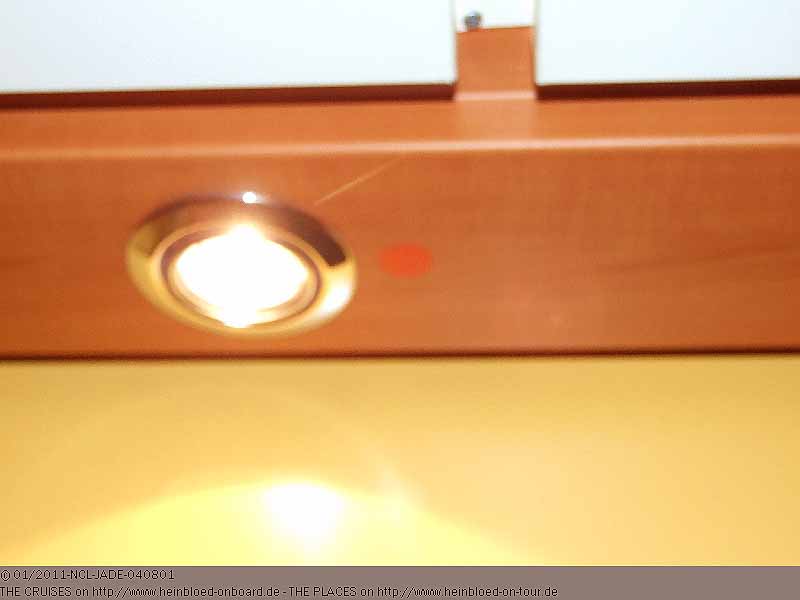 We found also a red dot in the door frame. When we asked if this is to mark the difficult guests... or better very challenging guests they said no... This mark is just for the next dry dock. With us it is it is the light in the bathroom which becomes true bright after few seconds and the and the sliding door which locks just for 99%...

Our gem, pearl or jewel Elizabeth was right in our cabin... so we went for another round to Aloha Bar...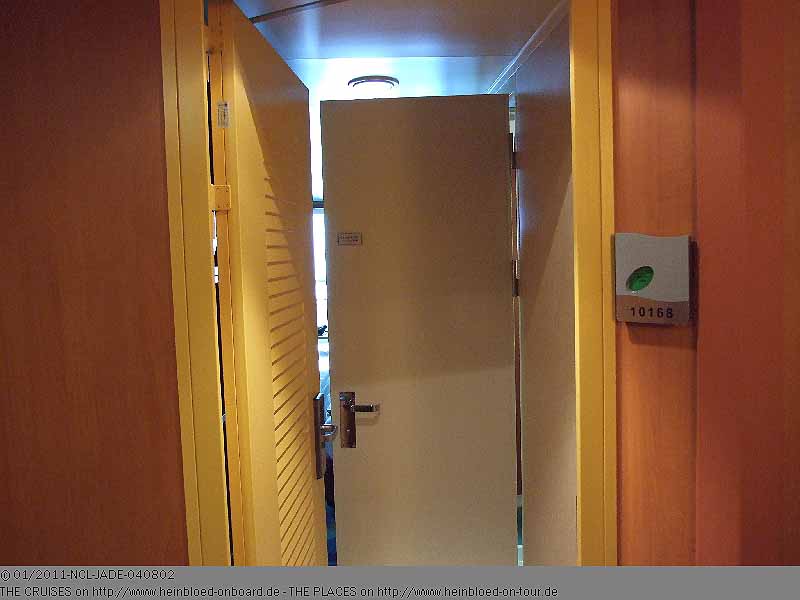 Unser Schatz, Perle oder Juwel Elizabeth ist gerade in unserer Kabine beschäftigt... Eine weitere Runde in der Aloha Bar folgt...
Bei Freestyle 2.0 wurde Elemis für alle eingeführt... und nun gibt es das nur noch für die Suiten- und Villagäste...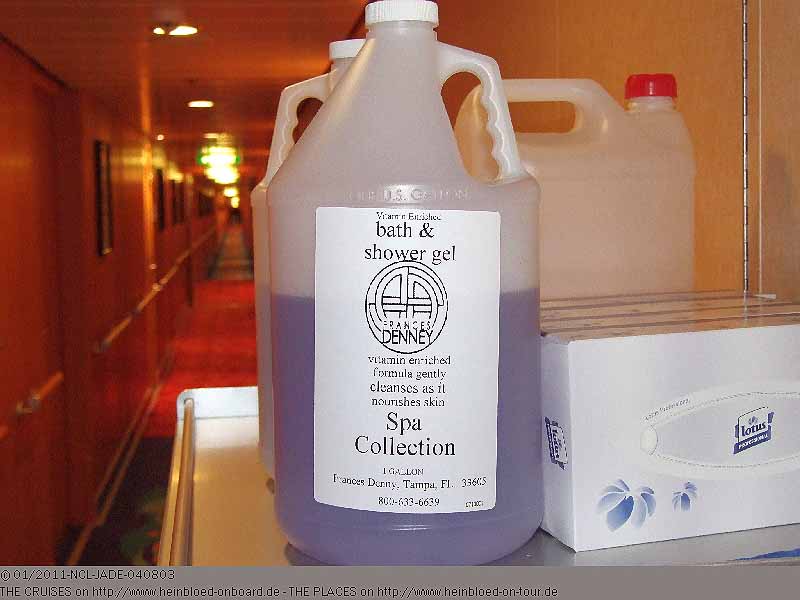 With Freestyle 2.0 they introduced Elemis for all guests... and now it is limited to Suites and Villas-Guests.

We did not order anything... No card included...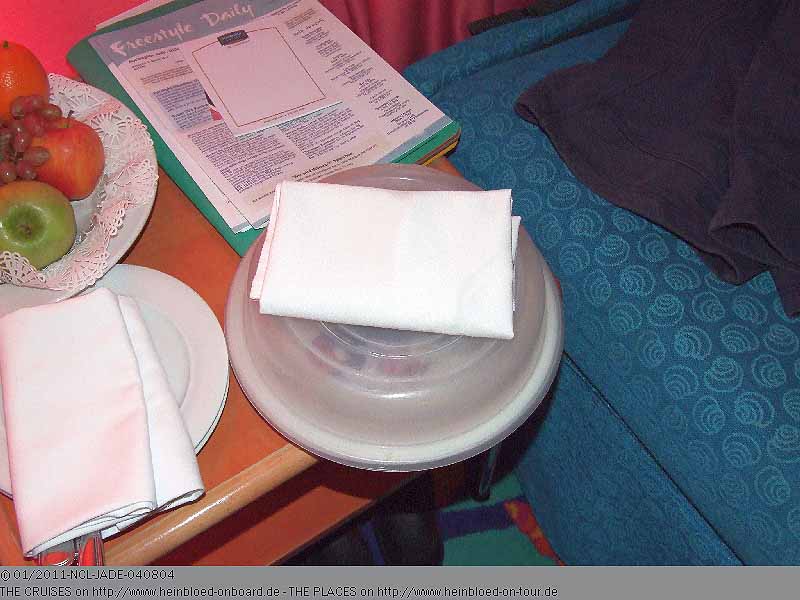 Wir haben gar nichts bestellt... Keine Karte anbei...
Erdbeeren in Schokomantel... endlich mal bissfest...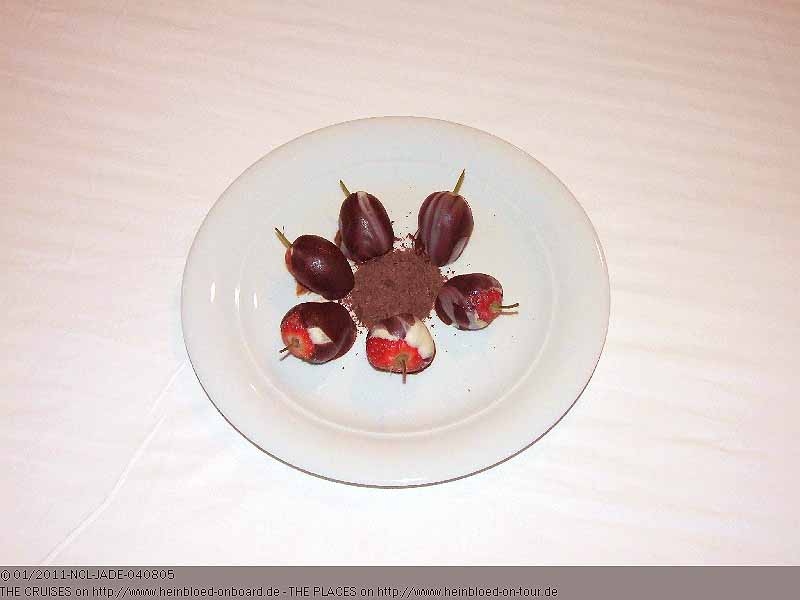 Strawberries in chocolate-cover... finally you get some to bite...

In the afternoon it looked better... but we did not care: we had our spa-pass...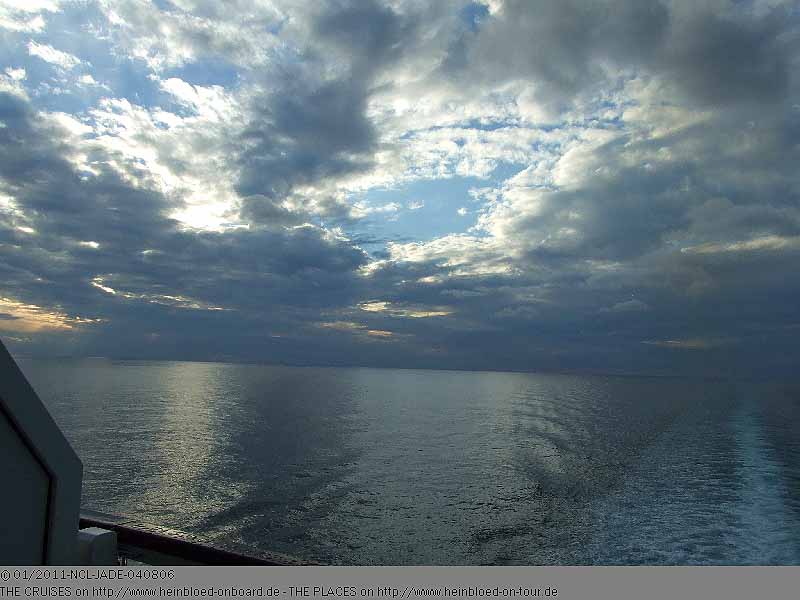 Der Nachmittag sieht etwas besser aus... uns kann es egal sein: wir haben ja unseren Spa-Pass...
Mit dem Freilos gehe ich um 16.00 Uhr mal zum Bingo... aber es ist so voll, dass ich nicht bleibe...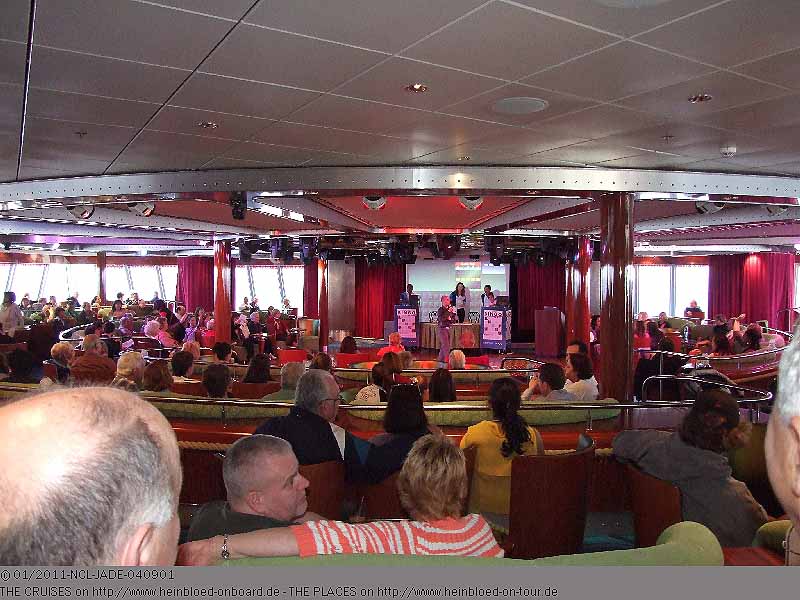 With the free ticket I went at 16.00 hrs again to the Bingo event... but it was so crowded that I did not stay...

The animation team heat up the lounge. Everybody need to participate...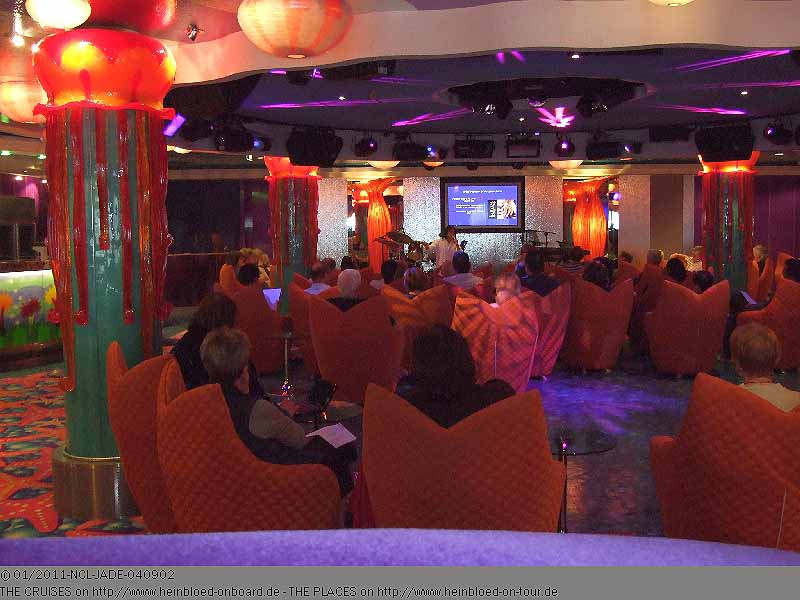 Die Animateure heizen die Lounge richtig ein. Alle müssen mitmachen...
Zufällig sehe ich den Assistant Cruise Director wieder, der die Veranstaltung leitet...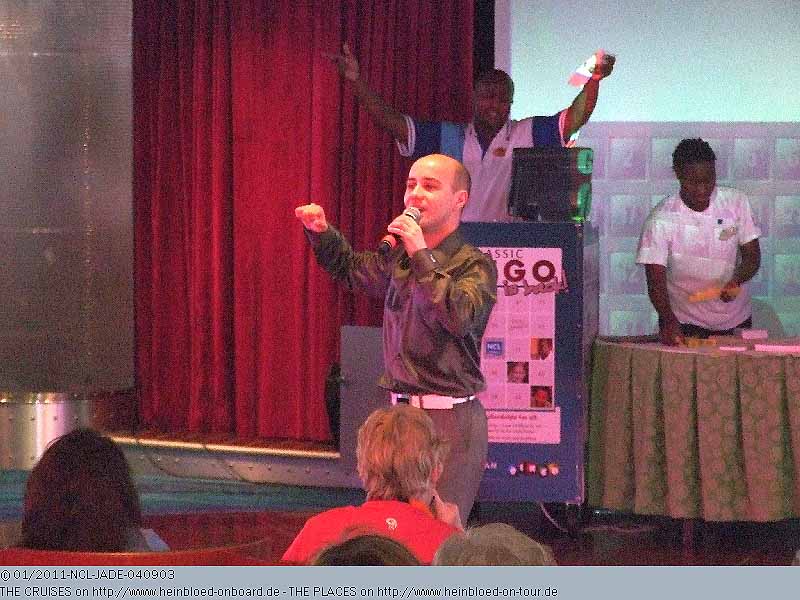 By the way I saw the Assistant Cruise Director again who was leading the event...

His correct name is Senad... Sorry...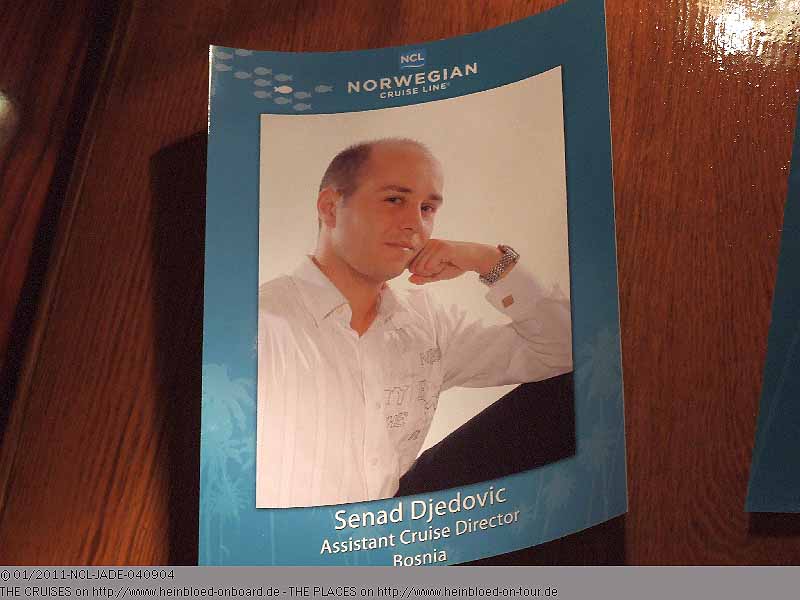 Sein korrekter Name ist Senad... Sorry...
Unten in der Bar City findet die Park West Kunstauktion statt...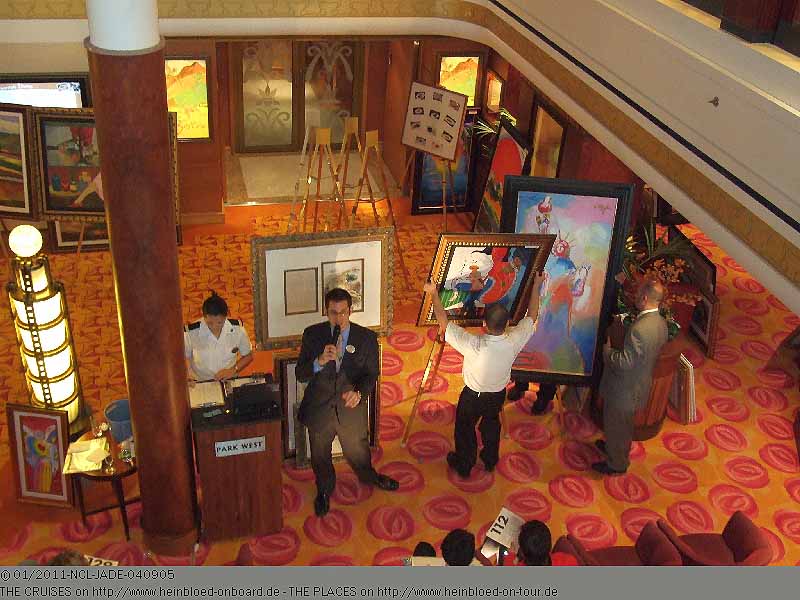 Down in the Bar City you find the Park West art auction...

Here you have port information for Piraeus.

Hier gibt es die Hafeninformationen für Piräus.
Damit erspart man vielen Gästen, dass sie sich unnötig für die Rezeption anstellen, wenn man Englisch kann und nur einfache Fragen zum nächsten Hafen hat. Klasse Idee...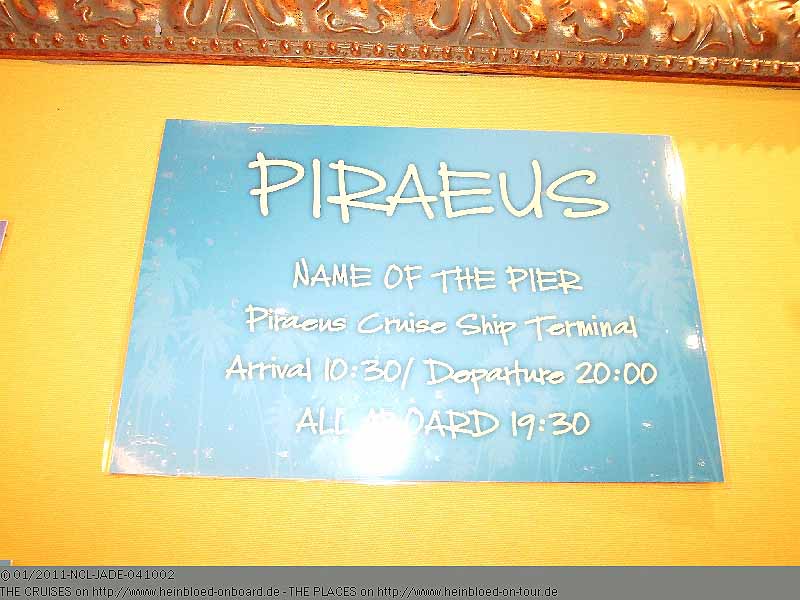 So you saved many guests to queue up for the reception desk if you understand some English and have maybe only simple questions for the next port. Great idea...

A picture says more than thousand words.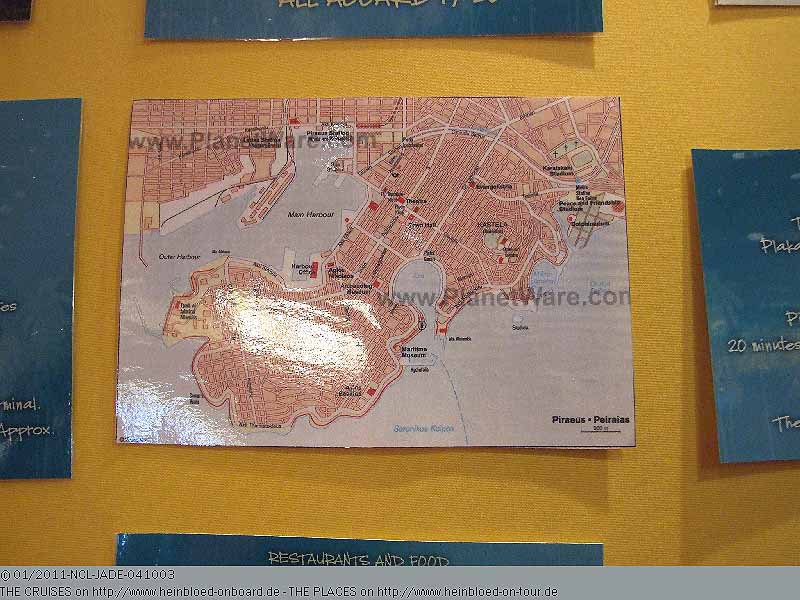 Ein Bild sagt mehr als tausend Worte.
Selbst wenn jemand nicht Englisch kann, wird er es schaffen, die eine oder andere Information dieser Tafel zu entnehmen.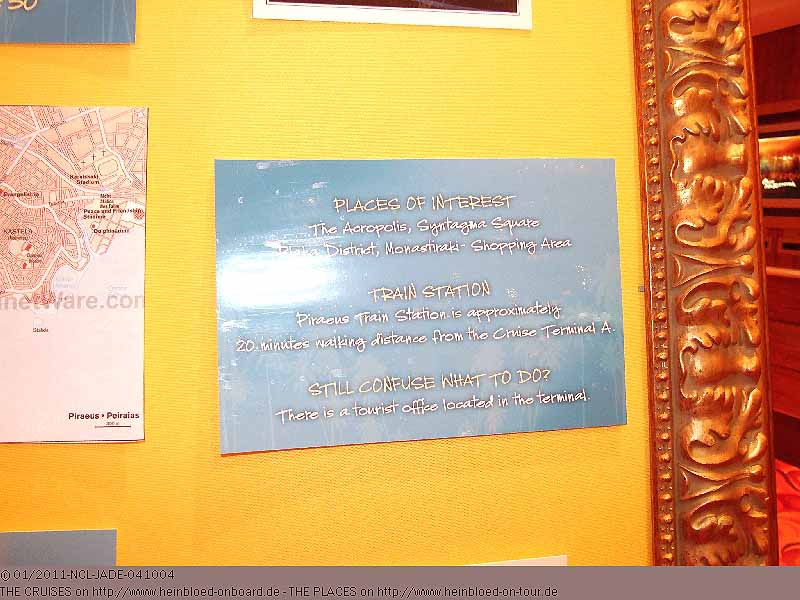 Even you do not understand English there were few information you can still get from this board.

Maybe the guys from the the shore excursion desk might be the only one who do not like the board... as they live from guests who cannot make it around by themselves...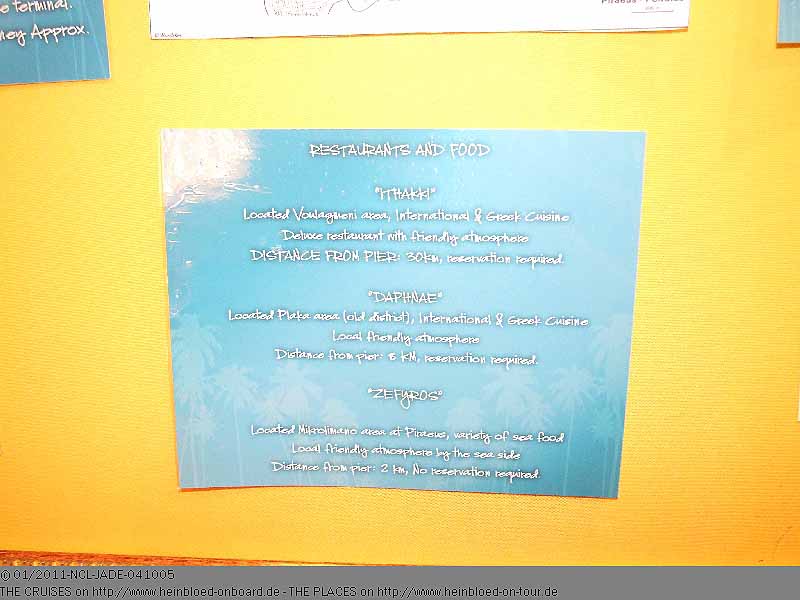 Die einzigen, die diese Tafeln vielleicht nicht mögen, werden die vom Ausflugsbüro sein... denn sie leben ja von der Unsicherheit der Gäste...