Scroll down for English explanations - alternates with German explanations.

Vor dem Cruise Terminal wartet unserer Reiseführer Erkan auf uns. Ihn haben wir über
Ephesus Deluxe
gebucht. Eigentlich hätte er mit einem Schild "HeinBloed" warten sollen, aber das hatte ich wohl nicht richtig erklärt, warum ich lieber mit Schild mit HeinBloed gehabt hätte und die Hintergründe.

In front of the cruise terminal our tour guide Erkan waited for us. We booked him on Ephesus Deluxe. He should have a sign "HeinBloed" with him but obviously I was unable give proper explainations who is HeinBloed and why they should a sign with this name.

They were wating for us with a brandnew Volkswagen Caravelle (Mini-Van). But I forgot the name of the driver: it was so simple that I could not remember. Time to make some notes.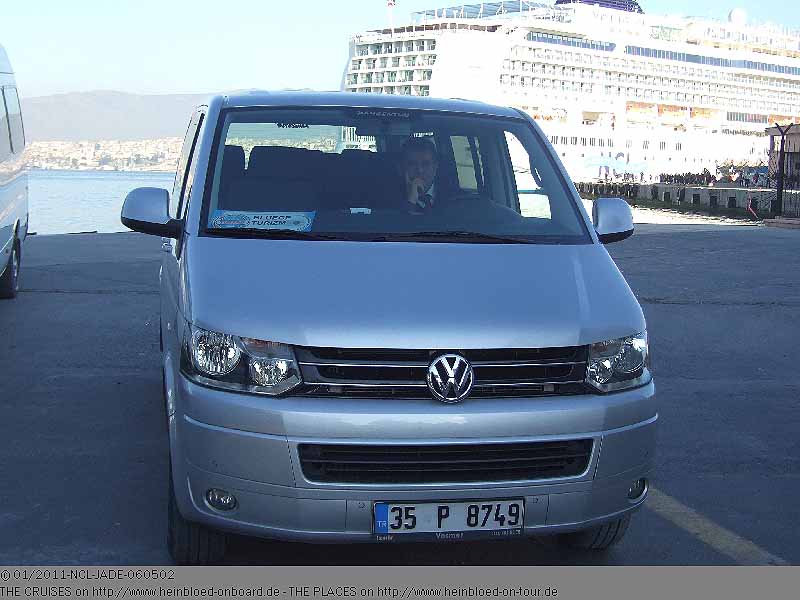 Uns erwartete ein nagelneuer VW Caravelle. Leider habe ich den Namen unseres Fahrers vergessen: er war nämlich so einfach, dass ich ihn nicht mehr zusammen bekomme. Höchste Zeit sich Notizen zu machen.
Viel Platz - west-europäischer Komfort.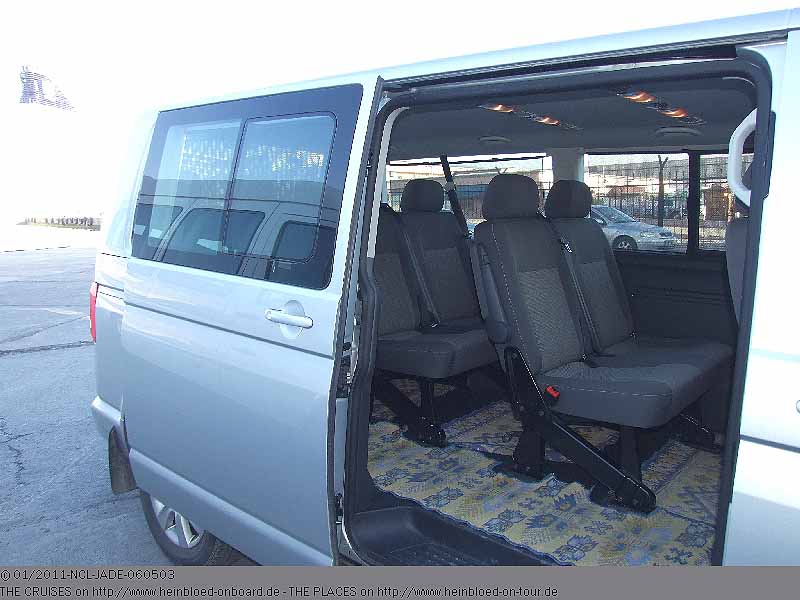 A lot of space - West-European comfort.

So far I was only for business purposes in Istanbul, Ankara and Inskerderun (at the Syrian border) but that looked like home. On the highway it was totally great. We were licensed as car and so we could pass all buses from the ship but also all mini-buses. So it was quite good that we were only 4 persons and did not have more in our party to drive slower and had an extra-saving of 10 USD.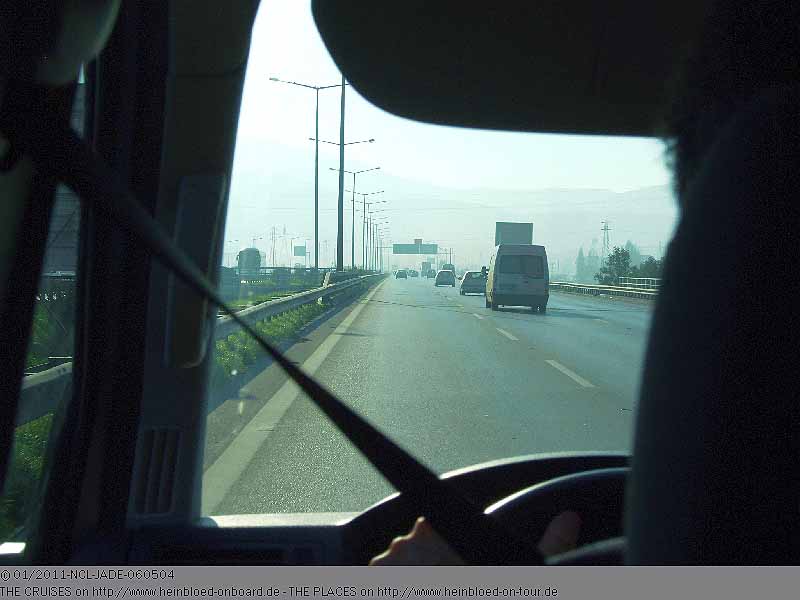 Ich war bislang geschäftlich in Istanbul, Ankara und Iskerderun (an der syrischen Grenze), aber das sieht ja doch so aus, wie bei uns zu Hause. Auf der Autobahn war es richtig klasse. Wir hatten ja eine Zulassung als PKW und konnten somit nicht nur alle Busse vom Schiff, sondern auch sämtliche Mini-Busse. So war es doch gut, dass wir nur zu viert waren und nicht wegen 10 USD weniger ein paar Passagiere mehr und dann hätten langsamer fahren müssen.
Erkan hat dann den Platz mit mir getauscht, so dass wir ihn alle gut verstehen konnten. Auch sprachlich. Wir stellten fest, dass er in Salzgitter-Lebenstedt aufgewachsen ist... Das ist ca. 5 km von Käthe, Karl-Heinz und mir (nur unter der Woche) entfernt.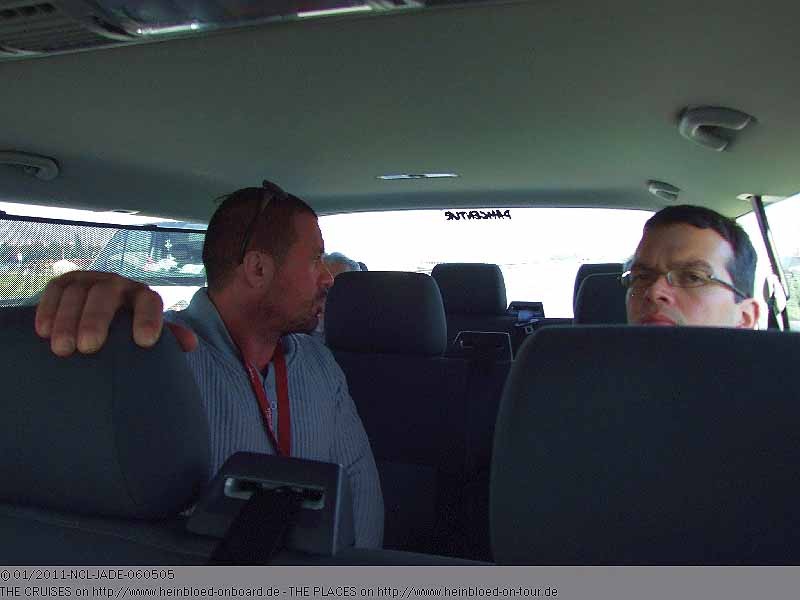 Erkan and I changed the seats so everyone could listen him very well. Also his language skills were great. He grew up just at a place 3 miles away from Katie and Charlie's house where I also live during the weekdays.

I saw ourselves already in the headlines of the international press that some German tourist had an accident on their tour in Turkey.... On the way to Virgin Mary's House the driver passed in a curve the police... But we were on the way to Virgin Mary's House - so I hope some guardian angel were attending our way.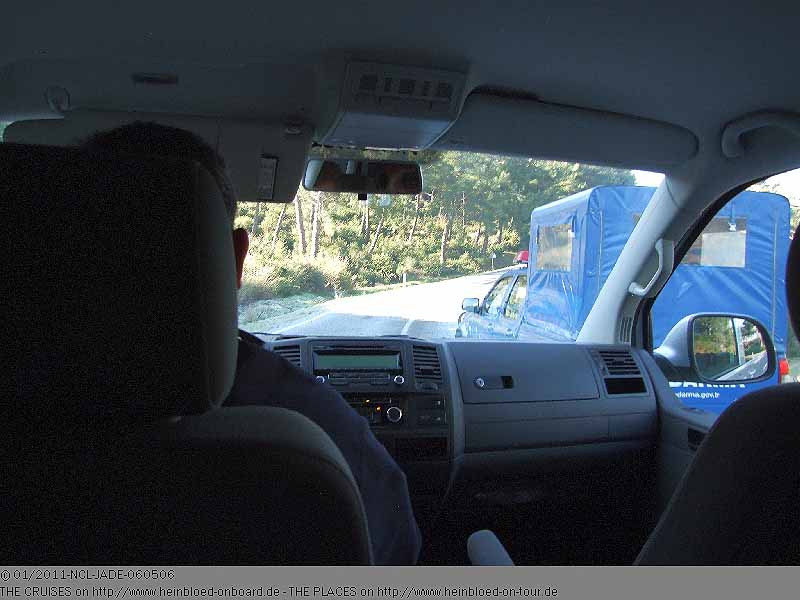 Auf einmal sah ich uns in den Schlagzeilen der Weltpresse, dass deutsche Urlauber mal wieder in einem Ausflugsbus in der Türkei einen Unfall hatten... Auf der Auffahrt zum Marienhaus überholt unser Fahrer in einer Kurve die Gendarmerie... Aber wir sind ja auf dem Weg zum Marienhaus - da sind hoffentlich ein paar Engel, die über uns wachen...
Wir kommen am Marienhaus an.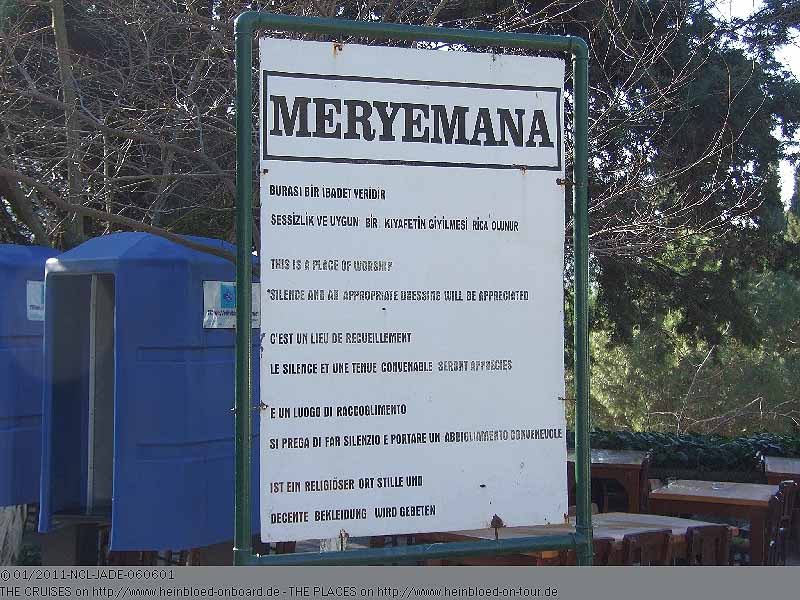 We arrived at Virgin Mary's House.

We were not the very first but we were so early that only few buses arrived so far.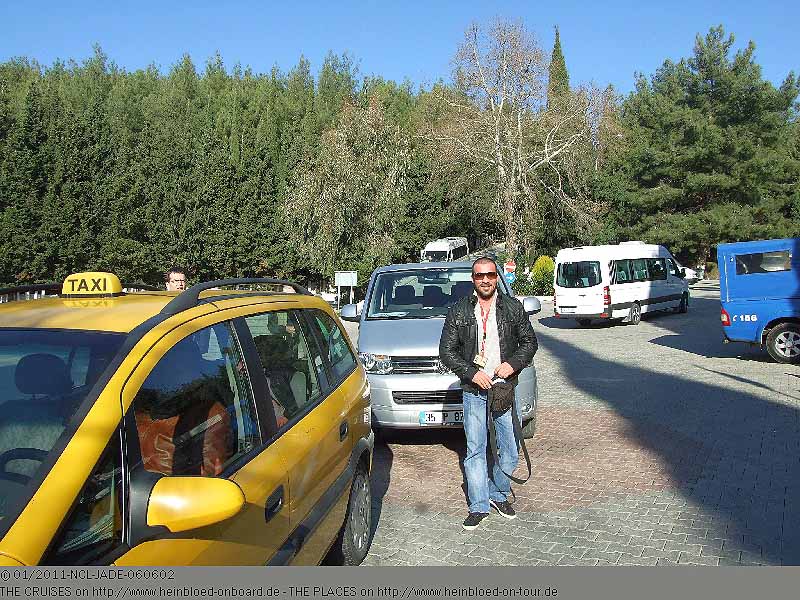 Wir waren nicht die allerersten, aber auch so früh, dass kaum Busse bisher eingetroffen waren.
Für Briefmarkensammler und diejenigen, die immer noch Postkarten statt MMS, SMS oder E-Mails verschicken: es gibt hier eine kleine Post.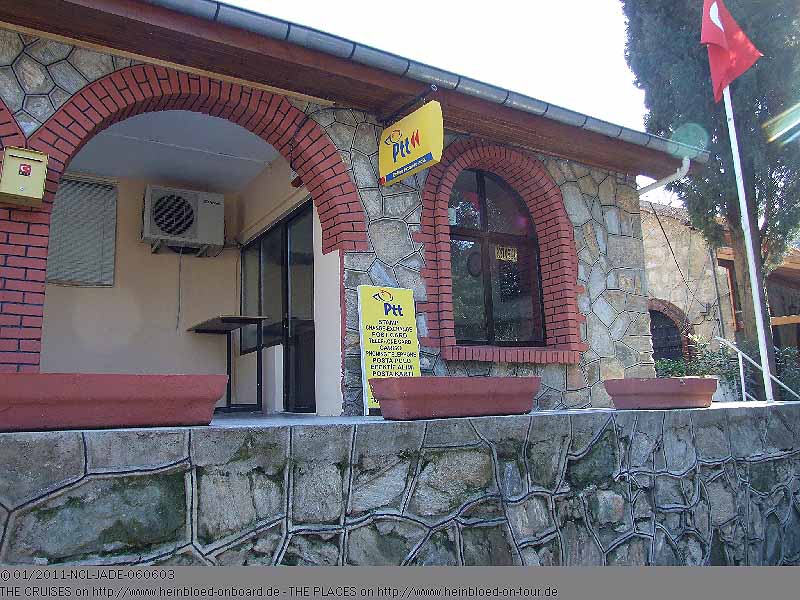 For stamp collectors and those who are still sending postcards instead of picture, text messages or e-mails: there is a small post office.

Here you find few shops but nobody made any pressure to purchase something.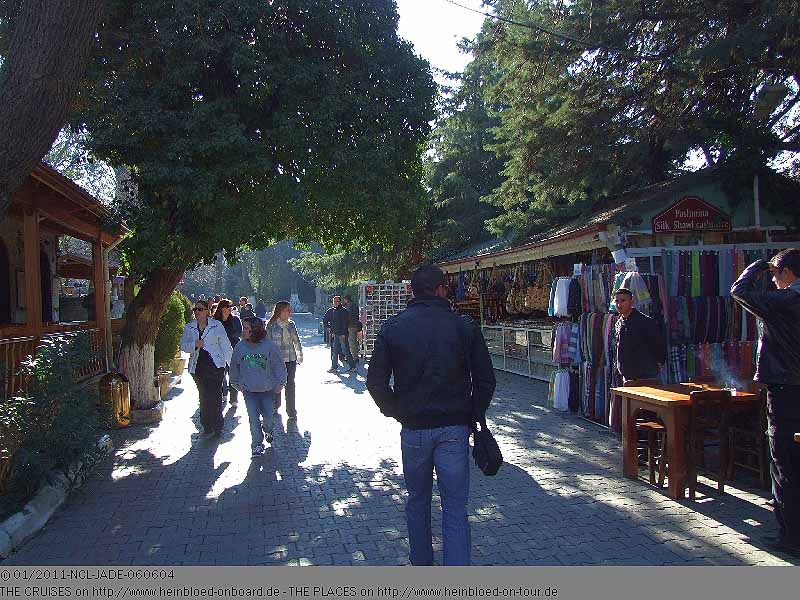 Hier sind ein paar kleine Geschäfte, die allerdings niemanden bedrängen etwas zu kaufen.
Auch ein kleines Café.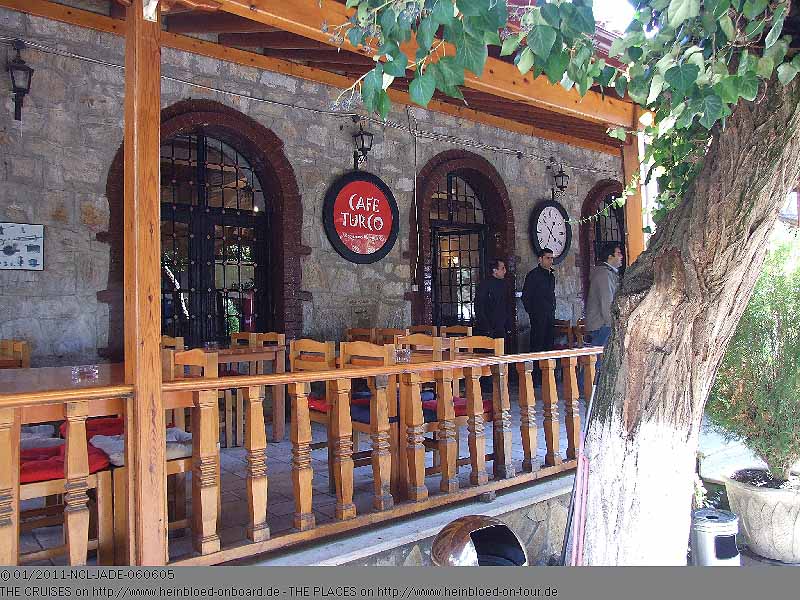 Also a small coffee shop.

Small Turkish snacks.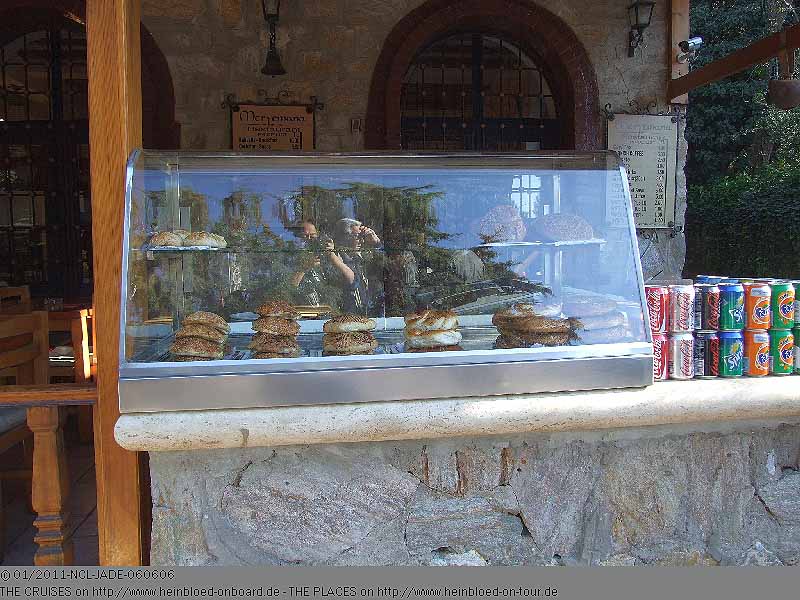 Kleine türkische Snacks.
Und Getränke.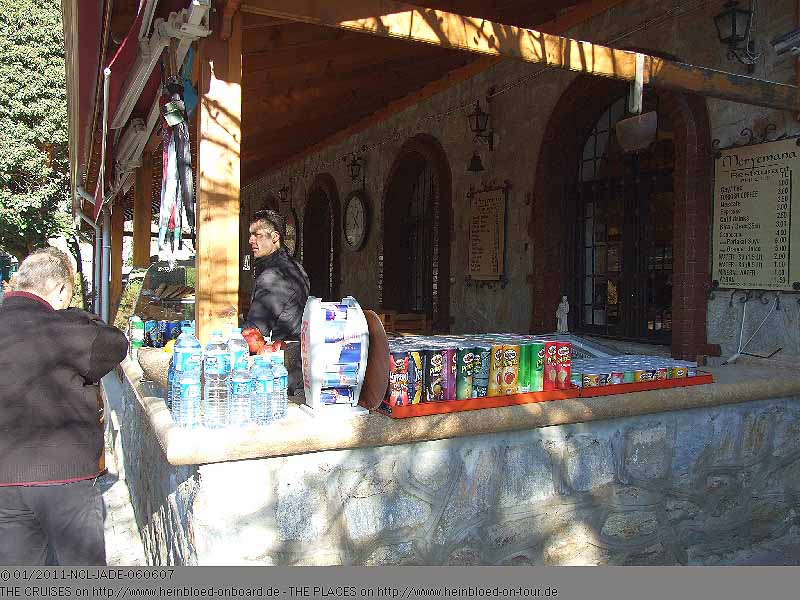 And beverages.

A Turkish tea is just around 0.70 USD. Same with water (16 oz.)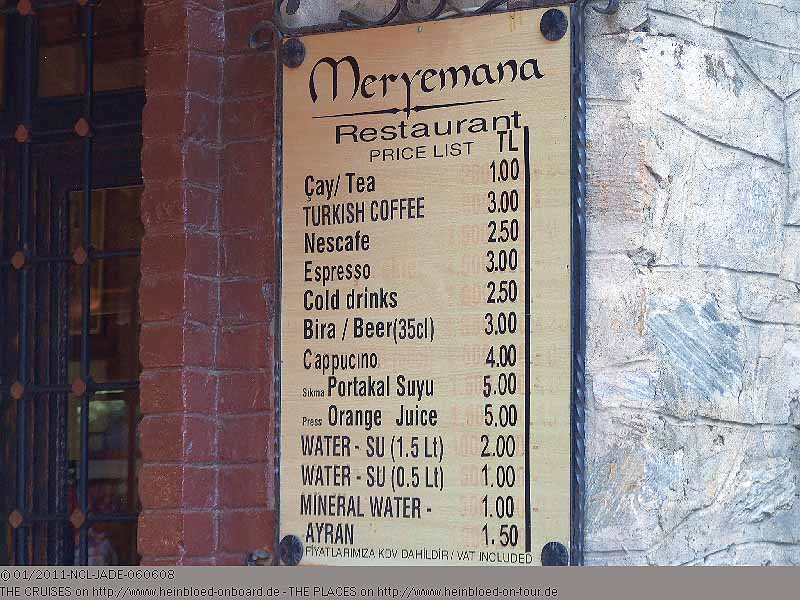 Ein türkischer Tee kostet 0,50 EUR. Ebenso Wasser (0,5 l).
Man hatte schon den Eindruck, dass sich alle an die heilige Stätte angepasst haben und es etwas ruhiger ablief.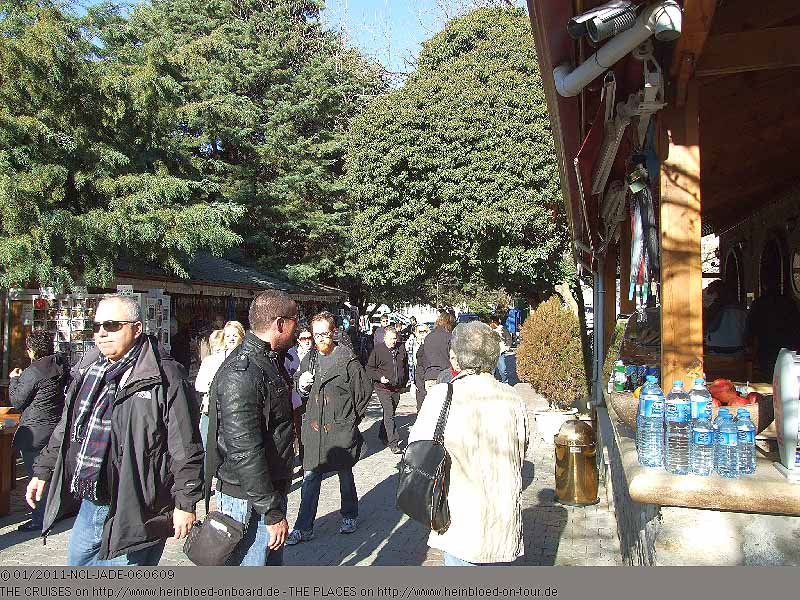 You had the impression that everybone behaved like they should behave at such a spirital place and it was much more calmer than elsewhere.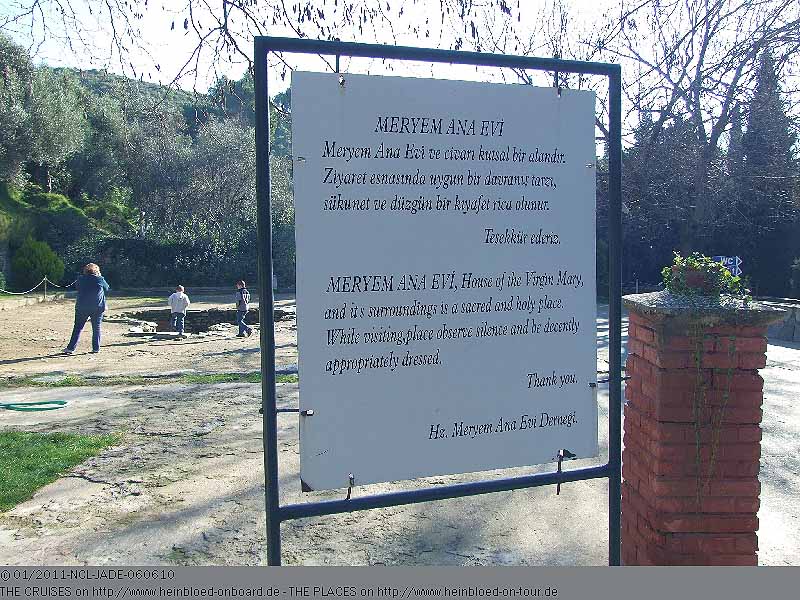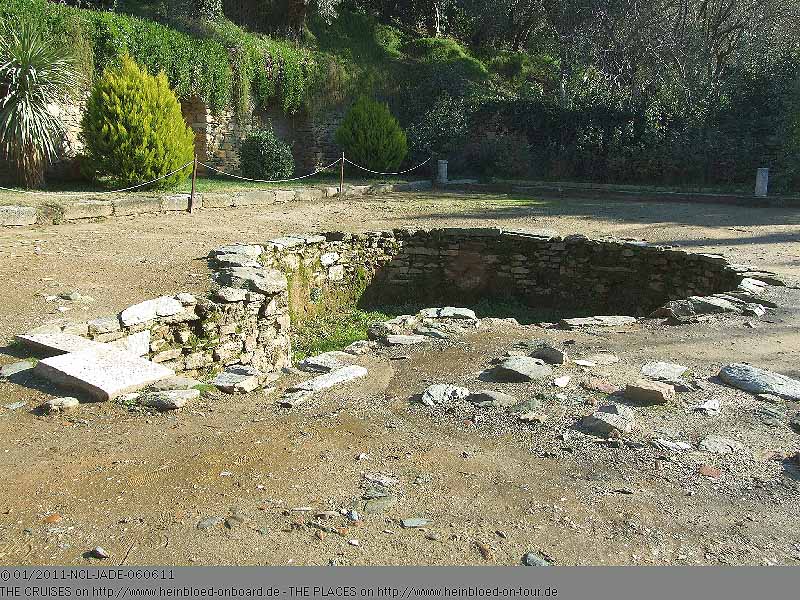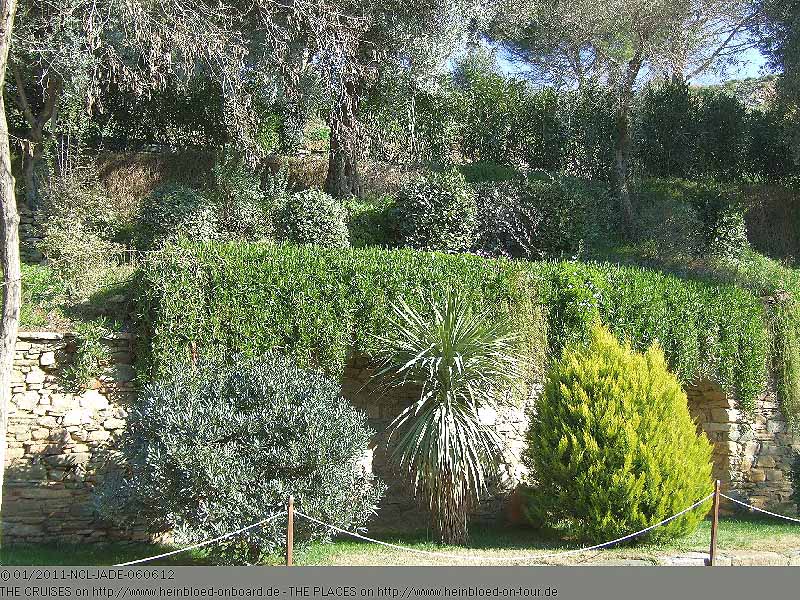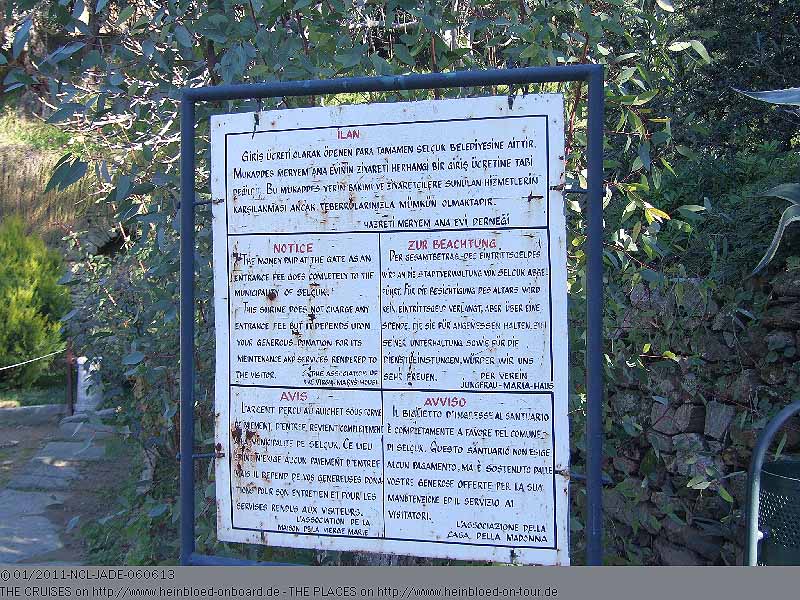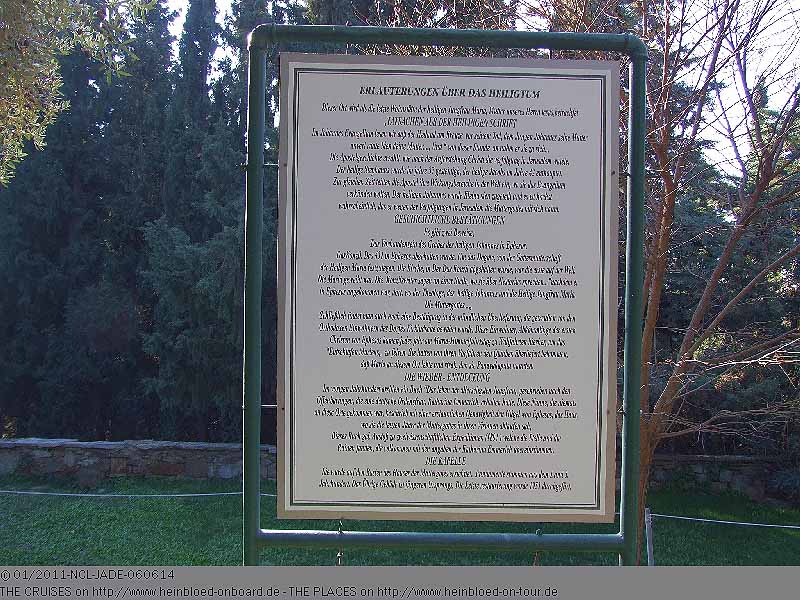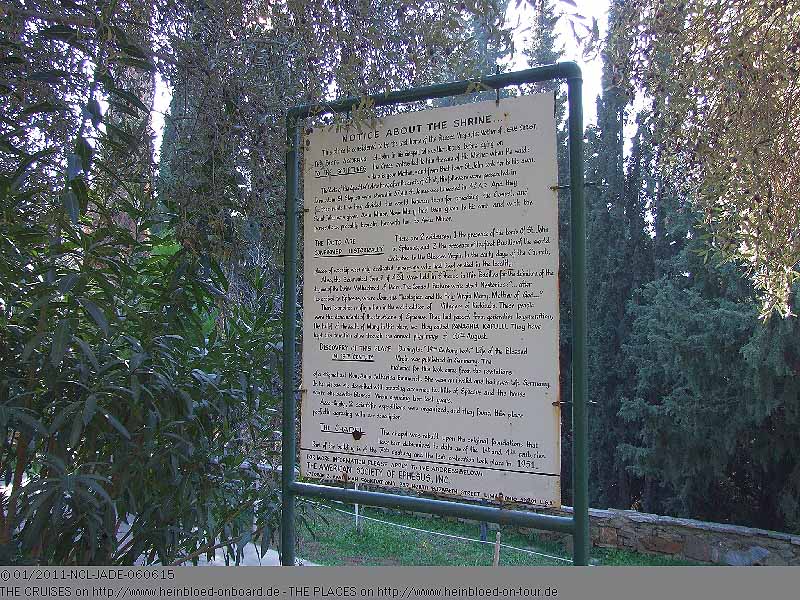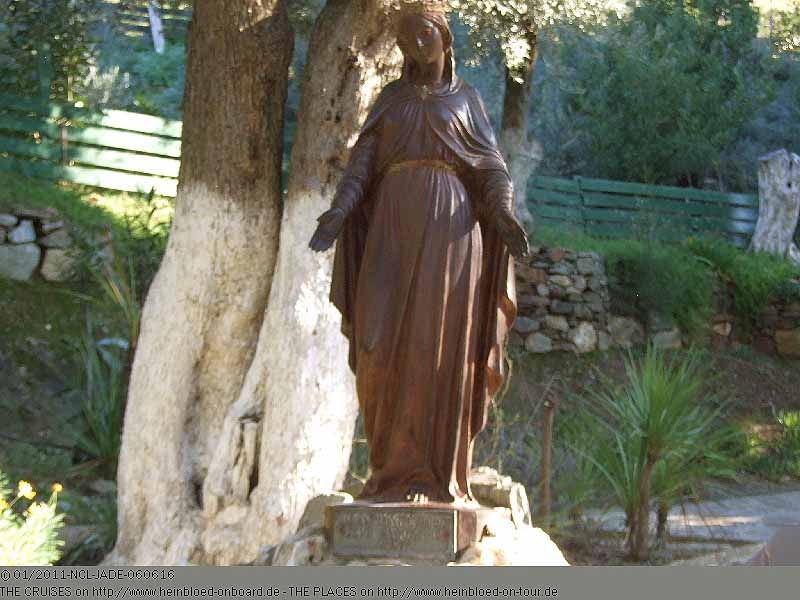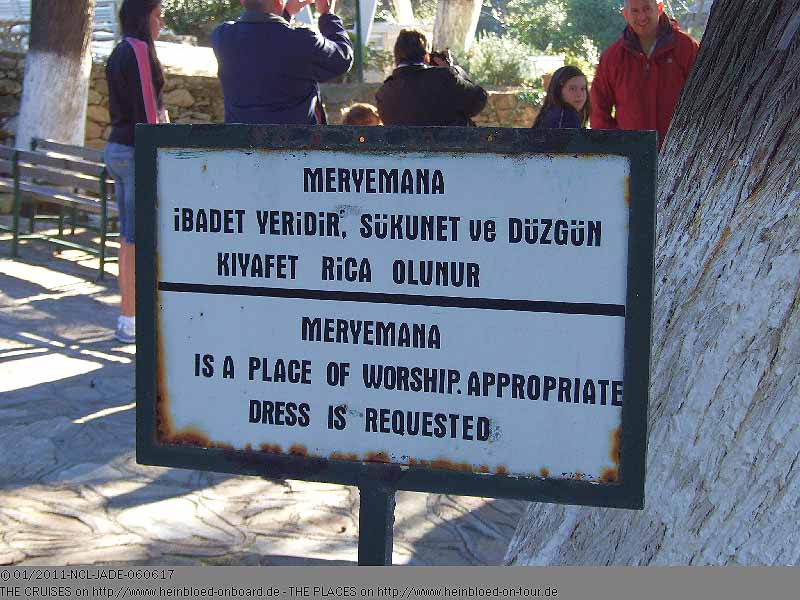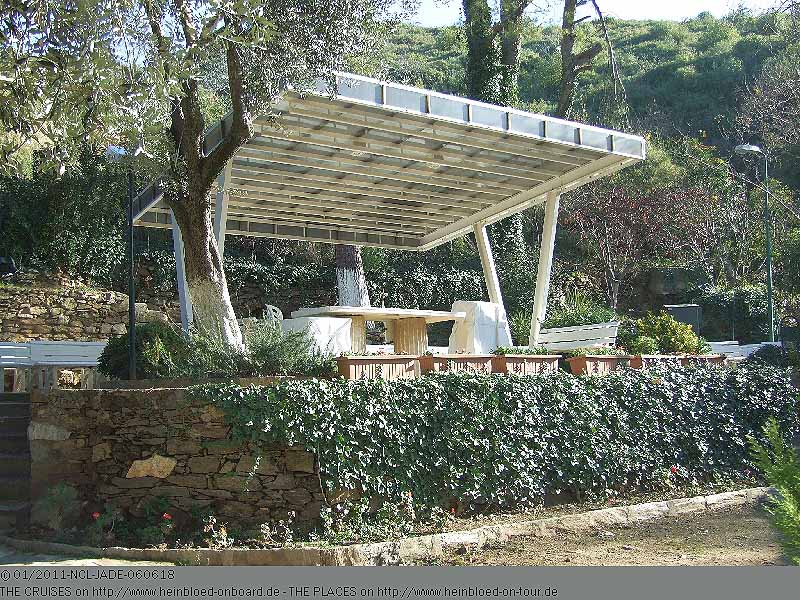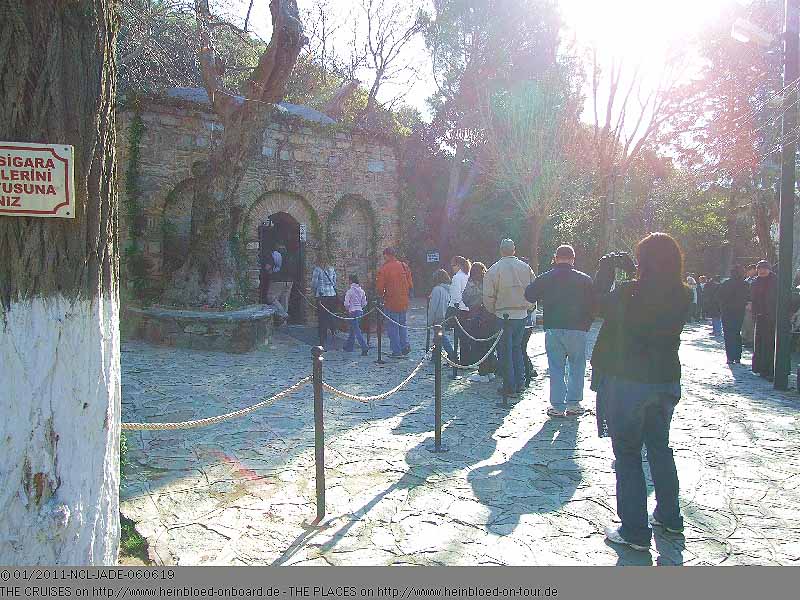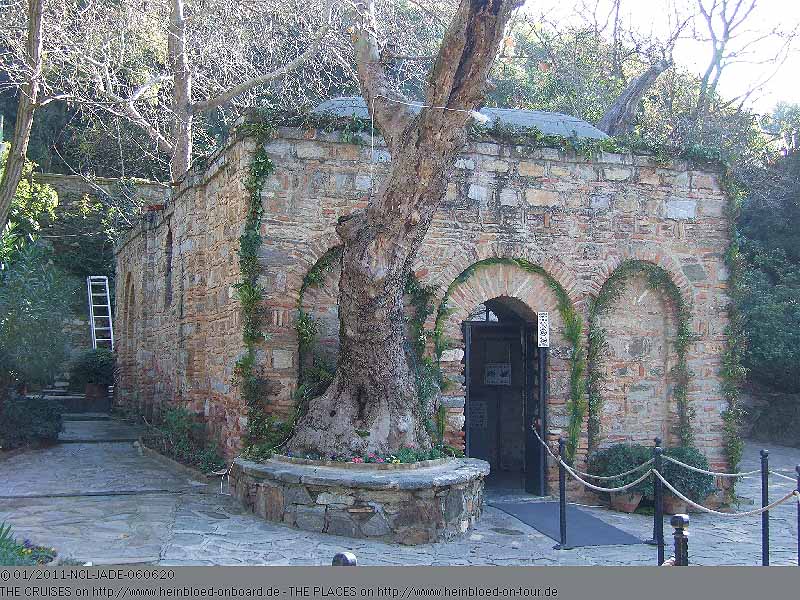 Im Marienhaus ist das Fotografieren und Filmen untersagt. Auch gibt es einen Ordner, der alle Bildaufnahmen im Marienhaus unterband.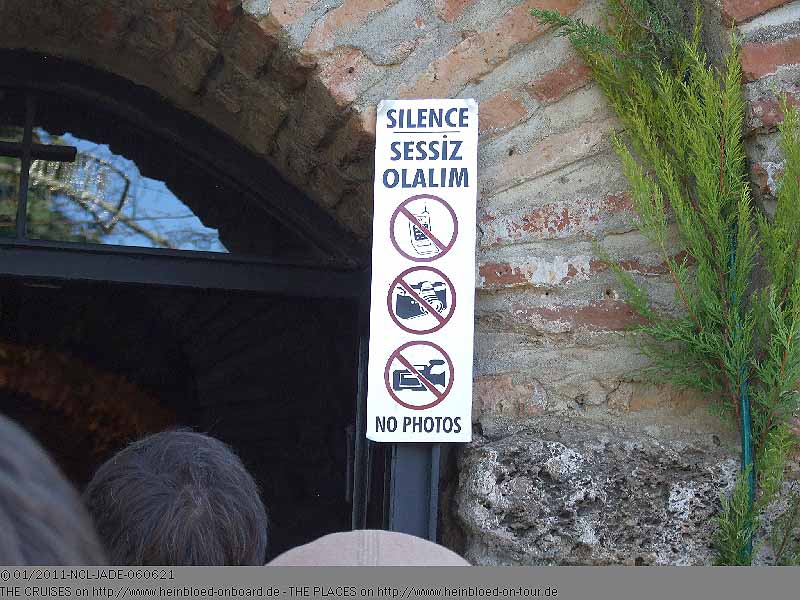 You are not allowed to take any pictures or movies inside the Virgin Mary's House. There is a guard inside who made sure that you do not do it.

Honestly: I am not Catholic but it touched me when I walked through this house. It was somehow part of the world history.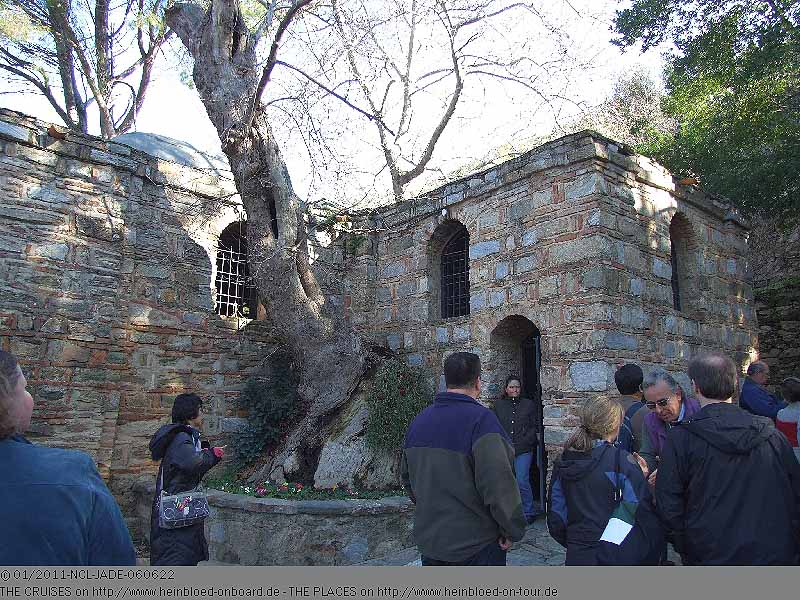 Ganz ehrlich: ich bin kein Katholik, aber es war schon sehr bewegend, wenn man durch dieses Haus gegangen ist. Irgendwie ist es ja doch ein Teil der Weltgeschichte.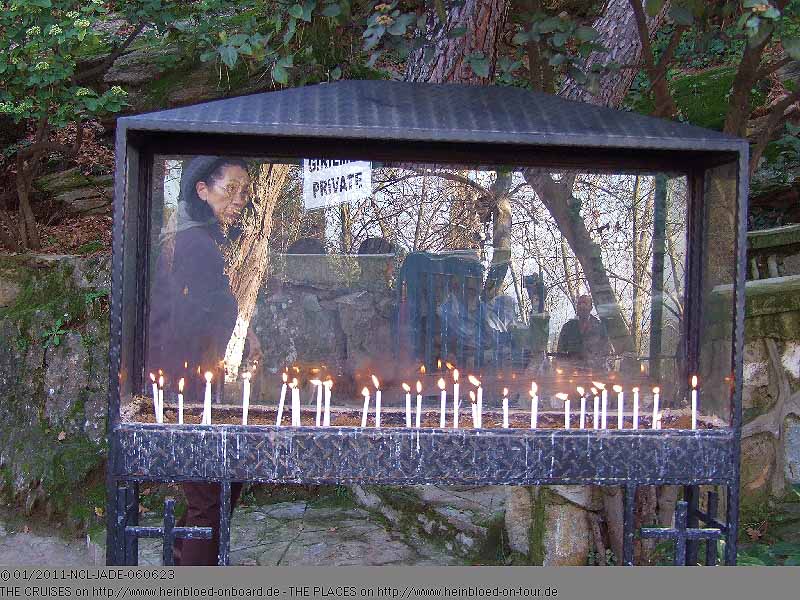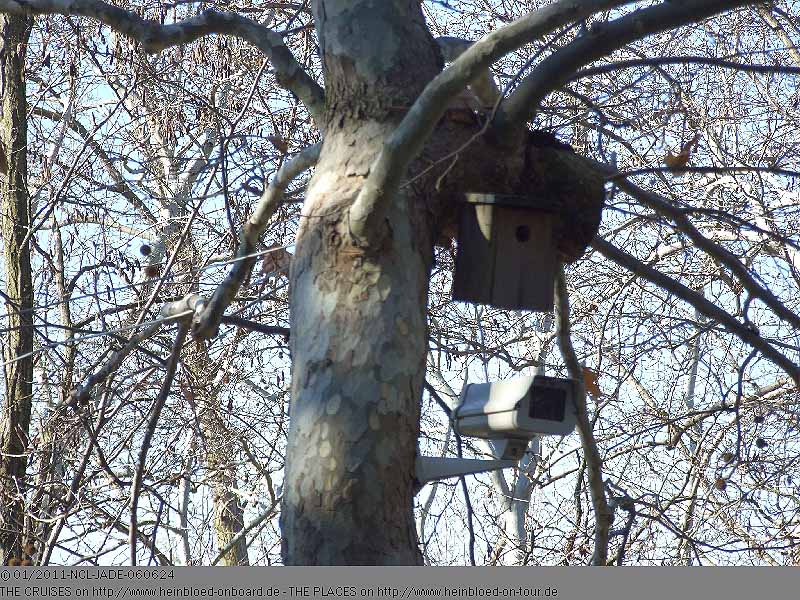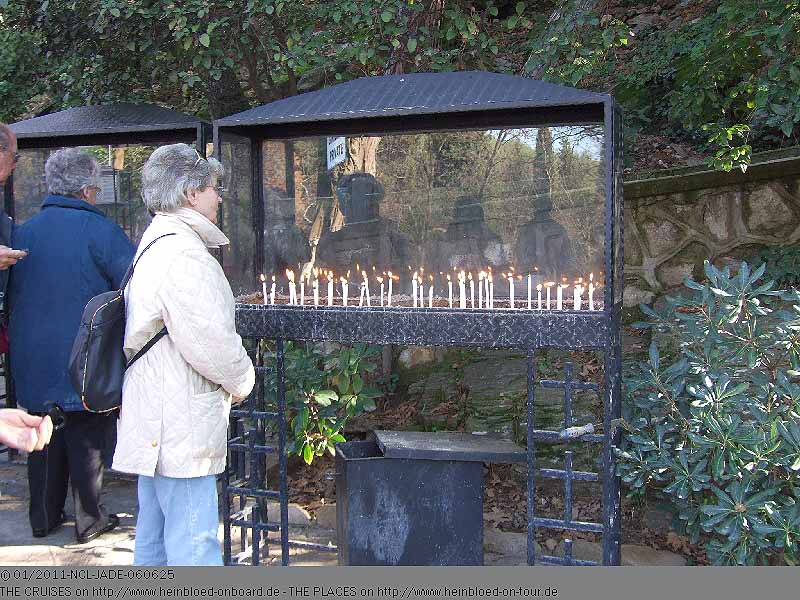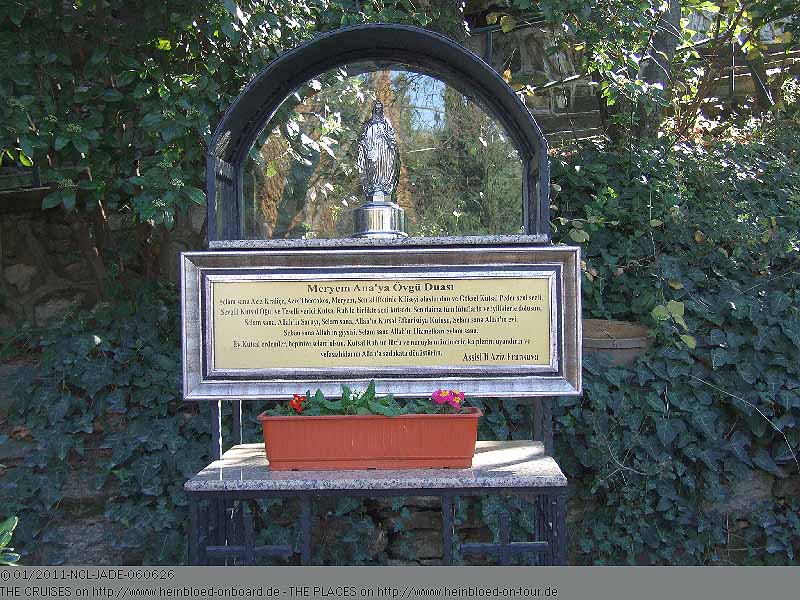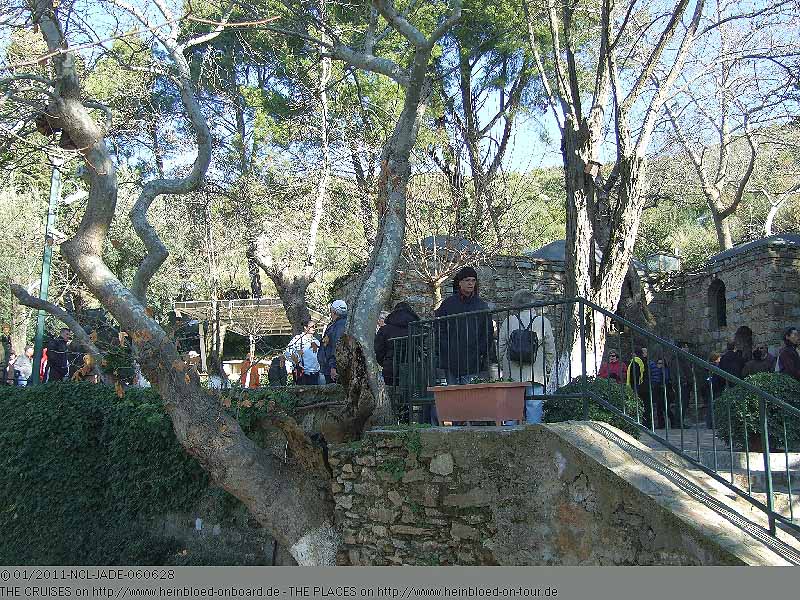 Let us head to the sources.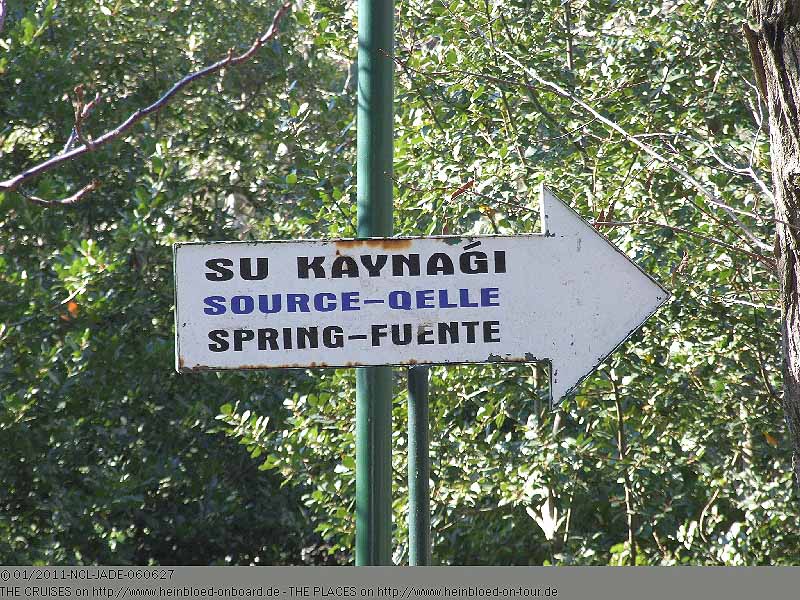 Weiter geht es zu den Quellen...
Eine ist jeweils für Liebe, Gesundheit und Geld.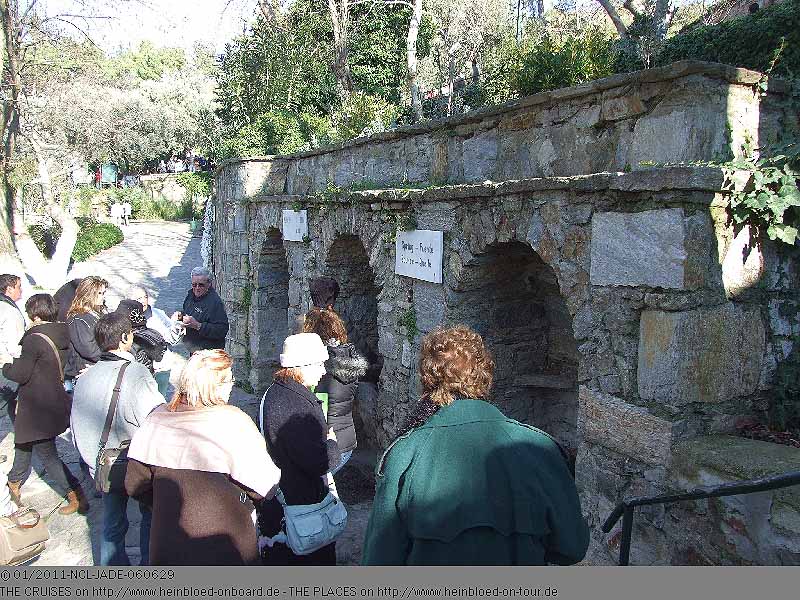 Each of one is for love, health and money.

We were told that the 4th source is a merge of all three other sources. For Japanese tourists and those on ship's excursion who cannot control their lenght of the stay, like us who can do...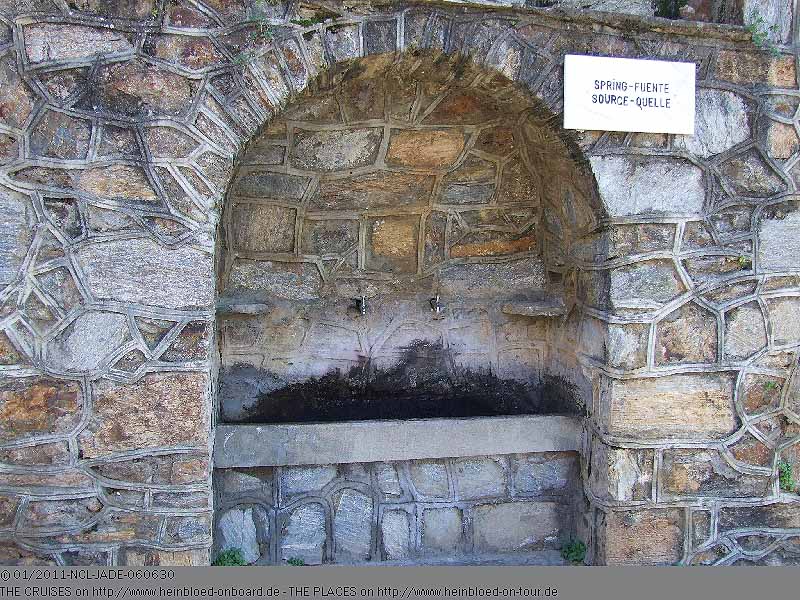 Angeblich würde die 4. Quelle das Wasser aller drei Quellen beinhalten. Für die japanischen Touristen und diejenigen auf Schiffsausflügen, die sich die Zeit nicht so einteilen können, wie wir...
Wer will sollte sich seine Wünsch zu Hause schon vorbereiten und hier aufhängen. Oben sieht man, dass mitlerweile die ersten Busse angekommen sind.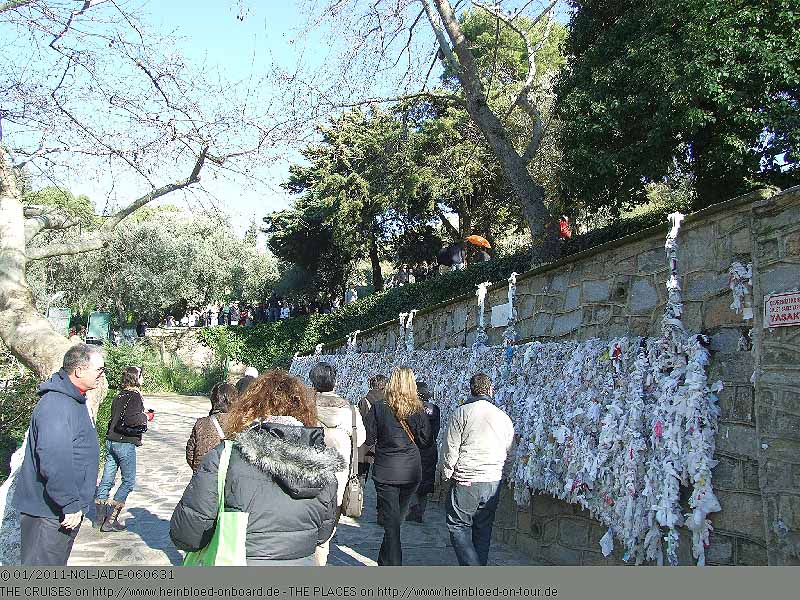 Who like to post here his wish should prepare it at home and post it here. You see above that meanwhile the first buses arrived.

It was sunny but chilly. So we went to the coffee shop.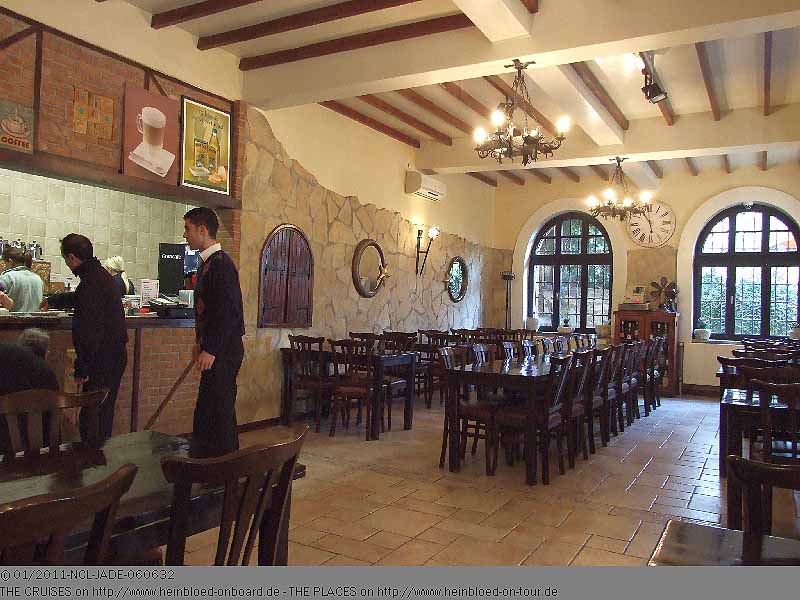 Es ist zwar sonnig, aber kühl. So gehen wir in das Café.
Ein türkischer Tee kostet bloß umgerechnet 0,50 EUR.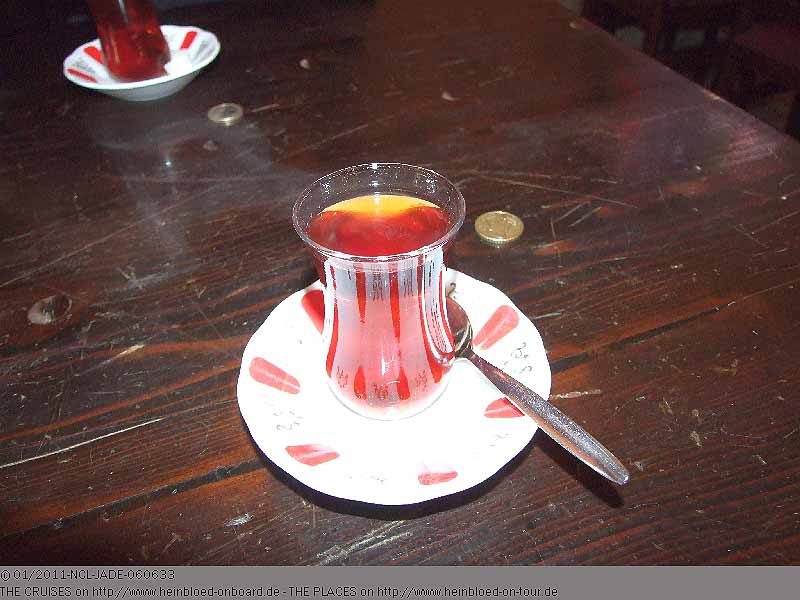 A Turkish tea was only about 0.70 USD.

Glad we had a private tour and arrived here so early.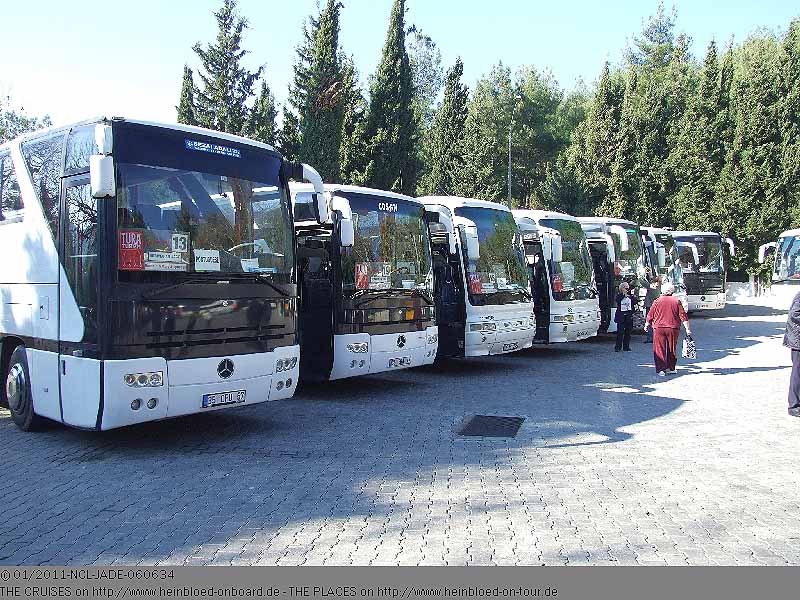 Gut, dass wir eine private Tour haben, und schon sehr früh da waren.
Und die Schlange der Busse nimmt kein Ende.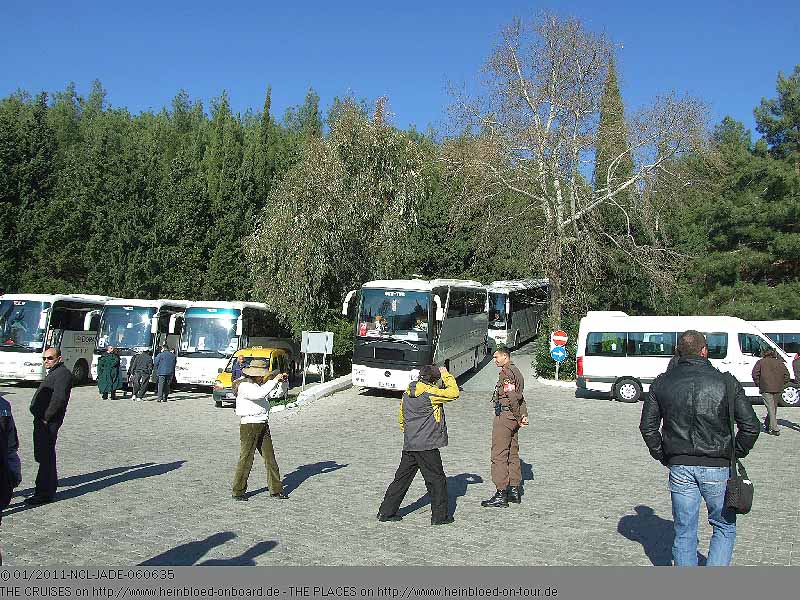 And the line of arriving buses did not stop.

On the route we stopped at an obversation point to see a duplicate of Mary's statue and could take pictures.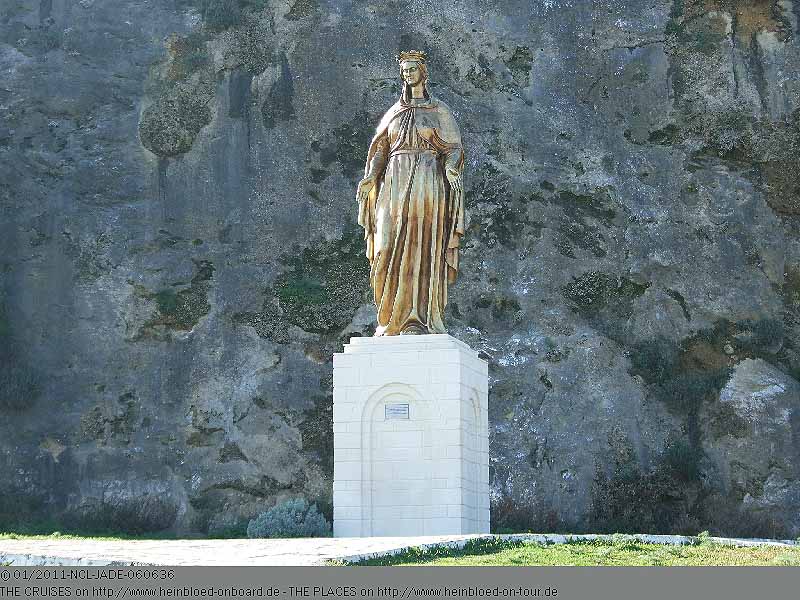 Unterwegs können wir kurz noch an einem Aussichtspunkt an einem Duplikat der Marienstatue halten und fotografieren.
Dort hat man auch einen schönen Blick über die Stadt und Landschaft.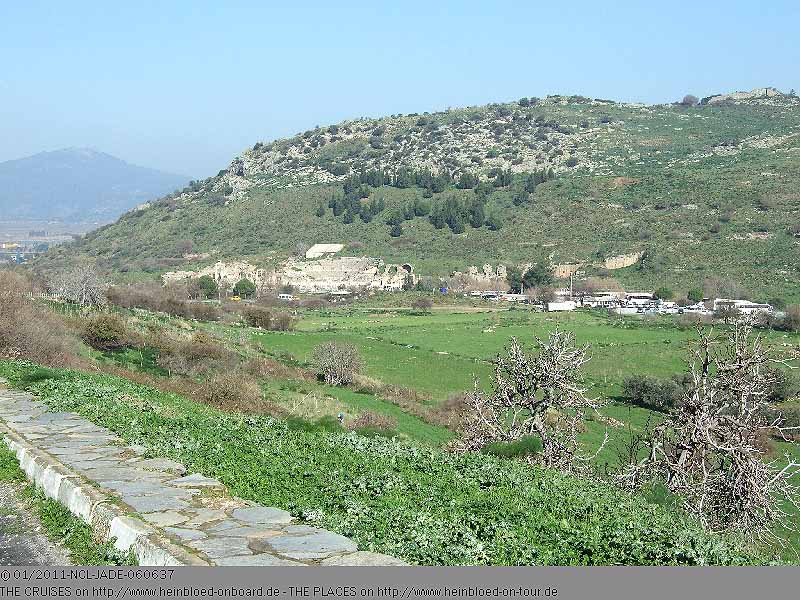 Further more you have a nice view over the city and the landscape.

From here you some part of Ephesus.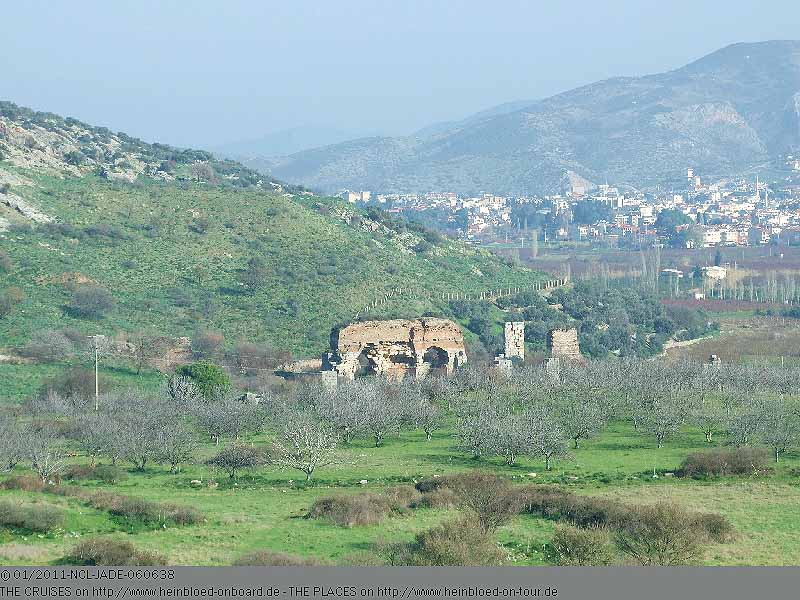 Von hier oben sieht man schon einiges von Ephesus.
Bis hierher soll das Meer mal gegangen sein... Kreuzfahrten, bis vor den Eingang von Ephesus wären doch sehr praktisch.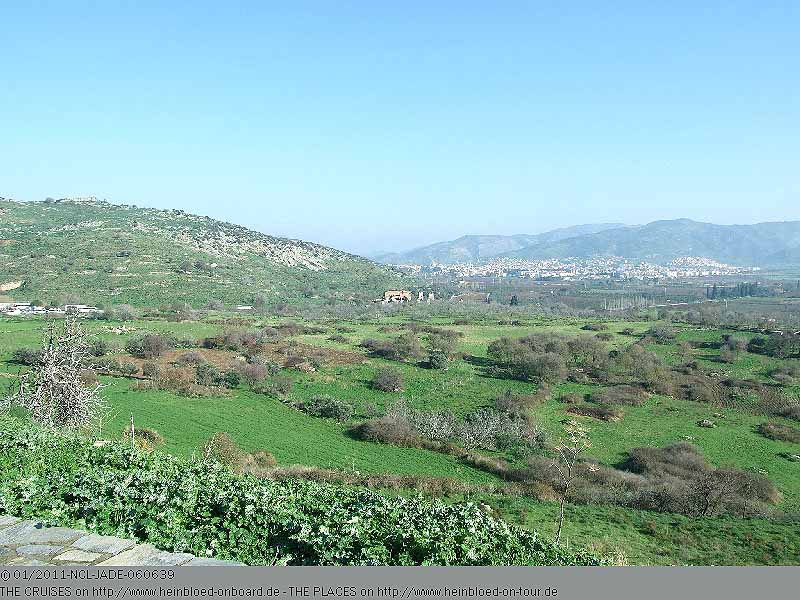 Upto here the sea came up... Cruises to the entrance of Ephesus... this might be very great.