Scroll down for English explanations - alternates with German explanations.

Wir haben die Abrechnung erhalten. Sie fiel sehr viel höher aus. Es war aber auch zu "ärgerlich", weil ja NCL nun gar keinen Anlass gab, sich über etwas zu beschweren. Alles, was wir angesprochen haben, wurde sofort geregelt. Das wichtigste war ja dabei die Klimananlage und ohne mehrere Tage warten zu müssen, und ohne dass ich mit Decke und Kissen im Atrium auftauchen musste. Ich könnte mich ja über "Fountains" beschweren und mal gucken, ob ich da noch was rausholen kann... aber ganz ehrlich: Die waren dieses Mal an Bord zu perfekt... Alles andere, was mich gestört hatte, muss eh in Miami festgelegt werden, weil es wohl eine General Policy ist.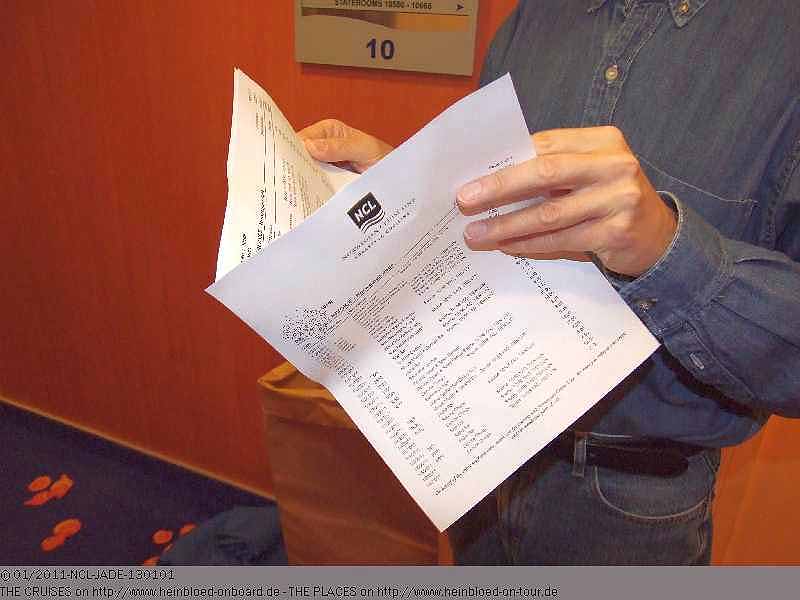 We received the final bill. It was much more higher. It was too "angry" because NCL did not give us any reasons to complaint. Everything we talked about was solved immediately. The most important was the air-condition without letting us waiting several days and without my appearance in the atrium with blanket and pillow. The only complaint I had was "Fountains" to see what I can get back... but honestly spoken: this time it was on board too perfect... Everything else which I did not like so much was part of the General Policy and that is something Miami has to listen.

Although debarkation had not started taxis were already ready to go.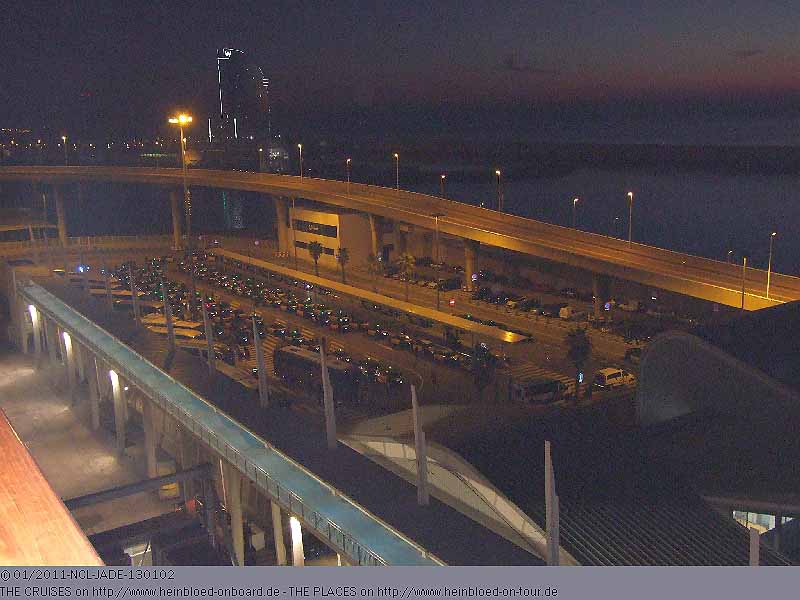 Obwohl die Ausschiffung noch gar nicht begonnen hat, stehen schon die Taxis bereit.
Auch für die INDEPENDENCE OF THE SEAS, die noch erwartet wird und die eigentlich noch sehr viel später kommen soll.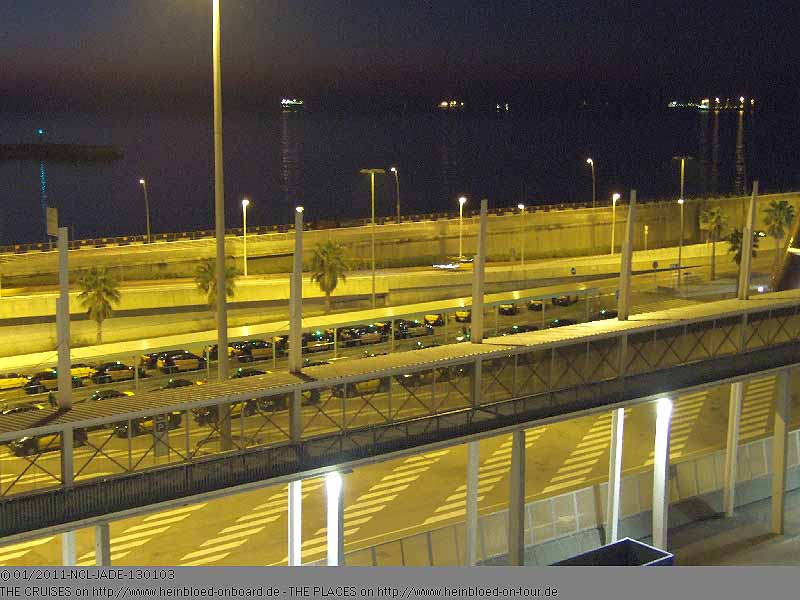 But for the INDEPENDENCE OF THE SEAS as well which was expected few hours later.

But those who liked to carry their bags by their own were allowed to leave the ship since 05.30 hrs.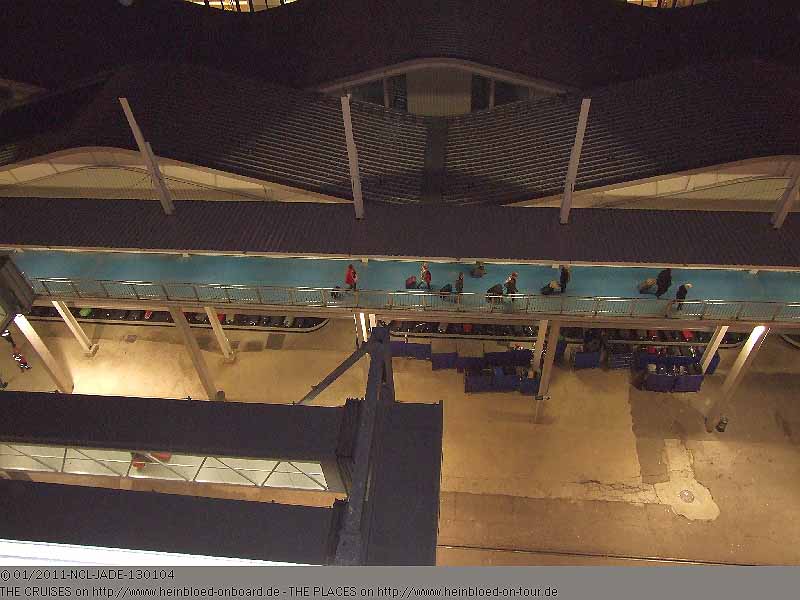 Aber diejenigen, die ihr Gepäck selbst von Bord schleppen können bereits seit ca. 05.30 Uhr vom Schiff.
Ich laufe nochmals herum und verabschiede mich von der MEINER NORWEGIAN JADE.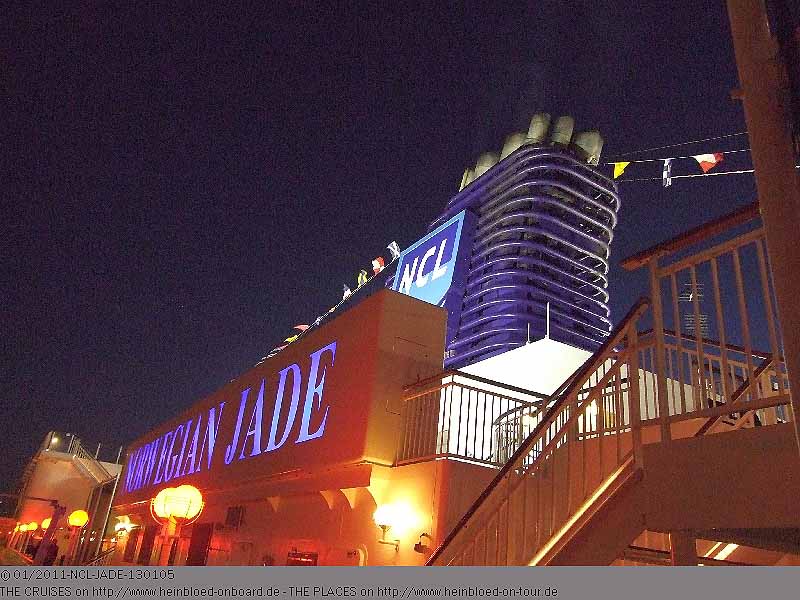 I made a last walk to bid farwell to MY NORWEGIAN JADE.

It was difficult to leave when you saw this.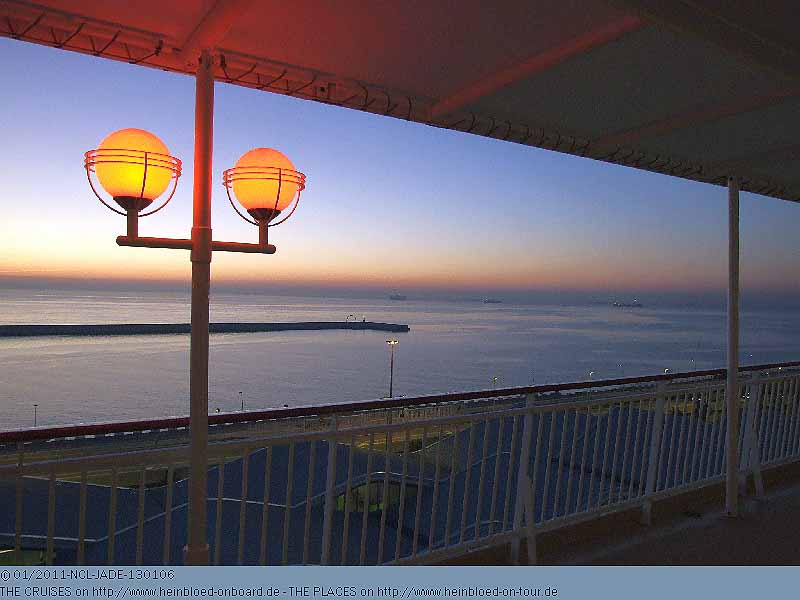 Bei solch einem Anblick fällt es schon schwer.
Die letzten Mon-Cheris, die übrig bleiben kommen in ein Schälchen und werden den letzten Kellnern verteilt.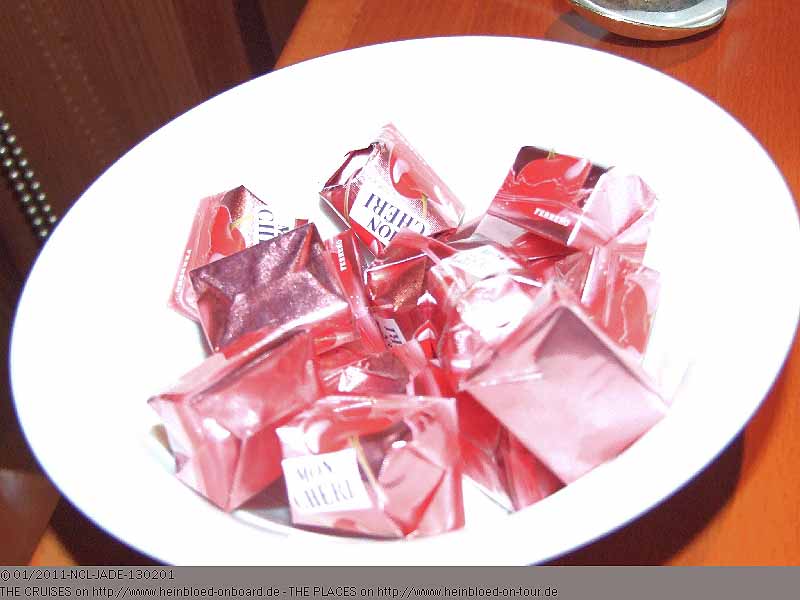 The last Mon-Cheris which were left we put into a bowl and we handed them over to our last waiters.

As the cruise was over it was not so problematic that the sanitizer was empty...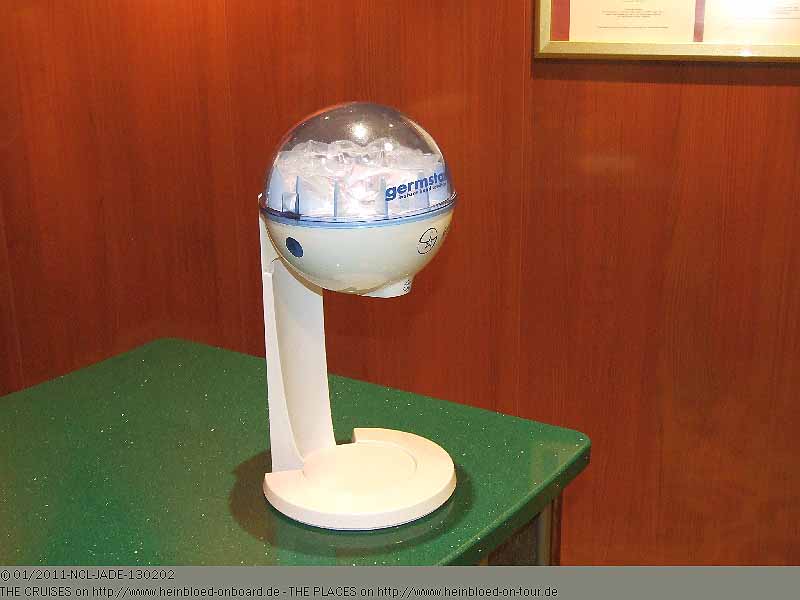 Da die Kreuzfahrt rum ist, ist es anscheinend auch nicht mehr so schlimm, dass der Sanitizer leer ist...
Und dann hätte ich noch eine Bitte, falls jemand ins Cagney's in nächster Zeit geht. Mir ist eine Aufnahme von einem Kellner verunglückt. Falls jemand zufällig dahin kommt und mir eine Aufnahme von Sang Made machen kann, wäre es total klasse... Eben auch jemand, der einen verwöhnt.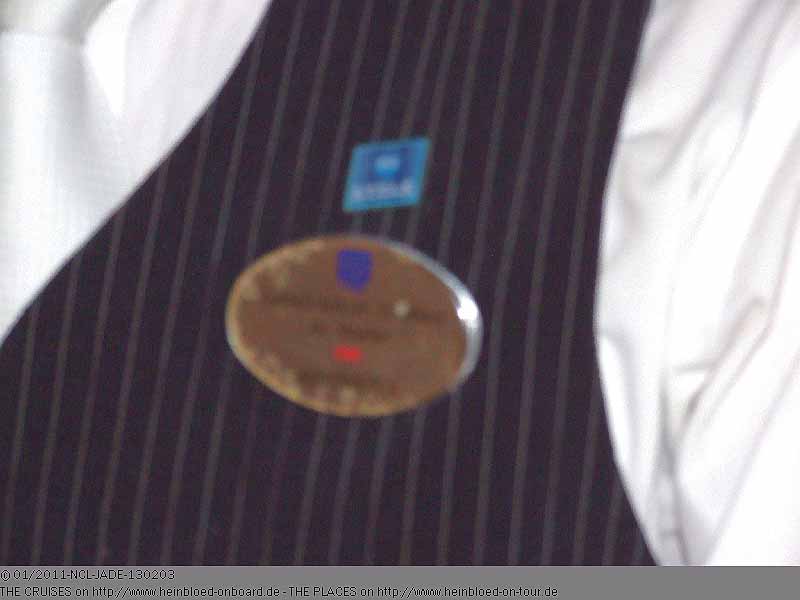 Then I do have a request if someone sees Cagney's in the near future. I had unluck with one picture of a waiter. So if someone is going there: can you get me a picture of Sang Made??? This would be totally great... He was also someone who pampered you.

While we had breakfast INDEPENDENCE OF THE SEAS came in.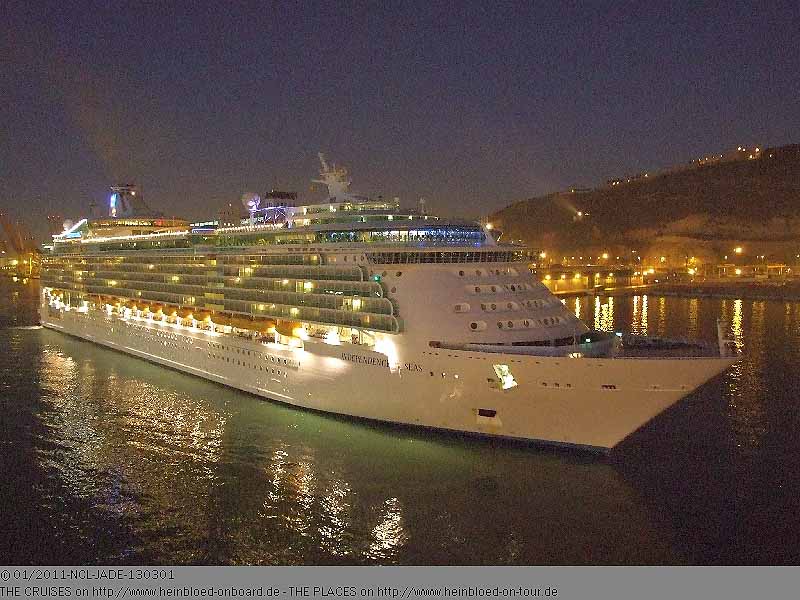 Während des Frühstücks kommt die INDEPENDENCE OF THE SEAS rein.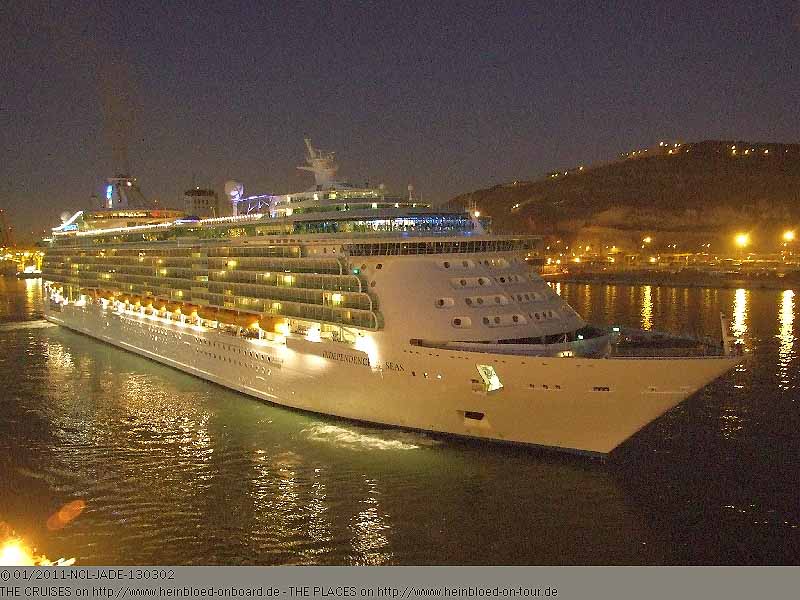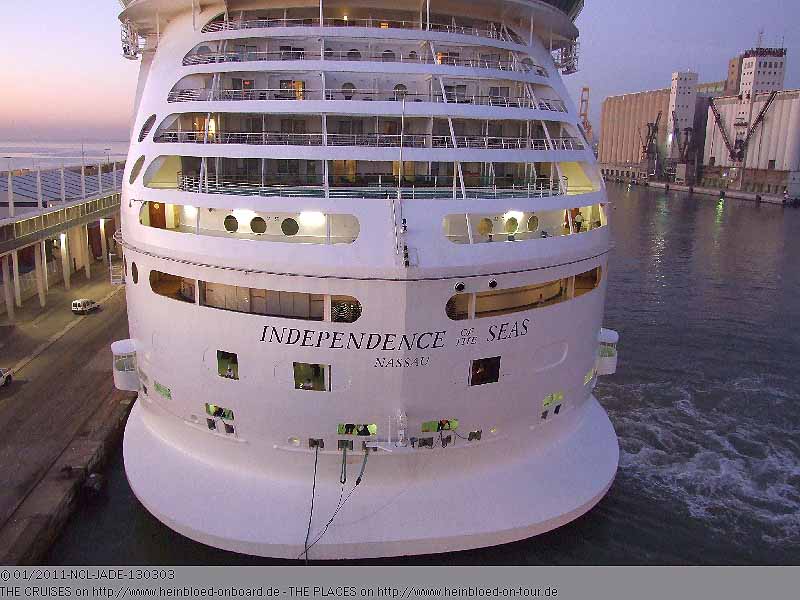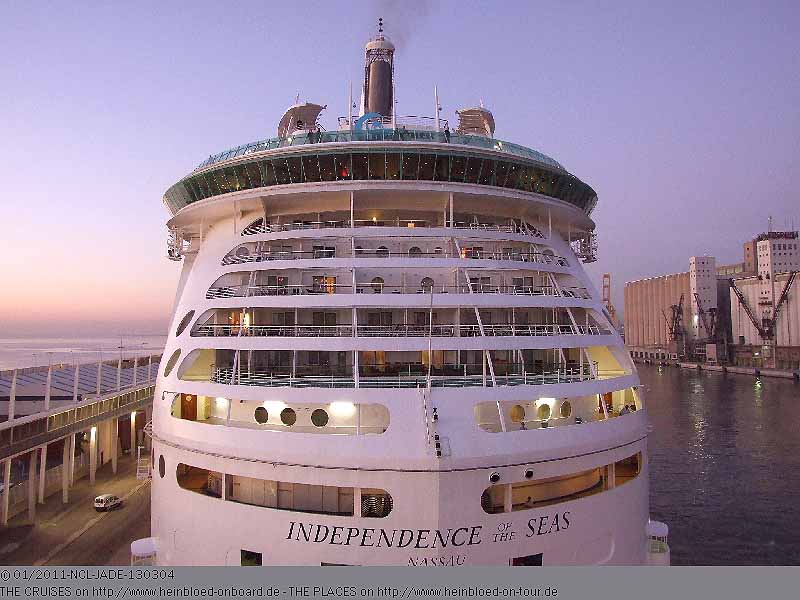 Please turn your head of 90°... She was so close from our balcony that I had no chance to get her better as picture.

Bitte den Kopf, um 90° drehen... So nah von unserem Balkon, bekam ich es nicht besser hin.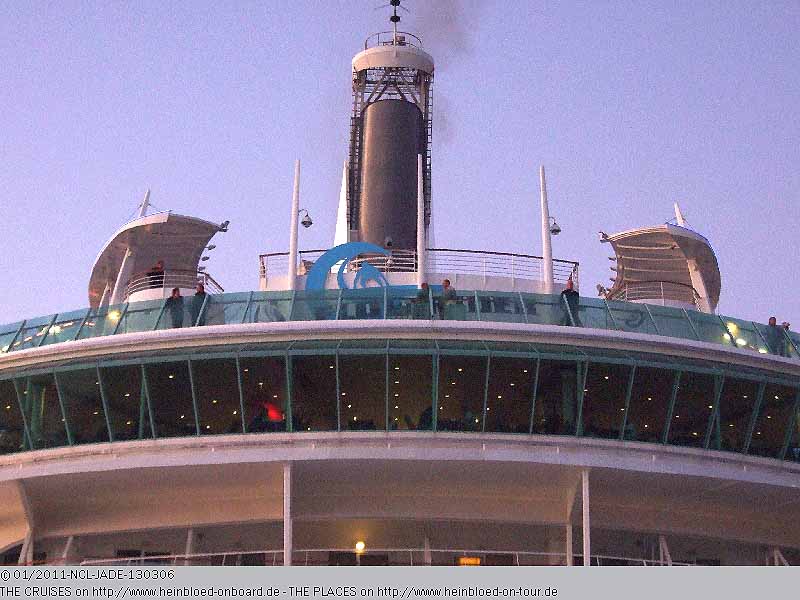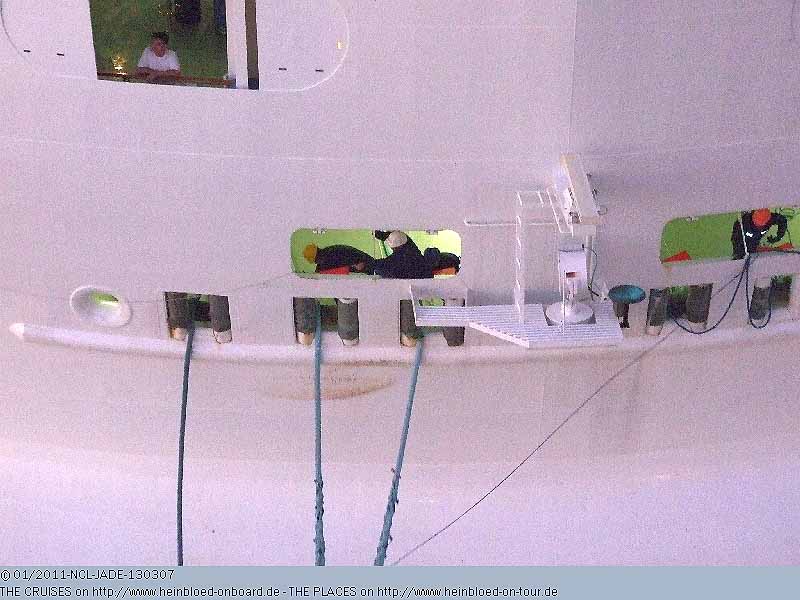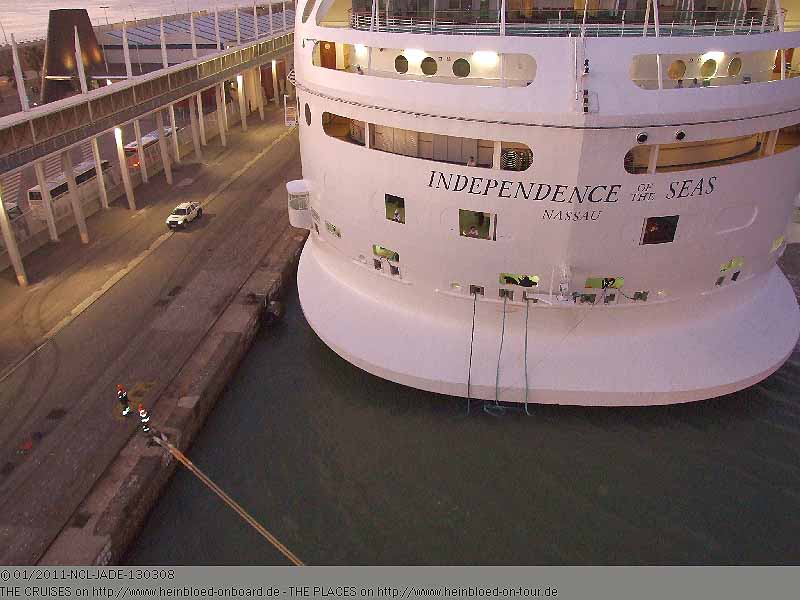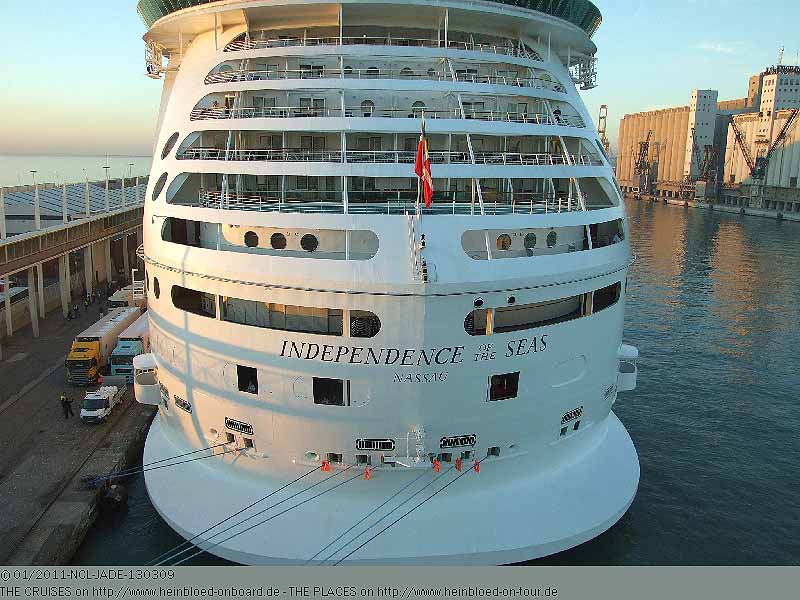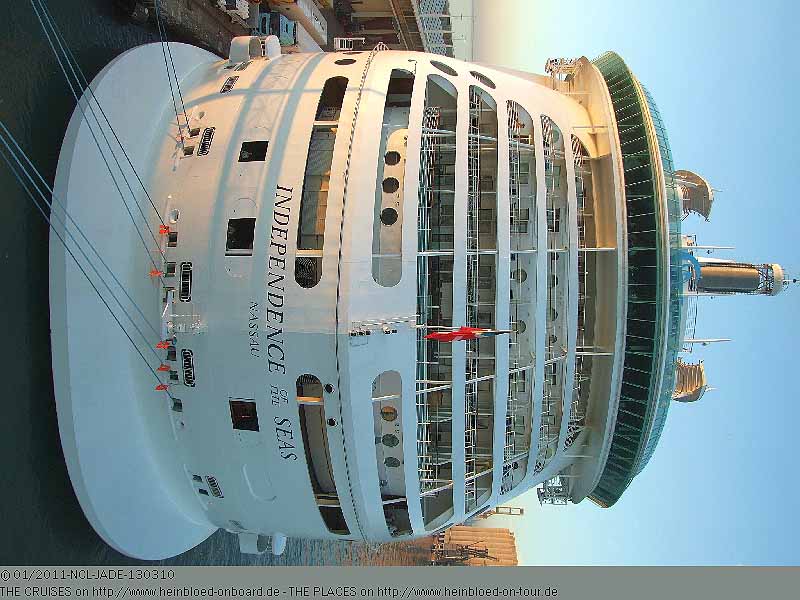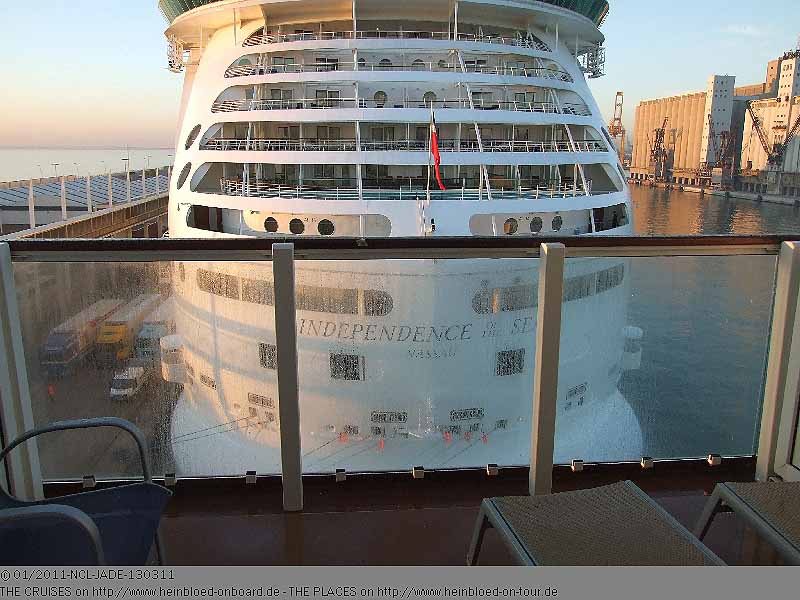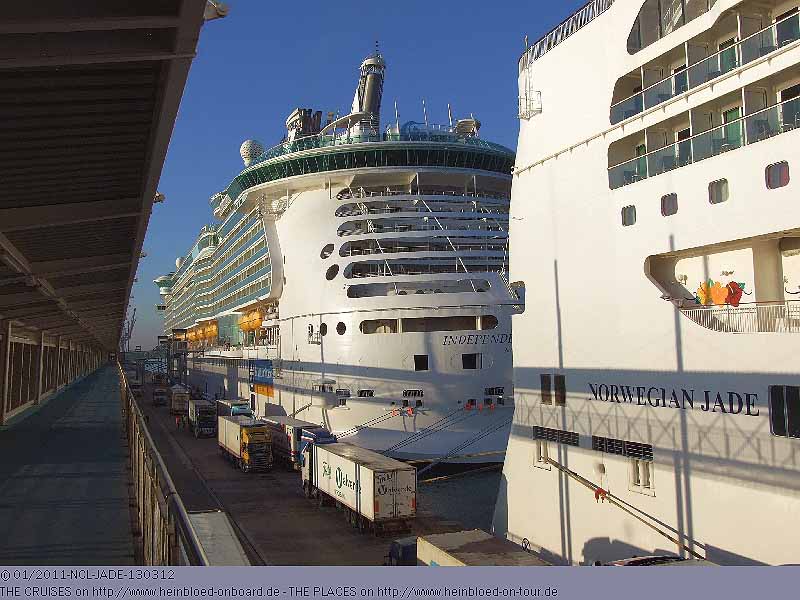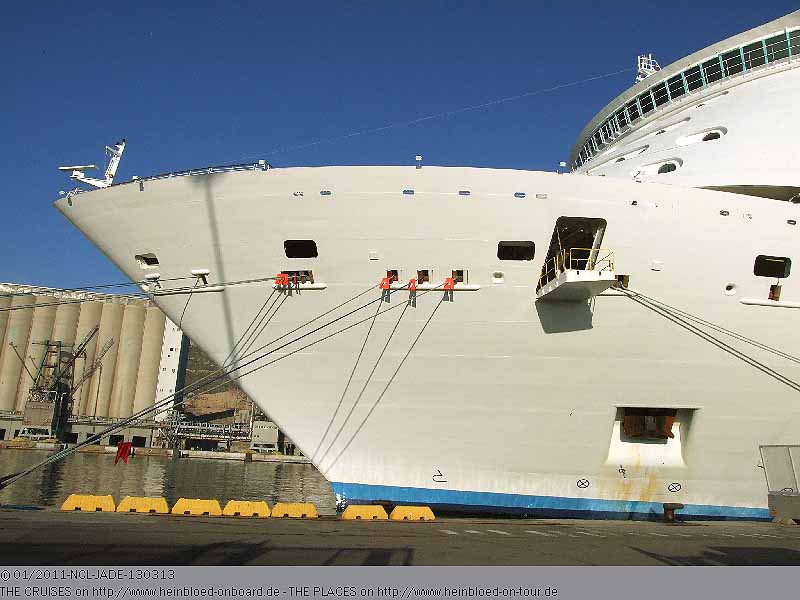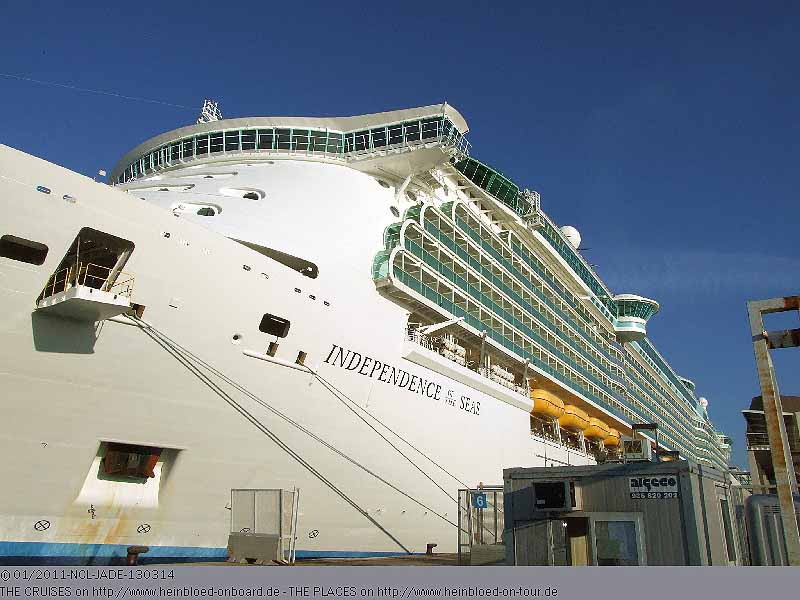 Port security did not allow me to enter for 30' into the fenced area to have a better shot of INDEPENDENCE OF THE SEAS.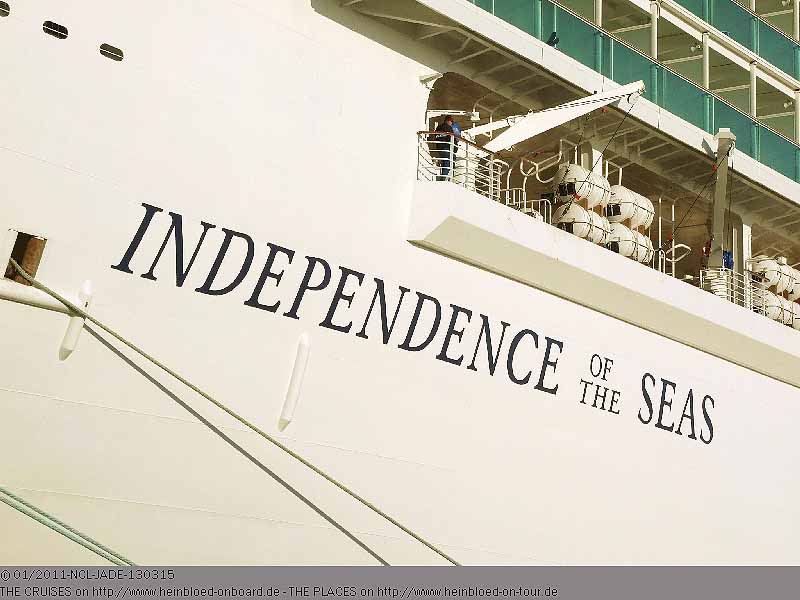 Leider lässt mich die Sicherheit nicht zehn Meter in den abgezäunten Bereich laufen, um die INDEPENDENCE OF THE SEAS besser zu treffen.
Gegen 07.30 Uhr ist die Ausschiffung voll im Gange.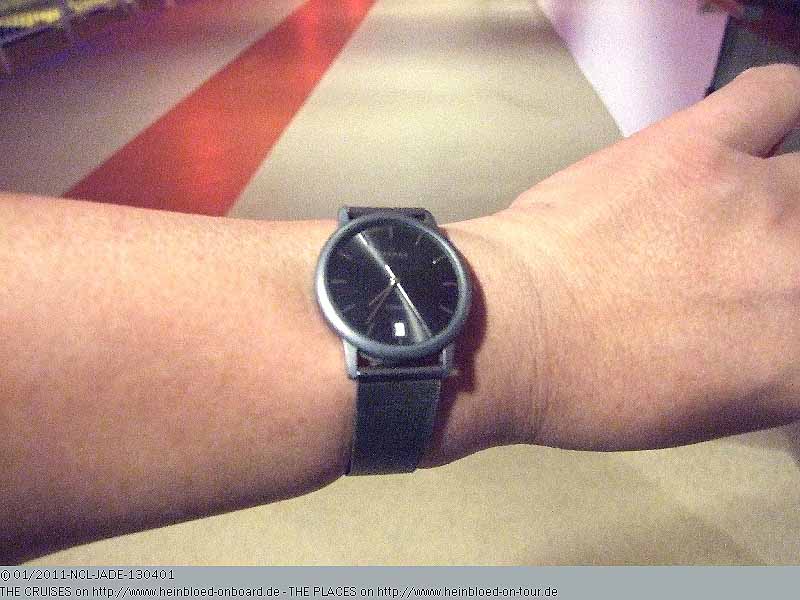 Around 07.30 hrs the debarkation was fully running.

The baggage belts worked for hours.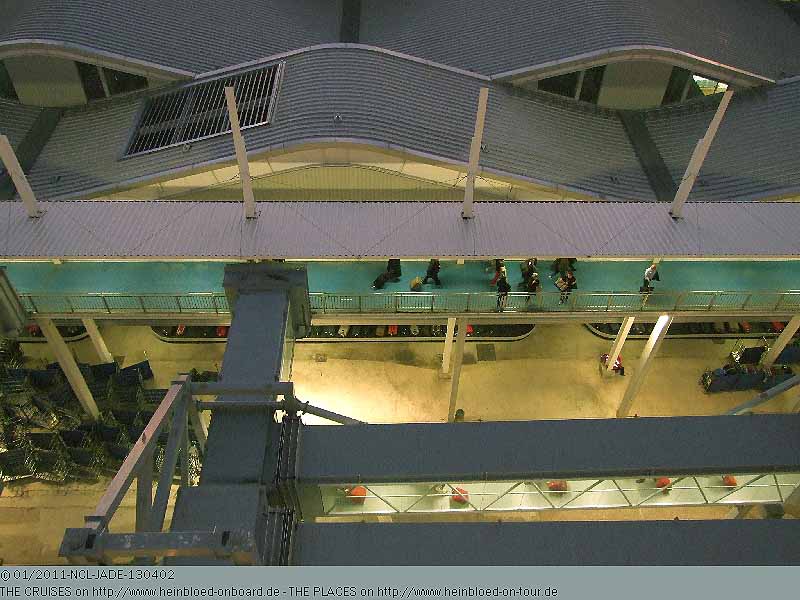 Die Gepäckbänder arbeiten bereits seit Stunden.
Und auch die Busse sind alle da...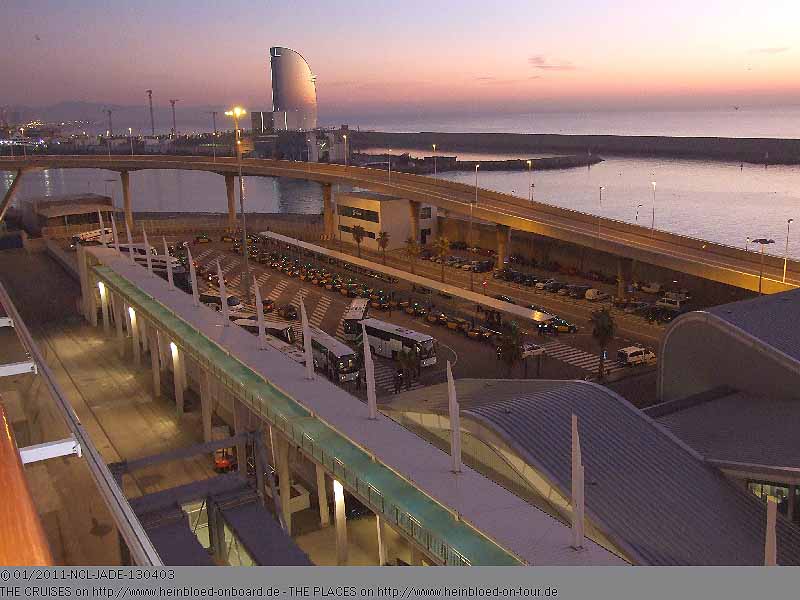 And all the buses meanwhile arrived...