Scroll down for English explanations - alternates with German explanations.

Zum ersten Mal erlebe ich bei NCL, dass die Kabinenbereiche gesperrt sind. Weil es aber noch Transitgäste gibt, die ja jederzeit in die Kabine dürfen, wird es recht locker gesehen.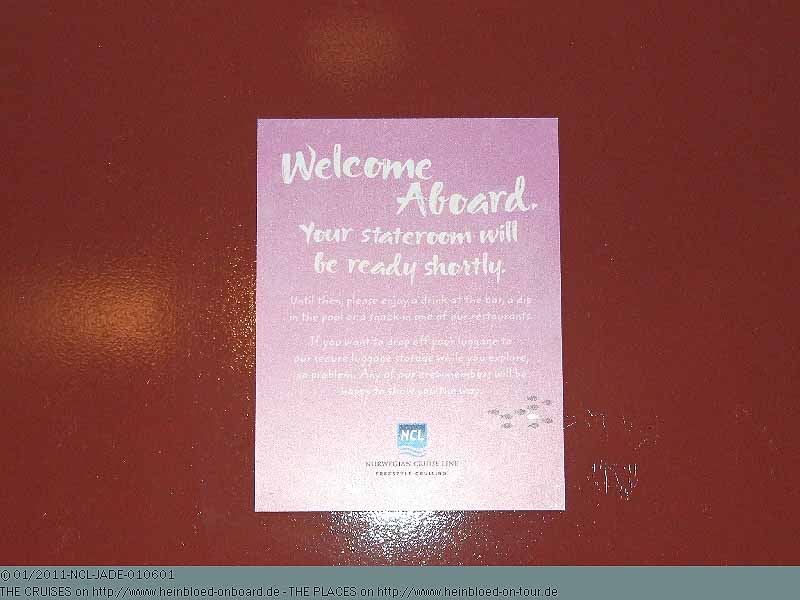 The very time with NCL I saw that the cabin area was closed. Because there are transit guests as well who should have full access to their cabins nobody took too much attention on it.

We had 10168, an aft balcony. I guess the very last time as from April they do not sell them anymore as BA but re-catgorized them that you need to pay few hundered bucks more...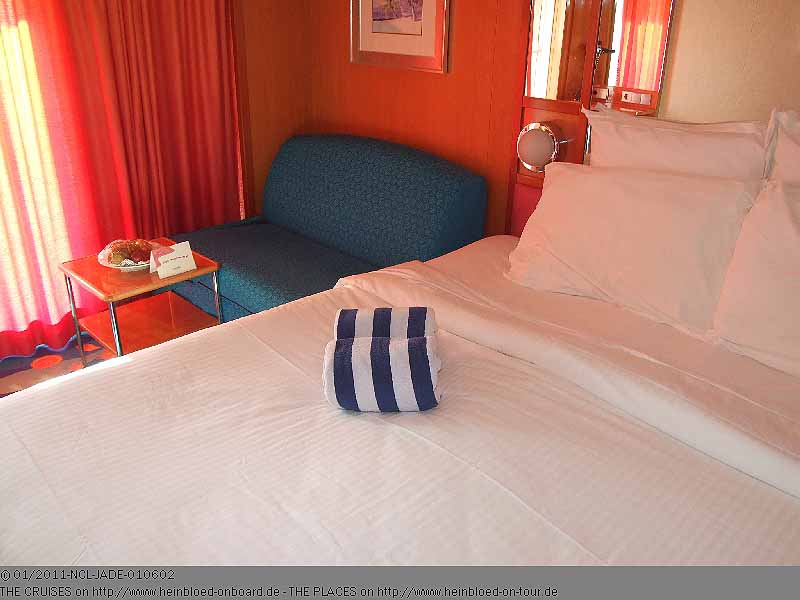 Wir haben die 10168, eine Heckbalkonkabine. Vermutlich zum letzten Mal, weil sie ja ab April nicht mehr als BA verkauft werden, sondern umgruppiert wurden und i. d. R. ein paar Hundert USD mehr kosten...
Ursprünglich wollten wir ja eins tiefer sein - wie damals
zum ersten Mal auf der NORWEGIAN JADE
, aber wir haben ja die Kabine umgetauscht...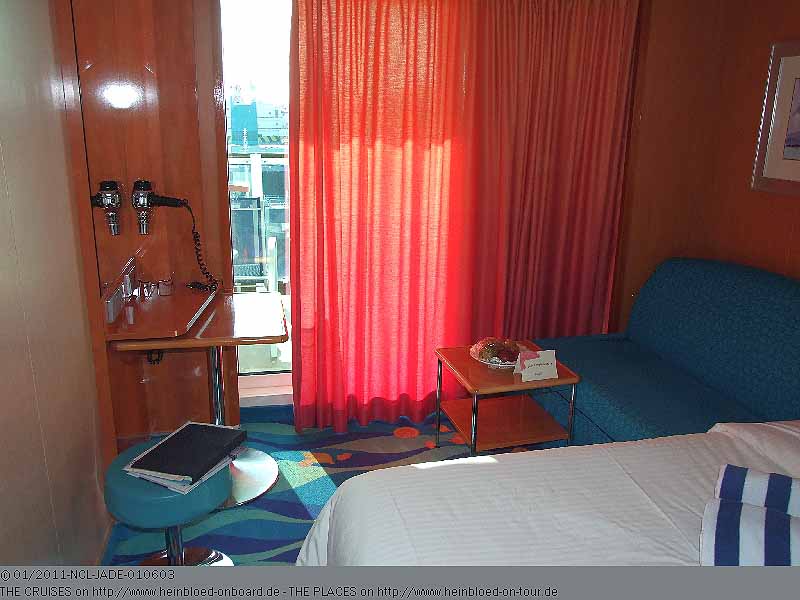 Originally we booked one deck lower - like then the very first time on NORWEGIAN JADE but we changed the cabin.

Still just one 230 V-outlet only...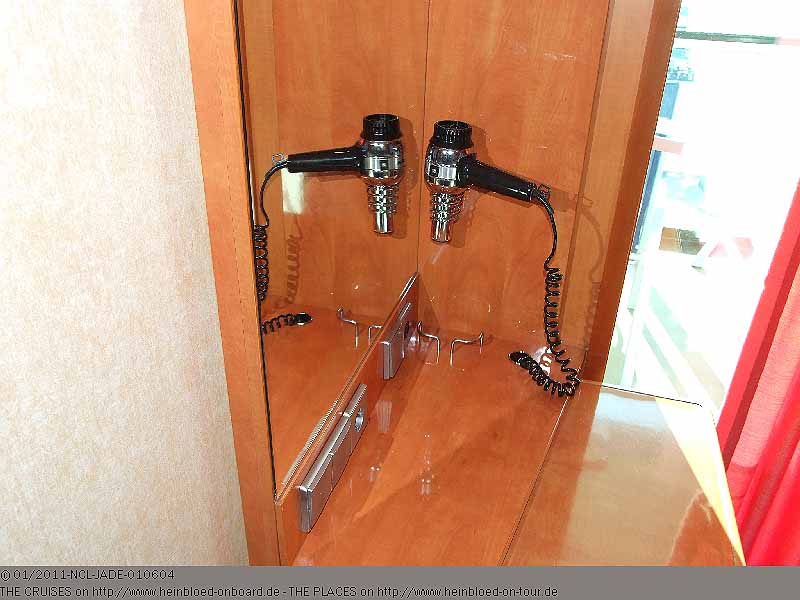 Nach wie vor nur eine 230 V-Steckdose...
Und hier irgendwie verschenkter Platz, weil eine 4-er Belegung möglich ist und man daher auch den Platz so anordnen muss, dass auch 4 Personen in der Kabine schlafen können.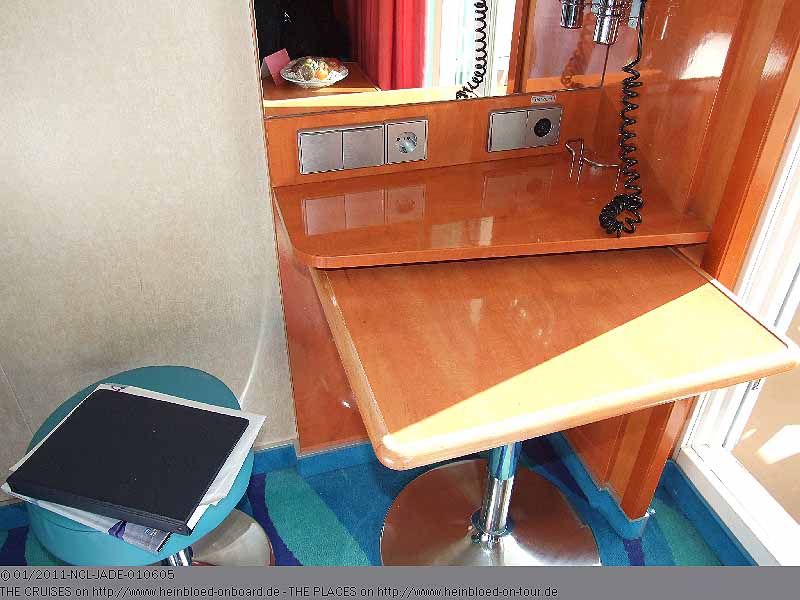 And here lost space because a 4-person-occupation would be possible and you need to arrange the space this way that you can accomodate 4 persons in this cabin.

Not yet an LCD-flatscreen-TV and so you have no interactive menu. Only three British channels (incl. Sky and BBC) are available on TV. Coffeemachine you have from balcony and upwards.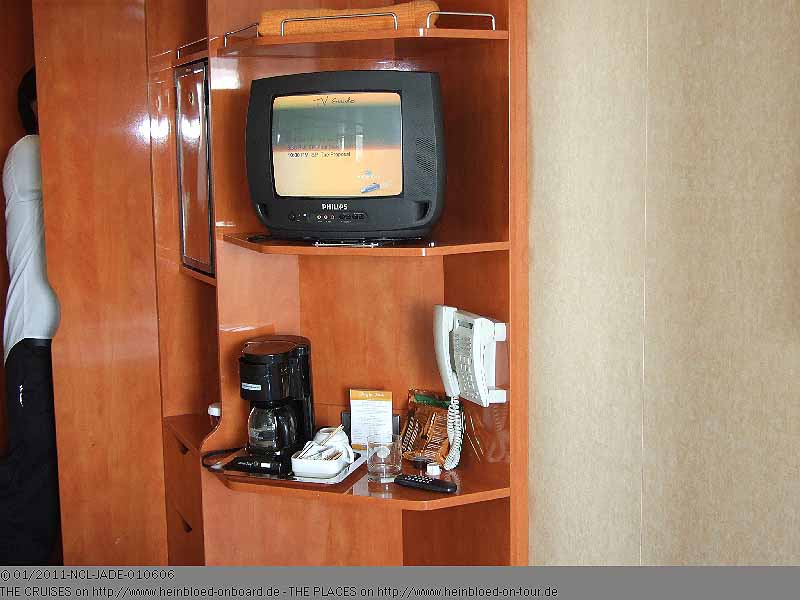 Noch kein LCD-Flachbildschirm und somit kein interaktivites Menü. Nur RTL ist als deutschsprachiges Programm verfügbar. Die Kaffeemaschine gibt es erst ab Balkon und aufwärts.
Genauso wie die Bademäntel.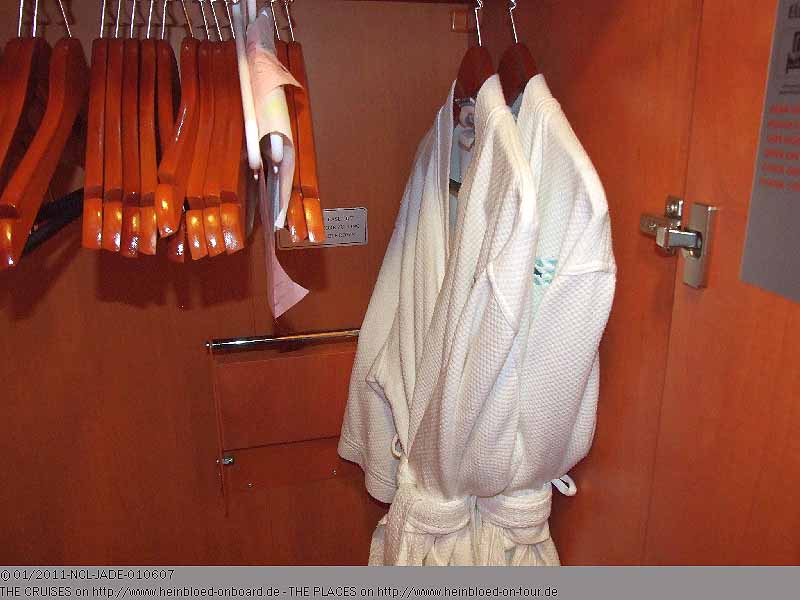 Same with the bathropes.

We like this air condition better than this one on OCEAN PRINCESS.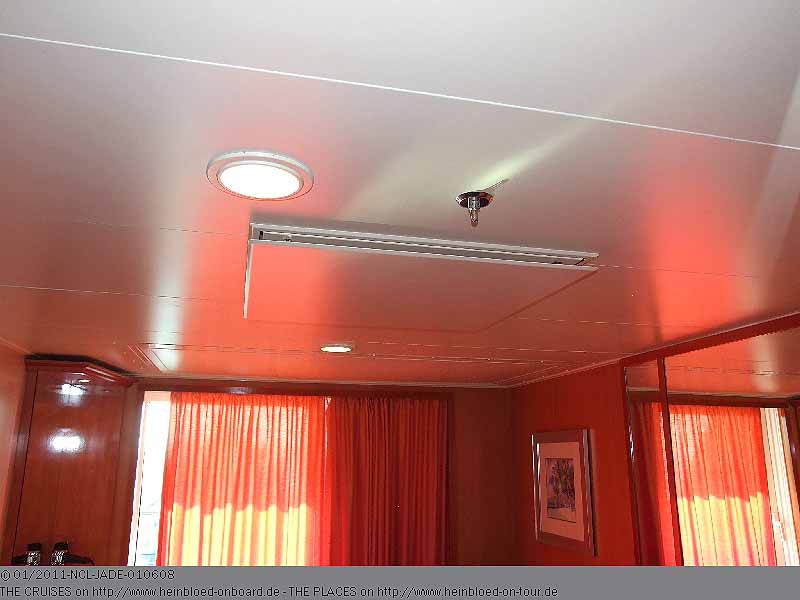 Die Klimaanlage gefällt uns besser als die auf der OCEAN PRINCESS.
Wir haben ein US-Verlängerungskabel und entsprechende Adapter mit, so können wir noch drei zusätzliche Steckdosen sinnvoll nutzen.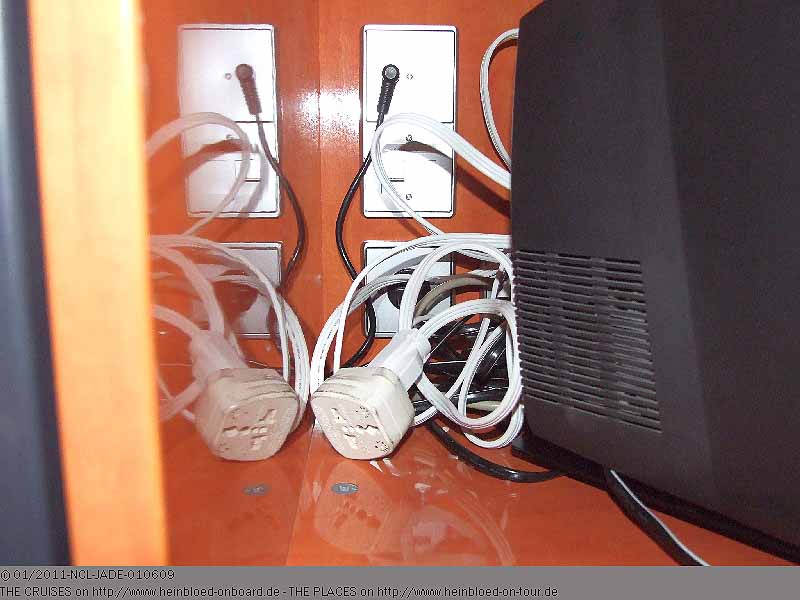 So we had an US-extention cord with us and some adapters so that we could use three more addtional power outlets.

Making 1 to 3 makes everything a little more efficient.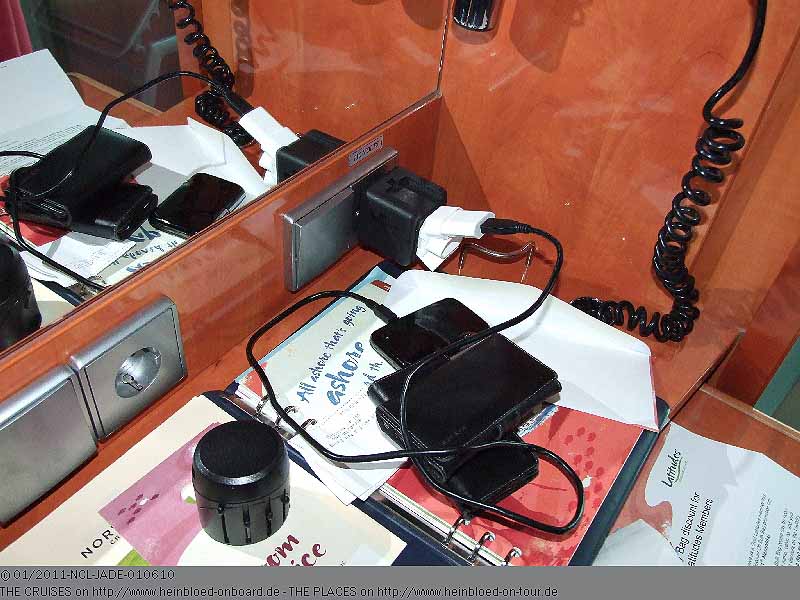 Mit Hilfe des Dreifachssteckers im Adapter können wir etwas mehr nutzen...
Nur das Telefon an der Wand ist unglücklich angeordnet. So schnell schafft man es beim Weckruf nicht hinzukommen...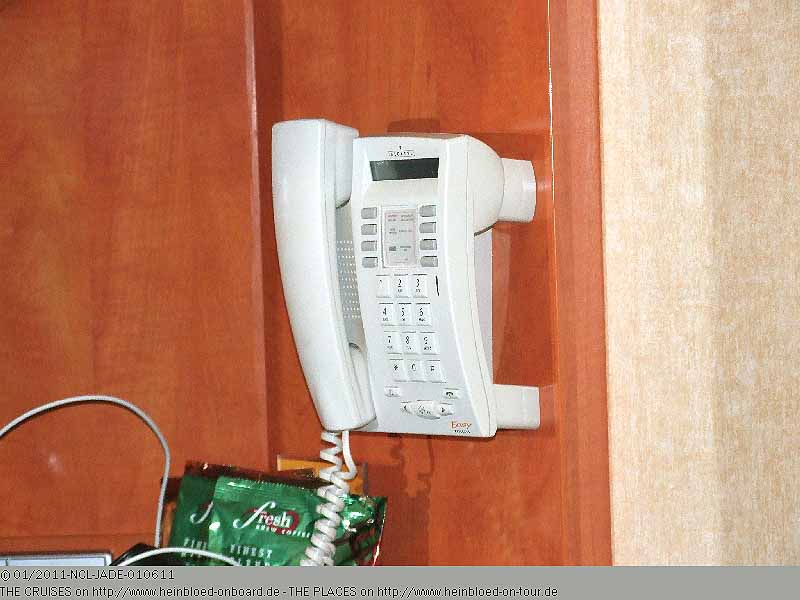 Somehow the phone on the wall was not placed very advantage. You cannot get as fast to the phone as the wake-up call stops to ring...

An invitation for the Latitudes-Party...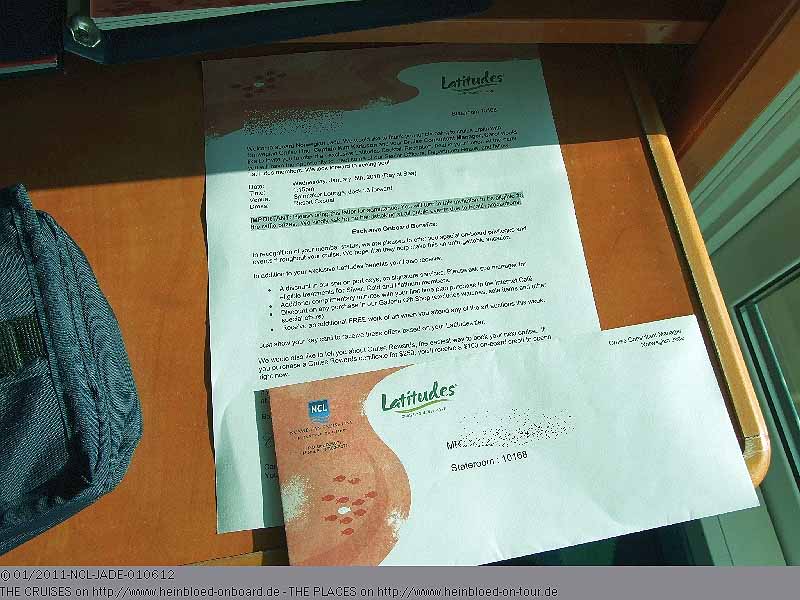 Eine Einladung zur Latitudes-Party...
25% Rabatt auf den Wäschesack, den es zwei Mal während der Fahrt gibt. So hätten wir noch weniger einpacken müssen, wenn wir es vorher schon gewusst hätten.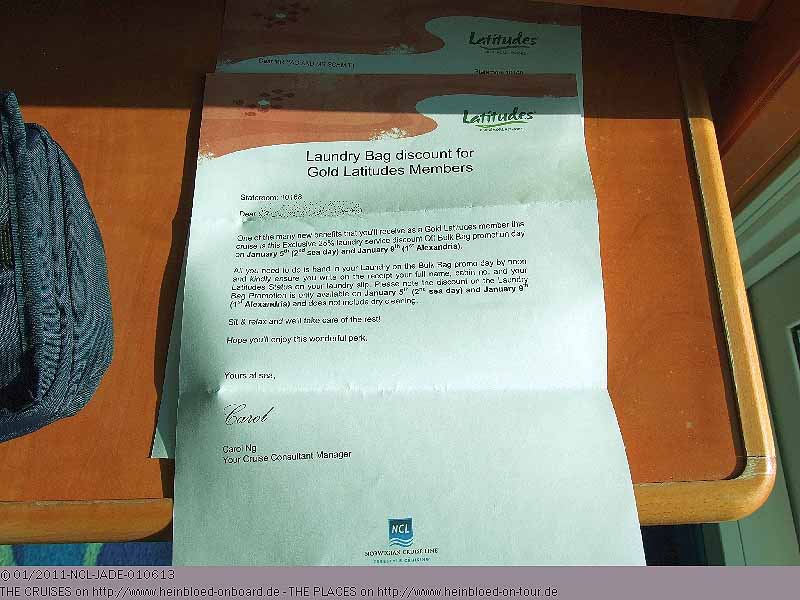 25% discount on the laundry bag which we have two times this voyage. So we did need to pack so much if you would knew it before.

A fruit plate as greeting for us Latitudes-Members. The room service called because Miami invited us for a cheese plate but we will ask for it later.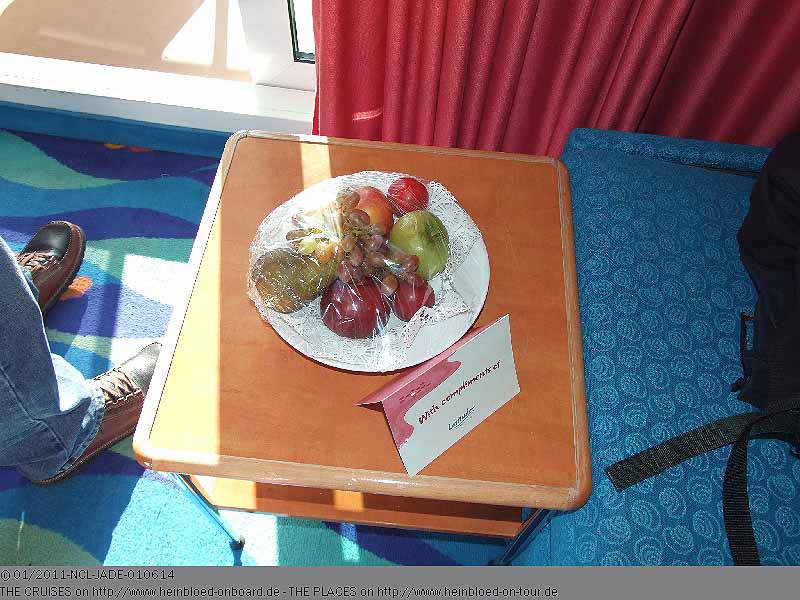 Noch ein Obstteller als Gruß für uns Latitudes-Mitglieder. Der Zimmerservice ruft an, weil uns Miami noch eine Käseplatte spendiert hat, aber die werden wir erst später abrufen.
Im Bad alles gewohnt gut...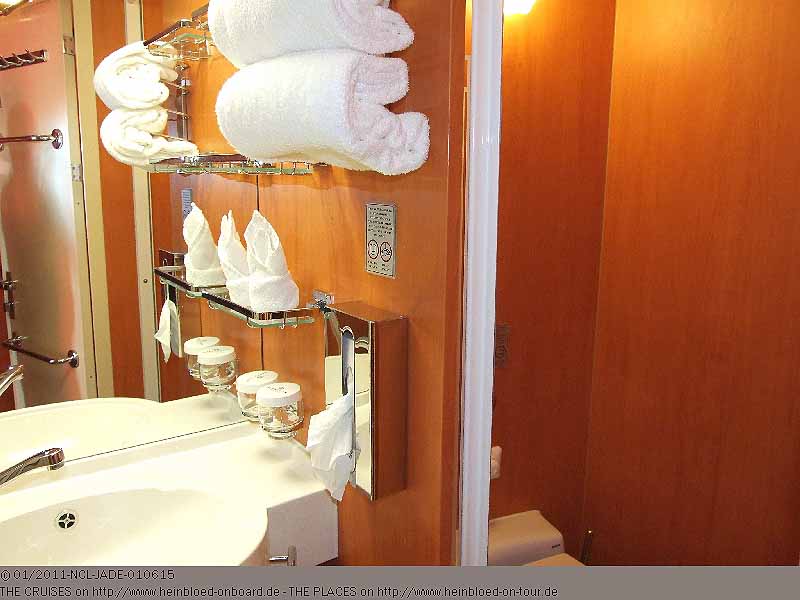 In the bathroom great as usual...

Everything there you need.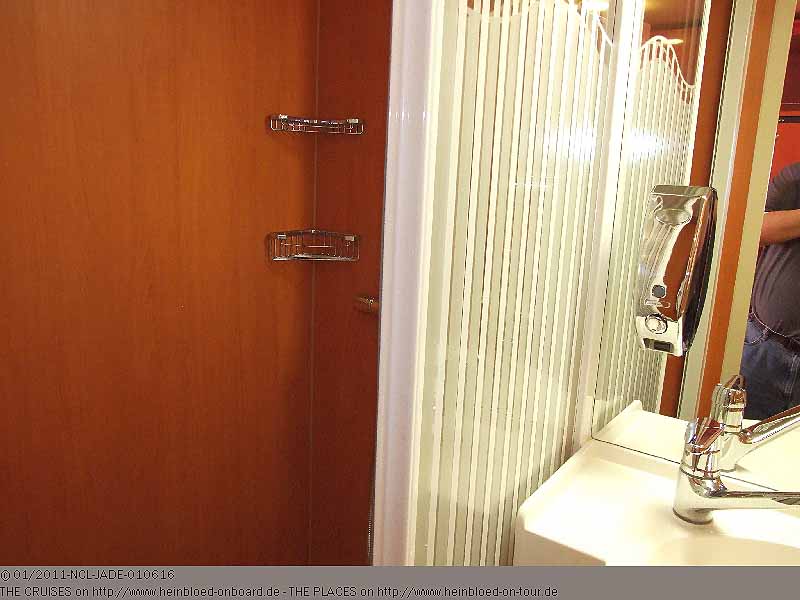 Alles da, was man braucht.
Und schöne Grohe-Duschköpfe, ohne dass ich extra eine teuere Aqua-Class-Kabine buchen muss, wie bei anderen Gesellschaften...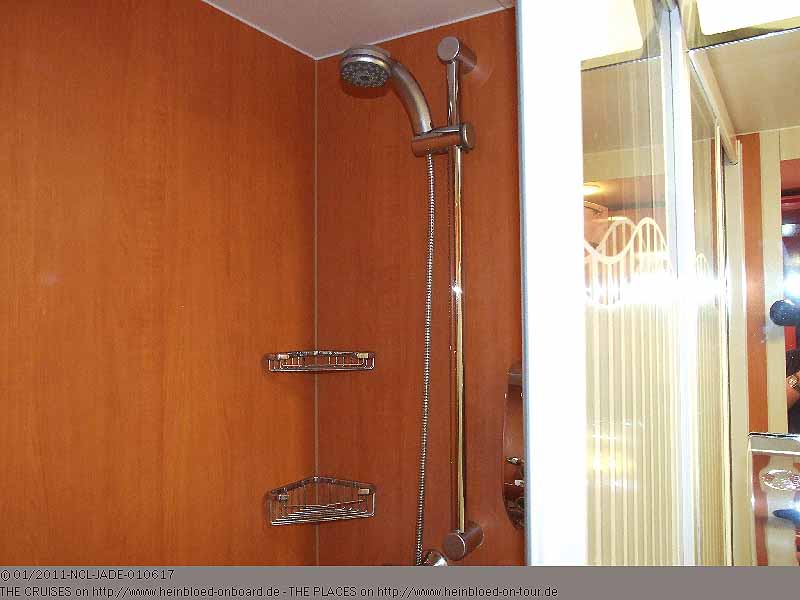 And nice Grohe-shower heads without the need to book expensive Aqua-Class-Cabins like with other companies...

Our balcony has advantages and disadvantages... longer so you have deckchairs on your balcony...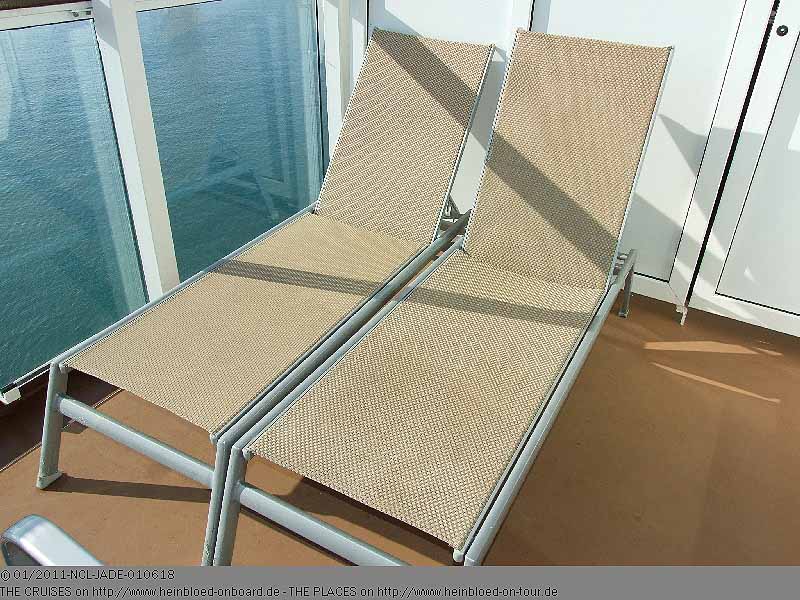 Unser Balkon hat Vor- und Nachteile... länger, daher passen auch Sonnenliegen auf den Balkon...
Über uns fehlt ein Stück Decke, so dass die Sonne schön reinscheint und uns entschließen auf dem Balkon zu bleiben, statt nochmals nach Barcelona reinzufahren...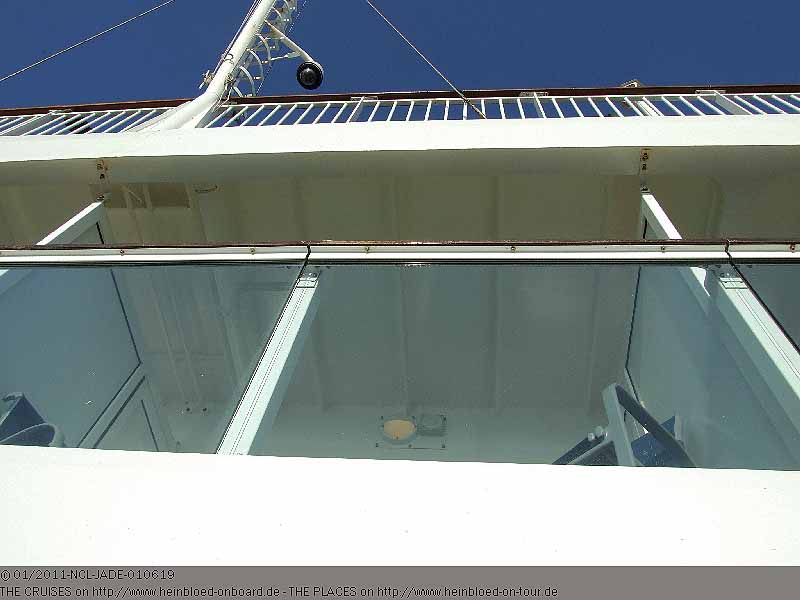 We miss a part of the ceiling so that the sun shined in very wonderful and we decided to stay on our balcony instead of going out again to Barcelona...

But that also means that every visitor of the Great Outdoor Café might see us from Deck 12...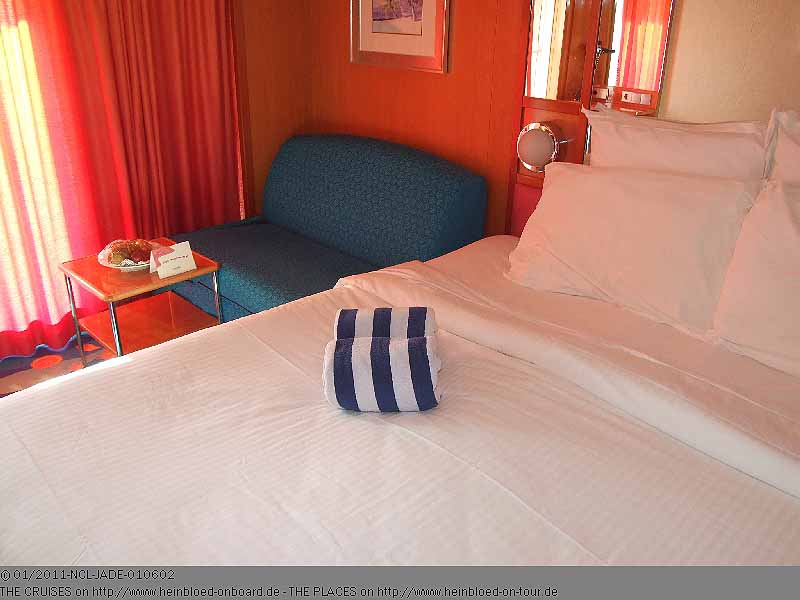 Gleichzeitig bedeutet es aber auch, dass jeder Besucher des Great Outdoor Cafés uns von Deck 12 runtergucken kann...
Die weitere Kabine, die wir gebucht haben, war ein kostenloses Upgrade auf die beste Außenkabine 5082.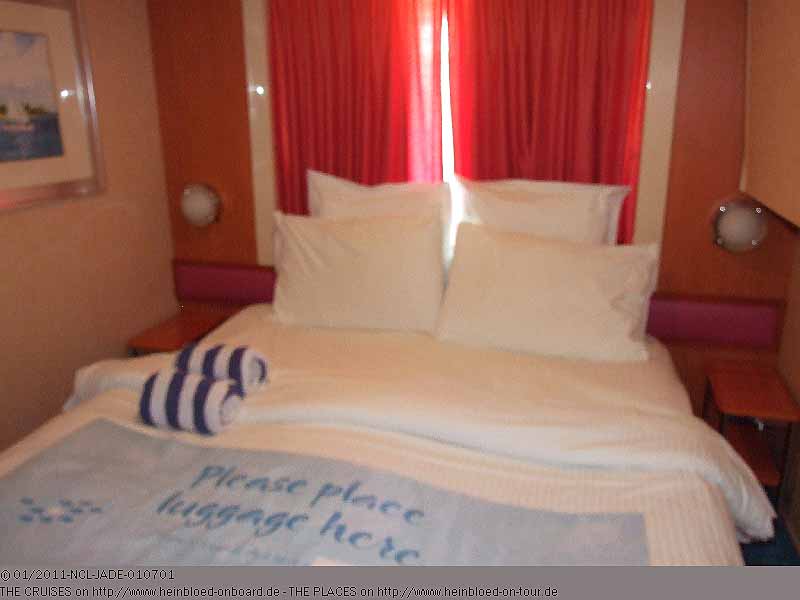 We booked another cabin for which we got an upgrade to the best oceanview cabin: 5082.

Very much the same...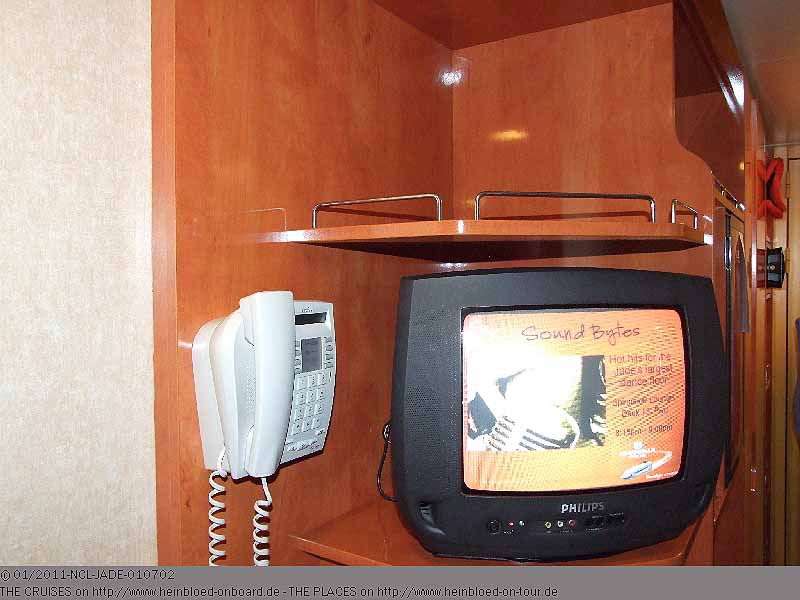 Vieles ist gleich...
aber so kleine Details: Unsere Schubladen sind nur so breit, wie der Kühlschrank, aber uns fehlt irgendwie das kleine Fach...

but some little details: like our drawers are as narrow as the fridge and we had no such space left to the fridge.

But no coffeemachine and no bathrobes.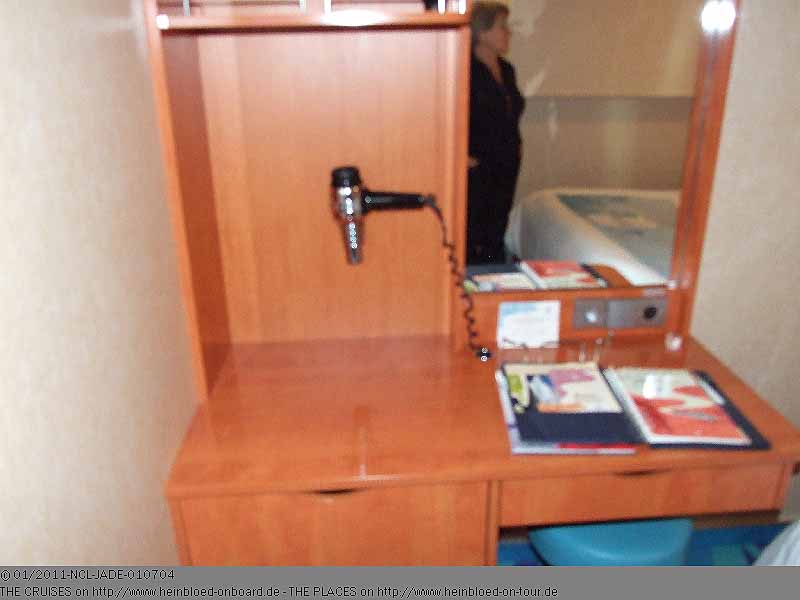 Es fehlen aber Kaffeemaschine und Bademantel.